August has been a busy old month. 7 games to squeeze in and with a few in the treatment room when the season kicked off it looked like we'd be having a tough time of it. How wrong we were. The lads available dug in, grafted their bollocks off, reattached them, then grafted them off once more and instead we go to Bromley on the Bank Holiday Monday with a scarcely believable 12 points from 15 and as many away wins as last season already.
The most absurd part about all this was after the Chester win finding ourselves top of the league. Numero Uno. The 93rd best team in England (and probably Wales. Chester is in Wales right?). So it was an enjoyable 7 days up until we welcomed Maidstone to GGL and promptly hit what I believe marathon runners like to call 'the wall'. The lads had given everything thus far and after dominating the first 45, we faded badly in the 2nd half and the Kentish sorts came on strong and took full advantage. The crown had slipped. We are dethroned after just a week. Still, there was no time to mope around mourning, get a waist deep collection of flowers going outside the turnstiles at the Lane or have Elton knock up a tear jerking tribute track. We had to suck it up, make the short hop to Bromley just 48 hours later and do this shit all over again.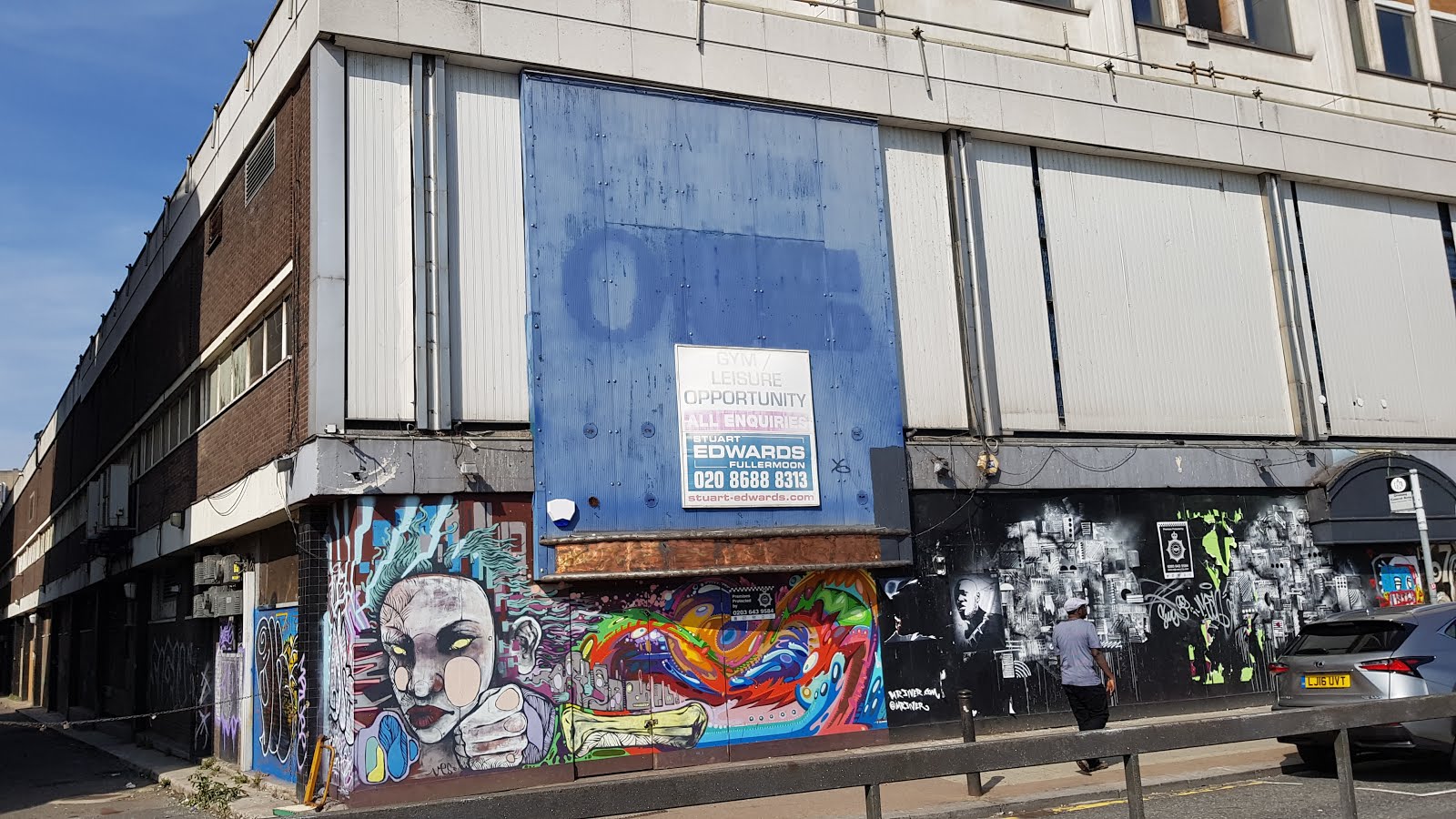 Cultural quarter or former underage drinking meat market?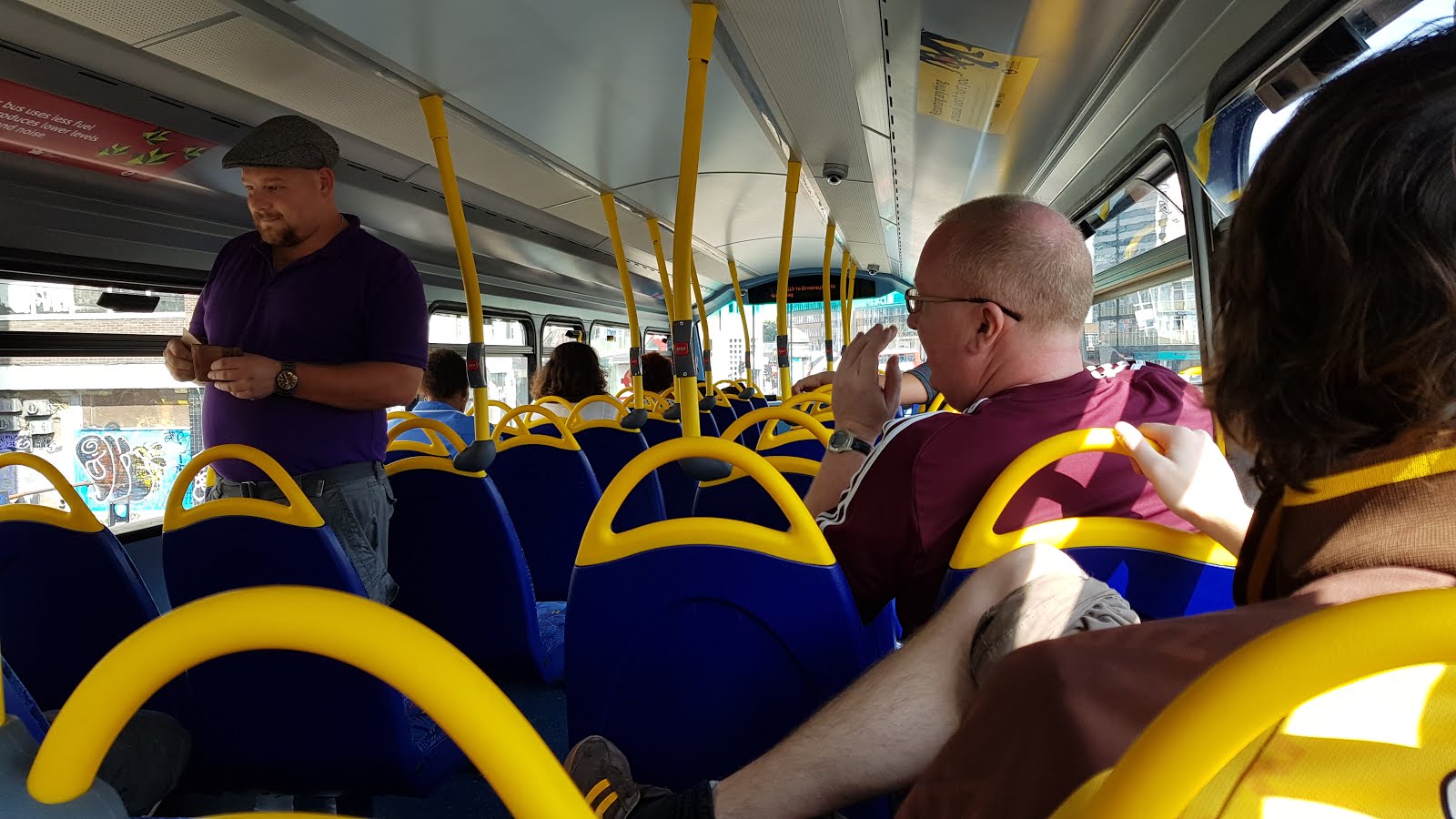 Buses are fucking shit
As per normal, we've planned our manaeuvers well in advance for this one. Think it was about 10pm Sunday night that the super secret, VIP, Invitation only Gandermonium whatsapp jobby sparked into life and we finally settled on meeting in the George in Croydon at 10, aiming to be full on Bus wankers at 11 and get the 119 over the border into Brom. Amazingly, I'm up and out in good time and the bus even arrives when the clever little app on my fondleslab said it would. Which makes a nice change. I alight back into the sunlight at the top end of Croydon, wishing I'd bothered to put in contacts and wear some sunnies and begin the walk down the high street. Here, I have 2 missions. Firstly, I must sate a strange craving I've suddenly got for a McDonalds double sausage and egg McMuffin (no egg) and secondly, I need to get my brother a birthday card. Ah! Maccy D's! Time to eat.
Fortunately, the only issue with ordering my food is not that I want a key component removed, but that the geezer behind the jump has a voice that would make Sooty seem positively boisterous, despite this minor communication problem though I soon have 2 of the greasy junk food breakfast buns in my possession and set about inserting them into my face as I head to WH Smiths to pick up the birthday card. And yes, I am aware it's not the 1980's, but given this was a bank holiday all the other vendors of greetings cards along Croydon's charming main thoroughfare dedicated to capitalism weren't open for another half hour or so. So yeah, fuck off. Any port in a storm and all that. And most importantly of all I'd be wasting VDT.
Full of reconstituted sausage stuff and muffin and in possession of a cheap birthday card, it's time I hit the pub. Approaching the spoons, I find Dukey outside doing what he normally does outside pubs. Smoking. I dart over the road, get some cash and join the rest of the assembled throng. Mr X, Belly and 4 Days along with Lil' Chris are in. No sign of Steve yet though, which is amusing as he lives by far the closest of any of us to the meet point. Dr Bell is tucking into a full English, seemingly to try & stave off the effects of a rather nasty hangover gained from going out for 'a couple' the previous evening. Now, I don't know about you, but even I consider 'a couple' to be no more than 4 pints. Any more than that is clearly moving into the territory known as 'several' . However it seems such things are calculated differently in the Bell household and to him 'a couple' appears to constitute 10-11 pints. Apparently his missus had called him 'an idiot' this morning before his departure. I for the life of me cannot think why. Nor do I think she stopped at just that one particular term to describe his misdemeanour.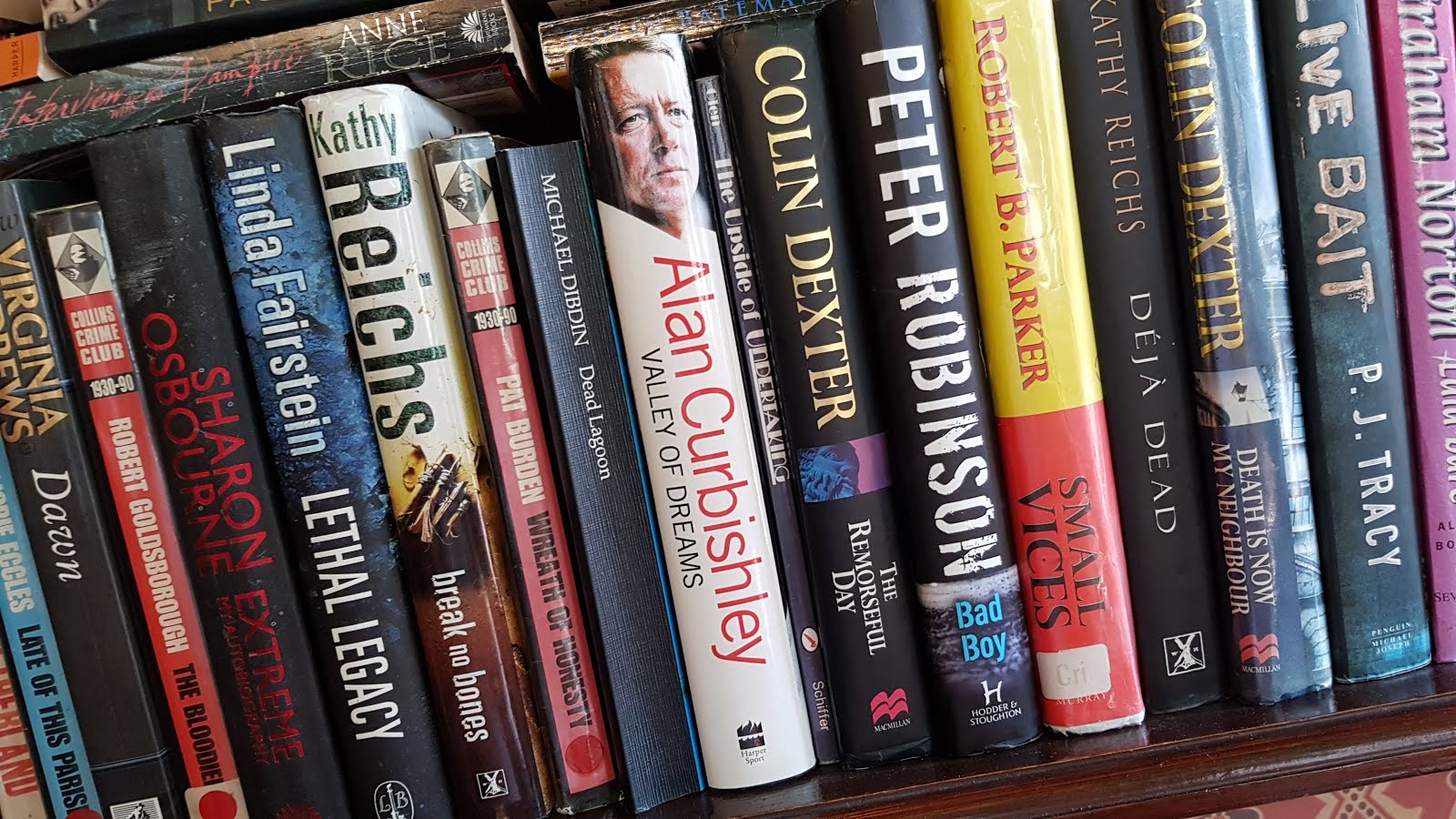 Valley of Dreams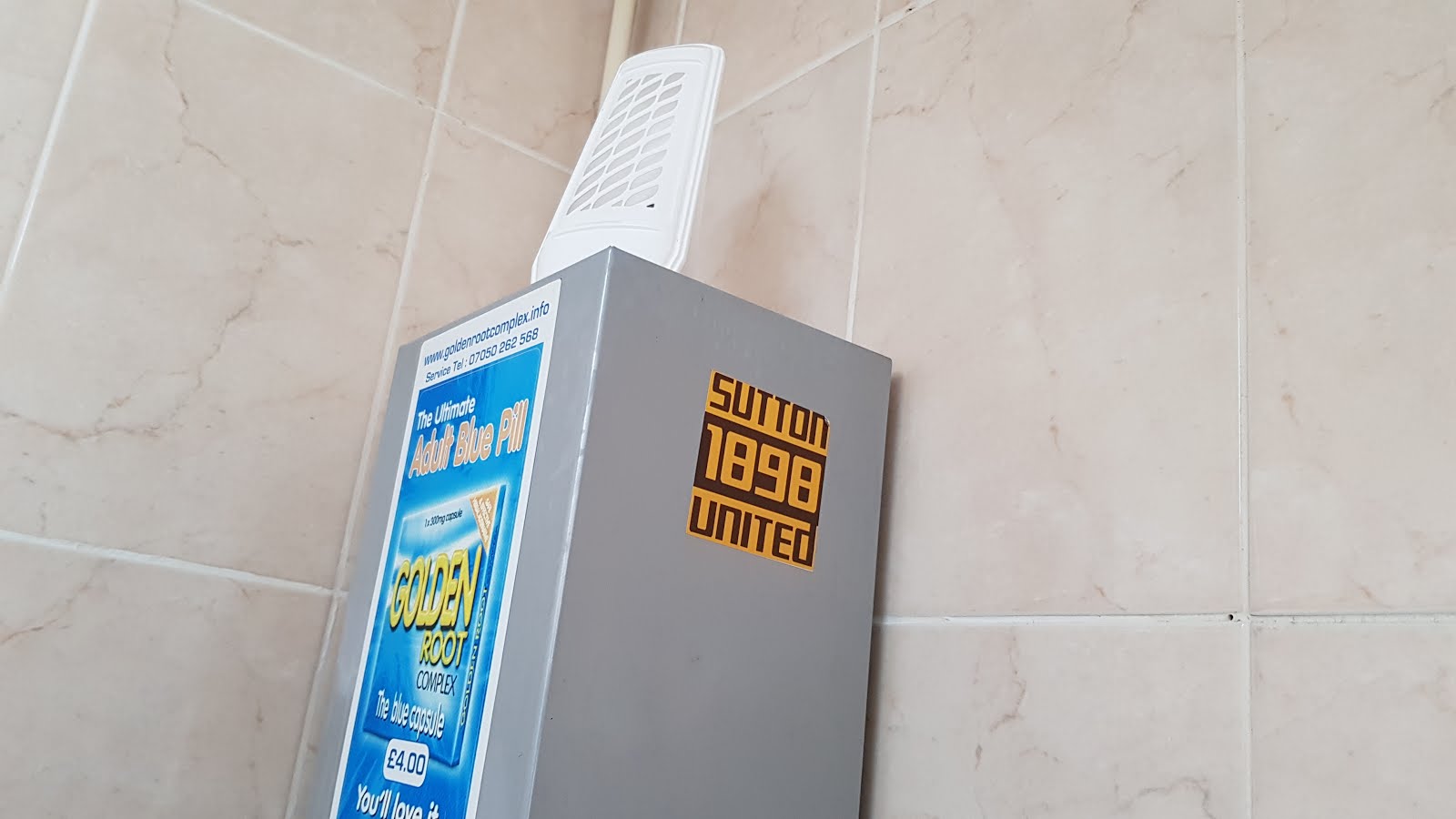 Love a survivor…
Now with pints, as is our way, we discuss things most normal people wouldn't. Dukey, fresh from his nicotine hit, reveals that black pudding has now been categorised as a 'super food'. Whatever the fuck one of those is. And Belly asks how Irish Pete's 50th had gone on the Saturday night. We inform him it went swimmingly and our not at all lazily stereotyped presents of a bottle of single malt, a four pack of Guinness and a bag of potatoes were well received. Then with the masses breakfasted and pints drained, we head for the bus, getting as far as the end of the road before we see it drive past us and off up towards East Croydon station.
Ah cock it. I guess we've missed it then?
So we end up standing around for 15 minutes waiting for the next one, melting in the heat and kill the time discussing what a shit hole this bit of Croydon is, including mocking the signs outside the now closed and untouched Fairfield Halls that declare it the town's 'Cultural Quarter'. The only way that place is dealing in culture currently is if someones left a window open in one of the auditoriums and the seats have gone a bit mouldy. Eventually though, our bus arrives and we board. What follows is our annual reminder of why we rarely use this form of transport for anything other than very short journeys, buses are "Fucking shit", as Mr X exclaims numerous times over the course of the experience. A painful 40 minutes later, we're eventually dumped at Bromley North station and stomp round the back to find the Red Lion and get some much needed refreshments down our necks.
Over a couple of beers, we mostly deconstruct the current state of the British sitcom and how shite like 'Mrs Browns Boys' is about as funny as losing 8-0 away at somewhere like Harrow Borough on a Tuesday evening, whilst on fire. For once we don't take advantage of the pubs sizable book collection and head around the corner to the Anglesey for a couple more. Here the conversation turns to our next weird football trip and possible locations. Croatia, Hungary and er…Albania are all mentioned as well as a return to Berlin. I also take the opportunity of some rare shade to apply some suncream for the 90 mins out in the sun to come. Although this isn't without mishap as my first spray is misjudged and misses my hand, instead liberally coating the inside of my glass of G&T. Ah fuck it, it's only coconut. Not trusting local mini-cabs after last year as well as the fucking debacle in Chester, Ubers are called and we head to Hayes Lane for the match. On arrival we spot the sign for 'The Playzone' beneath the match board and briefly discuss doing that instead, but Belly insists on getting a programme, so it's the football for us after all. There's a bonus as we go through the turnstiles however as an eagle eyed Steve spots that they let in Premier League ST holders for a tenner. And he has 2 Southampton ones about his person. So I snap one up and enjoy the 5 quid discount. Kerching!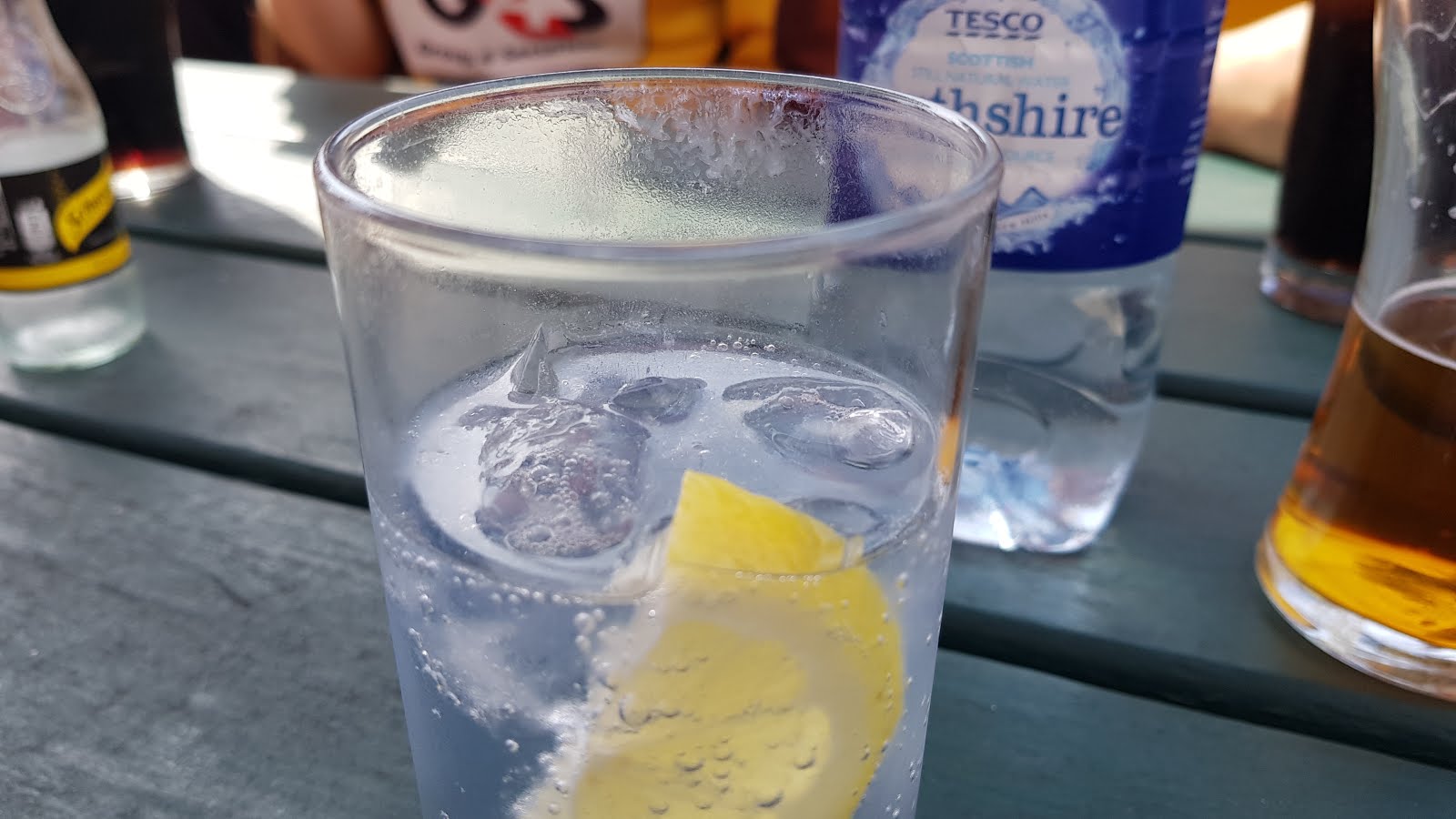 Juniper berries with a hint of oily coconut…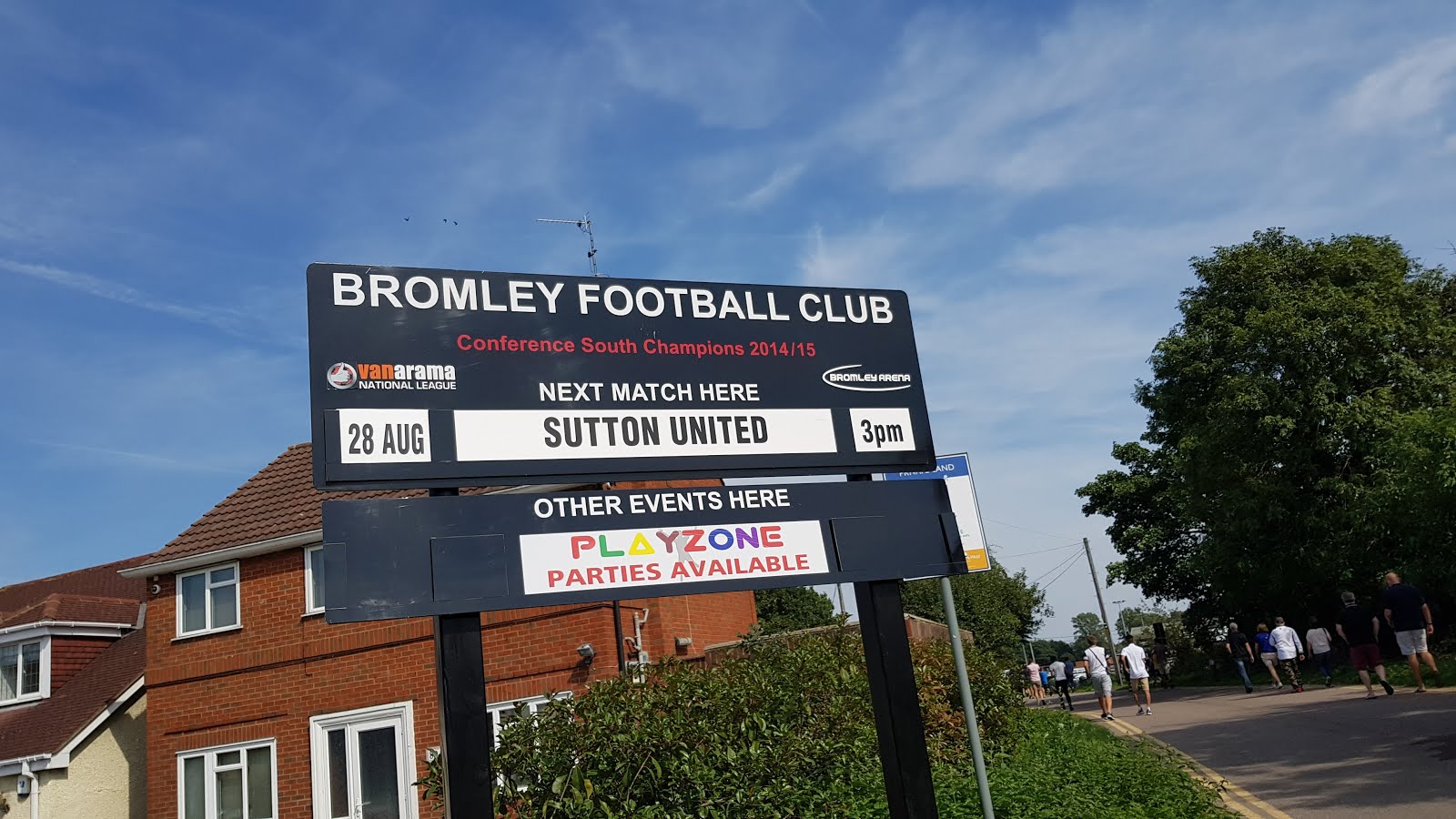 PLAYZONE!!
Butler, Thomas, John, Collins, Cadogan, Eastmond, Bailey, Emmanuel, Walton, Taylor, Jeffrey SUBS: Amankwaah, Davis, Dundas, Spence, Wright
Unsurprisingly, with some of the lads having looked more knackered than Dukey's old Purple Micra at the end of Saturday's game, Dos has rung the changes. Out go Wright, Davis and Amankwaah. In comes Moses, Cadogan and Jeffrey, for his first appearance of the season. With that expenditure of energy, we're all half expecting us to sit in and use the pace wide to hit on the break. Bollocks to that. The lads set out at the usual breakneck pace and attack from the off. Once Bromley have had a sighter and their geezer has blazed the ball miles over the bar that is.
Early doors, AJ down one side and Codagan the other cause problems. Coupled with Moses in the middle and Taylor flitting around beind him, the home defence never really seem to settle into any sort of rhythm. Mainly as the Sutton lads are changing places all the time and no one in the Bromley back line seems quite sure who's marking who at any given time. They also seem to be struggling to retain their footing on a very heavily rubbered surface (yes, that is a thing these days and no, you fuck off). Taylor is again showing his wonderful skill with the ball at his feet. He glides along the fake turf in a manner that reminds me very much of one Dominic Feltham, or even Nassim Akrour. One nice run and exchange of passes slips Cadogan in on the U's right, but the keeper is off his line smartly to block the shot from about 8 yards or so. Keiron is involved again soon after when another floating run from Taylor opens a shooting opportunity and the low drive looks promising until it hits hits the winger in the 6 yard box and diverts just the wrong side of the near post.
We're definitely on top now with Walton and Bailey shithousing and old geezering the midfield into submission, Eastmond is getting forwards more and more. Then with about 25 played, our just rewards arrive. Eastmond drives from deep, slips the ball forwards to Emmanuel inside the box and continues his run. Moses holds and then just nonchalantly nudges the ball back into Easty's path and having steadied himself, he smashes a shot from a tight angle into the top far corner and it all goes bouncy in the Amber and chocolate corner of the ground. 1-0!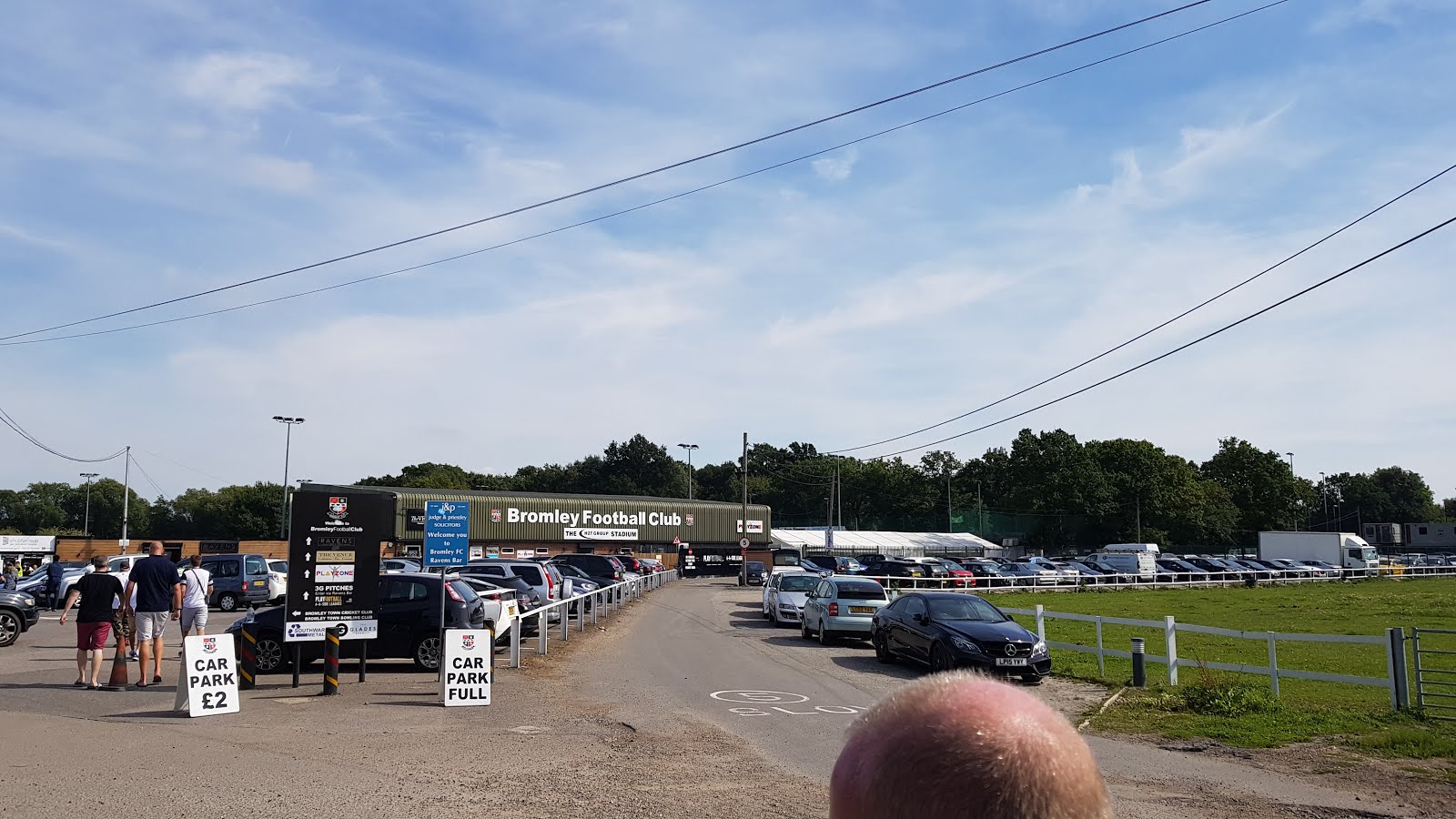 "Sutton boys, we are here…."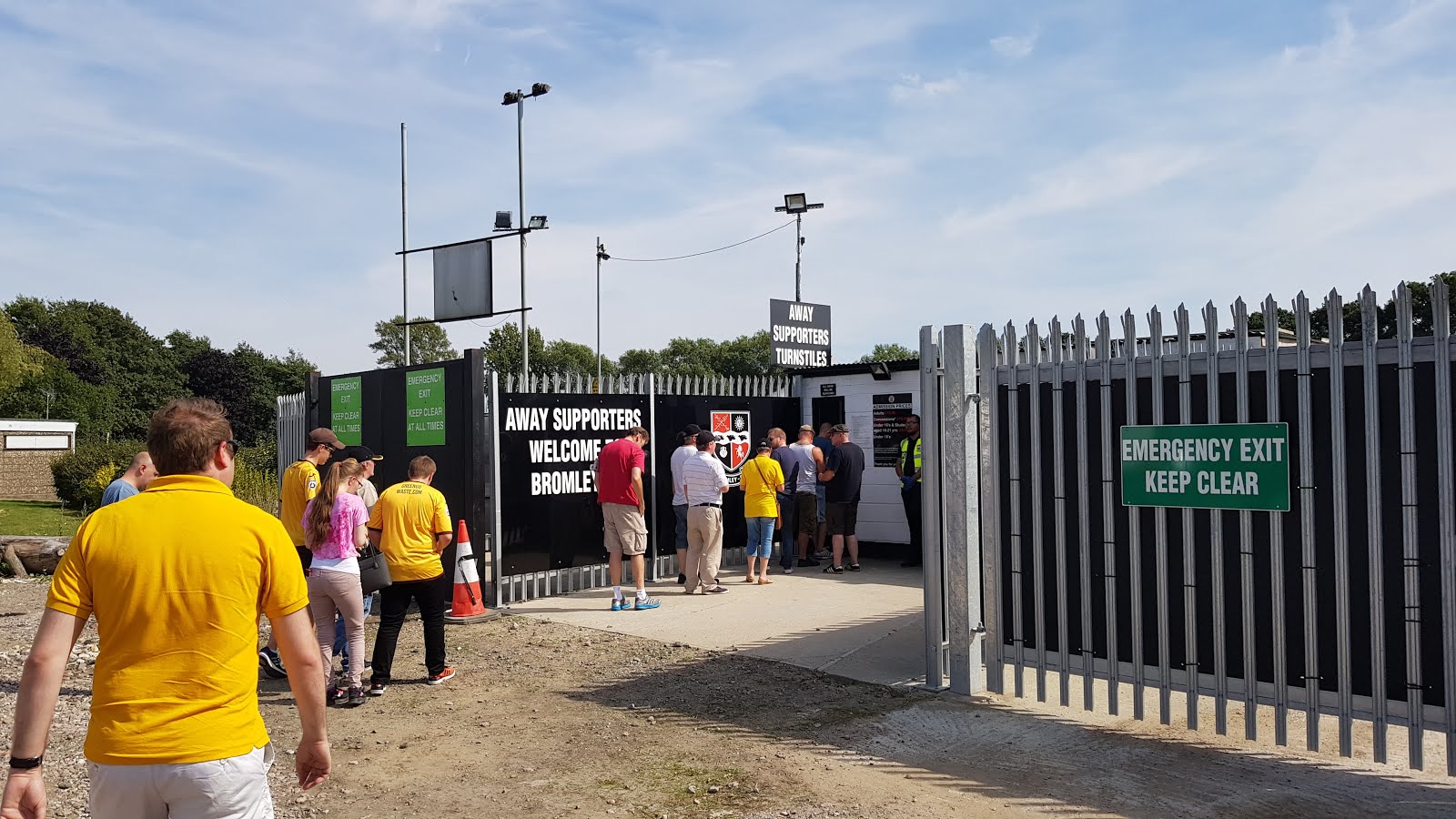 £5 discount coming up!
Naturally, we get a long overdue display of the aeroplane, all go 'neeeeeeeeow!' a bit and in the case of the notorious Yoof faction, aim a few wanker signs at the Bromley chavs on the other side of the segregation fence. Kids these days eh? We won't at this point make any mention of the fact someone brought a fucking drum along today either. Drugs? They're fine lads, do those all you want. But drums? Just say fuckin' no. A second goal almost arrives soon after when Louis John really should do better with a free header at the back post from a corner, but his effort lacks power and former U's loanee Gregory is untroubled. From here and with the sun beating down still and the faint smell of rubber further filling our nostrils, we seem to just drop down a gear for the last 10-15 of the half and rather than go full bore for a second, look to see what the hosts have to offer. The answer in this case is 'not a lot'. The only real action after this is Taylor getting booked for sliding in a touch late on a lad which triggers some minor handbags, mostly caused by the Bromley no.8 who arrives on the scene well after the fact, much like he has all afternoon so far in the footballing respect, the pointless little prick.
So we go in ahead at the break and we sit back to relax in the sunshine for a while. Or in my case, apply a shitload more factor 30. What? I've got very delicate skin!! Dukey soon returns chuckling to himself. It seems the tea bar is offering a 'Duluxe Meal Deal' and having seen the pic he took of the menu, I'm soon chuckling too. "I'll have two coats of cheeseburger and a coat of chips please love".
Having had a little breather before the break, we're hoping that this half we'll have a little bit left in the tank to perhaps see this one out, unlike on Saturday. But to be honest, we really shouldn't have worried. Whilst Bromley do come and have a bit more of a go, they create largely fuck all, to the point where I genuinely can't remember Butler having to do owt. After weathering this 'storm' we make changes and bring on fresh legs in Dundo, Wright and Davis to help things along whilst Walton and Bailey stick resolutely to their beautifully perfected art of running down the clock, one example of which brings an approving purr out of Steve. "Perfect bit of shithousery that". Indeed sir, indeed.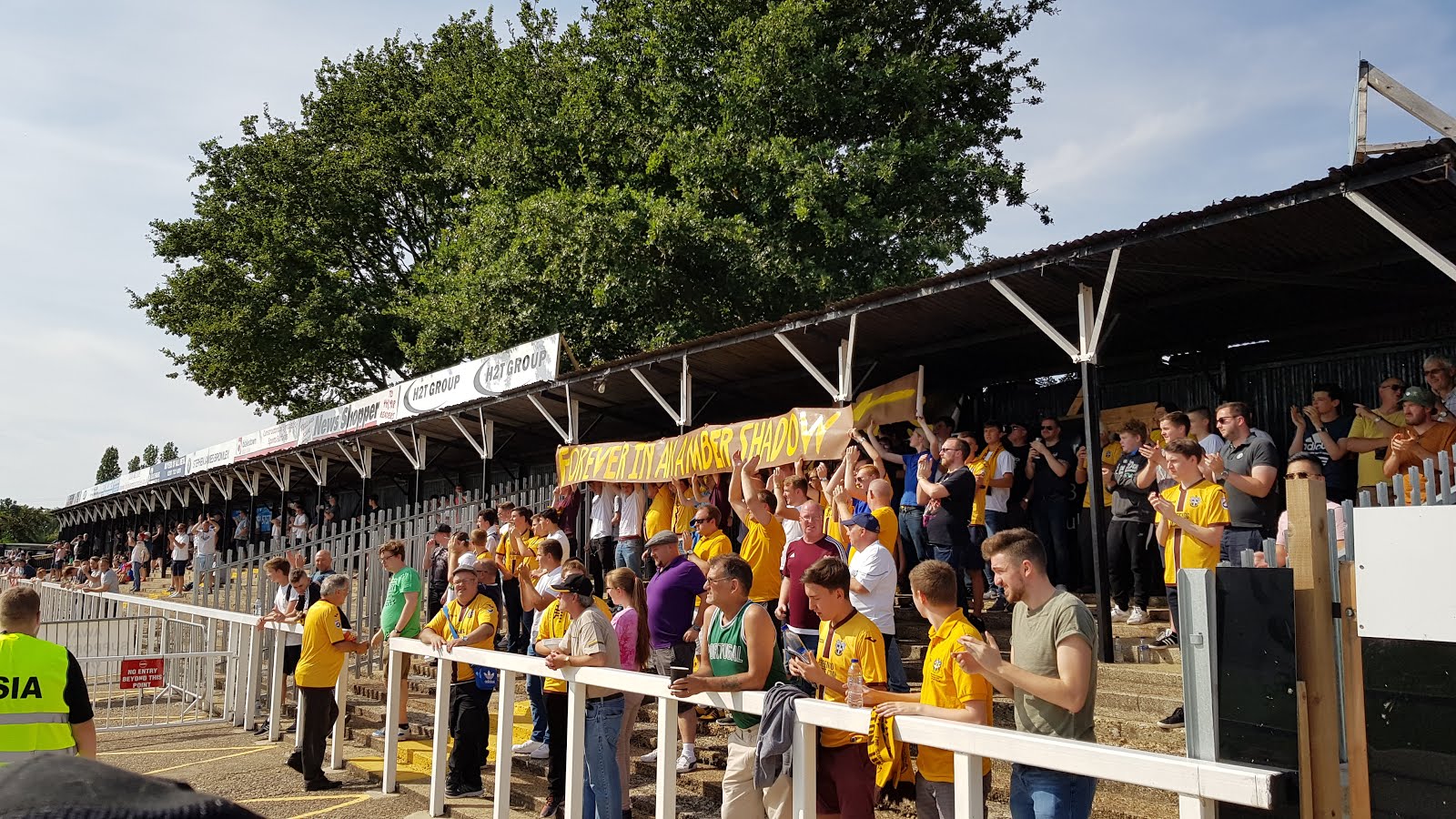 Arts & crafts…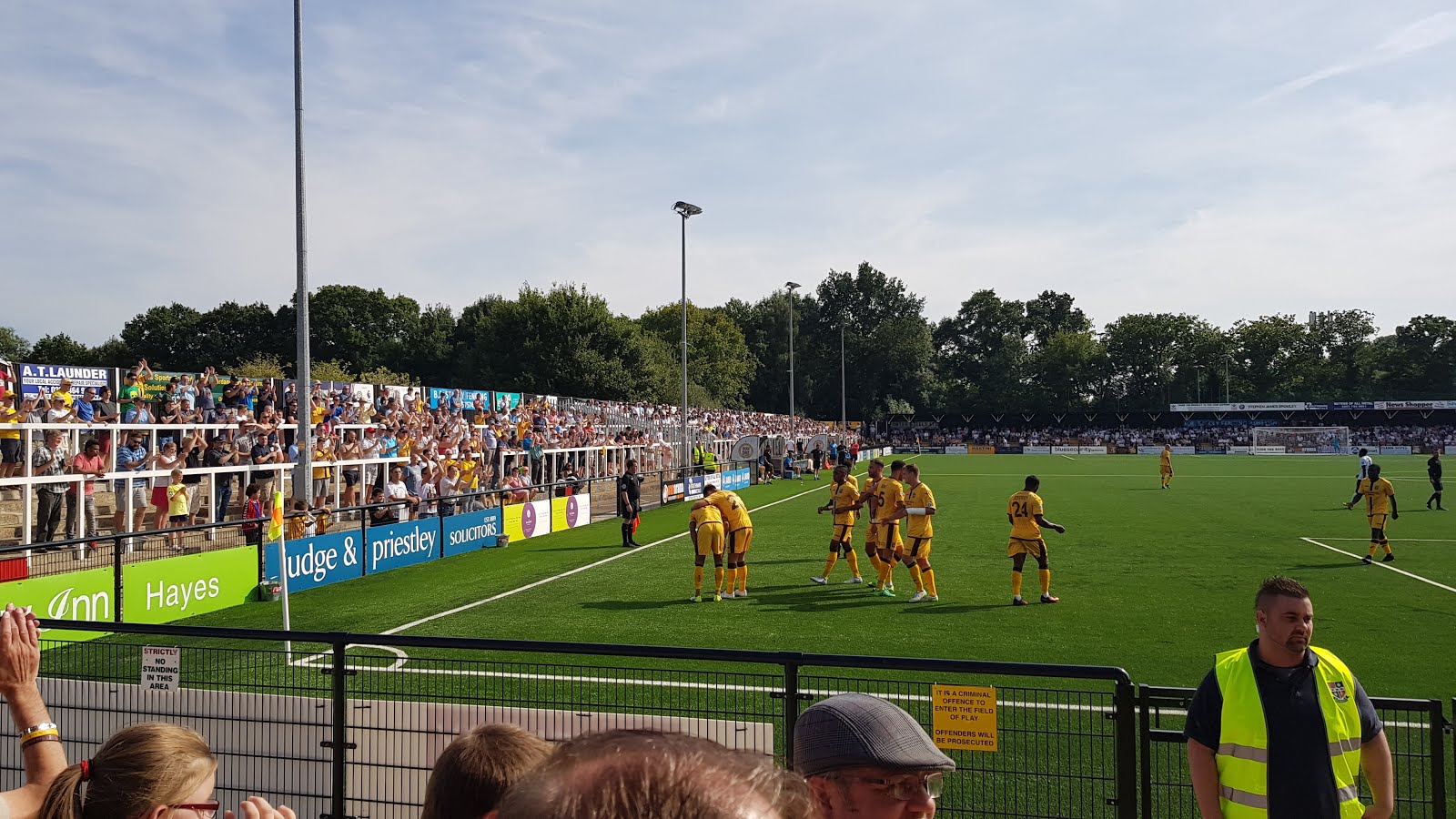 NEEEEEOOOOOW!
After a while, the fresh legs help put us back on the front foot and we really should see the game out with a second goal. But Taylor curls one just wide after drifting in from the touchline and then Aswad prods wide from about 8 yards when he really should score after Wright's persistance forces the ball into his path. Still, it doesn't matter and even the ref adding 6 minutes on at the end doesn't do anything to help Bromley, who in the final minute send up their keeper for a free kick. This is a waste of time as the set piece is drifted harmlessly over everyone and out for a goal kick. In fact, the only moment of any nervousness comes from a late call by Butler, which causes JC to have to get his head on a high ball which then drifts a yard or so wide of the near post. From here, the lads see out the final moments of the game by varying running down the time and just launching everything that comes near our box 60 or 70 yards back into Bromley territory. In the end, it's a comfortable 1-0 win and with news coming through that Daggers have drawn 0-0 at Maidstone, it means that 48 hours after being turfed off our posh seat at the top of the pile, we've launched a proper coup and gone and got it right back. Dethroned? Hardly! just fancied a couple of days off lads. A brief abdication if you will.
With smiley boat races aplenty in the away support, we stroll out and head back towards town, but for some reason we end up exiting via the fitness centre behind the away end which isn't as familiar to us as the usual main driveway. This means we end up taking a slightly long way round back to the pub, which is a right pain in the arse given it's about 300 degrees out here. Still, as we emerge in view of the boozer, the other lot who'd gone the more familiar route appear in view. So we'd not really lost that much time. We grab a beer and start working out what the plan of attack is. No one is game for bus wankering it back to Croydon after the earlier misery, so we aim for a train instead via Beckenham for a couple of beers, naturally.
As we sup up and go, with 5 mins to our train, we suddenly realise we're one down. Where the fuck has Dukey wandered off to now? He's not outside smoking and he's definitely not in the boozer. Maybe he went for a piss? We head over the road hoping he'll be right behind us, but I call him anyway just to be sure. "I'm having a turn out!" he protests when he finally answers the blower. And with that lovely image now planted firmly in our minds, Mr X and I invoke the time honoured Gandermonium oath, as this is most definitely mutually fucking inconvenient to the rest of the group. "Next train's in 15 minutes mate, see you in Beckenham" and I hang up to leave the flat capped wonder to his straining. A short while later, we hop off in Beckenham and wander down the high street to the George Inn for a couple more beers and a relax from the heat endured earlier. With an early start for his holibobs in Malta tomorrow, Steve departs first and we then follow after one for the road and head for a tram back into Croydon. Everyone is most pleased to find it air conditioned.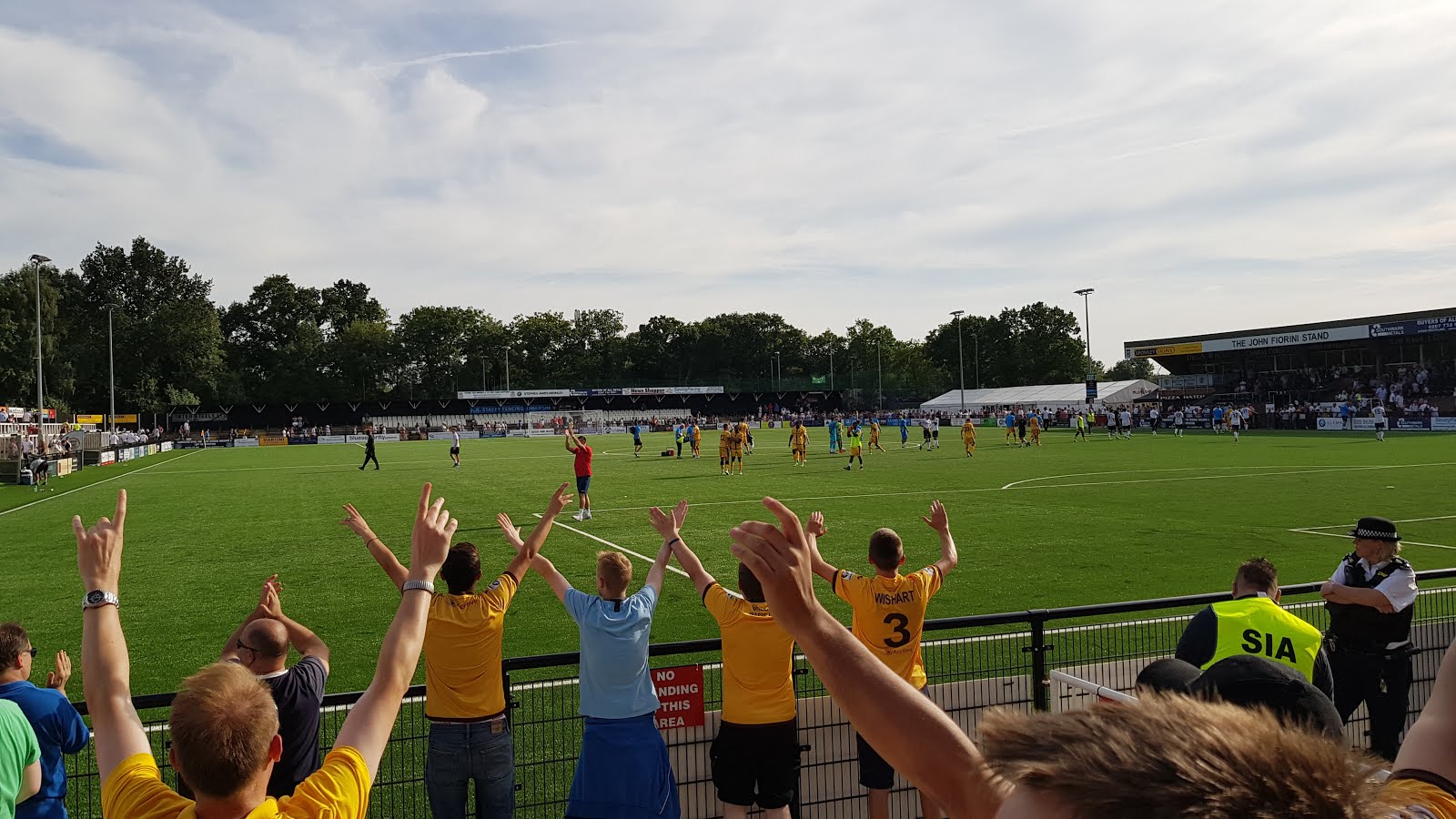 "We are top of the league, say….."
Big news on a former Arsenal midfielder….no, the other one.
We trundle back to Croydon and I bail at the station as there's a bus home due in a couple of minutes. Feeling very pleased with myself, I get to the stop and await my transport home which my little appy thing says is due in 3 minutes. Several minutes later, I'm still waiting. Bastard lying bus app thin…oh wait. The bus stop is closed. Fuck it. So with nothing else for it I hike down to the Whitgift and get the next one, which drops me off outside the Chinese takeaway so I can have some beef with onions and special fried rice meal on this, the last Bank Holiday of the year. On arrival at home, whilst scarfing my traditional British fare I turn on the news to see that the North Koreans have gone and got a bit lairy and lobbed some missiles over the heads of Japan.
Bit naughty that lads. We should probably get Chairman Totts to reach out via the usual diplomatic channels and advise old Kimmy boy to wind his fucking neck in. No one wants to live in the shadow of total annihilation via a nuclear holocaust. It gets me thinking though (apart from the bit about instant firey death obviously). Firstly, should 80's German popstress Nena cash in on the current climate whilst she can and re-release '99 Red Balloons'? I mean, come on, she'd fucking coin it in! And secondly, if it does all boot off and we all suddenly get vapourised off by a bright white light in the next seven days before we play Maidenhead, would that technically make us National League Champions?
As I've not got Nena's number, I resolve to answer the second matter by giving the chaps at National League HQ up in Brum a call to clear up matters ASAP.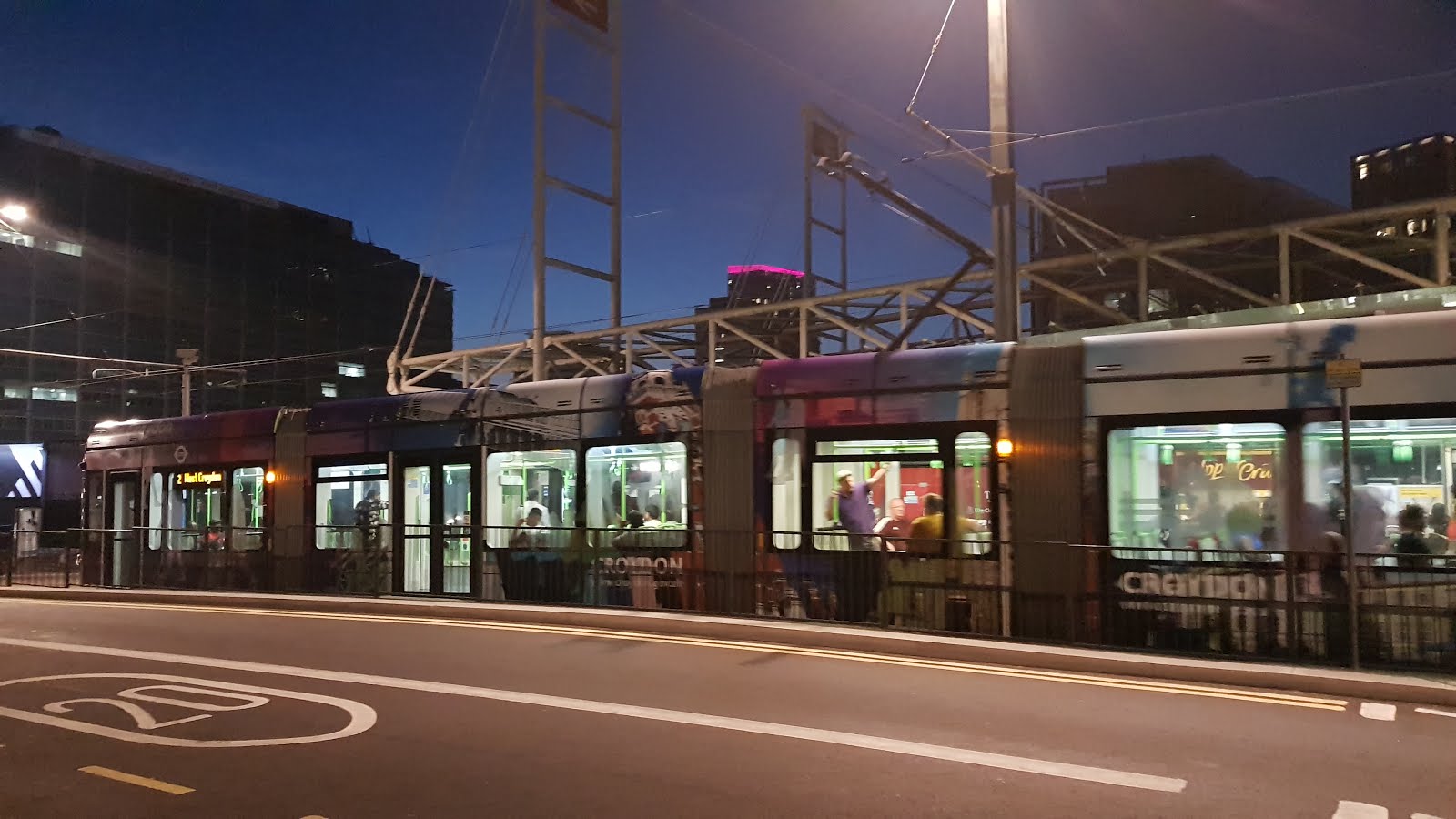 Tram wankers
Right after I've finished my prawn crackers that is.
Taz
"It's all over and I'm standing pretty, In this dust that was a city.
If could find a souvenir, Just to prove the world was here.
And here it is, the National League pot. I think of you and lift it high"