Well that lasted long didn't it? Our stay at the summit of non-league football is already over, but as it's the Bank Holiday Weekend we might be actually be top again by the time you read this on Monday. so this will probably make no sense at all.
Wanting to do something a little different this week, and trying to save a few pennies as always, I decided to head into Sutton for a few. I was also planning to visit Manze's as I had a hankering for some Pie, Mash & Liquor. Jumping on the midday train to Sutton I was soon in town and ended up in 'Spoons as everyone knows what I'm like. What? £2.50 for a pint I'll tell you.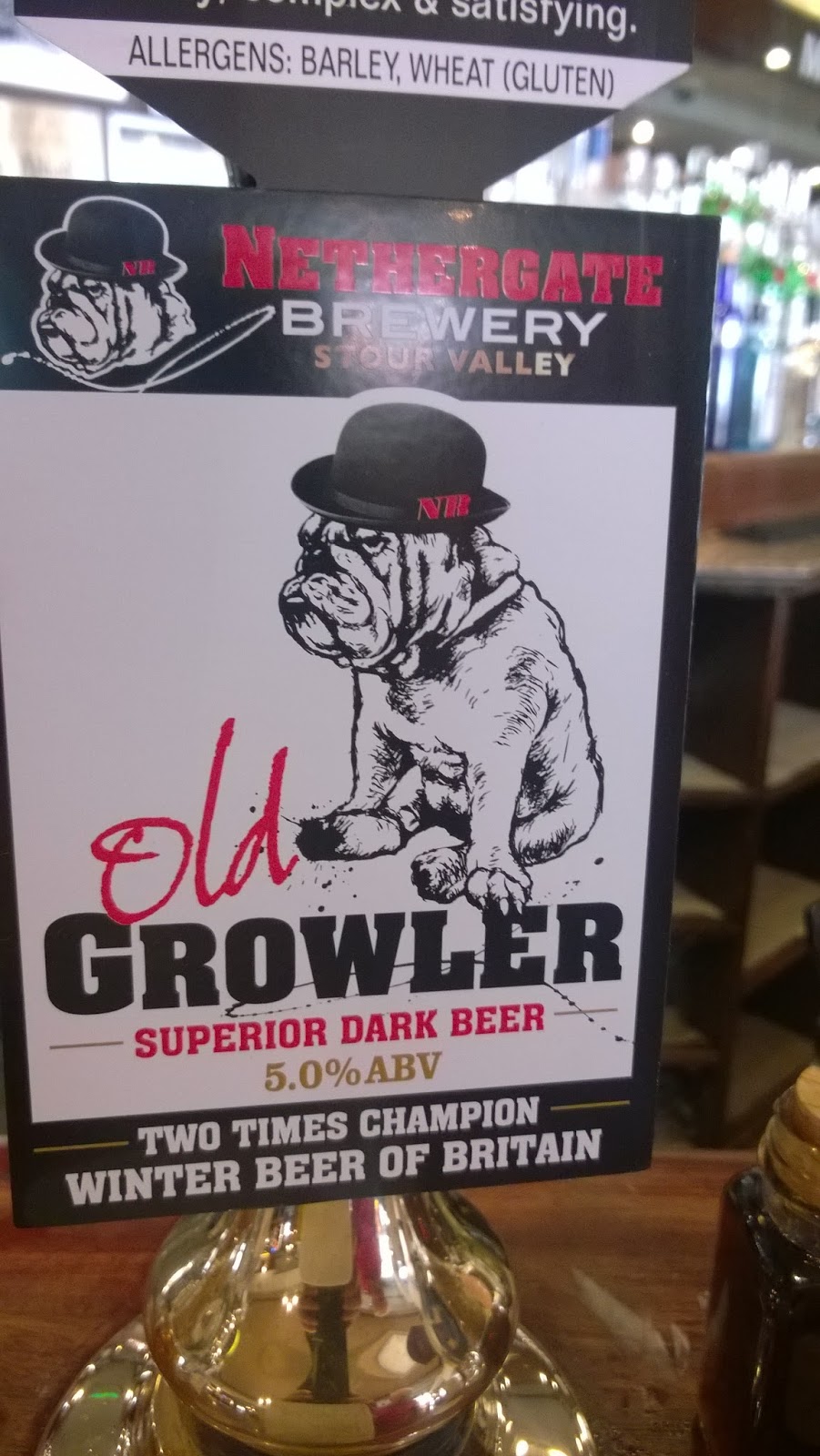 Love some old Growler
There were a smattering of other Sutton fans in the gaff, including Bob & Jools who were sampling some of the ales on offer. Although worryingly, after seeing a few Maidstone supporters in the vicinity, Jools did enquire "Who've they got today?" Just can't make it up sometimes! Heading to the bar to refresh my drink I also bumped into BT Pete who would normally have a couple in here before he heads towards the ground.
After some debate about his former career as a worker for the GPO and his first ever job working at the Post Office Tower, you would think that he might have produced a better form of mobile device. But as you can see from the snap below, he pulled out this beaut that rivalled even Dr Bell's rubbish dive into the modern world of telecommunications.
With time marching on we decided to make a move as we were now in danger of missing the kick off. Still, four pints for tenner was not bad going. Think of the money I saved that would no doubt be spent by the end of the day. Needless to say having got on the beers, that Pie & Mash excursion was a failure once again. One day I might actually make it. One day…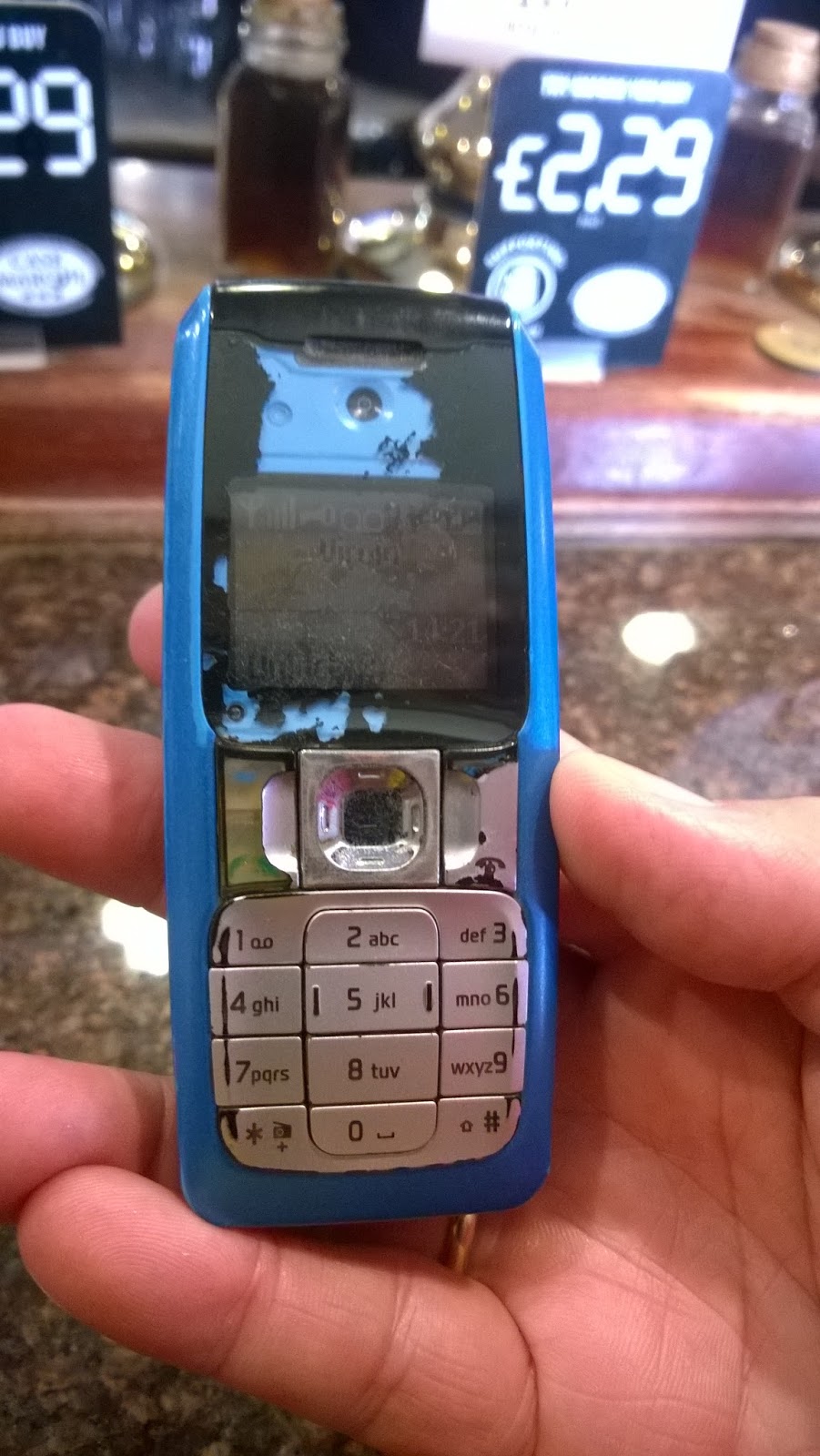 Shit phone
Butler, Amankwaah, Thomas, John, Collins, Davis, Dundas, Eastmond, Bailey, Wright, Taylor. Bench Warmers: Cadogan, Emmanuel, Walton, Jeffery, Brown.


In the blistering late Summer sunshine, it was Sutton who carried on from where they finished up against Chester. With the Little & Large approach of Dundas & Wright up top (Lafayette was another player out injured), Sutton continued to pepper the goal of Lee "The Cheat" Worgan but without ever really testing him. Either it was right at him or not on target. At one point, a long ball from Davis into the box was misread by Worgan and after trying to see it out for a goal kick, he was soon set upon by Wright who's shot from a narrow angle cracked into the side netting.
What wasn't helpful was the bunch of travelling away support that decided to not move towards the end that their team was shooting and stay on the Rec terrace. Can't say that I've ever agreed with the idea of different sets of fans mixing at football and when you mix in some alcohol on a sunny day it can be an issue. I remember even back when they were playing at Sittingbourne we had problems with this.
Sutton did finally get the breakthrough. Taylor received the ball on the break in the middle of the park. He then slid the ball through to Wright who then ran it into the box. His low shot slid past Worgan into the far corner. 1-0! Eastmond even had an opportunistic attempt from insider his own half that just failed to drop in time and landed on the top of the goal.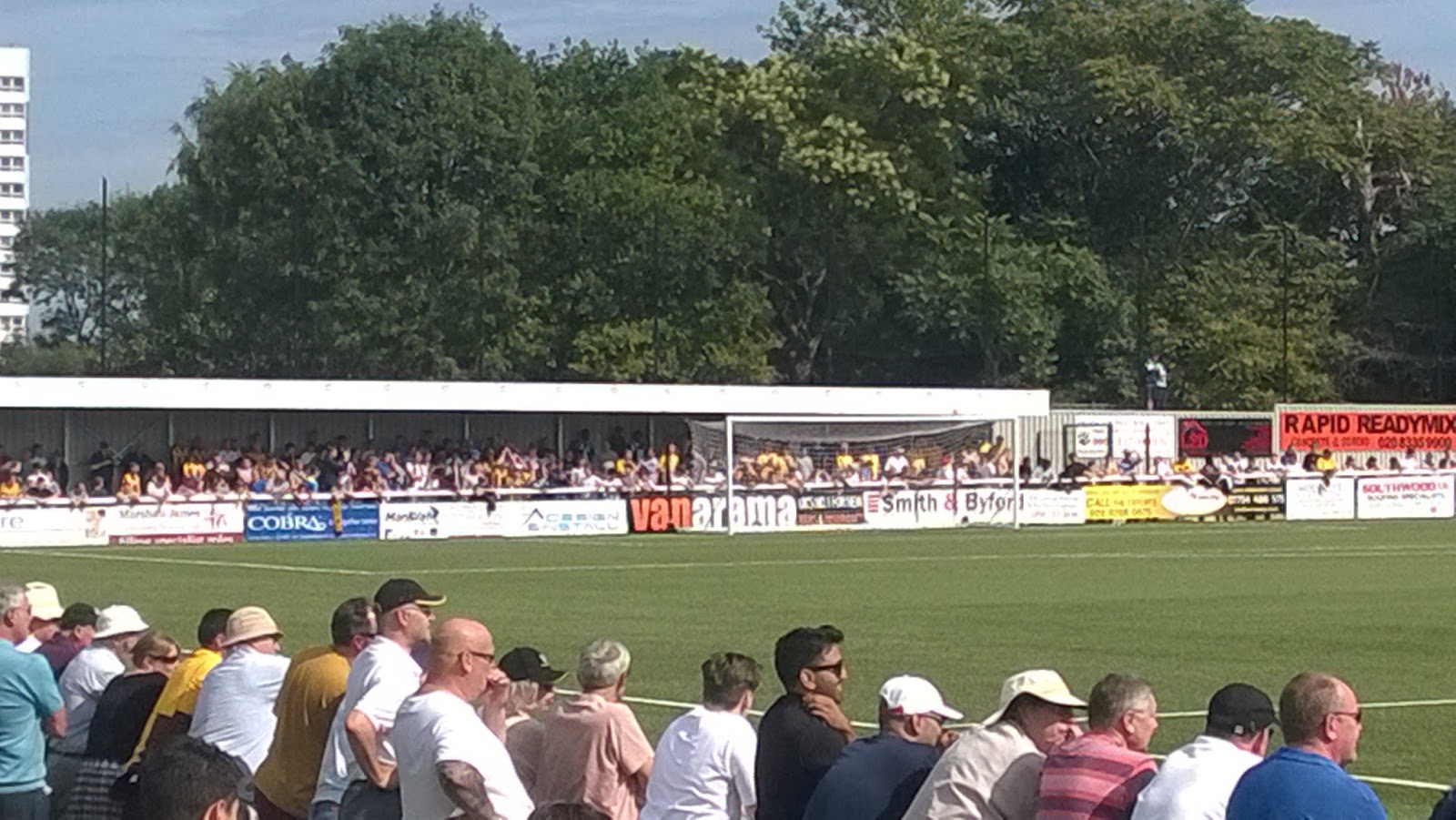 Looking busy
Half time was my turn for the round and all those pennies I'd saved in Spoons earlier were soon gone as a near £30 collection of drinks was soon ordered. With the half time results coming in it looked like we were to still be top with our nearest rivals failing to keep up with us. Refreshed, it was soon time to head back out and see what next half would bring.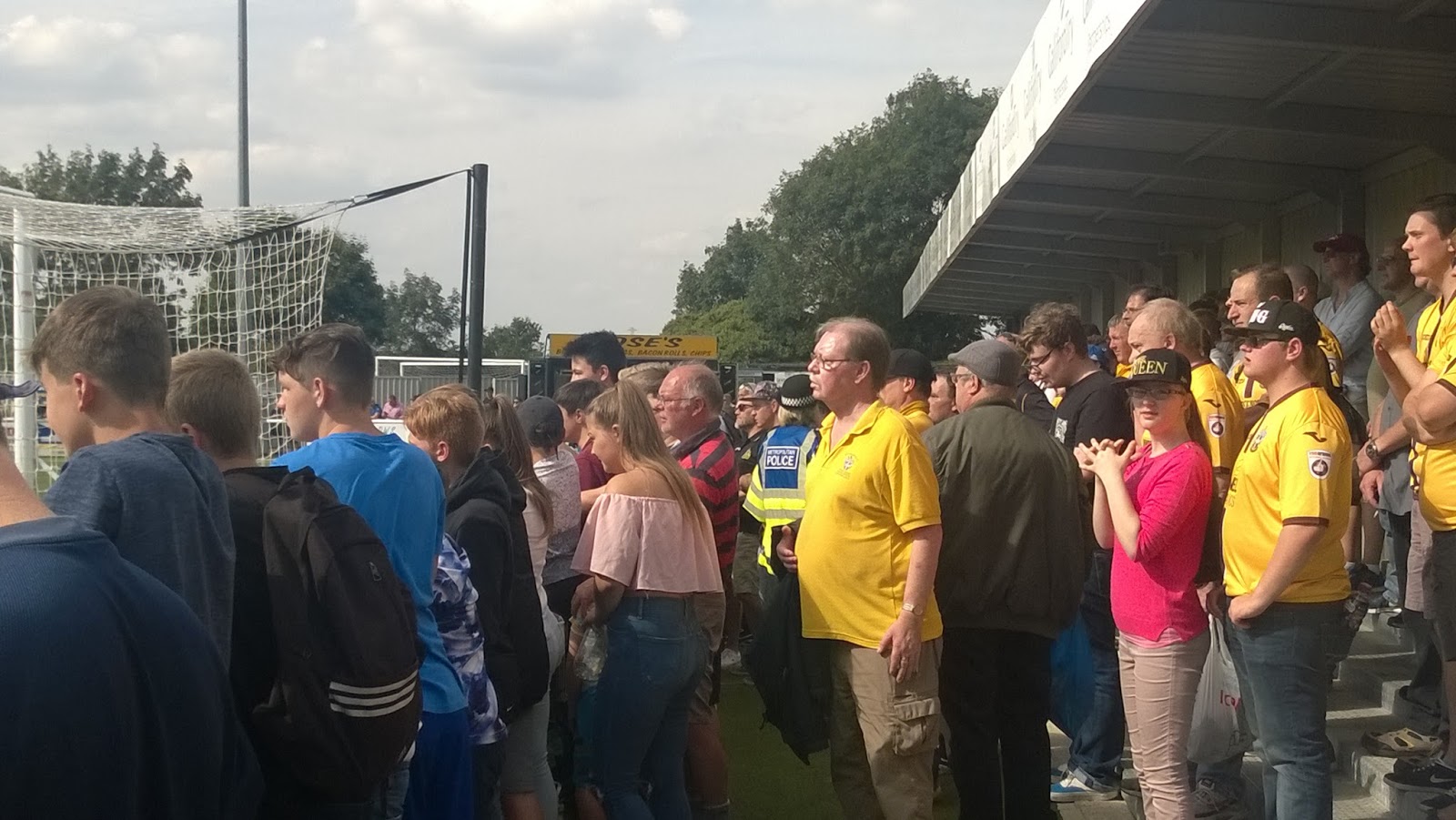 Old bill in the mix

With both teams unchanged, the half started off as the end of the first. Walking round to the Shoebox we saw Amankwaah beat his man to the ball in the box from a Bailey free-kick but his header was just too high to trouble Worgan. Minutes later Maidstone made their first change of the day and five minutes later another change as they tried to force Sutton back.
Just after the hour mark Sutton made their first sub with Davis changed for Walton (who managed to get a rather early booking). Minutes later it was all square as Maidstone grabbed a goal that might've being an own goal following a corner, but I'll have to check the highlights for that one. After this Sutton made a double sub with Taylor & Wright being replaced with Cadogan & Emmanuel to try and get some life back into a flagging side.
With less than twenty to go, it went from bad to worse as Maidestone took a deserved lead on their second half showing. Giving the ball away on the edge of the box, a well worked passing move along the 18 yard line had the fella with enough space to curl the ball past Butler into the top corner. So from coasting at 1-0 we were suddenly behind to what was probably their second shot.
One issue that I wasn't happy with was when a Maidstone fella went down after a push from Walton. A clear push down, but the Maidstone fella couldn't work out weather it was his head or his shin that hurt the most and begun to roll around like he'd be snipered. "The Cheat" Worgan then came out to remonstrate with the officials. No need for it lads, no need.
To add insult to injury Maidstone grabbed a late third. A simple goal kick from Worgan had Collins beaten to the ball with a headed through ball that had the Maidstone fella chase it into the box and lob a stranded Butler. That really did kill the game from a Sutton point of view, but you could see that the tiredness was definitely there.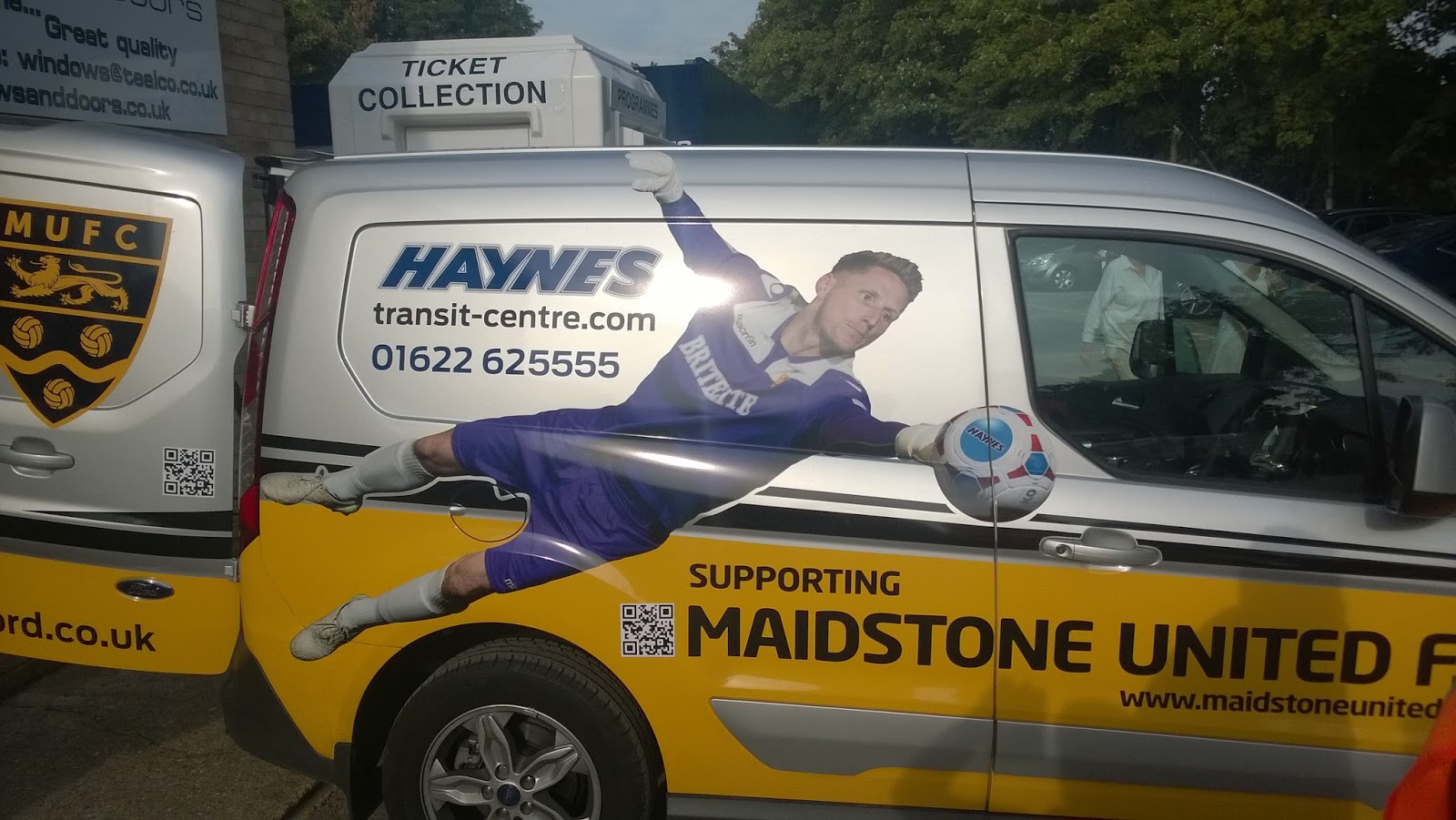 Worgan. Falling over.
That second half display was that bad that I begun to make my way round towards the tunnel before the final whistle had even been blown.You'd probably have to go back to Dover at home last season for a similar type capitulation. Still, can't say I'm as disappointed as I was them mind you, its been a long month already and with all the injuries, our squad has been stretched to the limit.
After the match and my usual club net lifting duties, which also included 4 Days not just questioning the reactions of the stewards to a Maidstone fan who made several visits to the pitch side of the barrier. But he also managed to rile up the Rent-a-Cops as well, with their reaction speeds to something that happened during the first half. Either way, it was time to hit up the bar.
They we came to not one..not two…but three "Strikers Are Key"draws. With Sutton's answer to Paul Daniels (less the tumor) & Debbie McGee performing to the fullest. Surprisingly it was us that were called out on the second draw, my attempt to hide was in vain as The Firm Leader had also disappeared and Chalmers is in Spain. My efforts of standing on the chair and rummaging around for the right key was a failure as you know as soon as you pull it out the bag what the answer is. Just look at AB and you can tell.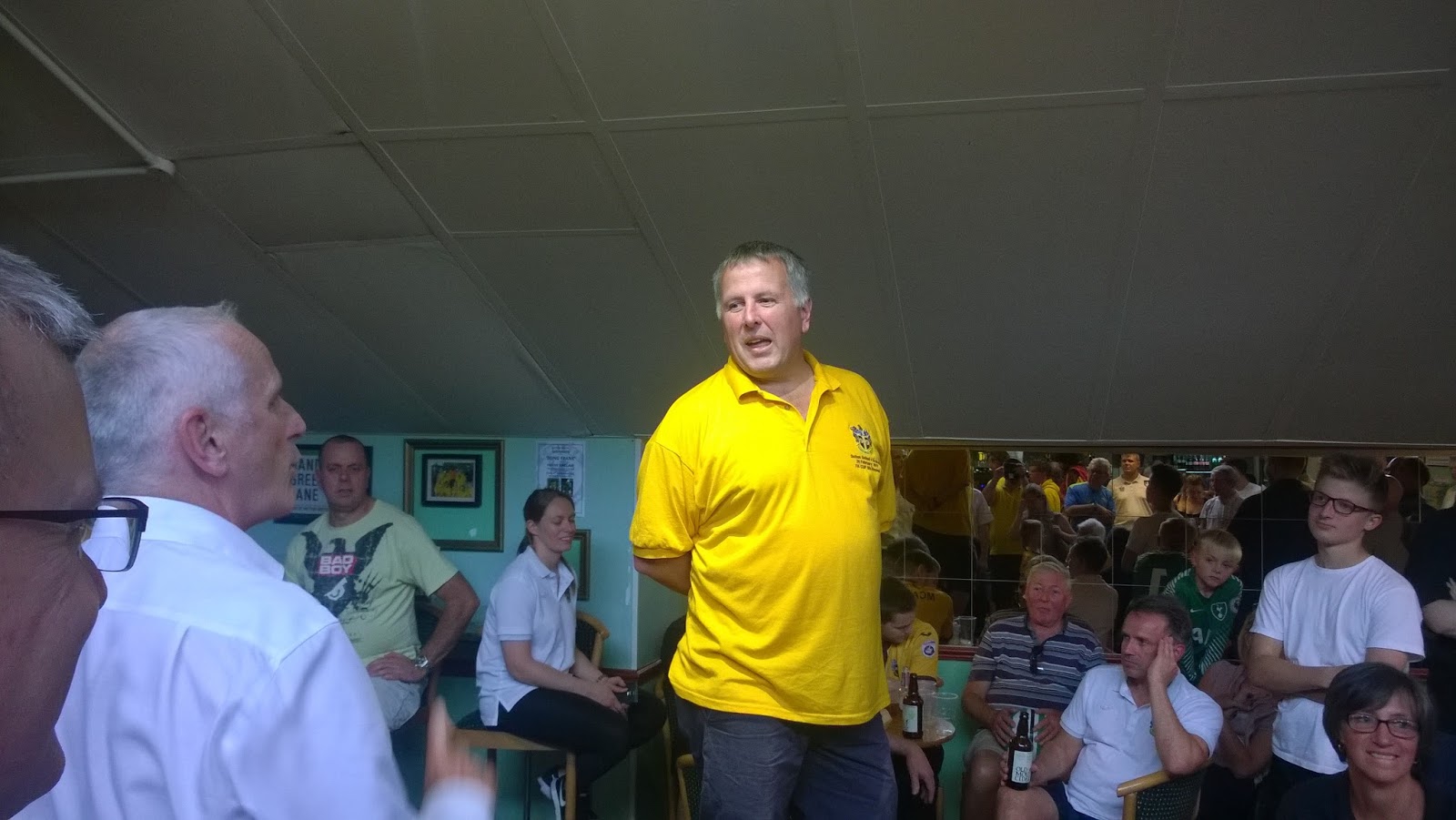 Draw number three….
Next draw and Magnum PI had his balls out number out and calmly takes the pew before then pulling out his chosen key. A quick glance at AB and you know it might be the winner. The next sure fire thing is when after failing to open the safe you hear he words "Try again.." and yeah, the bugger won! £900 pounds Sterling in his sky rocket. Although we did get a drink out of him. Not that he had a choice. Bastard. But a nice Bastard.
With Irish Pete celebrating his 50th with a little shindig near the Jenny Lind, some of the Firm decided to hit he town for some food. Me and Crockett (who was supposed to be going to a BBQ) never did manage to make it that far as we ended up still down the club talking to the only Ipswich Town supporter we've ever known. So take a bow Lee from Croydon, told you I'd get you in the blog!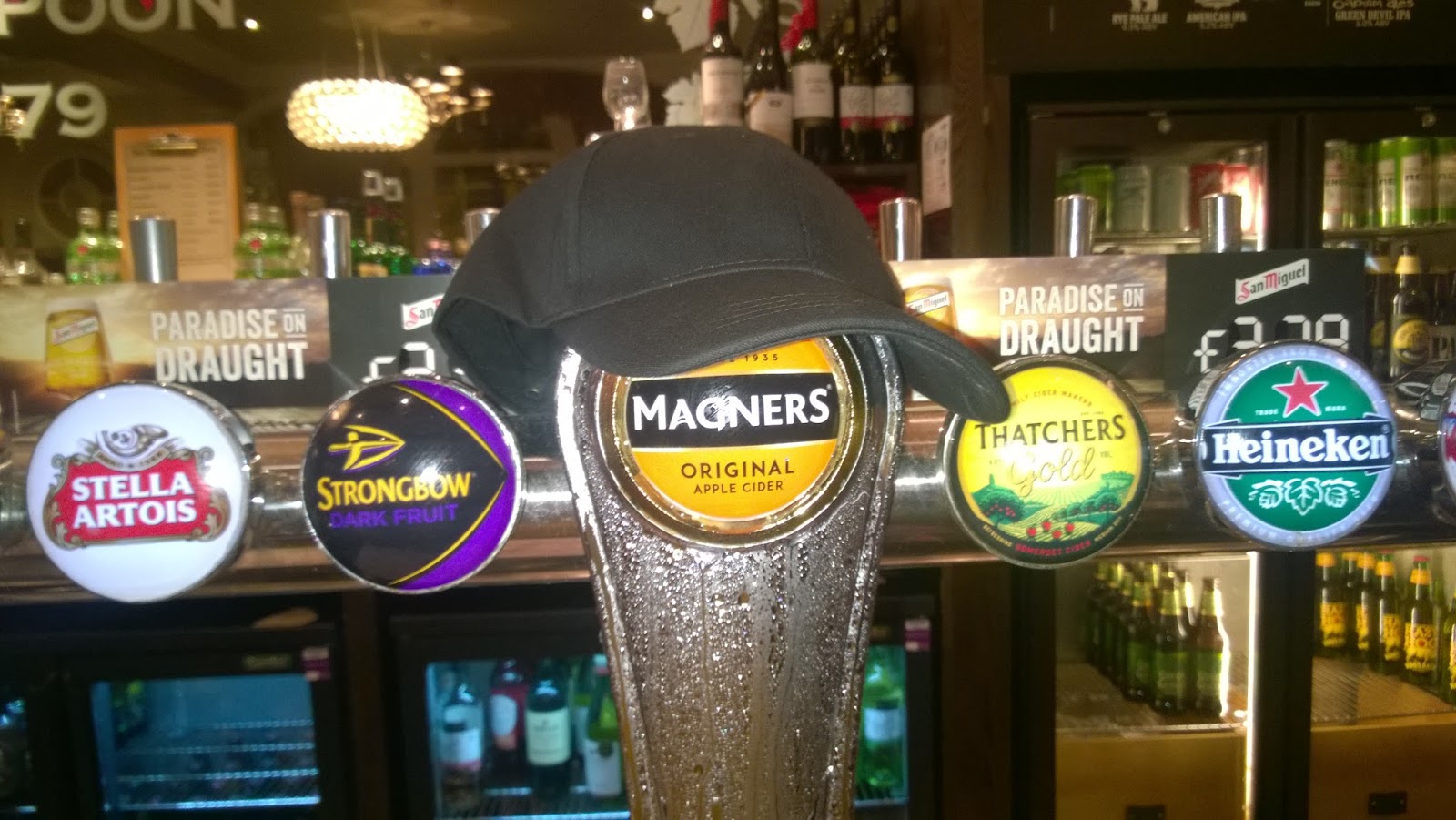 Lost hat
After missing the train to Sutton, we then have to walk it all the way into town before we finally arrived a bit late, blaming the livener we'd had in the other 'Spoons! And besides, someone else left their hat at the club. Cue more drinking and celebrating and several pancake rolls. Later on I finally call it a night before the planned after party/boxing match back at Pete's could draw us in. And along with Taz we made the hike back to the Badlands of Carshalton. Thinking I might be able to pass out as soon as I was through the front door was not an option as a party not only next door but another opposite my back garden managed to keep me up most of the fuckin' night!
So we move onto Monday's heavyweight clash against another Free Gee supporter in Bromley. Not only is it destined to be a scorcher of a day, but as we've told that full segregation is in place, so we'll be down the side. Always amazes me that, they segregate you in the ground but there is only one way into to the ground from Hayes Lane. Go figure!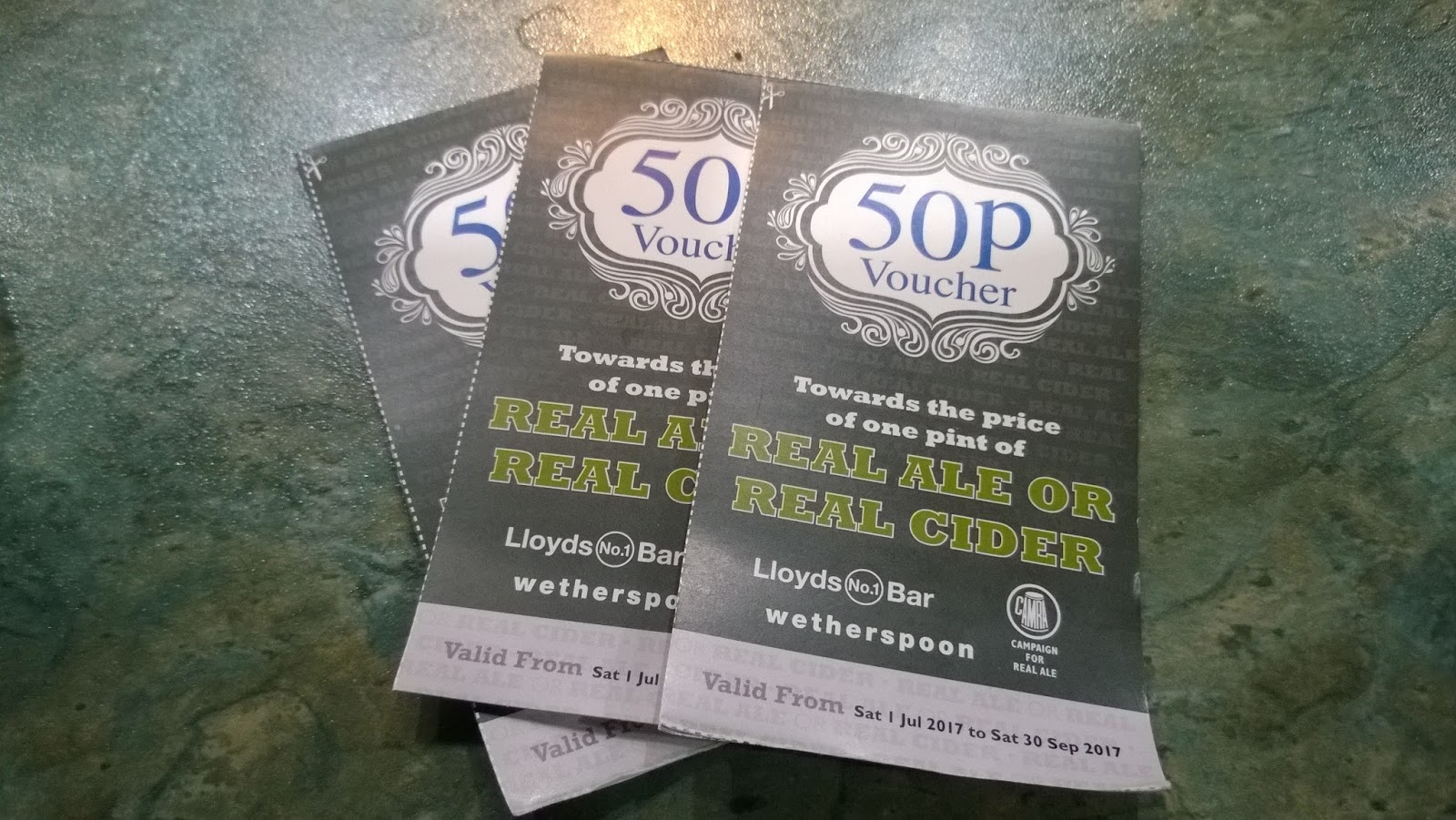 Dukey's favourite things…
Duke
Att. 2312