Gordon Bartlett Bennett, we've only gone and bloody done it haven't we? Top of the league, best of the best, the crème de la crème, the tutti frutti, the Gino Ginelli. And before we get too carried away with foreign sounding words, let's just stop and relax for moment. So take a pew, stick a Pacer in your gob, open up a bottle of Blue Nun (or a Party Seven) and read on…
Well what a bastard of a day Friday had been. Somehow, there was one solitary shower in the Urea hotspot of Tolworth all day and I manage to get caught out in it and get absolutely soaked to my bones. Then, after getting home, I remembered that my railcard needed to be renewed in the next couple of weeks. So I thought I'd make the simple trip up to the station (supporting the local ticket office naturally) to get it done and out of the way. Of course it was bloody shut when I got there and to add insult to injury, it pissed down as I walked back and I got fuckin' soaked again.
So there I was walking through the door of Duke Manor, wetter than a fish in a pond and still needing to renew my bloody railcard. Kind of reminds me of the frustration back when I tried to play a certain Teletext game using my remote for the telly. Speaking of which, does anyone else remember this little ditty from back in the day…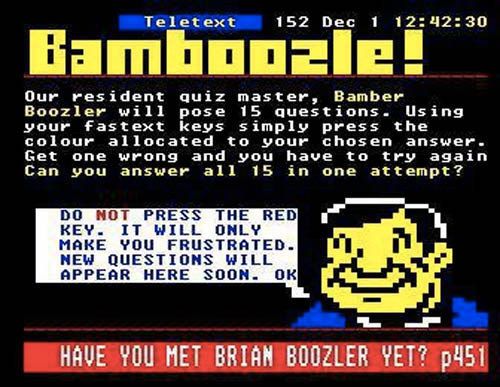 Nostalgia
And no, before you even begin to ask, I never actually ever managed to play this fuckin' game either. Turns out that I never had the right sort of telly that had some sort of newfangled "fast text" or as it was, those four coloured buttons that were very important. Pissed me off that did, much like Live & Kicking and their Hugo The Troll phone in game. Elitist wankers, not everyone had bloody touch tone dogs you know.
The trip up North started like our previous excursion. All of those that were making the journey needed to head to Euston. And same as last week, I headed to Carshalton (renewing my railcard and not getting wet in the process) and the 0732hrs train. Then it's a quick jump onto the Victoria line. Somehow despite being the exact same route I took last Saturday, this was much quicker and I arrived stupidly early. Still, not as early as Dr Bell who was already loitering about, munching on a roll. Still, with his track record, the fella had probably arrived the night before to make sure he didn't miss the train.
Indy & Sean Connery's Stuntman weren't far behind, apparently they were on the same train as me, and a surprise addition was Johnnie who appeared to not only be on the same trip up but the return as well. The poor sod. 4 Days, Mr X and finally Taz were to appear. So that's no worry about not having tickets and no one being in danger of missing the trip. For a change.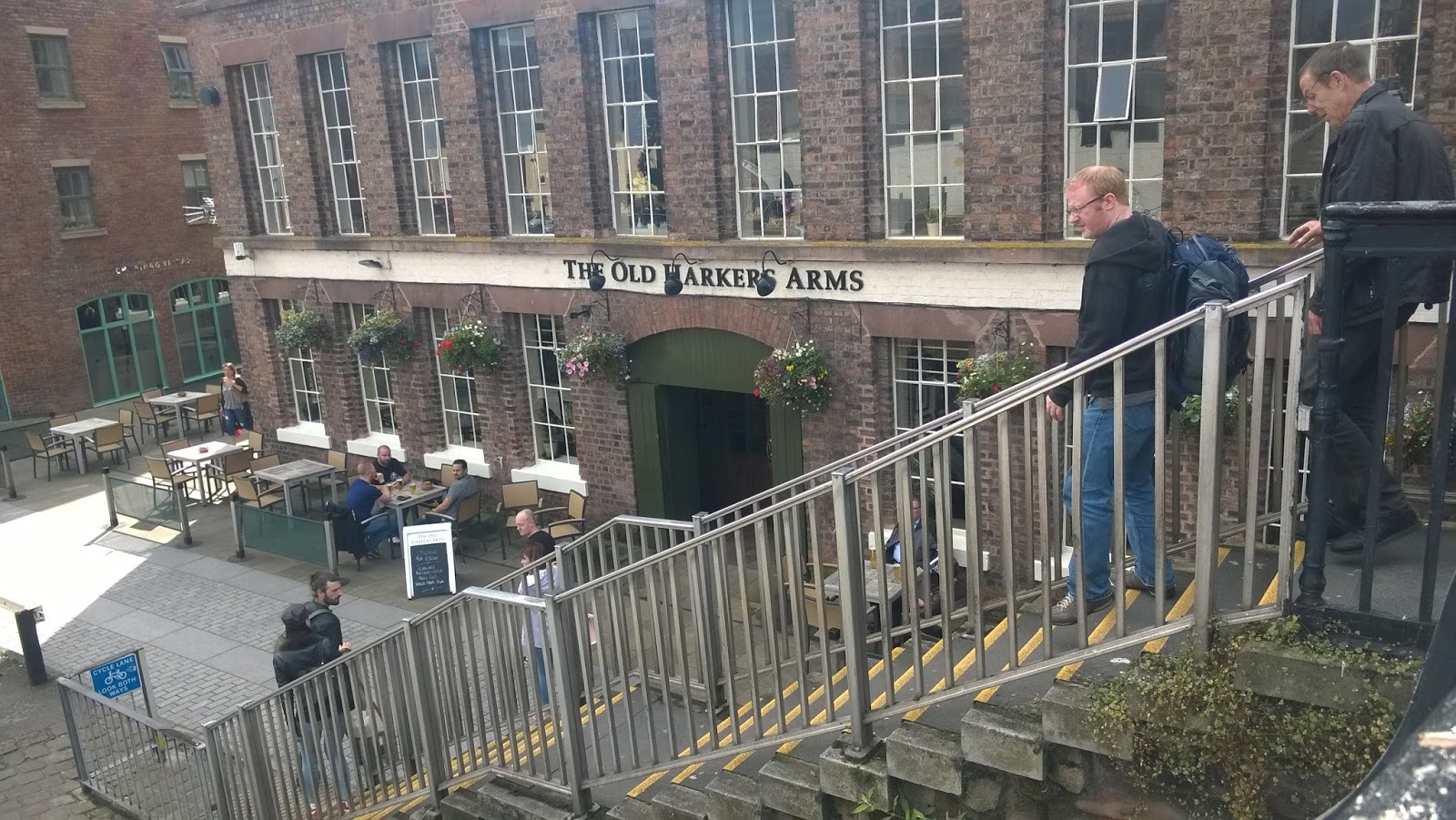 Stairs
Being another Virgin train meant that boarding it wasn't without the usual "Shits & Giggles". Despite having reserved seating, it didn't help that any of the coaches had any lettering on them to help find the buggering thing. After finally finding our carriage and then our seats, we had to move off an Irish family who were sitting in our spots. It wasn't to be their day as they were moved off onto another set of seats only to be moved off those too. They were moved a third time as we left Crewe as well! I'll make no further comment at this point.
Like last week, the trip was a simple affair. A nice direct train all the way to Chester with no fuckin' about. Arriving just after eleven we then head off to the first boozer of the day. "The Old Harkers Arms". Very much like that posh hotel last year, it's perched on the canal and we quickly order up some cheap drinks and decide on our various options.
There also appeared to be some funny looking memorabilia found in the khazis that you can see below. Don't know why someone would want to take a picture of it and then put it out there for the world to see, but that's why you love Gandermonium so. Supping up and trying to head towards some of the other pubs we visited last year, we made a plan to walk down the canal.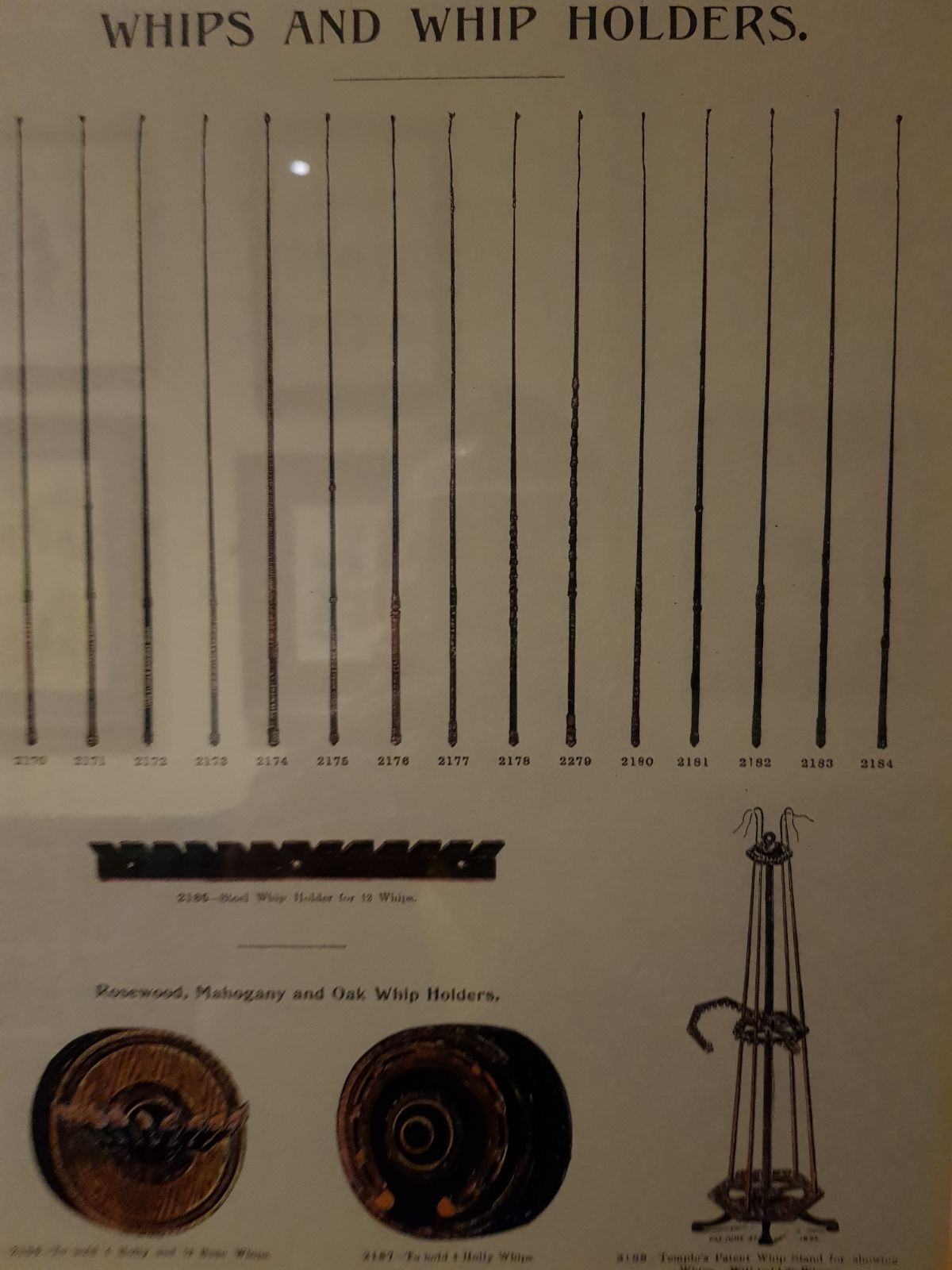 Kinky
A quick skip down the road and we arrive at "The Lock Keeper". It must've just opened as we were the only ones inside. For once Taz's drink was the most expensive, which we took great delight in telling him, whilst outside the heavens opened up. So instead of heading too far and getting soaked in the process, we find "The Oddfellows Arms" just next door who were in the process of opening. In here they had some nice colourful flags up, no idea what that was all about though.
Walking towards "The Pied Bull" was not without incident. Twice I nearly fell arse over tit in the now wet conditions. The first time was when we hadn't even made it to the old walls yet, but a set of stairs down to the canal. The second tine I nearly fell over the rail that stops you from tumbling off the city walls itself. Fuckin' Romans, don't they know about health & safety?? Still, we did finally arrive at the pub and were soon joined by the Firm Leader and his Harem who were having a whole weekend of action up here, including a trip to the zoo.
At the Bull we sink a few more jars and remembering the hassle we had last year, make an early call to rustle up some cabs for twenty past two. Ready to make a move, we all head outside and wait…and wait…and wait…and wait…and finally nearly give up hope as once again a Chester cab firm has let us down (like last year). Some the Firm even wave down a passing black cab as we're now in serious fear of missing kick off. Eventually a min-van does turn up and despite the fact that he refuses to take all of us we are saved by the arrival of the other sherbet.
Arriving at the ground, it's a stiff £18 to take our place in the corner. But our late arrival means Taz wasn't allowed to put the flag up with the rest of Sutton ones. For once though there is a bit of food available to us but the supposedly 'chicken & ham' pie left a lot to be desired. Should've gone for the bloody hot dog on reflection (Steak pie was cracking! – Ed).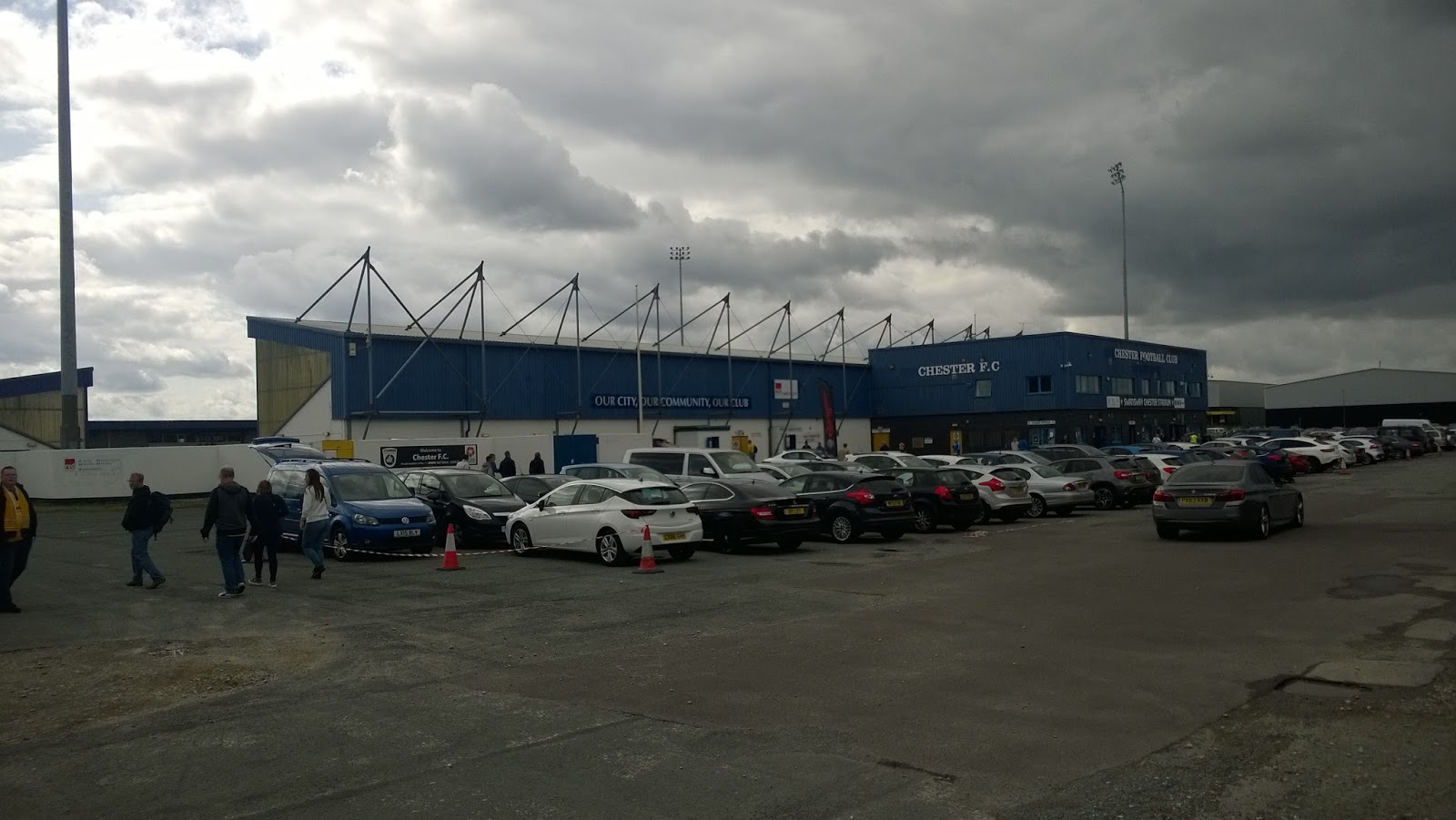 Cloudy
Butler, Thomas, John, Collins, Davis, Lafayette, Dundas, Eastmond, Bailey, Spence, Wright. Bench Warmers: Amankwaah, Cadogan, Emmanuel, Taylor, Jeffrey.


Unlike last year, there wasn't to be an almighty rush of disappointment early doors as this time it was Sutton who drew first blood, only for me to miss it! There I was, in the stand, when me & 'Wreck It' Beckett got discussing his little enforced trip to Runcorn last week. Next thing I know, I'm looking for a picture on his phone only to be interrupted by the celebrations of those around us. 1-0!
Turns out that John has pulled one from right out of the top drawer with a crisp left footed shot outside the box that sailed into the top corner of the net. After that it was very much the Sutton show as they peppered away at the Chester goal. It didn't take long before the home support got on the back of their team. I think someone clocked it at around a quarter of an hour before the grumbles and boos could be heard.
With half-time was fast approaching, the game dynamic totally changed. First Davis played the ball through to Wright, who still had work to do bearing in mind the two defenders chasing, took the ball into the box. Hitting it towards the keeper's near hand post, the ball managed to slip past him into the back of the net. 2-0! And now the away fans went wild.
Thinking that 2-0 would be a fair reflection on the first half and probably kill the game, Chester were handed a lifeline right on the break. From a rare corner, the Chester fella had a free header that was cleared away as far as the edge of the box. With no one really closing him down, the geezer then curled one right into the top of the left hand corner past a stranded Butler. Perfect timing to give them some hope after we've bossed 'em for 40 minutes.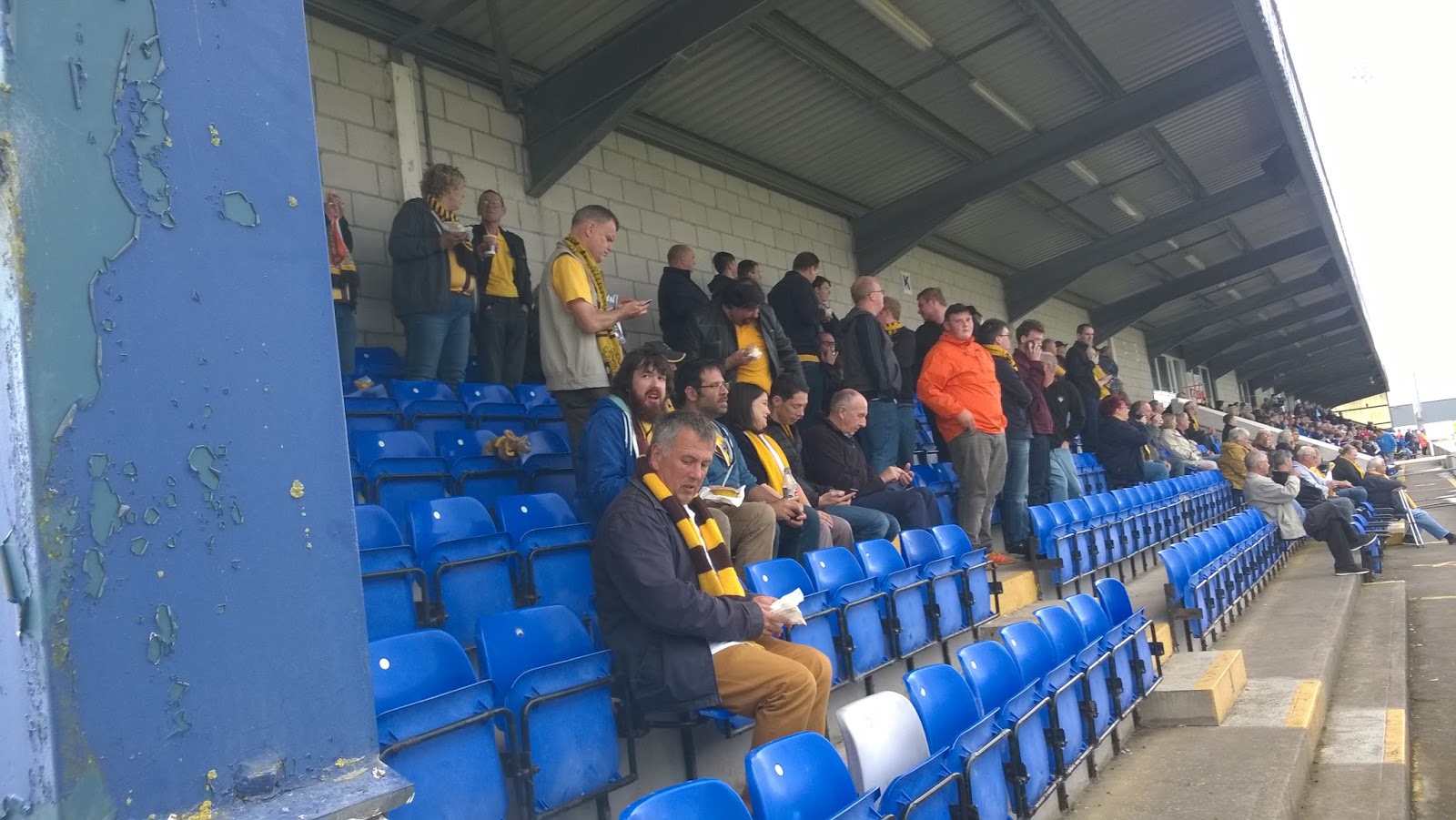 Crowd
The second half was slightly more cagey from Sutton. Five minute gone and Sutton get a free-kick out some way from the Chester goal. Up steps Bailey and he whips a ball into the box that misses everyone and bounces into the far corner of the goal. 3-1! Everyone jumps up and down and the ball is brought back to the centre circle.
Suddenly some one clocks the big number six moaning at the linesman in front of us and then the ref is over getting involved as well. Every once in a while shooing the players away he is deep in conversation when he eventually gives an offside decision against us. No goal. 3-1! 2-1! WTF??? For the life of us we can't work out how that decision has been made and in no small way show our feelings towards the official in question. I don't think I ever recall the amount of c-bombing coming from the most unusual of sources. I suppose the real question is, why didn't the linesman flag for the offside during the free kick? And did anyone else notice how properly Northern Johnnie gets when he's angry?
With the goal disallowed, this gave Chester the best possible injection as Sutton seemed to withdraw into themselves. Now it was time for the home team to add some pressure and eventually it paid off as they equalised just after the hour mark. Next came a run of substitutions for the away side as Dundas, Wright & Davis made way for Taylor, Cadogan & Emmanuel.
With time fast running out, the board going up to announce 3 minutes added and a draw looking the most likely, Taylor robs a Chester fella and runs the ball into the middle of the Chester half and lays it up to Emmanuel. He then knocks it into the box where an expecting Cadogan waits. He then, calm as you like, lifts the ball over the keeper and into the empty net. 3-2! Now the away support goes proper mad. At one point I see Johnnie laid out on the floor below us as the excitement gets the better of some of us. I guess all that Northern-ness wore him out? With a few moments left we see out the clock and celebrate our surprise rise to the summit as Aldershot have got beat at Wood.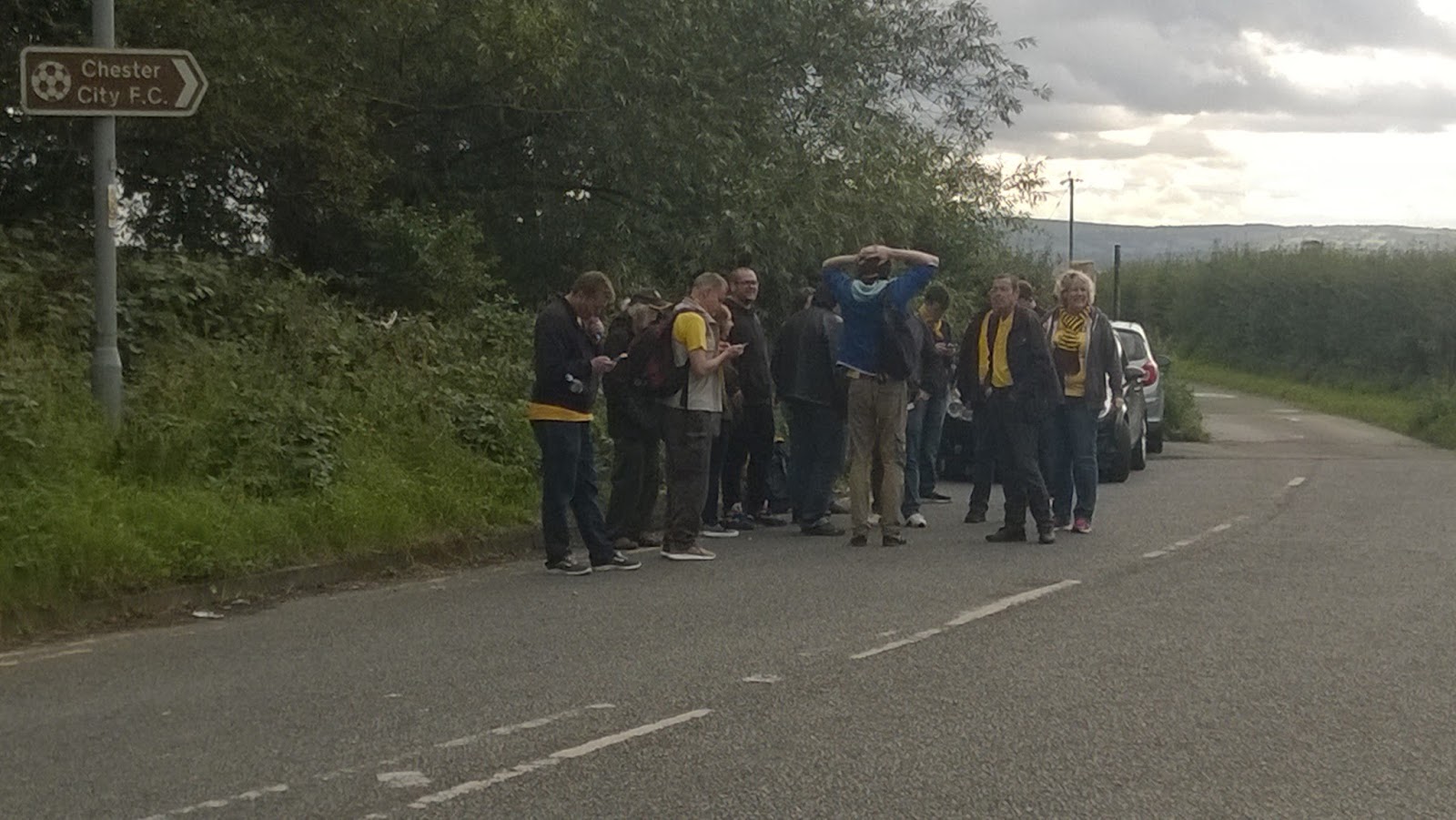 Illegal gathering
Now it's time for everyone to head back into town and celebrate our table topping success. Luckily for us, Mr X had already rustled up some sherbets at half-time. Now, what do you think happened? Yep, once again they failed to turn up at the proper time. Or even what could be described as late. For the third consecutive time, a cab ride has been seriously fucked up. Eventually, some 40 minutes after the end of the game, one mini-van arrived and not surprisingly it managed to drop off the first lot and return to pick the rest of us up. If the Chester experience was marked on cab rides, it would be a definite thumbs down. By the way, did anyone else see the Scottish Youth FA team give us the signs from their coaches as they left? Teach 'em early up there it seems.
The next pub on the list is "The Cottage Inn" (same destination that Quinton lost his wallet on the way to last year) where we got to see a very happy Firm Leader play with his recent purchase of a flashing Pac-Man light. Don't ask. We also carried on with the very unusual conversation regarding someone's alleged fascination with the various differences of animal's bumholes.
With the fuckin' around with the cabs having eaten into our VDT, we were soon debating our plan of action for our journey home. It was decided a drink in The Kazh Bar up the road could wait until we are returning from the Wrexham game in a few weeks, but we still needed food & drink. With last year's idea of ordering up some pizzas for collection at the change over at Crewe decided upon, all we needed to do was buy some beer for the train.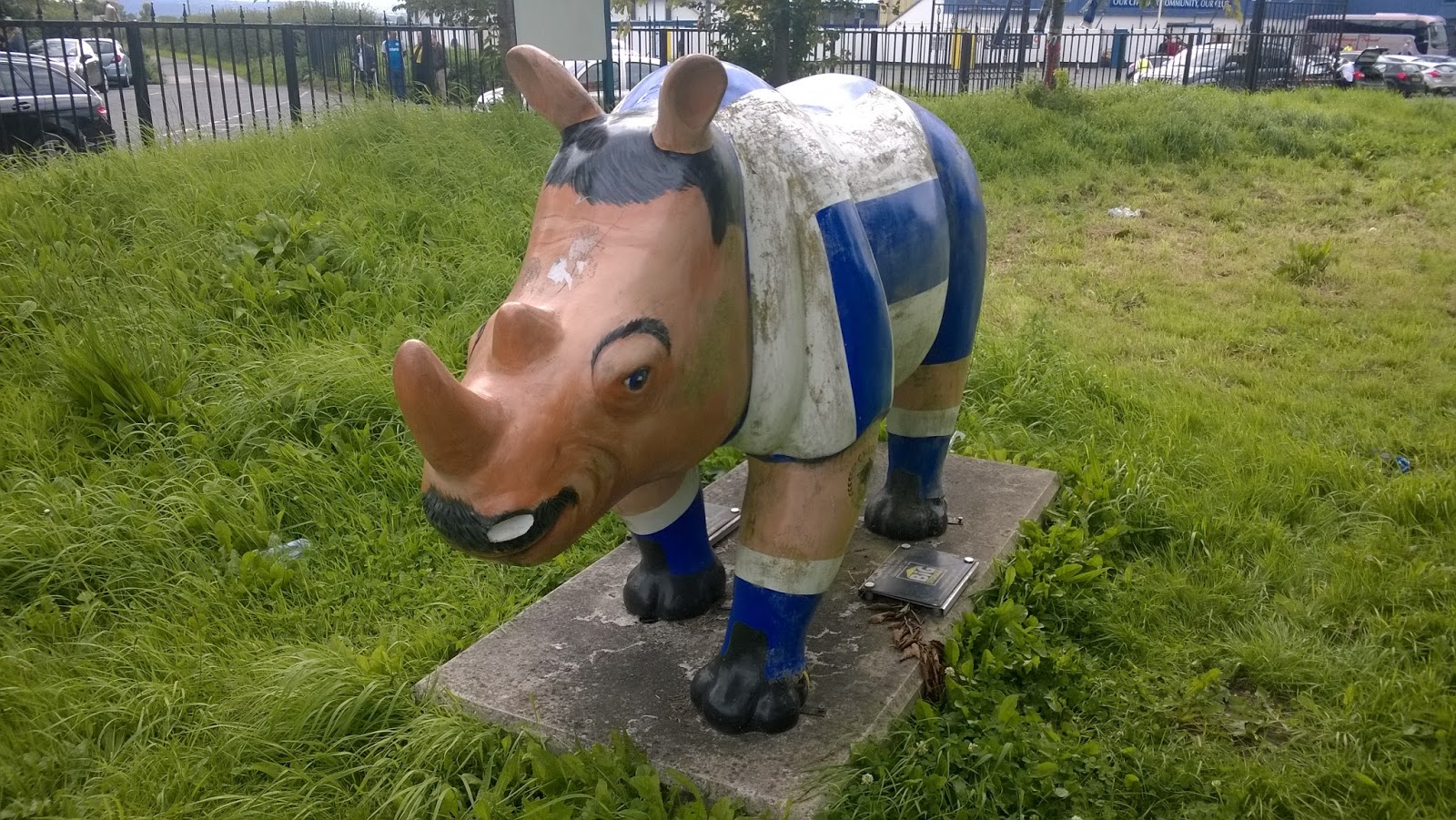 Needs a wash that.
Deciding a four pack would be plenty enough for the journey, we soon head to the station and the train. Which turned out to be a little two carriage affair but luckily was empty on arrival, considering the amount of people getting on at Chester. Half hour later and we arrive at Crewe as Taz & Mr X bowl off to grab the pizzas. All the rest need to do is head over to the right platform and await the train.
Having boarded and caused havoc booting some Palace fans out of our reserved seats, even before we've settled down for the journey 4 Days produces another example of his ability to create amusement for all unintentionally. This time it was to throw a whole pizza on the floor. At least it wasn't my pizza! Still, we manage to salvage most of it from Richard Branson's carpet and then it's time to sit back and relax as we head back to London. Johnnie managed to grab himself a few slices, and I was left with the free bottles of Coke from the deal Taz & Mr X had done with Dominos. We were also travelling with several of the Nigel's that'd made the long trip to their team lose at Liverpool. There was even a solitary Scummer on the train who I'm afraid to say had to bear witness to several drunk songs that were aimed in his direction.
Eventually we made it back into Euston. There we decide to head onto the tube back to Victoria to grab a train back South. Full of beer and pizza the ride turned into the usual mist of over-excitement that overcomes us from time to time. Deciding against heading back into Sutton for a nightcap, Me & Taz alight at Carshalton. After some debate about what might be, we head our separate ways. Soon home (and still carting those two bottles of Coke) and it's time to think back that little shit who nearly spoilt it for the rest of us…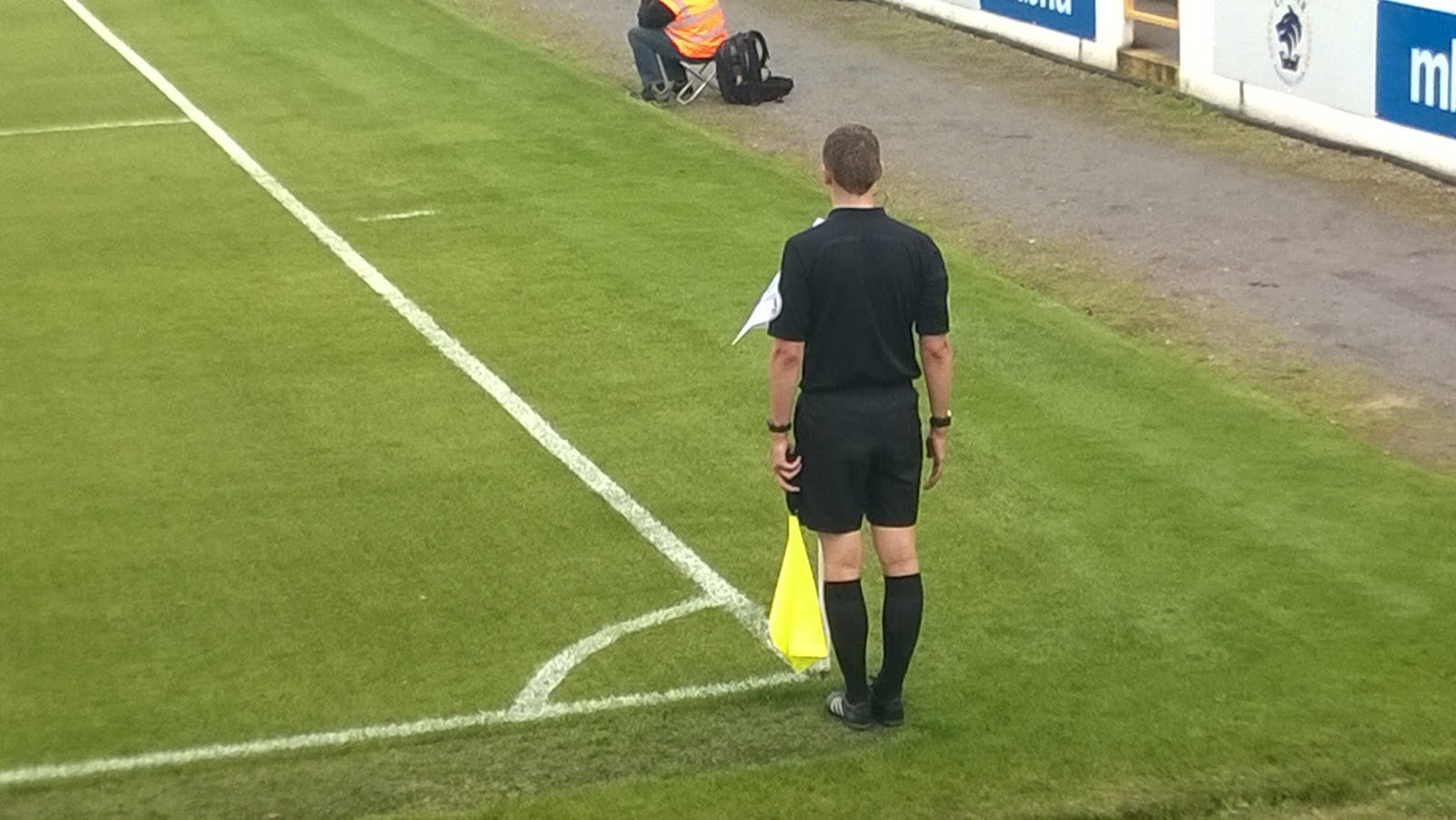 You don't know what you're doing!
So there we have it, another away day of 17/18 that can be chalked off. We now move on towards a Bank Holiday Weekend double-ender. Depending on how Dover get on at Macclesfield on Friday, we might still be top come the visit of Maidstone. Or even more of a surprise it could be a top vs second affair when we head to Bromley on Bank Holiday Monday. imagine that, Bromley vs Sutton, a top of the table clash in the Conference!
Duke
Att. 1670