Strange how things pan out innit? Last season we met Macclesfield at much the same point in the season. We'd had an ok start and a decent 2-0 win left us sat in the positively vertigo inducing 3rd place. Optimism was high! Then we went to Chester and had our pants royally pulled down in a defeat so rude, it really should have got all their lot on some sort of register. So, following this midweek clash with Macc? Chester away. Oh. Best hope we draw tonight then…
I'll be honest, I think I've finally realised I'm getting way to old for all this shit. Having spent the weekend on the gas in Liverpool, the after effects took some time to overcome with me still feeling properly run down after lunchtime on the Monday. Even a berocca didn't help and that's supposed to cure all known ills according to the ads. Still, it could have been worse, I could have ended up like Robbo chatting to the almighty in his hotel bathroom a lot of the morning. And on the Trans Pennine service to York. And on the 12:35 Manchester to London Euston. Still, it at least kept his mind off regaling us with the great and good of reality TV and fucking Jade Goody's marital history again.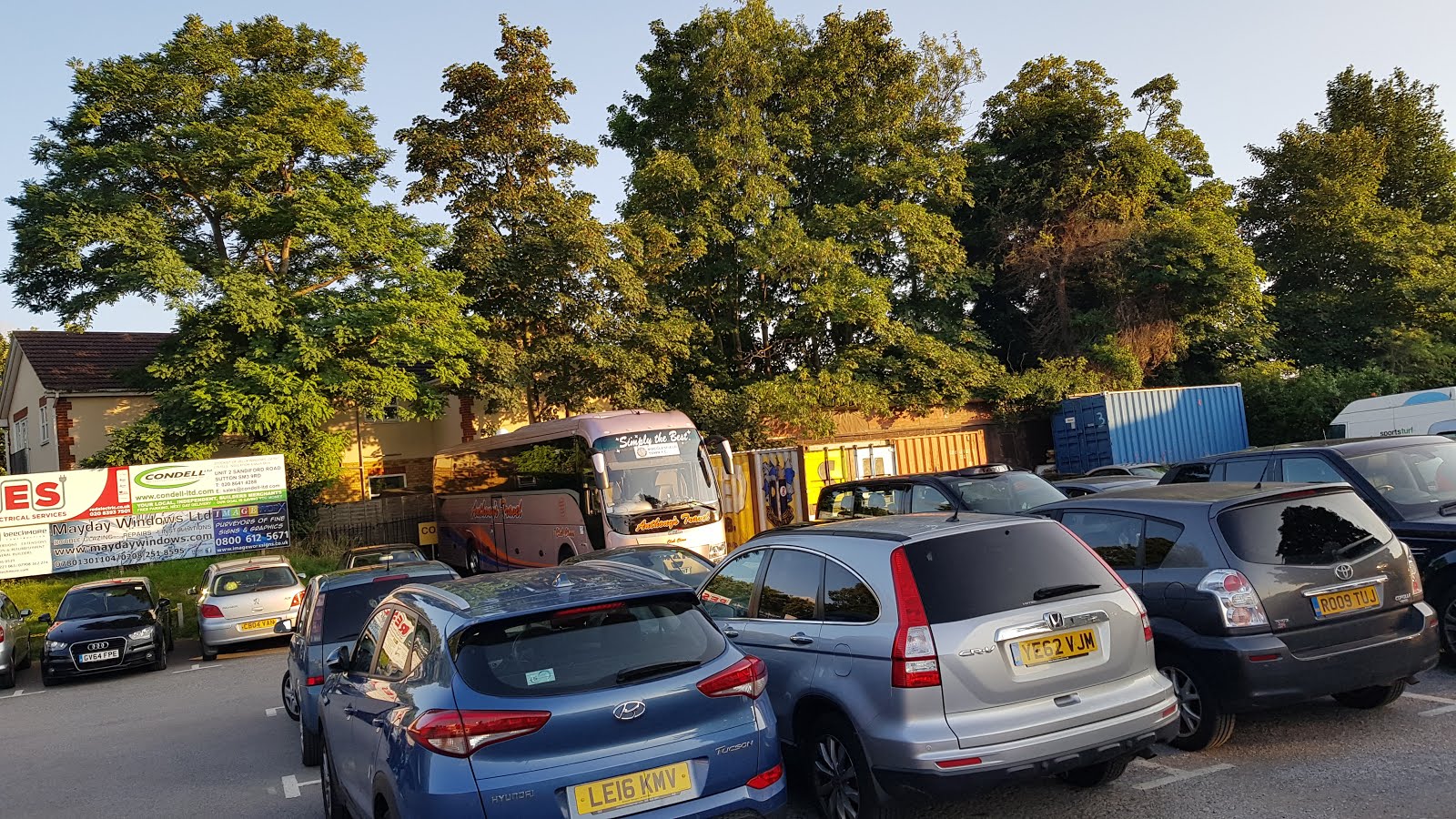 Coach
I manage a timely leave from work and even get a slightly earlier train, meaning there'll be time for a pre-kick off shandy at the club once I've collected Dukey from his palatial manor house. Sweet! There's not even any Thameslink fuckery to complain about as they actually run a service on time for once. In fact the only real thing worth mentioning from the commute home to help pad out this load of old shite comes from changing trains at Tulse Hill, where I nearly knock a Tooting player down the stairs (I'd have probably done them a favour given the absolute bitch slapping they took later that night!) and spying a bloke in a Sutton shirt boarding the train I'd just left to go the long way round the loop to the Republic.
That last thing is still summat I've still not got quite used to yet since our sudden FA Cup and mega cheap season ticket fuelled rise to universal popularity. Seeing someone I don't know (eg. Not one of us fuckwits) out and about with our colours on display. It's weird, but a good weird. Like being into Sci-Fi but not dressing up as one of the characters from your favourite TV showfilm fer'instance.
With the motor collected, I head to get Dukey who for possibly the first time ever isn't coated in a layer of Brut that would make plants wilt, children cry and put a hole in the ozone layer. My only guess is he'd either only just got home or he's run out. Whatever the reason, the world and more importantly the inside of my jam jar is all the better a place for it. Having negotiated traffic, we park up in the VIP Gandermonium spot outside Mr X's secret hideaway a short walk from the ground and make tracks for the bar. It looks like it's going to be a busy one as there's a good few people milling about outside with a pint. In the bar, the usual idiots are on parade along with a friendly face from Ooop North in Aaron who we last saw here season before last when his boys Curzon were in town in Trophy and we took the lads out to get fucked up in Sutton. Having now moved south to learn our fancy London ways for work, it seems Mr X has guilt tripped him into doing a game after he bailed on us up on his manor in Manc
on the last day of last season.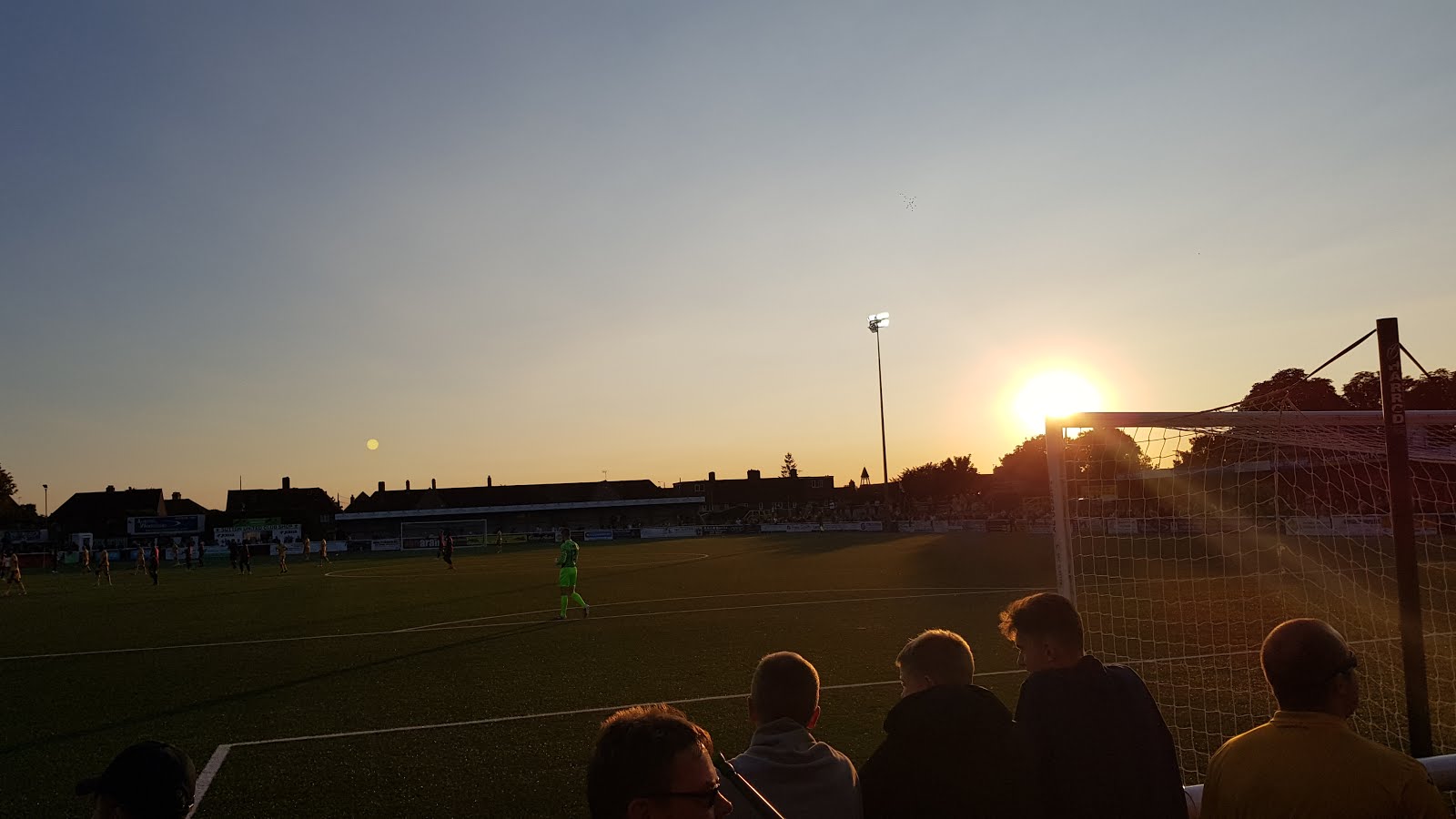 Feck off sun!
I try to get a pint in for me and Dukey, but we've got the usual midweek staff on and it ain't happening any time soon so I give it bollocks and just go back to catching up. This involves hearing the sorry tale of one of the Yoof's night out in Liverpool post Tranmere at the weekend. It seems that he got lucky with a local lady who apparently looked like the lass 'Nessa' from Gavin & Stacy. Well, I say 'local'. It turns out that he ended up out in Runcorn, which to old heads like us is guaranteed to send a shiver down our spine. And not in a good way like he had. Still, given our record at the old Canal Street, he's at least carried on an old tradition as every other Sutton fan that's been there before him has got fucked as well. To add to his woes, he awoke with 2 hours to return to Liverpool simply to catch his train home and with Uber not an option, had to black cab it which cost him the best part of a bullseye. Still, it's at least heartening that the yoof are as fucking stupid as we are in some respects.
Despite all this merriment, it's time for some football I suppose.
Butler, Thomas, Beckwith, Collins, Davis, Lafayette, Dundas, Eastmond, Bailey, Spence, Wright SUBS: John, Cadogan, Monakana, Emmanuel, Taylor
To say things don't start well is a bit of an understatement. There's just over a minute played when a throw in is nudged on to a bloke in more space than I know how to describe. There's genuinely not a yellow shirt in the same postcode as him. In a way, he at least puts us out of our misery quickly and rather than run 20 yards utterly unchallenged and calmly slot it away, he instead hits it first time on the bounce across Butler from 25 yards and into the far corner. 1-0. We look a little dishevelled and a touch off the pace after the efforts of Saturday and things get a bit worse a couple of minutes later when Becks drops to his arse looking a bit frustrated. It seems he's pulled up either a calf or an ankle injury and he soon hobbles off to be replaced by Louis john. Immediately after, Nicky Bailey goes in the book after a silly foul caused by more uncertainty.
This is not going well! Macc have a couple of other sighters before we suddenly carve something from nothing. Lafayette nods down a ball forward and Tommy Wright darts in, forcing the keeper to be off his line smartly to block the shot. From here, the game suddenly swings towards the lads in Amber shirts as we find confidence and start applying some pressure. Eastmond fires just wide, Lafayette brings down another direct ball and turns to hit a vicious dipping volley that the keeper just claws away. Dundo piles in on the rebound and his effort looks to have clipped a defender. Unfortunately, the ref is just setting his stall out and this is the second corner he's just ignored.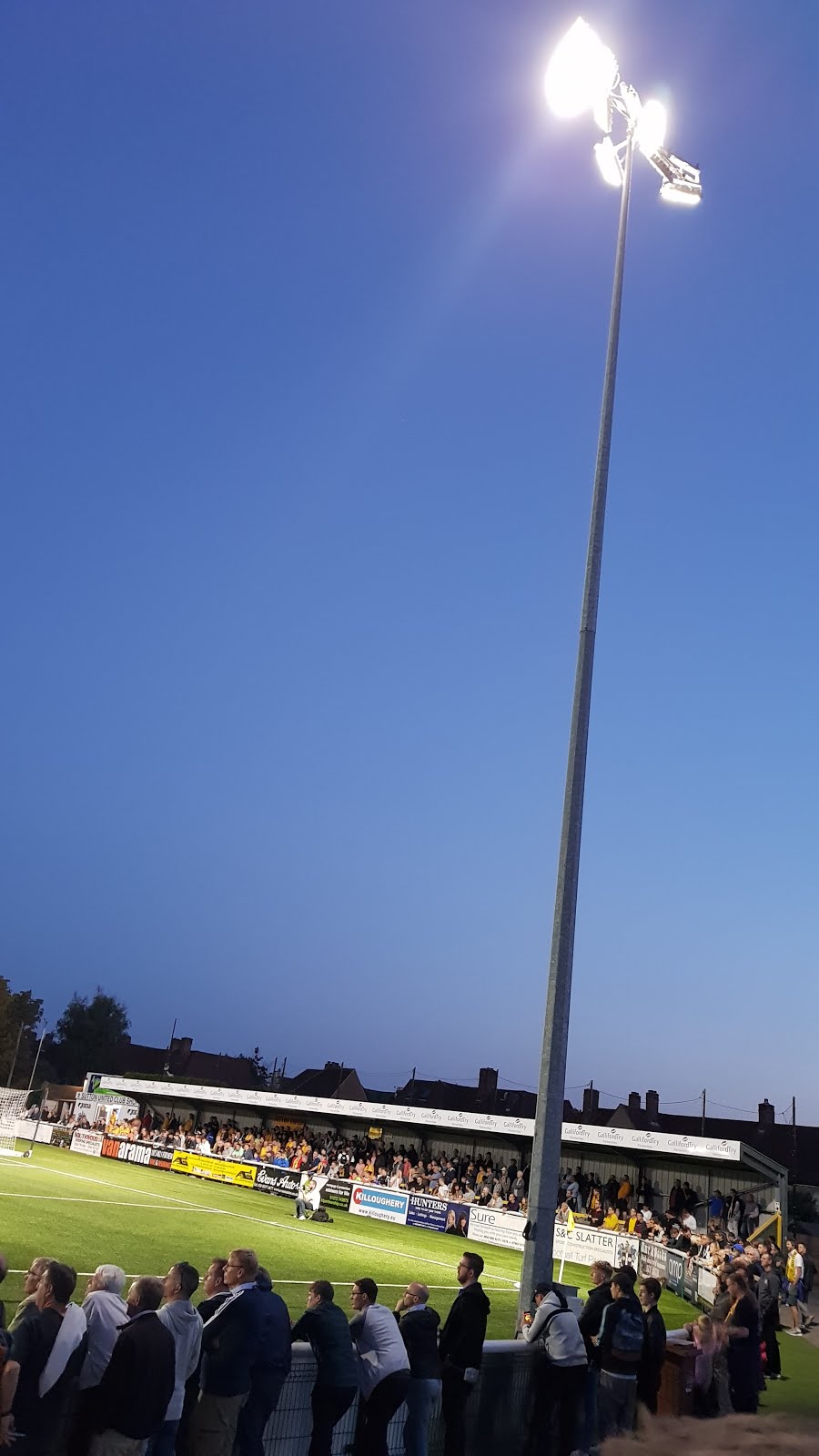 Modern illumination
Dundo then goes looking for goal number 100, cutting in and firing a low shot that the keeps just flicks wide with his fingertips. Amazingly, the ref sees this one. Aswad heads a corner over with Louis John coming in better placed behind him, Louis then brings another cracking save out of the keeper with a hooked volley from 6 yards out after a corner and then right at the death, JC heads just over from another corner. One down at the break then. Gah.
I head round for a cuppa at half time. It's all a little too familiar this. We've once again started slow and then pretty much battered the oppo with chance after chance and been denied by a keeper having a worldy along with some profligate finishing. It's so utterly Sutton United, we could probably patent this shit, if not at least trademark it.
The lads come out from the off and pick up where they left off 15 minutes before. This is made that bit easier by Macc sitting really deep and simply looking for that one quick break to finish us off. Invited to attack at will, we set about putting in the sort of bombardment that would draw admiration from a Russian WW2 general. We're so much on the front foot that we're practically playing some sort of 1930's formation with practically 2 at the back. Louis fires over following a corner just a minute in and soon after the pressure looks to have paid instant rewards. A ball in from the Rec side picks out Lafayette and his low volley is tipped onto the post by the keeper with a brilliant save. The ball skips up, hits the underside of the bar and Davis is first to the rebound, nodding into the empty net. We're level!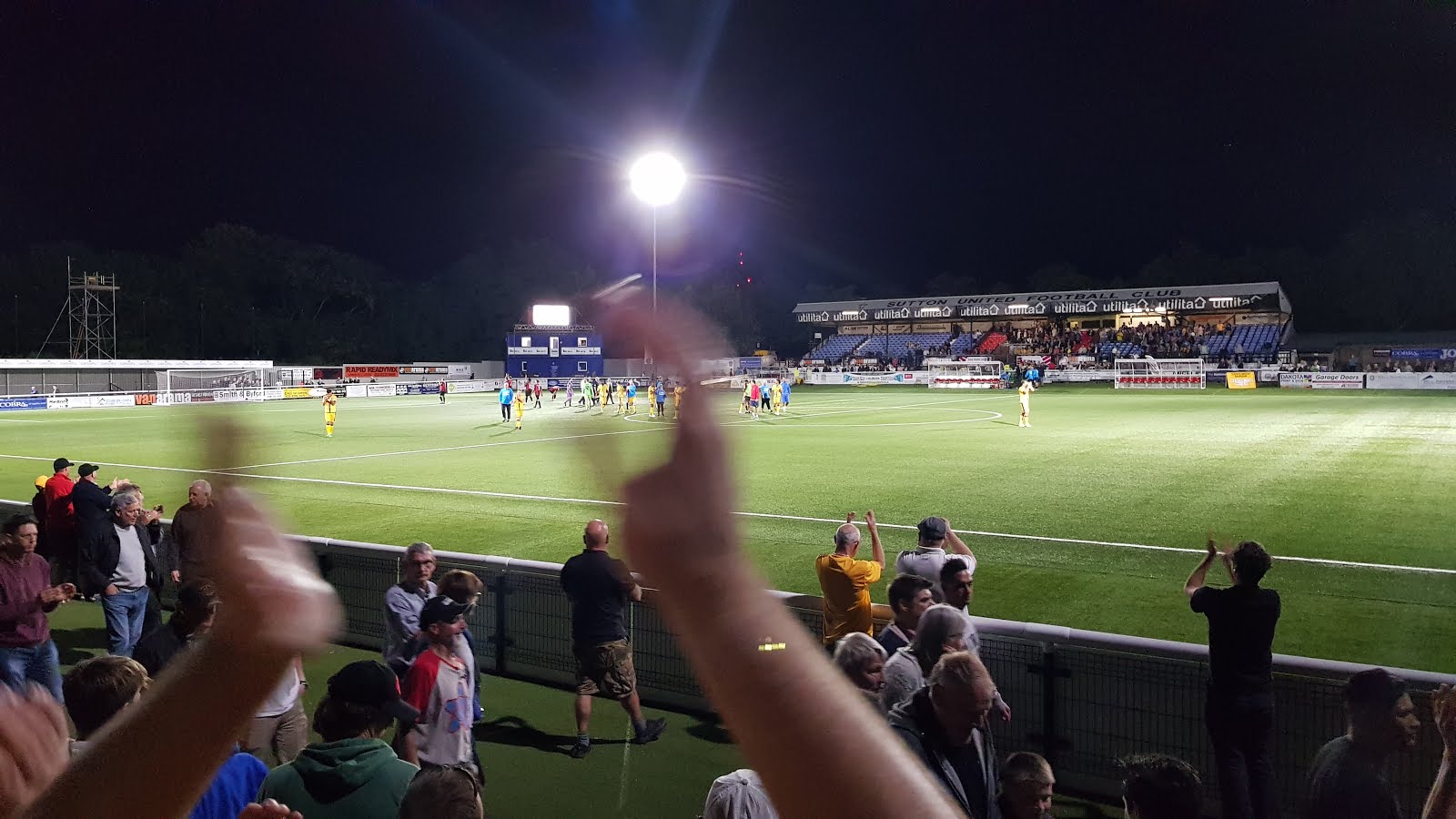 Add caption
Or are we? Celebrations on both sides of the pitch side fence are well underway when the linesman on our side raises an offside flag so late, we're sipping fucking eggnog and singing carols when we see it. It's unbelievable as Davis has obviously come from behind Lafayette to finish and is, at worst, level with his team mate when the shot goes in. The players are understandably incensed and even the ref looks a little bewildered by the call, which considering his own performance so far is saying something. He chats to his assistant and after a moment indicates a free kick. No goal. At this point, we of course take a few minutes to let the linesman in question know our true feelings on the matter.
We might also have called him a cunt. A lot.
The robbery of this goal seems to drive the boys on more and they keep on piling forwards. With the next attack, Bailey almost has his head taken off by a high boot a yard inside the box and of course the ref calms everyone down by giving an indirect free-kick a yard outside. Of course, having blown instantly for the foul, the ball breaks to Lafayette and he rifles it in. Having battered the Northerners for what seems like ages though, they were always likely to get out and there's a warning when after one quick counter, their lad fires just over from 18 yards. It seems this will be a contest that we're as likely to lose 2-0 as win 3-1. Dos decides to change things up and he brings on Josh Taylor and Emmanuel for Dundo and Davis. But this has the effect of stalling the assault slightly and it gives the oppo a bit of a breather and they're actually able to get out of their own half.
With the clock running down, we're all beginnning to wonder if a goal will ever come. Then with 5 to go, Butler launches one of those goal kicks to the edge of the Macc box, Lafayette wins about his millionth header of the night and his little knock down finds Emmanuel darting off his shoulder to prod it past the keeper into the bottom corner. 1-1!! The lads leave the celebrating to us though and the ball is immediately retrieved from the back of the net and run back to the centre circle. We've got a fucking game to win!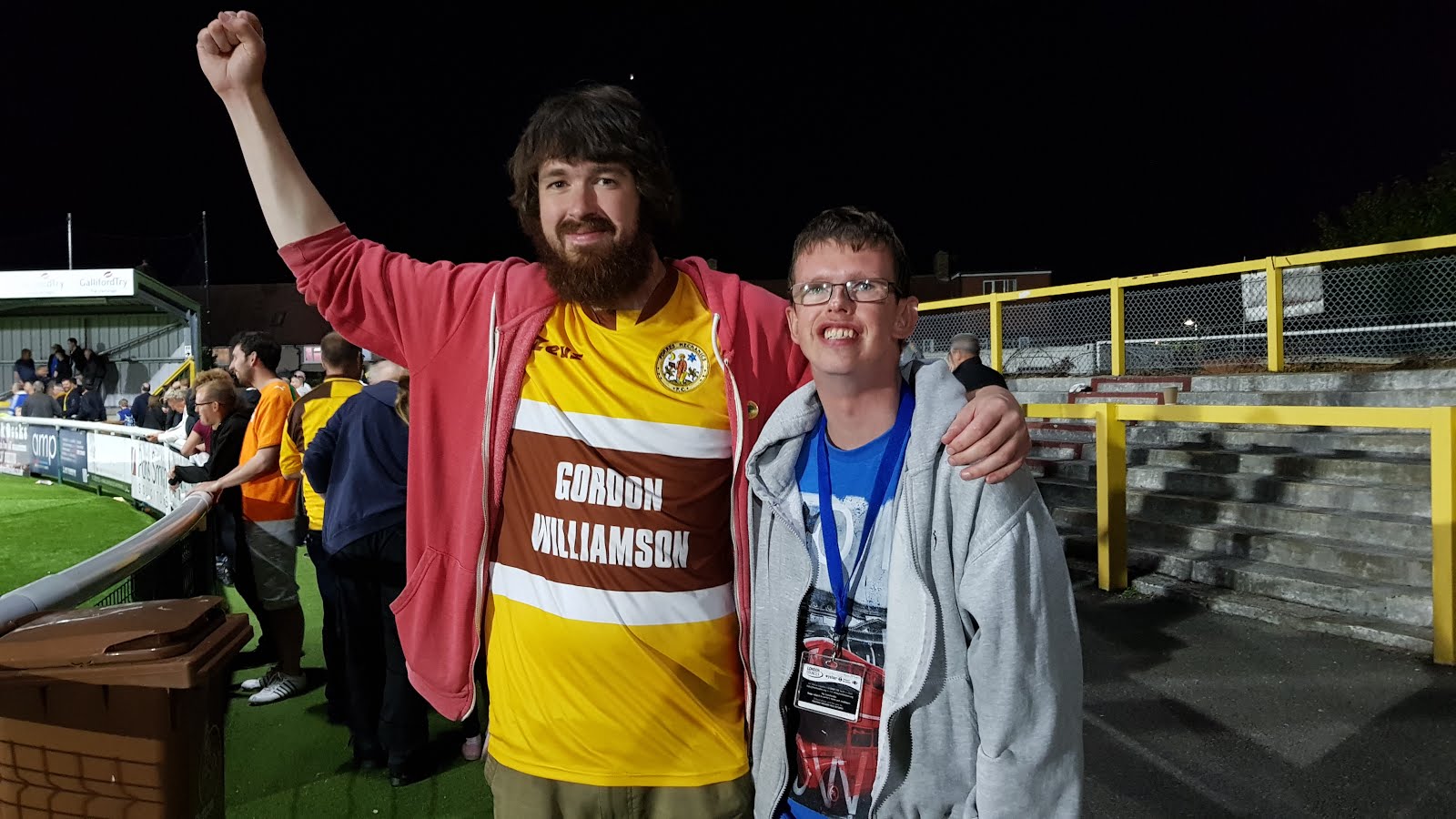 Giving thanks to Forres
Such urgency is justified as within 60 seconds, the turnaround is complete. A throw in down in front of us involves Bailey and Spence. There's an exchange of ball, Spenno swings the ball in and a defender just gets up highest to flick the ball away. Sadly for him it drops to TOmmy Wright beyond the back post. He kills it first touch and with his second, sweeps the ball back through the crowded penalty area and inside the far post to send Gander Green Lane absolutely Radio fucking Rental. With the sort of celebrations probably not seen since Roarie did Cheltenham way back before Xmas last year. It's a shattering blow to the visitors and almost to a man, they slump to the ground like they just lost a cup final whilst our lot pile on top of young Master Wright down in front of the stand. Despite there being several minutes still to go, you get the feeling this lot won't be mounting a serious come back.
And so it proves. Their last opportunity is a free kick up on the half way line that they launch into the box and it ends up in the arms of Butler, who does what all keepers do these days and drops to the ground hugging that ball like it's offered him something really nice in return for his protection. At which point, the ref gets one of his few decisions right this evening and blows for time.
Still slightly breathless from the rather exciting end of the game, we amble round to the bar for a much needed pint! Along the way, I notice that Gandermonium has attracted it's 1000th follower! Back in the bar, we've soon caught up on the league situation and unbelievably, we're 2nd. Last year after turning this lot over? 3rd. And yeah, we're back kinda where we came in. Chester away on Saturday. Ah bollocks, fuck it, we're the 94th best team in England right now dammit! Elsewhere, there's been loads of last minute goals in the National with Maidstone, Barrow and Dover all grabbing late ones. Some bloke called Dave Tarpey has also bagged all four for Maidenhead up at Fylde. Dunno who he is, but he sounds like he might have a bright future in the game. Meanwhile, the Billericay thing is less funny tonight. It seems they've made yet more hard work of things, but this time it's them celebrating a last minute winner. Unsurprisingly the gobshite in charge seems to think that winning 2-1 away in the last minute at fucking Lowestoft makes them kings of the whole world and is in full flow on social media telling people so. Bellend.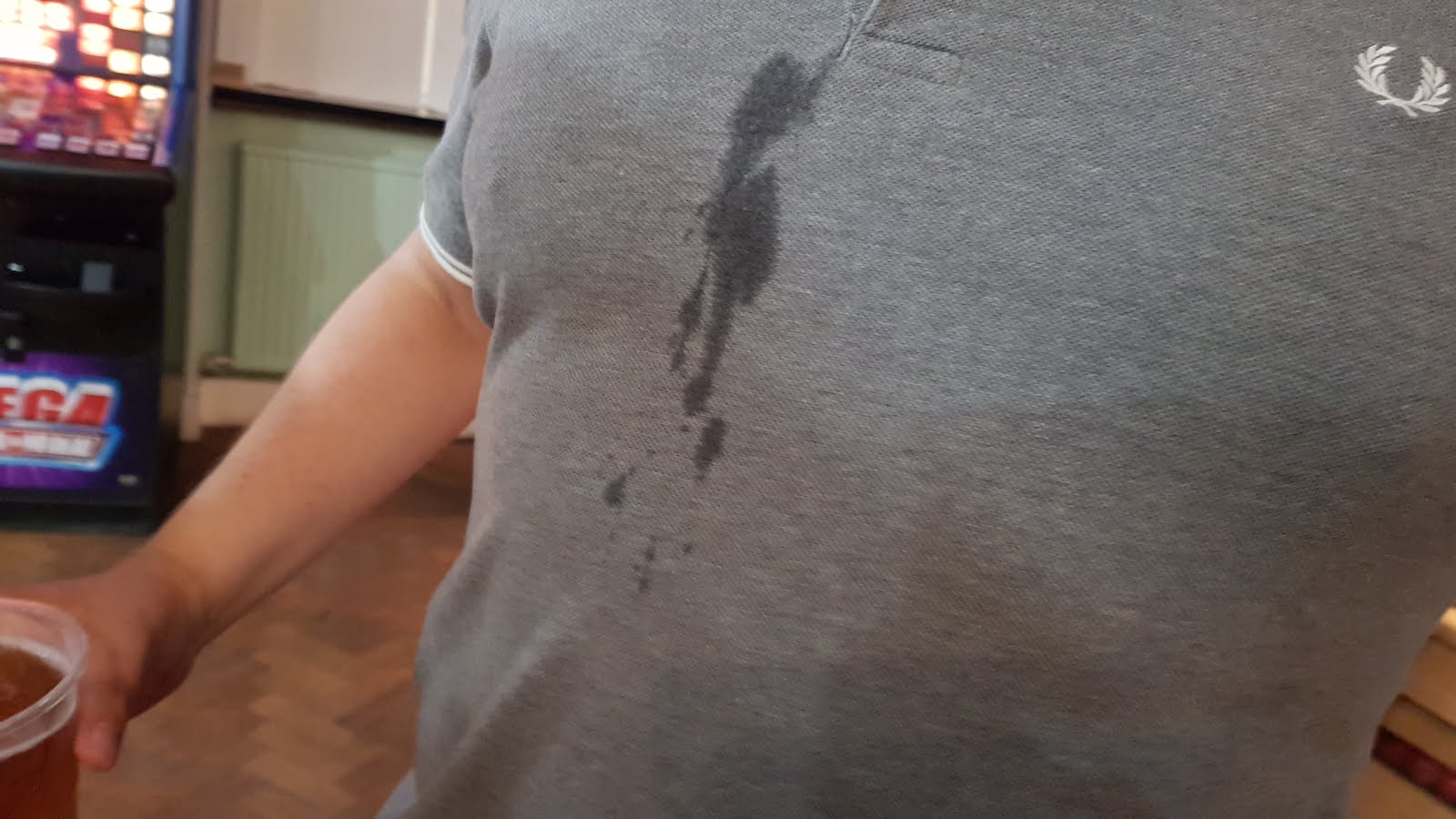 Bit clumsy
We mostly just take a breather, catch up with those not fortunate enough to make it on Saturday and laugh at Crockett dribbling his pint down his polo top like a 3 year old. Steve unfollows us on Twitter the moment he discovers we've hit 1000, purely for 'the bantz' and I also find out that the Gandermonium Instagram has hooked poor Aaron on spotting weird football stickers. Sorry fella! With time getting on, I load Steve, Dukey and Greek into the motor and start playing taxi cab in and around the borough before arriving back at HQ just after 11. And I've still not finished the Tranmere blog. Ah bollocks to it, that can wait until tomorrow.
Treat 'em mean, keep 'em keen I say.
Taz