Last season after the Southport game, we spent a very agreeable hour back in Liverpool having a pint before heading home. With the sights and sounds witnessed that evening convincing us that the land of the Scouse was well worth investigating further. But then we went and got all FA Cuppy meaning the Saturday up in Tranmere got binned and ended up as a midweeker instead.
With Tranmere finally finishing 2nd and making the play off final, along with Southport's relegation it looked like our chance was gone. However thanks to the failure of meat & potato to overcome the mung bean & lentil powered might of FGR, Tranmere find themselves stuck here in the Conference for a third season and we finally get to sample some nightlife on the banks of the Mersey.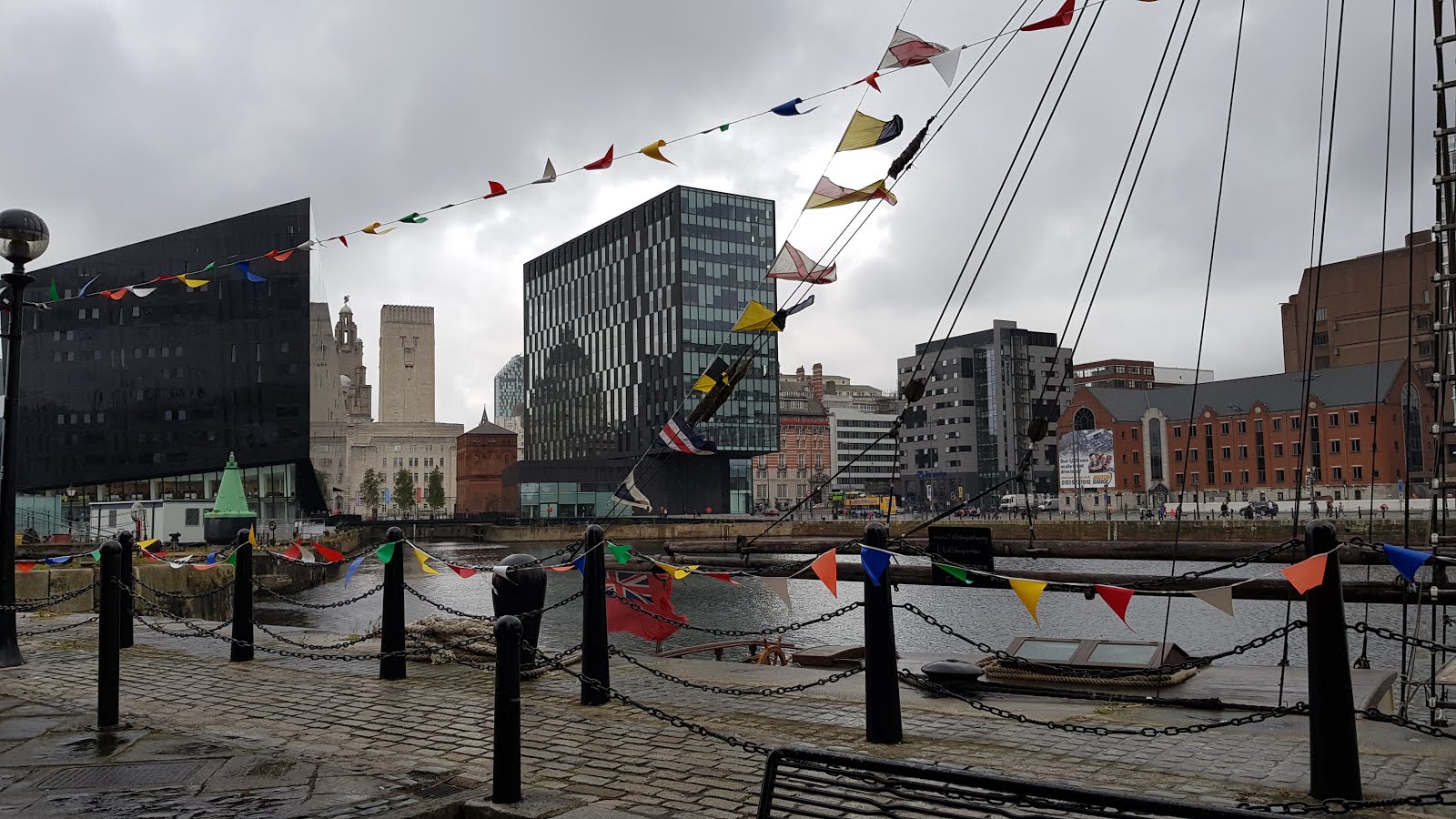 Docks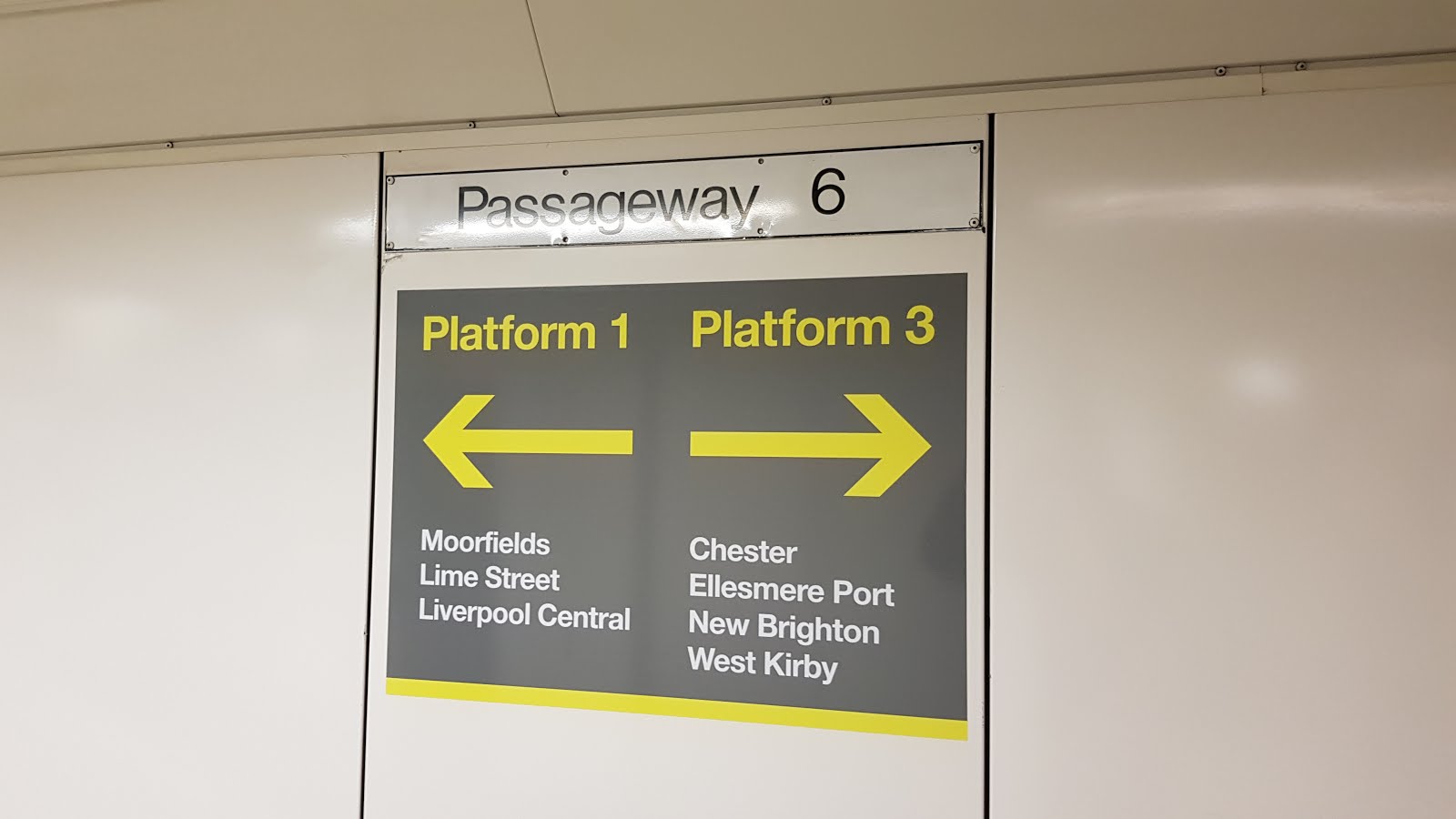 Which way?
Having notched a good solid win and then a typically Sutton defeat so far, we weren't too sure what to expect from this one. But then again, most of us would probably be too boozed to remember the nitty gritty anyway, so it probably wouldn't matter. Which might be a bonus if we were to get fucked over deep into injury time by another dogshit National ref, much like we did up here at the arse end of last season.
As is befitting of these long treks oop North, I rolled out of my pit not too much longer than I normally would for work. Shit showered and unshaved, I leave Gandermonium HQ with a good 90 minutes to make my way to Euston station. Which should be enough, considering I've got all the train tickets tucked safely in the front pocket of my bag. Of course, having loads of time to do the trip, it all goes South fairly quickly with a mysterious traffic jam around Reeves Corner. This turns out to be some idiocy up at the Bus garage backing everyone up.
Bus wankers indeed.
Finally free of this nonsense, I'm soon darting onto the concourse at East Croydon scanning for trains. Stage two of my troubles begin here. There's nothing going to Victoria (all delayed) and thanks to the earlier hold up, I've missed a Thameslink. Nowt else for it but to head to London Bridge! This is thankfully on time, but arrives in the smoke about 30mins or so before we're due off Euston. And with the rebuild at LB now meaning that what used to be a 1 minute process of hitting the tube now involves walking around the Shard & through some shopping centre. At this point, I'll admit to getting a tad nervous here given the trouble so far and break into a little jog.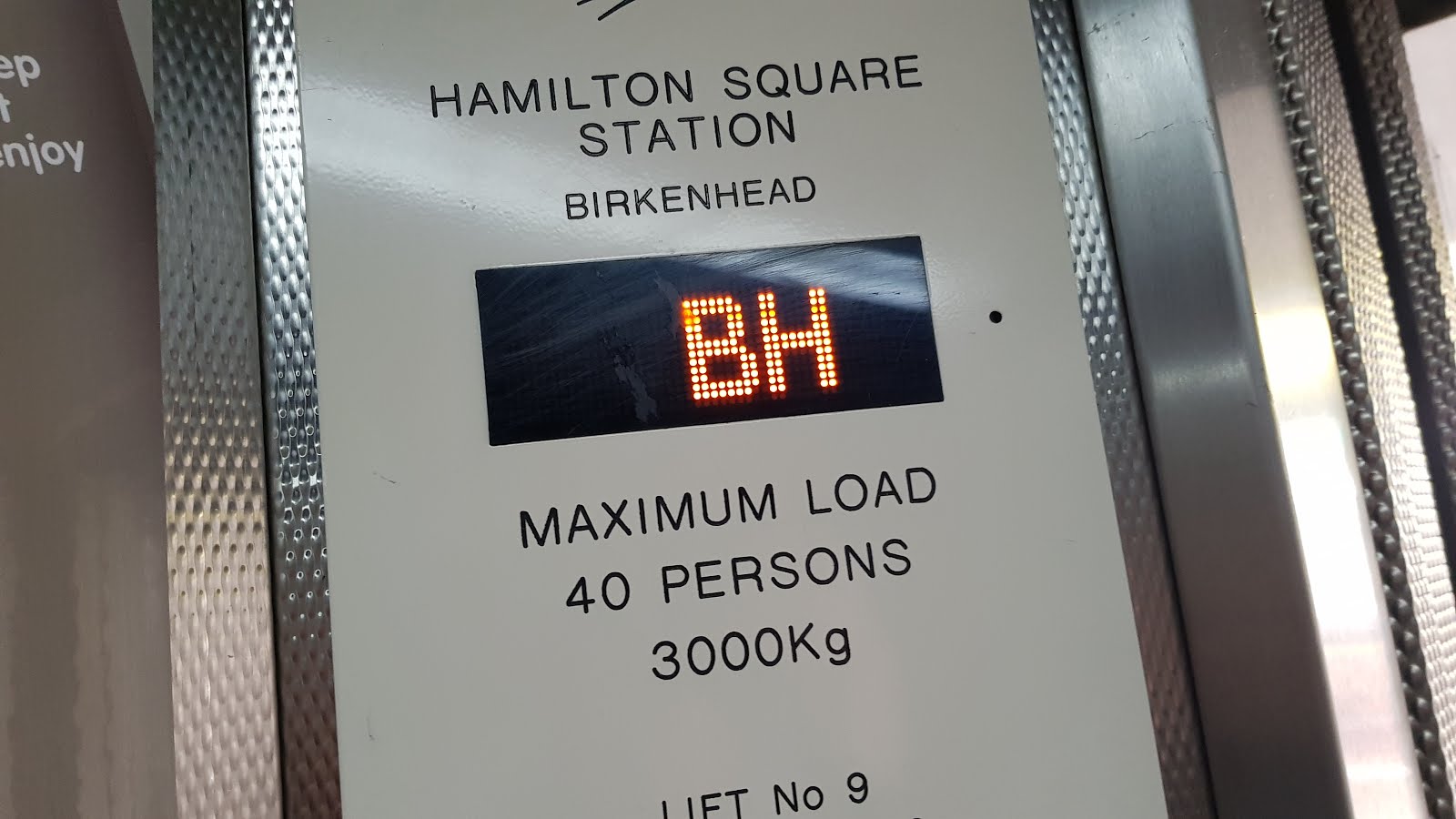 40? More like fucking 4!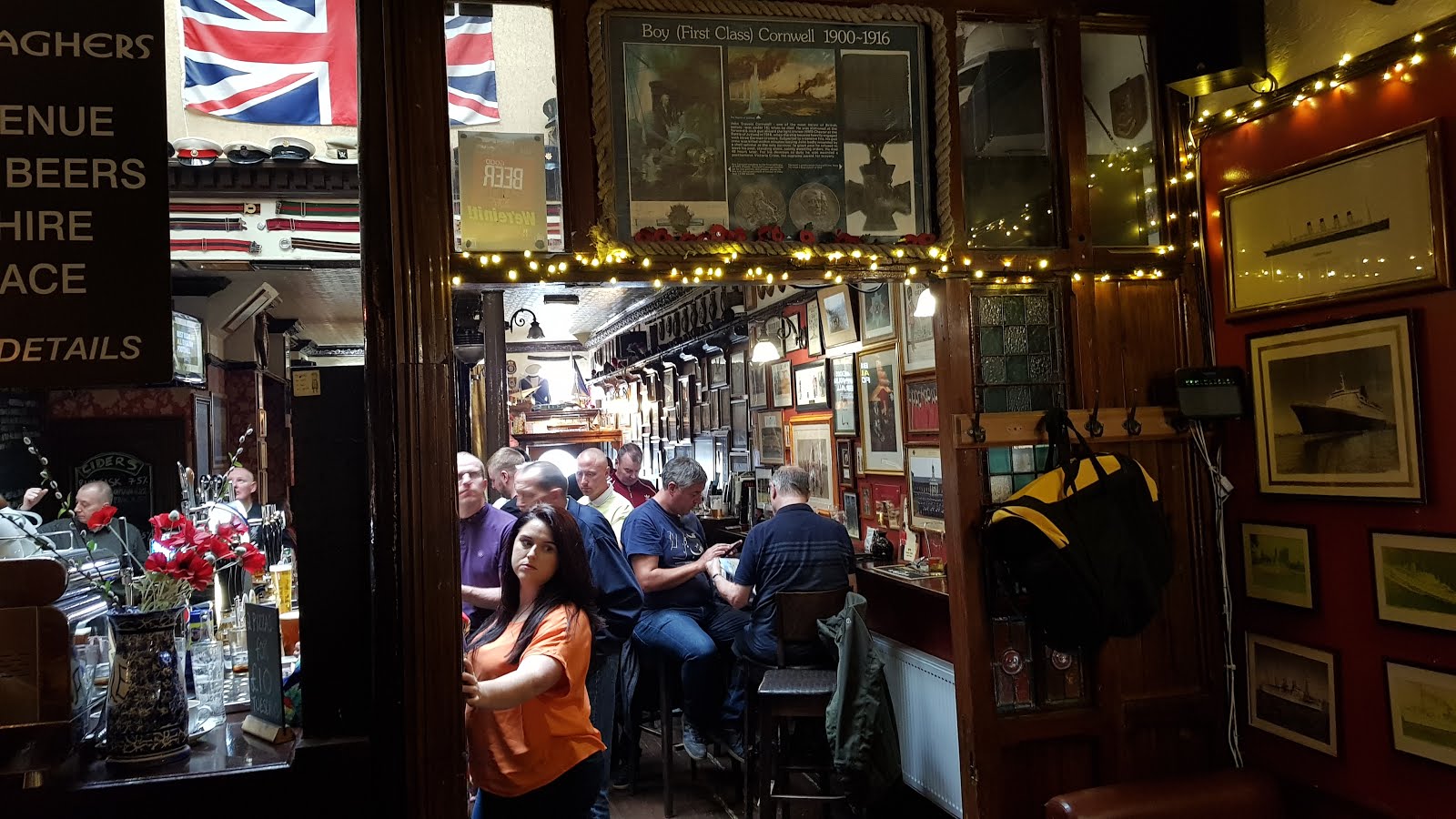 Gallaghers
Now, you might think I'm being overly dramatic here and in normal circumstances, you'd probably be right. It's not like some of us haven't missed trains already since we got promoted. However, let me put the choices here into stark terms. Just me missing the train would simply be a day of piss taking, being at least a bullseye out of pocket and down 1 hours VDT. Me missing the train when I'm holding the tickets? Doesn't bear thinking about! That would be a 'never forgive, never forget' job and then some!
Fortunately for me, the Northern line works and I bound out of Euston with about 10 minutes to spare and to ironic cheers from some dickheads in Amber. Tickets distributed, bit of breakfast secured and we're all soon on the choo choo. For the journey, the group is a little fractured. At one end of Coach D you have myself with Belly, 4 Days, Robbo & the Burgers. At the other, Dukey, Mr X and the collective known as 'Rerek', along with Alan. This makes for a relatively quiet journey up, mainly as we're not having to listen to whatever absurd bollocks Dukey's brain has concocted during this week. The train gets a bit busier when at Crewe a load of Stoke fans get on. They're not all LADS LADS LADS though and one politely asks 4 Days to surrender his seat for a little old lady.
The only other event of note comes from a trip to the toilet by Robbo. You'll have to bear with me on this one. He returns and proudly reports that he's just seen Jeff Brazier. This brings blank looks from all concerned. "You know, the reality TV bloke!" he adds, to zero further comprehension. "Come on! Jade Goody's ex!" he further adds. The penny remains undropped however and a bit of tumblweed bounces past before Burgers bails him out. "Played for Canvey Island about 2000 I think".
Oooh, him. Well why didn't you fucking say so to begin with! Bloody Robbo and his shit TV taste.
We hop off at Lime Street just as the rain starts to fall. It largely holds off though for the short walk to the hotel down by Albert Dock. And by the time we've tipped bags and are strolling over to the Pumphouse, there's signs of the sun breaking through the clouds. As we cross the main drag, we're treated to the wonderful sight of Dukey chasing a bit of newspaper, that the wind has snatched from his grasp, down the road. Whilst he does so, trying to stamp on it every few feet and just missing as the breeze teases him, he's audibly egged on by a local cabbie. "Go on my son! Oooh nearly! Next time!!". Naturally, we're crying with laughter by the time we reach the far side. As is the cabbie, who almost misses his green light such is his distraction.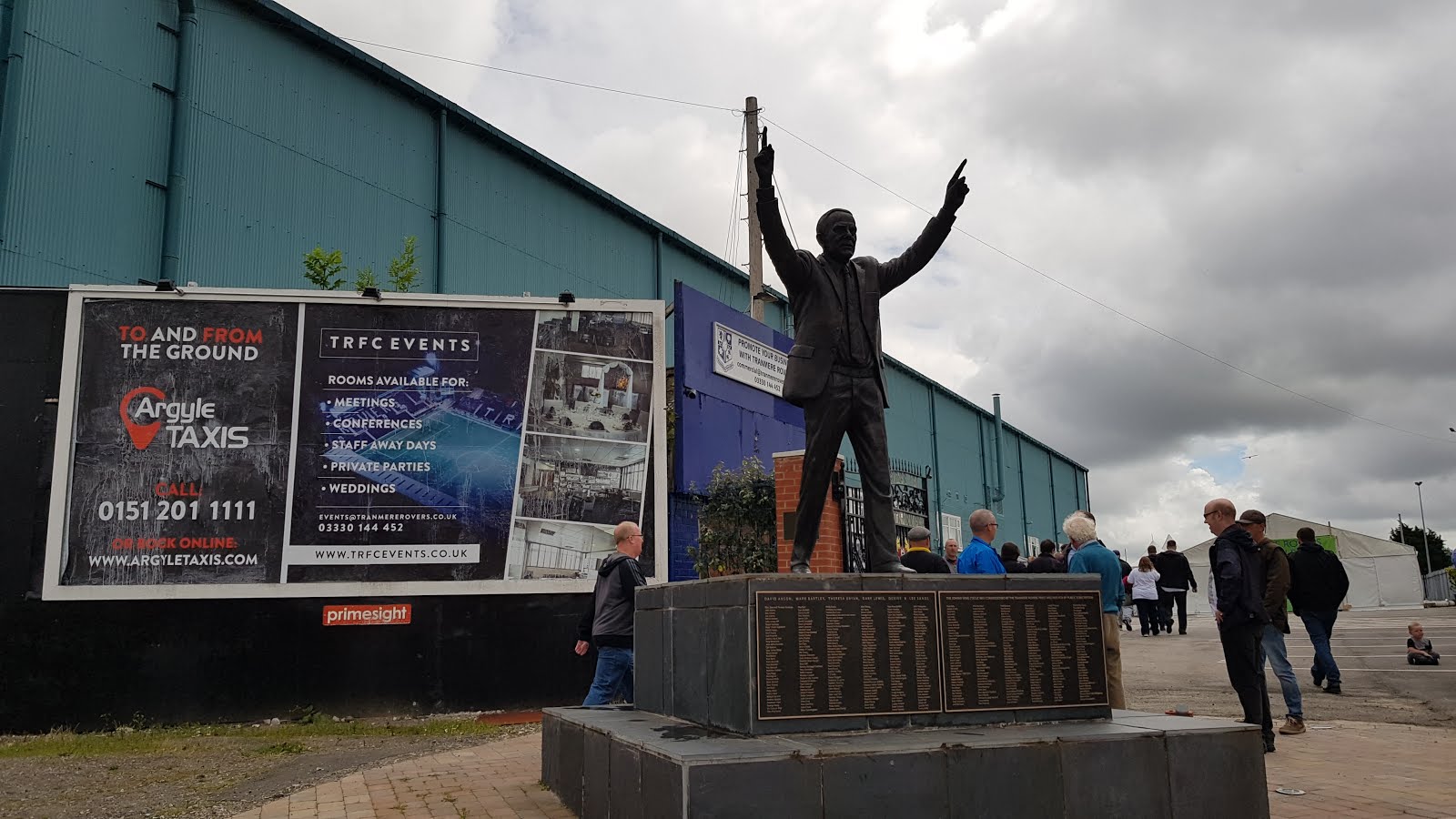 "Hands up, baby hands up….."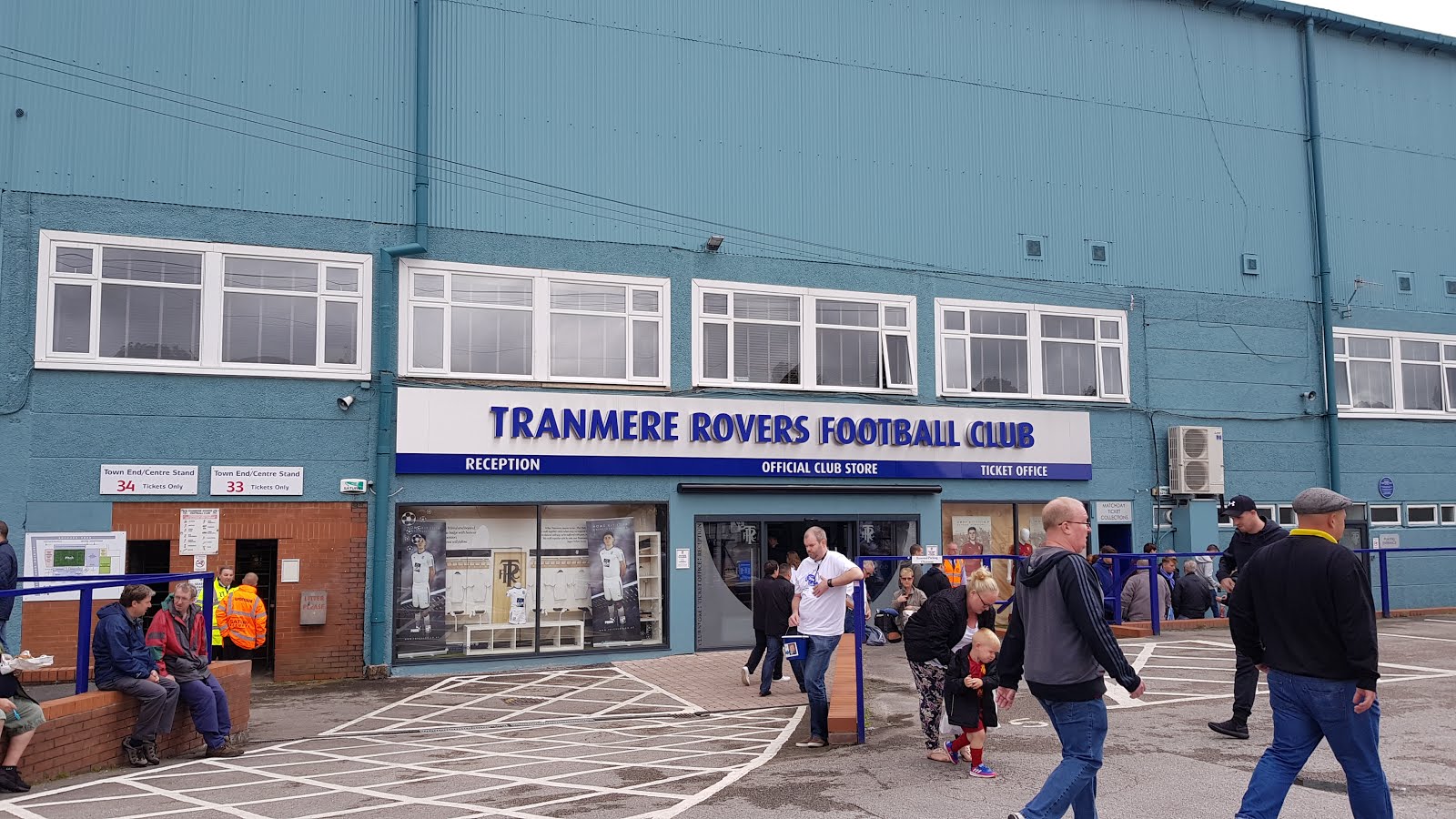 Prenton
We crash back a couple of pints, joined by Chalmers and Mr & Mrs Bone. Then head back to the station to make the short trip under the Mersey to Hamilton Square. We alight from the train and head towards ground level, some of us choosing an escalator, 4 Days goes for the stairs. As does Belly who realises his mistake after 2-3 steps and already blowing out of his arsehole, slowly ascends as a man of his vintage should do. Next, we need a lift to the surface. This contains most of us and a couple of locals, about 15 people. The lift then noisily complains about being overloaded, despite the fact it states the limit is 40 people on the plaque by the door. A couple of people bail and the crap lift continues to complain of the weight. A couple more step off. No joy. Finally Alan alights, all 8 or 9 stone of him and the lift chimes happily, closing it's doors and heading upwards.
Fat bastard. Either that or he's got a load of shrapnel in his pockets.
Above, we alight giggling. "I think your lift's fucked mate" chimes Mr X to a lurking member of staff as we bowl out into the Birkenhead sunshine. A short stroll later and we're heading into Gallghers around the corner. And it's a bit busy. "Ooooh yeah, Scousers are playing" we all mutter as we filter into the packed boozer. Still, at least they're transfixed by the game and we get beers in. A couple more and we wander out for cabs down to the ground to try out the locals 'glamping tent bar'. Our cabbie regales us the whole way with talk on how naughty games around here get with Chester and Wrexham. The tent is a laugh. The beer is cheap, the locals are friendly and the Scousers concede a late equaliser, which brings a fair bit of derision from the fair people of Birkenhead. The lad on the trust desk even lets me vandalise it, adding a few of our famous stickers to the few that already populate it. There's even a couple of old Turnstiles in the gaff for Totts to rub himself up against. What more can a man want?
Butler, Amankwaah, Thomas, Collins, Beckwith, Bailey, Eastmond, Davis, Dundas, Lafayette, Wright SUBS: Emmanuel, Monakana, John, Spence, Cadogan
We're looking to be set up a little more positively than at Eastleigh on Tuesday and this is proven after just a couple of minutes when young Master Wright, buzzing about in the hole behind Dundo and Lafayette finds himself in a little space 20 yards out and tests the keeper with a dipper that he has to push over the top. Tranmere strike back when Becks slips and lets their geezer in, but with a pass pretty much taking Butler out, Becks recovers, gets in a block and JC clears off the line. Next up, Lafayette fires over, then a Tranmere chappy heads wide from a decent ball in when he probably should have done better in a rather entertaining and helter, skelter opening 20 mins or so. Then just after the half hour, having acquitted ourselves well, we go and bloody take the lead!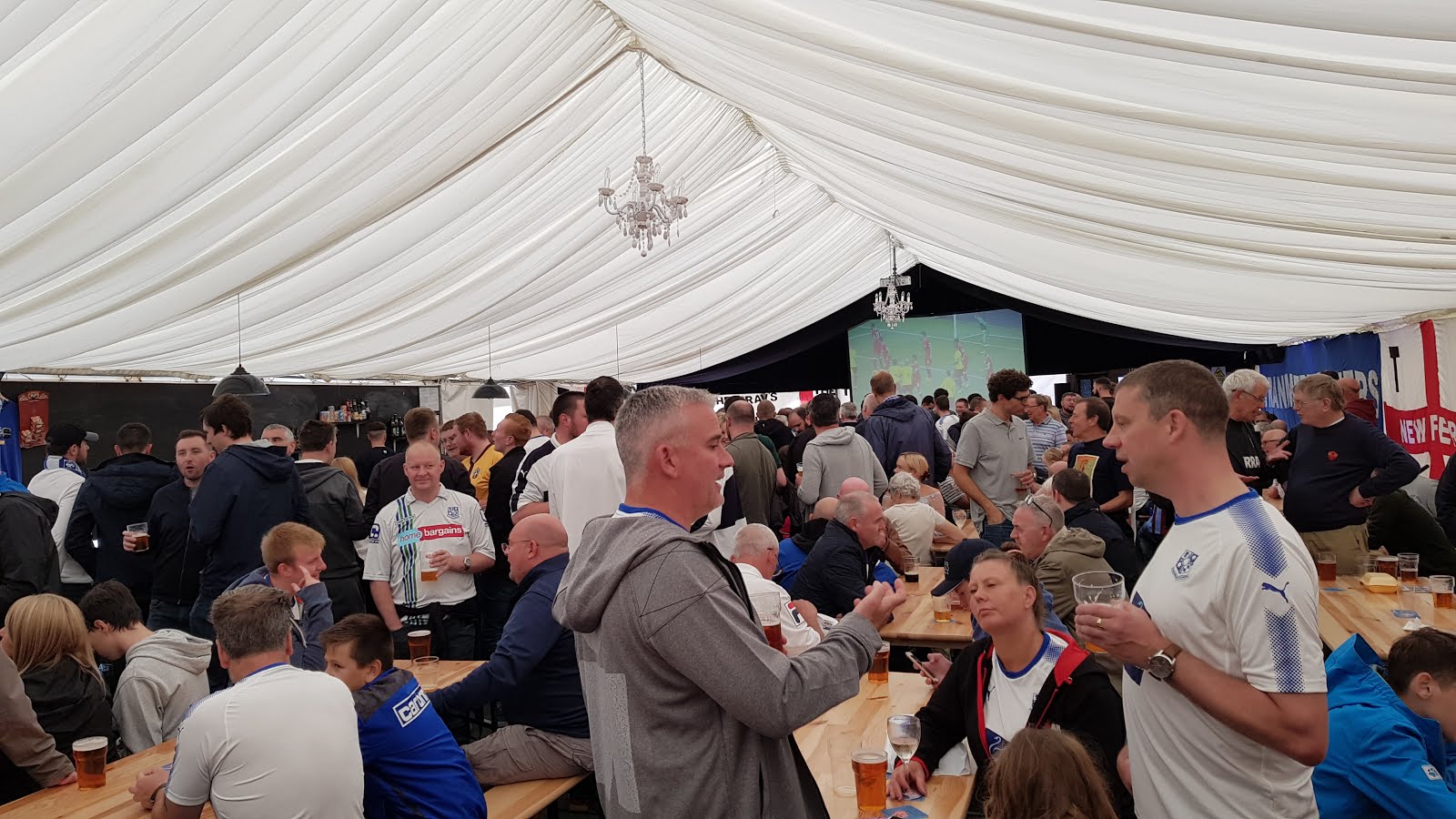 Glamping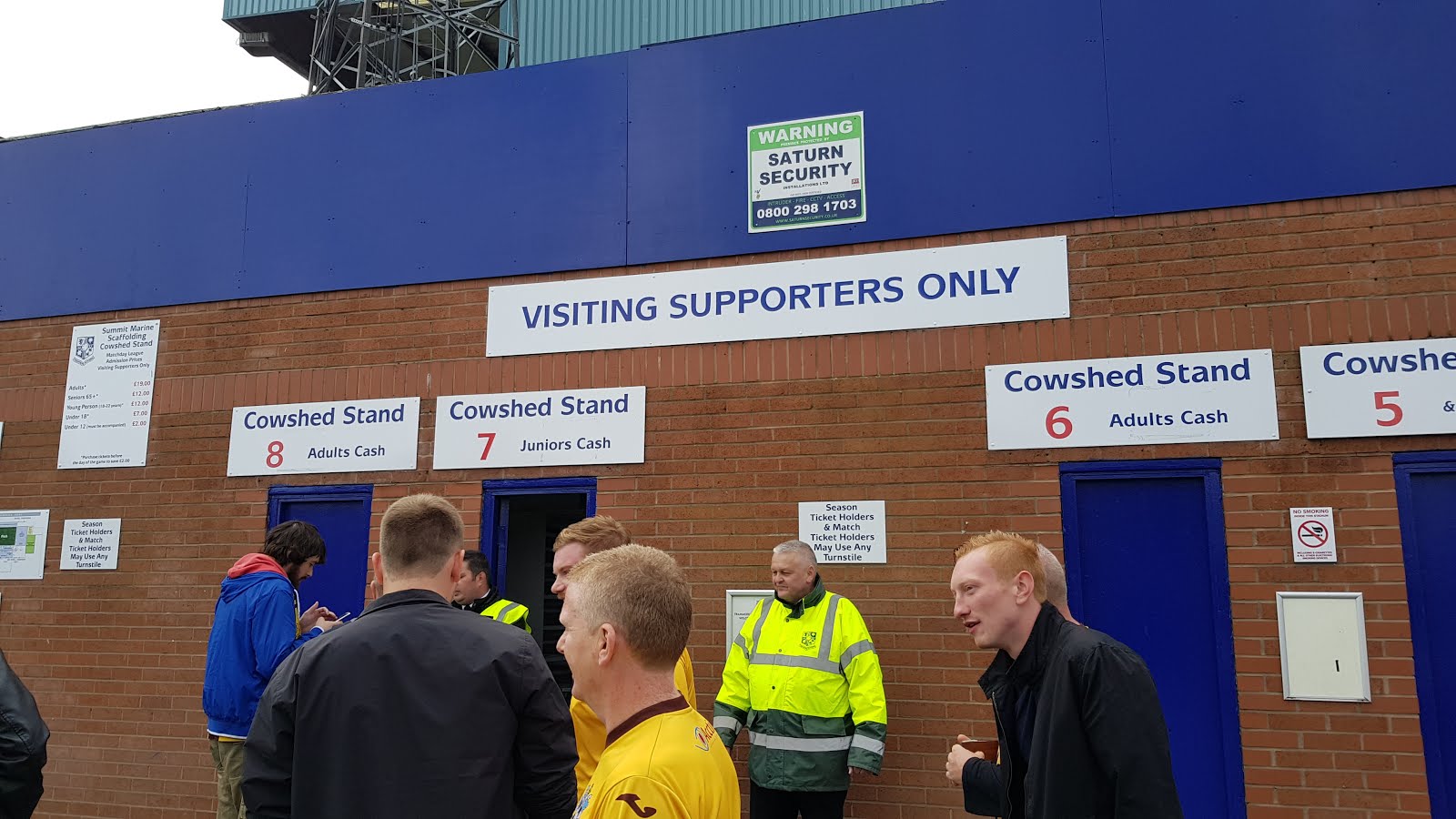 Hashtagawaydays
Eastmond seizes on a loose ball and immediately clips it down the centre for the run of the Bajan Baggio. Dundo doesn't piss about and rifles a first time low shot on the run under the keeper and into the back of the net, causing the 100+ U's fans behind that goal to twist & shout somewhat. It's goal number 99 for the born again big man and there's sure to be Red Stripes all round once he finally notches his century at some point in the near future. Following the goal, the lads generally see things out to half time comfortably with the only annoyance being another finicky fucking ref. Where do they find these people?
At the break, well pleased with the lads efforts, I head down for a piss and a pie. Sadly, the former is all I get. There's no pies left and my only food option is a burger of the kind that you find sat at the back of the grill when you arrive late for a BBQ. Not at all appetising and that's before you get to the four and a half nicker your bit of carbonised cow will cost you. No thank you!
The home side, clearly impressed by the trouble the bustling Dundo is causing their defence decide they'll have a bit of that and introduce a lump of their own in Alabi, the big lad who scored both Chester's goals in that 5-2 bumming we gave them at the Lane at the end of last season. Unfortunately for them, our two lumps at centre back love a bit of that and largely keep him a peripheral figure. Almost a nowhere man in fact. We're pretty much untroubled the onld scary moment is when their original big lump up top, Cook, gets above JC for a change and heads a cross against Butler's crossbar. The only other real fly in the ointment is the ref, who's now drifted into the well known territory of "Everything Sutton do is a card, whilst the home side get fuck all". A couple of the bookings are bollocks quite frankly and especially when he talks to no less than 4 Tranmere players after similar offences, does that thing of visually pointing out their persistent infringement this afternoon and then failing to act. Makes your piss boil.
In the end, we probably should see the game out by more than the one goal. Tommy Wright, still buzzing around here, there and everywhere up top, flashes an angled drive narrowly over the bar and right at the death, the increasingly frustrated locals pain is almost completed when Wright pressures a defender to nod a long ball forwards back to his keeper. Sadly for him, the keeper is only a couple of yards away and they can only watch as the ball bounces across the open goal and pings back out off the foot of the far post!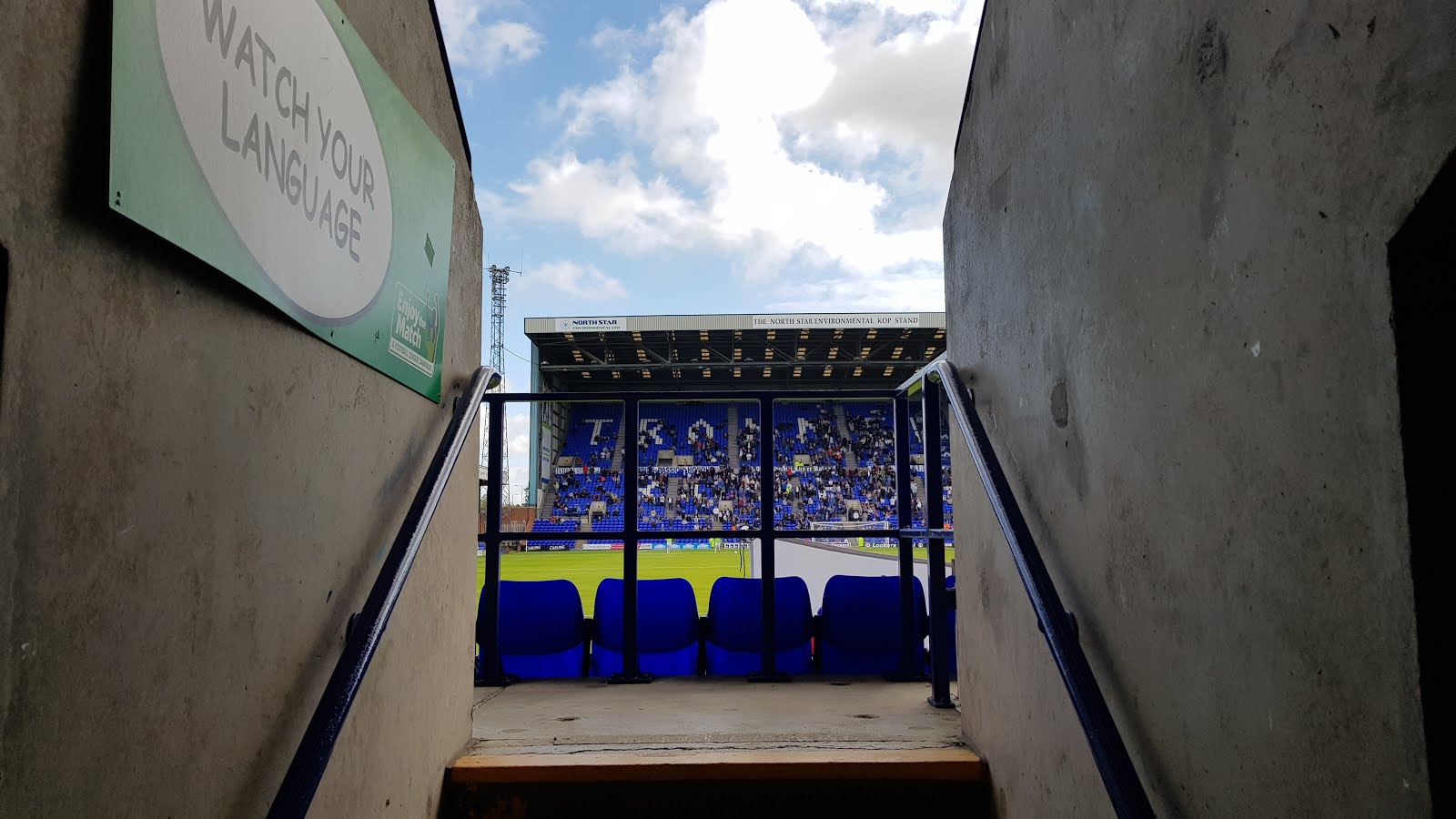 Peeking in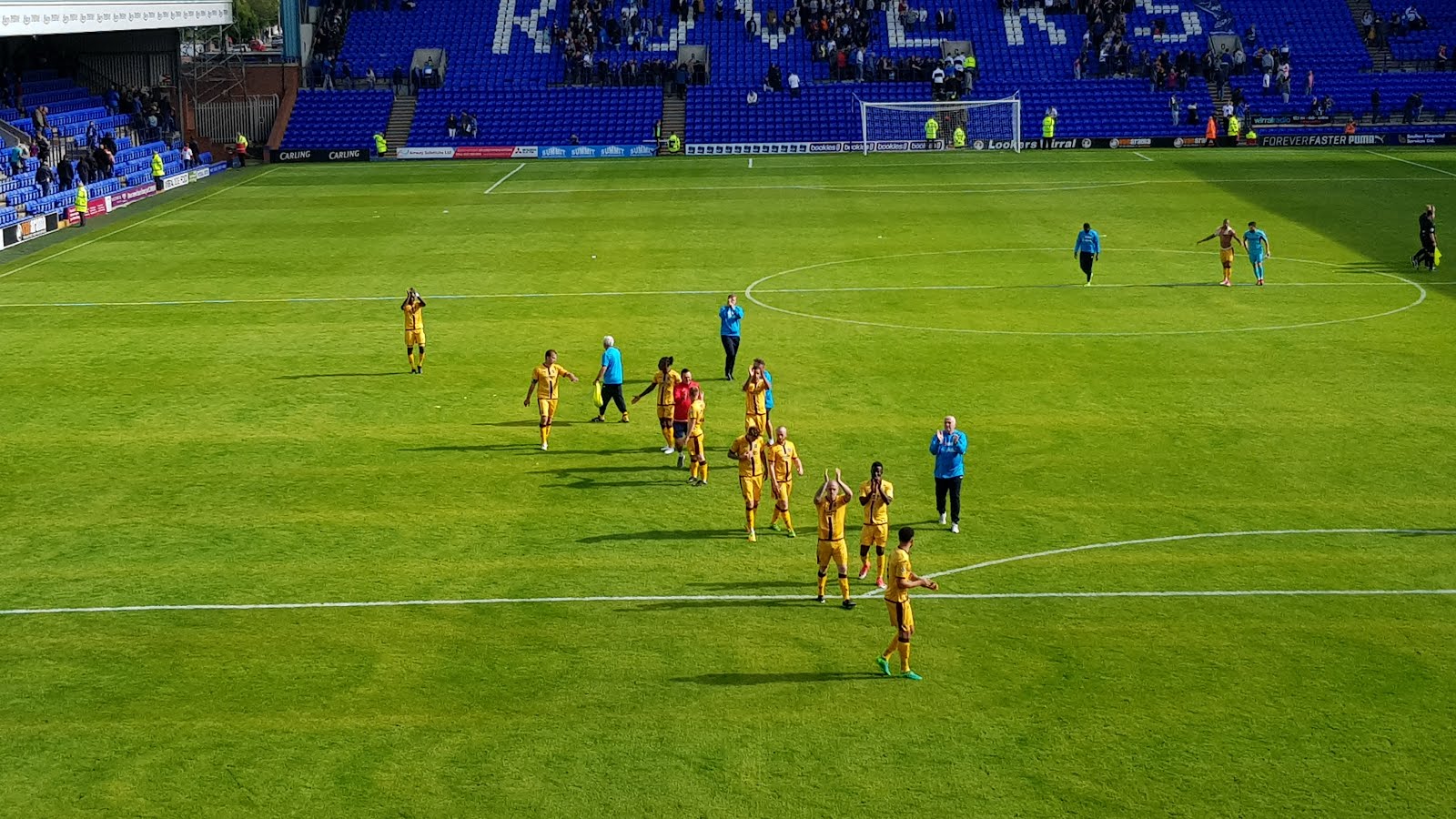 Celebration
The final whistle is greeted with great delight amongst the away fans and having applauded the lads off, we pack up and head for a quick one in the tent. We find a couple of lads coming the other way to inform us it's absolutely rammed. Still, there's a boozer next door and it's pretty quiet so we pile in for a couple of celebratory scoops. Here we discover that the worlds greatest Non-League team, Billericay Town, who were going to piss the Isthmian this season in front of 4000 every week without losing a game or ever being off top spot have got properly mugged 1-0 with a 90th minute breakaway at home to K's, currently managed by Craig Edwards the bloke the mental money man replaced as gaffer. Now, we're no fans of the hoopy ones by any stretch, but fuck it, even we can't fail to love a bit of this. Oh and the attendance? Just over 1100. 'LOL' as I believe the youngsters say these days.
A couple of beers done, we decide to head back to the mainland and rustle up some cabs. First the Burgers, who are returning today order the Uber for Birkenhead. Yes, there's only one. We use the free phone in the boozer for ours and 25 mins later, we're still fucking waiting. Eventually thought they show up after a couple of reminder phone calls and it's not long before we've again passed under the Mersey for a quick freshen up at the hotel. Then it's out to the Liverpool next door to start the evening. From here, it all gets a little blurry if I'm honest. Far too much beer and too little sustenance thanks to the disgraceful lack of pie-age earlier on. We eventually end up in a place called O'Neils, but not like the one back home. They have a band on, but they're fucking terrible looking like Wheatus, but sounding more Walrus. Here Mr X amuses himself by dropping ice cubes down Dukey's back and we deconstruct Chelsea's defending from earlier on as Match of the Day plays out on a nearby TV.
Robbo also provides comedy by first dicking about when realising another telly was beaming the 'action' on stage around the pub. He then ends up dancing with some bird who'd just been dragged offstage by her nonplussed other half after a brief stint on the tambourine. We then get to watch him via the telly look on in barely concealed disgust as Robbo whirls his missus around the dance floor. There'll be a picture on here somewhere of this, see if you can spot him!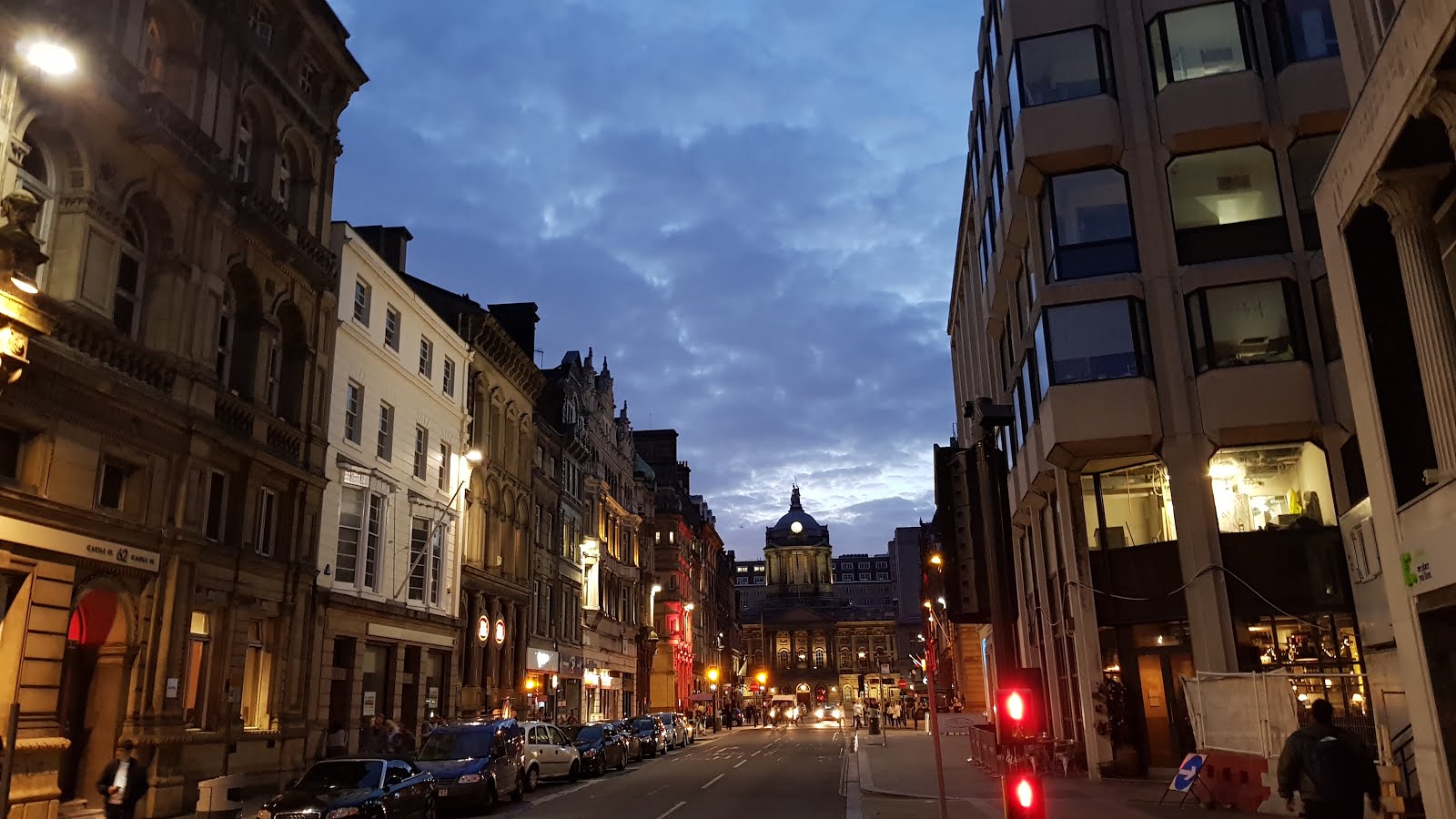 Sights and sounds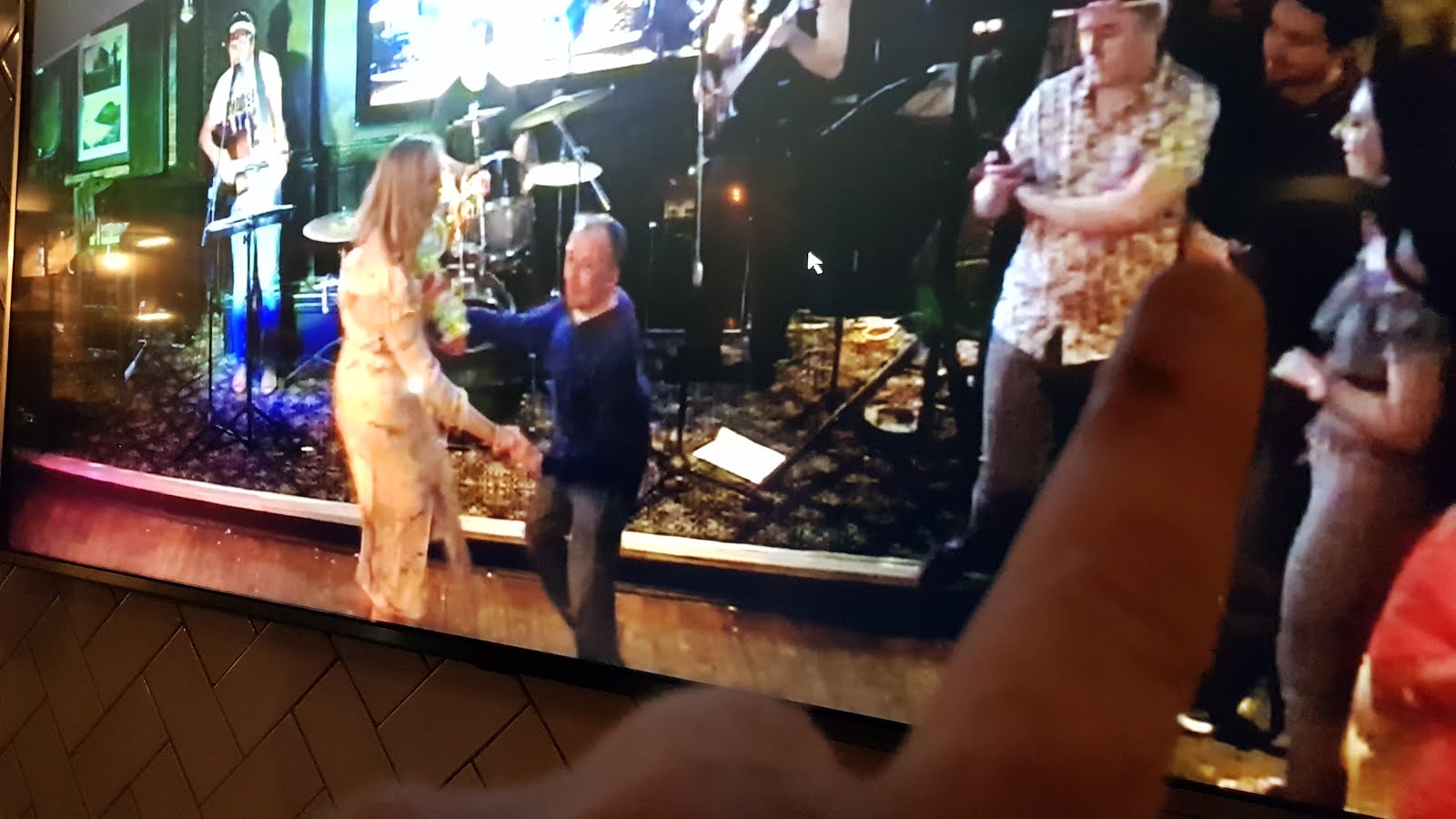 Spot the angry boyfriend…
With the time approaching one, my tank is full and I've had enough so I elect to leave the others to their fucking dreadful musical entertainment and head 'home' via a chippy. This appeals to Robbo also and we head off. Along the way, he continues his rabbiting on about visiting the Cavern club as he's a big Beatles fan. At this point, I agree to accompany him to said venue if it'll shut him up about the Fab Four. So, a few minutes later, we're stumbling down into a basement bar that allegedly hosted some pop bands in the 60's. We get a drink, Robbo geeks out and a slightly better band than the one we've just left plays out their set in front of probably no more than a dozen people, a crowd including what appears to be several Asian ladies of the night. Either that, or they're just jolly friendly! With the band done, we knock it on the head and go for chips, during which we're treated to some right old sights from other examples of the local fauna. It's all high pitched screams of "Eeeeeeeeehhhhh!" and too much foundation for my liking if I'm honest and I'm glad when we finally get back to our digs, having avoided being molested by Eleanor Rigby and her mates. Robbo has got a taste for the sauce now though and alights the lift on the 1st floot for the bar to partake of a nightcap. Fuck that, I'm off to Bedfordshire.
The following morning Belly and I stumble down for breakfast finding 'Rerek' already tucking in. A big plate of sausage, bacon and other cooked items doesn't do much for the hangover and delays our departure somewhat. We eventually wander up to find the others at a Coffee shop near Lime St and find them being appalled by Mr X's noxious emissions. The main talk is of Robbo, who according to his roomie 4 Days, is mortally wounded and has had several exestential conversations using the big white telephone in their bathroom. Fears of him falling foul of the Gandermonium group motto though are unfounded and he makes the train to Manchester for our cheap train home, immediately curling up on a pair of seats as we depart.
We hit Piccadilly with plenty of time and discover that there's been disruption and cancellations this morning, including the train before ours. Which means it'll be busy. We jump on board with a good 20 mins to departure to hear the guard announcing it's been declassified and there's no reservations. So we park up and then all pretend to be asleep until we leave in case anyone does rock up and fancies claiming their reservations. All is fine though and a quiet trip home is briefly livened up by a woman loudly complaining about the congestion, that she's a mother and that her and her kids should definitely get a seat blah blah blah. In the end a most annoyed chap gets up and gives her his seat "If it'll shut you up". Sadly it doesn't and she continues to fucking moan on and on for another hour.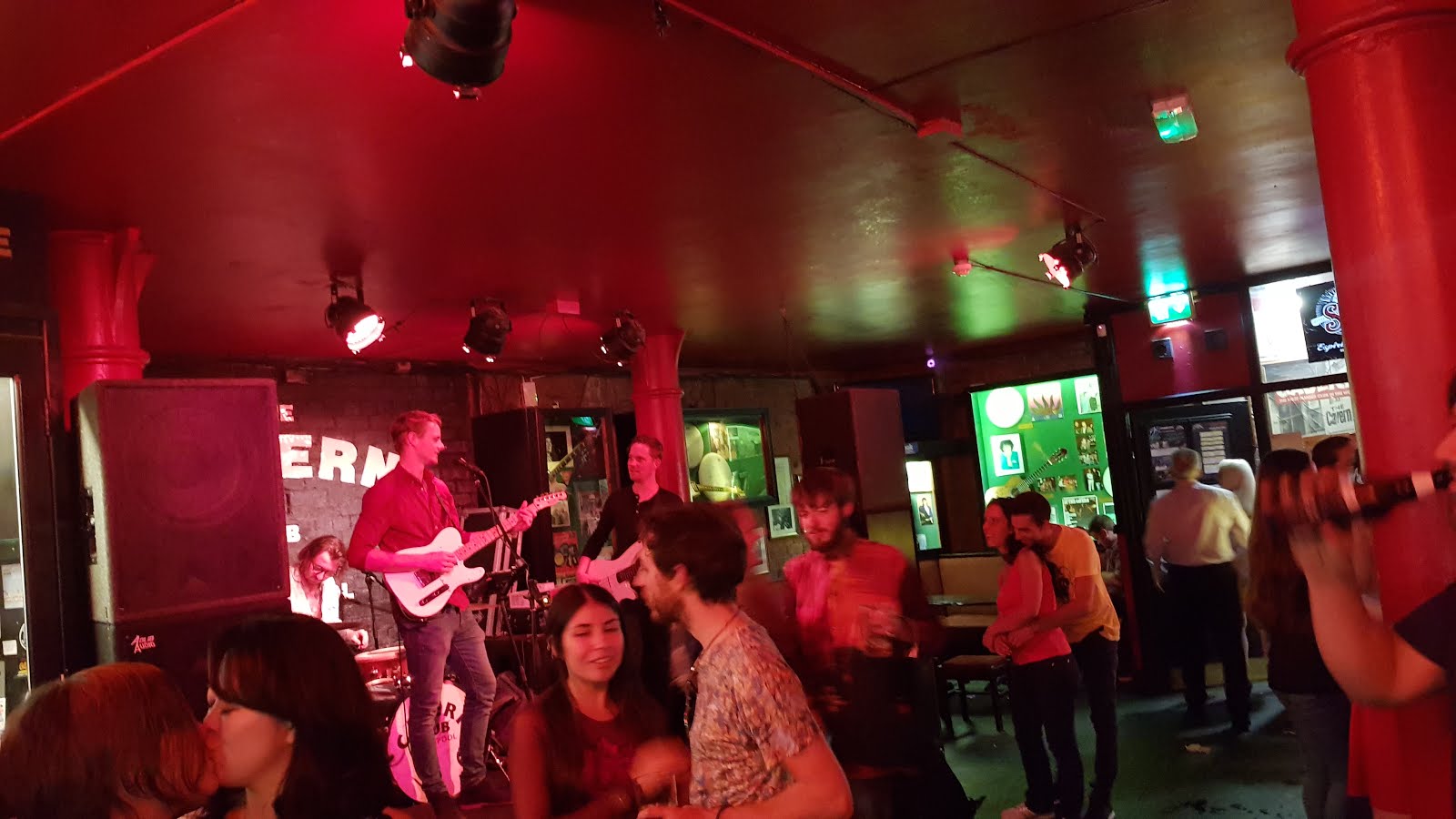 Cavern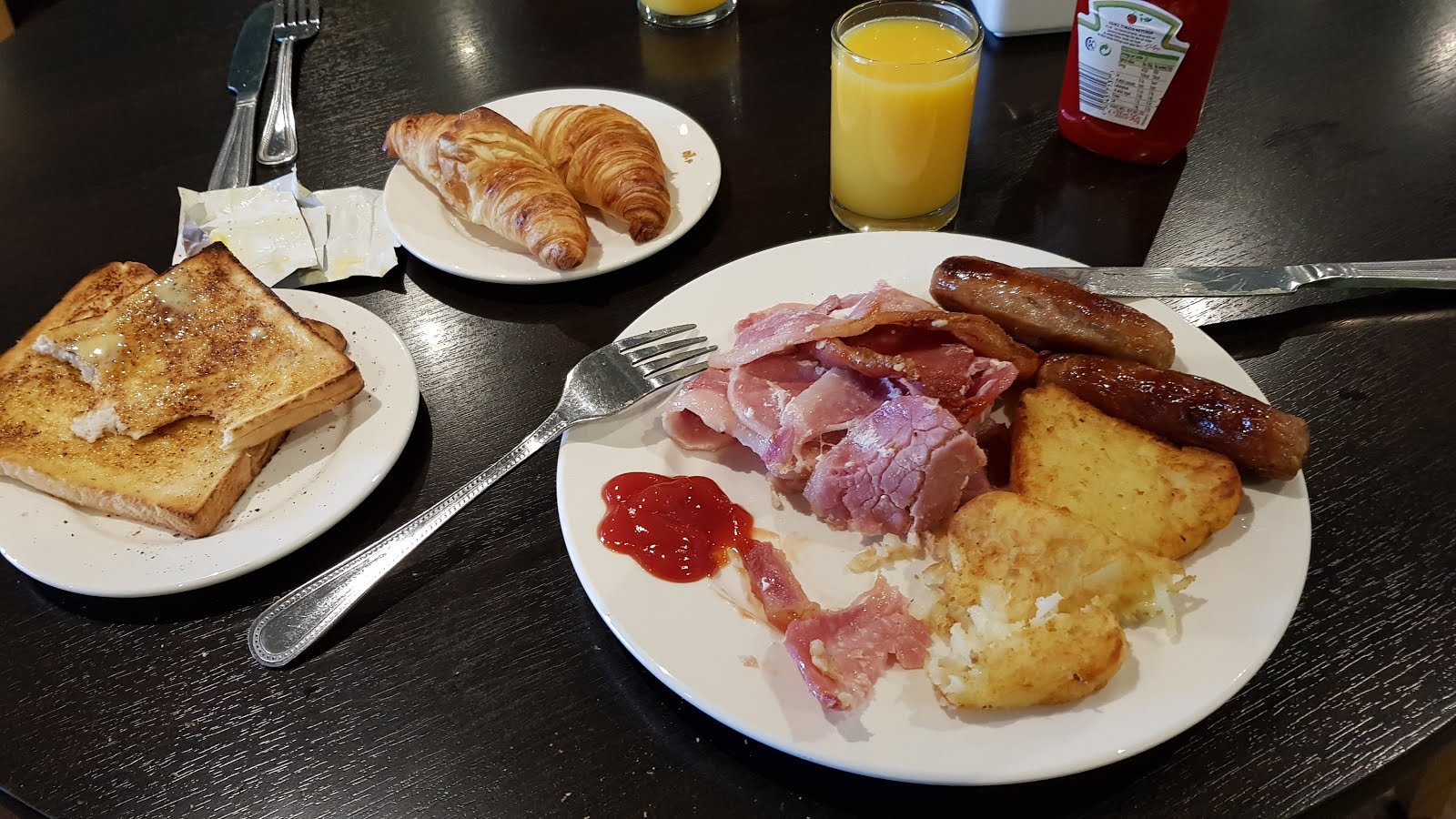 Sustenance
After the long journey home I eventually hit HQ and having bid Mrs Taz good day upon arrival, promptly hitting the sofa and not leaving it for several hours, mainly concentrating on just lying there sweating booze and farting.
Yes, I know. I'm such a catch. She's lucky to have me and all my loving.
Taz