Ah yes, Eastleigh. The little club outside Southampton that are not only former Hampshire Midweek Floodlit Cup winners but a bloody place that we have never won under Our Lord Dos. You would have to go back to a Ross Montague double nearly ten years ago for the last (and only!) time we got 3 points here. And that was in our "shit year". Although saying that, we had a better away record that season than last year mind you.
Let's face it, we all fuckin' hate going to Ten Acres. Not only are we shit there, the surroundings don't offer much either. I don't think I've ever even drank in Eastleigh itself. I'm sure some of the boys did it the first time we visited and haven't been back ever since. We all rather take a small diversion to St. Deny's for a much better prospect.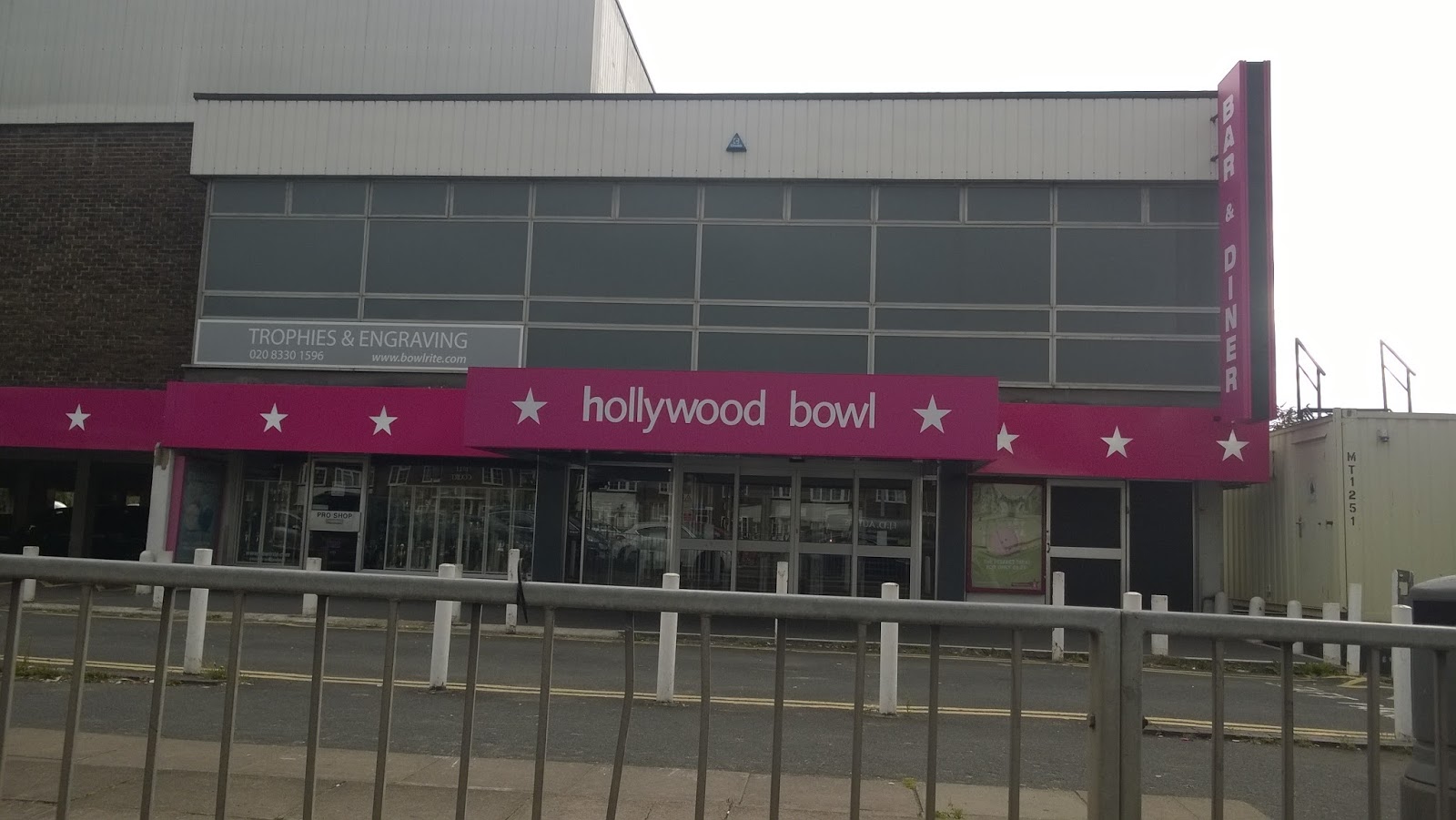 RIP Charrington Bowl
With this years tie being a sober midweek affair, it was time to once again secure the services of the Donna Rachele. And I wasn't the only either as Davy Crockett was also going to make an appearance. And all we had to do was meet in the posh area that is Cheam to get our lift with Mr X. The only worry was that would me & Crockett be picked up by the plod for loitering with intent before it was time to leave?
It's a simple enough journey really. A3 – A31 – M3 to be within shouting distance of the ground. With the clock at five, Mr X emerges from his work, and we bundle in the Donna Rachele. The first job is to head towards he A3 at Tolworth. And now apparently old Charrington's has changed its name. Doesn't it remind you of Sutton Superbowl? We make good time and at one point even come across the Supporters Coach that is being driven by, what appears to be, a member of 90s American Reggae band Big Mountain.
A break down (not us thankfully) on the A3 causes some delay but not as much as the stop at Winchester services because "someone" really really really needed to go to toilet. 10 fuckin' minutes he was in there! Some of us that were silly enough to be making the trip tonight were also coming by the dreaded choo-choo. 4 Days had left hours before and had hit the bright lights of St Denys for refreshments, Taz on the other hand was trying to run the risk of getting a South-West train from Waterloo at rush hour. With half the platforms shut.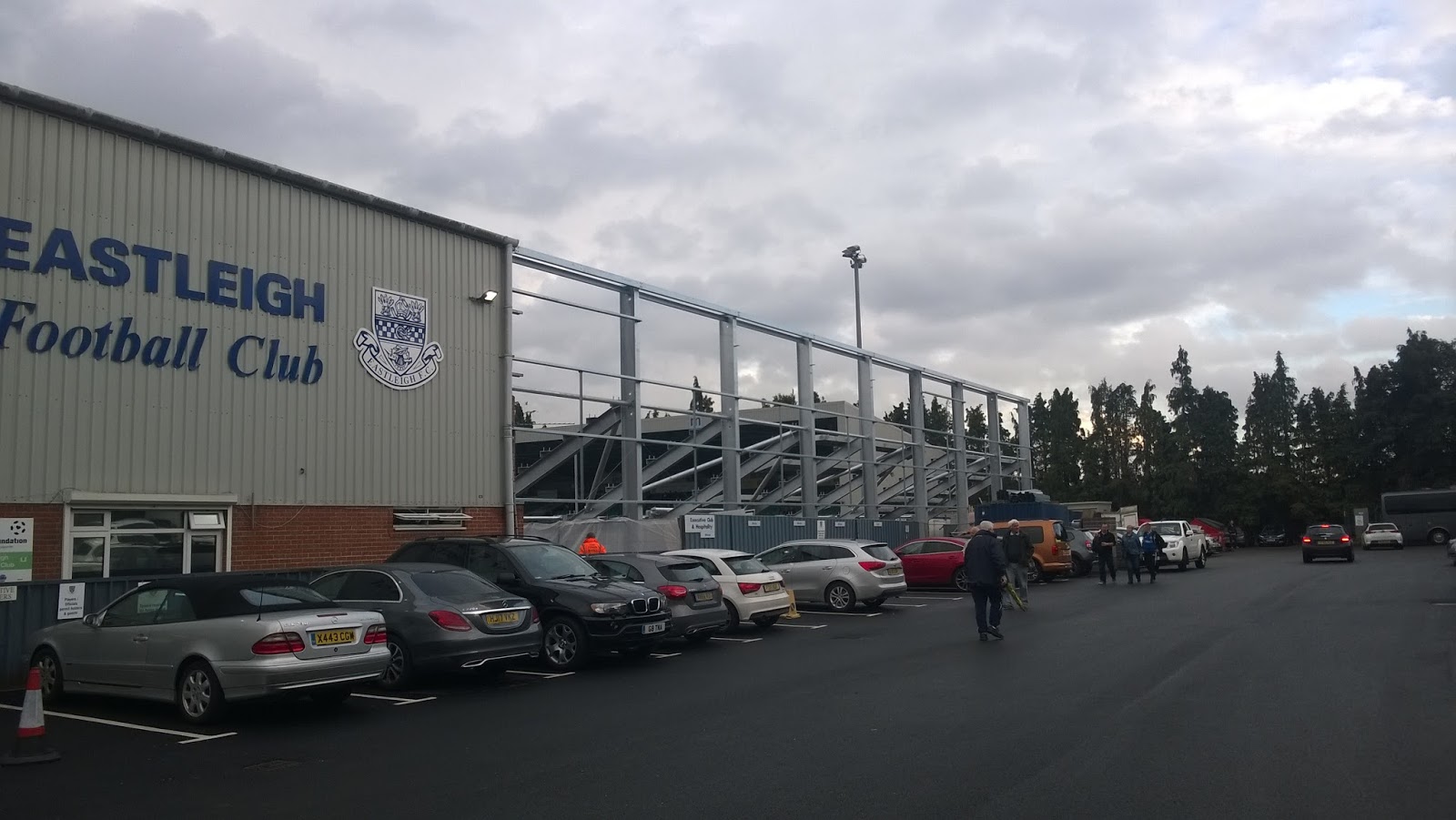 Climbing frame
Unlike Maidstone last year though, there were no trespassers on the line and he was going to make this one. Which is something we nearly didn't manage due to the terrible parking around this area. With the only option being a hotel car-park (which was full before we got there), we had to locate somewhere, anywhere that could accommodate us. Eventually we found a spot about half a mile away. But that was better than some poor fella who eventually gave up, went back into town and parked at the train station and got s sherbet back to the ground!
Turns out that we might've been able to park at the ground (and paid a benefits busting £5 for the privilege) but no mention of this was made anywhere. Arriving at the stadium and you can see that there is plenty of work being done, much like ourselves. I still don't know why they need to extend their main stand and the far end where we used to be able to drink has some sort of two floored building now behind the goal that looked a bit like a posh B&Q.
The team line-ups were soon up on that interwebby thing, and Sutton only made one change from Saturday with Dundas being relegated to the bench and replaced with Emmanuel. So it seemed that we were going for the old "one up top" system that served us so very well away from home last season. Wowsers!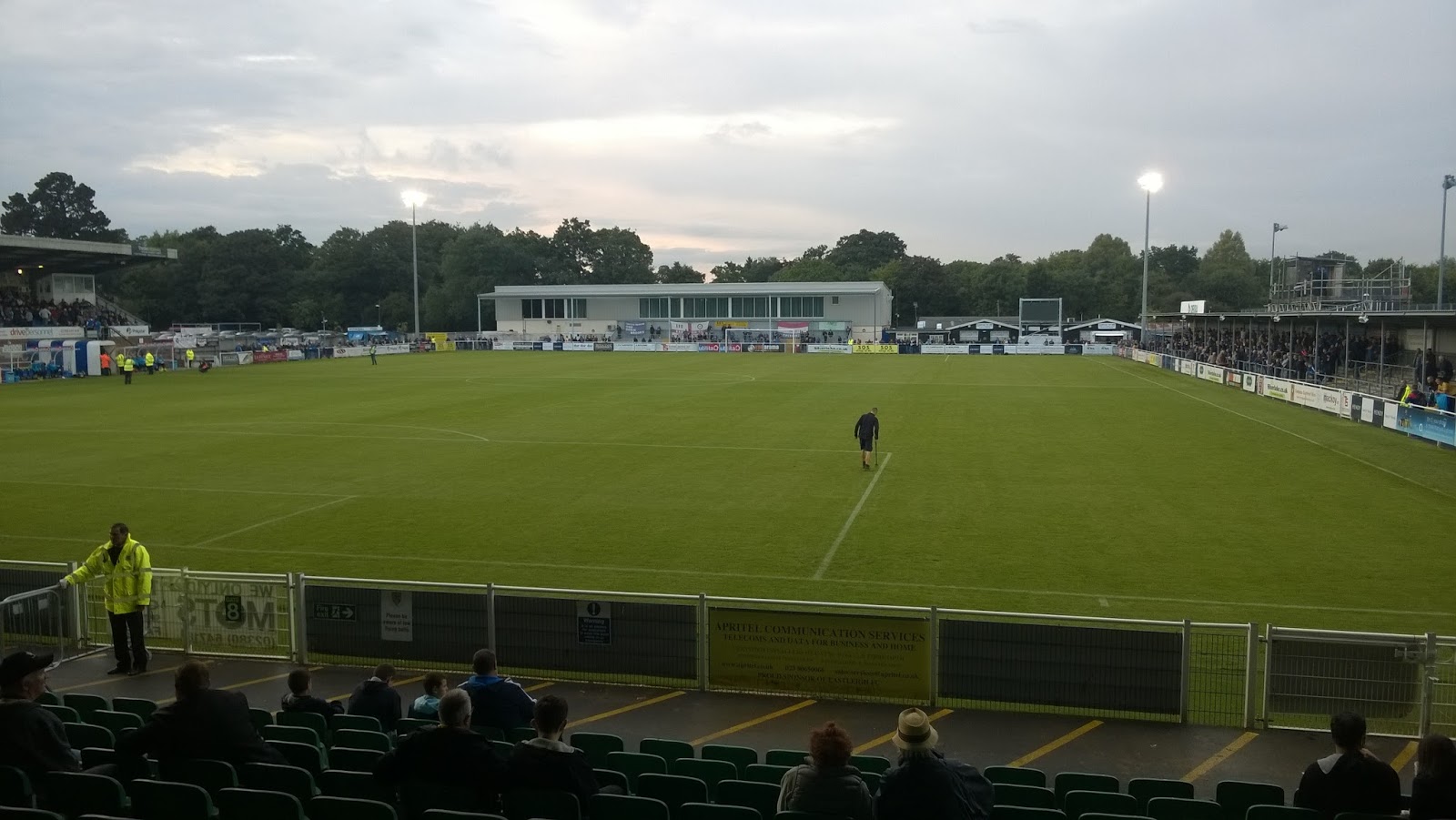 Is that a B&Q?

Butler, Thomas, Beckwith, Collins, Davis, Lafayette, Cadogan, Eastmond, Bailey, Spence, Emmanuel. Bench Warmers: John, Dundas, Monakana, Wright, Taylor.
Surprisingly for Sutton, we started on the front foot. Unsurprisingly, despite having at least four or five corners in a row, we failed to test the keeper even once. Sometimes our set piece action can be a right sight for sore eyes. Eastleigh failed to really produce anything in the first half as Butler was untested and had to contend himself with a few back passes. At least his distribution was better than the second half on Saturday.
At one point, Eastmond managed to create some space in the box and knocked it across the goal which the keeper saves. Up steps Thomas who then somehow completely misses the ball with his attempt at a shot. And yes we are talking a total air shot here. Luckily for him it eventually fell to Cadogan who saw his shot just cleared off the line near the foot of the post.
Huddled together in the stand, the noise coming from the travelling faithful was louder than expected. Especially as the new thing is to re-work old Oasis tracks to the point that they are 90% on point but are yet noticeably just off key. Still, keeps the Youth happy I suppose. Then again with a match taking place before us that definitely won't be used as an advert for Conference football, who came blame them?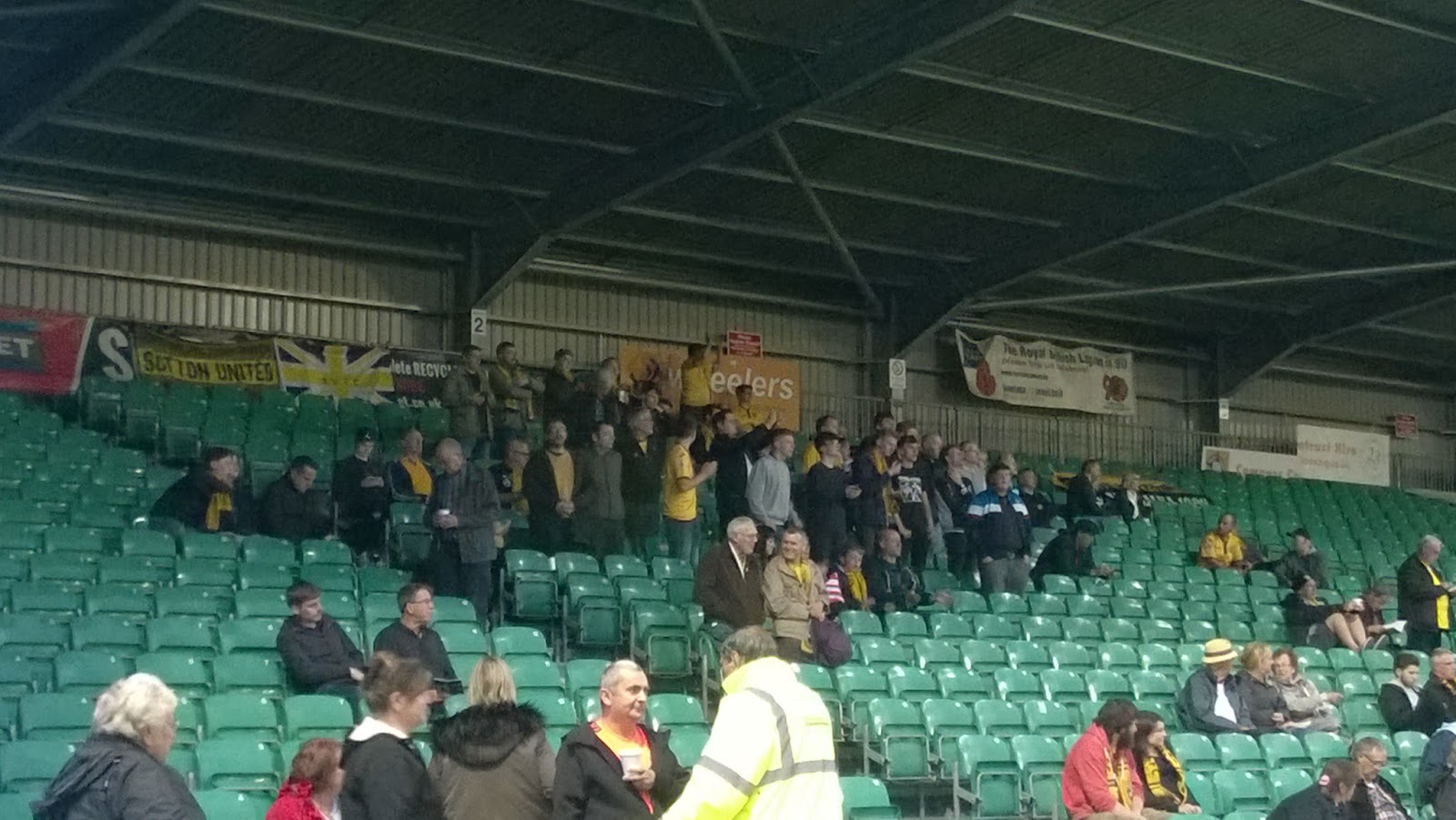 Massed ranks
At half time, we removed ourselves out of the stand to feed our nicotine habits and moan at the fact that a half litre bottle of Coke is a whopping £2. Also, a large burger was a staggering £7. Post-Brexit trading already. I also bumped into one of our far "Smiffy Down Under" who usually resides in the lands of the Vegemite eaters & Tim Tam destroyers. And think that last year he got to see one of our two away victories on the road!
We also got to play the usual Eastleigh "how many more away fans are there in the ground than that are actually announced" game as our own man reckoned he counted at least around 210 that had made the journey to Hampshire. With an "official" announcement of something like 153, you could say that's a bit of a margin.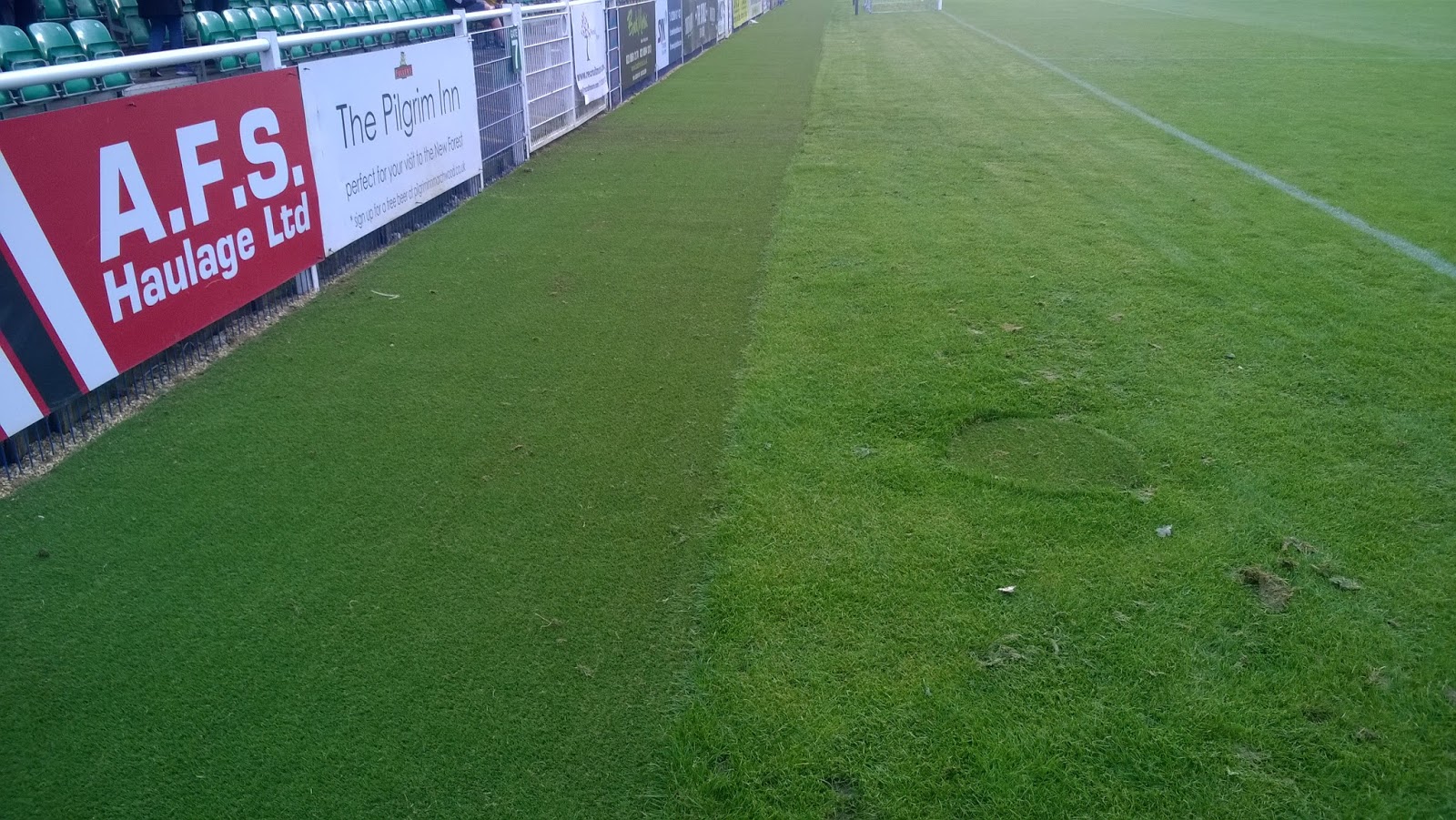 Spot the difference
There was an attempt from Eastleigh to shoot from the kick off, but luckily Butler was ready for this. Eventually though we did get the usual Sutton mistake as Aswad was caught out on the left hand side as two players attack him. Butler did manage to save the first attempt but it fell nice enough for their fella to put it into the back of the net and Eastleigh in front. It would be nice for once to see Sutton punish a team after a mistake, instead of being punished every time we do it.
With over twenty minutes to go, Sutton started to make some subs. First we had Monakana come on for Spence and secondly we saw Moses (who lasted a lot longer than I expected) to be replaced with little pocket rocket Wright. Not long after this, "Jose" Taylor made an appearance, swapping in for Davis.
Eastleigh probably finished the strongest and had the last real chance that saw their fella rocket a shot that left Butler for dead as it cannoned off he bar. There was also still time for a late flurry of Sutton pressure that failed to produce anything of real value. The best (and most Sutton of luck) attempt was from Cadogan, who had a shot from just outside the box and saw it take the biggest of deflections that looped it up and nearly into the goal with the keeper well beaten.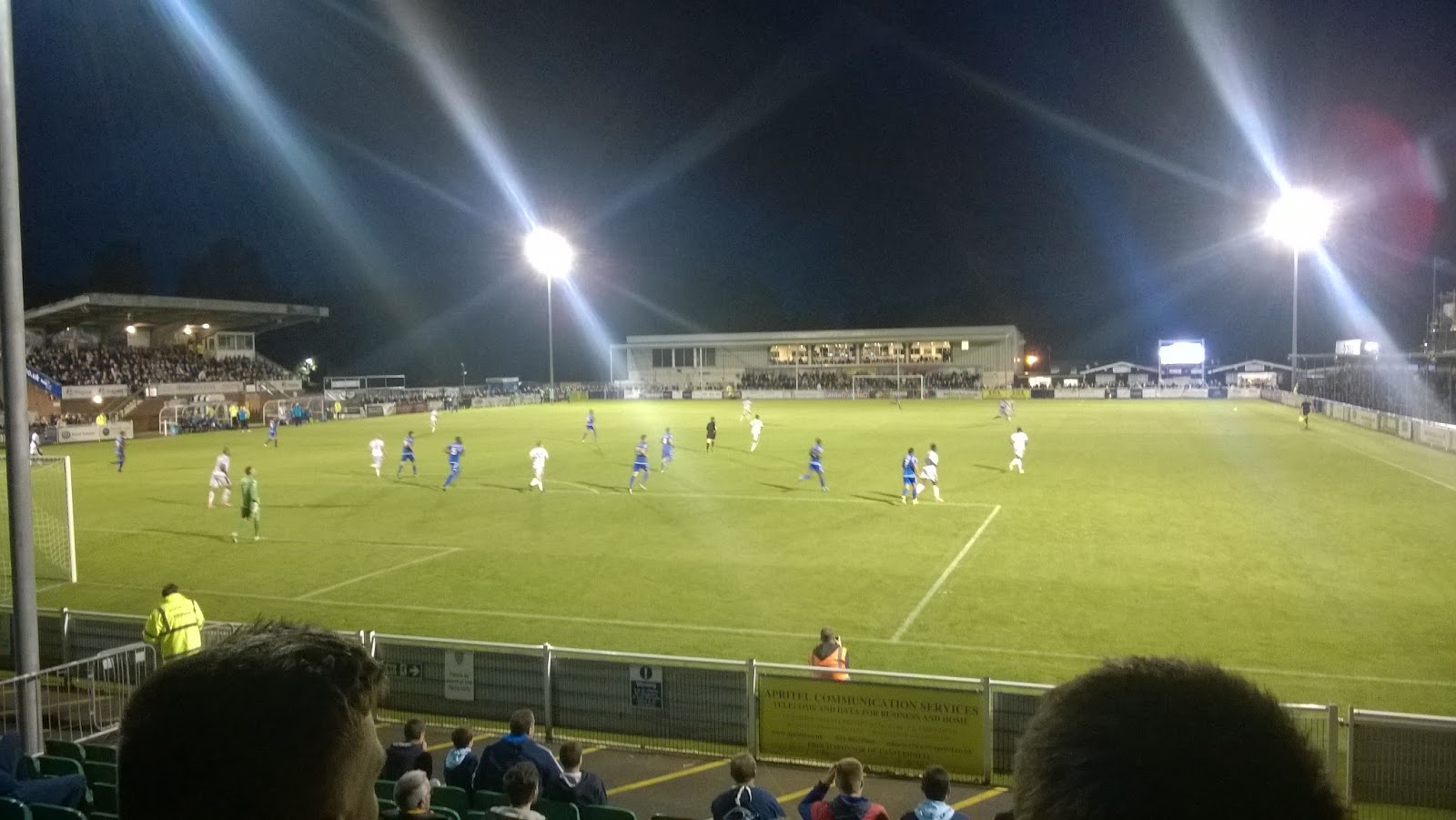 We fucking hate Eastleigh.
Luckily for us, as the game stopped, so did the rain which had been pissing it down for the last 20 minutes or so, finally some luck that went our way. With 4 Days & Taz also joining us for the ride home we made our way out and around the ground. Unlike last time down in these parts, the cars were held up to give the walking support some time to make the walk back towards their cars. And fuck me was it a bit dark. With only about three solitary streetlights on the whole way down the road, we relied on lighting up this bit of Hampshire with a sea of phone torches to provide some sort of illumination. This still didn't stop some young bird from nearly stacking it over a random set of cones in front of us. Which made us chuckle like the evil bastards we are.
With everyone else heading in the same direction the exodus from the ground soon became some sort of mass migration that hasn't been seen since that something that happened out in the Levant recently. Eventually we located the Donna Rachele, somewhere near fuckin' Basingstoke and we all crammed in for the journey home. With several bouts of heavy rain, part closures & roadworks on the A3 & M3, the journey took a little bit longer than expected. Taking over driving duties at Mr X's secret hideout (and having to do a 27 point turn as I was blocked in), I soon had Crockett, 4 Days & Taz all tucked away and was heading home before the clock had struck midnight.
So that's another shit trip to Eastleigh done and dusted and we now have two away Saturdays to contend with. First sees us up overnight in Liverpool before heading North again the following week to Chester. Well, if we're going by last years run, our first Saturday away match was a bit special, have a butchers here. There is only one way to finish this blog off and that is with a photo from our Scotland adventure that is finally proof (for a special Aussie convict we all know) that there is someone in the world that has bigger turn-ups than yours truly…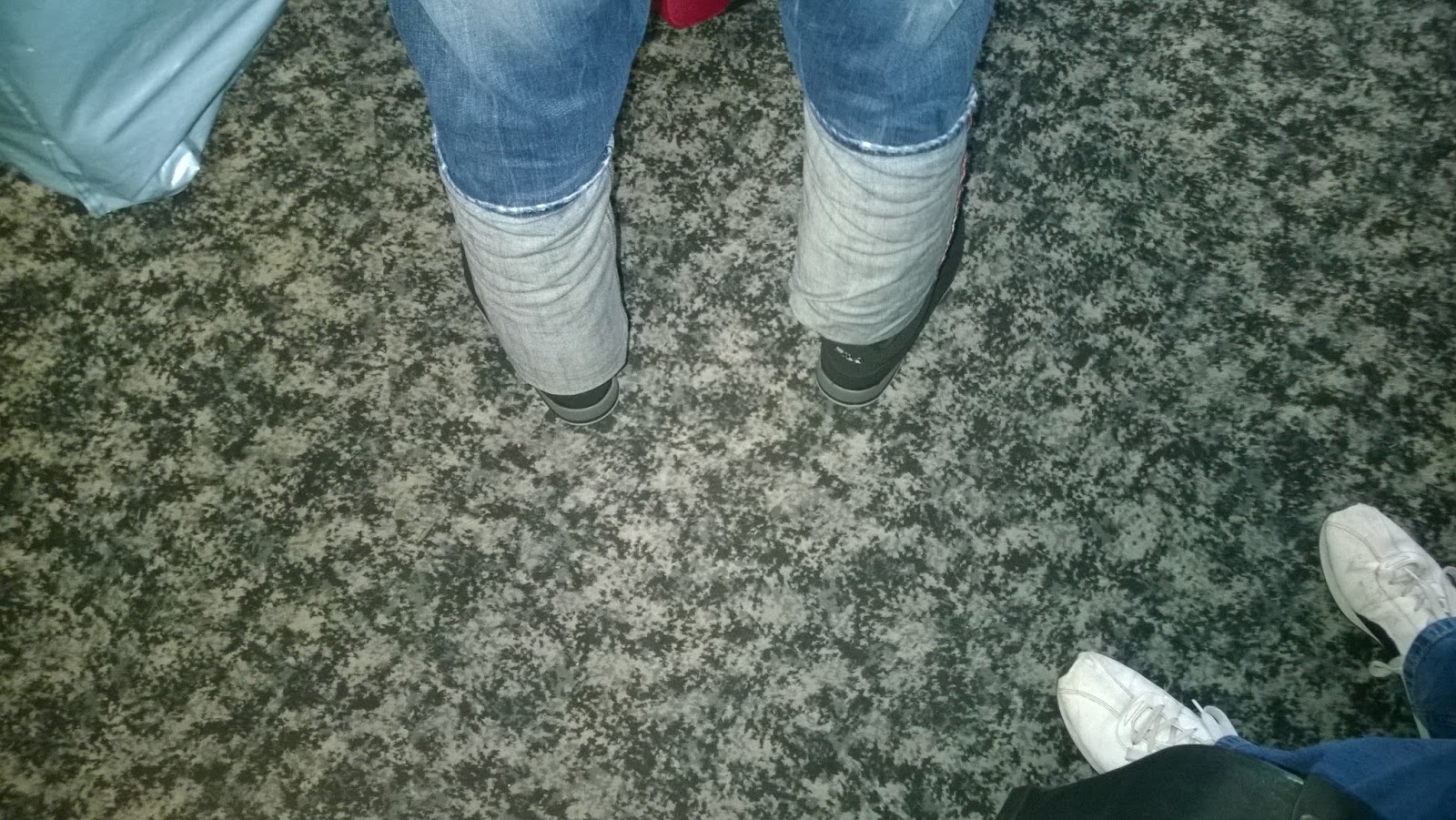 Dukey's hero…
Duke
Att: 1,744