Picture this (if you can), there I was, inside a Kentucky Beef restaurant, Joe Pesci is standing in the corner singing his 1998 non-hit "Wiseguys", Alec Stewart is regaling to me of the time he scored a century, in his century and on the Queen Mother's century. And I'm not too sure if it was Jason Lee or Regi Blinker that was doing a rather good mime impression. This goes on for a while when all of a sudden I hear a loud rumble and then a bright white light fills the air…
What? Where am I? What's happening? What do you mean you never heard of Joe Pesci? But wait, Oh shit, I'm in Scotland! Yep, that's right, my rather tame (in comparison to others I could mention) dream has been interrupted by the actions of a certain Mr X. In his lacklustre attempt at navigating his way to the throne, he manages to turn on all the lights in the gaff and wake everyone up.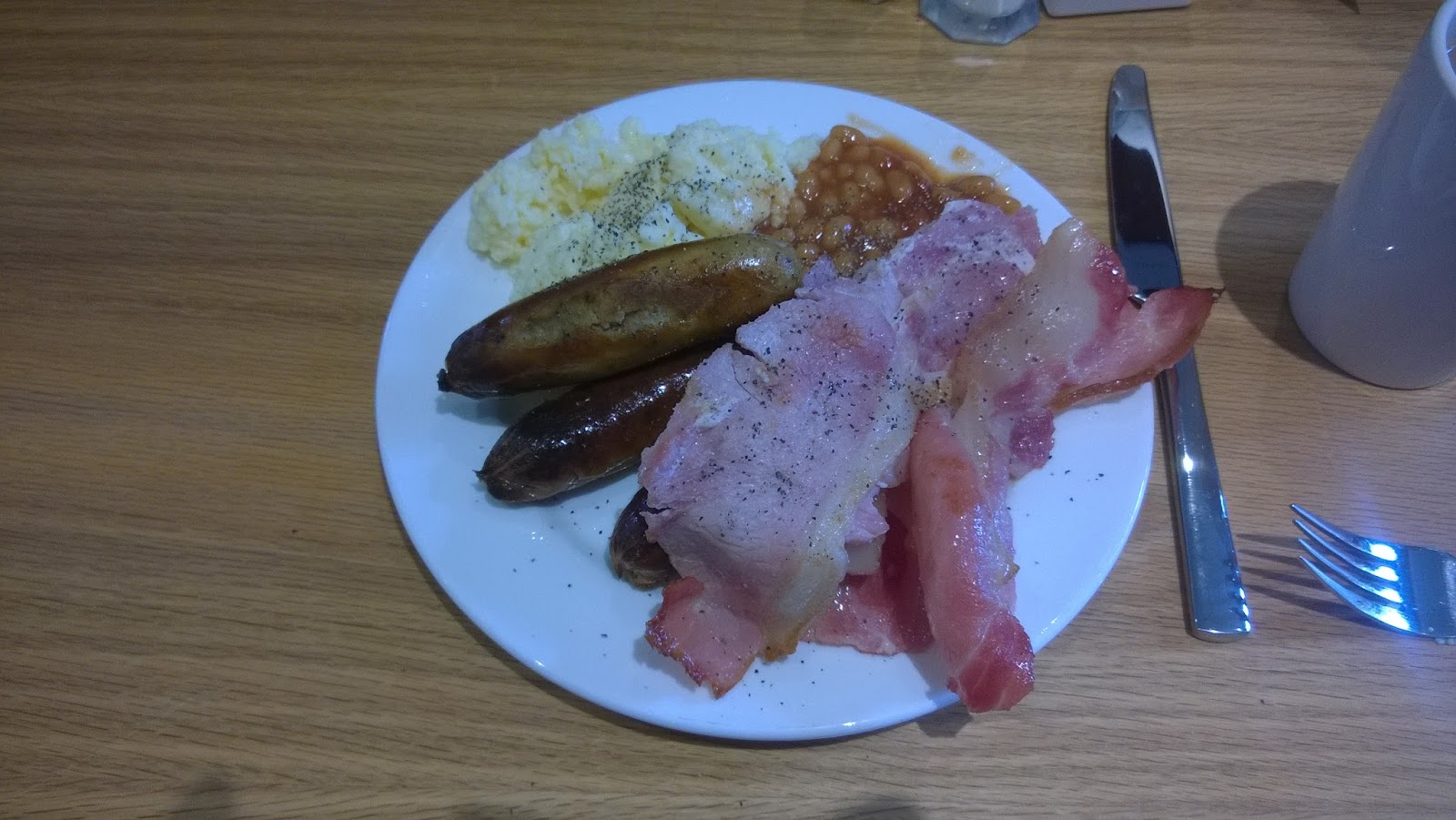 Helping #1 in a series of 3.
As luck would have it, the clock read 0755hrs. Not bad considering that Pete the Perv had set his alarm for half seven (except for some reason known only to himself, he set it for Saturday morning, which was yesterday) and we were due down for breakfast at nine. Plus we had done probably at least over thirty pints in the last two nights. Once again this meant we'd created enough methane gas that would probably power a third world African country for a whole day. Or Forest Green at least.
Now going with the only choice recommendation for breakfast from the little miss behind the jump, we hunt out the local garden centre. Yeah, you heard. With Southampton Steve not yet ready and 4 Days still comatose from his performance the previous night, the rest of us headed over to a place called "Howdens", where we are told, they do a half decent spot of the fried stuff of a morning.
With it being only next door helps a lot, because soon enough we realise that the place is locked up tighter that a nun's knickers. No bueno. Yeah, great recommendation there luv. Looking around for somewhere else to get our pork fat intake, we start to think that a nearby Frankie & Benny's might be our last hope. Much to the disagreement of Mr X.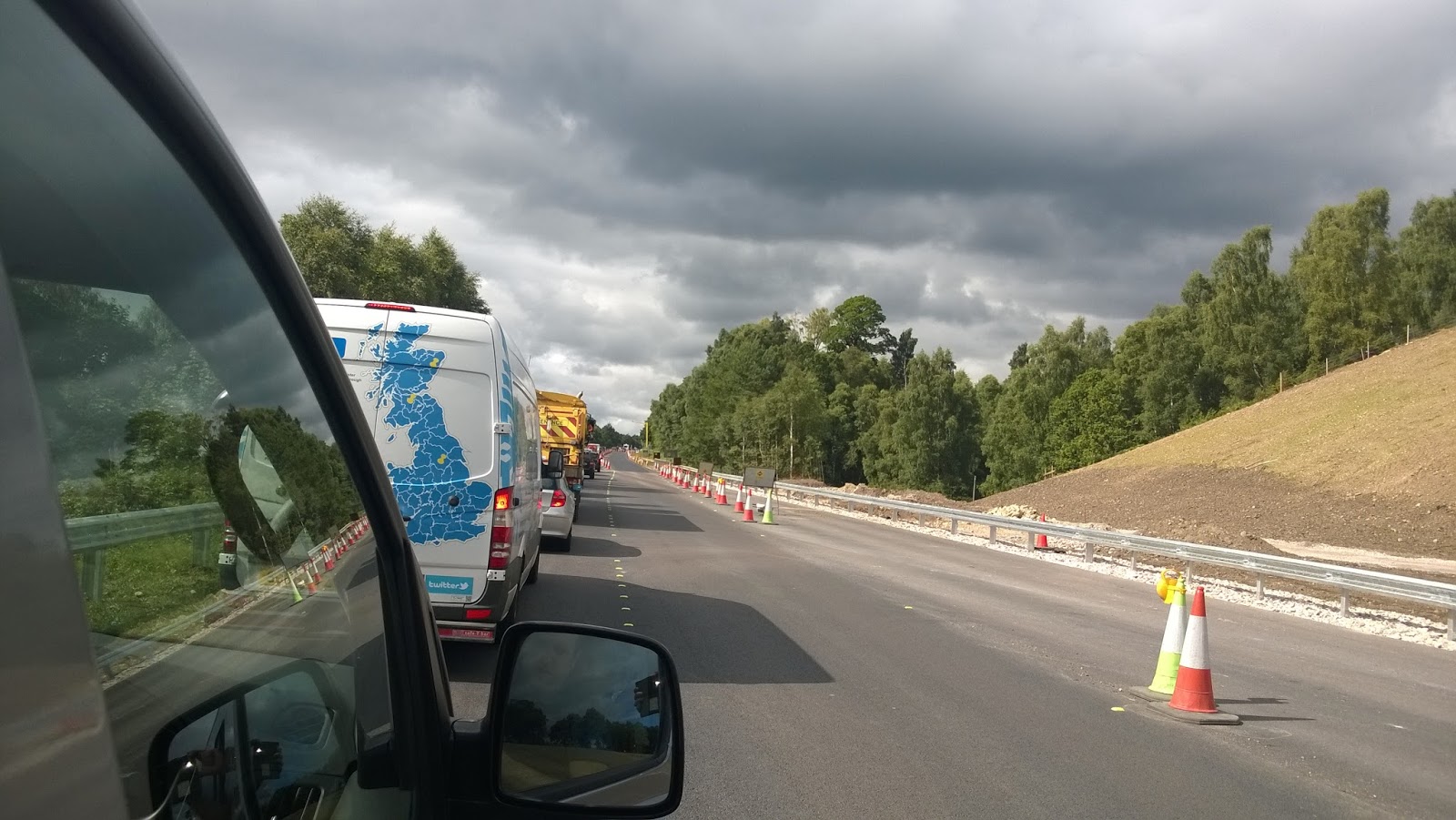 Traffic
So much so, that he wanders off towards the Holiday Inn Express next doot to our Travelodge to see if they do breakfast. He soon returns, beckoning us in like an elf at Santa's grotto. Turns out that they can accommodate us for a mere £8 each to sample their buffet. We're soon enough trying the delights of a simple selection of hot food that could've been found anywhere in the country. I mean, no black pudding, bubble or fried slice? That's why I had three helpings to get my moneys worth.
With Steve & Taz getting the motor from its dumped location at Inverness train station, we amble around and soon enough they arrive back at the same time a rather hung over 4 Days finally emerges from his pit. Jesus (or was it Russell Brand) did he look rough. Or at least looked rougher than he normally looks like on a Saturday.
With Pete taking my spot at the back of the motor, I'm forced to sit next to the hungover 4 Days as we begin the trek south through the Cairngorms. I wouldn't have minded as much, but like in those films where someone is struggling to prevent a sleeping man from sliding onto you, I had the welshman giving it a good go, including the dribble. Still, everyone else thought it was amusing at least. We also get to witness some Sunday Scottish roadworks as they are in the process of making a load of the A9 a dual carriageway. Which it fuckin' needs!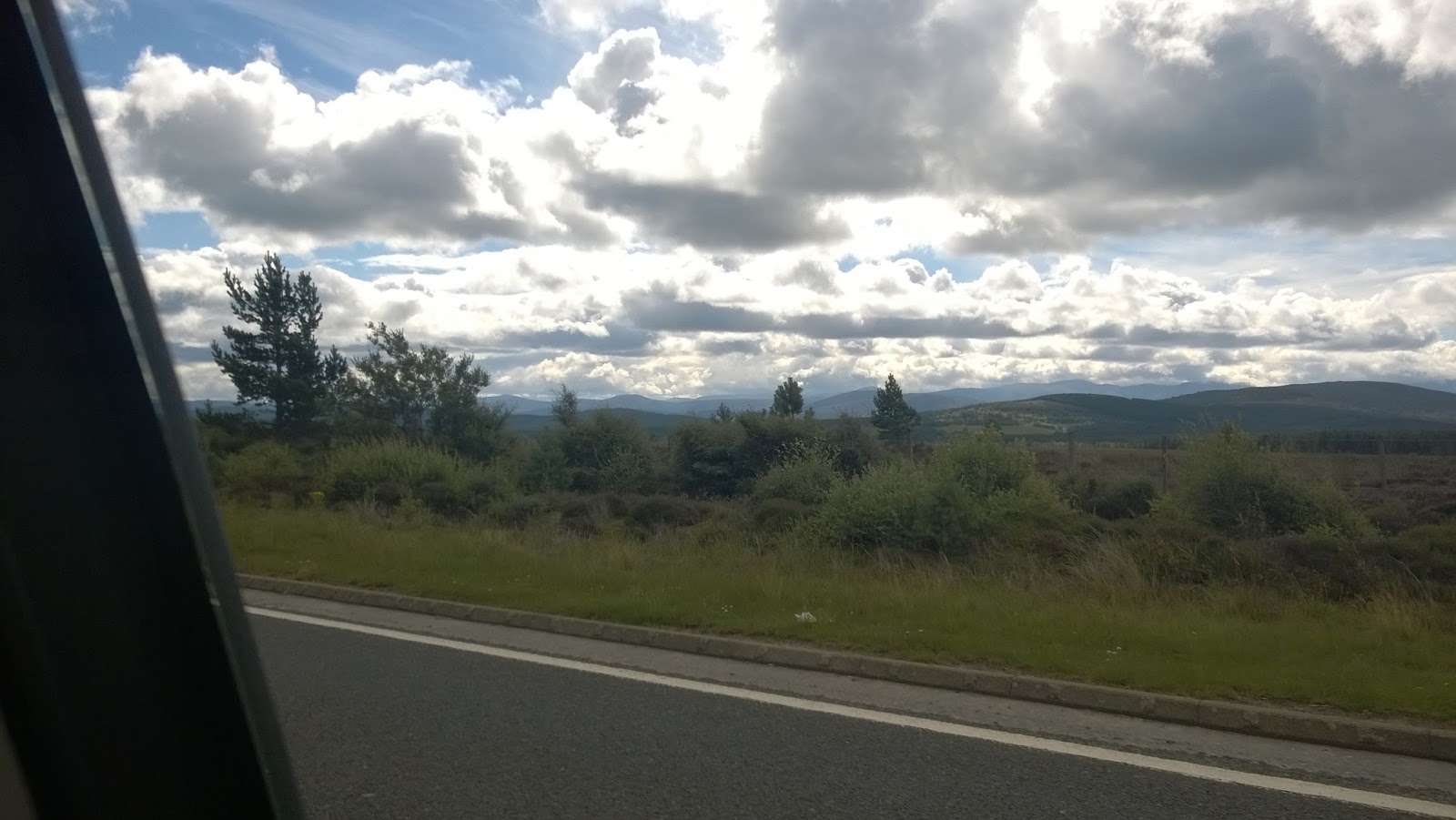 Scenery
There was supposed to be a quick piss stop along the way at a boat club, but we couldn't find it despite there being signs and we instead ended up crashing some swanky hotel that even had bottles of water in the shitters for its guests. I reckon the staff were just glad to see some people under the age of 65 and complete control of their bodily functions. Well at least we were under the age of 65 I suppose.
Back on the road and we were soon passing the ground of none other than twice Scottish Consolation Cup winners, St Johnstone. It did also remind me that there are some cracking place names from around these parts. Boat of Garten, Logierait & Killiecrankie are just some that were seen on our route.
Finally arriving in Dundee, we seek out a parking spot not too far from the ground and head up to grab our tickets for the game. Then it's quick walk over to see the ground of the rivals of "The Dee", the dreaded "Tangerines". And fuck me, when they say they are close, they are really fuckin' close. Off the top of my head I could only think of maybe Hastings/St Leonards having grounds closer than these two.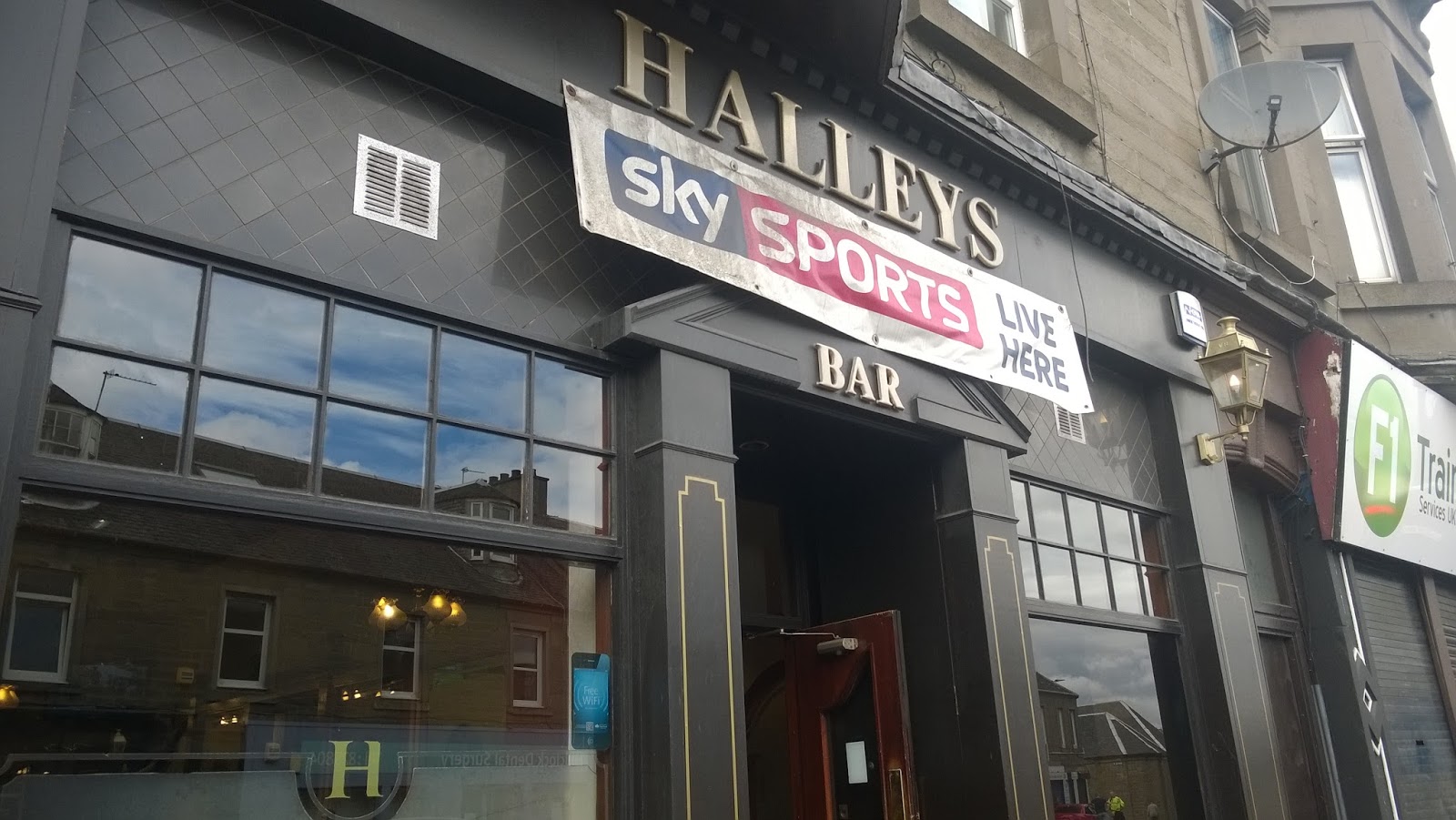 Literally room at the Inn
Now, the next step. It's time to find a pub for a pre-game beer and according to 4 Days there is one just round the corner from where we currently stand. "The Snug" is spotted from a distance but it is soon realised that the place is absolutely heaving as there are people outside singing and drinking. Although not quite as much as those inside! And before we get within a few yards, an unmarked police car arrives and three coppers jump out and start trying to 'encourage' those outside back into the pub, despite it being filled to the rafters with people on the tables singing away. So another option needed then?
Further up the road is a pub "Halleys" that has a little space. Here we sink a few more pints of Tennent's. With Taz making the drive to the airport afterwards, he is forced to stay sober and have a softie. His choice? Orange & Lemonade. But like in Barrow, this doesn't automatically mean orange juice and lemonade. Oh no, when you say orange up here in the wild northern wastes, they just give you a drop of the old cordial. The thing looked fuckin' nuclear when he arrived with it in hand. Fortunately there were a few United in here as well as Dees, or that nasty looking bright orange pint might have got him a kicking!
It was soon time to make the short trip back down the hill to Dens Park. A rather quaint place really. With a capacity of just about 11,500 it's even smaller then Prenton Park where we'll be playing in a couple of weeks. At both ends you have a modern stand, one for the away support and one for the home. To the right of the home end you have the "South Enclosure", where the hardcore are situated. Which looks like it's just a big old terrace with seats bolted into it. Opposite that you have a funky old main stand that seems to have a unique 'dog leg' bend in the middle of it.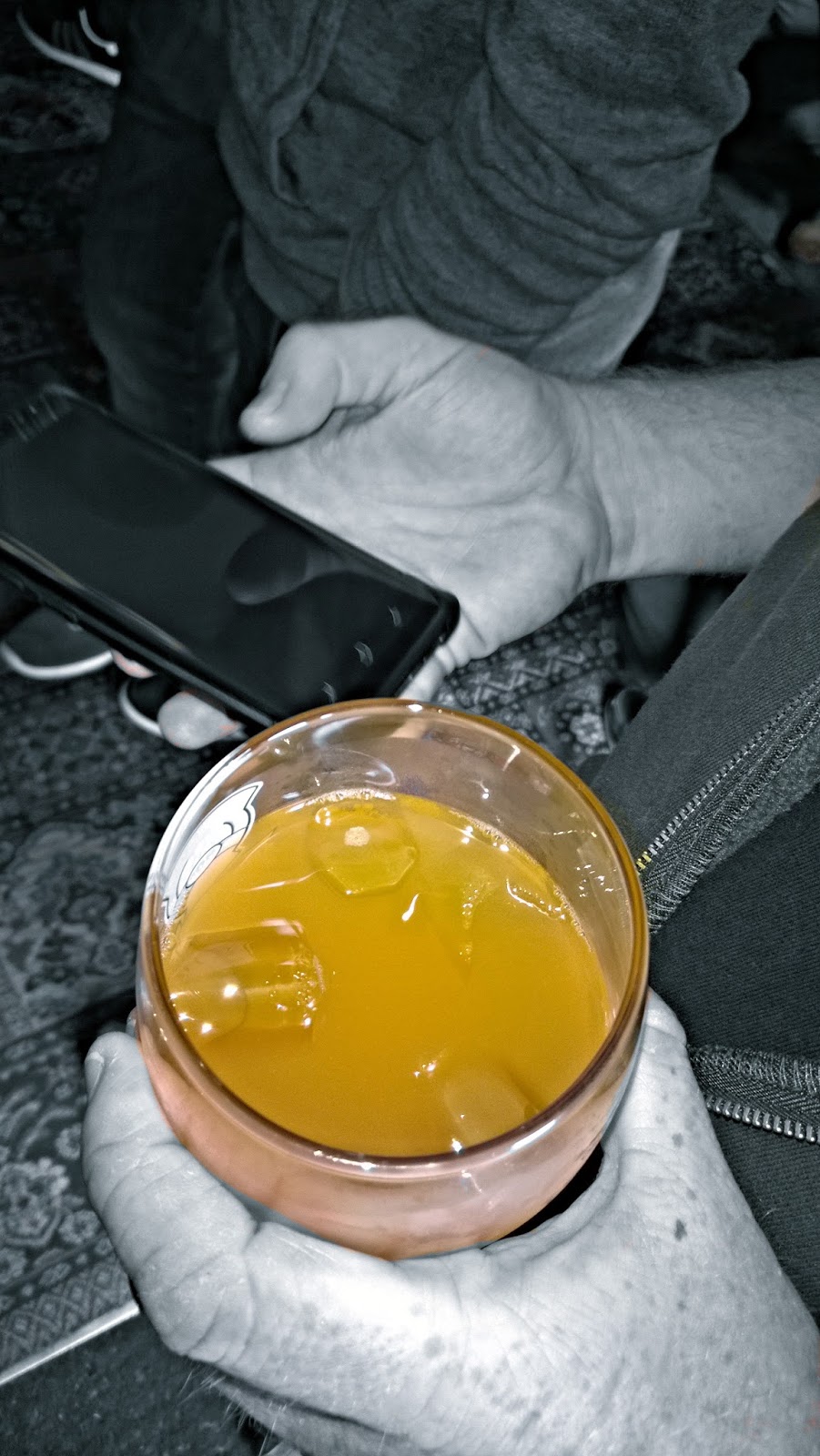 Nuclear.
The match its self was a different experience for me. For someone that has his roots firmly in the non-league game it came as a bit of a culture shock on several fronts. First was the obvious fact that we all had to sit down for the duration, yet that didn't seem the score for two of the other stands as they were pretty much on their feet for most of the match.
I may have known only one player on the pitch but that appeared to be more than some of those around us. Many a time I would hear: "Pass the ball Dundee", "Tackle him Dundee" or "You're shit Dundee". I even checked the line-ups to see if maybe there was a Crocodile Mick Dundee playing but it wasn't to be.
With the weather at times sunny, and at others pissing it down, the game took a bit of time to get going. Dundee seemed to have most of the possession but failed to carve out any real chances. Our man Deacon had the beating of the poor left back almost every time, but he just lacked the killer cross. Even when he lost the ball, he would charge it down and win it right back. It was good to see the fella fitting right in with his new full time surroundings.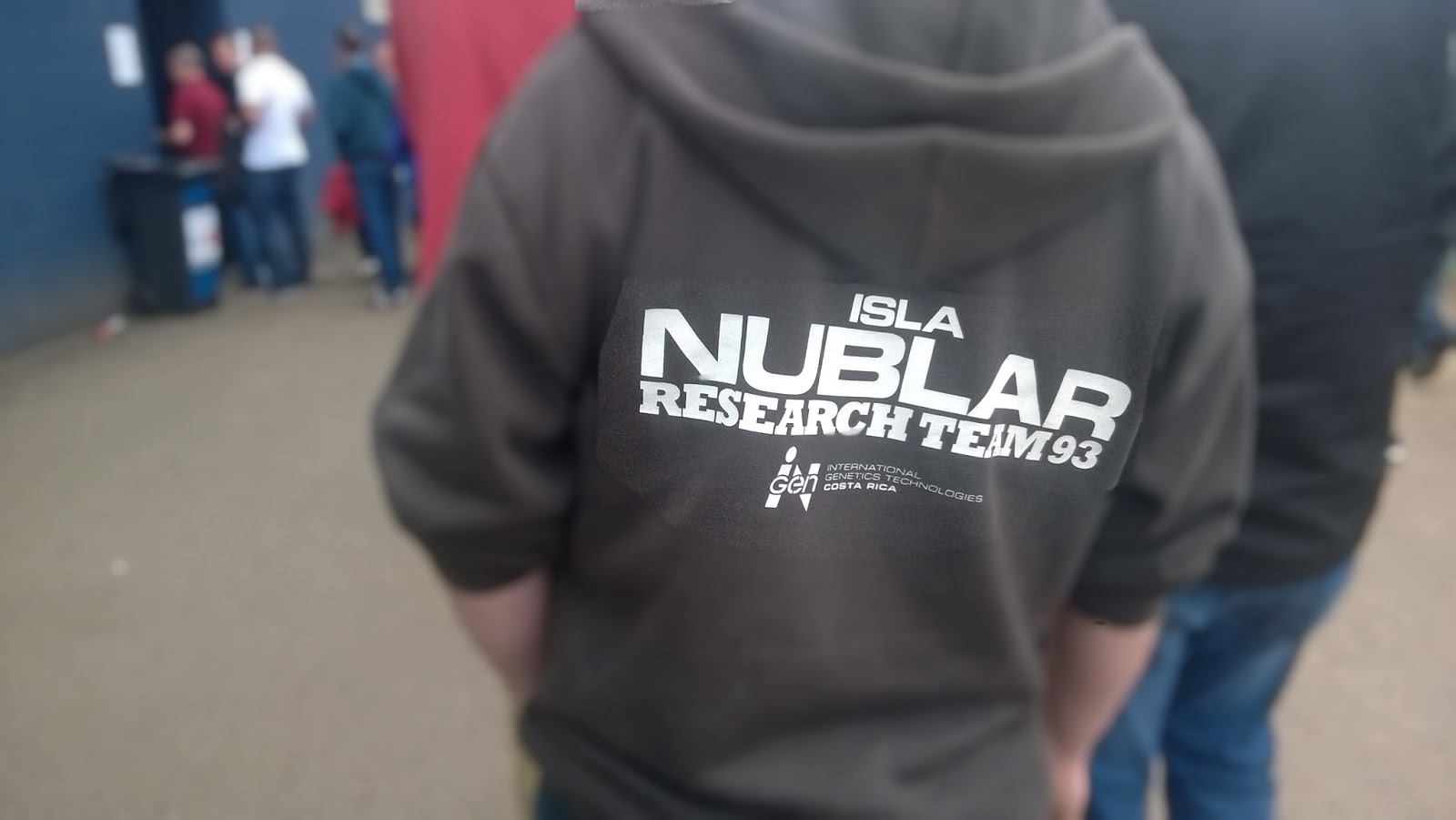 Popular with Aberdeen barmen.
Despite not having a lot of ball, United had the better of the chances. One was a free kick that was taken right out on the right hand side that was curling from the moment the ball was hit that the keeper had to palm it out for a corner (not given) a mere inch from the corner of where the bar and post meet. Another chance saw United work a clever one two that cut through the Dundee defence and the shot was only kept out by the outside of the post.
As the clock was fast approaching half time, United got their break. Some good work in the Dundee half, had United slip the ball into the box. But the United fella failed to control it and let it begin to run past him. Still, he managed to slide a left foot and slip the ball across the six yard line. This took it into the path of the oncoming midfielder who cleverly reversed it into the back of the net. 1-0! This caused the far end to go mad and a lot of inventive Scottish swearing around us. Even I learned a couple of new ones!
At half time we get to see some long haired fella off the X-Factor (according to Pete it was someone called Wagner? Fucked if I know) do the half time draw. Dressed in a home shirt, his performance didn't go amiss with the travelling faithful who their feelings known on the matter. 4 Days finally eats something and gorges out on not just one or two, but three scotch pies. Then again, they were less than 2 quid a pop!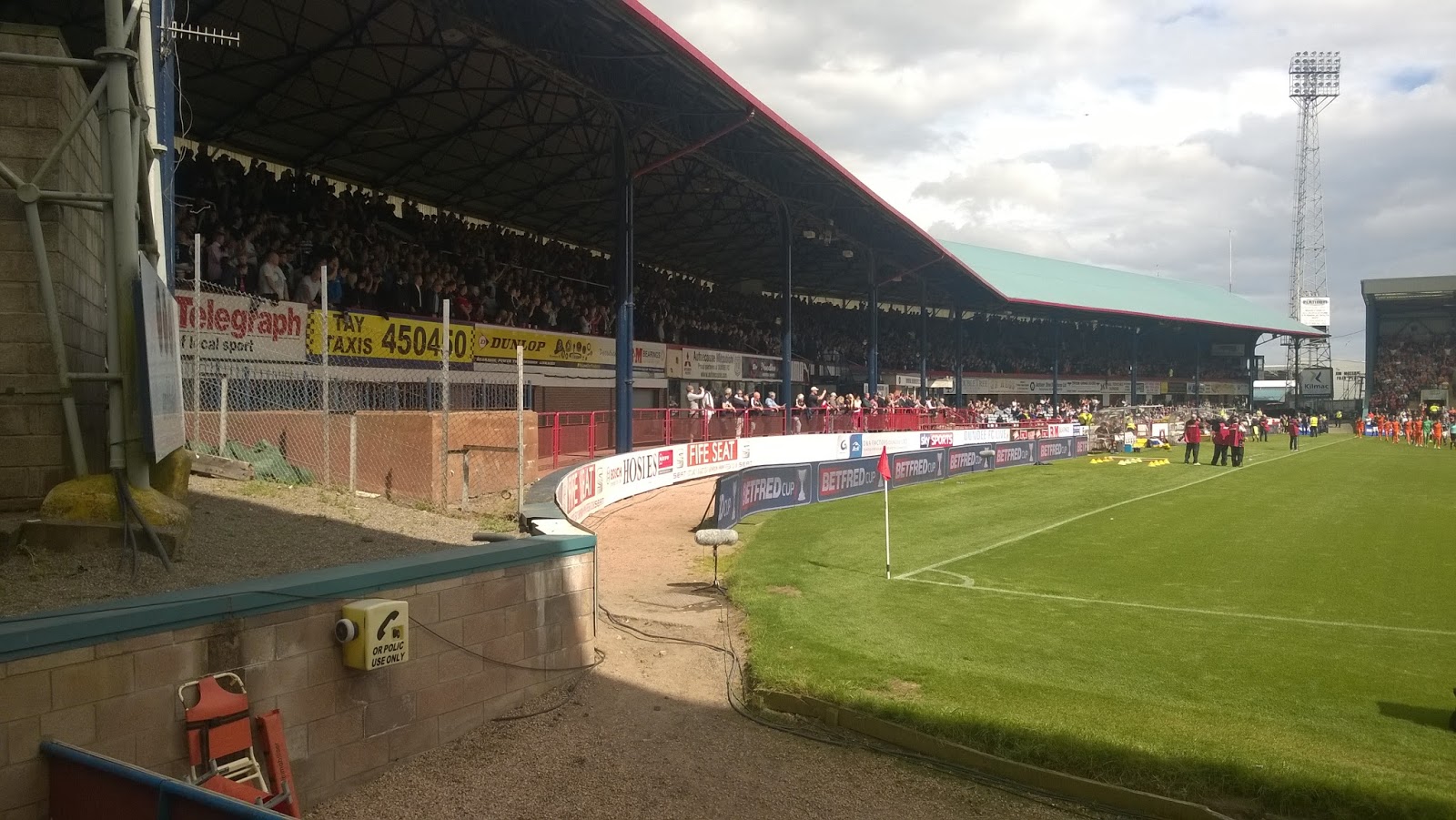 Quirky.
Second half and the tempo is raised a notch. Dundee do manage to get the ball into the back of the net off the head of their big striker early on, but he was so clearly in an offside position. On the hour mark, Dundee were level though. Deacon was the man as he collected the ball just outside the box and laid it our to the left. The fella then hits it hard along the floor to the edge of the six yard line. He hits it first time into the ground and past the keeper. 1-1! And the place erupts!
So much so that I can see a few fellas are chucked out from the hardcore section down the far side for a bit of the old over excitement. Still, we've all been there eh? After that, the home side step it up a gear with several chances that go begging. It was also a shame to see that the refereeing was a bad as anything we see down at the Borough Sports Ground. The fella in charge at the Forres game the day before was much better.
With minutes to go, Dundee have two top chances to win the game. The First is to our man Deacon as he latches onto a long through ball. Instead of shooting when he arrives in the box he hesitates. Then instead of laying the ball off to a better placed player he finally decided to go for goal and by this time the angle has gone and the keeps saves. After this Dundee also manage to hit the post with a flicked header from a free kick but that's it and soon after the ref blows his whistle for full time.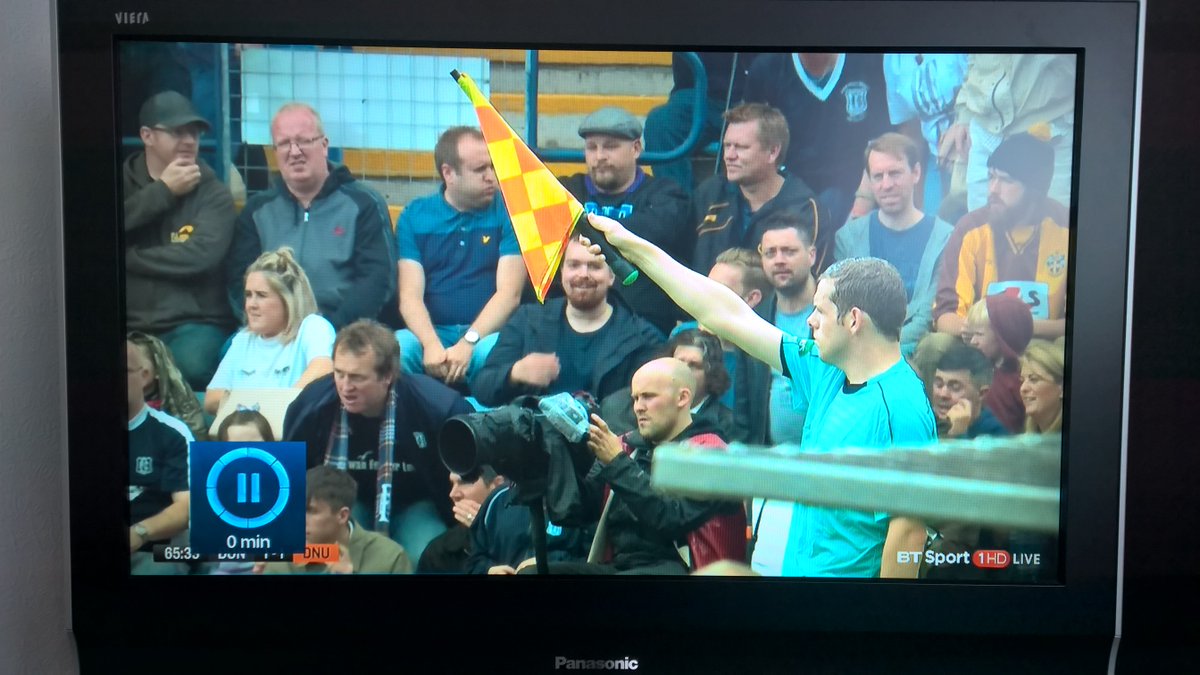 "Doris! Those Gandermonium dickheads are on the telly again!"
And before I forget, we once again we made it onto national TV again for all the world to see. So not only did we make it onto a photo of the goal at the Forres game, we make it onto BT to boot as well. Thank you Mr Loughlin for spotting it. If we'd tried to do Scotland incognito, then we're bloody shit at it! Then again, nearly forty pints over the weekend probably didn't help either. That's my excuse anyway.
If you think the game is over, you'd be wrong. As we now have one of the most pointless penalty shoot outs in history. Both teams are already through and I think that it doesn't matter where you come in the group as there is no seeding. There were some decent penalties and after four attempts it was three a piece. United step up and calmly slots the ball home to set up the final chance.
Now we are at the last penalty and who should step up to take it but Roarie Deacon himself. All he needs to do is score and it'll take the tie into a a sudden death situation. The question was, would he use all his experience from Sutton when it comes to the crunch? Of course he did because his penalty was piss weak and easily saved by the United keeper. Well done Roarie, keeping the Sutton tradition of shit penalties alive!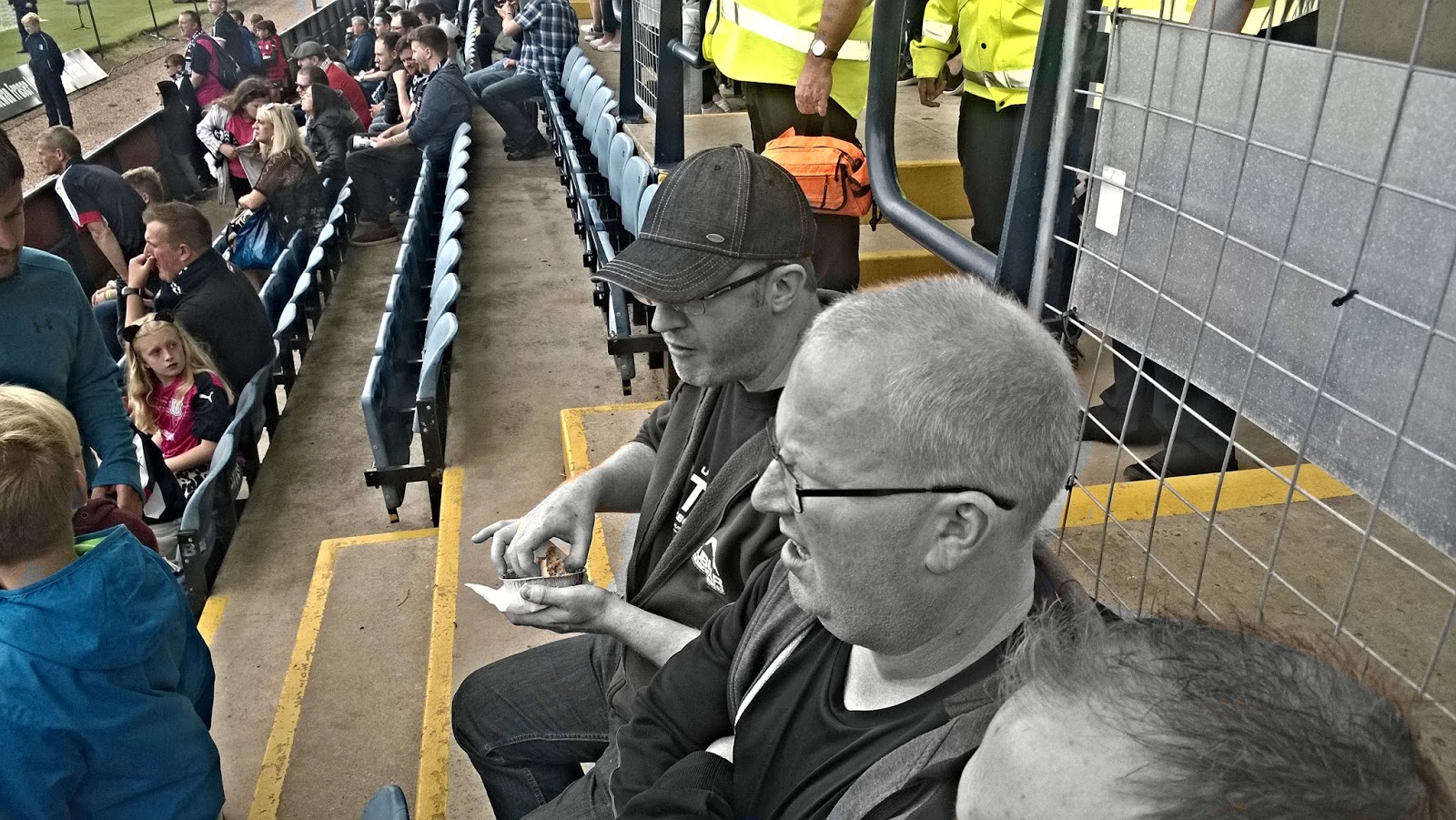 Dukey. Being arty.
It was now time to head home and as we are walking back to the motor, we also have to bear witness to a group of Dutch musicians randomly appearing and walking down the road playing their instruments after being dumped off their bus. Taz then very nearly managed to back the motor into the car behind even with the reverse parking sensor loudly indicating imminent impact.
The time was fast approaching seven o'clock as we pulled into Aberdeen Airport. A quick look around the old girl (to make sure there was no damage and if there was that they couldn't see any of it) and we strut off towards departures. With an hour to kill before boarding, and knowing that there will be hardly any time at the other end, we decide that a spot of Sunday night dinner is on the cards.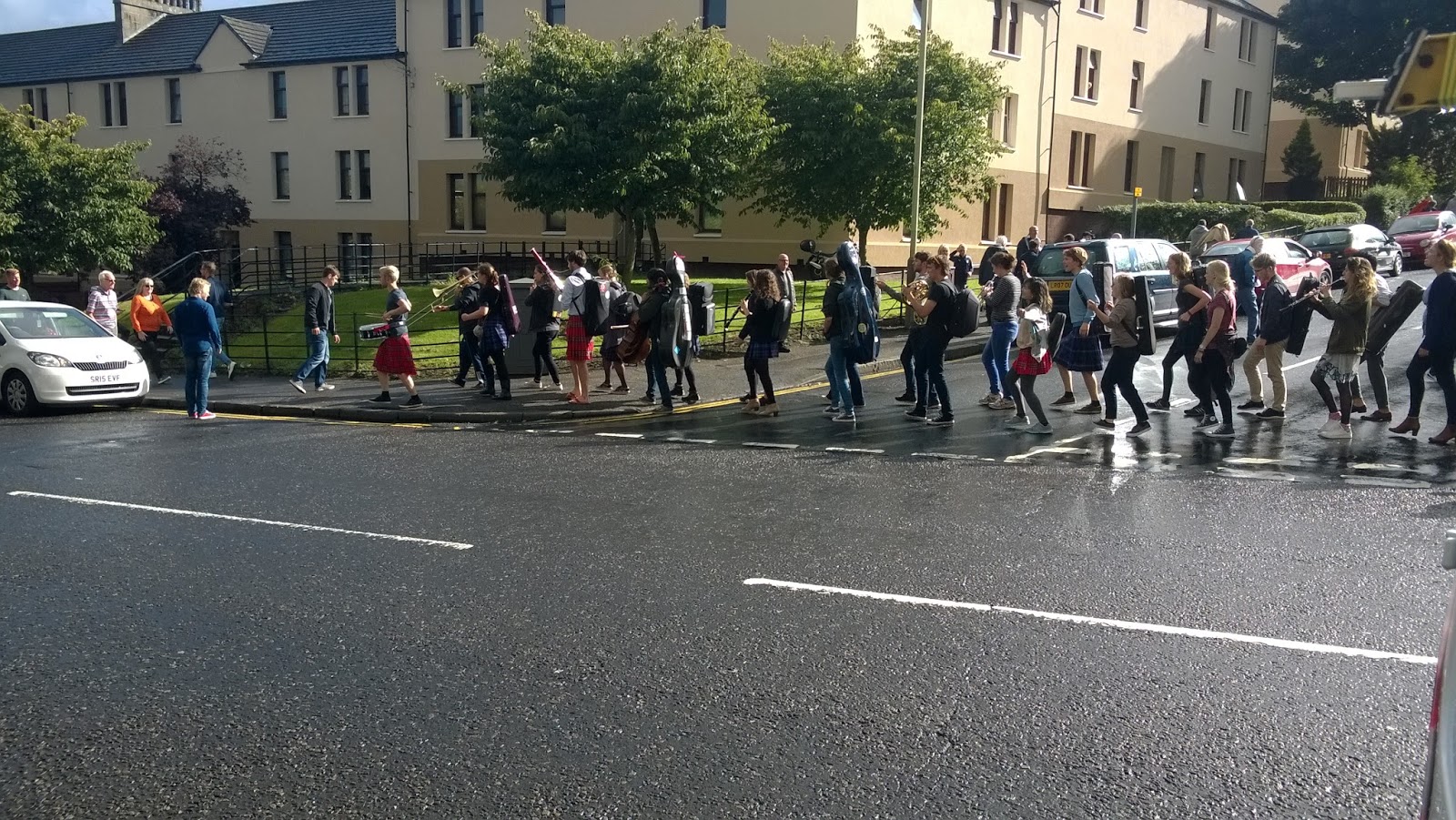 Odd Dutch band shit…
With 'Spoons the only real option this side of security, we all amble around looking for seats in a near empty place. While glancing at the menu, I spot a bird approach the jump and ask if they are still doing food. Turns out, apparently the kitchen closes at seven. After conformation that the kitchens are still open there is a rush to the bar as everyone (except 4 Days) tries to get their order in.
Still on the cultural tour of Scottish enlightenment, I opt for something called a "Highland Burger", which is basically a burger with a lump of Haggis in it plus some whiskey whisky sauce on the side. Thinking back, so that's black pudding from a 'Spoons, a square sausage from a 'Spoons and now haggis from a 'Spoons, and who is it that said we had about as much of cultural understanding as the bloody Visigoths or the bleedin' Vandals? We do culture!
A rather strange thing then happened as well. Sitting down and eating our food, a couple of fellas approach Southampton Steve and basically asked if he was who he was and having fessed up, it turned out that he knew of them though mates of mates. Fuckin' 'ell, you do more than a 500 mile trip and giving that someone may have a tenuous link to Sutton is one thing, but a fella who knows of you? Well that's just bloody weird!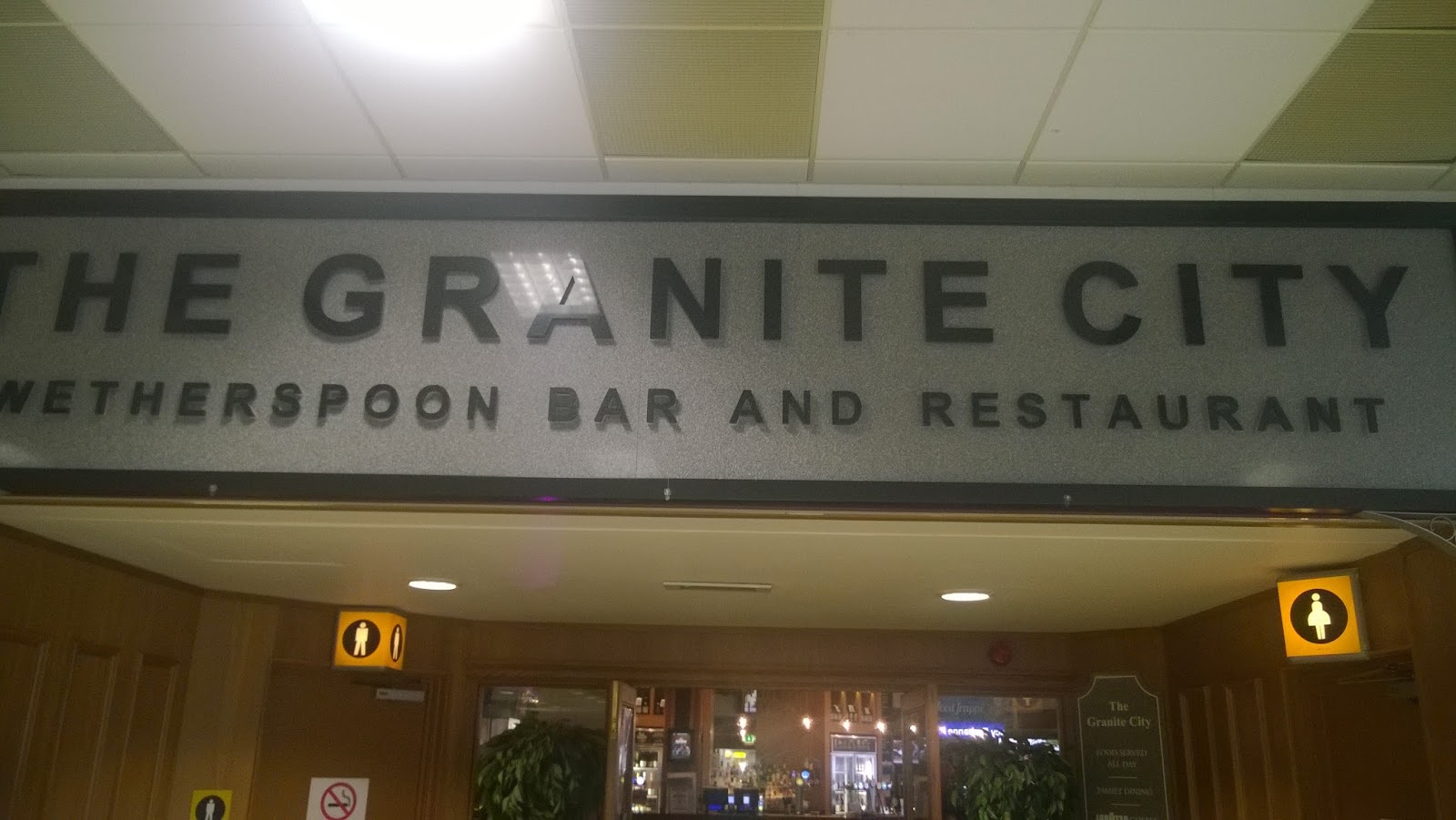 Another bloody Sponns…
Like the trip up, our plane is delayed once again and by the time Taz has taken his shoes off and thrown his hands in the air like he just don't care at security again, the worry is that we might have an issue with getting back to the Great Big Smoke from the tarmac at Gatwick.
The fight home is peaceful as we glide through the air. One little curio is when the captain get on the mike and informs us that if we were to look out of the windows, we would be able to see Manchester below us. With Wales off to our right! So that's a flight from the east coast of Scotland heading south to an airport in the south east of England and yet we are flying down the west side of the nation. Go figure.
Landing back at Gatwick closer to the fuckin' South terminal than our gate in the northern, we then have to get the shuttle bus that takes us all the way round the airport before dumping us by a set of doors. It's then a trek to the mono-rail and finally we're back where we need to be. Pete flies off as he needs to get back into the centre of London, as the rest of us just wait for the next train to East Croydon.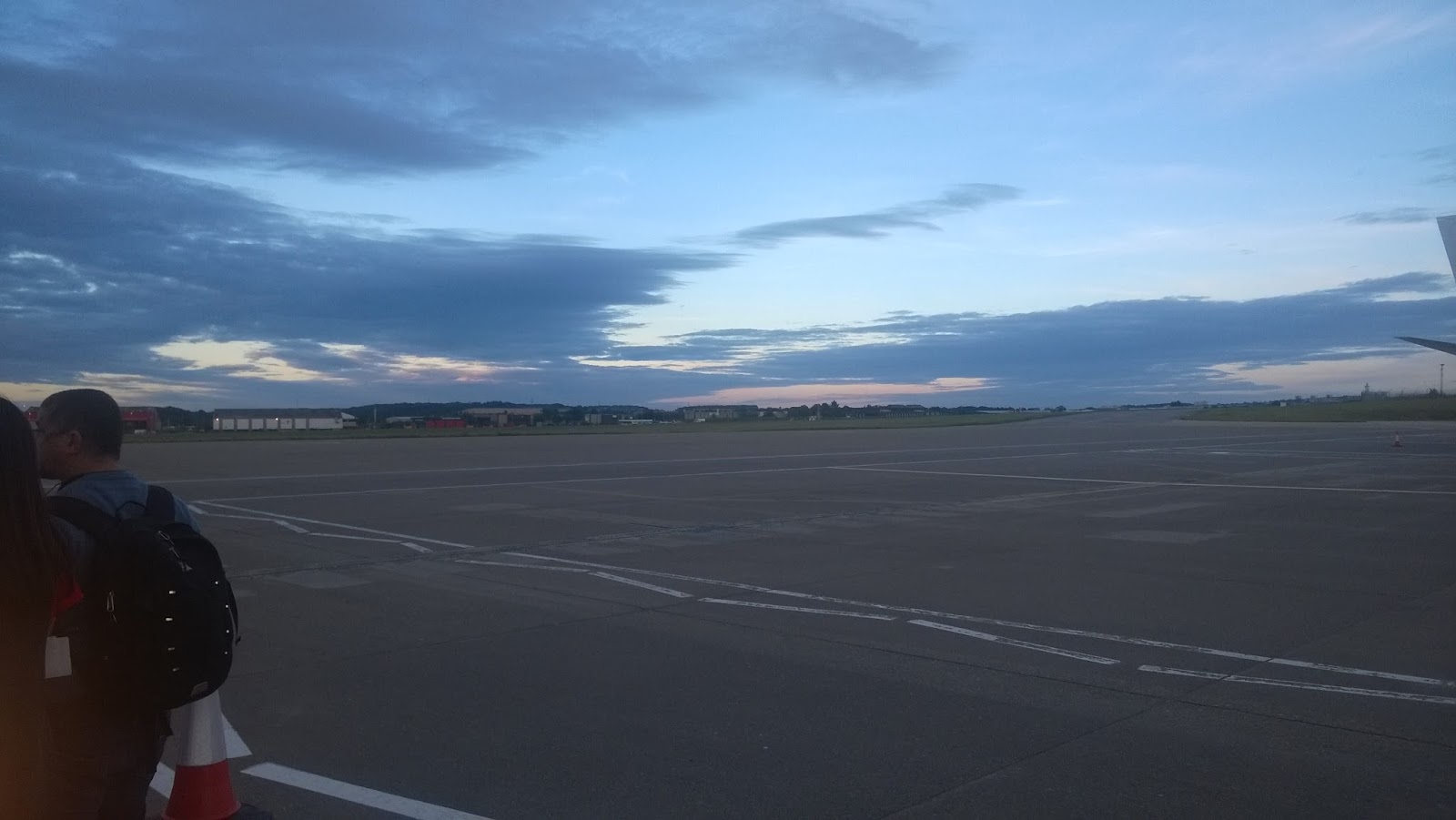 Demped.
A mere three quarters of an hour after landing we are on a train that takes only a quarter of an hour to arrive at where we need to be. Steve heads off for a tram and as the rest are left looking for a UBER, I say my goodbyes as I need to head over to Peter Shreeves Reeves Corner. Another wait for a bus and it's gone midnight before I'm finally through my front door. The realisation that it's less than five hours before i'm up for work didn't go a miss. Still, it was all worth it!
So there you have it. Our little excursion north of the border is now complete. There is but only one more thing to do, and that is put the trademark Gandermonium missed penalty video up, and before you even ask, yes it is grim up north and it wasn't me that didn't put the lights on. So until our next stupid excursion, you'll have to put up with us doing it purely gangnam domestic style. Enjoy.
Duke
Att. 10,460