Orient. Now then, here's a thing. One of the worst Saturday afternoons of my life was spent on a trip out to the old Brisbane Road sometime around 1980 to see them play Brentford.
"What the fuck were you doing heading all the way to Leyton to watch some poxy lower-league fixture with Brentford for?", I hear you exclaim incredulously. And the truthful answer in that is I have not got a fucking clue.
I do know that there had been some sort of impromptu party the night before and we had all taken carry-outs back to the gaff of the one fella we knew in those days who had his own flat and it was carnage. I was sick as a fucking dog. Seriously, too sick to even pray for redemption. In fact, if I'd actually been a dog I would probably have been put down in some sort of mercy mission.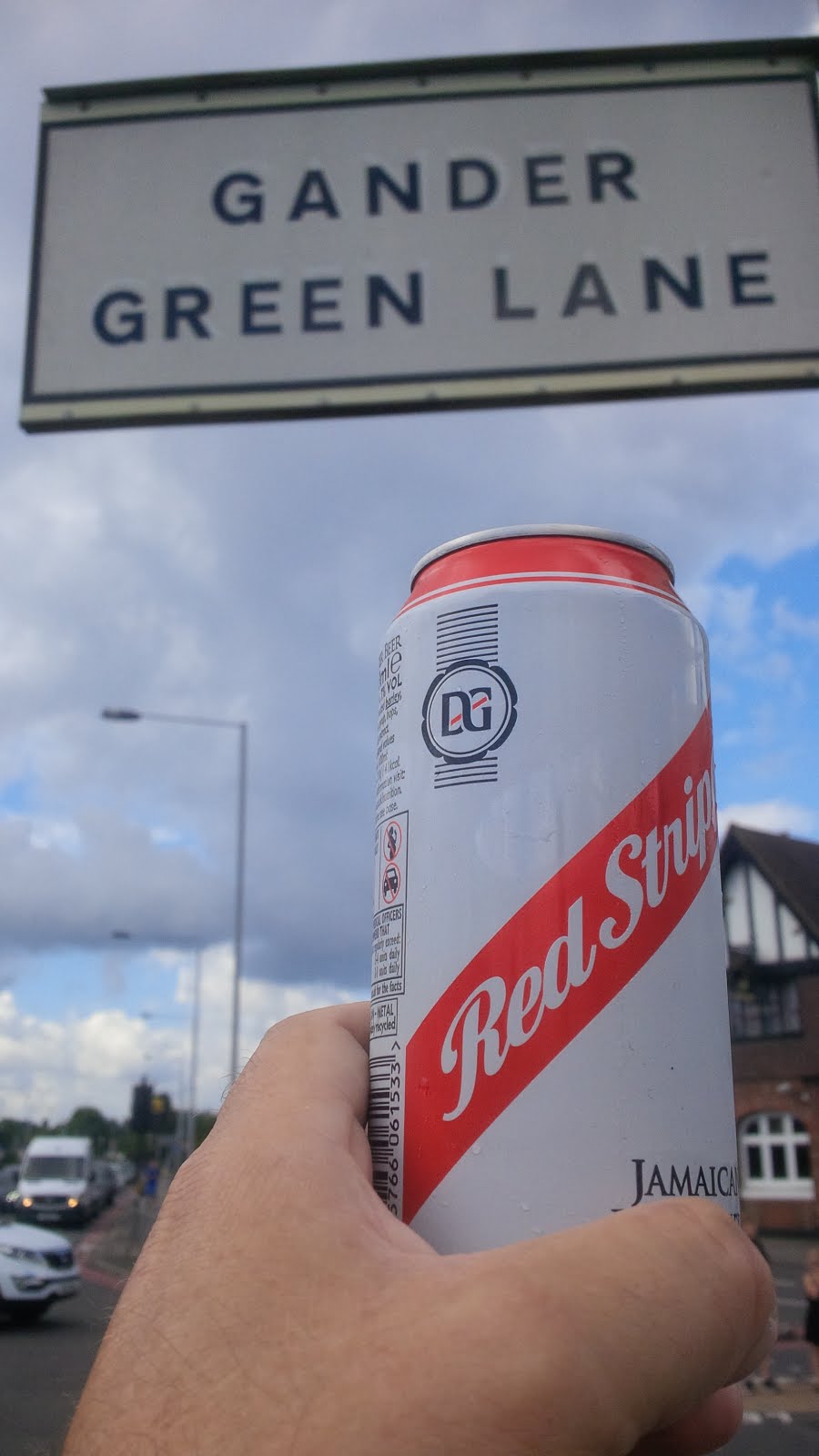 Vamos My Son
In the midst of this swirling cesspool of human misery some fucker, I'll name names in a bit, persuaded me it would be a good idea to jump a train and watch his team, Brentford, take on the mighty O's at their place. I remember nothing of the trip itself other than regular bouts of projectile vomiting and leaving what was left of my guts over a garden wall somewhere deep in East 17.
I tell this tale not as a warning to my younger readers, or to prise a sliver of sympathy out of the ice cold hearts of my contemporaries, but because it will always be my abiding memory of today's opponents prior to our televised opening clash of the new season. When we eventually made it back to the Stranglers Arms in Epsom for a livener one old regular, asking where we'd been, spent a good twenty minutes ranting away along the lines of "Orient? Not fucking Orient. By all means support your team but Orient? Jesus Christ, not bleeding Orient!" We never did establish why he had it in for the O's but there you go. I'm not sure he was the full ticket to be honest.
But what goes around comes around and so it is that at 11am on the first day of the season I find myself loitering with intent outside West Sutton station awaiting the arrival of the Polegate U's, Robbie and Chris, the pair of Herbert's who persuaded me to make that Orient trip all those years ago. While I'm awaiting I get chatting to one of the away fans who tells me he's come up from Cornwall, getting a dawn flight from Exeter to London City and then hacking across town. Fair play to you mate.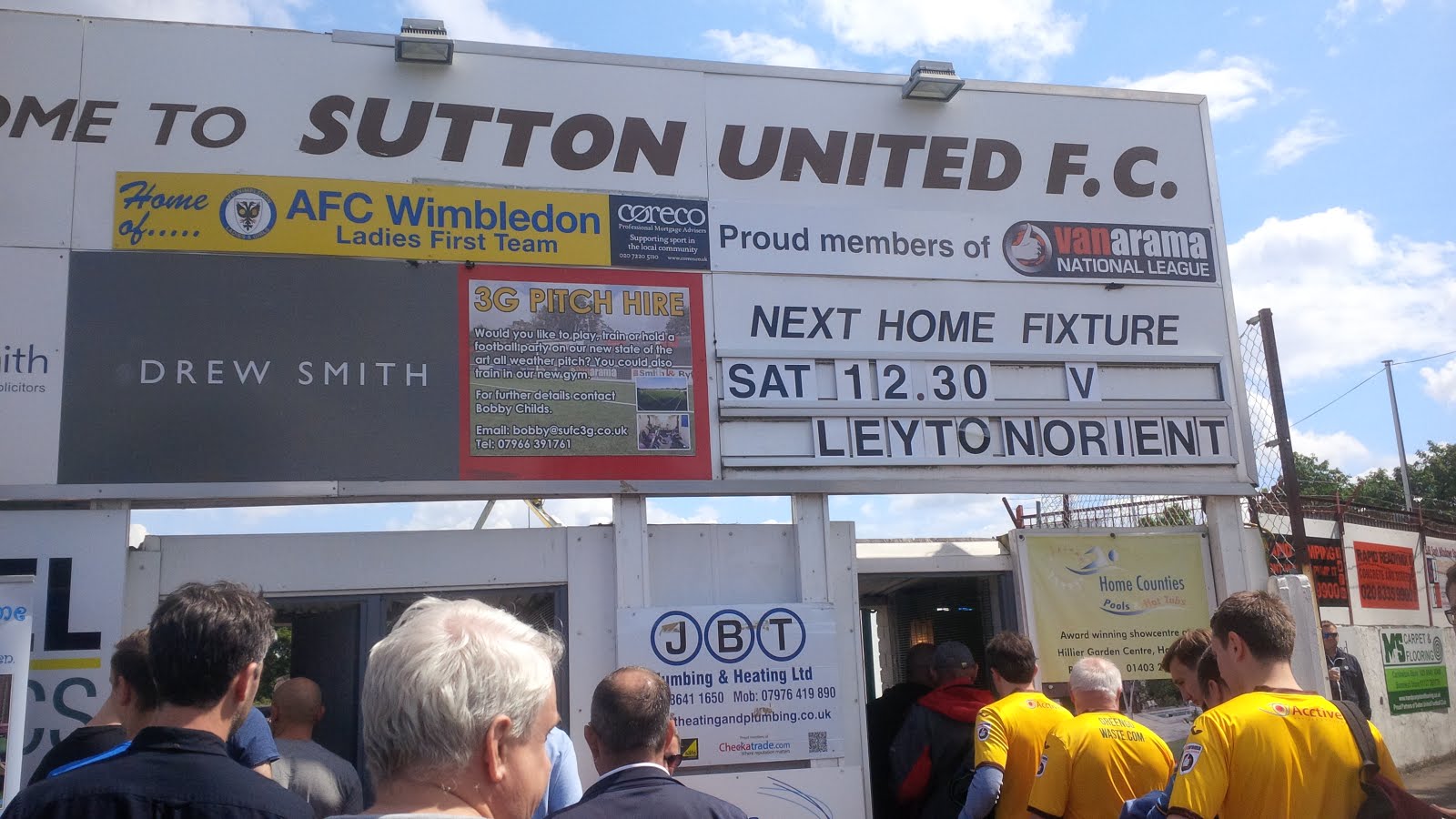 Time to get busy
Thameslink eventually dumps the lads off and we are on the move to the turnstiles to pick up a couple of briefs and then onto the club house where the bar is already doing a roaring trade with assorted local heroes, including our old mate from the glory days of the Plough, Peter Fear, getting in the swim. There's a fantastic buzz around the place with home and away fans mingling and getting along just grand.
Sun's out for once so we grab our pints and step out into the beer garden, well, the car park if you're being pedantic, and we catch up with some of the old yadder around the camp. Dukey is sipping on some sort of alcoholic Vimto concoction and fills us in on the cultural exchange visit to Scotland the weekend just gone but there's only so many times you can feign amazement at how close the Dundee and Dundee United grounds are so we fuck him off and move onto someone more interesting.
A few scoops and it's time to hit the gates and get our arses round to the Shoebox Terrace. The Orient lot are in good voice and why wouldn't they be? They may have got relegated but they've rescued their club from the clutches of some scumbag and they also have an away trip to Borehamwood to look forward to. Happy days.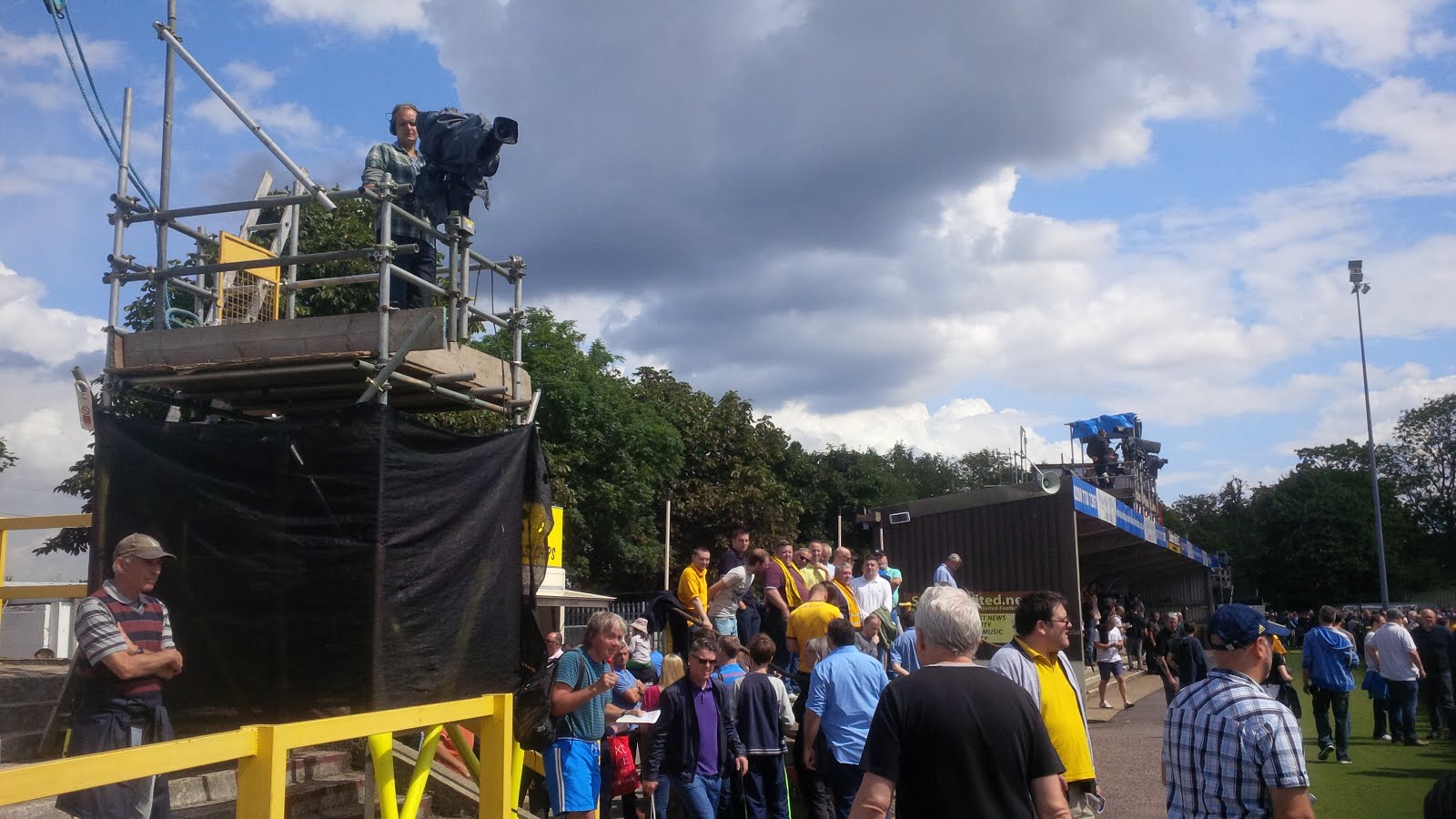 "Doris, those bloody Sutton lot are on the telly again!"
Approaching the Shoebox I spy strangers. Yes, it's Tooting Bog End Firm Guv'nor Hackbridge Harry and his lad Anthony who's the top boy on the Tooting Youth Firm. A reccy or a glory hunt? I dunno. Possibly neither as they also have Donny Mark, a long suffering Orient fan who also runs the London Celtic Punks operation, in tow. We exchange formalities and I leave them to get in with it. We make tentative plans to meet up for a pint later but I'm wary. Could be an ambush. We'll see.
Up on the spiritual home there's pretty much a full house with old the faces from the DILF and Bacon Contingents in the swim. Which is more than can be said of last Saturday in the pissing rain at the last PSF when FOUR of us held the line. With segregation in operation most of the core participants in the encrypted Gandermonium "What's Up" group are also plugged in for the duration. There's a strong whiff of optimism in the air. Either that or it was Dukey's guts again.
With a vast swathe of injuries cutting the Sutton squad to ribbons we have pretty much every fit man either on the pitch or on the bench but fortunately we have some more depth in numbers this term and we will need them in the ten months that lie ahead. Dundo has earned his right to lead the line after an excellent pre season and we are up and at em from the off with a clear plan to unsettle the Orient with a high intensity pressing game that denies them the time on the ball they may have been used to. It works.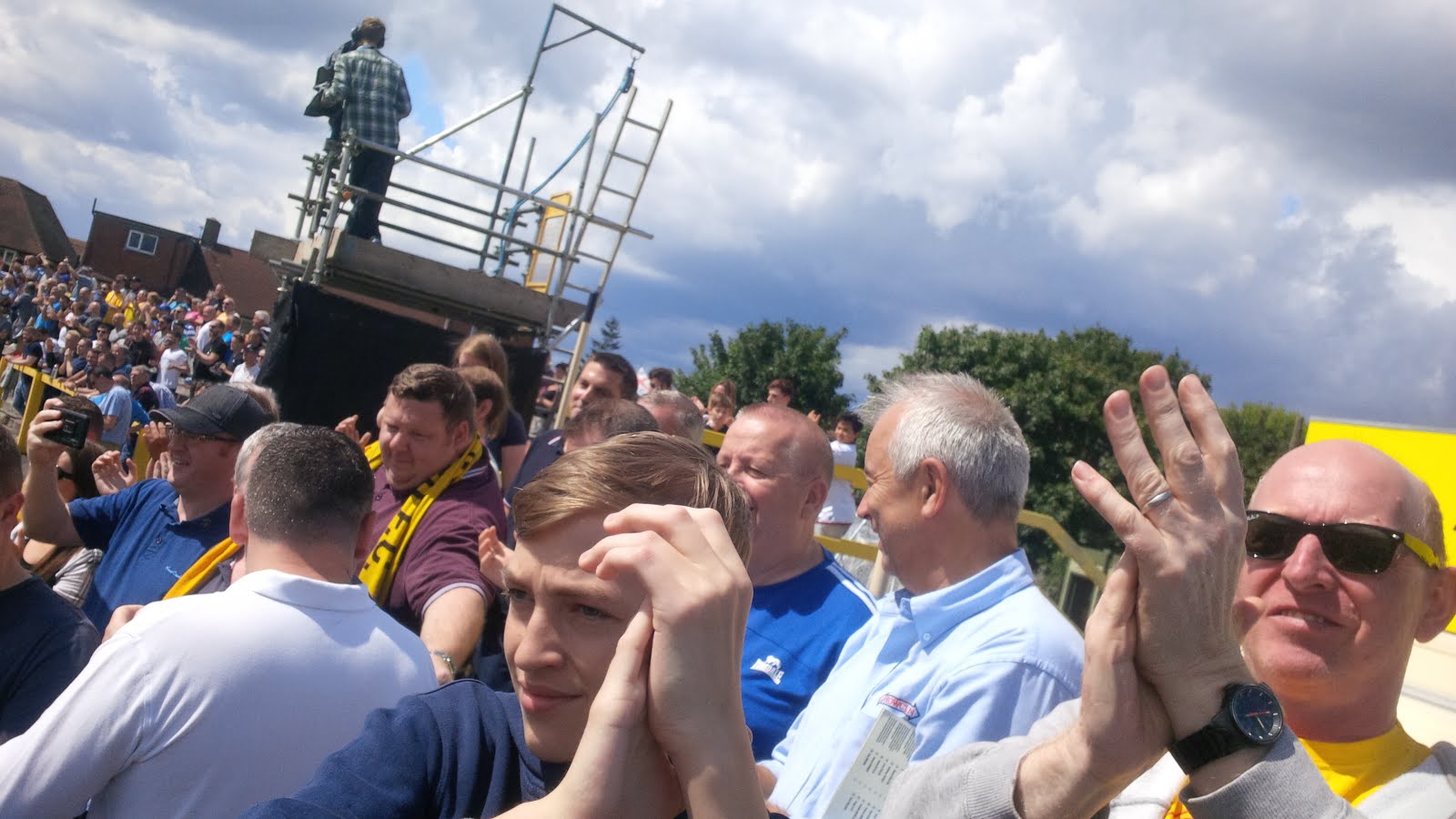 Hand clap. Hand clap.
Dundo and Ross up front are proving a mighty handful for the O's defence and it's the big man himself who bullies their centre back through pure physical strength in a one on one, winning the ball only to be hauled down in the box. It's as clear a penalty as you will see and even the erratic Sergeant Rock, the man in the middle, clocks it and points at the spot. Cometh the hour etc etc and JC steps up to strike the ball home. VAMOS MY SON!
Halfway through the first half it would be fair to say that the weather moved a fraction into what might be termed the inclement zone. To put it bluntly the sky turned black and it was fucking hammering down. Some lightweights slide away for cover as we are both roofless and ruthless up on the old ST but the rest hold the line. A few have come prepared and pull on waterproofs. I opt to go a different route and rag off down to the vest to ride it out. And then it starts to hail. Stones as big as fucking golf balls. Melting as they hit you with the icy water sliding down the crevice of your arse.
Dirty Barry confides that you only need to worry when you are "penetrated down to your inner layers". Some of us are surprised at the idea that DB would be worried about such things as we assumed it was part of the core activities of his Dogging Circle but we decide to leave it alone for now as things continue to look good for us on the pitch with Nicky Bailey absolutely bossing the midfield and controlling operations like a man on a mission with solid support from all his compadres.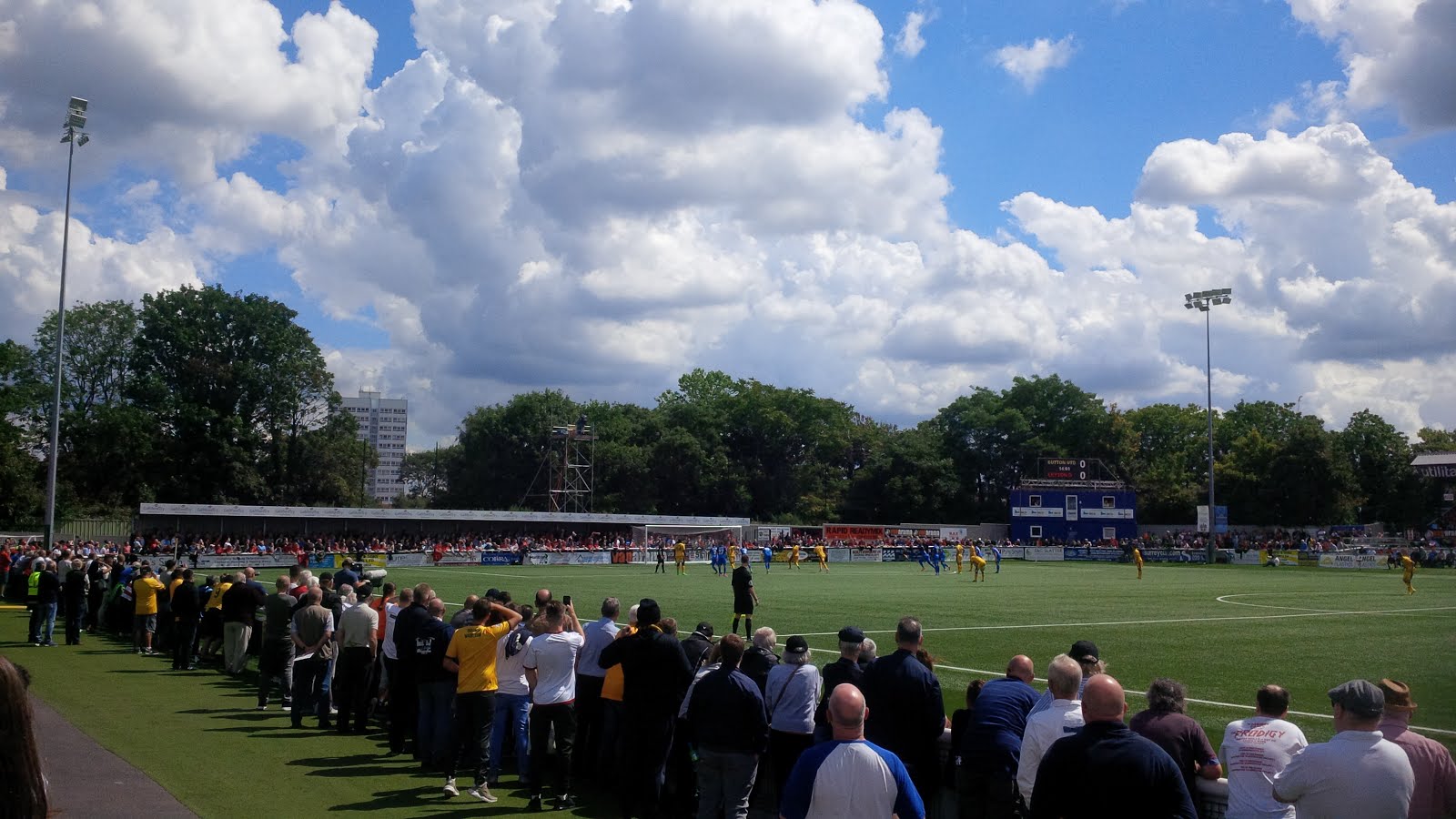 The Verdant fields of the republic….
Our well deserved second goal was steered home by the impressive Deano after good work by Ross and we were top value for that lead at half time. As the whistle blew and the weather improved a few of the wimpier fraternity started to slide back to the Shoebox and I was also pleased to be able to procure a much needed slipper and cup of splosh to keep the old engine ticking over.
Second half we just looked absolutely rock solid and in control, a position borne out by the fact that Orient apparently didn't have a shot on target until the 67th minute. Every single one of our lads chipped in and the effort and tactics were faultless as far as I'm concerned and we gave the O's a master class in what that National League is all about. They'll adapt but I think Dos had a fair point when he said that we may well have got to play them at just the right time. Time will tell on that one.
Final whistle and the majority of the bumper crowd had something to celebrate, a rare opening day victory. We didn't waste any time. Still damp we are back in the clubhouse having a few beers. Real shame SCR couldn't go ahead with their original plan of playing their FA cup game back to back as it would have capped off a great day at the Home of Football but there you go. Good to hear they got a result up at Merland Rise.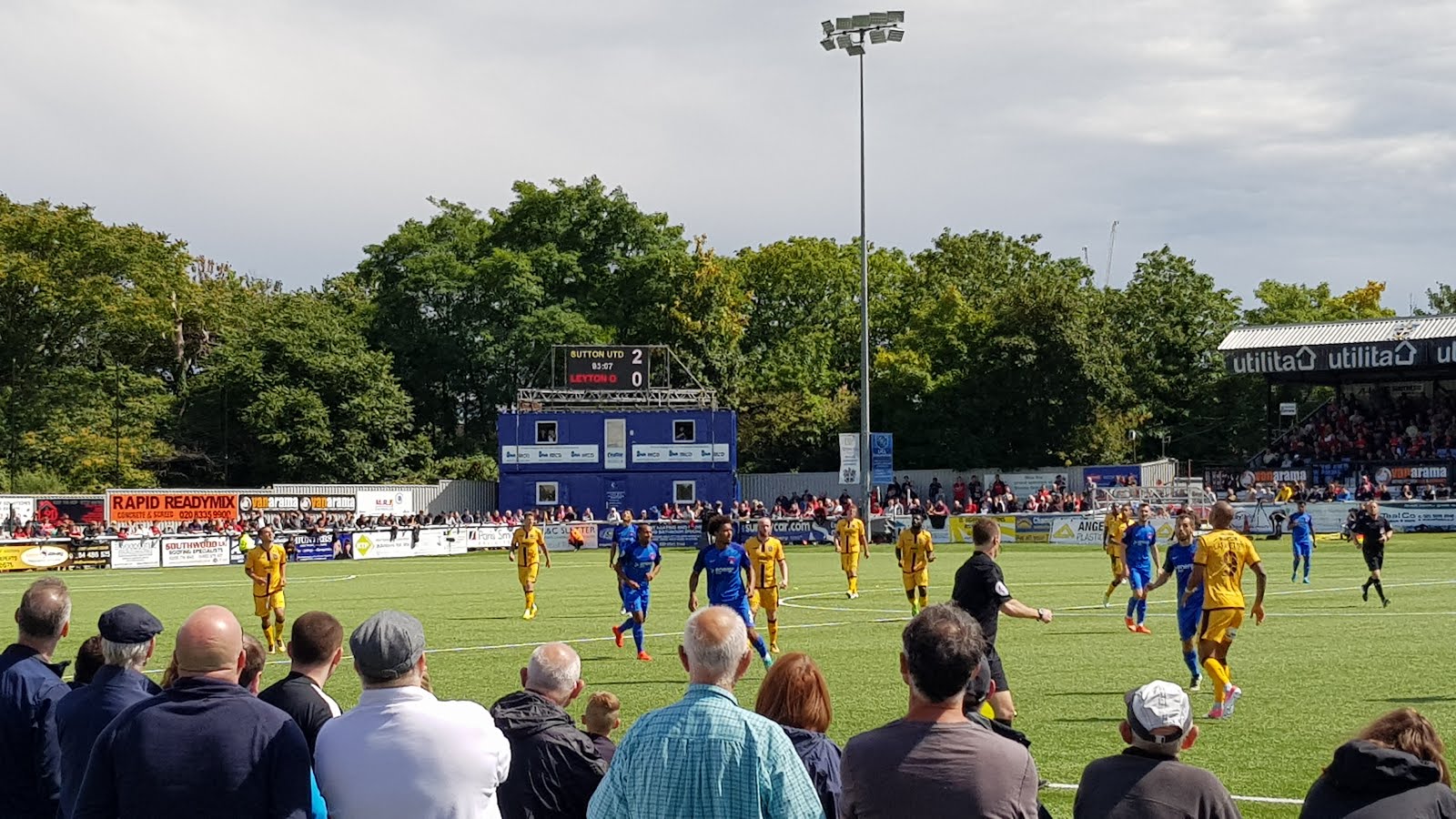 Tough day at the office for the O's.
Had a great time with the O's fans on line and on the day. Proper football people. But you're always gonna get one Grade A arsehole and that fell to the twat who when challenged on the claim that Sutton and Non League "stinks of piss" upped the ante with the exotic claim that things would have been different if we hadn't had the refs "cock in our mouths the whole game." An extraordinary physical achievement that would almost certainly come as a surprise to Mrs Rock.
Well oiled from the early start we decide to head over to The Plough for old times sake before the dynamic duo have to leg it back down to the South Coast. Laughs a plenty and good to see the legendary "two bottles of Stella in a pint glass" promotion still in full effect. With the lads off and away I head back down GGL to the official residence picking up a Chinese and a couple of Stripes along the way.
Mrs Totts strolls in from a long day shift. "How d'you get on?" We won. "Who you got next week?" Tranmere. "You going?" Yep. "Who with?" Dirty Barry's Dogging Circle. "I see."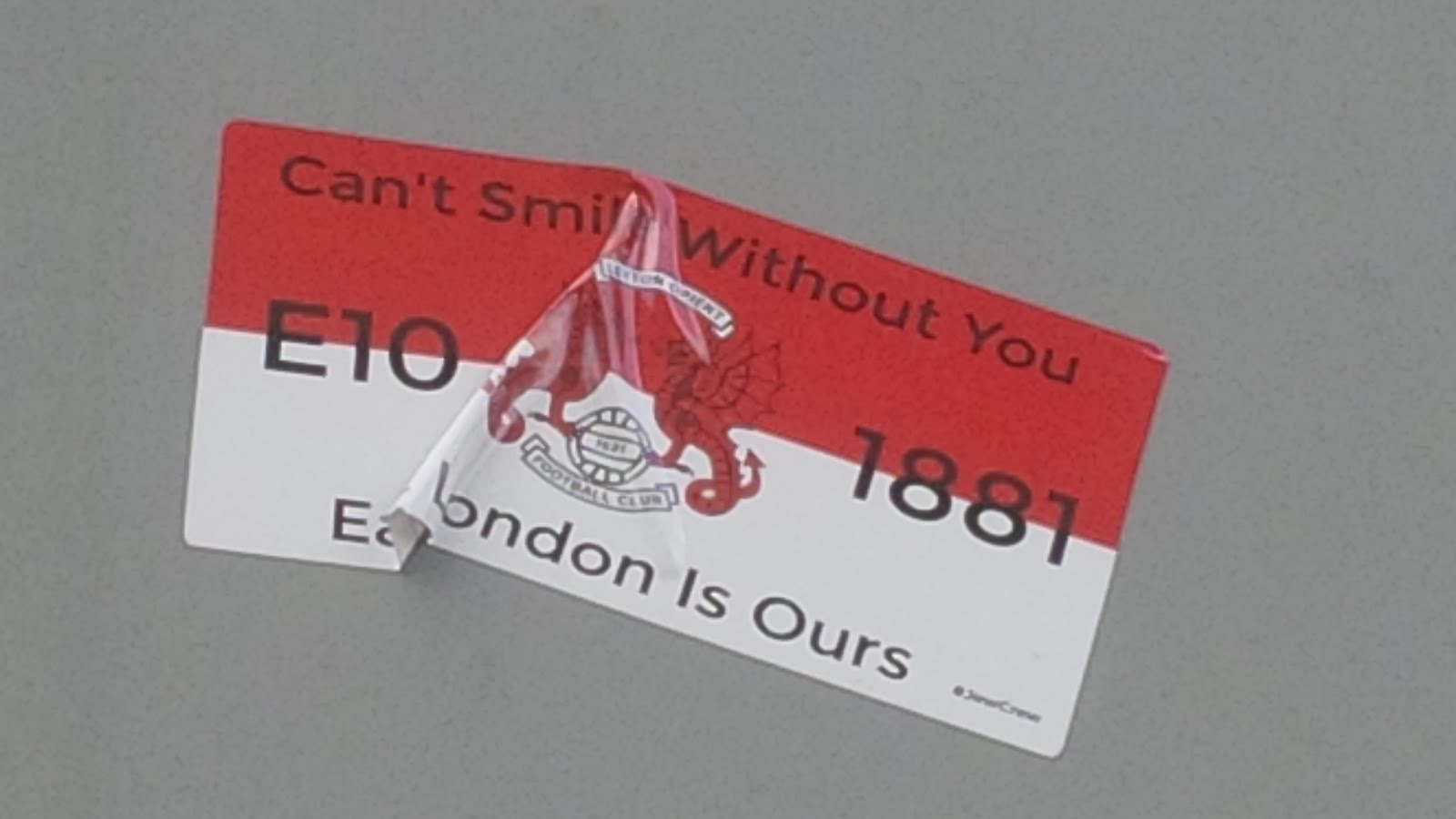 Yeah, it's a metaphor.
Onwards.
Totts