Seven years ago yesterday (Monday), Sutton United FC were getting dumped out of the FA Cup by the less than mighty Alton Towers, with the winner being scored by the bloke who managed the queues on the Nemesis or something. Still, if you'll pardon the pun, what a ride it's been since then eh? If you'd told us after that match the stuff about two Championships, a 5th Round appearance and topping the National League, all in front of crowds above 2000 people, we'd have laughed in your stupid face. Then mocked you some more and finally ponced a quid off you for the jukebox to make up for your deranged nonsense. If we had a jukebox back then that is. Which we didn't.
Yeah, sorry about that hypothetical, yet strangely future wise you. We do kinda feel bad about it now, especially the mum jokes and the insults about your hair. Totally uncalled for. In our defence, we had just lost to a theme park in the Worlds Oldest Football Knockout competition. Oh and we'd of course been drinking. But that goes without saying really.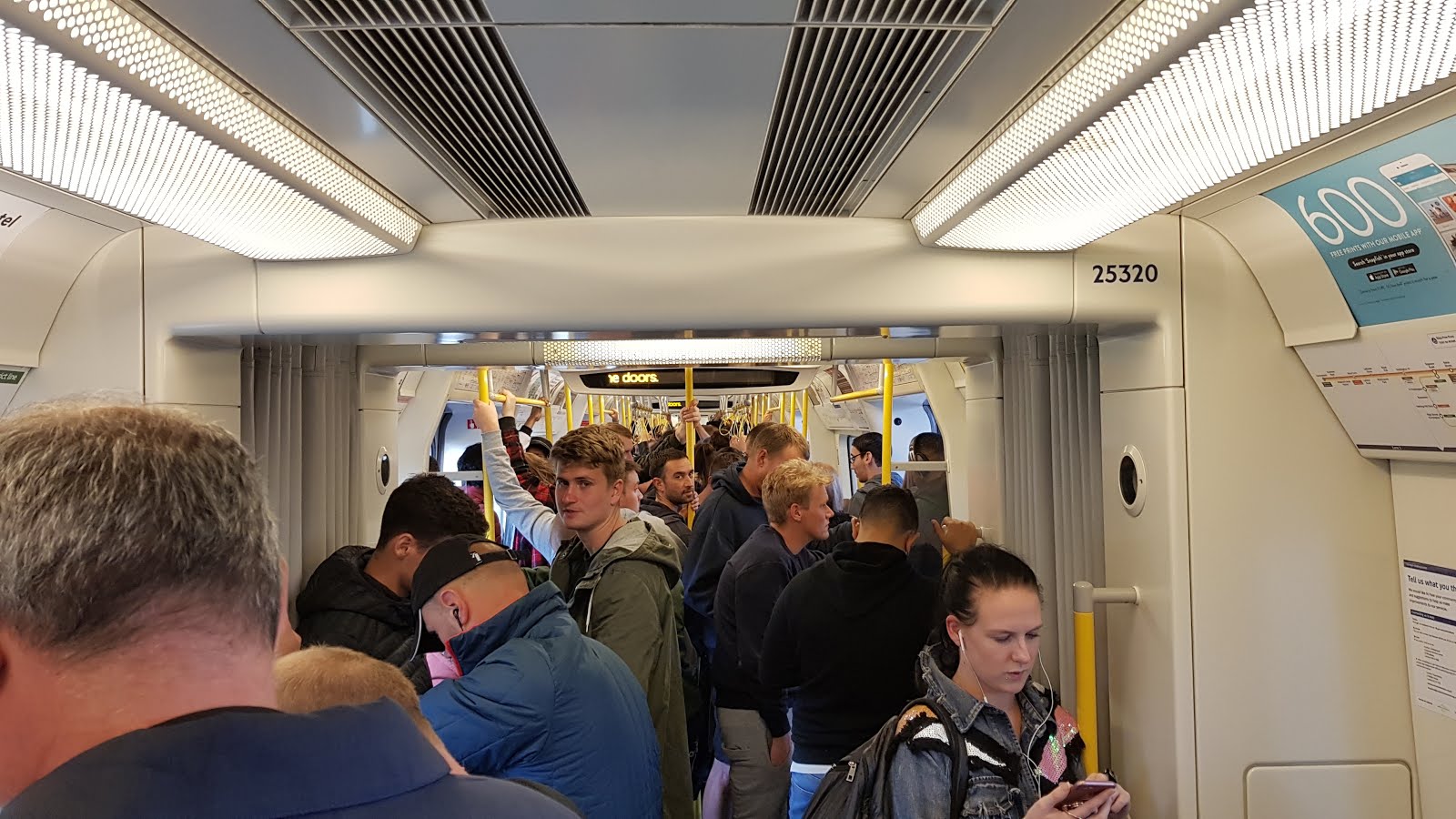 Nobody fart
Still, back in the slightly more real, present day, had we managed to see off the not-quite-Geordies on Saturday the resulting 3 points earned would have taken us top of the league for no less than the 3rd time this season. But then again, given our record of hanging onto our crown hasn't exactly been great once we've summited on the other 2 occasions, that would probably have meant we'd be coming away from the trip to Dagenham with fuck all other than a £21 shaped hole burned in our pockets and be once more lounging about in the middling play off places. All very underwhelming. Especially the £21 quid part.
And lets be honest here. Who the fuck exactly gets off with charging that sort of paper for a 5th tier game anyway? I mean, they 'justify' it by saying we get 'great facilities' for our money. Well who fucking cares? This isn't West Ham and their taxpayer funded shiny new shit show up the fucking road you know. It's Non-League and the Daggers drum is an Isthmian League ground with a fake tan and a dose of botox, no more, no less. If the facilities are so fucking great, why do shite like us get the privilege of cluttering it up anyway? Why doesn't every other Tom, Dick & Harry who comes here regularly get to use it and spunk up the dosh for it instead eh?
Fuck it, I'll leave you to work that one out for yourself. Suffice to say the words 'Bollocks', 'Of', 'Load' and 'Old' might feature somewhere in your conclusion.
Having worked one's Ginger na-na's off over the course of the day, I take a small liberty and tip out of the office half an hour early as a reward. I trot down to meet Steve at Monument and having seen the crowds entering, instead sack that off and head back over the Bridge to get a Jubilee line to West Ham and hook up with the District there. This takes a little longer than we'd like given there's only 3 sodding barriers allowing entry at London Bridge tube. Still, not that important is it, it's only rush hour after all. A short while later we're squished onto a Jubliee train and start our sweaty journey eastwards.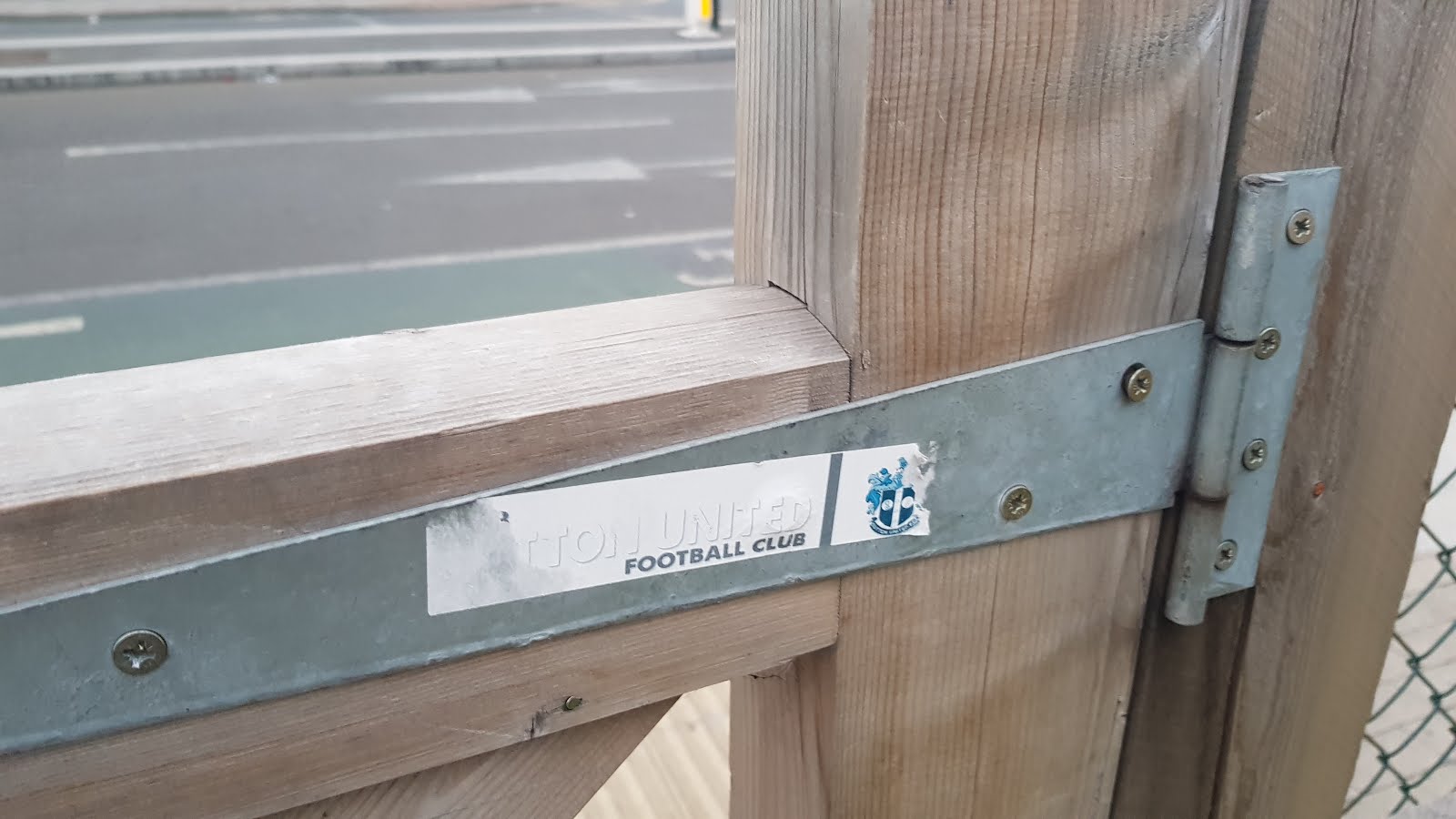 Vandalism
At West Ham and having spotted several fresh looking Sutton stickers along the way (wasn't us, honest!) we await our final connection to Dagenham. Here I comment on Steve's natty yellow Adidas trainers. A pair very similar to what I SO very nearly purchased with some birthday cash before the weekend. The only thing preventing me from pulling the trigger? The fact I knew he had a similar set and remembering the shit I'd copped from all and sundry the time I turned up in a nice new Jack Wolfskin coat only to discover it being the same colour combination as his current one. Suffice to say, I think I'll be going for the black pair instead.
The District line is just as busy out here as it would have been at Monument and after a short delay at Barking, we're soon striding down towards the chippy opposite the Piper pub near the station. Sat outside, puffing away furiously on a various selection of nicotine based products are Mr X, Millsy and Dukey. Being the polite sorts that we are, we refrain from crossing the boundary of the licenced premises with our grub and scoff them on the other side of the fence out on the pavement instead. That and we don't want any of those filthy fingered bastards nicking our chips. Sharing very well may be caring, but it's fucking not when I'm hungry. Then sharing is most certainly 'get your bloody own'. Fed, I head inside, get pints in for me & Steve as well as JR who's just rocked up and then return to the rather chilly outdoor setting to hear various tales of woe such as Mr X's very recently cracked windscreen (on the A13 on the way up here tonight no less), JR's pending 'operation' (no, not that sort) and best of all, Millsy's complaints that having spent his Sunday jet washing his paved drive of dirt and moss, he's noticed that the paving we currently stand on outside the pub is of the exact same kind and actually looks miles better with a bit of 'patina'. In other words, dirty and covered in moss.
I know, high brow stuff eh? We'll get round to Peace in the Middle East eventually I guess. Maybe next time.
We head down to the ground and having forked up a mortgage payment to get in, take our luxury heated, vibrating VIP seats in the stand behind the goal. It seems that the team will once more be shuffled for this evening's encounter as Nicky Bailey has become the latest member of the squad to enter the treatment room with what is described as a 'scratched retina'. Now, I don't know about you, but that sounds painful enough for us not to enquire any further. Still, it could be worse, he could have a shiner like JC's which is so big it could be seen from the moon. I can certainly spot it from about 10 rows back in the stand. Rumour is a triallist was responsible for that one. You'll also notice we've not signed anyone new this week, but of course, these two facts are completely unrelated. The reshuffle means that Simon Downer, who's kicked a football about as much as I have in the last 7 months, starts. So late is the decision to include him it seems, we've not even bothered to bring his shirt along and he takes the field in an away top devoid of both his squad number and name!
Butler, Thomas A, John, Davis, Dundas, Eastmond, Spence, Wright, Walton, Downer, Thomas K SUBS: Cadogan, Emmanuel, Taylor, Jeffrey, Bentley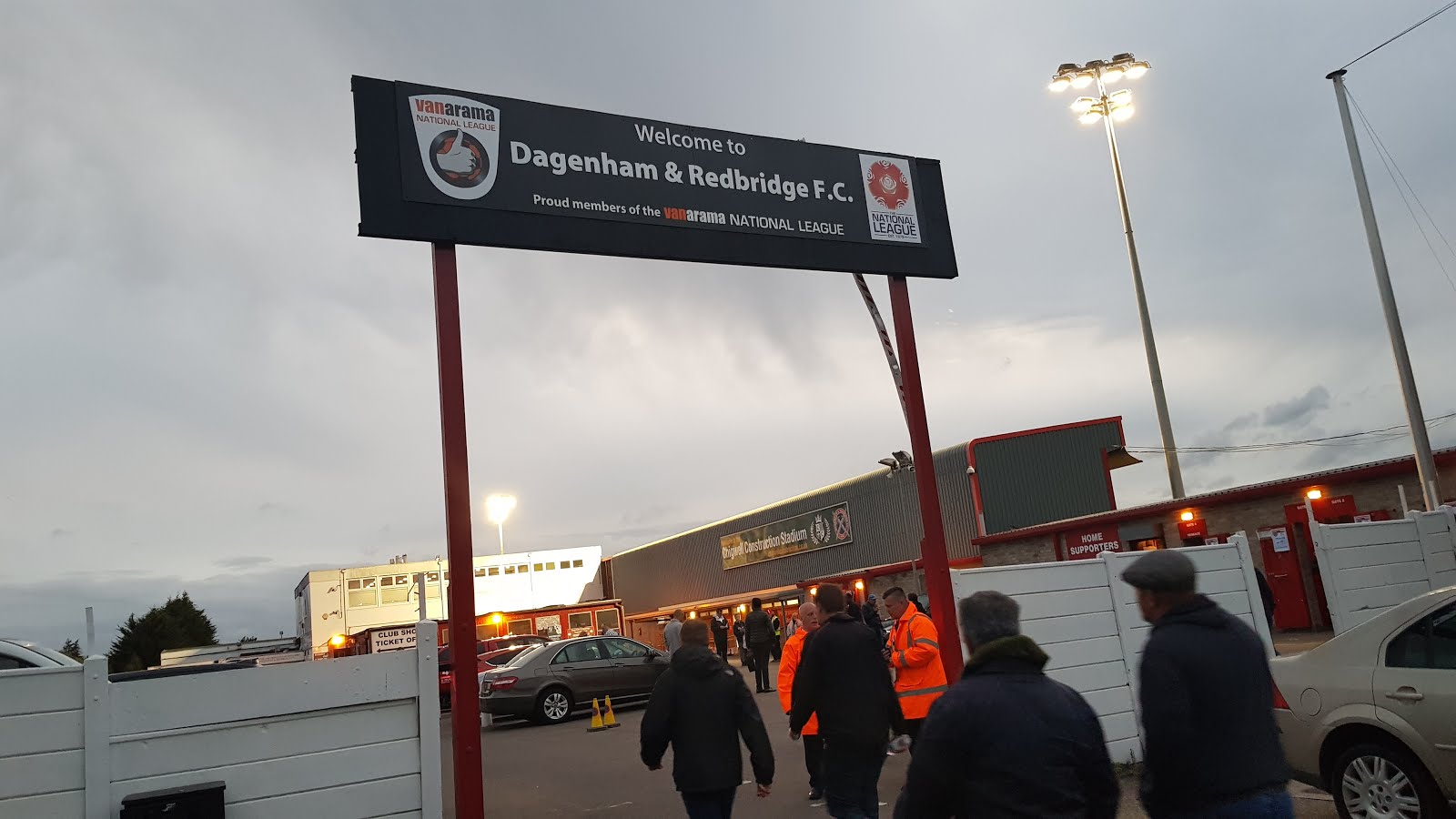 Under lights
We get underway with Mr Butler stood in front of us and the U's shooting towards the sparsely populated terrace at the far end. Here there also stands a scoreboard, with the two teams represented on it by simply a letter each (H and A) rather than their actual names. Fucking disgraceful. For what I've paid to get in, it should be in bloody 4k HD projected straight into my brain.
In the first minute, Dundo charges onto a ball forwards, but having battled past one man, his low effort to the near post brings a regulation stop from the keeper. Apart from this, the match is a little devoid of any real action early doors if I'm honest. Both sides seem to be going with the 'get it forward quick and then play in their final third' methodology favoured by a certain Mr S. Allardyce, a one time football manager on these shores. It's what you or I would more commonly know as 'hit the big lad and win the seconds'. Sadly, most of our attempts are over hit and run through to the keeper or out of play, but the Daggers aren't much better and despite having a bit more joy with the seconds part of the plan, they don't really do much with it.
Then with not much happening around the 22 minute mark a ball down our left finds Aswad off chasing fireflies or something. The attacker gallops into space and as Loius comes across to cover, he slips a ball inside and the arriving striker gets the shot out of his feet quickly enough and with enough pace to beat a startled Butler at his near post from an angle. So having had literally nothing to really handle, we've gone and done what we do best. Switch off all of a sudden and gift the oppo a goal.
The goal at least livens things up a bit and to be fair, in a relatively dull opening 20 the hosts have had the better of the ball even if they'd created the square root of precisely fuck all with it. The oppo look to get themselves a quick second and in the meantime, both Walton and Eastmond pick up obvious yellows, whilst the linesman nearest to us on the terraced side does what most National League lino's have done this season and look like he's officiating a completely different fucking sport. Our old mate Mr Rock in the middle is also once again finding it difficult to award the same soft arsed free-kicks to us as he does the home side, which naturally just ends up with us all loudly calling him a prick. As per usual.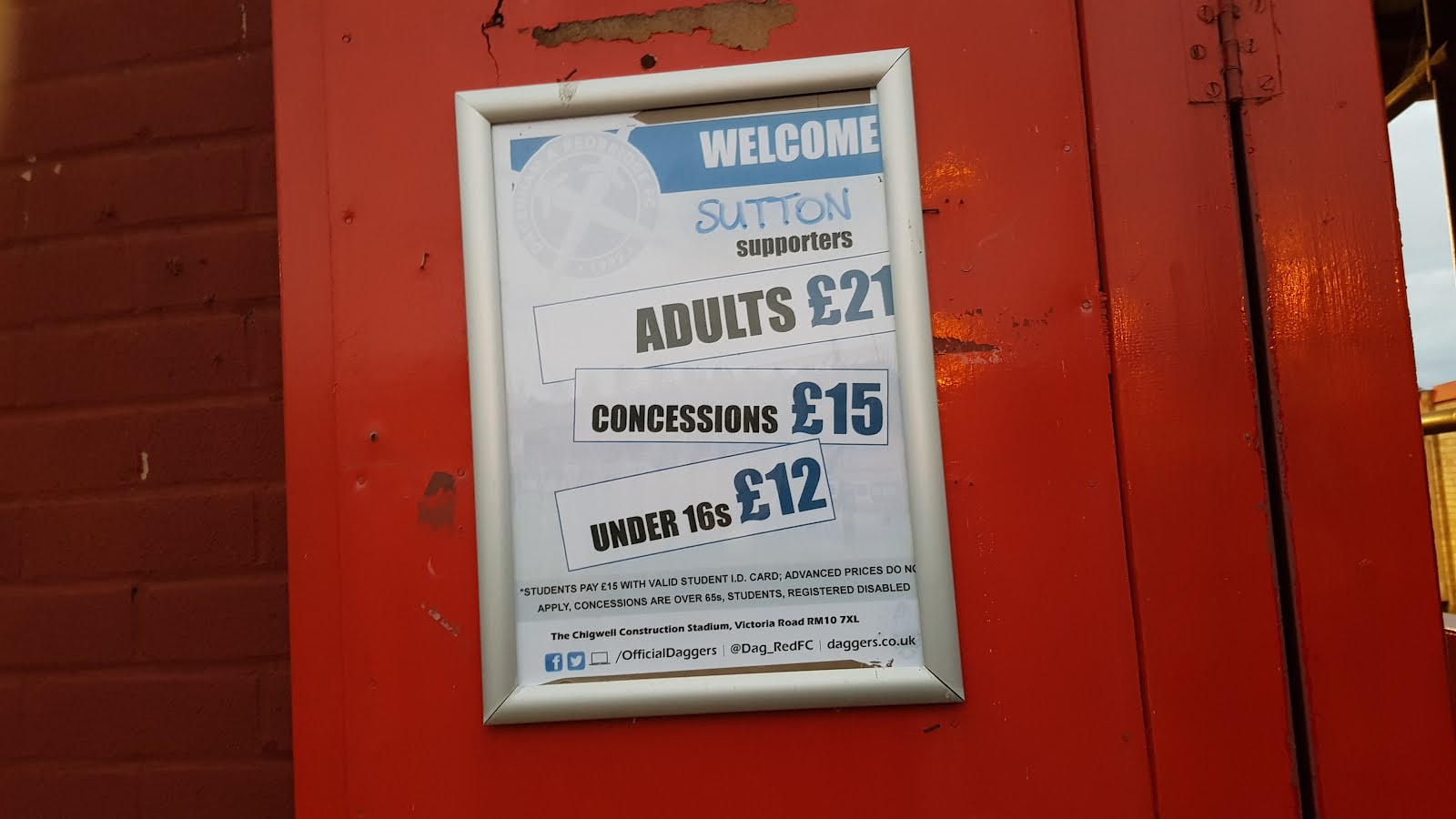 Do you take Amex?
Our midfield though starts to compete a bit better, with the tireless Eastmond who's skippering the side tonight, setting the example and driving us on as best he possibly can and Mr John Boy (Walton) providing a calming influence in front of the defence. There's a lot of effort, but we just lack that moment's composure and too many passes go astray. Mostly from the luckless Kenny Davis whose endeavour can't be faulted, but nor can it be said he's having his best game in a Sutton shirt. In fact, let's just cut to the chase here and call it what it is. A bit of a 'mare. Towards the end of the half though, we make the ball stick a little better up top and win a couple of corners that cause a few flutters. The best chance dropping to Tommy Wright who manages to drift a looping header across goal and wide of the far post from about 6 or so yards out.
With the board about to go up for added time though, there's finally something to get excited about. A high ball is looped in from the left and it seems to hang in the air for an age before dropping towards the back post. Tommy gets up and nods it back across goal and with all the red & blue shirts in the box bizarrely gravitating towards the smallest bloke in a Sutton shirt, the ball bounces once and comes to a completely unmarked Dundo who gleefully hooks it home from what looks like a couple of yards out.
Yep, you read that right. Dundo. As in Craig "On 99 goals for Sutton United up until just a moment ago" Dundas. Naturally, the sight of the big man finally notching the ton is celebrated wildly in the no expense spared, luxury away section. There's a genuine joy amongst all the smiley Sutton faces, just that little bit more than you'd get from any other goal. Everyone's chuffed to their old boots for the bloke. And as a nice bonus, we're all square again going into half time! We cheer the lads off at the break as they disappear down the tunnel and reserve special praise for Duns, the fucking ledge that he is.
Half time is pretty dull and with the wind swirling around the place making it colder and the rain starting to fall steadily to add to the already testing conditions, we're glad when the teams reappear so we can get this thing started again. The turn in the weather certainly makes things a little more hectic as both sides try to step up in tempo but also have to try & match the conditions. Our passing has certainly improved and we're definitely trying to move the ball a lot more on the ground. The first half of the 2nd 45 is a lot more even, but we have a couple of sighters, the best being a curling 18 yard shot from Kwame Thomas from the corner of the box. But the keeper manages to smother it. Then with about 20 to go, we swop out Kwame and Wright for AJ and Cadogan to try and maybe stretch things a bit more. This change though instead unsettles us for a couple of minutes and we very nearly toss it away. Downer goes to see out a long ball down into the corner flag pursued by their sub Kandi. Sadly, the tiring Downs misjudges the run of the ball and the striker steals in right on the bye line and robs him, racing in towards goal. Butler comes out to meet him, does as much as he can to push him away, but he can't prevent the shot and what looks to be a certain goal. Thankfully, our stopper has done enough to allow Eastmond time to retreat and hook the ball from off the line. Even then, the ball falls to an arriving attacker, but with the goal gaping, he somehow manages to shank an ugly effort into the turf and the ball bounces way over the top.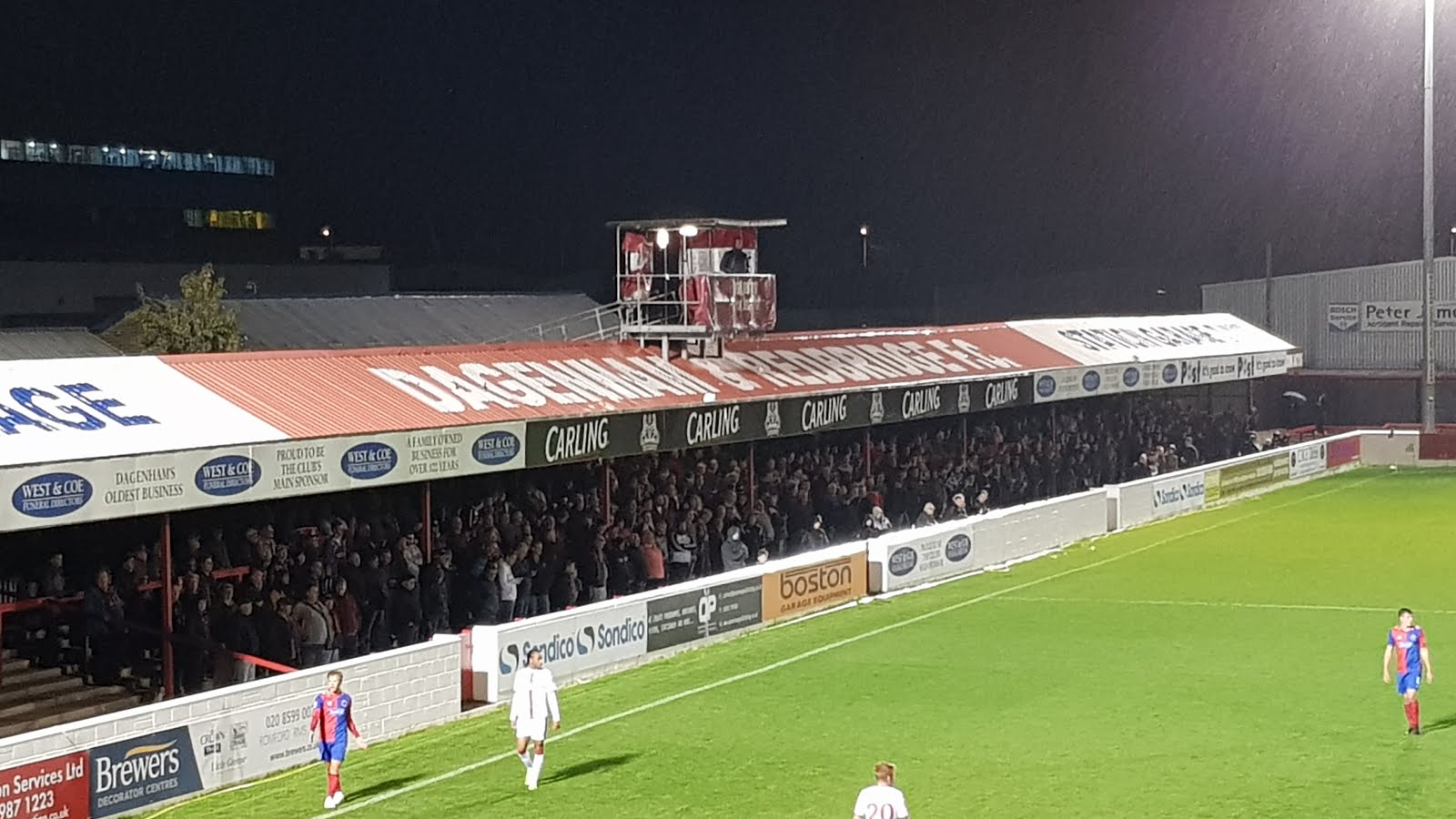 Spot the ball.
At the other end, we all have hands on heads. Almost like it's US that have missed the chance. "How the fuck have they missed that?" enquires Mr X of no one in particular. Which is probably for the best really, as I'm fucked if I know and judging by the shocked looking boats all around me, I'm not sure anyone else does either. The clearly shagged Downer is immediately withdrawn for Jose and this allows Walton, now on a card of course, to drop into the back 4 and steady things a little. They have a couple of corners that cause concern and one is seemingly headed narrowly wide at the near post, but as the clock runs down, we start to look more and more likely to be the ones furthering the scoreline. We stick a couple of decent crosses in, AJ makes a couple of good runs and Taylor's addition means we're moving the ball well. With the red led 70's wristwatch at the other end advising us the 90 is pretty much up, the board appears for added time. And it's just three minutes, which is a little surprising. The hosts look a bit knackered if I'm honest and we're certainly keeping the ball in their half more so the lads just keep on plugging away, like they always do. The annoying bastards.
Then it happens. A ball forward is somewhat aimlessly headed away by a Daggers defender. It drops to Dan Spence about 35 yards or so out to our left. He advances, checks inside a slightly tired challenge and then plonks the ball onto the nut of the onrushing Kenny Davis around the penalty spot. Having not had the best of nights, he of course gets up highest and powers the header past the keeper and into the top corner. And coincidentally, this is about the time the 150 or so away fans collectively lose their shit. It's another example of this team's absurd reluctance to down tools. They just don't stop and christ only knows how many late goals we've nabbed over the last 2 years because of it.
The goal unsurprisingly sends the majority of the home support streaming for the exits as the rain continues to pour and sparks a good ol' East End knees up in the away end. All we need's a fuckin jo'anna, gaw blimey guvnah.
We see out the remainder of added time with no hiccups and we can really celebrate another gritty old 3 points. Even better, the win has once more propelled our boys to the top of the division. The top 7 being so tight that as the board for added time went up, we were lying in 7th. About 2 mins later thanks to Kenny's shiny noggin, we're first! As some old Scots bloke once said: "Football, bloody hell". Of course, we cheer the lads off for another ginormous effort, but once again save the majority of the plaudits for our big number 14, Craig Dundas. There really aren't many players around these days like him. Most people are lucky to get 100 games for a club these days, let alone 100 goals! Duns has 460-odd of the former and of course, the ton itself. A brilliant achievement.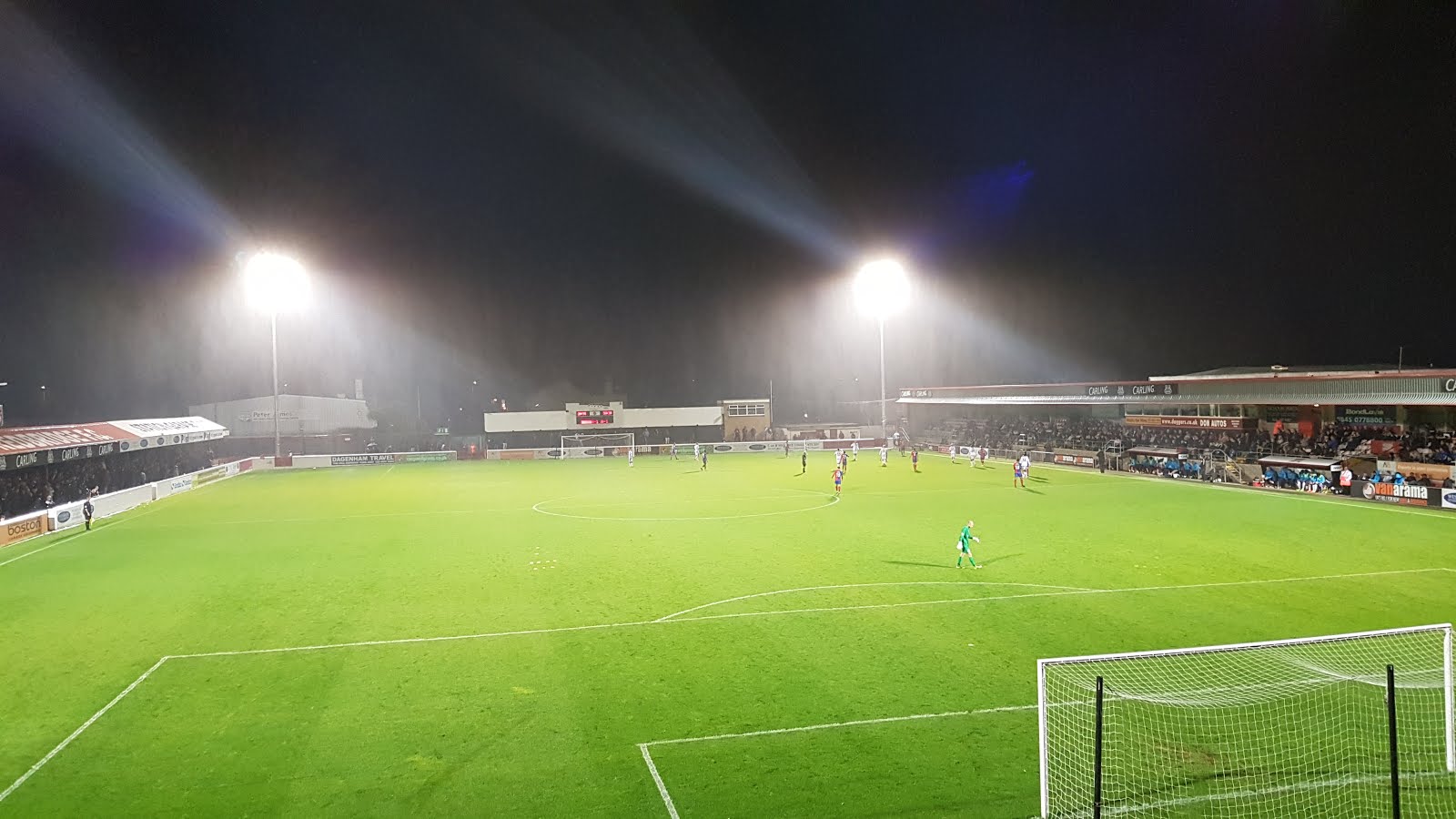 Weather
Celebrations done and still slightly delirious at the result, we stumble through the car park back out to the main road, avoiding puddles as we go with the Yoof's chants of "We are top of the league!" echoing off the old council houses around us. As we reach the top end, it starts to piss down again so we quicken our pace and having located Donna and her chipped windscreen, we pile in quick sharp and begin the drive back towards civilisation. Here, in typical Scottish fashion, Mr X soon declares his concern that we'll reach the Dartford crossing on the M25 before 10pm, at which point the £2.50 charge for cars no longer applies and it becomes free. However, his fears at having to fork over some hard earned loose change and then have us take the piss out of him for it the rest of the way home are unfounded and the bridge looms into view ahead of us just as this crucial deadline expires.
The trip is uneventful and we catch up on the other scores from this evening. Eastleigh have lost at home to Maidstone, which of course earns Mr Hill a 'go fuck your 3G bullshit you sour faced old twat' chuckle from the occupants of this particular Alfa Romeo. Also suffering defeat are Ebbsfleet, which also causes an en masse breaking of hearts and has everyone reaching for their tiny violins. Elswhere, Tranmere's rubbish start continues with a late defeat at Maidenhead, of which Murdo from the GMOSC crew gleefully sends us a tweet from some distraught Birkenheadian about that defeat being even worse than the one to us! We might just let 'em have that one, but only 'cos we're top. Halifax are also a little miffed our late intervention has prevented them celebrating their lovely 3-0 tonking of Orient at Brisbane Road with top spot themselves. Although saying we'reworse than Chris Sutton is a little bit rude if you ask us!
Eventually, we amble up the A23 and drop Steve off, before JR is deposited in his incredibly narrow cul-de-sac. Next, I'm being tipped out over the road from HQ and because I know he's a git, I leave Mr X's rear passenger door open while I retrieve my bag from his boot, lest he drive off for a bit of late night 'bantz'. There's no way he'd risk wrecking his door having been told earlier his windscreen is going to cost him a ton to fix! Saying my goodbyes, Donna races off into the night and I skip joyfully into the grounds of Gandermonium HQ with the smug smile of a man who's just seen his injury depleted team win away in the last minute to once more sit atop the English Football Pyramid. It's at this point that it dawns on me.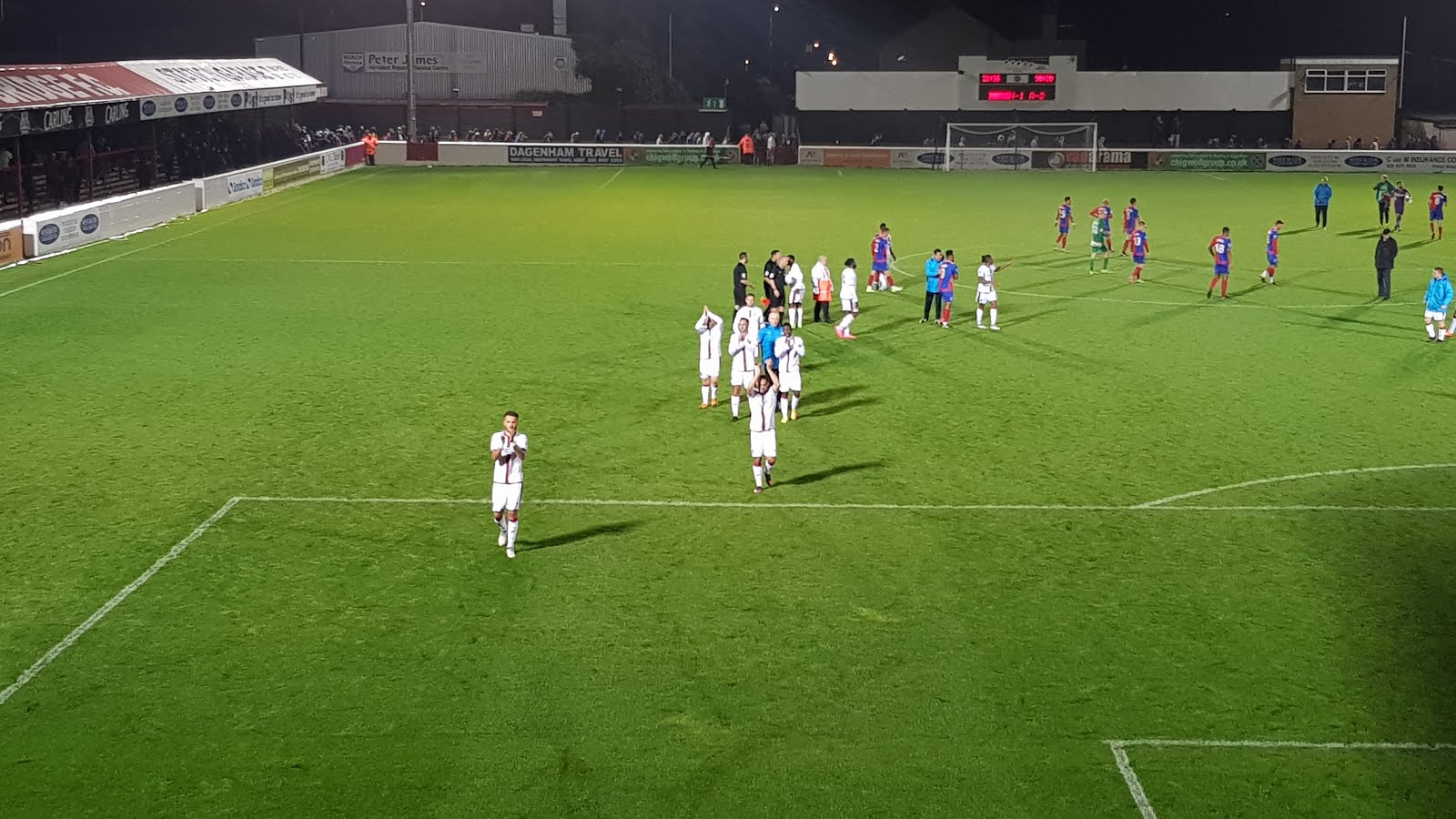 Jubilation
We're clearly the most well loved and respected team in the National league. We must be, why else would everyone just keep on letting us go back top almost immediately after fucking it up and losing the spot in the previous game? That has to be it! Right?
RIGHT?
Taz