If you were to use a popular internet search engine and enter the phrase 'Painfully long and unnecessarily drawn out processes', next to results like the refurbishment of London Bridge station and Belly deciding what fucking pint to have when stood at the bar you'd most likely find 'Sutton United's attempts to confirm further National League membership 2016/17' as one of the top results.
In fact our attempts to achieve safety remind me very much of the closing moments of the 1965 war film 'Von Ryan's Express' where the eponymous hero played by Frank Sinatra (that's us) is racing to catch the train as it pulls away, trundling towards Switzerland and escape the Nazi hordes trying to run him down. Safety and a happy ending is just there within his grasp, his mate reaching desperately for him off the back of the carriage, barely a fingertip away. Whilst behind, some SS bastards wielding MP40's tries to cut him down. Obviously, we're hoping we don't end up properly fucked like ol' blue eyes on this occasion and instead grab that outstretched hand and wind up living out the rest of our war in the safety of Switzerland sipping imaginary Weissbier and munching made up Toblerones until next August.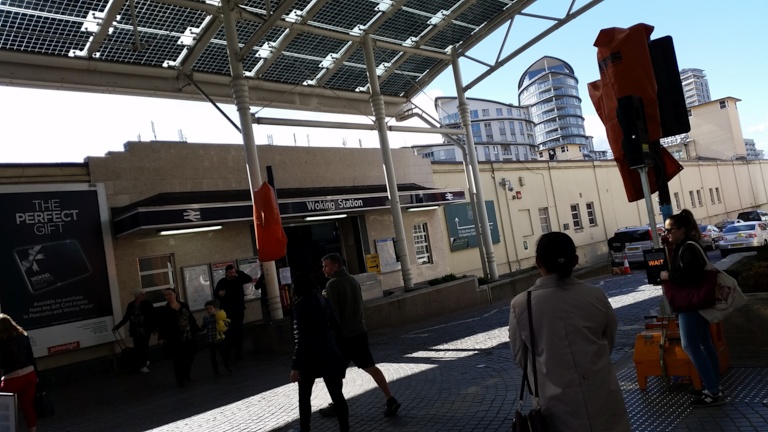 Welcome to Woking
Still, it could be worse. We could have slipped to a slightly undeserved defeat at home to Lincoln on Tuesday and been another precious point further back in our mission. Thankfully, Mr R. Deacon Esq popped up late on to absolutely paste a thunderbastard into the back of the net to make us all smiley and no doubt give the Cowley's proper frowny faces. Even more so as the draw opened the door even further for a hard chasing Tranmere at the top of the table. We naturally celebrated this with a few pints after, a situation that proved all too much for our guest Mike from the USA, who despite staying in Kings Cross woke up in Cricklewood afterwards. He'll no doubt blame jet lag for this shameful behaviour. One thing's for certain, you'll never find us falling asleep pissed on the Thameslink and winding up miles from home, oh no.
However, we're definitely, almost certianly now just 1 win away from safety. With 49 points on the board, 1 more victory would put us on 52 and with no side ever having gone down with more than 51 (and only one side ever having been relegated with that total anyway). So, what better way to finally put all that to bed than a trip to a struggling side that you twatted 4-1 at GGL already this season?
Because how could we possibly fail to beat such weedy oppo? Should be a doddle, just like Ferriby away was! Oh.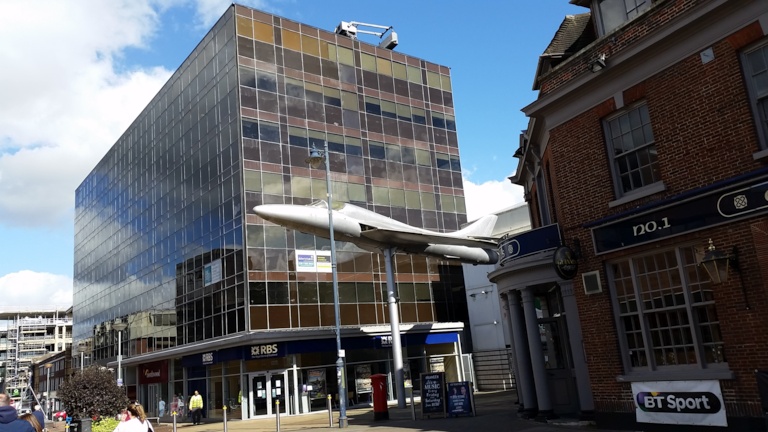 "Turn left at the fighter jet…."
It's been a while since we made the trek down to Woking for a game and even longer since we had beers around those parts. Normally we drink in Wimbledon or Clapham, then hit the Sovereigns on the way to the ground and that's it. There's a brief discussion of trying Guildford this time round, but that's soon kyboshed by the fact there's engineering works between there and Woking. If there's one thing worse than travelling despite our pony away form, it's travelling despite our away form and adding replacement bus services into the equation. So Woking it is.
With a relatively simple jaunt into leafy Surrey ahead of us, everyone gets a relative lie in today and we aim for a train round to Wimbledon for just after 10. As usual I take a stroll into the occupied territories for the train, although I'm a little tardy in my departure and my hopes of obtaining a bacon roll for breakfast are dashed. Instead I head up the hill and find Dukey, 4 Days and Lil' Chris all milling about. Tickets bought, we hop aboard the choo choo and set about collecting a number of other waifs and strays. The last being Mr X in the Republic itself. Although there's no sign of Wardy. "Fuck knows" shrugs the man of mystery "He was only whatsapping an hour ago to ask the time of the bloody train!". So, with early casualties already taken it's off to the land of the litter picking rodents. Here we collect Steve who's off to Saints Bournemouth, but as Woking is on the way, he'll be joining us for a few pre-match liveners.
Here, Mr X goes for a cup of tea and waits at the counter of a rather deserted looking Upper Crust. I decide to head next door and make use of the pastie place instead, getting my cuppa and baconsausage combination before he's even got chance to answer if he'd like milk or not. Amazingly, the train is on time and we all board for the next leg. As per usual for such trundles, the conversation is varied. From the aeronautical wonder of Concorde, to baby names (Herpes?) and the sad wankers who queued up in the high street during the week for the opening of the high end retail establishment known as 'Pound World' on the High Street, again giving further confirmation if any were ever needed that there definitely are sadder people out there than us Non-League football fans.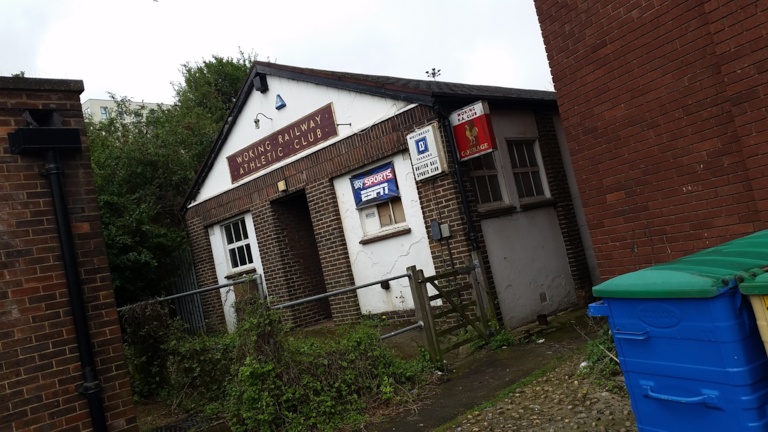 Old school pubbage
Another topic that comes up is Dukey's Friday night fluid intake. Nothing alcoholic, just the four litres of Dr Pepper. Yes, four. His protests that "It was a pound a fuckin' bottle!" cutting no ice with the assembled mob. No wonder his guts are shot! We also decide that if he is to meet an early demise due to his shocking lifestyle, we won't so much be able to spread his ashes on the pitch at GGL but grind him up and had his remains to the rest of the recycled rubber crumb on it. Although what Bobby's feelings would be about handling that sort of material is anyone's guess.
Such nonsensical chatter does help pass the time though and it only seems like a jiffy until we're falling onto the platform at our destination. So we able out onto the High Street and head up the road, past the jet fighter, to the local branch of Spoons to make a start on proceedings. Well, the rest of them do, I meanwhile have to walk all the way back down to the fucking station as seemingly the only ATM in this poxy town is opposite it. Stupid countryside. Finally monied up, I head back to the boozer and find there's no beer waiting for me. Mainly because Mr X has left it sat on the bar 10 minutes ago and where it's currently being eyed up by a local soak who can't believe his luck. Sadly for him, the anonymous one returns to collect it and ruins the pisshead's morning. Sorry fella.
We crack on with a couple of pints and we're once again treated to another of Dukey's astounding 'facts'. This time it's that as a nation, the Italians love a bit of Nun based porn. Yes, of course it was a porno based fact. ALL Tom's facts are porno based. He must be one of Europe's foremost fucking experts on grot and the watching habits of the populace of the continent we just voted ourselves out of. With the time now passing midday, we sup up and head next door to catch the Scouse derby and swop abuse with some of the Woking regulars we know next door in the Ogilvy. Here we find a couple of reprobates and catch up on their rather terrible season so far. Never fear lads, we're here now. Although we didn't gift wrap the points. Hope you don't mind.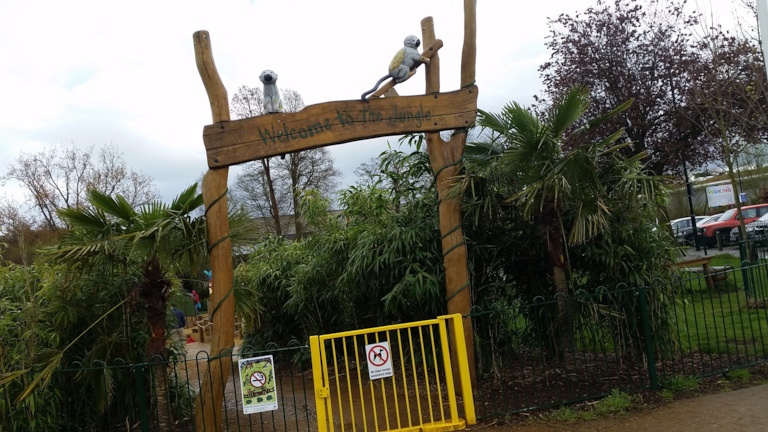 "We got everything you want honey…."
Another couple of shandies down and I decide to get some lunch in. Yes, whilst someone like Dukey might claim that eating is cheating or somesuch horseshit, he's not middle aged like I am. I've found that whilst I can still just about booze the day away, it has to involve some form of sustenance at some point along the way or I find myself utterly munted and the following day is written off mainly sleeping and eating shit food. Just as I order, Totts arrives, banjo in hand and proceeds to completely ignore the 'No buskers allowed' based stick aimed in his direction. He's off back to Raynes Park later on tonight to do a brief set, something we'll be aiming to catch if we're not all too pissed. Next into the mix is Crockett, who's worrying that he's left the windows open on his motor after he'd dumped it at Surbiton station. We on the other hand are more concerned with his jeans and their somewhat dishevelled state. "Where's you get those fucking things?" I enquire "Did you go back in time and mug Luke Goss circa 1987?"
"Nah, Primark" he shrugs.
Same thing really if you ask me.
More beers and luncheon later, it's time to take the wander down to Kingfield. What is obvious is that we're going to have a few in today, as we've spent all morning seeing numerous people filtering into the Ogilvy and also into the Spoons next door in various amber bits of gear. "They could be Maidstone fans who've claimed asylum" wonders 4 Days aloud. Idiot. The walk down is broken up with a quick stop for a short in the Sovereign before we're finally on the way. Walking out of the park onto Kingfield Road, we're made to feel very welcome by the next fixture board that's already advertising the home game against Macclesfield in a couple of weeks.
Puddy, Jefford, John, Collins, Eastmond, Bailey, Spence, Deacon, Biamou, Coombes, Cadogan SUBS: Gomis, May, Jebb, Brown, Downer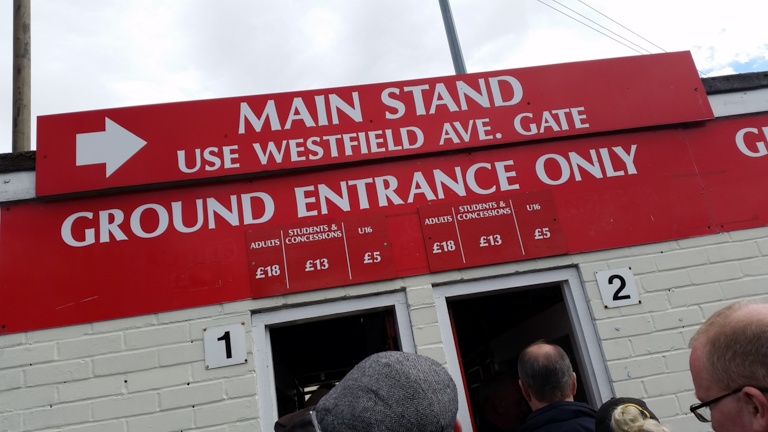 We're here!
With eighteen quid spaffed on entry, we find ourselves a little spot down on the corner on the far side to await kick off. And here we find our earlier estimates of a decent away support aren't far off the mark, as there's plenty of Amber on show and it's got to be a good 300 of us at least. We also find 4 Days earlier comment about Maidstone could be right, as the matchday programme still displays the pics of their team from last weekend, albeit with our lads bios. With the teams out, we elect to shoot towards the big stand and so we all decamp down the open side into the far corner.
Any hopes of getting into this lot and grabbing that hand that'll take us to safety in Switzerland on the other side of the Alps are givenm yet another early dent away from home when with practically the first attack, Woking get down to the corner, lob a ball in and the big lad at the back stick nods down a firm header to make it 1-0. We've played 5 minutes.
Our response isn't exactly overwhelming. We're going with a slightly patched up back four and in particular, Ben Jefford is looking like a player who's played very little football due to injury. His positioning is iffy and he's finding a red shirt as much as a yellow one. That's not to say he's the only one off his game. We just seem to lack any real urgency or fluidity going forwards. Spence does cut in and hit one just wide, but our best chance is late in the half when JC heads a corner onto the post and Bailey just heads over after Dougs crosses the ball back in. The only positive is that having got the early lead, the oppo haven't eaxctly taken the game away from us. However, we've lost Coombes to a whack before the break, so our striking options look even more threadbare than they already did.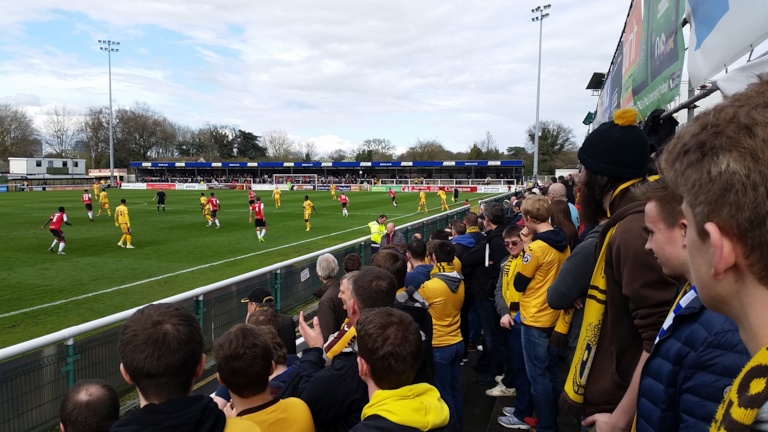 Unimpressed people…
So, after what is probably our most lifeless first 45 since Ferriby away, we're hoping that we can find another gear and get back into the game. Unsurprisingly, the lads are out early for the the 2nd half, we assume because they've had a rather sweary 'pep talk' from Dos & Bairdy. Let's fucking hope so!
From the off, we're far more at it. We're working the flanks more as Deacon and Cadougan get at their opposite numbers. The former really should have us level soon after the restart when he catches the defence napping and darts into the box to flick a completely free header from a corner in by Cadougan. It's the sort of chance we've been failing to snap up since September. The game opens up a little and Puddy has to make a solid save from a fierce long range effort. To be honest, it's mostly us pressing but like a load of other games there's not a lot of sweat on the keeper's brow from our efforts. However, with an hour gone, we're suddenly level.
Deacon gets down the left and sticks a low ball towards the near post. A defender just cuts it out and as he scrambles to regain his feet, he hooks the ball against Cadougan closing down and it rebounds past the keeper and in. At last! A goal! That's definitely game on.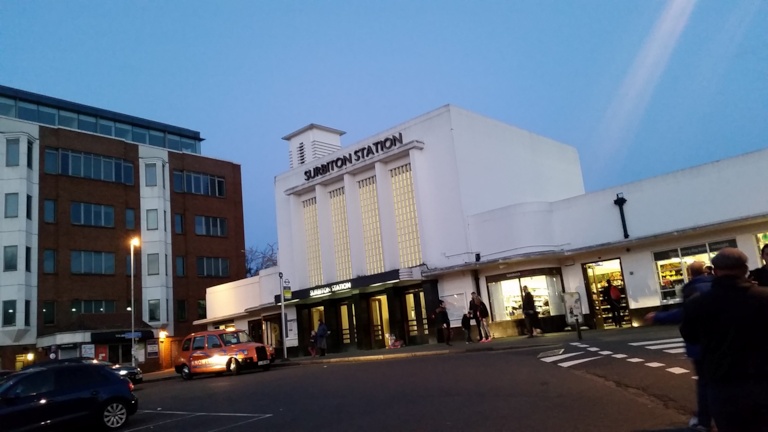 Suburbia
We now press on even more and go for the win. There's only one side in the contest here as the hosts dig in to keep us at bay. However, despite again having plenty of ball, we still fail to really test the keeper, with Deacon flashing a ball across the face of goal, Jefford striking an effort that the keeper has to tip away and then worst of all, a free kick being hung up to the back post where no less than 3 Yellow shirts are there. All one needs is a touch goalwards and we're surely in front. Instead, they just get in each other's way and smuggle the ball out for a goal kick. Many swears are said.
Of course, having basically bossed it since the equaliser and largely kept the oppo defending, we go and fuck it all up. A set piece comes to nothing and is cleared. Sadly for us, Eastmond has wound up in a heap in the box with a defender and Woking break right into the gap he's left. The ball is worked wide and delivered low to the near post. It looks like Puddy's ball all day long, but somehow it isn't claimed, comes loose and is tapped in at the near stick by a lurking forward.
To deliver a nice 'fuck you' to top off this less than impressive development, someone decides now is the time to pipe up and let us know North Ferriby are staggeringly 1-0 up at Forest Green. For good measure they also add that this result now makes us the worst team on the road in the whole division.
Amazing. Kill me now.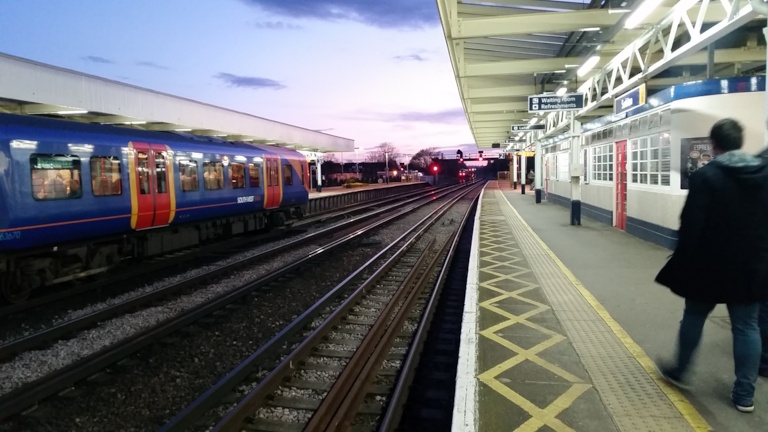 C'monn train!
With nowt to offer from the bench, the goal pretty much kills us off and we offer nowt in response for the last few minutes. In fact, they should almost certainly add a third right at the death, but the bloke dithers one on one with Puddy and the U's keeper has no problem smothering the ball. A bit narked, we start the stroll back to town and beer to start drowning those sorrows. Back in the Ogilvy we sink pints, watch the Southampton game (which includes one of the worst peno's we've ever seen) and mainly criticise Crockett's fashionably torn jeans. Here we also hatch a plan of action for the evening, which mainly involves a stop in Surbiton so Crockett can go and check on his motor as he's by now convinced he left the windows open.
We hit the station for after 7 and trundle back to Surbiton. Here, with 20 mins before our connection to Raynes Park , we go for a quick snifter while Matt checks his car. Which he definitely had left the windows open on. Refreshed, we head to Raynes Park to heckle Totts at his gig. The performance is short but sweet and we get to hear 'That fucking song' actually played live and in full. No one throws any underwear however, which I'm sure Totts is secretly delighted with. Our comradely duty done, we rustle up some cabs and get our arses back to Sutton.
Once more ushered in VIP style past the door staff (don't you KNOW who we are??) we get stuck into the late hours drinking whilst a rather excellent band helps the beers flow until it's that time again. The one where the selfish bastards who run licenced premises make you stop buying booze and make you go home. It's so unfair!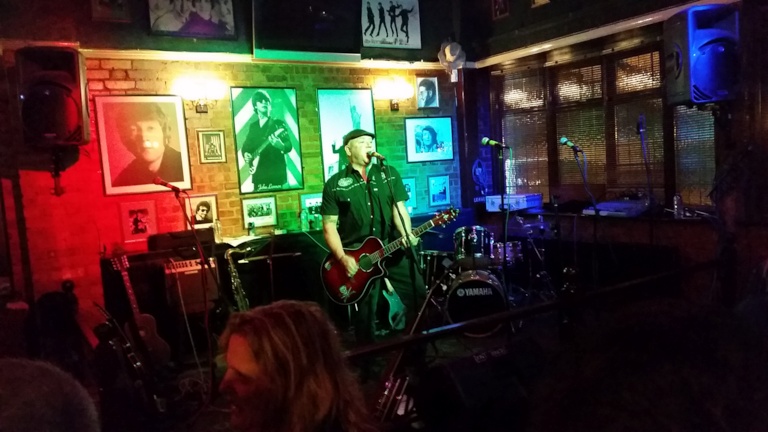 "I'm Comrade X. And I haven't had any dinner"
Starving, Dukey and I hit the Kebab shop and then head for a sherbet at Melvilles. With food to eat, Tom requests 'his' driver and after a short wait we're being whisked home by Sutton's most eligible Afghan. Dukey is dropped first and celebrates his homecoming by puking on the pavement. At which point I urge the cabbie to get out of there as quickly as possible. What? I'm sure he was fine.
So, having miserably failed to beat struggling Woking we remain still metaphorically chasing the Switzerland bound train, desperately reaching for that hand of safety as the SS try to shoot us in the back, we're off next to Liverpool to face title chasing Tranmere on Tuesday night. Piece of piss that. And if it's not, I plan on being beered up anyway.
Fuck it.
Taz