So with a mere eight games to go in what will no doubt be a semi-memorable season (I doubt Dover at home will be forgotten for a while that's for sure!), it was the turn of possible league champions Lincoln to visit the old Borough Sports Ground. And after the near demolition of North Ferriby on Saturday, we had every right to feel that this might not be a hammering we once thought it might be.
Plus history is also on our side. That is because this wasn't going to be the first time that Lincoln were coming down The Lane. Oh no no no, nearly thirty years ago they arrived as challengers for the title and Sutton were rooting around looking for points in the mid table (sound familiar?). On that occasion we mugged them 4-1 and as we grabbed a point up at their place as well, 4pts from the champions wasn't too bad. So was season 16/17 going to be the same as 87/88?
With the FUN-employed Firm Leader offering me a lift that I couldn't really turn down, all we needed to do was negotiate the exclusive, highly secret, VIP only Gandermonium parking space on Frederick Road. A suitable time was actually arranged considering that Lincoln were meant to be bring down a sizable amount of travelling support. Apparently it was rumoured to be even more than what we'll be taking to Tranmere next week!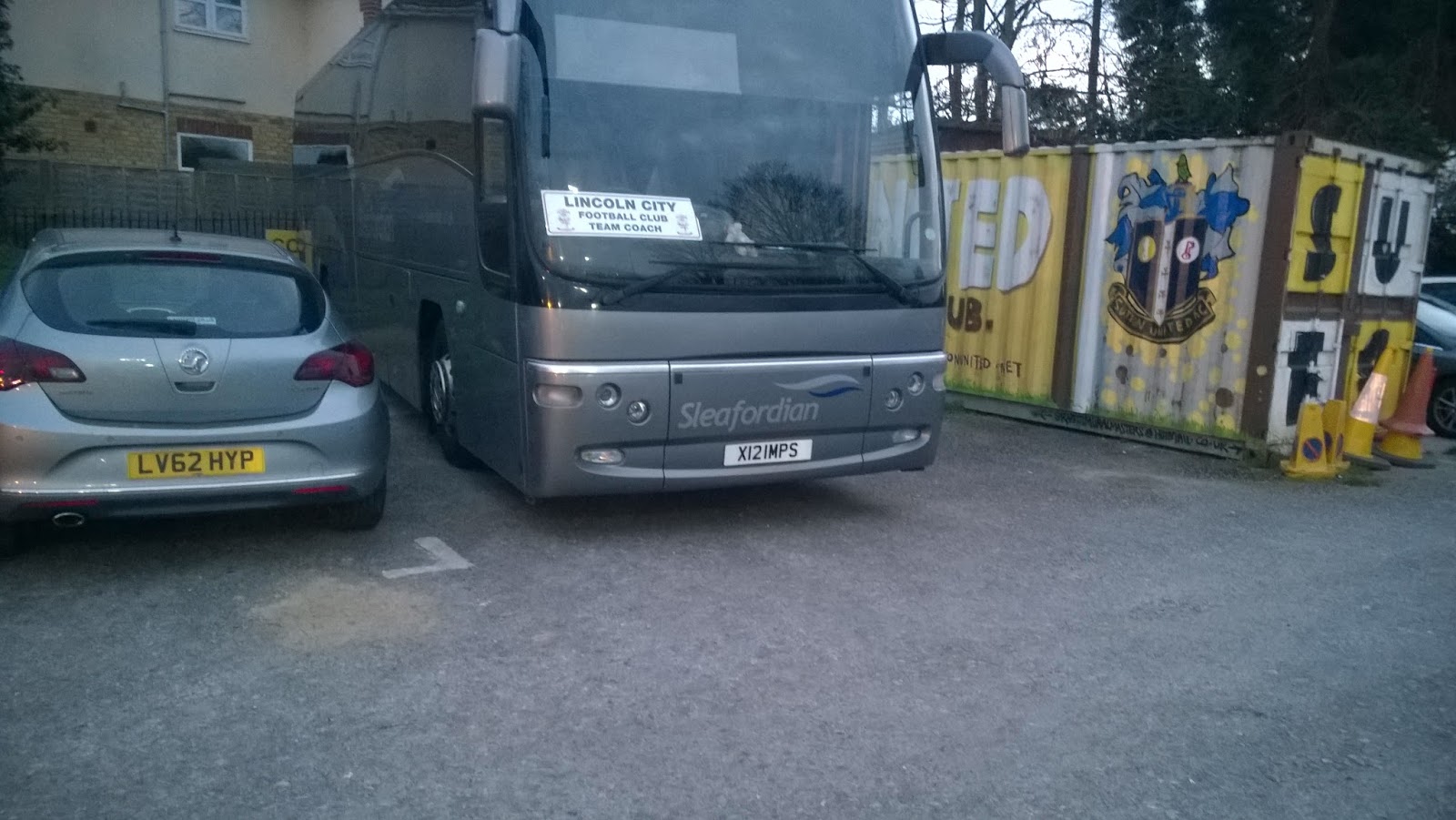 Charabanc. Lincoln style.
Arriving in the bar to see some of the Firm already starting the drinking. It was a Bulmer's for me and an Orange & Lemonade for the FUN-employed Firm Leader. Burgess was soon to arrive with his father-in-law and a £140 penny. And that is not the usual typo, he'd actually paid 140 smackers for a 1 penny piece! Christ, I could've sorted him one for at least half the price!
With most of the boys in attendance (except Juan, who was feeling tired apparently according to his Old Man), we were also going to be joined by a special guest. If you remember a few weeks ago before some forgettable cup game or something, we had a crack at America in a podcast with some American Arsenal supporters. Well not me, I wasn't allowed to talk to them for some reason. Something about 'diplomatic incidents' and 'watch lists' according to Taz. Fuck knows.
Also, before I continue on this point, let's not be having any cheap immature remarks in this blog. There will be no mention of they fact that the were late in the last two World Wars. Or any talk of why they can't pronounce 'Aluminium' properly. We won't even bring up the two embarrassing films that are U-571 or The Patriot. The whole Mar Bar is a Milky Way is a 3 Musketeer bar bollocks can stay right there And Trump? Well, I think we'll leave it there…
Where was I? Oh yeah. Americans. Well, Mike from the 'GitS' podcast is in the country for a couple of weeks and has decided to see how the other half lives. Sadly, they were busy so he wound up here at Sutton v Lincoln instead.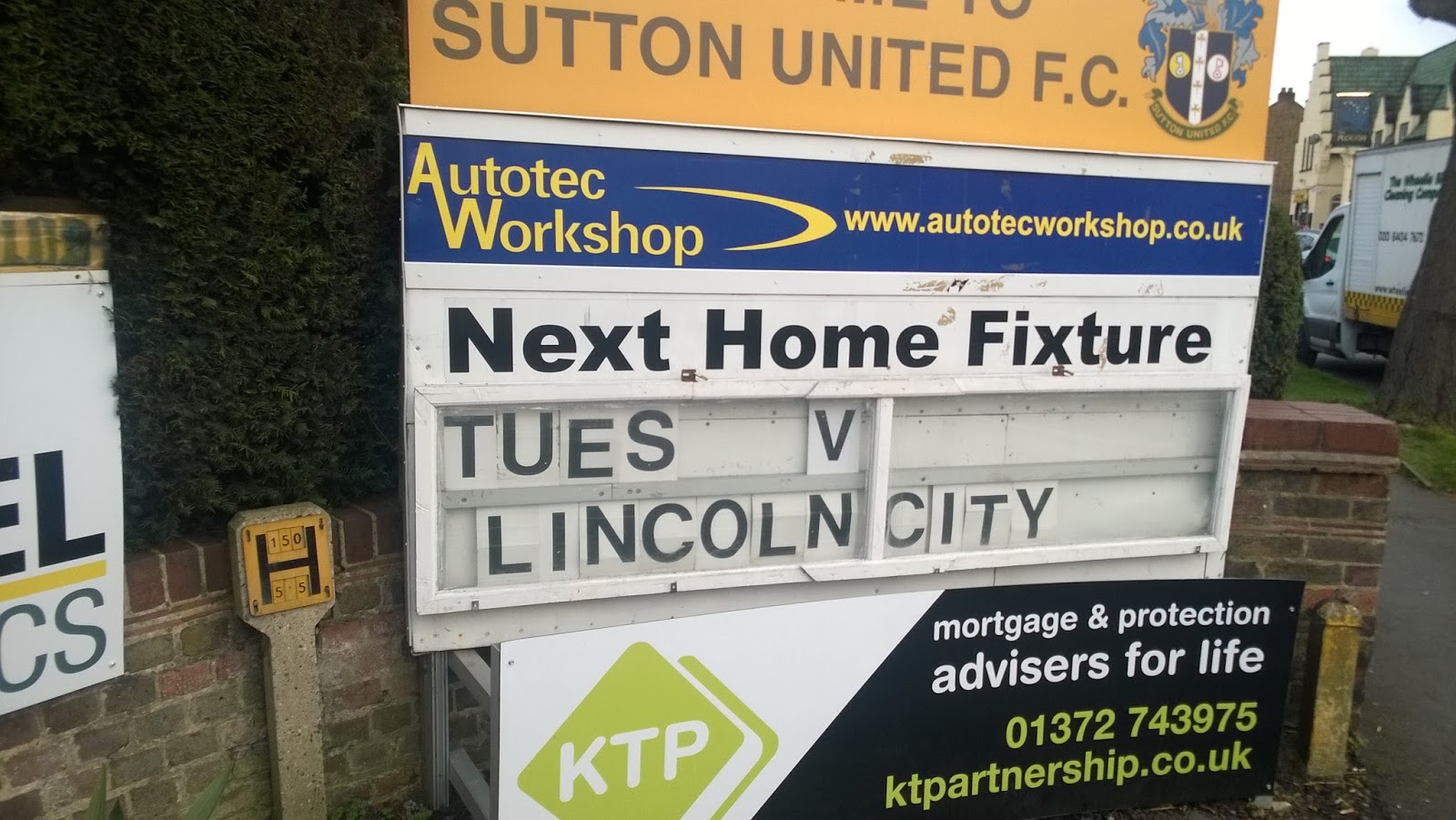 Drawing the punters in…
Puddy, Amankwaah, John, Collins, Gomis, Eastmond, Bailey, Deacon, Biamou, Coombes, Cadogan. Bench Warmers: Jefford, May, Dundas, Spence, Jebb.


With the match apparently under "soft segregation", this meant it was going to be the whole ninety minutes in the only place in the whole ground where all the reprobates, low life scum bags, dirty Barry's dodgy dogging circle, the kith and kin of Arthur bleedin' Daley, the Cheam Park DILFs, The Bacons, Gandermonium and a random Arsenal supporting American would dare congregate. The one and only Shoebox!
Most of the first half saw both teams cancel each other out. Sutton failed to even hit the target despite having probably two decent half chances. The first fell to Collins but his turn and shot from inside the Lincoln box cleared the stand & probably landed in the car park of The Plough. The other opportunity fell to Gomis who not only failed to find the target with a clear header, he actually did the defenders job for him in clearing it! At the other end, Puddy was rarely troubled in the Sutton goal.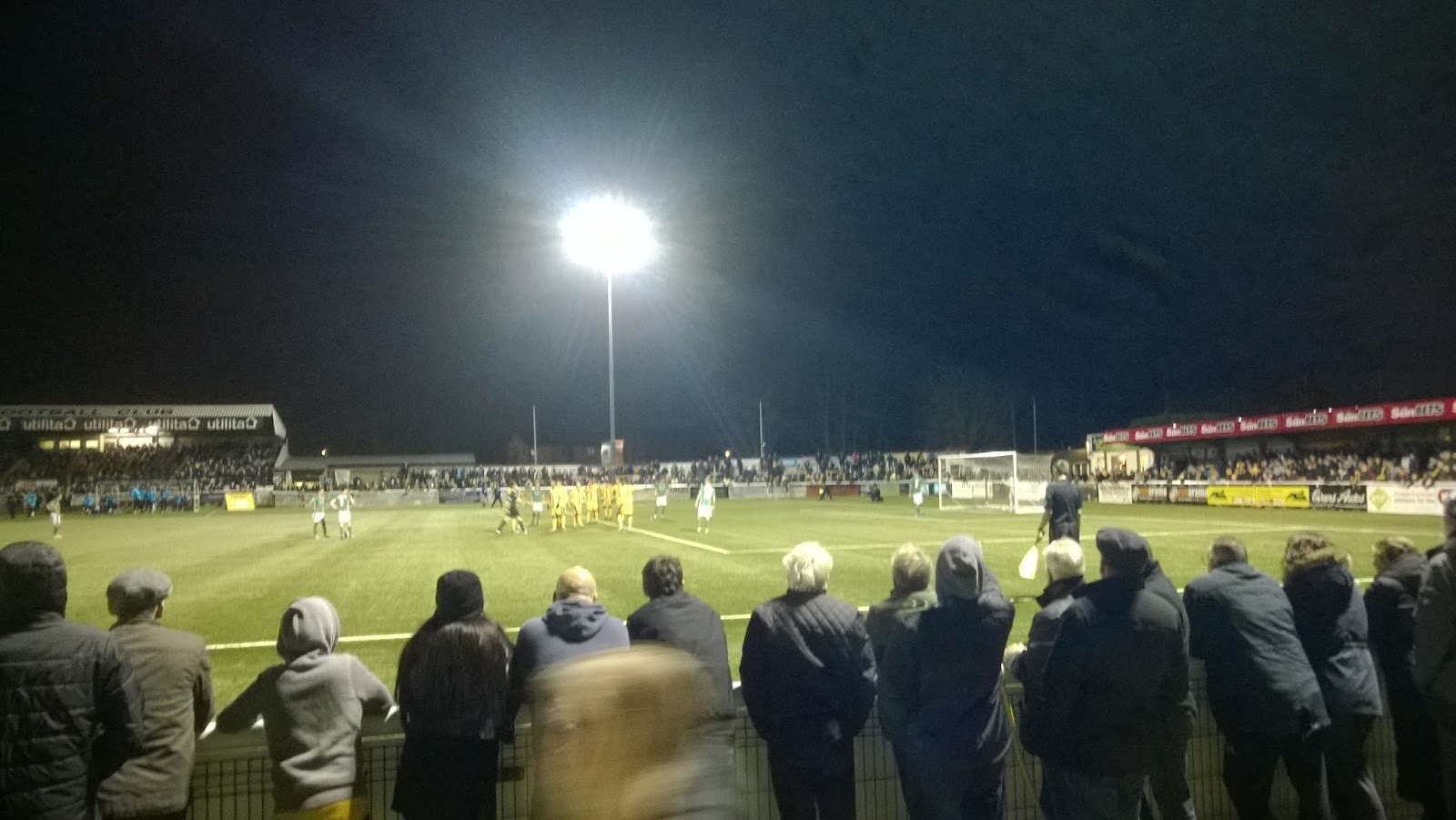 Few in tonight
With a big fella like Rhead heading the Lincoln attack, you know it's going to be a physical encounter for the Sutton defence. John did his best to contain him but it was naturally Collins that got involved in what he described, in an exclusive Gandermonium conversation after the game, as "two fat blokes rolling around". No doubt they swapped diet tips whilst doing so.
Another shout was when Coombes went down at the edge of the box. People were soon discussing whether he actually went down inside the box or outside. Or whether he'd just dived. I thought it was just outside but it didn't matter because the man in the middle waved all protests away. Ah yes, Mr Treleaven. Another referee that won't be on the Christmas card list this year, the pastie munching twat.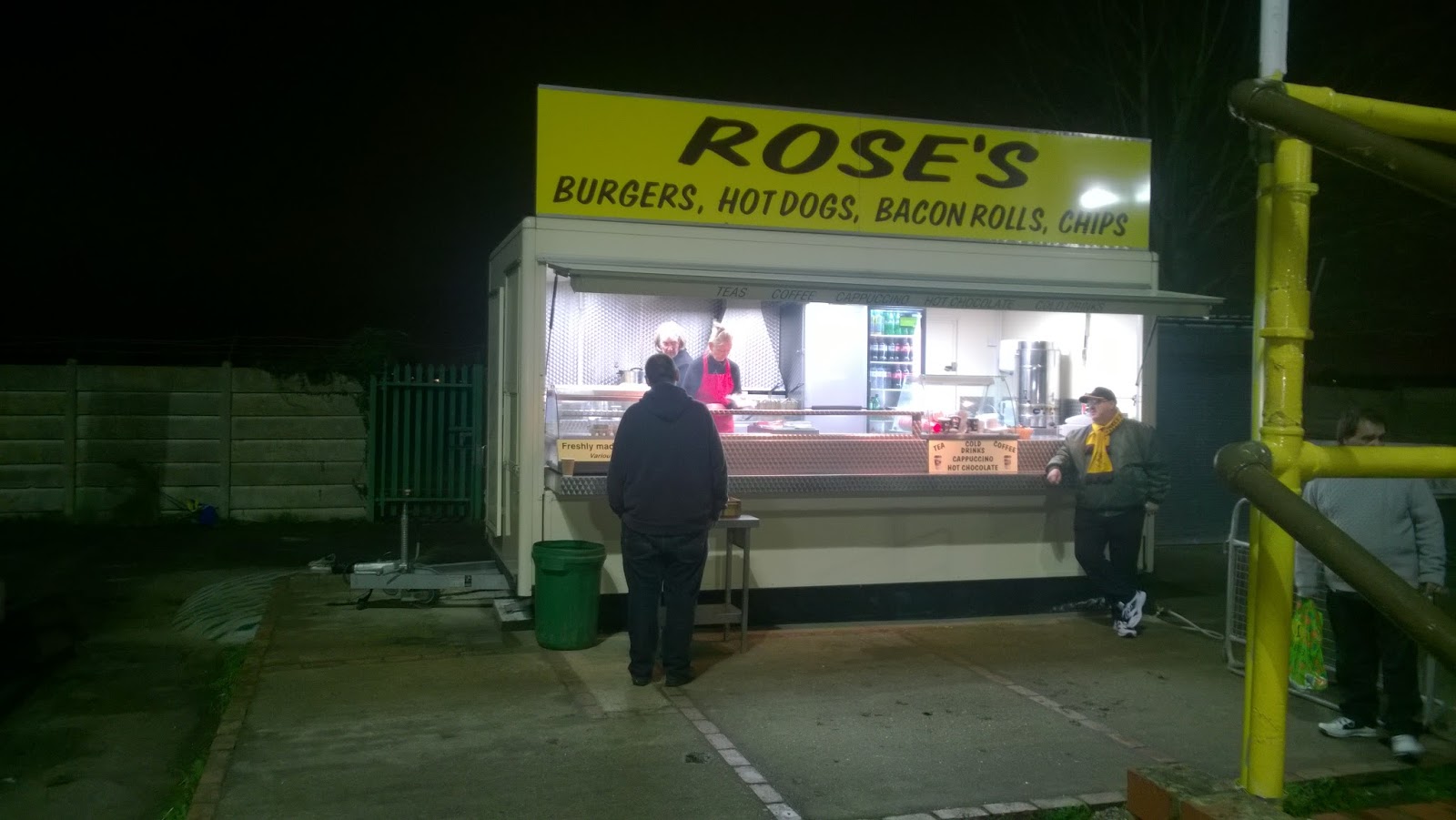 The queue at Roses descends into anarchy…
Second half and it was much of the same except that we had to bear witness to the defending of Sutton instead of being at the right end. This meant that we got to see more of the Lincoln attacks than our very own. And too be fair, considering it took Sutton over 93 minutes to find the target, we didn't miss as much as the Sutton players.
Lincoln did have a few proper chances now though, one was a header that Puddy would've got but John got in the way and sort of back-heeled up onto the crossbar. Rhead was also guilty of hitting a shot straight at Puddy on the volley. The follow up was poor as the header was put well over. Several changes were made. The first was having Spence brought on for Gomis. Ten minutes later it was another defensive subsitution as Coombes was changed for May.
Then, with less than ten minutes remaining, Lincoln took the lead from a simple header at a corner. Bailey was the man tasked with stopping this particular fella but unfortunately he got caught on the wrong side of two other players to get close enough and gave the Imps player a free nod. Minutes later it was time of the Legend that is Dundas to stand up to the plate as he replaced Amankwaah in our last chuck of the dice.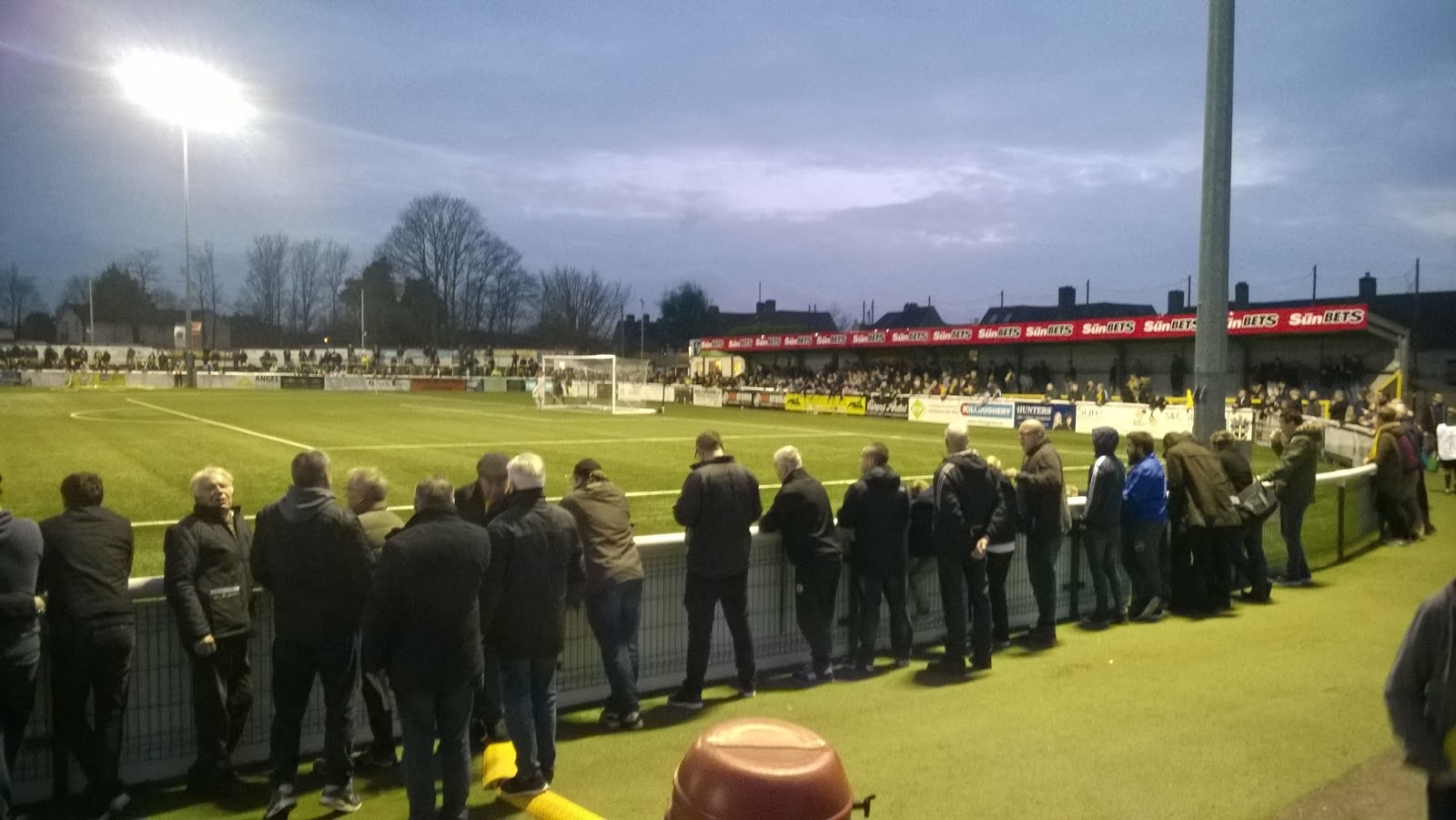 Biggest home crowd of the season
With this attacking substitution made, it was time for Sutton to give it a final go. With a big man like Dundo throwing himself around up top it wasn't long before he had a sniff. A well timed cross from Cadogan had Bailey only just being able to return it towards the goal and the Lincoln keeper just got there before the big man to make the catch.
Inside the last minute of the four allocated minutes of added time, Sutton finally got their break. It was a drop kick from Puddy that sailed into the Lincoln half. Dundas was the first to reach it and headed it out to the right to Deacon. He collected the ball and then took it several yards towards the edge of the box.
BOOM! Deacon unleashes one of his trademark thunderbolts, that will no doubt get him snapped up at the end of the season, straight down the middle into the top of the goal and the Lincoln keeper was left flapping at thin air as he reacted too slow to the shot. 1-1! Of course the place goes mental as we know we're well over time and Lincoln (probably!) won't be able to reply. And so it is, as shortly after the ref blows his whistle.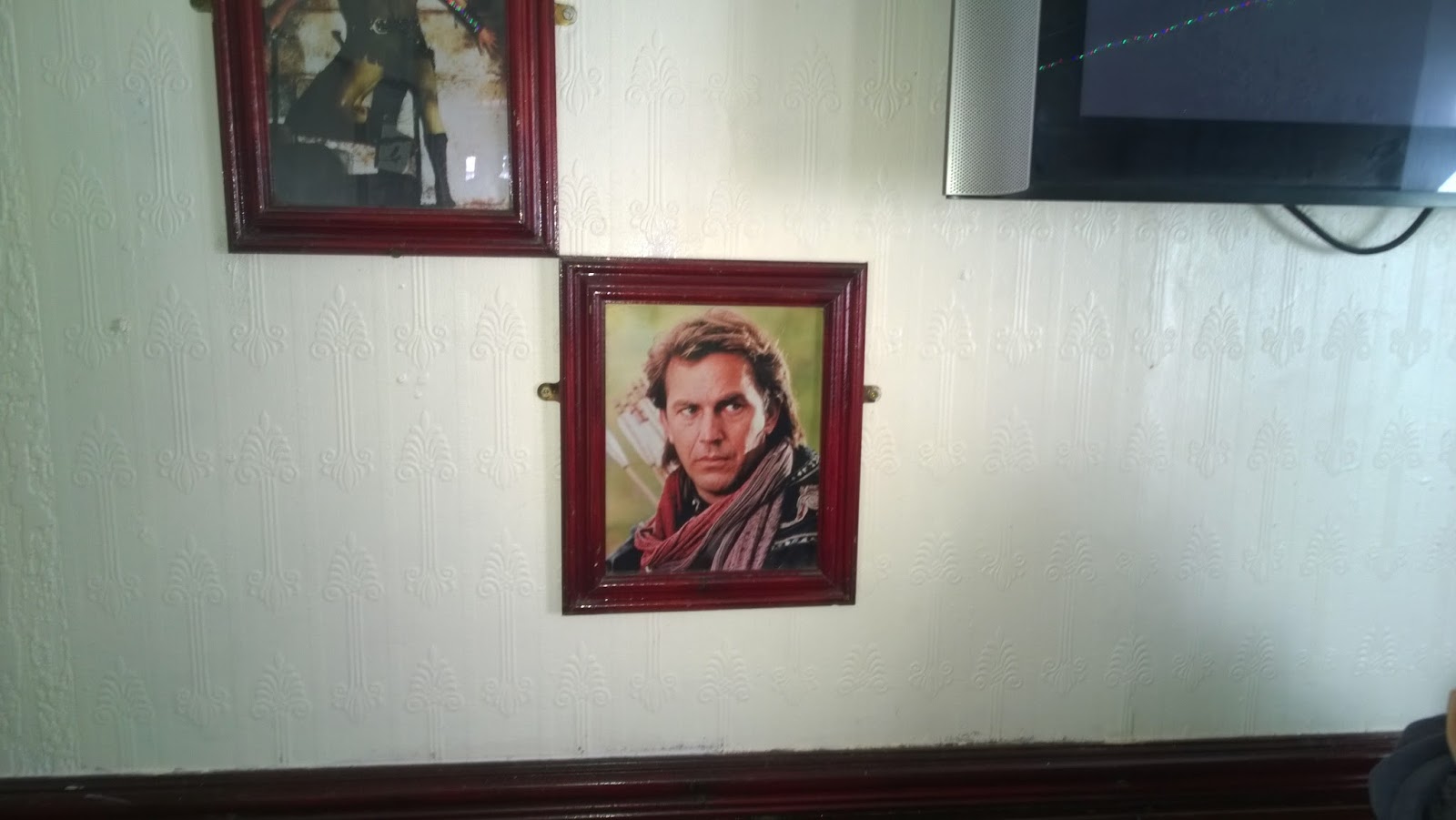 What's Kevin Costner doing in here??
With the nets & corner flags sorted out and despite my best attempts to catch a member of the away staff with a corner flag as I turned the corner in the tunnel, it was time to head into the bar for few glasses and to discuss the match. Most agreed that it probably seemed more like a 0-0 but at least we'd come away with a deserved point. Unlike the official Lincoln Twatter account who thought otherwise.
With our friend from across the pond. we managed to discuss all the finer points of British culture. Like how many times we say 'cunt' in a sentence. And apparently that Duke University is the most hated university in the whole of the US of fuckin' A. According to the 'taking photos of myself in the gym' Firm Leader, it's canny that no one likes Duke either over here. Cheeky fucker! Not sure how that came up in fact. And this was after introducing him to Downer and Eastmond. Still, at least I didn't end up in Cricklewood. You see, proper Gandermonium style!
So we move onto Saturday and our visit to the bloody bastards who have recently overtaken our record for the amount of Surrey Senior Cup final appearances (was 28 with us). Woking. And the bloody final is at Kingsfield as well. But considering that they're in more shit that we are in the league at the moment, it might be a bit of a battle. And it's our last proper alcohol infused away day until Maccelsfield on the last day of the season, so we'll be making the most of it.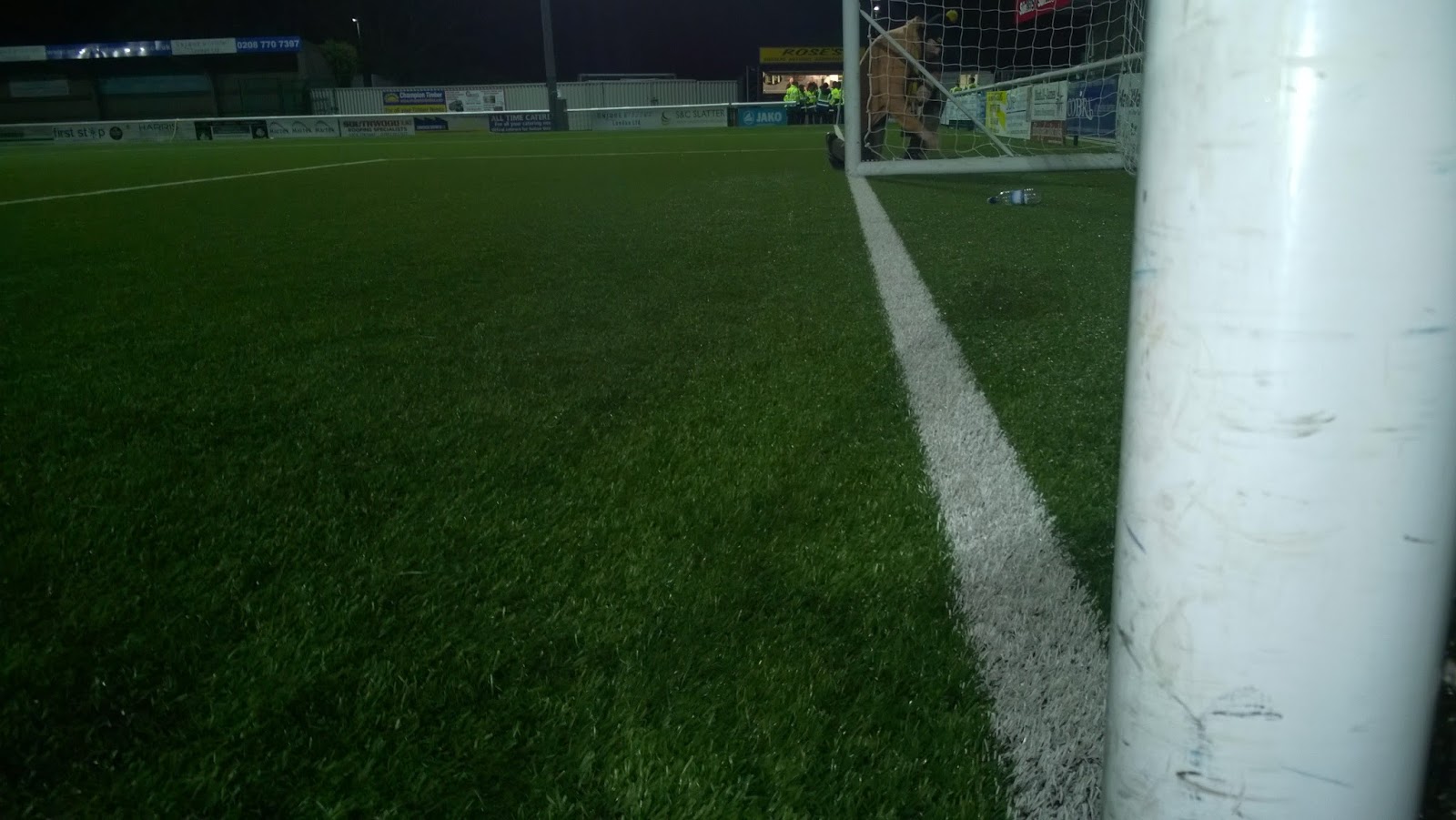 Looking along the line…
Duke
Att. 2246