Sometimes, things don't quite pan out how you plan them. Take for instance just this very Tuesday where I'd aimed to head down for the mega 6 pointer with fellow Conf South promotee's from Kent who aren't Ebbsfleet. So well planned was my planning, that I had even 3 paragraphs of bollocks and pre-amble all written before the game.
Of course, all this effort was wasted when some utter whopper decided to go for a fucking stroll on the line at Bromley South at about half six, meaning I missed the game. Cheers pal. I hope you got a train to the face, or at the very least tazered by the BTP.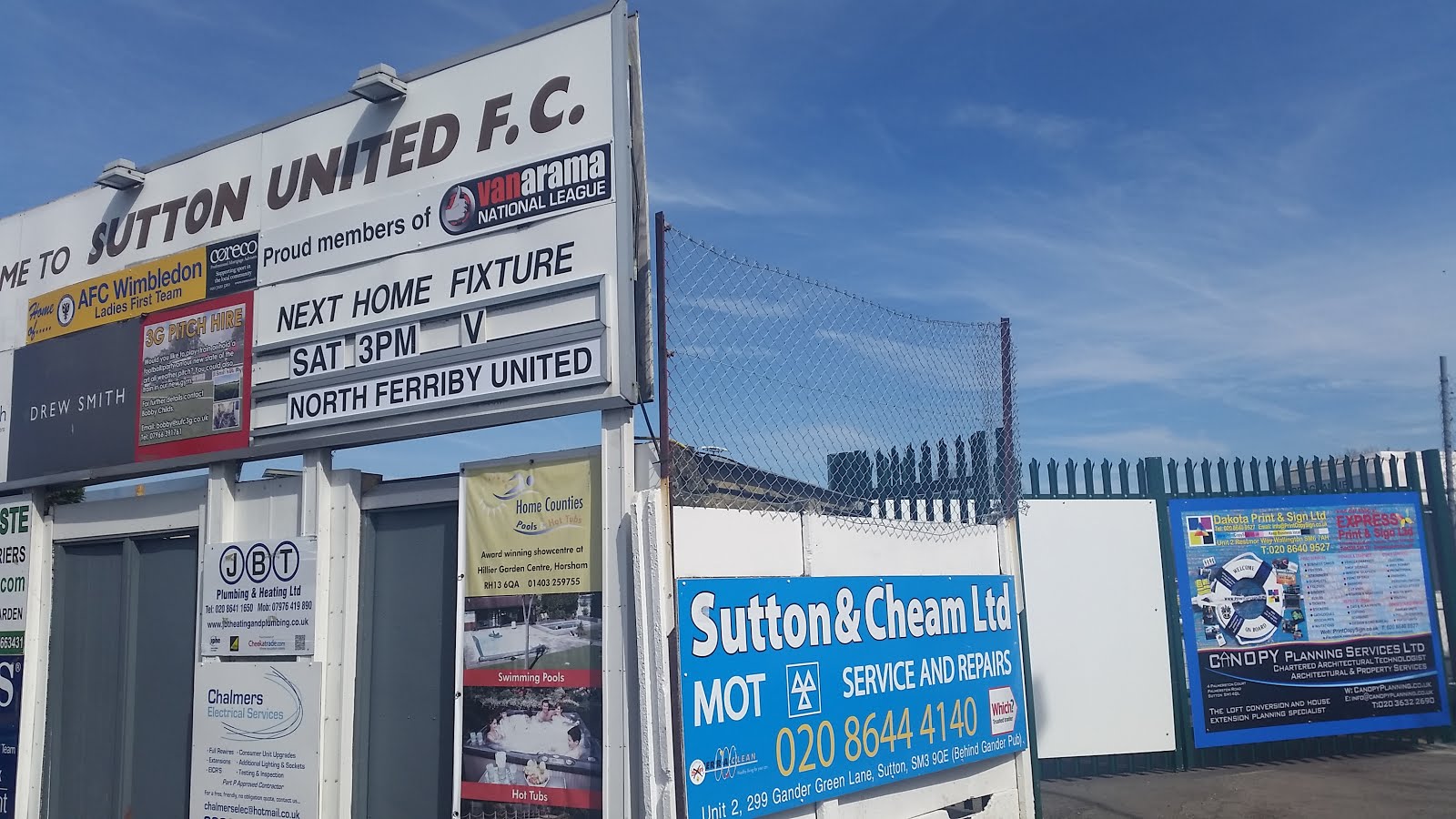 Lovely day
And it's all to your detriment of course. Those 3 para's, now destined to never see the light of day, were probably some of the finest work ever written anywhere by any human being. No really. The bit taking the piss out of World Poetry day was a blinder in particular. And no, I haven't had a heavy blow to the head lately. Well, at least not since last Saturday in Farnham anyway.
Further proof that I was not concussed or suffering some other sort of brain injury in that incident is provided Saturday morning where I take extra care when putting on my pants, lest I place them upon my person back to front or inside out. Like I had on two seperate occasions this past week, not noticing until later in the day. Like I said, clean bill of health. No problems at all.
Wibble.
It's a beautiful sunny day as I cross the road to head for the bus stop. Spring it seems is definitely, most certainly here. Perhaps. So sunny is it that I'm soon lamenting the lack of some form of headgear to protect my definitely not mangled brain from the dangerous UV rays currently bombarding it, as well as the fact as I know I won't be able to see jack shit at the game. That'll be a stop in Sports Direct on the way to GGL then.
Silence
As usual, I hop off in Sutton grab a sarnie from the fine Northern Patisserie that is Greggs and walk down the road to grab a card and a gifty from Marks & Sparks for mummy Taz the following day. Once done and having swerved being accosted by some bods selling shite in the high street, I drop into everyone's favourite purveyors of zero hour contracts and cheap leisure wear, Sports Direct to get myself a trendy new lid. And having purcahsed the only option that doesn't make me look like an extra from a 'Grime' video or Juan, I'm finally heading to where the sun always shines. Even in the pissing rain.
I wander into the bar and find just Wardy propping it up. I get the beers in and we discuss our day's retail therapy successes. He's rather pleased with himself as he's managed to bag a new sofa after the mysterious disappearance of his last one from Wardy Towers during the week and a new shiny set of ones and twos for a bargain price. Mr X soon joins us before the rest of the gang filter in one by one including a tired looking Steve, who'd been off in Deutschland for the England game on Wednesday.
As per normal for pre-match, things get a bit surreal with Wardy demanding to know if Mr X is on the popular dating site 'Plenty of Fish'. In this regard, I'm unable to assist. Mainly as A: I'm sorted on the lady front and B: even if I wasn't, I wouldn't be doing the 'men for men' search. Still, a theme emerges and "Are you on Plenty of Fish?" becomes a regular question to various people as they appear or pass by. Meanwhile up on the telly, fellow FA Cup GIANTKILLERS Lincoln are coming from behind to beat FGR. Totts appears and is highly thrilled by the visitors team coach, describing it as "Some sort of 70's vintage charabanc!".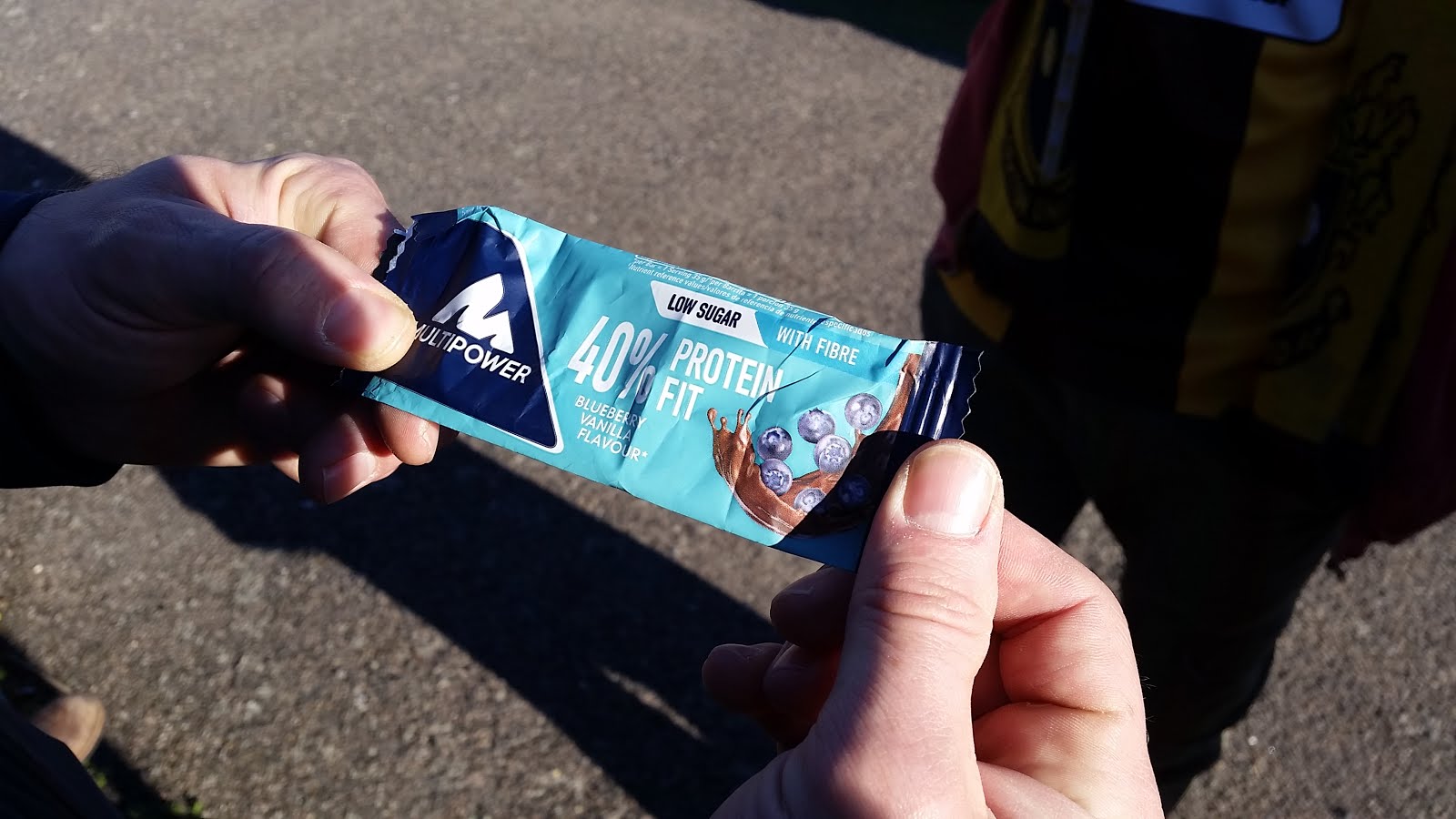 As horrible as it looks…
Eventually though, it's time to head out into the sunshine for the usual 90 minute break from the bar. The game. Beforehand there's an immaculately observed minute's silence for the victims of the Westminster attack during the week and then a quick addition of three new inductee's to the club's hall of fame. Going in are former striker Roy Osbourne, legendary human bulldozer and DJ, Craig Dundas and some bloke called Paul Roswell or something? Never heard of him. What's he ever done for the club eh?
Puddy, Amankwaah, John, Collins, Gomis, Eastmond, Bailey, Deacon, Biamou, Coombes, Cadogan SUBS: Jefford, May, Dundas, Spence, Jebb
Today's oppo are, like when we visited back in November, struggling big time in the relegation zone. However, we've not a great record against strugglers this year as binning the 2-0 lead against York here a couple of weeks back showed. But having travelled all that way to Hull and back only to turn in one of the worst performances of the season, I'm keen for a bit of payback today.
As per usual, we're playing towards the Rec End and we've also a stiff breeze into our faces to contend with and for the first 10 minutes or so, we definitely don't get on the front foot. Despite their lowly position in the bottom four, Ferriby have actually come to have a bit of a go rather than sit in and hit on the break like a lot of sides and this coupled with some uncertainty at the back give us a couple of nervy moments. One is a slightly wayward header back from Louis John causing issues. Eventually though we find our feet and start getting things going at the other end. Max brings a good low save out of the keeper and Deacon forces him to firmly beat away an angled drive, but on the quarter of an hour mark Deacon really settles the nerves with a little dart into the box after some good build up play to meet Amankwaah's low centre. The keeper gets a good hand to the shot, but it still finds the bottom near corner.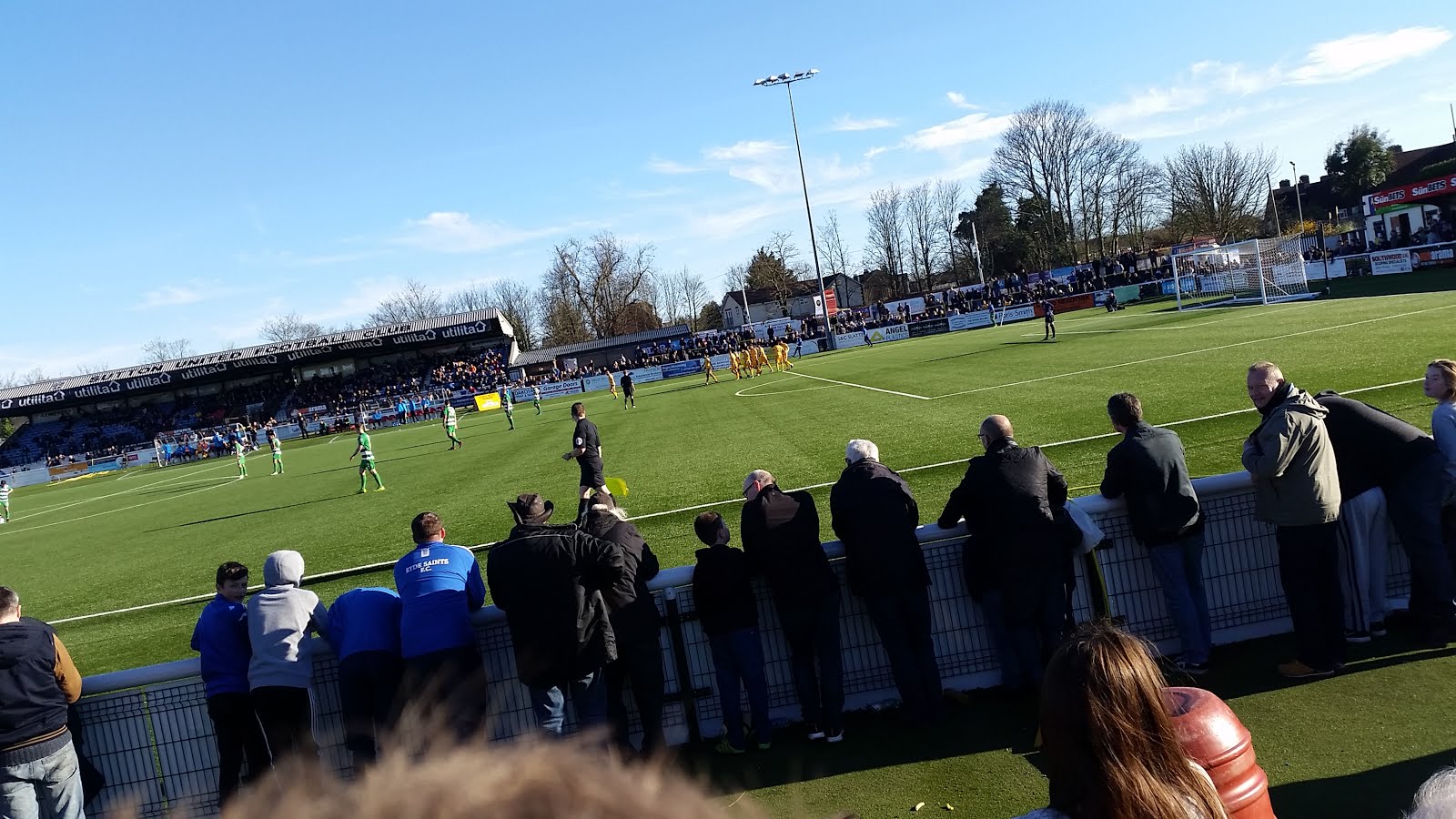 GOAL!
The goal gives us a lift and we find some more fluidity to our play. We keep pressing, the keeper has to make another decent save from Deacon before a hefty challenge ends a run by Eastmond. Bailey chucks the free-kick into the box and a contested header ends with the ball dropping to Collins about 8 yards out and he rifles into the far corner on the volley to make it 2-0.
Yes, you read that sentence right. Jamie Collins. On the volley. Goal.
It's pretty much all us now, with the early endeavour of the visitors gone as they try to keep us from running amok. We save the best for the third goal though, with a lovely flowing one touch move finally giving Cadougan a chance to get in down the left. His low ball across the box being met by Max on the 6 yard line to crash into the roof of the net. There's still time before the break for Coombes to be denied his opener, when another low ball to the near post gives him a chance, but his little prod towards goal is just blocked by a last ditch challenge.
So, 3 up at the break I wander round for a piss and then head for the Shoebox, enjoying the sunshine and also smugly congratulating myself on the hat purchase which has enabled me to see more of the first half than without it. Time for a celebratory cuppa I reckon! Here I'm shown some horrible protein bar by Juan that he's just scarfed down. Almost puts me off my bacon roll.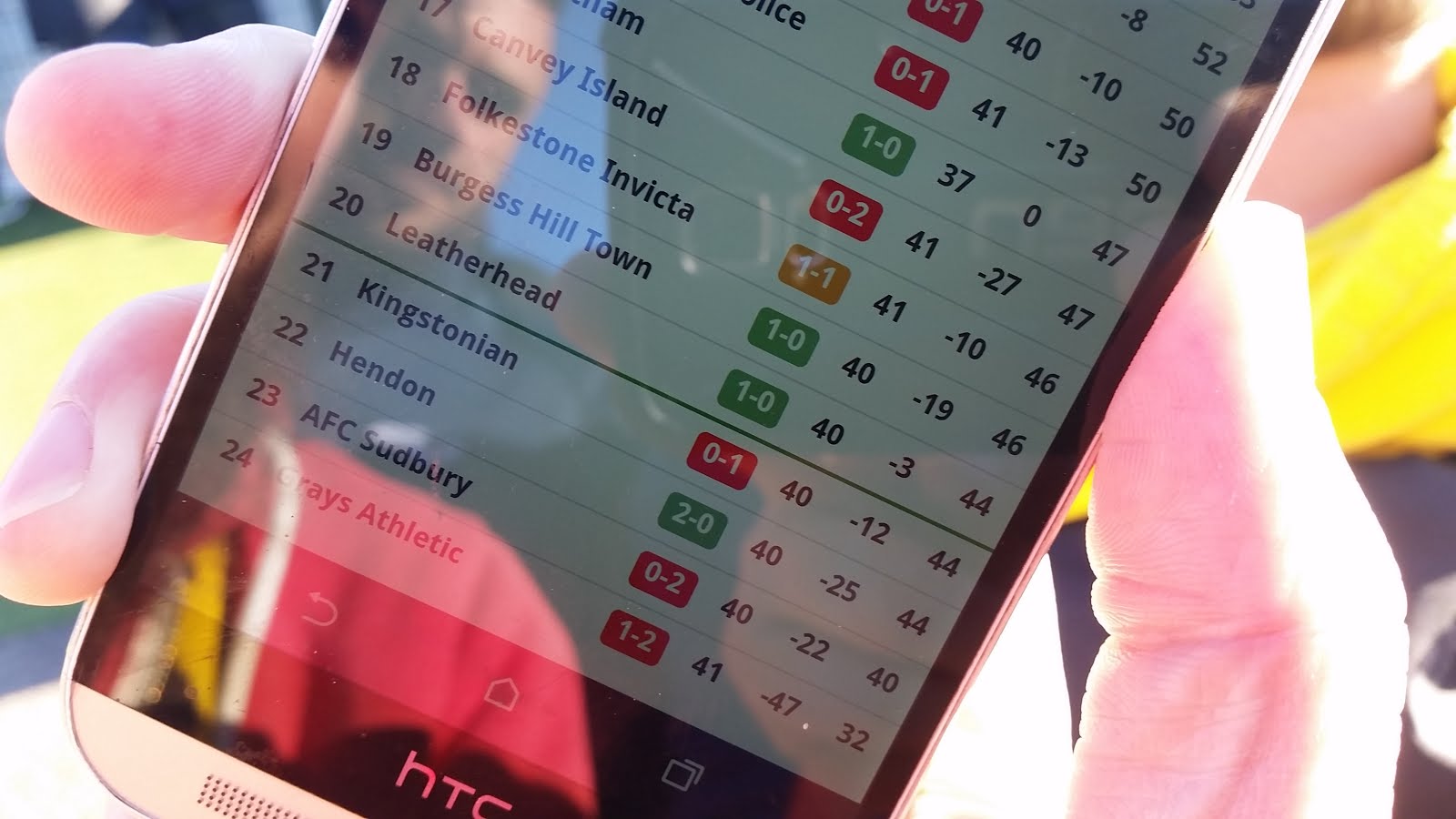 Terribly sad
Clearly the gaffer thinks we're home and hosed, so at the break replaces Amankwaah with Spence. However, we start about as quickly as an asthmatic ant with heavy shopping and again there's an iffy first 10 minutes that allows the oppo a sniff. A couple of minutes after the restart, a green shirt wriggles past no less than 3 rather weak challenges and fires inside the far post to make it 3-1 and then from a deep cross stuck to the back post following a corner, a big Furby lad is left unmarked. Fortunately for us he heads well over the target.
Naturally this triggers some rumblings on the Shoebox and a couple of shouts for the lads to switch on. Still, we steady the ship once more and around the hour mark, put the game to bed. Biamou goes on a run and slips the ball in behind for Cadougan to continue his promising start to his GGL career with a calm as you like little dink over the onrushing keeper into the far corner. From here, we're never again threatened and go searching for more goals. In the end, the only addition is a quick corner between Cadougan and Deacon. The new man rattling a low strike from the corner of the 18 yard box into the far corner to make it 5-1.
Eastmond and Biamou have chances to add to the score before the end, but we round out a solid home win regardless and make our way back to the bar as Mr Cadougan picks up a well deserved man of the match award. Meanwhile in the centre circle, the visitors debrief another long 90 minutes in the late afternoon sunshine. Back in the bar, beer flows and we chuckle mightily at K's continuing slide into oblivion. And for some weird reason, there's bloody live Squash on the box.
AB does his usual with strikers are key, even getting JC up on the chair for the 2nd draw and then it's time for jukebox and more beers. There's also news coming through that the Ferriby 'charabanc' has made it as far as Esher before coughing it's last and dying. Not what you want after a nightmare journey down (they'd arrived just 40 mins before KO) and taking a right good pumping on the pitch. Wonder what time they finally crawled home?? Come just after 7 though and I've had my fill and my with it being the end of the month, my supply of beer tokens are all but exhausted so I say my goodbyes and head for home and some dinner. On the way out, I'm reminded that there's sod all trains again this weekend so I bite the bullet and rustle up an Uber. I'm a bit shitted and can't be arsed with a bus, let alone the walk to get one.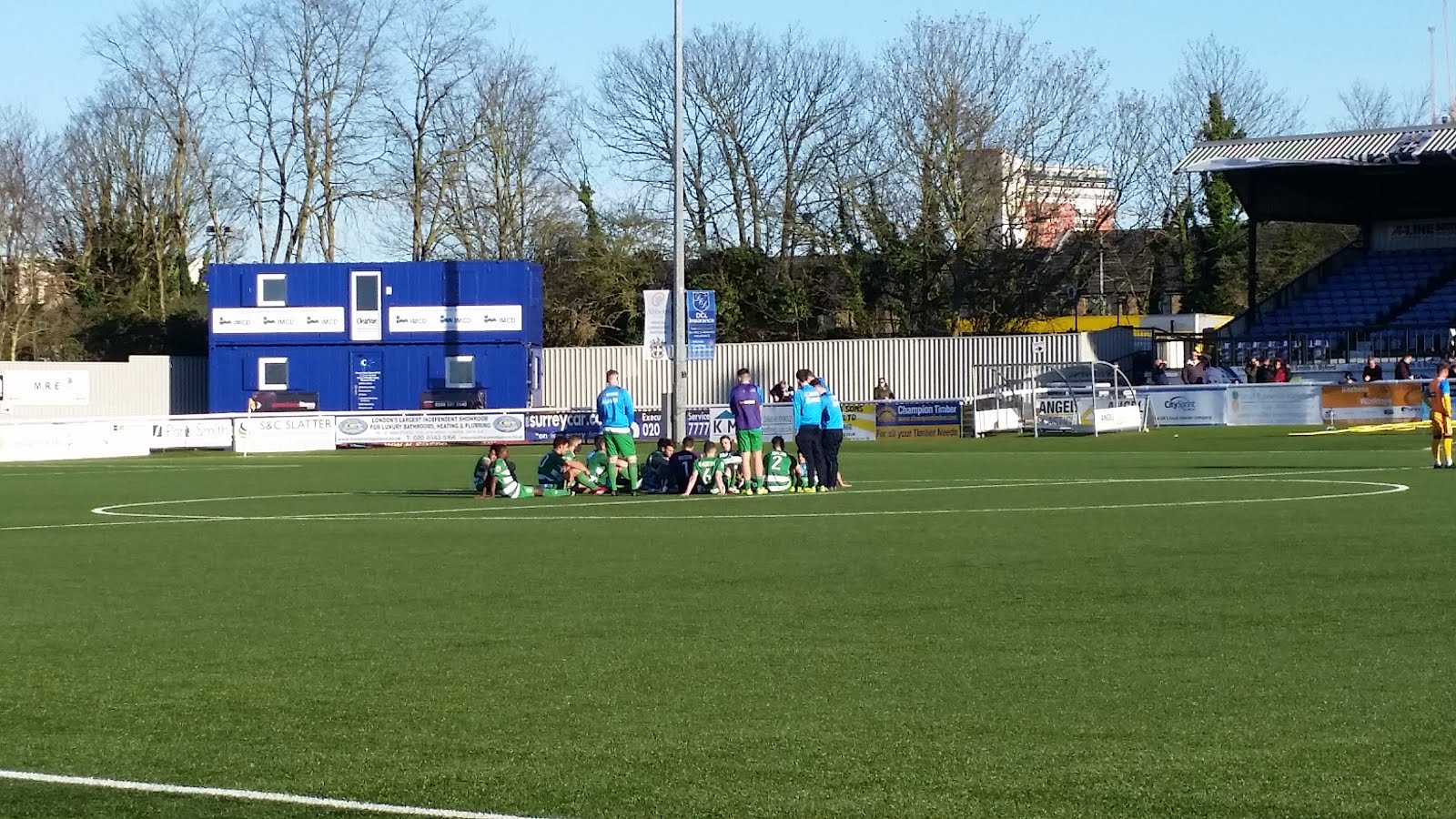 Full time picnic!
Next up, we're welcoming title chasers Lincoln to the Lane and if the talk in the bar before and after today is right, we're expecting a hefty away following on the night. So much so, we're actually going to be segregating our first league game of the season. Still, it should add up to a tasty 2000 plus crowd under the lights for our last mindweek homer of the season. We'll also be welcoming a special guest from the US for that one too.
See you there! Well, if the fucking trains are working that is…
Taz