So we're back at the Gallagher once again. Last time round it was a midweek contest that had second place Maidstone try and ultimately fail in stopping our charge towards the Conference South title. This time round it's a little different. 18th vs 19th. Still, at least we both ended up going up at the expense of Gravesend Ebbsfleet,
If you don't remember how the two early goals inside the first ten minutes caused, what the kids call these days 'scenes', among the travelling faithful and then why Lee Worgan will forever be remembered for, have a butchers HERE. Taz tried his best to try and set the scene for you on one of the great nights in Sutton's recent history.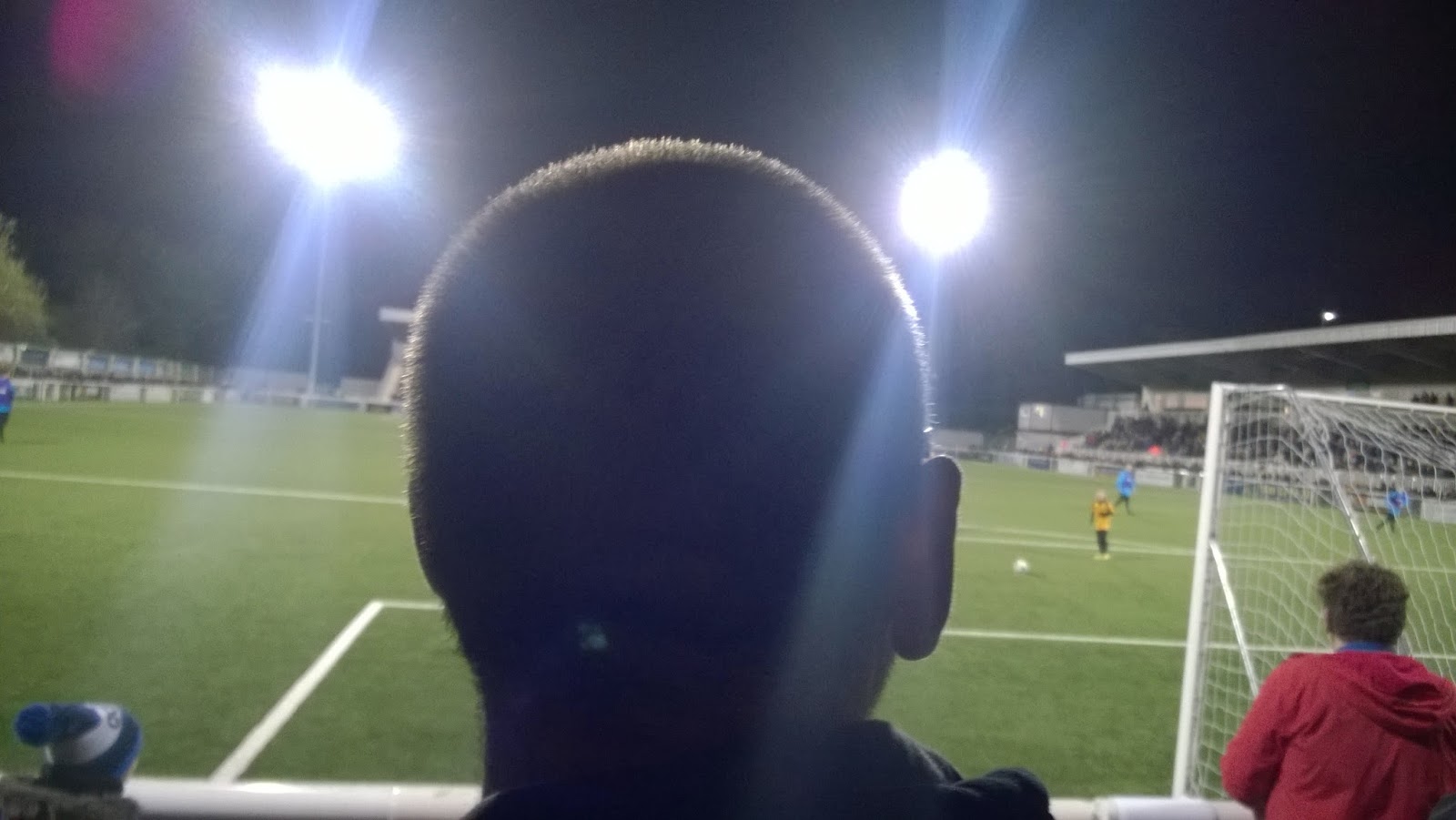 Restricted view
The Firm Leader was to offer his taxi services to me for the trip and gave me a rather conservative pick up time of half four. To thank him for this generous offer (and I wasn't going to give him any petrol money), I managed to make some food for the journey. And we will call that "The Duke's Mighty Meaty Speciāle". Never ask me what's in it.
A mysterious quick stop off in the middle of nowhere, aka Nork, and we're back on the A217. Dr Bell is spotted at the Tadworth Roundabout loitering with intent, luckily for us the Donna Rachele was his preferred mode of transport tonight. We hit the M25 and fly through to the M26 with no problems at all. So much so that soon we are beginning to think that our departure time may have been far too conservative. There was a bit of traffic as we try to come off the M26 onto the M20, but we are still making good time.
Then as we are approaching our turn off, the traffic queues finally appear. All this way and only three miles from our destination, we get fucked up. Turns out that there are two lanes that form this turn off, the left hand goes up towards the roundabout and the right hand leads back onto M20. And what are some fuck-nuts doing? Bombing down the right hand lane and cutting in at the last minute. And people are letting them in! How very un-British they are. Eventually, and after refusing one car the opportunity of jumping the queue, we stroll up to the roundabout and are soon nearing the finishing line.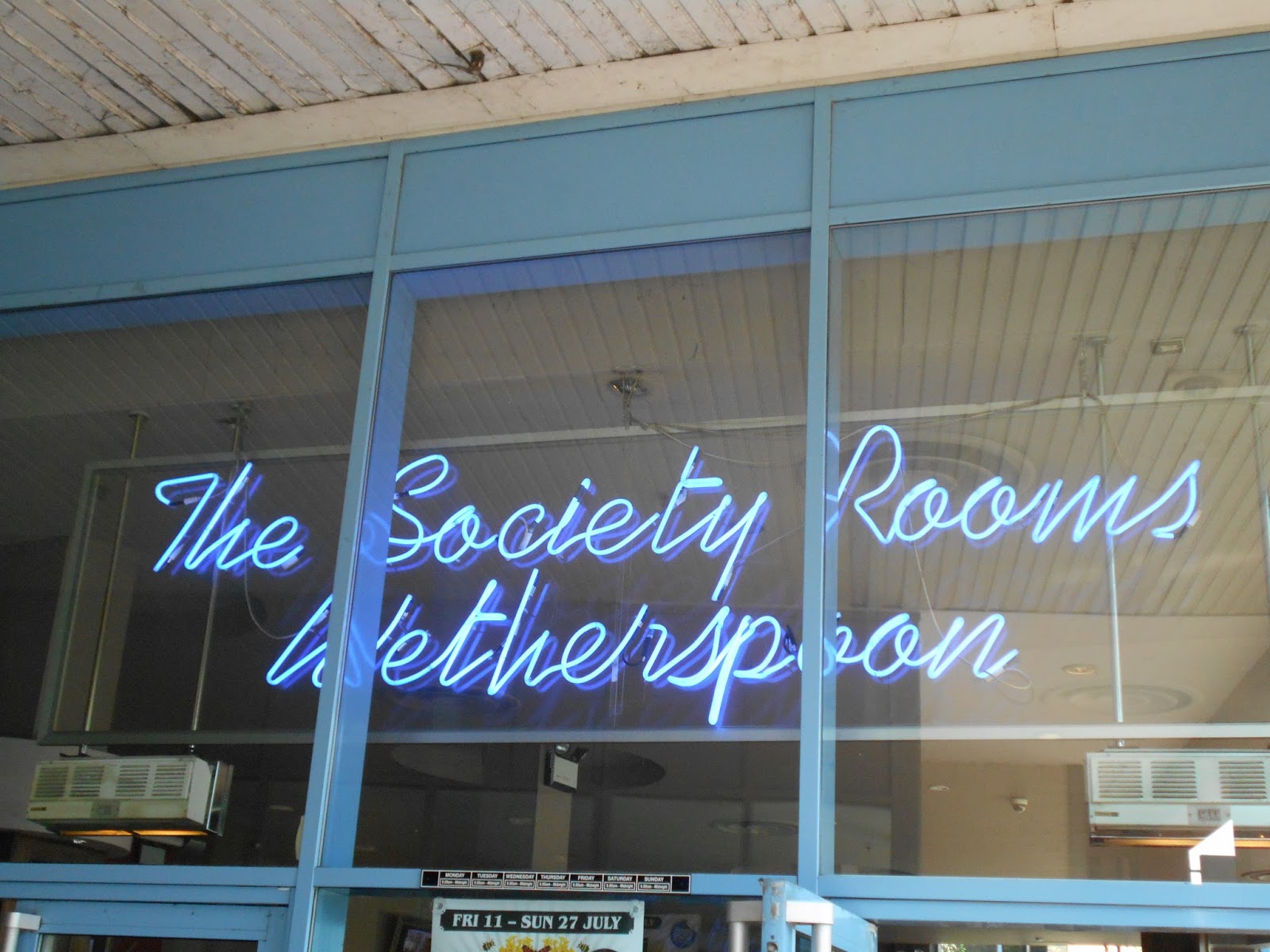 Dukey's stamp of approval
Finally arriving in Maidstone, slightly ahead of the Donna Rachele, we head towards the closest watering hole. Which, luckily for me is a 'Spoons! Gabbing a pint for myself, I was soon in the process of ordering an Orange & Lemonade for my designated driver when he changed his mind and opted for a bottle of cool refreshing Corona, easily convinced to go for the 'two for a fiver' offer. Drinks in hand, we head off to find any others that are in the vicinity.
With 4 Days & Amber Aleman knocking up 'The Rifle Volunteers' to see if the rumours of the 1960's and Arkwright's till still being present were true, it was left for Loffers & Southampton Steve to be our welcoming committee. Also in attendance was Magnum PI, who as another driver, was also thumbing a softy. If you catch my drift.
Those that'd make a successful trip to Kent began to lament those that had tried but ultimately failed, namely Taz. Getting a train from London would seem easy enough for the average person, but not for our poor editor in chief. And not for the first time recently, it was British Rail that spoilt his journey. This time there is a trespasser on the line at Bromley South and after waiting half hour without moving and still being a good hour from Maidstone, he decides to sack the game off and get the bus home via Croydon. Of course, he calls to informing me that I'm now having to do the blog. Cheers! What a swell fella!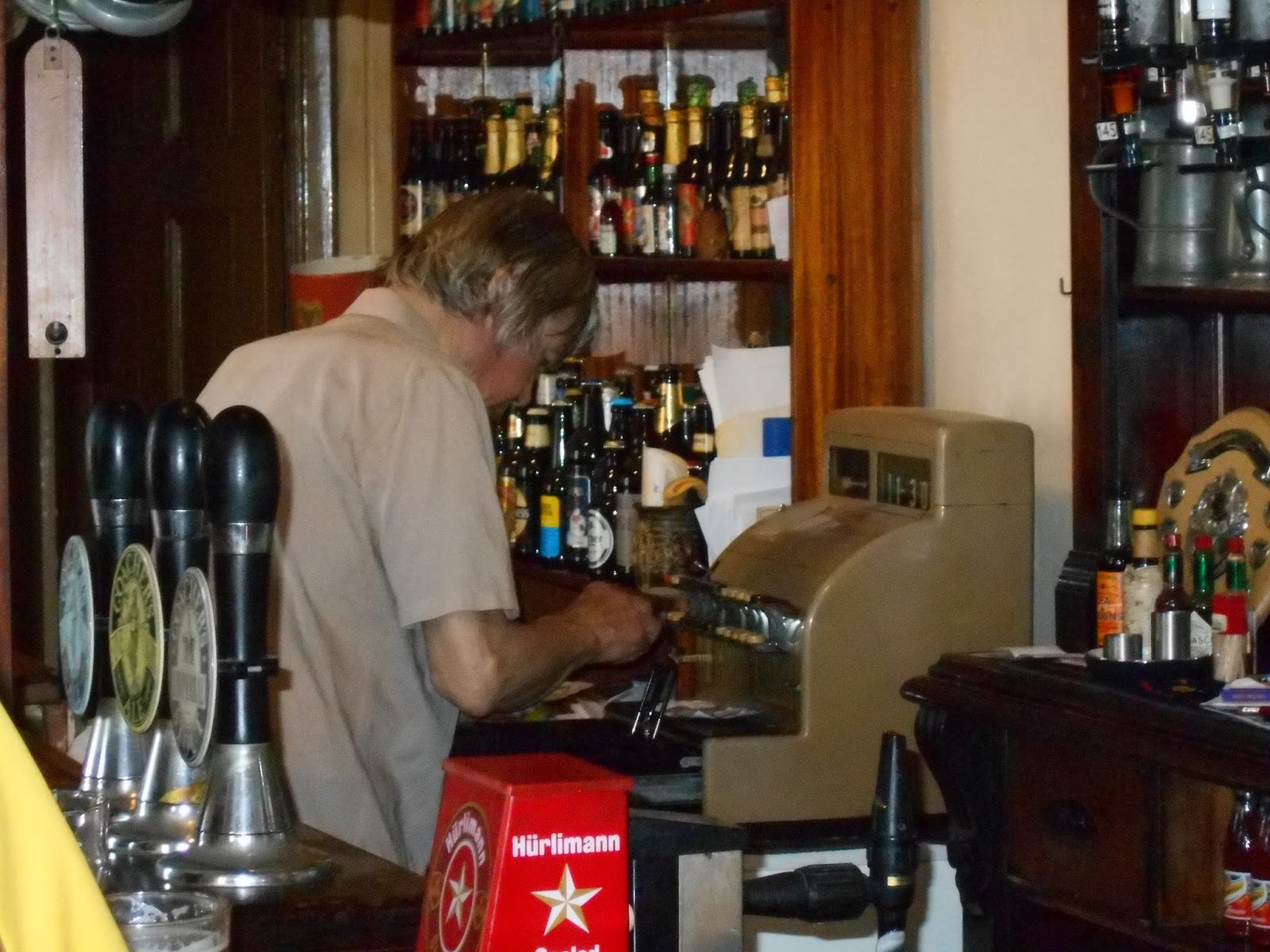 Remembering the 1960's!
Speaking of Magnum PI, I think he may have had a few on a previous occasion because he was quite delusional. Quite worrying when you think about it really, especially as at one point he mentioned that he was going 'down the gym' during the week. This must be code for some sort of deviant behaviour or other. But if you do ever experience his 'roid rage in future, remember you heard it here first.
There is a problem with being in The Society Rooms. No, not because it's a 'Spoons. but because it's the closest pub to the ground. This means that all the home supporters also tend to use its facilities. Back in the day that wouldn't matter, but Maidstone do have one or two followers, couple that with everyone wearing yellow and you end up looking at everyone to see if they're Sutton or not. Unwanted eye contact.
With time fast approaching kick off, we start to make our way towards the ground. There is not many occasions at our level that you have plenty of people all making the same trip, but for a moment it did feel like a proper old school match. Nearly falling down a grass verge, I catch up with Mr X, who is trying & failing to smoke a cigarette.
Ah yes, smoking. With Maidstone opening up their new stand tonight, they've decided to change there smoking policy. Were as with years gone by, you've either had to smoke just outside the ground or at the other end behind the stand. This year there is absolutely no smoking anywhere and they even won't let you out at half-time for a sneaky tab! But I'm not going to go into one here. For a change.
Yeah, the new stand was opened today, so much fervour over it that it was occupied by the home support long before we even got in the ground, so fuck knows what the view was like. Not the greatest opening of a stand ever, but then again I can't say that I've been to many before tonight either. But a young fella shouting that the stand is open is pretty non standard. A bit of pyro at least would've been nice fellas! Make an effort!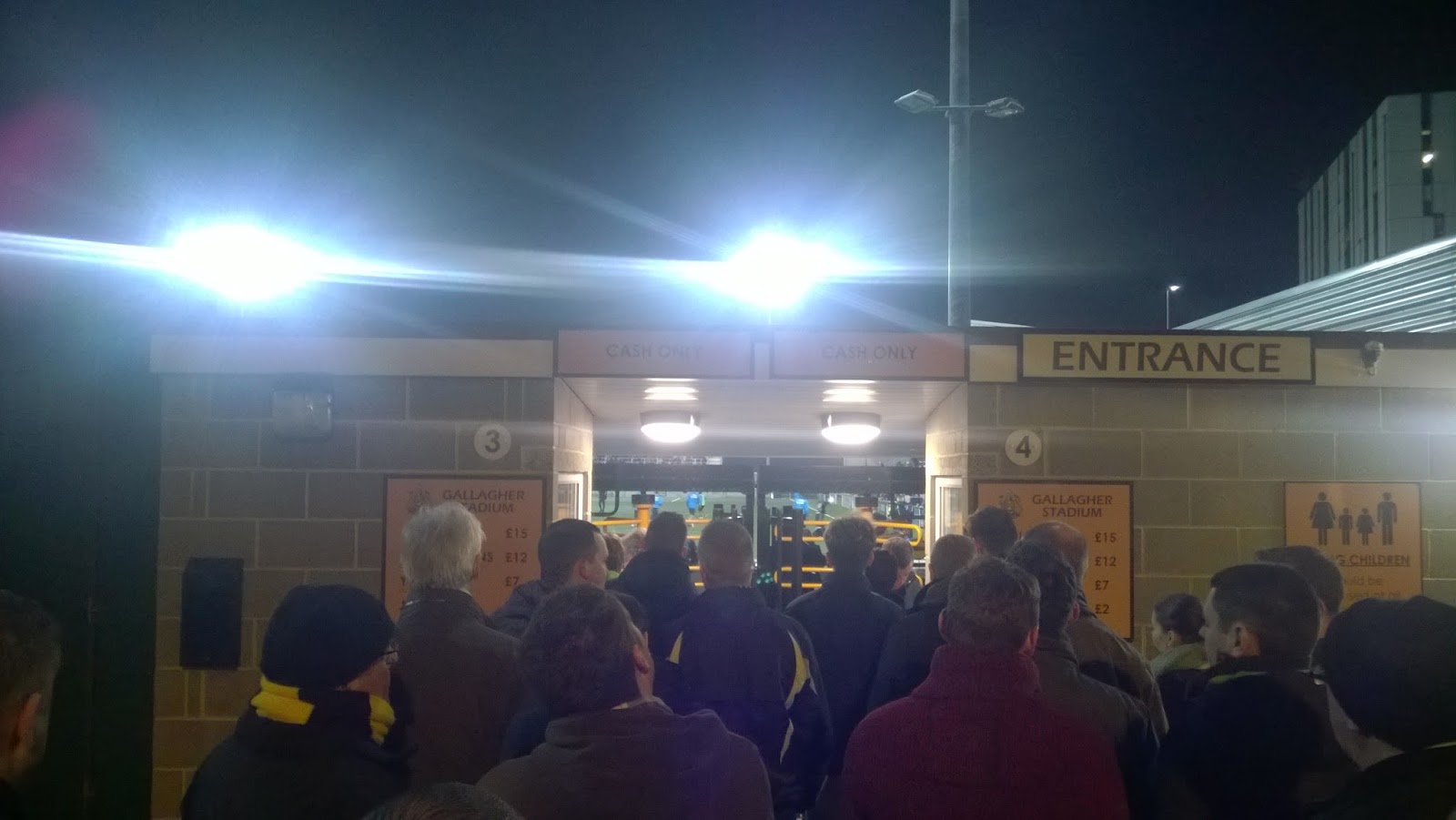 Waiting
Puddy, Downer, Beckwith, Eastmond, Collins, Deacon, Gomis, Coombes, Bailey, Cadogan. Bench Warmers: Jefford, Dundas, Spence, Jebb, Biamou.


Shooting towards the travelling supporters, Sutton started the much stronger. But let's all face it, this still wasn't a game of end to end action. Judging by the places of these two teams, you can see where there is a lack of, certain things. Goals mainly. Deacon probably had one of the best chances for Sutton but his shot from inside the box managed to hit the metal upright behind the post and bar.
Downer continued our challenge to top the fair play league with a typical Downer "challenge" that resulted in a booking. Most of the first half saw Sutton attacking and producing half chances whilst Maidstone create fuck all. There was plenty of noise coming from the far end, or was it to the left of us or the right of us? Still, never could understand why home fans would sing the "Everywhere we go…" in their own ground.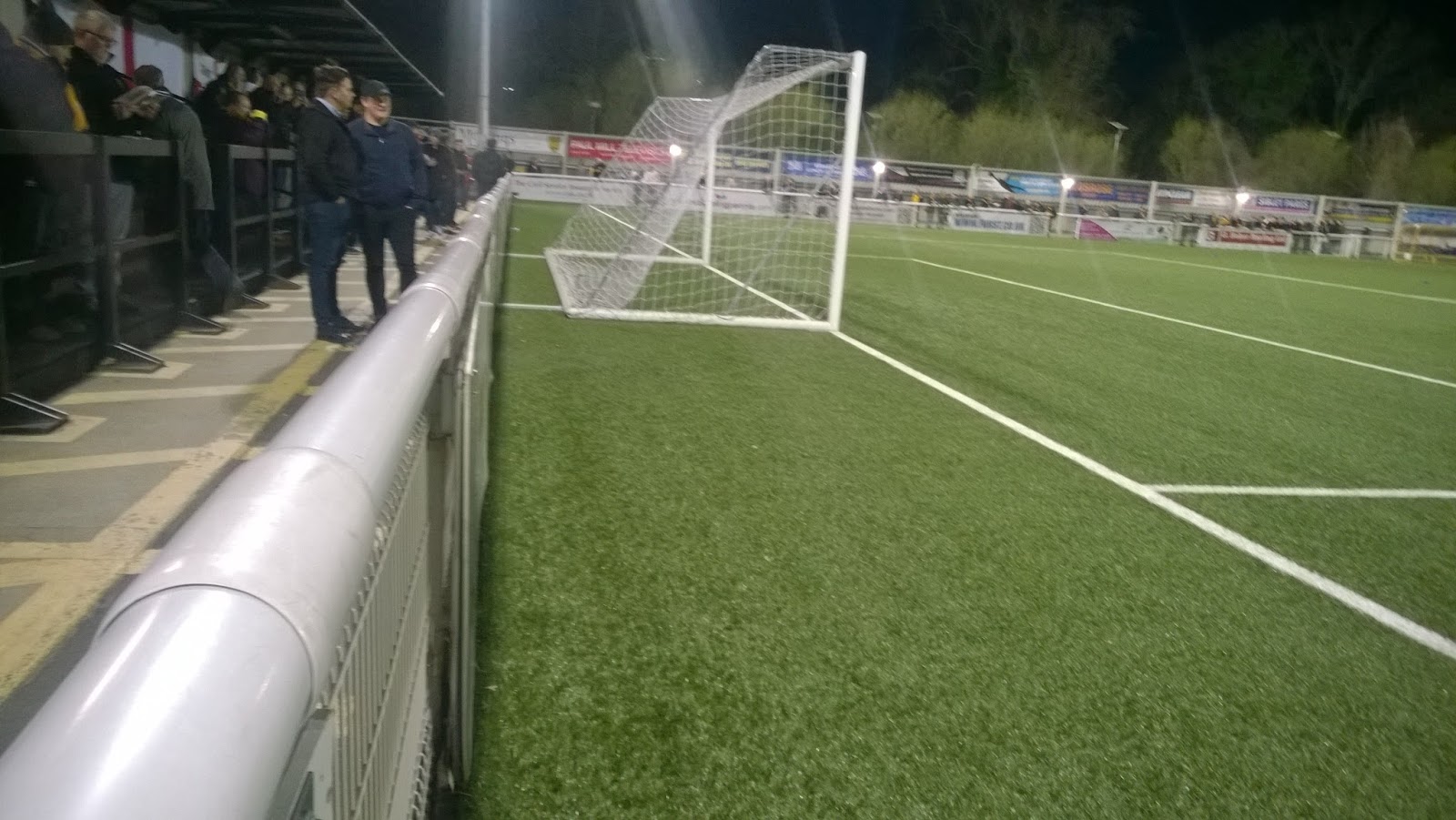 Carpet
Six minutes into the second half and Sutton finally get a break. Cadogan, chasing down a long pass from Collins down the left hand side crossed the ball into the six yard box low on the ground. The intended target was Coombes but the Maidstone centre back showed him how to score by just getting there first and sliding the ball past 'Git' Worgan. 1-0!


Blimey, 1-0 up away from home? I reckon OG is making a late run to be our top scorer this season. He's not been prolific so far, but he's steady. On the hour mark, Downer was replaced by Spence. Good really, not only was he starting to struggle with a knock, but he wasn't able to make any challenges thanks to the card. Just like Beckwith, who received his own booking after a challenge.
Shortly afterwards Deacon, who'd been on the wrong end a couple of heavy challenges, was himself replaced with Biamou and we finally went with two up front. Not that it worked mind you, because less than five minutes later, the game was turned on its head with a very controversial decision. We're talking Section 28 controversy here.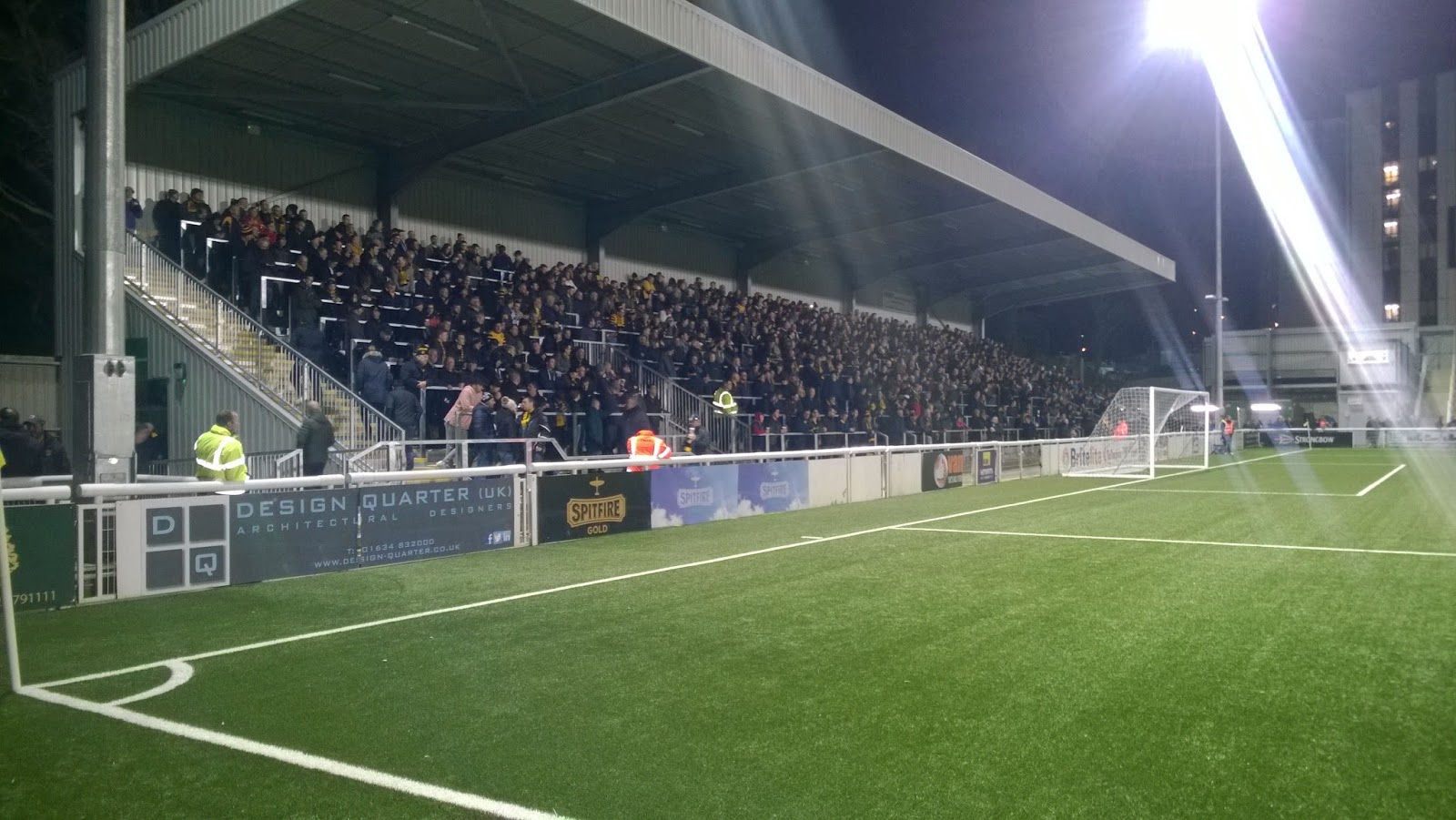 People. Crowded together.
Still, it's our own fault really, Coombes tries to do a cheeky back heel to Eastmond as he sprints behind him. But by the time he does it. Eastmond had already past him and that sets up a Maidstone attack. You wouldn't mind so much if it was miles off up the pitch but to try that just outside the Sutton penalty box is only asking for trouble.
Maidstone player Loza (He! He!) takes the ball into the box. Losing control of it, Amankwaah comes sliding in but tries to pull out. Unsuccessfully as it turns out, Loza goes down over Kev and the ref blows for a penalty. Jesus. The Maindstone geezer steps up and hits it to Puddy's right and he narrowly fails to keep it out. Running to the away support, he gestures towards us for some reason, that no doubt went down well as you can imagine.
Now the controversy. I don't think it was a penalty whilst people like The Firm Leader believe it was. For me, there was contact between Loza and Amanwaah, but I think he was already going to ground before that contact was made. Unfortunately from where the ref was standing it looked more like a penalty. And the hairless nut sack of a linesman did absolutely nothing to help of course. Like always.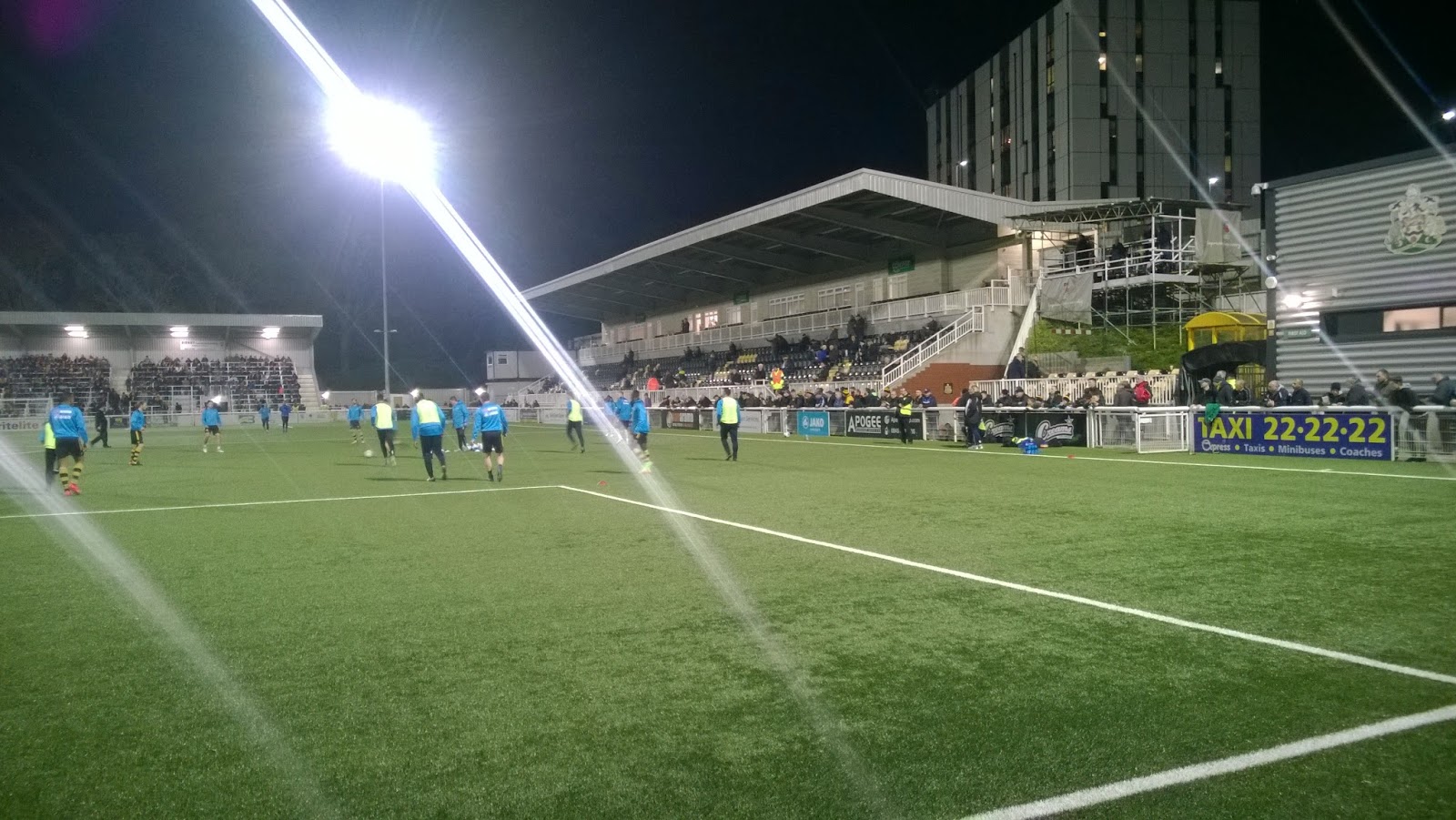 Something happening.
For the rest of the game it was the travelling support upping the ante against our new mate Mr Loza. We were interrupted by a Maidstone fan who walked up and down in front of us shouting that "Sutton are Cunts". Charming. Of course the stewards do nothing to remedy this. I think they would rather be making Instagram photos of themselves in the gym by the looks of 'em.
Back to Loza, at one point, Sutton were trying to defend a long throw when he started to give us "the guns" gesture. Wow, what a great fella. You know our crowd are not happy when they are uniting in displeasure about a spot of ungentlemanly conduct. Sometimes our people do still manage to surprise me.
Maidstone started to come into the game more and more but still really failed to really test Puddy. If Sutton are a little goal shy I wouldn't want to know how Maidstone are getting their results. Even with the Fat Boy now on the pitch and his long throw, they appear to be doing exactly what they did last year. Grinding out the results. Then again can't say that about Sutton at the moment.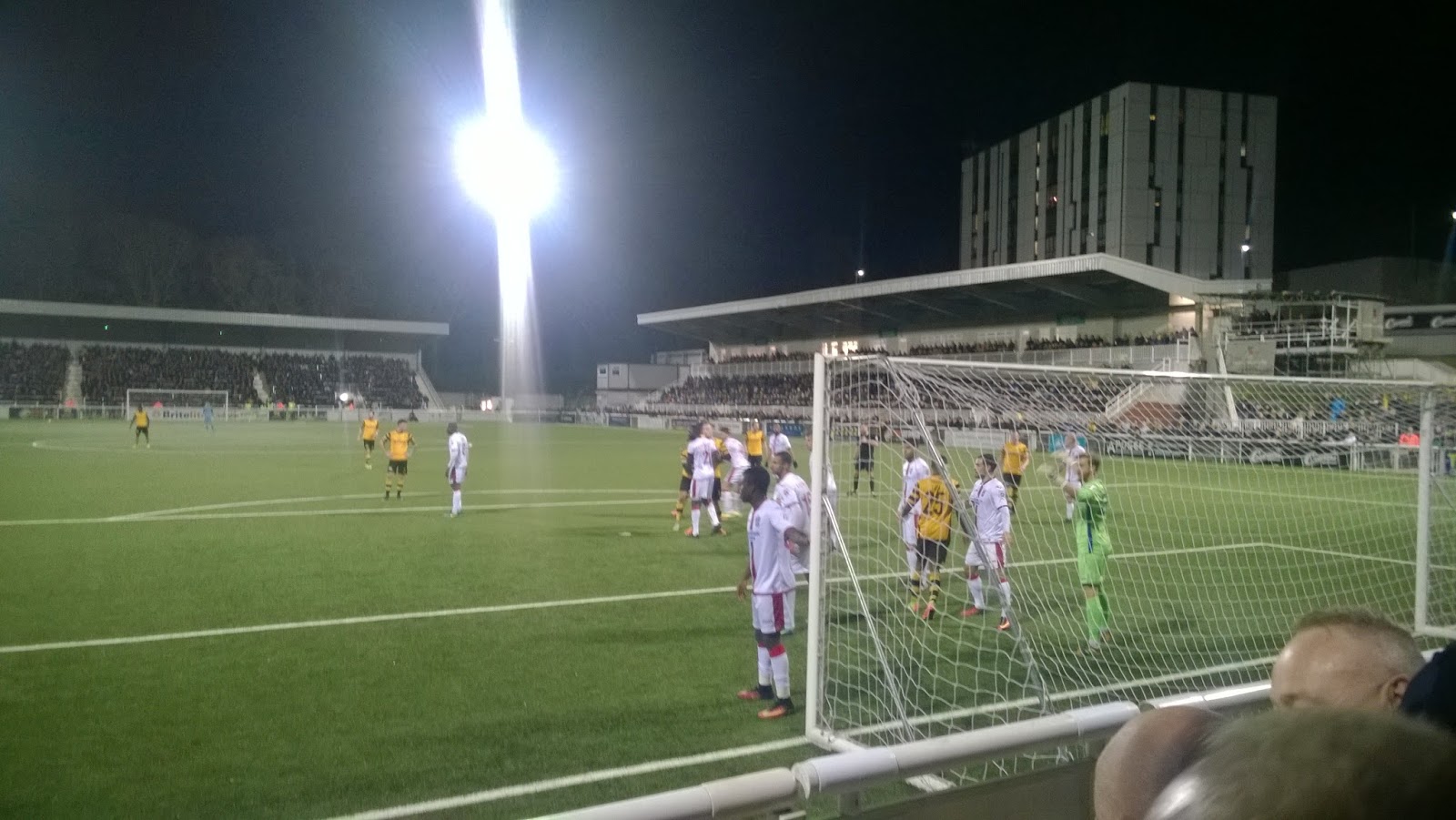 Defending
I don't remember where we've had this ref Whitton before, no doubt in the Conference South, but one incident summed up his rather erratic performance to say the least. At one point Bailey takes one to the head and go down. Now rightly or wrongly, the laws state that if it's a head injury the game must be stopped. And did he? Did he fuck! Two minutes we waited for the ref to finally stop the game. And that was only after several Maidstone players even tried to get his attention.
With ten minutes to go, Beckwith goes down holding his hamstring. And after receiving some treatment from Dr Bobby, its bye-bye from him as he hobbles off. And considering that we've already made our three subs as Jebb had only just come on, we now have to see a game out at Maidstone with ten men. And when did we do that before I wonder?
Moments later and Beckwith appears back on the pitch to finish as our walking wounded. Limping up front he stands around in the hope that at least Maidstone might use a player to mark him. The rest of the game fizzles out and both team have to contend with a point that will do us more favours that it does them. Loza once again tried to get involved with some attitude and even this time, Collins refused to acknowledge him as he clapped the away support.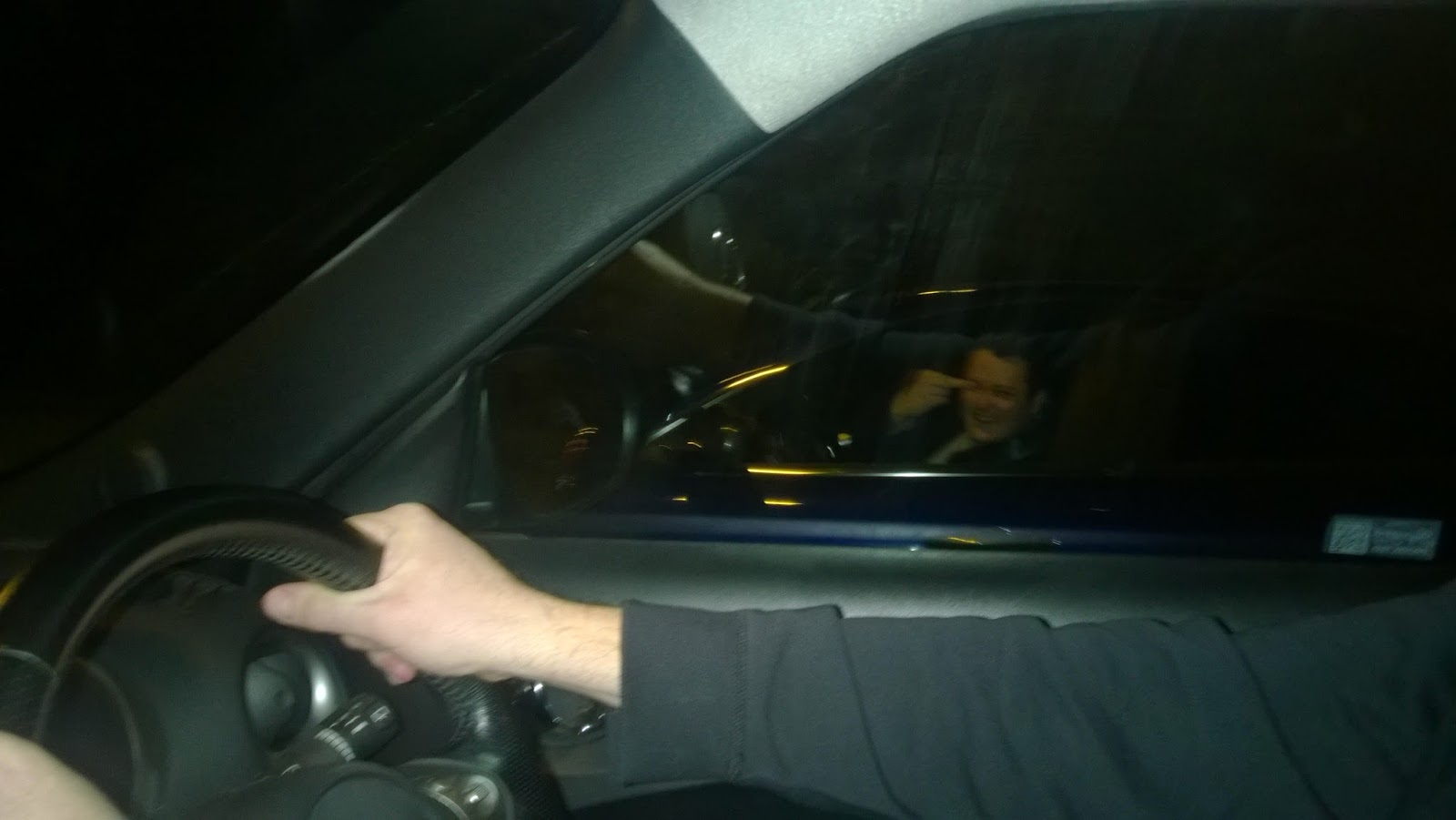 Road rage?
After the game we head back to the cars and with the announcement that the M20 was closed at the Maidstone turn off, other arrangements had to be made to get back to civilisation. Those in the Donna Rachele opted for heading North towards the M2, and we decided on the A20 towards the M26. So the race was on, and guess who won? No contest really, Let's just say that they only caught us at the death on the A217 though.
Arriving back home just after eleven was good enough for me. We all can now reflect on the one point from our last two outings. The clean sheet run away from home has already finished and we are still teetering on the edge. Even though I don't think we'll go over, it'd be nice to be clear of it a little more before the points really start to matter.
So we now move on to a couple of home ties. First up its North Ferriby on Saturday before we take on possible league winners Lincoln. Judging by the way things are with us, we'll probably fail to beat North Ferriby and then turn over Cowley's boys. Still it would be nice to see some goals from the boys up front for a change. And at least we can still smoke down the Lane!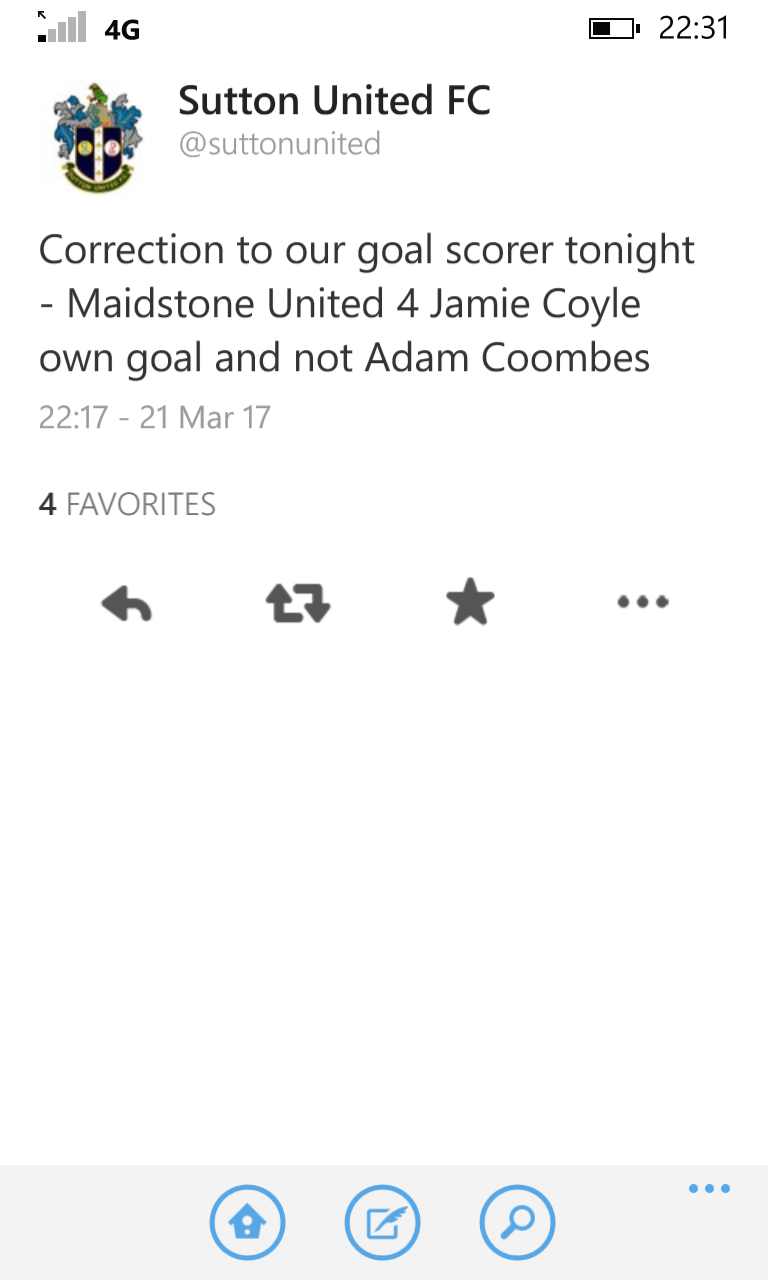 Clarification
Duke
Att. 2929