How's your luck, eh? Not for the first time this season (and probably not the last), our performance away from home doesn't reflect in the result. And in a results-driven business these days, that's all that matters. So with eleven games to go, Sutton were still a little short of the safety mark. Would a trip to Hampshire change all that? Well read on…
And don't worry our 'Eternal President of the Republic' Chairman Totts, there will be no mention of my bowel movements in this blog. Absolutely no mention of the brown trout, any straining of the greens, dropping anchor, laying a log, number twos, Richard the third, dropping your tail board, shit, turd, dump, jobby, poop, loose stool, following through, or even sitting on a cottage pie!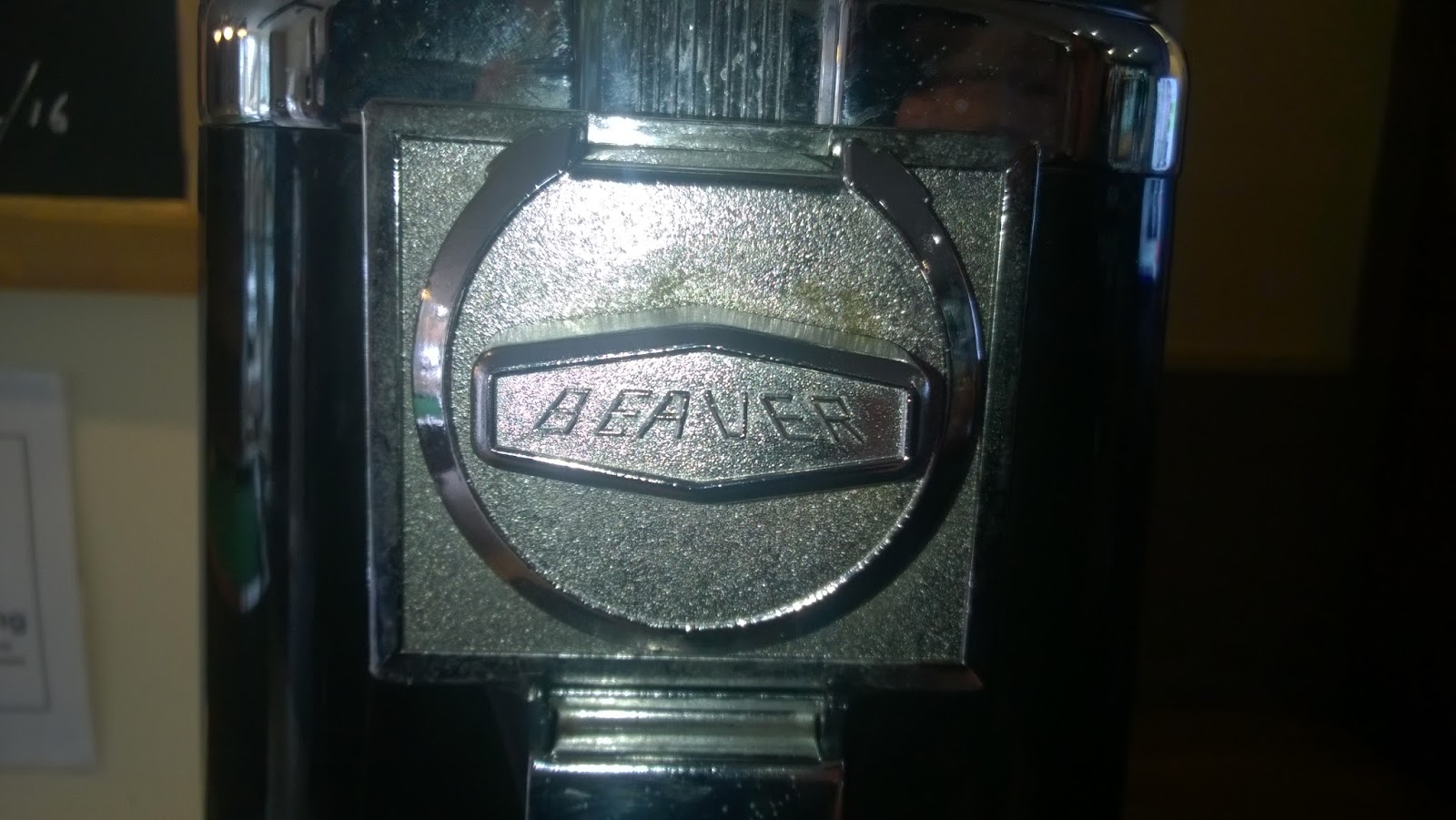 Beaver!
So what was the plan then? Well, taking our experiences from the FA Cup match last season, which you can view HERE (because I had to!), We once again decided on a little pre-match excursion to the leafy town of Farnham. A quick look at British Rail showed that a train at ten o'clock would get us there for opening time. Sorted.
With a simple plan of heading for the 09.32 from Carshalton. I casually did my usual shit as I headed towards the station. Getting a travelcard (especially after last time), I'm a little surprised to be the only one of The Firm at the platform. Eventually Taz does rock up and we jump on the train as it pulls up. On board, the usual boats of Sean & Indy who were supposed to be on the one before, but thanks to Southern that train was cancelled.
So not bad, four of us have made it then. Taz informs me that Mr X has taken the Loop, Southampton Steve would be there before us and even Dr Bell was meeting us there as he was getting an earlier train! So that left just 4 Days, Lil' Chris & Robbo on the MIA list. And we're still trying to locate Robbo now, not a dickie bird from him since his enthusiastic demand that he attend Aldershot away after the Forest Green match the previous Tuesday. So if anyone sees him, let Gandermonium know.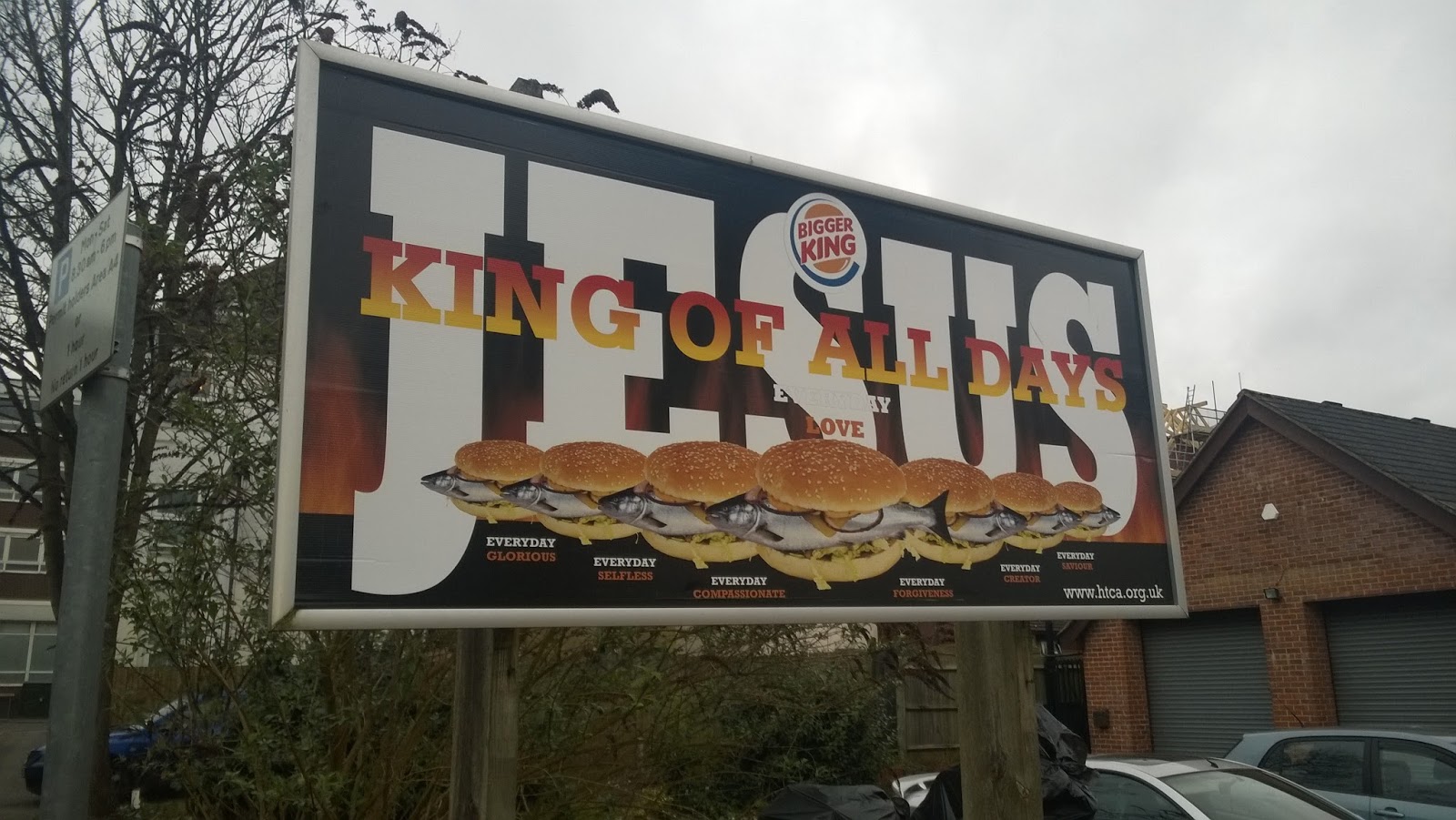 Have it you way at Jesus?
As we pull into Hackbridge, we are surprisingly greeted with an out of breath 4 Days and a very wet Lil' Chris. Turns out that when 4 Days arrived at the humble abode that is Lil' Chris' gaff, twenty minutes late I might add, Lil' Chris was still messing around in the shower singing Taylor Swift numbers. Not a problem except when you're due to get a train! So instead of dropping off at Carshalton they work out that they would have a better chance of catching the rattler further down the line. And they made it. Just!
Arriving at Clapham, we head over to the right platform and meet up with everyone else that was making the trip. The train arrives and we manage to bag a few seats. Sitting next to Dr Bell is an interesting endeavour at the best of times, but to be fair to him he did then produce a copy of the Weekend Sport that was gracefully read by a few of us and contained more tits than Carshalton's board room.
Eventually we arrive in Farnham and then we begin the short trek to the only pub open at eleven in these parts, The Lamb. Making it over the A31 without waiting half an hour for the lights was a rarity and soon enough we are having our first beer of the day. Oranjeboom. Yep, no cider, so wasn't given a choice really. Well it's a Shepherd Neame pub!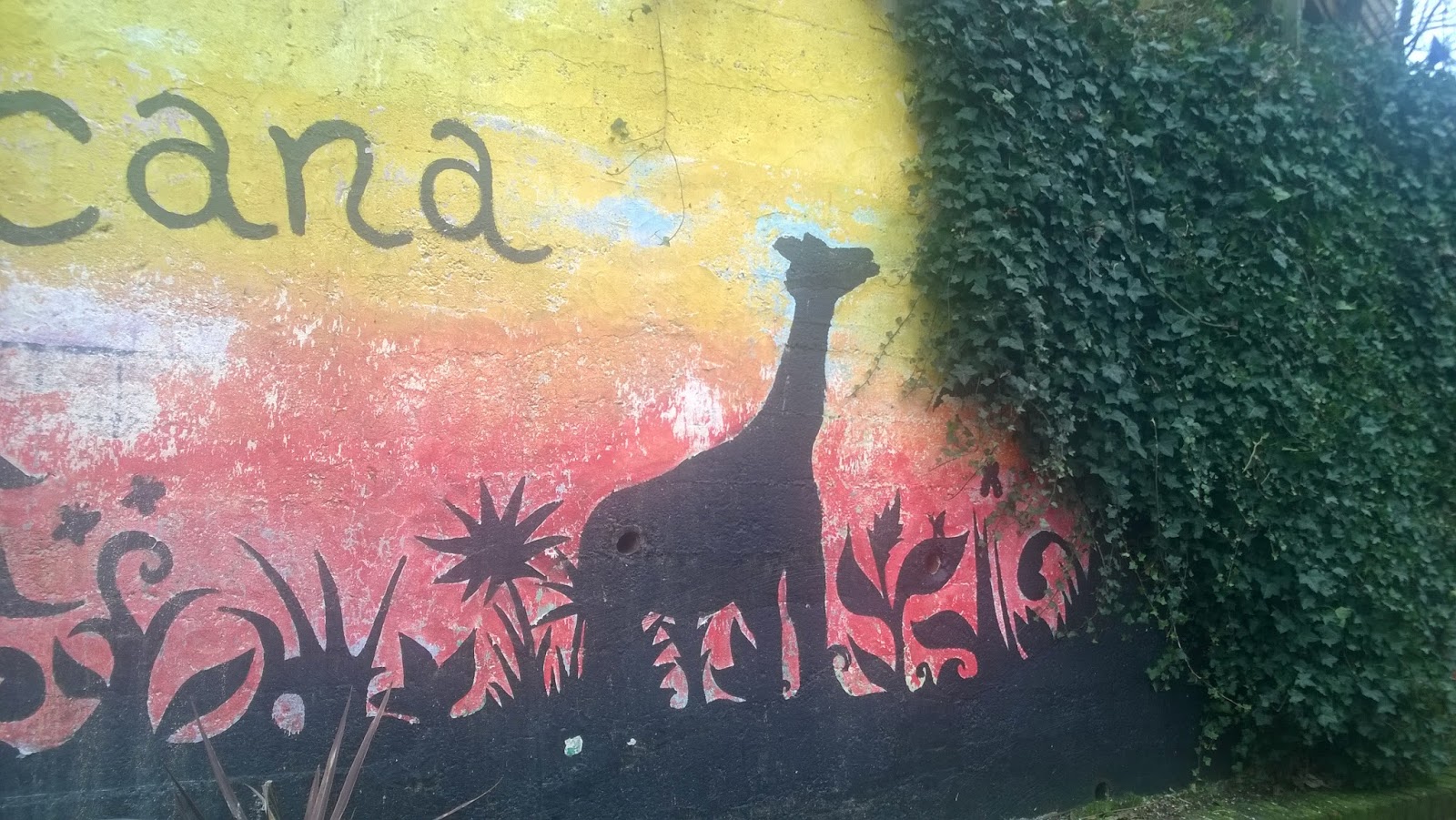 A Giraffe?, In Farnham?
Oh yes, The Lamb, a quaint pub really. Somewhere that you'd normally have two quiet pints in before somewhere else opens up and you forget all about it. But not on this trip, no way Jose. Because two separate incidents happened that well no doubt be remembered for at least a week I reckon before being finally forgotten.
The first wasn't too bad so i'll just put it in a quote for you:
"Southampton Steve got 7 balled by Mr X!"
Ha! Ha! 7 balled! He wasn't happy I can say. Especially given he plays the fuckin' game regularly! But we won't mention Mr X getting beat by Dr Bell soon afterwards though. The other incident was something more random. 3/4 into a pint, Taz goes to get something out of his bag that is next to one of those old sweet dispensers. Next thing we hear is a thump and a loud curse.
Appears that Taz has accidentally nutted the contraption. Still don't know how he managed to do it but he got a nice mars bar on his forehead out of it and a little bit of claret is spilt. Turns out that the manufacturer of the sweet dispenser is amusingly named 'Beaver'. So in a sense, Taz has cut his head on a beaver! Bet it? Beaver? Come on people, work with me here…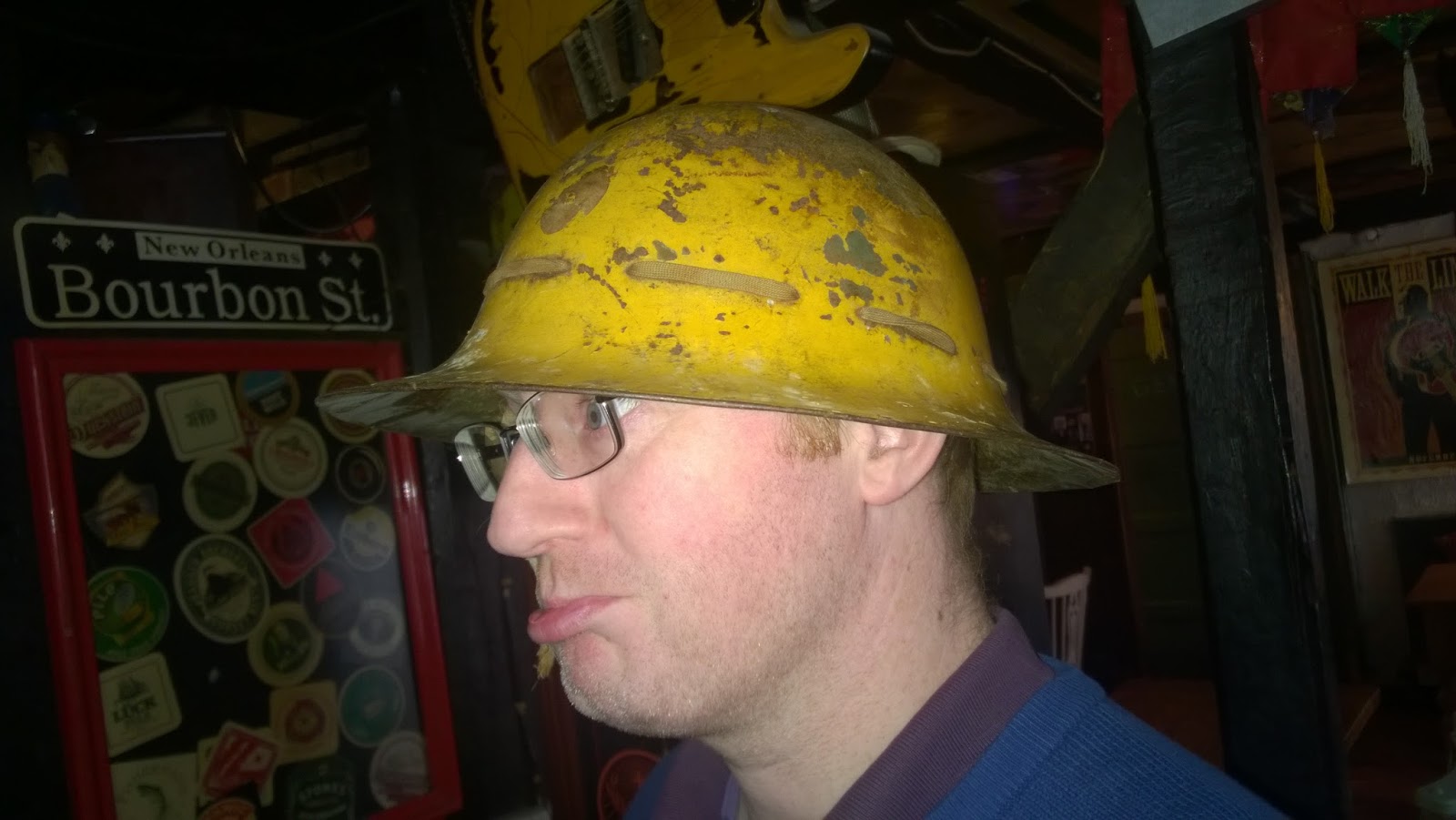 If only he'd worn it earlier…
Two pints down, and with Taz's bleeding stemmed, we make one of the longest journeys to the next pub. The William Cobbett (which we of course pronounced 'Corbett', in honor of Scott no less). It must be at least 20 yards away. We even tried to convince Indy & Sean to get a sherbet here, but to no avail. They clearly know what we're like these days.
Inside the place is a wealth of bits and bobs. Not only do you get photos & football tickets stuck to the ceiling. But also is a wealth of foreign currency. And despite coming from countries not in any of my atlases ('modern countries' as Taz calls them), most are known to one and all. There was even a Pac-Man table game in the back. Which 4 Days discovers he's still shit at.
Getting rather comfortable, some decide to have some food. Various wraps and sandwiches are ordered. One even with 'Miller Mayonnaise' on it, whatever that is. I personally plumb for a cheeky burger and that came on one of those poncy driftwood, bit of scaffold board things that all the hipster places like to use these days. What's wrong with a fuckin' plate?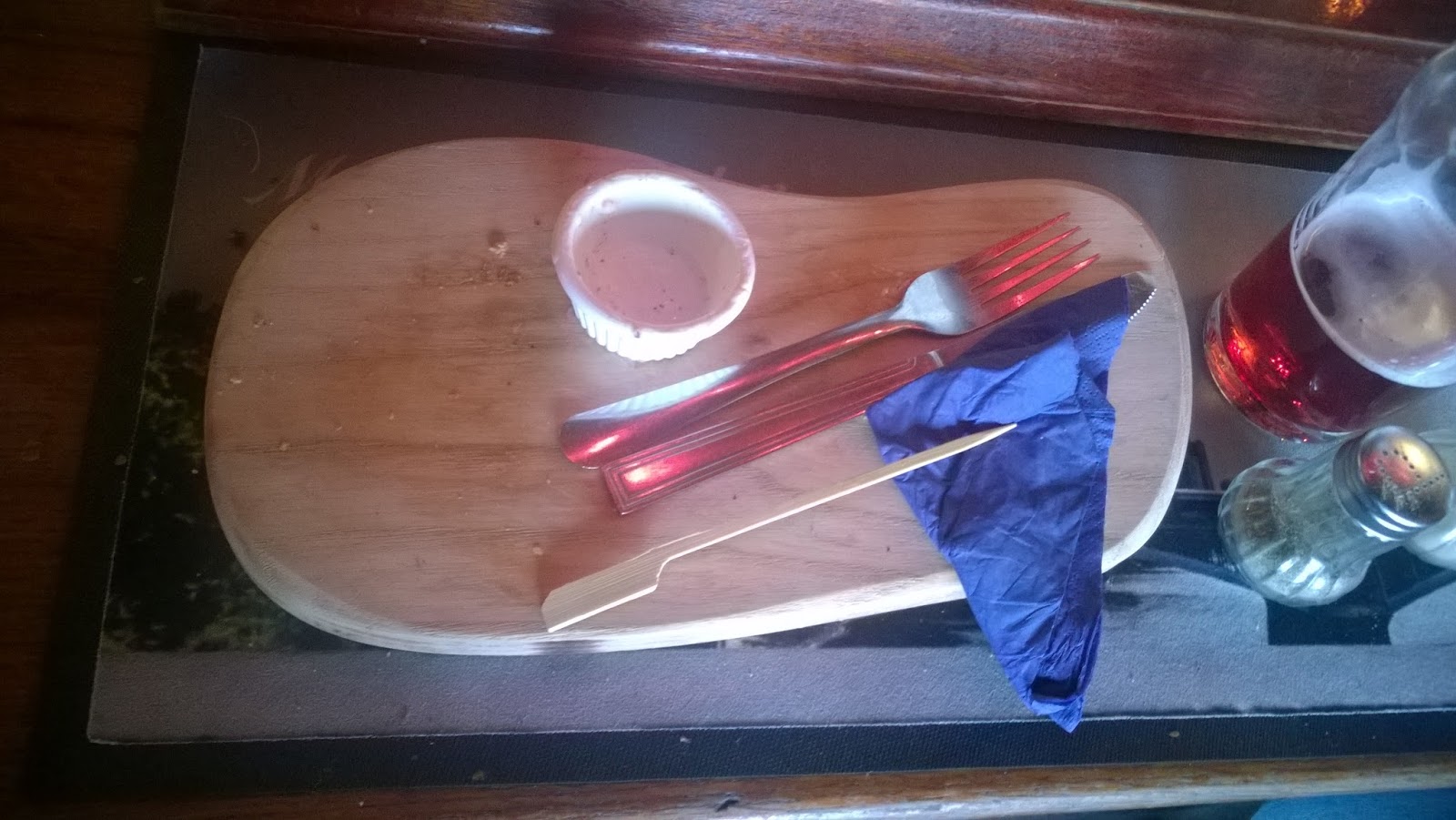 Hipster platescaffold board.
Still several pints later and we're joined by 1-2 others that have made the trip to Hampshire, and already rumors are arriving that Aldershot, once again, are only going to give us the little bit of seating. You know, the little bit they tried to fob us off with last year before realising that we'd brought more than enough travelling support to warrant the terrace being open.
That would also be the time they also announced less than 200 travelling supporters, despite there being over 250. hmmm. Cheeky buggers I think. Having a beer on the strength of it we discuss all manners of topics that escape me now. personally I was having fun just watching the young bar staff fail miserably in trying to change the sign on the beer pump.
And this is where the plan unravels a bit as we forgo any other pub and decided to just camp here before heading to the station. The train at twenty past two was good enough and it isn't long before I'm taking a photo of the 125 pounder outside the station. And that's a Artillery 125 pounder, not the other type…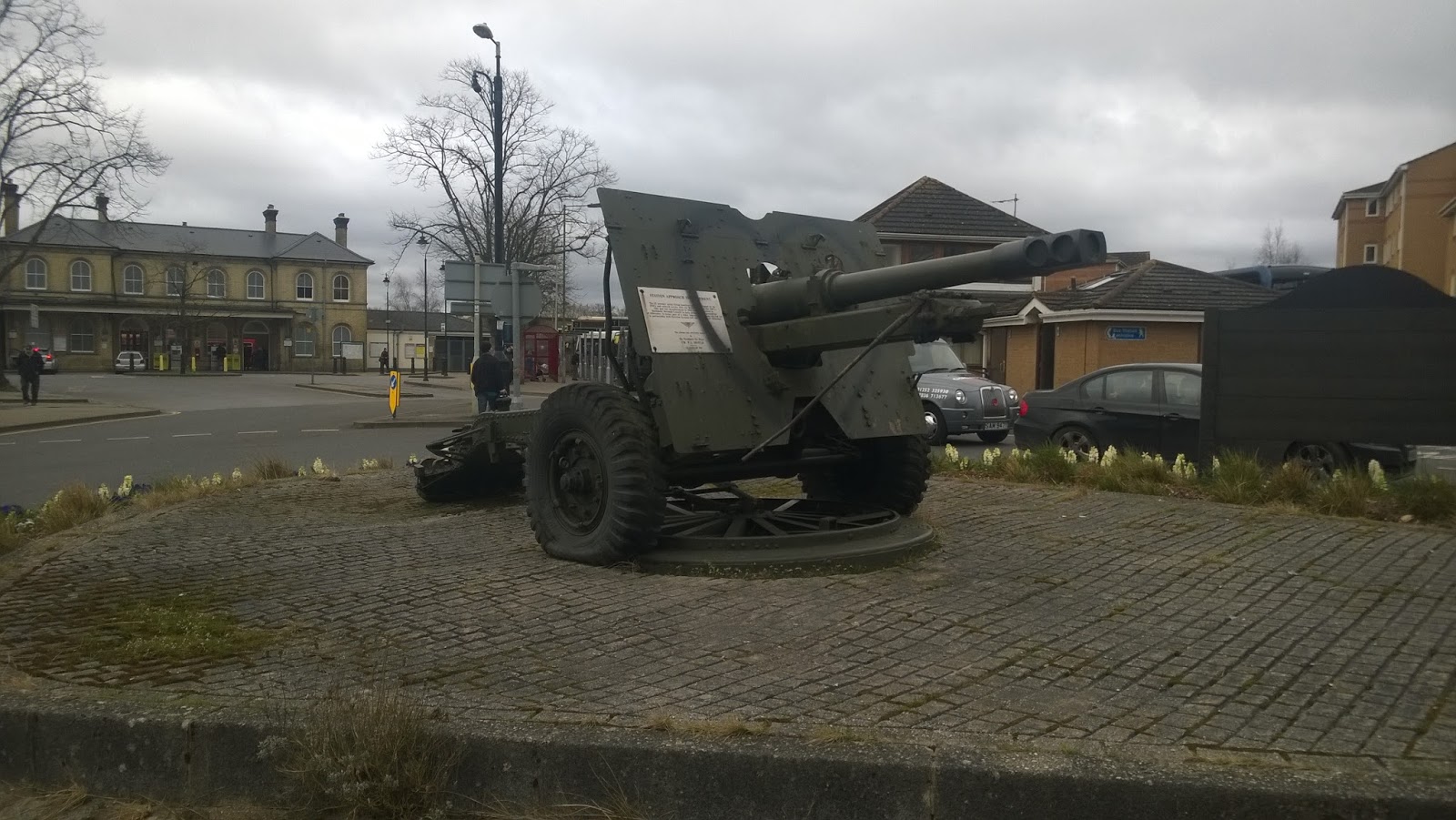 Big Girl…
The walk to the ground is interesting enough, and especially so considering that it appeared that on every lamppost was a York City sticker. And on every other one was a faded Sutton sticker. Still with a bit of time to spare, we get to experience segregation, Aldershot-style. Apparently away supporters have to use a particular turnstile even though they all lead into the same unsegregated area. Which is odd.
£17 to get in and you can't even have a bloody smoke! Seeing some of the stickers still dotted around from last year we head into the bar for a cheeky bottle. We are told that Aldershot have now opened up the terrace once again as they failed to realise Sutton's an hour away and we've got 1200 season ticket holders now. 216 apparently made the trip.
Taking our spots on the terrace we await the contest. A few were expecting a defeat, some were hoping for a draw, but no-one really thought that a clean sheet was in the offing. Seeing that we were going to shape up with one up top meant that the was going to be a lot of ball bouncing around in the midfield.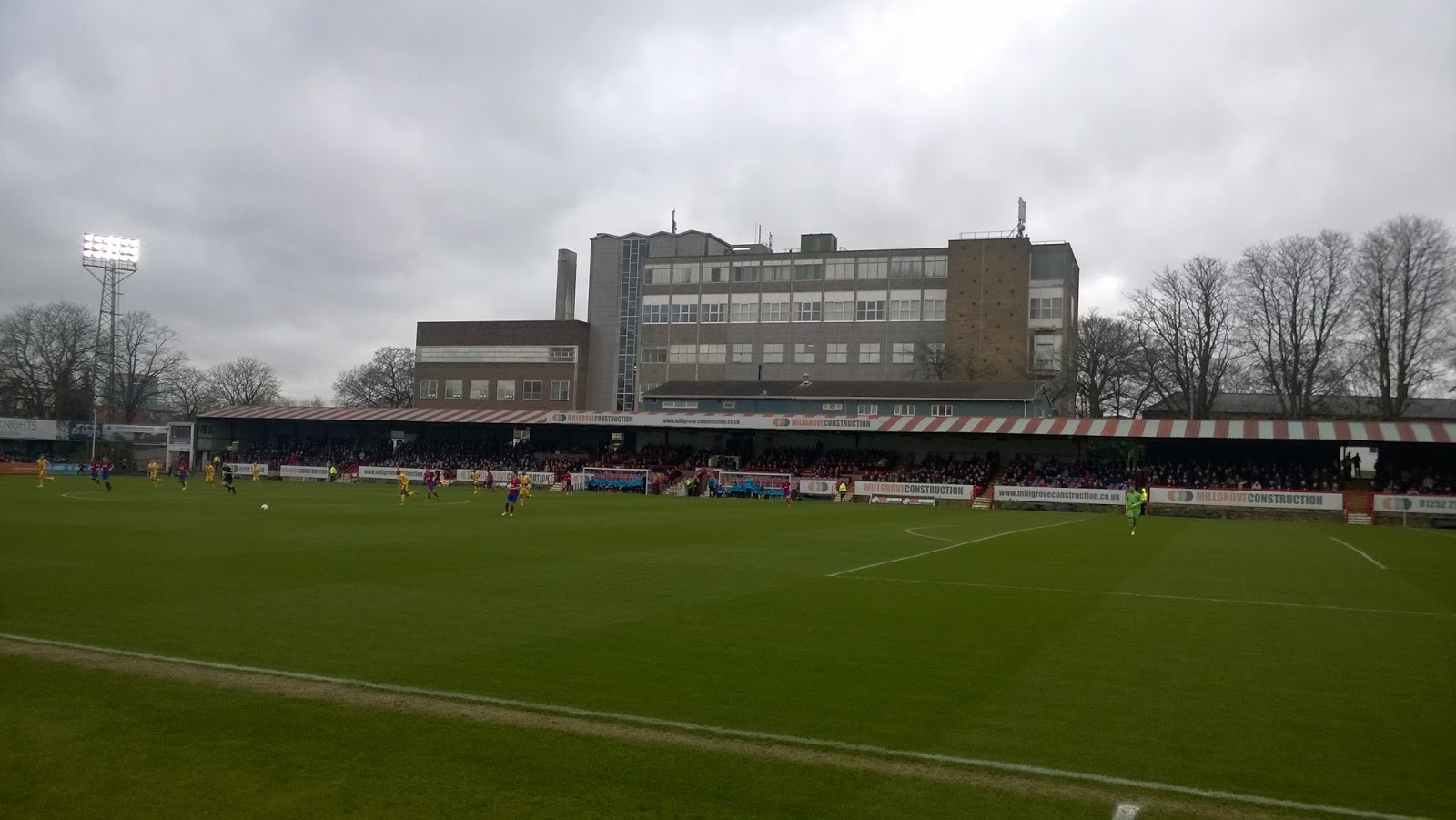 The beautiful sights of Aldershot.


Puddy, Downer, Beckwith, Collins, Bailey, Gomis, May, Eastmond, Cadogan, Deacon, Coombes. Bench Warmers: Amankwaah, Fitvhett, Dundas, Jebb, Biamou.


With a blustery wind heading towards the Aldershot goal, Sutton started the much brighter. Cadogan had the first real opportunity fro Sutton when he latched onto a poor short pass just outside the box, Unfortunately the keeper could see the shot from the start, and managed to smother it out to the right for a corner.
Next up was 'goalless' Coombes. Having chased onto a proper through ball from Eastmond all he had to do was slot the ball past the keeper. Did he? Did he fuck! This time the keeper closed down the angles and easily enough blocked the attempt. Beckwith was to have a goal disallowed after Collins had climbed all over a fella in the build up. Shame really, as it was a proper Solskjaer European Cup final type flick into the top corner.
Coombes had another half chance. This time he was in the six yard box. After a corner that was over hit, Downer managed to head the ball back. Beckwith tried to get his head to the ball but missed it and it bounced up at Coombes. Trying to give it the roundhouse shot, his attempt was blocked by one of the three Aldershot players on the line.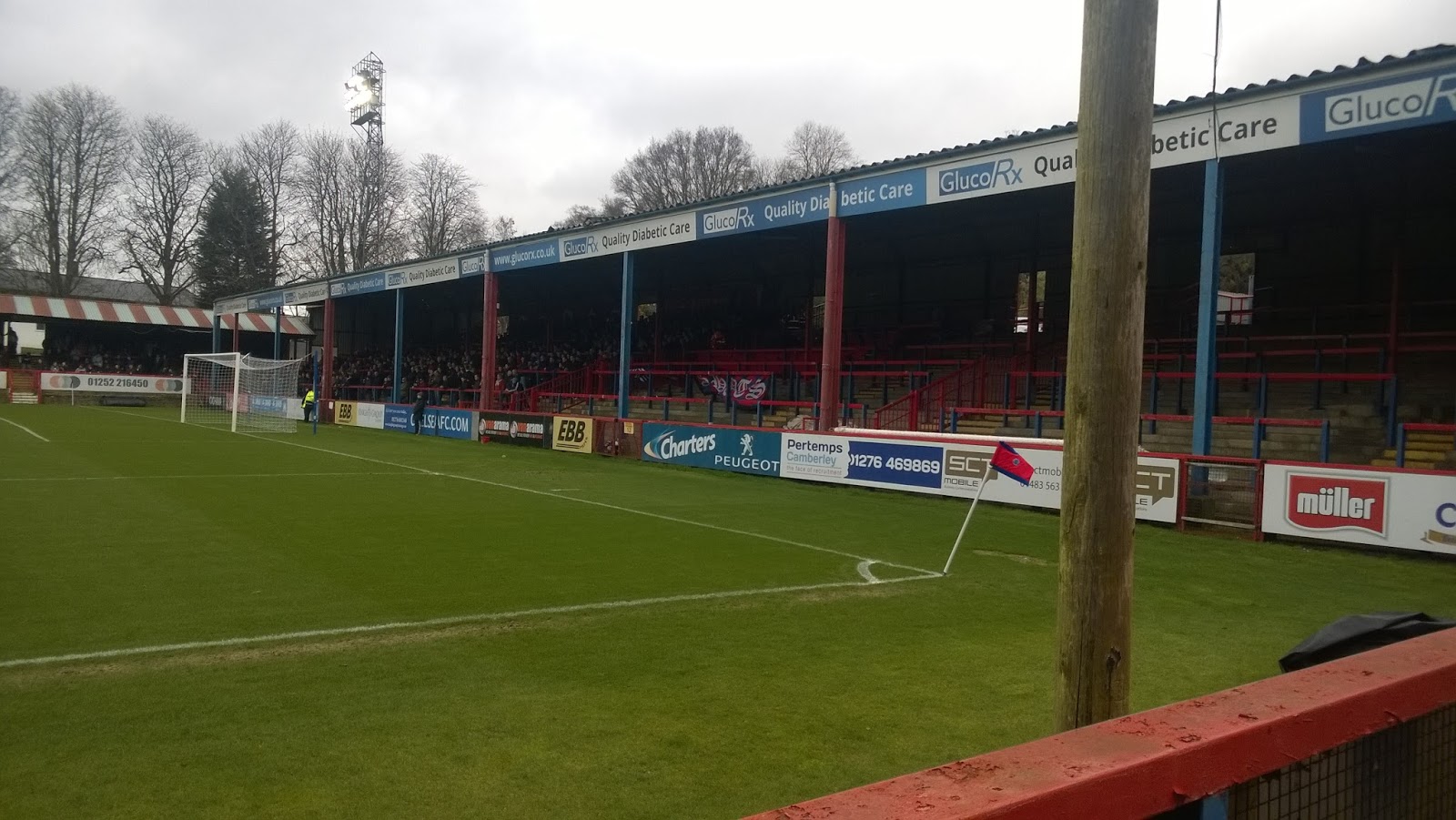 Can you tell we were segregated
By this point, Puddy had done precisely fuck all throughout the half except watch us attacking up the other end. And with time fast approaching the break, we were lamenting our missed opportunities. A Downer cross was easily dealt with by an oppo player. He plays it out to the left and then several passes later it's getting very close to our own box. Beckwith fails to intercept the final ball and we watch as Puddy is called into action with a save low to his left.
But this wasn't the end of the drama as his save had just deflected the ball across the six yard box. Now it was a race between Bailey and his marker to see how would get there first. Needless to say Bailey wins and attempts to clear the ball back to where it came from. Out of no where it suddenly seems to whack Puddy in the hand and flies back into the goal.
So despite being on the attack solidly for near on forty minutes of the first half, Sutton are once again heading into the changing rooms at half time one goal down. Gotta feel for the team sometimes and especially the travelling supporters. And more so the poor fuckers that have to go all the way back to the turnstiles to just have a cigarette at half time!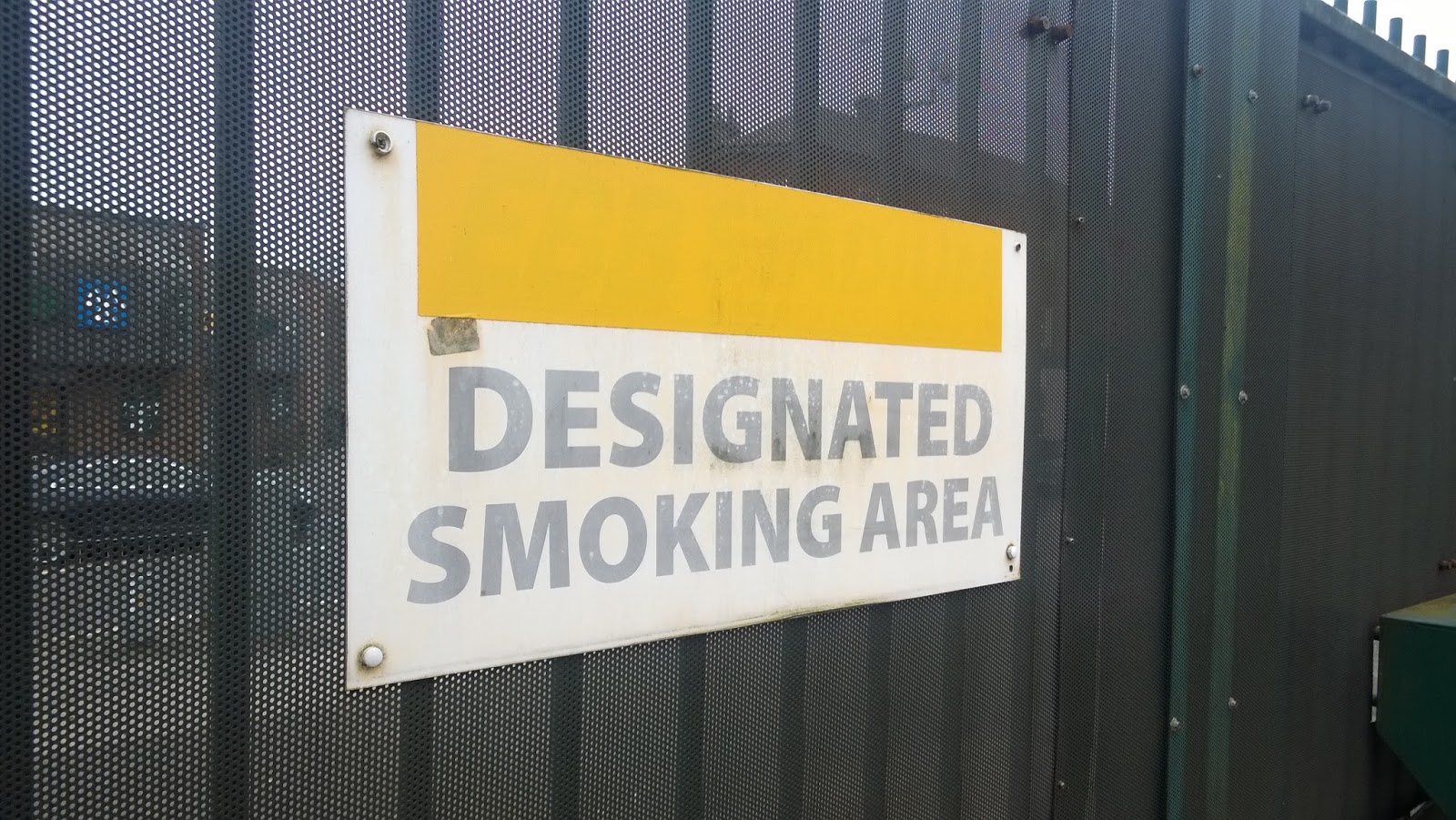 So unfair…
Second half and it's much of the same, except for the chances. Cadogan was guilty of scuffing a shot wide when it seemed a lot easier to hit the target. At the other end, Puddy was called into action for several half chances that came his way. Gomis managed to pick up our only yellow for another very French display of dissent. Zut alors! Still, better than the Aldershot yellow that happened for dissent after they'd won a free kick!
On the hour mark. May is replaced with Biamou, and finally we have two forwards in attack. This was a time for a bit of Sutton pressure that resulted in us once again getting the ball into the back of the net but again it's disallowed thanks to the raised flag of the linesman over the far side. Who, to be fair, was a lot better than the idiot in front of us who didn't have a clue.
Downer was subbed for Amankwaah and shortly after Coombes is exchanged with Fitchett. Yes, Fitchett still plays for us it seems. We were to get a final chance when Beckwith met the ball inside the six yard box totally unmarked. Except, his reaction was to sky to ball so high over the bar that I think that it's still in the lower atmosphere somewhere.
Near the end of the game we start to stretch out a bit and finally we are caught out at the back. With only Bailey & Beckwith covering, its three against two and it isn't hard to play the ball around them and leaves the fella all alone in the box to kill the game off in Aldershot's favor with a scuffed shot past Puddy.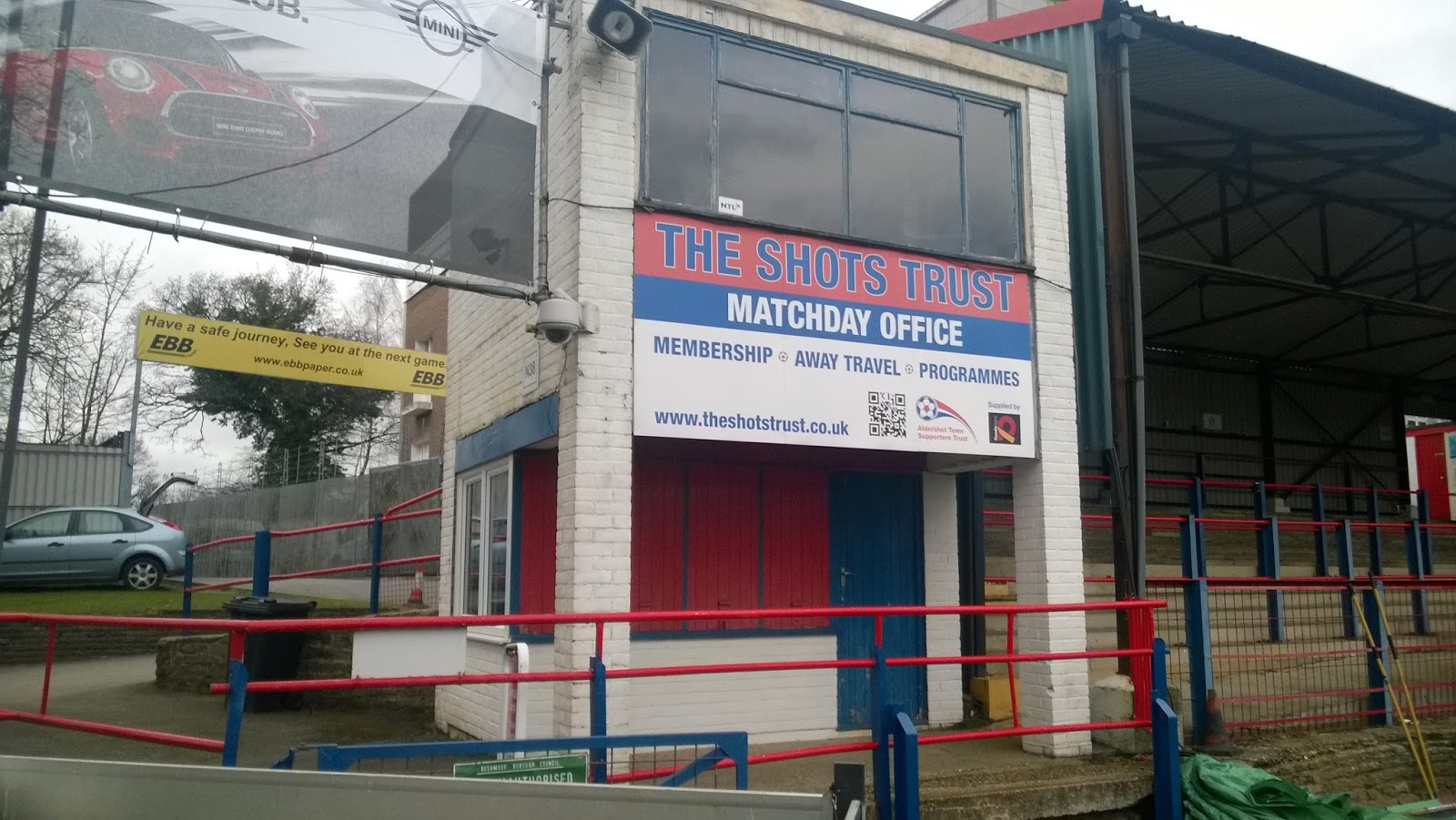 Big office…
So our run of clean sheets away from home in the Conference lasted about as long as most of us expected. Still, we had plenty of chances to get something out of the game again. Personally, I would've gone a bit more 'old skool' at the end of the game and had my big lumps team up against their lot, but in Dos we trust.
We head into the bar to see the results come in. So instead of a Tranmere v Lincoln Amateur Cup FA Trophy we've got York v Macclesfield. Don't worry Lincoln, we know what it feels like to get knocked out of the FA Cup & Amateur Cup FA Trophy inside a week! K's also manage to not finish in the relegation spot this week, which is a shame. For ourselves we're still six points from the drop. Ain't you glad for home games?
With The Firm Leader having a second birthday, perks of the FUN-employed I guess, we are required to show our faces in Balham. Yes Balham. Fuck knows, Balham. This means we still have time for a cheeky pint by the station and are also joined by Pete, I remember this now because we somehow managed to take the wrong route at the station and nearly wound up on the other side of the track and not on a platform.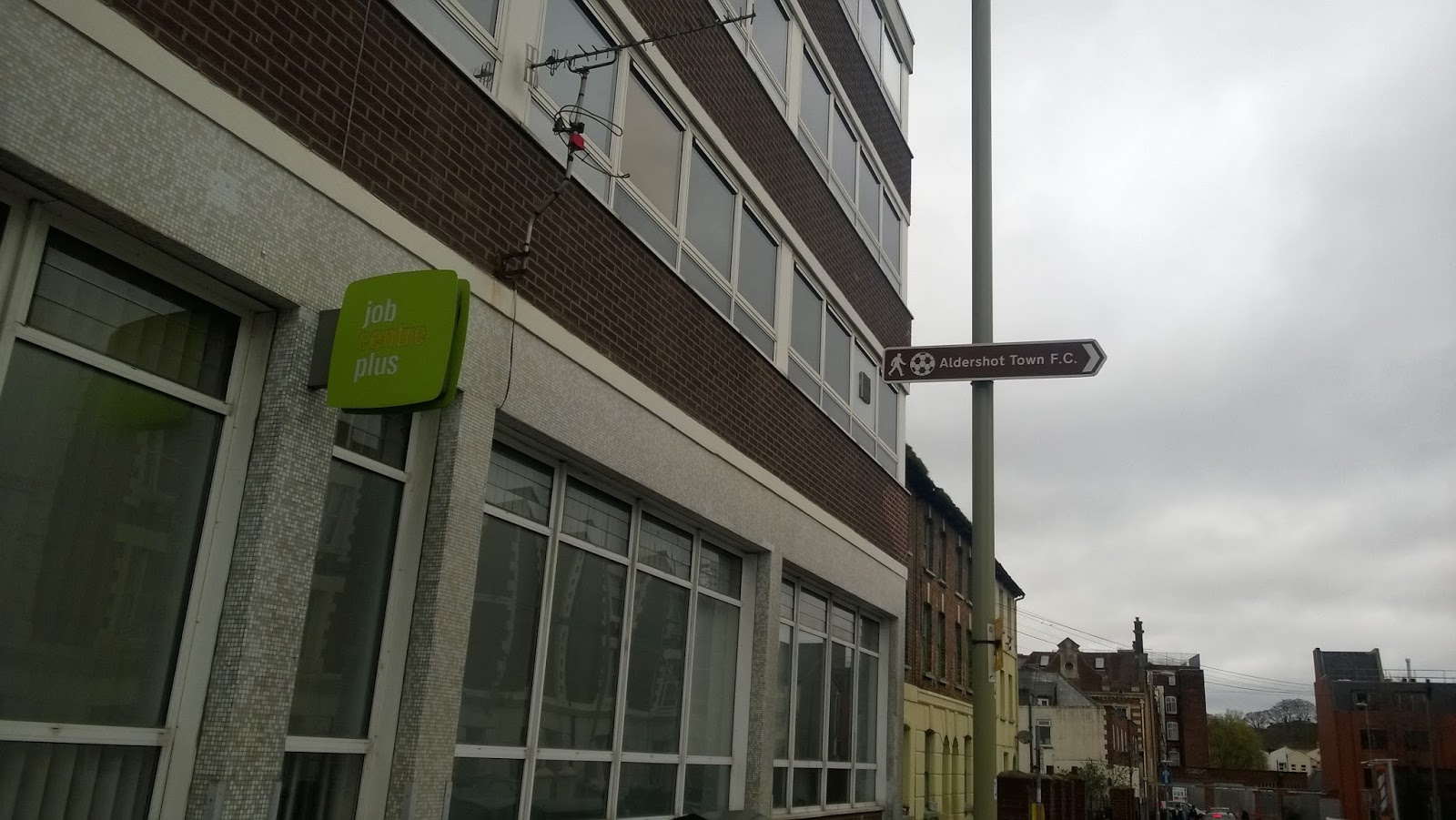 Football & Jobs
Taking the opportunity fora cheeky kip to recharge the batteries, we are soon in Clapham. Indy & Sean take this opportunity to hit up the Falcon old school style as the rest make the one stop to Balham. Taz & Dr Bell decide to swerve a night in Balham and elect to remain on the train. Taz at least has the excuse of a major headache. Can't think why! The rest meanwhile have to make way for The Firm Leader's choice, The Exhibit!
Wow, what a place, if you like that sort of trendy, hipster, skinny jean, over-priced, middle class sausage fest, than this is the place for you my friend! Can't say it's my cup of tea but I manage to bear it for as long as I could before calling it a night around eleven. And that was longer that Chalmers did, despite the fact he didn't even go to Aldershot in the first place.
So we move onto a midweek trip to Maidstone. It's a full fixture that night so we're get a good look at what we need to do for the rest of the season. With ten games to go our home form will no doubt keep us up, so North Ferriby on Saturday is probably bigger, but a cheeky win in front of another record crowd would go down a treat!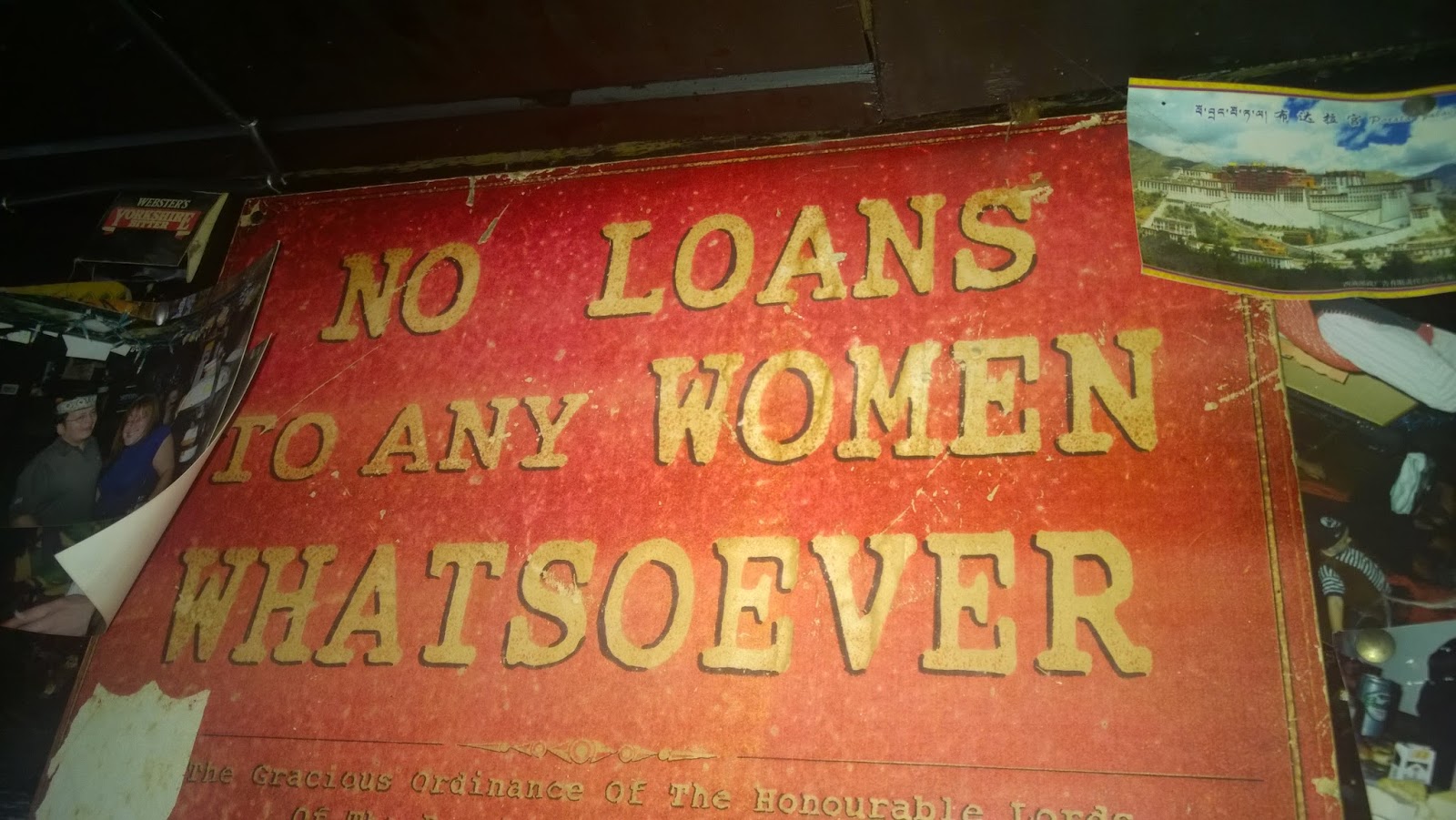 Trust Duke to snap this…
Duke
Att. 2197