So, having failed to catch our train to Switzerland on Saturday by falling to another away defeat to a rather mediocre Woking side, we instead had the simple task of travelling all the way to Liverpool to face Tranmere to bag those 3 points which would all but confirm National League football next season.
Unfortunately, Tranmere are a bit betterer than Woking. A lot betterer in fact. They're second going into tonight and looking to chase Lincoln hard for the title and when you combine this with our away record, which as we may have mentioned previously isn't the best, this was going to be a big ask of the lads. So much so, I think most of the travelling hordes would probably have already written this one off as a loss and were looking towards the home game against bottom side Southport on Saturday.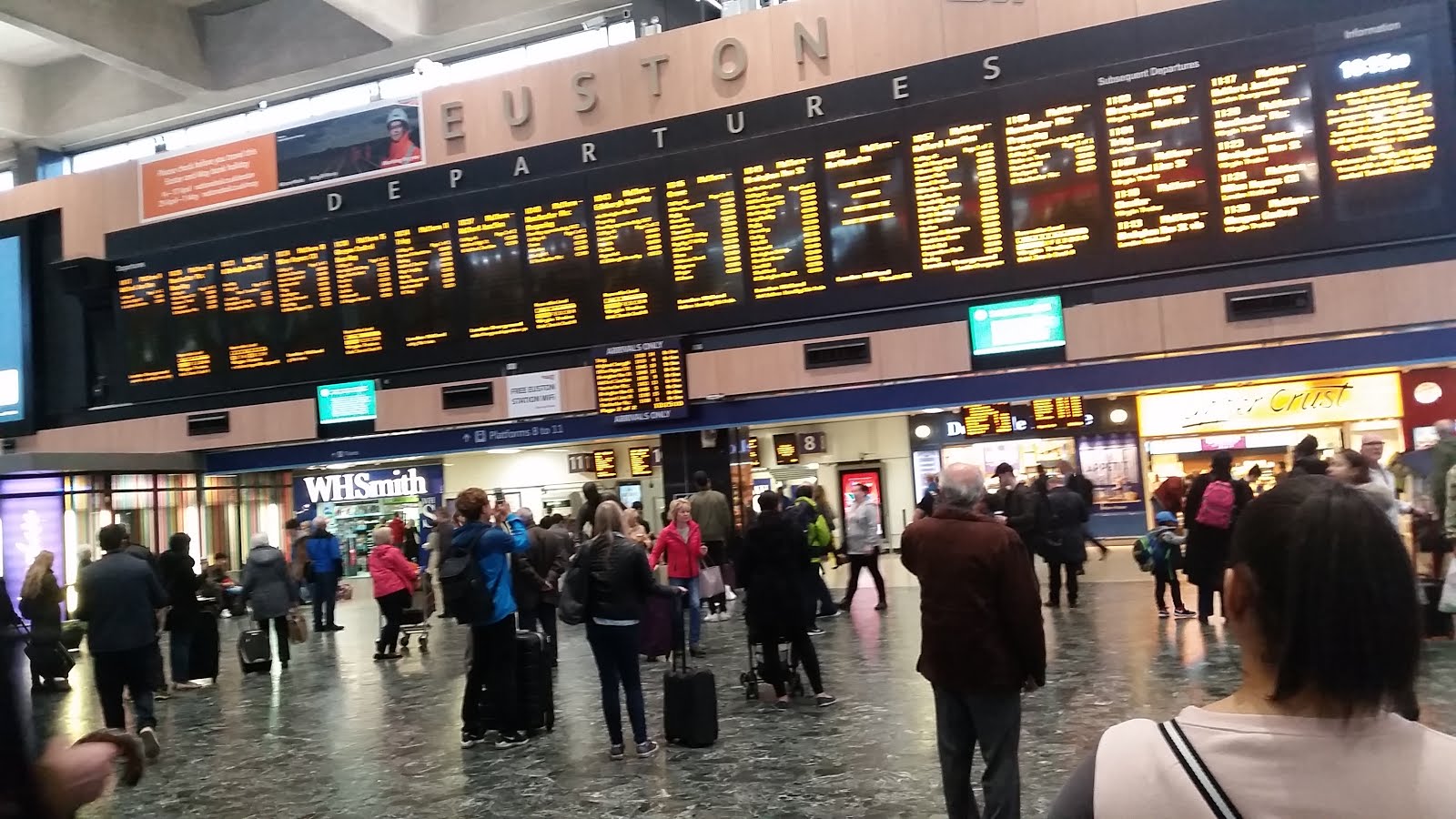 Platform patience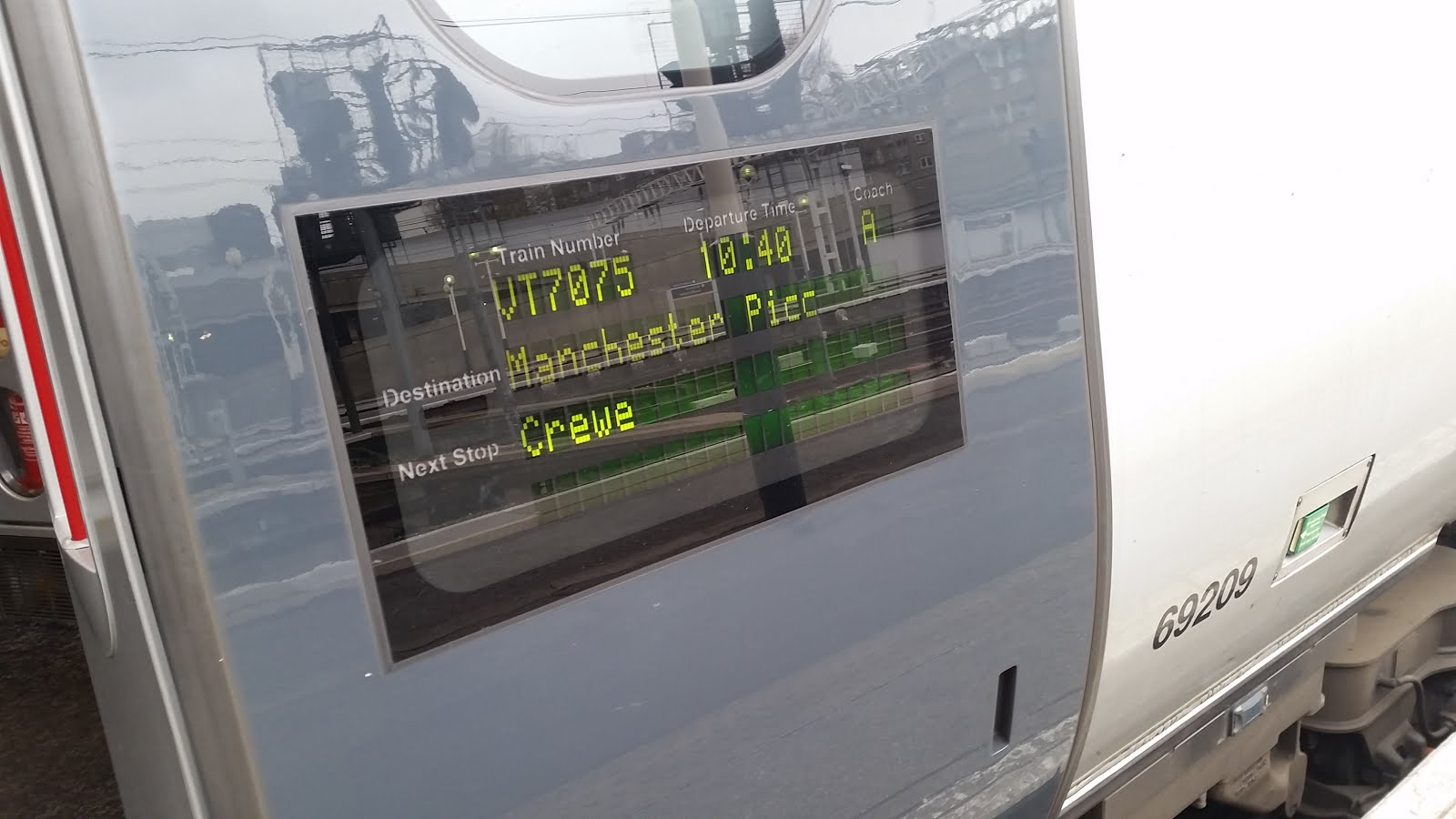 Destinations
Originally, this game was scheduled to be on FA Cup 3rd Round day, which we always expected to be re-arranged if we're honest, just not because we were the side in 3rd Round action rather than Tranmere! Despite the midweek rearrangement, the general feeling was we'd try and do an overnighter anyway due to the distance involved and the fact we'd barely scratched Liverpool's surface on the Southport trip earlier in the season. However, with time off and wonga at a premium so late in the season, most of us decide otherwise with Mr X deciding to 'do a Guiseley' and drive up and back on the day.
My own plan was still to stop over however. I'd got the 2 days booked off and with the new date right after pay day, it should be doable. Sadly, when said payday arrived, the cost of a return train ticket was the more than two flights for myself and the missus to Benidorm in May. And with digs on top, it was easily a case of 'another ton done son' (as Dukey might say) before you've so much as had a pint, let alone paid into the football. So in the end, I give it bollocks and decide to make a day of it.
With a single fare booked via Crewe and a seat reserved in Donna with Mr X, Dukey & Greek for the trip home, I was all set and I was out the door of HQ at 9am on my way to get a train north just before 11 from Euston. Things go swimmingly and I'm on the concourse of London's gateway to the North West in plenty of time. Wandering about getting provisions for the journey, I'm reminded what an absolute shit hole Euston station is. Even when I was a kid and we used to head up to Manchester to see the relatives at Xmas, I remember it being far too small for the job, dingy and utterly depressing. The design being so miserable, it would make a Soviet-era nuclear bunker designer green with envy.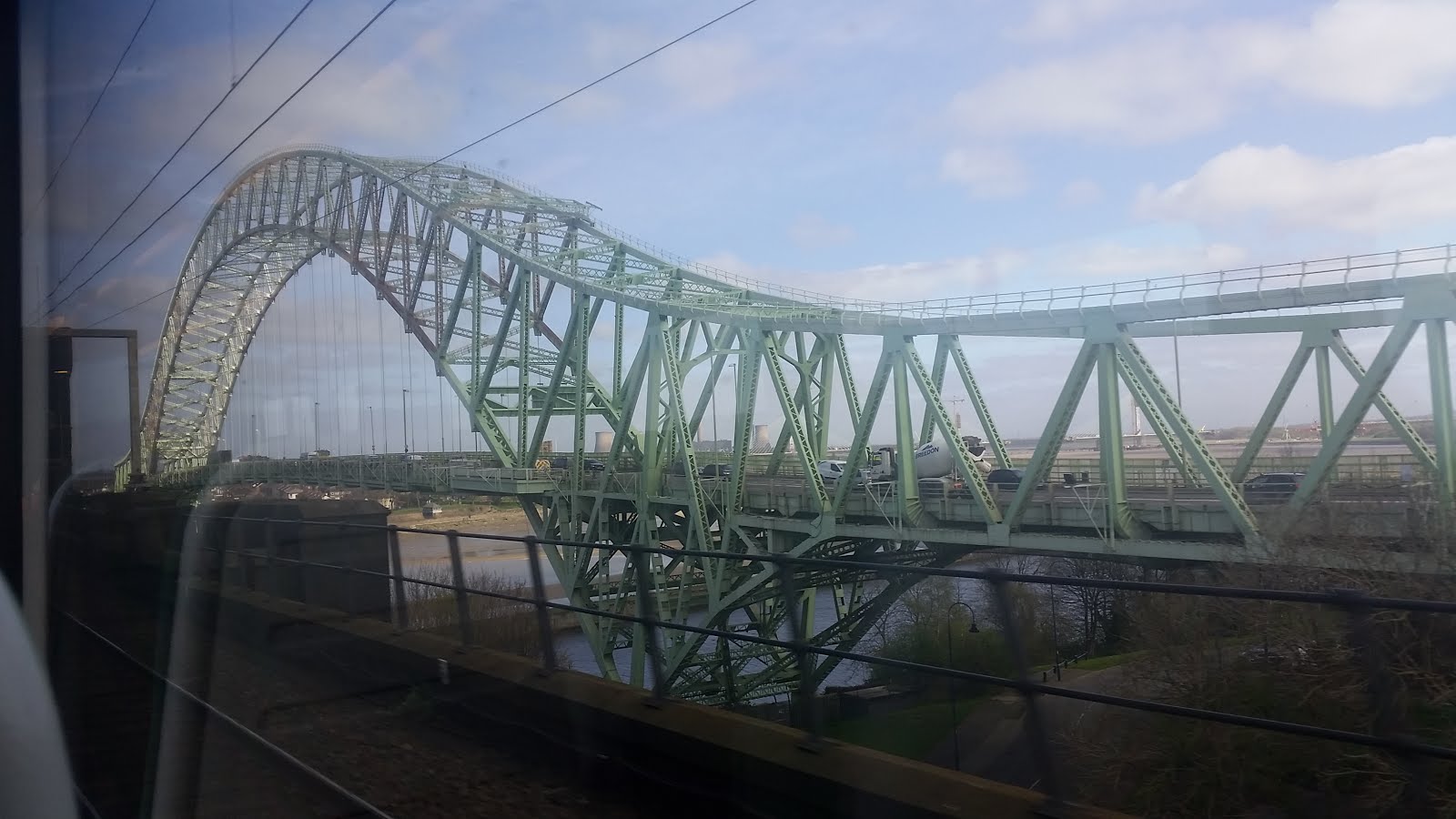 Fuuuuckin' Runcorn…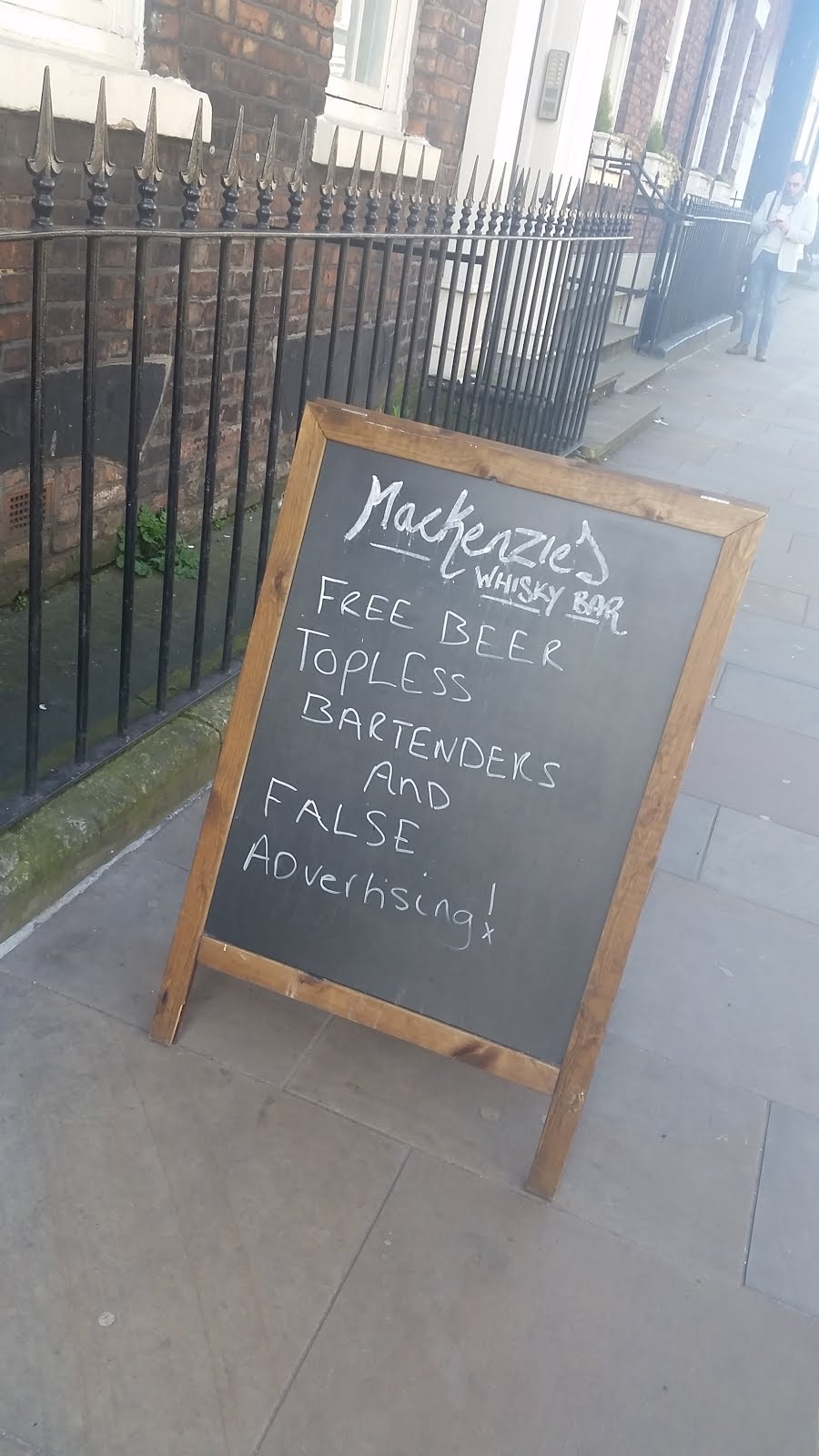 Funneh pub board
Food sorted, I await a platform for my train. And when it's up, I head to Upper Crust for a cuppa. Thankfully this one is slightly more well staffed than the one Mr X encountered on Saturday at Wimbledon, mostly as this one actually has staff. A pint of tea is obtained, but not before the usual "Got any change mate?" types have bothered me as I queue. Now, don't get me wrong, I'm usually a soft hearted sort in these cases and tend to divvy up a bit of loose change. It's no big deal to me. This one bloke though is a right pisstaker. First he asks for 50p, then before I can answer or see what shrapnel I have, he's upped his offer to a quid, no TWO quid. Actually, buy us something will ya?
Slightly miffed, I meet his opening gambit and bung him 50p before I head for Platform 13. Which of course, is a wonderful omen I think you'll agree! Naturally, I'm at the furthest carriage away from the barrier, so having walked pretty much to Watford, I finally get my seat. Which is in the quiet carriage. I chuckle to myself and thank my lucky stars I'm soloing this one, as I'm sure the usual awayday mob would have caused a fucking riot in here after about 10 minutes. Of course, my little chuckle draws some evil looks and a few shushes from fellow passengers. Pricks.
The journey to Crewe is easy. I finish a book on my kindle and discover that despite really liking tea, I can't drink a whole pint of the stuff before it goes cold. Hopping off, I locate my next platform and am given a little reminder of a previous visit on the way there, spotting a 'Lets all do the Binnsy' sticker on one of the signs. Thus I obtain another cuppa for the second leg with a smile on my face. The next train is on time and having got over a serious PTSD attack as we go over the Mersey at Runcorn (You weren't there maaan, you weren't there!) and I'm soon edging into the subterranean entrance to Lime Street. It's a bit Bond Villan-esque, so I can see probably why the current 007 is a Scouse Red. I've 10 minutes to kill here before the rest of the mob arrive, so having marvelled at the creepy statue of Ken Dodd on the concourse, I await the Virgin direct service at Platform 7.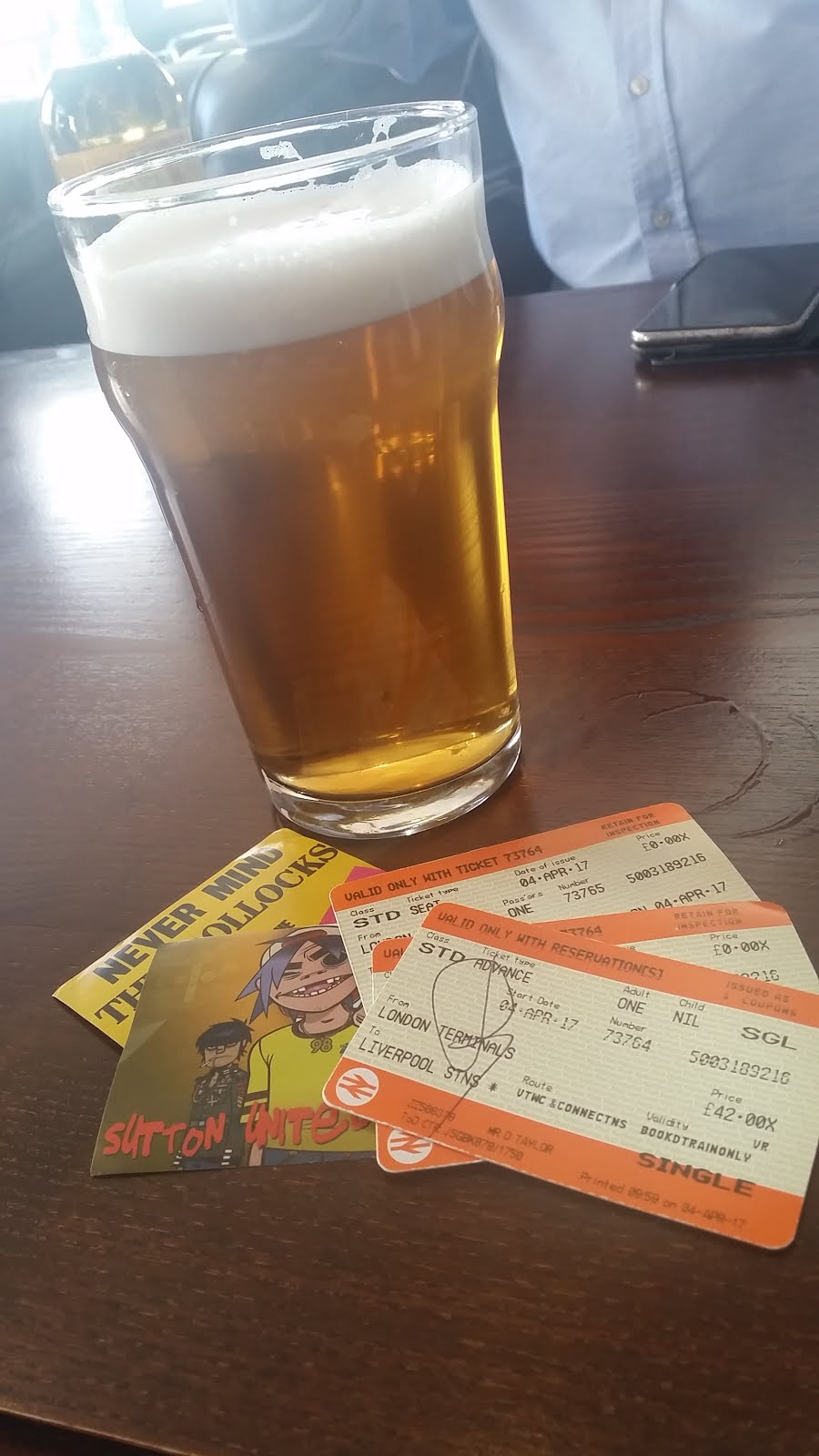 Hashtag Awaydays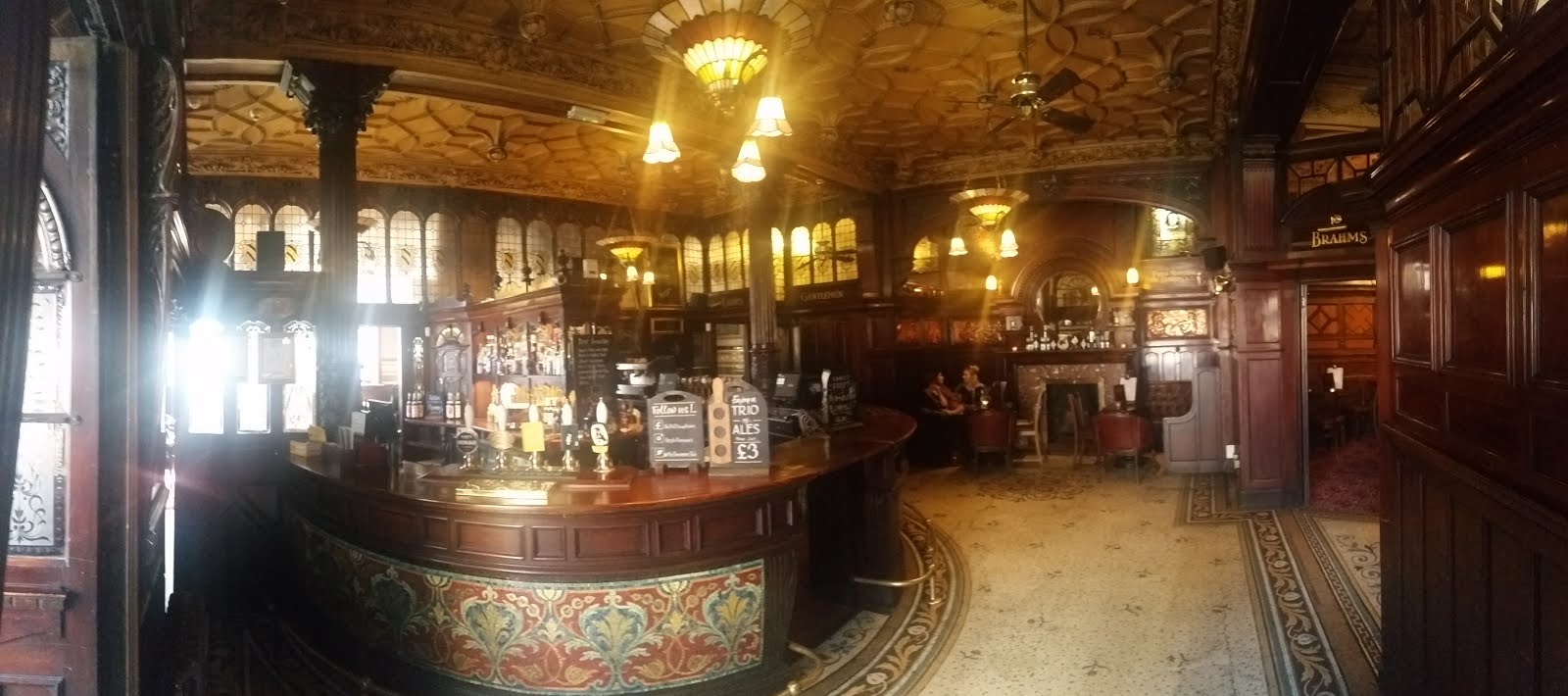 Lick of emulsion wouldn't hurt….
A few familiar faces tip off and I'm soon joined by 4 Days, JR and Aleman. Indy and Sean Connery are also in the mix, but they dart off to their overnight digs to dump their gear whilst we and a mate of Aleman's head for the new Spoons opened in the station. Here over a pint in opulent surroundings, we discuss our next move. In the end we decide to head to the Roscoe Head, a tiny old school little boozer that's down the most back of backstreets. Here we enjoy a pint whilst chatting football with some locals. Next is Mackenzies, which has a rather slippery khazi floor and traps that are raised a couple of steps above the floor level. A death trap basically! Here JR heads off for a meeting with a client whilst we hit the next stop. The Philharmonic. Here we find a rather understated gaff that could really do with a splash of Magnolia. Whilst here, JR texts a picture of a strip club he'd passed, rather unsurprisingly on Duke Street.
4 Days & I split from here leaving Aleman and his mate to try a couple more hostelries round here whilst we rustle up an Uber and head towards Albert Dock and hopefully some lunch. On the way, I spot some weird Pyramid in a churchyard. A quick Google reveals it to be THIS. We eventually hit the Baltic, but they've stopped doing scoff when we arrive, so we only stop for one before heading for the Pumphouse, an old building on the dock front. Finally fed, we find that JR's meeting is overrunning, so we decide to make a move and head over the Mersey. Or under it as the case proves to be, with a quick trip from James Street to Hamilton Square. Once on the right side of the river, we set about finding Gallaghers. A pub that also apparently doubles as a barbers shop. Nope, fucked if we know why either.
Here JR finally catches us up, as apparently his client had directed him to a bar called the Powerhouse after his meeting rather than the Pumphouse. Likely story! With time getting on though, we sup up and head for the cab rank outside the station. Somewhat annoyingly, the first motor in the rank is plastered in "Don't buy the Sun" advertising so we cover up our colours, slap on some funny non-cockney accents and request transport to Prenton Park.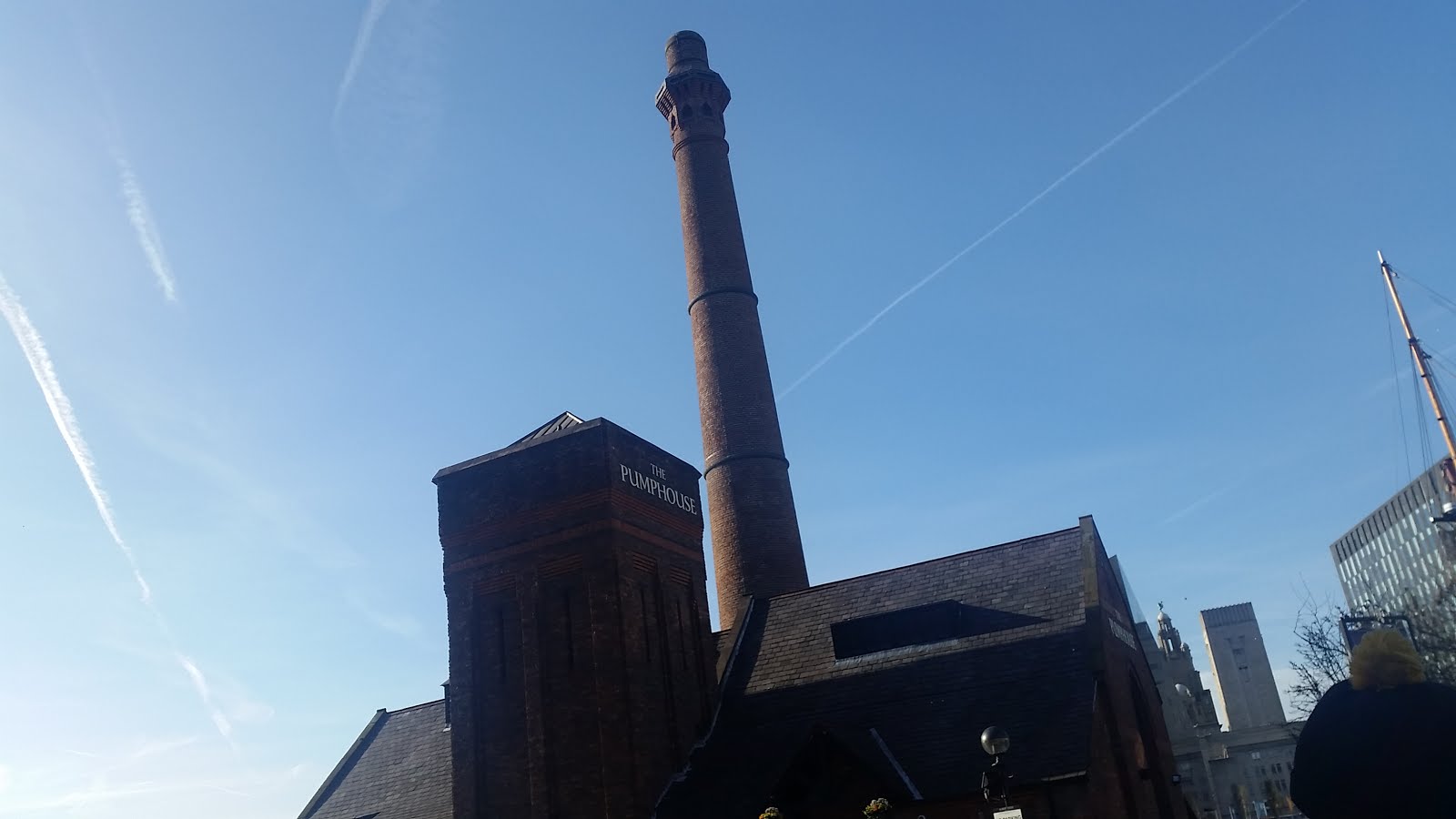 PUMPhouse, not POWERhouse…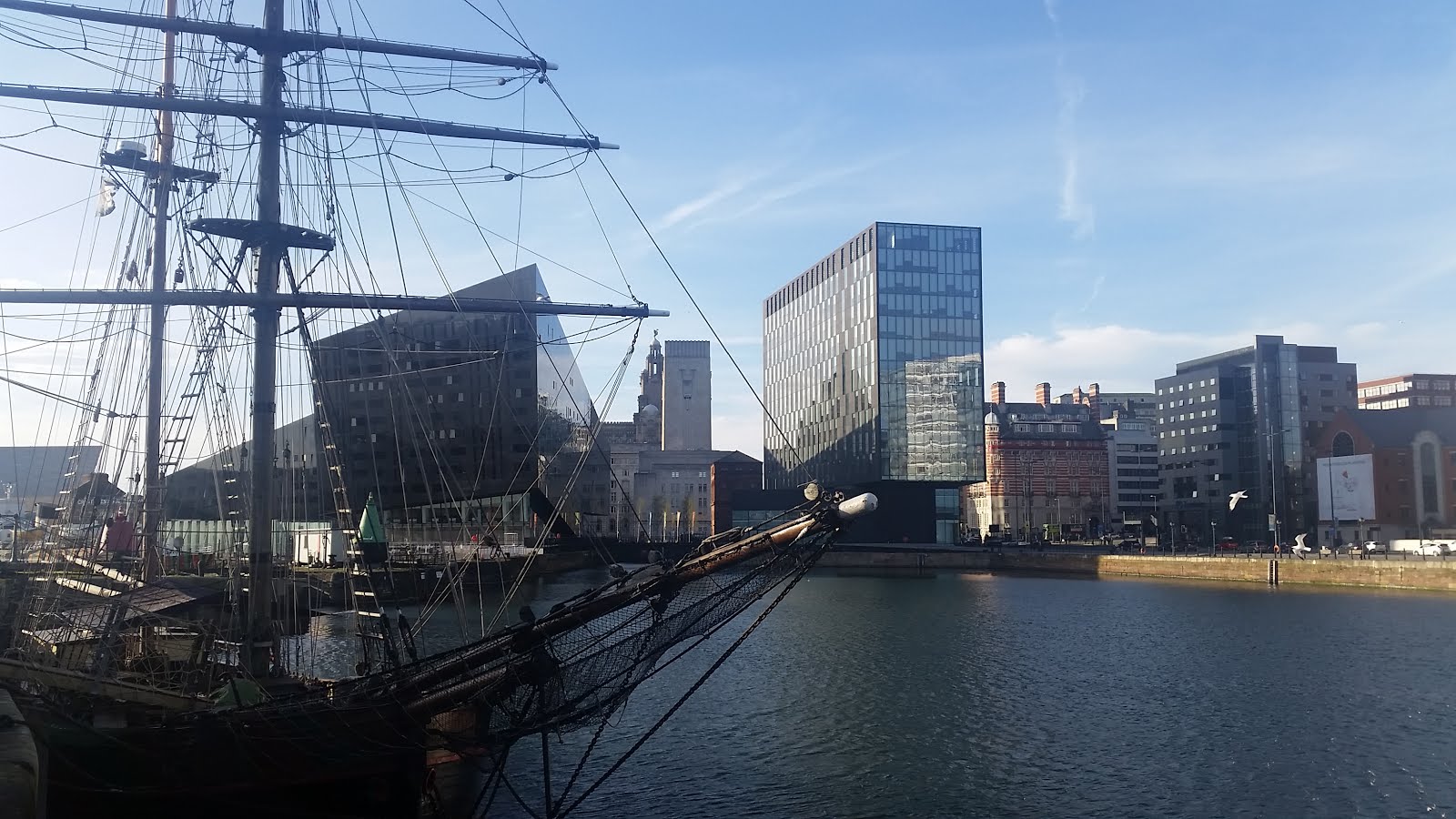 Touristing
Puddy, Jefford, John, Collins, Gomis, Dundas, Eastmond, Spence, Deacon, Biamou, Cadogan SUBS: Gueye, Jebb, Wright, Nurse, Brown
Outside the ground, we find the recently arrived car crew, scarfing down some chips. We're soon inside easily the biggest away end we'll ever be in for a league game. Still, it seems we've at least brought a reasonable following along, with the 40 or so on the coach boosting the support nicely. Oh well, at least we can't be accused of being some tinpot shite with no fans! Flag up, I feel peckish so treat myself to a Steak pie to add some soakage to the days intake.
Things get underway on the pitch and understandably we're sitting in and trying to frustrate the hosts. They're showing more quality than Lincoln in their approach, but it's not quite as pressurised. They are getting it wide and flinging balls in, but we're largely dealing with the threat. At our end, we're getting into the final third, but as usual there's not much goal mouth action to speak of. There is one blatantly obvious corner missed by both the ref & lino though. Still, I'm sure that'll be the last fuck up we have to suffer from them.
Puddy has to save from one time briefly Sutton man James Norwood, but we're still largely giving as good as we get. Then we go and do what we've done in so many aways and give away a softy. A high cross in from the left drops towards the back post. Puddy starts to come, stops and the bloke out jumps Spence for the ball to head over our now slightly stranded keeper. Arse.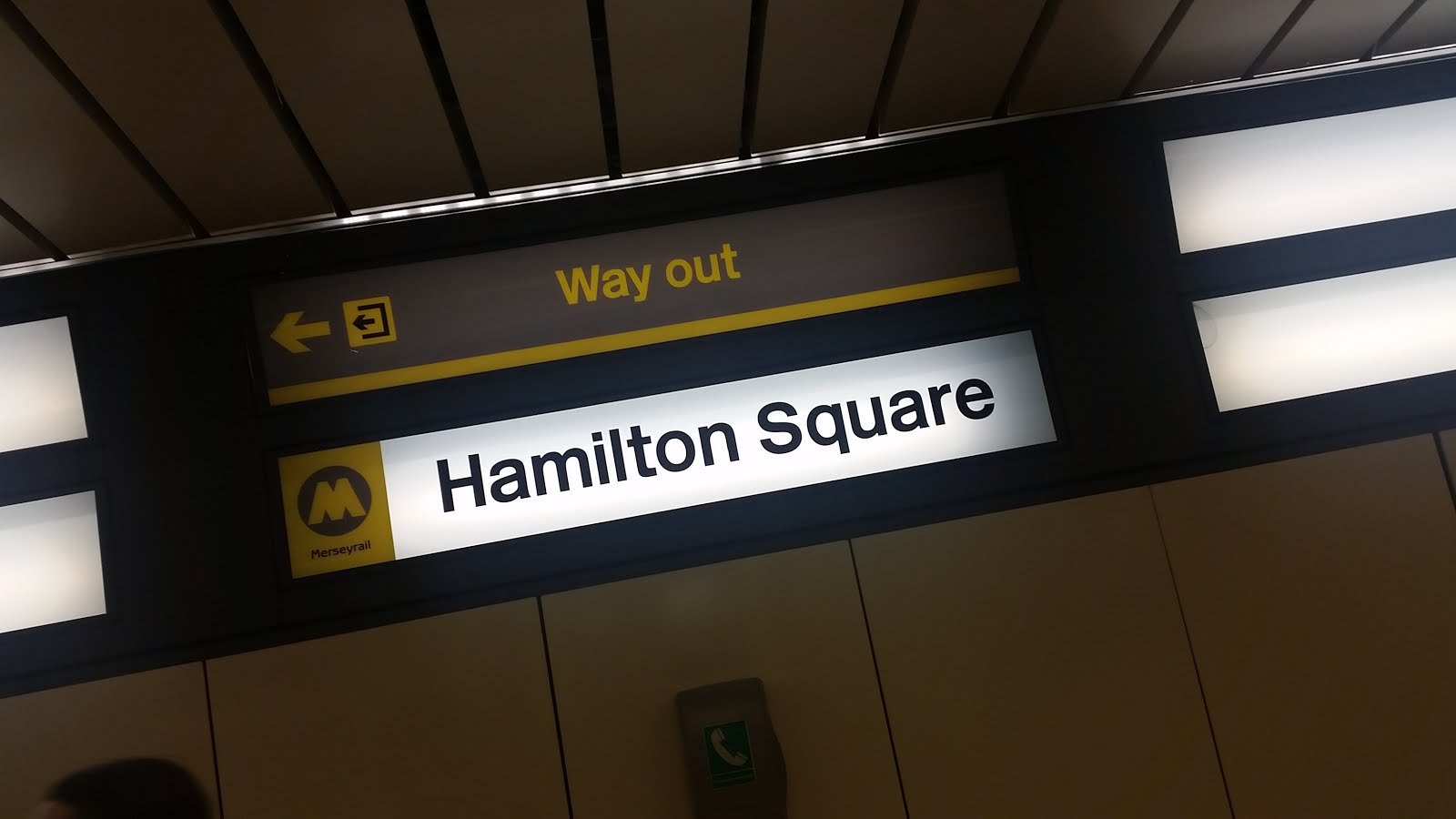 Underground, Liverpool style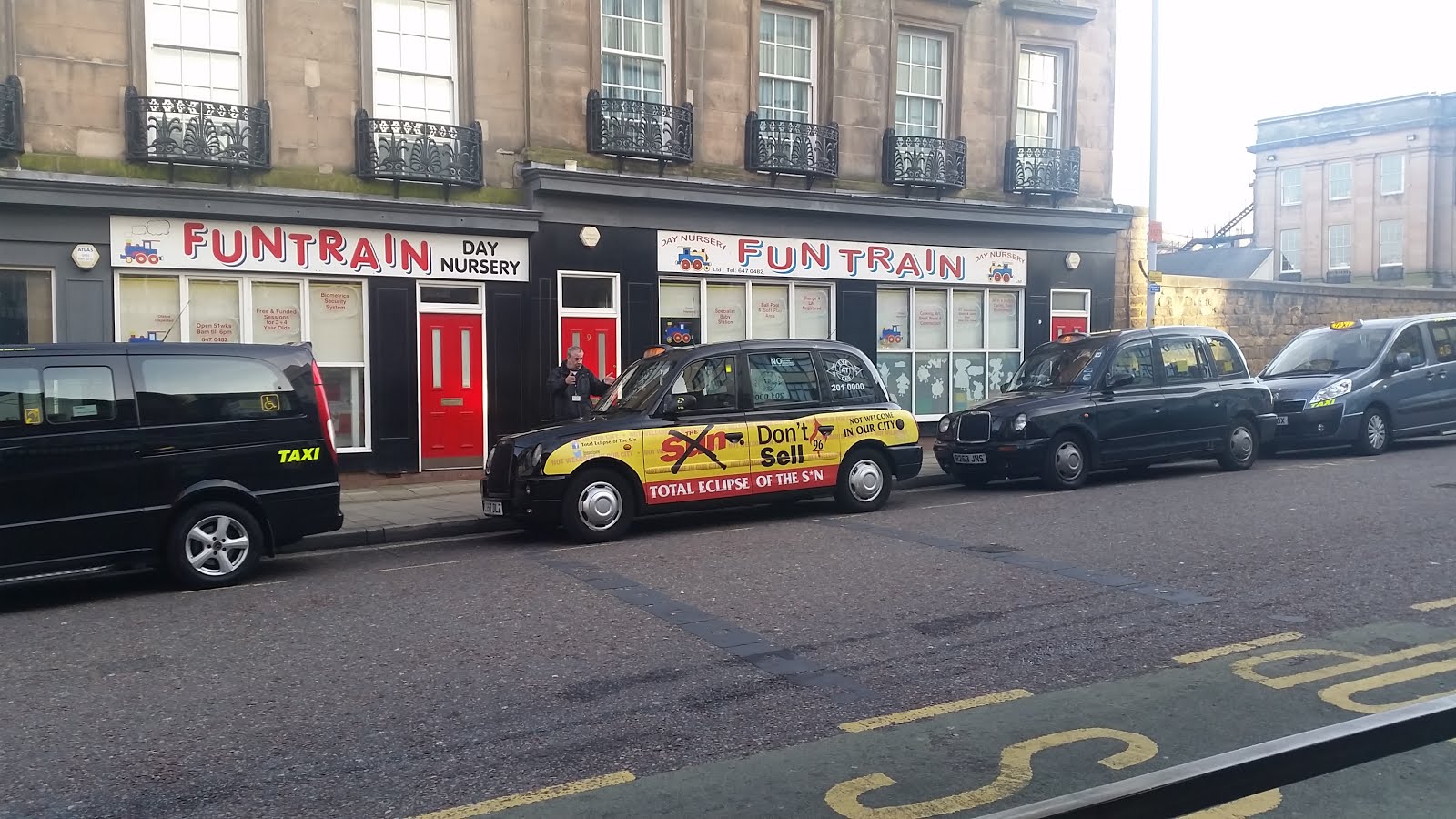 Well, that's a bit awkward
The goal lifts Tranmere and we have a spell where we're just trying to stay in the contest. We pick up a couple of bookings from fouls made to stop breaks and we definitely find ourselves on the back foot. But as the break approaches, we manage to steady things and Deacon has a strike from range just to remind the home side we're still around. So at the whistle, we're mildly miffed to be 1 down as we've largely handled things well. But then again, at least having conceded, we didn't cave in and got to the break without further damage.
With the 2nd 45 underway, it's much like the first really. They're playing some decent stuff, but it just lacks that real edge or threat and we're not being unduly stretched. Then the ref gives them a dogshit free-kick 20 yards out and fairly central. The shot has Puddy well beaten, but thumps back off his right hand post and rebounds back into the area where a following up white shirt hoicks it well over the bar. Of course, having escaped this scare simply because it was the oppo doing it and not self inflicted, we make things even harder on the hour. A silly free-kick on the right is given away when we dally on clearing the ball. The set piece is well delivered, but there's not a white shirt within miles of it as Puddy comes to punchcatch in the middle. Sadly, Eastmond has jumped for the same ball and just beats the keeper to it.
Own goal and 2-0 down, that's us done now surely. Right, how long is that drive home again?
Dos decides to change things up and throws on Jebb along with Tommy Wright, recalled from his 42 goal stint at Salisbury to try & give the oppo a bit more to think about. It certainly helps as Wright's chasing up top gives us a little more pressure on their defenders and allows the rest of the lads to step up a few yards. Jebb's distribution also helps a fair bit too. Sadly though, there's no real chances made. Although to be fair, they don't look like killing us off either. Then with under 25 to play, we're suddenly thrown a lifeline.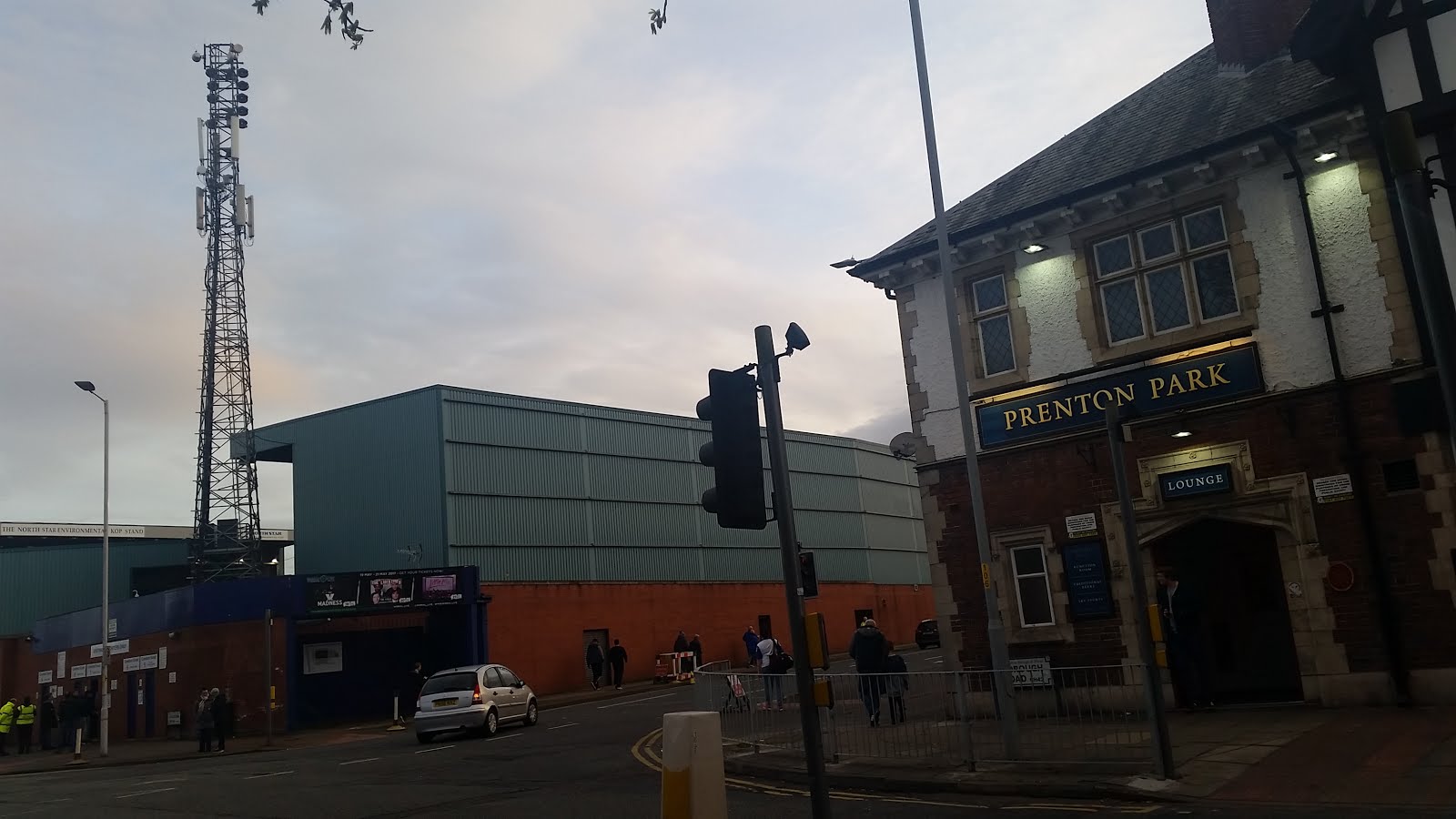 Is it better than the Plough?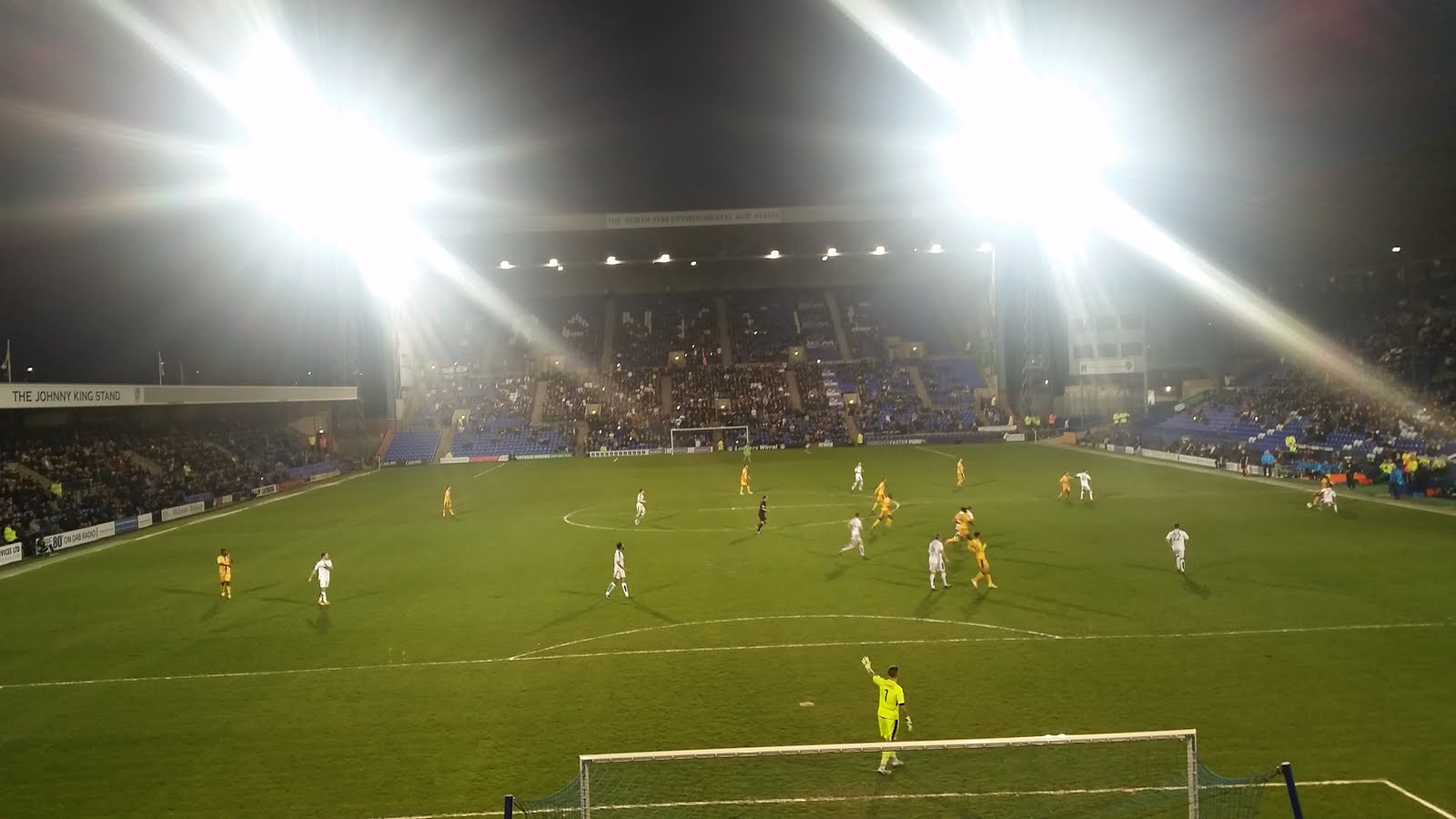 Bright lights!
A ball up to the edge isn't cleared and Wright collects. He lays the ball back out to Jebb getting up in support and 'the new Jack Wilshire' takes a touch before arrowing a shot across the keeper and in off the inside of the post. FUCK A DUCK! Come on lads!!
The goal seems to stun Tranmere a little and breathe new life into the U's. And then a couple of minutes later, again from almost nothing, we're level. Deacon harries down their left but looks to have been closed out by the defender, suddenly he stops as if expecting a whistle and when none comes, Deacs pinches the ball and prods it a few yards into the box from the byeline. A defender tries to get a block in but Papa Gueye, just on as a sub, is there fractionally first. His shot clips the defender and loops over the startled keeper at his near post. Of course, we see absolutely fuck all of this from the far end. Just the ball pop up and loop in and the lads going radio rentals. I think we'll have some of that as well then!
I just grab Dukey by his Harrington and shake the life out of him screaming in his goatee'd little face. FUCKING COME ON!!! There's less than 10 to go. Can we do this? Can we pinch the unlikeliest of points?
The goal certainly sparks us right into life and for a couple of minutes, we look like we might steal a winner. The closest being Bedsy almost straight after being allowed too much time and space on the edge of the box but his shot just clips a defender trying to recover and the deflected effort drops just wide of the far post with the keeper completely stranded. However, there's a problem. It seems Gueye has knackered himself getting that second goal and with all our subs done, he's basically limping about up top and offering very little in the way of concern to their defence and with Tommy Wright dropping deeper to help out in midfield to try & preserve the point, we hand the initiative back to the home side a little.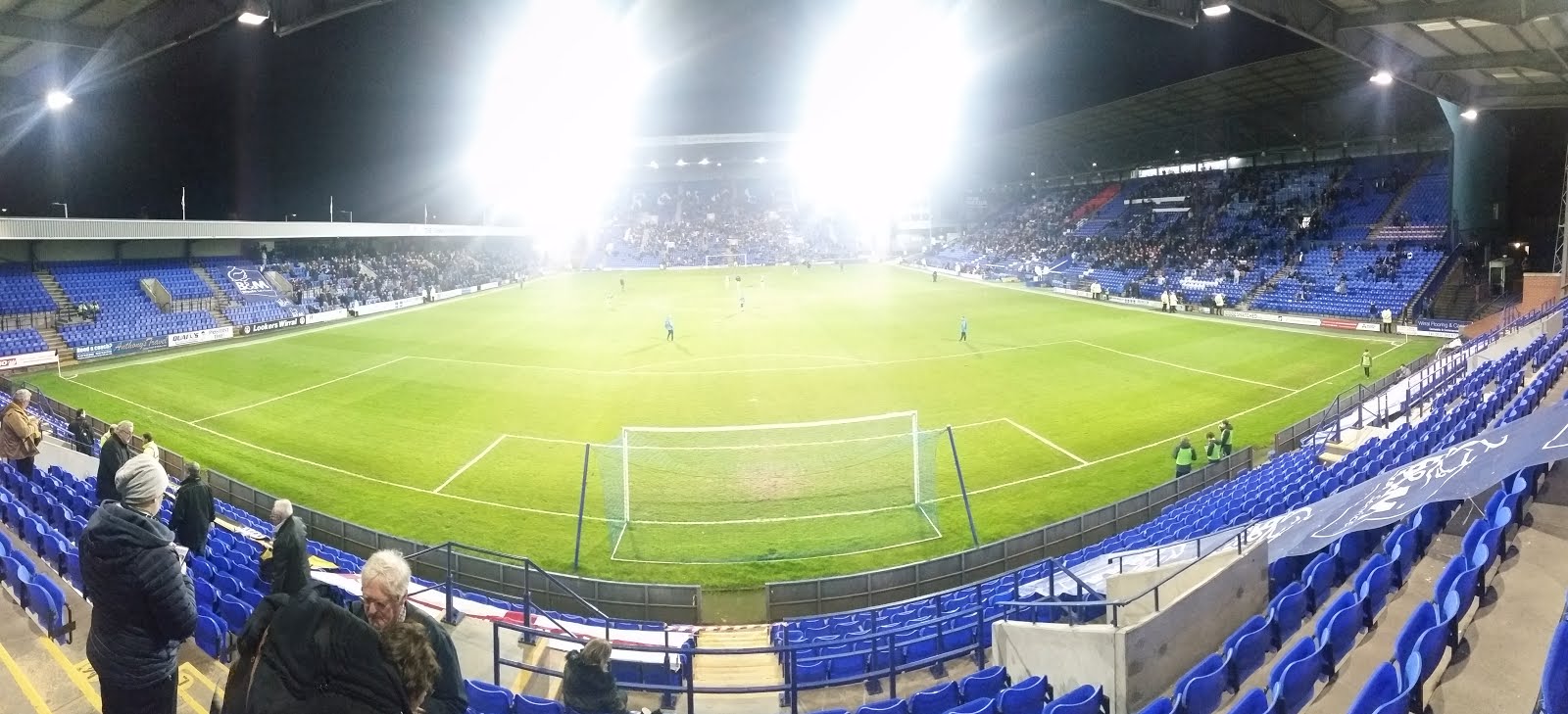 Vanarama panoramama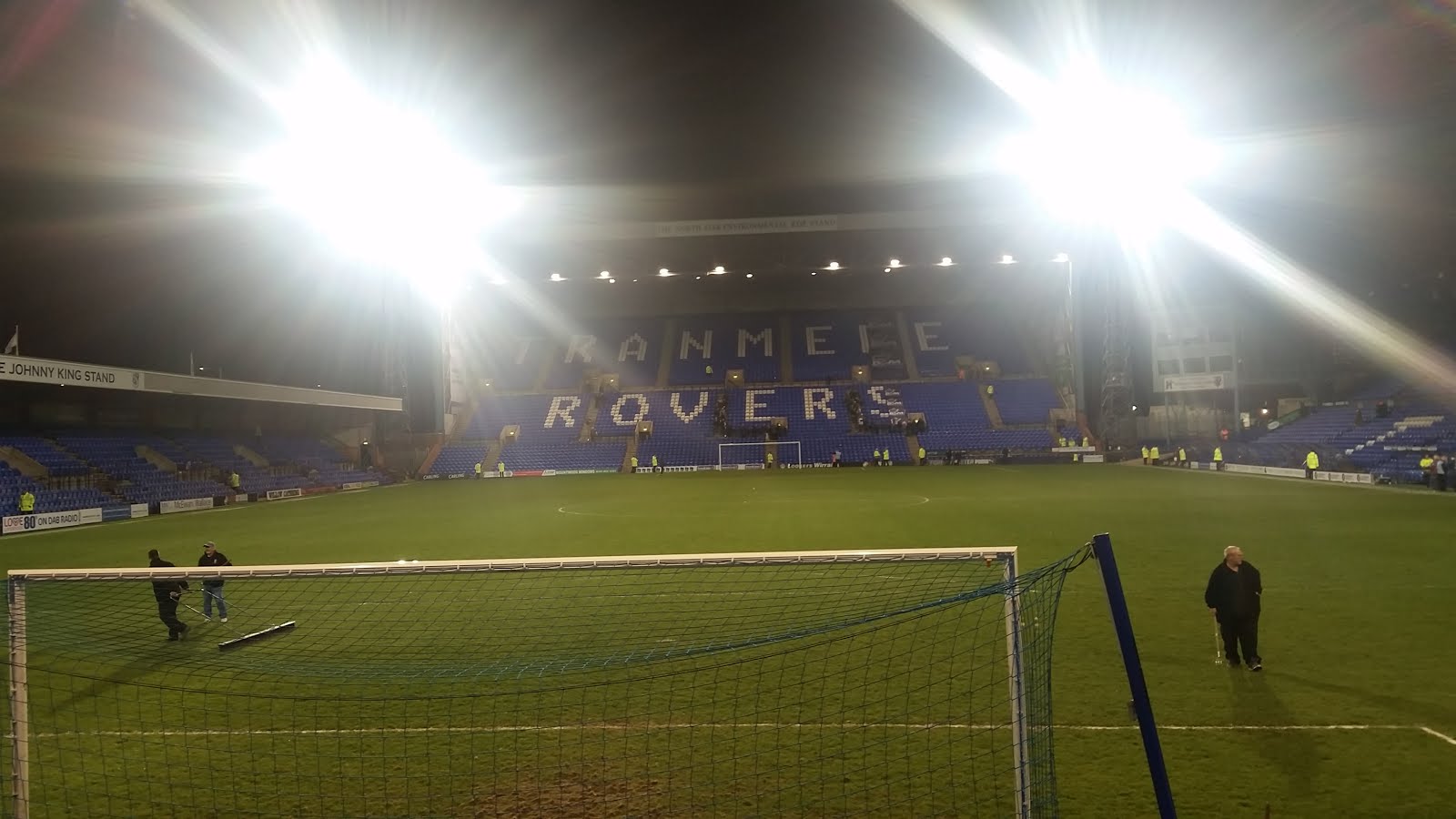 Empty
Still, we're doing ok. There's no sign of a breakthrough for them coming before the ref steps up and makes a complete prick of himself. A ball into the box drops to Eastmond just inside the 18 yard line, he humps it clear and in doing so is clattered by a white shirt leaving the foot in. It's as obvious a foul as you could want, but the ref simply ignores our protests awarding them a throw in. It gets worse. Matey launches it in from the touchline with a foul throw so obvious it would make Chalmers wince. Of course, it's flicked on near post. Flicked on again and drops to the number 6 who finds a gap and slots the ball low inside Puddy's right post.
The place goes as nuts as you'd expect a 93rd minute winner that's kept their title hopes full steam ahead would do. It's another absolute sickener in a long and growing list away from home this season. With basically 10 men on the pitch, there's no way we can go again in the couple of minutes left and the final whistle puts us out of our misery as that fucking rubbish "We're on our way" chant starts up again at the other end.
So, with the dull ache in our lower regions beginning to subside after that rather brutal late kick in the bollocks, we pack up and fuck off. Heading round the corner to Donna, Mr X's fine Italian automobile. One that he's managed to park behind a gate that is now blocking him in and making extracting it from the parking space harder than we'd like given we've the best part of 4 hours on the road ahead of us. Still, we eventually ease our way out and with a quick sneaky double back are in the queue. A short wait and we're soon Birkenheading home. Geddit? Birkenheading? 'Cos we're in Birkenhead and we're heading home? Eh? Eh? Oh never mind.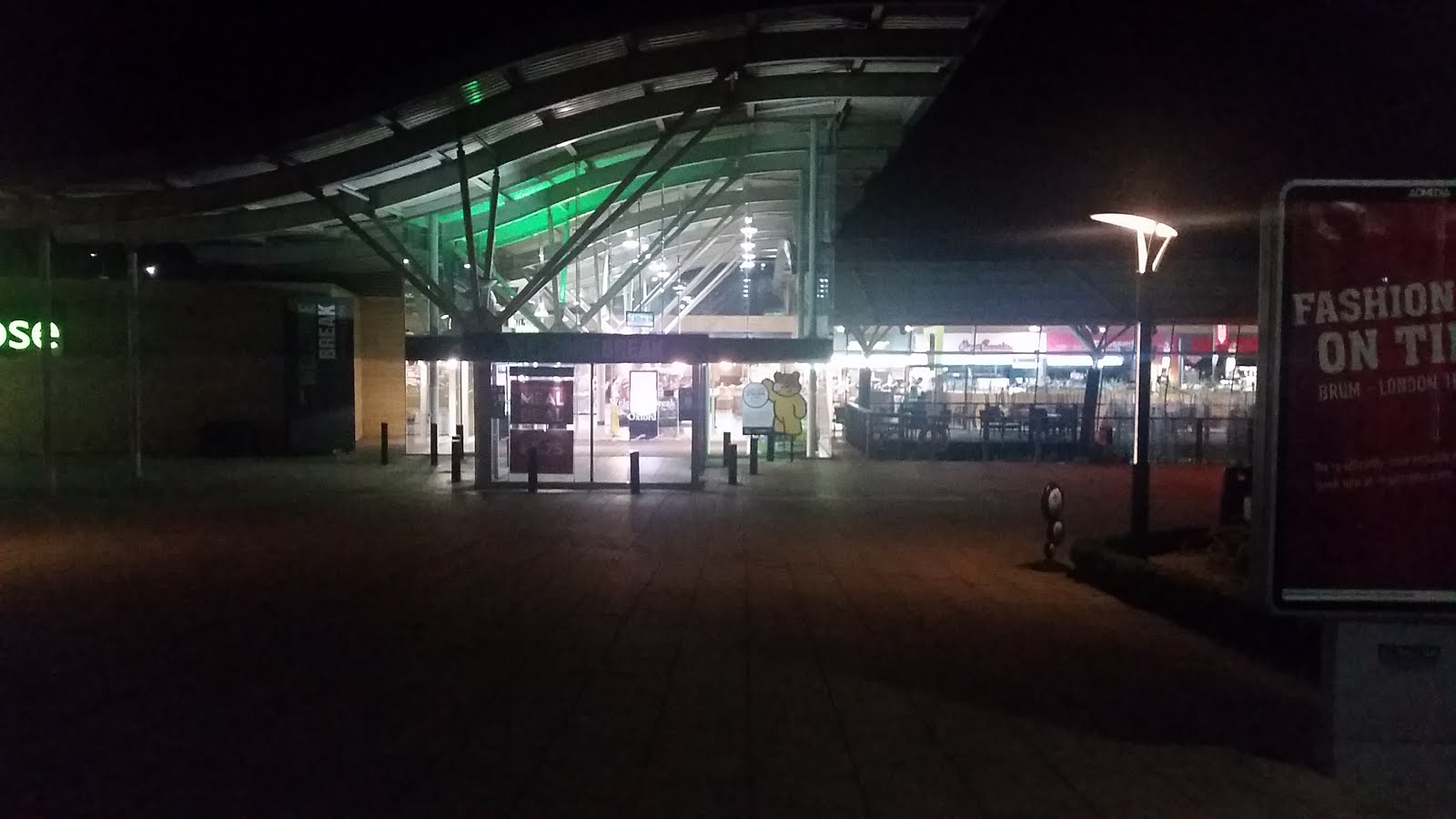 Oxford services
The trip home is largely uneventful apart from Greeks iffy DJing and some cockend almost running us off the road on the M6 when he indicates to change lanes. Sadly, he indicates left and moves right! Naturally, we all receive this near miss by waving at our would be assassin to indicate he enjoys furious hand to gland combat. A quick stop for go go juice and a brief piss stop on Oxford are the only stoppages and having ditched Greek and then Dukey, who this time manages to retire without yacking up on the pavement, I'm deposited back outside HQ at five to two. Just the 17 hours after I'd left.
My next task? To creep in as silently, as a man who's been to several pubs during the day can do so and not wake up Mrs Taz in the process, getting me a ticking off in the morning. Oh well. Onto Saturday now and Southport at home. Robbo will be your guide for that one when hopefully we can finally bag the win we need to keep us in this league next year.
And more importantly, Frank can finally stop chasing that fucking train to Switzerland….
Taz