The title is quite relevant to I – as in I like the Chesney
Hawkes' song (which many of you readers will be aware as I have put this on the
jukebox, often!). But no, it could also mean
that I am the one and only fighting "demons" and have been for the last year
over so many different things, but I am man enough to admit it – it is not! No, the title means that yours truly has
season ticket number one, again, for the 2017/2018 season
just like I had for this one.
Anyways let us just back track for a second. The away game at Tranmere was a difficult
one to predict and I was saying to people that day at work that I thought we
could get a point. Of course seeing we
went 2-0 down and I said "here we go, the away day blues carry on" but a few
minutes later I check Flashscores and see it's now 2-2…wow just wow. Only to then see in the 93rd minute that Tranmere got a winner and from what I have seen in Twitter, it
was a foul throw that led to it as well.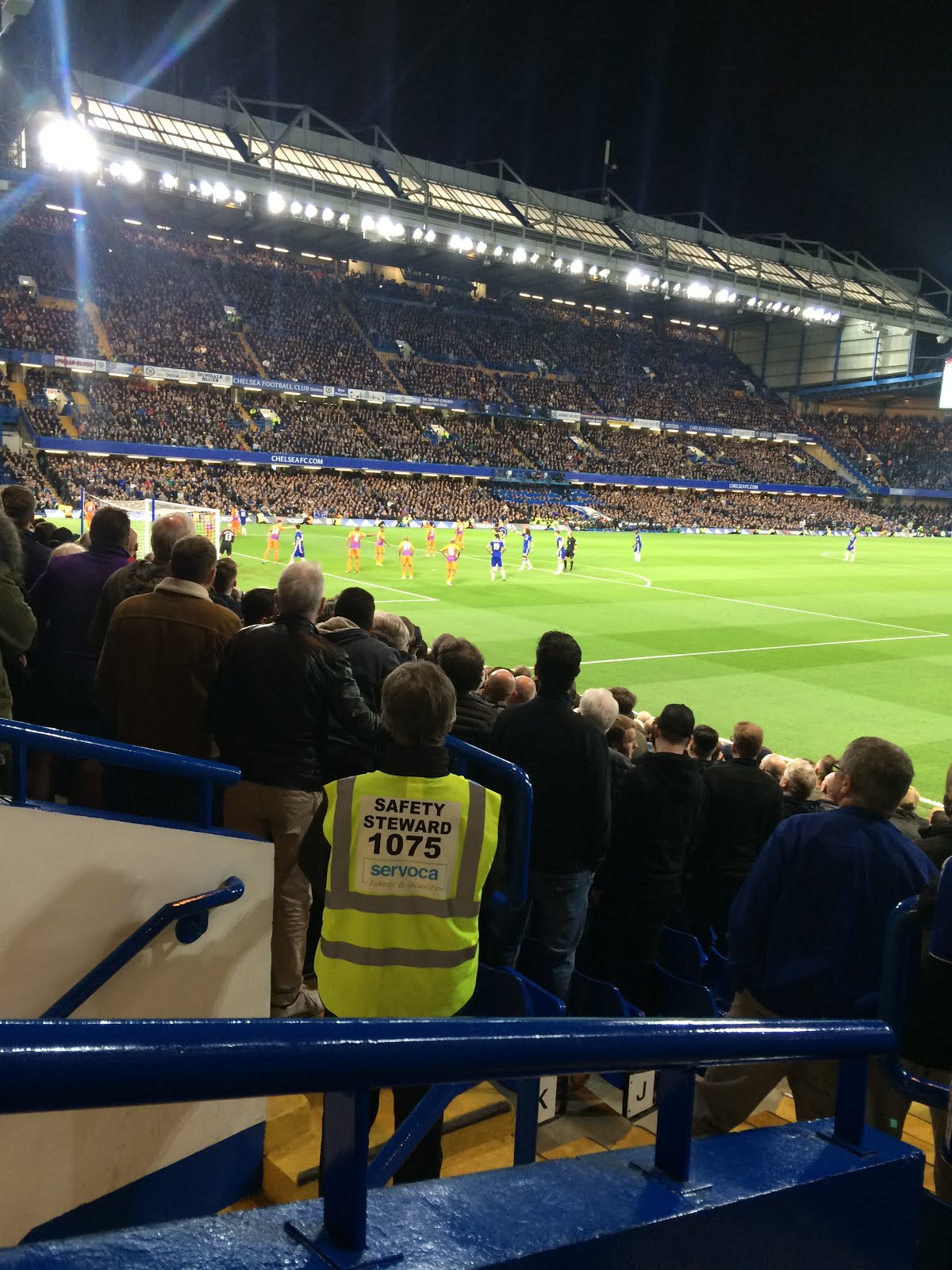 Some absolute dump.
The next evening I went to Stamford Bridge and saw Chelsea
beat Manchester City 2-1, but what was key to this as that very evening two
foul throws were given – if only Mr Michael Dean was at Tranmere the previous
evening we could still have earned that point!
So now to today's game and the opponents Southport. The away fixture was when said club were
bottom of the table and which saw us come away there with a point despite . I remember some Southport fans telling Mr X
and I that we were the best team they had seen play all season – making Mr X and
I question how many games exactly they'd seen. Today, Southport are still bottom of the table. Surely a win
then for us and consolidating our place in the Vanarama National League for
next season!?
Today is a hot one, hotter temperatures than Ibiza as I read
on Twitter. Some of you may know that I
am heading that way in the not too distant future as I will be flying out to
Benidorm. But here at home, it's the first game since Torquay at home where Gander Green Lane has
been bathed in full sunshine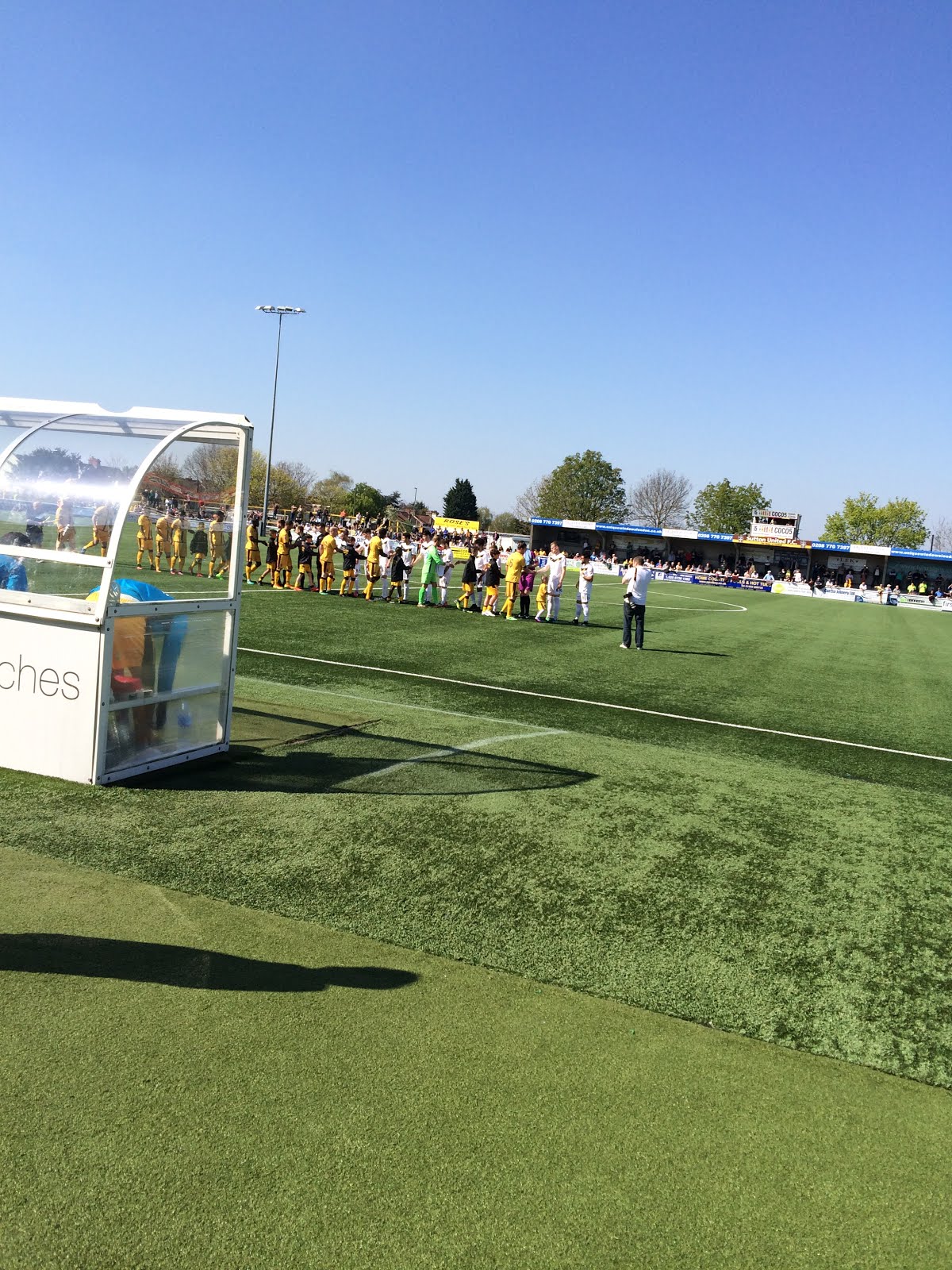 Sunny!
In the bar I had a very good chat with young Ralphie
Beckwith and he was telling me about his own cup final the next day. Ralphie tells me he likes to play in defence
like his Dad but would much rather play in goal – but anyways I wished him good luck and at the next home game I hope to hear he won, unless
I am told otherwise by text or any other modern means of communication.
The team line up is as follows:-
26. Puddy, 17. Spence, 2. Amankwaah, 5. John, 6. JC
(skipper), 15. Eastmond, 8. Gomis, 16. Bailey, 21. Deacon, 24. Biamou, 31.
Cadogan
After the coin toss, we are treated to the unusual scenario of shooting towards
the Gander Green Lane end, where Sutton must attack the first half. But it was Sutton who had the better play in
the opening minutes where Cadogan (pronounced like Hadooken like Ryu in
the old Street Fighter beat em ups, I know this has been referenced in a
previous blog) has a free kick saved well by their keeper. However, Southport started
to get more into the game and it took a couple of decent saves from Puddy to
deny them the opening goal. Remember
what I said above about Southport were decent at their place and they were starting
decent at ours.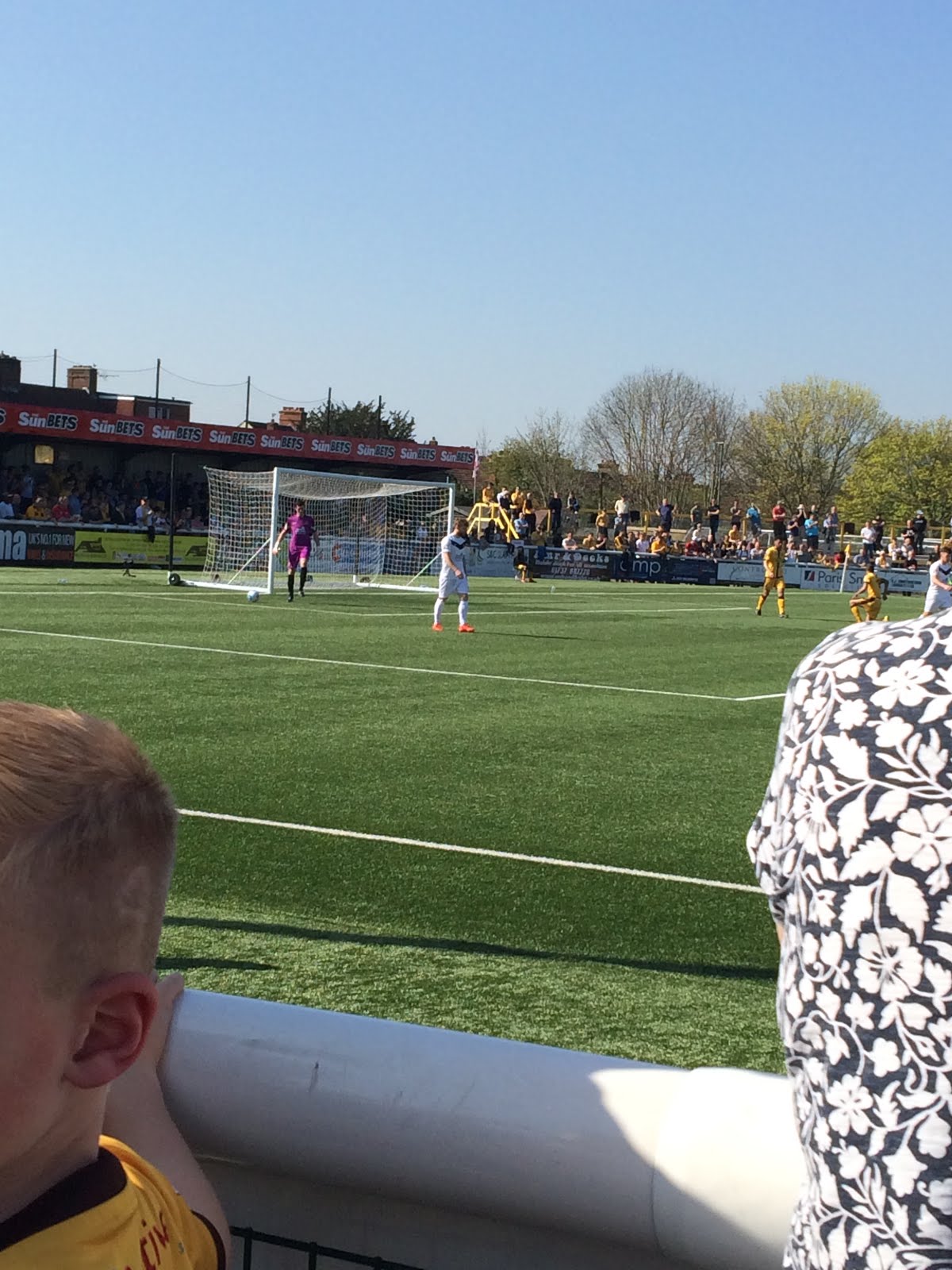 Some stuff. Happening.
This was until the 25th minute where a cross from
Bedsi was poorly headed away by their defender only for this to fall to Roarie whose
miscued low shot was then back-heel flicked in by Cadogan for the opening goal. Eastie then had two shots afterwards
blocked. As I went down to the bar before the break, I
took a picture of their player having their head bandaged up. Now I know I should have stayed outside but
the way I was feeling, I needed a beer and I was soon to be joined by my
half time drinking pertner Steve. He informs me
that he picked up his season ticket and he is the proud owner of season ticket
number two – quite apt really!
Half time ends and I work out that I was only the three
numbers off winning today's 50/50 draw …..oh well one day this will be won by
yours truly. A replacement at HT sees Coombes
come on for Biamou and this sadly brought Southport more and more into the game, seriously who is the side who is bottom of the league here! This of course
led to the eventual equaliser and by the unfortunate own goal variety. A neat
volley by Dan Spence only directed it past Puddy who looked equally stunned on
68 minutes. And then six minutes later
Southport then took the lead and a free-kick curled over the wall made it 2-1 to
Southport…..really, has complacency set in here???
Now, I admit the equaliser I missed (yep yet another goal I have
missed this season!) and as it's a 90th minute one so I am going by the highlights
and match report. Roarie cut inside two
defenders and his shot flew into the bottom corner for 2-2. I have to give it to Southport on both
occasions we have met them they have played really well, very odd for a side who
are bottom of the league and more than likely to be relegated.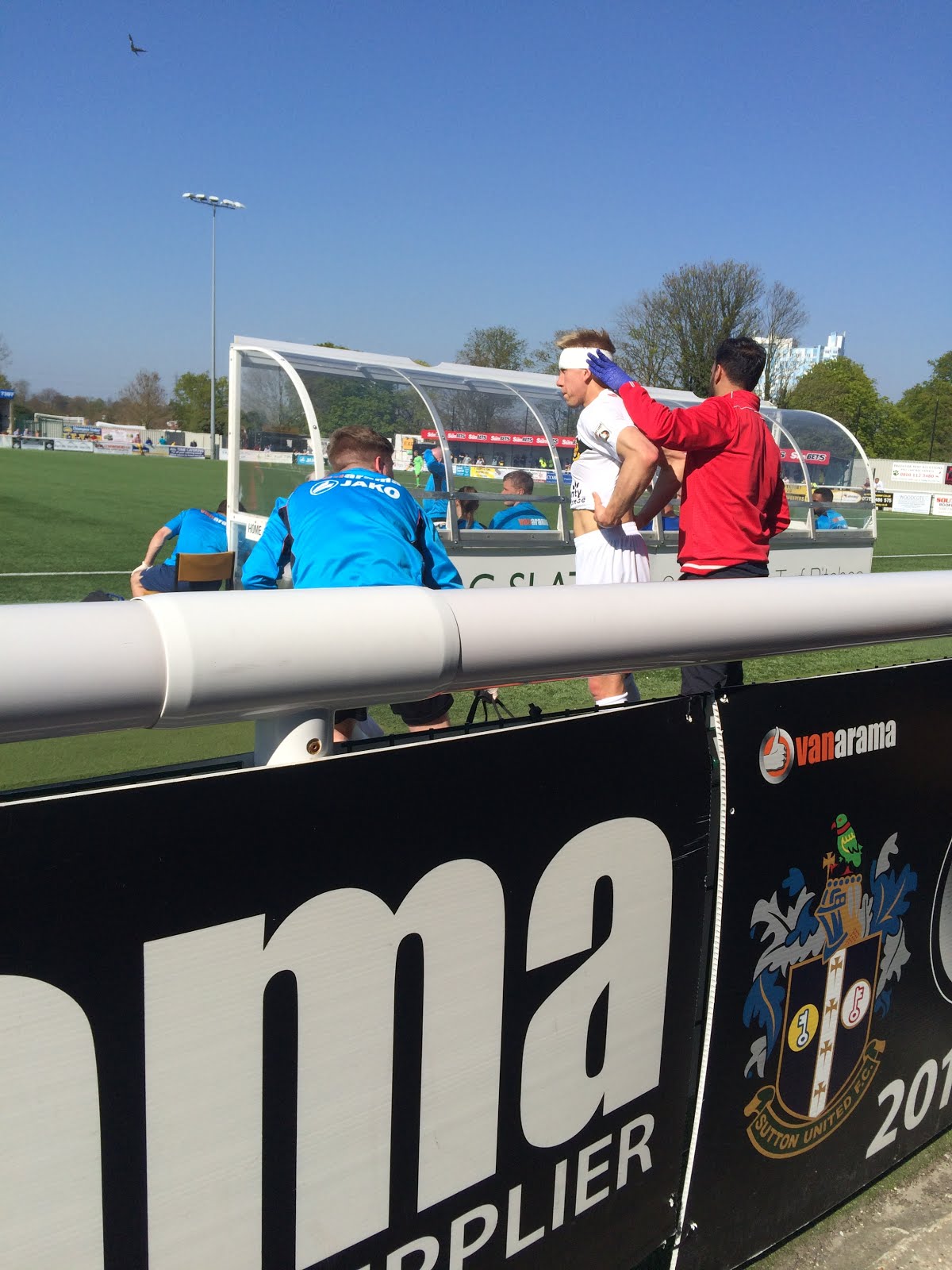 Dressing the wound
For you statisticians yellow cards today were for Eastmond, Dundo
and Roarie; substitutions of Dundo for Amankwaah on 61 minutes and Jebb for
Gomis on 80 minutes. An attendance of
1807 was there keeping up the average, I beat Ralphie on the prediction, he said there would be 2008
and I reckoned 1912.
Now as I sit in the bar I remember it is Grand National Day
and I realise maybe I should put a bet on.
I log on to my Betfair account and after changing my password (naturally, I'd forgotten it) I put a bet on a horse, but take care do not tell anyone. I will only say if it wins or just admit I got it wrong. The race is on and they are off – I cannot
watch as people are shouting for the name of the horse they have backed;
the winner is One For Arthur and yes
yours truly did have his bet on said horse = go me! I only go by name
and Arthur was the name of my great–grandfather whom I never met. So cheers Gramps!
Once the furore of the National has died down, its now time
for another double Strikers Are Key draw and it's the syndicate of Chip and The
Beckwiths which is pulled out. Chip
has asked before to do the draw if they are not in attendance and I do so, despite my good fortune in the National, I did not pull out the winning key, sorry chaps. The second draw is done and again the ball of the
Chip and The Beckwiths is pulled out! So again step forward I; this time however
Nicky Bailey is on the phone to JC telling him I am selecting the key for him –
so JC I am very sorry I did not pull out the right key and instead I will buy
you a Guinness!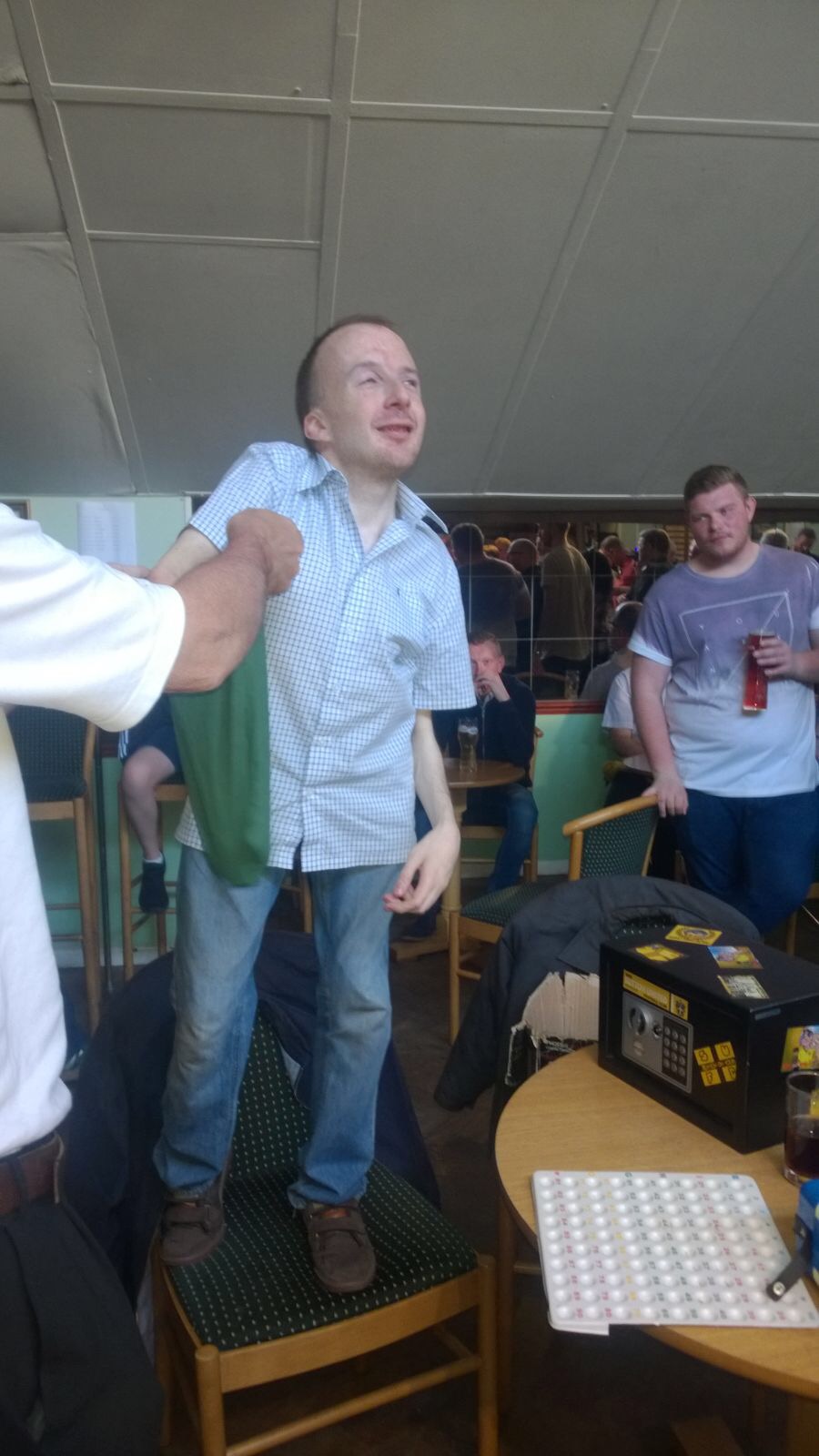 Picking a winner?
The bar really does empty out after this and it's the emptiest I have
seen in a long time. Unsurprising really given the result. Taz shows me a
selection of badges – Gandermonium is branching out commercially it seems (I dealt with
commercial matters in my job) and they look good. He gives me a sample of one
of them – a Roarie Deacon badge. Here in conversation, my lack of knowledge on 80's movies is discovered by Taz and Dukey, much to their disgust. And they run through a huge list of films checking if I'd seen them! Hey guys I
lived a very sheltered life as a child in a Christian household, but hey at least I was
spoilt when it came to toys and Nintendos!
I then make my way via Uber to a family do and I get talking
to a girl attending who is also a Chelsea season ticket holder. I tell her about Sutton United and she says she likes Roarie
Deacon. This is so cliché and corny but I hand her my Roarie Deacon badge and in return she talks about coming to a game very soon. Just doing my bit for the cause.
So now with four games to go we still need that one elusive
win to basically secure our position in the Vanarama National League, where we may even
get to play Leyton Orient who were denied the Olympic Stadium. Just imagine having had to go there for a game! I'll now hand you over to Duke for the Good
Friday home against Gateshead.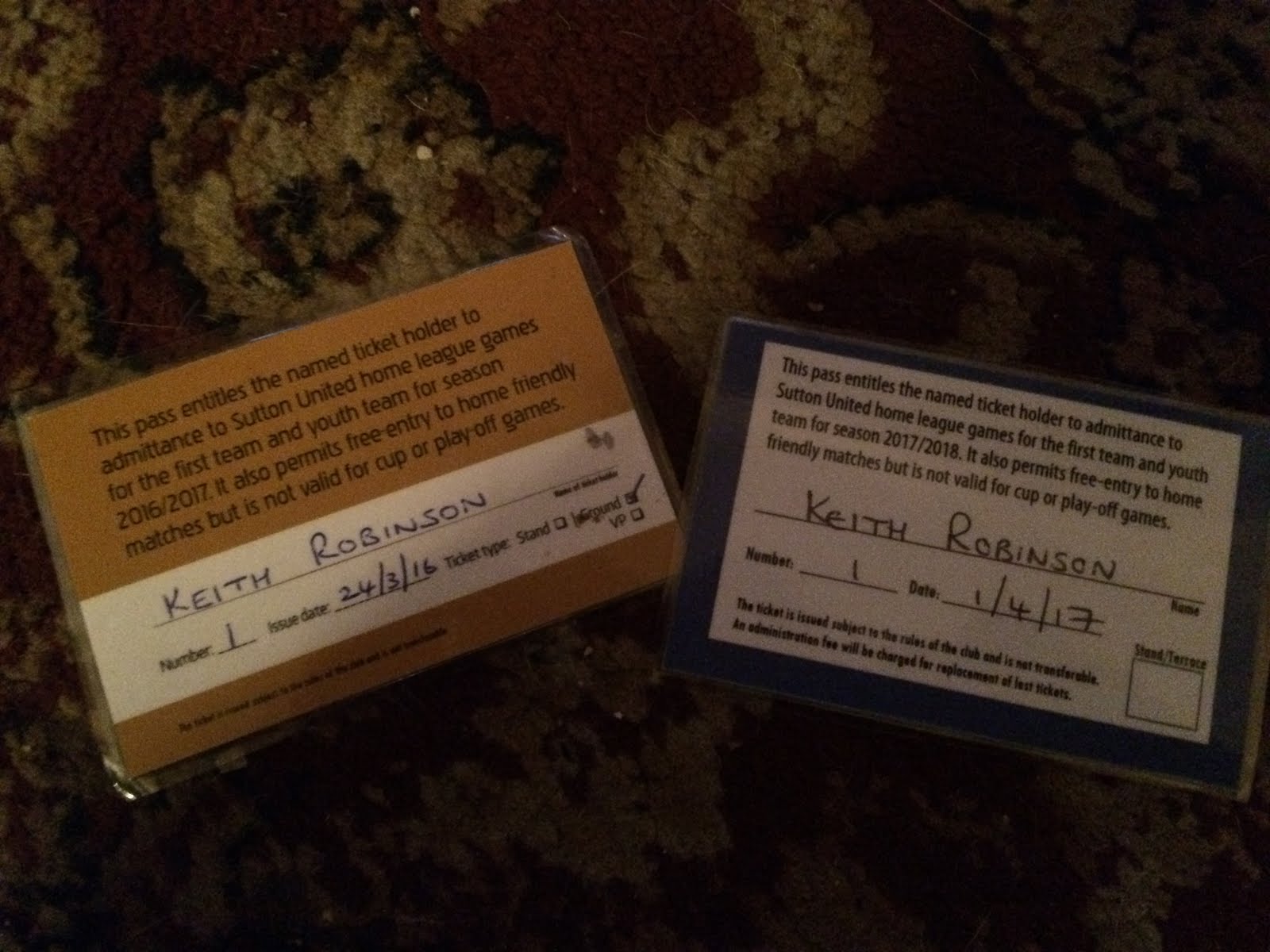 Number one again…
Happy Easter all.
Wise men say…..
Robbo