After the madness that was last weekend, we now enter the eye of this FA Cup storm and the chance to enjoy a period of relative calmness to catch out breath & take stock of what the hell has happened over the last couple of weeks before we once more have to batten down the hatches and find ourselves buffeted by forces we don't fully understand nor can fully control. That or it could be like that bit in the movie 'The Day after Tomorrow' where everyone freezes to death instantly. Metaphorically speaking of course….
Now, before we get started, lets address the elephant in the room shall we? Arsenal at home. Fuck a duck. Arsenal. At. home. Us, playing Arsenal. in an actual game. At home.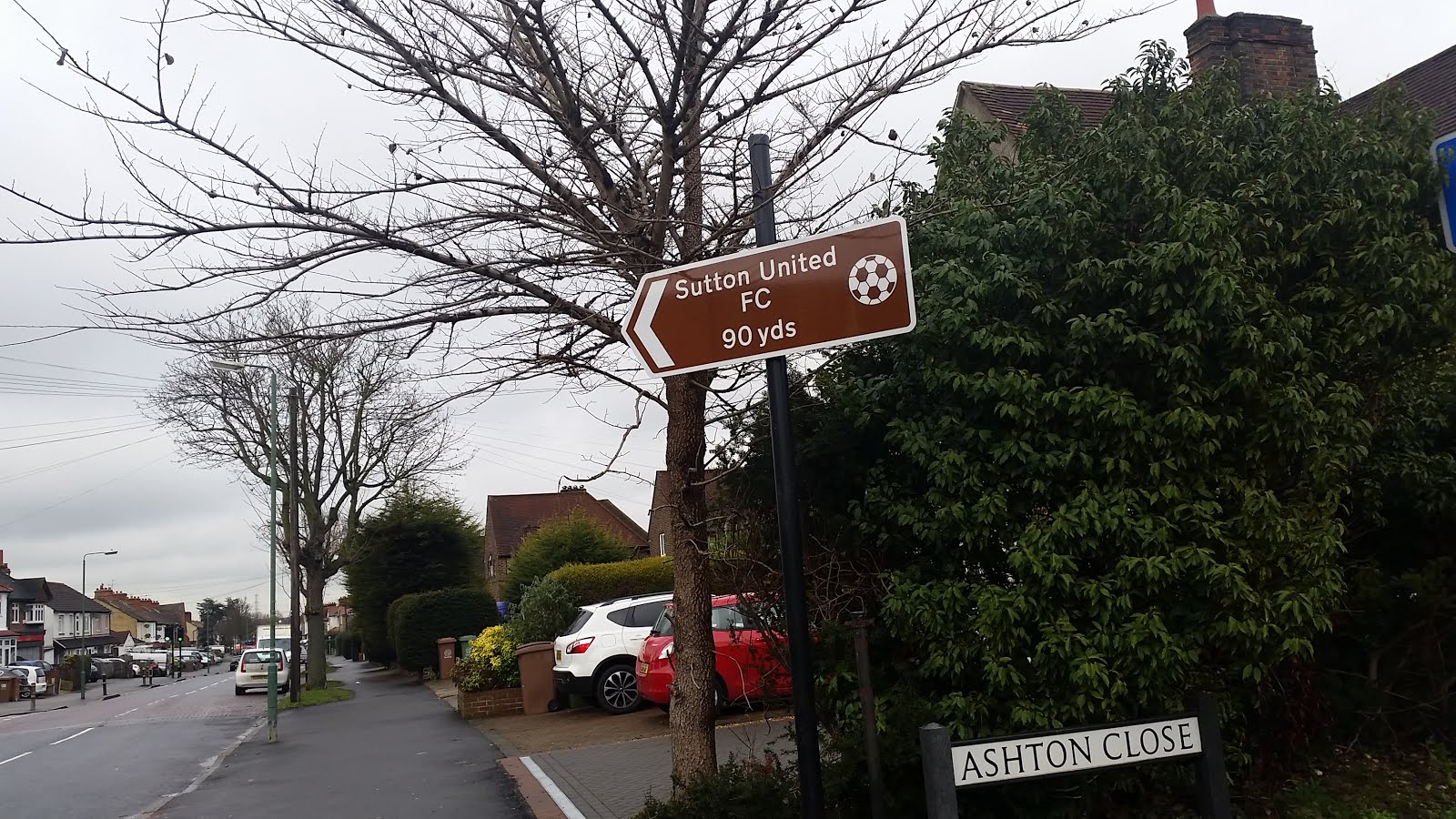 Your cup money at work people!
For the first time on this run, I was actually able to get down the club to watch the draw in person with all the other herberts over a pint. Previously, I'd been forced to rely on the local 4G signal and partake via my phone on whatever bus or train I was occupying on my commute home from work. But fortunately, past me had decided to do future me a massive favour and booked the Monday after the Leeds game off work. This not only meant I could saunter up to GGL to soak in the atmosphere, I also didn't have to slog up town to work today, no doubt stinking of booze and kebab and then being as useful and productive for my employers as Leeds 2nd XI were for theirs the previous day. The was of course a lesson I'd learned after the Wimbledon game 'lock-in' from a couple of weeks back.
Needless to say, the place went fucking radio rentals when that 2nd ball came out. Well, more like about 10 seconds after it came out that is, as of course no one had the foggiest who number six actually was. So there was a stunned silence while everyone partook in their own personalised version of the following:
"At home to Ball 6! YES!"
"Oh wait, I've no idea who that is. Who's ball 6?"
*Checks list of teams on left hand side of television screen*
"FUCKING HELL!!"
So there'll be another somewhat surreal Sutton United night to add to an ever growing list from the last 12 to 18 months. But once again I, as always, digress. Mainly as I really need to pad this shit out somehow. So, yes, as we emerge blinking into the clear still daylight of the eye of our FA Cup storm and feel comforted by the fact we've got a Trophy game at home to some shit non-league outfit in front of 700 people at best and that we'll be able to get a beer in pre & post match in less than 20 minutes.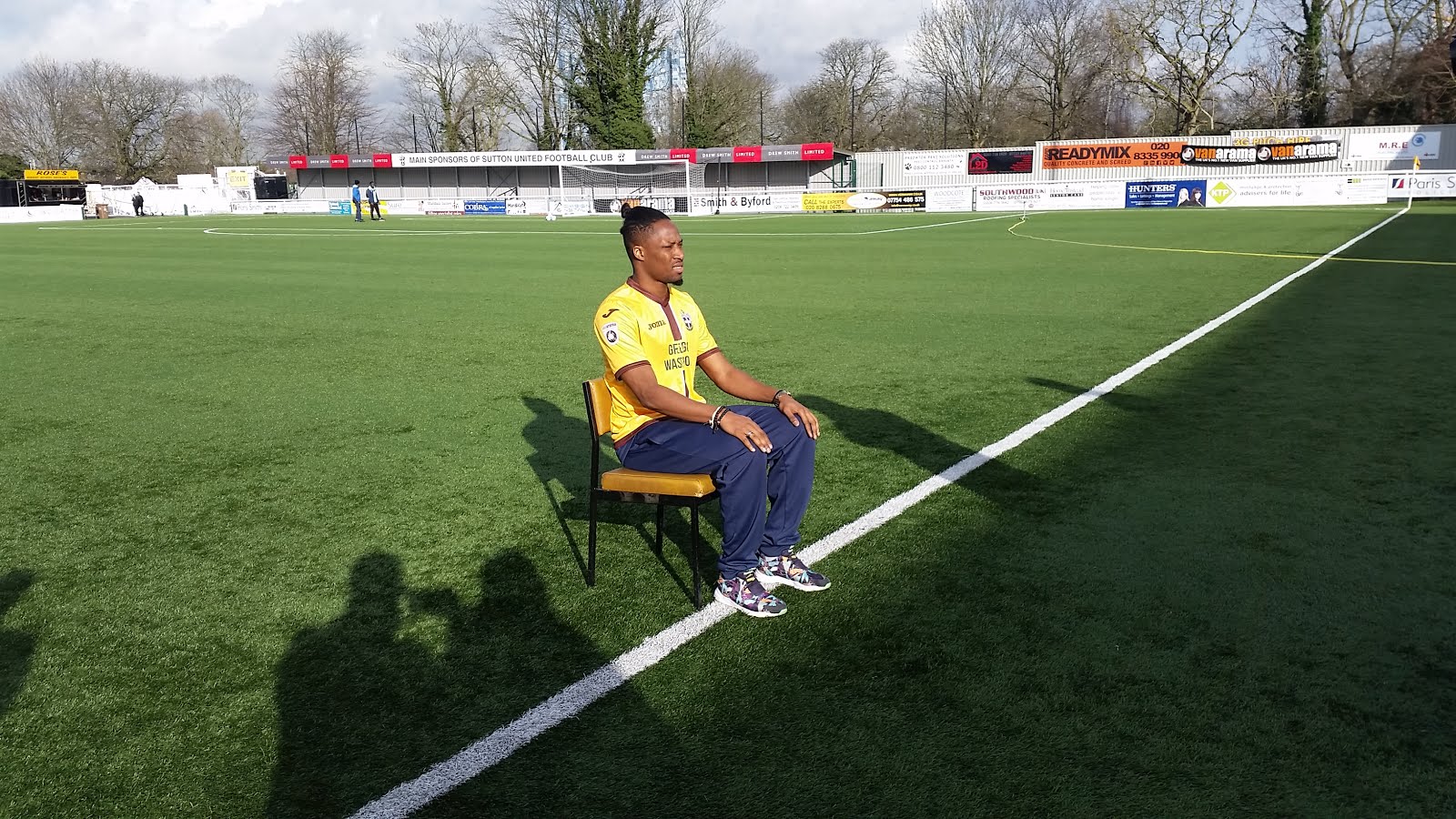 Watch the birdie!
I'd originally really, genuinely 100% planned to get my arse out of bed this morning to go and avail myself of some new leisure footwear. Unfortunately, as with many plans I make of this kind, it got properly fucked off in favour of an extra hour or so under my duvet. A decision I'll no doubt regret the next time I wear the trainers I was planning to replace when it's wet out and I start giving it full on Neil from the Young Ones.
Full of tea and toast, I head out into the world and after a quick trip to the post box, take a stroll down the quite leafy boulevard that Croydon Road almost certainly is not. I eventually get bored of walking and halt at the stop nearest the Burgers palatial John Lewis funded mansion. The little fella isn't about today however as he's propping up the Waitrose empire somewhere and won't be joining the party until half time. Patiently I wait 15 minutes for the 407 due in 7 minutes to arrive and in the end, hop on the X26 express to the Post Office instead. Stupid buses. I alight and do the usual on the High Street of drawing out some cash, sighing about how much all this FA Cup football is costing lately as I do so and then partake in a nice baguette from Greggs for the walk to the Republic.
I enter the bar to find I'm actually the first of the usual reprobates to arrive. So with no one to ponce a beer off, I treat myself instead. I'm soon joined by MarkyN, who is relaxing before another tough 90 minutes policing the mean terraces of Gander Green Lane. Wellie is next in and then finally Mr X appears in search of shit lager. This is handy, as it means I can get some more info about the appearance on the 'Brazilian version of Newsnight' he's lumbered me with today (no, really!), such as when do they want to do said interview etc. "Fucked if I know mate" is all I get.
Papping the pap
Well, I'm glad we've got that all cleared up then. I can now surely rest easy about what Joao Paxman and his 'Notícia Noturna' crew might want to discuss. No doubt it'll be to get my vital take on the impeachment of President Dilma Rousseff and her replacement by Michel Temer. The Arsenal game? Yeah, they can try it on, but all they'll get is a firm 'Sem comentários' from me on that front. Senhor Paxman can grill me all he wants on that subject, I'm saying fuckin' nothing squire.
With the Brazilian presser looking unlikely, I settle down with my pint. However, where one door closes another tends to open. Fuck knows who said that, it's just daft, but it tends to fit where I'm going with this shite. A playful clip round the ear of AB as he flits past at a million miles an hour as usual is my downfall. It turns out the lady he's accompanied by is a journalist for something call 'The Times'. And not for the first time in my stupid life, me being a cock has attracted attention. Naturally, a short while later, I've been properly grassed as being one of the shadowy Gandermonium cabal and the Times lady wants a word. So with small voice recorder shoved up my noise I get grilled on such matters as "Now more people are going to be reading this stuff, do you feel a responsibility to take it more seriously and be less silly?".
Er, what do you reckon love??
Another side effect is I'm summoned onto the pitch just before 2pm for a group photo. It seems the Times are focusing on the off the field team rather than the one on it for this feature. As we await the shot to be taken, I crack a joke about hoping everyone has on the appropriate footwear for the Fred Gee pitch. Everyone laughs. Except for Bobby, who looks disgusted at the amount of flat soled shoes currently sullying his fine artificial turf. Photo done, it's finally time to get back in the bar and stick a couple more pints down one's head.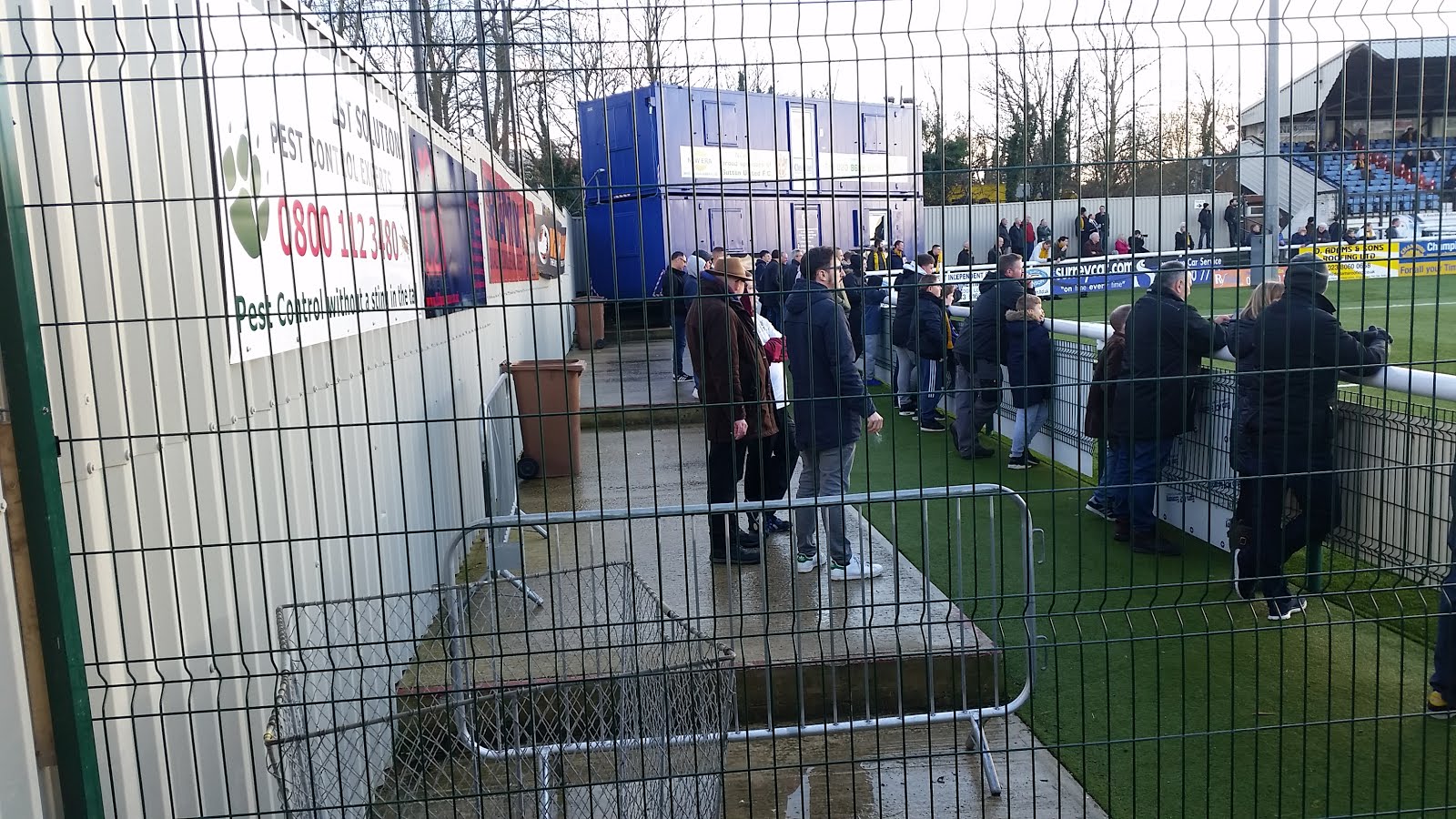 Now we know how a budgie feels.




Worner, Amankwaah, Jefford, Collins, Gomis, May, Eastmond, Spence, Biamou, Downer, Tubbs SUBS: McAllister, Fitchett, Gueye, Dundas, Traore
We start with a slightly unusual line up in that Dan Spence takes a midfield role, with Jefford in at fullback. His inclusion is brought into question early on when he has a head start on the winger chasing down a ball, but still ends up cutting the bloke down to earn a booking. In fact, there's so little of mention happening that when Jefford tugs the same geezer back after about half an hour it's unsurprising he collects a second yellow and departs early. Although the slightly finicky ref seems a bit too eager to do the deed as the red card comes out, Benjamin Massing Italia 90 style,before the second yellow.
We see out the half with minimal issue, although Ross does have to make one superb save from a header getting down low to his left to turn the ball round the upright. Apart from this though, both sides pretty much cancel each other out in an end to end but mostly dull first half. At the break, I head for a bacon roll and a cup of tea, passing the time in the queue by giving a detailed critique to young Master Horwood our representative on the 'One Show' for the cup draw on the Monday on his performance that evening.
"You were fucking shit sunshine".
By the way, if the Times are looking for a new Theatre or Film critic, I am available. Very reasonable rates too.

Sunsetorama
At the break, we rejoin our comrades on the Shoebox, where everyone can't believe why we didn't just admit defeat after Jefford's 1st yellow, sub him for Babs and shift Spence there. Still, what's done is done. And besides, everyone is busy checking out Totts rather fetching cardigan. "It makes you look 60" is the unwise comment from one unnamed source. "An age you'll never fuckin see if you carry on like that" growls the father of the Republic. A reminder that whilst free speech is a cornerstone of our little independent utopia, it's not so wise to go taking the piss out of the head honcho's cardie as then you're likely to get a knock on the door in the middle of the night and a ride in the back of a Transit van with a bag over your head to somewhere quiet for a 'chat'.
Despite being a man light, we certainly don't look it when we're back underway. The defence is dealing with the issue of their two wingers nicely and we're getting forwards and causing problems at the other end through Biamou and Tubbs. Biamou almost breaks the deadlock after an hour when chasing onto a ball over the top he lifts the ball past the keeper towards goal, but a defender just gets back to nod clear on the line. But just as we're looking the more likely to nick the win, the ref again intervenes. Eastmond makes a committed challenge about 30 yards out and like at Wimbledon, his opponent doesn't look quite as into it as he does. The result is the ball won and a half arsed oppo sent flying. Unfortunately on this occasion, the ref again displays his finicky side and in true drama queen style whips out a red card so fast, anyone nearby would have been in serious danger of losing an eye.
So not only do we have 20 minutes to see out with 9 men, Eastmond is now left hoping all our remaining games between now and Arsenal are on for him to make the tie. Although I wouldn't be amazed if we appealed it after reviewing the video.
Having had the better a man down, being 2 down changes things a bit. Tubbs is sacrificed for Dundo to give us a bit more steel the middle and we then are treated to a 15 minute 'defence v attack' session as Wood go looking for a winner. But despite getting plenty of ball into the box, our defence deals with the threat superbly, with Downer, JC and Manks winning header after header. They do get the ball into the net eventually, but the flag is up for offside and also the ref has blown for an obvious foul in the box. Worns also has a moment where he fails to take a catch, but again his defence are backing him up and JC is on hand to head the danger clear from under the bar.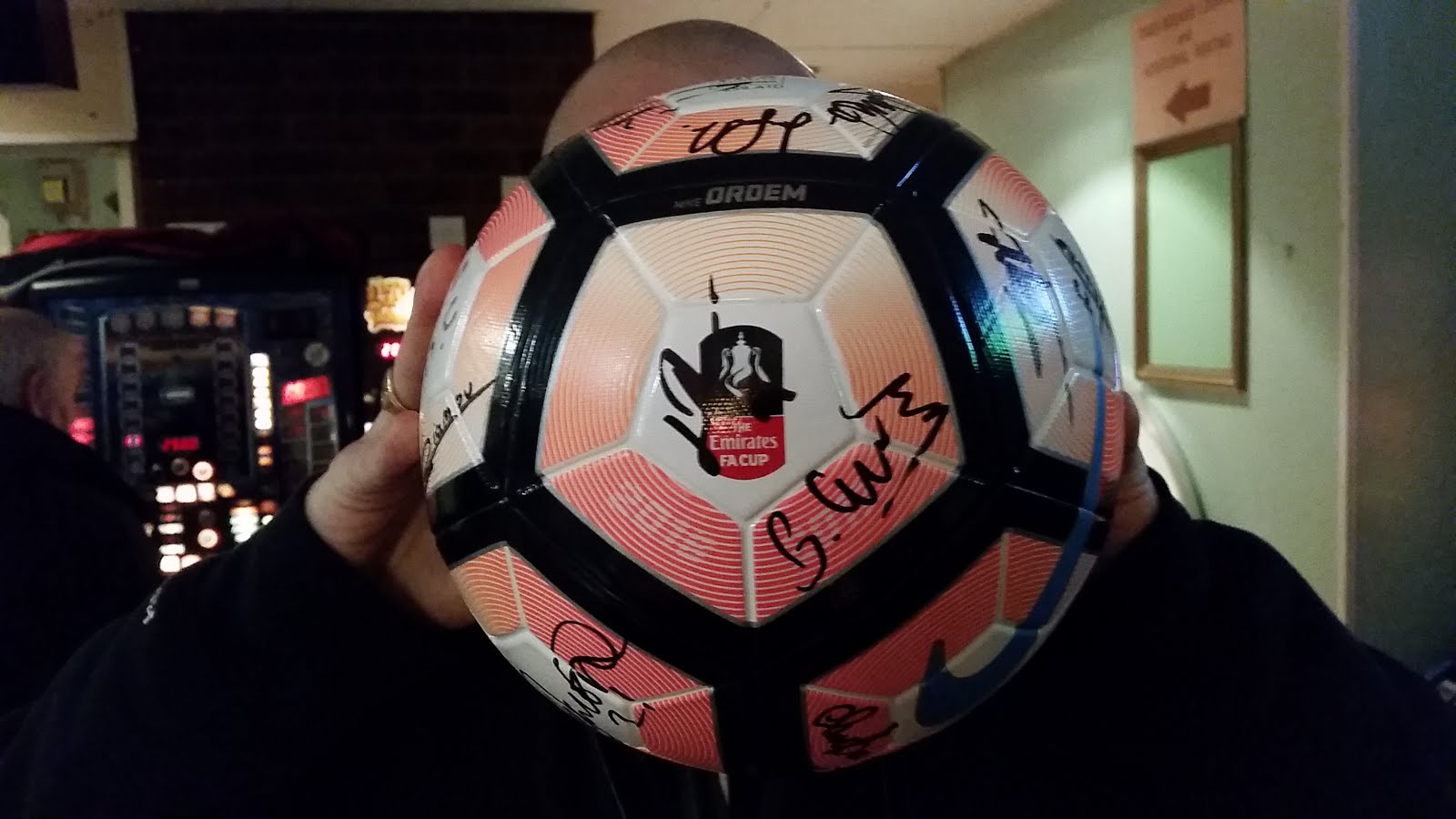 Finally found Greek's good side…
Time runs out though and clap the lads off for a stirling effort. So we're off to Boreham Wood again this week, however it seems Tranmere our original midweek destination for this Tuesday have failed to beat Chelmo and are also busy. So weather permitting if we can't get Easty off his ban we'll have 3 games for him to put his feet up for.
Back in the bar, the usual beer and bollocks ensues. We're remaining here for the evening this week as Loffers is celebrating her 30th tonight and the soiree is next door in the Times Square. With 7pm approaching we decide to deal with hunger issues and order in a fuckload of pizza from Ewell to deal with the situation. I make the mistake of taking my 1st slice from Dukey's spicy special, which has a chilli sauce base. Fucks sake. I have no idea what that boy's insides must be like of a Sunday morning and nor do I want to know if that's the sort of shit he eats normally! Thankfully the rest on offer isn't anywhere near as spicy and as everyone else departs next door, I head into the office to take care of some business quickly.
For some reason, I'd agreed to do a podcast with some US based Arsenal fans this evening and given I've been invited to the 30th, it made sense to do the Pod here at GGL and then tip into the do straight afterwards. So there follows half an hour or so of nattering and explaining all things Gandermonium and Sutton United to some Americans, plus somewhat rude interruptions from Chalmers and then Greek. You'll have to listen in to find out how it all went.
All done, it's then into the party and the night is drunk away in typical style before tipping out at the normal "Could you all just please fuck off home" juncture. With others electing to head towards O'Niells to try & continue the festivities, I take my leave and instead head out into GGL to sort myself out an Uber. This sadly takes longer than expected due to an update on the app that has made it completely unfathomable. Then suddenly almost by chance rather than intent, I've got transport home with a nice man from Marrakech.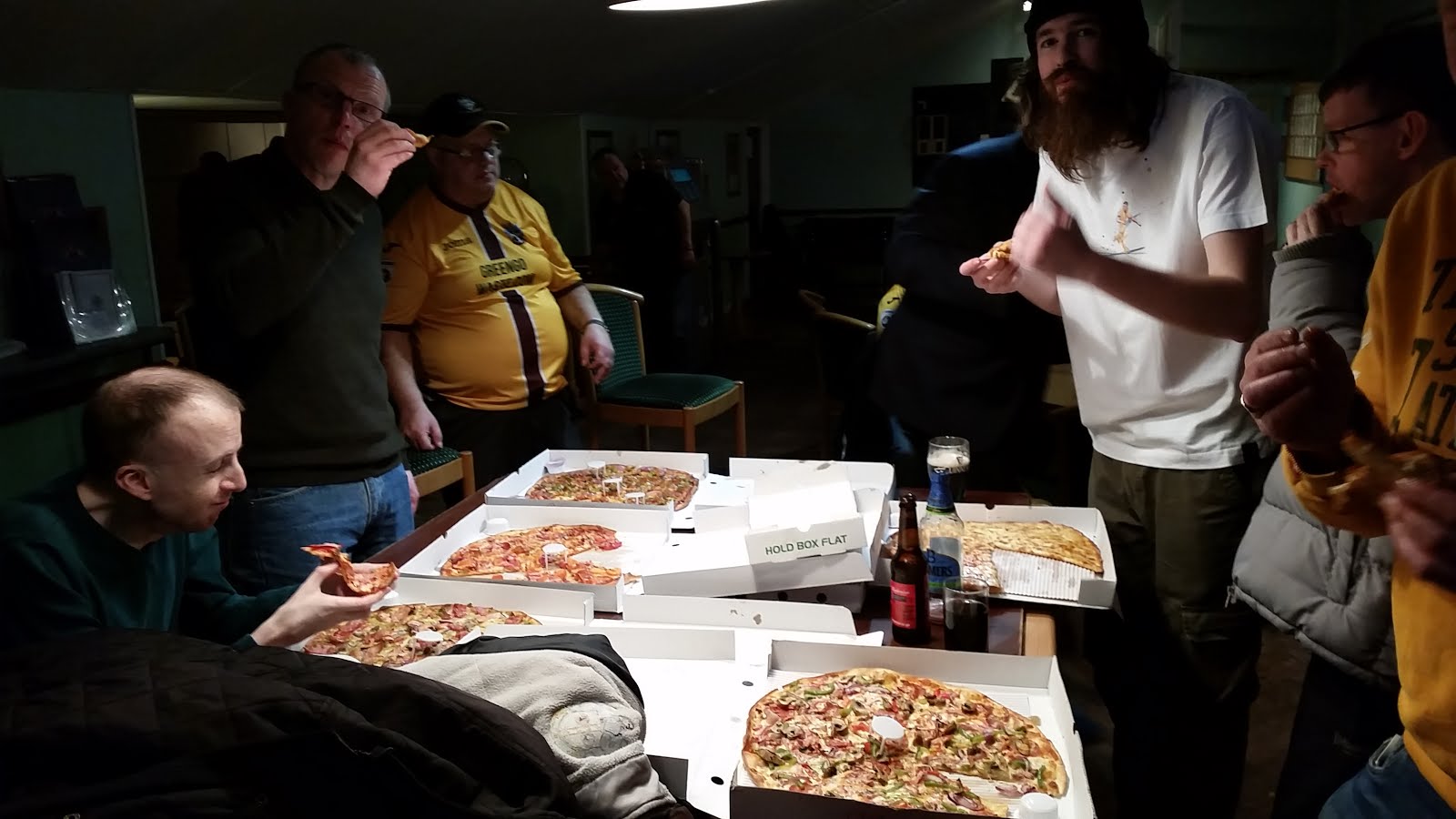 Feeding time at the Zoo
Thameslink to Borehamwood on Tuesday people. If the disaster after the league game up there earlier was owt to go by we're recommend bringing warm clothing, a sleeping bag, water and other provisions for a couple of days.
Don't say we didn't warn you.
Taz