Wow. Just bloody wow! Even after over 24 hours, we are all still in shock. Sutton bloody United are in the 5th Round of the bleedin' FA Cup. The last 16! Get in there! I still can't believe it. I really did think that beating AFC "look at me" Wimbledon in the 3rd Round replay was going to be the highlight of the season. Wrong again.
But before we get ahead of ourselves we need to wind the clock back a touch, say a mere 25 years. This is because we need to do a bit of explaining, because at one point in my life I was a Leeds fan. Yes that's right, I was a White. And I'm not saying that I was a fucked up kid or anything, I'm told that I shed a tear when John Jensen scored against Germany in the final of Euro 92, so maybe I was? And I didn't have a poster of Howard Wilkinson on my wall either!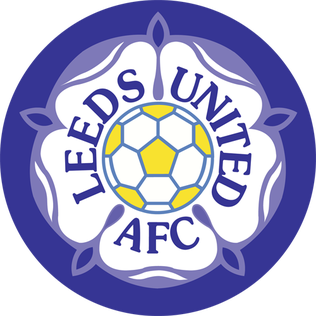 Old school badge
It all starts with my very own Old Man. you see, despite coming from a Charlton supporting background, Papa Duke has always been an avid Cockney Red (don't start!) and after befriending a group of Leeds lads on holiday on a Greek Island in the late 80's, they thought what a better way than to take the Michael out of him than by getting his offspring to support United's big rivals. Personally, all I can say is thank fuck they weren't Palace or Tottenham. That could've been a bit embarrassing otherwise!
One year they even brought me a season ticket for a laugh, unfortunately it was only for a long forgotten season in the old Division One. Do any of you remember what happened in 1991/92? No? Yeah, same here, don't recall myself. Can't say that I went to many games, what with them being up North and after looking at a few old programmes that I've kept from around that time, I'm beginning to think there is a pattern forming…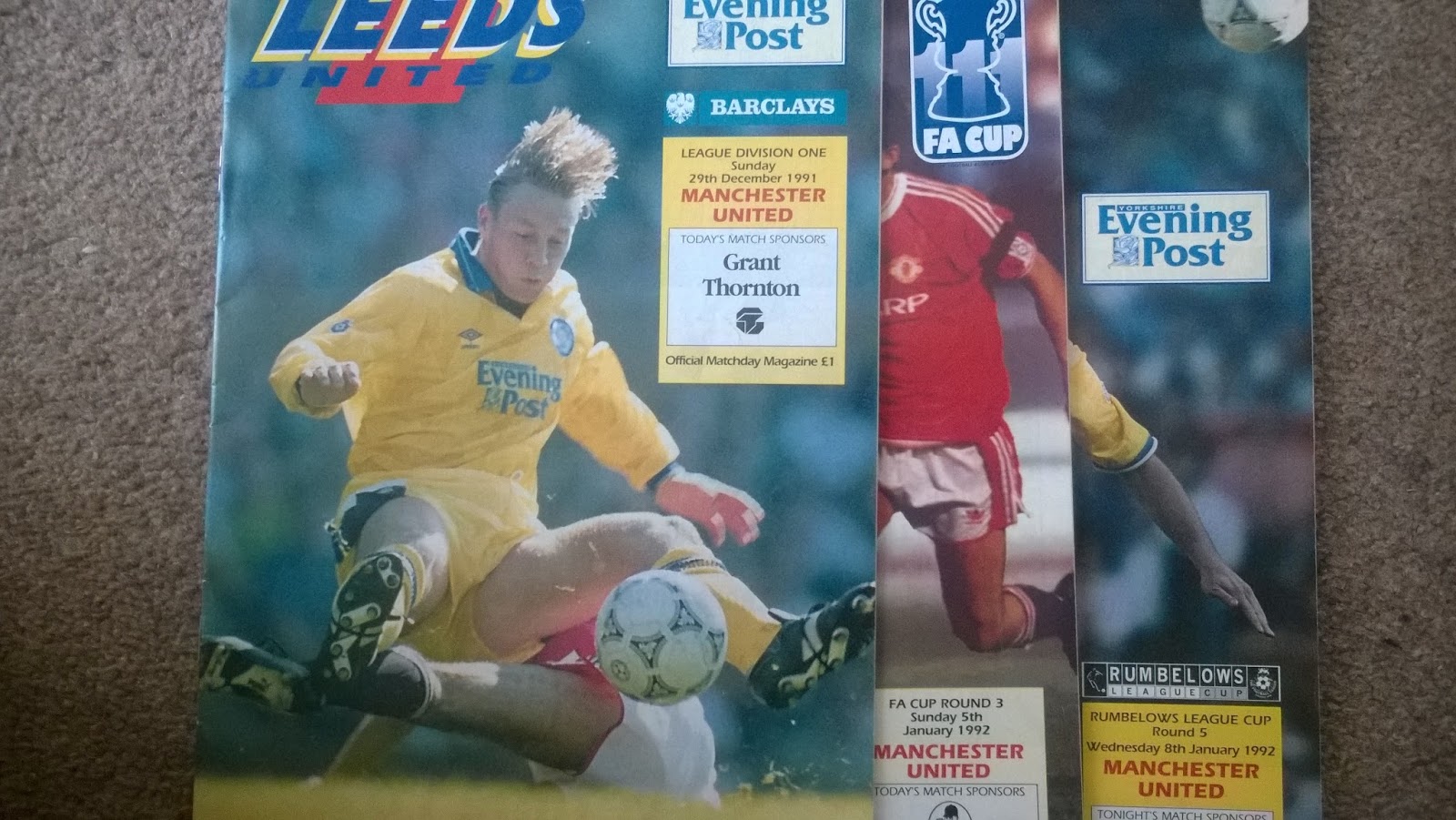 Same team, three different competitions and within a fortnight.
Not being able to go to many games (I was still in primary school after all!) eventually evaporated any chances of Marching on Together long term. I think I've still only been to Elland Road once since the construction of the East Stand. Around this time I remember getting a free ticket from school to visit the hallowed turf of GGL. Taking a seat (last time I've ever done that) in a 0-0 against Bognor would soon get me hooked. Obviously the infamous Banstead/Sutton decision was soon to follow and the rest, they say, is history. And as you all know, I love a bit of history!
But back to today. A quiet Saturday had me eventually do the very Christian act of walking over to the Firm Leader's to help him finish off a crate of almost out of date Fosters. Couple that with some Chinese from some place in Wallington and you can imagine my guts weren't in the best of states come Sunday. Nothing new there then. I even have time to hunt out Papa Duke's ticket and programme from the original meeting back in 1970.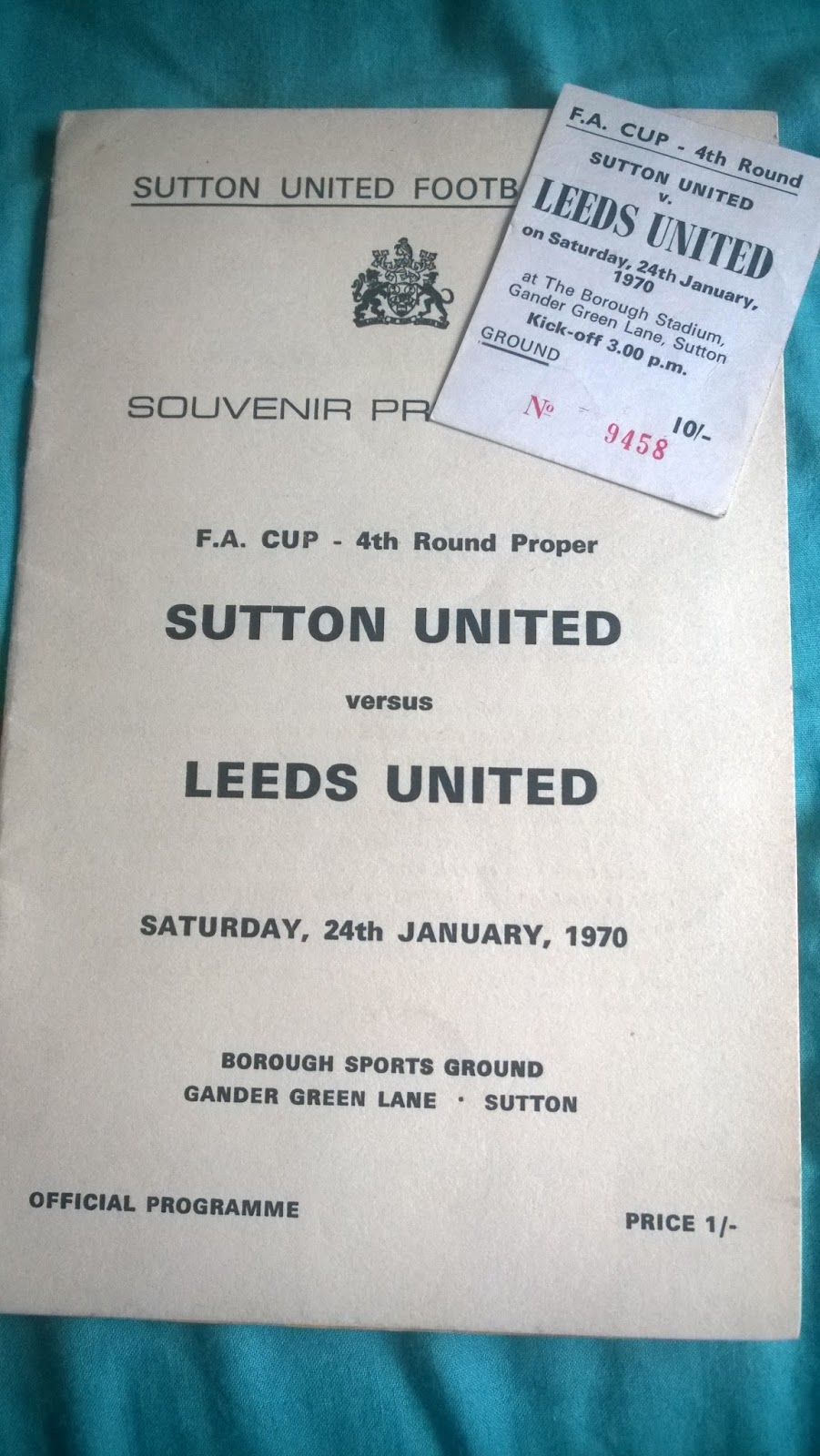 10 Shillings. Bargain.
Getting a lift from the Firm Leader's better half meant that we didn't have to mess around with trains for a change. Getting dropped off by the station, we walked down to a rather empty O'Niell's. Either this was because our little secret meet was so secret that we'd forgotten to mention it and no one knew about it, or maybe it's the fact that they don't actually serve alcohol until ten o'clock?
Eventually people begin to arrive and it was down to me to hand over several nearly free O'Niell's breakfast cards that Jono the landlord has thrust into my hands a few weeks back. Can't say the bar staff were too happy about the arrangement with a dozen or so Sutton fans all taking advantage and demanding some form of pig on a plate to line the stomachs.
Making a rare appearance today was not only Jimbo all the way from Littlehampton but also Beeney who had got the 0700hrs train out from Southend. They're all crawling out the woodwork today! I also have to mention that the bloody bugger arrived after me and yet I was the near last person to get any breakfast. Turns out that the little bastard only went and nicked my bloody bacon & eggs!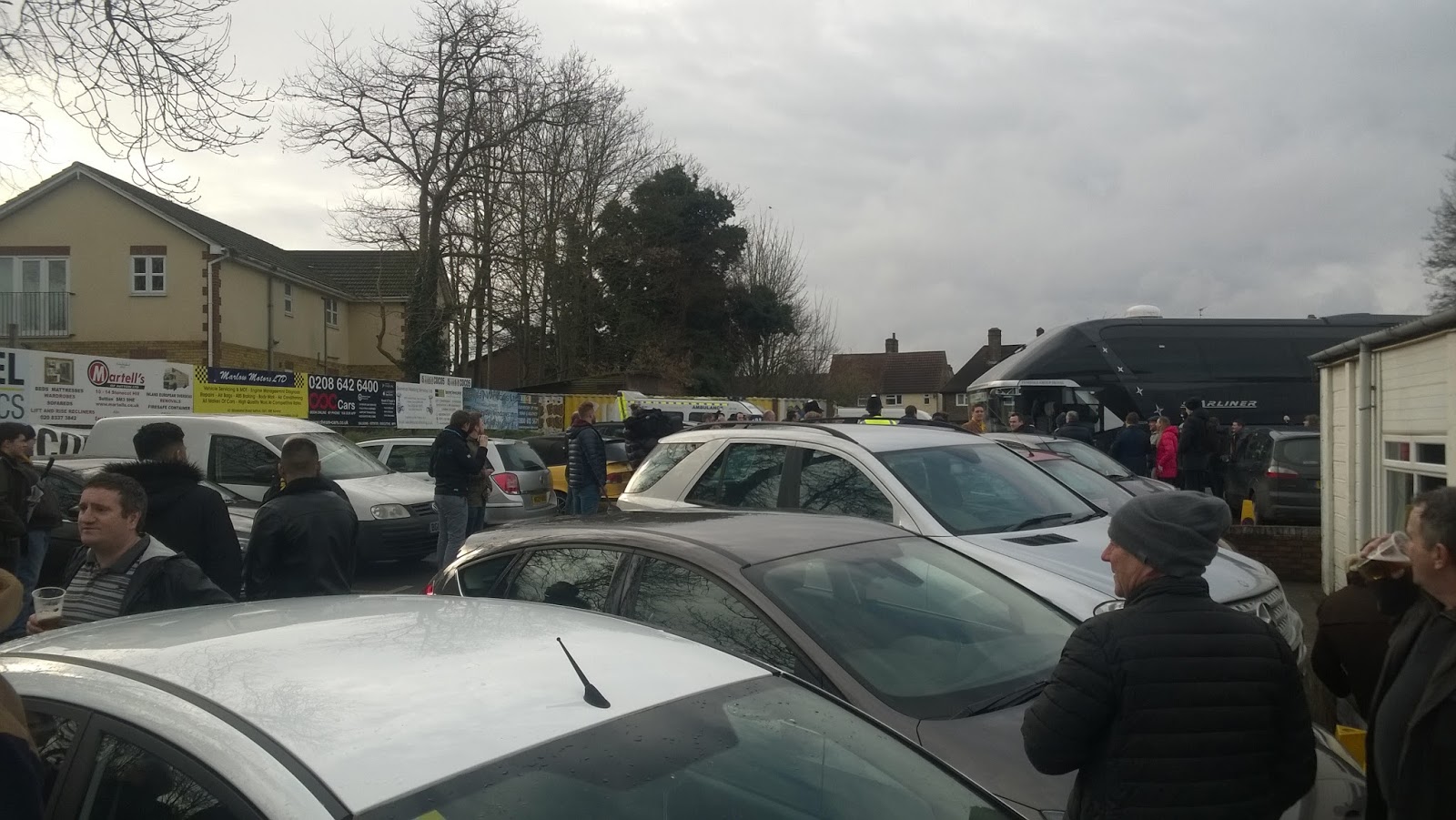 Here's the school bus!
With the time fast approaching eleven, people began to start making tracks toward the ground. The walk down was very much a guided tour for those that didn't live around these parts any more, seeing how much their old manor has changed. "Chicago's is shut, The Treasury has gone and you can wave goodbye to Pizza Hut. You think that's bad? Blimey, you wanna see the bottom of the high street…"
Arriving early at the ground and we are confronted with a couple of Rent-a-Stewards on the door demanding to see tickets before entry the bar. That's ok chap, I may have one ot two on me. After this thorough security screening, finally we were in for only our second beer of the day. Or third if you're the Firm Leader after his traditional Double Jameson's at breakfast!
With the usual pre-match middle class caper taking place in the Times Square, the players bar is soon filled up and it isn't long before standing in the car park is the preferred option as it can get a bit stuffy sometimes and plus it cuts down on the walk for a snout. After nearly getting run over by Alan Pardew's Range Rover we await the arrival of the fabled Football Special at West Sutton.

Few in again today then?
I still can't believe that Leeds managed to get one for this game, lucky buggers! Still, with it being Southern, it rocks up late, arriving nearly a half hour later than expected. Good old Southern Rail, doing exactly what you expect from a firm like that. Fuck all of any use. With a full house expected, there are plenty of known and unknown faces dotted around the gaff. Even Juan Sheet was about, apparently he wasn't "flat viewing" this time so could attend. I still think that's a euphemism for some sordid sexaul act or other. Or maybe he really did sack off the Wimbledon replay to check out a new drum with his bird? Not sure which is worse to be honest.
One reader that deserves a special mention here is the forum member 'Smiffy Down Under'. This is because, as you can probably guess with a moniker like that, he'd made the very long trip from Adelaide to see his team in this big game. Fair play to the fella! He also told me that he'd been here from the original 1970 clash and was another of the older heads who were out for a spot of revenge for that 6-0 caning that day. But considering he was also at our only league away win this season at Lincoln back in August, I would take this as a lucky omen.
With the time fast approaching kick off, we finally received the team line ups. For Sutton, it was pretty much who we expected to start with only Beckwith absent. Leeds on the other hand, bloody 'ell! Now, I could probably still tell you the 91/92 line-up now, but these lot, not a single one. I was informed by Rax that only one player was starting from the team that won against Forest, so I reckon even a few of the away fans might struggle on that front as well.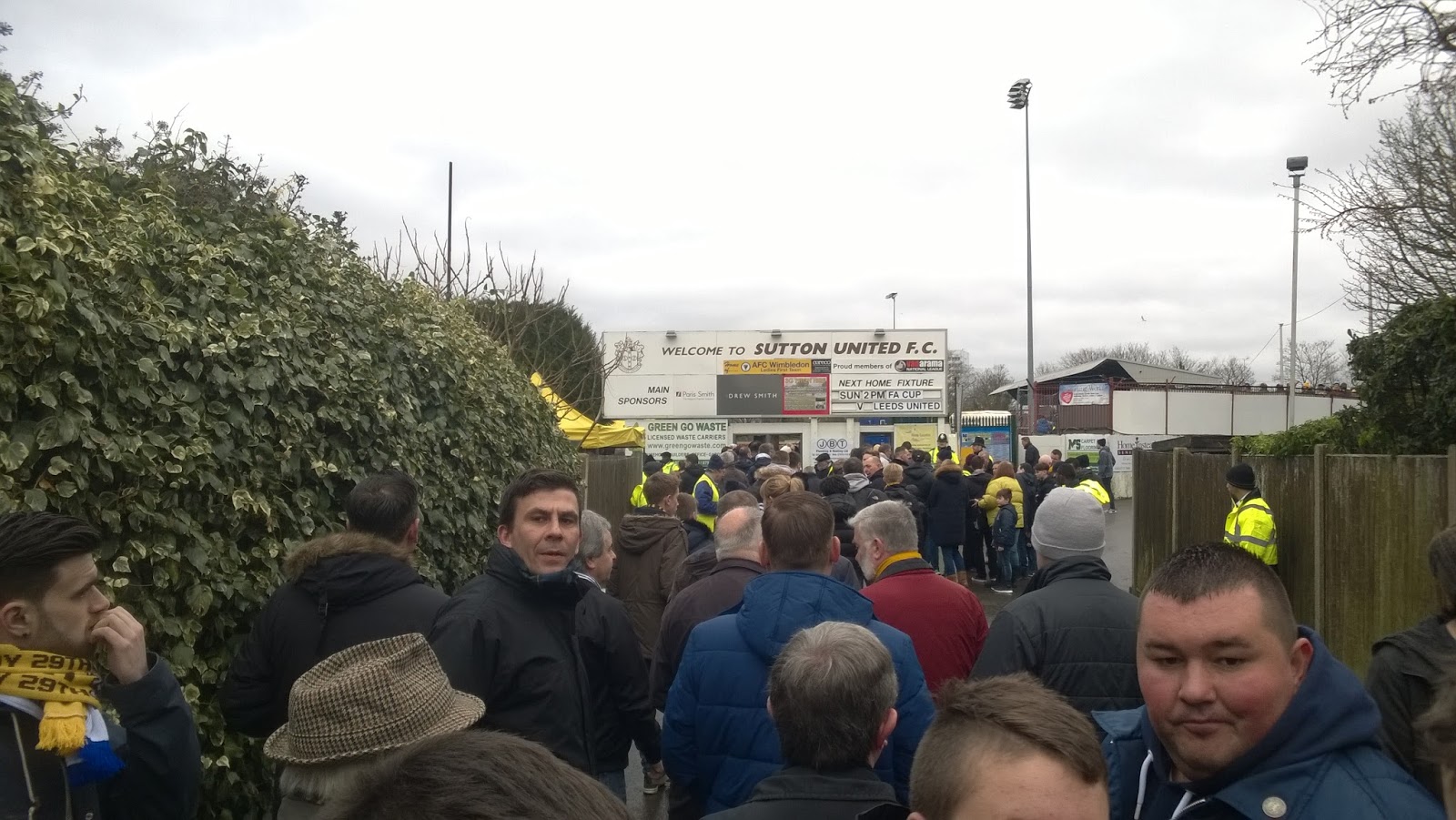 Bloody queues.
Another interesting character today is the man in the middle, a certain Mr Attwell of all people. He's the fella you might remember that gave the "ghost goal" a couple of years ago in the Watford vs Reading game. Fuckin' better have his contacts in today is all I can say. The Leeds bus arrives and as the players make their way through the car park, I'm shocked to see that they are in fact pretty much just kids. Jesus, they all look about twelve. I've got socks older than some of this lot! All it needed to complete the school day trip look was James Beattie to stand at the bottom of the bus and receive some form of homework off each player as they got off and give em their packed lunches in return.
By now the queues into the ground are apparently so long that they are stretching all the way back into the park, but I needn't have worried as I make my way along the line I'm wrestled into the queue by some unknown assailants. Who said the British love queueing? Still, it saves me being stuck out here for hours. Taking no time to enter the ground I'm soon next to The Shoebox and awaiting the players to enter the field of battle. And having seen their line up and the school bus arriving, I'm beginning to believe there could just be an upset about to happen.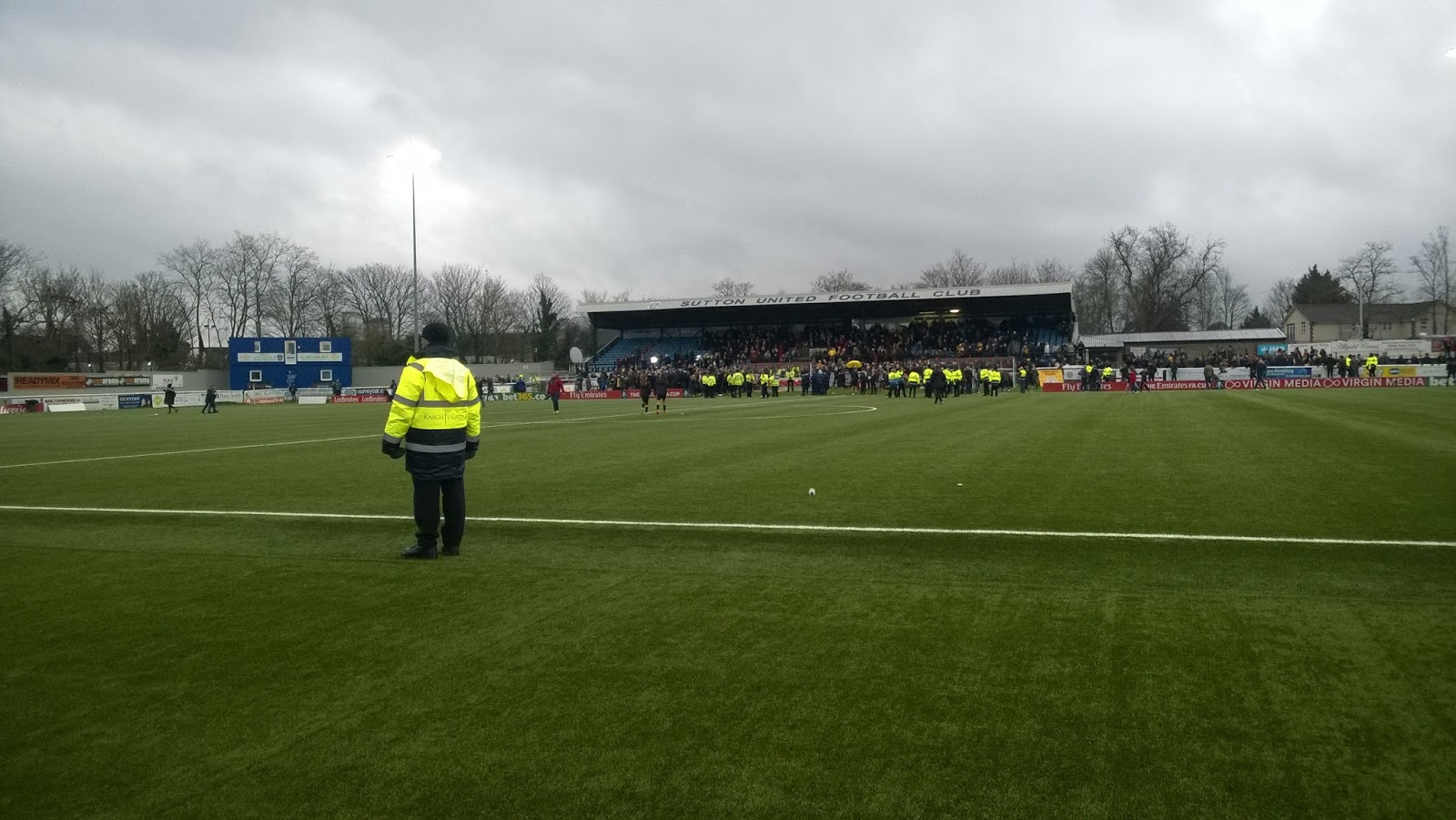 Oi mate, you've totally ruined my shot there…
Worner, Amankwaah, Spence, Downer, Eastmond, Collins, Deacon, Gomis, Biamou, May, Bailey. Bench Warmers: John, Fitchett, Gueye, Monakana, Traore, Tubbs, Shaw.


From the very first kick of the ball, you could see that Sutton were not messing about and going for the jugular. Leeds were unsurprisingly playing like a team that hadn't met before and it wasn't long until Sutton had a brief taste of the promised lands.
A simple through ball had cut the Leeds defence in half as Biamou & Deacon chased after it. Biamou reached it first and just knocked it slightly forward for Deacon. taking the ball into the box, he let off a left footed shot that rocketed into top corner. 1-0! The Shoebox goes radio rental as people are jumping all over each other with bits of Cheam Park DILFs, Bacon Roll clan & Gandermonium all entwined in the rampant celebrations.
Suddenly someone screams in frustration, the sort of scream that makes you stop jumping about and look for an offside flag. Looking around we see most of the ground is staring in disbelief. Then we see it, across the pitch on the far side the linesman indeed has his flag raised. What a cunt man! It wasn't long before messages are being received from those unfortunate not to be here and watching it on the telly, most with just one word. "Onside".
Bollocks 1-0! 0-0!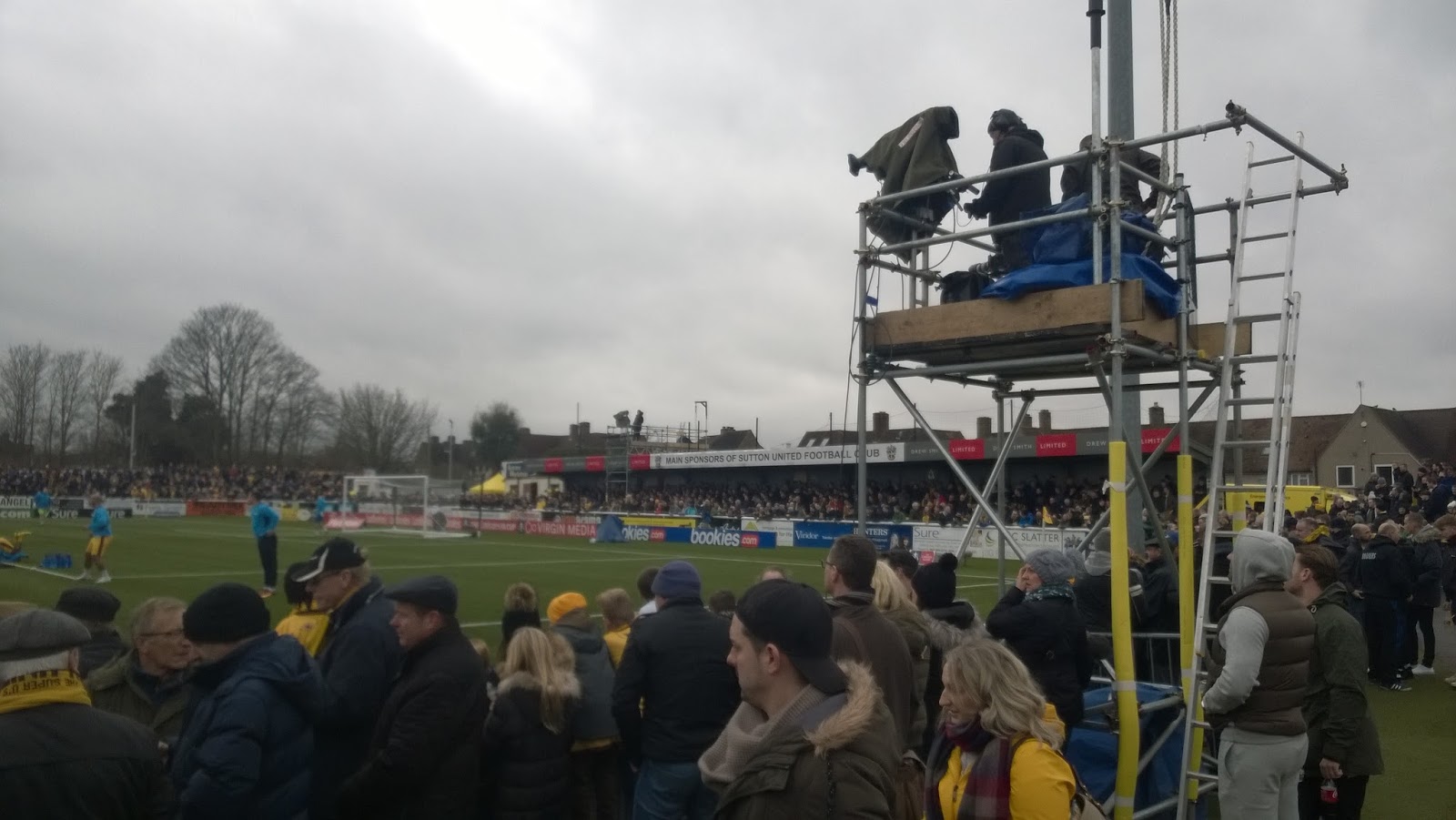 Just keep that thing pointing that way this time fella!




This wasn't to stop Sutton in their tracks though as they kept up the pressure on Leeds. It wasn't long before Deacon was rifling off a 25yrd shot that had the keeper jumping high just to his left as he tipped the ball away from his goal. Gomis then had a chance as the ball ran to him in the box from a Deacon shot that was blocked, but his effort was just kept out by the keeper's legs and arse.
Deacon once again asked something of the keeper as he let a ball run across him just outside the box and unleashed another cracker that forced their fella to pull off another crackin' save. Throughout all this pressure, Leeds managed to get both their left back and left of centre back booked as they fail to stop Sutton attacks legally. I think Leeds had one real chance in the whole first half when one of their only first team players took the ball expertly down in the box but went for the wrong option as he attempted to lob Worner with a quick shot and failed miserably.
Forgoing the usual half-time drink, mainly as there's no way we'd have got a beer in with this many punters about, we stayed on The Shoebox and waited for a second half that hopefully had the same intensity as the first. All we needed now was not a display that has come too regularly this season where we create several chances and fail to capitalize, before giving the oppo one solitary chance which they take.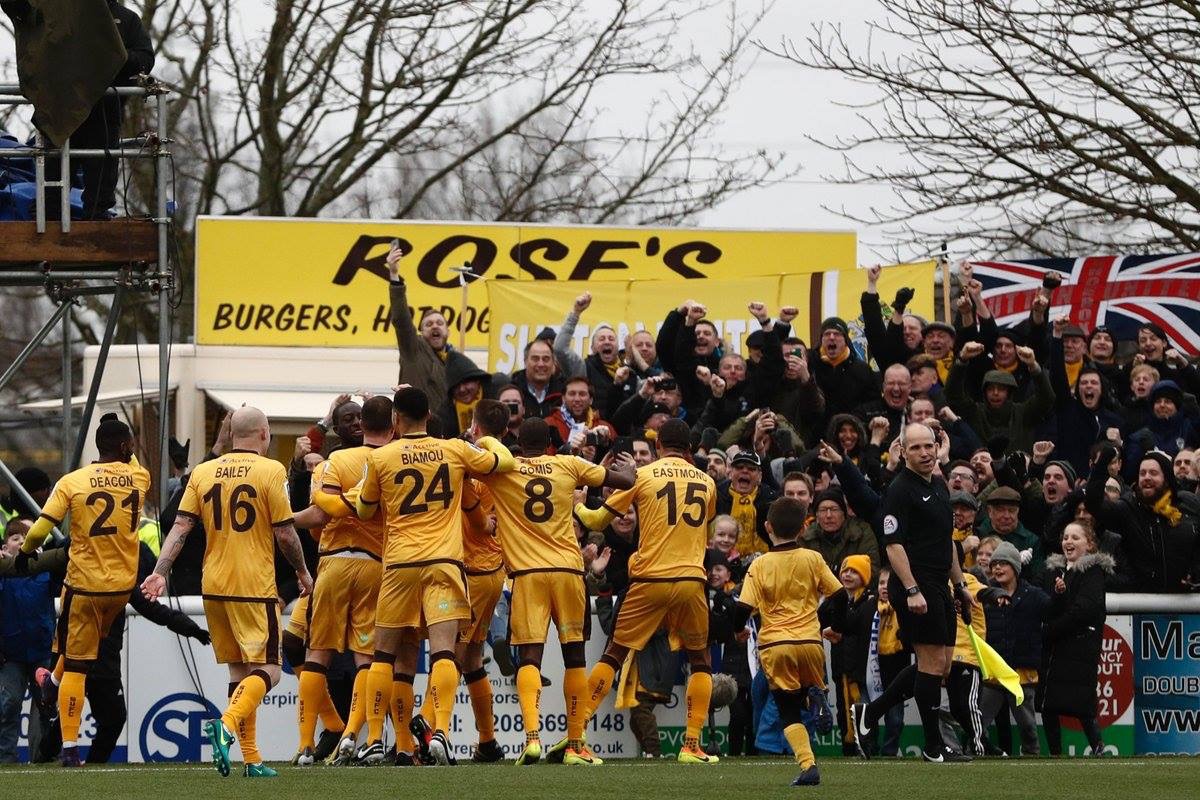 Fucking bedlam
And how wrong was I? Totally! Leeds again failed to show up, carrying on much like they did in the first half and it wasn't long before Sutton were knocking at the Leeds goal once again. The first real chance that fell to Sutton came from a through ball from Bailey that seemed to have been slightly overhit as it ran past Biamou towards the keeper.
Suddenly there is miscommunication between the chasing Leeds defender and his keeper. Biamou tries to sneak in between them, getting a slight touch on the ball before all three end up in a heap. More of a coming together than anything really. Biamou and the Keeper both go down as the Leeds defender bundles into the keeper. He then recovers and tries to clear the ball. Unfortunately, the only problem is that Deacon has caught him on his blind side and nipped in before the swinging leg of the Leeds lad clips him and he crashes to the floor. Mr Attwell has no option but to point to the spot.
Jesus, a bloody penalty to Sutton! The first thought in my mind is of course of Leroy's miss against Notts County. After the initial excitement we look to see who will be taking it. "Please don't do a Leroy". It's Collins! "Please don't do a Leroy". He calmly puts the ball down and takes a few steps back. "Please don't do a Leroy". Mr Atwell blows his whistle, Collins makes his run up and strikes the ball with his left foot. "Please don't do a Leroy". What was I worried about? Sending the keeper the wrong way, the ball goes into the bottom right. 1-0!
There is of course some pandemonium as Gandermonium goes mad on The Shoebox. The Cheam Park DILFs & The Bacons are also going mental to celebrate Sutton's deserved lead. It's all properly rowdy and at one point Jimbo picks my 12st(ish) body up and lobs me backwards into The Shoebox. But fuck it, who cares, we've just scored our first ever goal in the 4th Round of the FA Cup.
The game did seem to lose a bit of life after this but despite that, we didn't really care too much as Leeds never looked like equalising. Even after all the subs they still failed to produce anything threatening and only had a half hit shot from outside the box that had Worner making any type of 'save'. Sutton still looked dangerous when pressing and once again threatened be it from either a free-kick or a poor back pass.
Deacon & Bailey both received yellows in the last part of the game and there was a last minute substitution for Eastmond as "Bad-Boy" Traore (or Babs as some of the Carry On fans on The Shoebox prefer to call him) came on to waste some time. Speaking of which, 4 minutes added on was announced and yet the ref thought that 6 minutes was better. Tosser, that did the ticker no good at all I can tell you.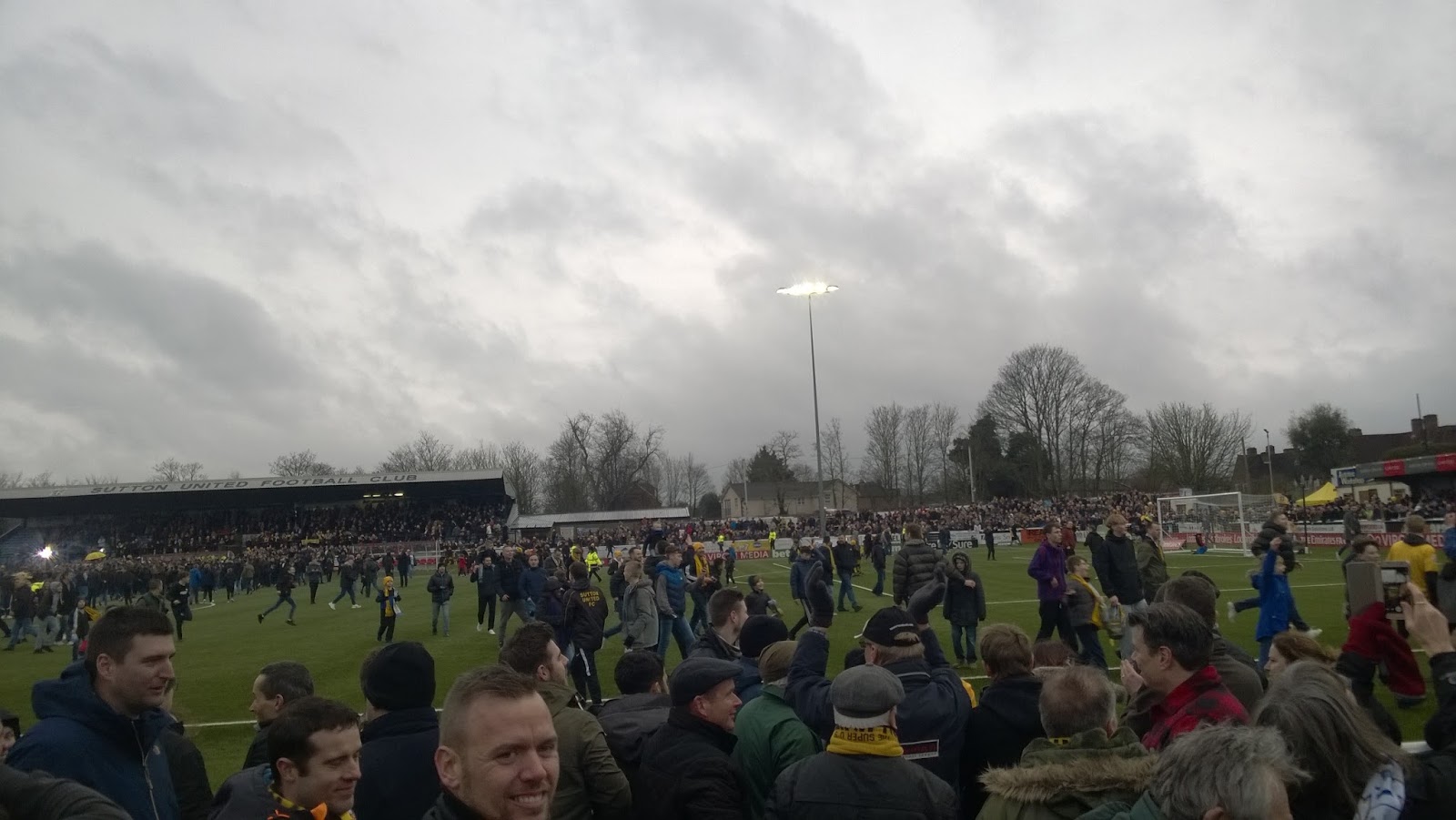 "Please stay off the pitch! Please stay……oh never mind…."
Finally after calling him all the names under the sun for the extra couple, Mr Attwell blew his whistle and the old place erupts again. Talk about making memories, I've never seen the place seem so wrapped up in spontaneous hugging and astonishment. Seeing Mr X look like a turkey that'd just seen Bernard Matthews smiling at him or The Firm Leader close to tears as he tried to contemplate what had just happened are just some of the memories that will last with me for at least a week I reckon. Maybe even two. What? I ain't the emotional type is all I'm saying!
Although it isn't quite up there with the win against Coventry in '89 in my book, it's still an excellent achievement. It's got to be at least as good as the SSC win in '04 I reckon (wink wink). There is a small pitch invasion by some of the kids and the Johnny come lately's but for those on The Shoebox, we're old bastards and have seen it before, so we just stand and clap the boys achievement. Besides, none of us has on the appropriate footwear for the old 3G and we ain't getting on the wrong side of Bobby on a day like today!
Eventually we head round to the bar and find it's unsurprisingly rammed on all three sides. This does cause the Firm to sort of split up for a while as we move from different people sharing in the shock and disbelief of what had just happened, as well as to try & forage a pint where we can from those in the chair in various spots. Once in awhile, conversations stop as Sutton appear on the box and its cheers all round as JC slots the pen each time.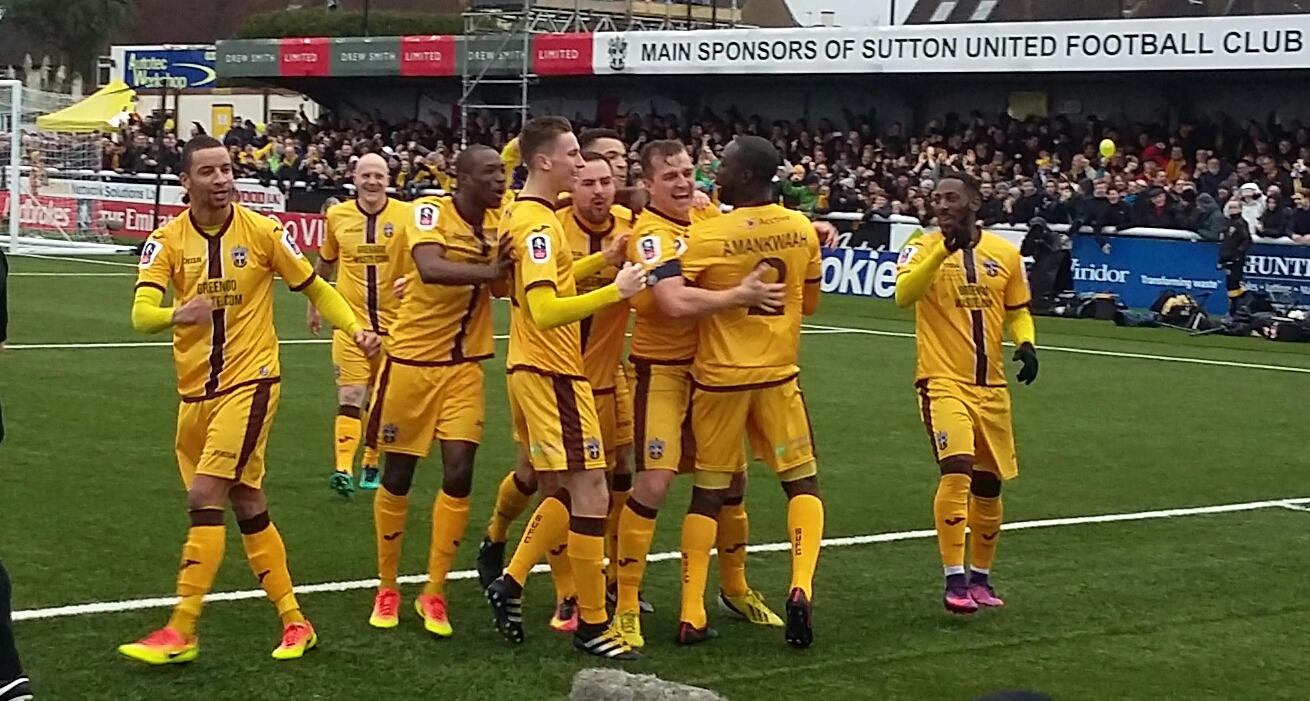 Leave it Jamie! He ain't worth it mate!
Even Mr Monk's comments are honest enough as he doesn't take a leaf out of the book of some other FT sides and blame the pitch for his team's performance. Fair enough fella. Still the mood in the bar is not quite the same as the one after the Wimbledon replay. I can't seem to put my finger on it. Maybe it was the last minute winner there? Or that it was the real hardcore that were at that one rather than every other man jack? Still, we are treated to the properly unusual sight of Bobby Budd standing about grinning, whilst holding a pint. An actual fucking alcoholic pint. It's apparently his first in over 20 years!
By the time everyone is nicely steaming, the juke box has had a right going over with numerous song choices designed to get the old bar hollering along. Gala's Free From Desire is one particular floor filler that will no doubt be heard again in the future. Although if I hear bloody Doris Day again it'll be too soon.
By the time it reaches half ten the place has emptied out and wanting somewhere a bit less mental and covered in beer, we gamble that O'Neill's will open. Bad gamble as it's actually shutting as the first cab gets there and we're forced to use the not posh 'Spoons instead. Where a certain someone was, how you say, absolutely cunted and was refused service. Still that didn't stop the rest of us from carrying on! And at least he didn't get lobbed out like one punter who'd had a little bit too much refreshment. Still, at least Taz was nice enough to pick up his hat he dropped and return it to a doorman while matey protested his innocence outside.
The furniture in Spoons these days….
After a couple of cheeky ones in 'Spoons where we chatted to a couple of downhearted away fans, we finally decide to call it night. Well it is nearly midnight on a Sunday for gawd sake! Next we are in a local kebab shop ordering as much shit as we all can to shovel into our faces. We bump into another depressed looking Leeds fan that congratulates us and wishes us well. Here Mr X leaves us and it is down to the usual three to head to our usual cab rank for the transport home.
In fact, we're getting so regular here these days that the non-fat controller behind the jump knows exactly where we're all going and gives us our usual driver. Jumping in, he even remarks that "I saw the Sutton score and thought you lot might be about tonight!". Jesus, we're getting a bit too predictable in our old age these days! Still, not long after that I was safely home and it wasn't long before I'm asleep, half on my couch/half on my bed cuddling my half eaten kebab. You see ladies, sexy & stylish as always!
Postscript:

Waking up on Monday morning is bad enough, but doing it after a fucking session like that on a Sunday is terrible. The days of doing Friday, Saturday & Sunday have been long gone fort a while now and hopefully a Sunday session is far away. I'm of course woken early by a phone call from The Firm Leader who I don't think has actually been to sleep yet as he carries on from where he left off last night with his total disbelief of the current situation. 5th Round of the FA Cup, last 16 bitch, deal with it.
Then all of a sudden, one of the firm that was up ridiculously early and had brought several Monday morning newspapers is alerting us all to something important. "You wanna see the Sun…" is all I manage to read with badly focusing eyes before a photo is uploaded to the top secret members only Gandermonium Whatsapp group thingy. Holy shit, we're famous! And not for our drunken bollocks either…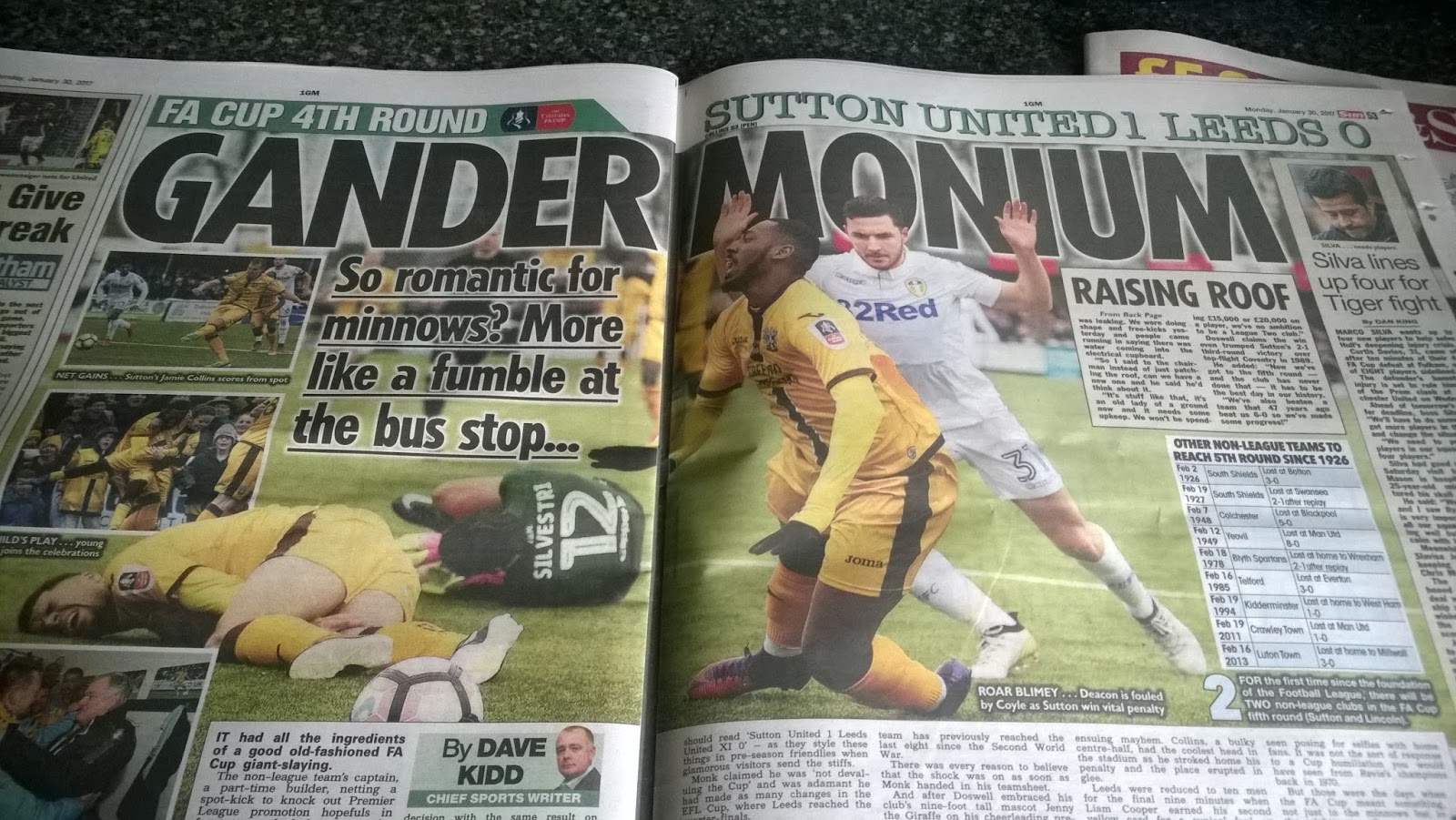 That's just bloody silly that is!
So now we've made a national newspaper (technically), we have our record company & we've been in so much media lately its hard to remember all of it. All we need now is to get the Dukey action figure off the ground finally and we'll be as famous as Rupert Murdoch. Before her married Jerry Hall. And was bugging all those celebrities. But probably not as rich. We're not that fuckin' lucky.
Roll on Monday night and there's only one place to be. Down the club for the 5th Round draw! BBC London are down there to do a piece, as are ITV as well. Strangely, instead of a dedicated cup draw programme like in the previous rounds it's now being done on the arse end of the bleedin' One Show!
Then again, it might always be this way. Let's be honest, Sutton have never been in the fifth round draw before so I've never bothered fuckin' watching it. Not wishing to be spotted on tv, lest the authorities get a bead on me, I removed myself to the quieter players bar to watch the draw in peace. That, and the buffet is in here too. The Legend that is Micky Stephens has also had the same idea and we engage in a little rundown of the game from the day before before everything kicks off.
As the balls are dropped into the large clear hairless testicle by no other than Robbie Savage, the feeling I'd had earlier of a shit draw is still with me. Soon enough, Man Utd & Tottenham are pulled out of the hat. Lincoln are then pulled out to play away at Burnley. Suddenly, ball number four is being displayed by Gareth "I'll never get an advert for Pizza Hut again" Southgate. Hold up, that's ours! Sutton are at home. YEAAAAAH!!!!! Next door, the assembled crowd goes wild.
Savage then pulls out the ball for the away team, but seems reluctant to show its number to the camera. That could be good, or it could be bad. Come on you twat, fuckin' tell us! "Ball Number Six" he screams, thrusting the ball towards the camera to show it off. And just as I'm trying to look at the poxy list on the screen to work out who we just go, there is a proper uproar next door. Then I work out why. Jesus, it's Arsenal. Holy shit! Arsenal at home! Finally the sort of tie that we wanted several rounds ago. The place is by now going mental and the Secret Gandermonium Whatsapp Group Thingy goes into overdrive as everyone starts chirping. The rest of the draw is now pointless. Who cares, we got fuckin' Arsenal!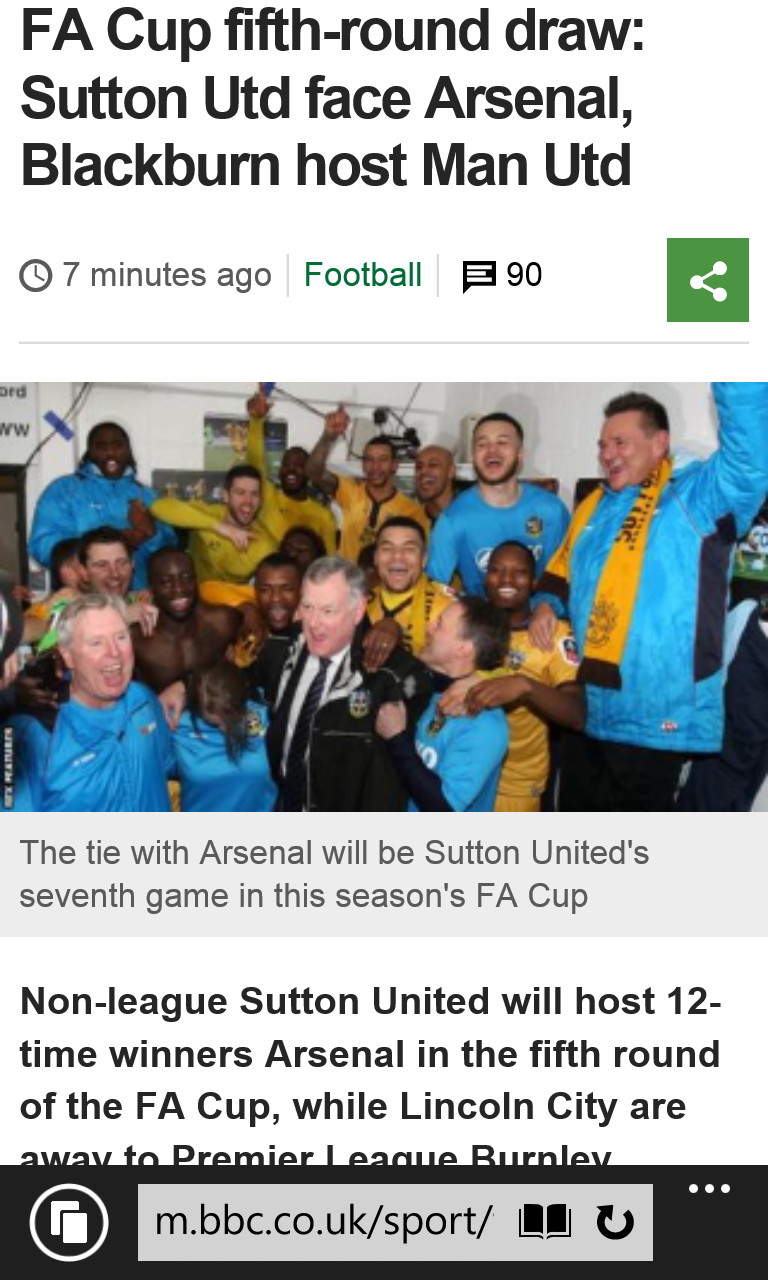 Just steal someone else's!
We eventually try & call it a night, but then spend half hour on the way out speaking to people about all manner of things. What will the ticket situation be like? Can we host a team like Arsenal? How in the hell did the Firm Leader win a match ball from Sunday? And will we have to have another load of those bloody half and half scarves again? Eventually though I did make it back home and I was soon passed out dreaming of what may cum come.
So, now we move on to Saturday and Boredom Wood in the FA Trophy. I wonder how many will turn up for that. Considering we had the largest 496 crowd I've ever seen down the Lane for Worthing in the last round. And what is our award if we win? Well, it'll mean that Torquay away will have to be moved to a midweek for starters. Great! Fucking cup competitions.
After that it's a triple bollocks of away fixtures. Tuesday night in Liverpool (Tranmere), Saturday in Birmingham (Solihull) and finally er….Leeds (Guiseley) the following as well. Talk about clocking up the mileage. Considering how great we are on the road this season in the league, I personally can't wait. And who do we have after that little lot? Let me think, Hmmm. Hang on, I wrote it down and everything….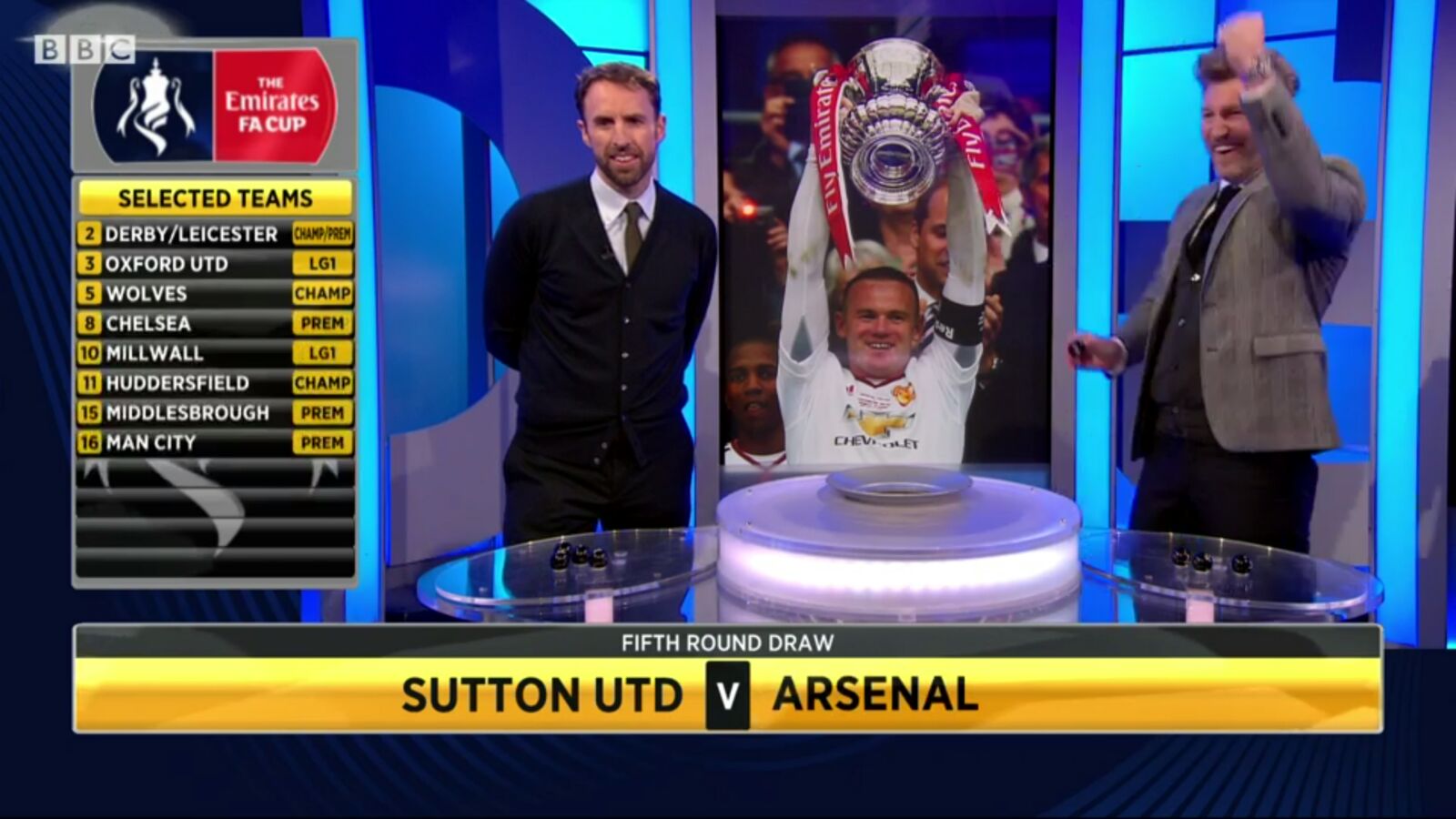 Yes, well done Robbie, you did alright sunshine….
Duke
Att. 4997 (Away tickets unsold: 16)