With all the furore about the FA Cup this month, it's probably no surprise that its poor little old Non-League cousin the FA Trophy has been a touch bit in the shadows. With first the Wombles replay looming 72hrs after the tricky trip to Worthing and now the tiny weeny matter of a sell out 4th Rounder at home to Leeds loiters on the horizon.
Anyway, on the subject of the old pot, that wasn't a bad old night out in Kingston last week was it? Yeah yeah, Totts has already covered it in great detail on this here blog, but fuck it. I'm sort of in charge round here, so I can talk about what the bloody hell I like.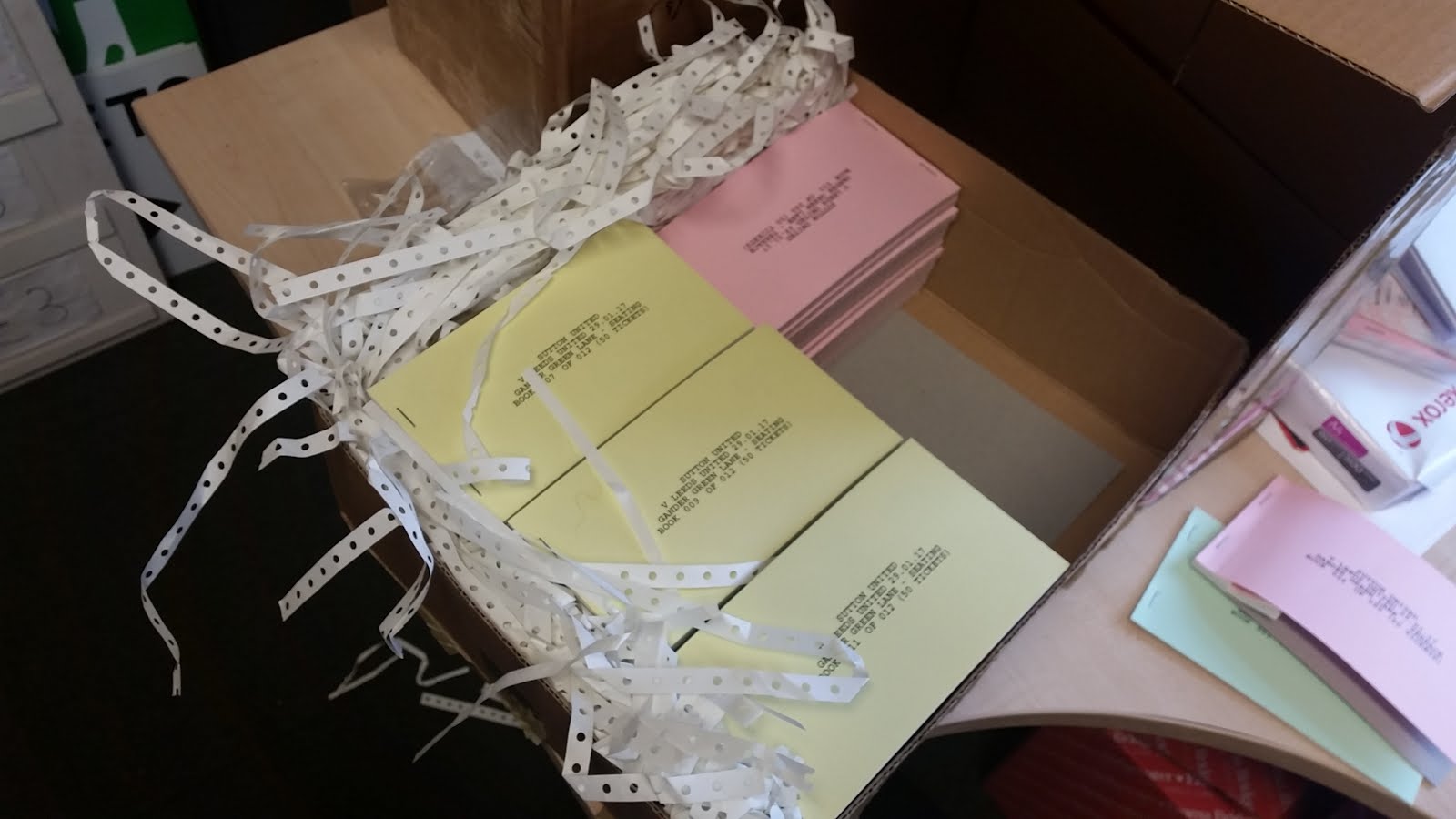 They're amazing! So, what are they?
Naturally, such a momentous result has provided quite a few lasting memories as well as more than enough laughs to last us a good while. However, my own particular favourite didn't pop up until just this very Monday evening having spent the whole of Sunday flogging tickets down at the club. If you bought by phone, then you were thoughtfully and professionally crossed off a list by none other than yours truly. You are very welcome.
Now where was I? Oh yes, amusing anecdote. As usual for the end of a busy working day, I wandered down to London Bridge for the shunter back to HQ, but once again train shyster spivs extraordinare, Southern Rail, fucked me over and turned out a 4 carriage excuse of a service instead of the normal and very much required 8. Not wanting to spend 30 minutes imitating transported livestock there was only one thing for it, back to East Croydon. Still, at least this meant I actually got a seat.
On the way back, I take the opportunity to brighten my journey with a bit of Comrade X on the old dog & bone. And with that done, I next feel the urge to relive those rather exciting little moments from the previous Tuesday evening. So thanks to the miracle of 4g, I'm soon checking out the SUFCTV highlights of the Wombles game in full HD on the old Samsung. And just as I get to the bit where Deacon does his little pirouette and twats it into the top corner, the bloke sat next to me looks over, clocks what I'm watching and with a very audible and somewhat huffy sounding sigh, gets up and fucks off down the crowded carriage.
Something I said fella?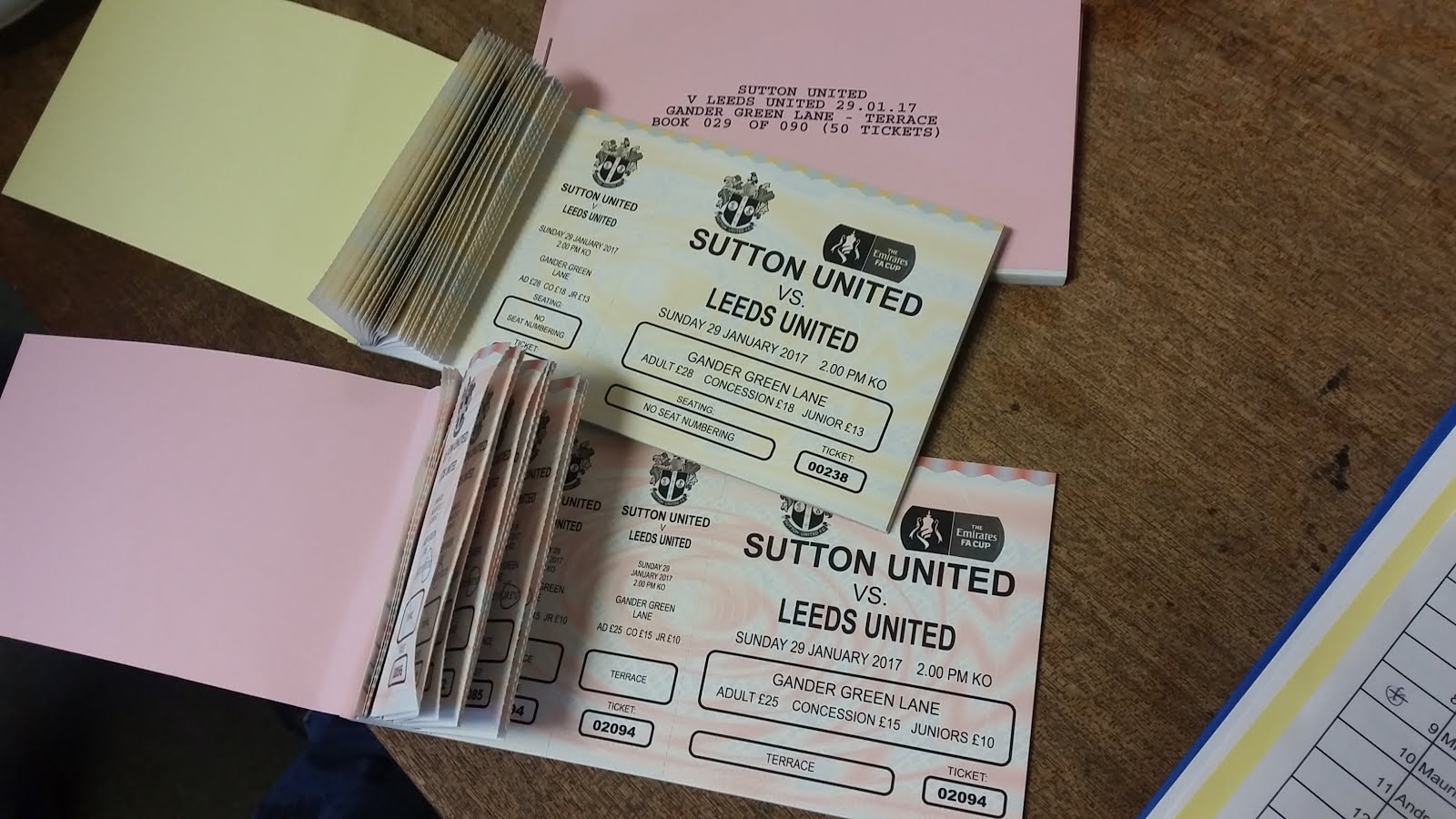 Roll up, roll up!
Naturally, I find this amusing and sit there giggling as quietly as I can to myself. After a few moments I notice a bloke opposite stood up in the crowded carriage eyeing me suspiciously. No doubt wondering what exactly I'd just done to offend the geezer who'd just left abruptly and when exactly he was going to be smelling it.
But I digress, this is a write up for an FA Trophy tie, so I should probably spout some bollocks about that for a while. Besides, it's not all roses and unicorn's farts this week as sadly the Daily Mail caught up with the rest of the world and got in on the West Sutton media frenzy by featuring 'Shoebox Terrace' on their online edition. No doubt they'll do a follow up after the game about how we all cause cancer or something. We're expecting the call from Pravda any day now.
The Worthing trip last Saturday proved to be a cracking day out with plenty of pubs and everyone on serious form on the refreshments front. Shame we couldn't see out the win, but with other fish to fry you can probably understand why we couldn't quite close it out like we probably would were we facing nowt more than a quiet week in and a home game with Eastleigh 7 days later. So here we go again. Another midweek cup replay.
With work being a bit of the hectic side, I don't hit the streets of the City of London until 6pm and it's not until half past I'm stood at Victoria looking for my train. Sadly I've missed it, so I've 20 minutes of fucking about in the worlds worst M&S to get a sandwich. Still, there's no panic and I've left the car at the station at the other end, which should propel me to GGL with enough time to spare before kick off to allow for a pint.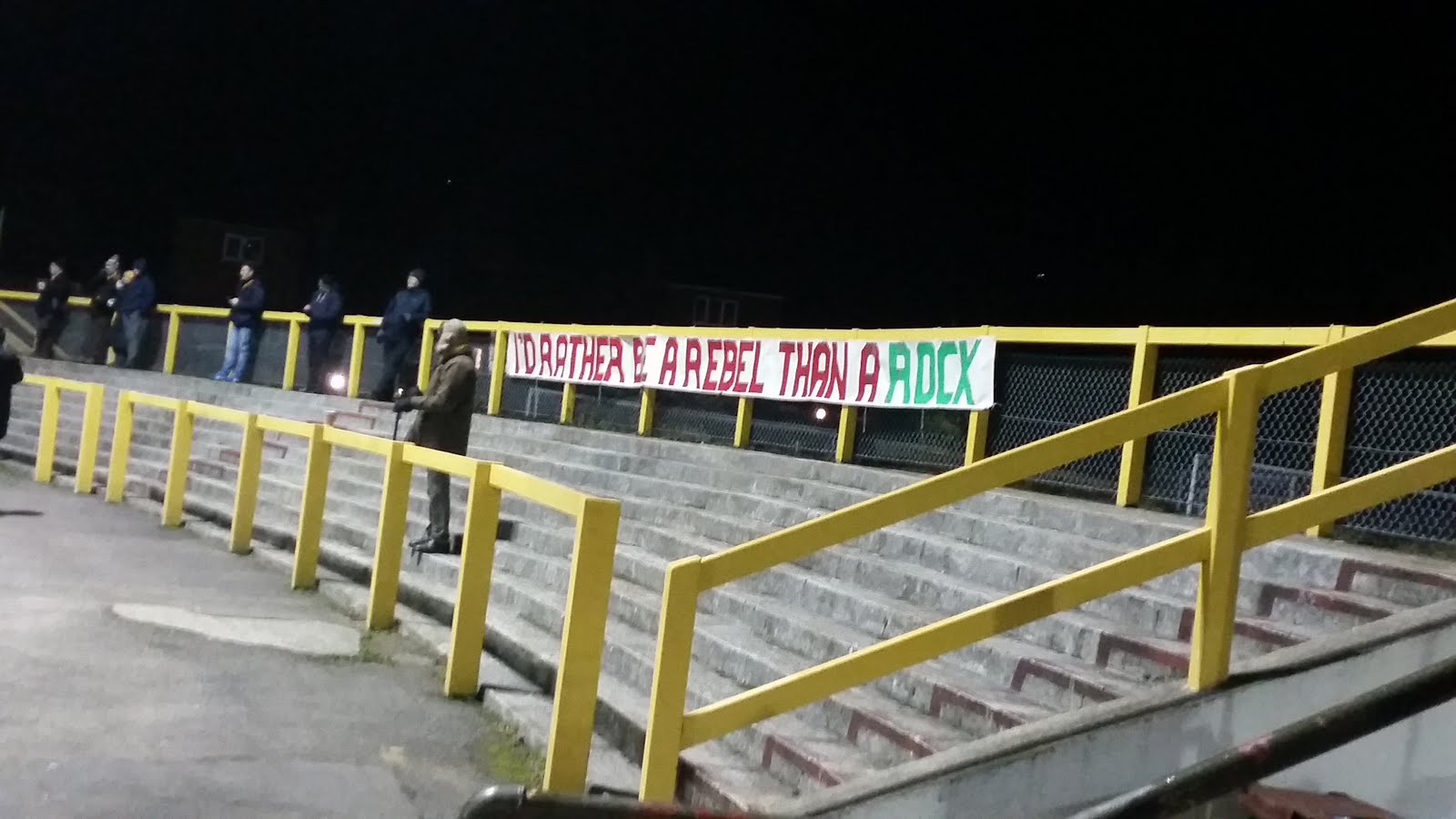 Wonder what the fuck they're selling?
Back in the occupied territories, having resolutely failed to upset any more Wombles whilst using public transportation, I pick up the motor and get on the move. First stop, Tesco's on the bypass for some folding and having swiftly relieved the ATM of some of it's contents, I'm motoring back out onto the main drag. Well, almost. As I turn out of Tesco's, there's the sound of something moving coming from nearby. The sound of an object shifting. All is soon revealed when just as I blip the throttle, my dashboard flickers and dies briefly and the stereo restarts. Uh oh.
What follows is my car effectively being startled and it goes into limp mode. Meaning I'm now on a bypass in a vehicle that resolutely will not do more than 20 miles per hour. And it's getting slower. I flick on the hazards to try & let people know I'm simply in the way and start looking for somewhere I can pull over. Eventually a gap appears in the barrier to my left and I slot into the gap wondering what the fuck just happened and cursing the almost certain loss of VDT.
The AA aren't required as a pop of the bonnet soon reveals the culprit. My battery has somehow become loose and it seems this is what had shifted. Either causing a short or straining the connection. A bit of remedying action later and I'm back on the road, this time operating at speeds in excess of what you'd expect from a knackered milk float. Sadly though, pint time is gone and there's just enough to spare for me to ditch the wheels in the VIP 'members only' Gandermonium parking spot outside Mr X's top secret lair on Frederick Road and scoot back over GGL to the ground. I'm just in time to see the sides emerging as I stumble through the turnstiles, muttering about stupid automobiles.
Worner, Amankwaah, Jefford, Beckwith, McAllister, Fitchett, May, Dundas, Spence, Downer, Tubbs Subs: Gomis, Biamou, Monakana, Max Felloni, Leon Dadey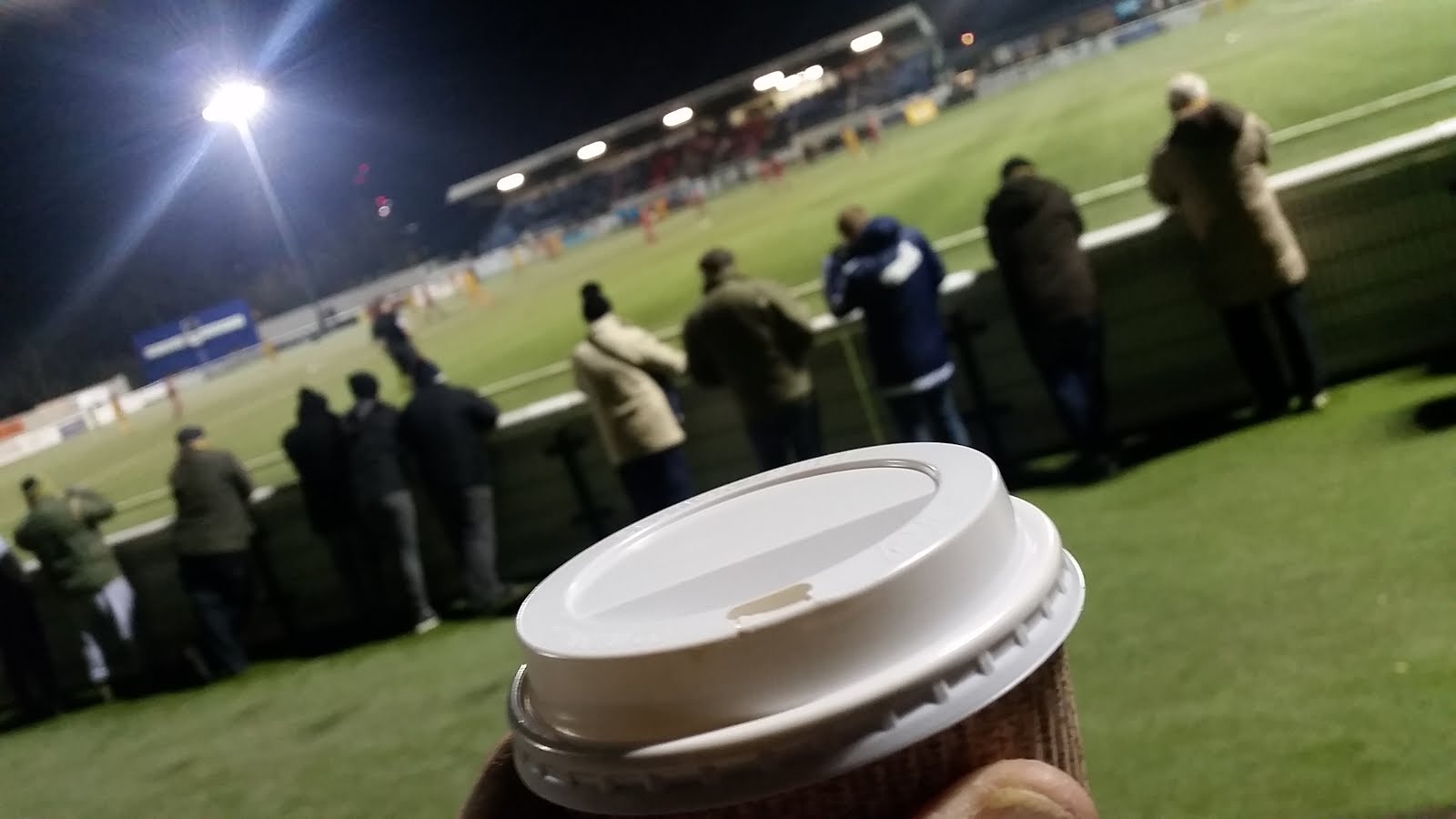 Liquid warmth
Such is our concern in having as many first choice lads set for Sunday, we've understandably rested a few tonight. Including Craig Eastmond, which will be no doubt disappointing for the Northampton scout who's come down for a look at the Sutton midfielder this evening. Unlucky squire. So thin are we spead this evening that we're even fielding Ben Jefford, who was apparently really quite injured, as well as Jeff Monokana who apparently had a hammy twang so bad it was doubted he'd survive the week, plus two lads from the Academy on the bench.
This should be interesting.
The opening exchanges are fairly even and after the lumpen shite of the likes of Eastleigh and AFCW here lately, it's a genuine pleasure to see a side come and ping the ball about with a bit of pace like this young Worthing side. Things are fairly end to end, but without there really being many chances. One attack wide for them leads to a teasing ball rattled across the 6 yard line, but no one's around to make much of it. Apart from that, we mostly shiver and huddle together for warmth. And take the piss out of their keeper's man bun again.
Then with about half hour gone, finally some goal based excitement. May swings a low ball in from the Rec side and Macca like the wily old dog he is, sticks out a leg to divert it into the near corner off the shin of a defender. One nil to the media darlings!
The visitors do have the ball in the net not long after following a corner. But a foul at the back post cuts short the celebrations and has us creating a small cloud with our synchronised exhale into the frigid night air. We should probably put the matter to bed before the beak, but Dundo's header is saved, Tubbsy somehow hits a geezer on the line with the follow up and Macca belts the second rebound over the bar and into the Rec. So sadly, we head into the break with just the one goal advantage and I head for a cup of tea as it's absolutely fucking freezing out here. Who's stupid idea was this anyway?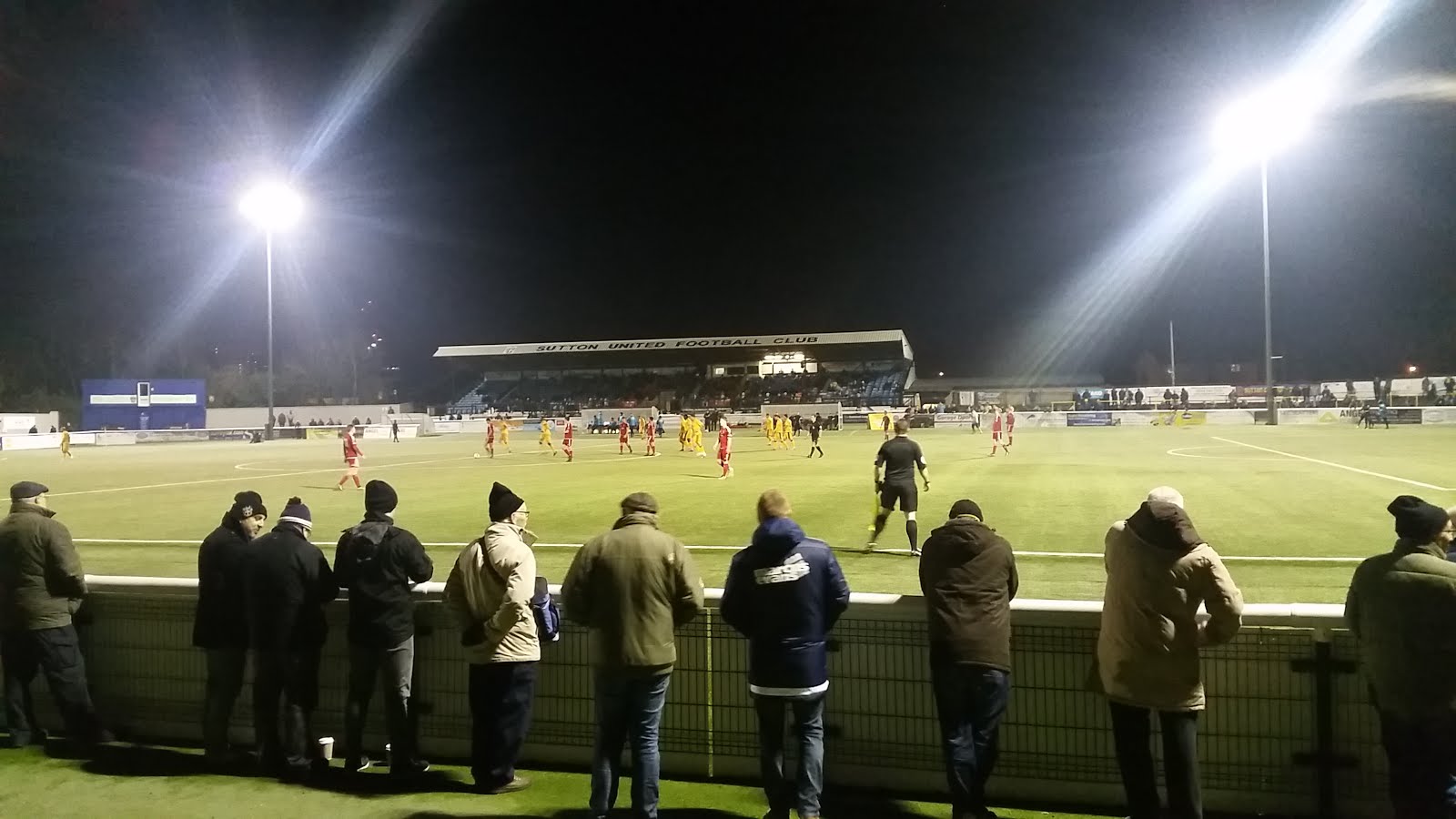 2-0 & game over! Yeah right….
The second 45 gets underway with Ross Worner celebrating his 100th Sutton appearance by being forced to do more work in 5 mins against 7th tier oppo than he had to do in 180 against League 1. A couple of smart saves are made after an out of sorts Dundo drops Downer right in the shit. First blocking the initial shot and then recovering to make sure his mate doesn't succeed in pooping that century clean sheet.
But 10 minutes in and it seems the party is over for the game South Coast outfit as a second goal arrives from an unlikely source and in an unlikely manner. Dean Beckwith lays off a long throw to Tubbs, takes a return pass and then curls a cracker into the far corner from about 20 yards out on the corner of the box. 2-0! And soon after, with things looking all rosy in the cup tie won department, we set about clearing the pitch of anyone vaguely likely to be involved on Sunday and who isn't Ross Worner. And this is where things go slightly awry.
Downer departs after an hour and Jefford follows 10 minutes later meaning we're now even shorter of bodies at the back than when we started. Worthing keep pressing, hoping to force something and after a couple of warnings, Worner's 100th game clean sheet bonus is a goner. A quick break down the stand side and a low ball is fizzed across the box for ex-U Sam Rents to force into the net at the back stick. 2-1, game on and it's about to get hairier from a Sutton perspective as with a about 10 to go, Becks wanders over to the touchline and is clearly going to play no more part. We hurriedly get Bedsy on the pitch and stick Adam May in at centre back.
Which works well, as you can imagine. So well in fact it reminds me a bit of some of our end of season supporters games where you sling on some lad who claims to be a centre back and then watch through your hands as he gets turned inside out. It's not much fun I can tell you. Still, despite playing with "a false 5" as some wag comments (if Barca nick that one we'll be fucking livid, we can tell you), some rather worrying moments and more heroics from Mr Worner it seems we're going to get away with it. Yeah right!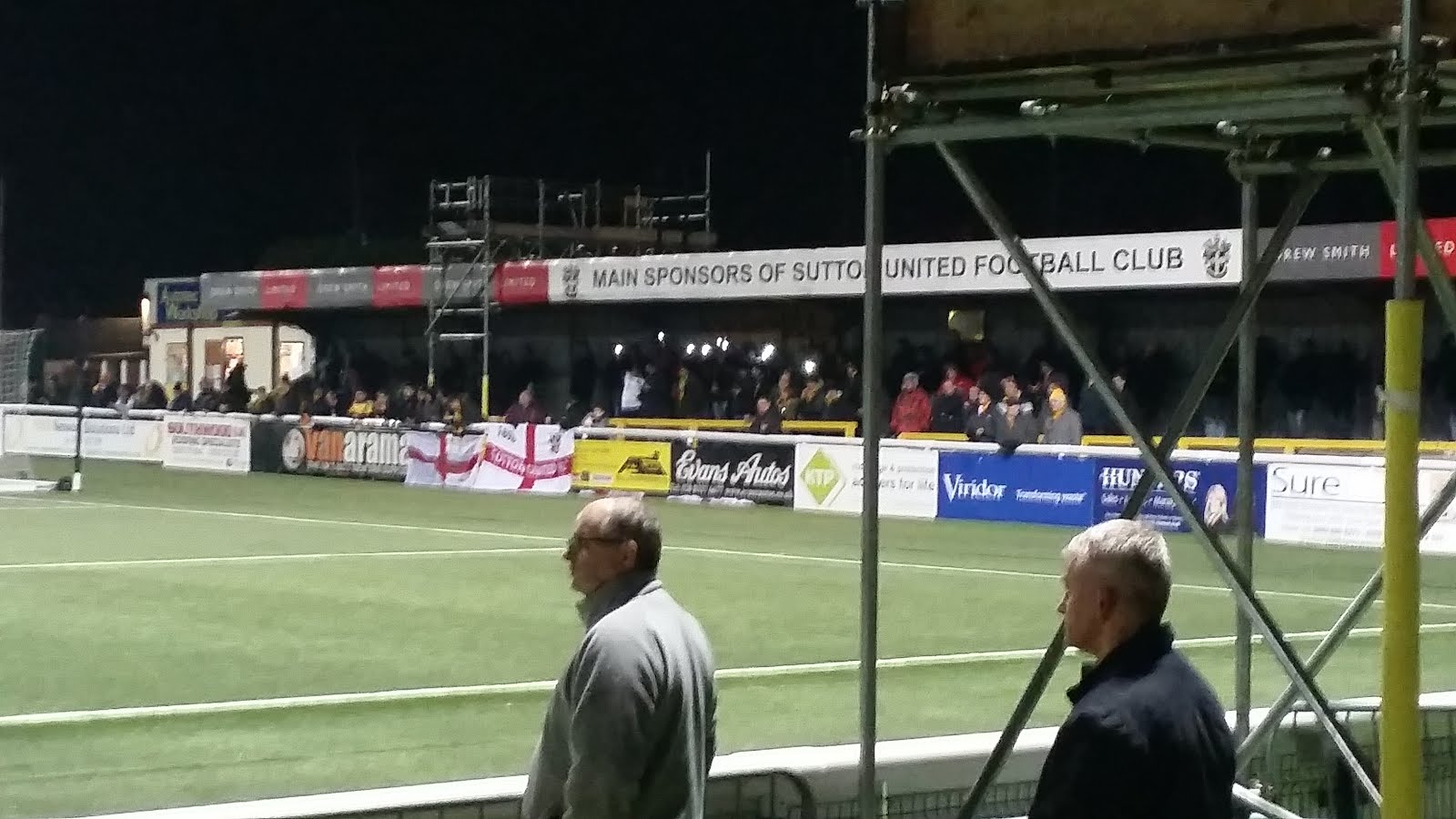 Get your torches out for the lads.
A rather soft free-kick is given against Dundo out on the stand side and lumped into the box where the ref tops it by giving an even softer penalty. Apparently Dan Fitchett did something. Fuck knows what. Either way, we've played 90+3 and matey rams the spot kick down the middle to tie things up, which the only good thing you can say about is that there's probably not time for them to go and spaff a winner from somewhere. And indeed moments later, we're heading for the extra half hour. By the way, had I mentioned it was bloody cold out tonight? I had? Oh. Well, it is. Fucking cold.
With the extra 30 minutes underway, Worthing understandably have their tails up and Worner has to beat away an early sighter. But we've clearly made good use of the break as we've had out 39th reshuffle of personnel this evening and we're looking that little bit more organised now. Which is nice! This leads to us getting out a bit more and causing problems at the other end. Fitch brings a top save out of the gap year student in the visitors goal with a stooping header and then as we approach the break, Worthing start to look a bit tired. With one lad down with cramp, May takes a square ball from Fitchett about 20 yards out and pulls a low effort inside the keepers near post. Again there's a hit of a nick on the way through, but who really gives a toss?
After the turnaround, it's clear the Ryman side have largely blown themselves out and Spence really should seal the deal after a little 1-2 with Tubbs on the 18 yard line. But he lashes his shot narrowly over the bar from an angle. After this, it's pretty comfortable and the ref blows up pretty much dead on 120 minutes to send us into the 3rd Round.
Well done lads, quick clap. Right, sod this, I'm bloody freezing! I take the opportunity of Dukey soing his netlifting duties to head into the bar for a quick warm up and to continue berating Robbo for his tardy blogging, with him yet to have delivered his effort from Saturday's game. Soon enough, the GGL goal nets are safely lifted out of reach of the local fox population and I stroll back to Mr X's Secret lair to pick up the car. A quick fiddle later under the bonnet confirms the battery is no longer able to move about of it's own accord and I set about playing Uber to Dukey, Greek and Steve. Albeit I end up even less well paid than Mohammed in his Prius.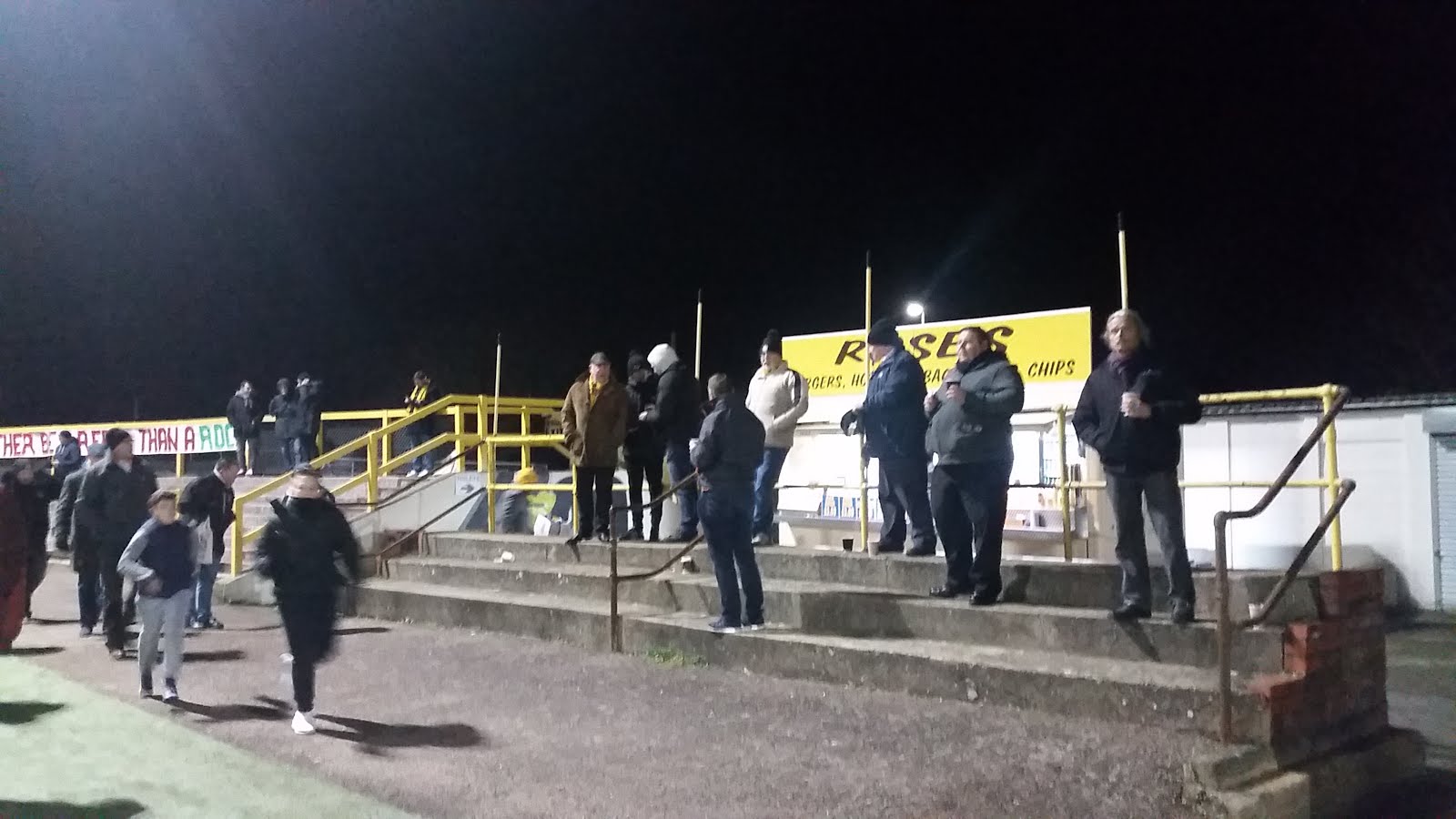 Back on the Shoebox Terrace again…
So with the FA's lesser well known cup comp done with until Boreham Wood make the 9hour trip south on Thameslink to the sunny People's Republic of West Sutton, attention can once again turn to distraction numero uno. Leeds United, the FA Cup 4th Round and another telly appearance for the Borough's number one footballing outfit.
Do us proud lads.
Taz