As good old Mr AB would say "what a time it is to be a Sutton United fan" how right you are sir! So to recap the week's events, Tuesday night saw history being witnessed as we knocked out AFC Wimbledon in the replay and even they could not blame the pitch this time.
A wonderful evening was capped off by Dos bellowing in person and on Twitter for every Sutton supporter back to GGL for a celebratory party. Now if the manager calls you to do so, you do not by pass this opportunity. I only stayed till 1am getting an Uber home with fellow blog writer Dukey. Of course now it's on to Leeds United in the fourth round in front of the BT Sport Television cameras.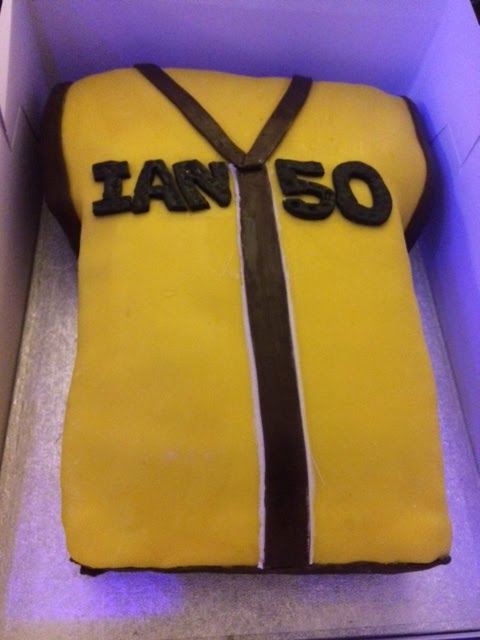 Sutton United noms
I do not like to normally go out the night before a game but there was a perfect excuse in which to go out on a Friday – its Dr Bell's 50th birthday and the rest of the gang will be in attendance. As I arrive Dr Bell asks me to take a picture of his cake and it is none other than a Sutton United shirt with the number 50 on it. By the time this blog appears on our web site it will officially be Dr Bell's birthday, so squire on behalf of Gandermonium I would like to wish you a very Happy 50th Birthday sir!
Now it's back to the bread and butter of league matters and it's the turn of Eastleigh to come to GGL. This of course sees the return of an old favourite player of mine, none other than Mr Ross Stearn. As I approach the stadium I see the Eastleigh coach parking – and here I witness someone putting their thumb up to me from the window – I could not quite clearly see due to the sun but it must have been Mr Ross Stearn and because he now plays for another side I decided to blank it. I notice of late that he's not made many appearances since his switch to Eastleigh.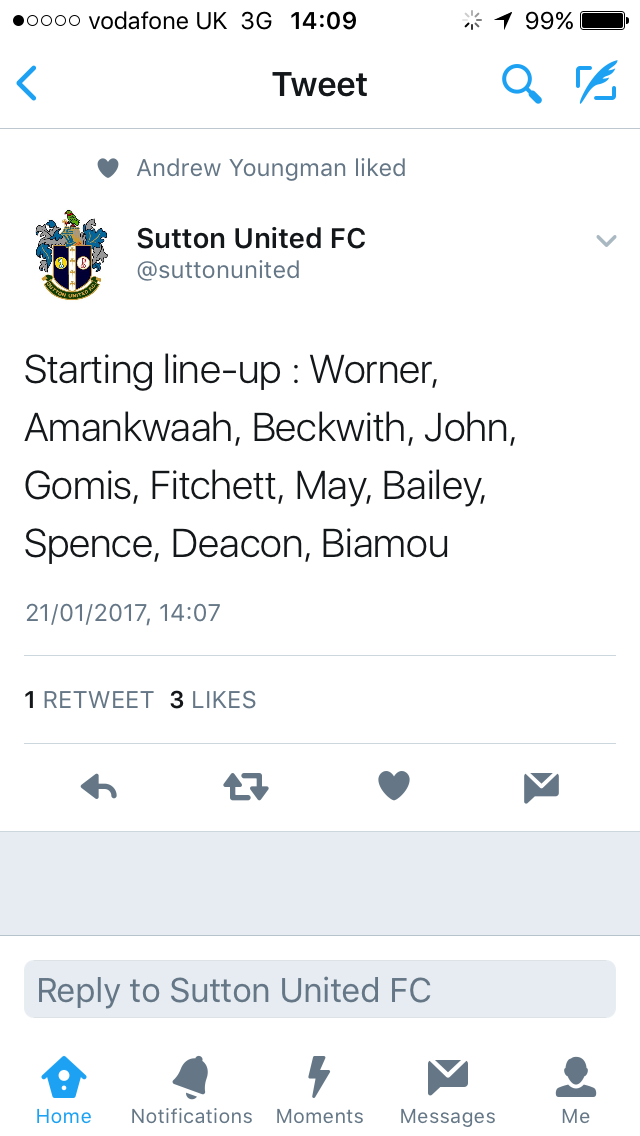 Camera broken was it?
As I wander into the bar just before 1:30pm its already starting to get busy – I think this could have been either a) people wanting to buy a ticket for the Eastleigh game just so they could get a ticket for the Leeds FA Cup tie; or b) wanting to watch the Liverpool vs Swansea City game – personally I think the former. I do my usual ritual now of drinking pure water pre game whilst watching the Liverpool game with Beckwith, Mark and wow Liverpool are already 2-0 down, but straight away its pulled back to 2-1 – cue some people placing bets on a Liverpool win. Of course Liverpool do eventually equalise but again concede to lose the game 3-2.
The team line-up is announced via the means of modern social media communication [in this case Twitter], and here is the line-up as follows;


Worns, 2. Amankwaah, 17. Spence, 4. Beckwith, 5. John, 16. Bailey, 8. Gomis, 21. Deacon, 12. May, 10. Fitchett, 24. Biamou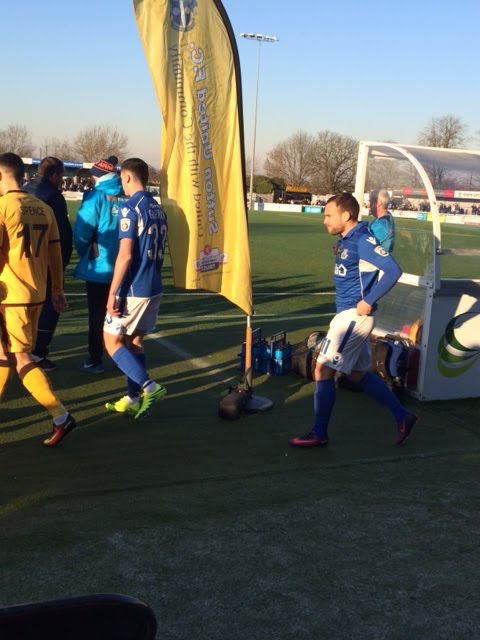 Former favourite
But I am eagerly awaiting the Eastleigh line-up and there it is Mr Ross Stearn actually starts!!!! What on earth do I do?? What do I say?? As the teams enter the pitch I take a picture of Mr Ross Stearn in his Eastleigh kit – of course as his name is read out I let out a small little cheer – hey he was my favourite player at some point, for the record it is now Beckwith, Dean!
Kick off and it is Eastleigh who make the better start. And so it happens in the sixth minute, a cross from Mr Ross Stearn looped over and headed in by Garrett for 1-0 Eastleigh. After the said goal Sutton started to have more of the ball but could not do enough with it.
As 30 minutes approach I say to Natalie "Steve is a bit late" but give it a few seconds after said statement, Steve appears – now I know I should stay till half time but why change habits of a lifetime and go to the bar. After all I could probably count on two hands how many goals I have missed courtesy of being in the bar. Thankfully though not today!!!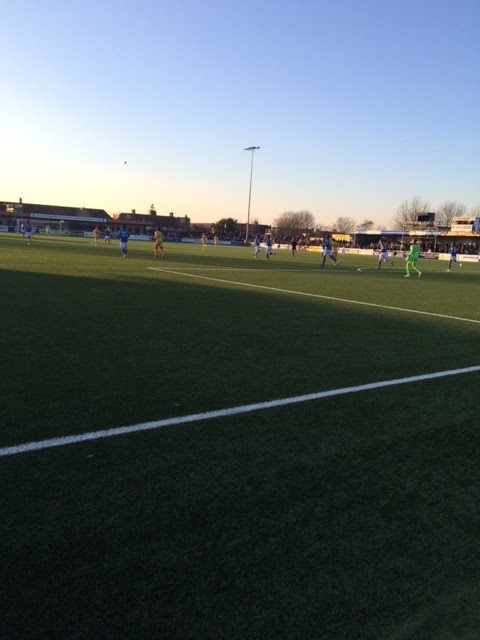 Cold, yet sunny…
The second half beginnings saw Sutton misplacing a lot of passes and Eastleigh plowing a lot of balls into the Sutton box only for Beckwith and Louis John successfully clearing them without too much trouble. Then it was that man Mr Ross Stearn who had a shot from outside of 25 yards that was tipped over by Ross Worner. Then on 73 minutes a Daniel Spence cross was headed down by Beckwith for Tubbsy to score and make it 1-1. On reflection this was a fair result. For the statisticians, substitutions were as follows:- half time Hudson-Odoi for Bailey, double substitution on 64 minutes with Traore and Tubbs on for Gomis and Fitchett respectively. A good crowd of 2179 were on hand to witness this draw.
So the game ends 1-1 and sadly Eastleigh you a lot to answer for the behaviour of some your, more youthful, fans. They were to put it frankly an embarrassment to their football club – trying to damage a bronze plaque just shows their mentality – youths thinking they are hard! Making fun of people with disabilities is not clever at all, infact it just shows you have insecurities about your own self so have a think in future! Anyway enough of the little rant, but that did anger me, it's back to the bar with genuine honest people.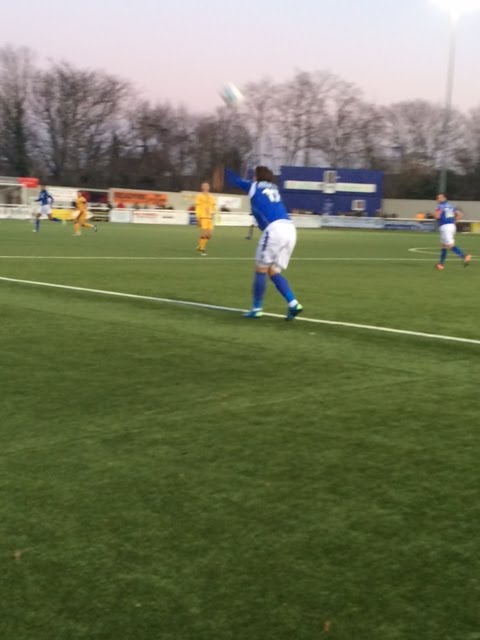 Throw in
Completely opposite of Eastleigh, what I love about Sutton United Football Club, and Natalie quotes this too, they make you feel like a family. The very famous Strikers Are Key draw is made by Mr AB – this man is a true credit to this football club – and it's the syndicate of The Kings drawn out again. Wayne Shaw, famous on Soccer AM now, makes the draw on their behalf but he is unsuccessful in finding the correct key for the safe.
The bar starts to peter out and talk now turns to tomorrow morning and what time people will be getting to the club to buy their Leeds tickets. The next part of my blog will talk about that and my day at Stamford Bridge, Chelsea.
Its morning, its 7am and I wake up to the news that Sir Andrew Murray has been defeated by some unknown individual in the Australian Open. The next match is Federer vs Nishikori but I see the time of 9am approach and I decide to head down to GGL. When I get there, the queue has already started to develop and is right by the part between the turnstiles and the Times Square lounge. And it is cold, I don't mean cold I mean proper proper cold! But yours truly manages to get his tickets by half 10 and may I add again how brilliant the club have been in their sales process and for the volunteers taking up their own personal time on a Sunday morning to help this sale process. As I walk back to my car, the queue has grown, and I mean really grown – so much that it is nearing the entrance to The Rec (Collingwood Rec for those not in the know). As I get home I decide to treat myself to an extra hour's sleep whilst listening (watching) the remainder of the Federer match on Eurosport and how my ears were surprised to hear John McEnroe swear live.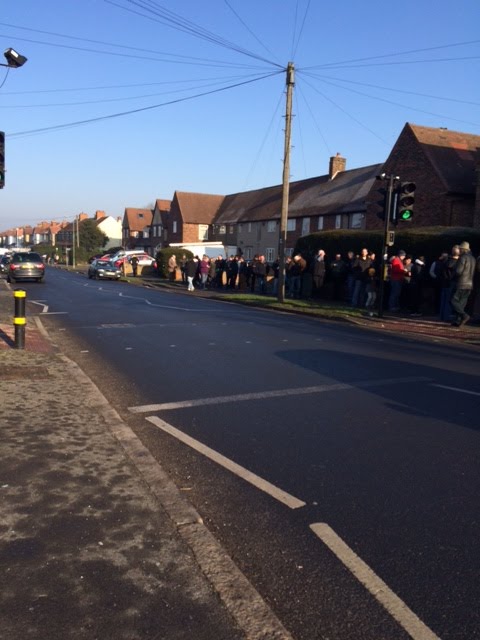 Now that's a queue!
As some of you readers may know I had a Chelsea season ticket, well I still do but would rather attend a Sutton game than a Chelsea game these days. After waking up from my nap I head towards Stamford Bridge and as I meet my mates in the pub their first question is not "how are you" its "you must be well pleased about Sutton" ah shucks they know me too well. The question is posed to me, what if Sutton draw Chelsea at Stamford Bridge – my answer was and is "I'm with the Sutton fans all the way". Chelsea win their game 2-0 against Hull City but this does not stop yours truly placing a sticker of a certain club into the gents lavatories talking about invading their ground.
So now that football weekend is over, it's onto the FA Trophy on Tuesday night against Worthing and then the big one against Leeds United. I would now like to kindly hand you over to whoever will be doing the Worthing blog.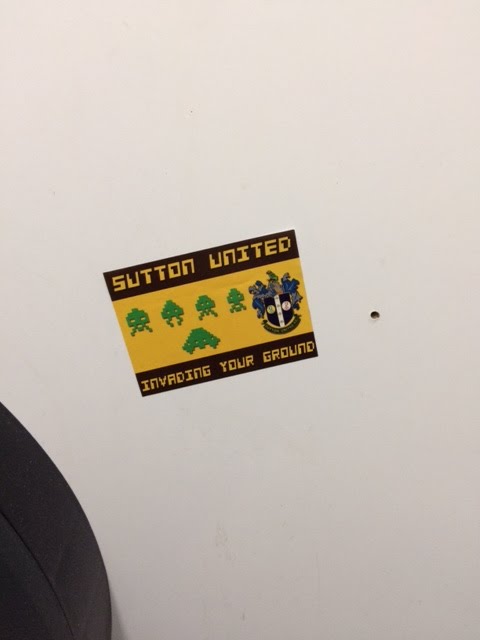 Yeah, take that Chelsea!
Wise men say…
Robbo