When a small outfit like ours finds itself in the spotlight, it's easy to get carried away with things and start living it large like them there big Premier League charlies. And why not, you're in the papers all the time and on the telly every 5 minutes. So you can very easily get all Dom Perignon and Suites at the Ritz when the old can of Tennents and a single room overlooking the bins at Croydon Premier Inn are more our sort of style.
Of course in such situations, you need to rely on people like your friends and colleagues to keep you grounded. That's easier said than done when they too are all scrambling for their own suites and bottles of priceless pop before the limelight switches back to the big boys. Still, we can always rely on certain thing sin life that will always remind you of who you are and where you come from. In this case it's two simple words.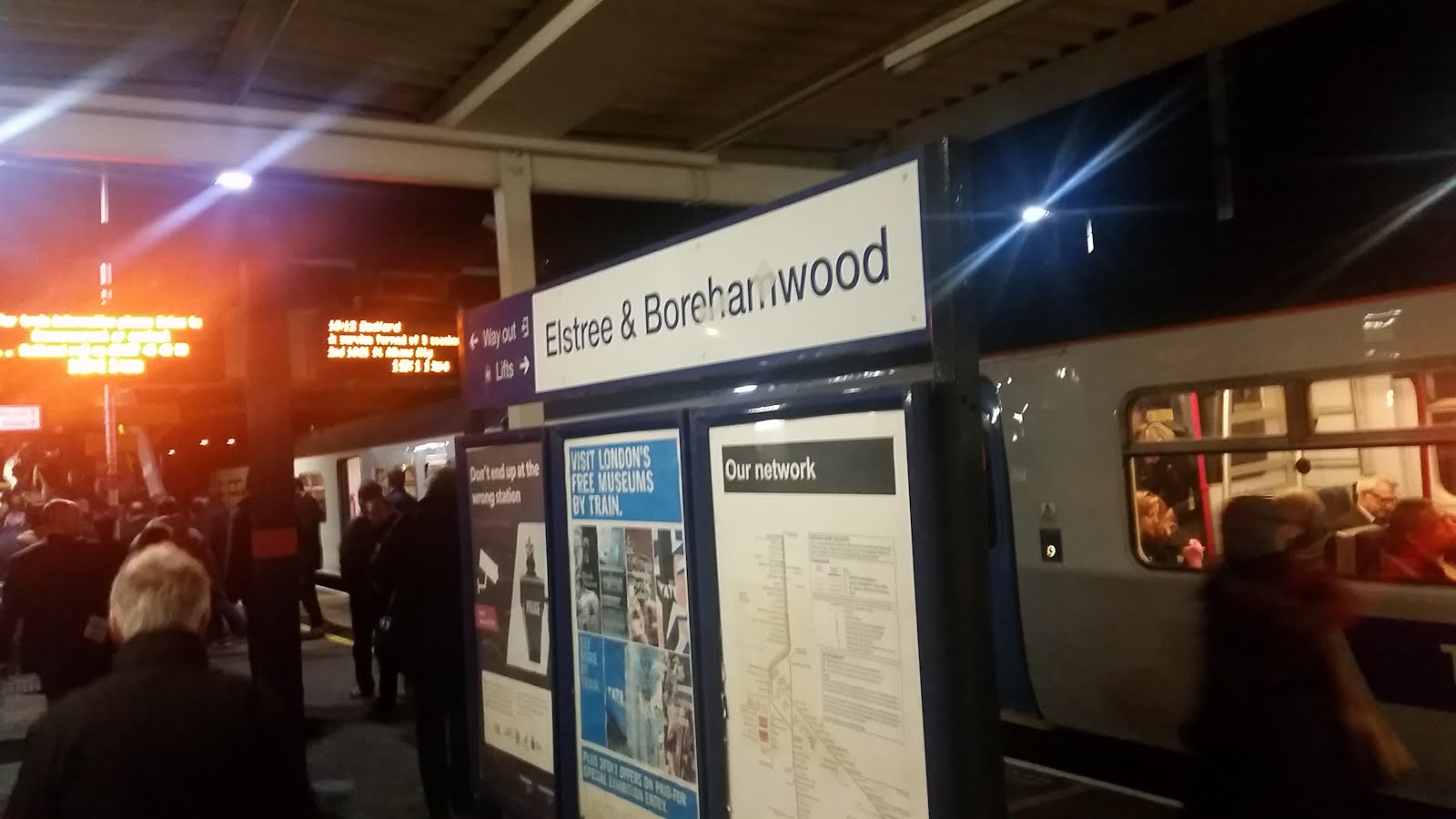 Here we are again…
Borehamwood Away.
And crashing back down to earth we come.
Having heroically held out at GGL for 40 mins with 10 men and then the last 20 with 9 in the original tie on Saturday, an outsider might think that we'd have a good shout in the replay if we can keep all 11 on the field for the whole shebang. But then again an outsider is unlikely to consider that this is our second FA Trophy replay in a couple of weeks, which was all mixed in with that FA Cup bollocks we might have mentioned in passing previously. Plus we're already 2 men light due to suspensions before Jefford and Eastmond booked themselves the night off 72hrs ago.
Our previous visit here in the league a few weeks back was of a similar ilk. A slightly tired, patched up side due to injuries and suspensions went down 1-0, only really threatening the home goal in the last couple of minutes after spending the previous 88 misplacing passes and caressing the ball with the sort of touches that would make a 1960's Radio 1 DJ wince. So it's fair to say, we travel more in hope than confidence.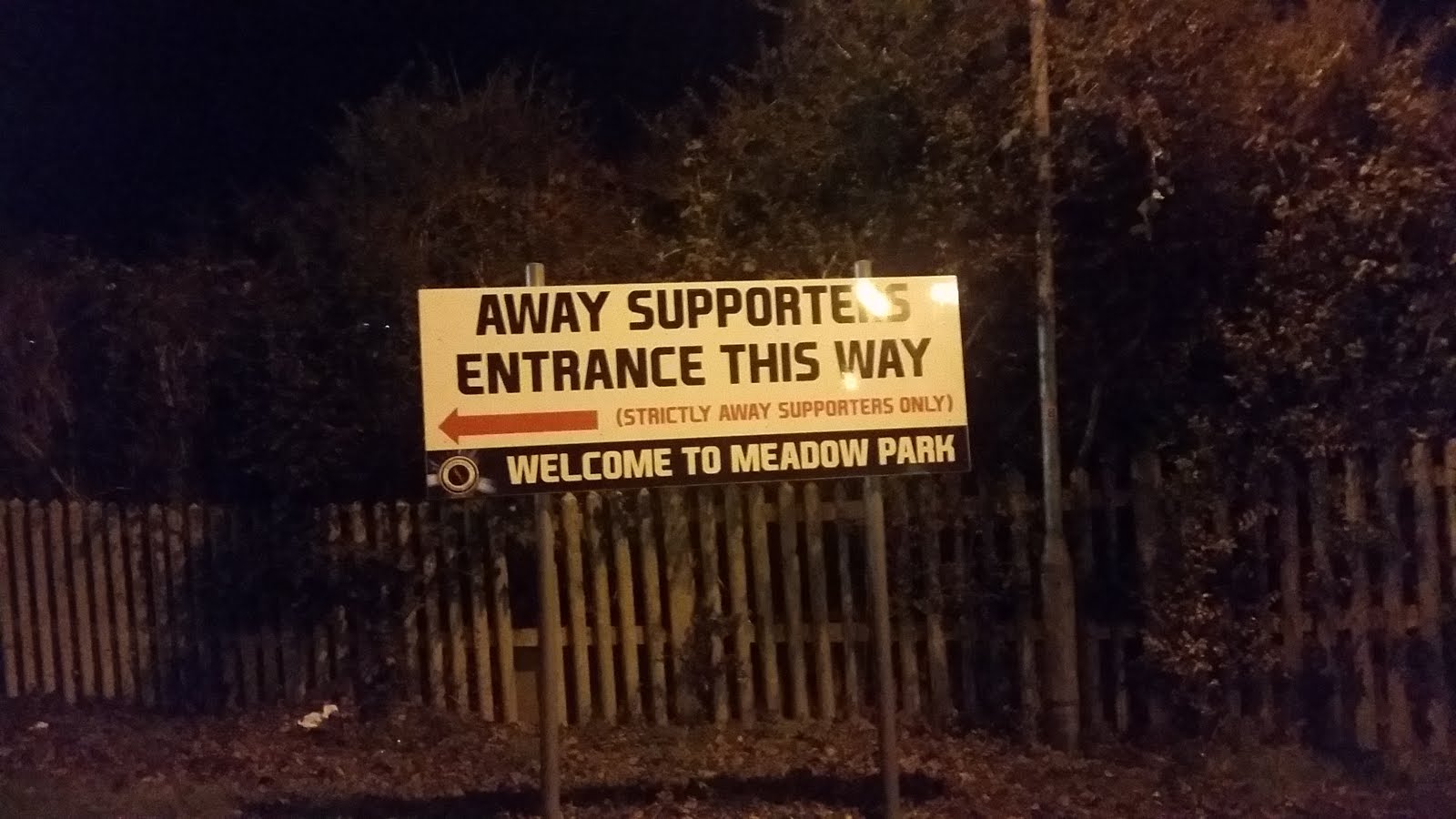 Should say "Hope you brought plenty of money!"
But of course, before I get to the main course, I naturally have to pad this shit out with some other load of old bollocks to make it look like I can really write this many words about Boreham-fucking-wood away for the second time this season. But once again I'm rambling, so let's get deal with the filler before we unleash the killer.
Another drawback of this big famous cup stuff is the difference in how your club is percieved. For example, before Xmas a good percentage of the tweets aimed at the club account were from sad bastards coating us off for losing away again as it had ballsed up their 'mental acca'. This both bemused and amused us. Mainly as unless these twats had literally bet their houses on their 5 fold and not the £1 they actually had, then their losses paled into insignificance next to our own expenses once travel and a fuckload of beer had been factored in. Plus there's the emotional damage. Sad as it may be, we actually genuinely give a fuck about this rubbish. And besides, the number of fucks we give about your bet are proportionally related to you having a twitter handle like @accaKingDave and have completely failed to even do the most basic research which would have revealed we're not at our best away from GGL this season.
Still, the latest Sutton United trend to hit twatter has made us pine for the acca losers a tad. We're talking about the ticket price bores here. These are the people, who in the main have never, nor ever will visit the fair People's Republic, yet seem to have been professionally offended by the fact we're charging 30 sovs for Arsenal at home. We're simply "greedy" and "ripping off our fans" apparently. Probably in the same way we ripped them off by having the cheapest season tickets in the top 5 Divisions. And the same way we've ripped them off by basically ensuring tickets for previous rounds went to no one but them. Still, facts eh? Never let them get in the way of being a cunt on social media.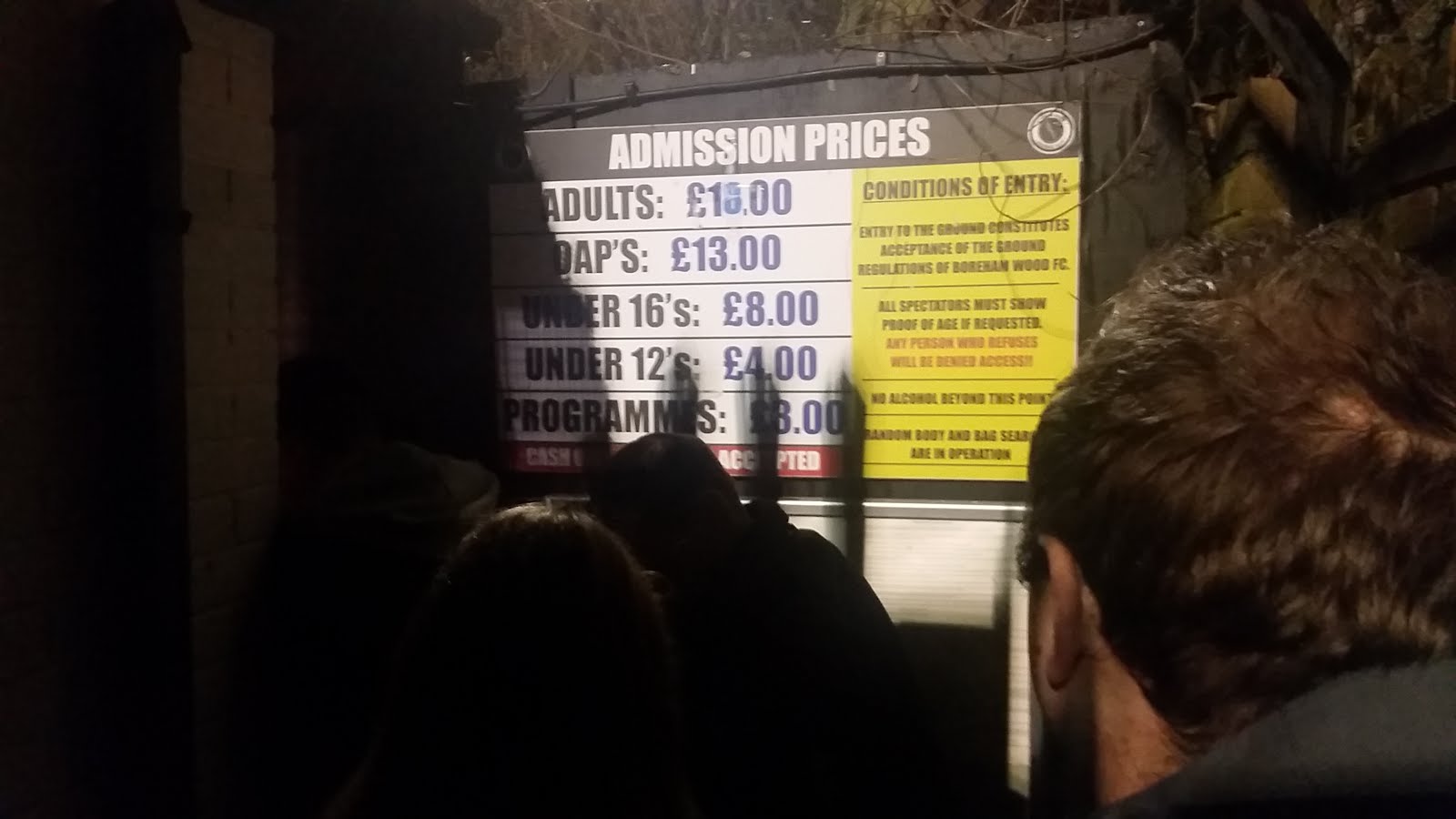 "It's £25 quid if you're a member of the press apparently…."
So, I suppose I better do this Borehamwood thing then? First off, having done the first game on Saturday how have I got lumbered with the replay a couple of days later. Well, dear reader, that's quite simple. Robbo wasn't going, Totts has fucked off to Spain to talk Roja imports and Dukey didn't fancy it. I at least forced the flat capped idiot to toss a coin for it in the bar on Saturday. Naturally I lost. So, yeah. Fuck my life basically.
I tip out of work a fraction before 6 and not fancying faffing about with the tube from Moorgate and instead take the walk through Smithfields to Farringdon to meet the mob in the Spoons. Fortunately I remember the way and arrive with enough time to bag a pint before the off. The only other event of note is Burgers confessing that Last of the Summer Wine's Compo is his Aunt's Cousin. I was impressed anyway.
The train, for Thameslink, is remarkably on time and we're soon in the land of Eastenders and other stuff. The usual stroll down the high street is undertaken and I quickly duck into KFC for some scoff. The turnstiles are shortly in sight, as is the board showing the entry prices. And quite frankly I'd quite like to show a few of those dicks complaining about our £30 for Arsenal this and see what they have to say. Eighteen fucking quid is the damage. This then brings to mind the story I'd heard the evening previously about tonight's hosts recieving a number of press pass enquiries from hacks no doubt fancying a look at us playing in the Gooners 'back yard'. Naturally, with all of Fleet Street wanting to pay them a visit, Borehamwood basically said 'Fuck you', turned them all down and said they had to pay to get in.
As PR efforts go, it's up there with the press release the North Koreans put out the last time they did one of their missile tests. Or executed a 'traitor to the state' by Anti-Aircraft gun.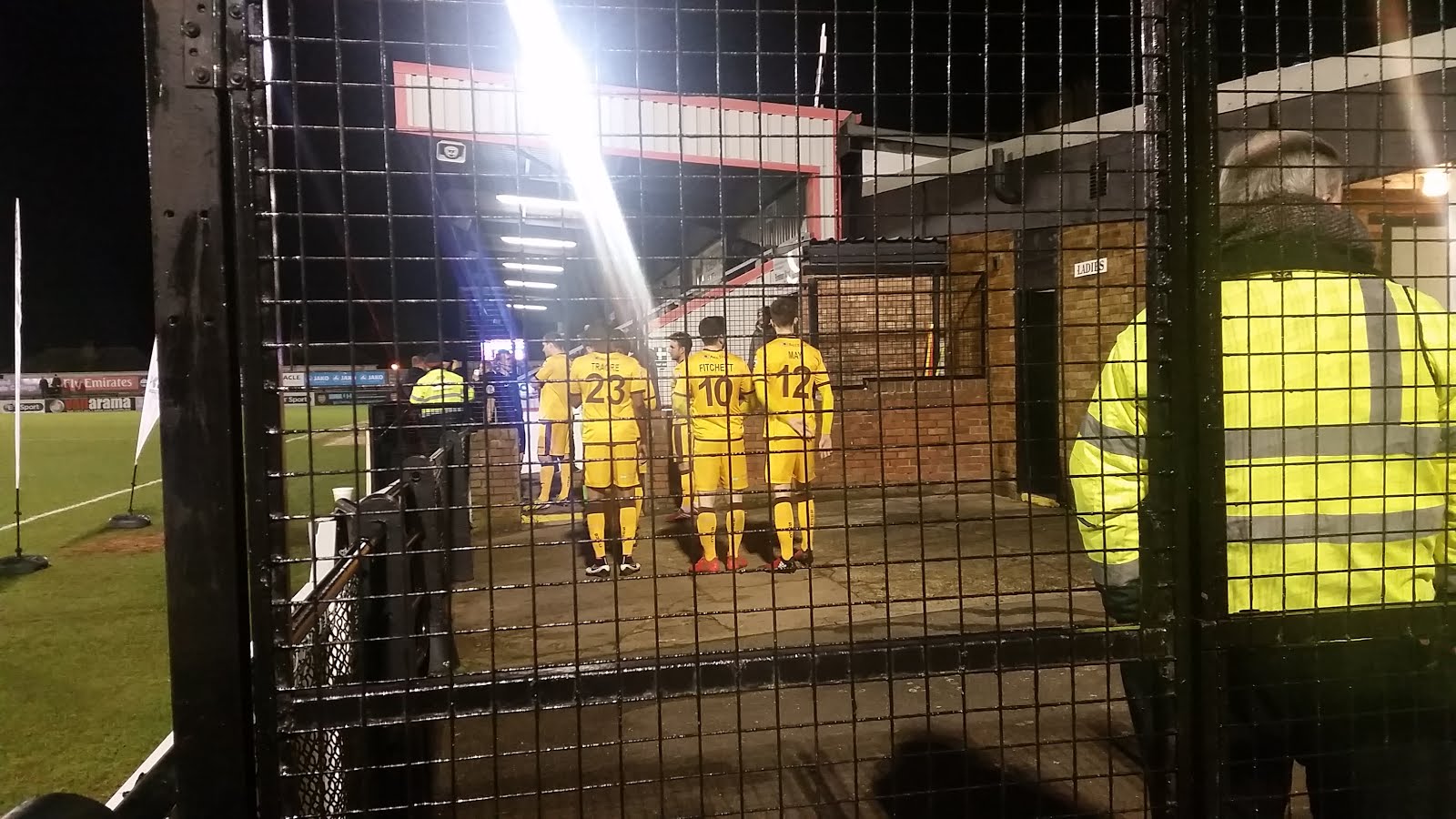 Long queue for the bogs pre-match…
Inside, I'm busting for a slash and head for the gents. The teams are about to come out and I'm cut off. Still, I get a quick chat with the boss man. Pleasantries exchanged, he wishes us all well for the journey home tonight. No surprise given the somewhat public mess Thameslink made of it. "Make sure you get home before 4am eh?". Thanks Gaffer, will do. I've got a lift!
Worner, Amankwaah, Collins, Gomis, Fitchett, Gueye, May, Spence, Traore, Biamou, Downer SUBS: McAllister, Dundas, Tubbs, Shaw
Hopes of a decent showing despite the recent busy schedule are slightly dented before the off as we discover Max has gone lame in the warm up and Tubbs starts instead. The opening moments aren't much different to those here back in November, in that we aimlessy bang it long, can't trap a bag of sand and they score from their first half arsed attack. The ball is worked down our right and the cross aimed to the near post. Their guy jumps for it, but the pace seems to take him a bit by surprise and instead of being directed on goal intentionally seems to bounce off his forehead and loop high into the air, over Worner and drops just inside the post. 1-0 and we've played 5 minutes.
This could be a long night.
Things don't really improve from here and they should be 2 up shortly afterwards, but despite being tee'd up about 10 yards out dead centre and just Worner to beat he somehow shanks his shot wide of the target. We try to get going, but the game is largely passing the 2 new French lads by. Gueye does loop a header over though.

We love us a panorama these days.
As we approach the break and look like we'll escape further damage, we switch off and it's game over. Another attack down the right, a low ball across and Worner makes a super block only for the ball to break to the far post and there's a white shirt on hand to tuck it away.
At the break Dos obviously decides a bit more nous is required and Traore and Gueye are withdrawn for Dundo and Macca. And the changes do at least spark a little bit of life into us and we have a lot more ball after the restart. Again though another early goal definitely kills the contest. Their pace wide once more does the damage and despite Worns making another decent save, they're by far sharper to the ball and it's a tap in for 3-0.
Typical of us, we then go on to have probably our best spell but without really causing too much grief. Tubbs does arrive late onto a Macca knock down, but his effort is deflected and looks like looping over the keeper, but he backpedals and just pushes it over the top.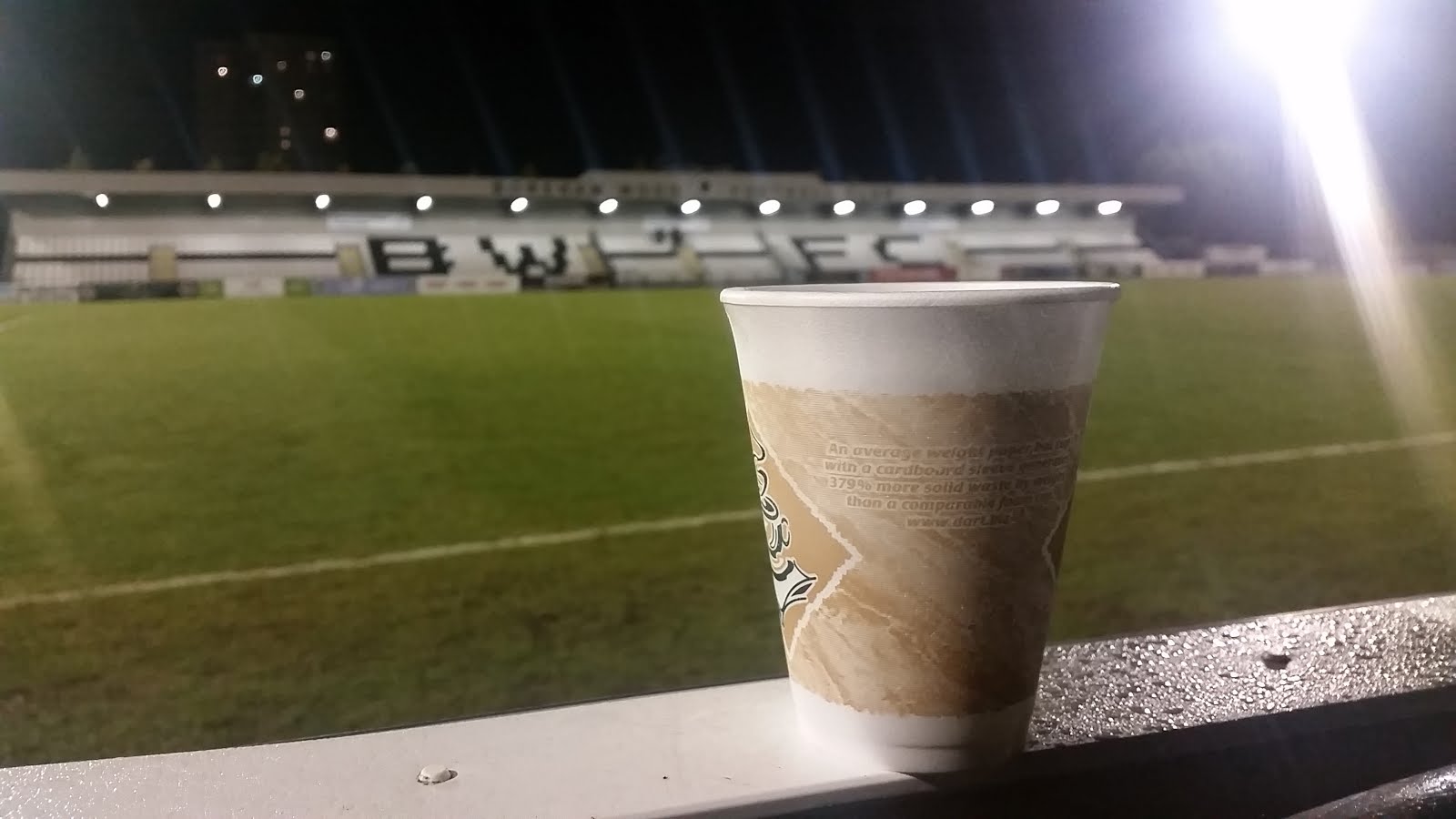 Empty cup, like our tank…
As we're pushing up, there inevitably comes chances at the other end on the break. From our corner, Dundo takes a massive air shot and the loose ball is soon up the other end being stood up to the back post. Tired defending allows the lad a simple nod down and the 8 arrives to thump home. 5 mins later, a ball forwards has the back four with it's arms up in a half arsed claim for offside. No flag comes and the bloke strolls into the box before squaring for a simple tap in to finish us off.
The lads trudge over at the final whistle to acknowledge the support, but you can tell from their weary looks that this was definitely one game too far for us. The boys have put in some huge shifts lately, especially in this competition and that other one whose name escapes me right now. Couple that with all the bullshit and attention off the back of Wimbledon and Leeds and we were due to hit a wall at some point.
Without further ado, we're giving it legs towards the faithful Italian engineering of Donna and the trip home. Most of the trip back is spent talking Turkey, or mainly the trip down there later this month which thanks to tonight's narrow reverse will at least be on it's original Saturday date. Guiseley on Tuesday is also on the menu. Good job there's no long away days in this league eh?
The journey home is the complete opposite of what Totts and the gang experienced with the league game up there before Xmas. The roads are clear and the Alfa has us back to Mr X's where Dukey has left his motor in about 45 mins. We leave the man of mystery here and Tom takes over taxi duties, finally getting me home shortly before 11. Result!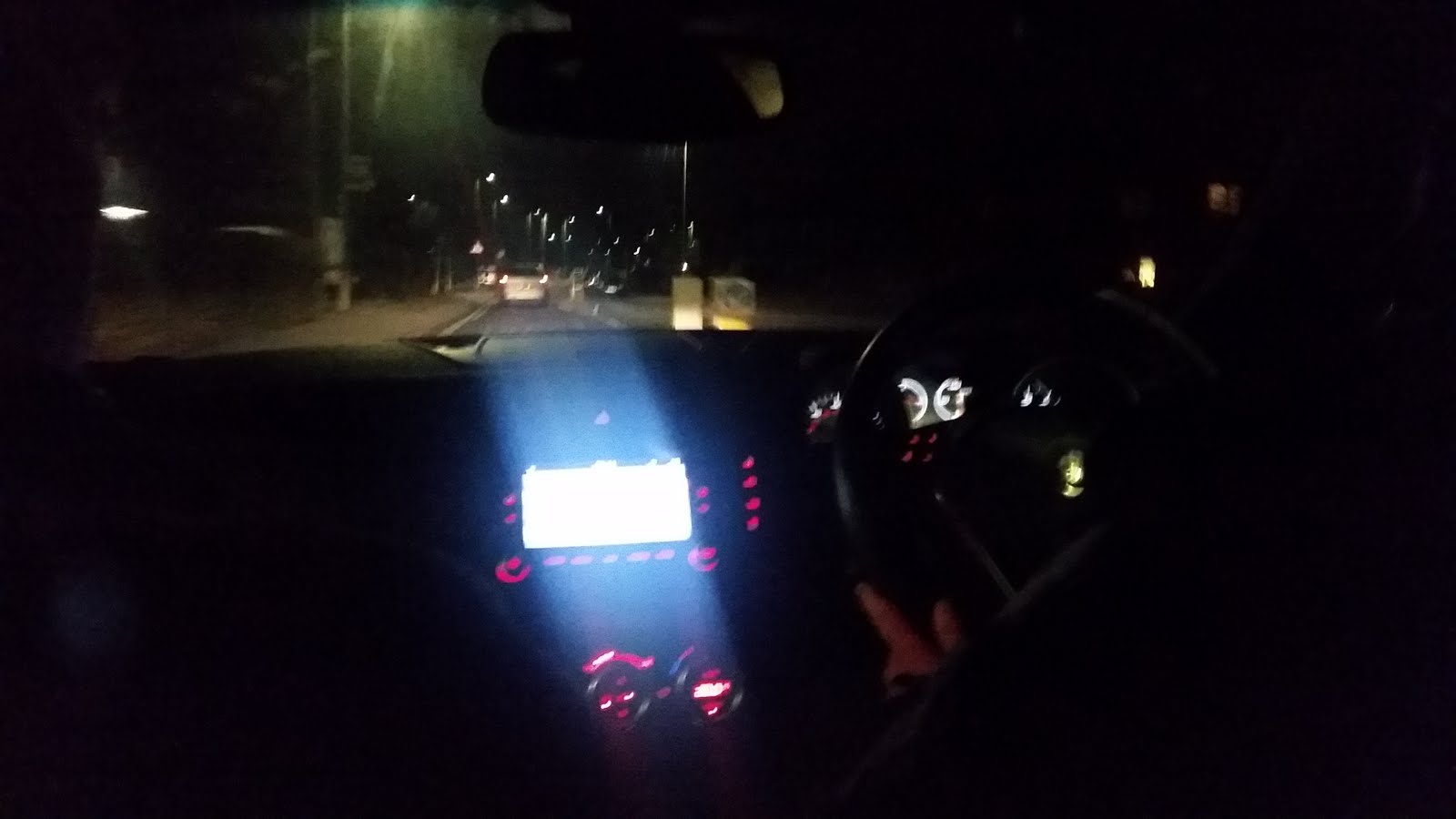 Riding Donna
Solihull saturday. Birmingham will be like Las bloody Vegas in comparison to tonight!
Taz