Well thank fuck the media circus has finally fucked off and left town. Now it's time to get back to some sort of perceived normality. Especially considering that we seem to have slipped down the table somewhat a little bit of late. And what better way than to celebrate our return to boring old league action, but with a wealth of typically Gandermonium-mentality dick jokes!
"What did the penis say to the condom? Cover me, I'm going in!"
See, there's no need to worry that this'll be a serious blog. I won't be going over the recent ticket issues, the various different sponsorship deals, the usual in-fighting between supporters, the renaming of the ground or even the fallout over something simple like a baked pastry. You've all heard enough of that fuckin' flannel already. So without further ado let's get on with our trip to Cornwall Devon.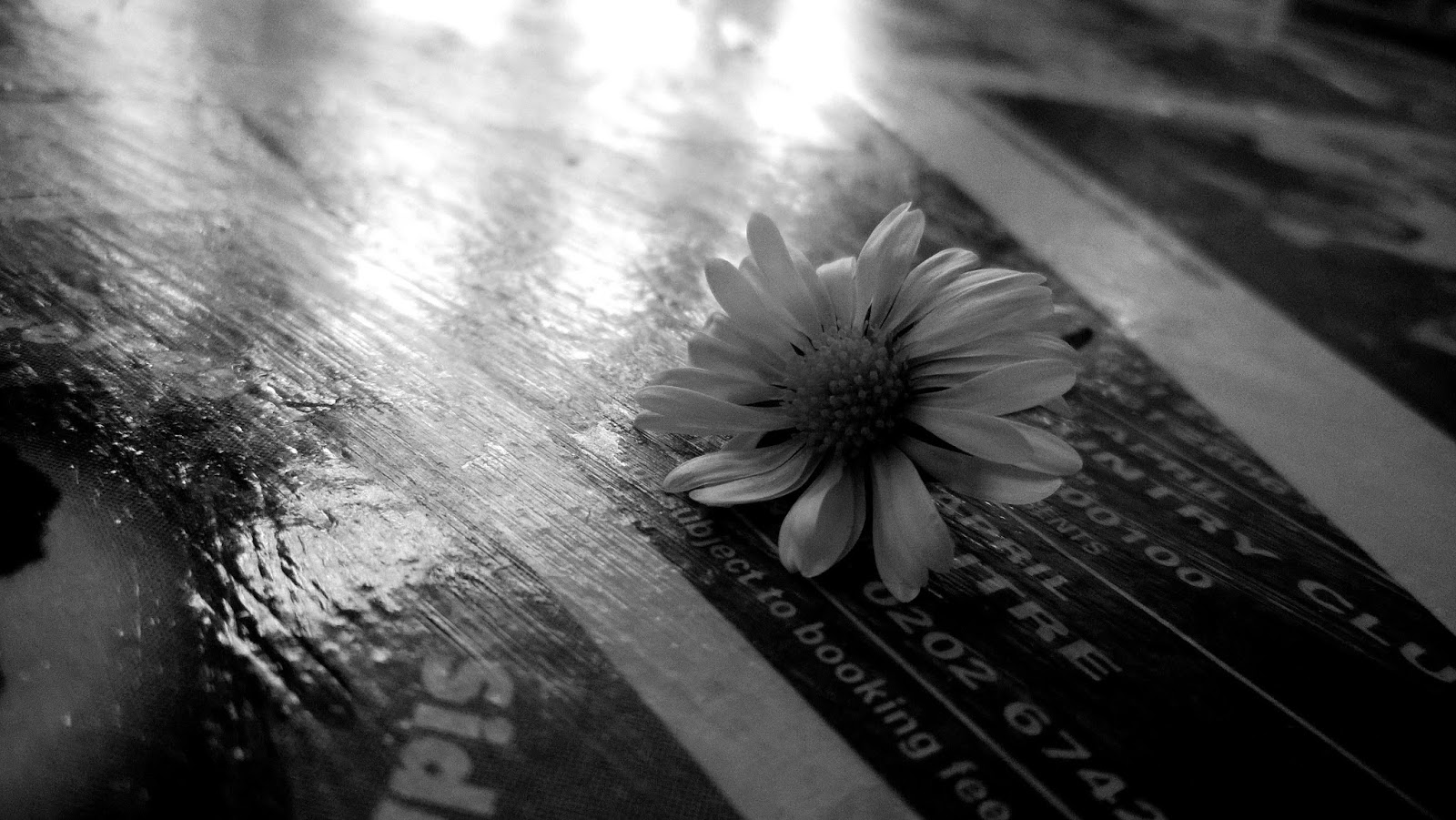 Duke the Artist? Piss Artist more like!
With our recent runs in the various cups, this match was very much in danger of having to be put back to a Tuesday night. You see, Fortunately or unfortunately, depending on how you see it, our piss-poor display against Boring Wood gave us a mere week and a half to sort out our travel arrangements. This of course meant that it wasn't going to be cheap for those brave enough to attempt it.
In fact the London to Torquay part of the journey alone was going to set us back over £60! And with a half seven train from Paddington to catch, it also meant another very early rise in the morning. Now most people would usually try and have a bit of an early night in these circumstances, but this wasn't to be for one of our group, namely that fella whose name falls in between the numbers 3 & 5. He thought it best to forgo any sleep at all by staying in the pub at a lock-in until it was time to leave for the station! That's one way to do it I suppose.
The alarm goes off at half four and I'm in and out of the shower and getting ready before its even five o'clock. Fucked up there a bit considering I was planning to leave at half past. Jumping on what is only the third 80 bus of the day, I'm soon heading towards Morden. Various messages are received from 4 Days, mostly claiming that the 154 had failed to arrive. Clearly he'd forgot that Dr Bell had tried that same excuse for Birmingham the other week and he gets as much sympathy.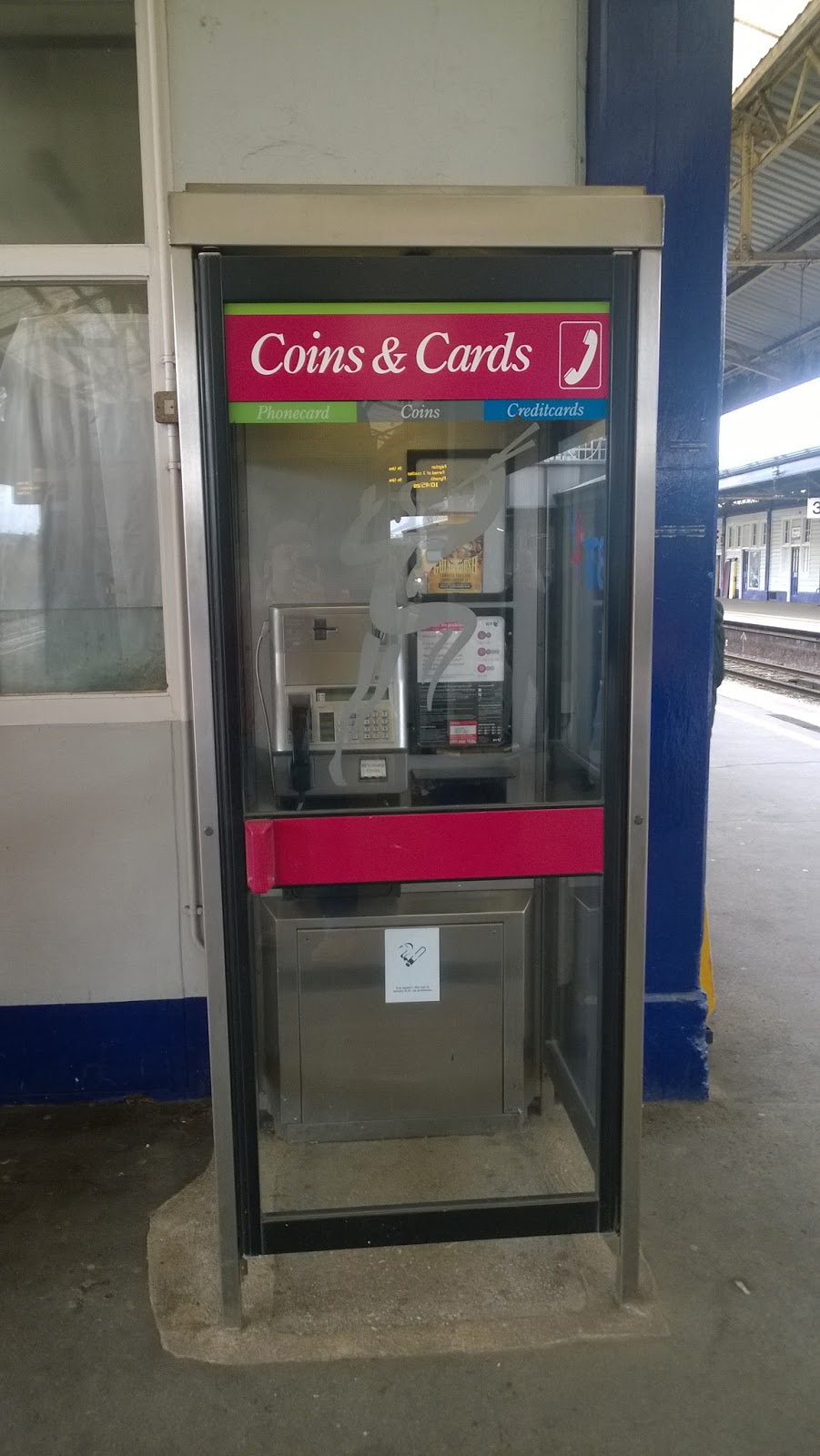 A rare public toilet
Also due to meet us was Mr X, but as he'd decided to go for the 413 to take him to the station, he would be arriving later than expected. Enforcing the number one rule of Gandermonium, we of course abandoned him to his fate and made our way to the train. To be honest, he didn't mind us doing that because he knew then I would be the mug to have to get him a cup of tea at Paddington.
A simple trip to Paddington really, changes at Stockwell and Oxford Circus (where we bump into our own Mr Eddie Grant), and it isn't long before we are pulling in with at least half hour to kill. So its a trip to McDonald's for some as I grab Mr X his tea and head outside to feed my nicotine habit. Mr X does eventually arrive in time and with a few non-Firm members along for the ride, we make our way to our reserved seating.
"Did you hear about the man who sent away for a penis enlarger? They sent him back a magnifying glass."
For once, no-one has missed the train and we settle down for the journey. So much so that 4 Days takes this opportunity to grab a few moments of badly needed slumber. The only break in the three and a half hour train ride is a quick change at Newton Abbot. Going down the line past Dawlish brings us some of those picture postcard views you normally see on the telly.
We even pass some place called Teignmouth that reminds one of the group of a former female friend. She must've had braces or something! It also occurred to us that with old bastards like Dr Bell & Taz absent, no one present had actually been to the Torquay cup game back in the mid 90's. With the clock fast approaching eleven we finally arrive at our destination.
Posh turnstile
Of course, as we're out in the sticks, the station is nowhere bloody near the High Street and we have to walk along the front to find anywhere that will serve us alcohol. Past the not so Grand Hotel that our own Mr Eddie Grant once apparently spent a night in, and after checking out a rather delicate turnstile near the bowling club, we move on further still. Offering to stay with Indy & Sean Connery's Stuntman, everyone else makes it to the first pub before me.
The Offshore is a funny little place covered in scaffolding and wrapped up in some sexy white sheeting. A very quick beer here (as the blustery conditions had me taking a life time to light up pitside) and we're soon off looking for another watering hole. Luckily one of our contacts had given us a list of boozers to try.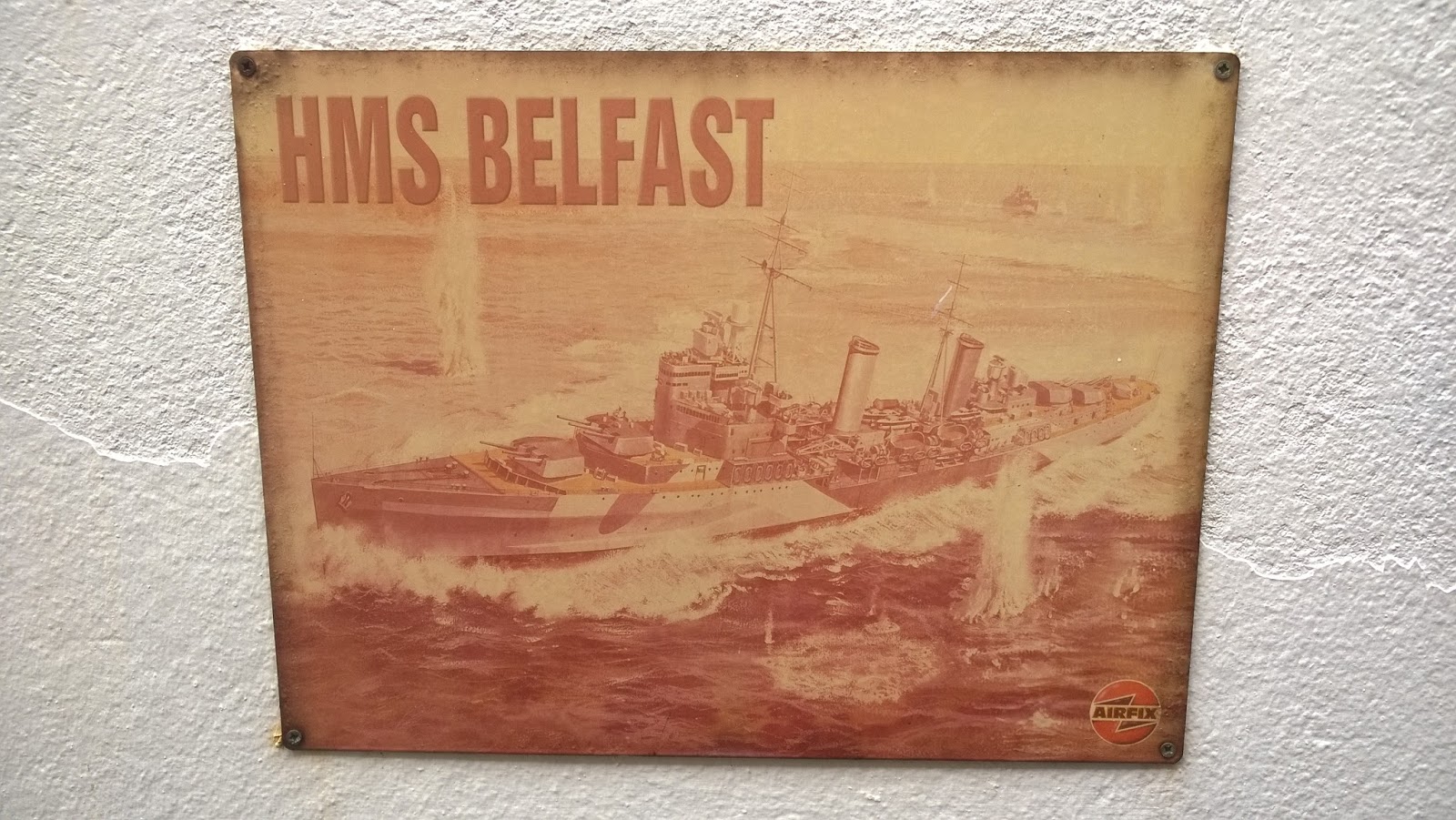 Is that an Airfix logo in the corner?
Next on the list is The Hole in the Wall. Which is apparently the oldest pub in Torquay. Judging by the amount of time it took to get a drink no wonder its been around for ages. 4 Days was his happy beer nerd self, complaining about the quality of the ale available, which I might add had nothing to do with the fact that he'd had no sleep. Did it 4 Days?
We also had probably our most grown up conversation of the day here when we discussed the various differences between Imperial measurements and the metric system. I still can't remember how long a nautical mile is though! To revert back to normality, Sean Connery's Stuntman nearly managed to pull over the whole table when he tried to use it for some stability as he sat down. His reply to when he spilt several mouthfuls of freshly brought drink? "Well, I didn't spill any of mine!" He's a right boy sometimes.
"Have you heard about the guy with no dick? He went home and gave his wife a good bollocking."
Two drinks later and we decided to move on to pastures new. With the pub next door shut, we marvel at some proper 60's style architecture. The next closest pub was The Apple & Parrot, which had a genuine parrot in the corner. We never caught sight of the Apple though. Not only this but we got to witness a fella come in and sell a selection of ceramic knives to the landlord. Blimey, things are different outside of London. Imagine taking a knife into a pub back home.
Some of you might remember that on previous occasions that we sometimes bump into people that have some sort of connection with Sutton as a place. Well this time, a fella walks up to us and starts to enquire about the forthcoming match. Suddenly he asks if we are going and not only that, asks me by my name! Turns out it was someone that was in my year at school and not a copper as I'd first feared.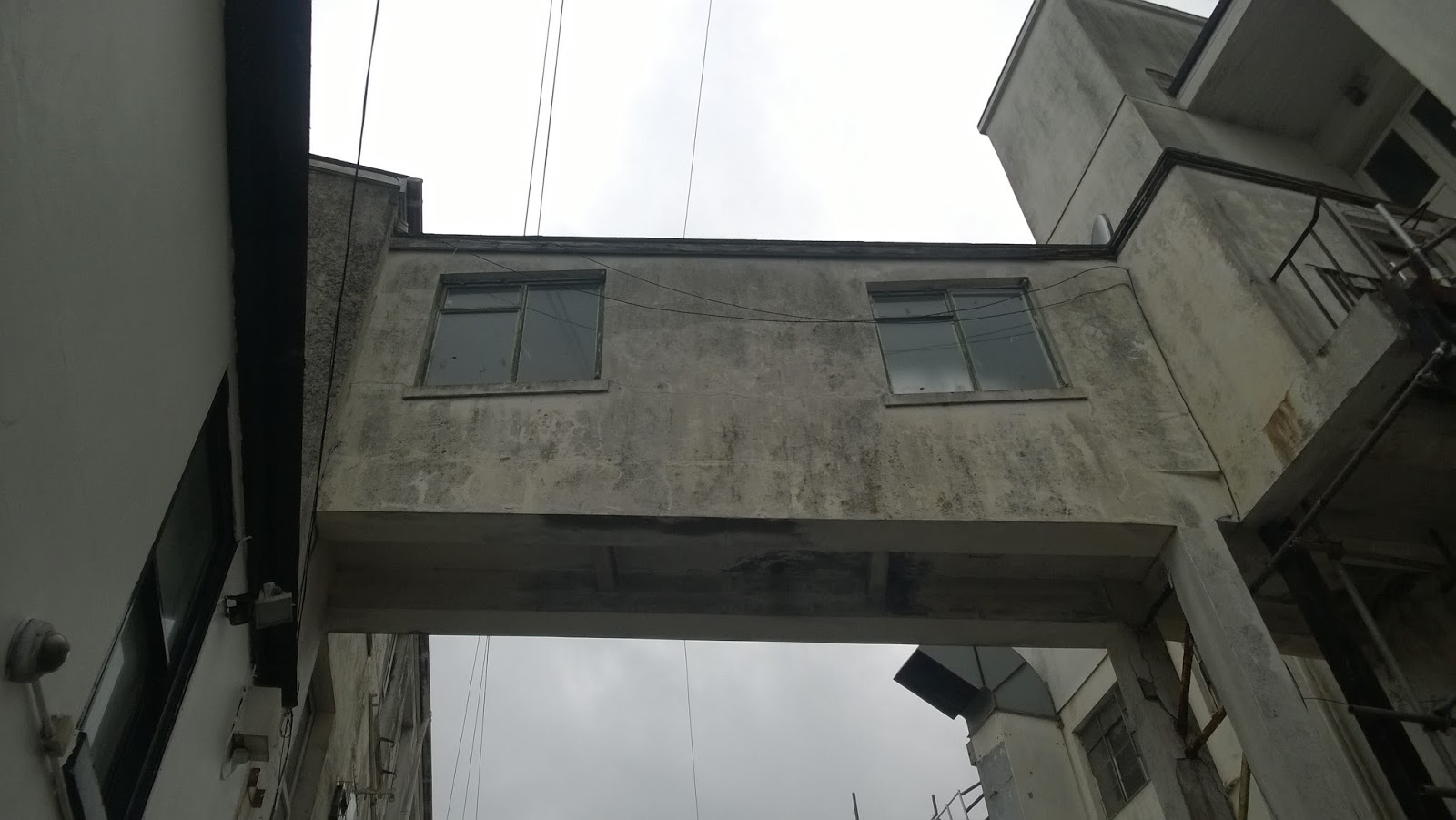 That's, a erm…
It's been a long time since I last saw him, but here in the flesh was Ian Wright-Wright-Wright (and yes, he's an arsenal fan!). Apparently he's been down in these parts for around eight years now. And he also had never been to Plainmoor yet either! He was also in the process of paying off his bar tab, some £265 worth. Which begs the question, do you think the club should give Gandermonium credit? What do you mean no?
With some of the boys playing pool (4 Days won again! Boo!) and others being allowed to bring in food from across the road, we settle down to watch some of the Leeds vs Sheffield Wednesday match on the box. Surprisingly, we didn't seem to recognise any of the Leeds players on the TV that played against us but then again, my own intimate knowledge of them stopped around 91/92.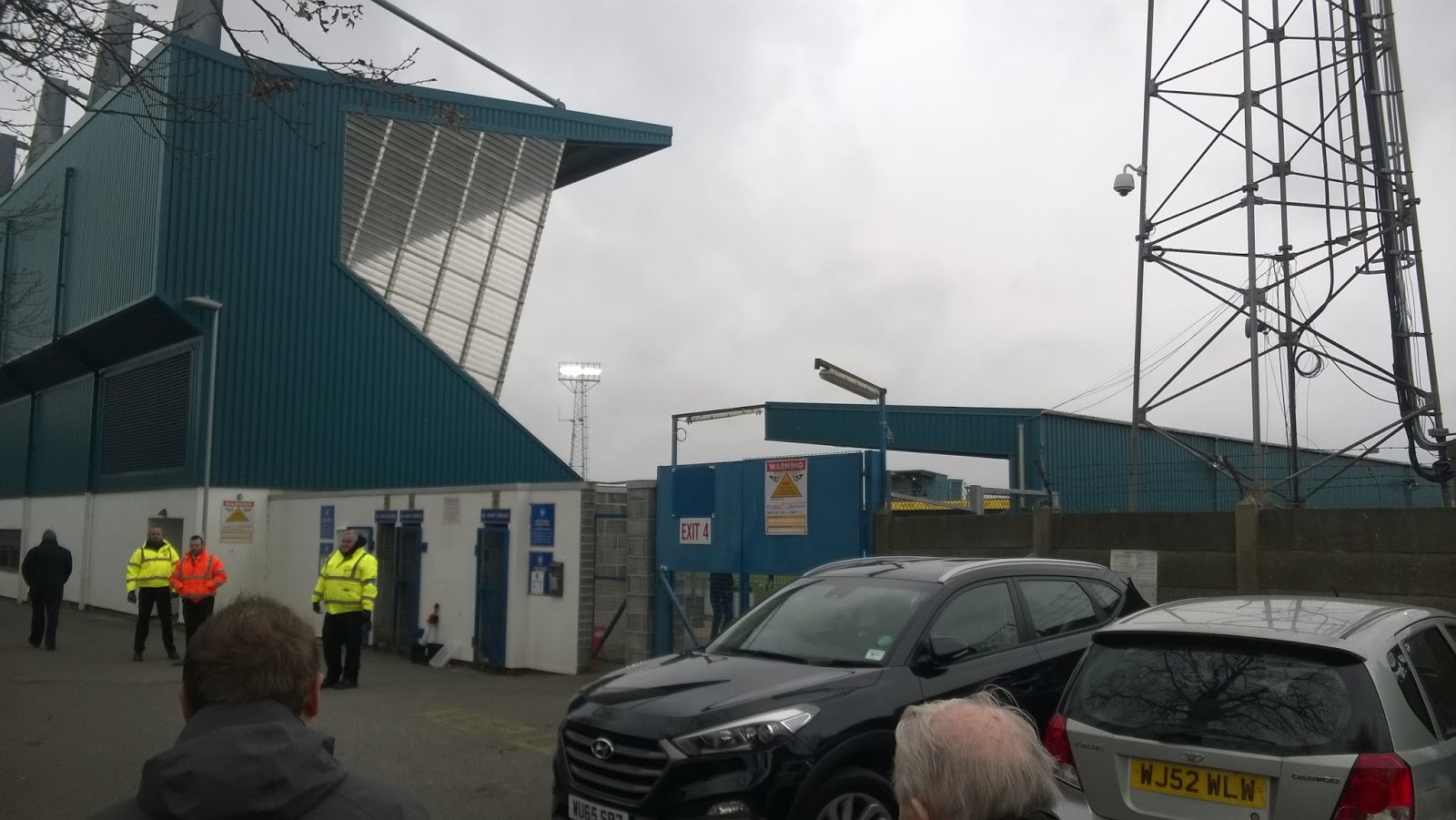 Plainmoor!
Another surprise was that the Apple & Parrot even had a couple of bottles of Jeremiah Weed still in the fridge. They didn't last long at all! Catching up with my old school friend to find out who was still alive or not I even had to use him to dispel some of the rumours regarding my forthcoming birthday. And yet, the boys still don't believe my age!
After finding out that the match was going to be segregated, there was a rumour still going around that the club bar would be open to away fans. Well this was important because if that was the case we would get a sherbet down and have a swift one there. Giving it the old Chris Tarrant, we phoned a friend and found out this wasn't the case. Well another beer here then!
"I'm in serious trouble. I got caught urinating in the shower this morning. It seems they frown on that at B&Q."
Sorting out cabs we took the ten minute journey to Plainmoor. Arriving at the ground we made our way towards the away end. Even before we enter the ground we are searched by security. And can you believe that one of them had the cheek to ask me if I'd been drinking? Me, the Duke of Sutton, drinking? With my reputation? Only six pints fella!
Looking at the line-up that came through brought up a few surprises. Obviously we see that the new boy from Welling is in the starting line-up but there are a few missing faces. Dundas I suppose you could understand but what about the likes of Tubbs & Fitchett? Clearly Our Lord Dos knows the bigger picture.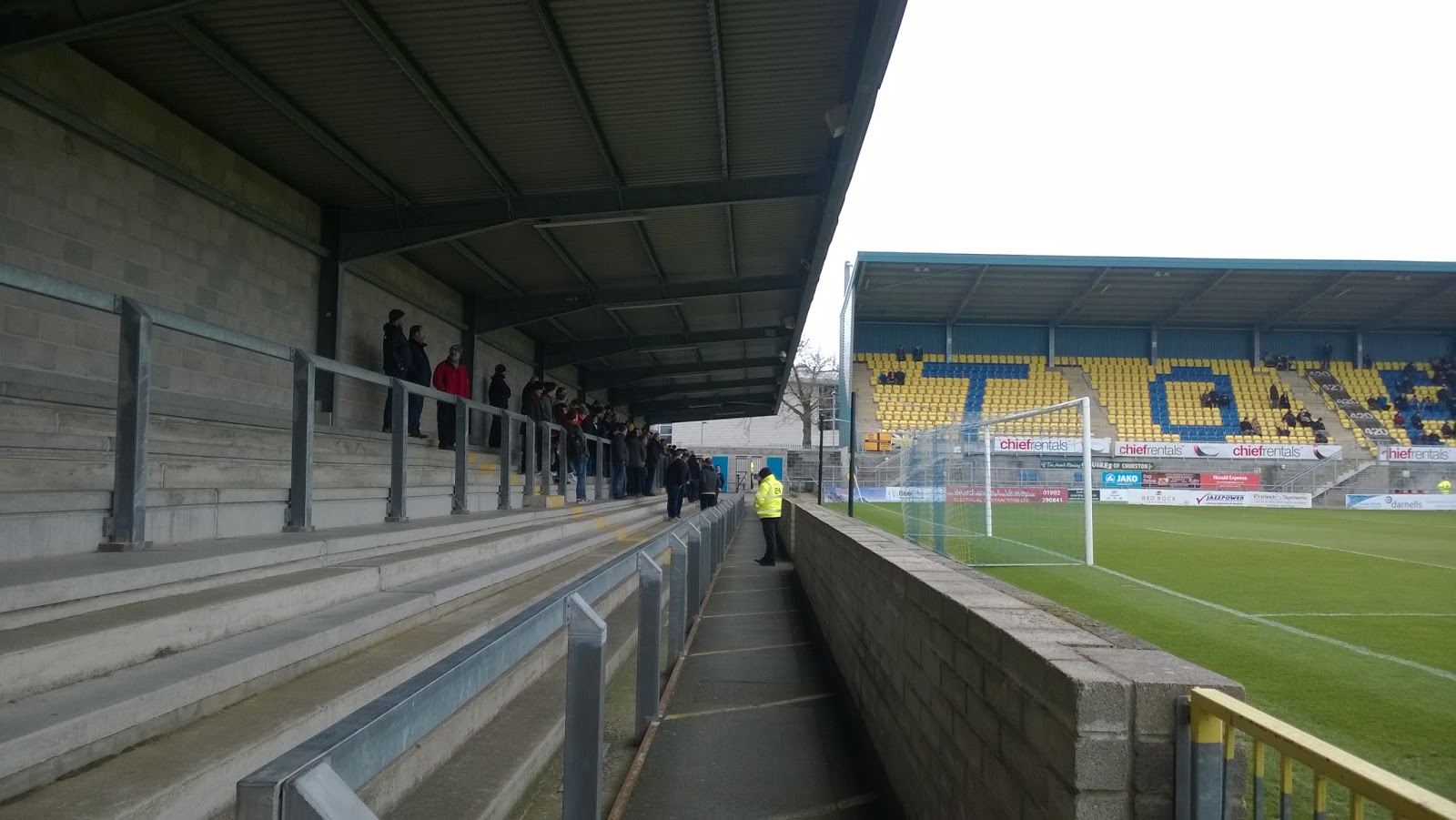 Away support
Worner, Downer, Spence, Beckwith, Eastmond, Collins, Deacon, May, Biamou, Coombes, Bailey. Bench warmers: John, Hudson-Odoi, Gomis, Gueye, Jebb.
Now the wind was a bugger of a thing, and at times worse than anything that emitted from Taz's backside! It did seem to be swirling in the direction of Sutton goal. For the first ten minutes it seemed that the weather was going to kill the game as a contest and that we might be able to finally stop this record of conceding away from home. Oh how wrong were we!
Several attempts had been made by Torquay to play the long ball and one such attempt had cleared the defence and seemed to be heading towards Worner in goal. But as the wind was still strong, and we've all seen Worner lobbed before, it started to appear to be looping over him. Luckily he managed to scramble back and grab the ball. But in attempting to stop it from heading out of play just left of his post he, slipped and went down.
Oh great, in the one game that you don't want it to happen and after only bleddin' ten minutes. Physio Bobby is on the pitch and after a quick few rubs of the old groin, Worner is up again on his feet. Phew! For the next few minutes the game got a little physical as both teams traded yellow cards. May being the Sutton player that picked up ours.
Then out of nowhere, we concede the usual goal that we always seem to away from home these days. A long shot from well outside of the area seemed to be easily covered by Worner. Then as the ball bounces in front of him and he crouches to collect it, the next thing I saw was the ball seem to flip off his shoulder into the opposite side of the goal.
What a shitter to concede, Then Worner goes down again and it's clear that he won't be playing any more part in the game. The question now was simple, who was going in goal instead? Gomis is brought on and the first to approach Worner for his shirt and gloves, is none other than Simon Downer. Boom, within moments they are swapping shirts and after less than a quarter of an hour played, we're 1-0 down and have a defender in goal.
Whilst waiting for an onslaught that never comes, Sutton managed to grab an unexpected equaliser. For the first time since probably Hampton away in the pre-season, we witnessed a short corner that actually worked! This time Deacon took a short corner and then received it back from Coombes. He them cut across the box and let rip with a low curling shot that found the bottom left hand corner. 1-1!


Out of nowhere we had clawed our way back into the game. We then nearly had a chance at the end of the half but new boy Coombes was brought down with a clear foul. The man in the middle gave him nothing though, which he wasn't happy about and his reaction got his name in the book.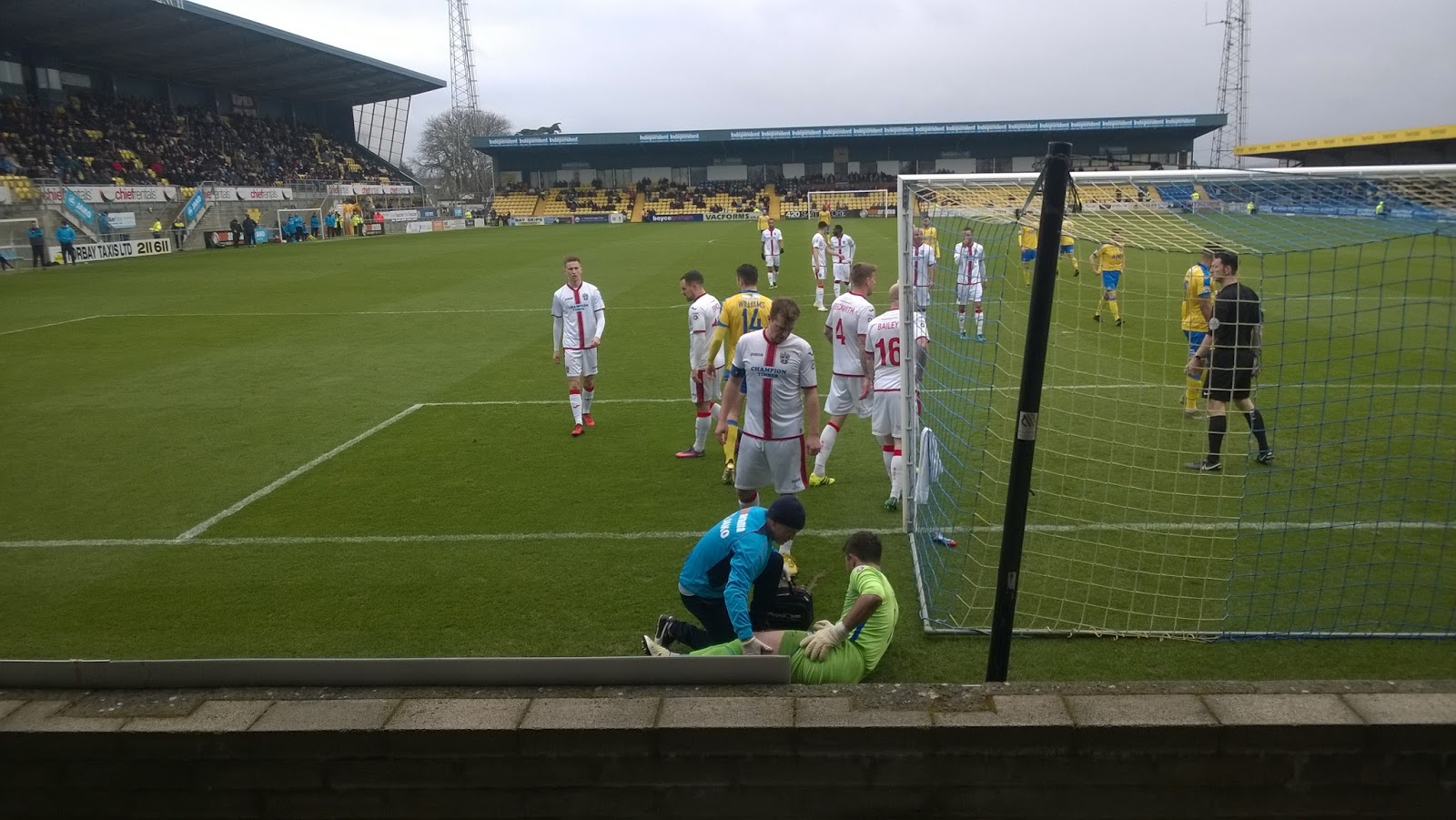 That looks painful…
Second half and less than thirty seconds after the restart, Torquay were back in front. This time it was a simple ball over the top that beat the defence and had the Torquay player with an easy slot past the oncoming Downer. Once again you would think that our heads would drop but from the restart we were straight at them again.
Less than a couple of minutes later it was all square once more. This time it was a Spence cross that landed onto the noggin of Biamou who guided the ball back across goal towards the top left hand corner. The Torquay keeper did manage to get a hand onto it but all he could do was push it up in his goal. Ref blew his whistle, pointed to the centre circle and the 106 away supporters go mental behind the goal.
With the scores all level, it seemed that only Sutton were going out looking for a winner. To be fair the hosts were really poor at some points during the game and it was not really surprising when a simple Torquay substitution was met with a chorus of boos from the home support. Just think of that incident at Wrexham away if you made that match.
To give us a bit more width Hudson-Odoi was brought on for May. Then with just over ten minutes left, Sutton took the lead. A free kick from Bailey on the left hand side was lofted into the right side of the box. Beckwith was the first to rise to the ball and headed it towards the top left hand corner of the goal.
With the Torquay keeper slightly too far off his line he could only watch as his outstretched left hand just missed making contact and the ball bounces into the net. 3-2! If we cheered when the equalisers went in, we went absolutely mental for this one. On the verge of our first away points since October and our first away win since August, you could understand our feelings.
Jebb came on for Coombes and Sutton saw out the game with Torquay failing to really provide any threat to Downs. To be honest, I think's the least amount of work I've seen an emergency keeper have to do despite having to spent over seventy-five minutes in between the sticks. Was that because of the Sutton defence or the Torquay attack I wonder? Ah who cares!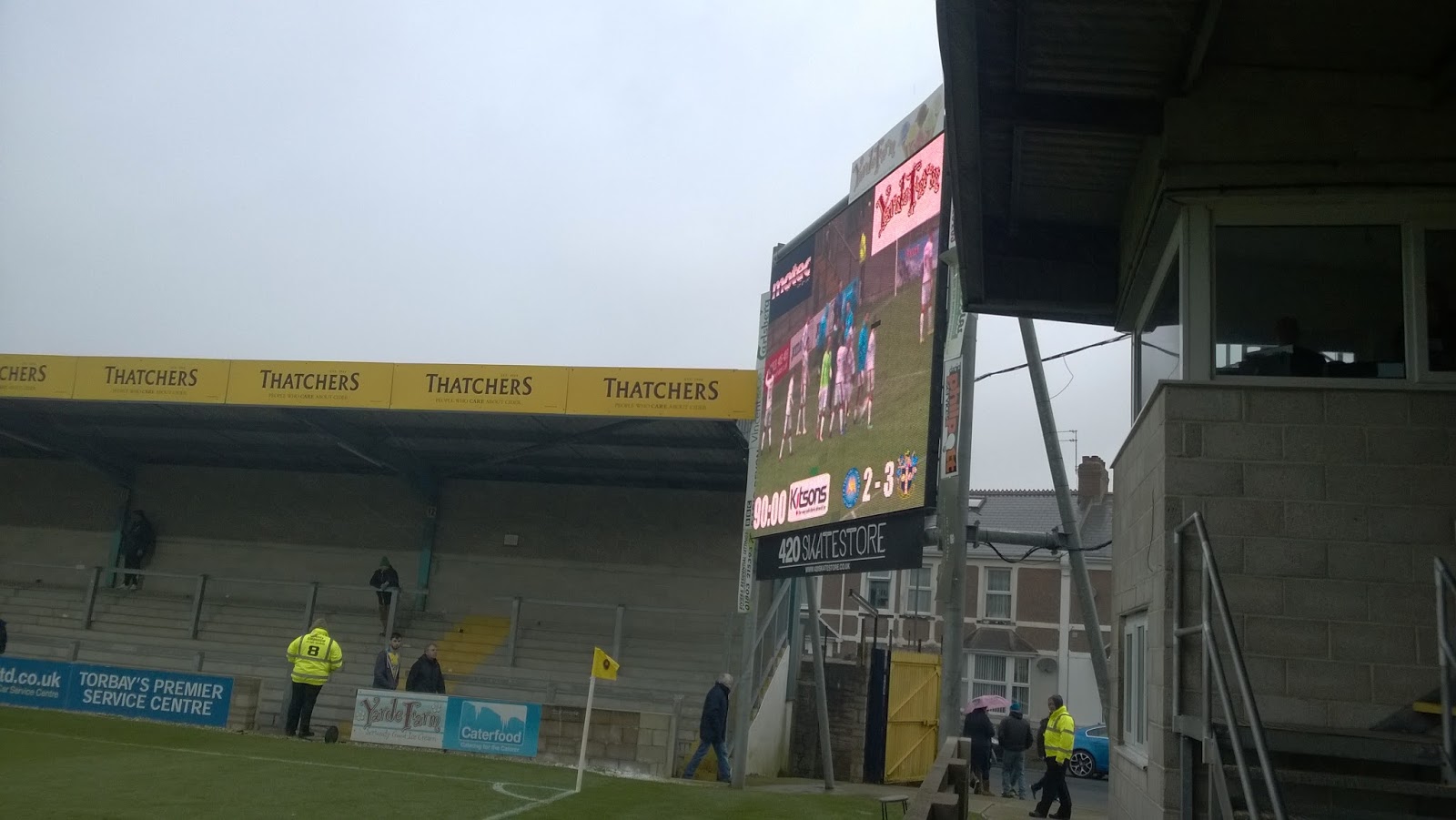 Big screen. Shit view.
After the game it was time to find some more local drinking dens. Using our local helper Ian Wright-Wright-Wright we somehow fail to find anything. I know he's 'only' been here eight years, but blimey, you'd think he'd know where to go for a bevvy! Somehow we stumble on "The Fortune of War" on a random corner. "I've played pool in here before", he remarks unhelpfully.
Meeting some Torquay supporters (who are not happy at all with their team at the moment funnily enoug) and some random people from, where else, Sutton who were on an unrelated weekender in Torquay, we settle down with some pints and wait for all the other results to filter through from the league and from the cup. Namely to find out if York at home will go ahead in a couple of weeks.
"Tony Blair gave the half-time team talk at a football match. But nobody believed him when he warned that the opponents could mount a serious attack in the next 45 minutes."
Moving down to the next pub The York we have several more pints before we decided that it's probably time to work out an exit strategy. Turns out it's easier to get a cab straight to Newton Abbot and have a beer there rather than fuck about at Torquay. So saying goodbye to Torquay's #1 tour guide, Ian Wright-Wright-Wright, we do just that and have a few more there before our train arrives.
Surprisingly there is a KFC a few doors down and after some delegation I head for some Fried Chicken (Basically a Large Bucket, Hot Wings, Popcorn Chicken & Gravy). Meeting Johnny & Ryan again of the 'Amber Alliance' on the train, we then have to educate them in the old 'ID is better than Green Street' generational debate. One day boys, maybe you'll understand!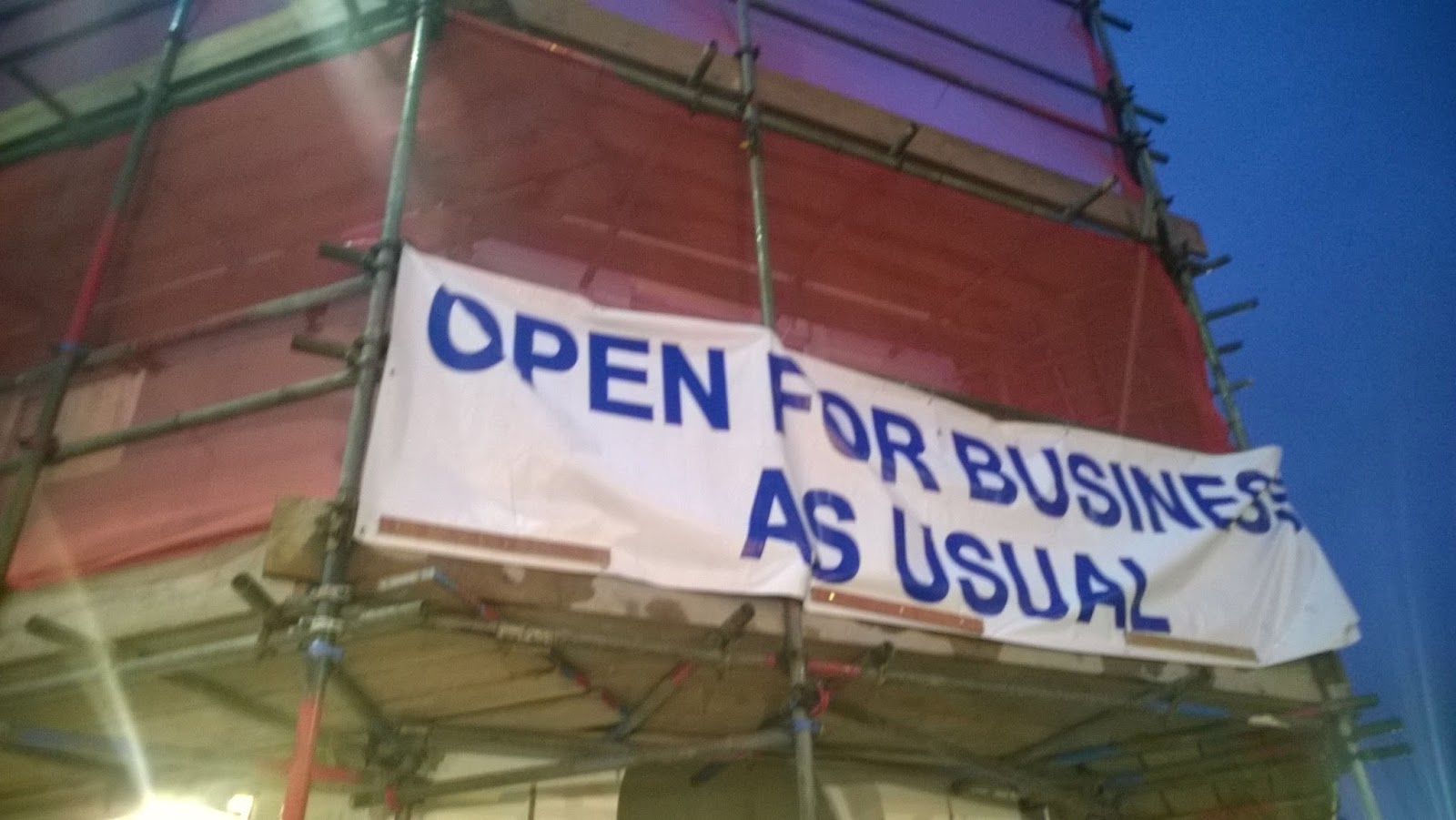 Of course it was fucking shut!
We also bump into some random grannies that have been on the piss in Newton Abbot. Well, I say pissed, they've had three bottles of wine between them. But that's not the real creepy thing. Turns out that one of them is going to be celebrating her golden wedding anniversary this week. And where might that be taking place? Yep, bloody Barrow! See you there love.
Arriving back at Paddington, we had just enough time to jump on the Underground to try and meet up with the Northern line back to Morden. Here Mr Eddie Grant left us to head towards East Croydon, the 'Amber Alliance' were aiming for Surbiton and the rest of us scattered as soon as we finally hit Morden. Not wanting to wait in a queue I moved to a stop before to grab one of the last 80 buses home. Imagine that! Getting home only around 21 hours since I left. Soon enough I was unconscious. Bugger, We won away!
"What do you call a man with a two inch penis? Justin."
So we move onto a midweek visit from Boring Wood. Hopefully we can take today's result start to get a little run going now and drag ourselves up the table. This Saturday, not only do we have a long trip up to Barrow but we also have one rather particular Gandermonium event. It's the Duke's annnual 27th Birthday Spectacular (now into it's seventh year). So there might be a few glasses of sherry going round.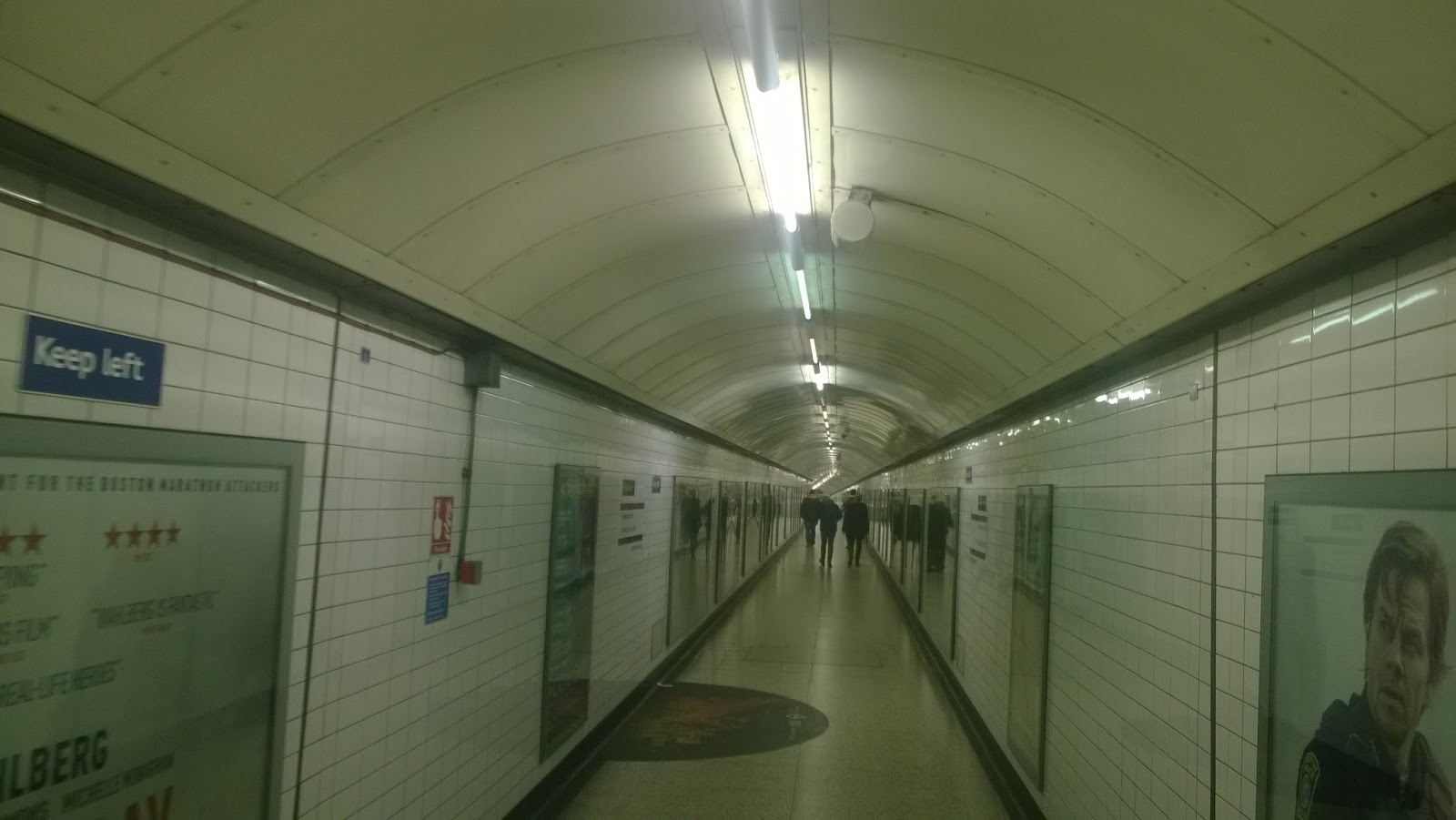 The long walk home…
Duke
Att. 1646