The title for this blog is inspired by The Beatles' "Norwegian Wood" for those who are of an outstanding musical intellect like me! So let's begin by getting the past events out of the way. It was only a week ago that we had hosted Arsenal, yes that's Arsenal Football Club in the Fifth Round of the FA Cup.
I was so proud of the performance our players gave on the pitch and it certainly did impress Mr Arsene Wenger. It was from here that after many a year of not liking Arsenal that my respect for them and the Frenchman has grown. However, the match and the whole cup run was soured at the end by those flipping pitch invaders whom are not regulars to Sutton United and what I love deeming as JCLs – Johnny Come Latelys. I for one know, and hope, that these individuals will not be back at GGL and I dream of a state of normality to return to our club. I much prefer the regulars and enjoying our times of our friendly, welcoming, community club. I will of course not mention the other incident because I do not want to add any further fuel to that pastry related fire.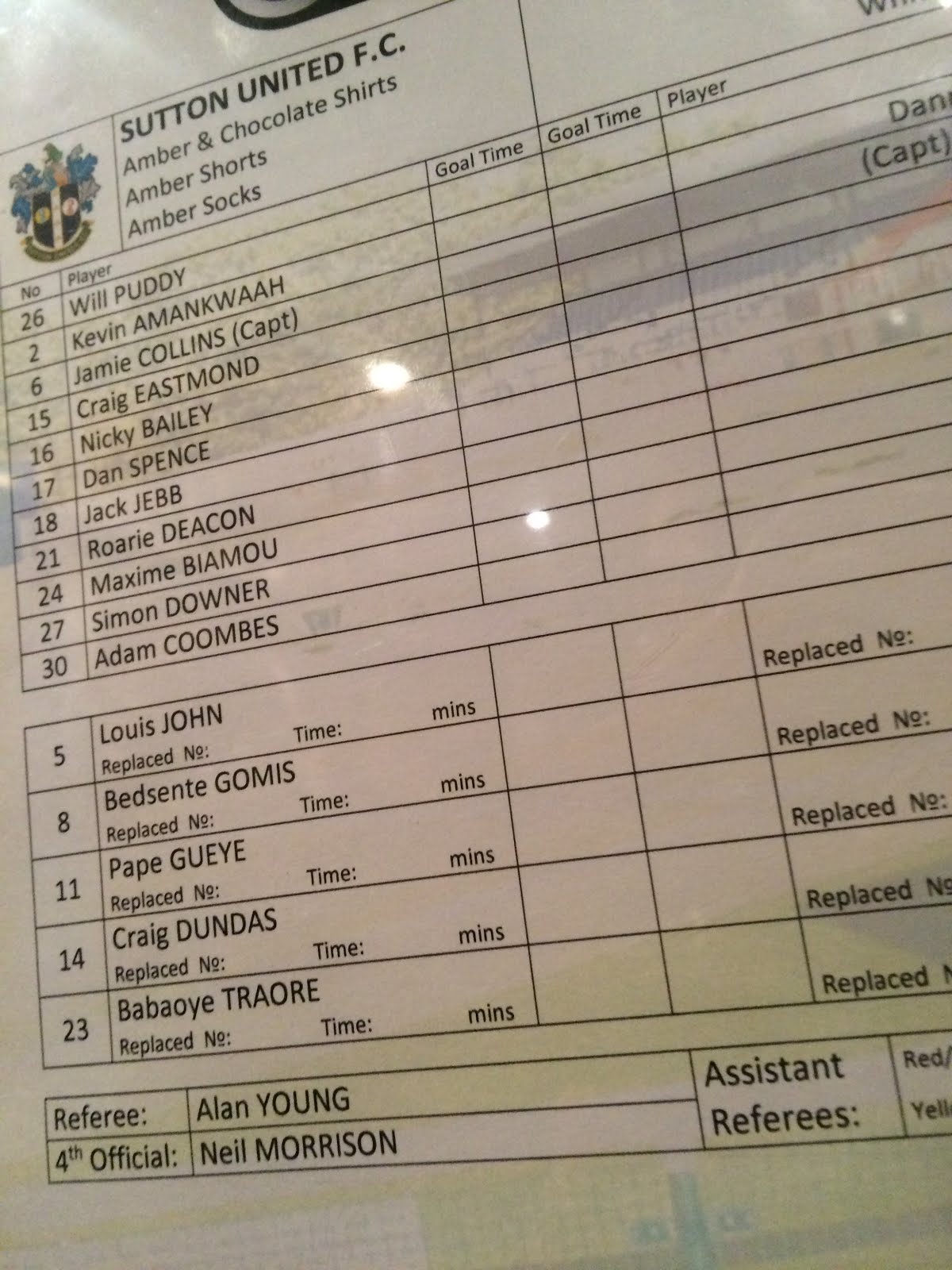 Paperwork
What was needed was a good away performance at Torquay. I was informed by an school friend of mine who I went to Robin Hood Juniors with and whom moved to Torquay back in 2001 that he was going to be attending the game. I went to Stamford Bridge but was keeping an eye on the score at Plainmoor. Of course I was gutted to read what had happened to Worns and of course trolls on Twitter were making a big thing of it with phrases such as "you reap what you sow" and "karma".
Well done though to Simon Downer for stepping between the posts and making it a much more positive story. Of course what better outcome to happen then our first away win since Lincoln City back in August. I was happy to see that it was Beckwith, Dean who got the winner – I let out a loud cheer of "Deano" in my seat. The only better thing to do then was follow up Saturday's away win to keep the momentum going by another victory. However, today's opponents are none other than BOREham flipping Wood – yes them again! What more can be said about our previous three games against them this season then I hope we score a goal.
Of course I am sitting at work throughout the day solely focused on the game. I leave for the game just around 6:30 and aim for Frederick Road for parking. Literally as I turn left into Frederick Road I see a space available and park up. As I walk into the bar it's fairly quiet and I see Mr X, 4 Days, Lil Chris and Southampton Steve. Just think a week ago this bar was packed! I also spot Beckwiths Mark and Nicky – the former eating a bagel. By the way, has anyone seen that video of a packed train carriage with passengers placing a bagel on the head of someone who looks very much like our own Taz (Oi! – Ed) and there is also a fight between two ladies.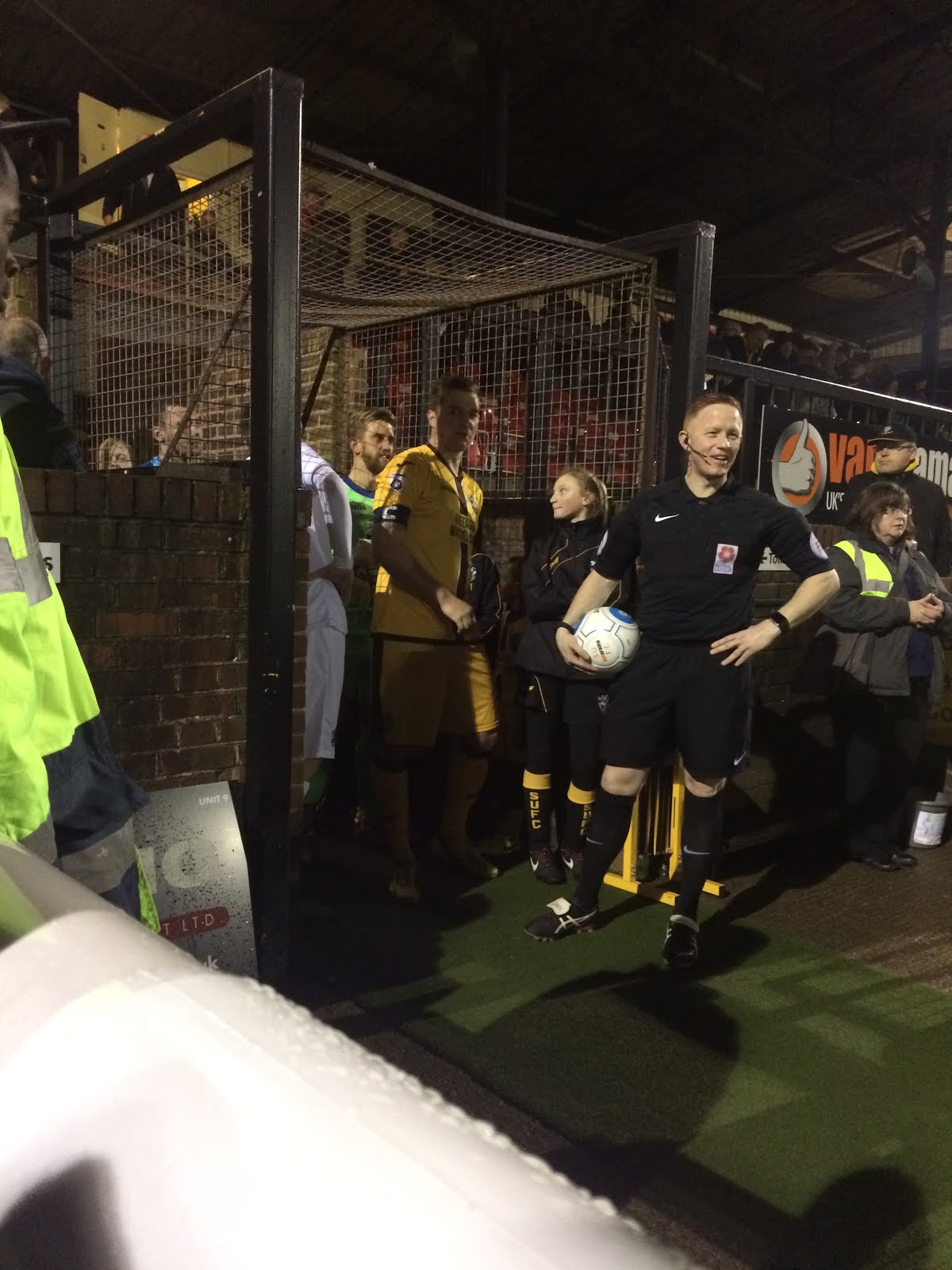 Ready to go!
Kick off nears its approach and slowly all the regular group are making their way. I am shown a picture by Greek and Dukey of what appears to be the "Hog Roast" hut outside with a rather inflammatory remark so I ask for this to be Whats Apped to me for this blog. Still, considering the sort of images he normally looks at I suppose I should be glad on this occasion.
The line-up for tonight's game sees a few new names for a home fixture. It's a debut for Will Puddy in goal – by the way I did some research on young Mr Puddy and it appears he is half Dutch and his first name is actually 'Wilhelm'. Also it's a home debut for striker Adam Coombes who I also looked up and discover he was once on the books of Chelsea during the Carlo Ancelotti era.
GK Puddy, 2. Amankwaah, 17. Spence, 27. Mr Versatile Simon Downer, 6. JC (skipper), 15. Eastmond, 18. Jebb, 21. Deacon, 16. Bailey, 24. Biamou, 30. Coombes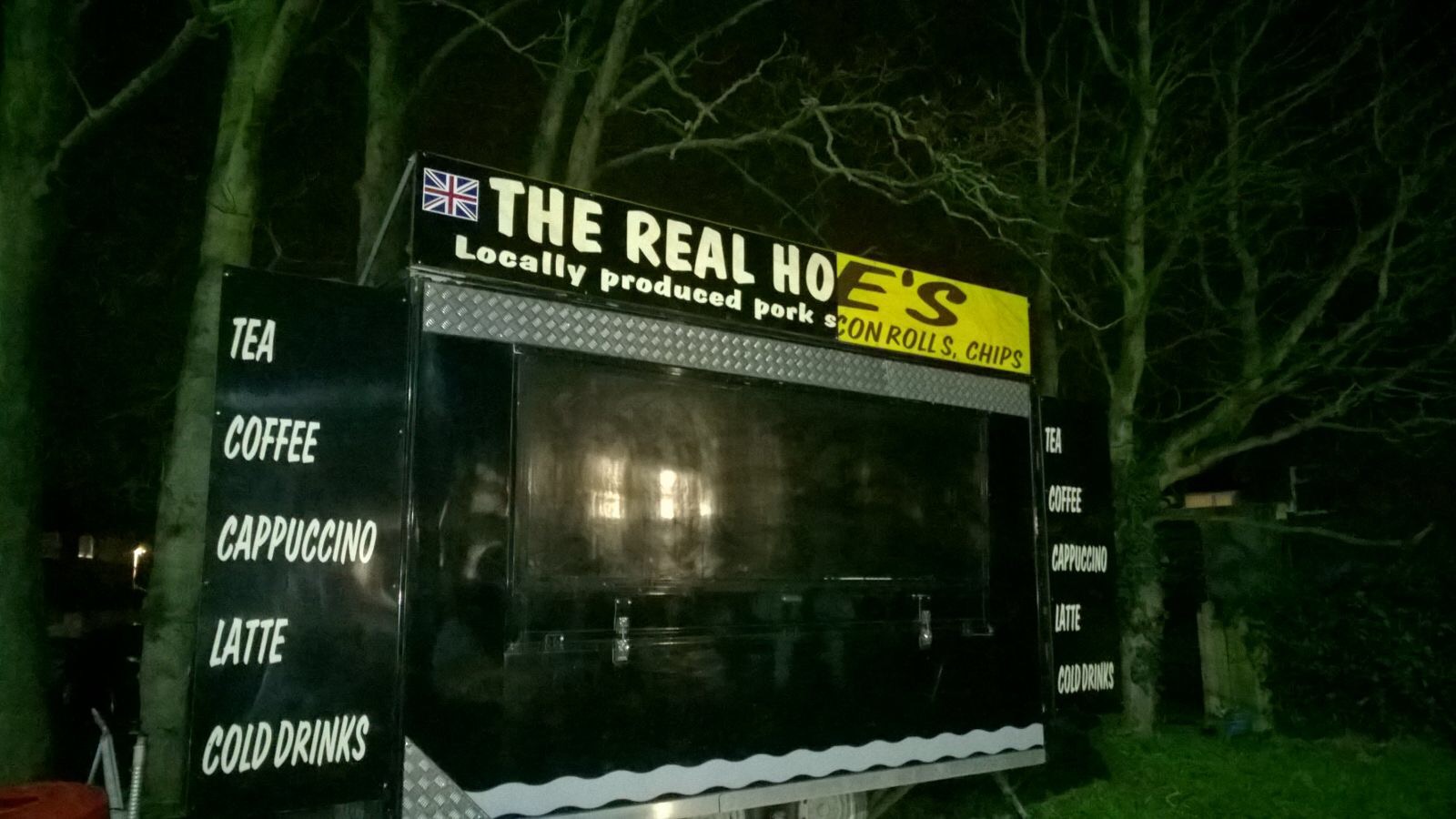 Have you spotted it yet?
As I take my place behind the goal I utter the words "what the **** is that?" [no swearing in my blogs of course!] to Dukey. It appears he has adorned some headgear in the form of a Russian hat – fair enough if that's his choice, guess it will keep you warm squire. I take a stand next to Greek but it becomes apparent I will not be able to see much seeing as Mr X then stands right in front of me!
The first 20 minutes of the first half are without doubt some of the best football I have ever seen us play. Nicely passing it round, finding space etc. but it's just the final part of play which lets us down. Still at least we are making the goalkeeper work – even on our surface a wet ball always makes life difficult for goalkeepers. However, events are soon soured as an innocent looking challenge by Eastmond sees their No.6 and a couple of other players crowd the referee (I thought this sort of thing was not allowed these days) and it sees Eastmond booked – even more worse is this being Eastmond's 10th booking of the season will now see him missing for two games.
As the 30 minute mark approaches my half time drinking buddy Steve approaches and I go to join him on the walk to the bar. But…….as we start our walk a ball is passed to Max and he slots home the finish – make that another goal that I haveNOT missed now. 1-0 to Sutton. Still this goal does not deter Steve and I going to the bar and the hope that we do not miss any more goals.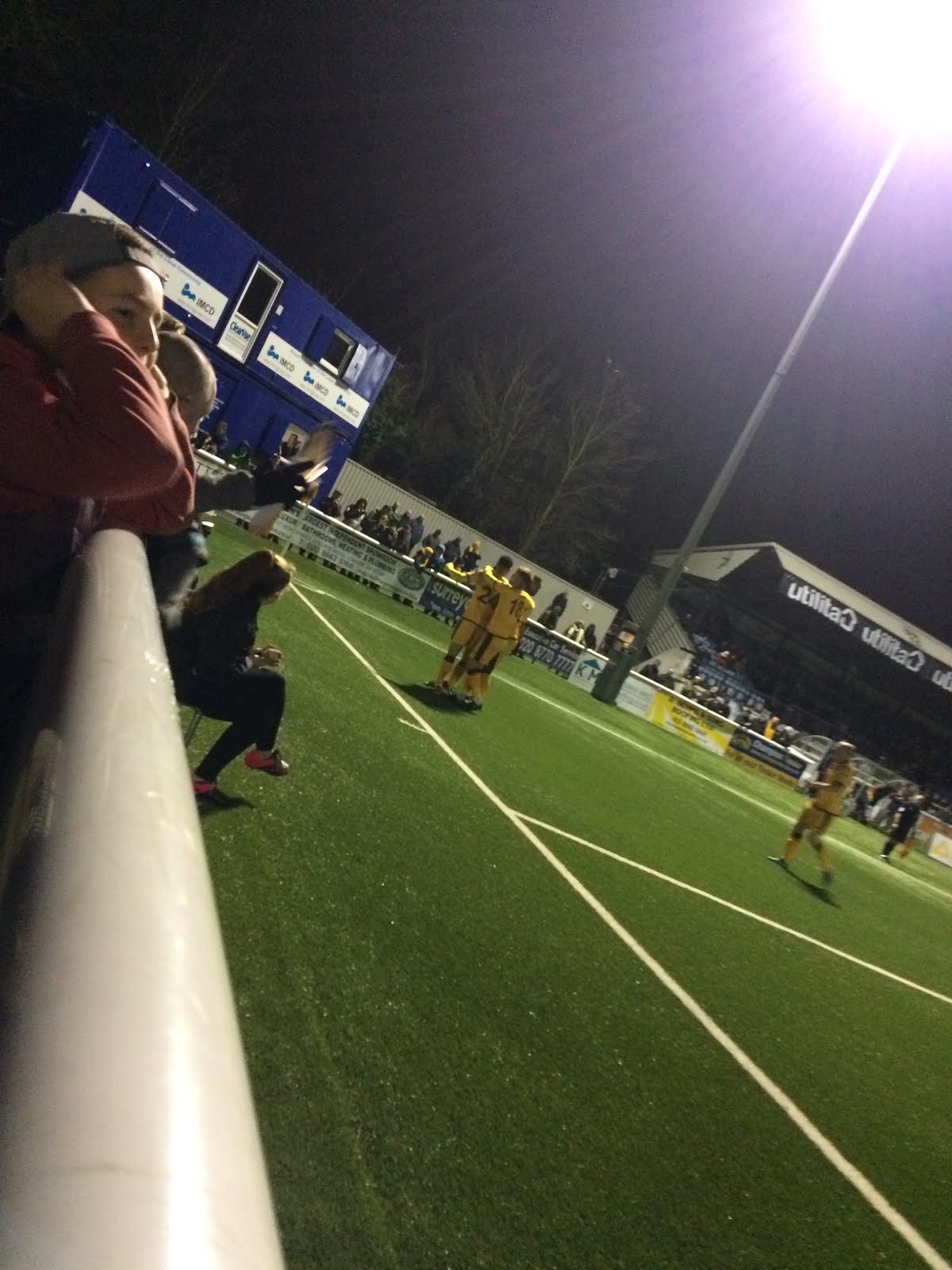 Goooooal!
Although Steve's son Ryan tells us about a crucial save Puddy makes right before half time, which I will have to catch via the highlights. Nice one son!
The second half saw a restoration of the dominate football The U's were playing at the start of the game. Various chances were taken by Max, Dan Spence and Nicky Bailey but all failed to makes its way into the net. A booking for Mr Versatile Simon Downer will also see him miss two games as he is another player to reach 10 yellow cards – hopefully the games he will be missing will not see him needed to resume his goalkeeping duties.
As I stand on The Shoebox, with regular supporters, Duke pulls out a box of cigarettes and it is one that I have never seen before. A brand called Sheriff, nope I do not know either. God knows what horrible cheap Duty Free place they came from!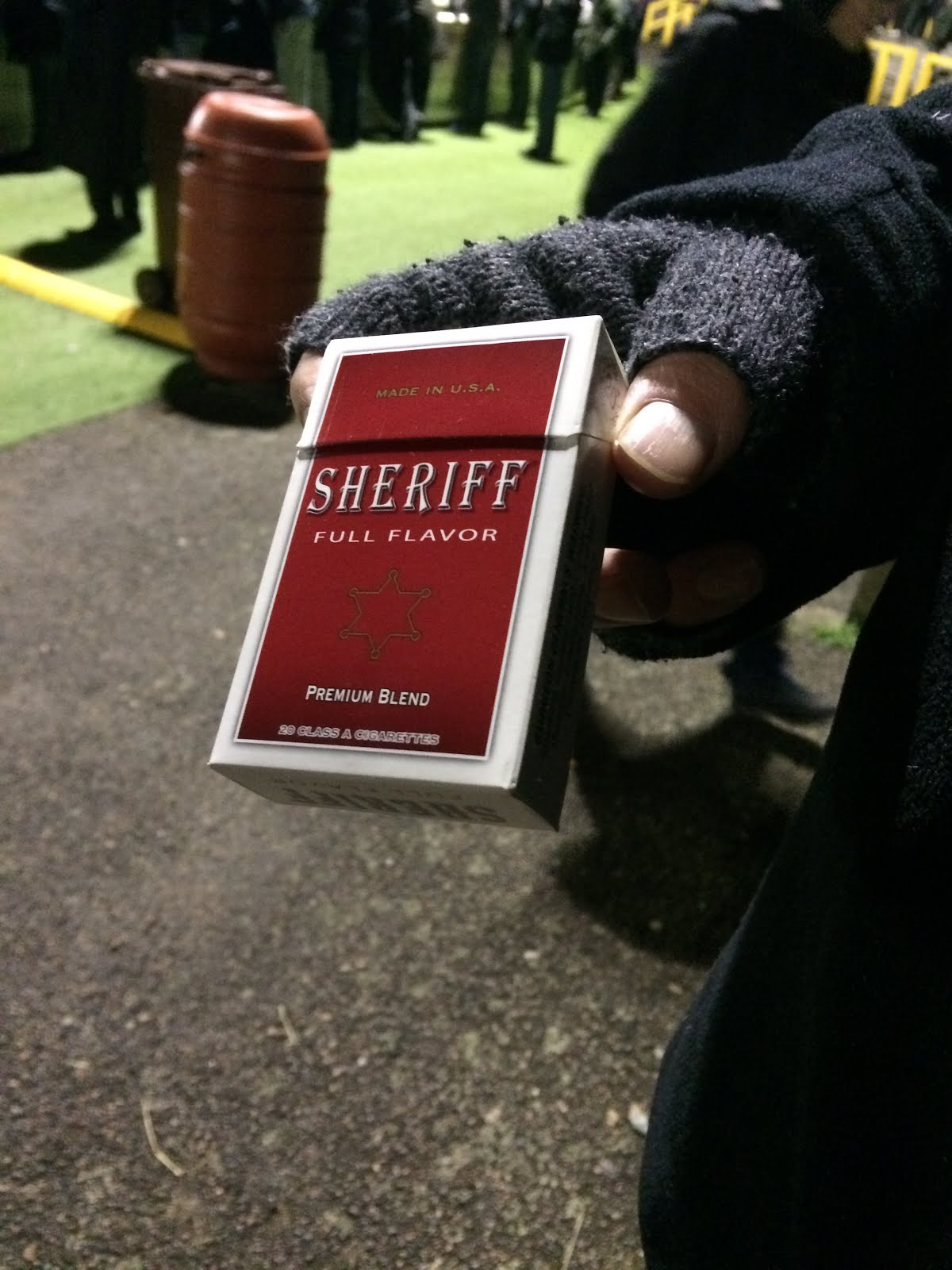 Moody fags.
As the 90th minute approaches the fourth official displays the board and five minutes are put up. I have to question why five – surely there has been no real injuries, only substitutions – which for the statisticians were as follows:- Gomis for Biamou on 76 minutes; and Dundo for Coombes on 87 minutes.
But the five minutes see no further goals and it's another win and a vital further three points for The U's. What's made even more crucial is the majority of the teams around us all picked up wins – well only Eastleigh failed to win again, oh dear what a shame…..not!
Attendance figure reads at 1441, and may I add what a welcome it was to see regular faces only! Ok I know it's nice for extra fans to come for obvious financial reasons but it must be nice for the players to see a big crowd – but it's better to have fans who actually care about the club and not just because of the opposition e.g. like against Arsenal.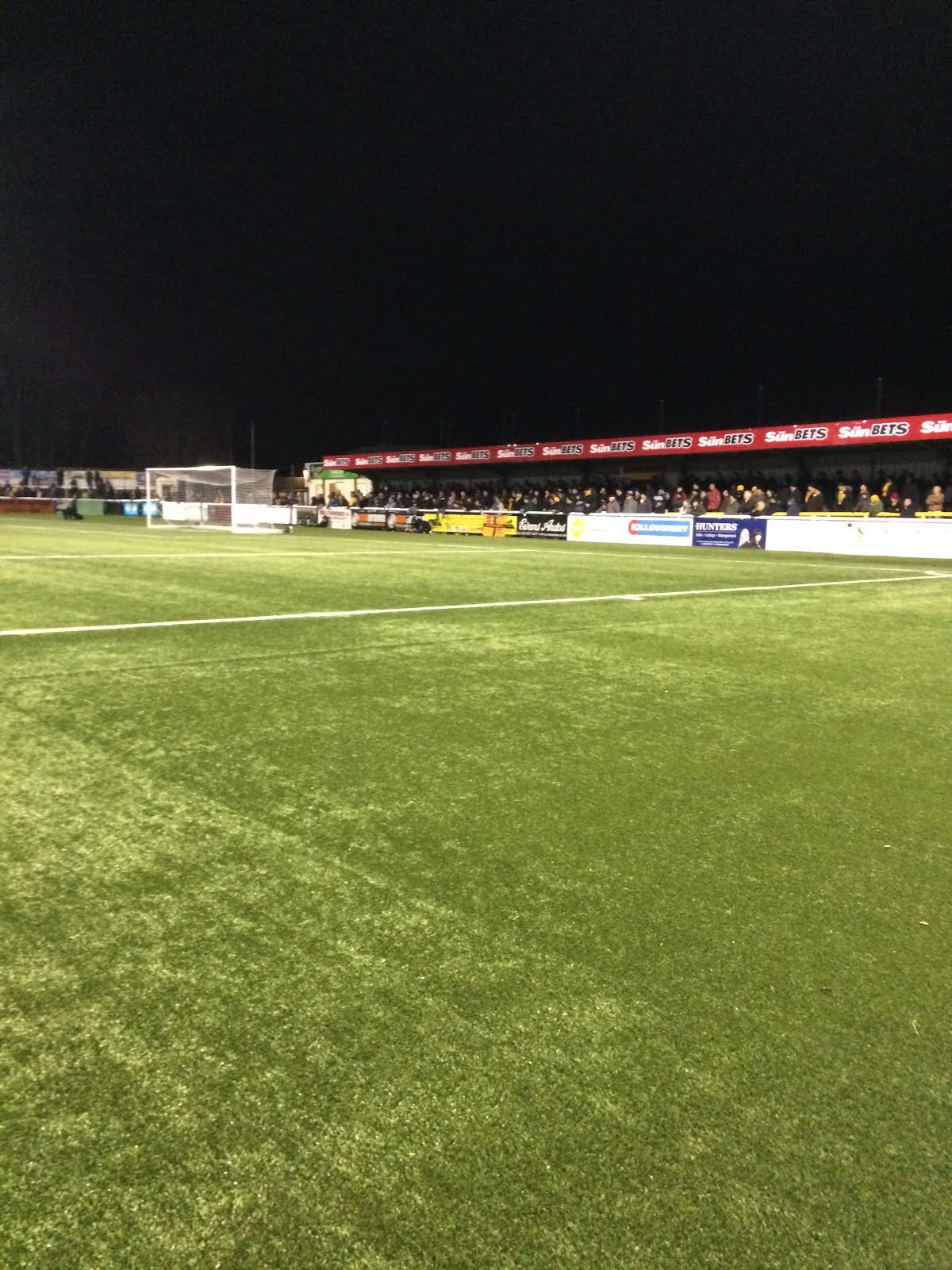 People
Upon walking round to the bar to what will be a much better bar experience of regulars, Southampton Steve says to me "Keith I think you should take a picture of that for the blog" – it is a FA endorsed poster of respect being maintained by all people within the confinements of a football stadium. This should be looked at by those pitch invaders who obviously do not have a brain cell between the lot of them.
It is fair to say the bar is much more mellow and nicer to be surrounded by regulars who are much more pleasant than autograph hunters and JCLs. It is after an hour in the bar that I decide to call it a night and promising to our editor that I will have this blog completed within 24 hours [now that I finish typing at 19:29 two days after]. So the momentum moves on and thoughts turn to Barrow away on Saturday. It appears that it is a double birthday celebration of our own Dukey and Greeky so may I wish both you fellas many happy returns of the day and I hope it's a great weekend for you both and the team at Barrow. Hope you have 3 points to celebrate!
I must now formally hand you over to somebody or other for the game against Barrow. My work here is done.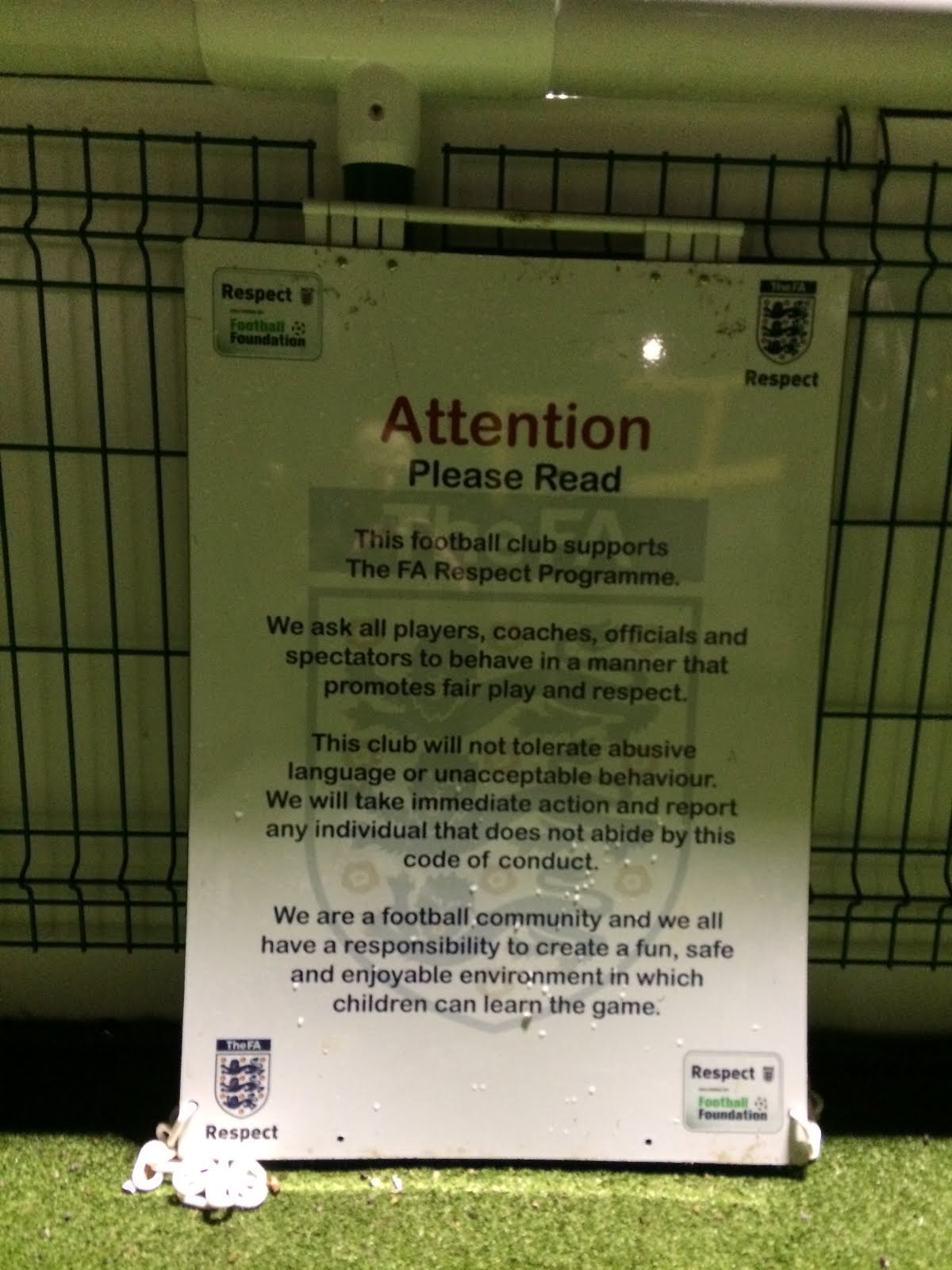 Rules are rules!
Wise men say…
Robbo