After the glamour and non-stop length of the M1 excitement that was Guiseley away we thought we'd put our feet up this weekend, have a quiet one and play someone a bit more low key than a little town a few miles north of Leeds. Y'know. Someone like, I dunno, Premier League Arsenal?
With that Arsenal tie now not so much looming over Gander Green Lane as lying on top of us and slowly suffocating all the fun out of this ridiculous cup run, we found ourselves once more in the bar where we watched Robbie Savage royally drop us in the shit a couple of weeks before. Why? Because it's the FA Cup Quarter Final draw, that's why! And thanks to our game being on the Monday evening, we're damn well in it. Yes, you read that correctly. An FA Cup Quarter Final draw, featuring little old us. About time an'all. What took 'em so long?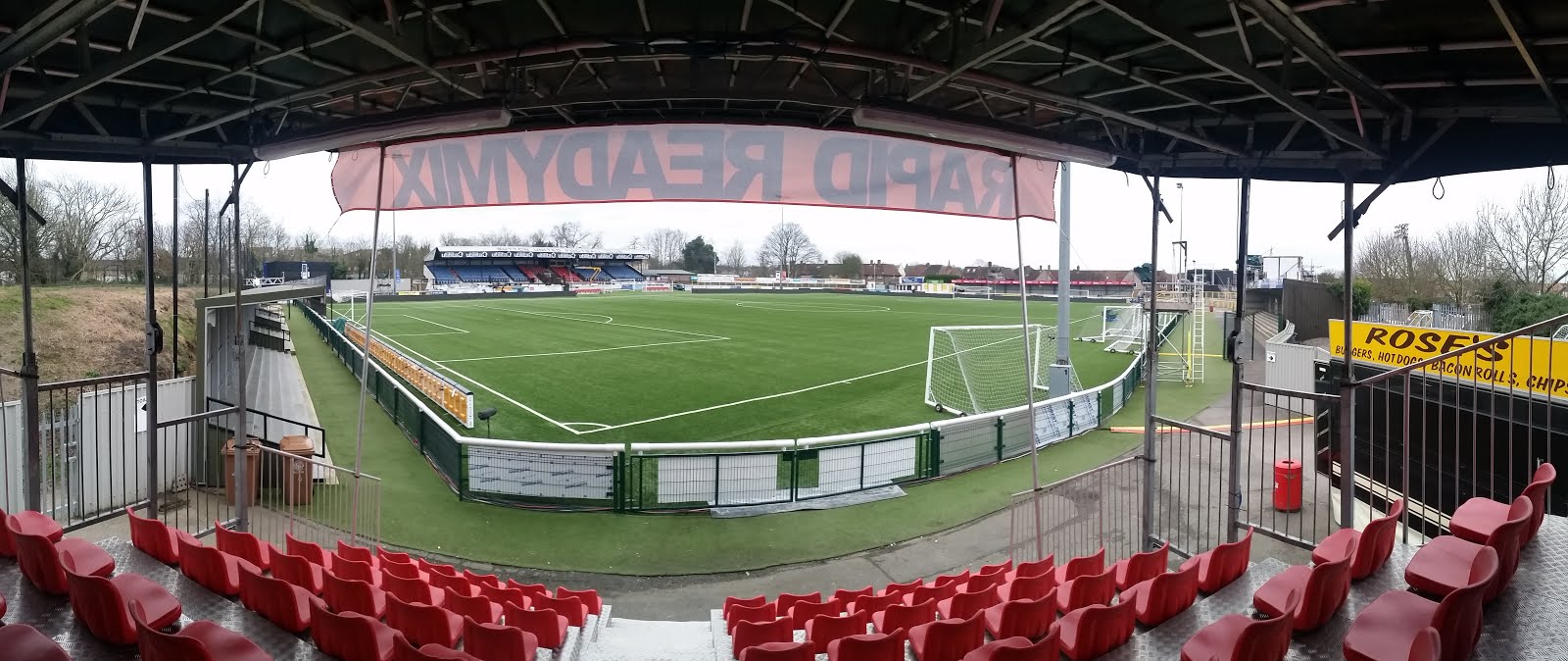 Away end luxuries!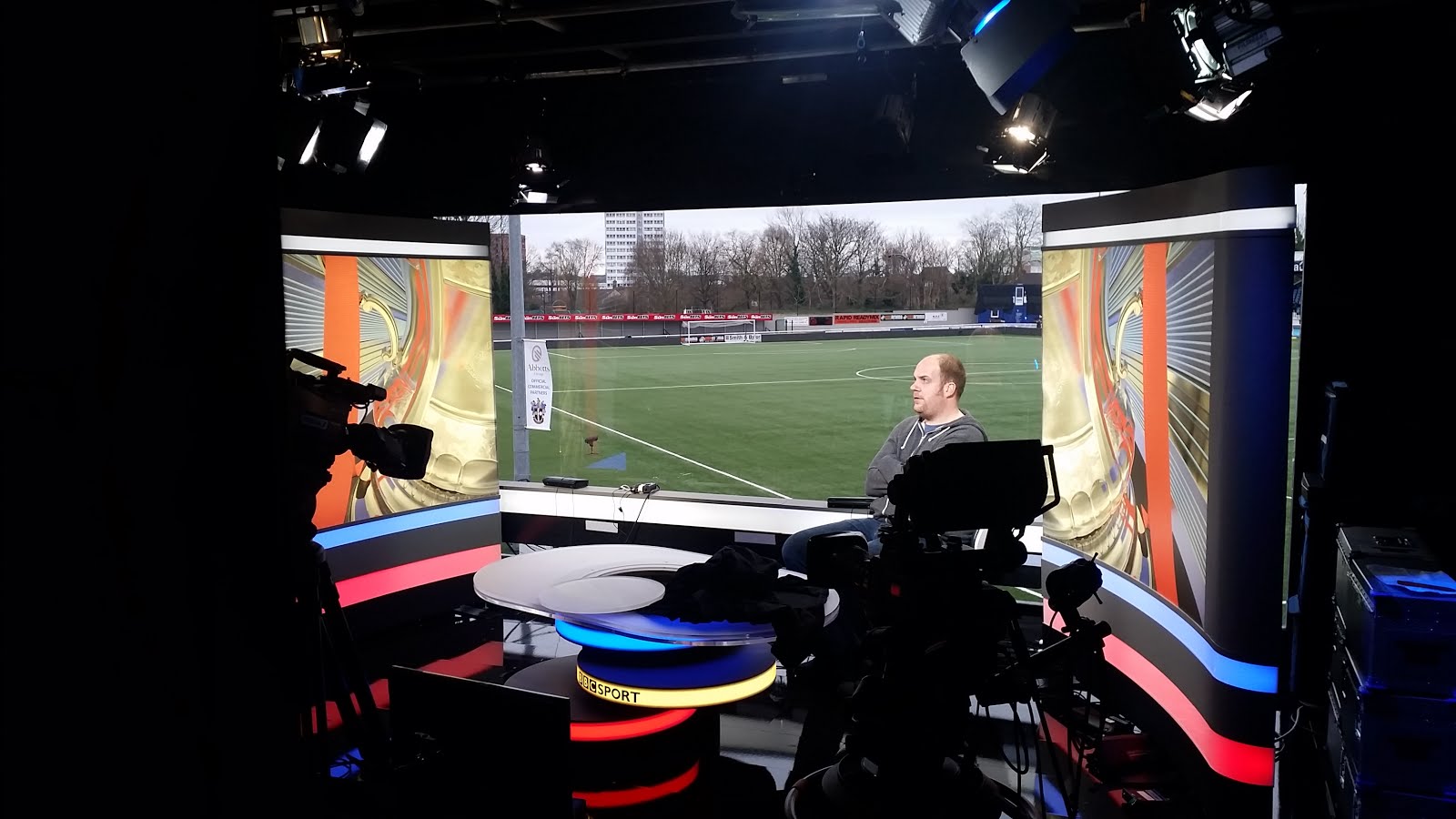 "Can we have your autograph please Mr Shearer?"
Great. Are Real Madrid in this one? Because, you know, we really do need to be possibly facing an even more fucking absurd and unlikely opponent than the one we'll have packing the place out a bit over 24 hours later. The challenge helps focus the mind on the task at hand. Either that or gives you a brain haemorrhage.
Whilst bumming around waiting for the TV to start, we take a moment to inspect the facilities and the new stuff being installed for the Gooner game the following day. Our first port of call is the new temporary stand setup in the open corner at the Collingwood Road end of the ground to house the visiting fans with seating tickets. It's got everything a travelling Arsenal fan would be used to. Red plastic seats and the top few spots in the left hand corner offer a properly fucking shit view of the pitch. 35 sovs for a restricted view away from home? Water off a ducks back to you lads.
Next we gaze up in wonder at the two new floodlight pylons looming over the perimeter fence from Collingwood Rec. It seems that the BBC requires more light for their 4k Ultra HD transmission than our 40 watters can offer. You know you could just try letting us play it during the day you know lads? What? Lineker's busy? Oh for fucks sake. They're certainly beefy units and look like they'll do the job nicely. Our final stop is to marvel at the Shoebox, probably the only part of GGL that's not had some sort of sponsorship cash in bolted onto it. Clearly Totts and Dukey's calls to the likes of Skol, Blue Stratos, Brut and Castellas have goneun-returned.
We do also take a little notice of the giant microwave looking thing sat in the corner on a shitload of scaffolding. This it seems will be where the BBC magic happens tomorrow evening, the Match of the Day studio. Through the large front window, we can see the lights are on and there are a couple of lads seemingly arranging the furniture. As much as you can really arrange a low table and 3 chairs that is. Nevertheless, this means only one thing. Time for a nose!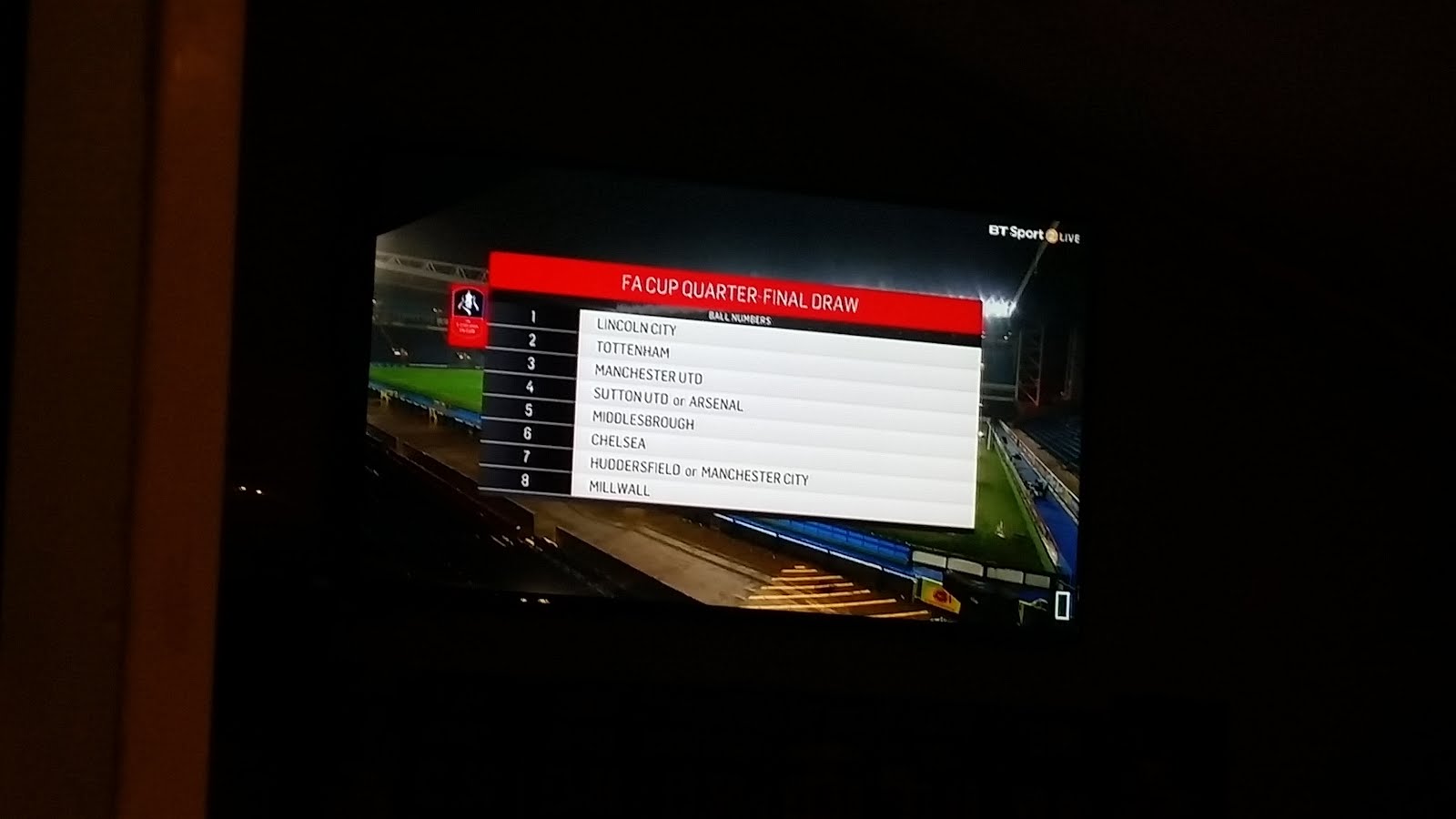 Hahahaha! That's just silly.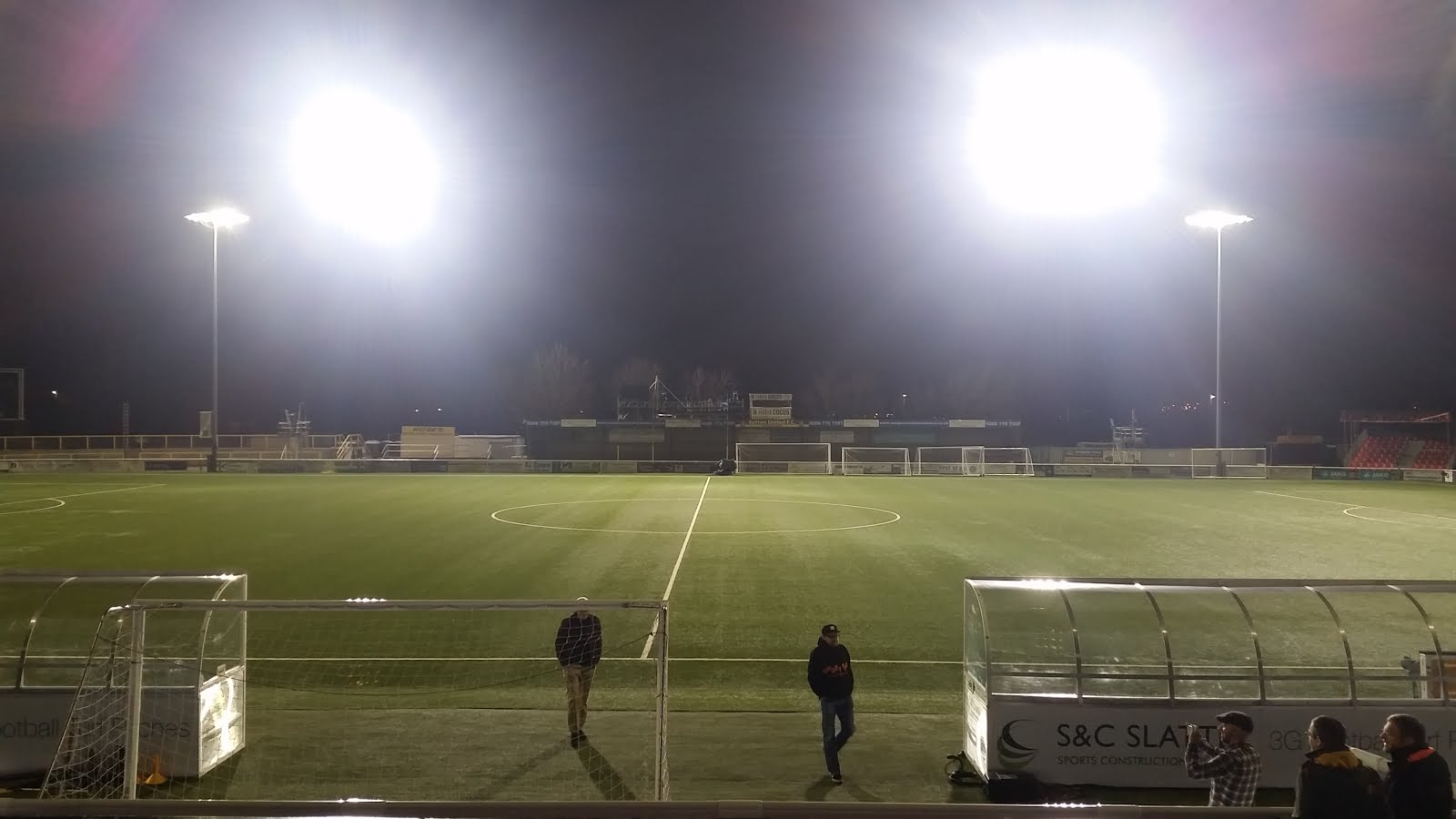 It burns, it burns!!
Hi! Can we have a look please? We're kinda a big deal round here so I wouldn't worry mate. It'll be fine. Oooh, that's a nice big posh camera. What's that button do??
Having been forcefully evicted from the MotD studio for sniffing Lineker's seat to see if it was the same chair he used when he did that show in his pants or not, we head back to the bar as the draw isn't far away. Of course, having had such a crazy run, I think you can tell what happened next. No, we didn't get Real Madrid, mainly as they're not in it, they're from Spain so don't usually enter. We were messing about earlier, it's what we do. Oh, whatever. Nope, we of course get yet another home tie (greeted with cheers from the normal fans, groans of agony from anyone who's done any sort of volunteering down here on the run) and of course, we pull Lincoln City. Clearly the FA are having a little bit of a Non-League in joke here. "See, they missed each other in the FA Trophy, so….eh? What's the FA Trophy? Oh never mind…"
To be fair though, it does give Cowley's boys apt reward for that fucking superb shift they put in up at Turf Moor on the Saturday with that famous 1-0 win. And failing that, they get a day out at the Emirates and a big pay day. Win win in our book that! What??
With the draw done, there's an excited shout from the tunnel area. "Come check out the new floodlights being tested!". Unable to resist such a magical offer especially given as we'll get to see them all night tomorrow, we do just that. And as we guessed earlier, they're a smidgen brighter than our regular floodies. In the same way looking directly at a nuclear blast is a smidgen brighter than the full beam on your car's headlights. Shielding our eyes as best we can, we marvel as West Sutton instantly becomes visible from space, the tarmac on the streets the other side of the railway line start to bubble and melt from the glare and every bird for 2 square miles is suddenly jolted into their dawn chorus.
Despite this, everyone agrees that they're not bad at all and should do the job. Mind you, all assembled also concur that we'll all be dead of cancer by this time next week because of them. If not that, at least in need of a white stick each.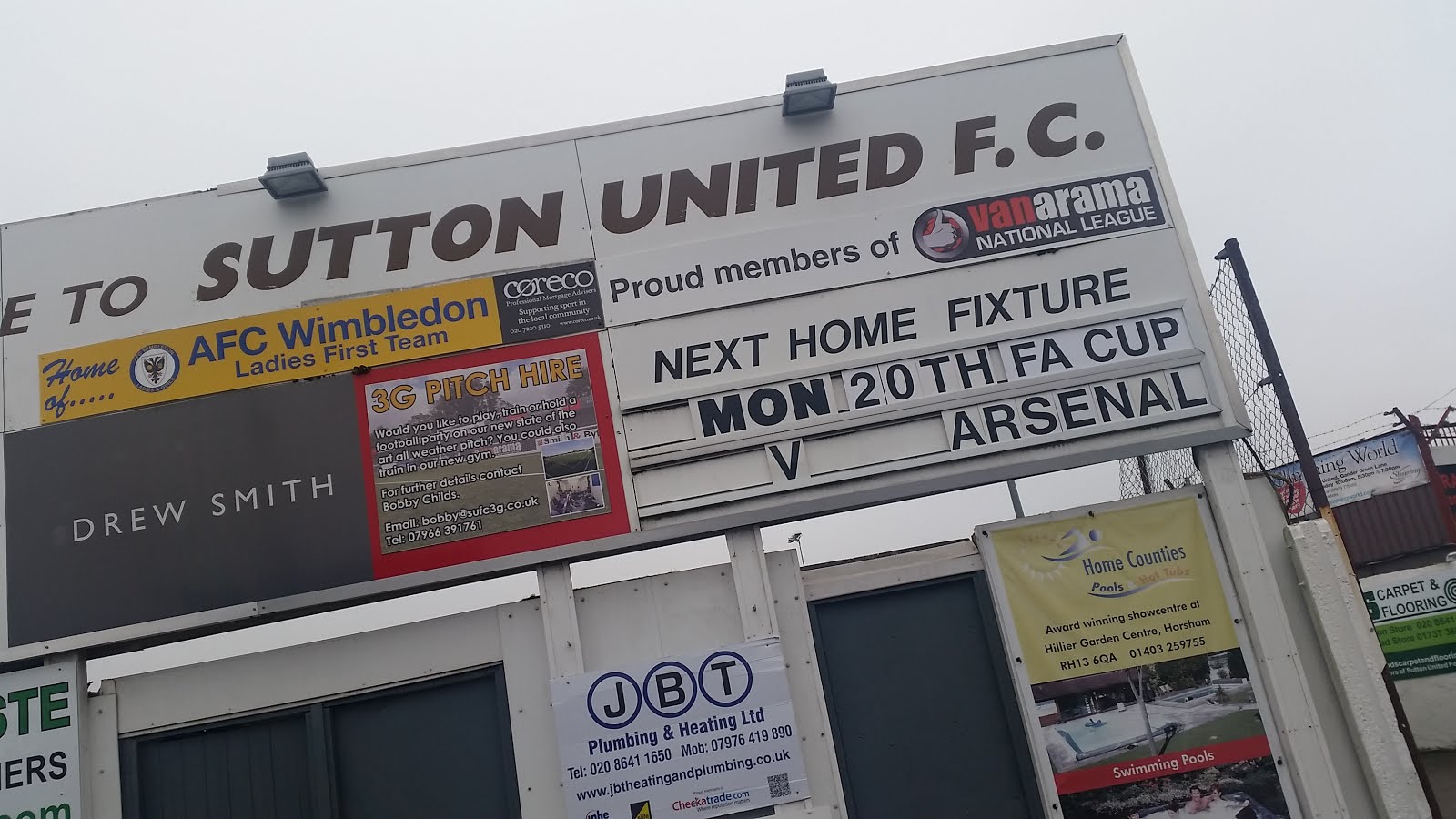 Yep, if it's on the board, it must be true.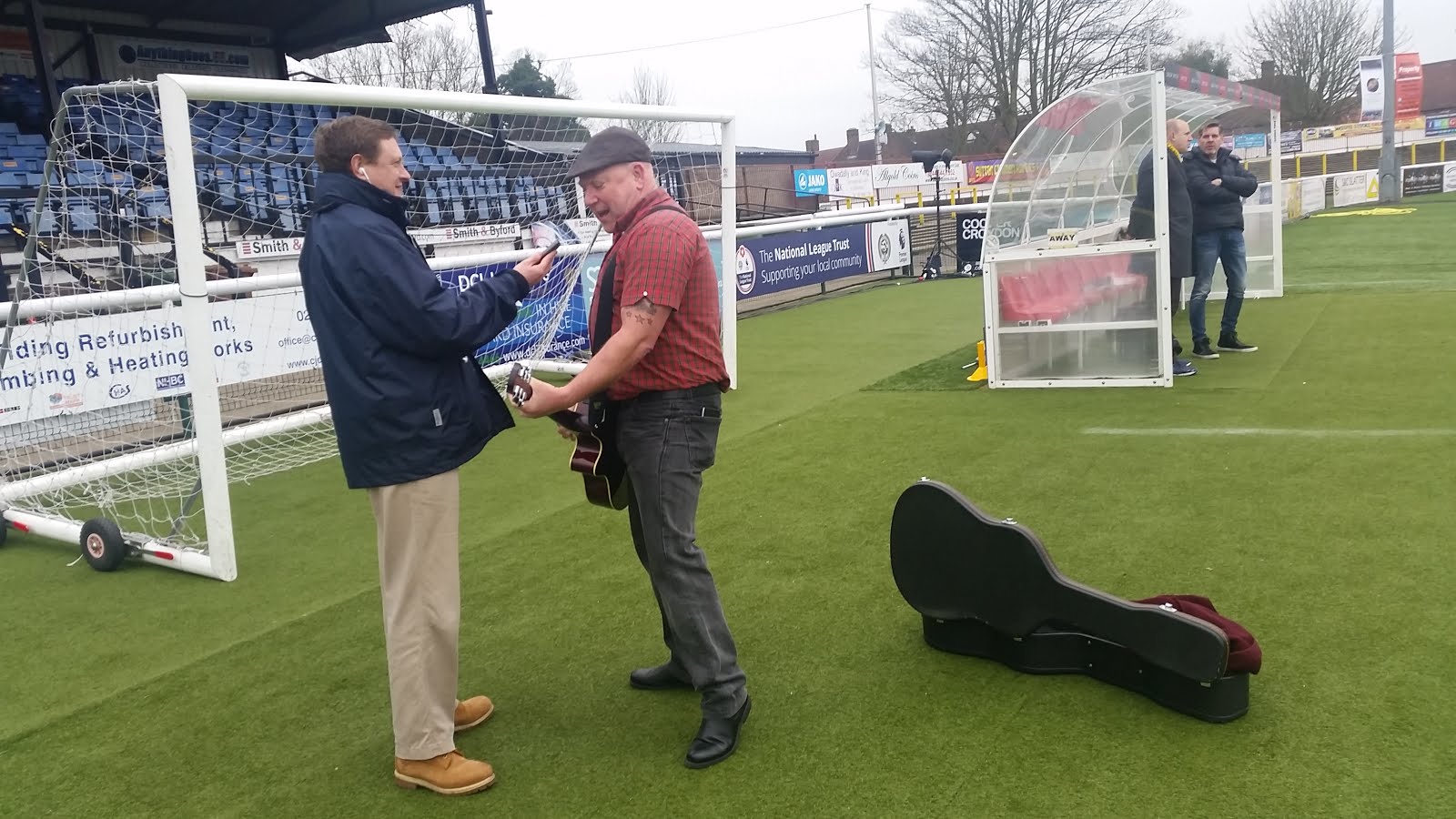 Busking for change.
The following morning my alarm buzzes away in that hateful manner he always does, making me repeatedly punch it until I get lucky and manage to hit the 'off' button to end it's screechy early morning reign of tyranny. It's Half 6 in the morning. This is half an hour later than I'd be getting up on a normal Monday, but then again this is no normal Monday. Today is game day and almost as importantly, media whore day for us shit Non-League bloggers! Some toast and a shower later, I'm stumbling out into the street hoping the bus is on time. Thankfully it is and I then get to thoroughly confuse my already ruined brain by doing a Saturday home game's routine before 8am on a Monday morning. Get off at the Cop Shop, cash out and then a pop to Greggs. Cup of tea in hand, I stick some tunage on and start the stroll to paradise for my date with Radio fame and fortune.
The reason for all this bollocks? Well, Totts did 'that fucking song' after the AFCW game didn't he. All a bit of a laugh that was, have some fun with the cup and all that. 2 Rounds later and we're all just plastering on fake fucking smiles to get out there and plug it to death one last time. "So if Totts did the song, what the fuck do they need you for Taz?" I hear you cry in my imagination. Well, I'm simply here to offer cutting non-musical based insight, keep the uglier groupies at bay from 'the talent' and basically play Bez to his Happy Mondays. Just without the stupid dancing. Fuck that for a game of soldiers. The most active I'll be this morning is stirring my tea, if that. I stroll in to find the place quietly humming with a good few Radio crew milling about alongside the guys working in the ground. I find Totts in the bar where he's supping on a cup of splosh and engaging in small talk with the Chairman and some bloke from Cheam. Tim Dime or someone, no idea. With the niceties of hello's done, the Chairman cuts to the chase.
"Ah Taz, I read that SunBet piece of yours…." Uh oh. "With slight trepidation I must admit…." Shit, where's the nearest exit? "….But it was very good. A most balanced account, well done" RUN! RUN NOW! GET OUT WHILST YOU STILL CAN! Oh wait a second, he liked it?? I wipe the sweat from my brow and try to thank him as casually as possible, but still probably end up sounding like a 13 year old interrupted by a friend of your mum's as he tries to 'discreetly' fish a copy of Razzle off the top shelf in the newsagents. Oooh, is that free tea, do excuse me won't you! With a brew on the go, we decide to head outside to try & find the people who are going to make us endlessly famous. Instead we find that bloke from Cheam has nicked our Radio 4 slot. Totts and I aren't that sure that's our target demographic anyway, so we're not that heartbroken. Instead we mill about drinking tea, waiting. But before too long we've blitzed three appearances and no doubt won hearts all over the nation with our wit and charm. Right, time to take the weight off, tweet about how brilliant we are and of course drink tea. As we do so, we're given another reminder of just how arse about face all this cup run stuff has been as we find that the GGL milkman has left the club a note. And it's not to demand we cough up for our regular delivery of gold top now that we've come into a few quid.
Sadly the time is now only half 9 and Totts is off to do a few hours graft to take his mind off the game, so I'm left all on my lonesome. Bored and a bit hungry now, I decide that someone has to head into Sutton and have the customary 'big game' lucky breakfast. So one stroll back into town later, I'm parked in Sutton High Street's number one Irish themed venue, reading the Sutton article in the centre of the Times and waiting on bacon and sausages. Soon after, Belly calls and at the mention of bacon and sausages is soon on his way up to join me. Both breakfasted and with the time approaching noon, we start thinking about heading back to GGL to offer any assistance that may be required. Then an emergency call is received. The club needs two small stools for ballboys, so it's Gingers to the rescue as we pop into Sports Direct to liberate the very last 2 they have and head back to the ground.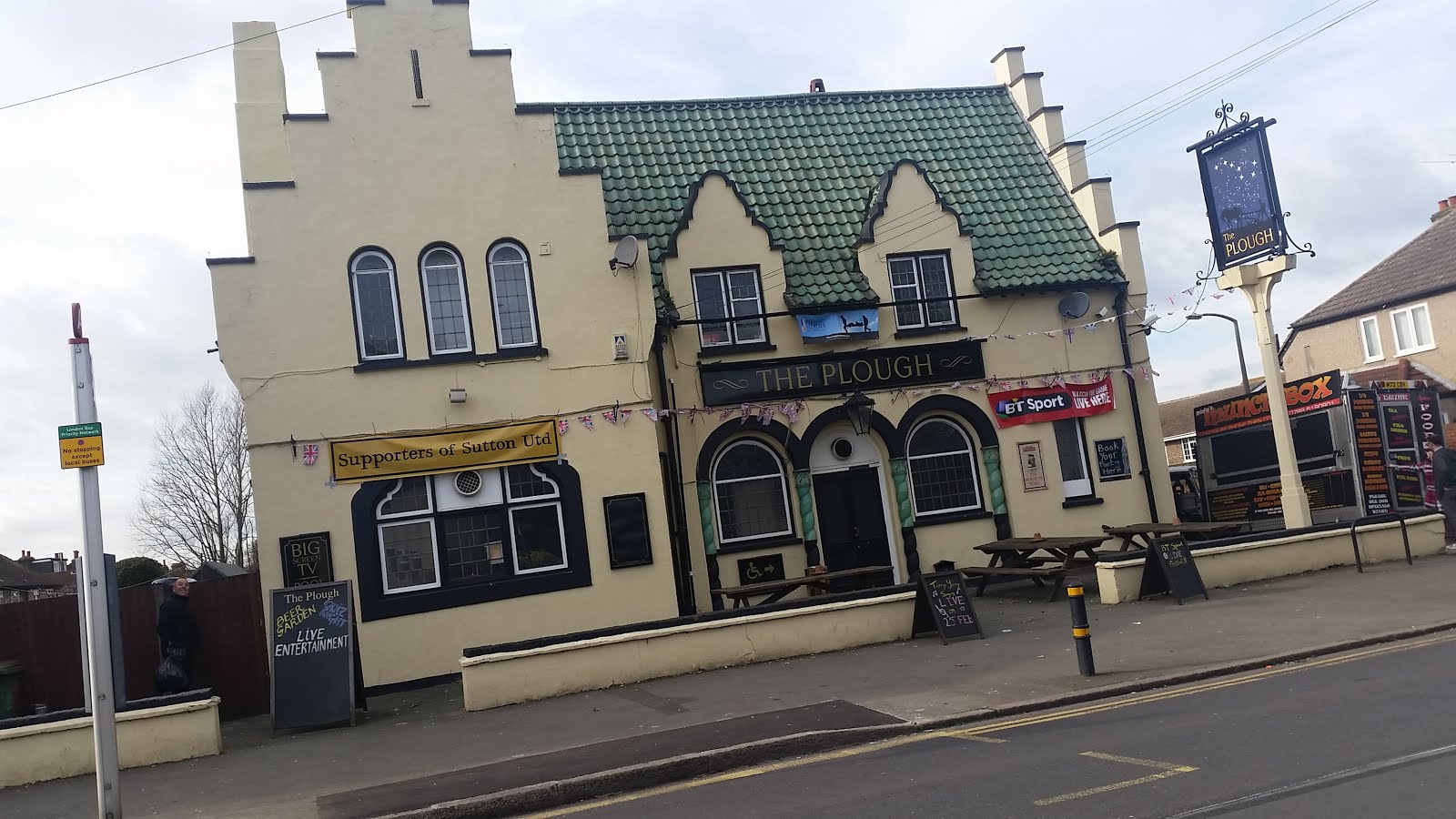 The PRoWS Cultural Heritage Center welcomes Arsenal!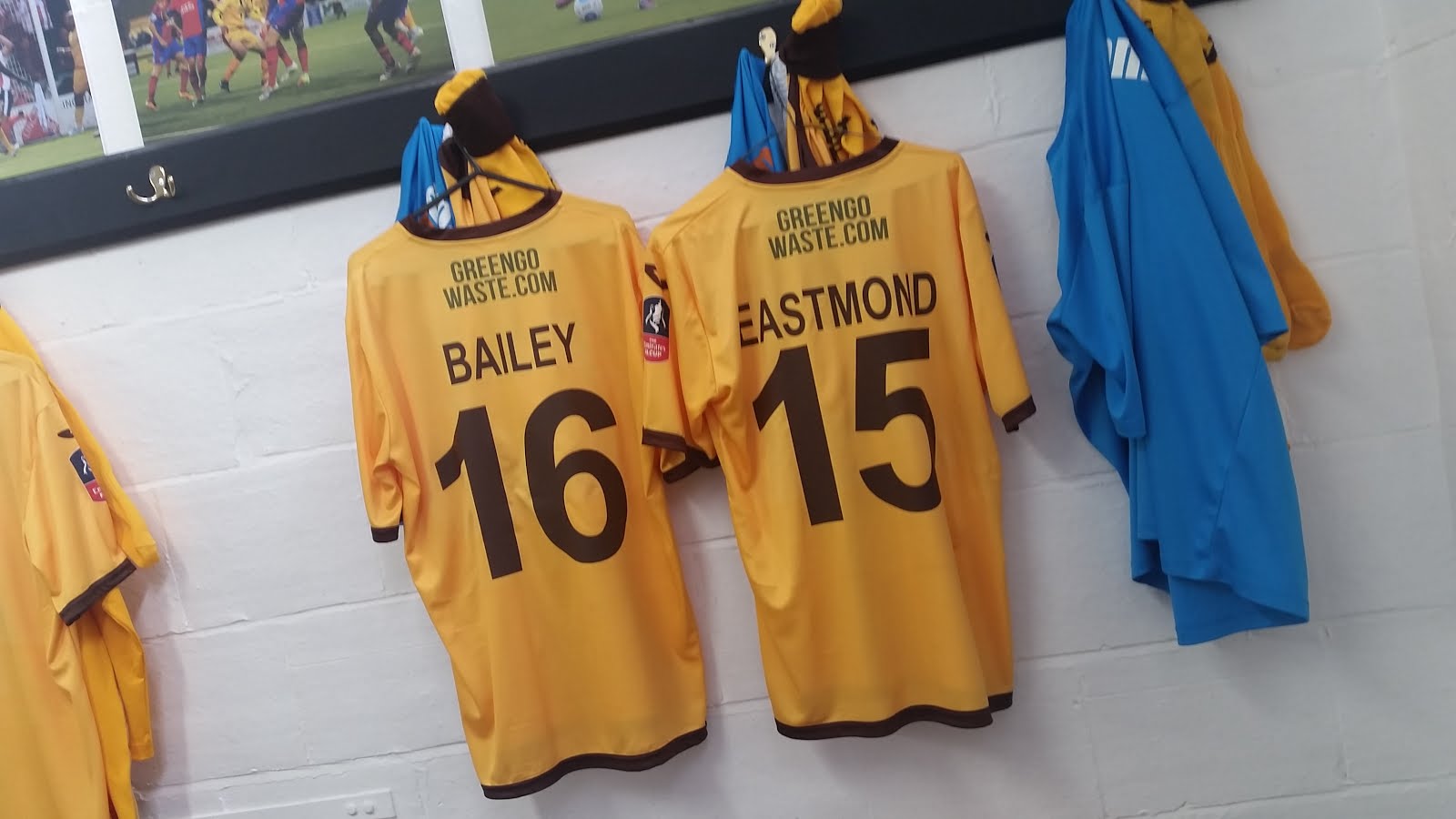 Sneaking about….
Here it's now a touch busier than before. But there's a nice atmos as a few people wander in for a look as the lads go through their paces on the pitch with a light workout and some set pieces. With them finished we mainly retire to the bar, smash the free tea some more and watch the world go by, mainly in a mild panic. We also get to have a nice caht with Tony Rains who's popped down to speak to ITV. He's finding it all very amusing getting to watch the chaos from outside the 'bubble' this time around. Although he's not keen on us reminding him of his appearance on Wogan following the famous Coventry result!
Finally, Bobby finds us some important work to do. Mainly to fix a banner ad on the floodlight pylon in the corner where the studio is. "It's just 2 bolts, it's dead easy!" and handing us a spanner and a ladder, leaves us to it. And he's right, it is dead easy! Within 5 minutes of getting the ladder up, Belly and I are stood back admiring our handiwork in as manly a fashion as we can. Then some git from the BBC appears to burst our bubble. "Well done lads, but you'll have to move that!". It seems that our newly fixed sign would be seen perfectly over the shoulder of Mr Lineker later on this evening, so perfect in fact it looks almost like it's been deliberately placed and as we're on Auntie, that's a no no.
Muttering about public broadcasters and why do we bother paying our licence fee, we get a longer ladder to try and sort the sign out. 40 minutes, some swearing, a bit of yanking and bit more swearing later, we're done. All watched to great amusement by the cameraman in the tower by the Shoebox who has no doubt had his camera and comms testing made all the more entertaining by two dickheads with a ladder. As I set about returning said ladder, Belly finds he can't hoist his fry up filled frame over the fence. Eventually he manages, but just flops onto the floor in a heap meaning I get to laugh my arse off at his expense all the way back to the clubhouse.
After killing a bit more time, to our relief the bar finally opens for business and we're joined by the likes of the Burgers, Crockett and Greek. Time for a pint then! Before too long loads more faces are slipping in for the duration and hunkering down from the apparently growing madness outside as the crowds start to gather. Amongst the highlights are getting dragged in to do something for BBC News and meeting the man behind, or rather inside, the Arsenal mascot 'Gunnersaurus'. Nice bloke as it happens! Then things ramp up a bit more when the visitors bus finally arrives and disgorges the sort of security crew that would make Donald Trump feel a little inadequate and exposed. We sincerely hope Arsene liked the pics on the wall of the hallway when we walked through though. We spent ages putting those up this summer.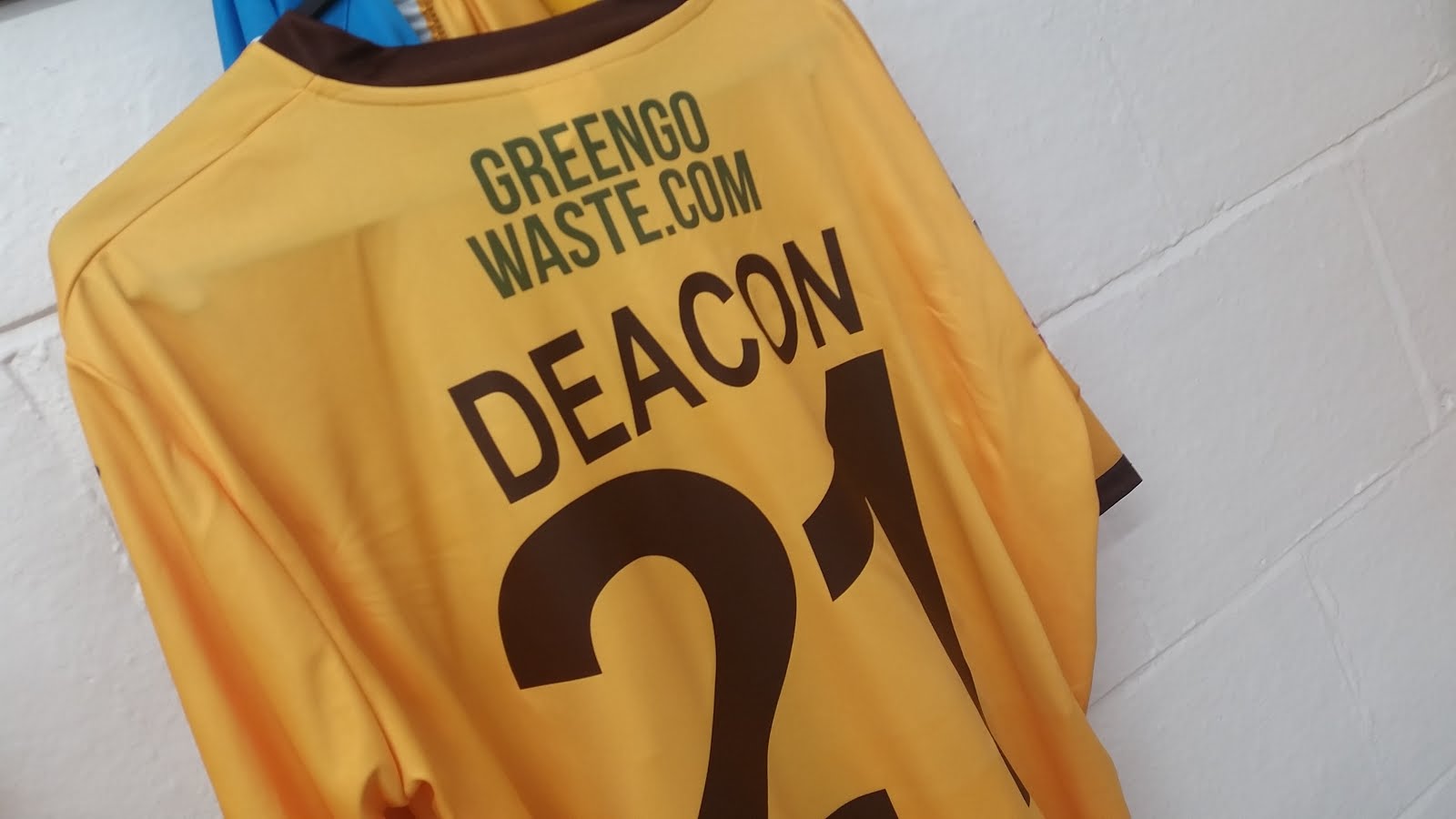 Sneaking about. Pt2.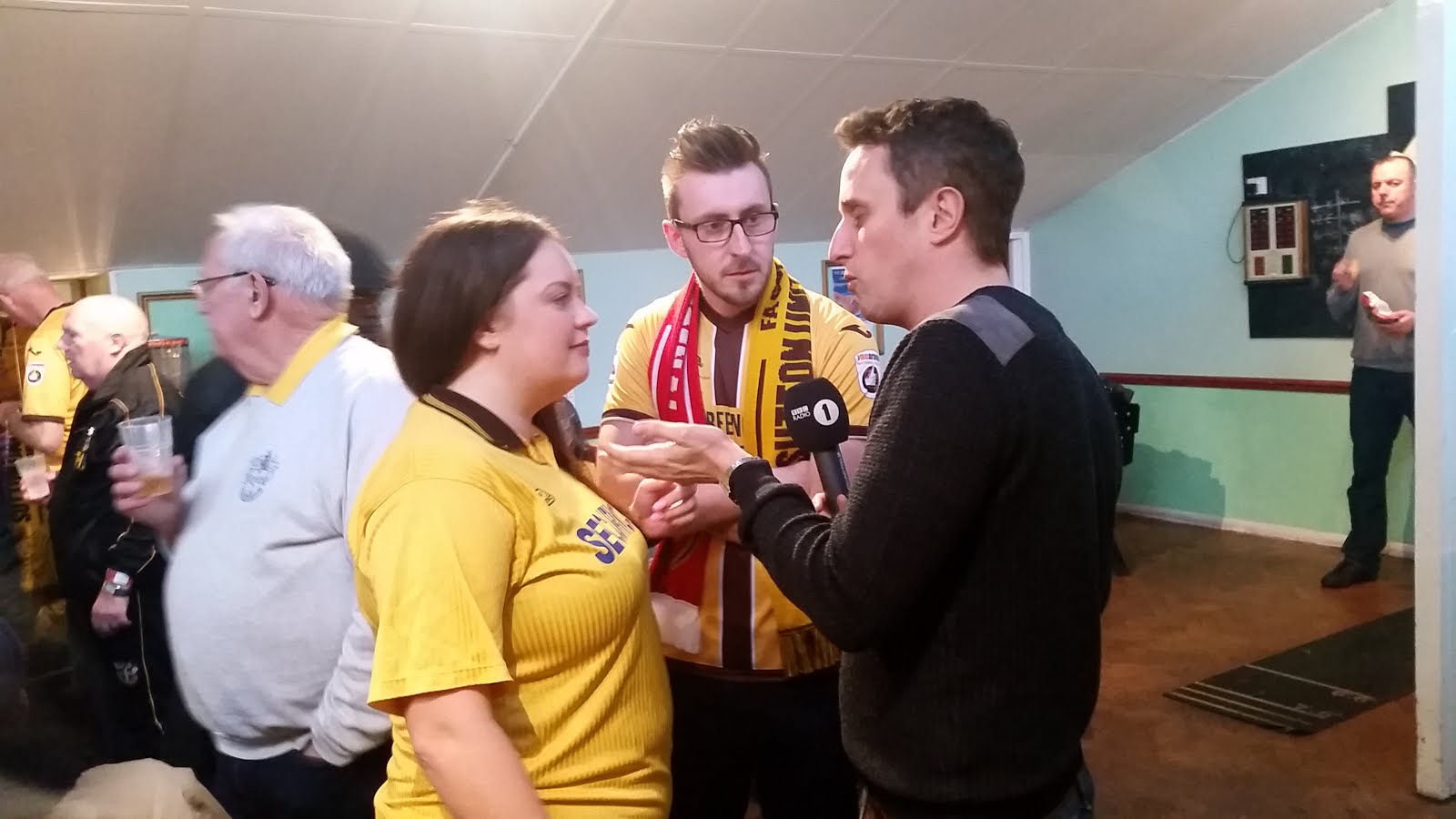 Yet more press!
With the time past 7, I and Steve elect to make a move. Using knowledge gained from the previous couple of ties, we've tried to coincide the departure with the queues being so large they open the last turnstile at the GGL end. And again it pays off as we join a queue about fifth the length of the others and are soon into a packed Borough Sports Ground. With the place filling out nicely and the teams going through their warm ups out on the carpet, we make for the Shoebox to claim a decent vantage point.
Worner. Beckwith. Amankwaah. Downer. Collins. Bailey. May. Eastmond. Gomis. Deacon. Biamou SUBS: Shaw. John. Hudson-Odoi. Fitchett. Spence. Monokana. Tubbs.
Getting underway, the game starts much as we'd have expected. The U's sat deep and in numbers to try & stifle the visitors passing game and forcing them to try & play through our lines, then breaking when the opportunity arises. Of course, this really leads to not a great deal happening apart from Arsenal popping the ball about smartly in the main, but tossing in the odd over hit or misplaced ball to give us something to jeer and raise our hopes that they're really not enjoying themselves at all.
In fact, the first real event of note is when a streaker appears from the stand side about 10 minutes in, with a giraffe head hat on, he's clearly one of the lads we'd seen in the bar beforehand and that I'm fairly sure were at the Leeds game as well. His effort is marked down by all present on the shoebox as he's elected to keep his pants on. Shite fella. He jogs about for about 30 seconds then when he realises no one can be arsed to chase him, he heads back whence he came and is carted off by none other than the father of our very own 4 Days & Lil' Chris. Annoyingly this stoppage comes just as we've had our first real spell on the ball as well.
You can clearly tell that the oppo are a step up as their touch and movement is a world away from what we saw against Leeds, but they just seem to lack that final ball or make a poor choice when in our half and Ross Worner stands largely untroubled as we approach the half hour mark. We've even managed a couple of little forays leading to free-kicks that we're able to get the big lads up for and stick into the box, not that any of them come to anything. Then pretty much from nothing, we're behind. A little passage of play just in their final third gives us a decent little bit of possession but a bouncing ball sees a defender lean into Gomis and nod away. And whilst the ref ignores our protests, we get a Premier League lesson in playing to the whistle as 2 passes later, Lucas is in acres of space down in front of the Shoebox. Amankwaah gets across and shows the Spanish lad inside and he clips a low curling ball across the face of goal. Walcott darts between Becks & JC and looks to get a touch in the middle. Whether he does or not, Worner is unsighted for a second and before he knows it, the ball is inside his far post and Arsenal are 1-0 up.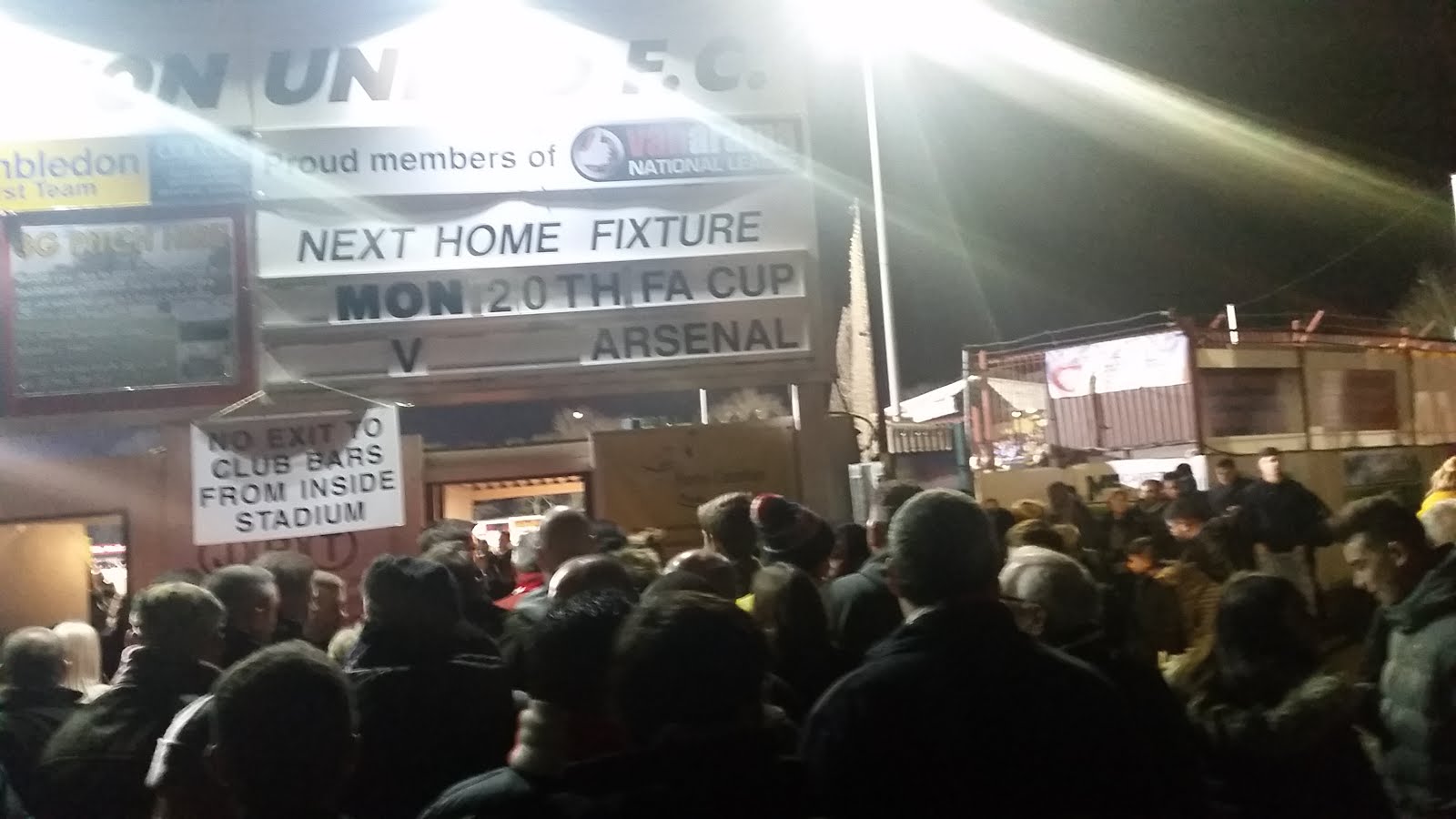 Turnstile scrum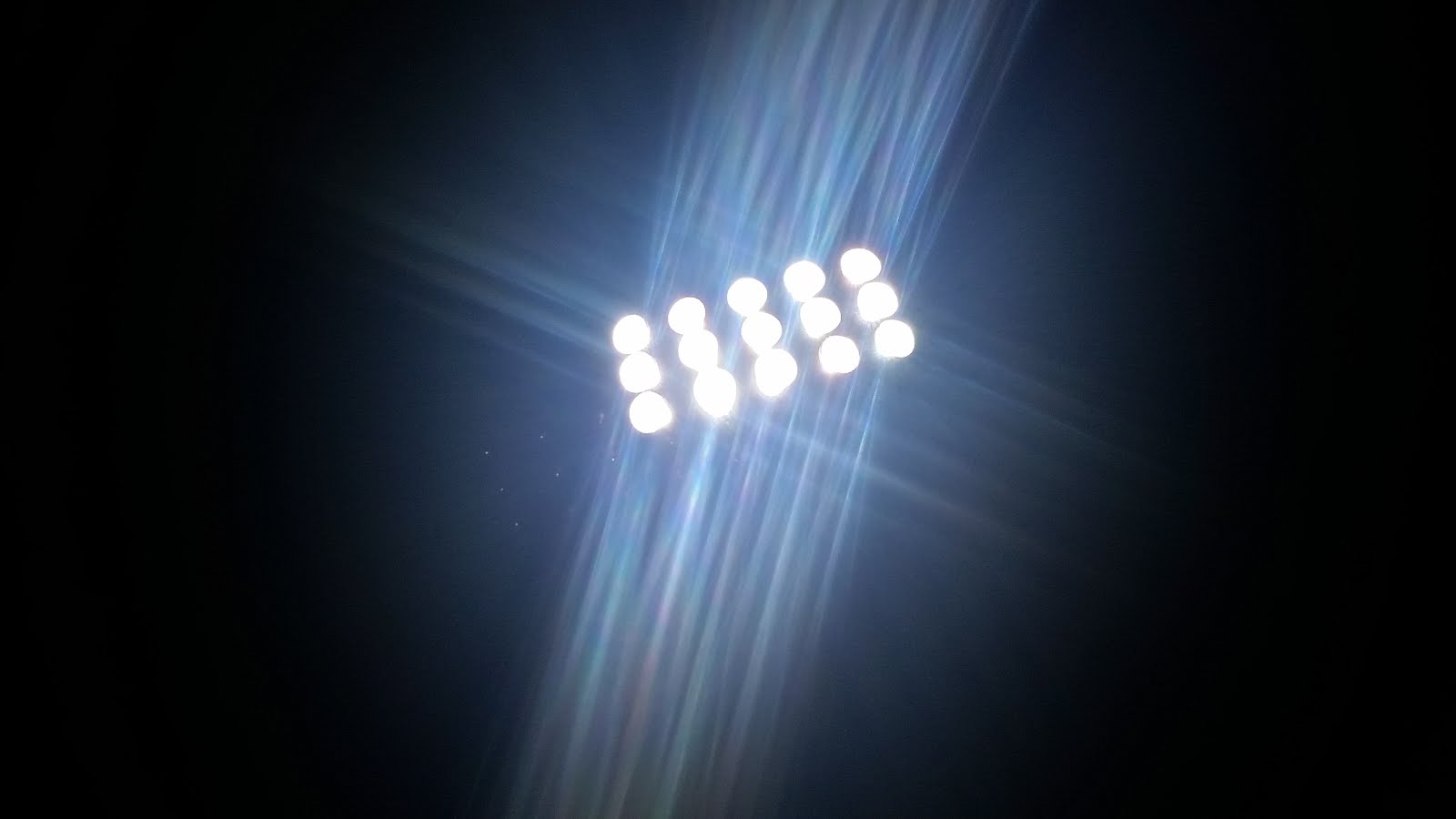 They're soooo bright!
Of course, we go fucking garrity about Walcott's part as he looks miles off to us. But it's all too late. Having largely held our own, we're behind to their first real effort on goal. Which is about as Sutton United as it's possible to be if we're honest! See, we've not lost sight of our roots. We're the same frustrating bunch regardless of the oppo!
The goal seems to settle the visitors and they play with a bit more fluidity for the rest of the half. Walcott breaks and fires over from 20 yards when he should probably do better and then Iwobi crosses low after another searching run by Walcott, but Beckwith can only prod it straight back to him and has to get a block in to deflect the shot narrowly wide of the far post.
However, it's not completely one way. The goal has also opened things up for us a bit more and we're not being quite so tentative in possession. Whereas in the first 10-15 the ball was bouncing off us a bit and we were finding it hard to hold onto the thing, we've also settled and start showing a bit more. Then with the break approaching, a golden opportunity presents itself right before the break. Pressing the Arsenal defence hard, they play it back to Ospina in goal and then bizarrely leave him somewhat exposed. He panics a bit and rather than launch it 60 yards, he prods it to about 30 yards out with there being more Yellow shirts than red. May pounces on the loose ball, but his 1st touch isn't the best and with a defender recovering, he pulls a weak shot wide of the near post for a massive let off. On the Shoebox, we put hands on heads, look to the heavens and swear. A lot.
During the break, one of the lads fires up the half time babble on his phone and we all huddle round for a watch. The big question is obvious. Was Walcott offside for the goal? Sadly, after seeing the replay, the answer is no. He's made a super little dart at the last moment and is clearly behind Becks & JC when Lucas plays the ball. We momentarily consider apologising to female lino Sian Massey in the 2nd half, but then think "Fuck it, we wouldn't for a bloke lino. Equal rights and all that!". See, we can be modern caring type blokes when we put our minds to it.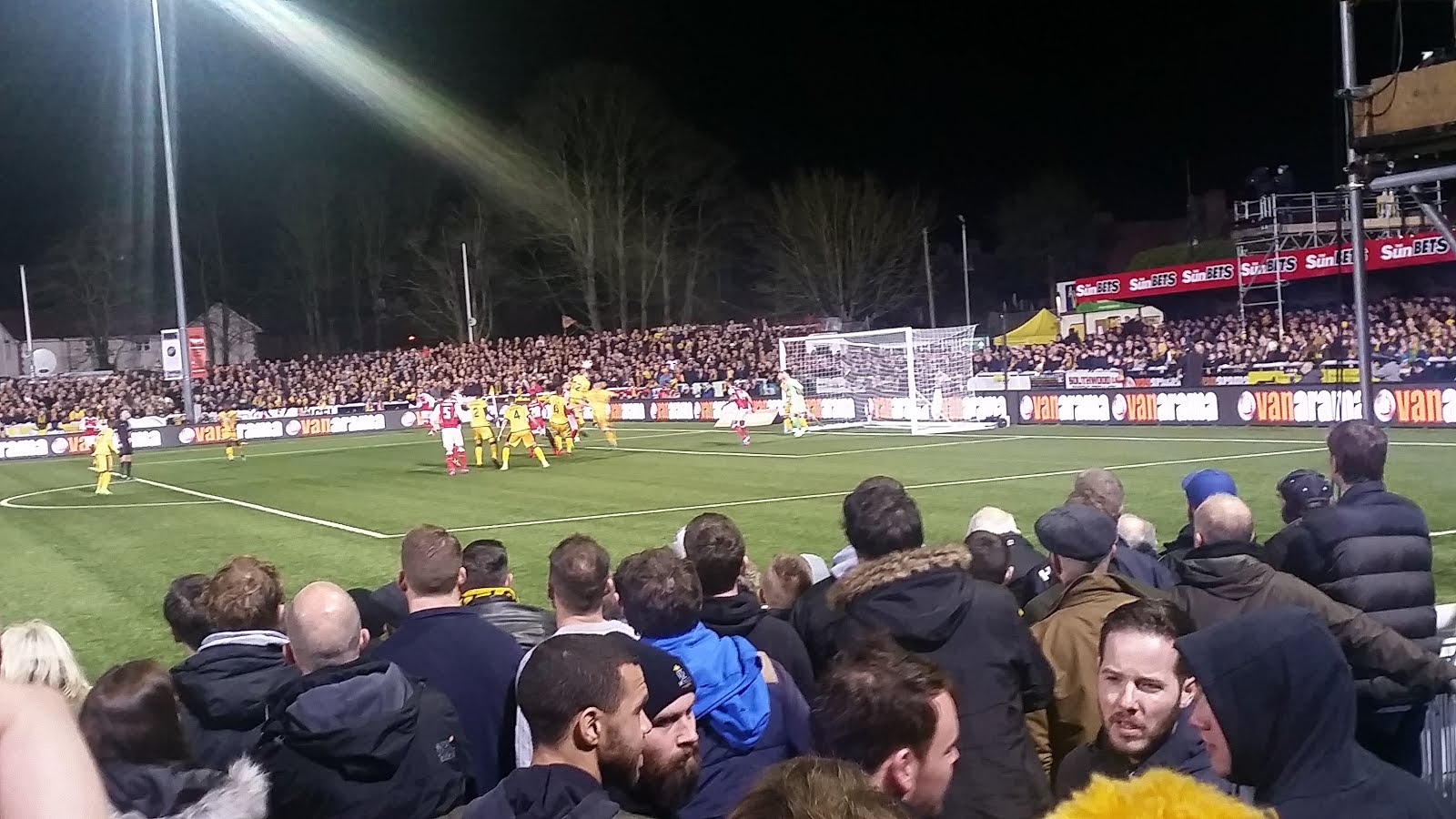 Attack attack attack!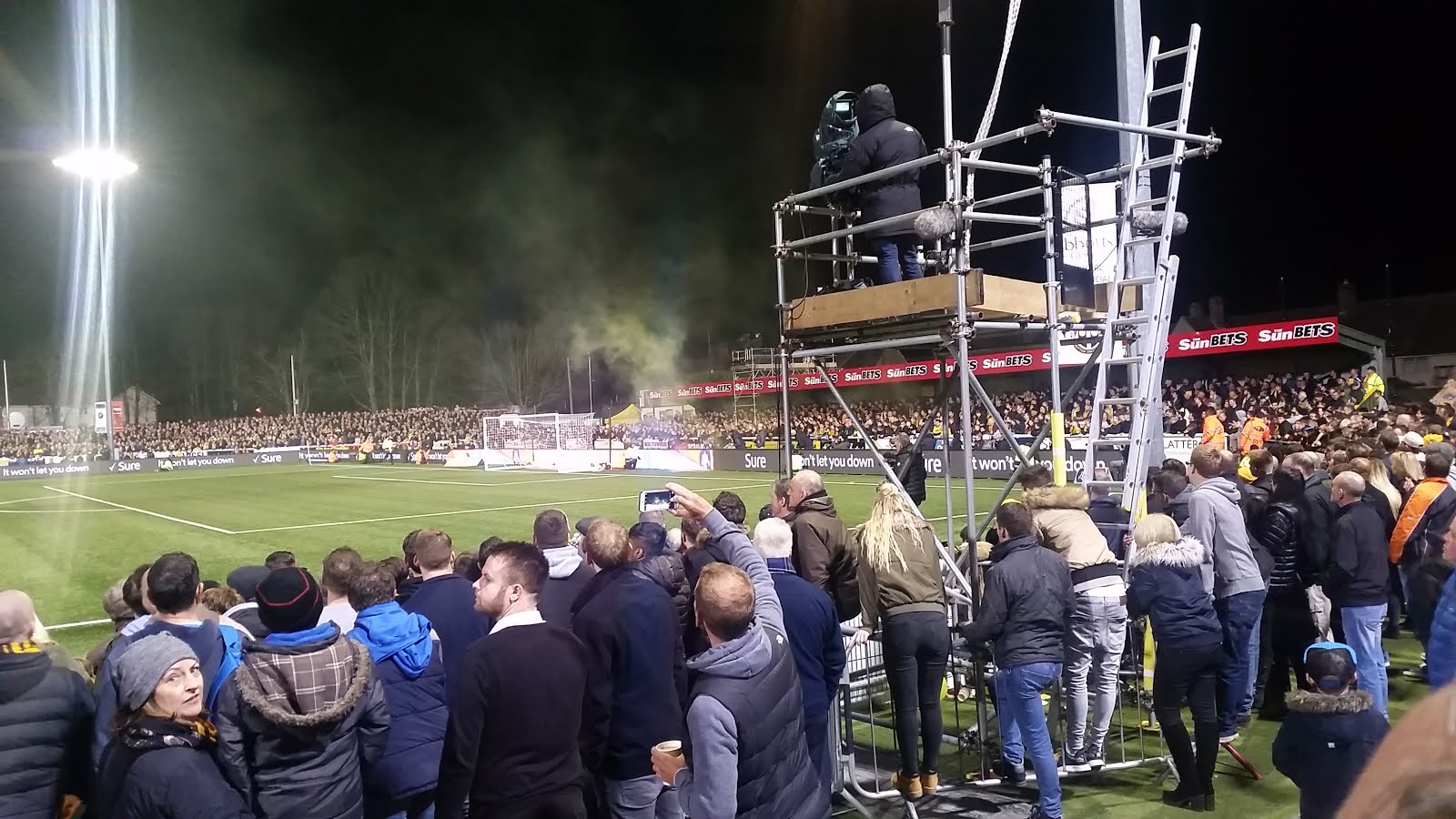 No pyro, no party…
The second half starts much like the first to be honest. They have a lot of the ball, we work hard to deny space, harry and make them work for every inch of space. However, the likes of Eastmond, Gomis, Deacon and Biamou all look a little more confident. The touch is better, we're not tossing away possession as much and Bedsy is starting to enjoy being that little pain in the arse he can be in the middle of the park harrying his oppo and just putting a toe in to pinch the ball away. It's not spectacular, but it's still enough to keep us interested.
Then after probably our best spell of the match, we get another Premier League lesson as Arsenal do what we know Arsenal can do. There's seemingly a 2-3 minute spell where they pop the ball around about 35-40 yards out. Pass pass pass. Keep it moving, keep us moving and wait for the gap to appear. And eventually it does. No less than 3 yellow shirts converge on Lucas with his back to goal, he lays off and with Downer pulled a couple of yards out of position the ball is popped into the slot for Monreal to pull back across the 6 yard line and Walcott darts past Amankwaah to rifle in from close range. 2-0 and we all know we're done now.
However, the boys don't share that view it seems. And we just keep our game going, the work rate, the discipline. We might be 2 down to you big time charlies, but we're going to make you work for every ounce of reward from this one. May starts finding a bit more room and he links up a couple of times with Gomis. One little ball looks to have given the Frenchman a shooting chance, but rather than snap off the shot he takes another touch to make sure and against guys like this, the opportunity is lost. Deacon also gets involved and finds a bit more room, his best moment coming with a little drop of the shoulder on the far side, getting to the byeline and whipping in a cracking cross that a defender has to head behind with Eastmond and Biamou lurking.
The resulting corner is swung in and JC gets up superbly at the back stick and with Ospina flapping like a good 'un, he powers a header inches over the bar. Again heads are on hands and many swears are offered to the night sky by those around me. We go even closer with about 15 to play, Eastmond pops a nice ball forwards, Biamou steps off his man and lays it back top Deacon. Suddenly Roarie finds he has time and space and sensing his moment has arrived clouts a full blooded effort on goal from 25 yards out. Ospina can only watch rooted to the spot as the shot thumps back off his crossbar and his defence swiftly deals with the rebound.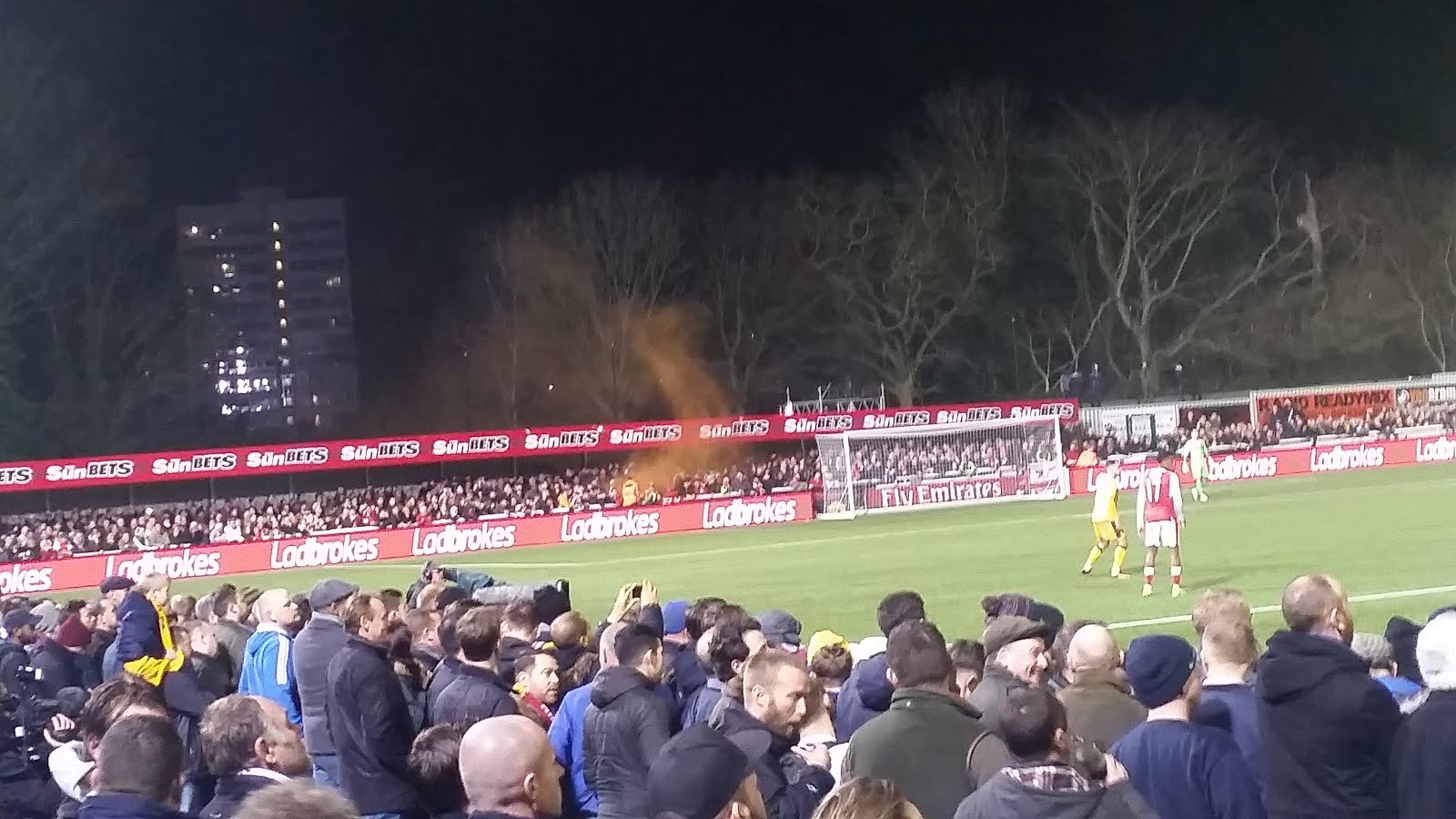 Erm, shouldn't that be red??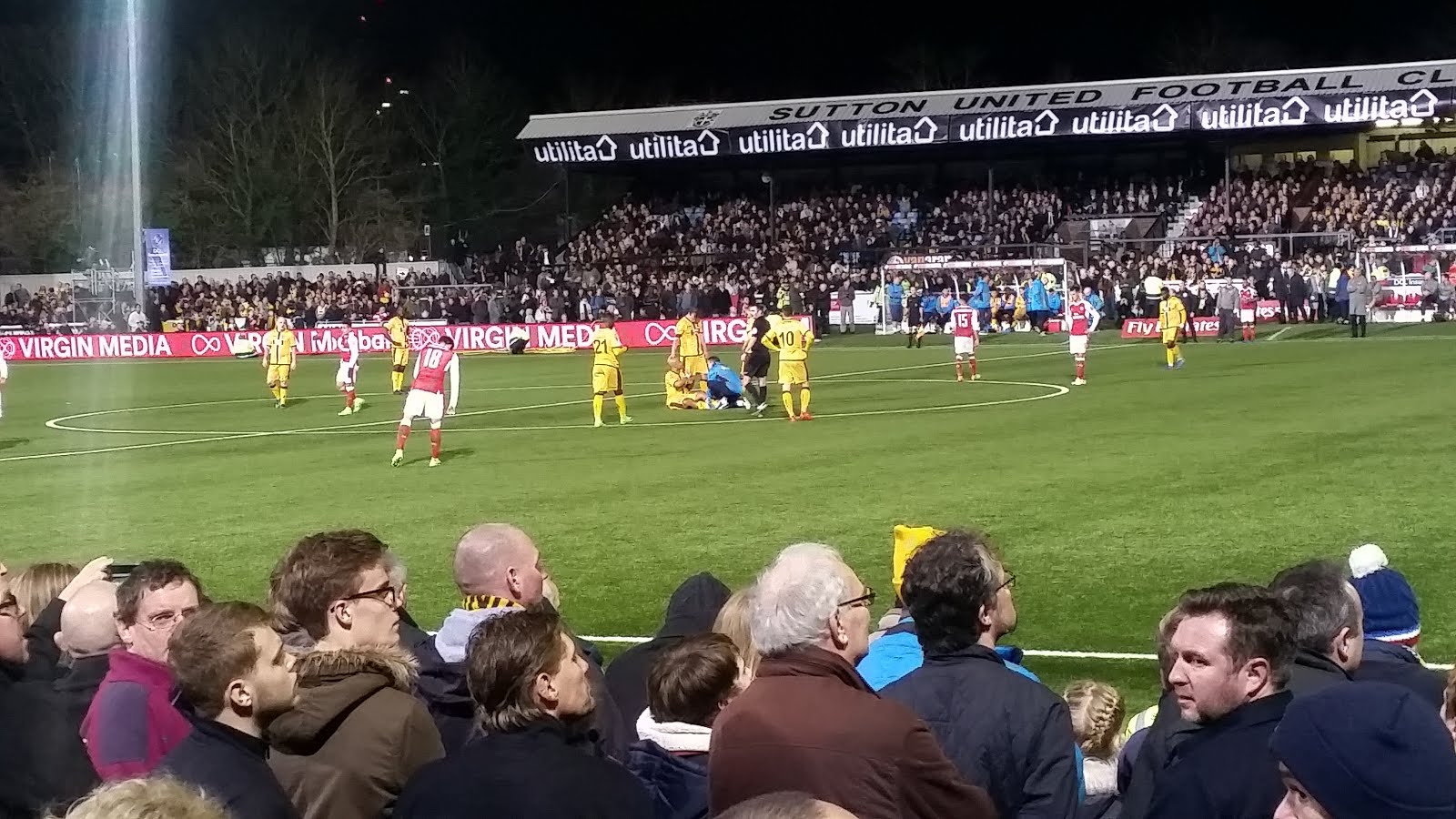 Down(er) with cramp
Mr Wenger has clearly seen enough and decides that the big guns are required to finish us off and we're treated very soon after to the sight of Iwobi being withdrawn for Alexis Sanchez. It's such a fucking bizarre moment that most of the Shoe box simply stands there chuckling. We're irritating Arsenal to the point where they feel it necessary to stick on 30 million quids worth of talent. Brilliant.
What's even better is the fact that our performance levels still don't drop and despite a couple of dangerous moments, Senor Sanchez is unable to inflict any further damage on the scoreline. We're also treated to the sight of him winning a soft free kick against JC about 25 yards out and as he tries to immediately take it quickly, the Sutton skipper simply nudges him over and legs it back to his 18 yard line. Welcome to Non-League Alexis.
Eventually though the final whistle goes and the adventure is finally over. Despite several announcements not to go on the pitch (had we maybe considered NOT giving them the idea might be just as effective? They), a big crowd still piles on and given we've got about £100m worth of Premier League talent out there, all the players are soon hustled off down the tunnel and the chance to give them some well deserved acclaim for their efforts is gone. We stick around for a little while in the vain hope they'll re-emerge, but it's not to be. And on that fucking massive anti-climax, we head for the bar. A pint is much needed.
Thankfully, given the result and it's a school night, the bars are busy but not silly and soon enough I've a bevvy in my hand and I'm left contemplating the evening, this stupid week and the run in general. Then the phone goes and I'm reminded I'd agreed to talk to Five Live whatever the result afterwards. So I find a quiet corner out of the way amongst all the Boom Boom club gear out back to take the call and briefly discuss the game with some Arsenal lass who's watched at home before heading back into the bar for more beers. Here I mostly spend my time catching up with old faces and discussing what we'd seen. To a man, everyone speaks of their pride in the performance the lads provided and no one seems to think we really could have done much more. If only Roarie's thunderbastard had gone in eh? Although I get the impression that given the stress and bullshit of the last week, no one's that heartbroken we're done with the competition at last. One other slight downpoint seems to be that Shawy has apparently taken to munching a pie on the bench during the game, something our esteemed & widely respected sponsors for tonight were giving you odds of 8/1 on. What a coincidence, what are the odds eh? Oh wait….
No one seems overly impressed by this latest addition to the fucking circus we've had to endure this week and christ knows what the gaffer will say, still at least that's all finally done with now.
Isn't it?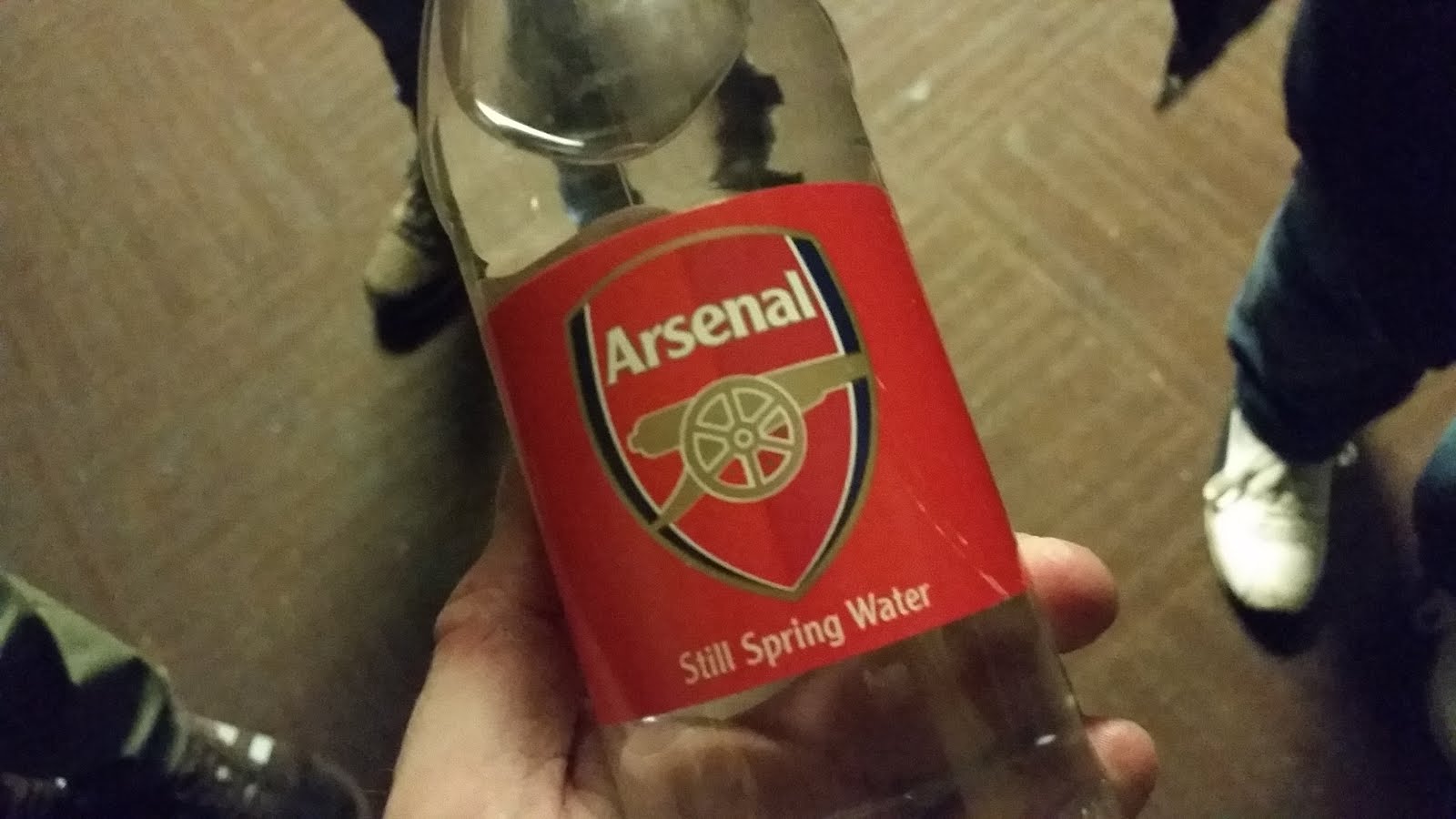 Wenger gave us that himself. Honest.
Pleasingly, Becks and JC mooch through the back bar, clearly trying to locate people along for the evening and I'm at least able to at least take a minute of their time to thank them for everything on this crazy little adventure. And I mean it, they've been absolutely fucking superb. But before long, the evening is at an end. The bars are closing and typically, we're pretty much the last ones left, although some of the mob have been off hunting souvenirs. Greek appearing with a bottle of Arsenal branded spring water and an Arsenal coat hanger. Millsy is also around showing off his 'Sutton United FC' labelled bottle of Budweiser.
Then as a final exclamation mark on all this stuff, someone shows me a couple of what are apparently moody match tickets that have been intercepted before kick off! Yes dear reader, some sad bastard actually knocked up fake briefs for a game at Gander Green Lane. World's gone fucking mad if you ask us. With enough excitement for one day, Steve rustles up an Uber and kindly offers to dump me off at HQ on the way past to his. So, some 16 hours after leaving, I find myself back outside my place starving hungry and facing having to get up for work in the morning following another late night boozing in the FA Cup.
Right, any chance we can go back to getting bumped out in the 4th Qual next year please? It's so much easier than all this old bollocks…
Taz