To begin my blog I would like to say how saddened I was at the departure of Ross Stearn or in my case Rossi. As loyal readers will know and gather Rossi was my favourite player; even more hard hitting than the departure of Harry Beautyman. I would like to go on record to thank Ross for his time at Sutton United and a more personal thank you for the signed shirt (won by auction) and signed photo (birthday present from Natalie). However, I realise footballers move on and so must we as a team. Good luck mate!
I would also like to say that I like to think of myself as one of the nicest people you could ever meet; however my behaviour the other week was a bit outrageous and one which one-self will never get like again.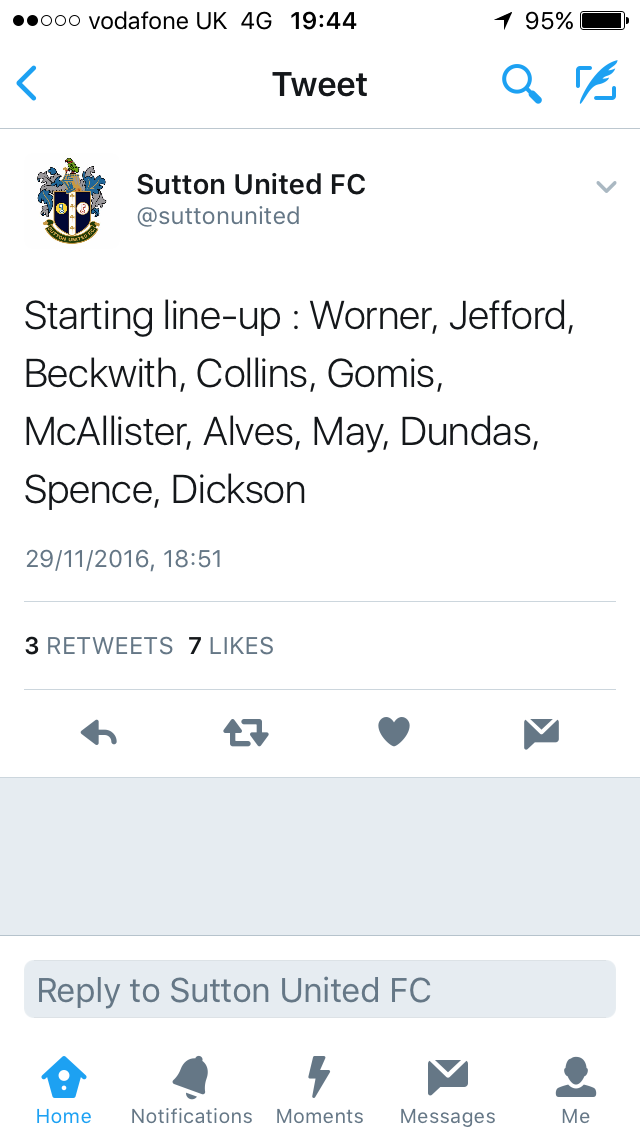 Social Media
Right now that's out of the way, here is my latest entry.
I was glad to see us finally pick up three points at home to Aldershot, in what was a much needed three points. It seems as though 13th place has been ours for a long time and I cannot remember being in any other position….oh the heady days of being in the top six at the beginning of the season seem such a long time ago. Hopefully, this is the start of a winning run particularly with the FA Cup Second Round tie against Cheltenham coming up. In other cup news, The U's have drawn a home tie in the First Round of the FA Trophy against Bath City….if only Ross was still here!
Tonight for the Dover game, I decide to drive it to the ground and get there quite early so I can meet up with Beckwith, Mark. He fills me in on how people around my seat at Stamford Bridge mention how they miss me and wonder how I am…see I am a nice guy! This was because Mr Beckwith borrowed my season ticket for the Sp*rs (cannot mention their name) game, always good to see them beaten! Mr X also trusted me to pick three songs from the jukebox and I think I did not disappoint as I chose songs by Blur, The Prodigy and Ash.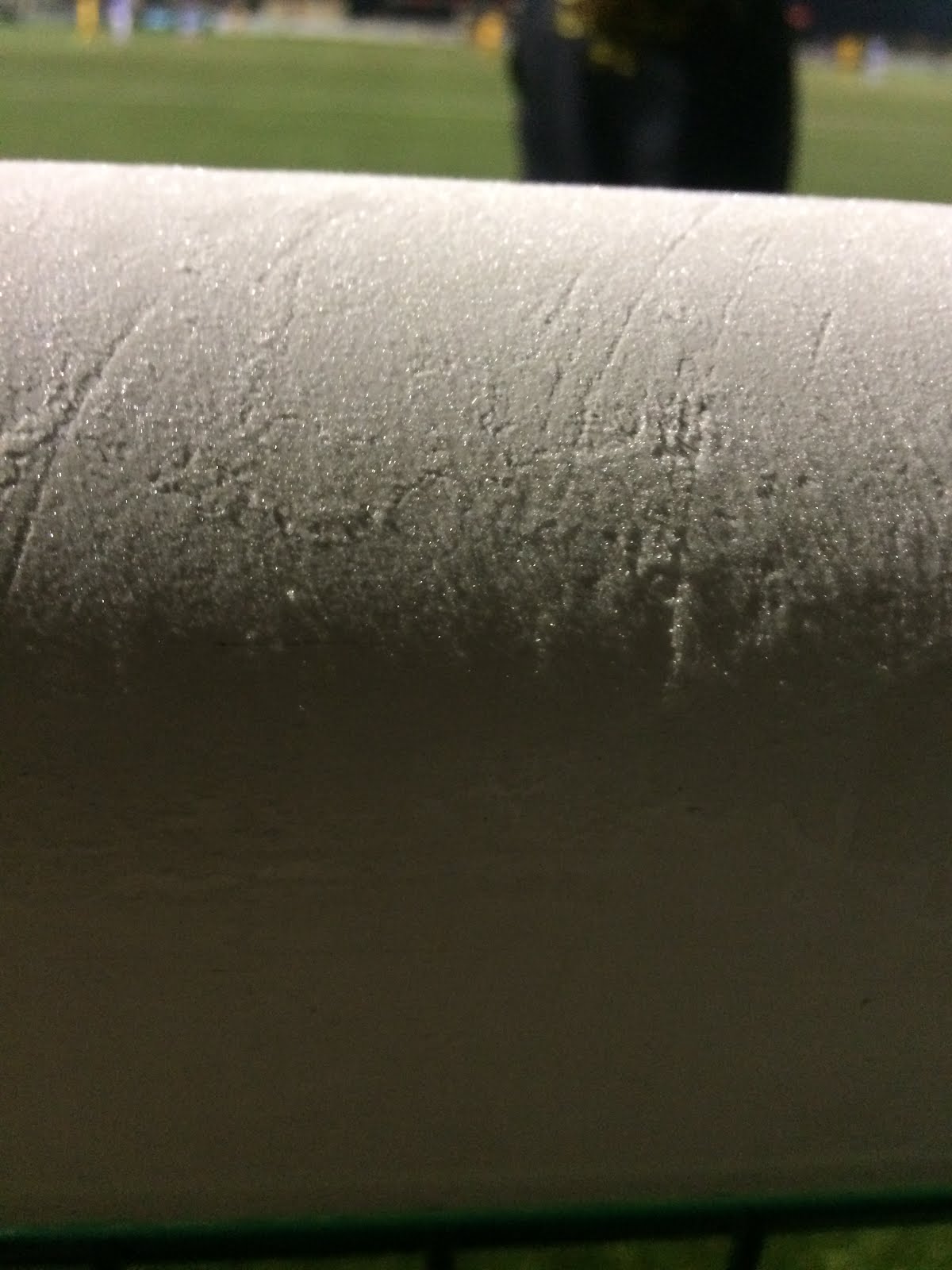 Cold out much?
I'm so engrossed in conversation with Beckwith, Mark that I'm surprised when the bell rings; crikey one is normally outside by now and I have forgotten to take a picture of the team line-up. I therefore resort to looking on Twitter and taking a screenshot of the line-up….my my how many changes is that…..seven! One is new loanee signing from Brentford, Herson Alves who takes Rossi's number 11 shirt.
1.Worner, 17. Spence, 3. Jefford, 4. Beckwith, Dean, 6. JC (skipper), 12. May, 19. Dickson, 8 Gomis, 14. Dundo, 11. Alves, 9. McAllister
I take up a perch to the left side of the goal at the Collingwood Road end and notice the barriers have ice all over them…really is it that cold? It seems as though within seven minutes of the game and Dover take the lead through that man Ricky Miller….my how we could do with a striker like that who scores goals regularly. I have to say, being professional and unbiased but it was a superb cross and header for their goal though.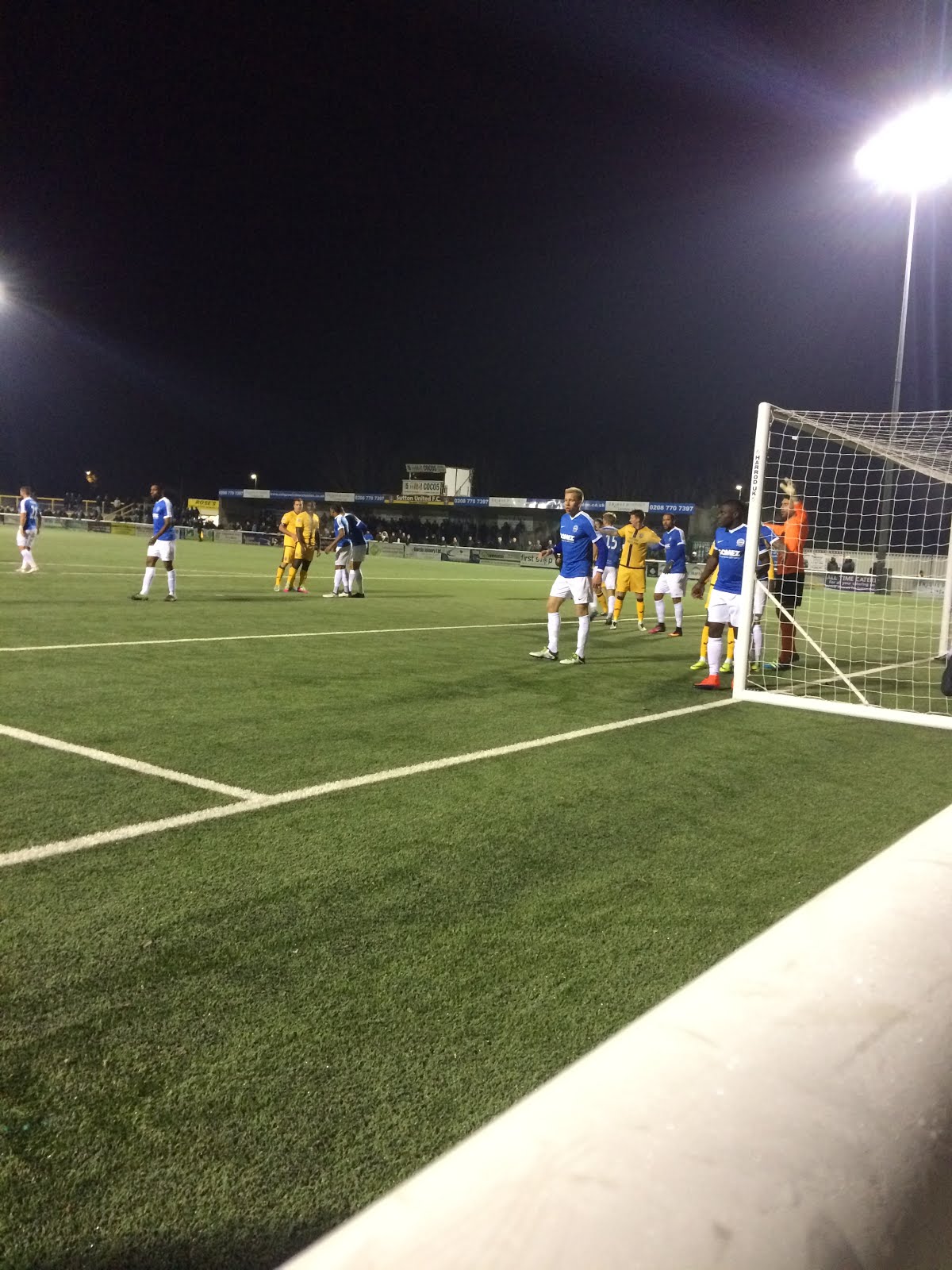 Pressure
Oakesy takes a spot next to me and he is jumping up and down trying to keep warm. I look round and I see mostly everyone with hats, scarves, gloves and other winter essentials…..is it really that cold???? As some of you may know I much prefer the colder temperatures and I do not feel the cold that much so this is bliss for me!
From the goal a glorious chance to equalise sees a right scramble in the six yard box but the ball just will not go over the line after a few attempts. Is it going to be one of those evenings?
Things then went from bad to worse for The U's as after an off the ball clash Beckwith, Dean is sent off for what the referee says is an elbow. To be honest the action was too quick to correctly say if he did or did not use an elbow but much conversation is had between Dean and the referee; and so we are down to 10 men. A quick re-shuffle sees McAllister become an emergency centre back and Dundo moving as a centre forward which again nearly became fruitful as his volley was saved by Hey Arnold!
This only led to further disaster for The U's as a failed offside trap attempt against Miller only for Emmanuel to slot past Worner for 2-0 and only for four minutes later a third Dover goal. It was at this point that my half time drinking buddy Steve to walk past and I offer him some money to get me a beer; he says "no I will buy it for you" so I follow him in a couple of minutes later. As I walk into the bar Steve has a beer waiting for me and Beckwith, Mark follows close-by with a hot drink in hand. We discuss what is going on outside and label this game in the words of Craig Revel Horwood a disaaaaaaaaaaaaaaaster. Beckwith Mark now says that not only will he miss Saturday's cup game but also a further three games.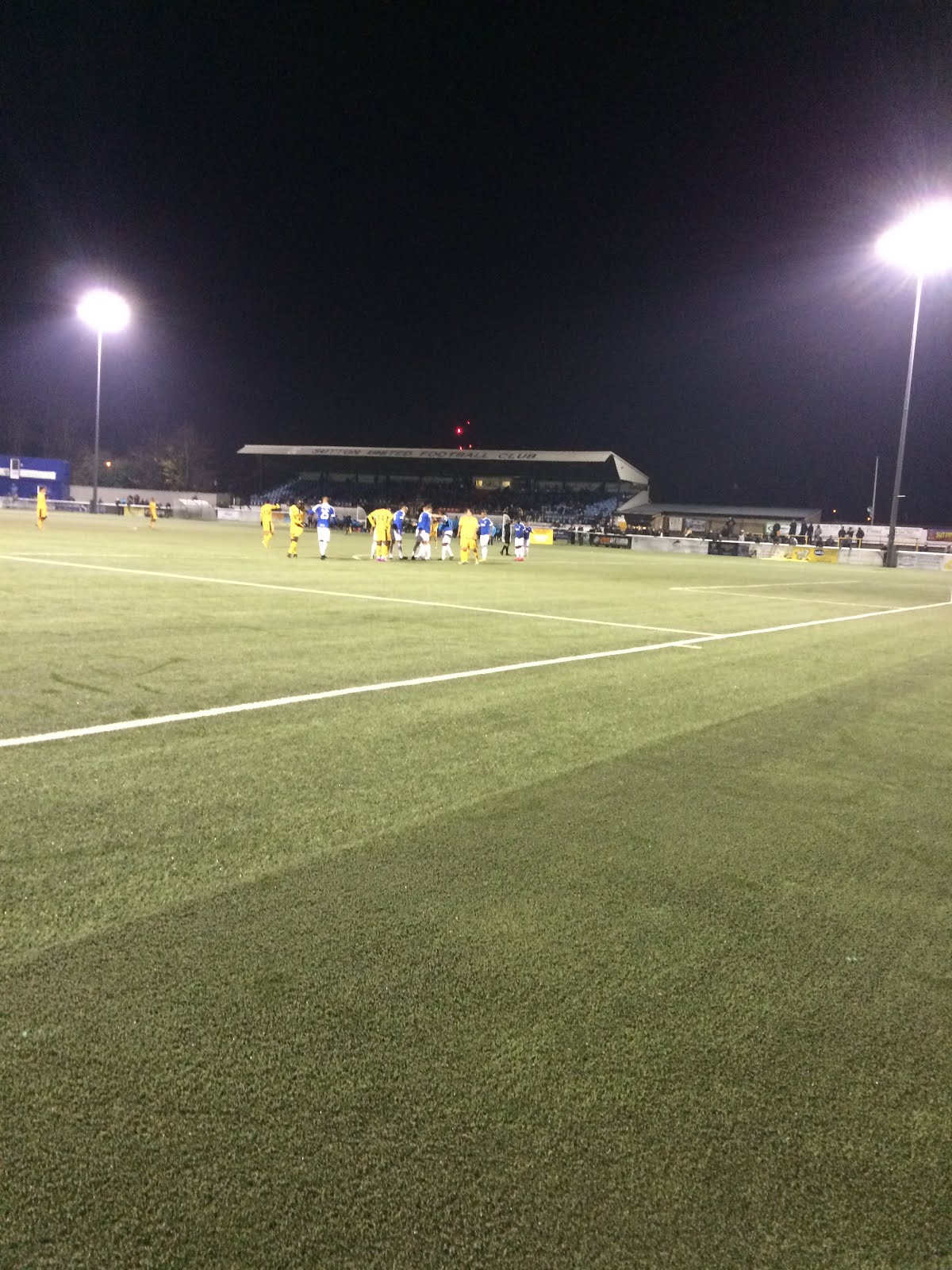 Freezing
That is not all!!! Steve's son Ryan joins us in the bar and he says "it's four now"….is there much point going outside for the second half? But yes of course there is as I am a professional and will see the game till the very end, plus need to see the 50/50 winning number.
I join Beckwith, Mark for the second half and as we walk out a couple of changes have been made. Amankwaah and Eastmond have come on for Dickson and Alves respectively. Mark says this is obviously to try and keep the scoreline down to four. A positive start to the second half, only further makes the inevitable as Worner rushes out too early and the ball is easily tapped in by hat trick scorer Emmanuel, 5-0 to Dover. It's now a question of how many more will they score and it becomes six with 20 minutes, scored by that man again Ricky Miller.
I say to Beckwith, Mark that if The U's do score a goal it will get a big cheer. This nearly is the case as Adam May hits a low dipping shot which is saved by Hey Arnold. The full time whistle blows and the final score being Sutton United 0 Dover Athletic 6. An attendance of 1091 patrons will wish they were rather elsewhere than having to watch a mauling at home like that.
Stepping back to the bar after the game and it is one of very very sombre quietness and stillness; I stand there with a cup of tea saying to myself and tweeting "how on earth am I going to write a blog about this". I walk back to the car repeating this over and over to myself and get in the car with the temperature registering minus three degrees. As I get indoors I read a text from Natalie which reads "You're going to have fun writing the blog" how right you are Natalie, how right you are! I repeat "How on earth am I going to write a blog for this game"????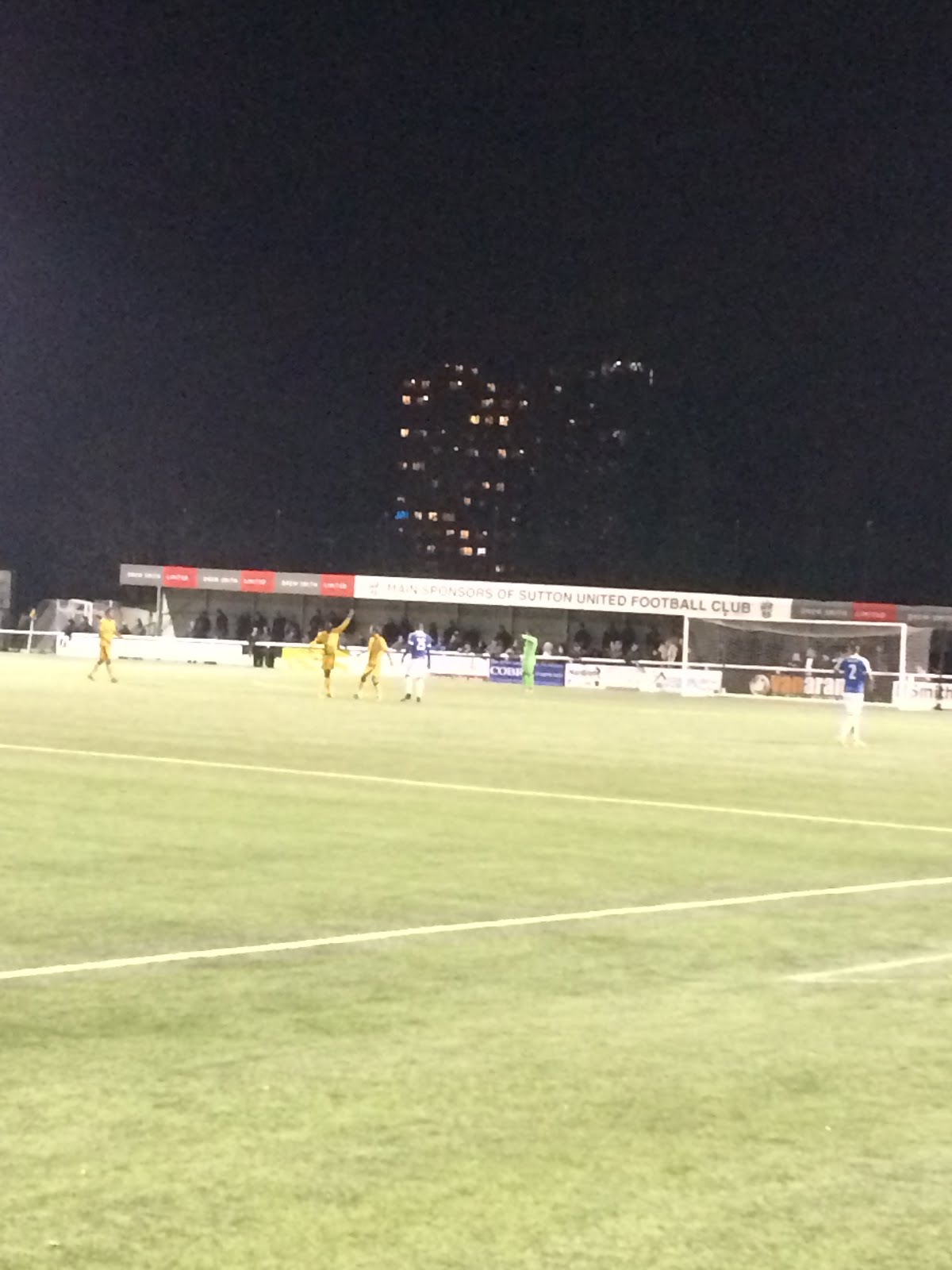 Losing heavily
So that's the end of this episode, for what was a disaster of a game for The U's. I was told by an unnamed person that I could have simply just wrote "Game started…..game finished" but no, as one is a Civil Servant I am a professional and I hope you have enjoyed reading.
I would now like to formally hand you over to whoever, for the eagerly awaited FA Cup tie against Cheltenham and what promises to be a packed house.
Wise men say…
Robbo