Aldershot. A proper old fourth division side whose name will always remind me of James Alexander-Gordon reading out the scores on Sports Report back in the seventies on the Light Programme as my old man jacked up the heating in his Hillman Minx on the way back from GGL on a cold December Saturday tea-time.
Aldershot, to my mind, are like Castella Cigars, bottles of Double Diamond, blokes in Donkey Jackets on picket lines, Saturday TitBits and all the other good shit that's been swept away over decades of fucking madness.The Shot's demise at the hands of various two-bob, Thatcherite millionaires, including that scumbag Spencer Day, sums up the last forty years for me perfectly.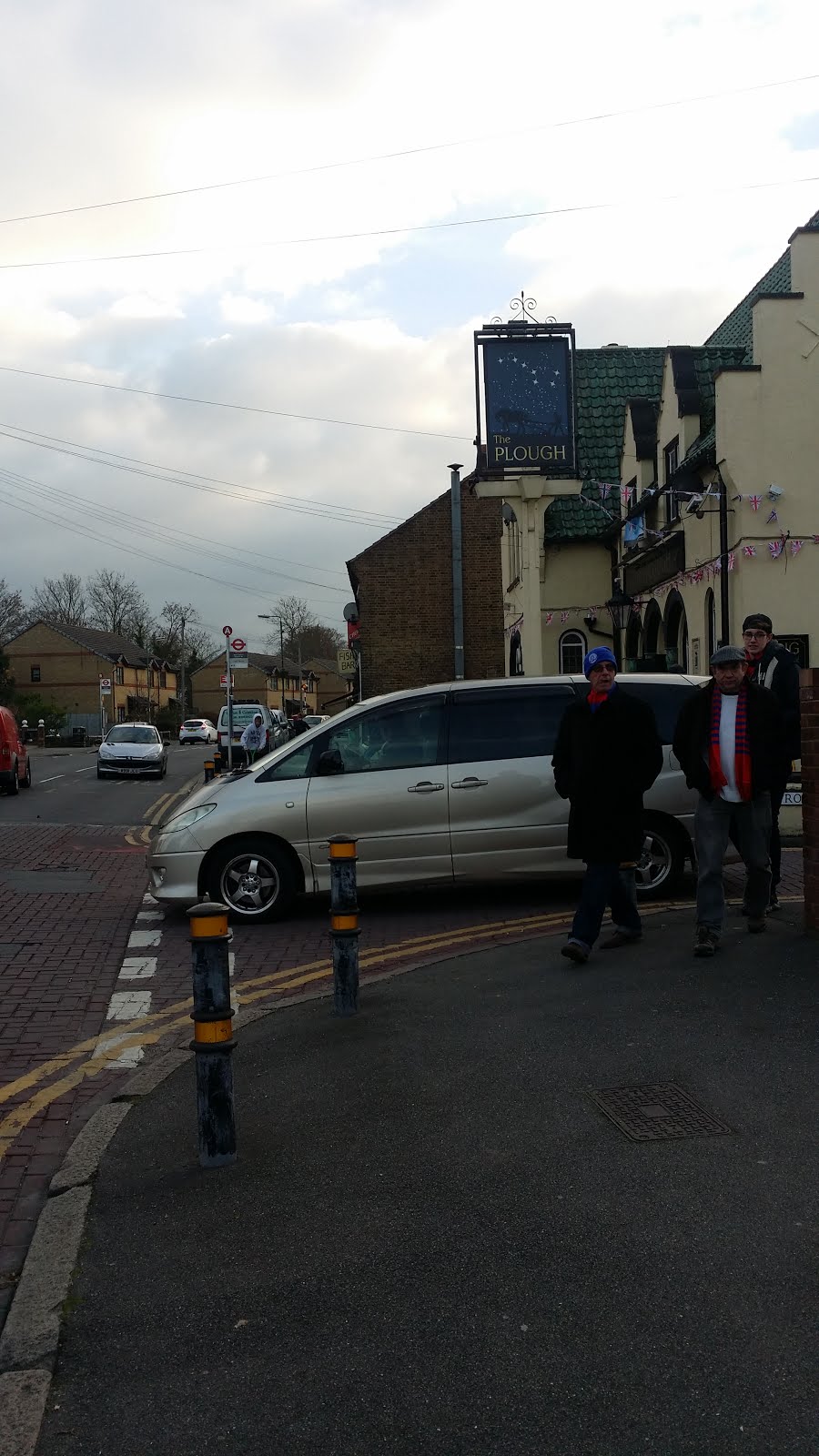 Local Landmark
Big Issue?
You see, I'm a kid of the seventies and that decade remains my cultural reference point like the strongest and brightest star in the firmament. It was a decade of boot boys, Slade, powercuts, Ford Cortinas and clubs like dear old Aldershot handing out the bottles of whiskey to league blazers, in smoke-filled rooms, as they "applied for re-election".
Boot boys. When I started secondary school in 1973 the old man promised to take me to more football games. For me that meant Chelsea. One Saturday, towards the end of the Sexton reign, we got on a District Line train at Wimbledon and by the time it reached Parson's Green it had been systematically dismantled by geezers bouncing around, chanting to the tunes of Gary Glitter. (NB: This was long before the bastard had been outed as a nonce).
Now, my dad was hard as nails. He'd survived Death Railway, Changi and the Hell Ships back to Japan. He feared no man but he'd had enough of this hooliganism bollocks and so it was that the following Saturday I found myself standing on a sleeper and cinder terrace, clutching a folded yellow paper programme and getting to know players like Ted Powell, Larry Pritchard and Graham Dennis. It's another one I owe the old fella as he kicked off a love affair that's going strong to this day.
I digress, but only slightly as back in those days Aldershot had their own firm – The East Bank Bootboys – all superannuated by now but the fact that they even exist as a footnote is enough to add to the spice factor for today's important league clash. In my book anyway.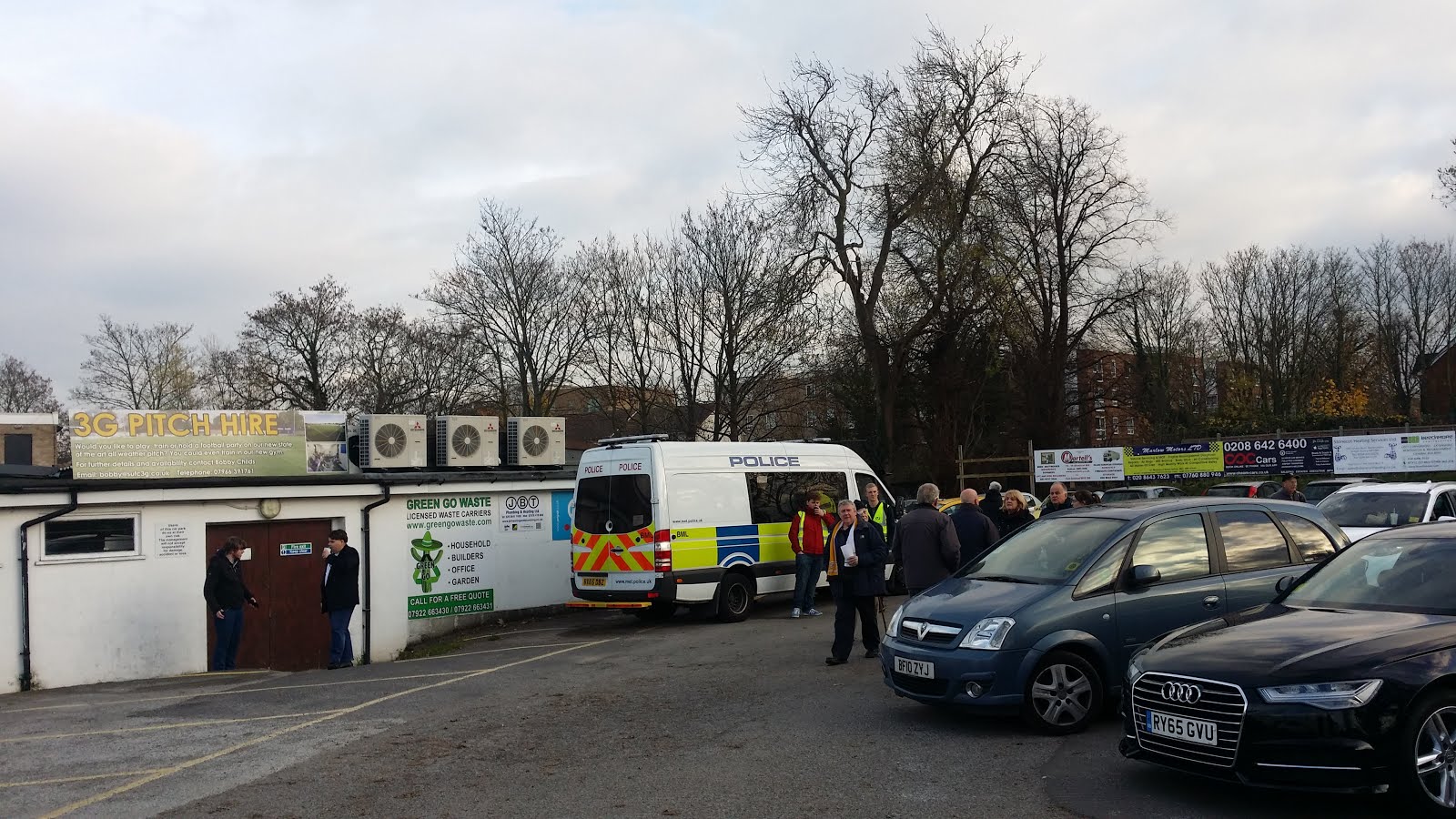 Faaackin' Ada, it's the Old Bill!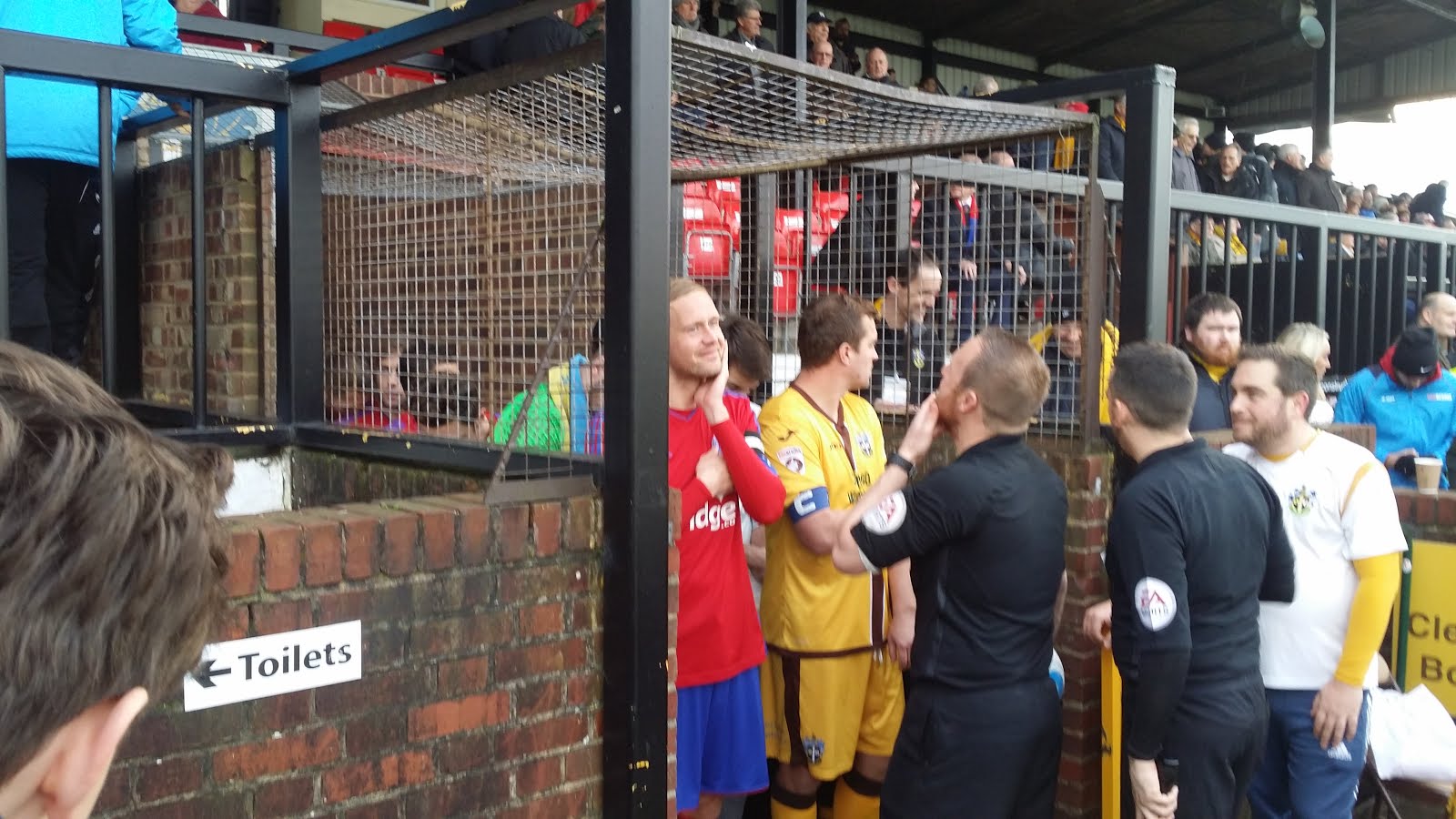 Read to go
So, in some sort of tribute to a long-gone era I slip on a pair of dealer boots, pull the sheepskin and the flat cap off the hook in the hall, pat Mrs Totts playfully on the arse, seventies sitcom-style, and head out onto Gander Green Lane while an icy wind whips off Pyle Brooke and through the wastelands of the Kimpton Industrial Estate. I'm out onto the mean streets of the People's Republic, streets that are ours now after the long fight for independence and I think back to the bad days before the revolution, before we rid ourselves of the yoke of oppression from the Sutton Civic Offices and before closing time.
The world famous Plough is busy but I have to duck it as I'm running late and need to pick up a brief for the Cheltenham FA cup game from the heaving Vice Presidents Lounge. On route through the car park I spot young Johnnie lifting pound notes off unsuspecting Hampshire tourists. He looks well bearing in mind he allegedly had to sleep rough after the Wood Thameslink fiasco. I mean to ask him at what point he transitioned from one of the Inbetweeners into a young Oliver Reed but I don't have the time.
Bundling past the police meat wagon I'm greeted by a beaming and trim looking Juan. He's obviously getting plenty and all that banging away like a barn door in a gale has stripped the pounds off him. Good lad.
In the bar I have a chance to grab a scoop and field questions about being taken hostage by Thameslink – again – and then it's a spin back round to the turnstiles and out into a well busy stadium. And the sound of a drum. Yep, Aldershot have smuggled a drum in. It's against ground regs, fucking annoying and highly controversial. But it's happened.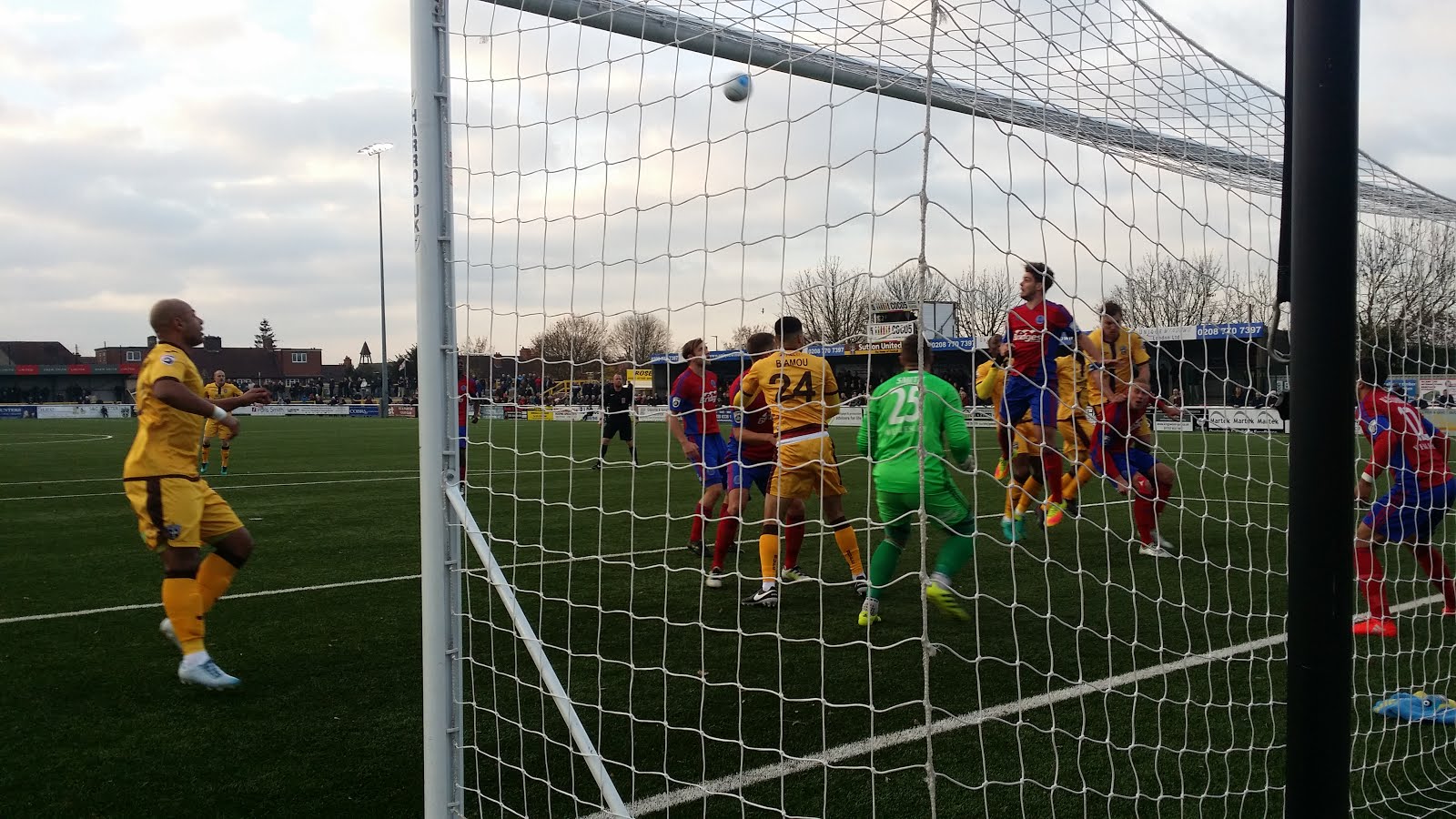 Attack attack attack!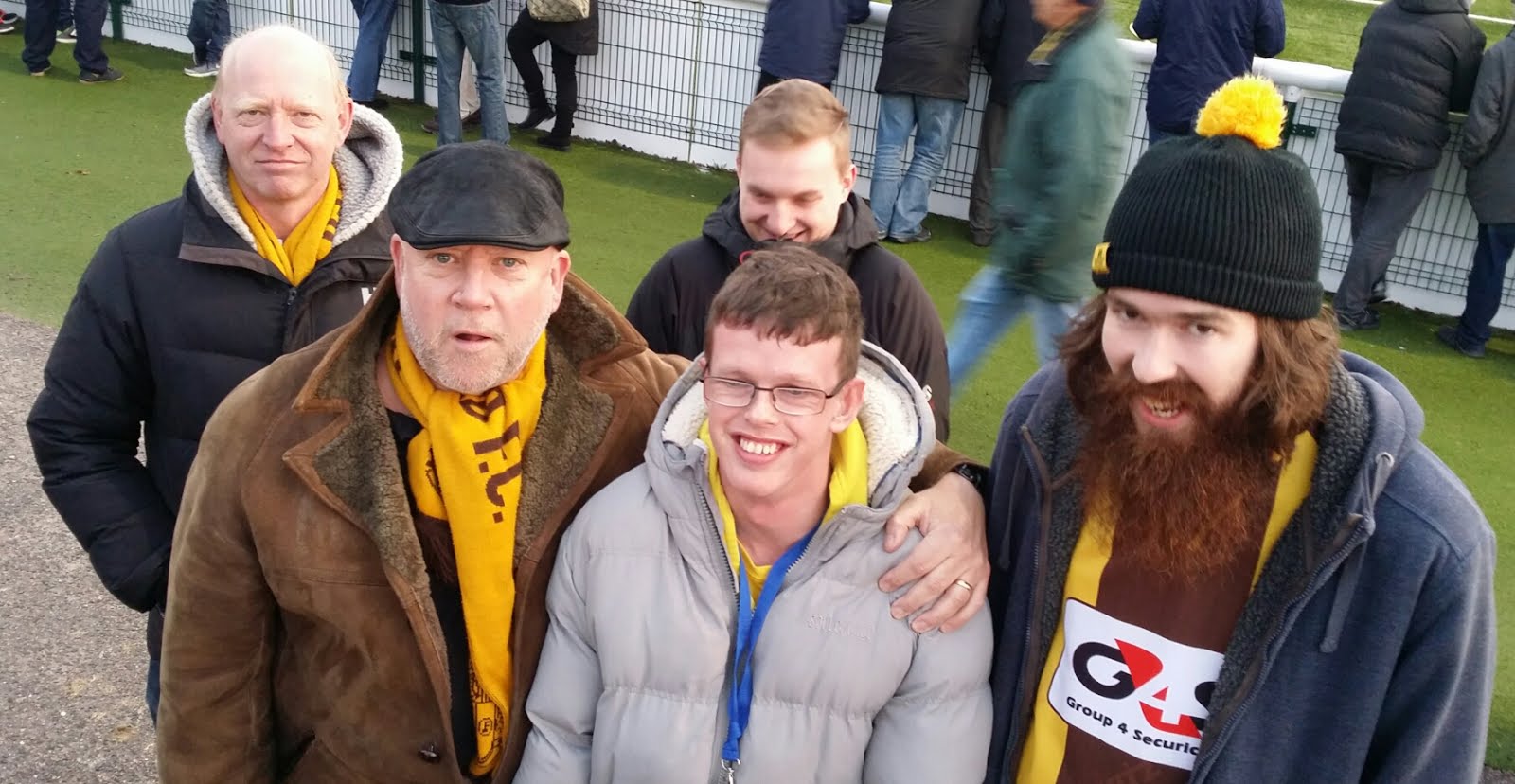 The Blackfriars Five. Free at last!
Worner, Amankwaah, Collins, Gomis, Eastmond, Bailey, Spence, Dickson, Deacon, Biamou, Downer SUBS: Jefford, McAllister, Fitchett, May, Dundas
I wander round to the Collingwood End with Southampton Steve who is all present and correct with his usual ensemble of "genuine" Lacoste, bling bling watches and faulty electrical goods all acquired from a lookie lookie man on the beach at Benidorm. How that snide "Russian" vodka he gargles with hasn't sent him doolally yet beats the shit out of me. Give it time.
Steve also tells us that the wholly legitimate Far East betting consortium he hangs out with have got serious wedge on today ending goalless so that will be the final score on the computer screens in Shanghai whatever the actual score. I make a mental note to tap him up for a pint later once he's weighed in.
Up at the other end there is clearly a commotion going on and the Percussion Police, backed up a squad of stewards, have moved in to wrestle the offending drum from amongst several hundred Aldershot. We can't quite clock what's going down but the Plod soon withdraw without the drum and it is pretty clear that the Shots are chalking it up as a major victory against The Man. Questions are asked as to where Rob "The Enforcer" Oakes is as he single-handedly recovered a floor tom from the Hemel not long ago and is only a couple of rack toms and a hi-hat away from assembling a full kit.
Anyway, after all that entertaining nonsense the game gets under way and after the two pretty miserable defeats on the road at North Ferriby and Wood, Dos gets the reaction he has been demanding and we get going like a train. We are doing what we do best, high tempo, keeping it on the deck and using some pace and width out wide. This is what we want and with nearly two thousand in the atmosphere matches the old bish-bosh on the pitch.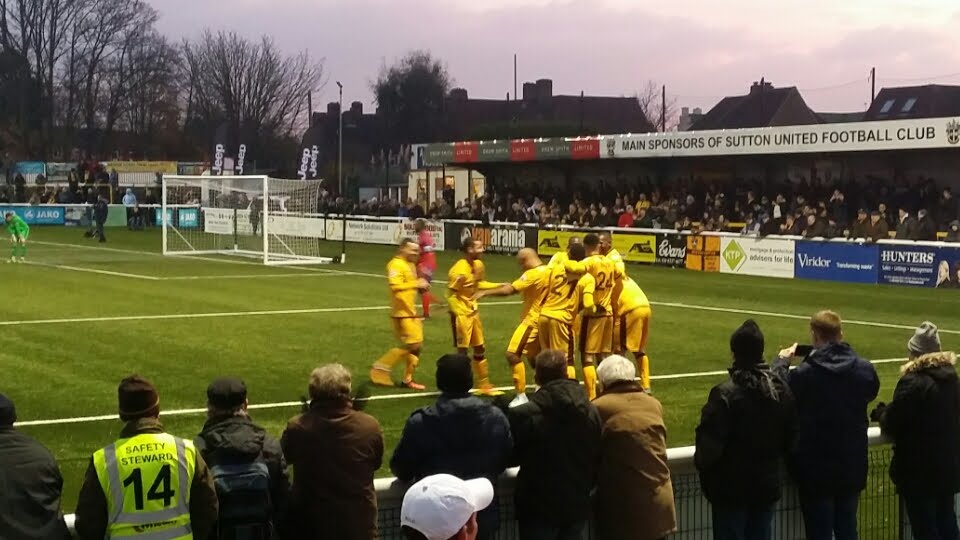 JC's nut does the damage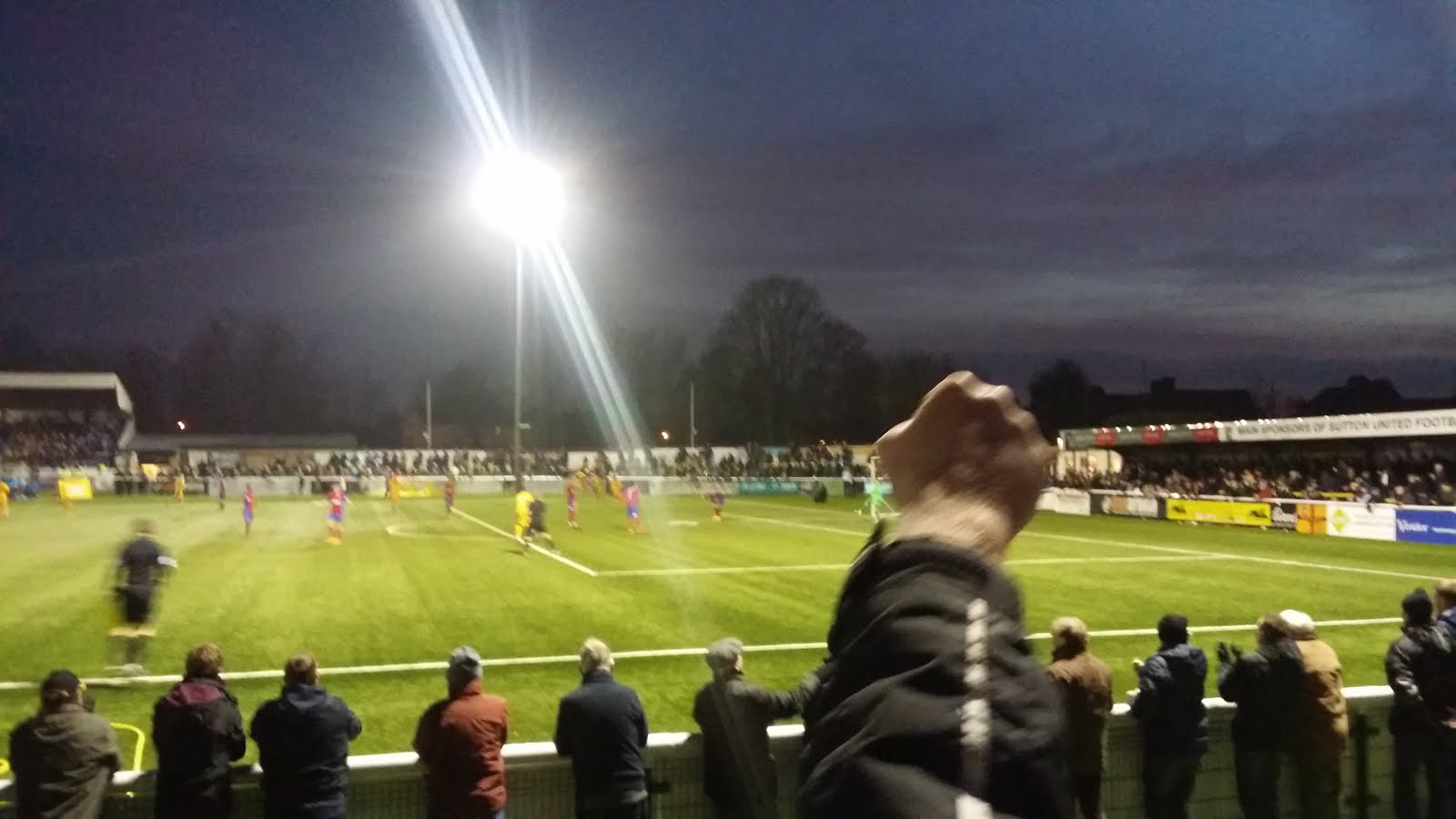 Number two!
Roarie missed a golden opportunity to stick us one up when clean through and with Dicko also spurning a great chance it started to look a bit ominous on the old missed ops front which has dogged us since Dartford away. Shots were set up to hit us on the break and tested the superb Ross Worner on a number of occasions but he was on fire today.
I thought we had a good shout for a pen when Eastmond was dragged down in the box but with their chunky keeps going down like he'd been hit by a snipers bullet for no apparent reason the free kick was given their way. Then just before the break, and as I was already on manoeuvres towards the khazi, there was an incident in front of the dug outs that I couldn't really see but apparently their lad threw a punch or maybe a kick and he was off straight red. Lairy.
At half time I bowl back round towards Roses and you can tell that the healthy turn out of Shots fans are seriously aggrieved at the red card incident. Will it prove to be a game changer? We've all seen ten man sides pull out the stops so only time will tell.
Up on the Shoebox the talk is all of the post Boredom Wood travel fiasco and the newly-launched "Justice 4 The Blackfriars 5" campaign. Bacon and Junior Bacon are still merrily dining out on their fifteen minutes of celebrity status in the Evening Standard but I warn them that talk of hiring agents and appearances on reality TV shows is possibly a bit premature. The Cheam Park DILFs are light on numbers I notice with a couple of them apparently not out of rehab until the Christmas break.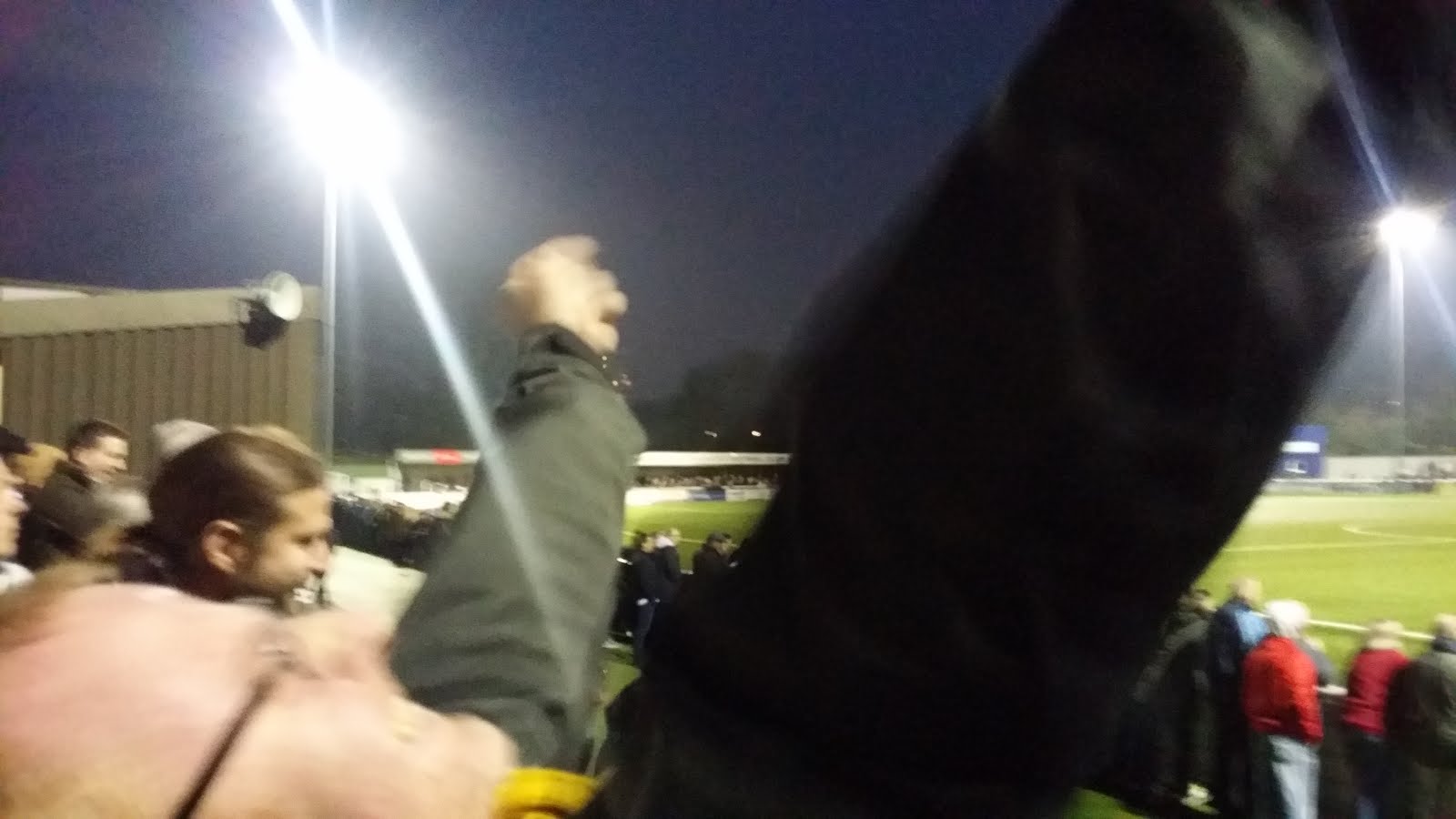 Thank fuck for that!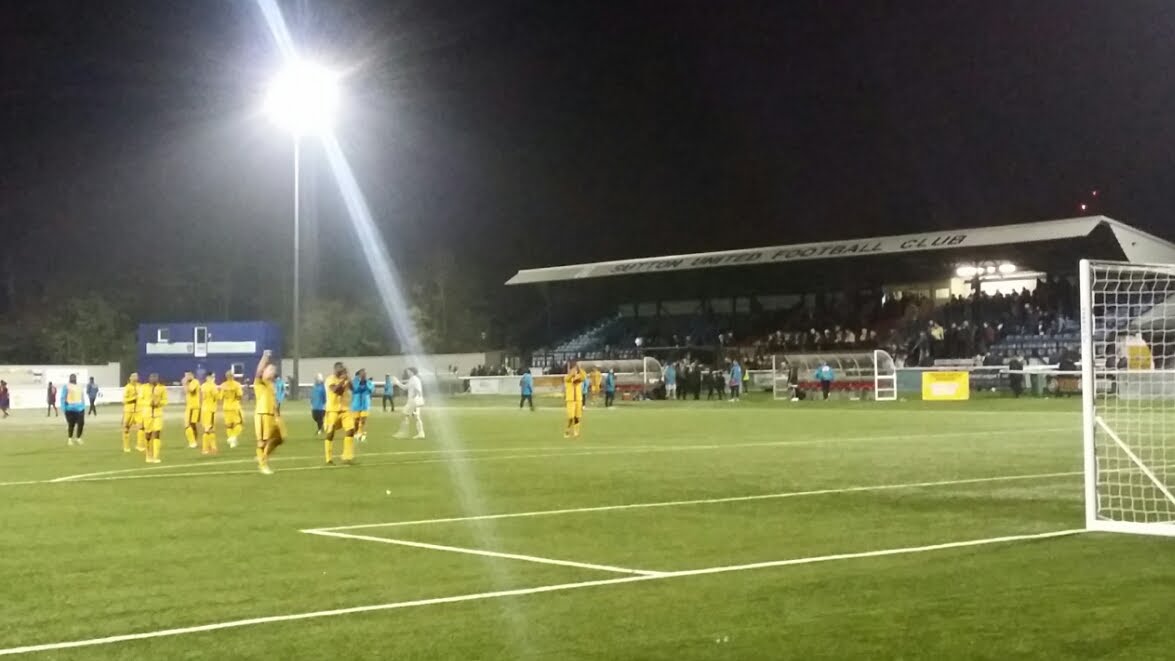 Saluting the Skipper
Second half we are patient, Aldershot are no mugs and after rejigging their set up with their limited resources they are working their socks off. Cometh the hour, cometh the man and Jamie Collins rises like a salmon on heat to meet a fine free-kick from Deacon and the net is bulging. The Shoebox can only bow in homage to yet another decisive and crucial intervention from the skipper.
Is that the game sorted? Is it fuck. An enormous defensive cock up with our back line stopping for an off side flag that never comes, leaves the Shots lad one on one with Ross but yet again Worns digs us out the shit with a fine save. One all there and we could have wobbled for sure.
But to sooth our nerves JC steps up once again and after some fine recycling of play he is the right man in the right place to bang home a second. The bar staff are now in panic and dialling out for an emergency Guinness delivery in the knowledge that if Jamie nicks a third a national holiday will be declared in West Sutton and there will be compulsory lock in until Monday lunchtime.
That's pretty much the game to be fair and there's some strange fourth official/ref sub business towards the end and a long period of additional time keeping us out the bar and when the whistle goes we are well chuffed all round with a fine performance and a much-needed three points that keeps us welded in to the 13th place in the league we clearly have cast in concrete.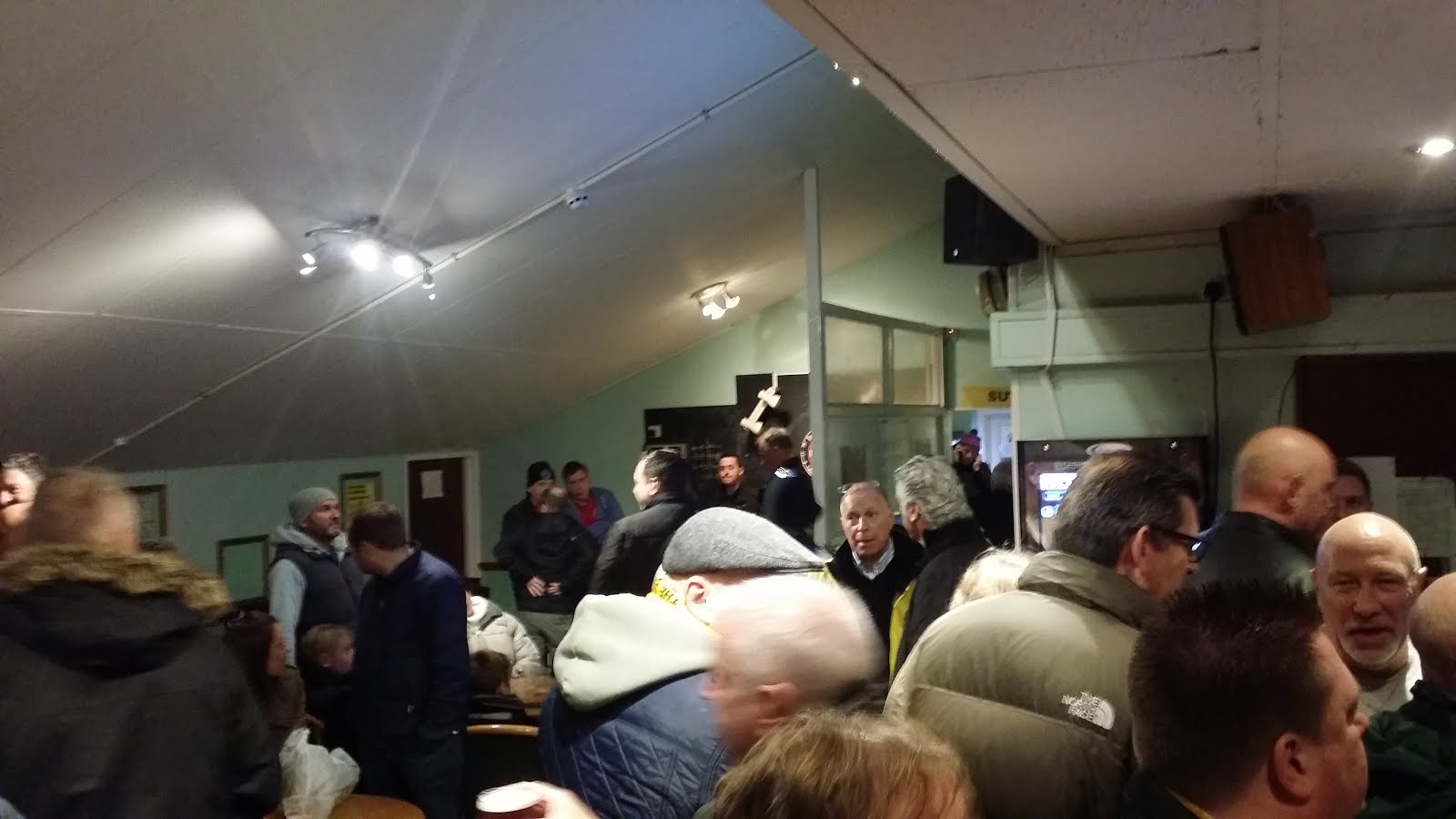 Hubbub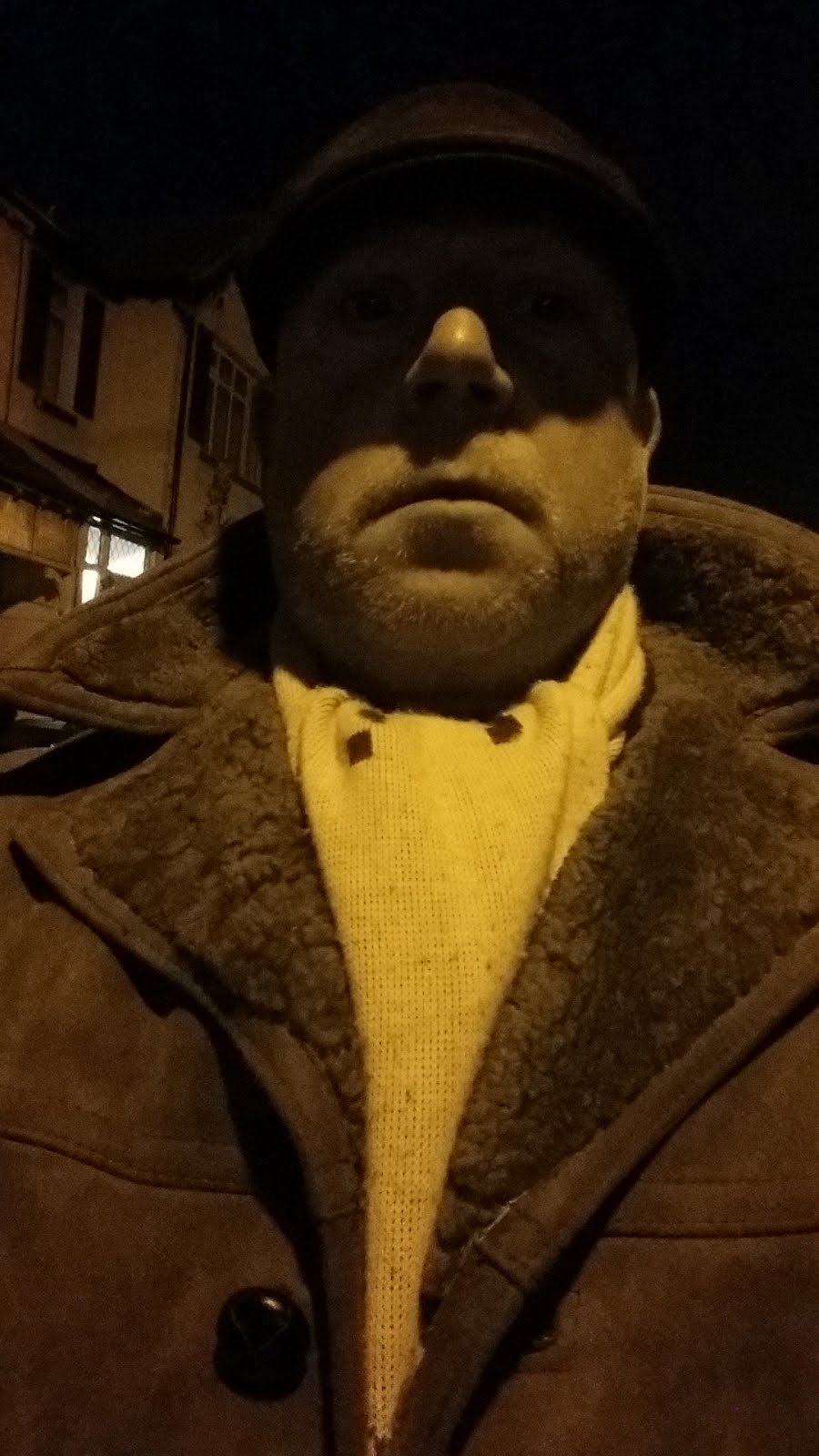 "I'm coming for you Thameslink…"
I nip into the bar for a swifty and to sign some autographs for Chalmers and Greek on behalf of the Blackfriars Five but time is pressing on and I'm off on international business on behalf of the People's Republic in the morning.
So I head off back down Gander Green Lane towards the official residence and to pack the tooth brush and the ProWS nuclear codes for a hop down to Alicante for a few days and to catch Hercules against Barca in the Copa Del Rey. It means missing Dover at home but also dodging a stiff neck from staring into the night sky as they hoof the ball up towards the stars above the People's Republic. Silver lining and all that.
See you on the Shoebox for Cheltenham.
Totts