For all our moaning lately about the FA Cup, the shit draws, the lack of respect paid by top level clubs and the fact it's all about the money these days we do, deep down, still love the old pot. However, Coventry was 27 years ago now. And it's 22 since we last dumped out a FL side and reached the 3rd round. So the CV is looking a bit dated now and is in need of some freshening up.
We'd had a couple of flirts with FL oppo since then, but they'd largely ended in brave failure with us not quite having that bit extra needed to see us through on the day. Still, this time could be a good opportunity. Despite dumping out Crewe in the last round, last seasons Conference winners Cheltenham have had a bit of a rum time of it lately and will be coming to the borough's premier sporting venue sitting 91st in the Football League. With our record against the top 6 or so in the Conference, if we can't do this lot, we may as well forget all about proper football and piss off back to the Ryman.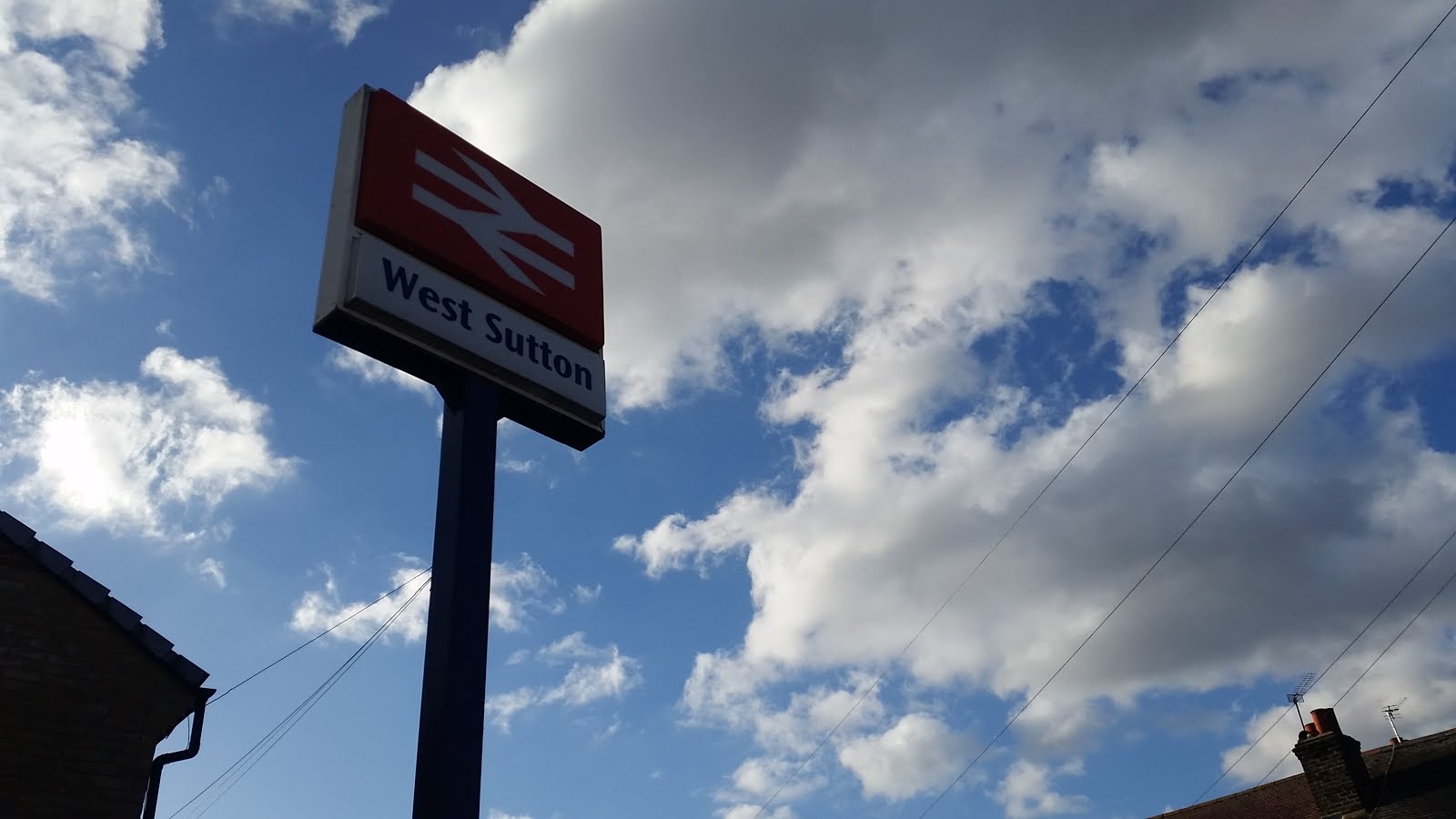 Another beautiful day in the Republic!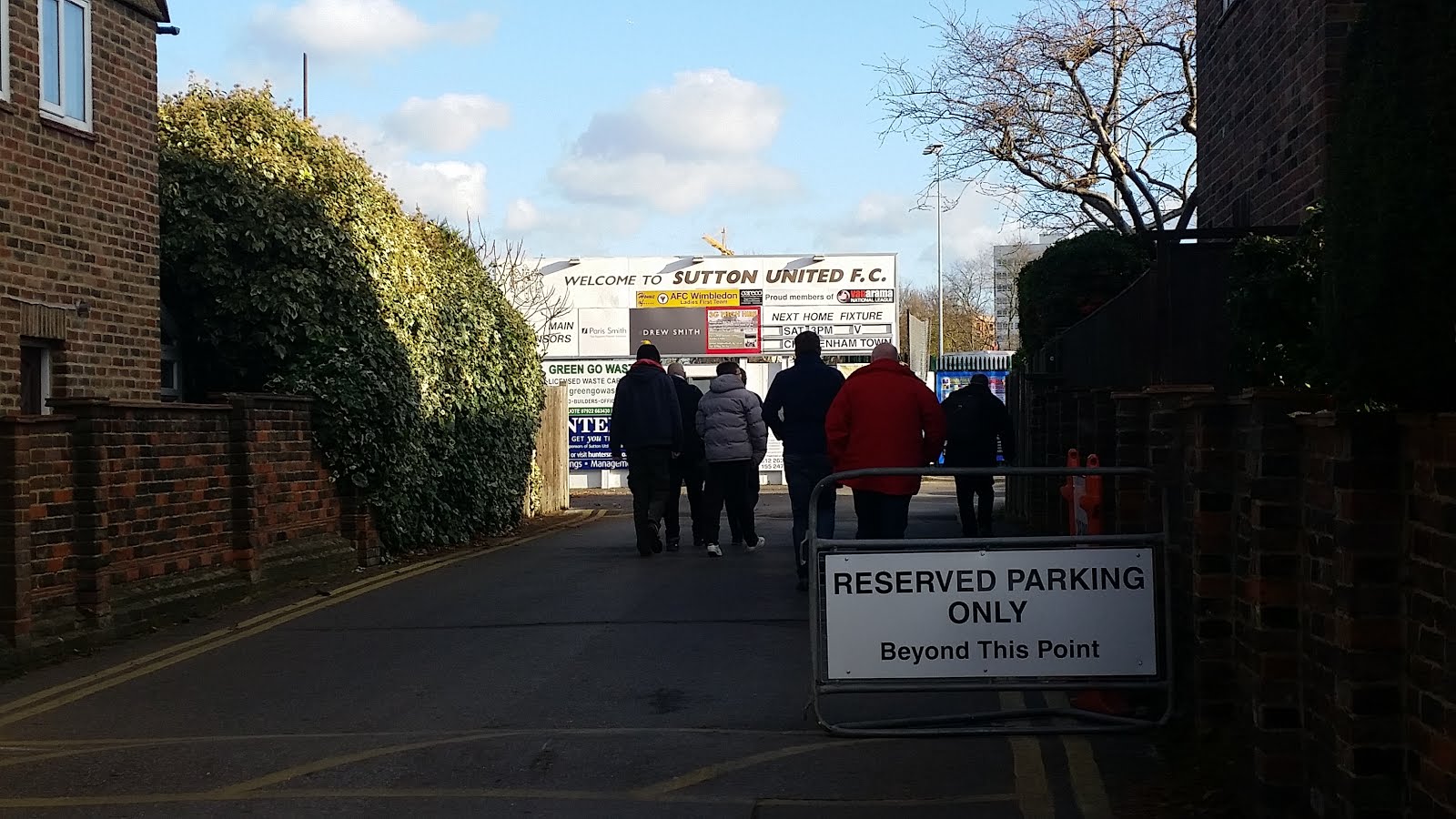 Mobbed up
Naturally, with such a big prize as the 3rd round and a shot at the big boys at stake, we've prepared meticulously for the occasion since the draw. By losing to the likes of North Ferriby. And sticking out a distinctly 2nd string side against an in form Dover team on Tuesday night, getting a key player sent off after 20 mins and subsequently getting fucked in the face 6-0.
Still, at least we'll have cost their scouts a fortune in wasted petrol money if nowt else.
With this considered a big game, we reverted to the arrangement from late last season and the mob assembles in our favourite after hours drinking venue on the high street, O'Niells, As it handily also opens early and does a half decent breakfast. The reason for the early start is that because we're Sutton United, renowned giantkillers of old (have we mentioned we beat Coventry? We did? Oh) and as this match puts us in with a sniff of a 3rd round place, the BBC are all over us like a 80's Youth coach and will be doing Football Focus live from the People's Republic. And that's all on top of the usual round the clock repeats of Matt Hanlan twatting it in at the Rec End we usually get, even if we've been dumped out in the 3rd Qual.
I awake somewhat jaded. As I'm now officially middle aged, drinking on school nights now have terrible consequences and having done my works Xmas do on the Thursday and then having to be back in early the next day has officially killed me. My throat is also something of a disaster zone, with me sounding very much like 80's comedian Bobcat Goldthwait. Which is of course makes me utterly irresistible to Mrs Taz. Not. Two cups of tea and a shitload of her ladyship's super expensive Manuka honey later  (twenty fucking notes for a tiny jar of bee poo? Christ!) and I'm heading out feeling a tad more human.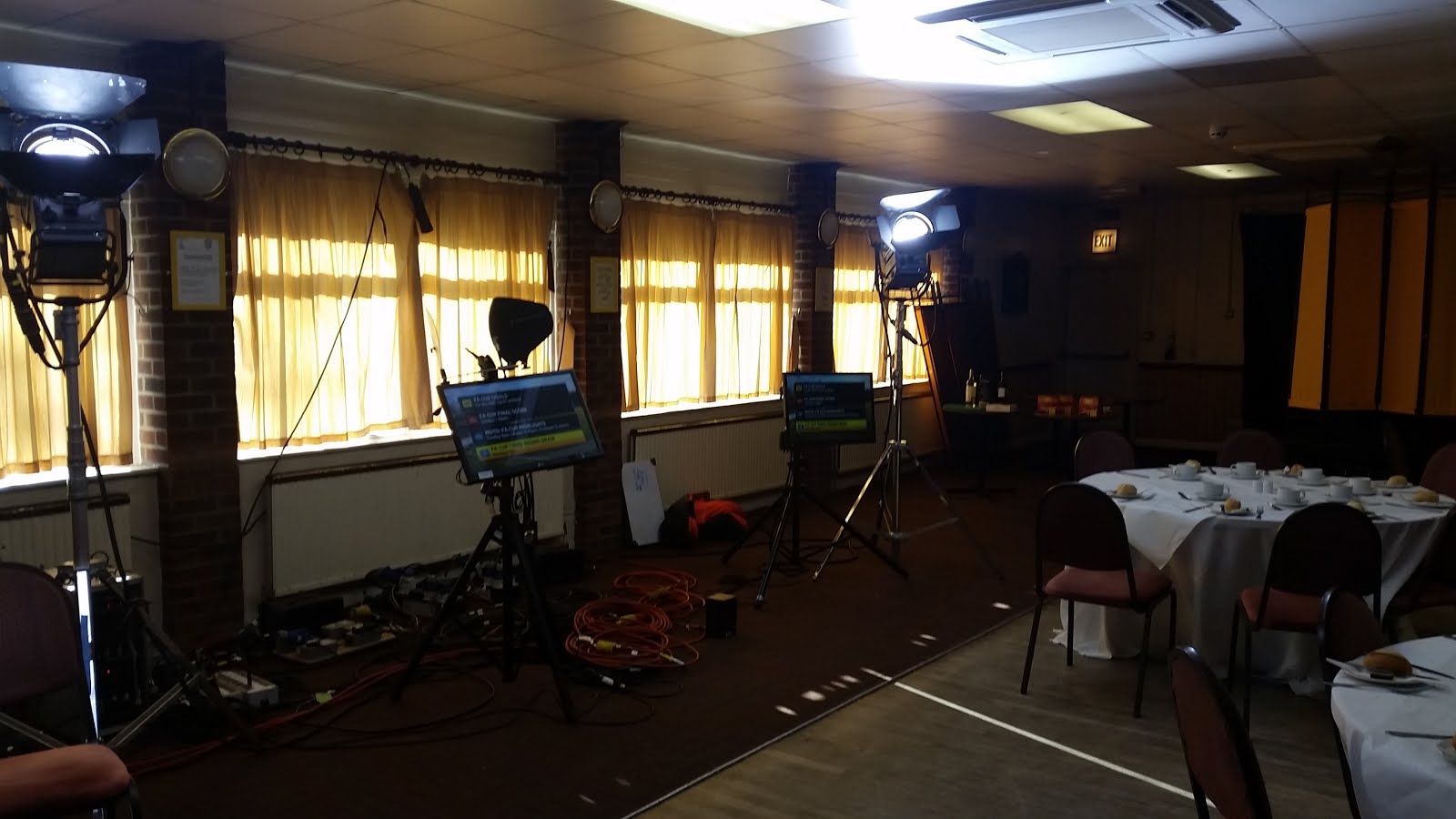 Few quid's worth of scrap copper there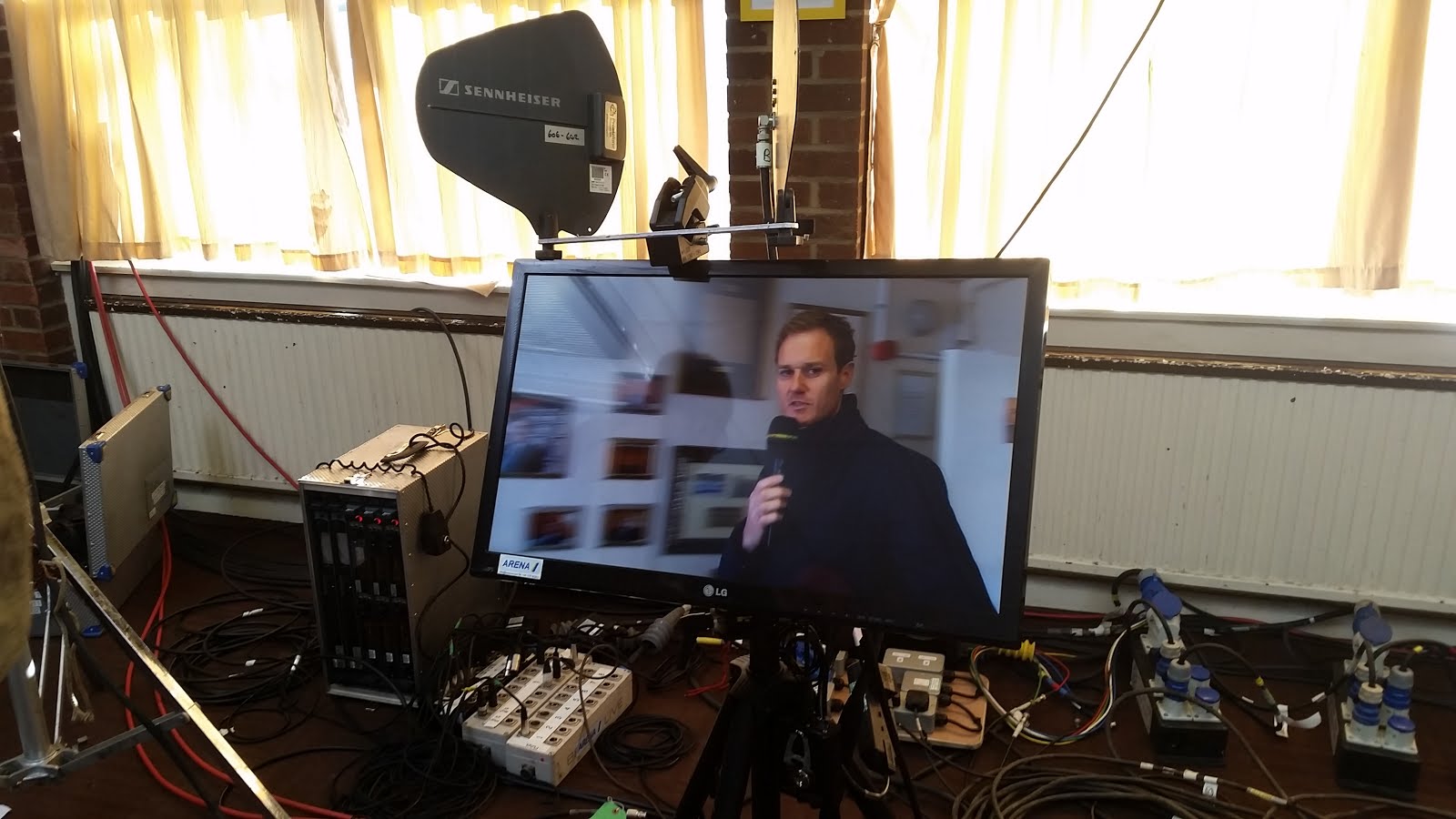 We're watching you sunshine.
For once, the 407 is on time and I'm soon pitched off by the Cop Shop and heading for some folding before finding the rest of the idiots already tucking into their full English. I order lots of bacon and sausage based items, tuck into the bottomless tea supplies to further help my ruined larynx and having been commended on my husky tones by all present, catch up with what's been going on.
I'd soon wish I hadn't bothered as Greek shares a theory that he's actually living out a real life episode of Quantum Leap and that he's starting to run out of things to try & get him to make the leap out of the body he currently inhabits onto the next one. He doesn't seem impressed when we point out that as he's been at it 36 years his theory is probably bollocks. And besides, in the TV show Scott Bakula generally has to do something nice to move on and that in his case as he's a two-bob wanker, this is unlikely to happen.
With breakfast devoured, it's time to head off to GGL and burp bacon fumes at Dan Walker and the Focus team. So we skip to the station and catch the express service the 1 stop round the loop to the beautiful sunny People's Republic. Here we pass the time waiting for the choo choo by ripping the piss out of Dukey's wonderfully cream coloured Harrington jacket. "You going bowling later?" Mr X asks. "They'll never let you on the green in those big boots mate!" I add. The short walk to the ground later and we're in the Times Square lounge looking at all the BBC's high tech kit and the billion miles of cabling everywhere. Pint in hand, we then watch on the monitors as Mr Walker goes through his routine for the show elsewhere in the ground. All very surreal. I decide now probably wouldn't be a good time to tell 'em we don't have TV licence (we do really).
As we mill about, Dos comes through and we have a quick chat about today, the main question is of course will new man Matt Tubbs be in the starting line up. "I couldn't possibly reveal that" he says with a wry smile before adding "Yes" as he walks away with his cuppa. Hmmm. Very cryptic boss man. Also rather unsurprisingly in attendance today are Tony Rains and Matt Hanlan, although for the life of me, I can't think why.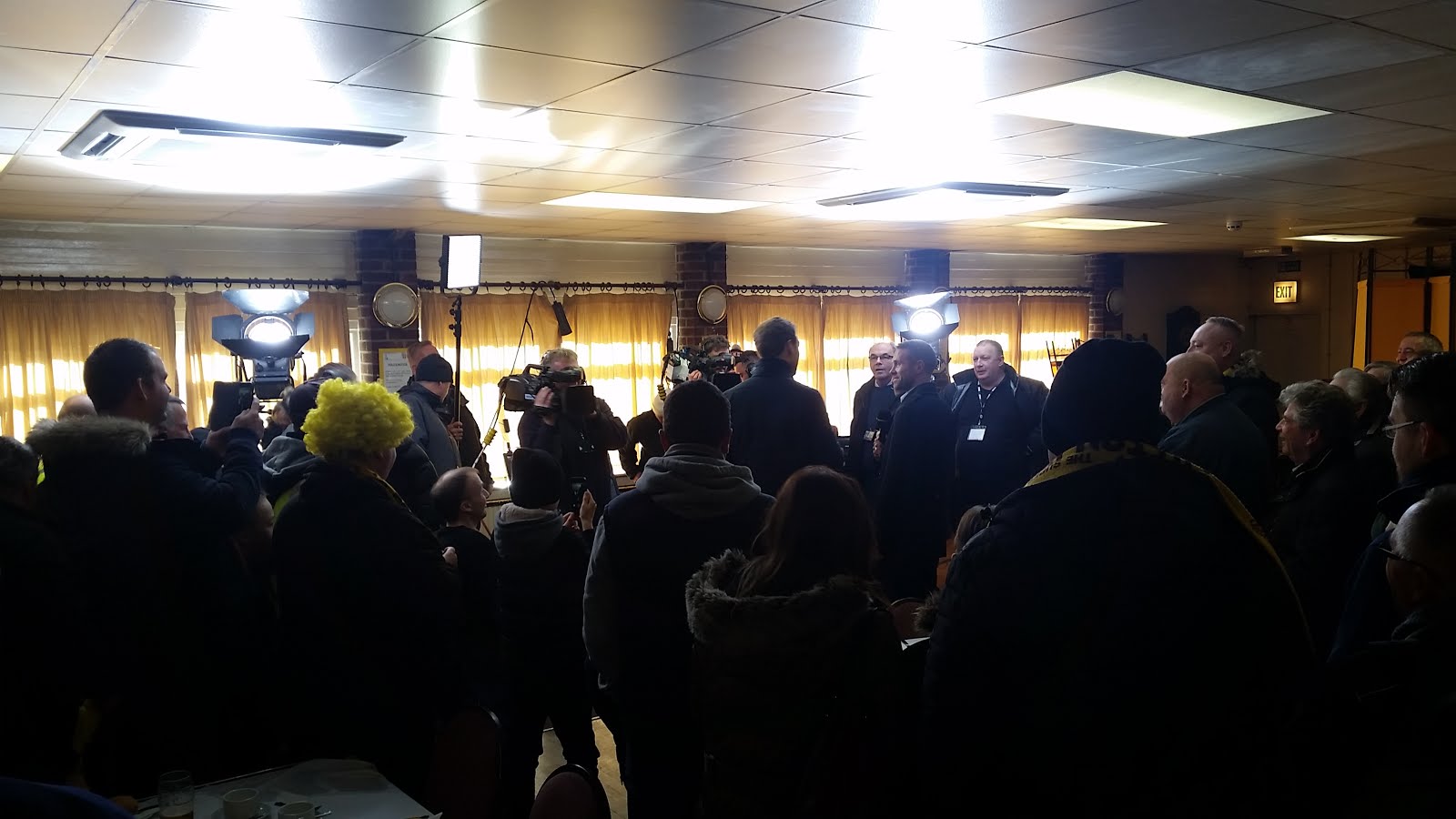 Telly. Being made.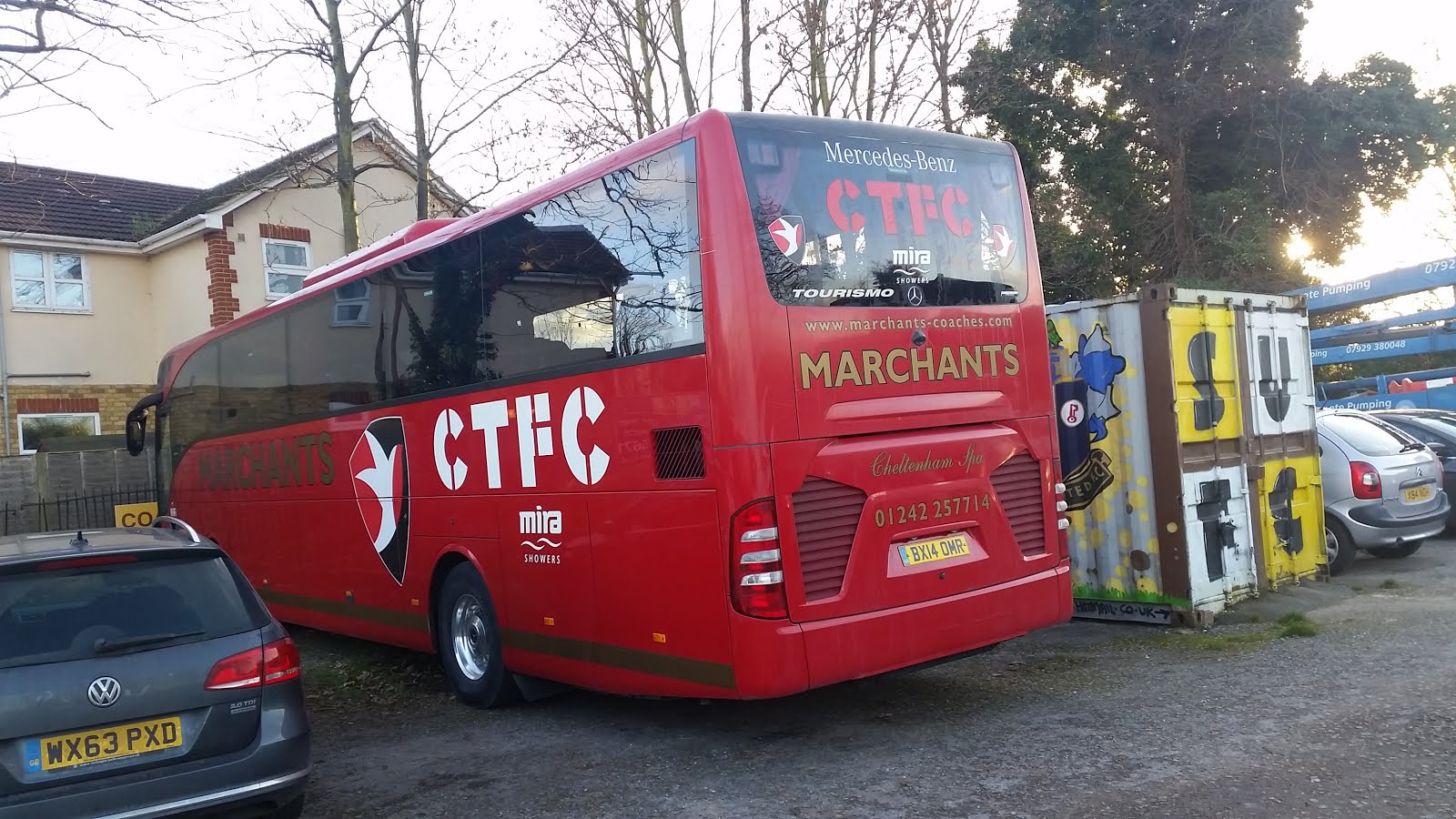 Bus wankers!
I watch a bit of the Focus stuff being done, but decide that watching it on telly is probably more entertaining and leave them to it to retreat to the players bar with my pint. Whilst in here, Beeney calls from the wilds of Essex to let us know  that he's spotted a few faces on the box. "Fuck me, Greek's got massive ears!" he informs us. Cheers for the insight mate.
Whilst we ignore the PL focused part of the show, we find out some amazing info. Scottish Highland League side Forres Mechanics have tweeted the club. And from the wording, it seems we may have club colours in common. Some quick Googling later and it's confirmed. They too turn out in the distinguished combination of Yellow and Brown! Another quick search and we find out they tend to start their season a couple of weeks before ours, so ladies & gents, I think we may have found our next 'football abroad' destination! Ok, so it's not exactly 'abroad' but it's weird and there's fairly regular flights to Inverness 50 miles away, so we're having us some of that this summer.
Beers get swilled and the bar fills out nicely in the run up to kick off. With the BBC done and dusted, we're then allowed to turn the jukebox backon and start getting the atmos going with some uplifting tunes. Sadly, someone lets Robbo have a go and we end up with Chesney fucking Hawkes. We really need to put some sort of fingerprint scanner on that thing so if it detects anyone with shit music taste, it denies them access to all the crap on there.
Worner, Amankwaah, Spence, Collins, Downer, Eastmond, Gomis, Deacon, Bailey, Biamou, Tubbs SUBS: Fitchett, Alves, Smith, May, Shaw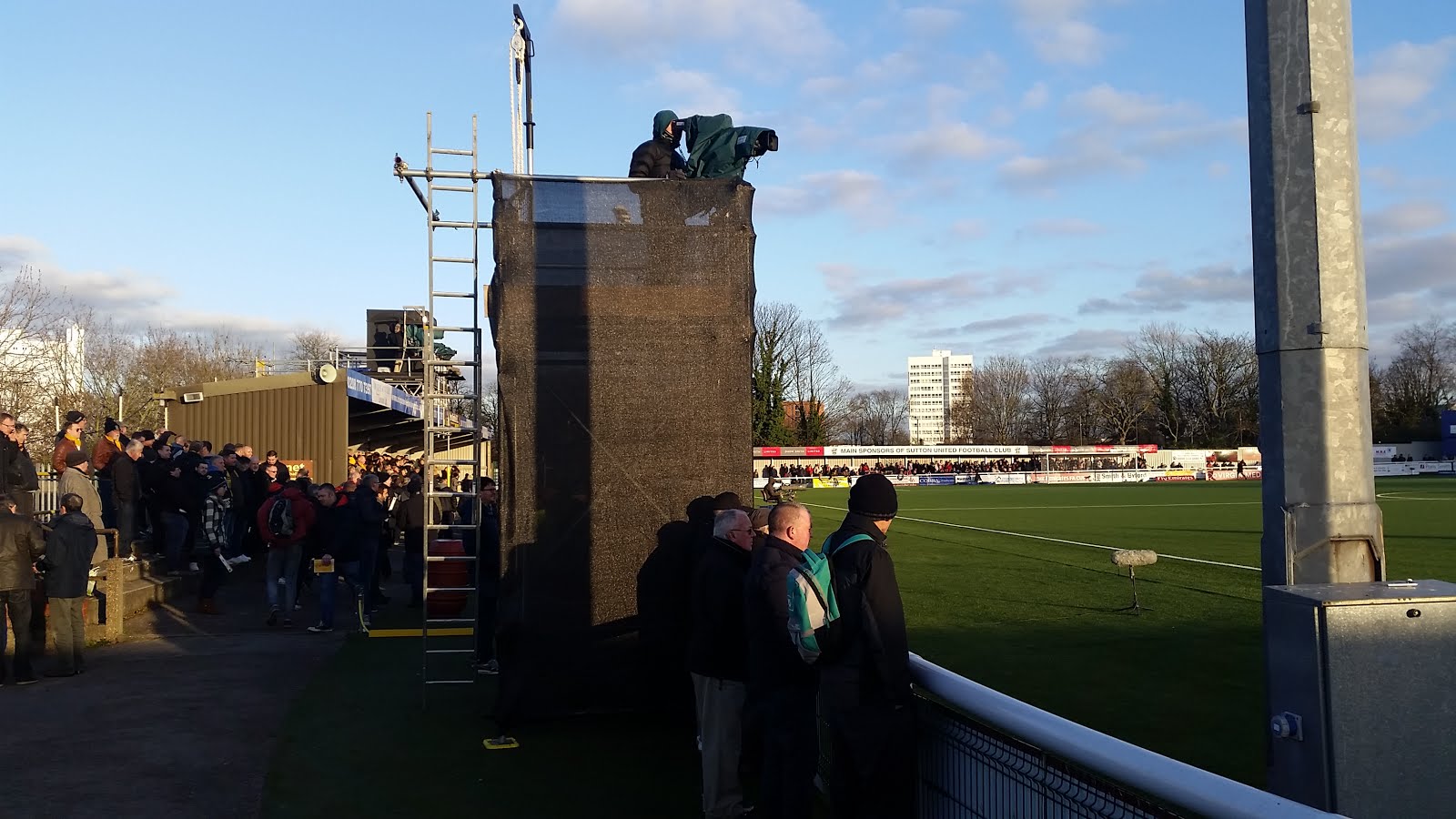 That looks like it'll be in the way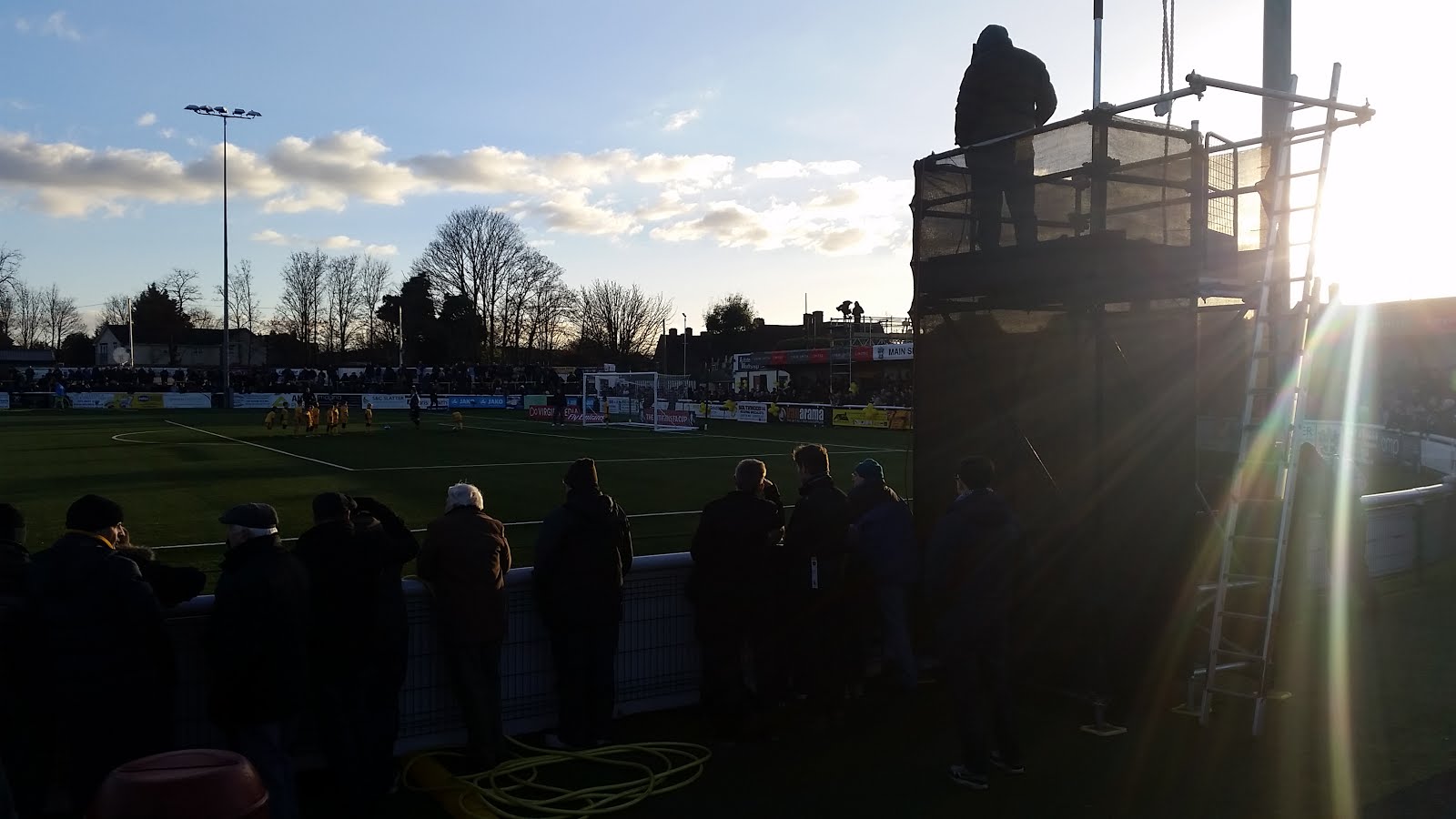 Yeah, it's in the way.
With 15 to go to KO, I decide to sup up and take a walk to the GGL turnstiles. There's some longish but not terrible queues and anyway, my pre-bought ticket means I'm in nice & fast. With no access to the Rec end today thanks to segregation, I head for the Shoebox to await the direction of play. There's a well observed minutes silence before the start to remember the victims of the Colombian air crash last week which all but wiped out Brazilian top division club Chapecoense. Silences are a bit 10 a penny these days to be honest, but I'm all for one that's more than a bit football related. As per normal however, the lads elect to attack the Rec and a few of us wander down to the end of the Rec side terrace next to the segregation gates to get a better look at things.
Now before kick off, I'd made it clear that having a good go at this lot was imperative. Especially after the Dover debacle when resting bodies for it. Sadly, it seems the message hasn't reached the lads and we get underway looking very flat. We're way to deep as well and we're leaving Tubbs isolated up top because of it. Things start badly when Worns has one of his rushes of blood and comes racing out for a ball, completely misjudging it. A Cheltenham lad skips round him but the angle is far too tight for him to make anything of the opportunity. Their big lads take advantage of our struggles and  they largely control the half. Spence has to hook off the line when a deep free kick to the far post ends with a looping header over Worner. The keeper also has to get down smartly to push away a shot from just inside the box.
It's a really lifeless start from us, more overawed Ryman Division 1 than canny National League outfit to be honest. We just cannot seem to get any purchase and the only sign of life is a tricky little run from Biamou going past a couple of red shirts before he's eventually hustled off the ball about 30 yards out. In fact, so dull is the game that the only real entertainment comes from a hugely over keen copper who takes massive exception to someone shouting the word 'fuck' in a 21st century football stadium and promptly stomps over the give a rather amusing and Dover steward-esque OTT finger wagging along with threats of 'public order offences'. No one laughs in his face, but more just stare back a bit "Alright mate!" bemused at his little tantrum. What makes it even funnier is the fact that it's the first time anyone has sworn out loud today. Christ knows what he'd do if he was in front of the Shoebox 2nd half and the lino's having a shocker! Still, with half an hour gone and no damage to the scoreline, we just hope that we can see it out to half time and take it from there. Sadly, we conceded another in a line of very weak free-kicks. The ball is looped in towards the near post from out wide and from our spot it looks like it's gone straight in, but it turns out that a forwards outstretched boot has done enough to diver the ball past Worns. 1-0.
Thankfully, having got in front, the visitors don't really go for the jugular and settle in comfortably with their lead and we get to the break without being further inconvenienced. I head back down the touchline muttering many bad words. The performance has been dreadful, we've lost pretty much every battle around the park and we've not even looked like getting a chance, let alone scoring. We once more park up on the Shoebox and hope that Dos & the boys can hand out a world class bollocking to get this lot going for the 2nd 45.

Panoramamamama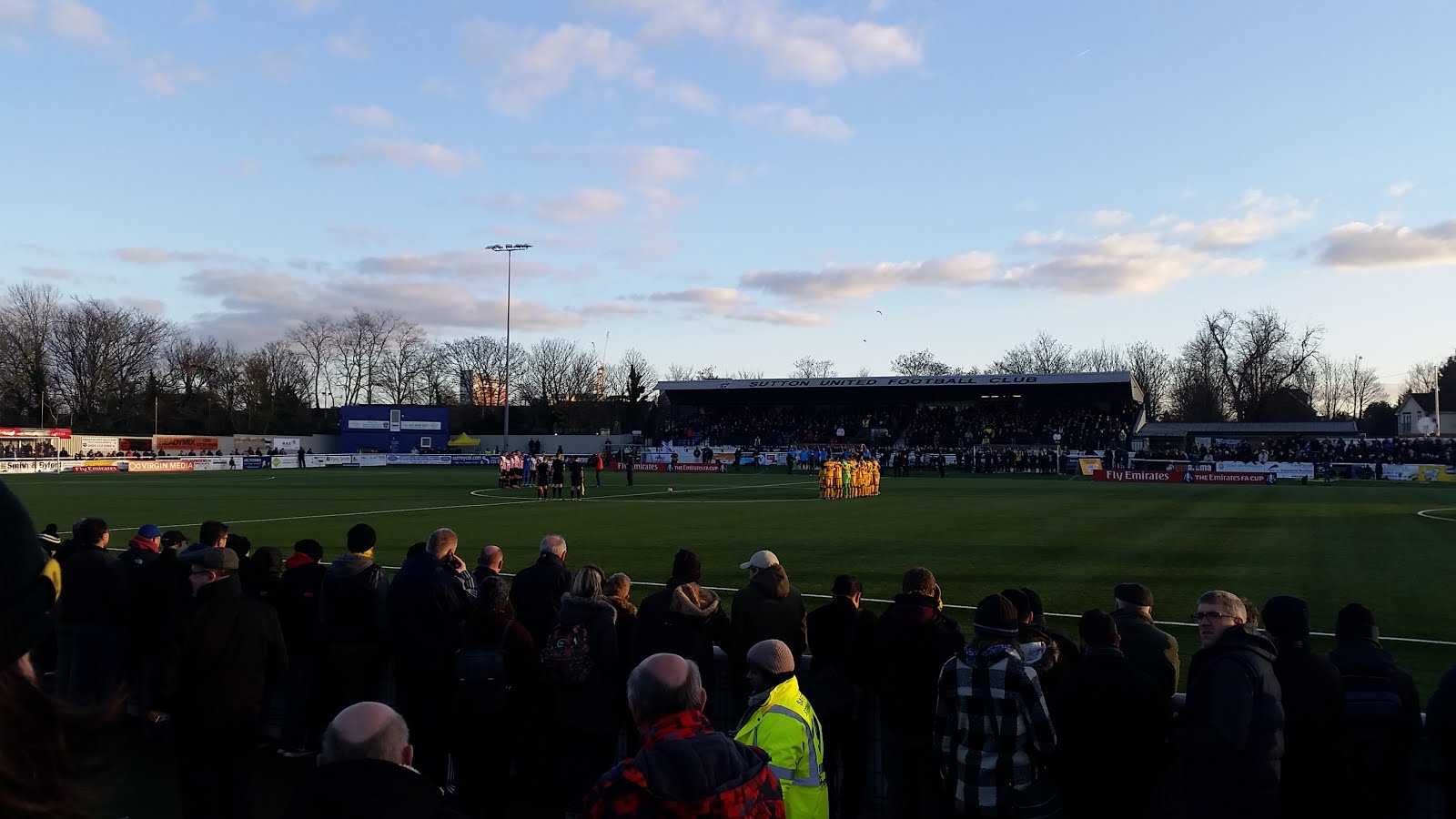 FORÇA CHAPE

Elsewhere, there's not much going on shock wise apart from Solihull being 2-0 up against Luton. "Fuck me, I'm surprised we didn't hear the half time booing from that one here!" I think aloud.
Any doubts that a lot of shouting, swearing and throwing of stuff has gone on in the home dressing room during the break are quickly dispelled when we get underway. We're immediately 10 yards further up the pitch, we're on our toes and our body language just looks far more positive. Even better, we're immediately level!
Bedse gets down the left and after holding up the play to wait for support, swings in a cross. It doesn't go far and a defender heads clear but only as far as Bailey about 30 yards out. He pops it up to the edge where Biamou for the first time gets above his man and nods it down about 10 yards out. Sort of around where you'd quite like, oooh I dunno, Matt Tubbs to be? Oh, Hi Matt! Tubbsy is on it in a flash and letting it bounce once he thumps a shot past the keeper and into the back of the net. 1-1! Fucking come on boys!!
It's a real lift and suddenly we're full of beans and channelling Brazil 1970 (sort of). A flowing move down the right, a nice little interchange of passes and Deacon is turning inside to whip a dipping, curling effort just too high and wide of the back stick. From here, we finally start to make that 15 place gap look as small as it really is as we play some decent stuff. Eastmond comes to life and one break sees him play in Deacon wide on the left, but his shot is a little scuffed and the keeper saves with his legs. A minute later, a big throw from the right is nodded on and drops again to Deacon on the left and he lashes a half volley narrowly over the bar.
The game is now far more stretched and is actually turning into a fairly entertaining cup tie after such a turgid first half. Spence looks lucky to get away with a later challenge in the box, with us almost certain it's a pen but there's oddly little protest from either the away end or the Cheltenham players. The ref now starts making his mark, with some weird free-kicks awarded for both sides as well as the usual 'yellow for us, fuck all for them' approach. The daftest being when Simon Downer is absolutely wiped out in an almost Downer-esque challenge and the perpetrator gets away scott free whilst Deacon cops a yellow for his protests to the ref.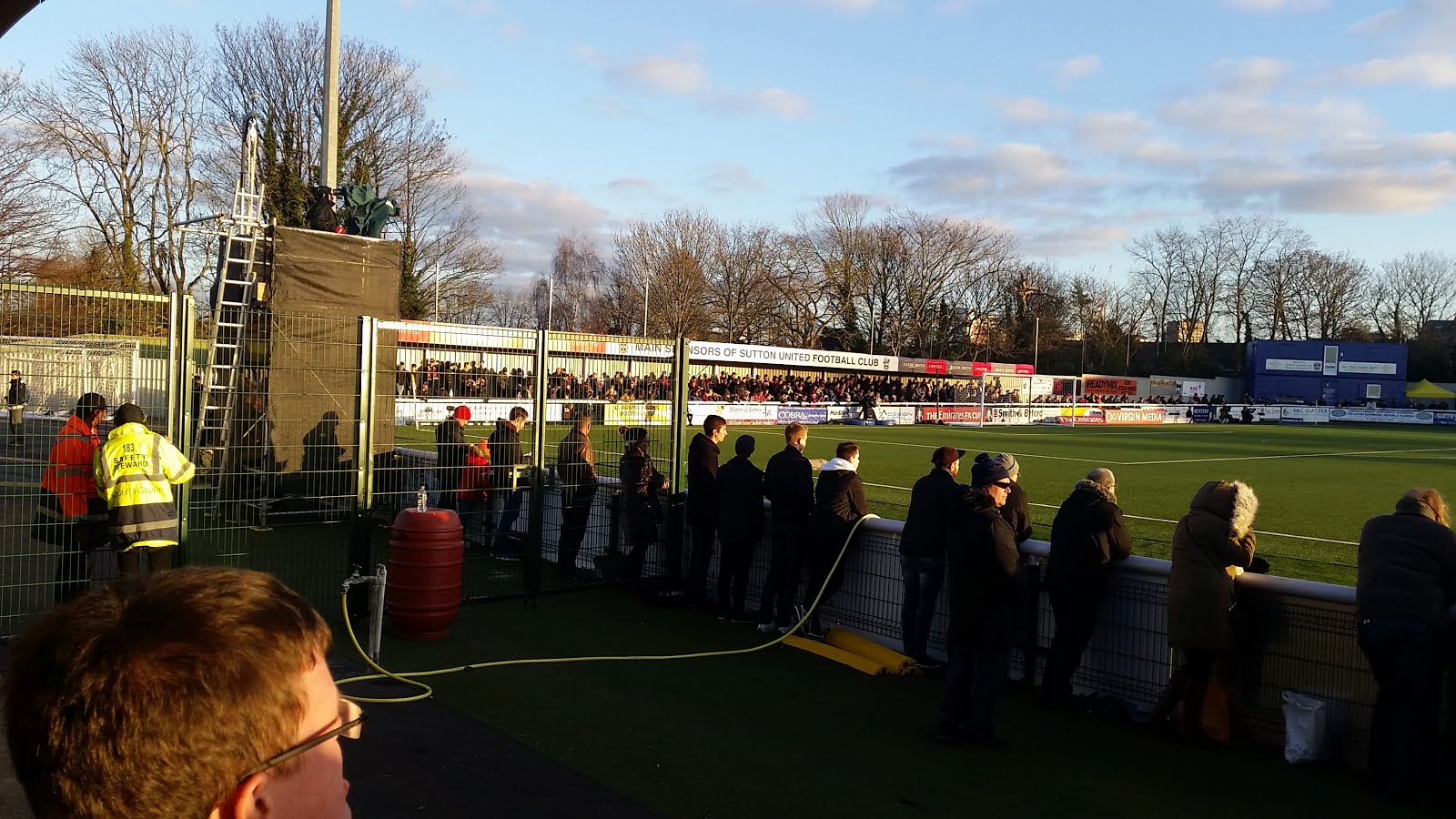 Travellers.
"What do you mean the first half was shit??"
With time running short, the visitors find a second wind and start to re-assert themselves more. Their best chances coming late on with a corner on the stand side looping over a slightly too advanced Worner, but thumping back off the face of his cross bar and a bloody absurd free-kick about 18 yards out right in the centre. But thankfully it's blocked by the wall.
As the board goes up to inform us there's a frankly daft 6 minutes to be added (where did you get that from you soppy Scouse twat?) we're already making replay plans, with Dukey calling shotgun for the trip down to Gloucestershire next week in Mr X's motor. But as time ticks down, we're all thinking the same thing. One more chance. Just give us one. more. fucking. chance.
Aah fuck it. Time's up. A replay is certain. And then it comes.
One more chance.
A big lump up the pitch is helped on towards the box, but a Cheltenham defender heads away. He only finds Bailey about 35 yards out and the wily old midfielder instantly pops a ball forwards to Deacon in space on the right, about 25 yards out. He gets it under and dances forwards. The defenders don't come to meet him for some reason and he skips forward a bit more, into the box. Fucking hell son, stop pissing about and just hit the fucking target!!
Finally realising that now, in the last seconds of 6 added minutes, probably wouldn't be a bad time to have a crack, on goal, Roarie sticks his right boot through the ball and sends a skidding low shot across goal, under the desperate outstretched hand of the keeper and inside the far post. Oddly enough, it's also at this point that Gander Green Lane loses it's collective shit and goes fucking barmy. Or for the younger readers amongst you, 'proper scenes'.
Grown adults throw themselves at people they may or may not know in sheer delight as Deacon wheels away around the back of the goal and along the Securicor terrace to disappear under a pile of delirious team mates on the far side. None of us on the Shoebox really see this of course as we're all leaping about like fucking lunatics. With composure barely regained and chests heaving as heart rates drop back below 400bpm and chests heave with lungs drawing in desperately needed oxygen, we all check times. Christ alive that was late. Really really late. As in the last of six minutes of added time late. Almost 'Thameslink from Borehamwood' late in fact.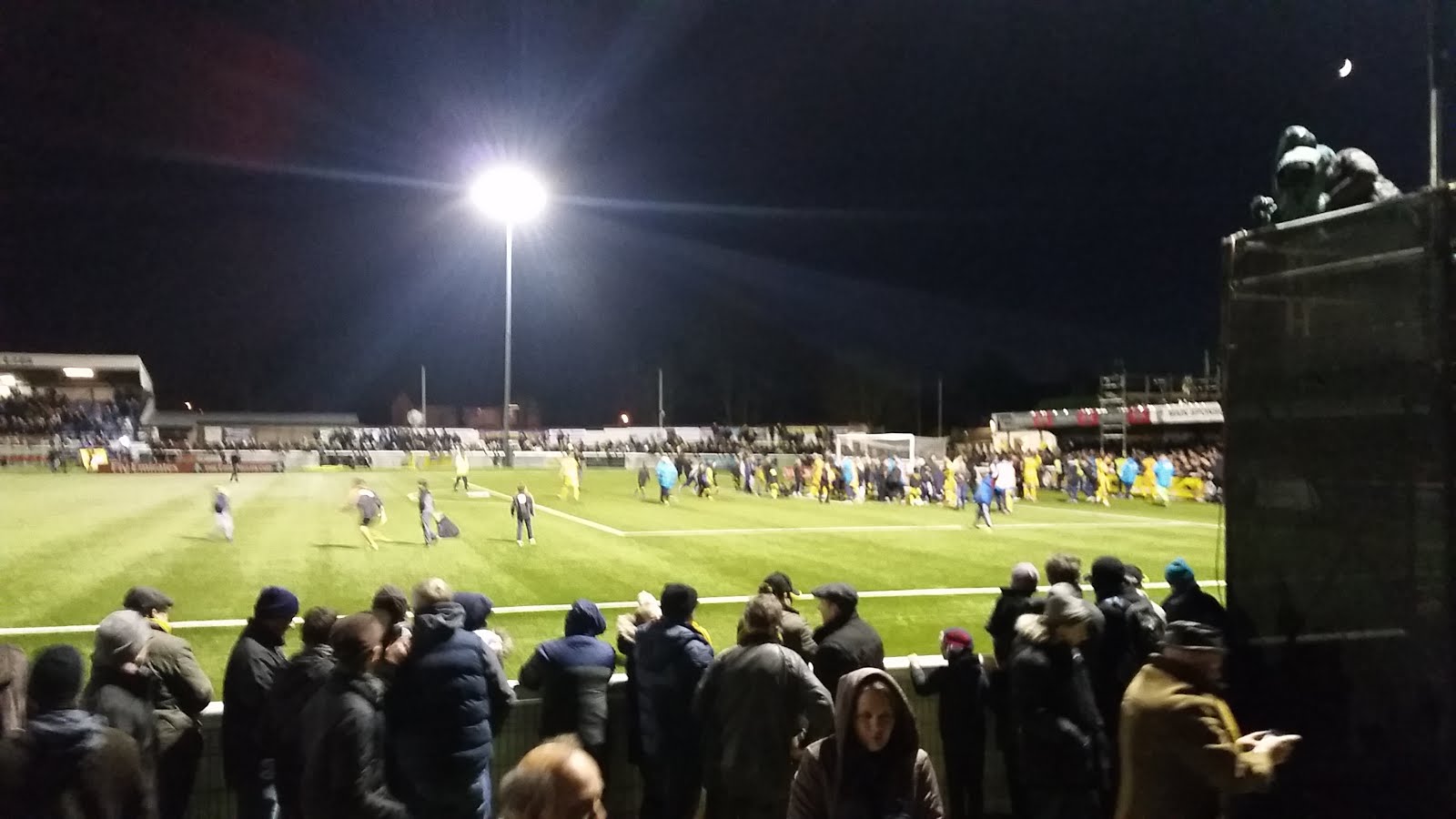 On the pitch on the pitch!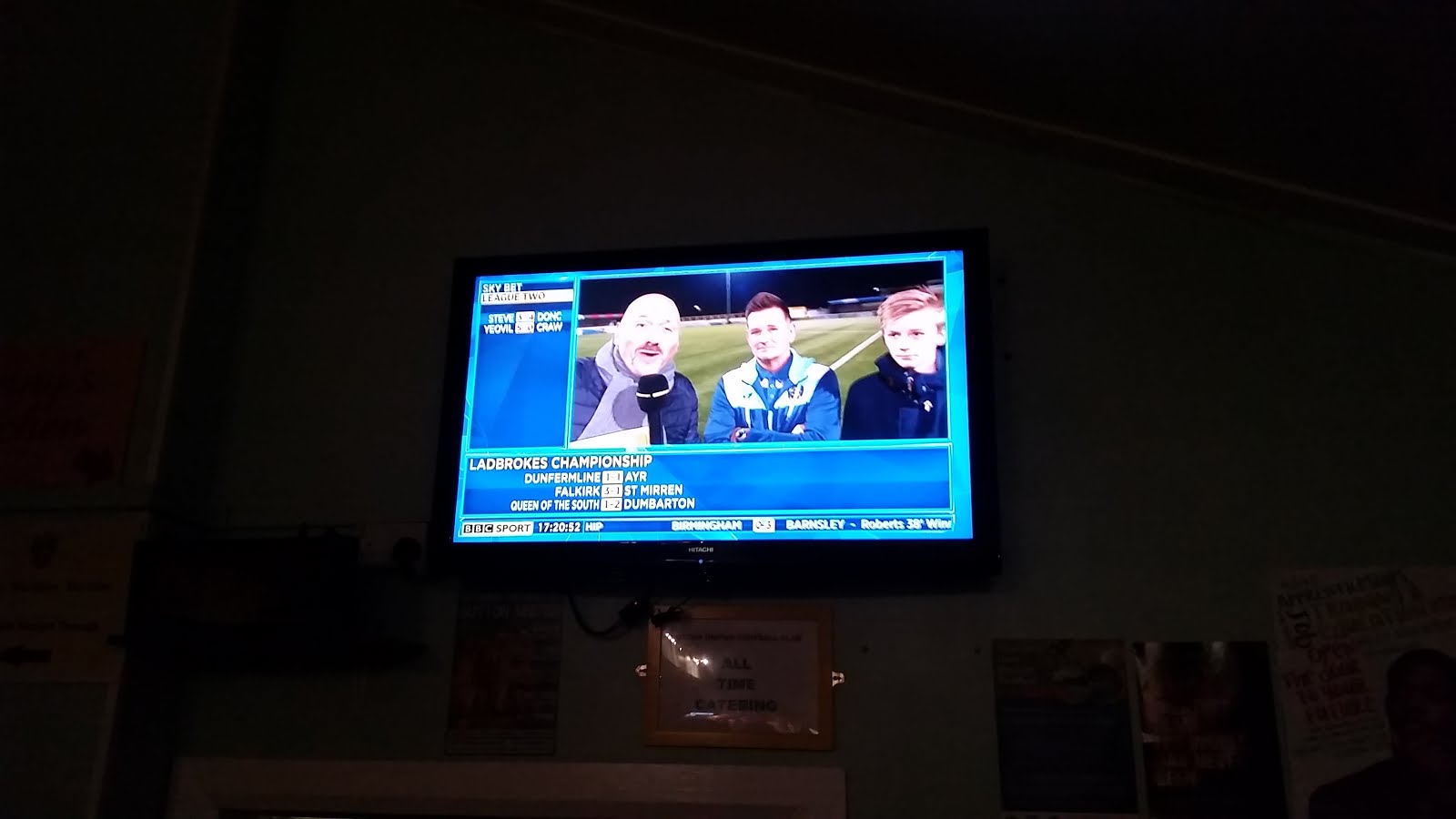 "Doris! That bloody Doswell's on the telly again!"
The visitors throw the ball forward in one last desperate attack, but it comes to nothing and Worner is left to launch the traditional last goal kick into the cold night sky before the ref blows for time and there's another outpouring of totally non-gay man touching from all assembled. Now completely hoarse from too much shouting combined with an already fucked throat, we greet the team and the staff like legends and having applauded every last one of them off we finally decide we should probably hit the bar. Sadly, about 2000 other people have the same idea, so it takes a little while to work our way down the tunnel. As we shuffle along, 4 Days spots our policeman officer friend from earlier and jokingly asks "Can we say fuck now?". "Depends how many times you say it" comes back the reply, which is so lacking in irony I'm almost surprised the guy doesn't have an American accent.
Avoiding arrest for public order offencey type stuff, we eventually stumble into the bar and people dive into the scrum to obtain beers. Then above us on the telly we're treated to a re-run of the madness as Final Score picks up on the late drama we've just seen. There's even a couple of crowd shots, including one of some right ugly fuckers. Oh. That's us.
Bugger.
Of course, with a dramatic late win and a place in the 3rd round in the bag, there's only one thing for it. Celebrate like bastards! The jukebox gets a proper caning with many familiar songs from the terraces having their proper versions aired and then butchered by an increasingly maddening crowd. Wonderwall becomes 'Paul Doswell', Yellow Submarine becomes 'Yellow Football team' and so on. Then it switches to some top punk and ska tracks which gets the likes of Totts bouncing. Then as the clock passes seven PM we flick to BT sport to watch the hour long re-run of the game. Of course, no one pays much attention to the 1st half, but the 2nd is rather well received. During this, I find Mr Doswell towards the back of the bar and take the chance to congratulate him on the win. "I bet you were calling me all the names under the sun at half time!" he chuckles. Me Dos? Never! The team however…
It turns out that the half time 'chat' was pretty much as we'd hoped. Tons of profanity used to get across the point that we really needed to get out and have a bloody go as we were simply going out with a whimper at that point. "I've never sworn so much during a half time break" admits the gaffer. As long as it worked boss man, as long as it worked!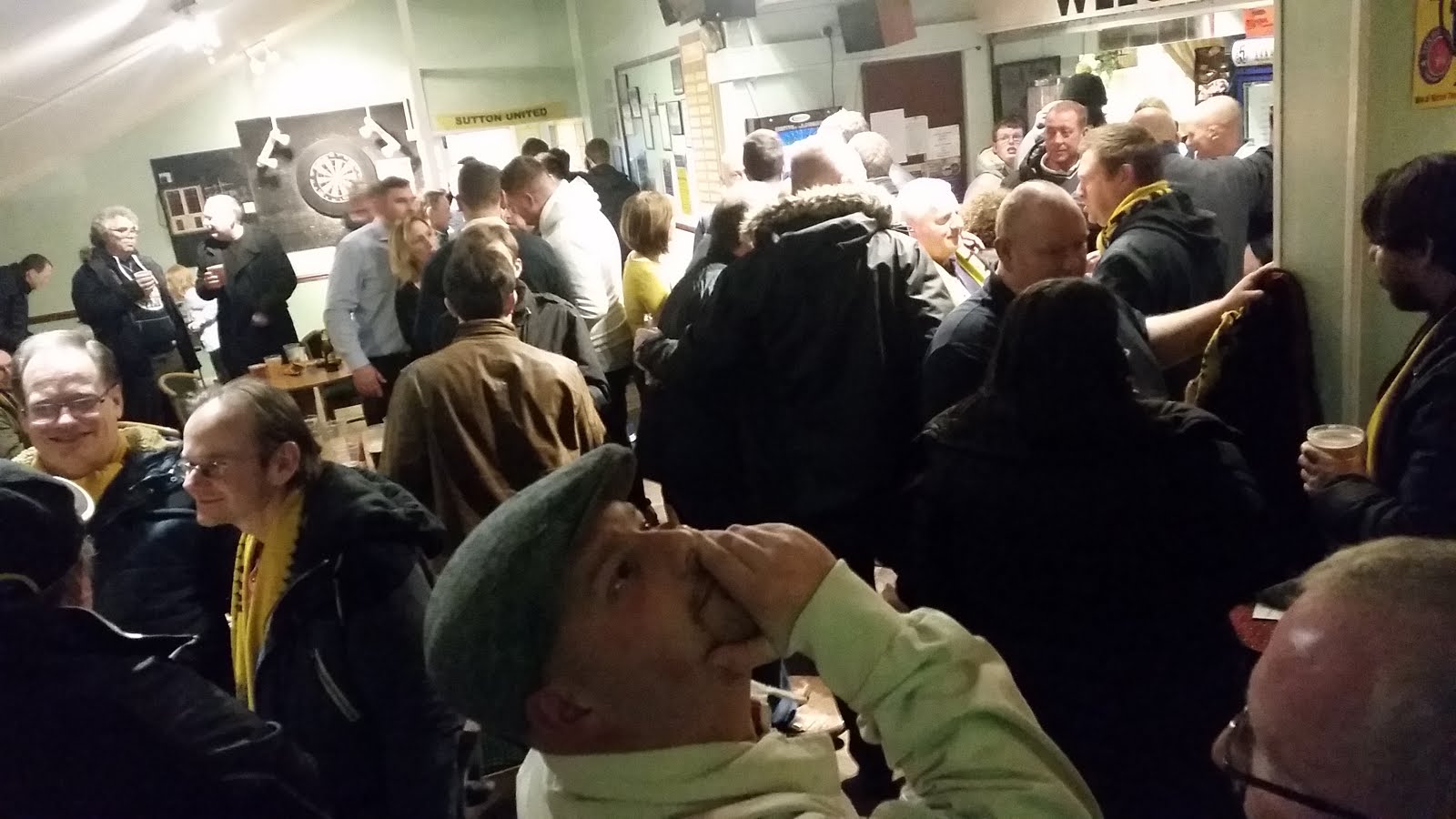 Dukey ponders more jacket based abuse…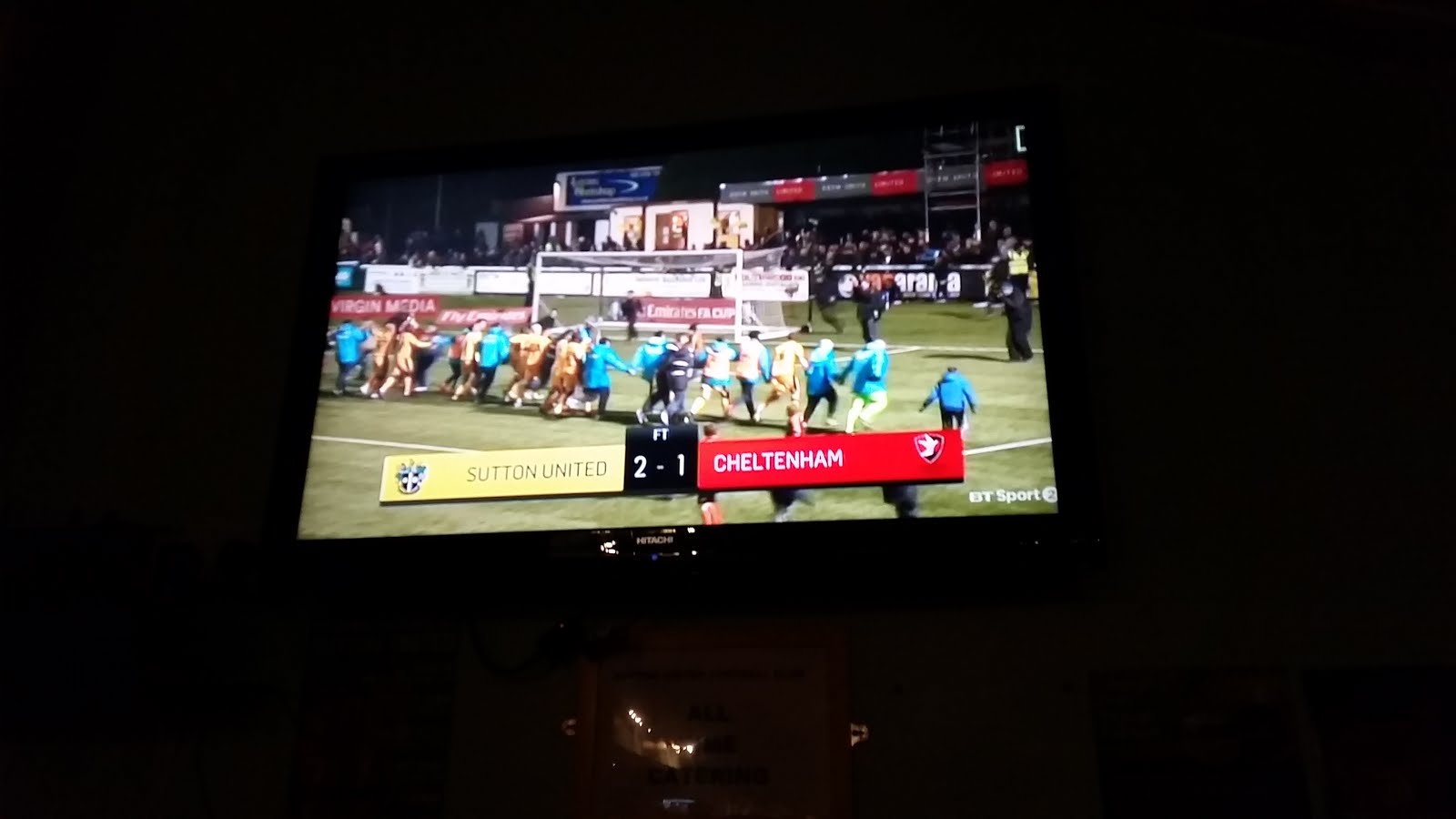 It's all repeats these days
We also find an away fan in our midst, the poor bastard braving all the celebrations on his lonesome to have a post-match pint. It turns out that Roger has come all the way over from bloody France for this one and is staying with relatives up in Stalebuns tonight. Naturally, having spent many a spell in an away bar having got done by a smaller side we make sure he's well stocked with beers before he eventually totters off into the night to brave the Thameslink north. I'm not sure what's worse, getting binned in the cup by some Non-Leaguers or having to rely on those wankers to transport you anywhere. But both in the same night? Unthinkable misery.
As the bar thins out, I take a break and finding the tunnel all still open take a wander out into the cold night air to gaze upon our lovely and still floodlit synthetic lawn. The old dump has certainly changed a bit since we last made the 3rd round! Before too long, we finally decide to make a move back into Sutton as it's now half past 10, so we time the departure for the last train round the loop. Rocking up to O'Niells there's a big door presence and Johnno's sister is out front checking ID's for entry. Uh oh! This might prove difficult! Luckily, there's nothing to worry about as once she's finished turning away 2 unlucky punters, she greets us with a big smile and a "Ah! The Sutton United boys are out celebratin! In you's goes!" and ushers us inside.
It helps to be connected you know. And well, we are kind of a big deal around here.
We wind down the night with a couple more bevvies and some more shouting along to various tunes but everyone's pretty shattered by the exertions of the day. Although my throat has actually improved massively thanks to a shit load of beer and gin, so it's not all bad. Who needs strepsils when you have industrial quantities of alcohol eh (don't try that at home kids)? But before long we knock it on the head and as per usual, Dukey & I toddle off to Melvilles for transport home. I order us up a sherbert and the driver appears from the back room, takes one look at Dukey in his crown green bowls jacket and goes "Oh. You".
Which is always a good sign.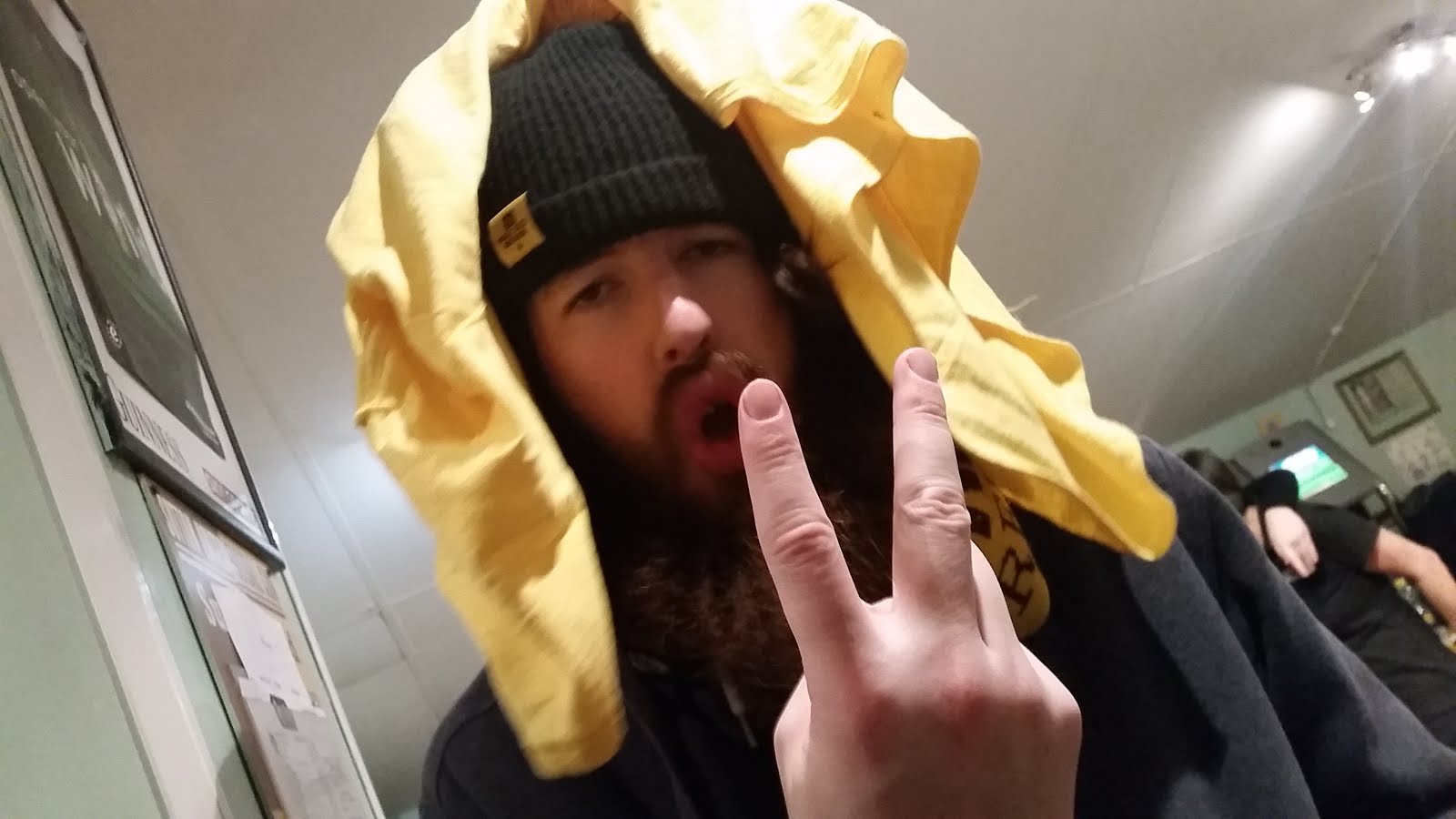 All a blur by this point…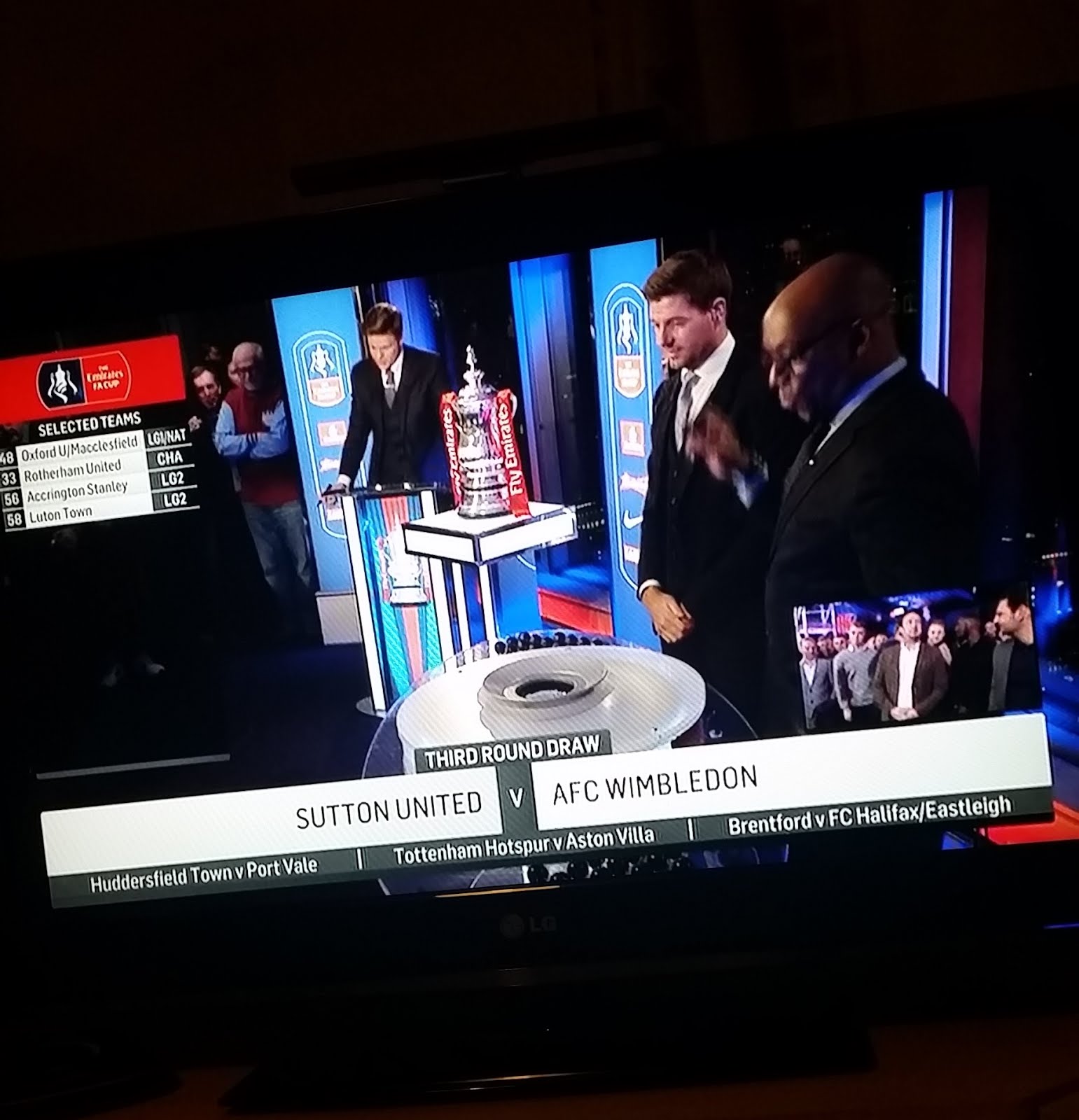 Er, that was the rehearsal right? RIGHT?
Thankfully, it seems our little Bowler hasn't offended the gentleman's ancestors with his usual talk of Imperial oppression and I hoof him out just outside his place soon after. Another few minutes later, I'm back outside HQ unable to speak. Not with emotion, but because my throat has finally had enough. Tomorrow is going to be hard work, and no mistake.
Meh. 3rd Round innit.
Taz