Well what a funny old week it's been for the U's. Not only have we had to bear witness to a Sutton team concede six goals at home in embarrassing fashion (I'm sure the last time that happened was probably against K's in the Charity Shield at the arse end of the 20th Century), but we also were fortunate to see the boys make it the third round of the little known FA Cup after a last gasp goal from Deacon against Cheltenham.
But that is not all the cup football we have to gaze upon this week, oh no no no. we have not one but two more games to contend ourselves with. Not only do we have the bounty of the county in the Surrey Senior Cup, we also have an FA Trophy game at home to Bath on Saturday as well. Spoilt for cup action we are!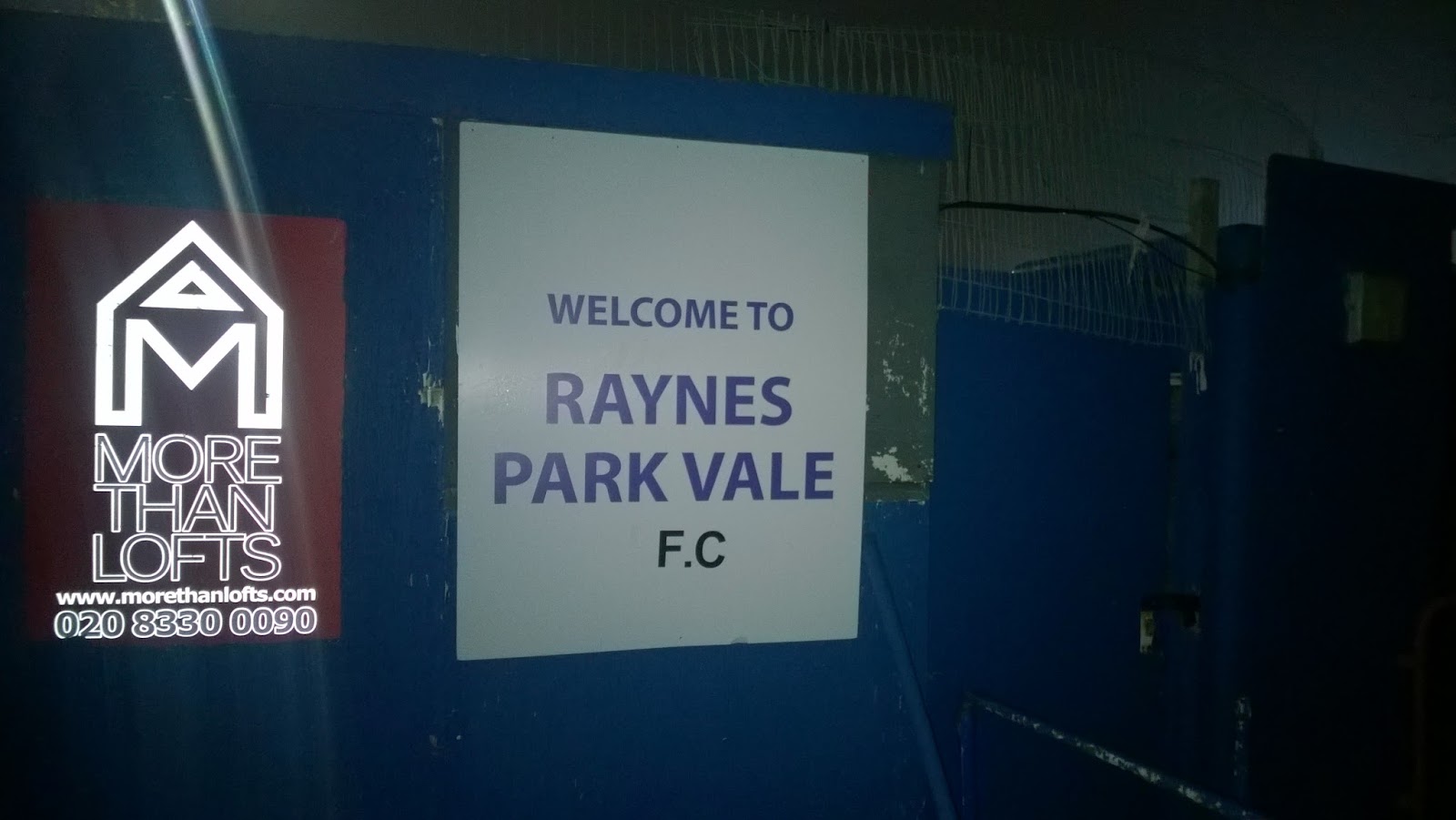 Why thank you!
This triple helping of that sweet sweet nectar is very much like a good old Italian three course meal. First you have your Minestrone soup, which is like the Fa Cup, a steaming bowl of randomness that isn't the be all but is surprisingly lovely when it's done well. Then its onto the main course, where we have the SSC. That is of course, Veal Saltimbocca, the highlight of any meal obviously. And finally you have the FA Trophy which is like a delicate Panna Cotta to finish it off. Right, enough about food, it's making me hungry. Let's all go back to that cup that matters to no one us all.
The first bad news for Tuesday night actually came on Saturday. As most of us know, Our Lord Dos is not the biggest fan of the Surrey Senior Cup. In fact, I'm sorry to report that he downright despises it, a bit like a kid does the dentist. I don't know, must be a Hampshire thing or something. So when he says that no first teamers or even anyone on the coaching staff is going to lift a finger let alone put in an appearance, you know we're up shit creek!
Everyone who's know me, knows I would've put the strongest team possible. Hey, I want to bulge out the trusty trophy cabinet a bit more. And considering that we have an away record that is currently worse than anything released by Chesney Hawkes, a simple win might help boost confidence. Also, other than myself & Dundo, anyone else want him to reach 100 Sutton goals? And before you ask, yes it's a first team game and it counts! Well it did when they added up Our Lord Dos' 500 games in charge.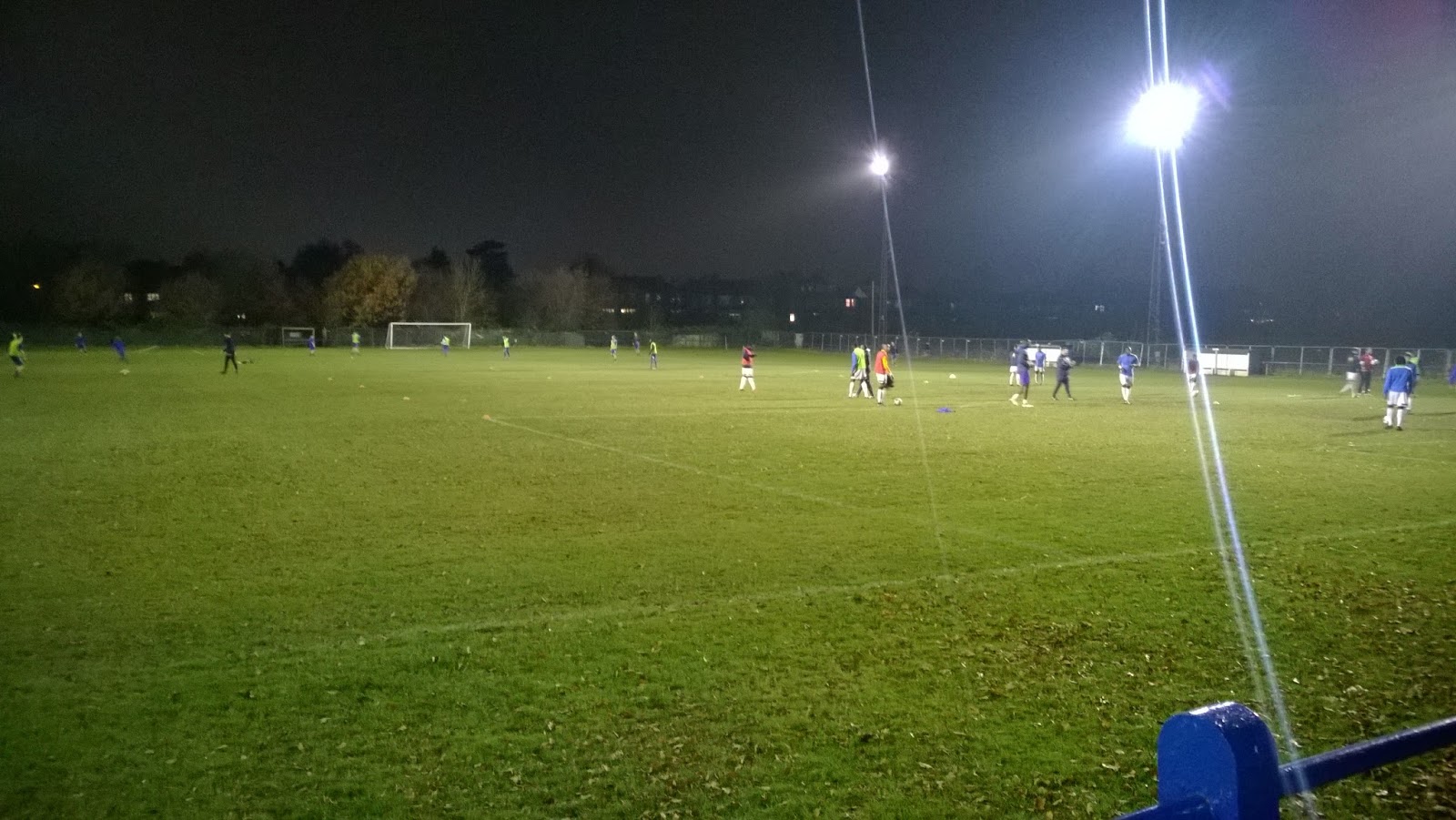 The arena. The place of battle. The middle of nowhere…
There even was a spat of the away pessimism within the ranks of the Gandermonium faithful for this one. Namely, only myself & Mr X were bothering to go. The other piece of bad news was that the line-up was going to be a mixture of Youth and Academy players. Needless to say that none of either team had played together so a coherent performance was not expected.
This also meant that several of the Youth were unable to play in their fixture on Monday which they lost at home against Leatherhead. Oh Yeah, Monday! What else happened? Oh that's right. The FA Cup draw happened. Not too sure what to think about that one. Yeah, I'll keep it to myself for now. I mean, they weren't even around the last time we reached this far after all.
With no one else bothering, I of course had to sort myself out on getting down Grand Drive. Having played several times on Prince George's Playing Field back in the day, I at least knew where to go. We also have been here before, Cruising to a 5-0 win in the SSC with the legend that is Dundo nicking one a few years back. Taz did do a report of that trip somewhere. I'll link it at the bottom if I can find it, that or unintentionally to some sort of pornsite probably if I can't.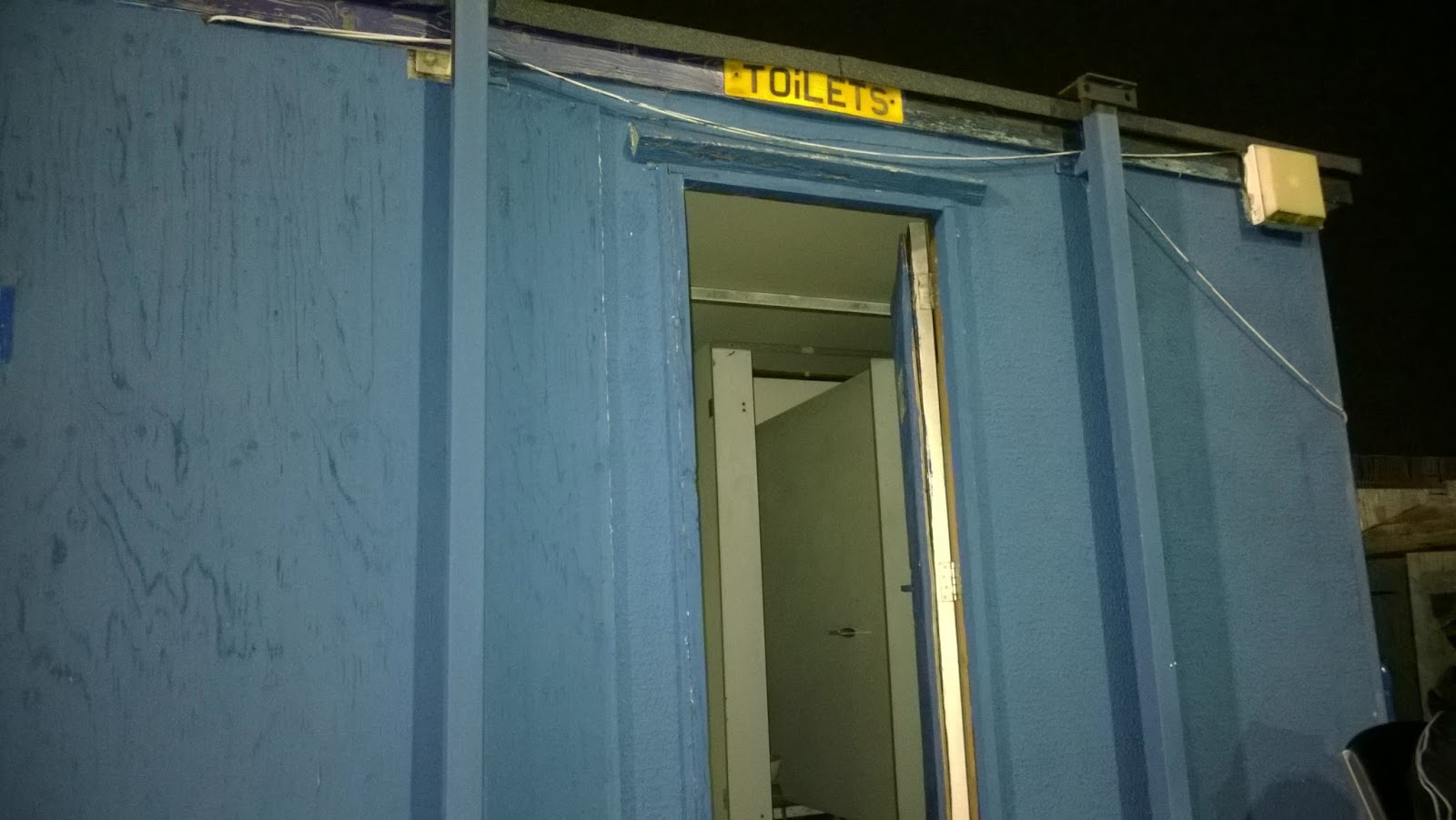 Always with the bloody toilets…
Knowing that several large potholes have existed since time immemorial on the less than grand drive to Grand Drive, I decided to park opposite and make the last of the treacherous journey on foot. I did notice that you could've just parked your car and watched from there as the simple chain link fence seperating the ground from the car park didn't obstruct you view. I'm sure last time that there was some sort of green netting to prevent that sort of naughty action?
Waiting for the turnstile to open I found myself loitering with some of the others that had made the simple trip to the borough of Merton. Well I say simple, turns out that for a couple of the county representatives it took them nearly three quarters of an hour driving up and down Grand Drive to locate the gaff. They could see the floodlights from their car, they just couldn't find the bloody entrance in the dark!
Paying £6, which Our Lord Dos can repay me if he wants to in lieu of me not having a claim up against the Dover result, to gain entrance we were greeted with a ground that had no burger van/tea bar. And no stewards. Oh and no PA system. And the only bogs in the ground were something called "Unisex", which is possibly something to do with masturbation but I'm not sure. Also the lights didn't work in said khazi so poor old Budd had to borrow Tott's torch when he needed to spend a penny. And that is 'Why We Bother' ladies & gentlemen!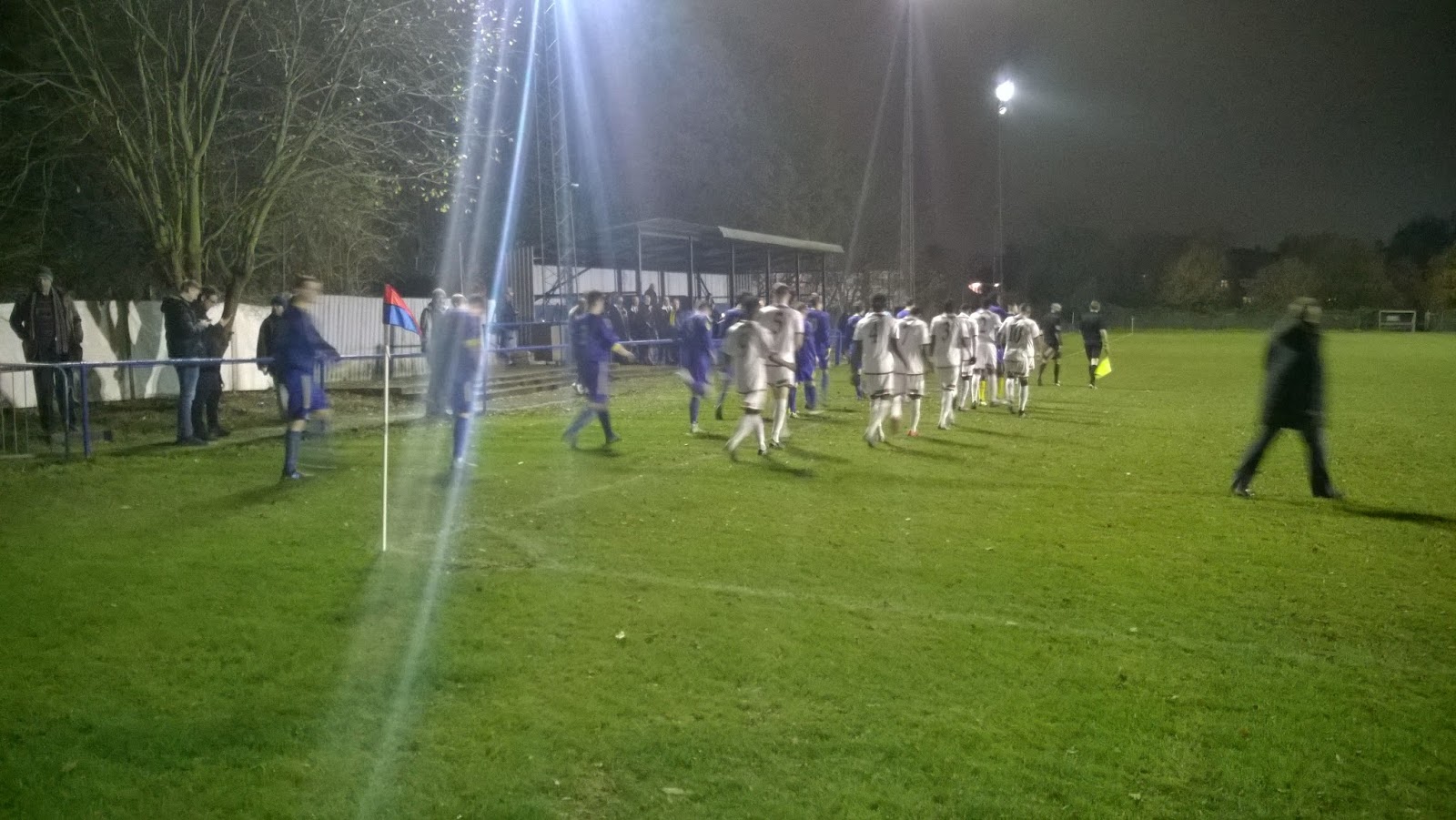 Tension builds!
With the teams coming out, it was time to work out who was who and who wasn't who they were. Understand? No, neither do I! Here's the line up anyway:
Owusu, Lema, Kinsaba, Cabo-Verde, Mallett, Ompreon, Danquah, Felloni. Dadley, Austin, McKend. Bench Warmers: Henry, Lucauskas, Okolo, Boyo, Jackson.


Or for once (and to be honest we probably won't see them again this season), we might need their full names…..


Justice "Lloyd" Owusu, Crossley Lema, Jeran-Luc Kinsaba, Palmiro Cabo-Verde, Tom Mallett, David Ompreon, Joshua Danquah, Max "Commits a" Felloni, Leon Dadey, Darnell Austin, Lamar McKend. Bench Warmers: Daniel Jackson, Kyle Henry, Andrius Lucauskas, Tochukwu Okolo, Michael Boyo,
Surprisingly the Raynes Park Vale lot looked about as young as our pre-pubescent players. Except the keeper, he was clearly the "about to go postal" PE teacher of the side. So with a bunch of children on the pitch, certain things were expected. I'm not too sure that they've been taught about positioning yet, but at least it didn't turn out to be a Benny Hill montage as twenty players chased after a ball like the old days in the playground.
Sutton did start the more lively, with a traditional long ball tactic that seemed to complement the pace that we appeared to have up front. We did almost take the lead when one of the fellas manged to get onto a long pass and rifle the ball into the net. Of course it wasn't given as a 'behind the play' linesman had raised his flag beforehand for an offisde. Or something.
The longer the half went on the more that Raynes Park got into the game. It wasn't long before they took the lead after the 'disappearing left back' trick worked a treat and gave Raynes Park time to set the ball up and slot the ball into the box for it to be poked home. With a heavy pitch it was hard for Sutton to play with the ball on the ground so our superior footwork was being outdone by superior graft.
There was still a couple of chances that the kids had which required a couple of good saves from the angry PE Teacher to keep them in front. One in particular had him leaping like a salmon to stop a shot that would probably have hit bar. There was a bit of danger at the other end the resulted in Raynes Park playing the old "hit the ball as hard as I can across the goal" several times in succession but without further damaging the scoreboard. Not that there was a scoreboard…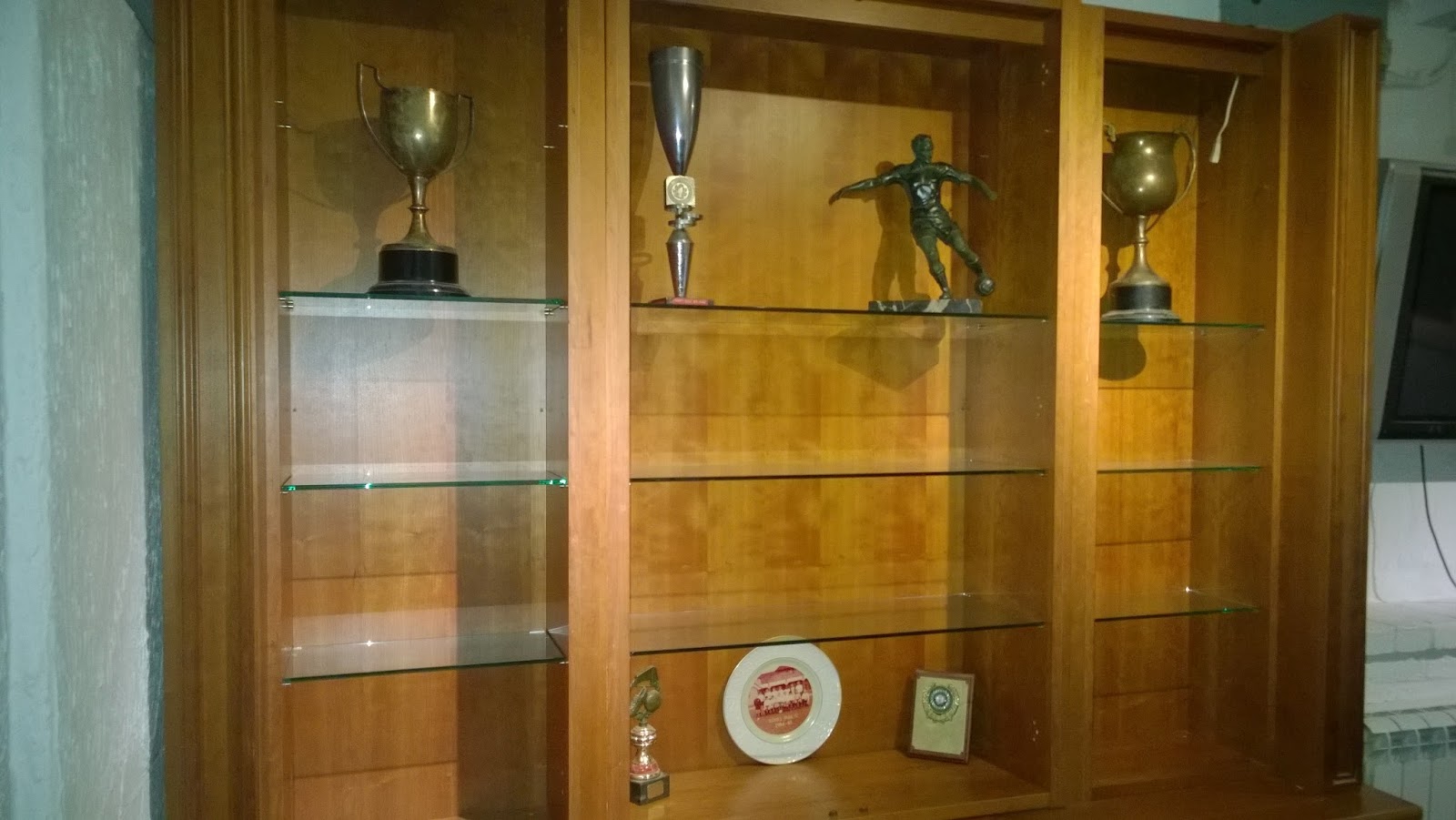 It's better than Carshalton's!
Half time and it was into Rax's kitchen the clubhouse that has seen most of a £50,000 Budweiser grant spent on it, to warm up. Funniest thing is look's like someone has put a bar in a bungalow. You have a couple of couches to rest your wreary bones on and the behind the bar look like half a kitchen. To the point that they have an oven in front of some B&Q tiling and next to it is one of those American-style big fridge freezers.
Surprisingly, there is also no tv to be found but instead a projection of a computer screen to see the other matches being played. And as the have no signal, we can't seem to find those either. £1 for a cup of tea was alright though and it isn't long before we amble out for hopefully a better second half from the kids. Plus some of the rumours about the ticket arrangements for Wimbledon AFC Wimbledon are very confusing.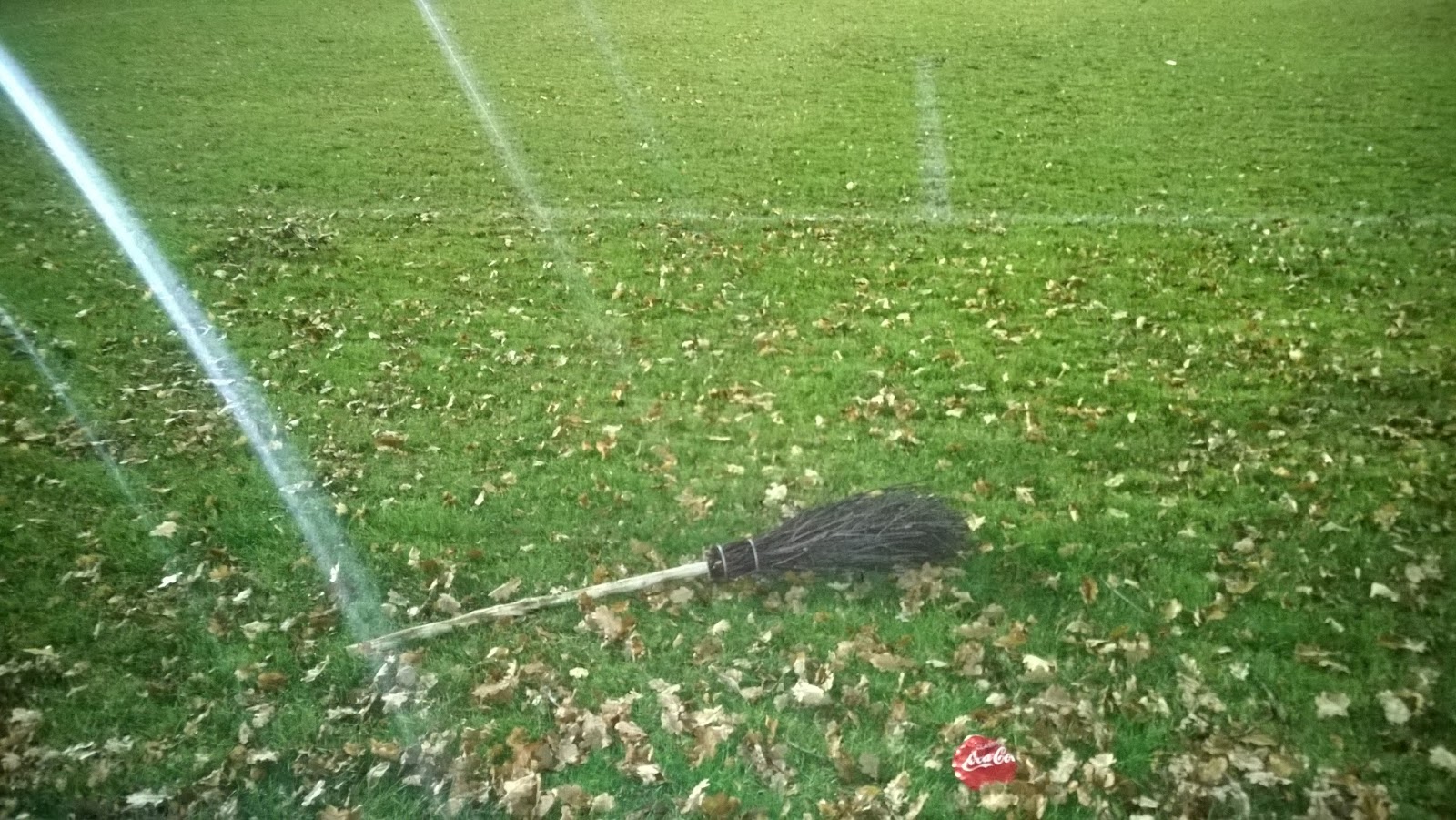 Even Harry Potter couldn't get a game….
As the far end of the ground was closed off, we resorted to taking a spot down the side of the pitch instead. Whatever the team talk was given at half time it worked, because within a couple of minutes Sutton had equalised. Take a bow Crossley "More goals than Dickson" Lema. Not bad for a full back, but he managed to wriggle himself into the box near the by line and still put the ball past the keeper. 1-1!


There was a bit of Sutton pressure after this but with the quality available, the end product was as you'd expect. Several times players were either calling for an impossible ball or getting into position and seeing Raynes Park intercept it. Owusu was called into action and made a proper save flinging himself to his upper left to keep the scores level.


Sutton really should've nicked the match near the death but again it was the final ball letting us down. At one point, this fella had ran onto a long ball, beat his man, and then took his run towards the keeper's near post. But instead of laying it off or hitting at goal hard and low. he rockets in a shot that eventually ends up going out for a throw-in.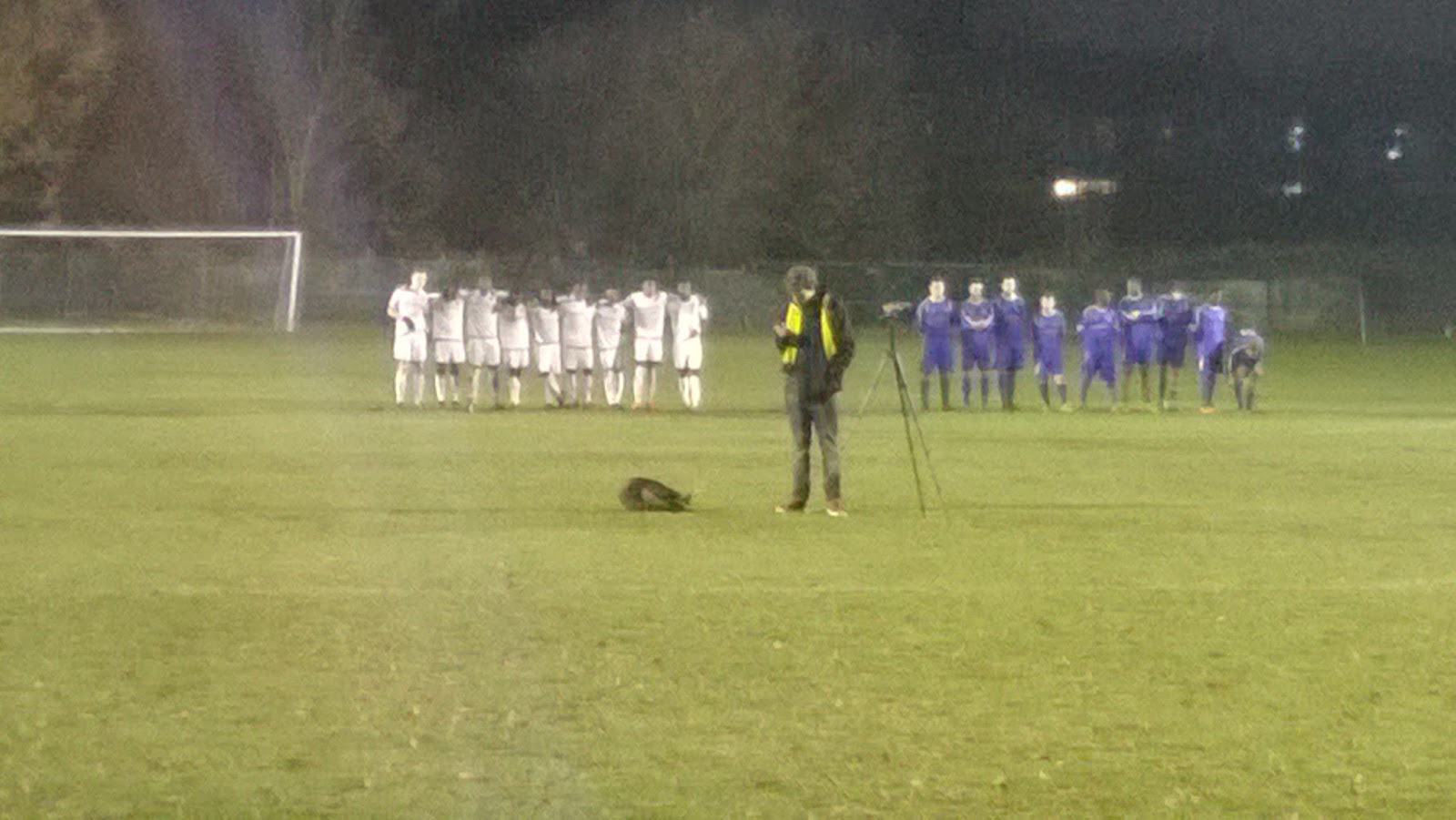 The drama of penalties
With no further goals and no extra time these days (bring back replays!) it was straight down to penalties to decide the contest. Walking up behind the goal, a couple really weird comments were overheard near me from people that clearly don't watch that much football. Pick of the bunch being: "Why are there penalties? Is it a Final or something?".
Both teams had their opening penalties saved and then we saw seven in succession that were all nicely side footed into the onion bag. So with the score 4-3, it was down to Sutton to keep the tie alive, unfortunately the lad skied the ball so far over the bar that either he usually plays a different type of sport or it was just a terrible contact. This is one answer to a question d like to ask and that is: What is the point of the linesman at penalties? That is because I thought it was to stop the keeper coming off his line and confirming the goal. Well several times both keepers came off their lines way before the ball was touched, but the linesman didn't do anything. Pointless.
Can't be too hard on the kids. To play a senior level game with an unused team is a hard thing to do. There was some decent talent on show and hopefully a run in the Reserves Development team, if it were to ever happen, would help them improve indeed. And at least now that can all say that they've played for Sutton in a first team match.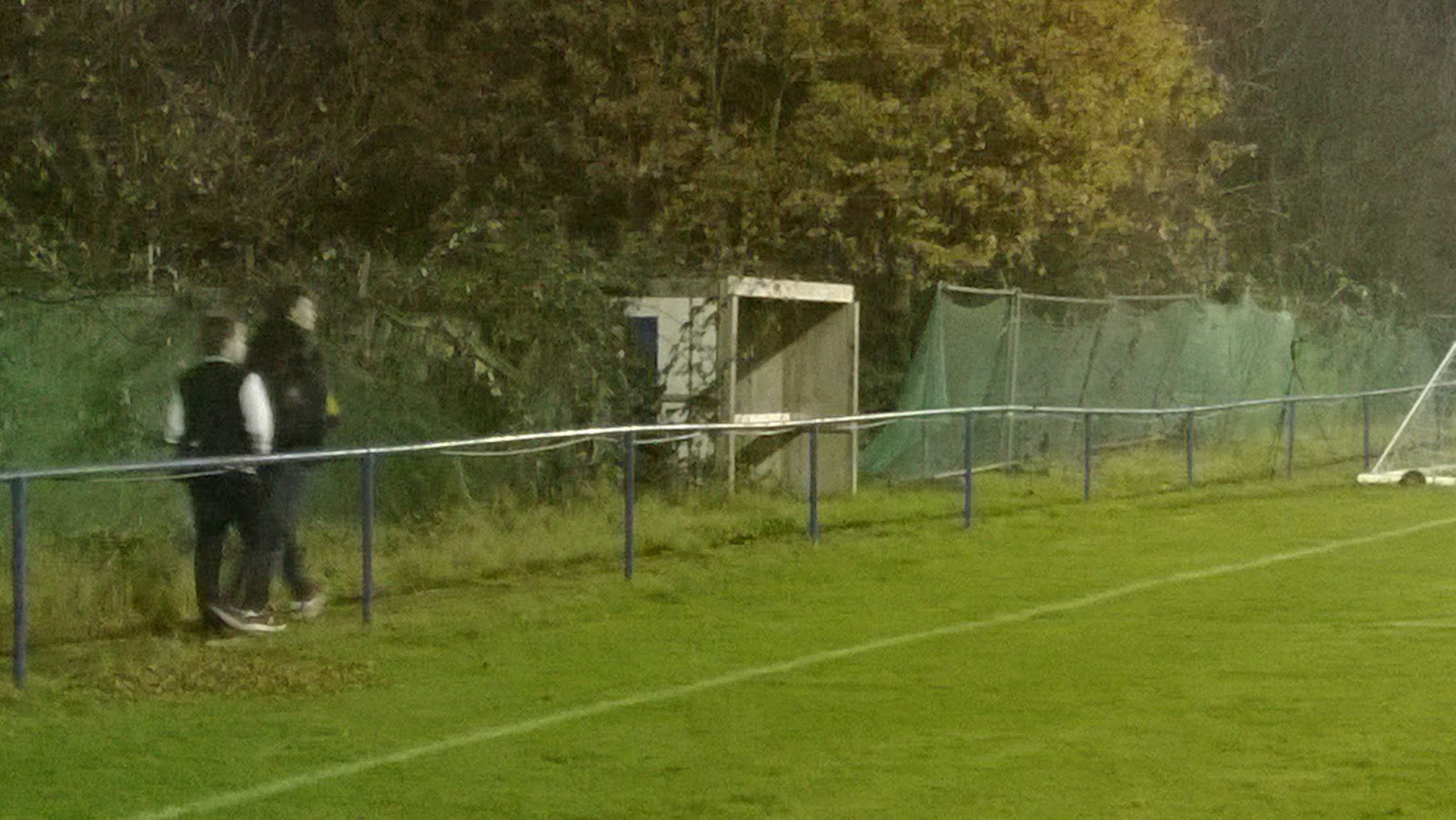 Welcome to the jungle
After the game, it was time to have a little cry to myself as I walked back towards the Dying Purple Meanie. On the way, some random fella tried to cheer me up be reminiscing about the great winning team of 82/83. Not only did rhey finish 5th in the league, they also managed to win the League Cup, the Surrey Senior Cup & The London Senior Cup. Cheers mate, why don't you rub it in! Oh well, at least it wasn't a pasting like Dover last Tuesday night.
So that's another year of the County Cup done and we're still one trophy behind the Hipsters at Dulwich. At this rate, we may never catch them. We'll be like Ultravox's 'Vienna' to Joe Dolce's 'Shaddup You Face'. Close but no cigar, ridiculed for eternity. Funniest thing is that no one else in Gandermonium gives a fuck, but like a special needs proper Brit, I'll keep believing that one day it might change.
Oh well, shit happens. That's the wonder of football I guess. Take the rough with the smooth I suppose or any other stupid sayings you care to mention. We've got Bath at home in the FA Trophy this coming Saturday and yours truly is in the hotseat once more for that one. I might be more positive by then, or then again I might not be. But I can guarantee you, I'll be at least more pissed! Until then, keep you dicks chins up.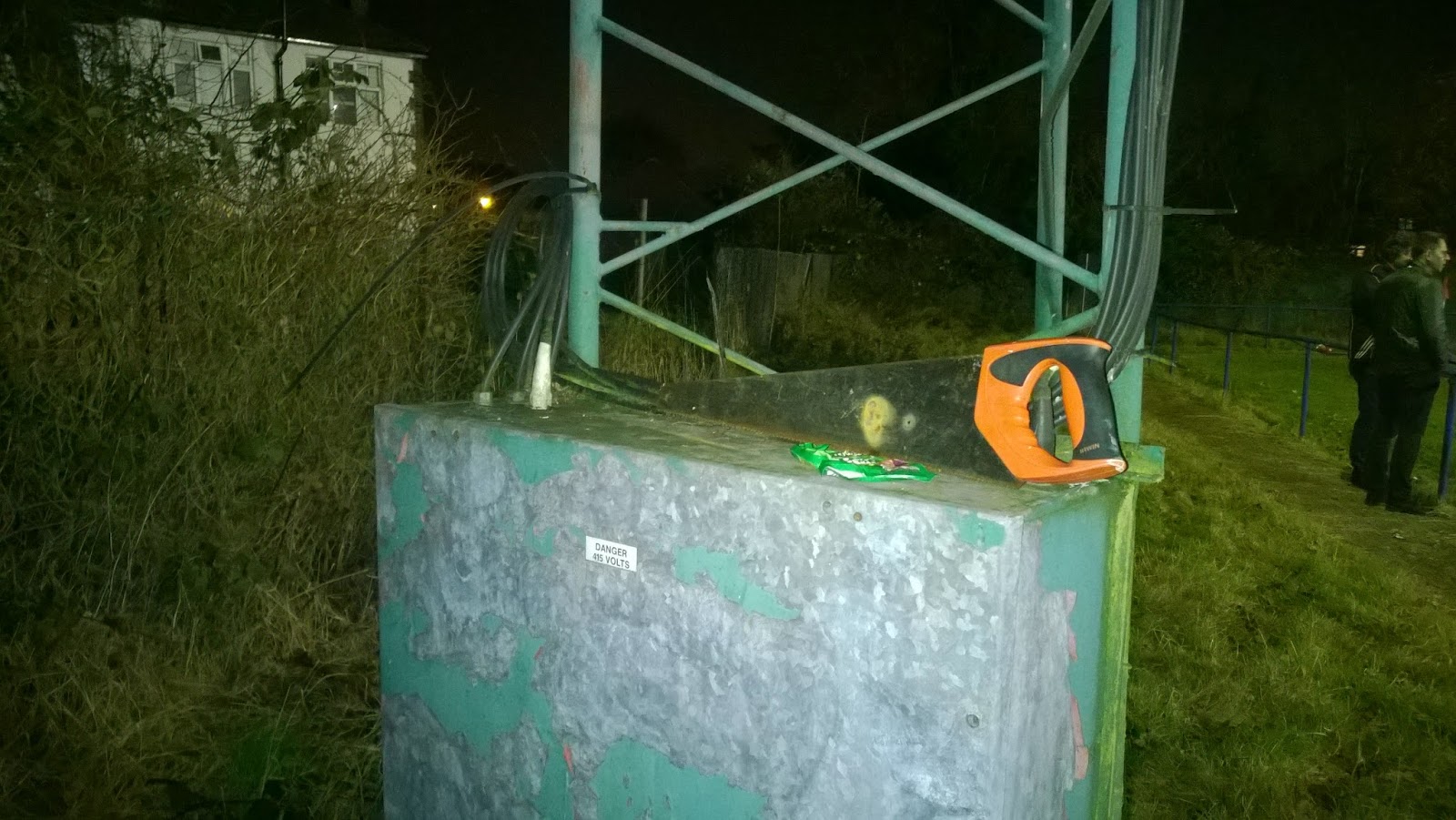 A see saw?
Duke
Att. 75
A link to a memory from eight years ago, click here