So who would've thought that we would still be in two cup competitions after Christmas and neither of them being my beloved Surrey Senior Cup. Normally, if we have a run in one of the FA tournaments, the other seems to take a backward step and we're usually dumped out in the qualifying rounds. But we're a proper Conference club now, so it's only one bloody match to make both of the first rounds.
Let's not deny the fact that I'm still a little suicidal disappointed by our SSC exit, especially since the draw had thrown up the possibility of an away tie against Badshot Lea. Oh the magic! Even Taz was upset about missing out on a new ground there! But after a few years, you can sort of get used to it and soldier on for another year. But a new day brings a new match and a new competition.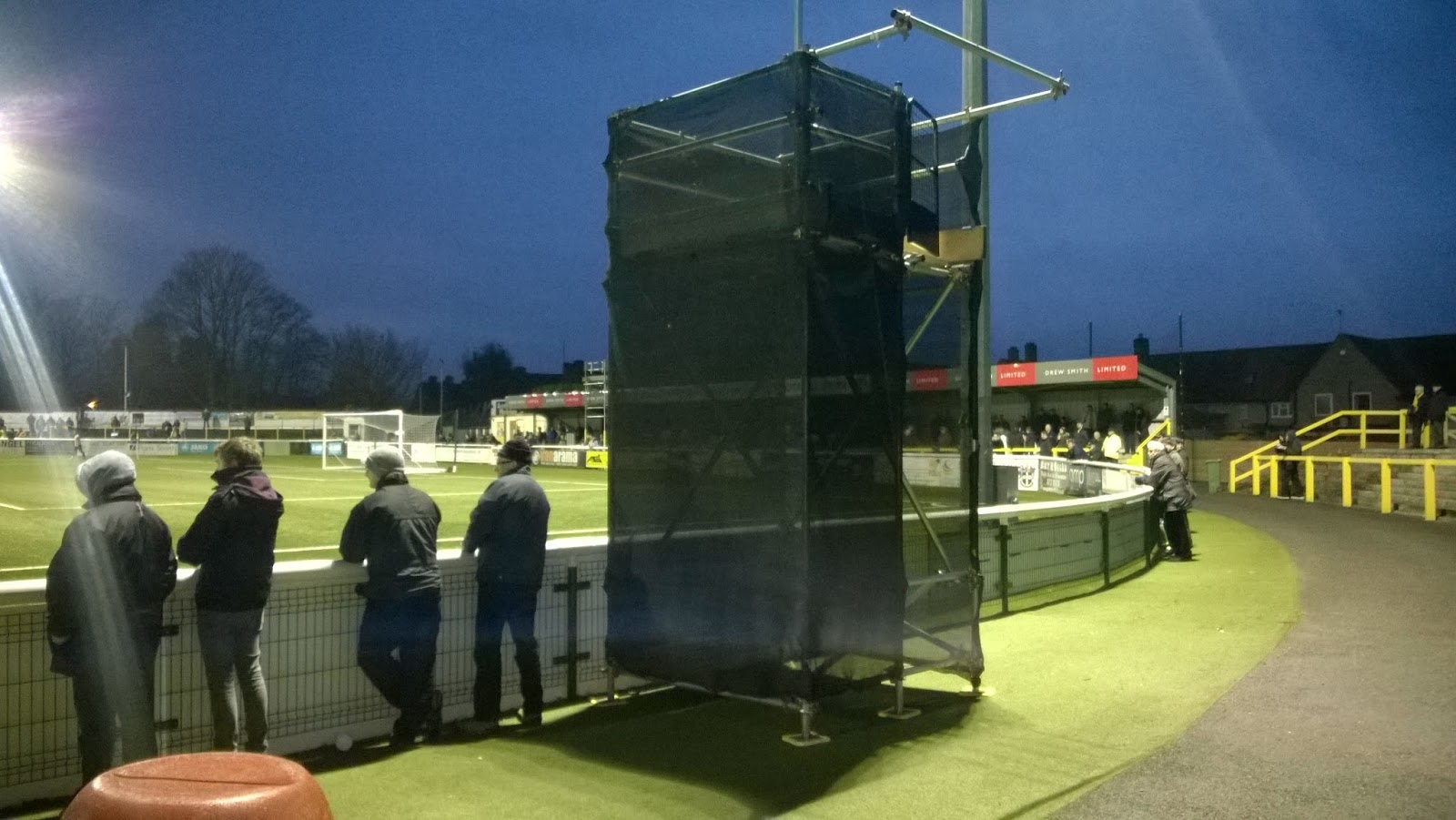 That's still in the way…
Saturday's opposition in the First Round of the Amateur Cup FA Trophy were the boys from Twerton Park. In some sense, thank fuck it's at home and not at bleedin' Bath, a lot cheaper! But a shame that we possibly won't get an opportunity to sample their fine 'Pepper Burger'. Still, A cold Tuesday night in December at Bath is not exactly ideal. You miss out on all the boozers for starters…
It was pretty much the usual story of a home match Saturday morning. Up early, punch the bag a few times and then she gets up and makes me a cup of tea. Only Joking! Shit, Shower & A Shave and it was out the door towards the station. With Southern on strike as usual, It was lucky that Thameslink managed to not mess us around for a change as the one o'clock train was only a couple of minutes late.
Arriving at the ground and as there is no football on the box, we are forced to watch extreme pissing fishing. It's not really a sport and it's no way a televised spectacle. Joined by the usual boats of Taz, Steve "the Southampton Stud" & Marky Mark. A conversation was soon started up over the port-a-loos that are now by Rose's. But wait, apparently they're not supposed to be called port-a-loos but instead "Permanent Modular Facilities". Seriously, WTF? A Shitter is a bog is a khazi isn't it?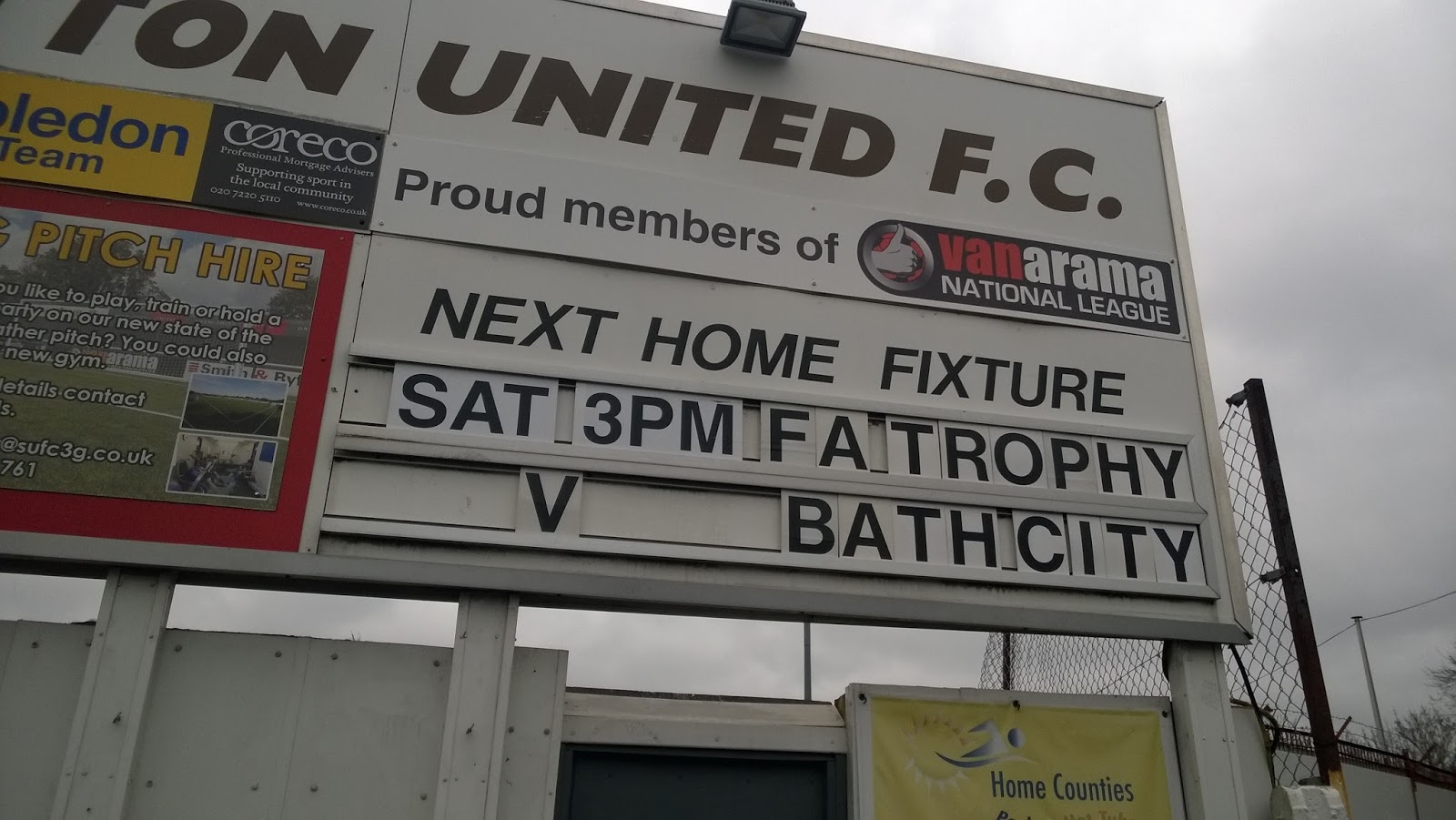 Party like it's 2015…
Worner, Amankwaah, Spence, Downer, Eastmond, Collins, Deacon, Hudson-Odoi, Biamou, Bailey, Tubbs. Bench Warmers: Jefford, McAllister, May, Dundas, Shaw.


Setting up in the classic 4-4-2 formation, it seemed from the start that Sutton were going to prove too strong for Bath. Within the first few minutes, we could've been in front and clear. This chance fell to Biamou on the left hand side of the box. Striking the ball towards the near hand post, it produced a good save from the travelling keeper.
Shortly after, Spence went down with a hamstring issue. After receiving some treatment from Dr Bob, he manage to carry on for about 90 seconds more before going down once again. It's a shame for the fella with his injury problems. He had to be replaced with Young Jefford and with only seven minutes on the clock Deacon had a couple of pop shots that didn't work out.
For a lot of the first half, the game seemed to die out somewhat. Both keepers were rarely threatened and there wasn't much to really remember from the game. Sutton did have more of the possession but failed to produce that killer ball. Just before some of us begun to make our way round to the bar, Mr X felt the call of nature upon him. "Goal coming up" was all he said before shifting off in the direction of the Rec End bogs.
With a free kick situated near Our Lord Dos and the bench, Jefford readied himself to take it. Being a left footer, he swung the ball into the box. Watching it take one bounce, everyone failed to make contact with it and even the keeper failed to get anywhere and the ball bounced into the goal unaided. 1-0! We noted that Mr X couldn't claim the assist as he was still gassing by the corner flag and hadn't even reached the bog yet. There was a chance for Bath to grab a late equaliser and we had to watch as the shot went past Worner and narrowly wide of the far post.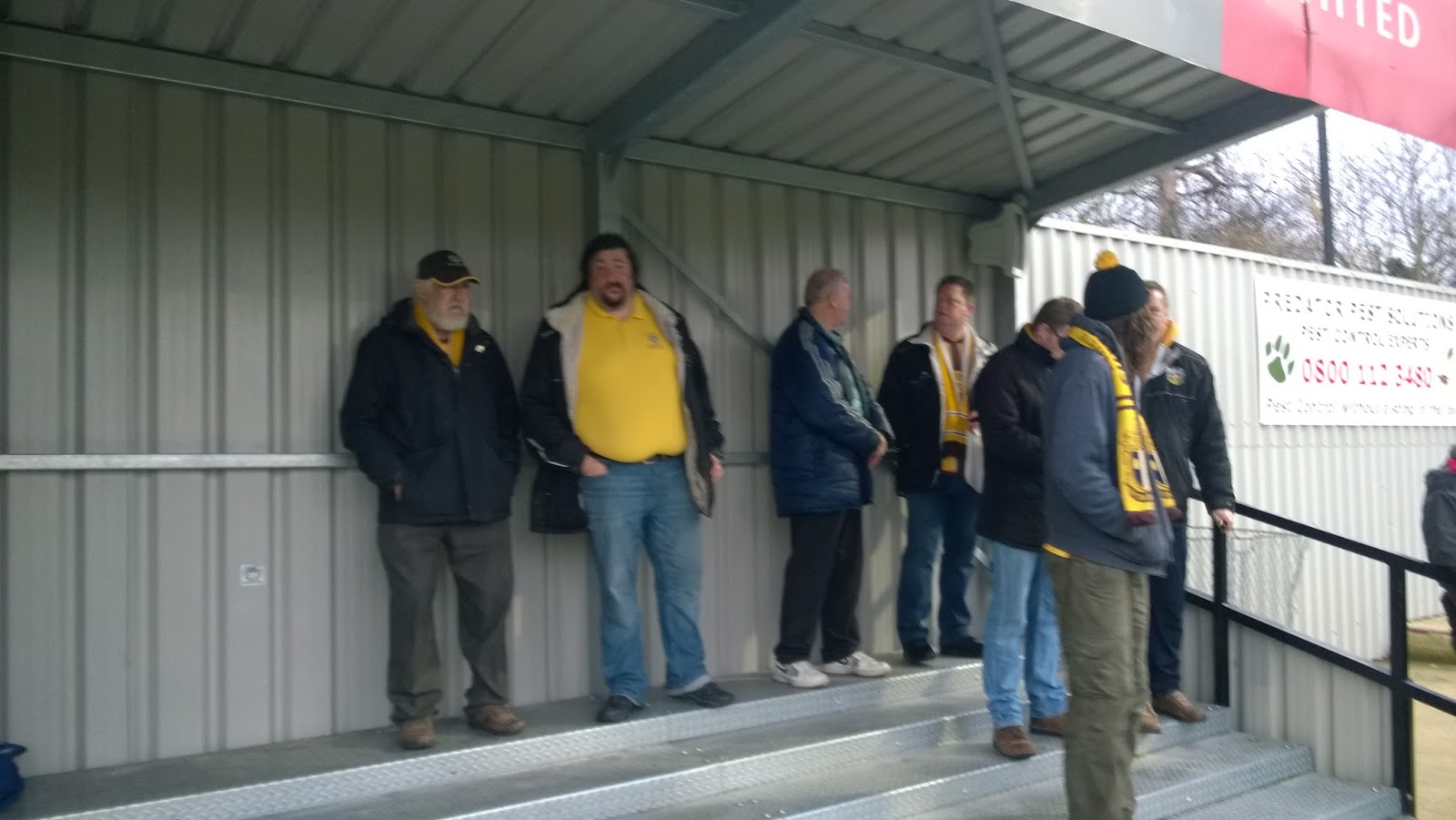 Bit quieter than last week…


Second half, and we take our spots on the infamous Shoebox. Bath had the first chance of the half and even managed to get the ball into the back of the net but it was given offside. The half was again a very much a muted affair, with both teams again failing to really test each keeper with any real golden opportunities.
I think last season, Bath were one of those teams near the bottom of ye olde disciplinary table (compared to our table topping performance). That didn't seem to be the case today as they picked up four yellows. Most seemed to be for offenses aimed at one of our own yellow card masters Mr Downer, who was on the receiving end of a few heavy challenges.
There were a couple of subs with May & McAllister coming on for Hudson-Odoi & Biamou. Sutton did have two good chances to kill the game. Both of them fell to left back Jefford. The first was a shot that took a wicked deflection that nearly caught the keeper out, but he managed to scramble it away. The second chance saw the ball go agonisingly across the goal without a final tap in.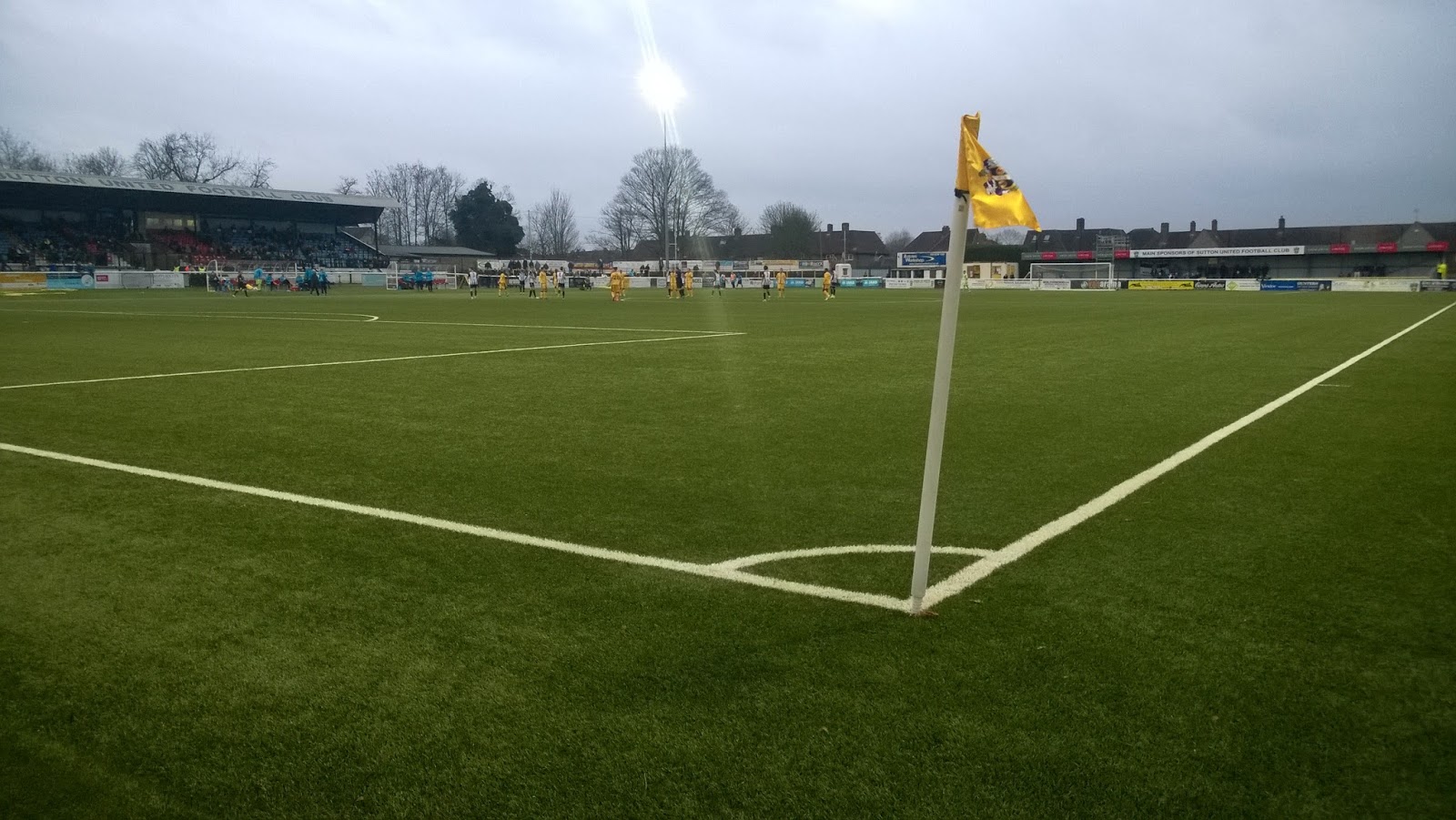 Mr X's piss stop view
After the game and the usual net lifting duties taken care of, we head into the bar to see some of the other results come through. Well, there was a few shocks and several Conference clubs have already been knocked out. Several beers in, and Mr X had to leave us for the big top secret hush hush Wimbledon meeting in the VPs, The only hoodie in a room full of suits it seems.
As Pete the Perv/Pistol Pete had recently joined the ranks of the top secret invitation only Gandermonium Whatsapp group, he felt he needed to show his appreciation by subsequently throwing a whole pint to the floor in celebration. I can think of better ways to show you excitement but this was his, each to their own I s'pose. At least it wasn't his pint, but one intended for Mr X!
With most people deciding to call it a night, this left just the three amigos to terrorise Sutton. First stop was for a spot of the Colonel's finger lickin'. And then as we tried to make our way to O'Neill's, but we got side tracked into going to the Moon for a pit stop. Jesus, there are some characters in that place!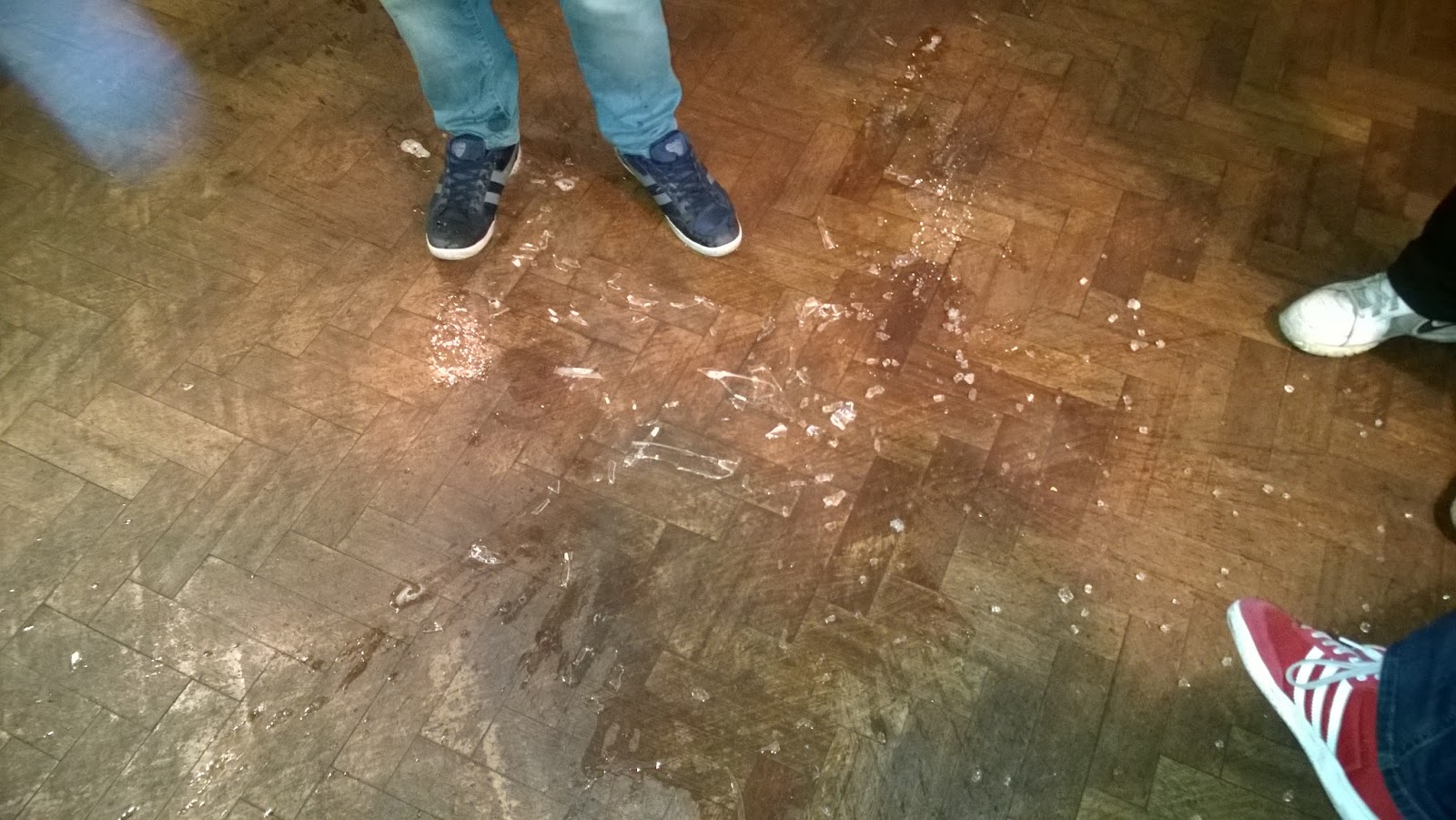 Clumsy
After a few beers, we tried to head to O'Neill's for a second time and whilst we got a lot closer this time, we once again got sidetracked. This time it was Scruffy's Shinner's luring us in with it's lights and beers and other beers. Here we were met by Mr & Mrs Firm Leader. We never did make it to O'Neills after this and instead called it a night after few too many in Shinners. Then it was a sherbet back into the badlands of Carshalton for yours truly.
So after the excitement of the cups, we move back into some league football for the Christmas period. Surprisingly, there are only three games between now and Third Round day. Gone are the Ryman era of what seemed liked nearly a match every couple of days around the festive period. Wrexham at home first, and a chance to not only repay them for that 1-0 defeat earlier in the season, but also for that 5-0 drubbing in the FA Trophy a few years back. So let's hope we get some well deserved justice!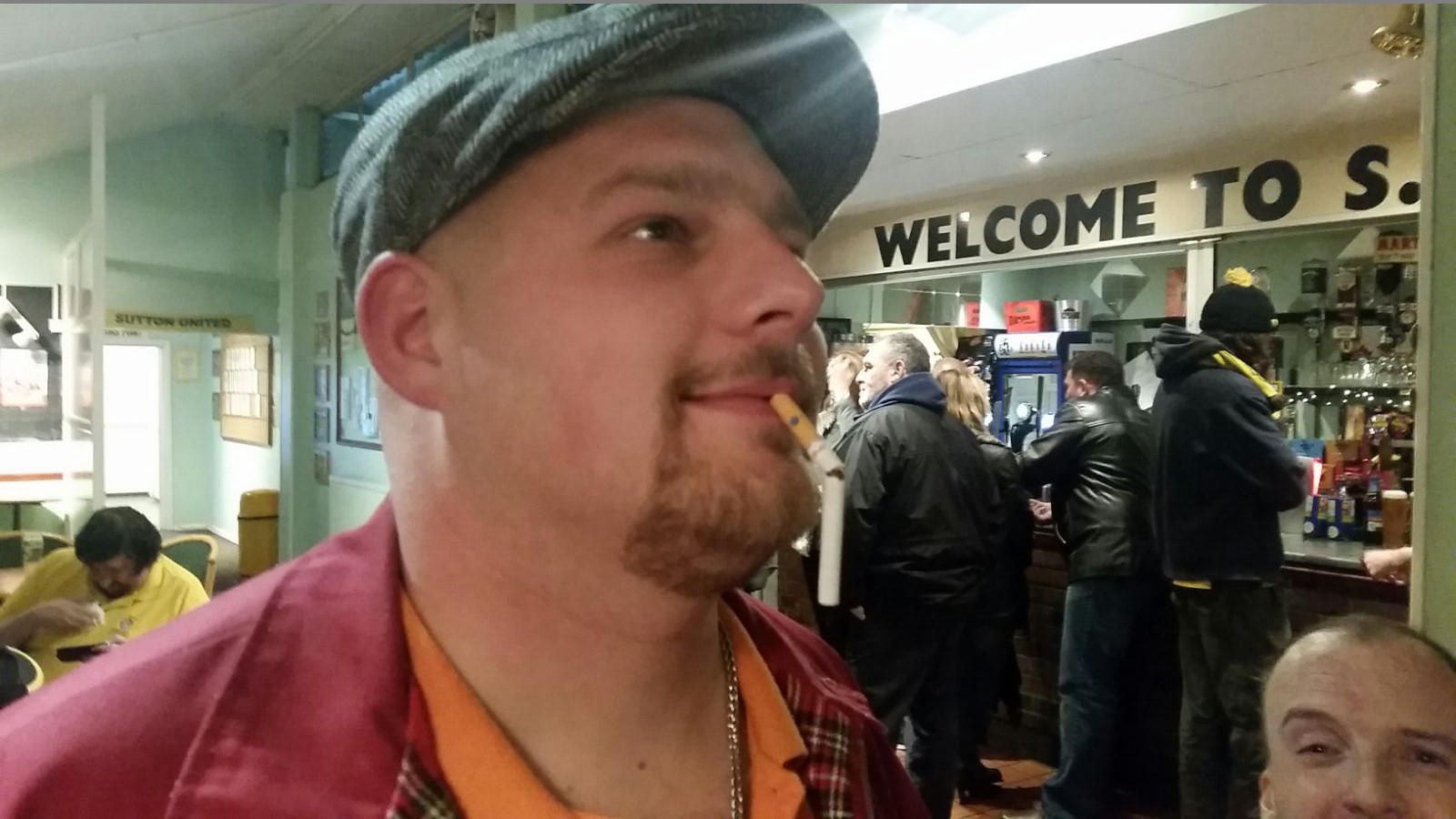 The Duke's cigarette is like his SSC dreams, broken!
Duke
Att. 524