It's hard to believe that this time one whole year ago I was at pretty much my lowest point in my life, and I mean seriously low. A bout of taking amitriptyline for migraines brought about a serious side effect of anxiety and depression – I am not afraid to admit it.
During the year of 2016 I have fought long and hard to overcome this illness, and though I have had a few relapses I feel a lot better than what I did and it goes without saying that I must list a few thank you's to the contrary. Thank you to my fellow Gandermonium blog contributors (Dukey, Taz and Totts) for allowing me to be a part of this thing – it was only my original intention to write a guest one but now I find I enjoy writing and it brings back all my English A-level writing; plus to Taz, great driving to Newcastle. Not that he'll want reminding about that weekend!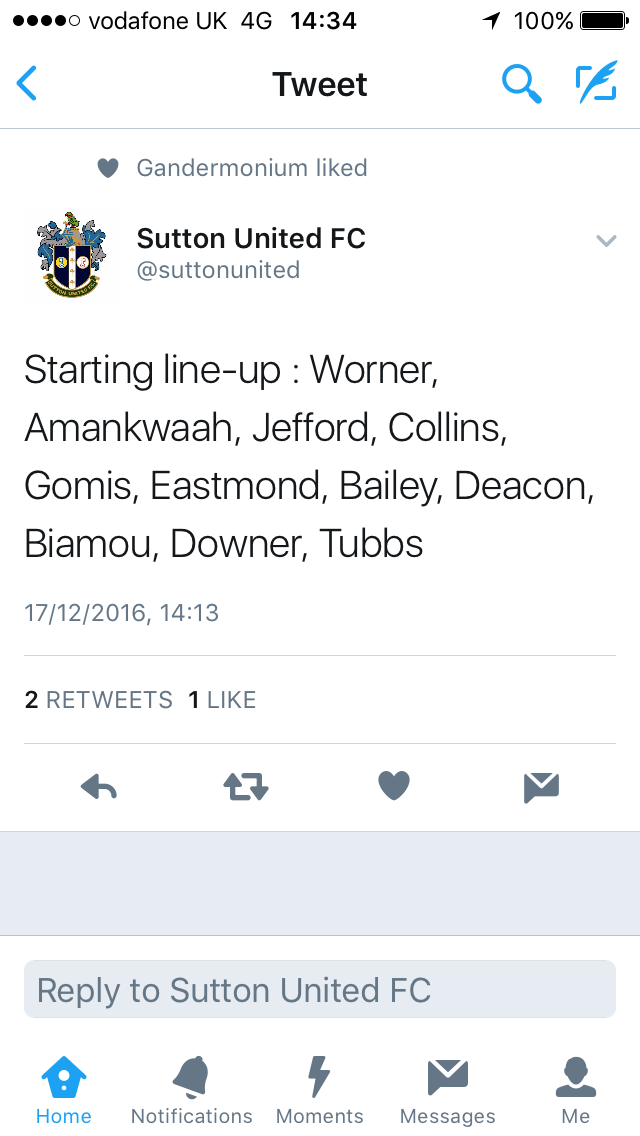 Oi! Stop cheating Robbo!
To my half time drinking buddy Steve, little did I know a year ago when you and I sat at opposite tables that we would become good half time drinking mates and thank you for helping me to miss many a goal or two whilst keeping our respective tables free for half time! Thank you to Mr Adrian Barry, you sir are one in a million and you deserve a mention for all the hard work you plough into this great football club and for all the kind words and chats you and I have shared. I would like to thank The Beckwith family along with Chip and Christina; it was the last remaining table after one game back towards the end of last season which got us talking and I have not looked back since especially you Mark who I will gladly share a beer or three with. You got my number chap; I also feel an extended part of your family now.

I would like to thank the club for turning round how I view football. I view this club as one that cares about its community and it's fans, and for making me feel part of something as a shareholder, season ticket holder, fan and not just a number in the database. Thank you to Mr Julian Rozario who I battled against in the auction for the season ticket, you sir have also become a great friend. Thank you Mr Paul Loughlin for sharing train journeys to and from work and also for the permission to use a photo or two. My final thank you and the biggest one of all of course goes to Natalie – thank you for being there throughout 2016 and for helping me through a very difficult year and for being such a great friend.
Right, that's the list of thank you's dished out. Honest. Crikey that felt like an award acceptance speech!

It would not come as any surprise but ticket sales for the FA Cup tie against Wimbledon have been going well. Yours truly popped down to the club on the opening sale night, Wednesday and I could not believe my eyes at the massive queue which had gathered. This of course is great news for the club in that sales will be great and will get more numbers onto the terraces and hopefully will generate interest for any new supporters. Ok yes, one queued for an hour to get one's tickets and subsequently pay for them but I think a huge credit must go to all the volunteers on said night and how well they coped with the sheer numbers of punters.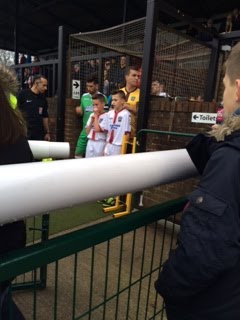 In the tunnel.

Coming to the actual match day blog now, it came to my attention that I was responsible for this blog against Wrexham as I'd asked to do it the week before after the Bath FA Trophy game…..sadly, I 'd completely forgotten, sorry chaps! I arrive to the bar not feeling 100 per cent as I am the last in my immediate family to pick up this dreaded cold bug that seems to be doing the rounds. For some strange reason all seems eerily quiet in the bar like we've had the cup bug, shaken it off and now all seems quiet from here forth. I see the league as the bread and butter, so today we're taking a slice and laying on the Clover nice and thick.

As the kick off time approaches I decide to head out and I find Beckwith, Mark walking up. Not too far behind him follows Beckwith, Kerry in car. I take a prime spot right by the entrance from the tunnel whilst screen-shotting the team line-up – team is as follows…

1. Worner, 2. Amankwaah, 3. Jefford, 27. Downer, 6. JC (skipper), 15. Eastmond, 8. Bedsi, 16. Bailey, 21. Deacon, 24. Biamou and 28. Tubbsy
The prime spot I take up before the off certainly helps me to get a good shot of JC in skipper mode preparing to lead the team out.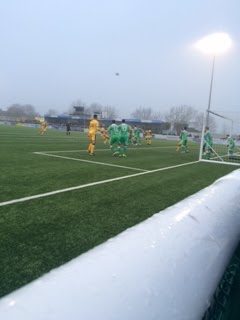 Get it in the mixer!

Now, I am becoming well known around these parts for missing Sutton goals and yep, you guessed it, today is no far from exception. As I walk over to speak with the Beckwith family I miss the opening goal of the game after just four minutes. I load up Flash Scores and it still has not even registered the goal and its scorer. I eventually find out that it was an OG. Still a goal is a goal!
Chatting done and once a period of the first half has passed, I decide to take my more regular vantage point behind the goal stood in front to the side of the Gandermonium rabble.

But the half peters out to a game of just toying around in midfield with few real chances and what is becoming more interesting is the ever increasing fog that is moving in over GGL. Let's hope the players can see each other, although with our bright yellow shirts and their bright green shirts I do not think it will be too hard.

I walk myself back over to the Beckwith's and the next action on the pitch sees a bit of a strange barney between Bedsi and Bailey – mind you it was not quite on the level of say Kieron Dyer vs Lee Bowyer or David Batty vs Graeme Le Saux. Maybe it was the fog making it hard to see? The end of the half sees one last chance for Sutton as Deacon fires in a 25-yard shot that's saved by the keeper.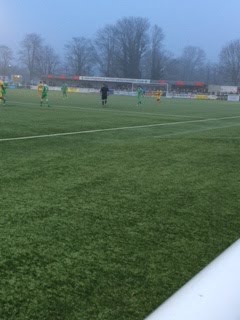 Getting murky out…

Now half time I am normally in the bar by now with Steve but as I am on blog duty (and I've missed another goal!) I decide to stay outside in case anything interesting happens. Natalie has still yet to arrive and I text her to let me know when she gets here.

As the second half kicks off the fog that was creeping over GGL appears to have lifted a bit, so any chance of an abandonment has passed. In a half again of very little clear cut chances, it is Wrexham who have the better state of play and if it was not for their off passing and crossing we could have been severely punished. With 25 minutes left to play Natalie shows and she like me is not feeling well and tomorrow she is due to set off for New York. I am really starting to feel the cold now as the game approaches with ten minutes to go and I tell her I am going inside and I really do need a sit down.
So as I take a seat in the bar I keep an eye on Twitter for the last few moments and see that there are eight minutes of stoppage time to be played. Again, no clear cut chances are seen by either side and the game peters out to a 1-0 win for Sutton and another vital three points. For those statisticians on substitutions Dundo came on for Bedsi on 56 minutes, Macca on for Tubbs on 77 minutes and Fitchett on for Biamou on the 90th minute.

Afterwards, it's a return for Mr Barry for not one but two Strikers Are Keys draws; the first being for the much forgotten Dover game (I wonder what genius had to write a blog for that fiasco!) and the number 14 is drawn out. Now I was trying to remember the name of one of the chaps I spoke with on Wednesday when buying my Wimbledon ticket and my questioning was over as Norman picked out the key for the safe. After a few moments of trying to open the safe AB shouts "come on Norman it's the right key" and lo and behold it is, congratulations sir! A nice bit of money for Christmas at just over a thousand quid. The second draw is made and it's…..Gareth's number, blimey he always seems to get drawn out. To draw out the tension, someone then has to go and get Gareth as he is busy selling cup tickets in the VP's and he comes in to disappointingly find out the main contents of the safe have already been won and the best he can do is bag £200. Still Gareth picks a key and sadly for him the safe does not open. Unlucky mate!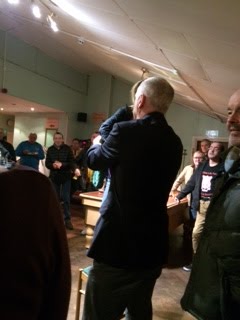 Capturing the drama…

I don't stay for much longer (Natalie has already gone to rest up before her big trip) as I am starting to feel worse – more so than earlier today, not even brandy is helping me now. So now I must be the new record holder for being the earliest Gandermonium member to ever call a cab home from the club with Melville Cars. Thank you to Dukey for waiting with me outside for said cab as we discuss Bromley away on Boxing Day. I was telling said cab driver about how brilliant things are down at GGL and that he should one day pop by for a game and he will not look back – in return he was telling me some hot betting tips, but I am not going to share. Haha!!!
Before I hand you over to someone or other for the Bromley away game; I would like to take this opportunity to wish all Sutton fans and loyal readers of Gandermonium a very Happy Christmas and best wishes for the New Year.
Wise men say…
Robbo