Right, formalities first. Merry Christmas and all other greetings of the season to our readers out there. We hope you were all properly stuffed over the festive period and got nicely pissed watching the umpteenth re-run of Morcambe & Wise no the gogglebox. Also, spare a thought for those less fortunate than yourselves at this time of year. Such as those in the occupied territories over the border in Carshalton.
Now we're done with all that goodwill to all men bollocks, let's get down to business. Having spent the previous day bleeding Turkey from my eyeballs and gin from my ears, the last thing I needed was an earlyish start to go spend an afternoon freezing ones cods off at some festive football. Sadly for me, my lie in plans were disrupted by the fact that Conf HQ had deemed it necessary to give us an away game on Boxing Day. The day otherwise known as "There's no fucking trains day". But then again, given the recent bullshit from Southern, most of us are used to that anyway.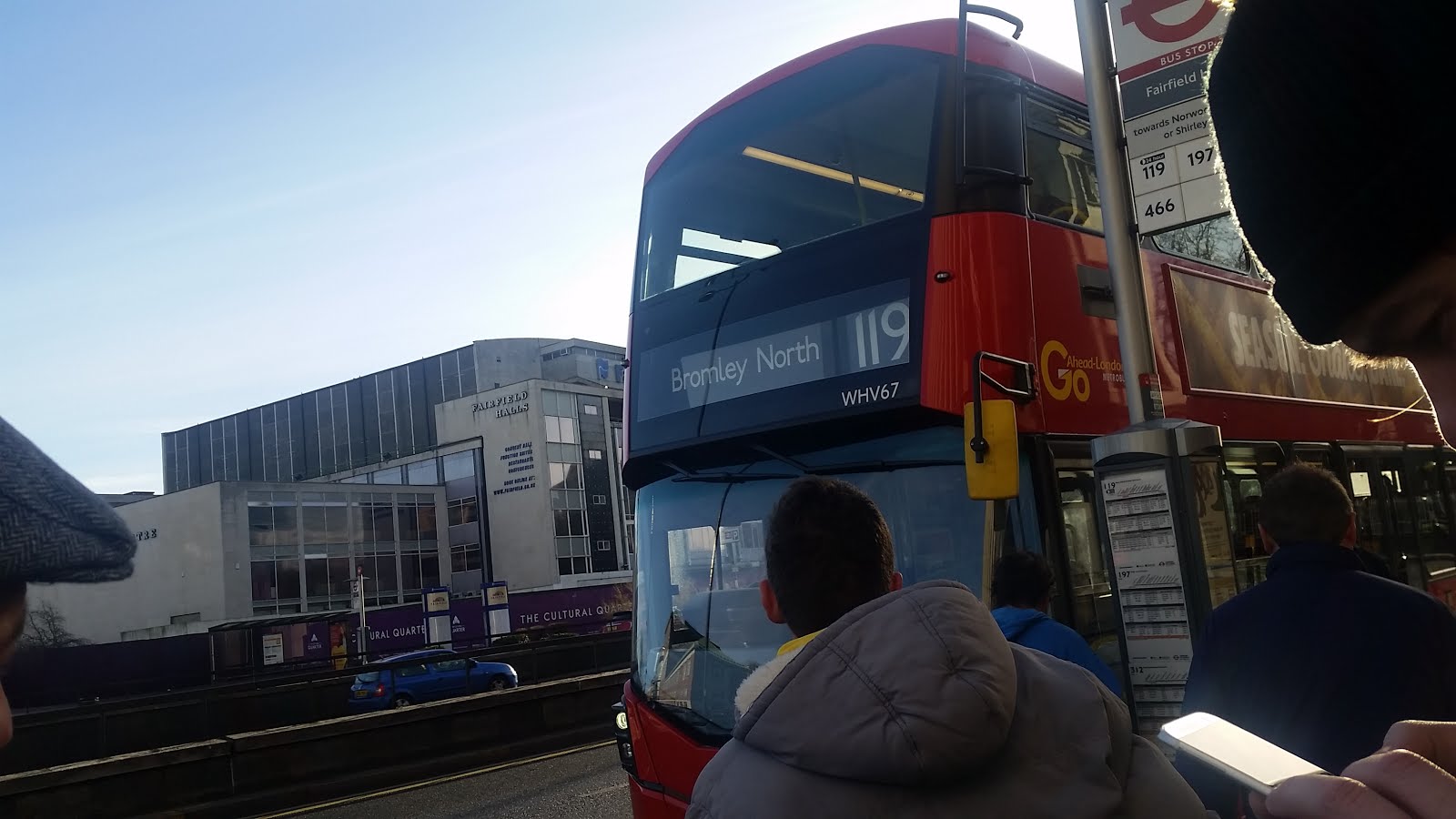 Bus wankers!

At least however, the choice of opponent is a sensible one with us only having to make the relatively short hop to Hayes Lane in Bromley. Still, without trains, that would still be a bit of a twat to get to. Through the food & gin coma haze, plans are formed and it's decided to bus it into Croydon, meet in the Spoons in George Street for a livener and breakfast for those who desire it and then either continue being bus wankers or if the prices are agreeable, a fleet of Ubers to Bromley North for more refreshments.
Despite taking it relatively easy on Jesus birthday, I'm still up a bit later than I'd like, making my start a bit rushed. So breakfast is a pork pie washed down with some squash and I dart out too late to intercept a 410. As I'm checking my next options, Mr X triumphantly Whatsapps that he's just jumped straight on an X26 in Sutton. Sadly, this service moves too quickly for me to make it to the Green in time and I have to watch it sail past me on Croydon Road as a somewhat smug Mr X looks on. No wave, no rude hand gestures. Just a little 'Unlucky Taz old son' nod of the head. Bastard.
Fortunately I'm on a bus a couple of minutes later and thanks to the quiet roads off in Croydon not long after. I wander up the High Street through the growing Sales shopping crowds and on the way to McDonalds for a healthy double sausage muffin, noting the number of outlets that have people literally queueing outside. One being 'Foot Locker'. And to think people say we're sad for following a Non-League football team.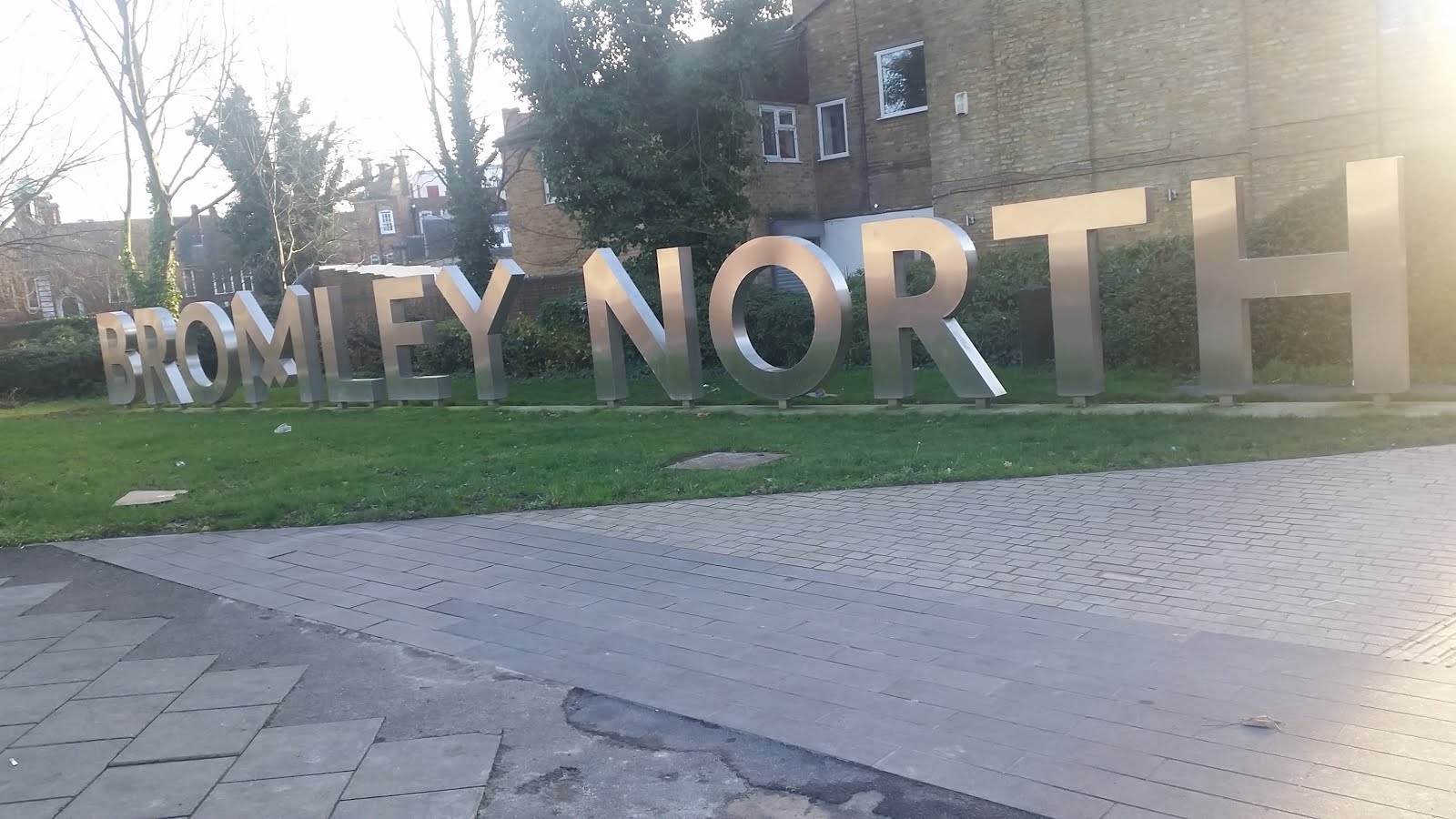 "So, where are we again?"

Face filled, I stroll into Spoons and find Robbo, Dukey, Mr X and Belly already in situ. 4 Days and Lil' Chris aren't far behind and then finally Chalmers, delayed by a small disaster involving his boiler this morning. Breakfasts are ordered, a couple of pints are downed and then we decide to man up and take the bus into Bromley. Mainly as it goes straight to Bromley North station where there are 4-5 decent little boozers. Eventually we stumble round the corner and marvel at the ruins of the old Blue Orchid nightclub where one or two of the party had mis-spent their youth. Wait a second, where the hell is Chalmers?
Just as the question is asked aloud, my phone goes. It's PC. "Where the fuck are you??" Seems he'd lagged behind as he'd gone for a pre-departure piss and turned right at the end of the road instead of left. Having explained his error to him, I hang up with the warning "Get a move on son, bus is in 4 minutes!". He makes it to us a few moments before our transport arrives and with the beep of several Oyster cards, we're on the slow, tedious and bumpy journey to Bromley. We're soon joined just outside Croydon by some of the notorious Yoof firm, who've seem to have been on the sherry. No doubt looted from an Aunt's drinks cabinet the previous evening.
As we near our destination, Mr X notices a certain establishment offering beauty treatments, one of which reveals that the Brazilian's don't only specialise in a particular style of personal grooming. "Did anyone get the number" enquires Dukey "Maybe they could do my other one?". Ah, in jokes. They're the best of all. As we disembark at Bromley North, we thank our driver with a cheery "Thanks mate!" and receive a "You're welcome" in a clearly female voice.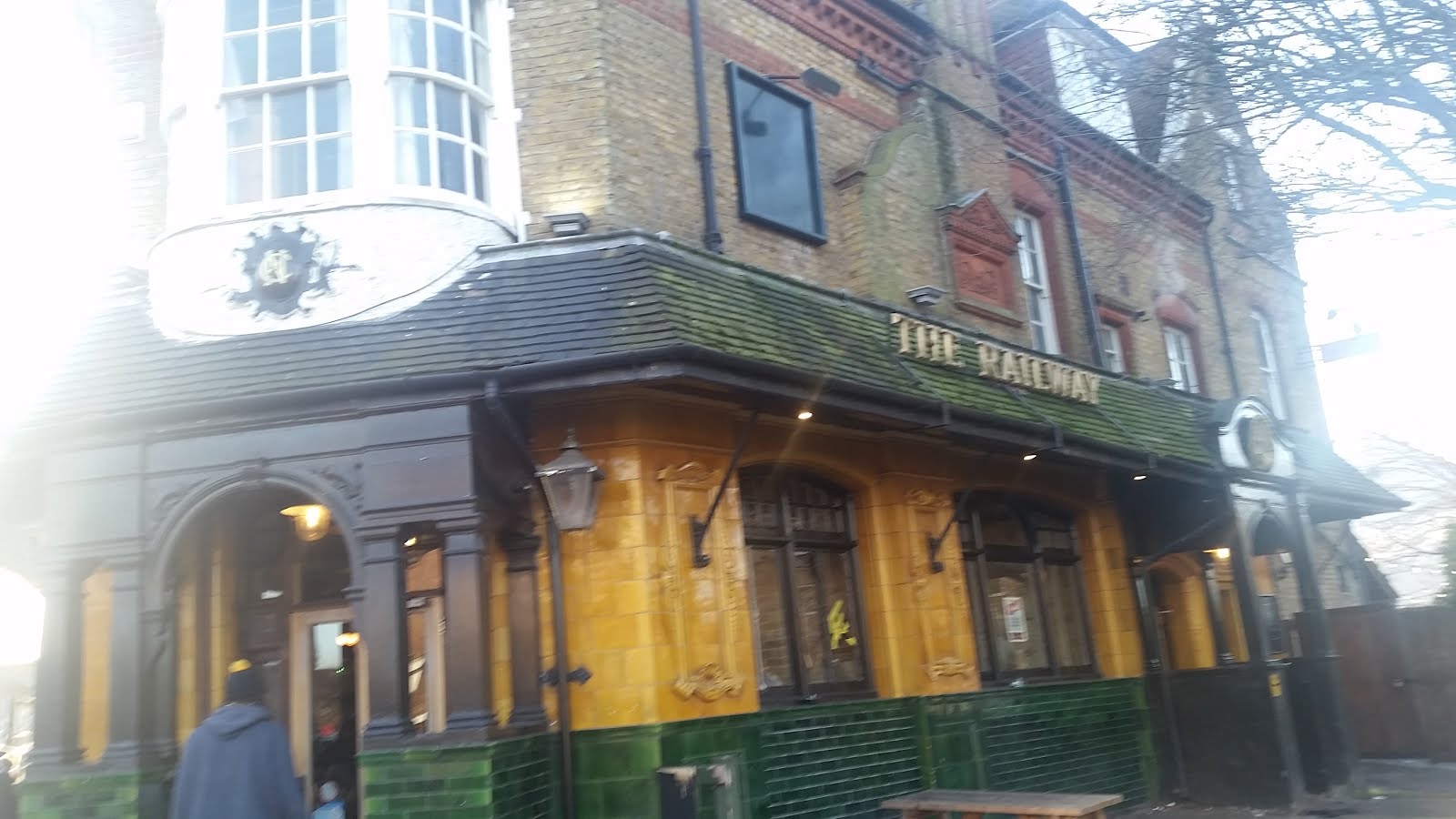 Us? In a pub? With our reputation?

Observant? Us?
First stop is the Red Lion, mainly as we know it'll be open before 12. And as it's a quiet back street boozer, there's no questions asked about the Yoof firm who've tagged along. We settle in for a couple of pints as the place slowly fills out for the midday kick off on the telly that sees local side Palace taking on Watford. We mainly amuse ourselves by trying to work out who the 7 American Goalkeepers are with Premier League appearances. With half time approaching in that with the locals 1 up and having missed a pen, we head over the road to the less classy White Horse. A quick short here and then it's off to the Anglesey Arms for a couple more pints. A bloke at the bar gets chatting and reveals someone who'd done some work for him was a Sutton player, but he can't remember his name. In the end, it bugs him to such an extent that he rings the fella's gaffer to find out his name!

Turns out it was some youth or ressie lad The Yoofs leave us here to head back to the ground and after our refreshments are done we move onto our last stop, the Railway. On the way, remembering the issues we had getting transport the last time we were here, Mr X rustles up a couple of sherberts for half two.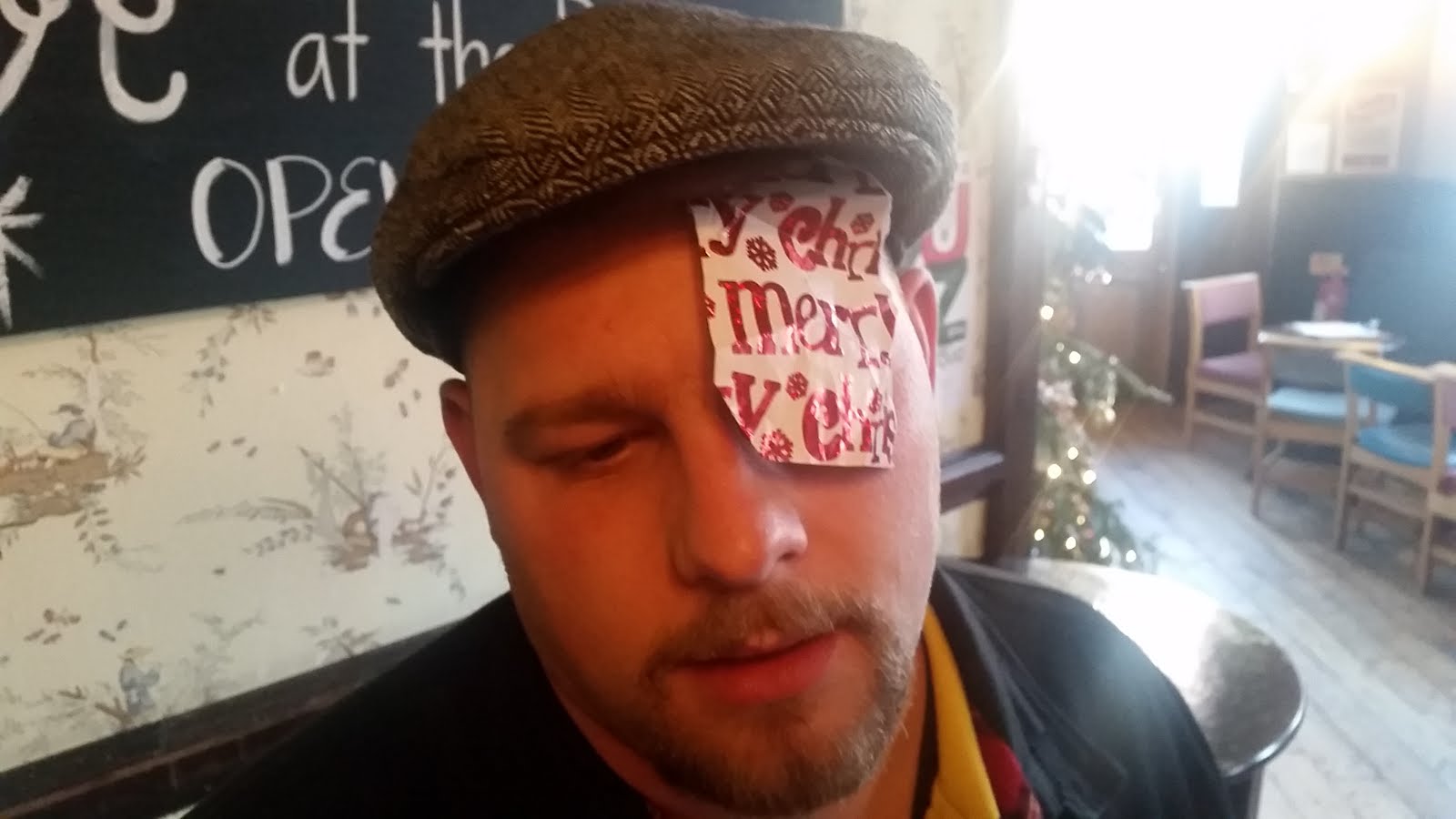 Christ, imagine unwrapping that Xmas morning…

In the Railway, we grab one last pint. Amusingly, I'm served what can only be described as looking like a pint of cappucino, by a unflinching barman. "Er, I think that's dead mate" I unecessarily add as I hand him back my glass of vile brown liquid. I make short work of it's replacement before we head out for our cabs dead on half past. But not The first one arrives and we pile in the first 5 leaving just myself, Mr X, Dukey and Belly. "You know what always happens with the last cab don't you?" mutters Dukey, referring to the fact that it's either always late or never fucking turns up at all.
Naturally, 10 minutes later, we're still twatting about outside the pub and there's no cab in sight. One obvious minicab does pass and we wave, thinking it's ours. The driver just gives a cheery wave back and a smile and keeps on going. Merry Christmas to you too squire! Guess that wasn't ours then? A couple of minutes later, another Prius shows up, we wave and this bloke stops. About fucking time! So we all pile in and just as the doors slam shut the driver turns to Mr X. "Langley Park is it then Ryan?".
This of course leads to the obvious question, "Who the fuck is Ryan?".
Sadly it seems none of us is called Ryan. Even middle names. So it appears this isn't our cab either! Pissing ourselves laughing, we all tumble back out onto the pavement calling loudly for Ryan to let him know his cab is here. At this point, it's a quarter to 3 and Mr X decides to chase up our car. Fortunately, it comes soon after although this is not without it's problems. "Where we going?" asks the cabbie. "Er, Bromley Football Club" replies Mr X "and kick off is in 10 minutes".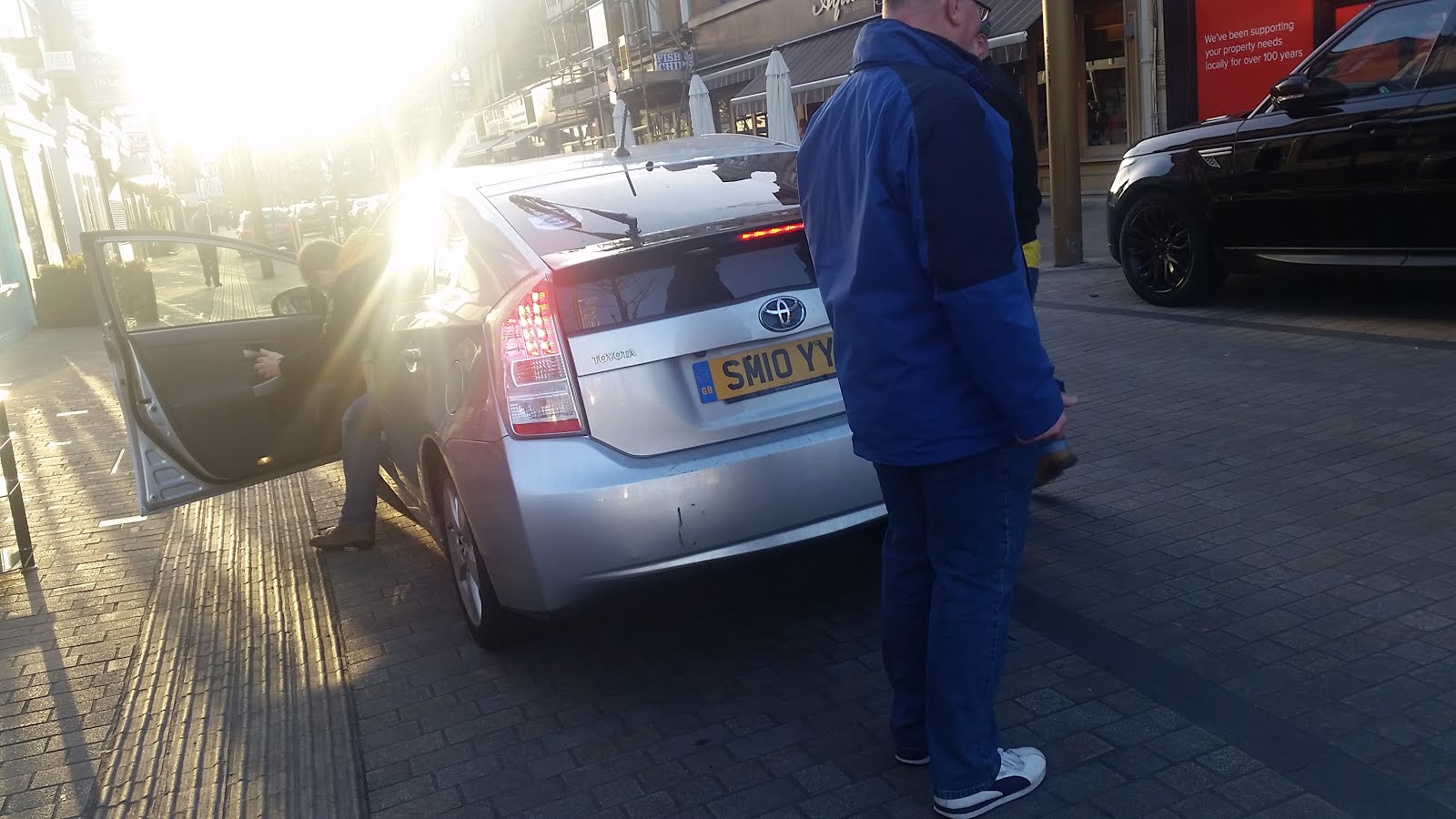 This one was actually was our cab!

"The Football Club? Where's that?" adds our driver blank faced.
Oh for fucks sake.
A quick Google of the postcode later and we're finally underway. This is going to be tight.We eventually roll up pretty much dead on three and bail from the cab, being sure not to tip our time and directionally challenged pilot before strolling up the driveway to the ground at a brisk pace. There's a a good 100 people queueing at the home turnstiles so we hope that Kick Off might be delayed a bit. Hopes that are dashed as we hear the whistle from inside the ground. Kick off officially missed.
Worner, Bailey, Jefford, Downer, Eastmond, Collins, Deacon, Dundas, McAllister, Hudson-Odoi, Tubbs SUBS: Gomis, Fitchett, May, Biamou, Shaw
Finally made it…


At 2 minutes after 3 and after a full cavity search at the away turnstiles, we're finally in and park up on the little block of segregated terrace by the corner flag. It's the first time we've been back to Hayes Lane for a couple of years and the changes are relatively minor but have given the old place a rather mid-1980's 4th Division sort of feel. Naturally, Dukey fucking loves it.
The first 45 minutes are largely dull. A slightly bumpy & soft looking pitch prevents much in the way of football, so it's pretty long stuff with both sides trying to them make as much of it in the final thirds as possible. Bromley look strong in the first 10 minutes, but create little. Then we look the stronger for the rest of the half. We certainly create the best chance about half way through, a corner from the far side is nodded on and drops far post. Collins collects, holds and then turns to lay the ball back to the edge for Tubbs. We all expect the next thing to be the net bulging, but instead the shot flashes wide of the upright. Even Tubbsy himself looks on in disbelief.
Woken up, the hosts respond and a few minutes later their no.9 finds himself with a great sight of goal after an attack down our left. But rather that hit the target, he shins a shocker over the stand and we all breathe a sigh of relief.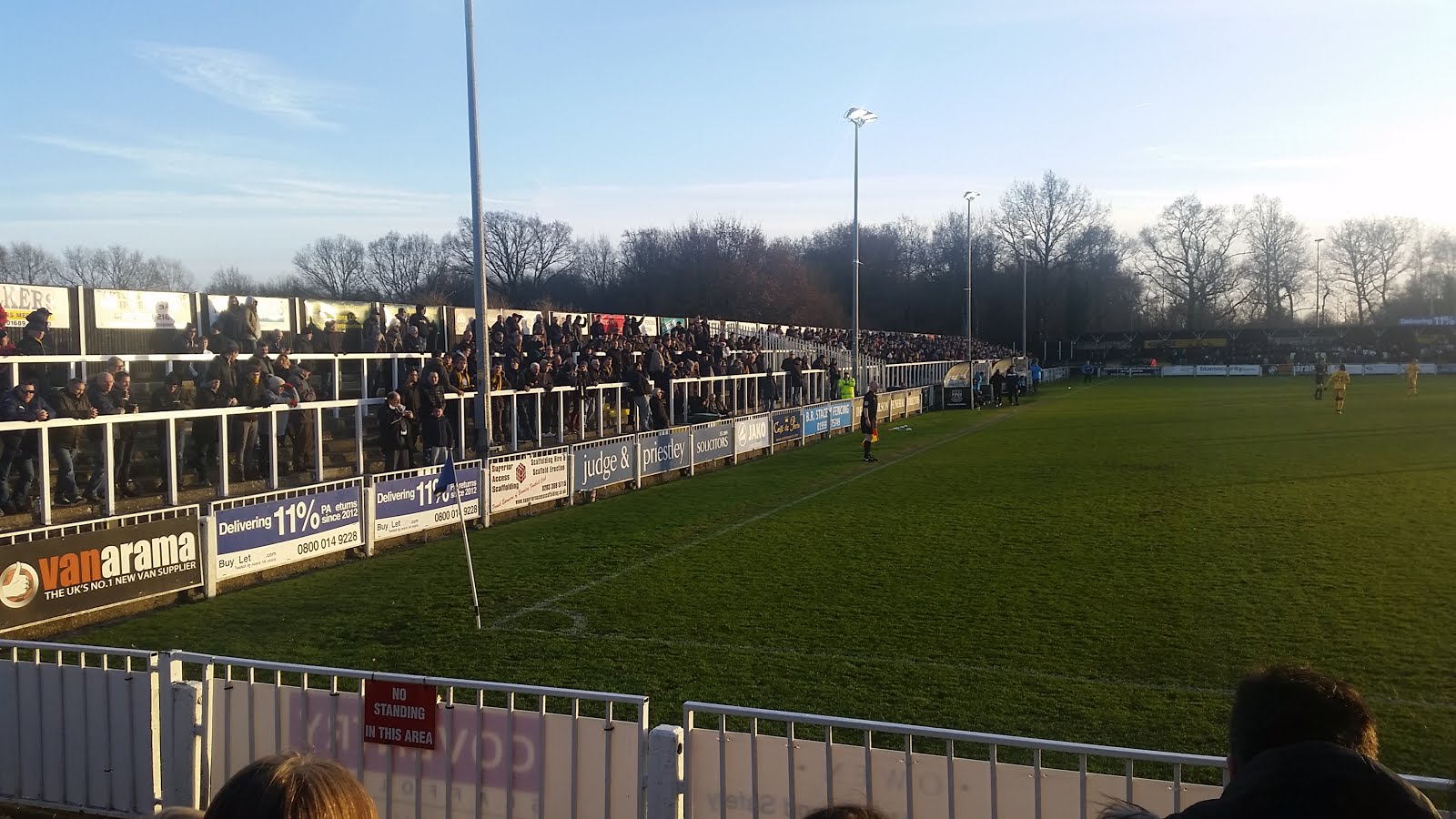 Crowd innit.

The rest of the half is taken up with some silliness behind us. It seems some of our support have decided that singing bollocks about paying Bromley's benefits (when the ground sits on a road filled with 4-5 bed houses) and winding up a handful of dickheads on the other side of the segregation fence is more fun than actually supporting the team. So much so that on a couple of occasions a couple of the plod on duty wander in to have a word. All a bit daft really and not particularly constructive. Still, it's no doubt just 'banter'. Or something.
At the break, I head over to the side where I've spied Greek & PC stood, along with Totts. Mainly as Totts is about to unleash his widely anticipated and no doubt future number one single 'Back on the Shoebox Terrace Again' on the public. Or at least the dozen or so faces who've gathered around a small set of speakers on a cold terrace in Bromley that is. I'd been immensely fortunate to get a super secret preview it during the week as Totts had asked if I could help rustle up a bit of a video to go wth it. It's dead good too. The song that is, not the video. I've not finished that yet. Ahem.
Thankfully, everyone else having a listen on this occasion also seems pretty happy with the final result of this musical love letter to the little shitty bit of terrace at GGL we all keep close to our hearts. And I'm sure you will too when it finally goes online this week. Keep an eye on our twitty thing for more details kids! Yay. Social media, we're cool and stuff.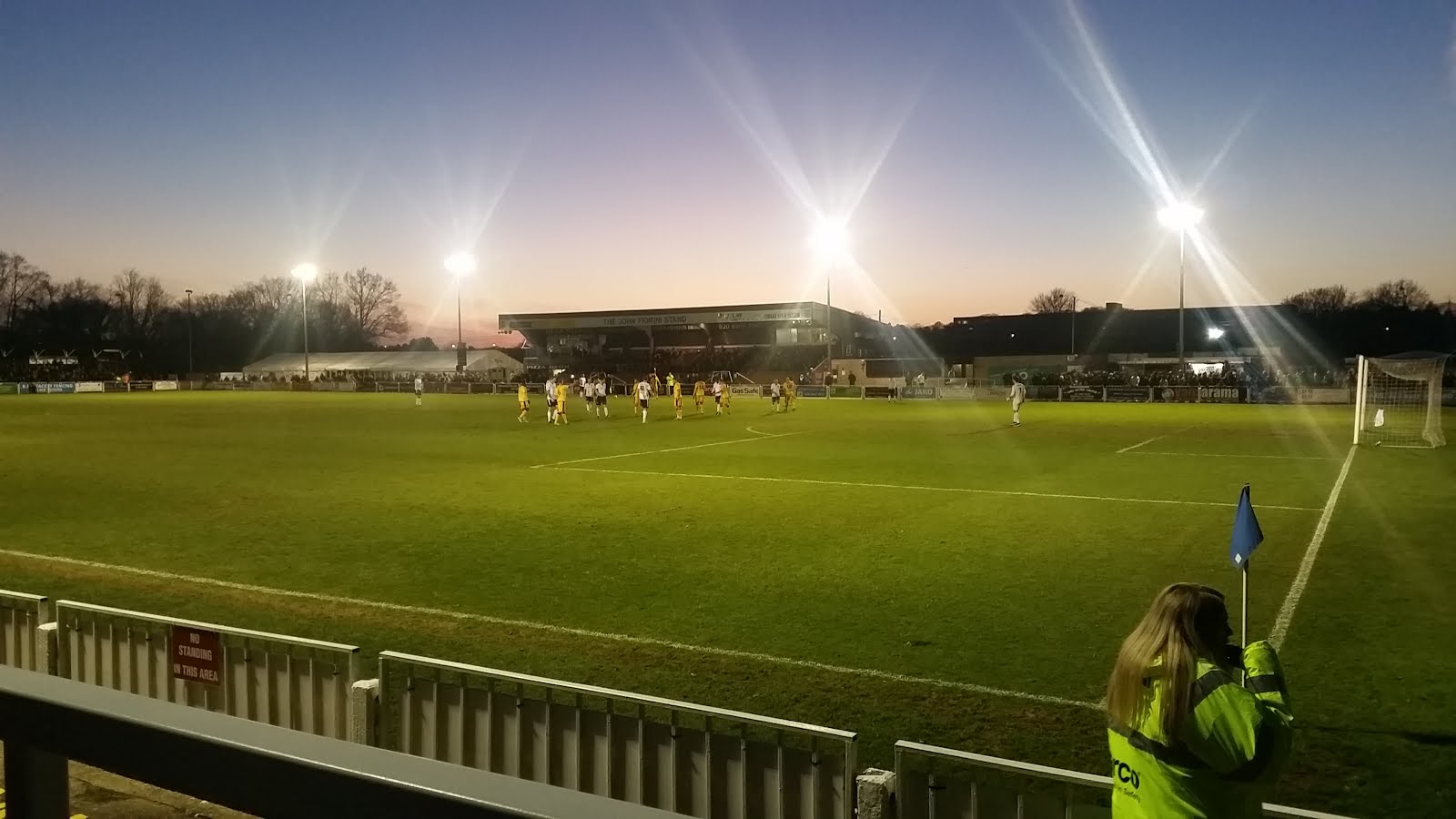 Cold. Really cold.

With the view from the side a bit more elevated The second half to be honest is little improvement on the first. Both sides continue to be a bit direct and there's few chances of any note. Again if anything we maybe slightly shade things, but it's not by much. Tubbs has another chance, but Julian stands up well to the shot and beats it away. Both sides chuck on fresh legs up top to try & force the issue, but it doesn't really help. As time runs down, we're pushing the home side back but there's always a danger of a counter as we press up. Then with time almost up, one last burst from Bromley brings them a corner. JC is up highest to head away once again and the ball drops on the edge to Deacon. But with time, rather than get the ball down and clear it, he tries to head it on it's way. This means it just falls to a Bromley lad about 15 yards out and he tries his luck. It is the last minute of injury time after all. It cops a deflection on the way through and loops over a helpless Worner into the corner. Naturally, the locals are slightly pleased by this, going as potty as you'd expect them to having nicked one with practically the last kick. They also respond to the further bollocks from the corner they've had for most of the 2nd half and the usual gesticulating at the segregation barriers this sort of situation brings ensues. In go the plod again for a word and with no time left, they assist a couple towards the exits. "That might make getting out of here interesting" mutters someone behind me as we watch the posturing still going on across the way. Funny that, I was thinking the same thing.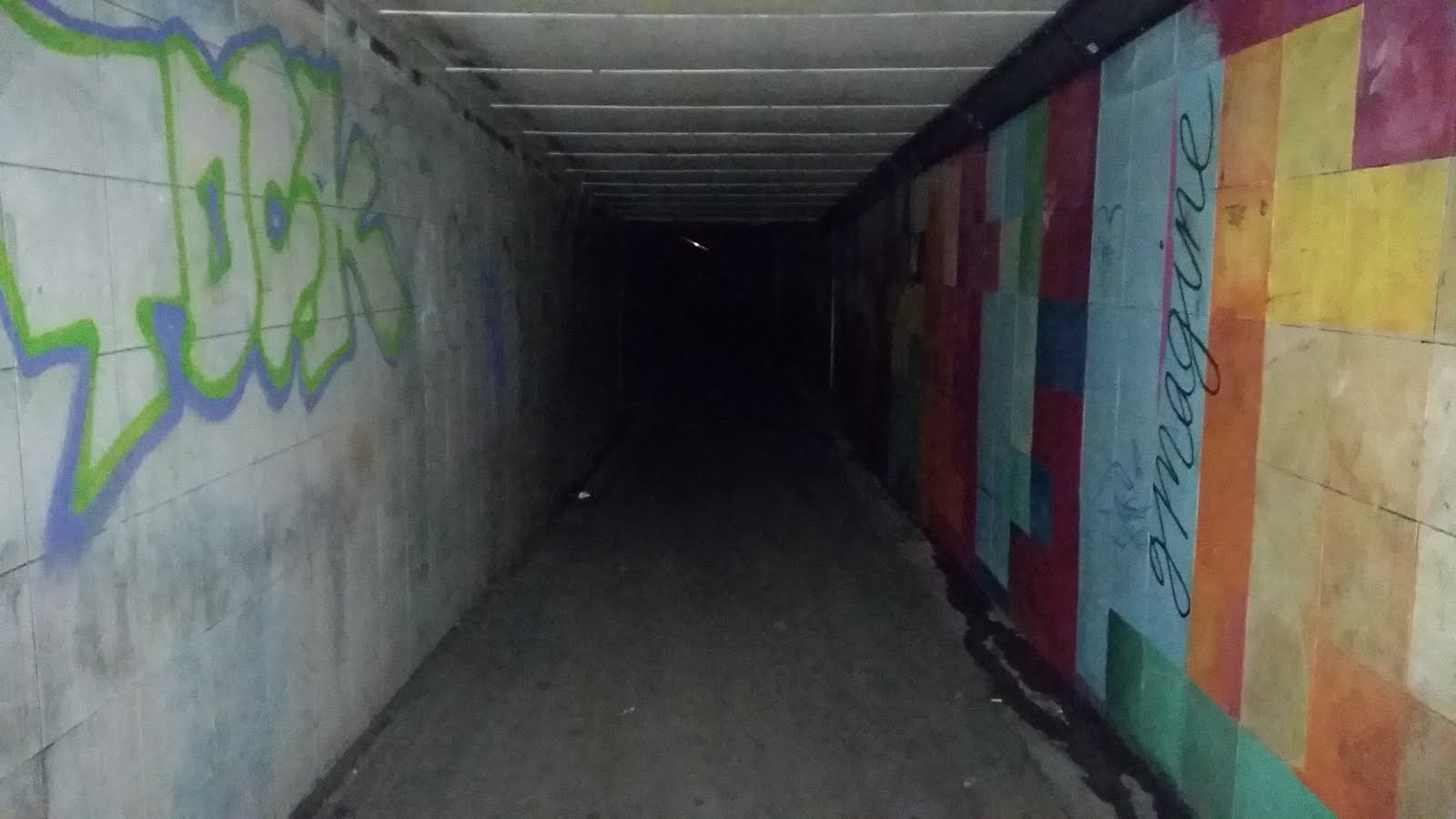 I'll probably be killed.
We restart but there's no real time to try & rescue things and it's another fucking annoying away defeat. We clap the lads off and head out. Fortunately there's a distinctly lack of knobbers around wanting to discuss the result and the comments regarding the local benefits system and we're soon back in the Spoons at South Bromley for a much needed pint. With time passing, I need to get back to civilisation for a family do. Everyone else doesn't fancy sticking about either but nor do any of us really fancy the bus ride back, especially with the shopping crowd also kicking out at the same time.
So one stupidly cheap Uber later, we're back in Croydon. Whilst the rest of the mob stumble off towards the George, I'm left trying to remember where the hell the 154 goes from so I can get back to the folks for dinner. Having realised it's outside the now defunct Fairfield Halls, I have to walk through a wonderfully unlit and pitch black underpass to get there. Fortunately the light from my phone flash ensures there are no drug crazed killers waiting to murder me to death and not long after I'm on a warm bus heading for piles of pigs in blankets at my mummy's.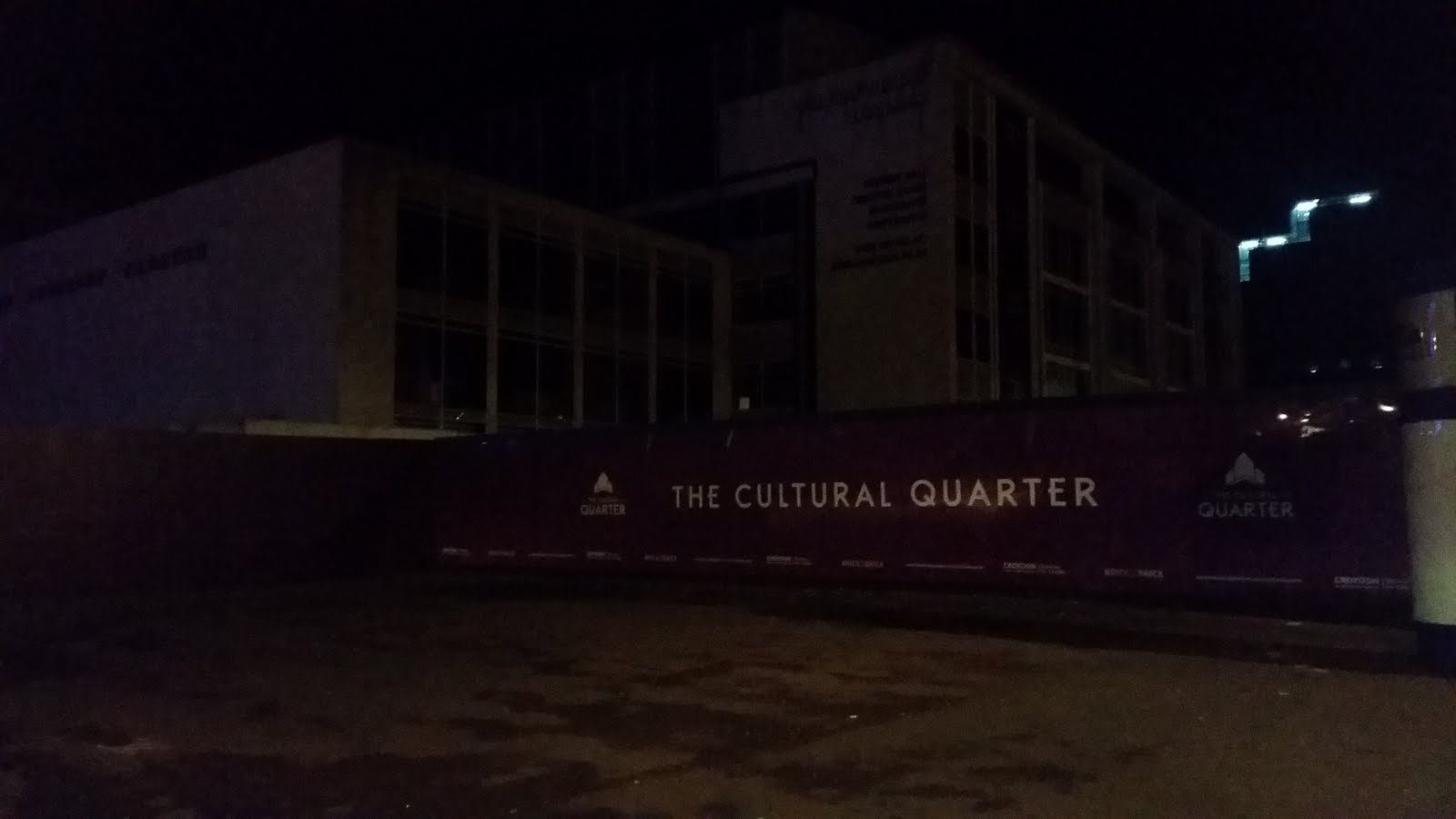 Yeah, fucking looks it too…

I hope there's gin too.
Taz