Having had a somewhat hectic start to our Conference return, I was finally forced to accept financial defeat and give Eastleigh away a big old empty wallet style swerve. Not that I was that upset, mostly as it's a place where our record is almost Hornchurch-esque and we rarely even score let alone get 3 points there. Still, that didn't mean I refrained from swearing loudly when Bedse's 85th minute peno was saved.
Fortunately for my sanity, my larder and my bank manager's anxiety I was presented with my first full month's pay cheque the day before our eagerly awaited first ever clash with Guiseley (Damn, forgot to remind BT Sport of that this week. Sorry lads!) at GGL. Thus I was able to not only buy beers, but pay back some of the train fares I owed from the first 2 months of the season.
Raindrops.
The missus and I elect to sack off an early morning foray to Sainsbury's and instead remain in Bedfordshire as it's pissing with rain outside. Sadly, it's also still pissing with rain when I finally haul my arse out of my pit and start belatedly getting ready for football. Naturally, with the rain, I decide that maybe heading into Sutton on the bus and then getting the train round to the paradise of the PROWS would be the best option. That is until the 407 fails to show on time and I instead change my plan to getting it to Carshalton and intercepting the train there instead.
To speed matters up, I alight and head for the little post office just off the high street of the backward little hamlet near Sutton, so as to use their ATM and withdraw some of that hard earned coin of the realm. Sadly, I find the place shut as it's undergoing a refit and the ATM is out of bounds.
Fucking two-bob village wankers.
Thanks to the bus delay I have no choice but to head for the station, grab the train and hope the card machine in the Players Bar is functional so I can apply for some cashback. A brisk stroll ensues and I arrive to find a fellow United fan on the platform. Although it's not Dukey as I'd have expected at this time of a Saturday afternoon. Where is the twat?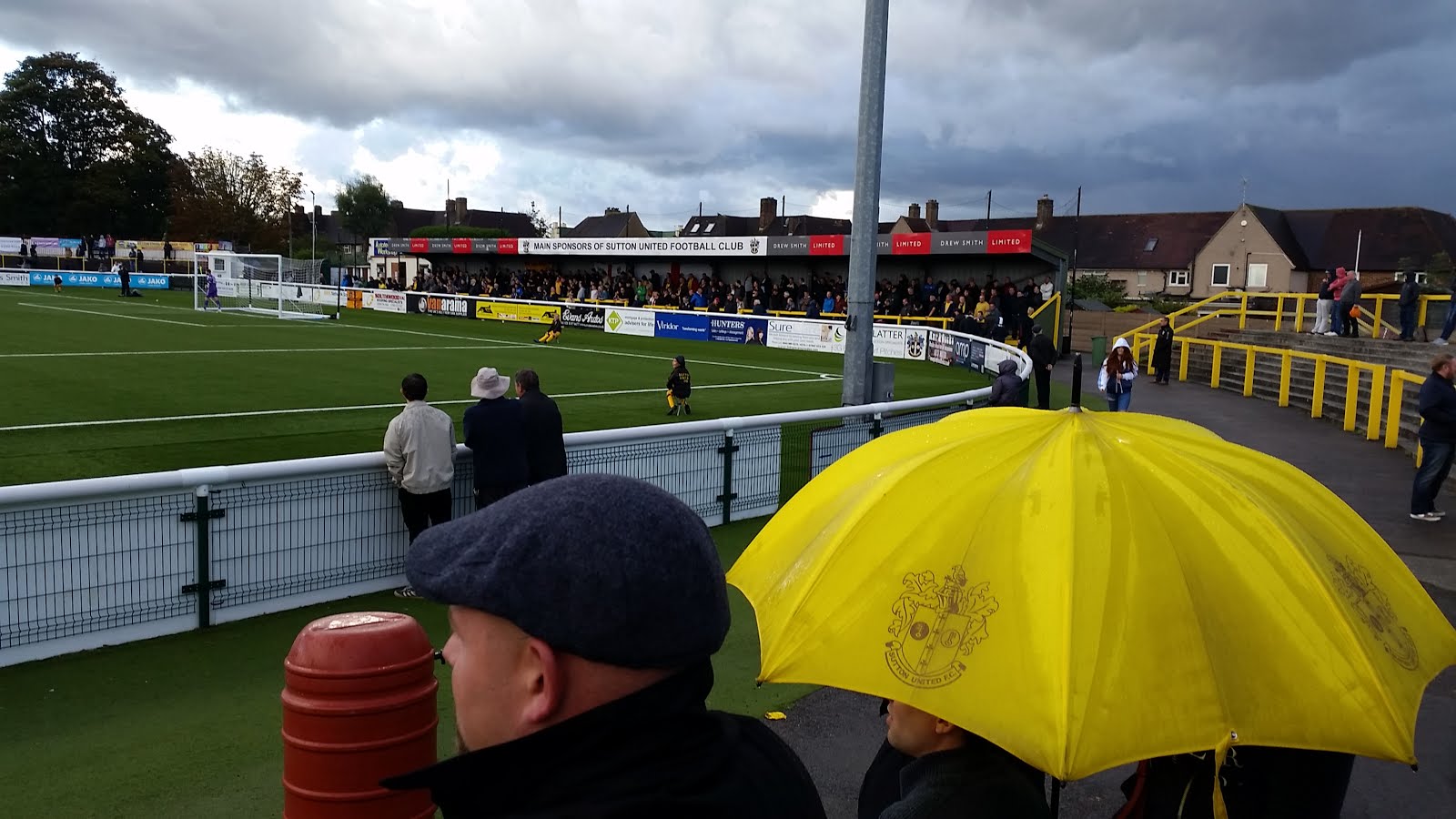 Another gorgeous day in paradise…
Soon after being seated, a chap in a natty Guiseley tie asks if the service goes to West Sutton. I assure him it does and tell him to just follow us to the ground when we get there. Wardy and Steve join the service at Sutton having had pints and breakfast in O'Niells and we alight into the rain once more in the proud micro nation that hosts our beloved football club. West Sutton.
We're soon in the bar and find Mr X already present along with Wellie. X is nursing a hangover, having stupidly decided to pop to the club and join the other idiots in watching Mainly Madness at the Boom Boom. This of course ended with them all tumbling out of O'Niells at 2am Saturday morning. Hmmm, could this explain Dukey's mysterious absence? Mortally wounded by an over indulgence in Bulmers? It seems not, as Mr X reveals he's at home waiting for his spin cycle to finish.
Now, I thought we'd heard all the euphemisms going for self gratification, but that's certainly a new one on us. I make a mental note not to enquire of Tom quite what sort of technique one undertakes to produce a 'spin cycle' when he eventually arrives. Some things are best left unknown.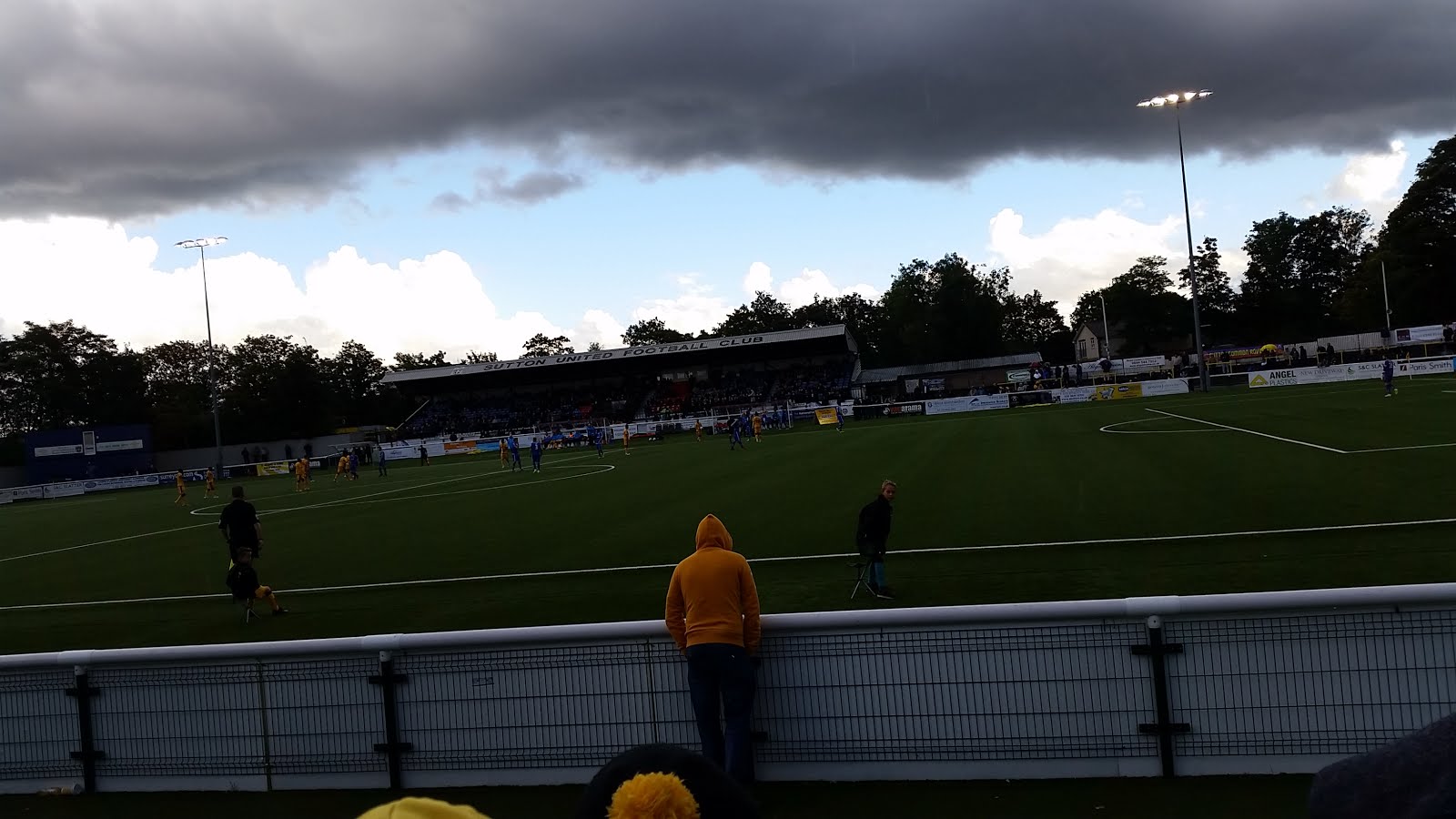 Lonely figure.
Wellie then reveals he spent last weekend making some Apple wine. "Don't you mean Cider?" I enquire. But he's insistent that this is wine. Fucked if I know what the difference is to be honest, but I make him promise to bring a bottle down for our resident cider lover Tom for him to try. "But it's not Cider!" insists Wellie, completely missing the "Let's poison Dukey, it'll be well funny!" point I'm trying to make. Other news is that we're missing both Dos and Nicky Bailey for today's game. Nicky is both injured and has managed to get himself another 2 games ban despite sitting out last weeks game at Eastleigh. Something to do with less than nice things said to the 4th official apparently.
As for Dos, it seems his old man has been taken ill whilst on hols in Portugal and he's understandably rushed out there to be with him. We take the opportunity to raise a glass to the health of Mr Doswell Senior and wish Bairdy luck in filling in for the day.
At this point, Wardy accuses me of being, according to the landlord Johnno, in a right old state the previous Saturday out in O'Niells. Which I unfortunately have absolutely no recollection of. Not because I was pissed, but as mentioned above I was nowhere near the fucking place and was sat at home sober as a judge! What makes the accusation worse was that Wardy was there! Belly's arrival soon solves the issue, mainly because he's ginger and wears glasses too. Something to do with too much beer and a random Irishman getting him singing 'American Pie'. Naturally, being compared to the 50 year old Doctor does little for my self esteem, even more so when Wardy insists on getting a pic of us both together to send to Johnno at the pub so he can tell us apart in future.
Discarded
Never liked that fucking pub anyway. Guinness pedalling bastards.
Eventually, Dukey appears. Claiming that his 'spin cycle' was of the laundry based variety and that on this occasion he hasn't actually been a wanker. Naturally, no one believes this load of old flannel.


Worner, Amankwaah, Wishart, Collins, Gomis, Fitchett, Stearn, Eastmond, Dickson, Deacon, Downer. SUBS: John, Hudson-Odoi, Spence, Burge, Biamou
Whilst we await kick off, the usual pre-amble plays out over the PA. Now usually this passes in a bit of a half heard blur, mainly as we already know the teams and we've heard 'United We Stand' by the Brotherhood of Man once or twice before. But today I pick out one of those little jems you occasionally get. Today's mascot is a little girl, I didn't catch her age or name sadly, but apparently when she grows up she wants to be a princess (dawwwww!) or an iPhone app tester (what the actual fuck?). Kids today eh, fucking mental. Still, fair play to the lass at least she's got a plan B career wise I s'pose if the iPhone thing doesn't pan out.
With the game underway, the usual fast start we'd have expected against a side winless at the foot of the table doesn't really materialise. Sure, we have plenty of the ball, but not much happens. In fact the first real incident is Worns being off his line quick to block an offside half chance and then having the ball leathered straight back into his knackers as he lies prone on the pitch. An effort that earns the Guiseley man a yellow card. Soon after Dickson meets a cross with a downward header, but the keeps makes a fairly regulation stop in the yard box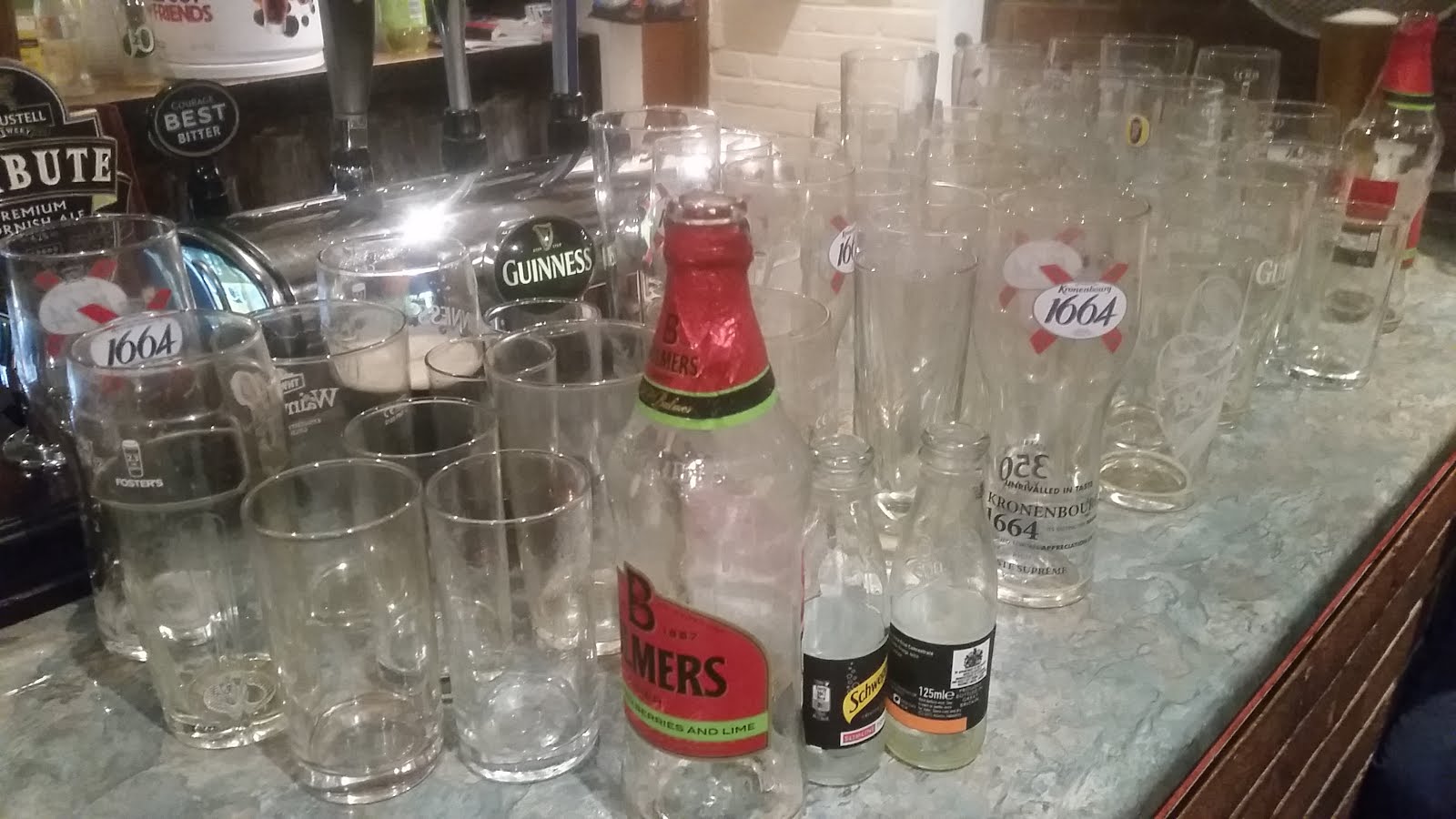 Not ALL ours…..honest
Such is the on pitch excitement that someone takes the time to remind us that today is the anniversary of the infamous 'Woodford 15' game. An announcement that has those of us there present that night from the Firm wincing at the memory. Mainly because even though we won 2-0 that night, it was a low point in a season most of us would rather never happened.
The lads continue to enjoy plenty of ball, but are making hard work of an admittedly hard grafting Guiseley. There's plenty of progress up until the final third where a misplaced pass or a poor choice sees foray after foray fizzle out. They also remind us that they might be a pain in the arse going forwards, with Worns out quickly to block an angled shot after a long ball down the channel plays in a blue shirt behind Wishart.
But just as most of us are thinking about trying not to nod off, we're cheered up by one of those horrible moments that teams at the foot of the table have to endure. Teams like poor old Guiseley in fact.
Amankwaah advances on the right and swings in a cross to the back stick. It's not a particularly special ball in, but it's nowhere near the worst either. Sadly, no one in a yellow shirt reads it right or busts a bollock to try and get on the end of it and thus it drops to the full back, a chap by the name of Connor Brown who is today making his debut for the team from near LeedsBradford airport.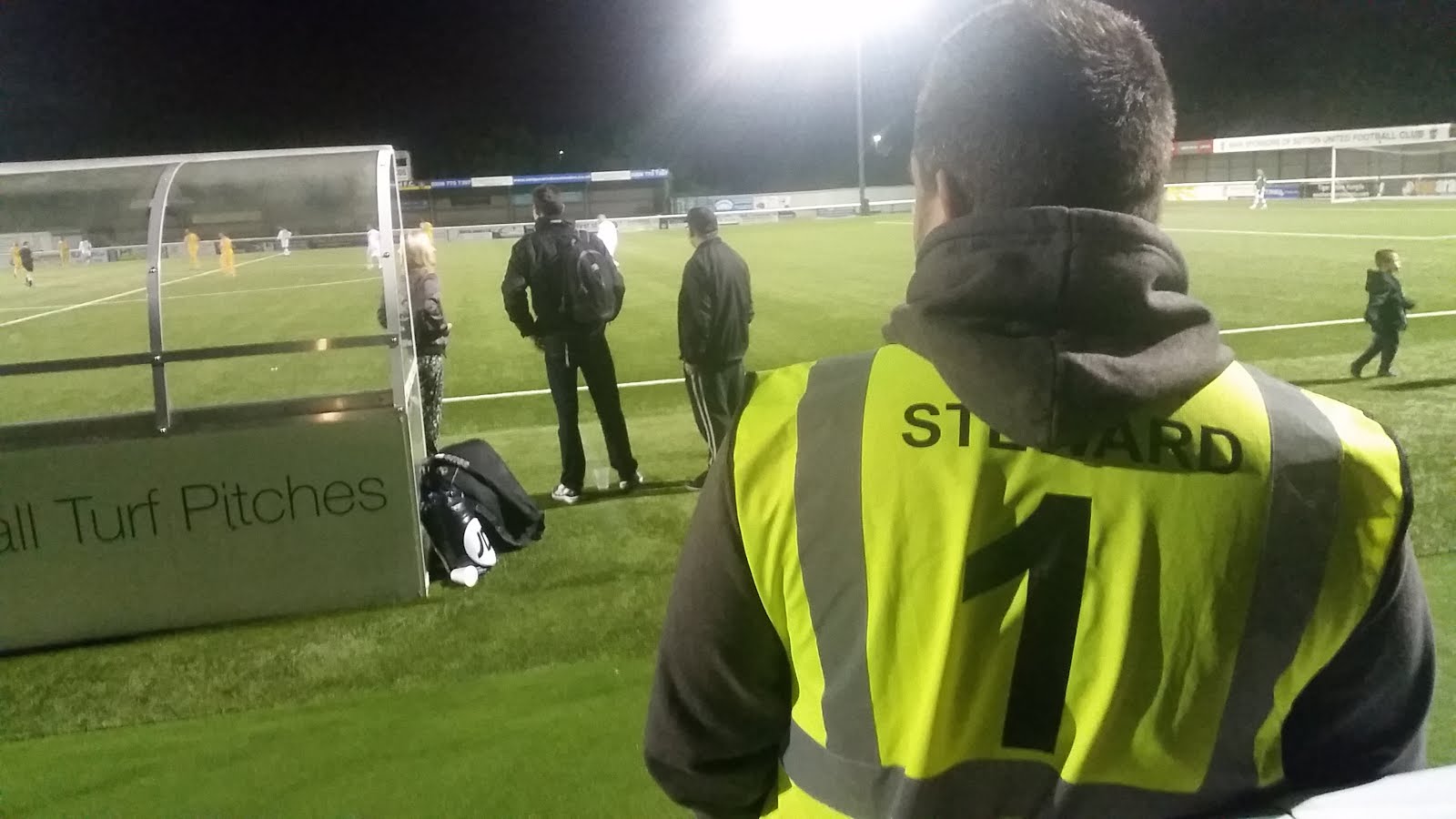 Looking on.
Sadly for him, it's a debut he's unlikely to forget. Under no pressure at all, he tries to casually side foot the ball out for a corner, safety first and all that. Unfortunately he sidefoots it perfectly inside the post as his keeper can only look on in horror. Cracking finish mate, cracking finish. Ever played up front??
The rest of the half is much the same as what went before, with little of note. Although the visitors do have a sighter near the break when Worns fucks up a punch and a blue shirt lashes wildly over the target when a slightly calmer head might have troubled it.
At the break, I can't be arsed with the bar and instead head to the Shoebox, where as usual the queues at Roses put me off trying to get a cuppa and a Bacon roll as well. Instead I catch up with Totts and the rest of the full time 'Box crew.
After the restart, any hope that we'd get at the lowly visitors and push on to 3 points is soon waning. Dickson takes a leaf out of Brown's book from earlier and sticks his nut onto a free kick into our box that Worner has to make a very good save from. Up the other end, Deacon fires just wide and Eastmond has a shot blocked after some sustained build up but from here we seem to lose the initiative and the midfield drops deeper with every passing minute giving far too much time and space to the visitors on the ball. This of course gives them confidence and they slowly start to carve out chances.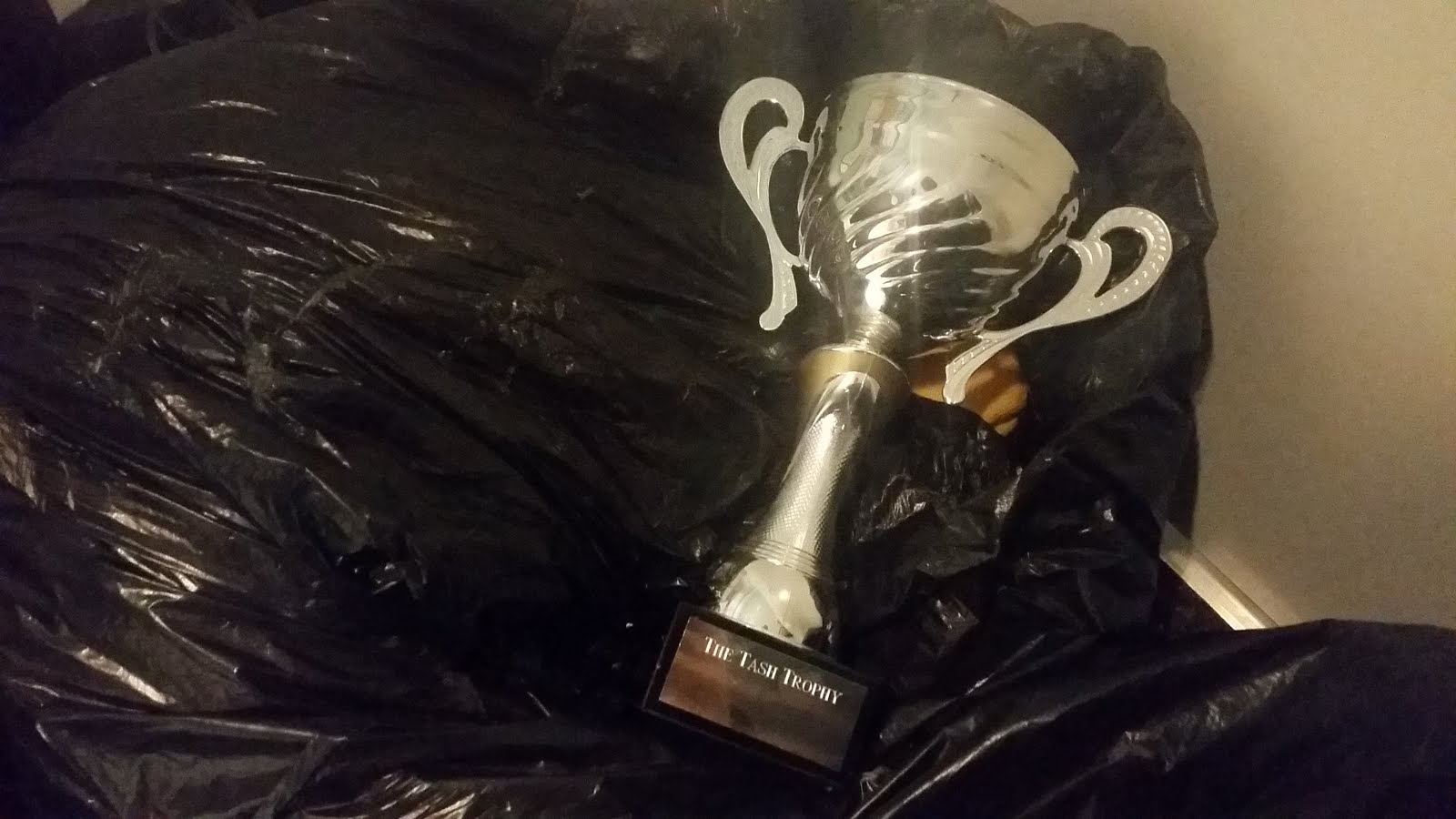 Silverware
Worns has to be on his toes again after we let a lad run a good 30-40 yards unchallenged and he lets fly with a shot the keeper just gets his fingertips to the shot. Thankfully, there's a reason why Guiseley are where they are and that's because they're about as lethal in front of goal as us. Blindfolded. A big fat sub shanks one wide when he should really be hitting the target and right at the death a ball in from yet another free-kick picks out a man in far too much space at the back post. But again, the effort is wild and disappears into the Rec instead of into our net.
Naturally, we're all well relieved at the final whistle and as the rain starts to fall more heavily, we stumble back into the bar for a much needed pint. Sadly for the visitors, they'll have a long trip home having arguably deserved something from the game, which is something we've had to get used to a lot recently so swings and roundabouts and all that.
The usual post match nonsense ensues, although AB's Strikers draw is somewhat disrupted by an unfortunate malfunction with the safe that holds the prize money. Apparently one of the keys is stuck in the lock and it's been sent off to the 'menders'. Erm. Yeah. Instead he does a clever draw with some playing cards and Mickey Joyce and earns Steve King 850 sovs. No, not the Jacamo clad former Lewes & Whitehawk dwarf, the blonde haired lad who runs the Community Team.
With the beers flowing, we take a wander outside to partake in some of the Tache Trophy action underway on the carpet. This is the now annual vets game played in memory of club legend John Rains and unlike previous years, the turnout from old faces is frankly ridiculous! On show we have, amongst others, Tony Rains, Matt Hanlan, Matt Fowler, Nko Ekoku, Ricky Kidd, Vernon Pratt, both Golley Brothers (with Mark playing as a keeper!), Ryan Palmer, Phil Dawson, Mickey Stephens, Danny Brooker, Carl Emberson….the list goes on! Disgustingly, the likes of Pratt & Brooker don't look like they've aged a day. The utter utter bastards.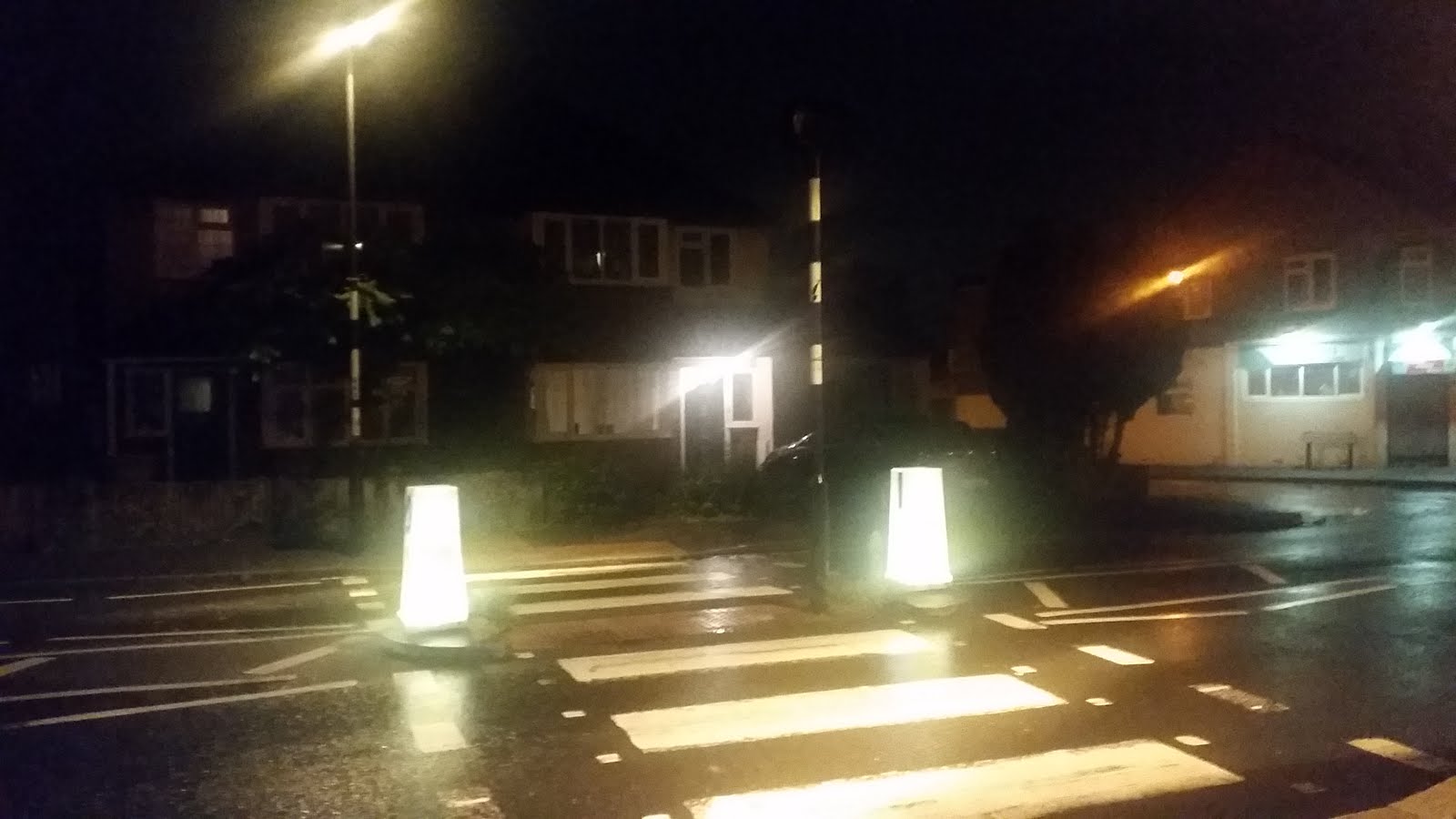 Rainy.
With the game finishing 3-3, including a penalty from Matt Fowler no less, we head back in the bar and hit the beers again. But before long, people start drifting away and as Mr X is refusing a second trip into Sutton inside 24hrs, Dukey and I decide to largely call it a night and head off out into the rain. As we pass West Sutton station, we notice a train is actually running towards Sutton so rather than trudge along in the pissing rain, we hop on the choo choo hoping to get all the way back to the occupied territories. However, on arrival at Sutton we're hoofed off by a Southern rail employee who takes far too much pleasure in the task, as the train is terminating. So we do what comes naturally and head into the Bank for a couple more while we decide what to do.
By now, we're starving and having received orders from home, I'm packed off to Subway to get a veggie sub for her ladyship. Food sorted, the old wander to Melville produces a sherbet and I'm dumped outside HQ at the ridiculously early hour of half past 10.
Clearly with all this being poor stuff, I'm somewhat out of practice.
Must try harder.
Taz