Jesus, how long has it been since we've seen Sutton win away? A quick look back at the records show that it was in fact bloody Lincoln back in the middle of August. And that was also the last time we managed to stick the ball back into the back of the net away from GGL as well! Trips to Chester, Gateshead and Wrexham have proven to be as pointless as a limp dick in the Playboy mansion.
Also we finally get to visit a team this season that hasn't recently come down from the Football League. It's been three long years since we last played at Eastleigh. Now, let's be honest, we have an absolute mare of a record at the Silverlake. I have it on good authority that we have actually won a game there, but I don't remember us even hitting the back of the net down near Southampton, let alone taking three points home all the way back to South London with us (2-1 win. Shittest season ever. 07/08 – Taz). To get us started, here's some wise words from a late great manager (and trust me, there are plenty of quotes like this out there) to help us with our recent troubles on the road.
"If you don't score, you are not going to win a match"
– Sir Bobby Robson
We begin our journey on Friday night. In that a rather random picture appeared on the top secret, members only, VIP Gandermonium WhatApp group. I don't know how he found it, but Taz uploaded a picture from Instagram. It seems some random fella has created a doodle of some of the boys from the train on our recent trip to Chester. Now can you see anyone you know on the left?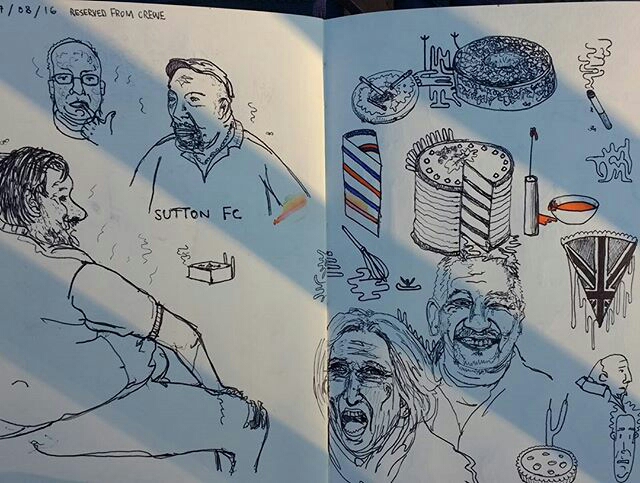 Scary doodlings.
With a need to go to Clapham Junction for a departure time of just after ten o'clock, the plan was, as usual, to get the train from Carshalton. With The Firm Leader grabbing a lift, 4 Days & Lil' Chris were going to grab the train with me. Being such a nice guy, I offered to let them use my Network Card and even payed for them. I'm still waiting for the cabbage 4 Days by the way!
There were a few other Sutton fans also arriving at the station, and they were making a school boy error as they were all heading straight to Eastleigh. That's because, as everyone knows, Eastleigh is fuckin' shit for beers and that St Denys is the place to quench your thirst. But, in life, I find you have to learn from your mistakes.
The one other person joining us today was Dr Bell coming from Sutton. We knew this because as the train pulled in, he was near the front of the train instead of the usual place near the back. A humorous image soon followed as he began to run down the platform towards our carriage. And by being a "gringer" (that's what he describes himself as), he nearly failed to make it and was forced to jump on another carriage just before the doors closed.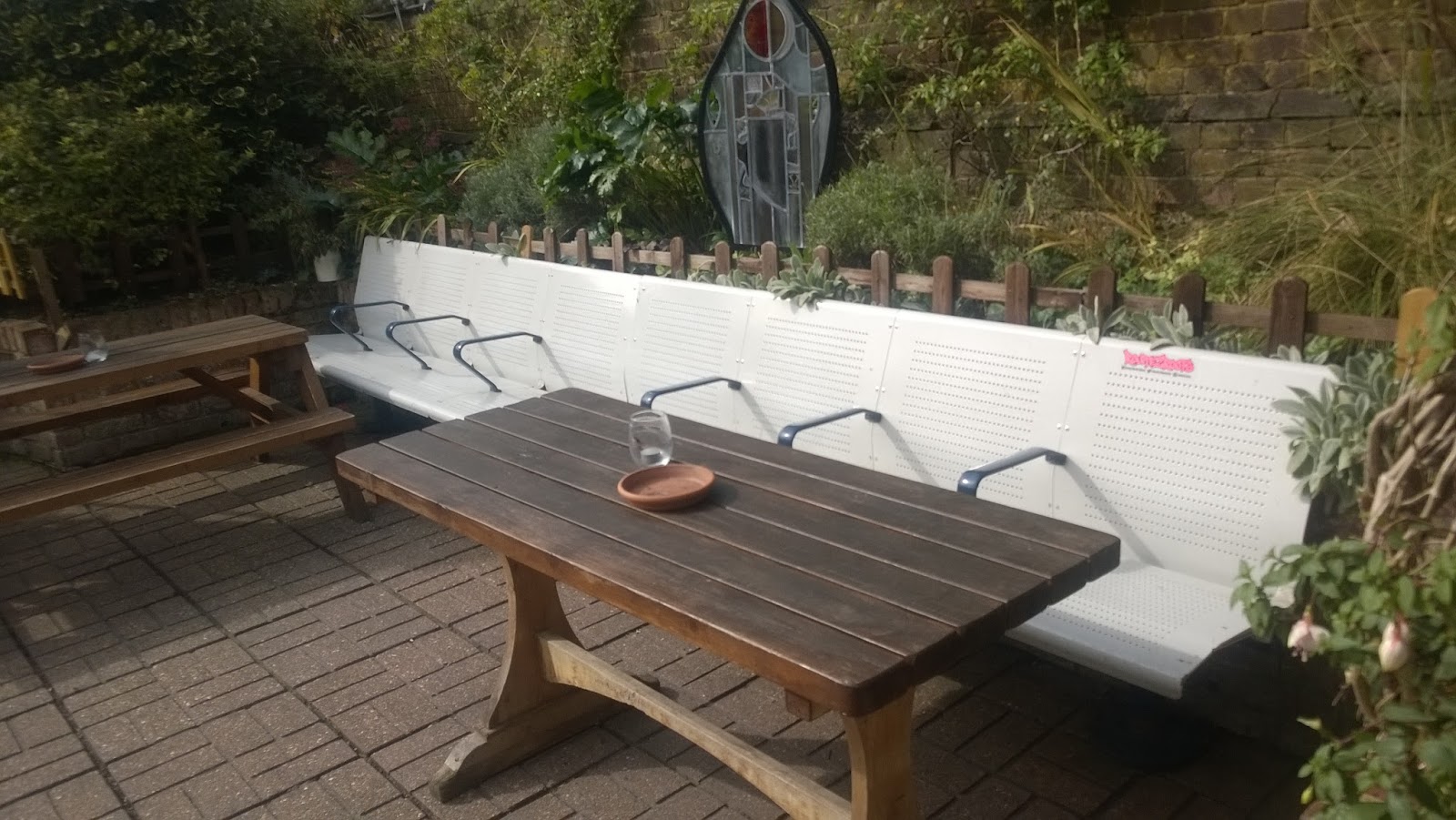 Clearly stolen
Arriving at Clapham we bumped into the other members of the Firm. Mr X & Wardy were grabbing a tea and some breakfast, whilst Indy & Sean were buying their tickets and Southampton Steve was loitering with intent as usual. Making our way to the platform we saw that it was quite full, so as usual we thought that the train would be quite full meaning we'd have to do the traditional Gandermonium habit of standing around the toilet the whole way down.
Luckily for us, an earlier train had been delayed and rolled in a few minutes after we arrived. Even more lucky for us was the fact that the train was near empty, meaning that for once we would be able to rest our weary bones for the journey "down Saaff!" rather than linger around the khazi's enjoying the aroma of Toilet Duck. One word to the wise though dear readers: Watch out for the internal sliding doors. Not only did Mr X managed to get trapped in between one but also spill some of his tea over a poor fella sitting next to it. A proper Health and Safety nightmare.
A rather pleasant and relaxing journey followed as we trundled down to Southampton Airport. Changing here for another train to St Denys and as the clock struck half past eleven we were leaving the train and heading towards our first pub of the day. The South Western Arms. Yeah, I know. It was half eleven and the pubs around these parts didn't open until twelve, but being the true pro's we are, we had an ace up our sleeves.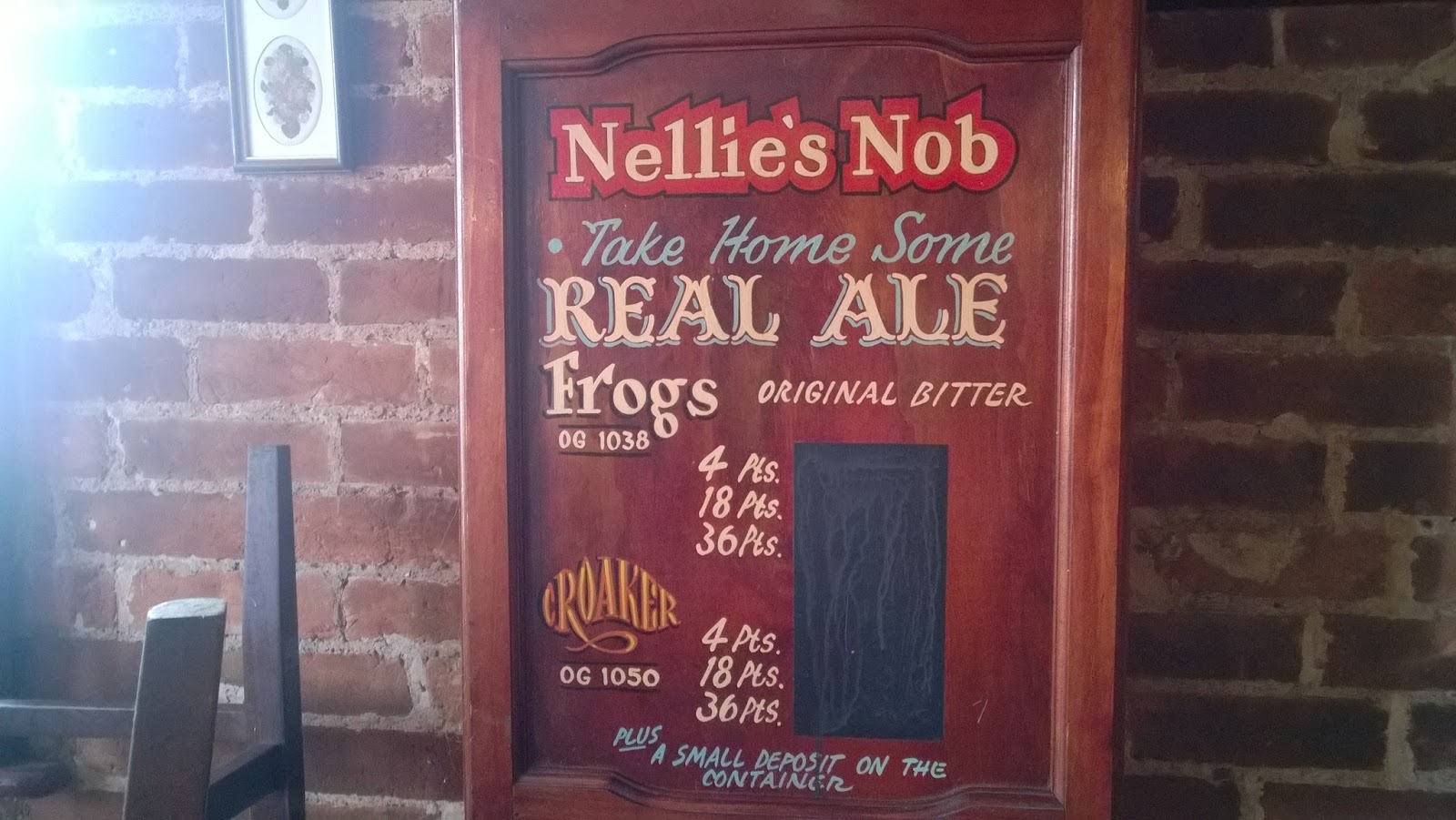 Well that's just rude.
Now, if you remember the blog from our last time we were down in these parts, the guvnor had mentioned that if we rang ahead he would gladly open the pub earlier just for us. And with Taz not around today to be the grown up, it was all down to me to arrange it. How hard can it be?? Still, after the fifth time of trying on Friday afternoon, I managed to get through and he actually remembered us from last time. (It was either that or maybe because he's best mates with our chief scout Mr Beck).
So here we are outside the pub and I go to open the door. BOOM! It's locked. "Bugger" I thought to myself at this point. With everyone depending on me and now not believing I'd done my duty, I frantically rang the number again and got through to someone inside who didn't know what had been arranged with the boss man. Luckily, the Guv'ner was inside and eventually opened up, welcoming us with open arms. By the time we'd faffed about it was near twelve o'clock anyway!
With our first beer ordered, we took stock of the surroundings. Not only did they have a lovely looking pub garden, with outside bar, grapes, fish pond & train seats(!), they also had an upstairs area, totally missed out the last time we were here. And the bloody pool table that we graciously helped move into position had four of us finding a new appreciation for Slate!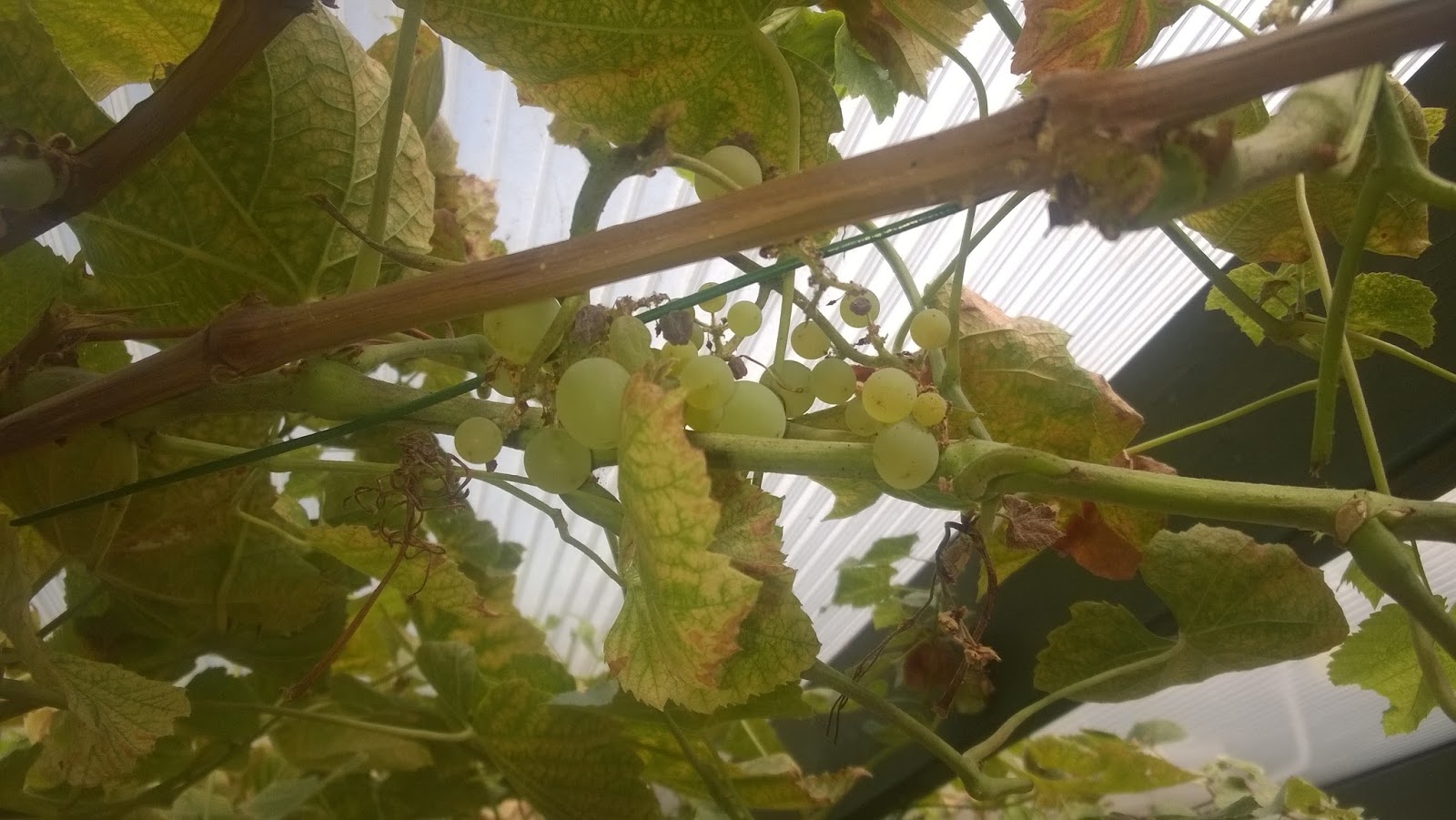 In the vineyards of sunny Hampshire.
Not really in the mood to move having gone to such lengths to get the place opened and also shifted that fuckin' heavy pool table, pint soon followed pint as we chatted the day away. The Guv'ner was even kind enough to stick so many credits on the jukebox that it was almost a shame to leave 'em when we had to go to football. There even was a cider that me & Dr Bell actually liked drinking! You don't get that everyday, I can tell ya!
Surprisingly the first person to the jukebox was no other than Amber Aleman. Now you would think, if you are of simple ideas in life, that a man like him would've stuck on something by Acker Bilk, Lonnie Donegan or even Jim Reeves. But the first track that came bellowing through the speakers was Sex Pistols E.M.I. Now could you really imagine a young Aleman in his family bathroom trying to stick a safety pin through his ear?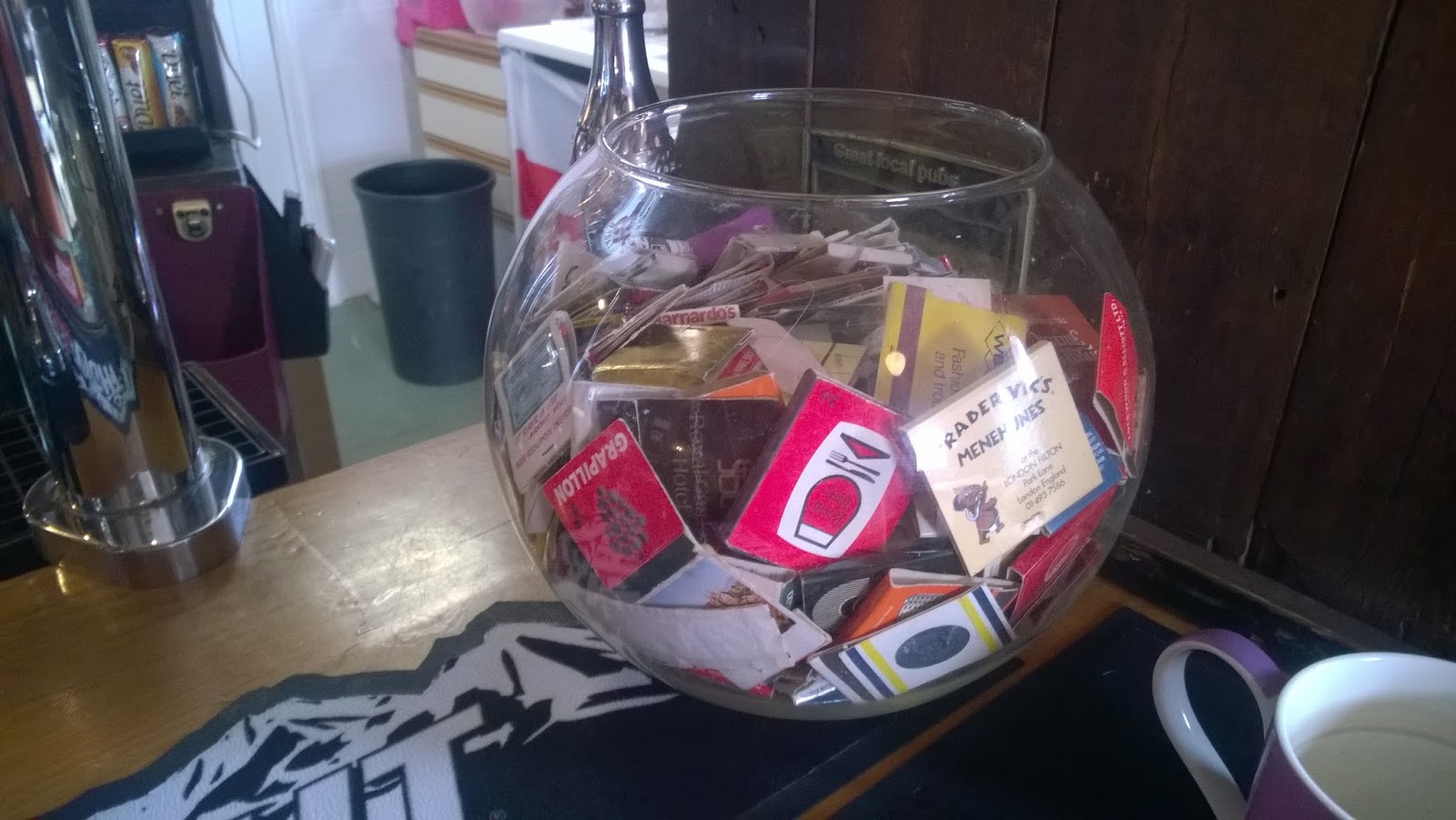 I always thought you put your keys in a bowl.
After the fourth pint we eventually came up with a plan of popping into a club down near the ground. 'Trojans' was its name I think. Arriving in sherbets would have been easy enough if it wasn't for the road being closed for the football. If you've never being to Eastleigh. That's an experience in itself. And they have aspirations of being a league football team!
A couple of pints here and after watching some young women play hockey, we decided to head towards the ground. Not trying a supposed cut-through, we instead walked down the country lane and around to the far side of the ground. £15 entry and we took in the new sights available to us as there have been some changes since the last time we were here. For example. In our segregated end we've gone from this: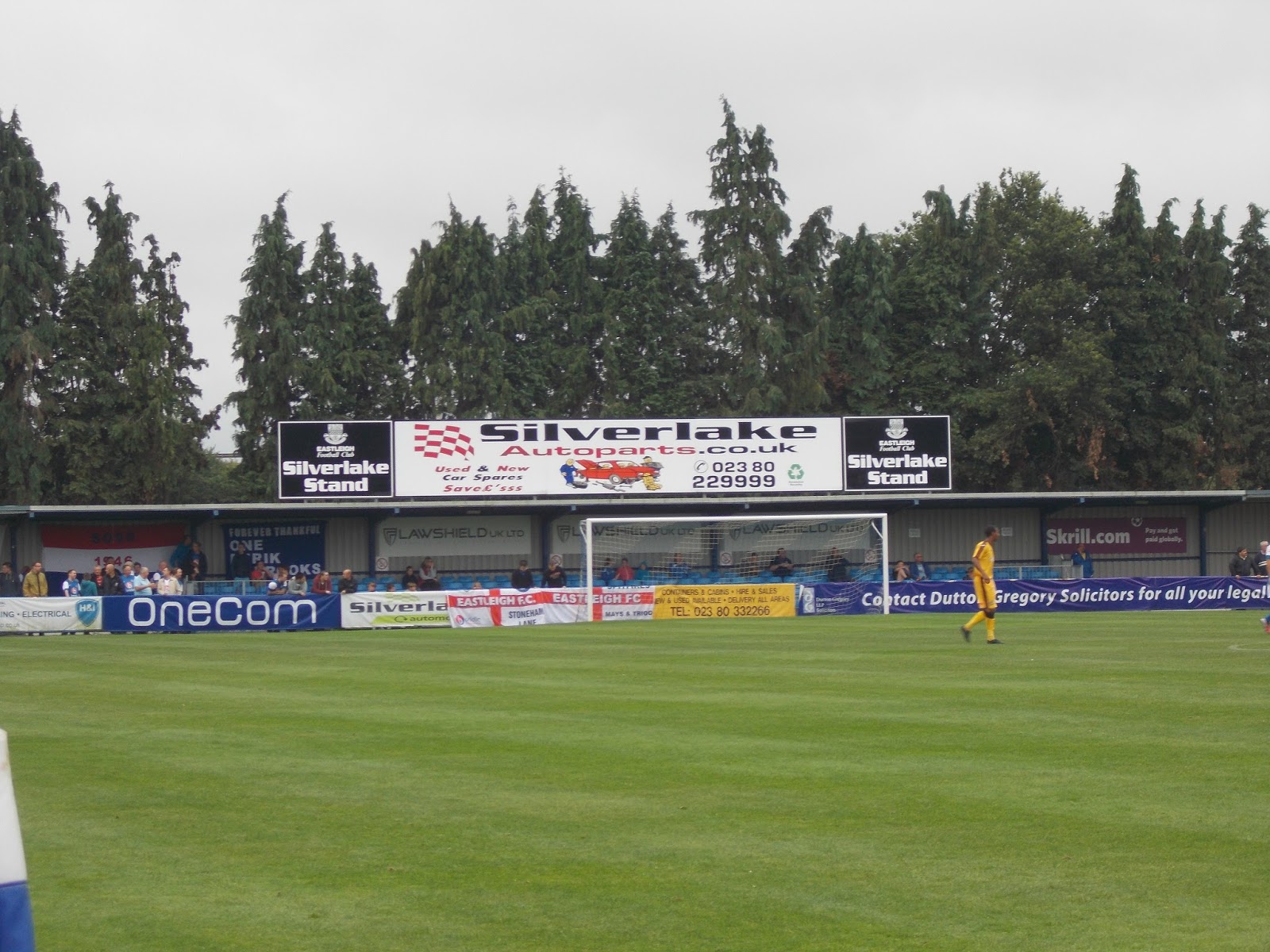 Old.
To this: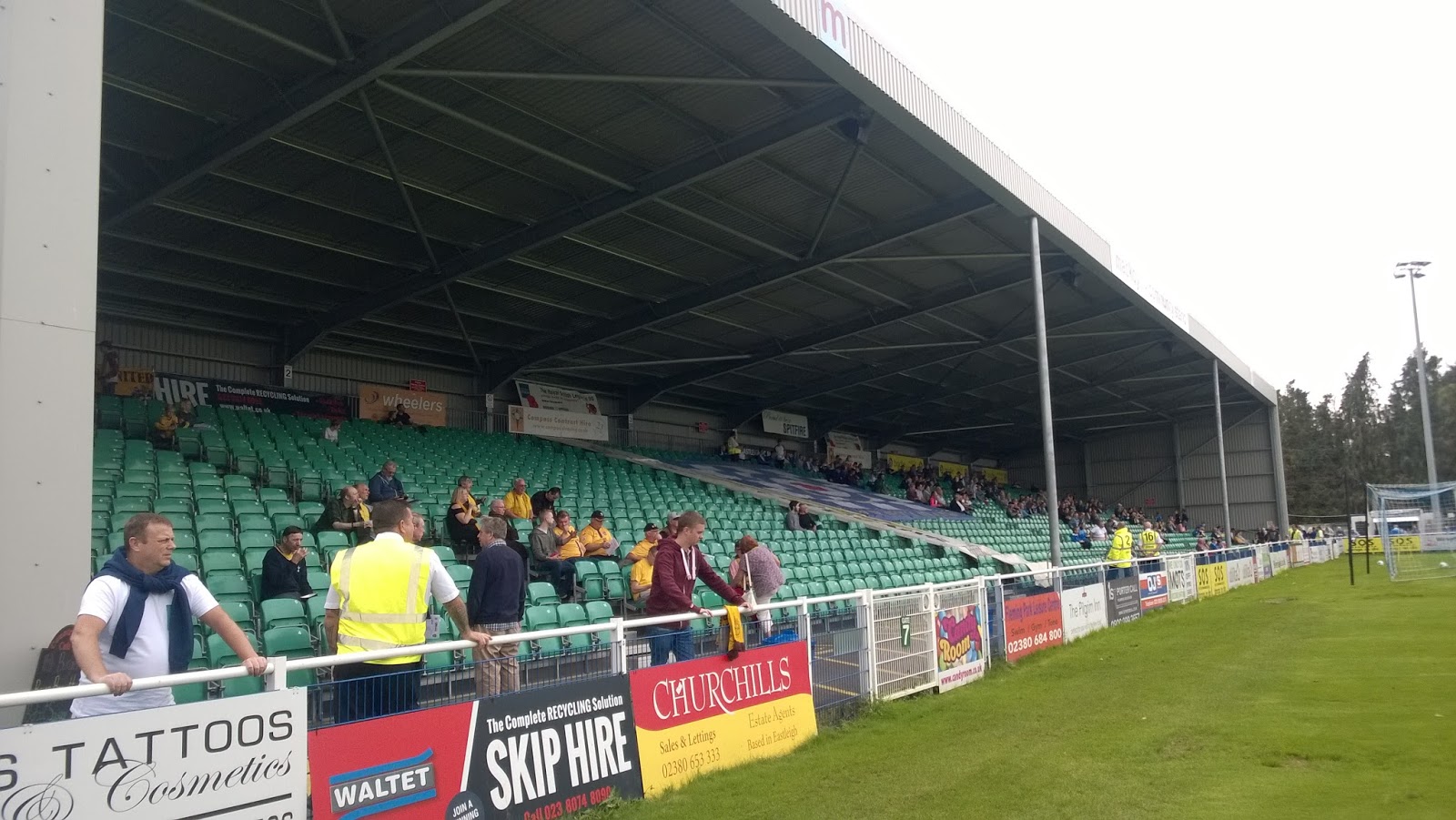 New!
There was even some debate on the price of tea. Some people were forced to pay £2, but others only £1.50. Luckily for the real men, there was also a place you could smoke, but you couldn't vape in the stand apparently.
Worner, Amankwaah, Wishart, Downer, Eastmond, Collins, Burge, Gomis, Biamou, Fitchett, Deacon. Bench Warmers: John, Hudson-Odoi, Stearn,. Spence, Dickson.


The first half was a bit of a drab affair, with both teams failing to produce any real chances. There were a couple of half chances but to be honest I don't really remember anything that needs to be mentioned…nope nothing comes to mind…I'll wait until the highlights come out and try and construct something out of that. But I wouldn't hold your breath if I were you.
The start of the second half saw Sutton, and not for the first time this season, commit complete hari kiri. From an attack that resulted in a offside for Biamou, saw a quick one-two bemuse the Sutton defence, The ball fell to the right hand side and was cut back for the fella to hit his shot into the far left corner beyond Worner.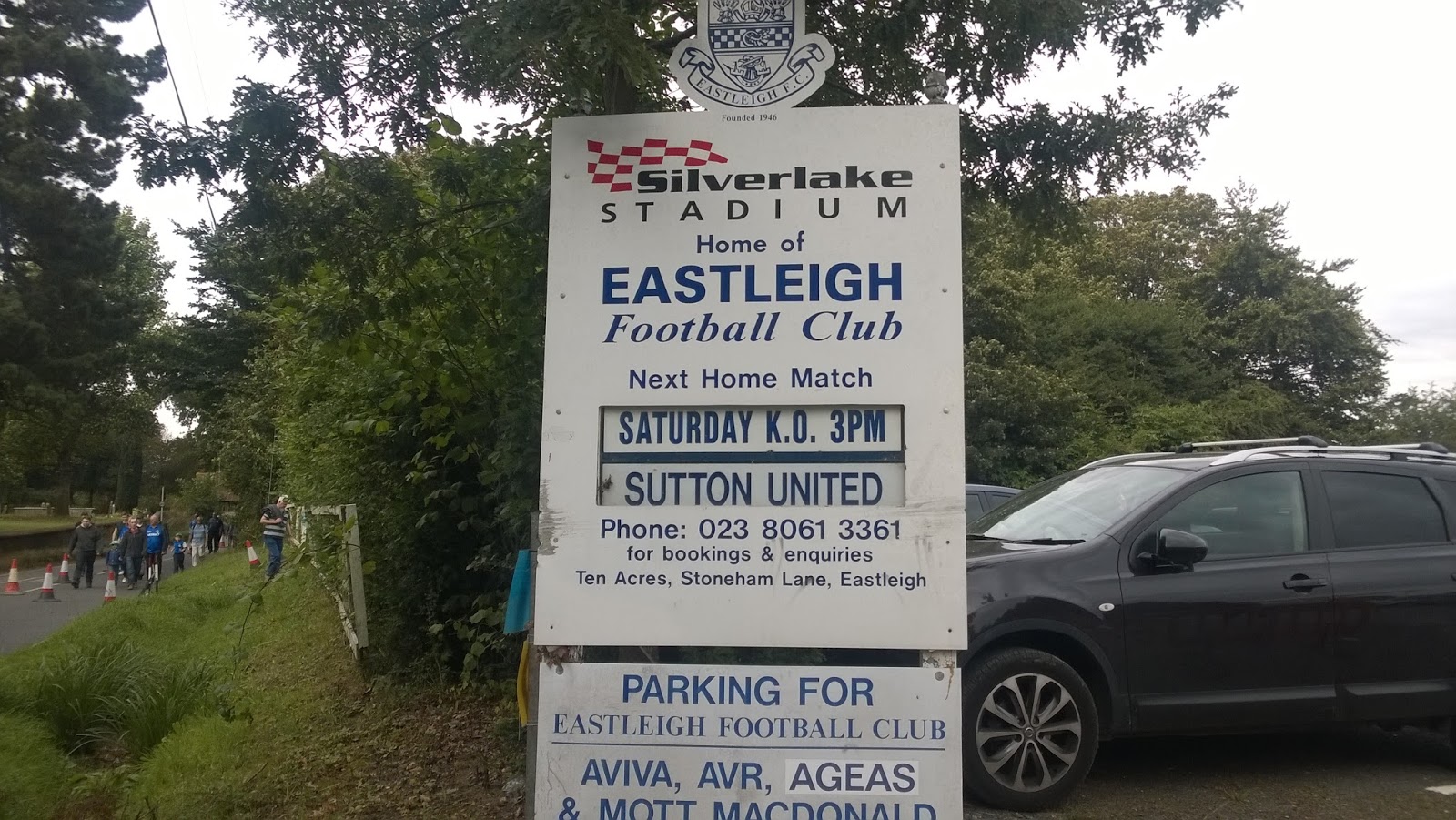 We're in the right place at least…
Still in disbelief in the stand, Sutton were soon two down. A poor pass from Burge saw Eastleigh break on the counter attack. Down the right hand side once again, this time the fella went for it himself in a carbon copy shot that once again found the back of the net. So in less than two minutes of time passed, we were looking at a right royal bummin'.
The game started to settle a little as both teams took chances from outside the box. Just after the hour Burge was replaced by Stearn. It wasn't long after this that a double sub saw Dickson & Hudson-Odoi come on for Biamou & Fitchett. With these substitutes and the fact tat Eastleigh took their foot of the proverbial gas a bit meant that Sutton worked their way back into the game.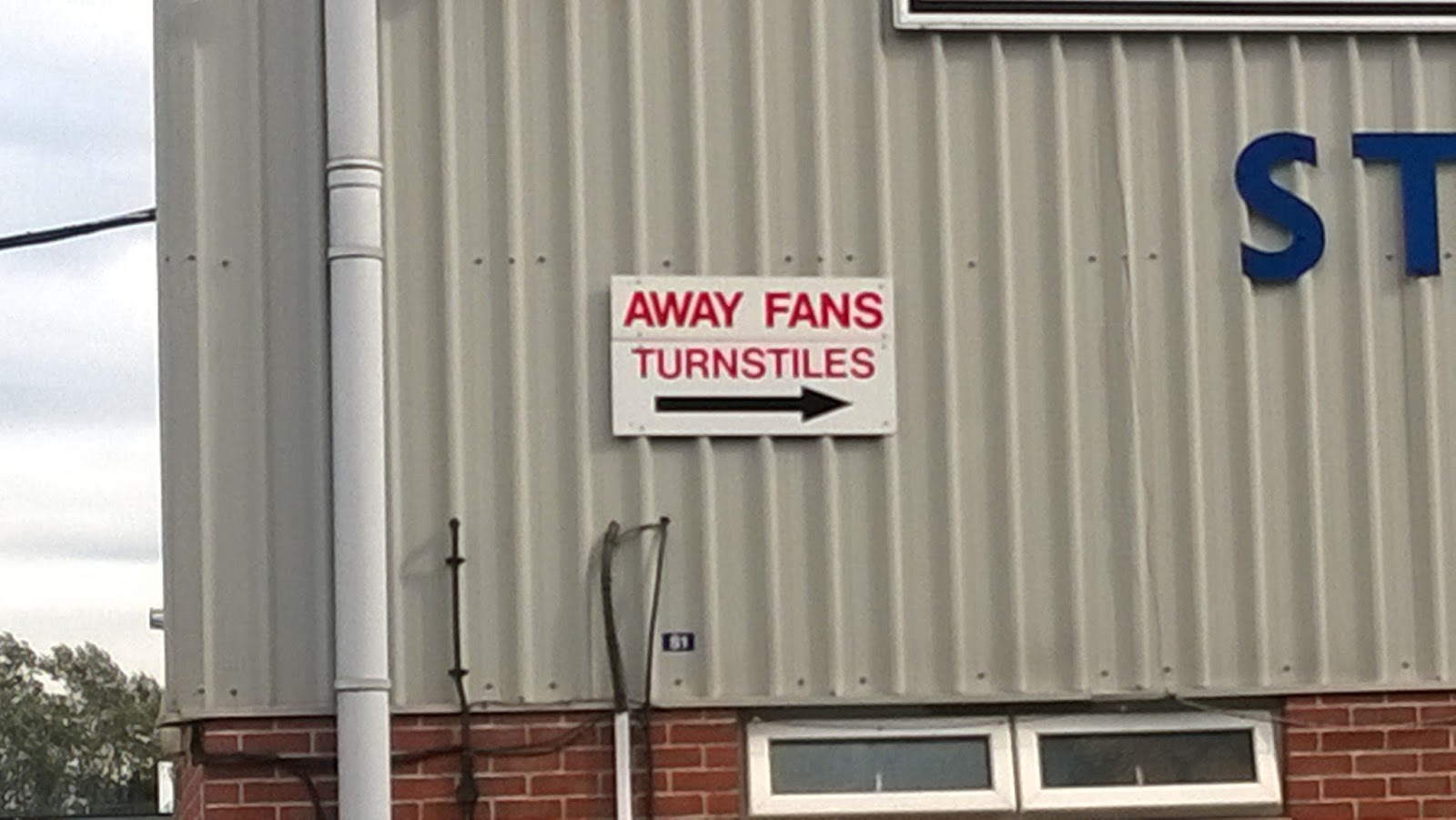 Handy sign.
The first attempt came from Downer, who's deft little header had the keeper push his shot onto the woodwork. Only then did it rebound down, hit him in the back of the head and somehow go the wrong side of the post. Hudson-Odoi also saw his shot well saved as Sutton started to push on. There was a worrying moment when a Eastleigh player ended up clean thorough but luckily the geezer was a defender and finished like one, seeing his poor shot hit well over.
Then out of nothing, Sutton were back in the game. The ball ended up with Stearn, trying to find an opening on the edge of the box and he unleashed not the strongest shot in the world. Somehow the Eastleigh keeper had misread it and let it beat him in the corner of the goal. 2-1!
Suddenly, Sutton were on top and were given their best chance when an Eastleigh defender clearly handled in the box. With Bailey suspended, it was down to Gomis to rid the ghost of that terrible penalty attempt against Tonbridge in Pre-Season. And he bloody missed! Well, the keeper guessed right, but it was a weak hit and he made an easy save to his right.
After that we seemed to loser our shape as the heads begun to drop a little. But we still had another half chance to nick a point as Stearn saw his header nearly hit the target. But once again we've paid for a couple of bad moments when we've mainly done alright. It seems that all teams need against us is one chance, whereas we need at least a few attempts to stick it in the onion bag.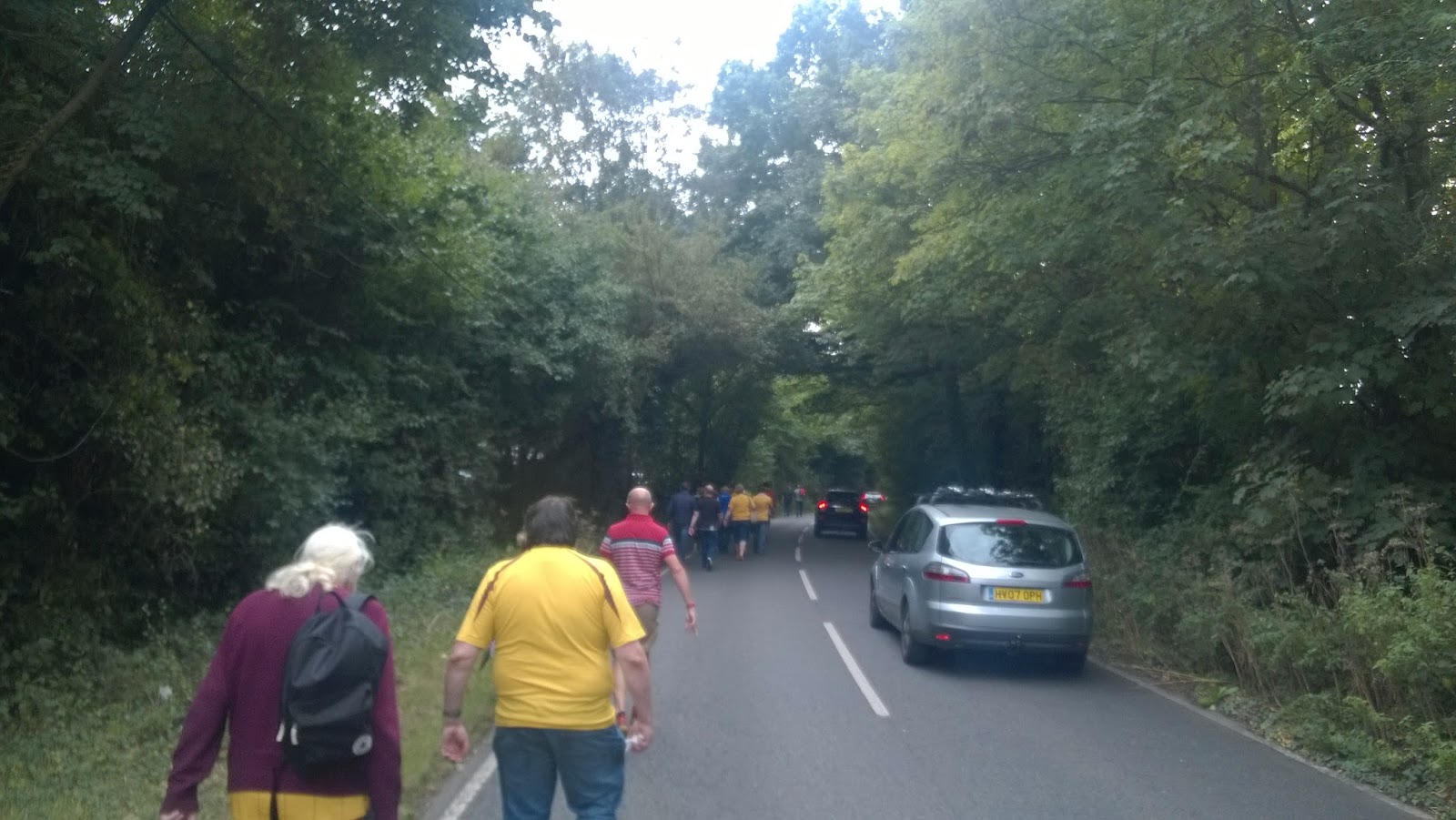 Pavements needed.
After the match it was time to head to a new drinking establishment. On the recommendation of our resident local, Steve had suggested that we go to a local football ground for some cheap drink and to establish some form of plan for the evening's festivities. He did however fail to mention that he wouldn't be joining us and this meant that the whip wasn't either! SHOCK! HORROR!
The B.T.C. was a little sports club back down the road past Trojans. This did mean that we would have to walk a fair distance down the country lane and no pavements for us pedestrians. With traffic now flowing both ways as the ground tipped out and the road being re-open, you had to be careful of any disgruntled Eastleigh motorists.
At the club and with a round graciously brought for by Mr X, we sat down to look at other results and try to agree on what had just happened. Was it only us that saw Dickson storm off at the final whistle? Was Gomis the best choice for penalty taker? Were Eastleigh taking the piss out of us by then announcing Bedse as Sutton's player of the match?
This is true. Taking a penalty is no laughing matter…
After myself buying another round, we decided that the traffic was clear enough to order sherbets from the sticks back into town. The usual Gandermonium fuck up happened when the second sherbet we'd ordered thought we were at Eastleigh football club and not the B.T,C, Eventually he did arrive and we were soon piling out at some bar called 'Wild Lime'.
Some of the Firm wanted to watch the Arsenal vs Chelsea match whilst the rest just relaxed outside instead. After a couple of bottles it was time to making the usual pilgrimage to The Hobbit. Once again, sitting outside, we had a few drinks as we decided exactly on how to get home. We eventually worked out that the latest train that we could get was the half nine from Southampton Central. This did mean changing at Woking but we were too pissed to care figured it was best way home.
By the station was a local Co-Op (which I did see) and a Subway (which I didn't see!), so we were able to stock up on refreshments for the journey. I went for just a couple of bottles as my wallet bladder was feeling the effects of the day's exertions. The usual debauchery on the train was soon to follow and at one point a little bit of drink was spilled over 4 Days, who wasn't the happiest of chaps about the accident.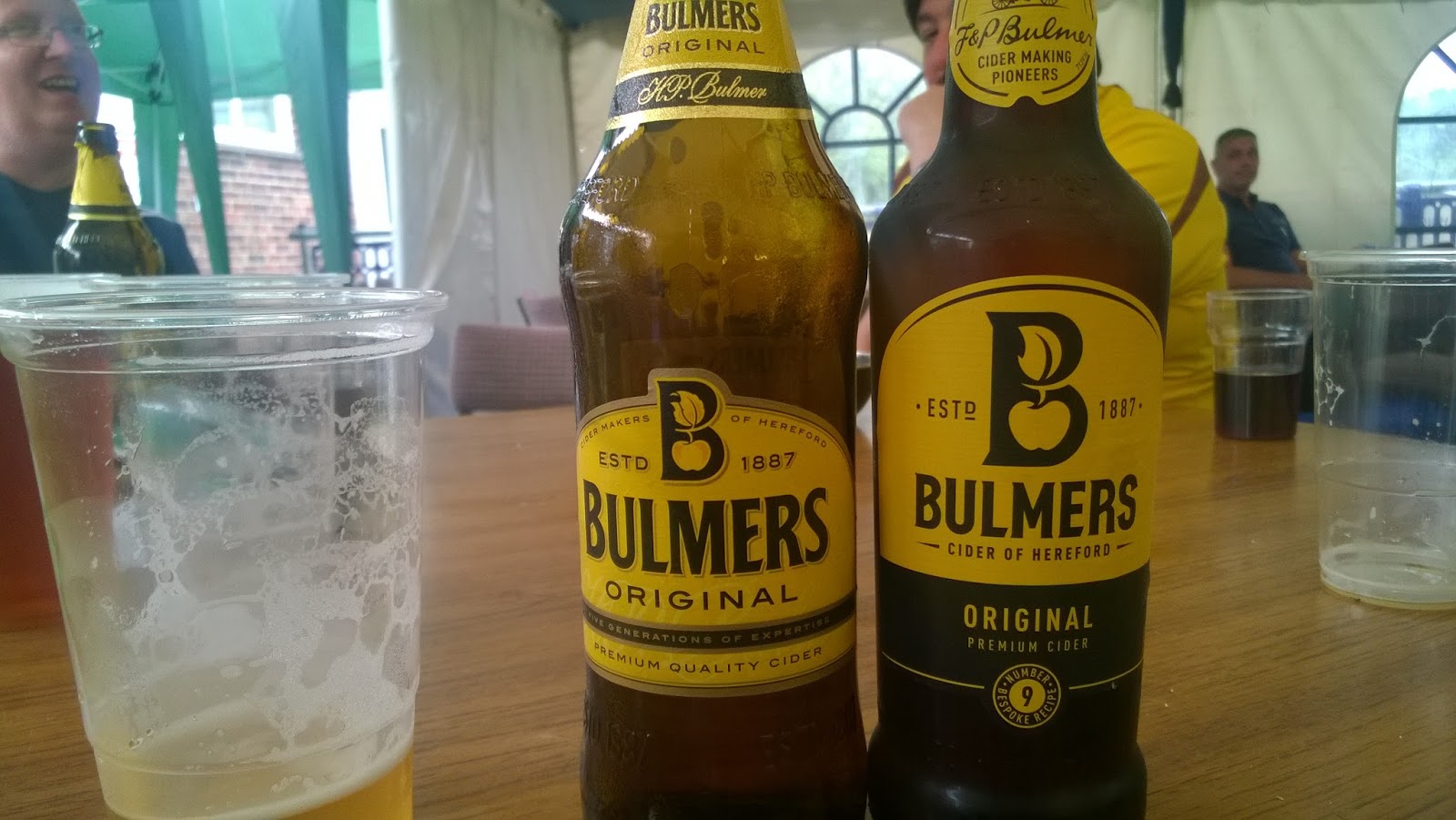 The same but different.
The final port of call was, as always, O'Neill's back in sunny Sutton. Here we ended on the terrace upstairs with an inebriated Irishman singing Don McLean's 1971 hit "American Pie". Not surprising really as you can see from the amount of alcohol we'd consumed by this point. We must've had another three pints in O'Neill's before we finally called it a night. Well, I say WE called it a night, but to be honest we were actually told to leave as the pub was shutting! A cab home followed and here I used my natural charm, wit and 1930's atlas knowledge to get a small discount off the driver by guessing he came from East Pakistan.
So, Guiseley at home Saturday who haven't won a game yet and a chance to get some more points on the board. And let's hope that October is better than September. This is also where we finally enter the FA Cup, a month later than usual. But for once, my wallet I could do with a nice plumper of a home tie in the Fourth Qualifying Round. Especially considering it's Southport & York away in between the rounds!
Saturday also sees the old legends match return after the game. This is always a good opportunity to see the likes of Kameron Abbassi Mitchell Nelson Michael Boateng Nick McKoy Tony Rains, Paul Harford, Danny Bolt & Lennie Dennis. Not only trying to relive there youth on the pitch but also in the bar, where no doubt you'll find us!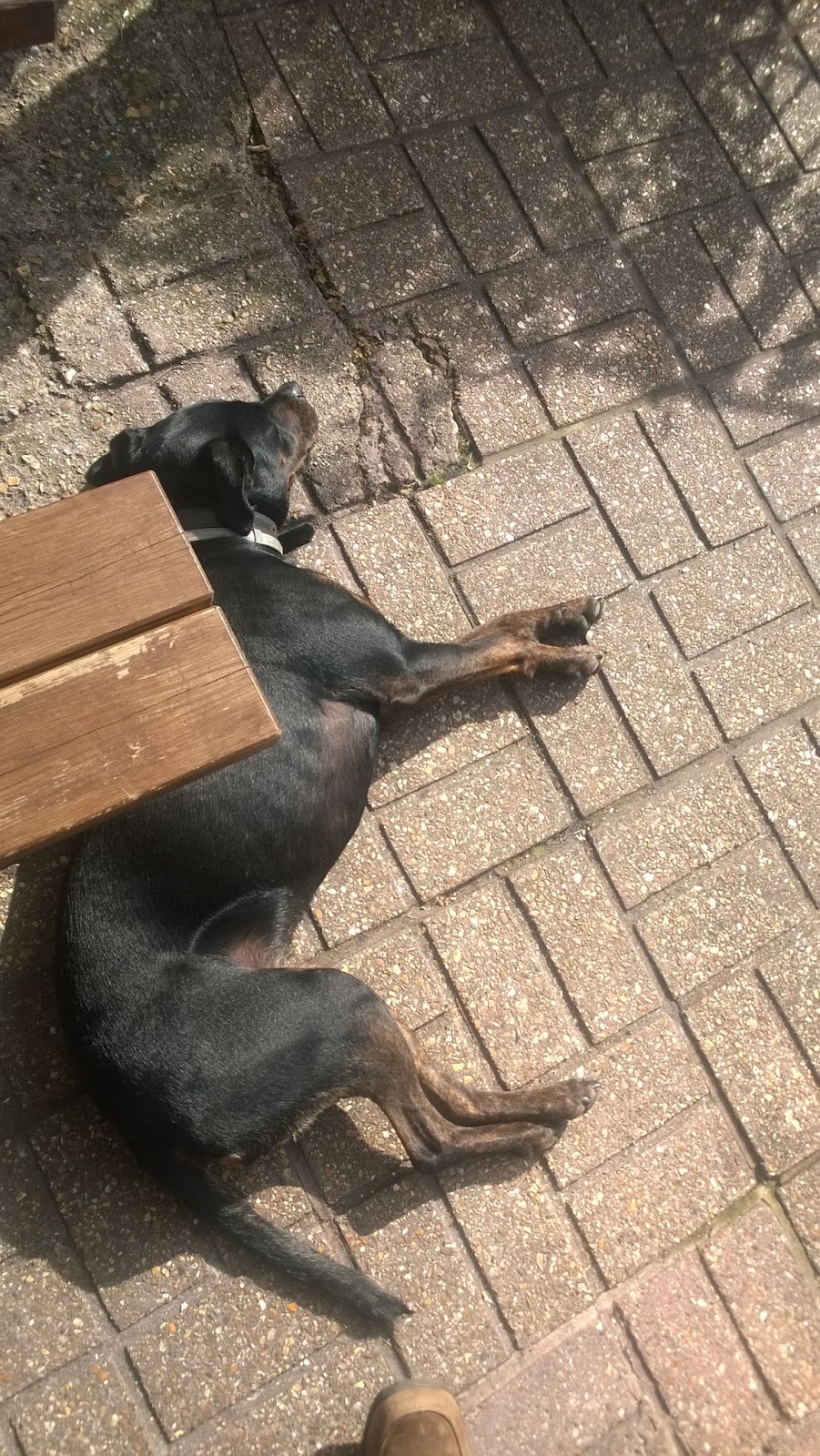 Pub dog.
Duke
Att. 2853
Possible number of pints consumed: Worryingly 18-20!!!