Tranmere Rovers. At home. On my birthday and on TV?
When those balls drop into place in that sequence you get a feeling your luck is in and that if you bumped into Suzannah Reid in the Tesco's car park and invited her into the van to check your jump leads she would drop her "bags for life" and leap at the chance.
So I wake up from that little dream and find that I've hit the ripe old age of 54. Six years off reduced admission, a bus pass and those special gentleman's pants that get advertised with monochrome line drawings in the back of the weekend tabloids. Other than that, the next big one on life's rich calendar is sliding along in a big polished box while what's left of your mates mumble along to The Jam's Going Underground. Happy fucking birthday!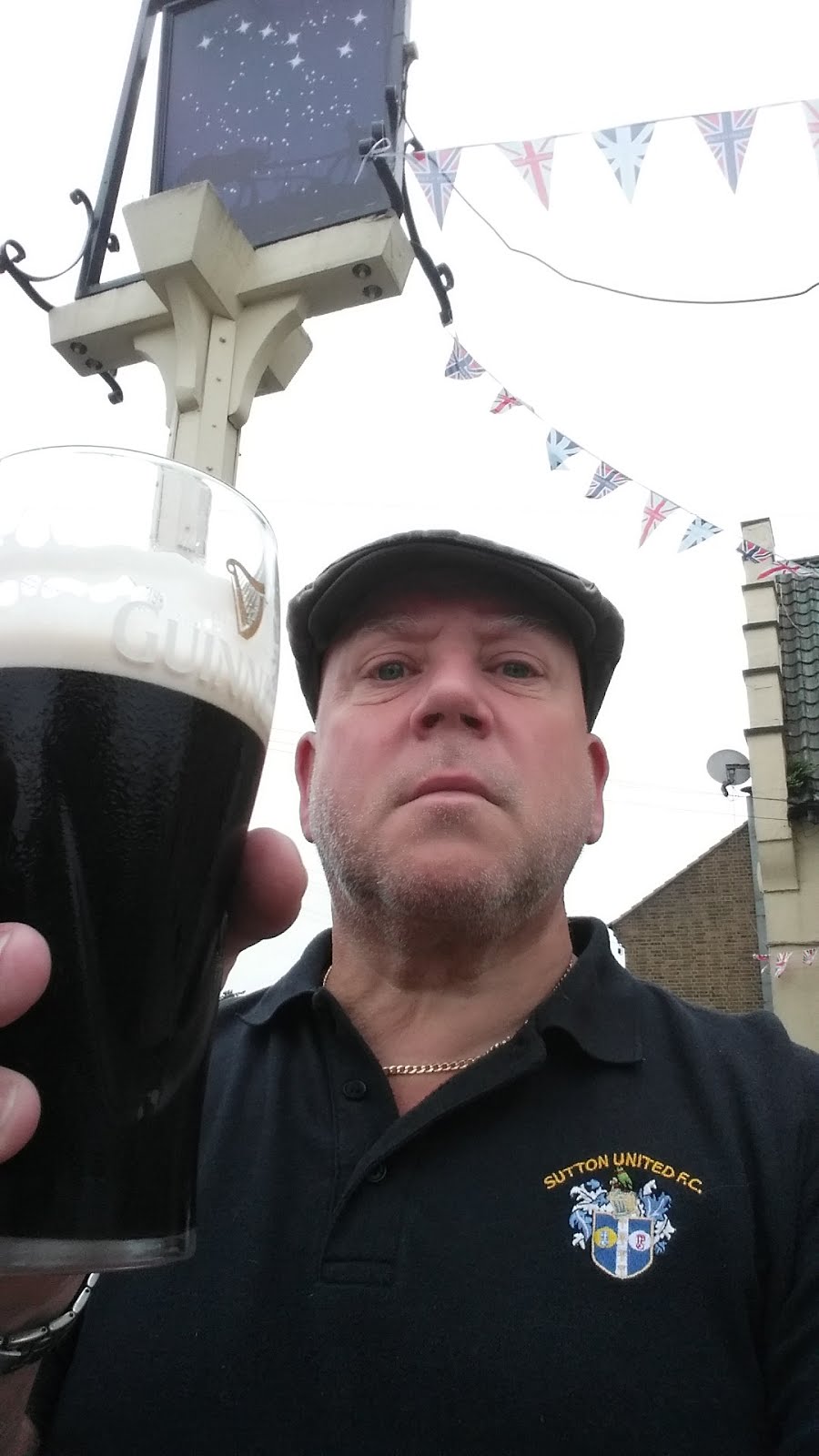 "You better have got me a fuckin' card…"
Mrs Totts and the kids present me with a special gift pack of Red Stripe and Dragon Stout and I settle down to do some research on Tranmere in preparation for the days reporting duties. A quick check of the emails reveals that BT Sport have carefully ignored my offer to step up as a pundit to give some genuine local knowledge and colour to their output for the day. Fucking mugs, the idea that you can broadcast from West Sutton without consulting the local power brokers is frankly nuts. I only wanted a monkey off them for it as well. Idiots.
Settle down then kids. Here's a Tranmere football fact for you that I didn't even have to research. Legendary post-punk band Half Man Half Biscuit were massive fans of the club. Check them out, their cannon of work includes the brilliant Trumpton Riots and the epic All I Want For Christmas is a Dukla Prague Away Kit. Absolute genius.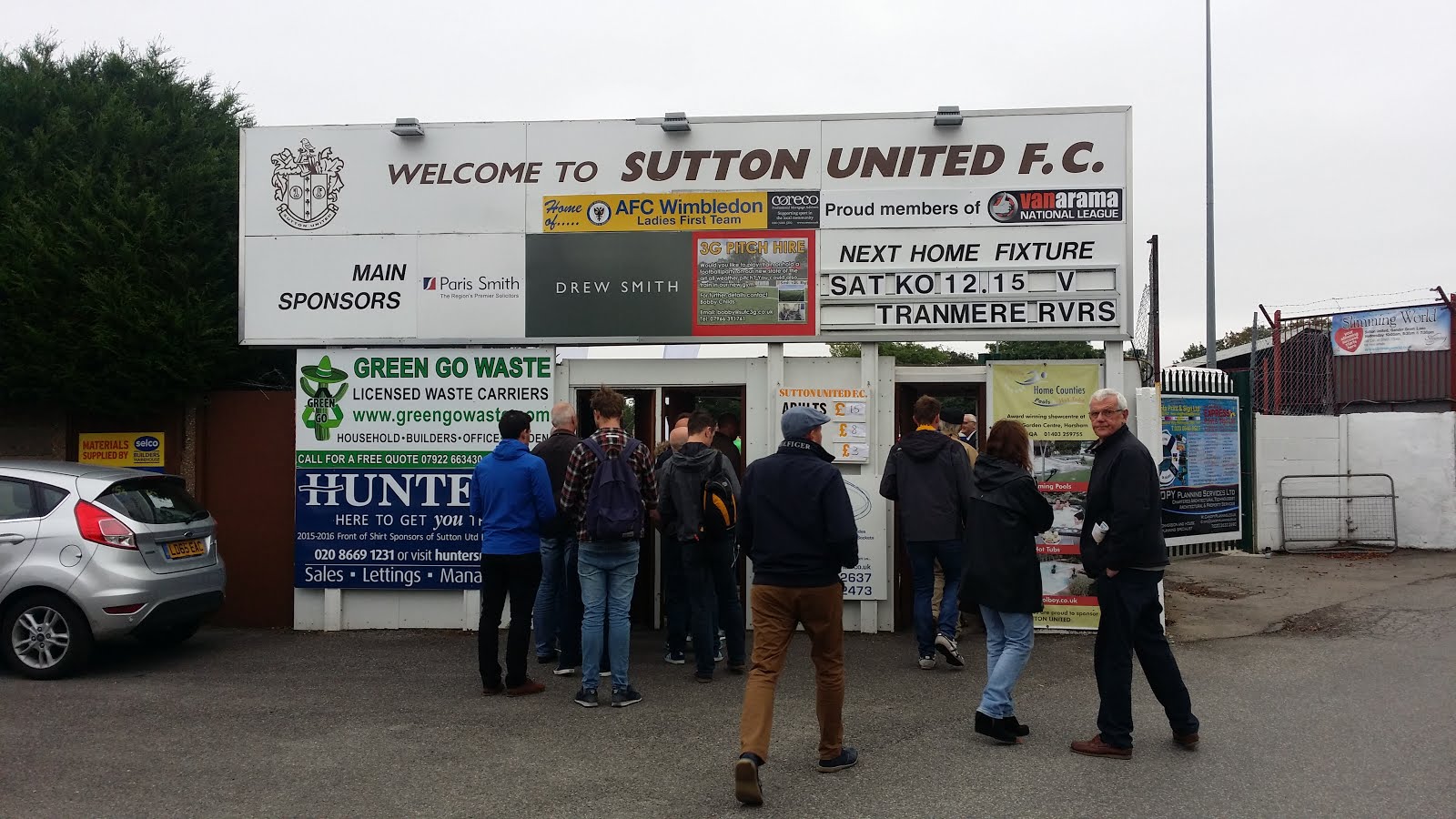 Rush for Kick Off.
Anyway, back in the early eighties there was a live early evening music show on Channel Four called the Tube, presented by Paula Yates (who is dead) and the perennially irritating Jools Holland (who is still alive). In those days Tranmere played their home games on a Friday night to avoid clashing with the Merseyside Saturday fixtures. Half Man get invited on the show for a career breaking appearance and fuck it off cos they are going to the football! Total respect due I think you will agree?
Thoughts of all this are racing round my head as I try to plan a workable schedule for the early kick off. It's at this point that I shit the bed – not literally but metaphorically. For some reason I've got it fixed in my head that the kick off is 12.45. I know, I know it's pretty basic stuff checking kick off time but I've clearly assumed that even if it isn't 12.45 BT Sport won't get the party started without me. So I'm planning a pint in the Plough opposite the ground and then a swifty in the club bar before KO.
"I think we're being watched…."
I know it's unfashionable with the hipsters but I still like the old Plough and there's a good showing of Tranmere fans in the house. Good lads n all. They tell they've been on the go, quite literally by the look of it, since around five am and if it had been a 3pm kick off they would have had at least twice the numbers. So I'm wired into a pint of stout when one of the Birkenhead chaps checks his watch and announces that they are off – I tell em there's bags of time and only then does it drop I've got the key data wrong. Not a great look when you've just been telling the fellas that you are the leader of the small but benevolent People's Republic that controls the weather in these parts. Oh well.
Knocking the pint back I spot our good friend Millzy out on GGL ushering the overspill from the club car park onto his substantial frontage. Good work fella. A significant step up from the old "look after your motor for ten bob mister" but from little acorns grow great oaks.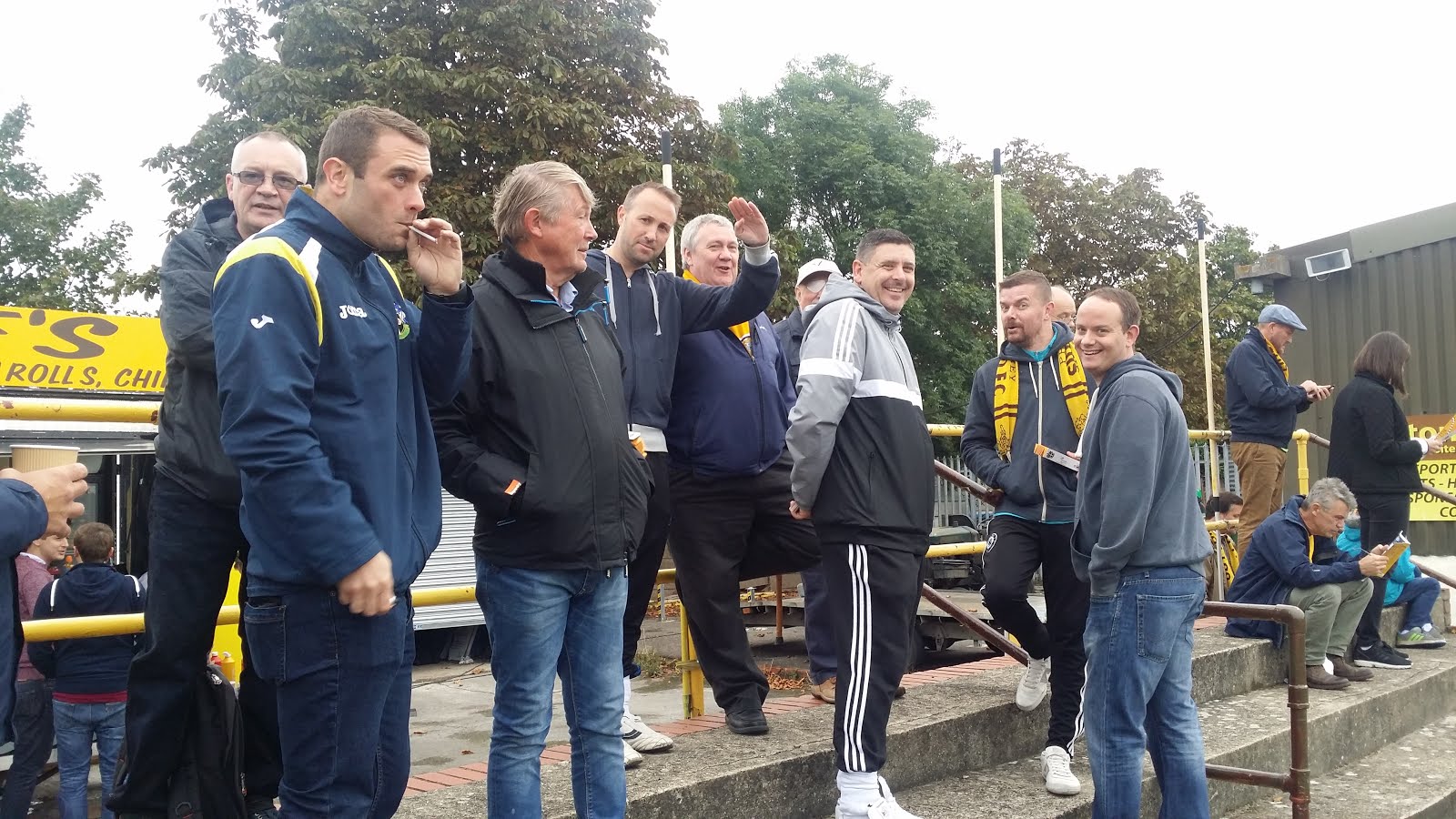 Some right dodgy geezers
It's busy the other side of the turnstiles and there are TV cameras everywhere including one on top of some scaffolding flying right above Roses Tea Bar with a good view down into the Shoebox terrace. There's a full turnout from the Cheam Park DILFs today but they look uneasy as they hand out the playing cards for their bizarre, and probably illegal, gambling enterprise. Well dodgy in the glare of the national broadcast media but I reckon they enjoy the thrill of the risk more than they let on. Strange, but each to their own.
The Bacons arrive and spin me some horseshit about having a whip round, that failed miserably, to get me in as the matchday mascot as the birthday boy which reminds me of that weird fucker from ACDC who dresses up as a schoolboy despite being nearly 60. Enough of that thank you very much. Then the teams are out and we are off.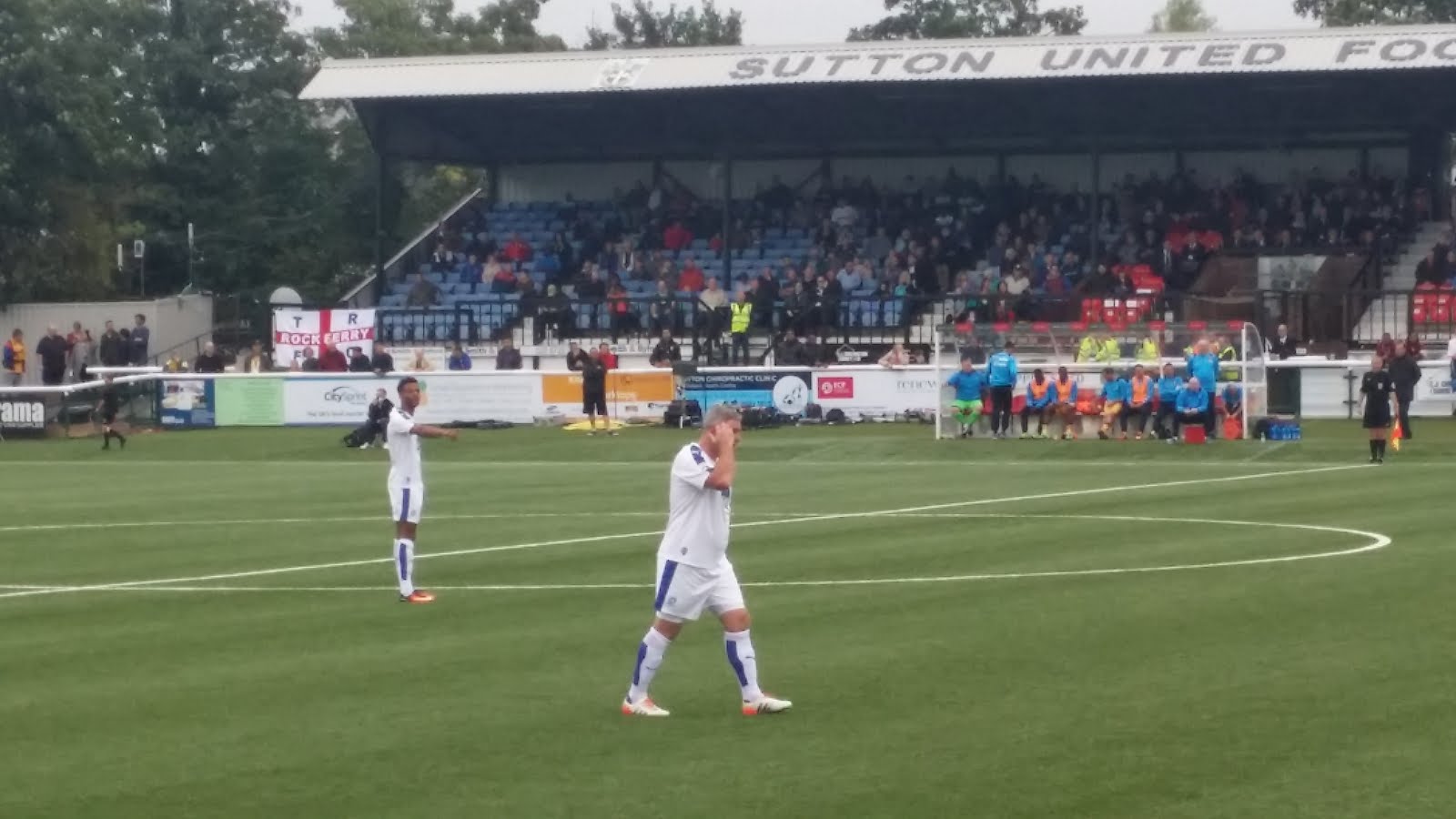 Unfortunately for McNulty, telly adds 10lbs…
The first minute sees a Tranmere shot bundled off the line and as the ball is cleared their lad curls a pearler onto the bar. Blimey. This could turn out to be a long, hard lunchtime but it pans out that Tranmere have peaked early to say the least and that is pretty much the sum total of their attacking threat for the rest of the afternoon.
We get into our stride nicely and start pinging some quality passes around with the supreme Nicky Bailey running the show in midfield. We certainly don't look like a side that's lost three on the spin. Fitch and Max up front is proving a real handful and the extraordinary Paul McNulty, who looks like he won his place in the side in a pub meat raffle, belies his appearance and seems to be holding the entire Tranmere side together through sheer force of will. They lose a couple of players fairly early, bizarrely attempting to blame the pitch, and maybe that has unsettled them a bit.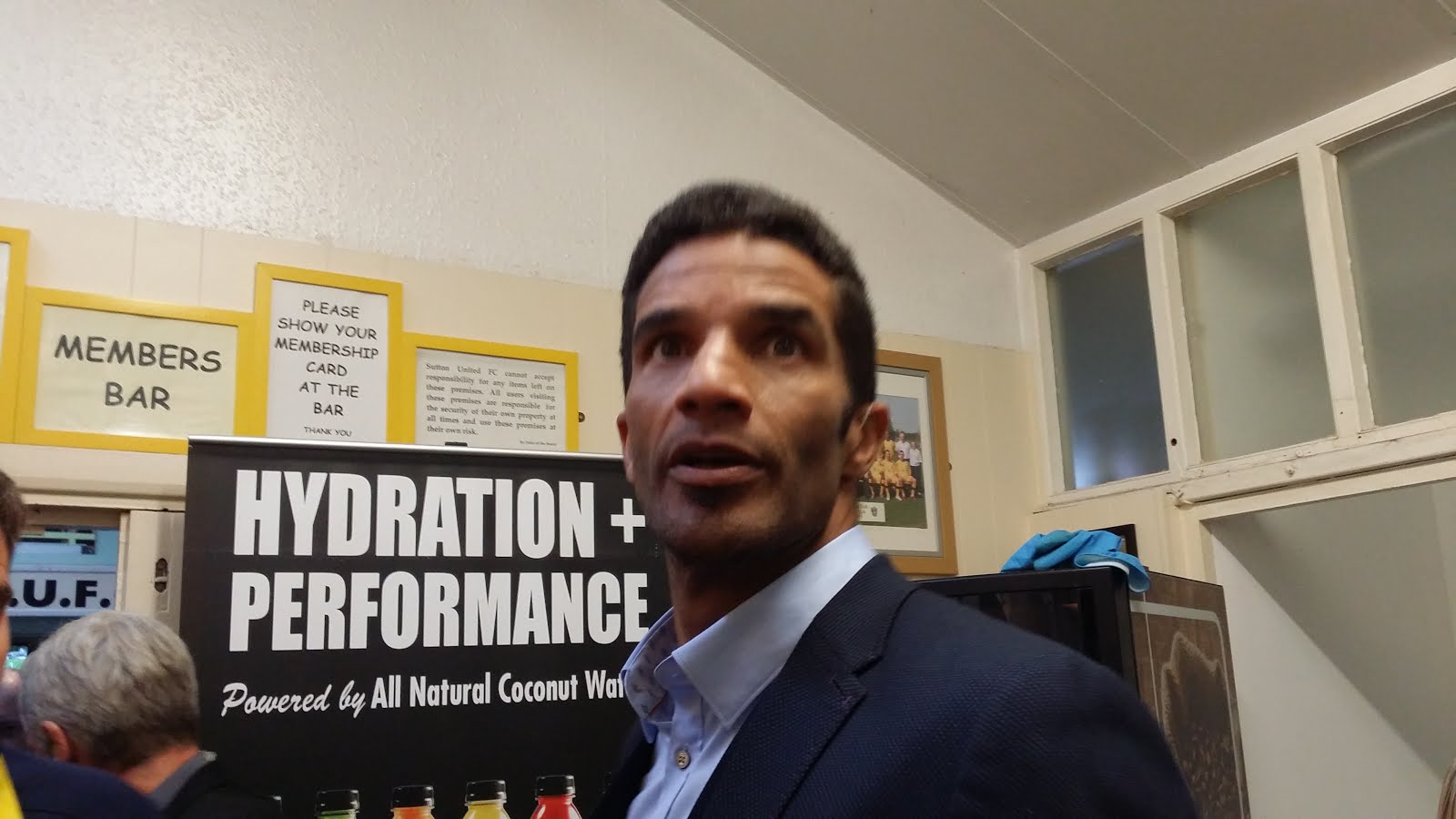 David James, startled by the demands of a man in a flat cap…
We get the ball in the net through Fitch but it looked more clearly offside from up on the Shoebox than it must have done from behind the goal. Meanwhile, the Sutton youth at the GGL end have started waving around a large, hen night, blow up cock. I really must have a word with that lot before they embarrass themselves and the club even further.
So half time and I'm more than happy with our show as I head down the tunnel with the Duke for a livener. David James is well pleased to see us as well and I promise him a selfie once he's done his HT punditry. Fucking weird hitting the bar and seeing the match on the box but I could happily get used to that. We've come a long way baby since the Ryman days of just a few years back.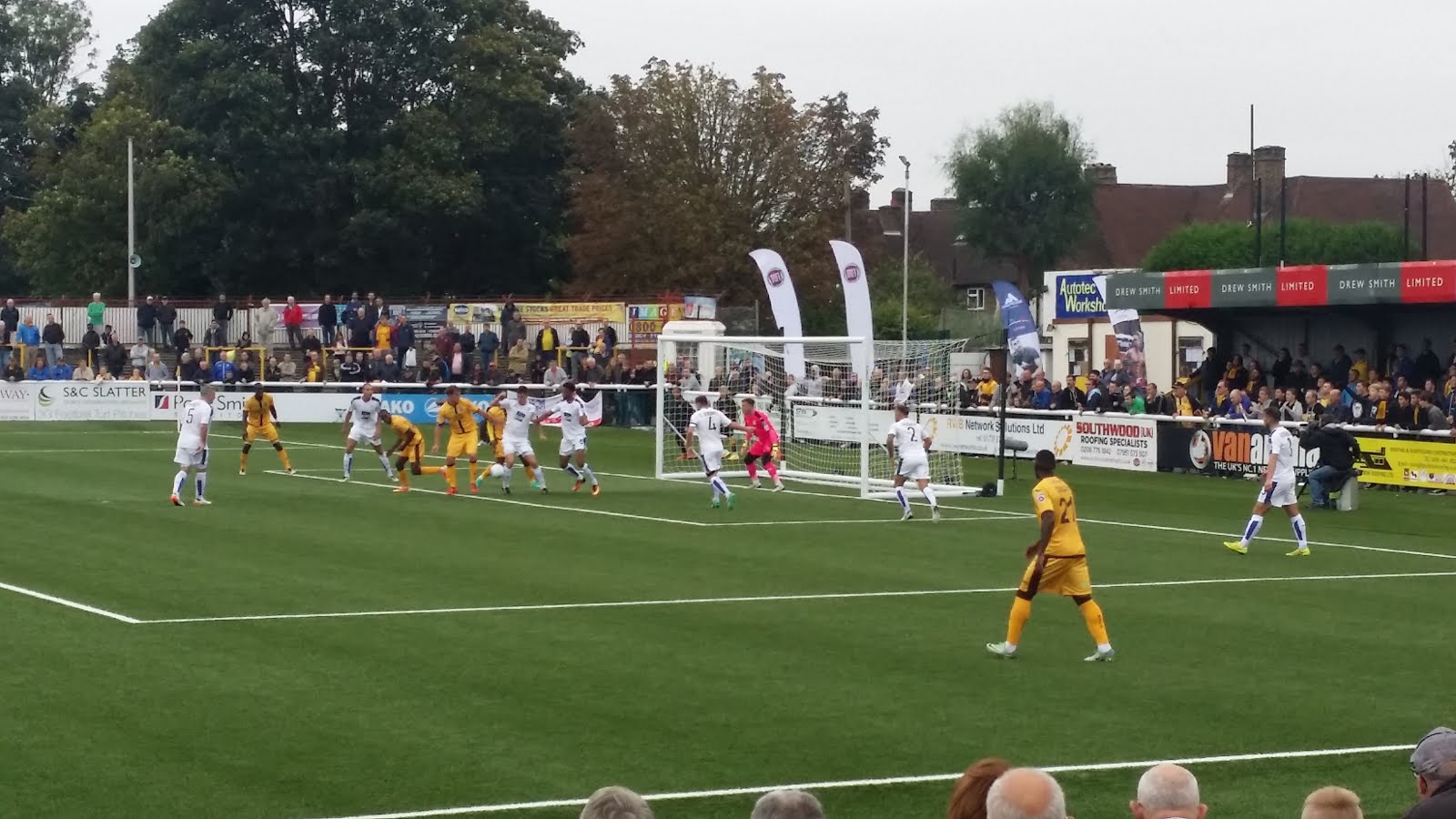 Action action action!
Out for the second half and with no segregation I opt to spin round via the Collingwood End and that's why I end up seeing the Sutton goal, a great headed finish by Fitch, from in amongst the Tranmere. I'm ecstatic but they are fucking fuming and it's at this point I register just how pissed off they are with their gaffer. More of that in a bit.
Back on the Shoebox we've been joined by the mobile crew and we are all happy. I even celebrate with a slipper from Roses. With cheese. And onions. Tranmere just don't get going at all which is due in large part to our energy and commitment. It takes two to tango and we've got all the moves. JC in defence is like a big old tank that nothing is going to get past today.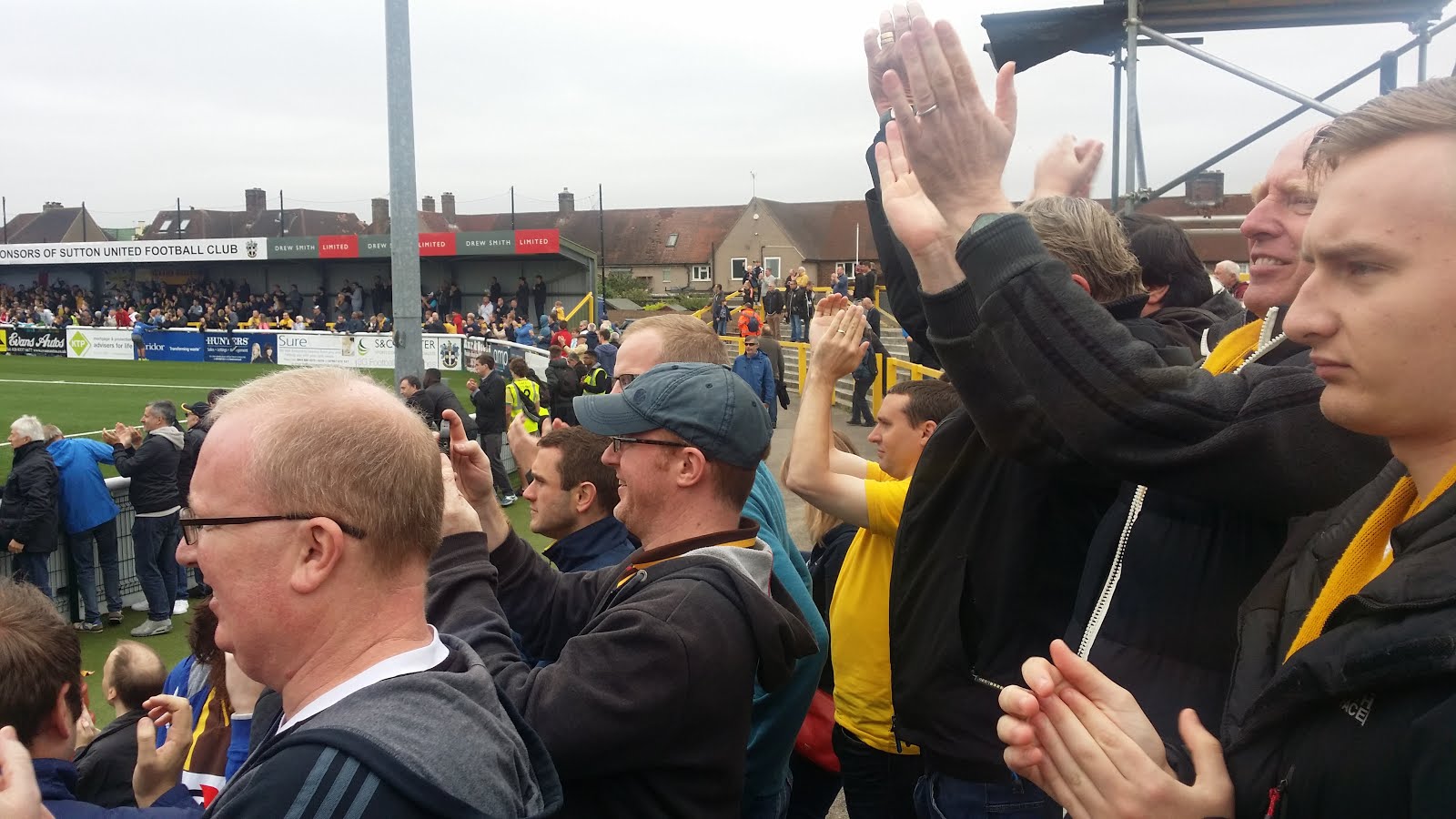 Congratulating the worthy victors
We have a penno shout turned down with Max getting a yellow for diving. Looked fifty fifty to me but there you go. Tranmere run out of subs, ideas and energy and end up down to ten men as we carefully close the game out with no repeat of the Braintree madness. Lovely old job. Before the final whistle we clock some of their lads heading behind the dug out to give Brabin some friendly advice and we later hear that eggs were confiscated and I don't think anyone was planning to knock up an omelette.
In the bar we are bouncing and I cave into pressure from Belly and get my annual round in. I even bump into my brother in law who tries to fucking blank me! On my birthday! Turns up he's there on a comp with Sutton legend Richard Pake. Does he but me a drink? Does he bollocks. Families hey!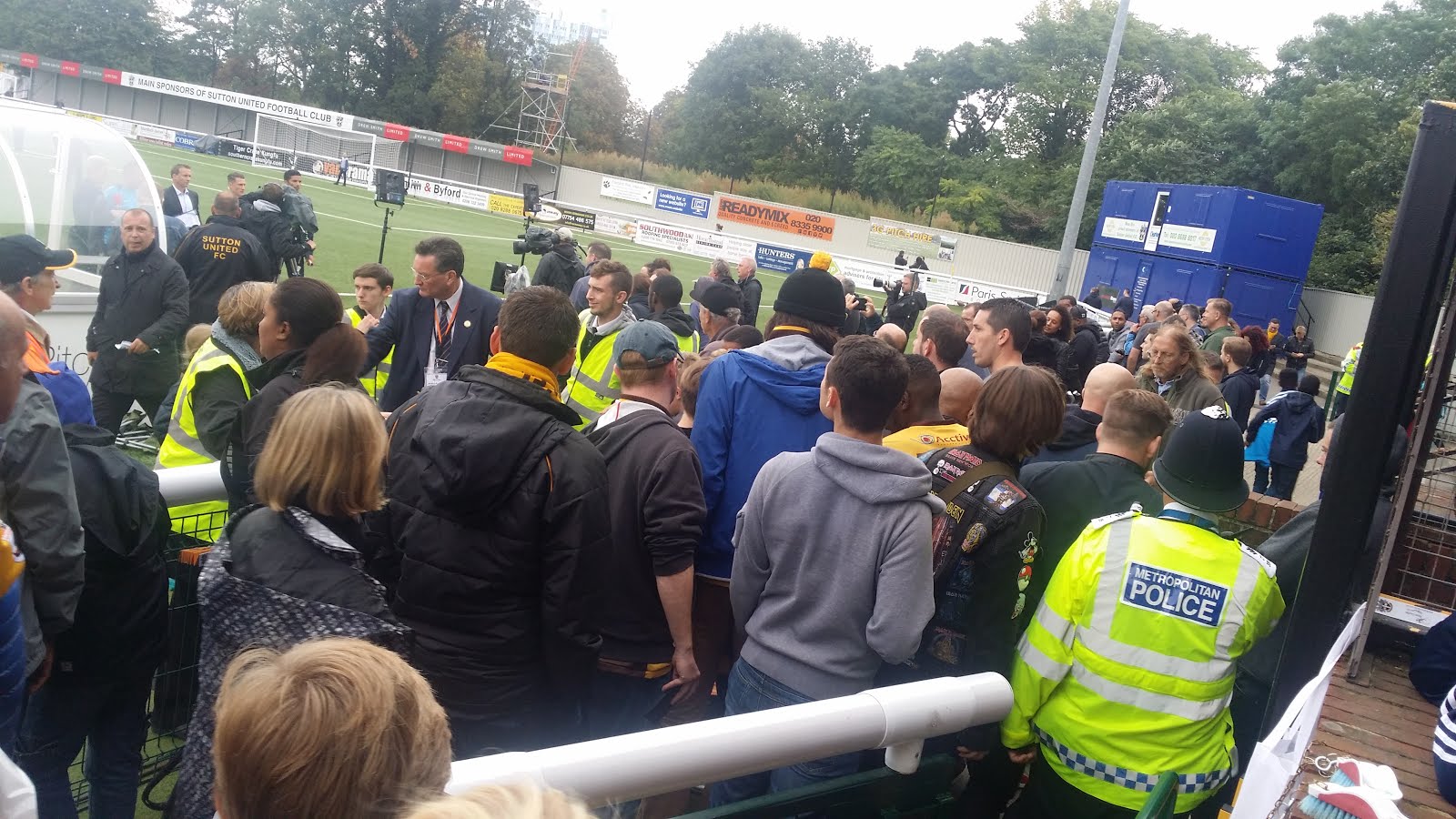 The yolks on you chaps…
A couple of the Tranmere lads do the Strikers Are Key draw while AB rants and raves like a fucking mad man. The fellas even make a comedy attempt to nick the safe. Brilliant stuff and I've gotta say I really enjoyed the company of the Tranmere lot who made the early start for a long journey and are clearly riled up by what's going on at their club but as one of them said to me that doesn't detract from how well Sutton played. Respect that.
I swerve the offer of a trip down O'Neills and instead head off down GGL for home happy as Larry thanks to my football club and the assorted cast of characters who make days like these the best of your lives.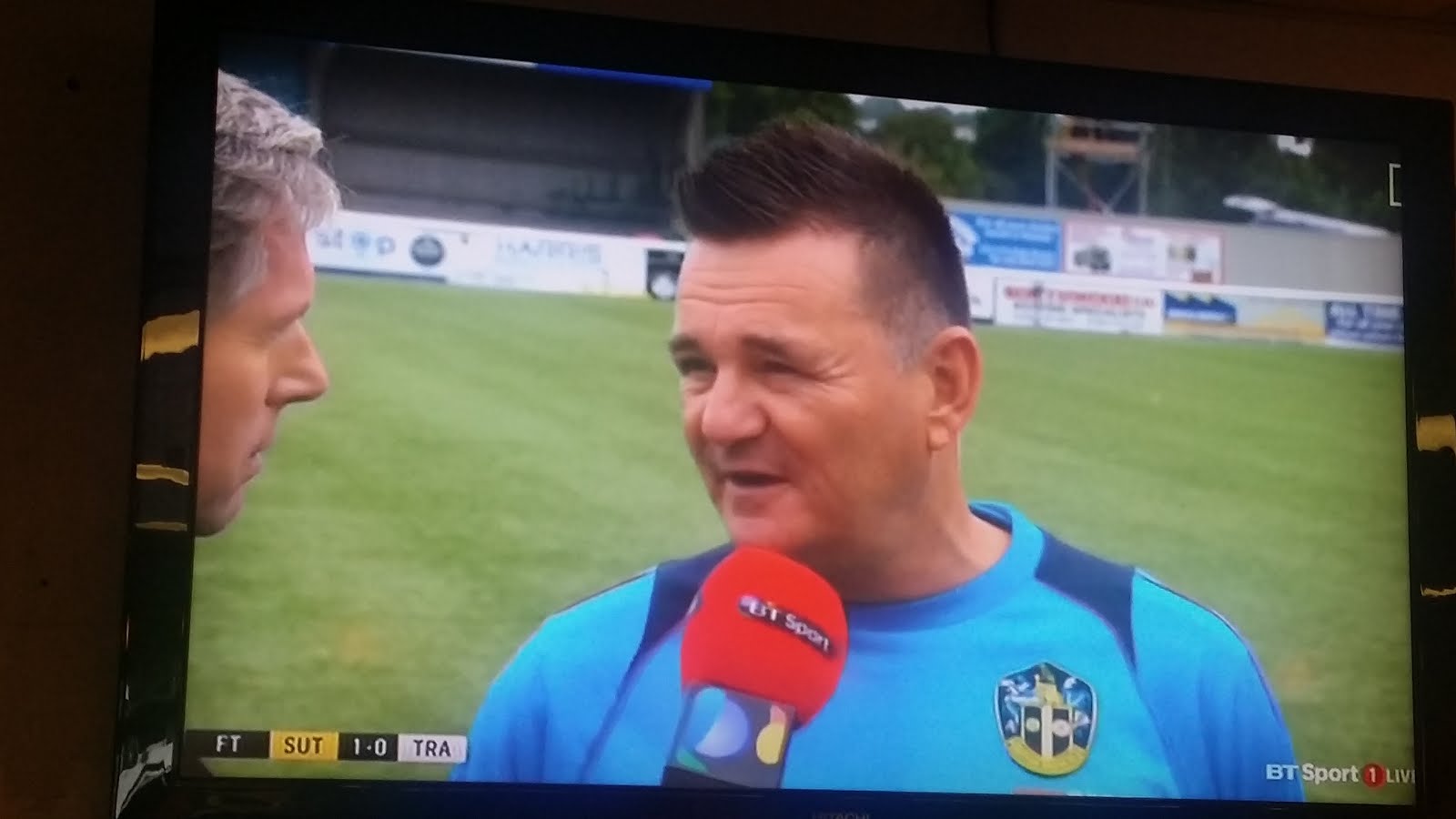 "And I'd like to wish Totts a very happy birthday…."
Totts.