If you've been hanging around these here parts for any length of time, you may be aware that we here at Gandermonium have a motto of sorts. "Leave no man behind! (Unless mutually inconvenient to the rest of the group)". And we meant it too. Well, until Saturday night at least.
On several occasions in the past, we've ruthlessly ditched some lame straggler from the herd as they couldn't keep up. Like when we ditched Dukey that time in Tonbridge when the security guard in Sainsbury's detained him for chatting up his bird on the checkout. Did we wait for him? Did we fuck. We got back on the fast train home and maximum drinking time back in Sutton, leaving the flat capped wonder to fend for himself on the slow boat back to civilisation.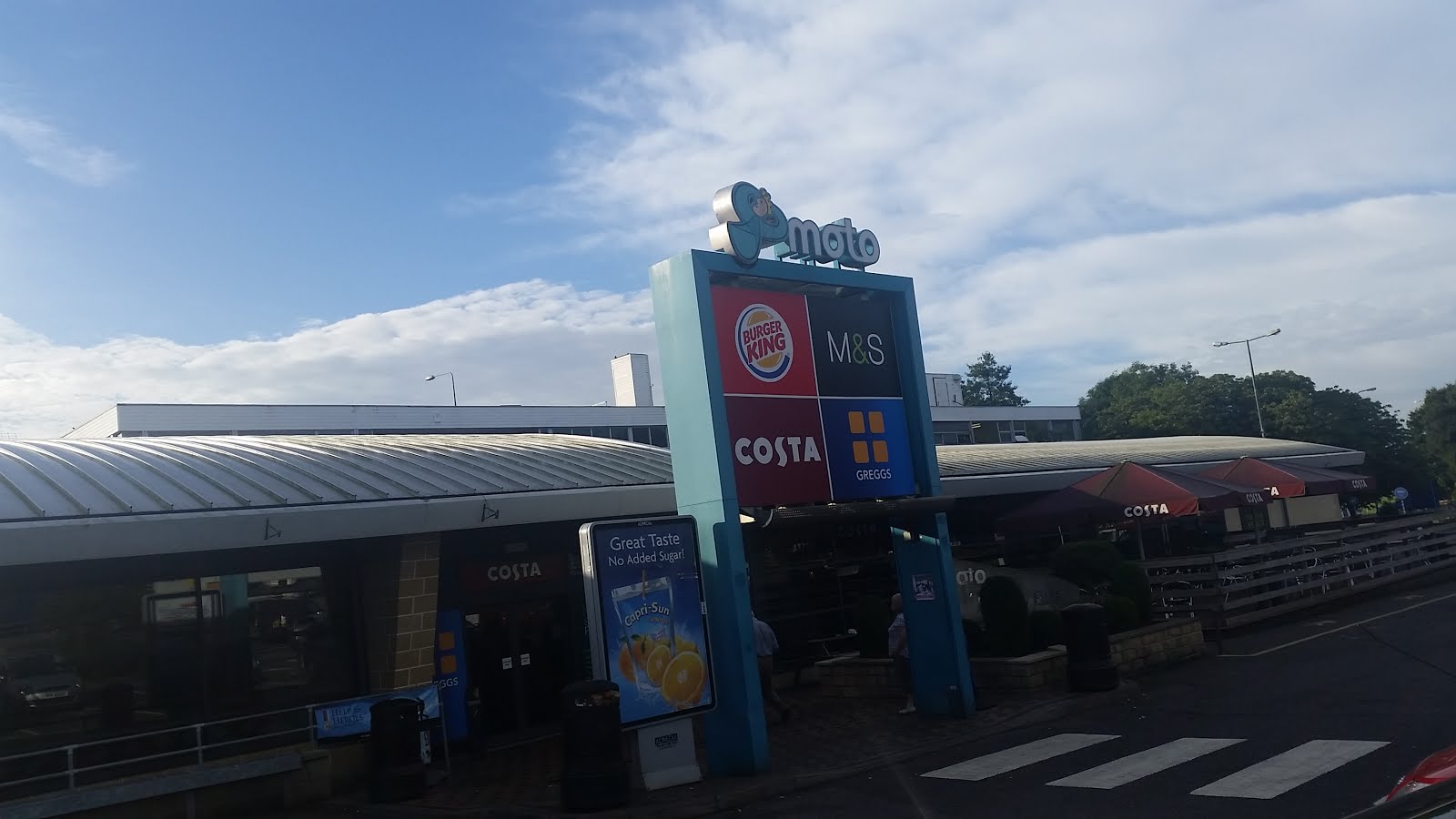 All the major food groups…
'Grandad Gold' looks lovely in the early morning sun
So, as you can see, whilst we do tend to talk a fair bit of bollocks about stuff, this is one rule we tend to stick to. But then again, it's never really been subjected to any serious scrutiny or pressure until now. However, I digress. Let's start at the beginning shall we?
It's 4.30am. I know this because there's a fucking horrible noise coming from somewhere very near to my left ear. That'll be my alarm then. I punch the noisy screeching little sod to make him stop and I can blearily make out the numbers 4 3 and 0 on his recently assaulted digital fizzog. Plus there's no such thing as 43 o'clock.
The reason for being up at this absurd time is that due to my recently relinquished joblessness, I wasn't able to join the rest of the gang in pre-booking the train for Gateshead. Mostly because I was skint, but also slightly because it was seventy five fucking pounds. And that's with Virgin East Coast's 25% group travel discount booked two fucking months in advance.
Yes, Virgin East Coast. The train company owned by Richard beardy Branson. Who is also a billionaire. The two facts being of course completely unrelated to the fact his firm charges a ton to get to Newcastle regardless of the fact that you're booking several months prior to the invention of the locomotive. But, once again, I digress.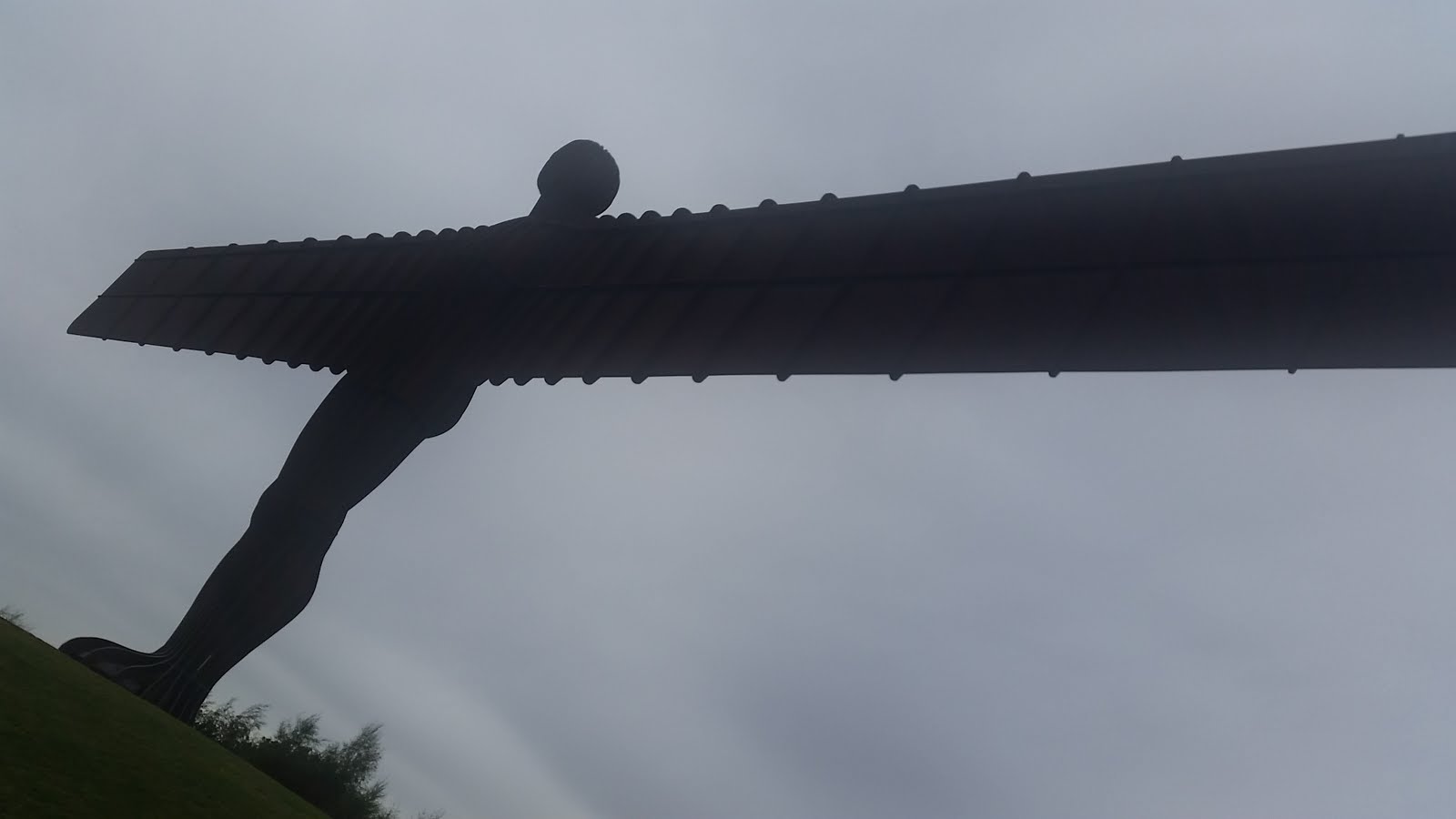 Faaaackin' caaaaam on then!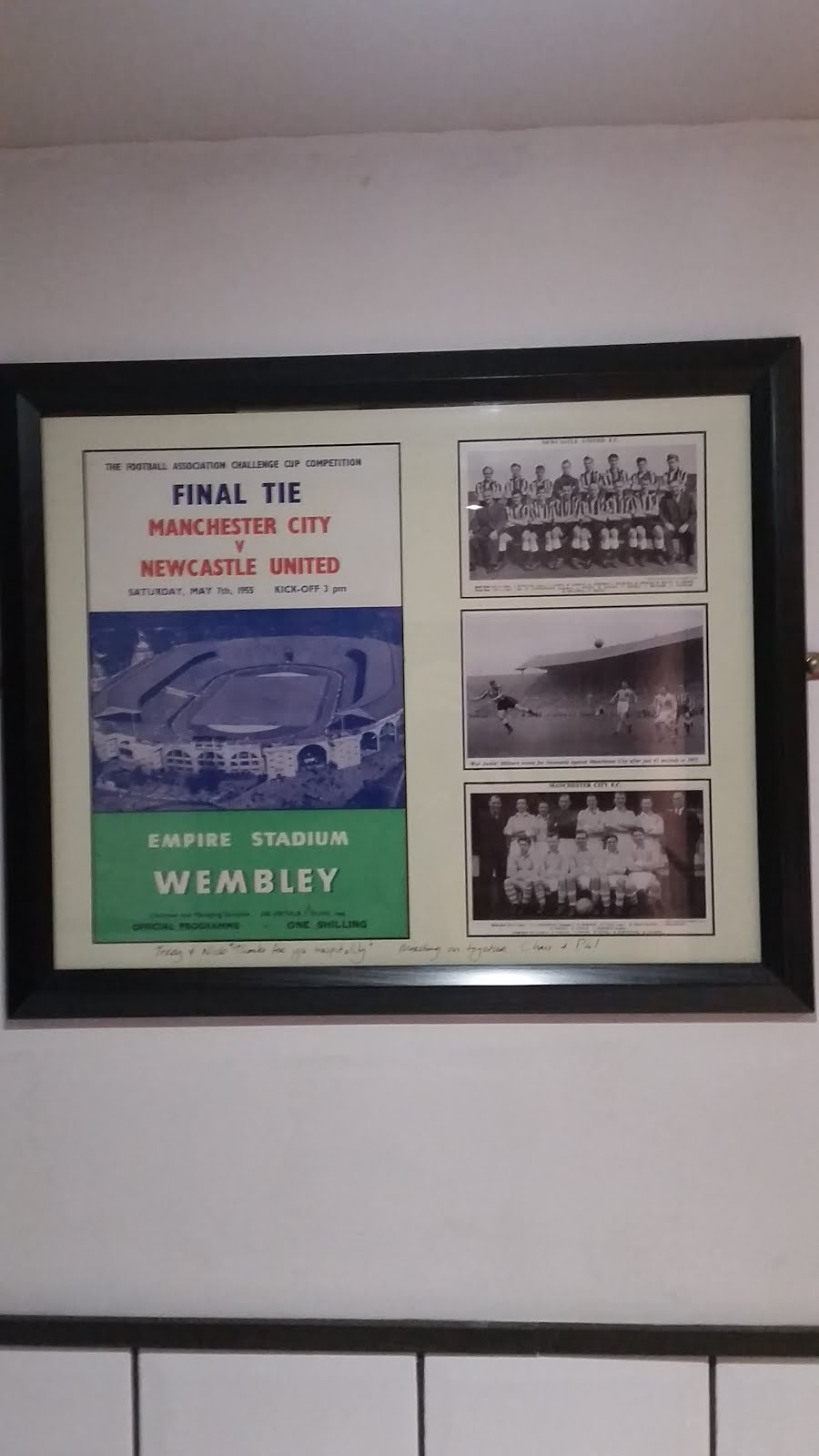 Even we've been more recently!
Not being able to afford the train meant I was in limbo. I desperately wanted to go to the game as I'd never been to Gateshead before. But most of all, I wanted a night out in Newcastle, a city I'd not yet experienced. However, with a job coming up soon after, I decided that I wasn't going to miss a journey as possibly epic as this one and decided to drive up instead. Mainly as the cost of petrol wouldn't be any more than Mr Branson was asking of the other 7-8 idiots in our mob. With this decision made, Belly soon invites himself along for the ride, then Robbo also of thise parish. Which is nice, as it means my petrol costs plummet and there's 2 people to keep me awake on the drive up the A1(M) to the end of the known world.
With the 3 Esses taken care of after ABH'ing my alarm clock, I peck a goodbye onto the cheek of my beloved and head out the door. Awaiting outside to carry me North is some early 21st century luxury motoring. My old man's Merc A class. I'd figured this would be a bit easier to spend 5+ hours in than my own motor, if only so we didn't have to suffer it screaming it's Japanese arse off at motorway speeds due to the worst automatic gearbox in car manufacturing history. The downside is the fact I'm driving an old person's car. This is accentuated by it's colour. Grandad Gold. Which Mercedes apparently refers to as 'Champagne'. Yeah, fuck off lads. I also can't work the stereo yet and it's tuned to an old persons station. Not even something like Magic, but the old Capital Gold frequency of 1548AM.
The start to the day could be better than receiving a heavily static afflicted broadcast of Jerry & the Pacemakers "How do you do what you do to me" if I'm honest.
I'm soon on the way round to get Mr Bell and he hops in after spending half an hour trying to open the boot. Still, it's not all bad, he has supplies. Pork pies and a shitload of fruit drops. Nice. It's then up to the badlands of Rosehill to pick up Robbo from his gritty urban pad. With him loaded, we set sail for the A3 and christ knows what after that.
Fortunately, given we've left at a time few people probably know even exists, the roads are clear and we're onto the M1 before too long. I even manage to get the stereo onto a late 20th century broadcasting frequency. Then the bladders kick in and we're soon in some services for a quick splash and dash. Here we check messages and find that the train wankers are struggling a bit, with both Greek and Chalmers having had races against time to make their 8:40 train out of Kings Cross. We of course take the piss (having just had one ourselves) and get back on the road.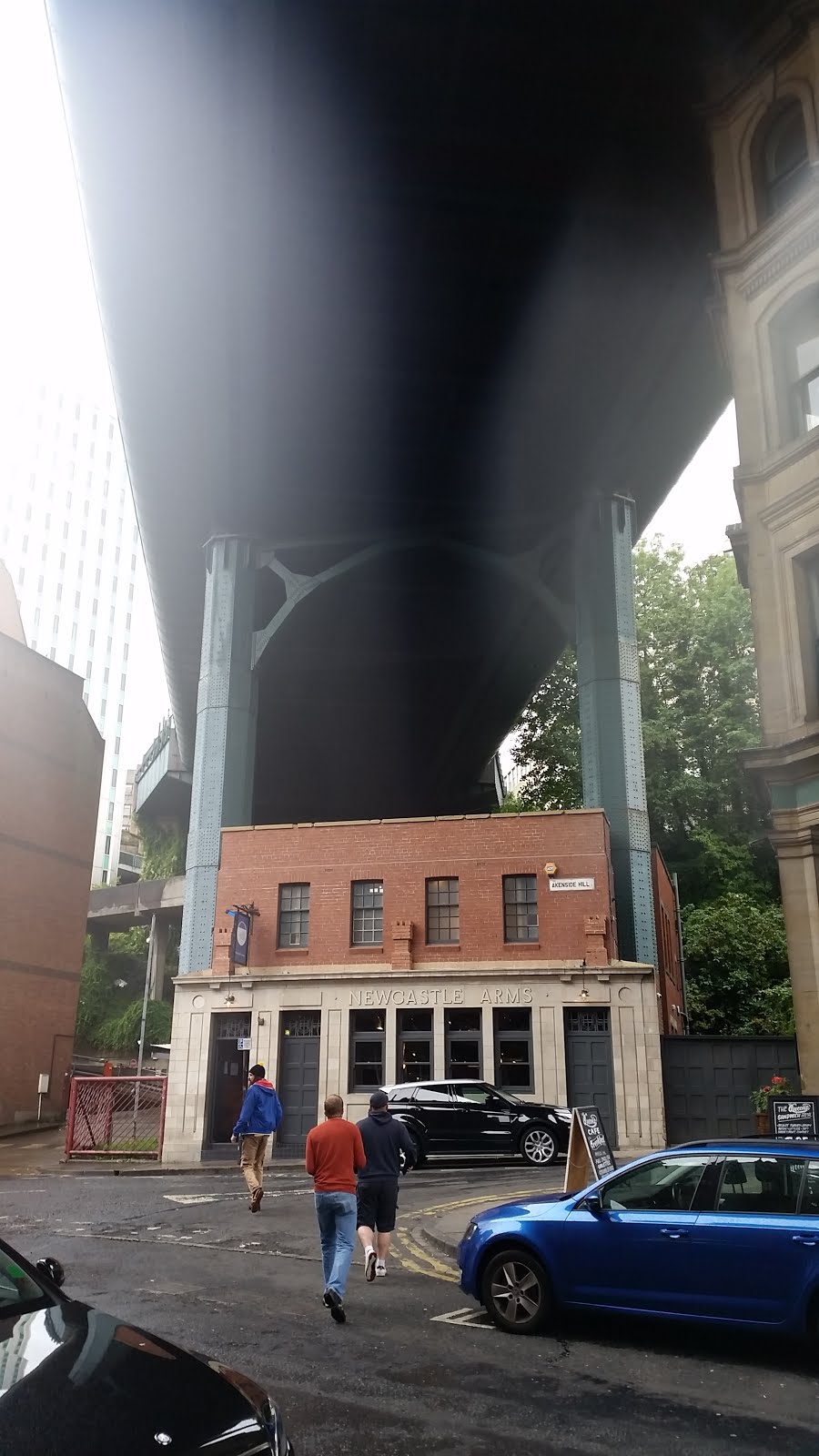 Under the broadwalk….er….bridge.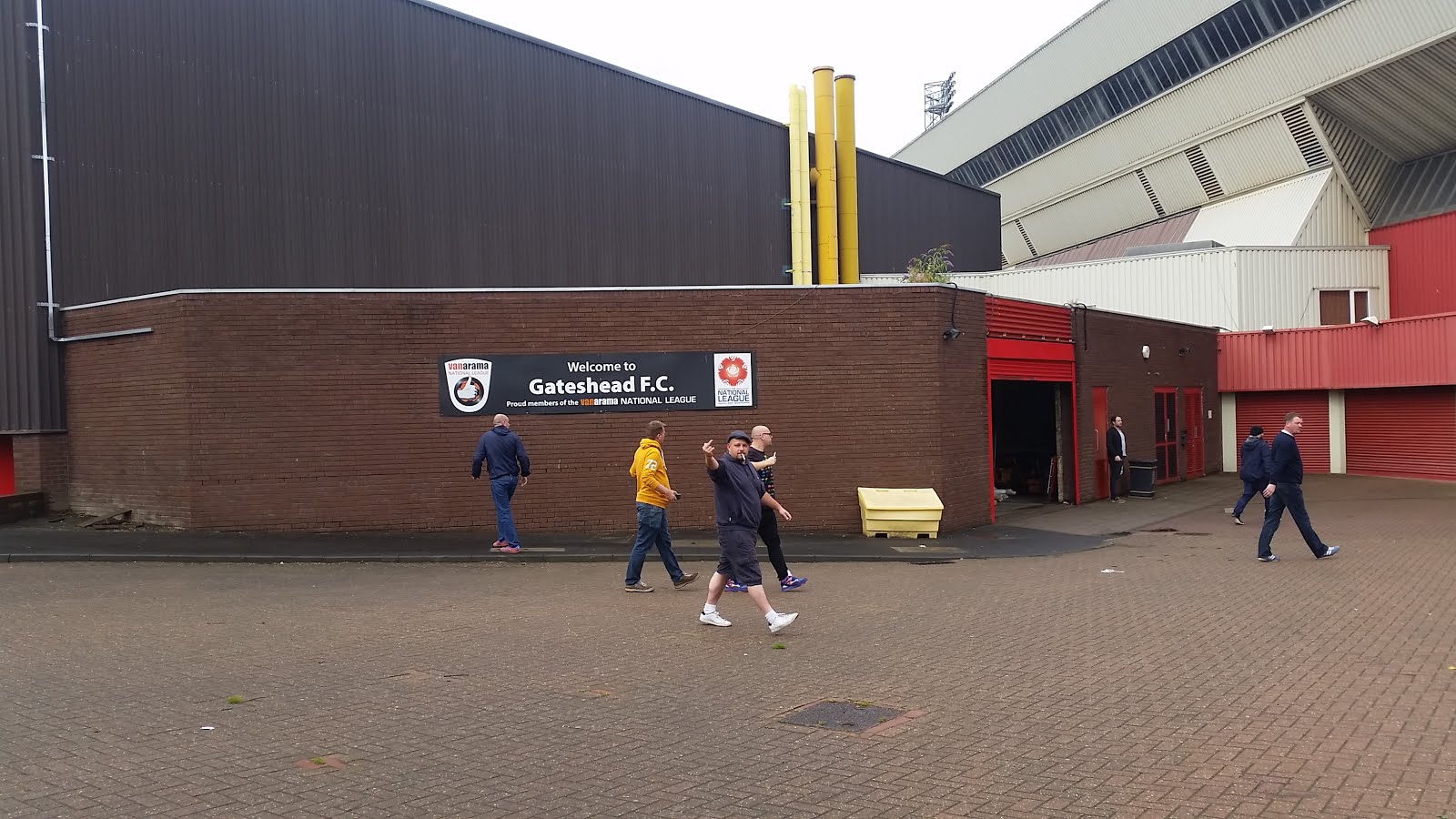 Sutton Boys, we are 'ere!
Before too long, Nottingham is receding in my rear view mirror and we decide to stop for a cuppa and some bacon based stuff. Greggs does a fine job providing this and with a quick check to the rest of the gang, it seems everyone has in fact made the train. Although Greek is a little distressed as he's once more made the mistake of going out and getting munted on the Friday night. Of course, sympathy for his plight is widespread.
At this point, I realise that tales from a Grandad Gold Merc on the M1 isn't very interesting, so I'll instead hand you over to our Railway Correspondent, Mr Duke, for the tales from the train…
For those of us that were due to take the £75 choo-choo "Oop North" the plan was simple, get our arses up to King's Cross for the 0830hrs train. After the other week's near fuck up with Chester, I decided to do a little bit of research and give me some spare time, just in case.
Working out that the 0711hrs off Carshalton would give me over half an hour, I informed the Firm Leader of my decision. He concurred and said he would go for it as well. Needless to say I didn't pack on the Friday and thought I'd awake early and do it first thing. Surprise Surprise I fuckin' overslept! Running around like a blue arsed tit, I was offered a lift, but refused.
Doing the usual shit, I arrived with five minutes to spare. Looking around I soon realised that someone was not here, namely the Firm Leader. Knowing that, like with Chester, he once again had a leaving do the night before meant that he'd been out getting munted the night before and that he might not be making Gateshead away.
Just as the train was rolling into the platform, I saw the tell tale sign of a certain Nissan Micra drive past the gate. He was here. Making a dash for the train, he was lucky to have a friend like me that would keep the doors open, much to the great amusement of 4 Days who sat there laughing, watching the whole episode unfold and not lifting so much as a finger to delay the train.
Up to St Pancras and it was a little stroll over to King's Cross to meet up with Indy, Sean & Mr X. Whilst waiting for Chalmers to arrive, some went off to purchase refreshments and others headed outside for a last cigarette for more than three hours. Mr X was one who went to grab some teas for the journey. Whilst he was in Caffe Nero he got to witness an employee storm out of the job halfway through making his cuppa! I did know what he said but to have the fella walk off, he must've of asked he some properly daft question! Decaffeinated? Soya milk? Or god forbid, Green tea?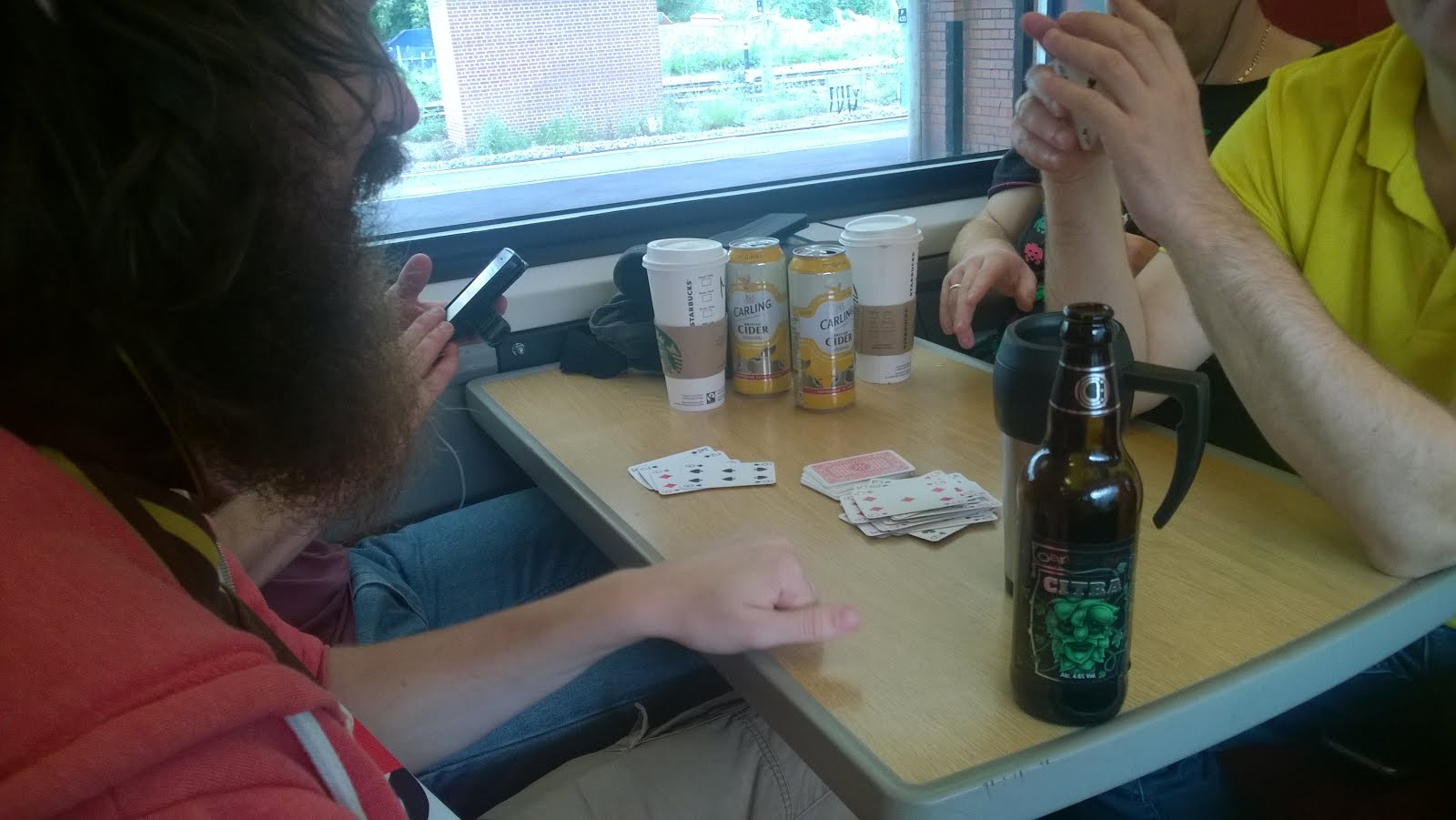 Game unknown.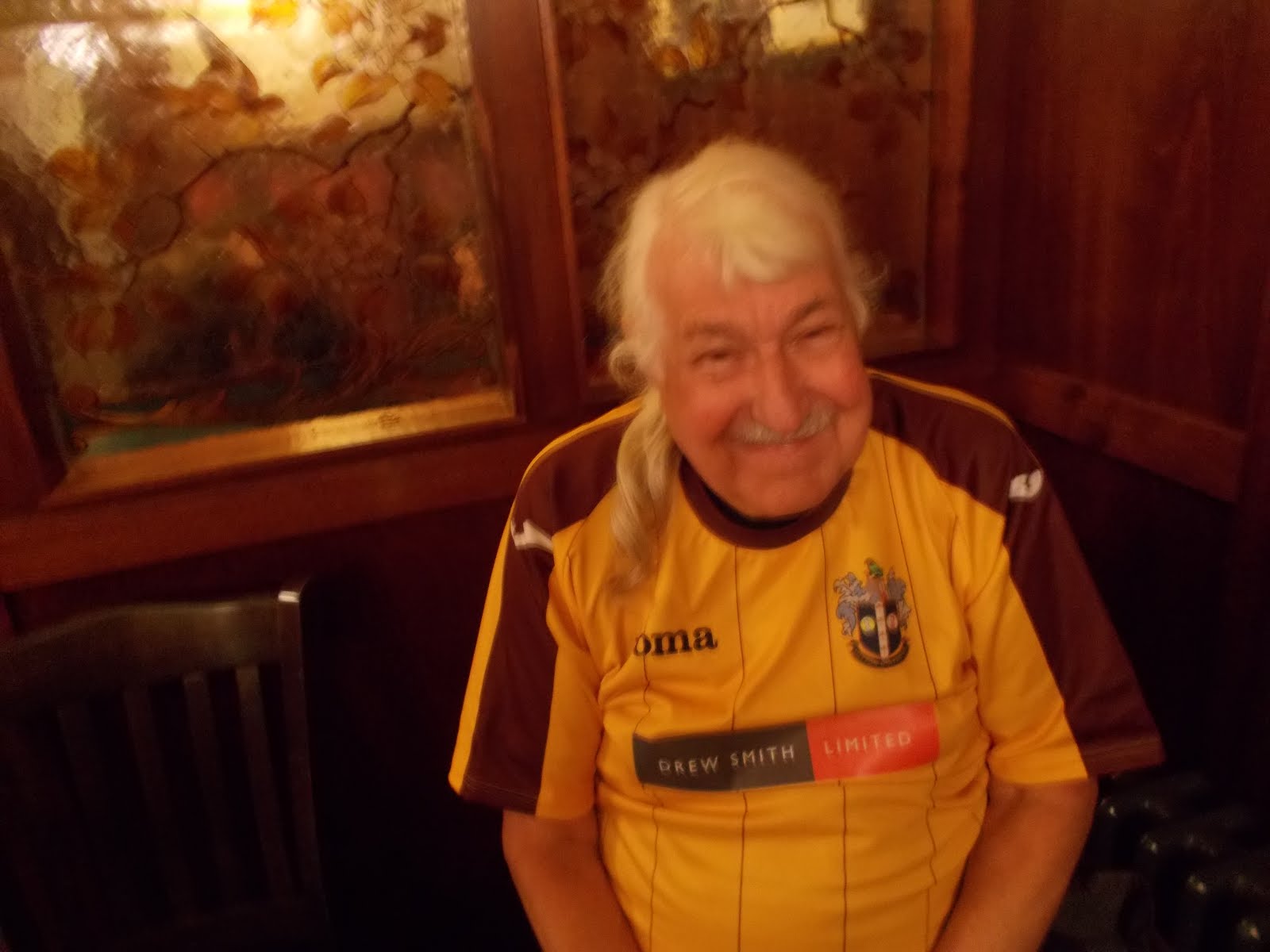 Have you seen this man? No, seriously, have you?? We can't find him anywhere….
With three hours to kill on the train, and all of us (except the Firm Leader of course) being sober, there were various things done to past the time. For me, it was pondering the answers to some of life's great questions. Will we find the pint for a pound? Do the women of Newcastle still fashion the 90's Beetle Bonnet? Will one of the singles actually pull? Sadly as always, there were more questions than answers I'm afraid.
There was a pack of cards produced and a game started between Chalmers, 4 Days, Mr X & the Firm Leader. I couldn't tell you what game they played because apparently, they couldn't remember what it was called! This was not helpful when a disagreement over the rules soon started and the game descended into a farce. Thank fuck they weren't playing for money is all I can say.
We arrived in Newcastle, and before we'd even left the station, a bird was talking to Mr X. Jesus, that was quick! Turns out she was trying to sell some wristbands for trendy R&B clubs that we'd no intention of visiting. Cheesy Music, Cheap Beer & even cheaper women is what we want I'm afraid love!
Grabbing a sherbet over to the student digs, we had to wait as they at first appeared to not have our reservations. But eventually we were allowed to leave our bags in what appeared to be a computer server room whilst they sorted their lives out. Right, next stop, pub! 
Oh look, that geezer Taz has sent us a picture of some beers.
Our journey has been so straightforward that come 10:30, a good hour before the train wankers arrive, Newcastle is on the horizon. Well ahead of time, we decide to do a little touristing and stop off to check out the Angel of the North just outside town. It's quite big. Belly does wonder aloud if it's stance is more "chucking out time, come on then!" than anything of religious meaning. Either way, we sticker the sucker and get back on the road as we're wasting VPTWDT (Valuable Pre-Train Wanker Drinking Time). The first pint always tastes the best, but it tastes even better when you can take a picture of it and distribute it smugly via social media amongst people who are not as fortunate as yourself.
We park up at our digs for the night, which is basically student rooms on Northumbria Uni campus. We're staying in a block called, Claude Gibb, which given the architecture is named after we assume the one lad in the Bee Gee's family that definitely couldn't shatter glass when he sang. Stuff ditched we head down towards the lair of the others and park up in a fine beer establishment opposite their own student place. The rest of the crew appear shortly before the end of our first pint. Well, mine and Belly's first pint, as Robbo's gone with a cup of tea. Much to Greek's disgust. After they have a beer of their own, the next stop is the Quayside. We hit the Broad Chare, a nice little place on a back street. Here we engage in another little game we love, buying fucking dreadful cider for the cider drinkers if they lag behind the group when buying a round. It's usually Dukey who suffers, but today's victim is Belly and we pick him an absolute belter. Not only does it have the the desired face screwing up effect, but his reaction is such everyone gives it a go.

Panoramamamama!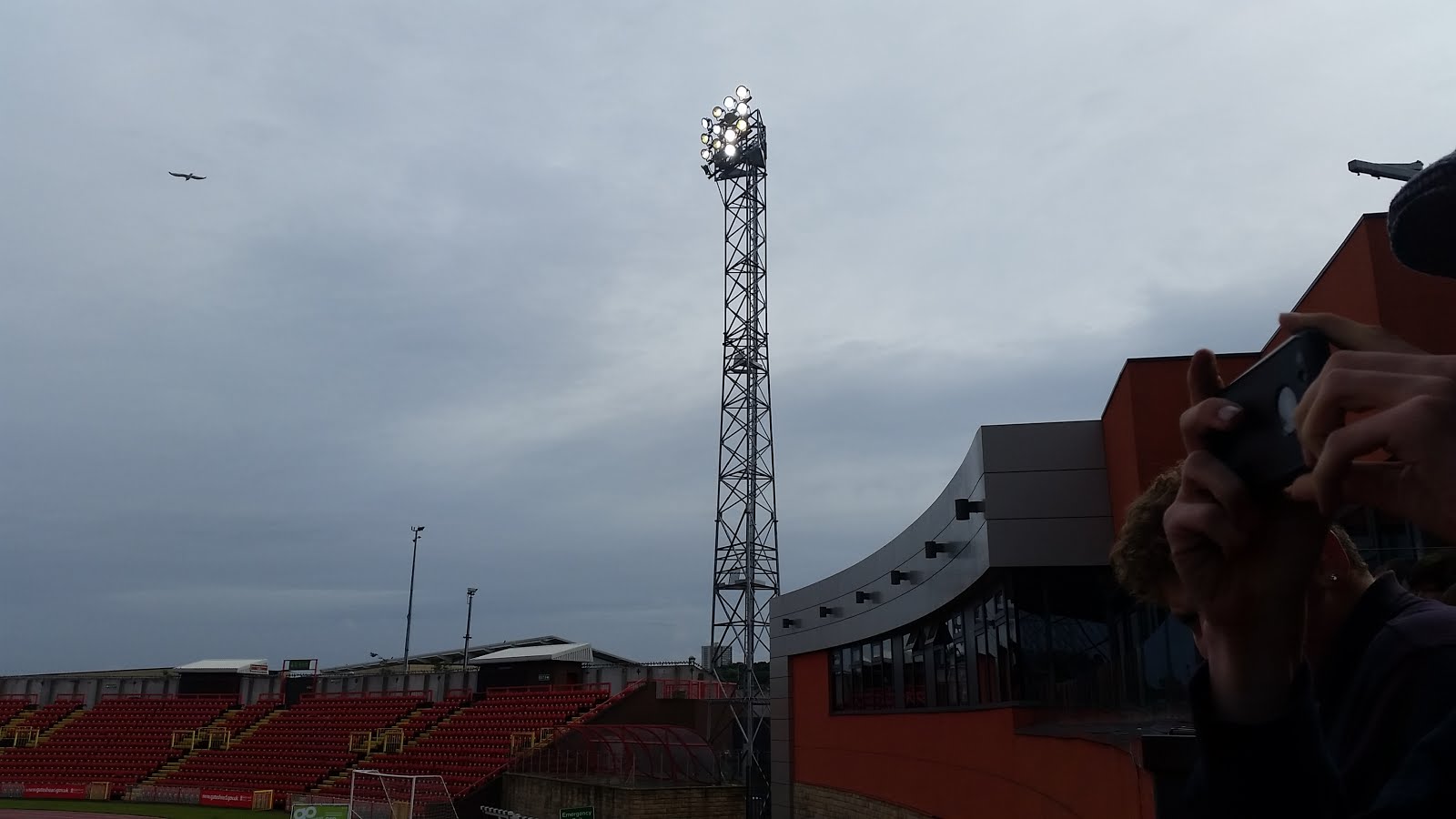 HashtagFloodlightFridays
The general consensus is it's vile. Actually tasting worse than the rancid manure it smells like. How can people drink this shit?? Needless to say, despite a brave effort, most of it is left on the bar when we sod off next door to the next place, the Head of Steam. Here we encounter a stag do with the stag dressed as the Gimp from Pulp Fiction, sadly he's off before any of us can get a picture to back up these claims. He's quite quick for a fat lad in latex it seems. I've no doubt he'll be needing that skill later on tonight. The next stop is around the corner, at the Bridge Tavern. A brilliant pub situated directly under the Tyne Bridge itself. It's more reminiscent of the sort of place you'd find in Brooklyn New York than a wet North Eastern City in England. We ramp it up in here, with a few shots going down. One being the Hungarian spirit Unicum. Mr X doesn't mind it, Greek less so. In here there's also another stag do with another stag dressed in weird perverted sex gear. A full Arsenal kit in this case.
Eventually though, we're out of time and cabs are soon whisking us back across the river via that Bridge we were just drinking under and over to Gateshead's International stadium. Here, we're too late to get a pre-match snifter so just head straight in to find we're not being segregated and are left to find space wherever. There's also nowhere to put up any flags, despite the best efforts of the helpful stewards to try & accommodate us.
Worner, Amankwaah, Spence, Beckwith, Eastmond, Collins, Deacon, Gomis, Biamou, Bailey, Stearn. SUBS: Hudson-Odoi, Fitchett, Dickson, Burge, Morrell
As you'd expect from a stadium with the footprint of Gibraltar and just as open, the wind is barrelling down the pitch. And as always, we elect to defend it in the first half. Naturally, this means the first half is largely a forgettable affair. Still, we at least manage to avoid being 2-0 down inside a couple of minutes like at Chester, so it's not all bad. Our best chance is probably a Bailey header back across goal that Amankwaah tries to hook in, but instead mishits completely. At the other end though, despite the wind at their backs, the home side don't create much. Worns has to make two decent but fairly regulation saves as the hosts finish the half strongly, but we're relatively happy with the goalless first 45. The most exciting part of the first period is the bunch of Hearts fans who choose to join us in trying to bring some atmos to this desolate footballing outpost.
Typically, having spent the best part of an hour defending with a gale in our faces, the wind fucks off completely the moment we come out and kick off the 2nd half. Still, we step up our game and take it to the hosts. We should be ahead early on when a short corner has Stearny clipping the ball to the back stick, but somehow Amankwaah heads the chance across goal and inches wide of the far post. Next up, another header, this time from Bailey is just hooked off the line and after a brief scramble Besdse's follow up shot is blocked. But, with just over an hour gone and having dominated, the home side find themselves in front. We allow a defender to advance, ghost past Becks and square the ball across the box where a striker tucks the chance away. Which is a bit of a twat.
Desolate.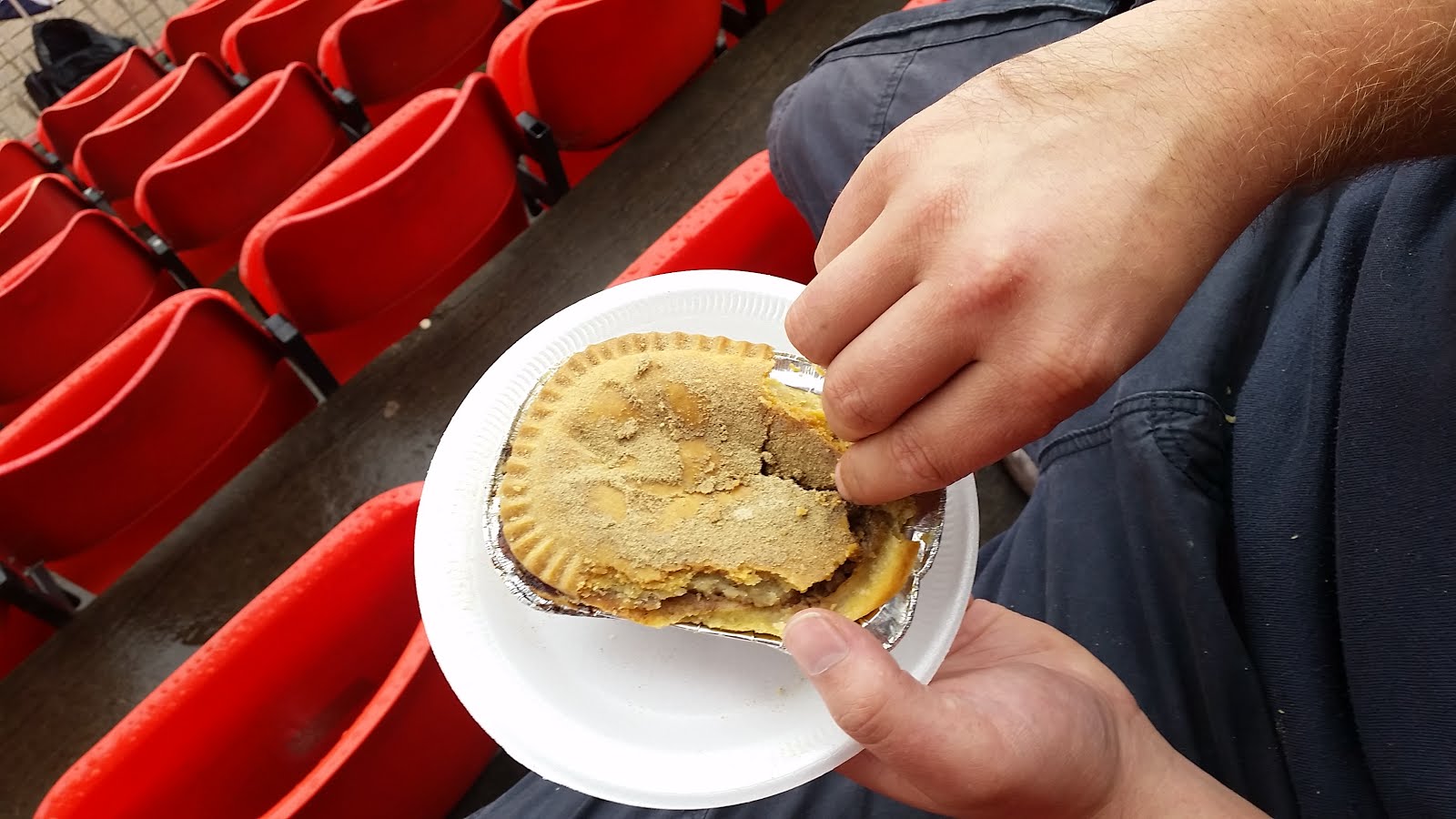 Pie!
Dos throws on fresh legs to try & rescue the game and it almost works when Burge puts a corner into the box that causes havoc. I think it's Beckwith that clips it onto the bar, but the defence desperately clear and the chance is gone. We keep pressing but without really creating much else whilst the hosts have a couple of breaks as we press up but fail to really trouble Worns. So in the end, it's one of those 'played well and got fuck all several thousand miles from home' games.
With little to celebrate, Mr X orders cabs back to town immediately and we head out to await transport. The plan is the train crew go back first, head to their digs and get changed for the night out. Belly, Robbo and I will hit the New Bridge for a pint until they return, then we'll nick off ourselves and meet up in town. About 6, the mob return and we shoot off back to Claude's place for shit shower & shave. Back in my room post shower I'm pretty much ready to go for the evening. And I notice my phone's indicator light is flashing like a bastard. That's odd. That means I have a LOT of messages.
"We've lost Derek. Actually properly lost him"
What? How can you lose an old man for fucks sake? Oh and in case you're wondering, Derek is the real name of the character otherwise known on this here blog as 'Sean Connery's Stunt Man'. The father of 'Indy'. And he'd been mislaid. Disappeared. Lost. Which even by our standards, is pretty special.
Soon though it's pretty clear this isn't just some normal fuck up. His digs are less than 50 yards away from the boozer, across the road. He can't have missed it, surely?? With no mobile to call, we've no way of contacting him and there's no sign of him back at the rooms. Us three decide to head from our place on the Uni campus into town as we're the closest to it and meanwhile the others get the security team to come down their way and check the CCTV. We hit the main drag just as it starts to piss down, and having already got pretty damp walking over there we take refuge in Burger King, grab a bite and make a plan of where to search from.
The rain eases and we begin our check of a couple of boozers we'd mentioned in passing earlier as possible starting venues for the nights festivities, thinking Derek might have picked up on it and headed there to await our arrival. Nothing. We try 3-4 other randoms nearby just in case, but also draw a blank. Back over at the New Bridge, the gang have had a look at the CCTV at their digs which clearly shows our man leaving the rooms and heading directly over the road to the pub. This is fucking odd! Mainly as there's only really two ways to go from there, which is either along the main road and into town or down to the Quayside like earlier today. They've also gone and checked a couple of places in the opposite direction to be sure he's not just lost his bearings. As the rain again begins to pile down, the three of us decide to get a cab down to the Bridge Tavern and work our way back up to the New Bridge. Here we sweep every bar we can find as well as checking every side street we see in case there's a gaff we didn't know about that might sell a particularly tasty pint of stout to tempt old Del in with. Again we draw a blank and begin the walk back up to meet the others, where the decision has now been made to call the Police. By the time we arrive, five-oh are on the scene, sitting outside the pub in their van where a couple of the boys are filling them in with everything they know. Which to be honest, is pretty much the square root of fuck all so far. Pissing wet through, Belly, Robbo and I head inside to dry off and get a beer whilst we decide what to do next.
It's now 8pm.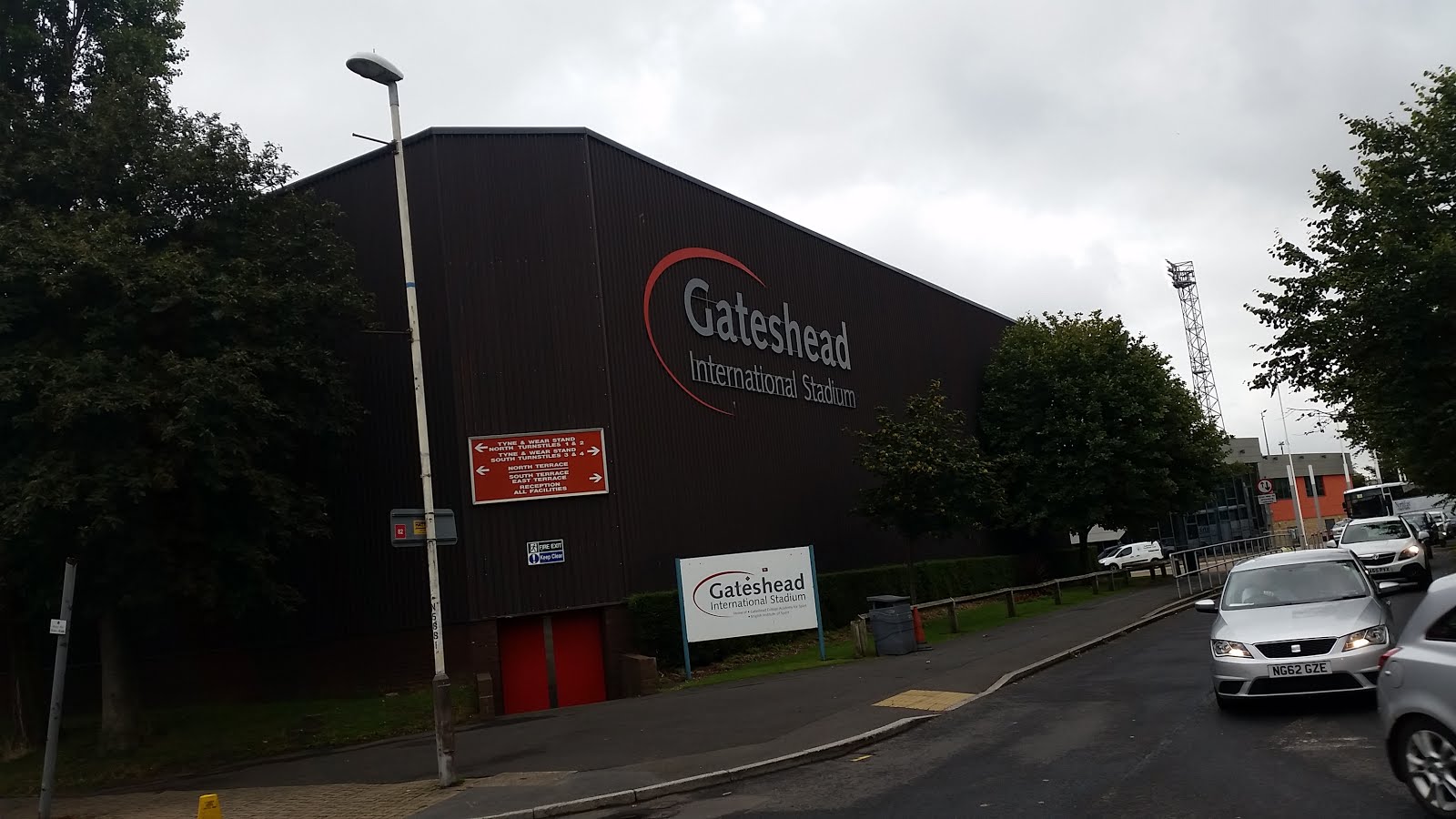 Waiting for cabs…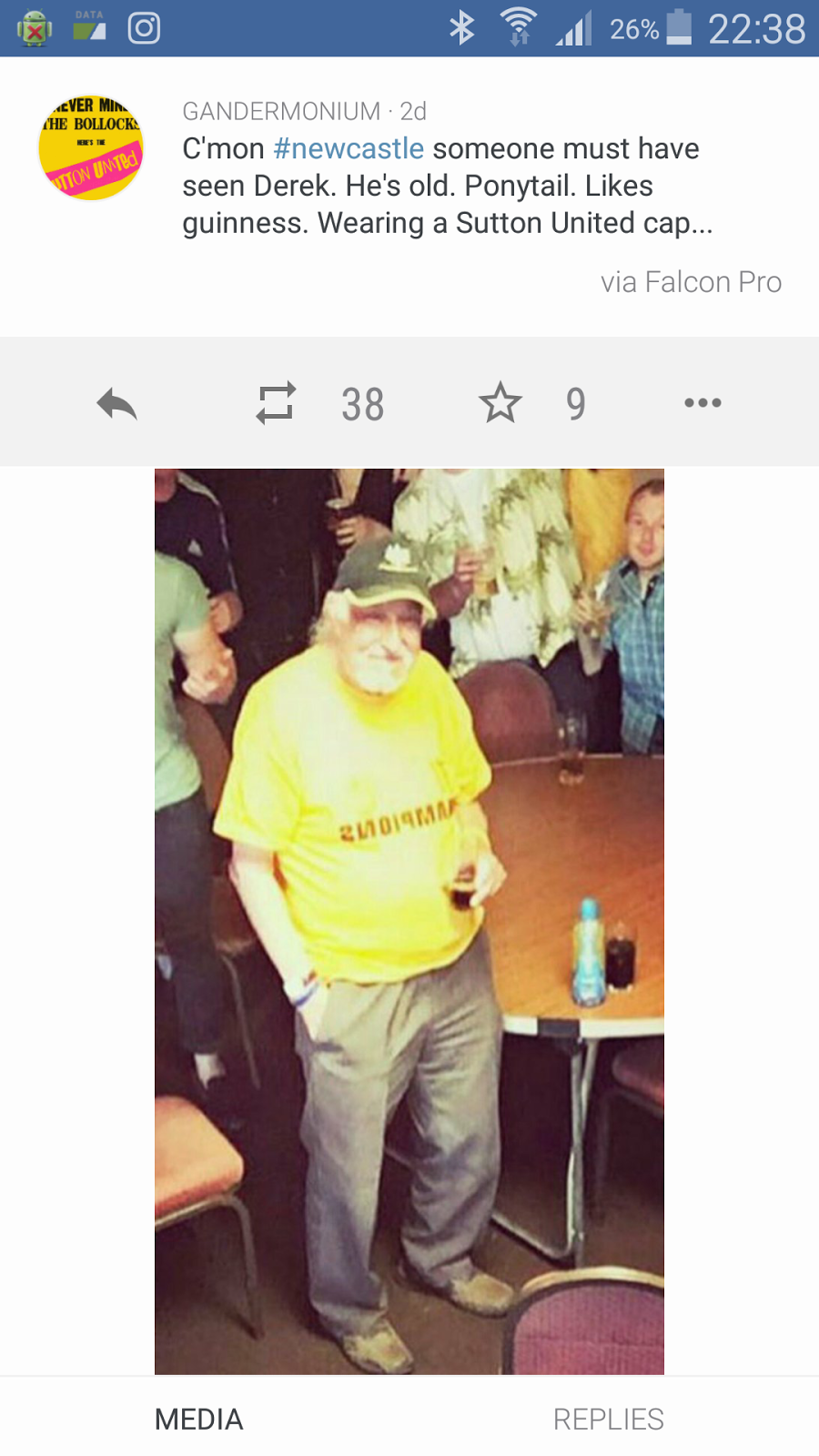 Social Media at work.
Next we hit twitter, getting pics out of the missing chap and trying to get as much attention as possible in he Newcastle area. Amazingly, loads of local accounts pick up and start sharing. We also start checking online to see if there's any pubs or bars we might have missed along the way and start calling them to ask if there's an old geezer with long white hair and wearing a Sutton United cap in necking Guinness. Every one of them is staggeringly helpful. And despite it being Saturday night, every one takes us seriously and takes time to check their establishments for any sign of the old goat. But again, we come up blank.
Now this is getting weird. Really fucking weird. And a fair bit scary. Naturally, people are now starting to get seriously concerned, not least of all Derek's lad, especially now the Police have done their hospital admission checks and again come up empty.
The next couple of hours is spent supping a beer quietly whilst more calls are made to see if anyone's seen hide or hair him. Meanwhile the staff in the New Bridge check in regularly and even make a few calls themselves to places we might not have thought of. Some badly needed comedy relief comes in the form of a beardy hipster bloke in red jeans, who oddly decides to nick 4 Days chair whilst he's at the bar, despite there being several other unused ones much closer to him. With people not in a great mood, this of course causes an amusing paddy where the Welsh one picks up one of those other empty seats from a nearby table and plonks it loudly down to replace his pinched one whilst loudly cursing "Rude cunts in red jeans". Half of us tell Nick to calm the fuck down, whilst the other half can't help but choke on their pints, pissing themselves.
By 11 and still no news, we make plans to go find a late night establishment in town to base ourselves in and keep the search going. Helpfully, the guys in the New Bridge sort us out with somewhere to go and having locked up themselves, lead us through the drizzle to the Lady Jane Grey. Here we intersperse drinks with little wanders around the town for further searches. To be fair, the door staff are bang on as once they know what's going on, they're fairly happy to let us come and go without any hassle whatsoever, echoing the attitude of every other one of their number we'd encountered that night. Sadly, there's still no sign of our man and with Indy getting increasingly more upset as 2am comes round, Belly & I make the point that it's probably best we all fuck off home as staying out drinking is only going to make things worse. Go home, get some kip and start again in the morning.
We pile the train crew into cabs before Belly & I take one more walk down the road, along the river and back to the Uni. Robbo bales at this point, but I can't say I blame him. He's knackered and got wet through twice already after all. We head down as far as the Millenium Bridge before heading back up to our place but again, there's no sign of Derek and the couple of late opening places round there we look in and ask about in come up empty. By the time we wander back into Calude's, we're once more soaked through and freezing cold. Where the fuck is he??
A shit night's sleep understandably follows and I eventually wake up just after 7 desperately needing a piss. Having dealt with the issue, I find myself well awake and decide I may as well take a trot out for another look in the early daylight. A check of my phone reveals I'm not the only one up early and with that in mind, with Chalmers having messaged he was again heading for the river for another look. I faff about getting myself going and just as I'm dressed and ready to go, the phone buzzes once more. It's Chalmers again.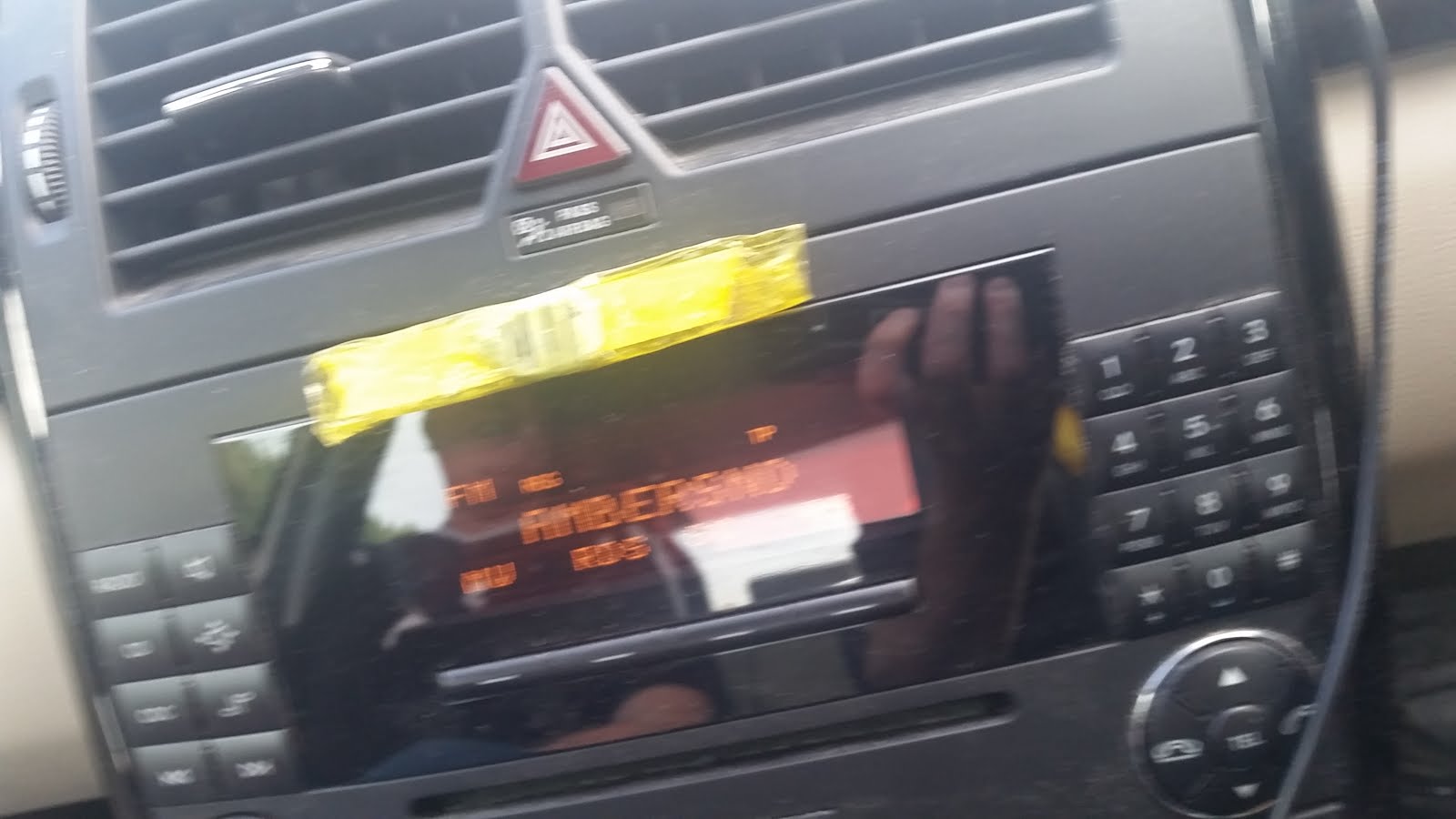 From Capital Gold to Ambersound….
"I'VE FUCKING FOUND HIM!"
Wait a goddamn pickin' minute! Where? How? When? What the fuck???
It seems PC's walk has been rather fruitful. He'd wandered down past the same old places we'd searched in the dark & rain only a few hours before when he notices a hunched figure, sat on a bench directly underneath the Tyne Bridge. It's Derek! Cold, wet and knackered, but in basically one piece. Before long, he's been cabbed back to the digs to get warmed up whilst the news spreads and everyone breathes the biggest sigh of relief since OJ Simpson heard a jury foreman go "Not guilty your honour".
Eventually, the whole party, barring the no-longer-missing person who is confined to quarters, assembles in a Wetherspoons for a brief "What the fuck was that all about then?" and to shovel some stodge into our faces. Here it's decided that dragging a weary Derek back on the train and then across London is probably a bad idea. Instead, I'll be driving him and Indy home right to their front door. With this all sorted, Belly and I say our goodbyes so we can get on the road, leaving the train wankers to their own devices.
With Sean Connery having way too much excitement for one adventure, he was palmed off on given to Taz to take home with Indy & Dr Bell. Robbo was the man nominated to make room in the Taz Grandad mobile and come on the train with the remaining reprobates.
Finishing breakfast, we began to head towards the station. The Firm Leader was wanting to hail a sherbet, but with my nose for directions (and help from Google Maps), I knew we had plenty of time to take a slow stroll down to the station.
We were told that the players were going to be heading back on our train but we couldn't see them, clearly they don't mix with the common folk! Finding our seats, we settled down to a near three hour journey that only had two stops before hitting the 'Big Smoke'.
Obviously one major talking point was what happened with Sean Connery the night before, and to be honest, we just don't know the facts yet. We did come up with some Twitter hash tags that could be used to describe this weekend though, including #derekyouscaredtheabsoulteshitoutofme, #couldntpullinnewcastle or even #gandermoniumdoesntdoasoberverywell. We should be in marketing or summat.
Most of the rest of this part of the journey was for a bit of quiet time for a change. The hangovers are non-existant and with the drama of the night before, no one's in the mood for lengthy debate. Some piss about on their phones, others took a nap & The Firm Leader stuck his headphones in for another dose of Happy Hardcore.  Arriving at York station, which was to be the final stop before King's Cross, we had a family try it on and say that we were in their seats. But after looking at our tickets and double checking the seat reservations, they were eventually sent on their way. But still the bird was not happy about it and even at one point tried to explain to the conductor the situation. He took one look at them and one look at us and simply shrugged his shoulders. She was not a happy chap, women I can tell ya! Fortunately she left it there, because had she properly kicked off I doubt any of the Firm would have been in the mood to be polite at this point.
Rolling into King's Cross we mooched over to St Pancras and looked at our options. For me & The Firm Leader, it had to be the train to Blackfriars and change for Carshalton. Mr X meanwhile was heading for the Loop, Chalmers to East Croydon. Whilst 4 Days & Robbo were going all the way (fnar!) to Sutton.
I wonder where Taz is?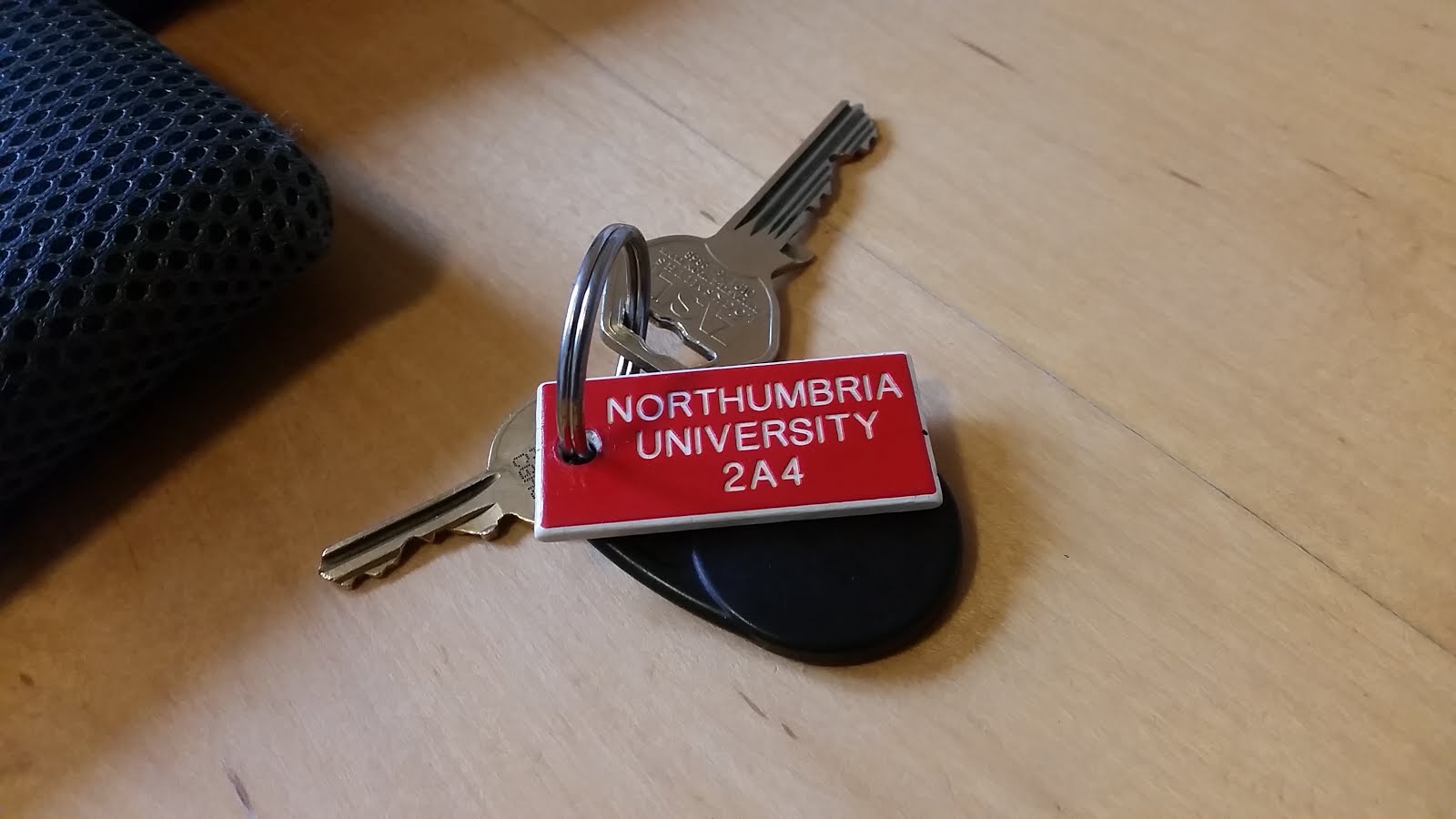 Back to School
After some Sat Nat based fuckwittery on the way out of town (Toon?), I soon point the Merc southwards and settle in for the long slog down the A1M. Here, we finally ask the question that needs answering.
"So Derek. What the fucking actual fuck?"
It seems the old duffer popped his head into the New Bridge after leaving the digs (as seen on CCTV by the gang the night before) but for some reason was unable to spot the idiots there present and assumed they'd pissed off without him. And with this, he got his toddle on and headed off to catch us up. And that's all he's saying. I'm sympathetic.
"Fucks sake Del, if you wanted to go to the strip club on your tod, just fucking say so mate!"
The rest of the journey back is quiet and barring a stop around 2pm somewhere near Nottingham for a shit and an expensive panini, there's little else to add. And just before 6, I'm tipping Mr AWOL and his carer out in leafy Cheam before dropping Belly off and falling through my front door to a warm welcome from Mrs Taz.
"What the bloody hell happened last night then??"
The shittest night out ever, that's what darling. Now let us never speak of it again.
Taz