The screaming sound of the alarm goes off, it reads 0530. I slowly rise up and look around aimlessly, and for a split second I think I'm late for yet another working day. For the third consecutive Saturday we are due to play away again. After the drubbing at Chester and the total fuck up that was Gateshead away, we now have to head to the other participant of that needless set of bubble matches that is Wrexham.
With a train at 0810hrs to catch from good old Euston. I thought that it would be best to give myself plenty of time for a change. The two choices that were available, were the 0711hrs and the 0635hrs. Thinking that the 0711hrs would only give me a quarter of an hour and knowing that British Rail are not as reliable as a Mussolini train service, I edged my bets on the 0635hrs.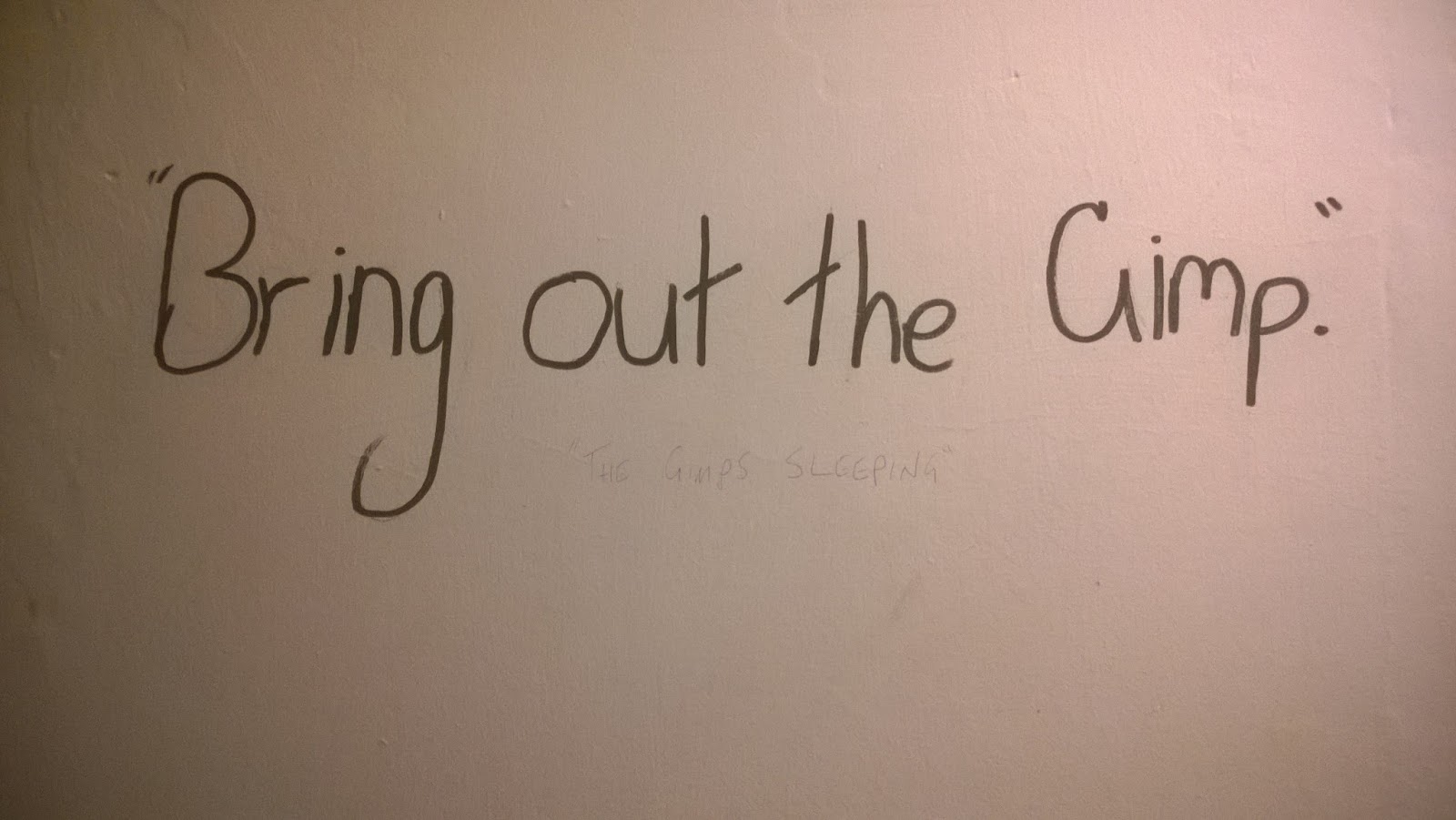 Some toilet graffiti is more worrying than others…
The Firm Leader was not in attendance for today, so I was left to my own devices to make the journey into the smoke. With a near empty carriage to myself, I relaxed as the train trundled up town. Walking over towards Euston I bumped into Irish Pete & Mr X as they were assaulting the cash point. As everyone else was again making their way independently due to the early start, all we could do was wait and drink tea. See, we don't always drink beer! Well not usually before eight o'clock anyway.
There was to be a new member making his first away day trip with us today. Take a bow JR! And don't worry, we haven't come up with an eventful nickname yet, but we're working on it. We found him plonked on a bench with a low fat sandwich in his hand. Here's a man was living the high life! He'll fit right in with us glamour pigs. Eventually 4 Days, Dr Bell & Taz all arrived and this meant that there was going to be a grand total of seven of us for the trip to Wales. Sean & Indy were giving this one a miss as the old boy was grounded after his walkabout last week. I hear Indy even took his Playstation off him.
Waiting for the train to leave the platform we got to see some of the interesting people that were trying to make it on time. There was one old fella that refused to break into a sweat as he walked calmly down the ramp, A little lady that tried and failed to get her bike on board and a mature bird that nearly tripped on the step as she made a last gasp attempt.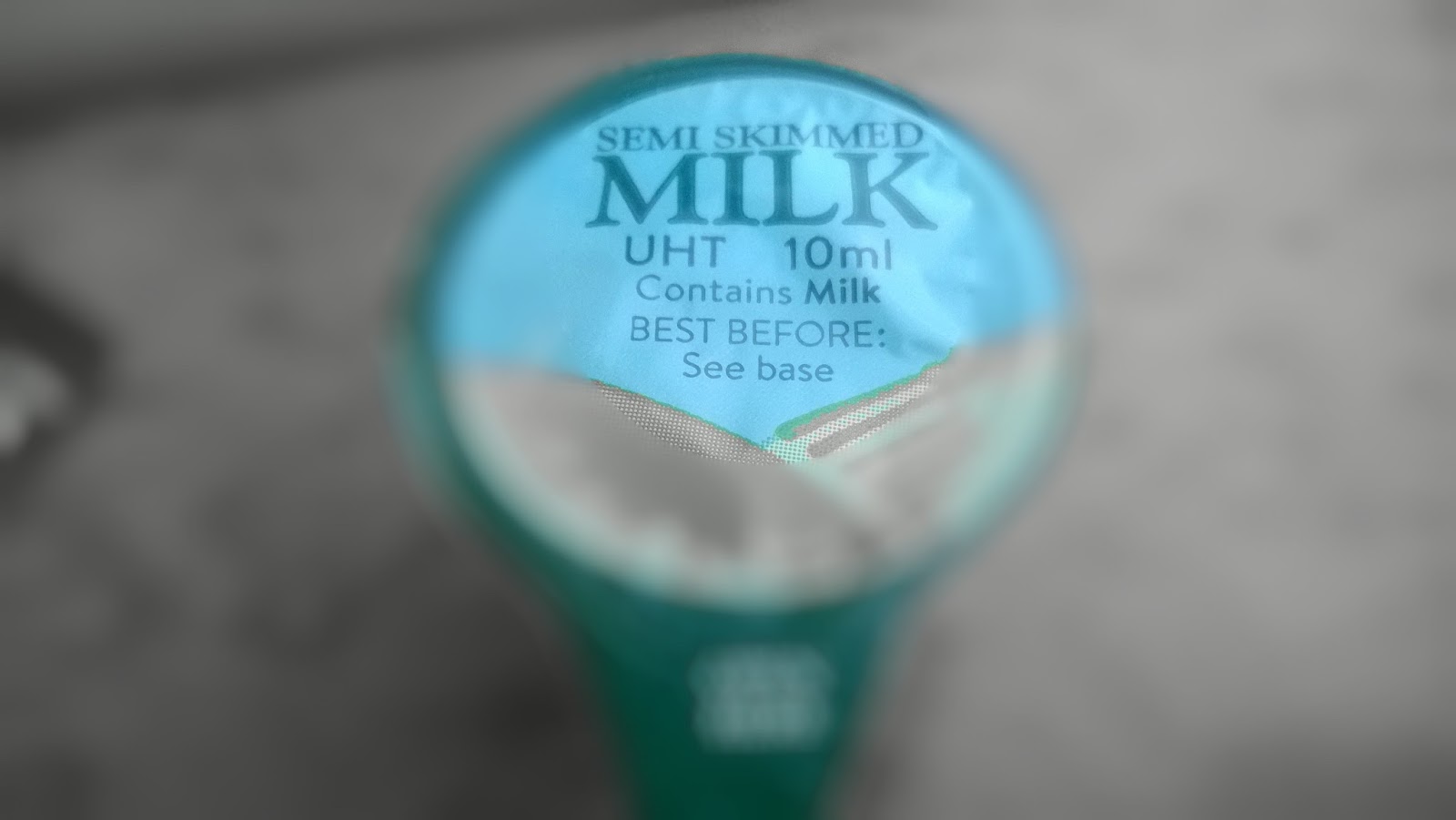 Contains Milk??? Clearly someone from the Ministry of the Bleedin' Obvious!
The journey, by Gandermonium standards, was surprisingly quite uneventful. Taking the very same route that we took a fortnight ago, it was up to Chester, before jogging up the platform and hopping onto a little piddly excuse of a train that was packed had us doing the traditional pastime of hanging around by the toilet as there was no spare seats left. One rather macabre chart was from Mr X who decided that this was an op-tune moment to go through the recent history of train crashes!
According to a guide on the old inter web thingy, one of the pubs to avoid in town was the local 'Spoons. Of course, given we were arriving before 11, that was the first pub we hit. Even with a confused Mr X nearly taking us in the wrong direction, we found the 'Spoons in no time and headed straight to bar. Wow, it's cheap up here. Six pints for under £15! Yeah, you read that right, six fuckin' pints for under £15! This place was even cheaper than bleedin' Newcastle. Not that we got to do much drinking…
A quick couple of cheap pints and we decided to move on down the road to The Horse & Jockey. A very old looking building with a clientele to boot. But they were all very friendly, despite asking the same old questions like "Where is Sutton?", "Didn't you beat Coventry?" and "So what is your Premiership team?"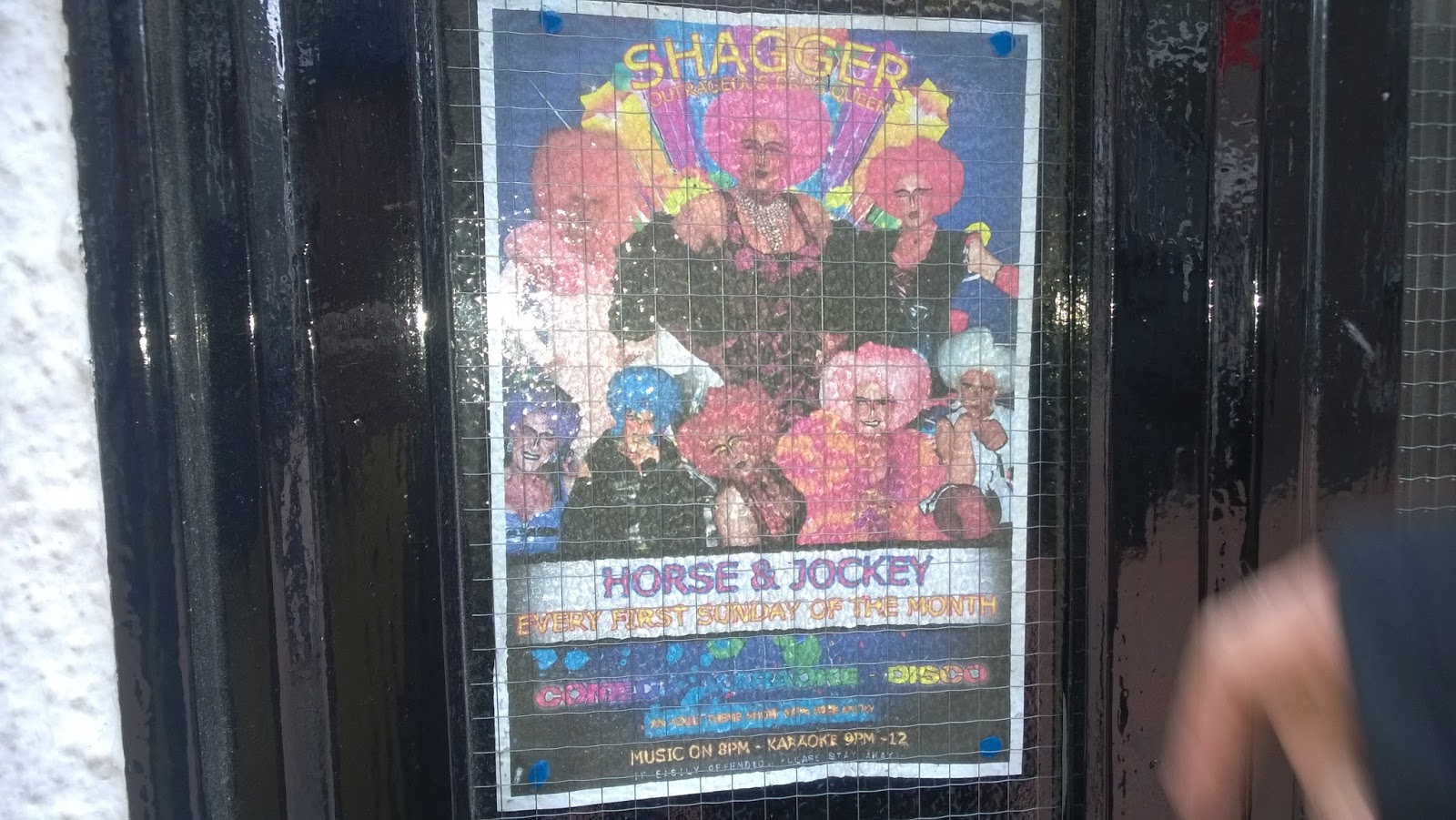 Interesting.
Next pub on the list was the Old Sawn but that was shut, so instead it was over the road to a place called the Cross Foxes. Now this place was showing the Manchester derby as well as the Old Firm game and with it being quite busy it didn't take us long to work out what team the pub were supporting. As up stepped Zlatan to score and the pub erupted like a Ron Jeremy money shot. "I reckon this might be a Man Utd pub" I thought to myself (got to get up early in the morning to catch me out, up there for thinking, down there for dancing as they say).
The next surprise was seeing Mr X with the biggest grin I've seen since his bowels gave out in Newcastle. £1.85 a pint of Fosters! Blimey, it's cheaper than a 'Spoons in here. You don't get that in most places. Having decided that the end of the game would give us time to walk down to the ground we found a spot and hunkered down.
Its a simple walk that takes you back past the station and we even managed to find a programme seller for once. With time for a short, we popped into the home pub, not by choice but as we lost 4 Days & Mr X up in front we couldn't be bother to walk all the way round. With the boozer being a boozer and not a club bar, a stereo was playing the Welsh national anthem. Yeap, that's right the national anthem. And not only once but seemed to have it on repeat as it was the only song being played. How very jingoistic of our British cousins. I didn't get chance to see if they had God Save the Queen or even Plastic Bertrand on there.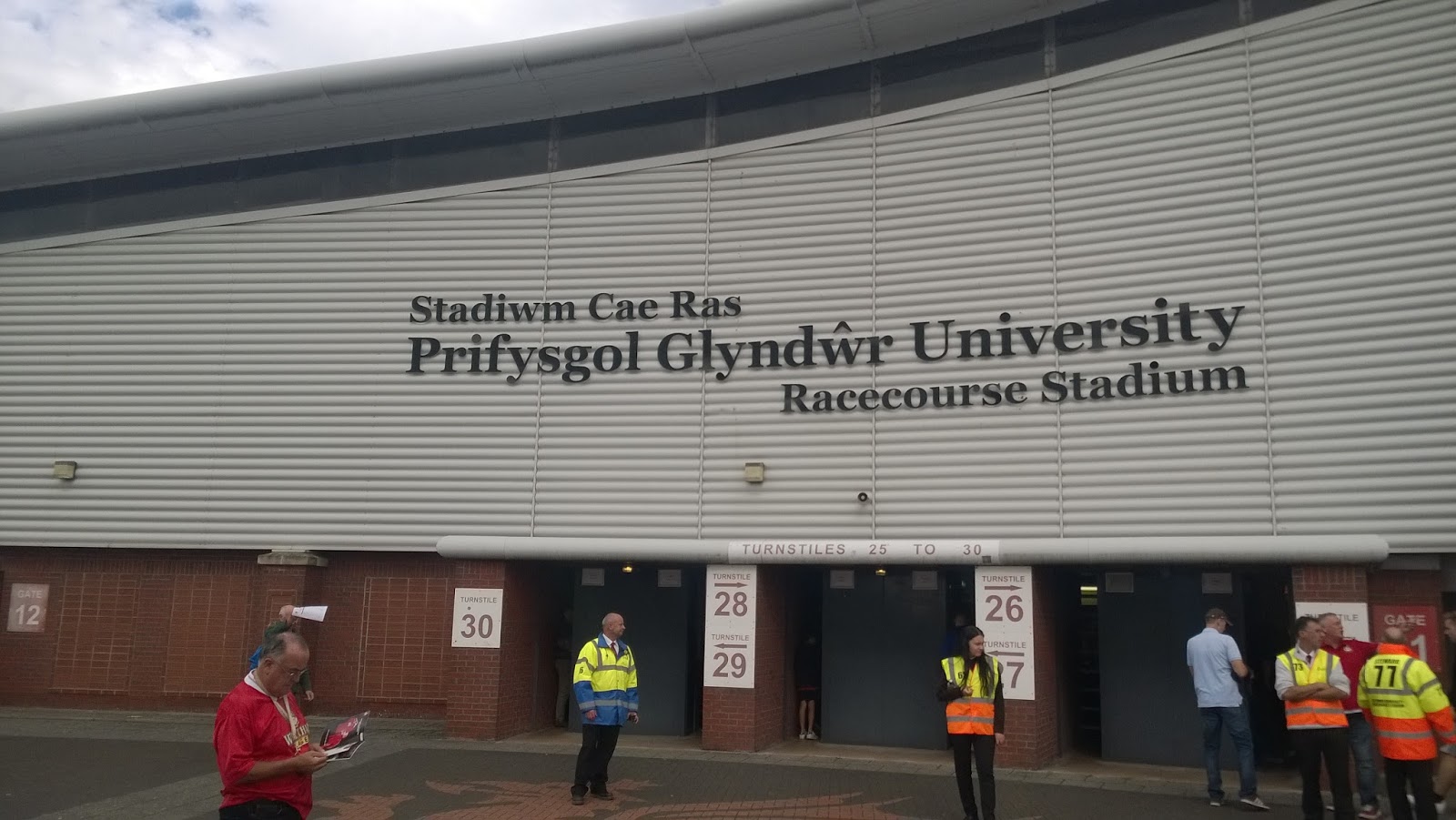 Well, that looks foreign…
Walking around to the turnstile, I soon saw the sign "Adults £20, over 80/under 18 £8". Jesus, over 80s for a concession? Even Sean Connery would've had to pay full price! Taking one look from inside the stadium and I thought to myself "so this is how the professionals do it", and no, I don't mean like Bodie and bleedin' Doyle sliding over the seats and jumping over the barriers to clump a steward!
So this is what a football stadium looks like, it's gonna make a difference when we visit Raynes Park Vale in the Surrey Senior Cup later on in the season. Taking my place with the other 71 hardy souls that had made the trip, we awaited for the game to start. The Welsh lot behind the goal starting to sing, but I couldn't tell head nor tale what it was all about. I think it was in foreign or something.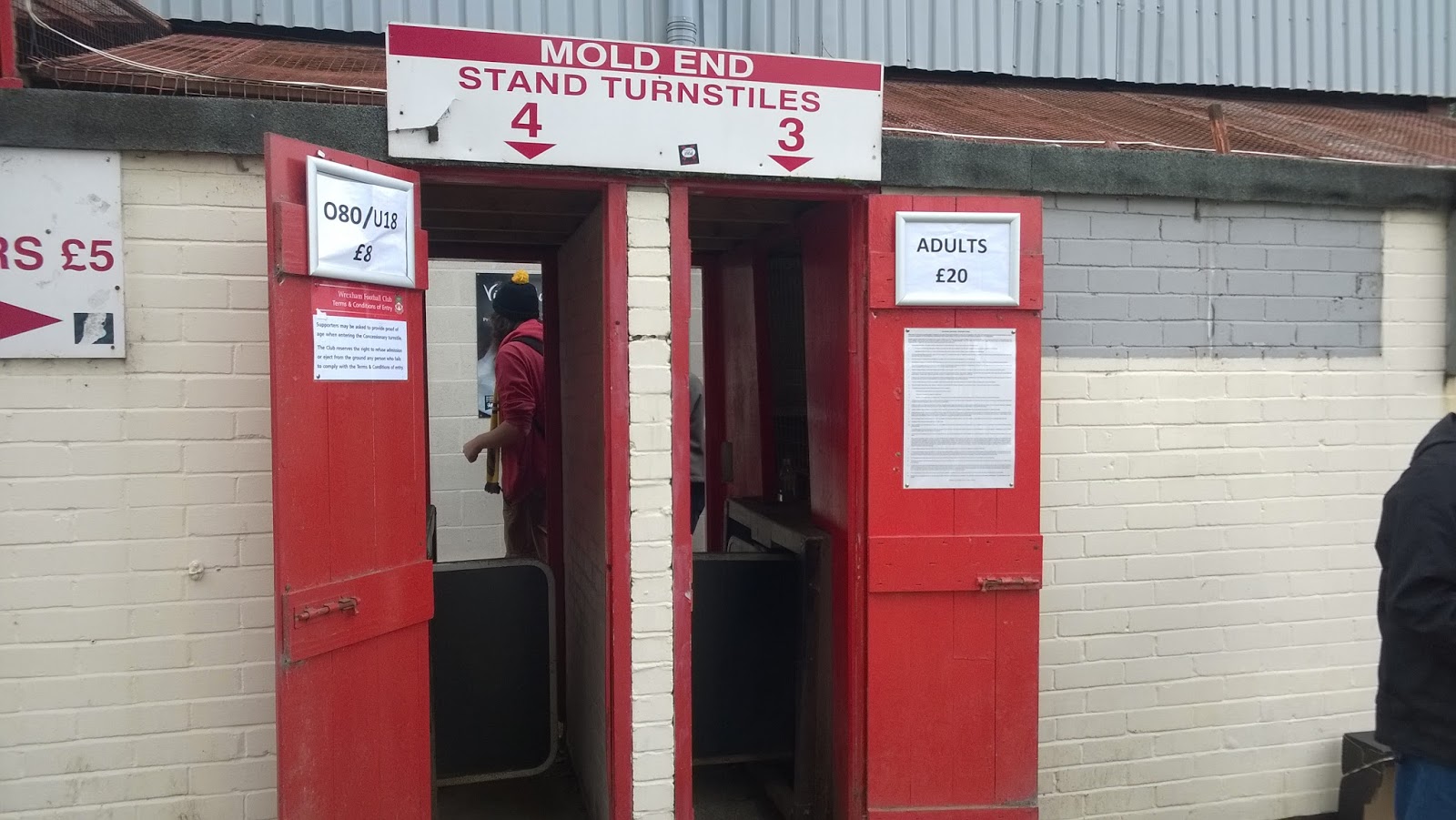 Twenty fucking quid.
Worner, Amankwaah, Spence, Beckwith, Eastmond, Collins, Burge, Gomis, Biamou, Bailey, Dickson. Bench Warmers: Wishart, John, Fitchett, Stearn, Deacon.


Once again this season, we started on the front foot, But not before a slight miscommunication on the kick off had some Sutton players move forward before Bailey had even kicked the ball. Biamou had the first real chance of the match, but his overhead kick went slightly wide. Shortly after this, the game did lull a touch as Wrexham started to put pressure on Sutton but without troubling Worner.
For the rest of the half, it was really all the Sutton show. From the moment that Chris "look at me, I'm offside" Dickson had set up Eastmond for a well saved shot, Sutton really should've grabbed a goal. Gomis had top watch as his shot beat the keeper, only to see it cleared before it crossed the line. A couple of free kicks came our way, but each time it failed to trouble the keeper and the back of the net.
The time was ticking on, but that didn't stop Sutton creating more chance after chance after chance. Dickson saw his shot clip the top of the bar from out side of the area, and then minutes later saw his shot on target palmed over the bar. With the half time whistle came the chorus of boos from the home support. Not a happy bunch I can tell you!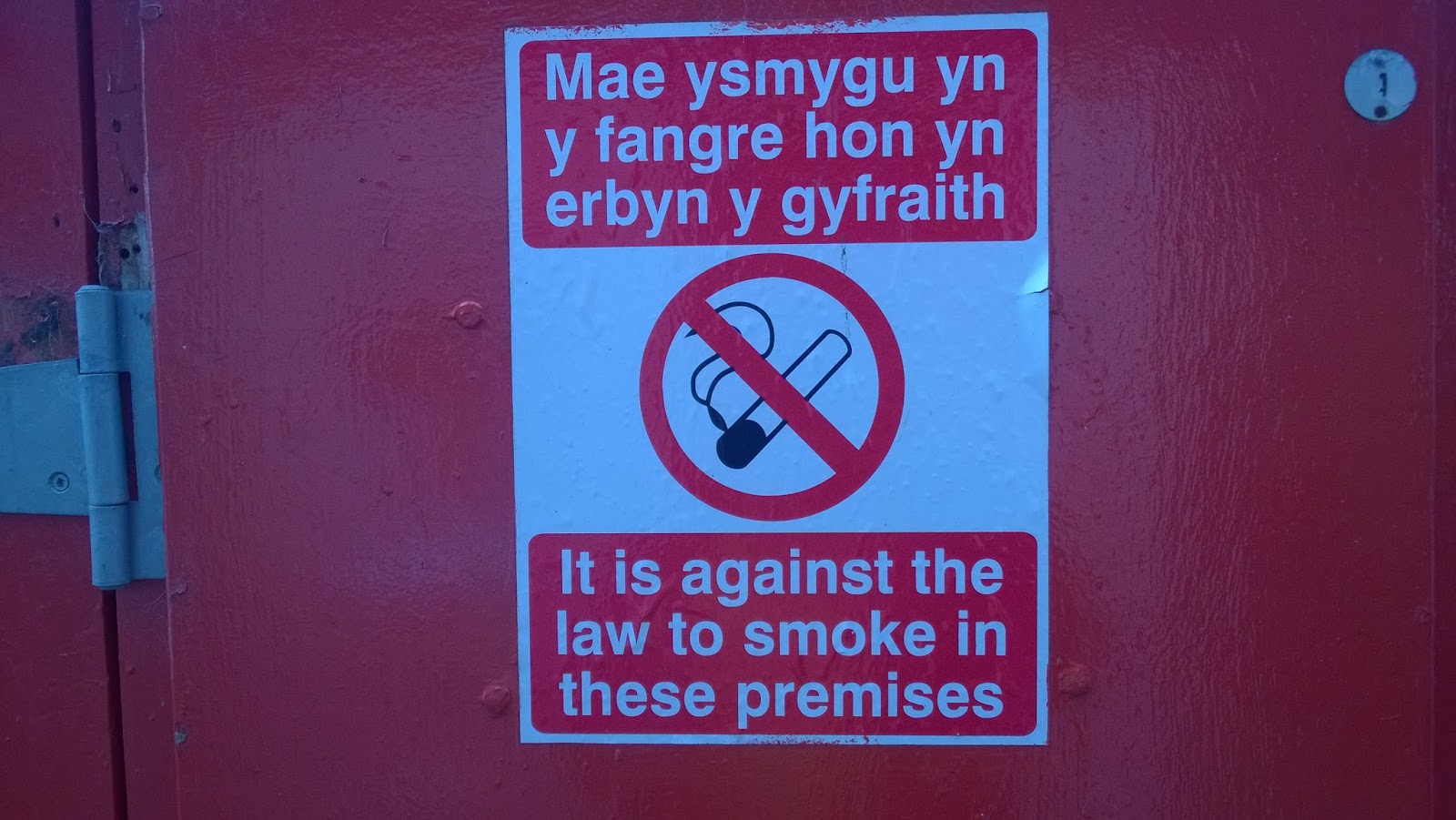 So what does the bit at the top say?
Surprisingly, despite the signs, we were allowed to have a cheeky fag & beer at half time as we digested how it was still 0-0. Compared to the Wrexham side that tore us an new arsehole a mere 18 months ago in the Trophy, this lot were severely lacking in nearly all departments. Of course, being old Sutton fans, you knew that the longer we went without scoring, the possibility of Wrexham bangin' one in only increased.
Being segregated and having been put in the far corner, meant that for the second half we would have a better view of our defending then any close attacking action. Sutton started on the front foot again and could've been one up if it wasn't for Dickson blocking a shot on the line from Bailey, not that he meant to of course.
And then the goal comes and not for us of course. If you were to look for "totally inept" in the dictionary you will find the entry "see: Royal Borough of Kingston Upon Thames Council", but it should also be a picture of the linesman below us. Not for the first time during the match, he failed to do the simple basics, like fail to see a ball leave the pitch and missed a possible offside in the build up to the goal. Still, like Solihull's three shots three goals performance, Wrexham had scored with their first effort on the mark. Fair play to them, they get given the chance and they take it.
Fitchett & Deacon were brought on for Gomis & Biamou and we begun to hunt for an equaliser. Shortly after Wishart came on for Spence, but not before the fourth official ignored him, fucked around and then let Wrexham do their sub first leaving our man stood on the touchline. Taz and the rest were not happy by this point, much to the grumble from the stewards that were now starting to appear around us.
With chances beginning to dry up, the game begun to peter out to its inevitable conclusion. I think we still need a main striker as at time we seem like Arsenal. No, not like sanctimonious wing nuts living in their own dream worlds, but having lots of possession and failing to deliver that killer blow when needed. Needless to say it ended 1-0, but we weren't the only disappointed fans in the ground. oh no.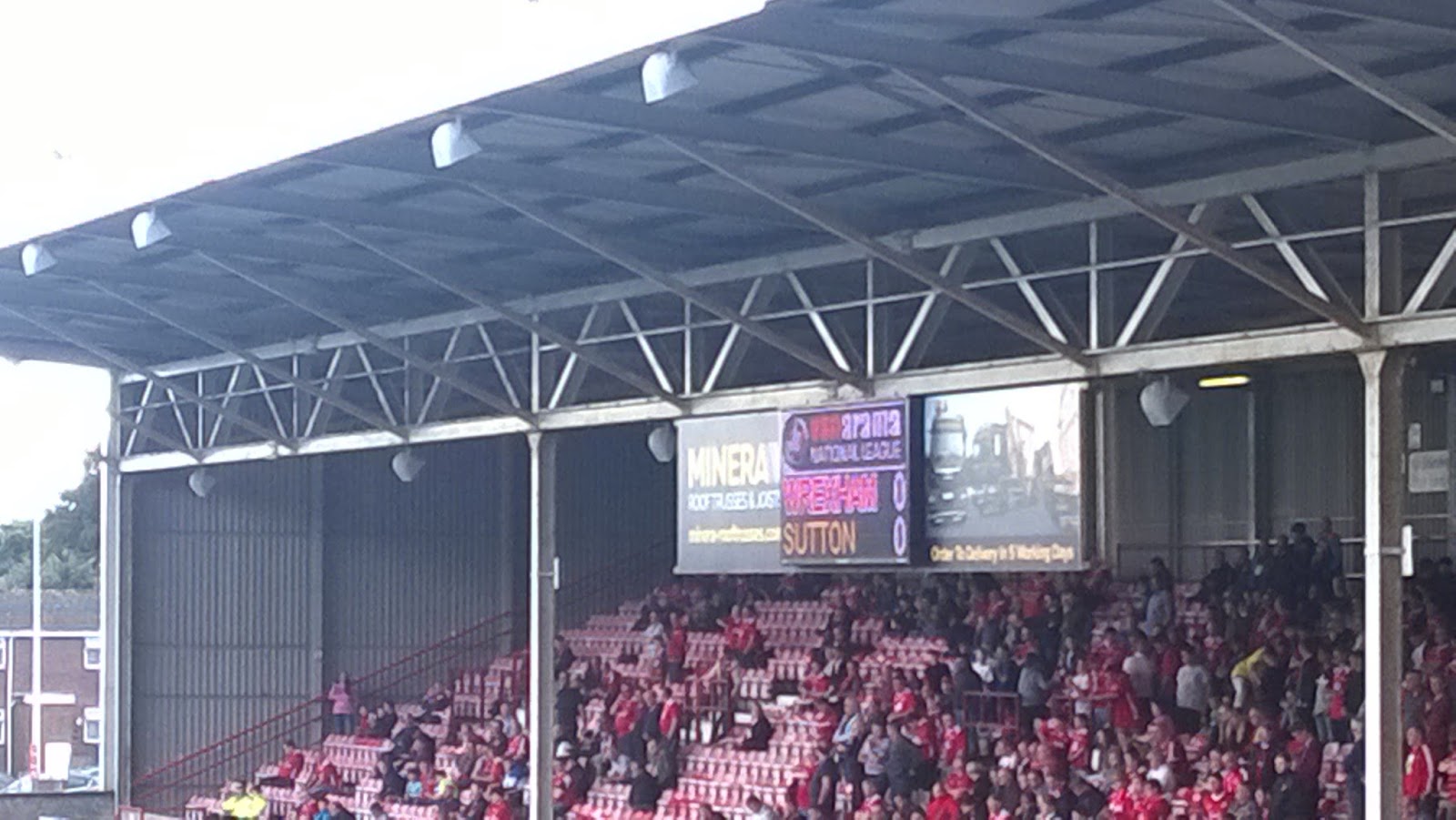 BOOOOOOOOO!
At one point, Wrexham appeared to be about to create a quick counter attack, But receiving the ball, the left midfielder had no options in front and turned back towards his goal to keep possession. Cue mass boos again from the home support. I know we can all be a bit like that sometimes, but from the level of noise, it appeared like nearly all of the home support were properly unhappy with their team despite their fortunate lead.
Forgoing a drink at the club we began to head back towards the 'Spoons as it was closest to the train station. Mid way through this walk we diverted to something called the "Wrexham Lager Club". Any port in a storm I suppose. Plus one of the lads in the Jockey had mentioned it as worth a visit. Once again we met some friendly locals that were more than willing to sign us in to this members club, even letting us off the 50p fee and we had a few in good company before finally saying goodbye to Wales.
Of courser the train out was delayed and this meant that our time in Chester was reduced, but that didn't stop us heading back to the Gash Kash Bar that we were in last time here for some more drinks. A few of us decided to experiment with some kind of concoction in a jam jar. Hello Vardy's Moonshine Backyard Berry & Original Mojito. It was also an unwelcome hello to the far more expensive English booze prices as well.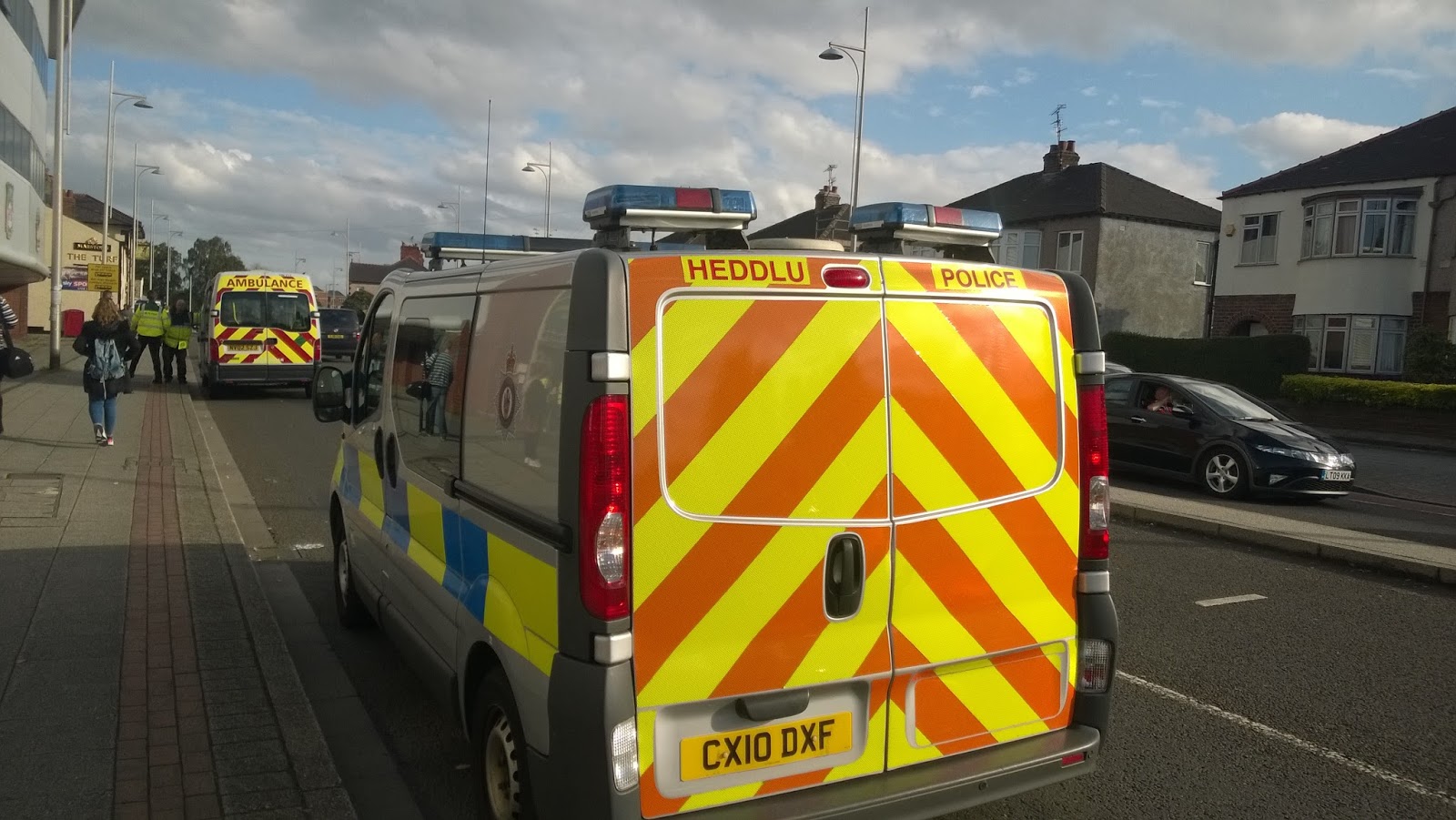 You'll never take us alive copper!
Stocking up on refreshments for the train, we weaved our way through the many boozed up casualties from the races in town that day, even selling a couple of our cans to some Scousers desperate for a beer. Also, someone decided along the way to order some pizzas. Oh yes, three large pizzas for the whatever train it was out of Crewe. Well, sadly they wouldn't deliver, so a couple of us went to collect as the rest made use of the opportunity and popped into the pub on the station. With the pizza delivery team returned, we waited for yet another delayed train to arrive.
Like vultures circling around a dead Zebra, we all politely waited for someone to grab the first slice, don't known why we were waiting to be honest but eventually Mr X went first and within minutes all the pizzas had been devoured and the boxes placed strategically on top of a recycling bin. See, Gandermoinum saving the planet! Which as the resident recycling expert in the group, I'm pleased to see. Has some of my wisdom and experience finally rubbed off on these dickheads?
"Three large dead Zebra & Pepperoni please…."
On the train back to the big smoke we had the usual shit. Highly childish and debauched conversations, ask someone about arm-less & leg-less if your that perverted, along with masses of the good old drink, winding up a Charlton fan about the current state of his club (it was only fair, he called us fuckin' Palace fans!) and meeting Andy Hessenthaler. Hold up, rewind a sec. Andy Hessenthaler you say? Of course! To be honest he nearly blanked us before Dr Bell gave it the old "I Saw you play for Leytonstone & Ilford" story. If that can't stop a man in his tracks I don't know what would.
And before you ask, despite some libellous claims on twitter, no we didn't flush a goldfish down the toilet either! Arriving late at Euston meant that our options to get back south of the river were getting smaller by every passing moment. All we could really do was hit tube back to Victoria and hope we grabbed the last train home. Luckily, thanks to another delay, we did and before long we were back in the borough and I was outside the station a mere seventeen hours since I left it.
So that's nigh on 1500 miles of away travelling done to see Sutton lose three games and fail to score to boot as well. I'm sure it'll get better but, after that brief spell that saw us become the 95th best team in the country, I did start to think of all the possibilities that came with it. But in the back of my mind I always heard a voice say:
"I think you're wandering into the realms of fantasy, Jones"
– Captain Mainwaring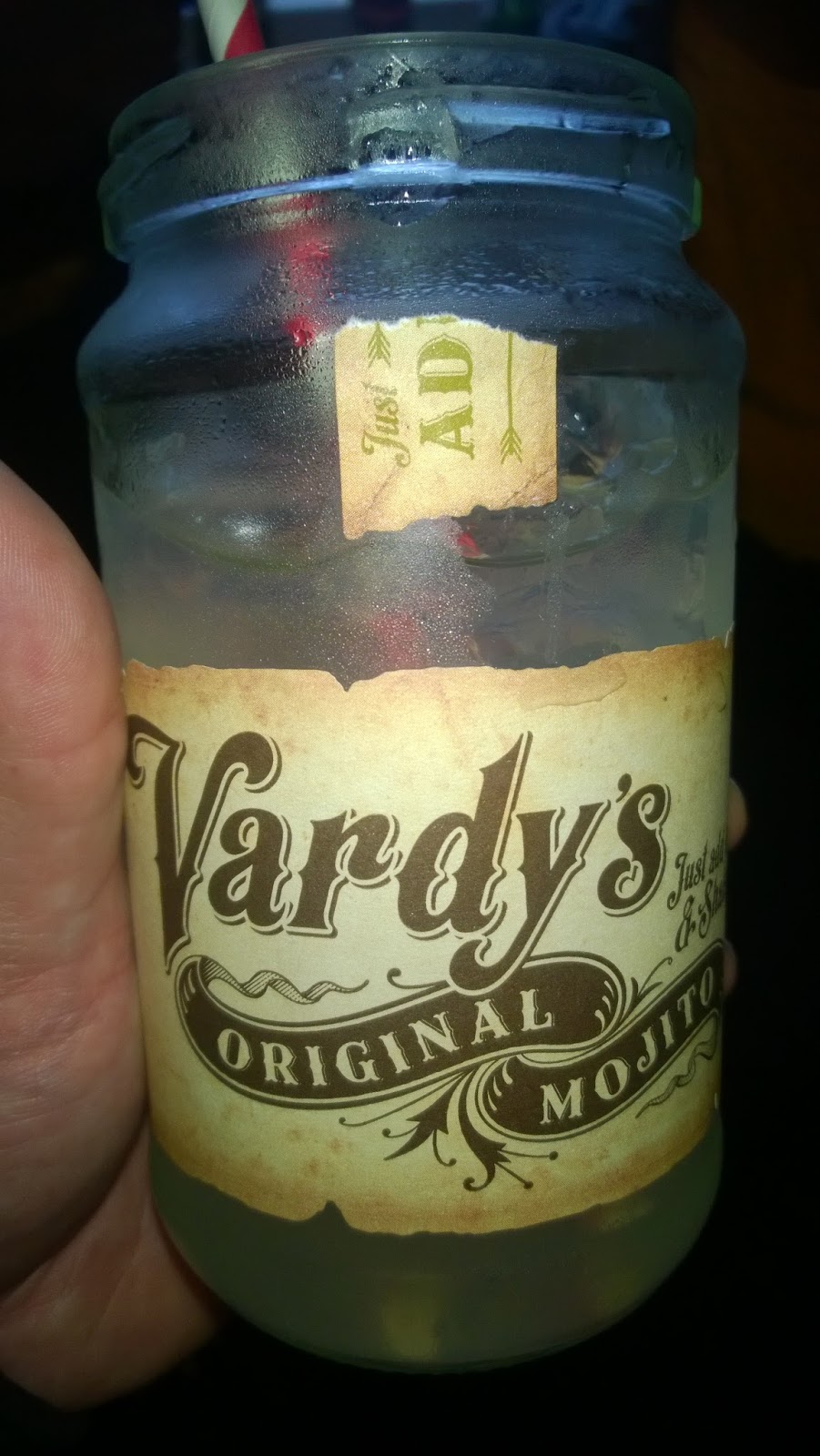 Hipster booze!
Next up is Braintee at home tomorrow night and a chance to stop this slight wobble of ours before it becomes a rot. Robbo's your man with the plan for that one.
Duke
Att. 3890