Thank you Dukey for the kind handover squire, I was more than delighted with Saturday's away win at Lincoln. Some of their supporters' tweets that were being retweeted by fellow U's fans were quite a highlight too. According to them we are some small tinpot club. Do they know Carshalton? Or Kingstonian?
Still, our form is looking a lot brighter than what it was after our first home game against Solihull. A very decent point at Forest Green and of course as mentioned above the win at Lincoln – this can only be bettered with a further three points from tonight's game.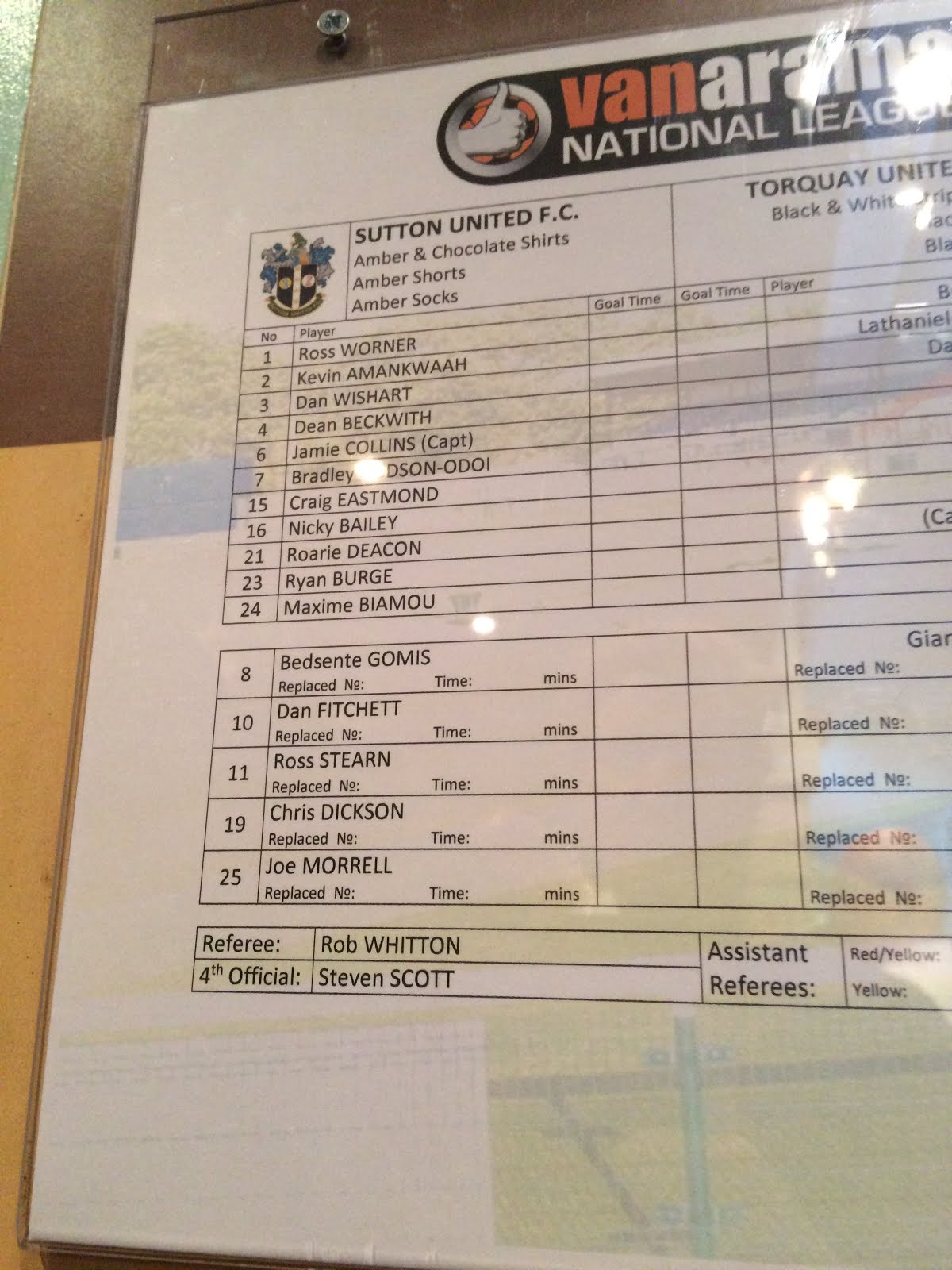 The line up's up.
I am glad to be doing the blog for this game as Torquay is the home of my longest known friend in my life, all 30 odd years, who moved down there back in 2001. I, myself, didn't actually visit there until my friend's engagement party in 2006 and since I have made just under a handful of visits since. As for the football club, I have actually only stood outside their ground though as my friend lived a stone's throw from Plainmoor.
I decided to drive it to tonight's game as I was reunited with my Sadie last week after her untimely clash with a bus – watch out [unnamed bus company] I am still on your case! I parked quite a distance from the ground as tonight I would be picking up a car parking permit, paid for by me but not to be used by me but to be used by Natalie!
As I walk up to the ground I note quite a few Torquay United shirts, looks like for a Tuesday night they have bought a decent amount down with them – fair do's. As I head to the bar I see Mark Beckwith and I sit myself down with him and he informs me I missed a great game at Lincoln – NB I am still yet to see said highlights of said game. I am informed by the form of text message that Natalie is running late so yours truly will have to run out to the car park and hand over the permit – so hopefully I don't miss anything of note to include.
The team line up comes into the bar and is as follows and using their squad numbers now; hey we are National League now:-
1.Worner 2. Amankwaah 3. Wishart 4. Beckwith Dean 6 Collins (skipper) 15 Eastmond 21 Deacon 23 Burge 16 Bailey 7 Hudson-Odoi and 24 Biamou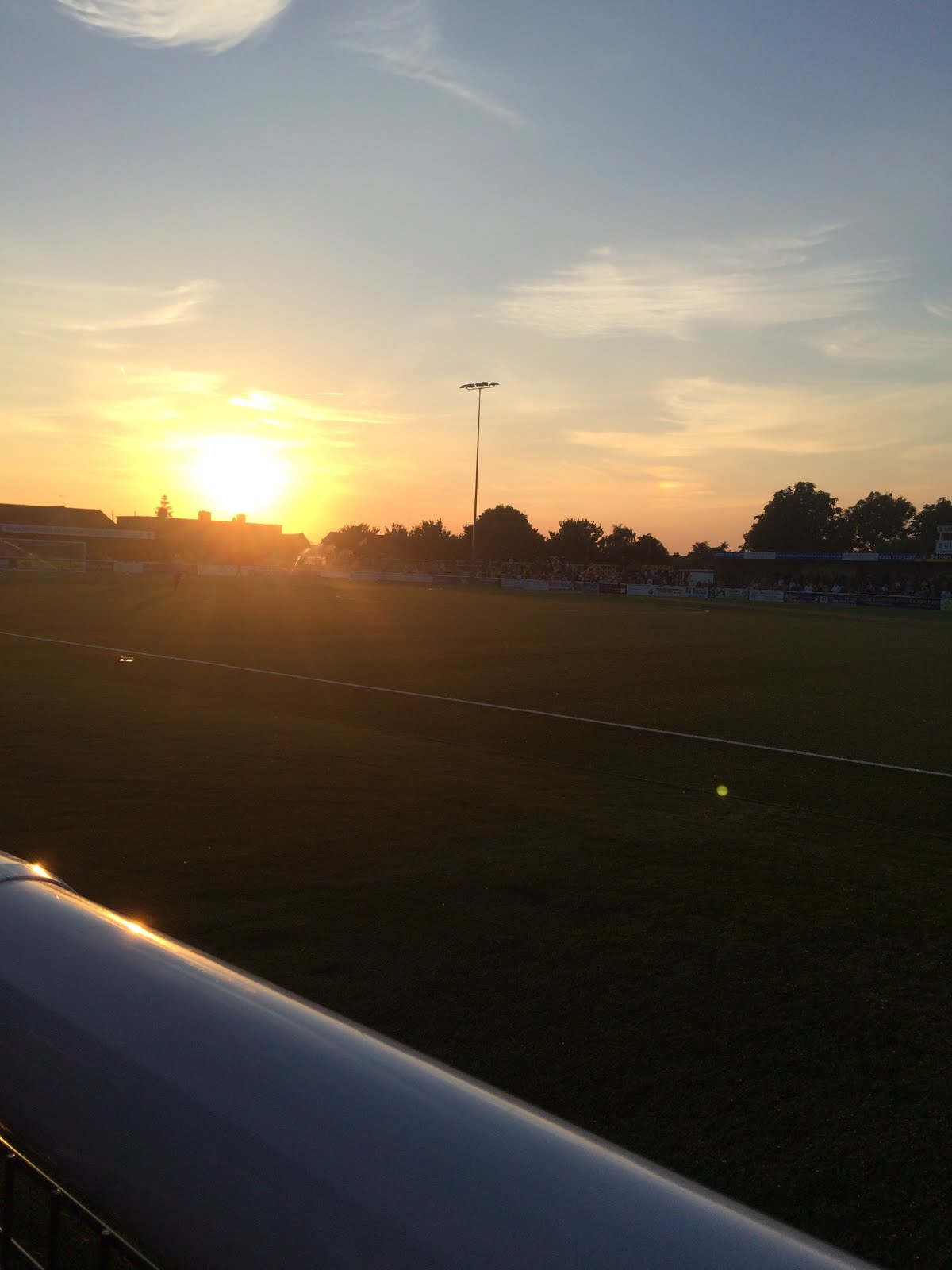 Every sunset over GGL is beautiful….
What!!! No Ross Stearn? Ah that's ok, the number 11 is on the bench!
We are then informed that the game will be kicking off about five minutes later than usual due to Torquay's coach (newly acquired too apparently) breaking down en route and thus a vast number of minicabs are delivering the opposition to GGL from Chieveley services. That's a first! Bet it cost a few quid too as I doubt you get many Uber's along the M4. Although said five minutes turns into ten, then fifteen whilst I keep an eye on me phone to see if I have to make that quick dash out to the car park. What's even worse is we obviously lost the coin toss as for the first half we would be shooting down the GGL end for a change and the Torquay supporters do not budge. Not very Non-League that!
Luckily for me, four minutes into the game passes and a corner is met by a bicycle kicking Biamou and the ball flies into the corner of the net; 1-0 Sutton – great start and great goal. Lucky because after taking said image of the team running back to the centre circle the call I'd been expecting is received and I make the quick dash out to meet Natalie with OUR car parking permit! As we walk to the entrance we are called out by Mark Beckwith and Chip who question if I have missed the goal. My response "Nope" (thankfully).
Once back inside it was a wander over to The Shoebox walking past a very noisy bunch of Torquay fans, although the Sutton youngsters were also in there making themselves heard. Further chances were had by The U's in Burge going very close after a nice set up from Roarie; who subsequently had a couple of chances himself. It was looking like we were heading into the break just the one ahead but a corner from Torquay at the death was just headed over and had us holding our breath briefly!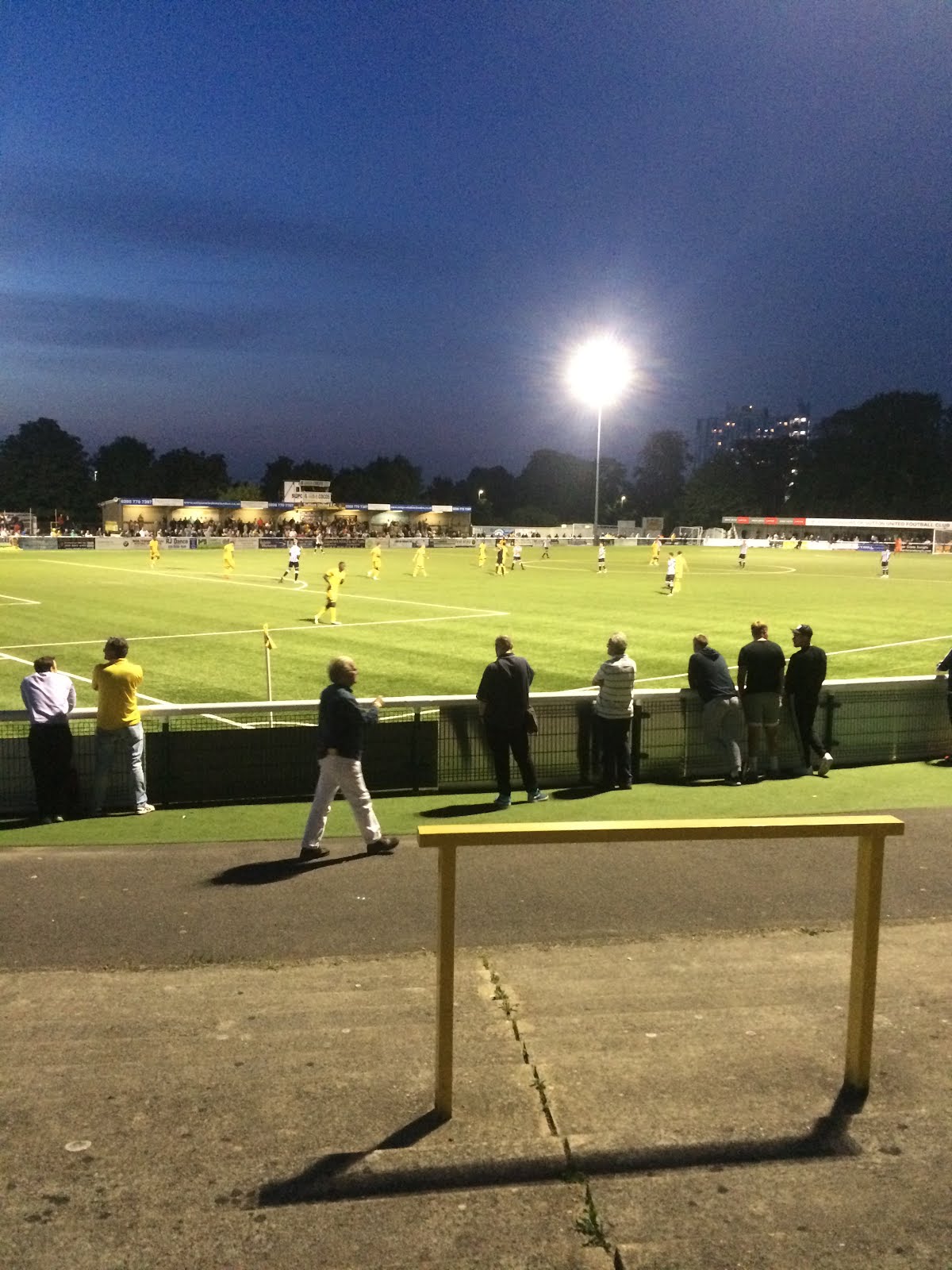 One nil to the tinpot team!
Upon strolling out for the second half I spotted a famous face sitting in our stands – none other than Torquay United's (only?) well known fan, Helen Chamberlain of Soccer AM fame. This for readers who aren't Sky Sports customers is a programme on Saturday mornings which was once upon a time one of the must watch programmes of the weekend, even with Tim Lovejoy in it. Shame that is now a load of rubbish with the same old jokes and Jimmy Bullard!
What's that? A goal for Torquay? Cue their fans rushing up to the behind the goal and bashing the board, only to have egg on their face as the lino has flagged for offside. Unlucky lads. Wishart sadly goes off with an injury on 49 minute but Stearny is soon on his place, so I'm happy. Just five minutes later Biamou is through on goal and just as what looks to be his and The U's second goal looks to be coming right up, he is crudely taken down by the last defender = red card! Up steps Bailey, who may I add for me has been our best player so far this season, cooly smashes the penalty home for 2-0.
Whilst the game whittles down to its latter stages, Natalie is rudely told to move out of the way by some young girl who wants to ask the ballboy nearest to us his name so she can add him to Facebook! The youth of today don't know how easy they have things with social media, us old folk had to put up with landline telephone numbers only. And yes they do still exist!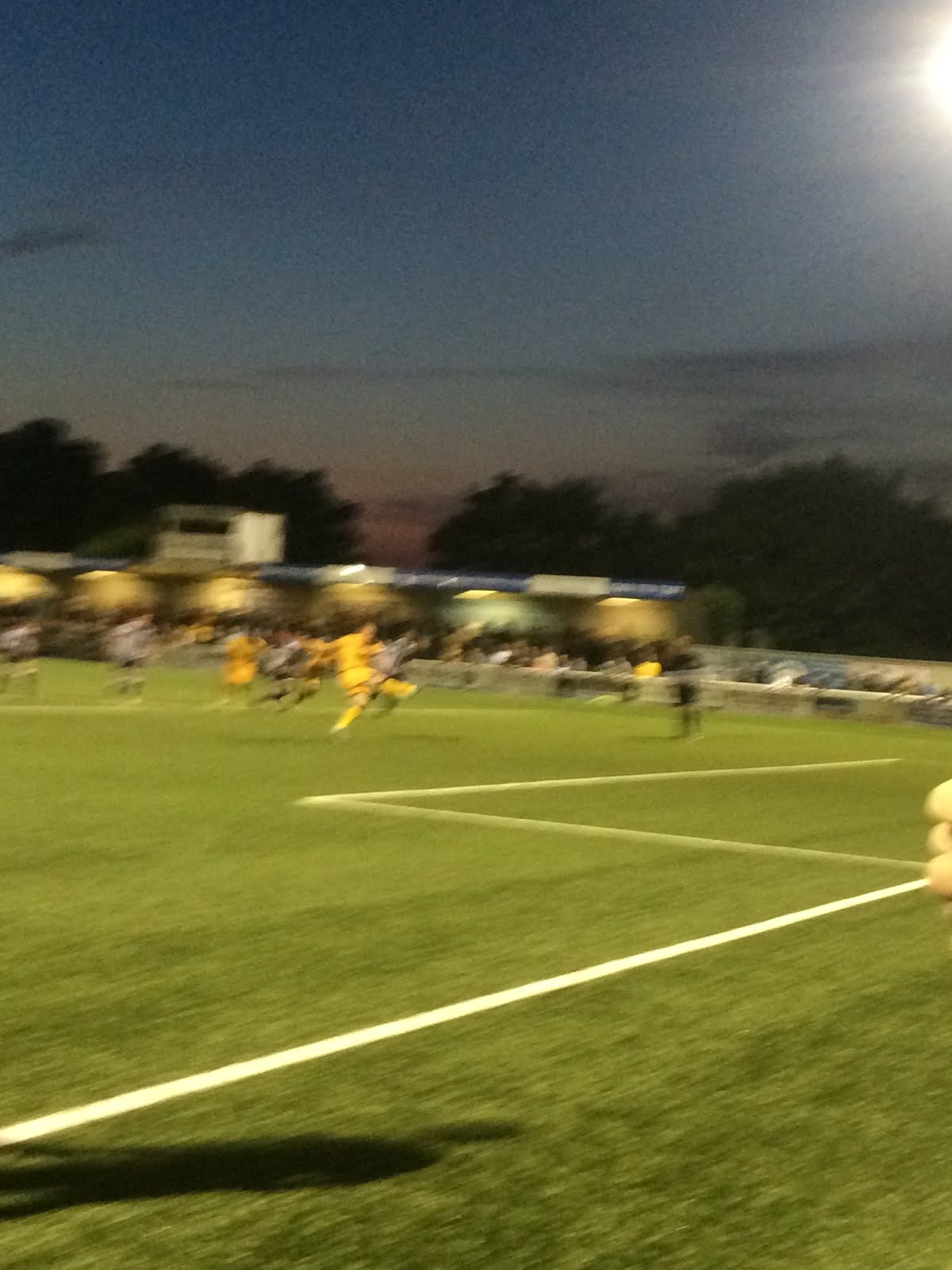 Wallop!
I am ever the professional and even though there was quite a few renditions of "wise men say……" I feel as I'm on blog duty I need to remain fully on point and concentrating on the action out on the pitch. "Why are you not joining in" asks Nat. "Erm I'm trying to remain professional" Hey I'm a snob, proud of it!!
The promising Joe Morrell and Chris Dickson come on for the last 20 minutes which is just a bit of a stroll for The U's and obviously to give Hudson-Odoi and Bailey a decent rest before Saturday's home game against Macclesfield. We should probably have a couple more goals, but the Torquay goalkeeper saves them from embarrassment.
Readers may be aware that in my previous blogs I referred to the word "bop" and I kindly mention to Natalie that during my writing duties I have written 5, won 3 and drawn 2 with no defeats (yet!). "Shhh" she says, even though there is only one minute of stoppage time left. Sorry but they aren't going to score one goal in one minute let alone three! In the end, a cracking attendance of 1625 witnessed a decent performance and three more precious points and a man of the match performance and award to Biamou. Good number up from Devon too.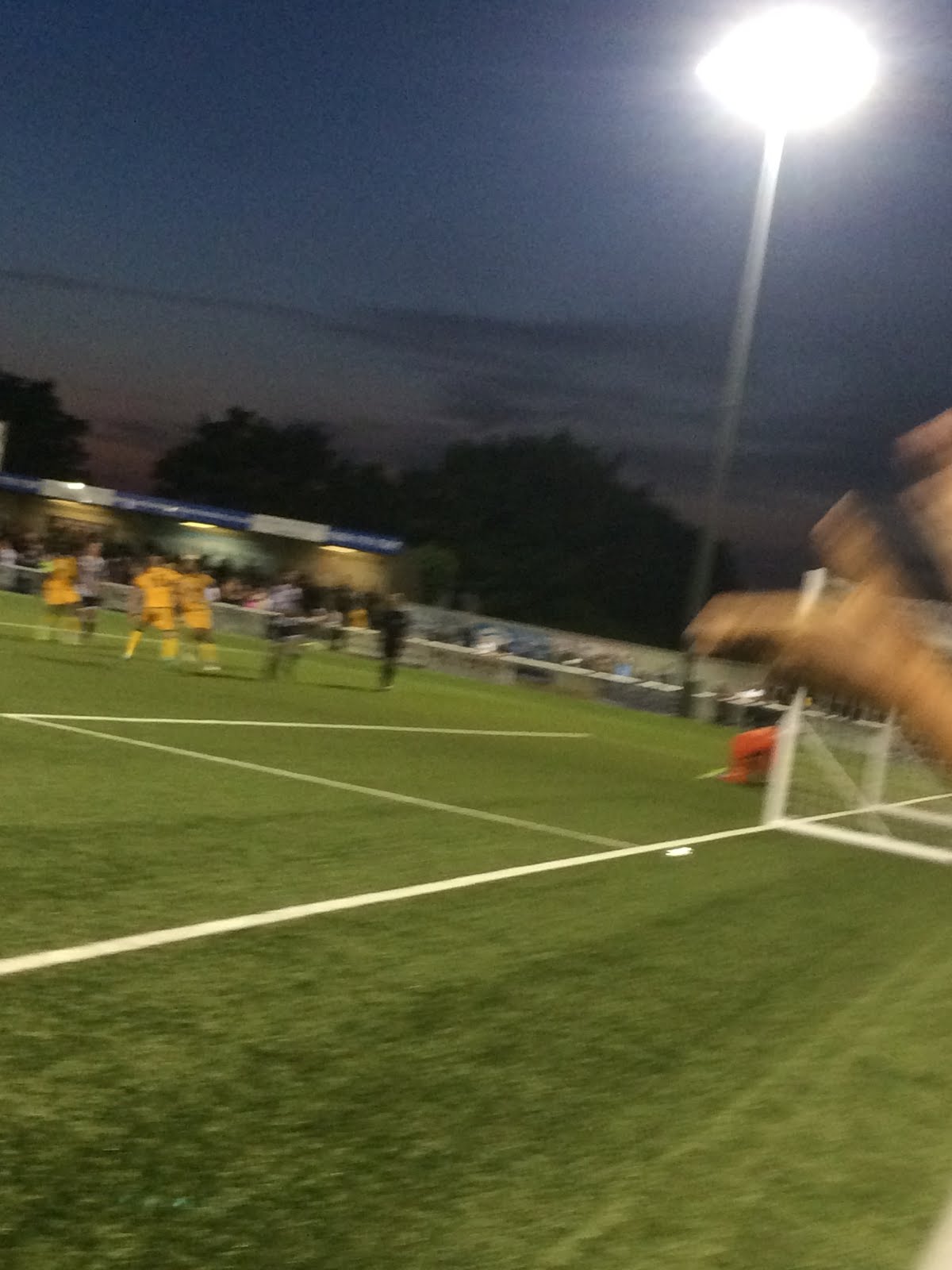 Gooooooooolazo!
As we head into the bar it's a calm atmosphere considering the result, however Adrian Barry was in a very delightful mood. Unsurprising really as he doesn't have to do Strikers are Key and he's already sold that 1000th Season Ticket. We were then left to watch one of the most boring sports in the Olympics, the 'keirin' in the cycling. What proves to be a very frustrating watch as not only is there a stoppage in the race once but twice as someone went too forward ahead of the start bike, er, moped thing (sod knows what it's called and don't care). But after the third attempt, Jason Kenny of Great Britain wins gold. Ok I know it's good for Great Britain to win golds but as a driver more cycling golds means more casual cyclists on the road! Hey I'm becoming very curmudgeonry in my old age.
So it's time to head home. Its ok for Natalie what with using OUR permit as her car is in the ground's car park, whilst the likes of I and Dukey have to trudge all the way down to Dale Road to pick our cars up and for me back to a cold KFC at home! The name of this blog "Fish and chips but you only have forks" is because Natalie had fish and chips but didn't bring them and only brought the fork (you'll have to ask her for more details!).
I'll now hand you over to Taz who will be back on duty for Saturday's blog for the home game against Macclesfield Town. This KFC isn't going to warm itself up….
Robbo