Our first Saturday away trip has finally arrived. And for the second time this week we get to visit a new ground. If Forest Green was one experience, then a little excursion to the northern lands that are Lincolnshire was going to be something different all together. But one thing that was definitely going to be the same we was the fact that the new kits had still yet to be delivered.
Being as lazy as I could possibly be, and with Juan Sheet being given permission to make an unexpected and unannounced visit, my plans for Friday were shelved for a later date. This meant that my already early rise was made even earlier. As the alarm clock sounded and I begun to commence the 3 S's and it suddenly begun to dawn on me that Lincoln was going to involve some serious mileage (and drinking!).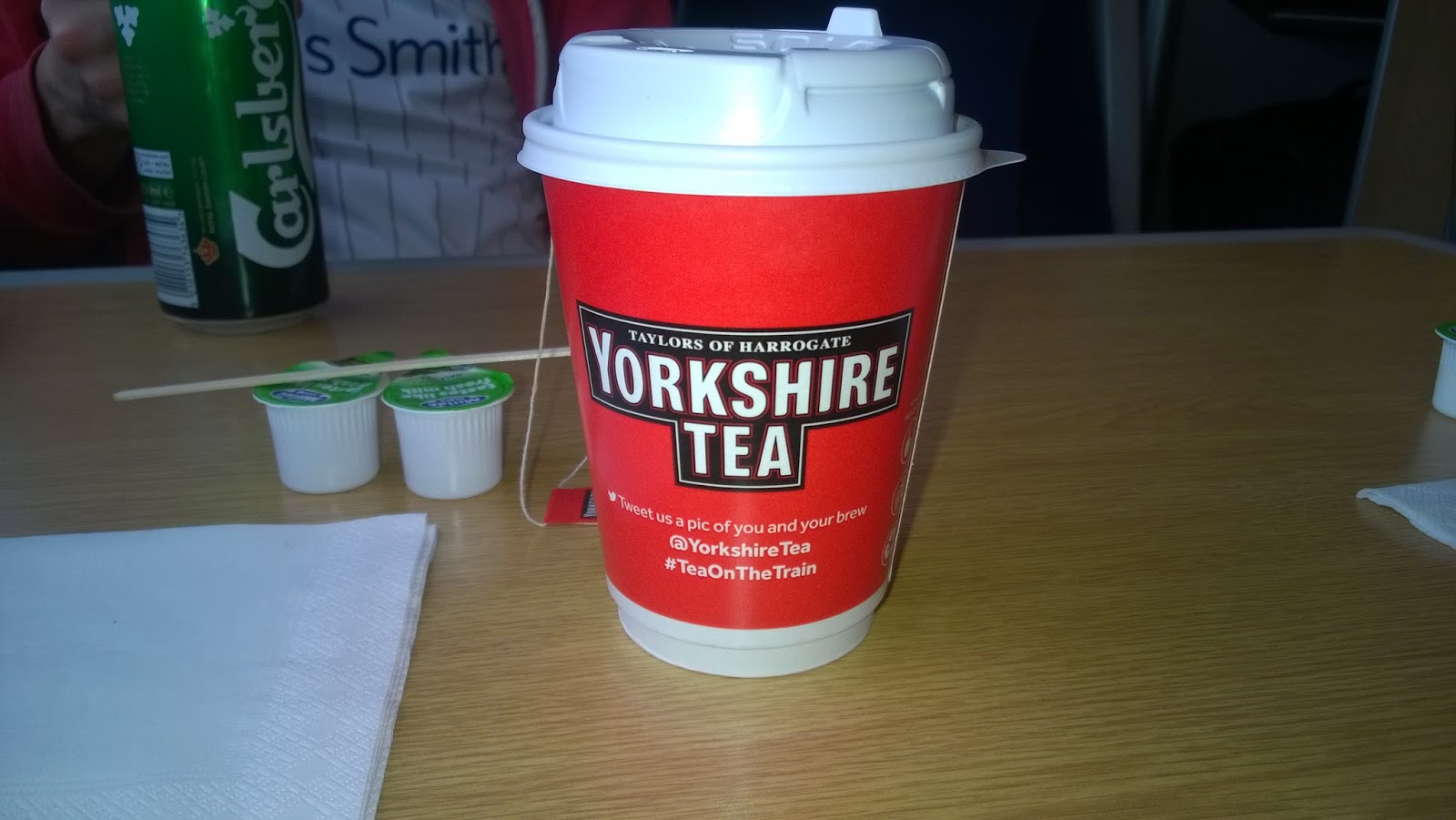 Compensation tea…
The first train of the day was going to be the 0811hrs out of Carshalton. Leaving after half seven gave me plenty of time to walk down the road, sneak out a ton and grab some cigarettes. Standing outside the station was a very shifty looking fellow, loitering with intent to cause some mischief. It was only then that I realised that it was, in fact Taz the lovable ex-FUNemployed rogue!
It's £8 for a travel card these days even with a Network card, and we were soon waiting on the platform discussing the match from Tuesday and the fact that Joma had once again let us down. Jumping on the train we saw some of the few boats making the trip. Dr Bell, 4 Days & Mr X was all there with Mr X looking very worried indeed. Apparently today we were due to get a train at around half nine. The train we were on was due to arrive at around ten to nine at St Pancras. This meant that we'd have over half an hour to take the very short walk over to King's Cross.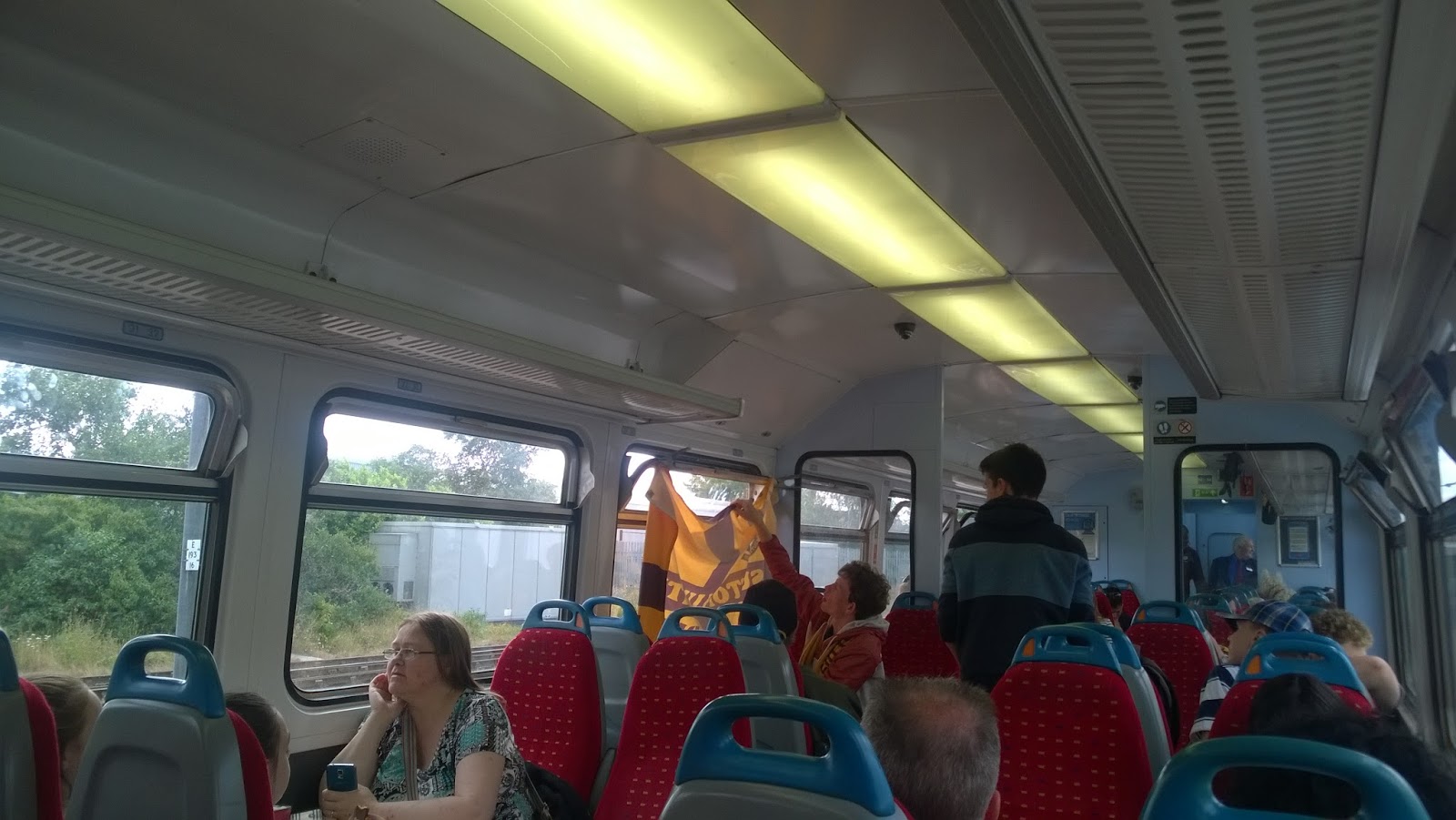 The Lincoln 'carriage'.
Sitting down, we were asked a simple question by the concerned Mr X, "What time is the train at Kings Cross?" A thought back to the text message earlier clearly stating a half nine time. So we said half nine. "Look at your ticket" he suggests. A quick glance at the reserved ticket shows 0903hrs. Wait a minute, 0903hrs? Holy shit, we fucked up! Well, Mr X did at least. This now meant that we had less that ten minutes to get between the two stations. A spot of luck was that Indy & Sean were going up from Cheam and would be there well before us.
Learning from the advance party that the train North was going to leave from platform 1 gave us the knowledge that we also now needed to get to the furthest platform from our entrance to Kings Cross. Now most of The Firm are not the most nimble of folks, so there was a little warming up required. What we needed to do was go up two flights of stairs, through the barriers, over the road and go around to the right towards the end.
So with muscles stretched like some fat Olympic drinking team, we barge our way past some kids and all stand by the doors as we roll into St Pancs. Eight minutes was all we had to go from A to B. THREE, TWO, ONE, GO! The doors are opened and we began to run like hell for leather. It was like a sports movie scene where you got the slow motion shot as we piled through anyone that got in our way, jumping over suitcases and knocking over wheelchair bound old people. Being weighed down by a present from Taz and other shit in my side cargo short pockets meant I wasn't too hot out of the blocks as it slowed me down.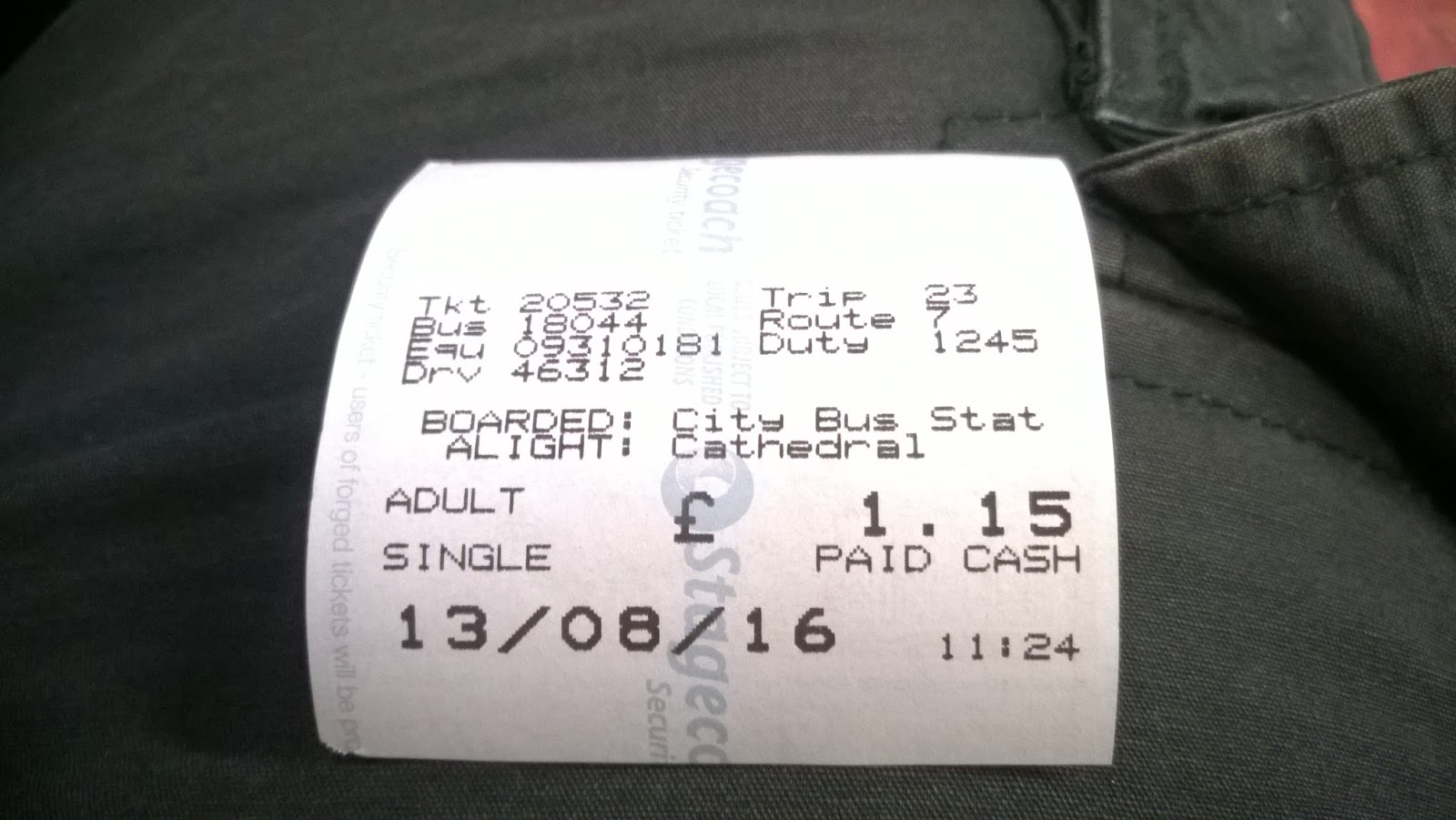 Odd priced bus fares.
With a open barrier, there was no need to put my travel card through which saved vital seconds. Imagine if i'd had to use my oyster card? Or worse and forgot to swipe out? We were soon across the street where fortune smiled and another open barrier greeted us as well as Sean & Indy. And not before long we stepped onto the train. Time? Four minutes. Four fuckin' minutes! Don't know what all the worry was about. Some people would just call that German efficiency, others that we were just lucky. I'd say a mix of the two.
With a round of teas off the trolley claimed as compensation from Mr X for the worry and concern he had caused the firm, we settled down for the journey up North. Not changing trains, but seats at Peterborough, we still needed to change at Newark for Lincoln. As per usual the only people getting onto our carriage ended up in the seats that we vacated! Arriving at Newark we had to move over to the far platform. Quite a few Sutton fans had made the trip, like Little John and his band of merry boys. Not too sure why a group of under 18 lads would want arrive in town as early as us piss artists though, but each to their own.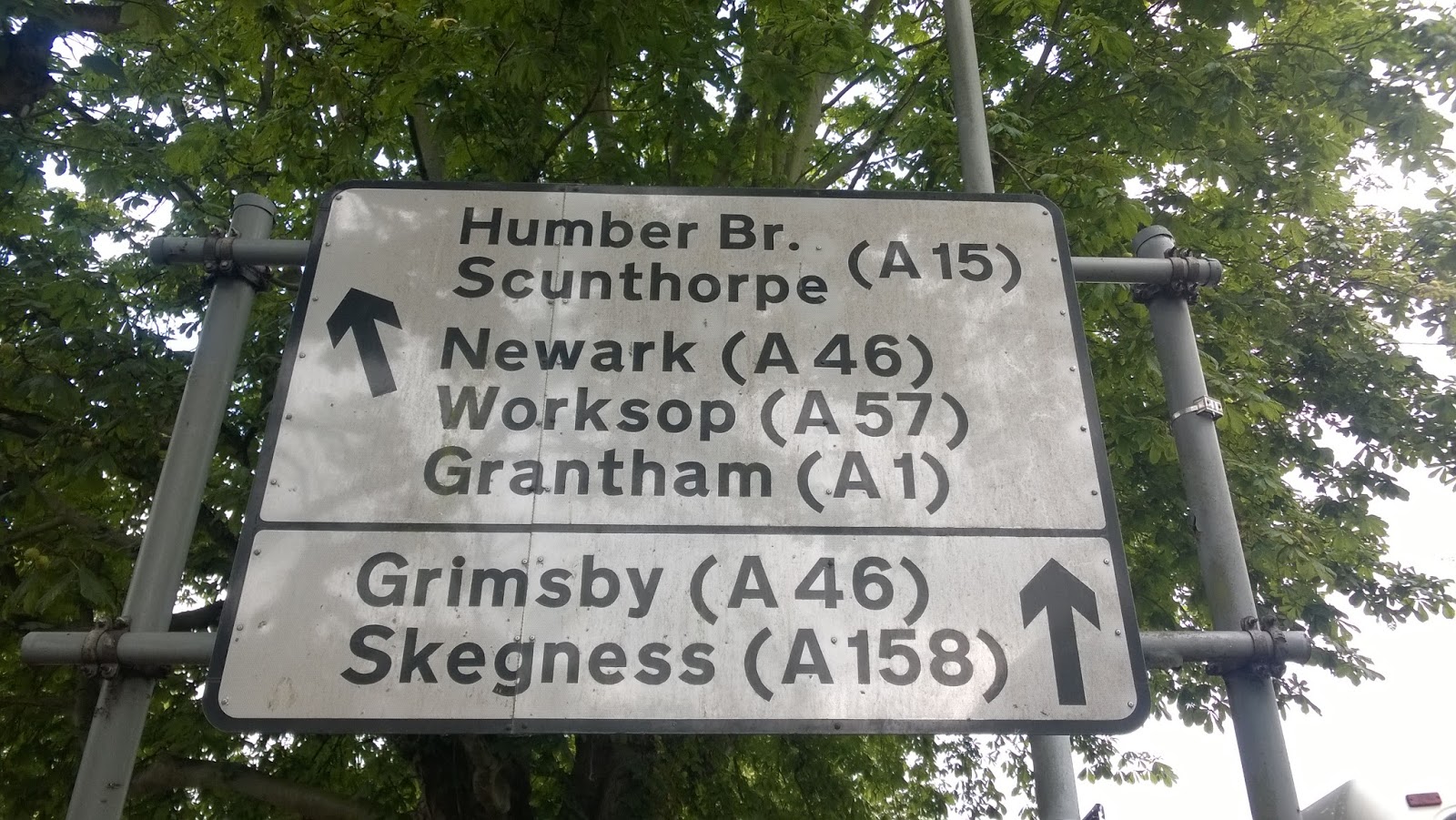 The most depressing road sign in Britain?
Our carriage to to take us to Lincoln was just that, a single bloody carriage. Fuck me if you were one of the big clubs and you were takin' over a hundred by train on a Saturday, that would most definitely be a tight old squeeze. Still, there was just enough room and taking a seat next to Dr Bell, we begun to work out a plan of attack.
It seemed that the ground was one side of the station and all the decent boozers were on the other. So a suggestion was made that we started at the furthest pub on top of the hill and headed towards the ground downhill, using the power of gravity. Trying to get a sherbet outside the station was a waste of time and we instead went with the suggestion of a local character and went for a bus. After paying the weird price of £1.15 for a ticket (especially weird as the driver had no bloody change!). We trundled up in between the castle and cathedral.
The first pub of the day was The Victoria with a nice view of the Castle, followed by The Strugglers as Amber Aleman took us on a little tour courtesy of the Good Beer Guide. Leaving the second pub, we were greeted with some local hospitality. As many of you know, I'm a bit of a linguist, speaking not only English but other dialects like Bollocks, Cockney & Dukey. Unfortunately I can't understand Lincolnese. So when something was shouted out at us from a moving car, it sounded like the teacher from Charlie Brown, so I have no idea what the message was on this occasion.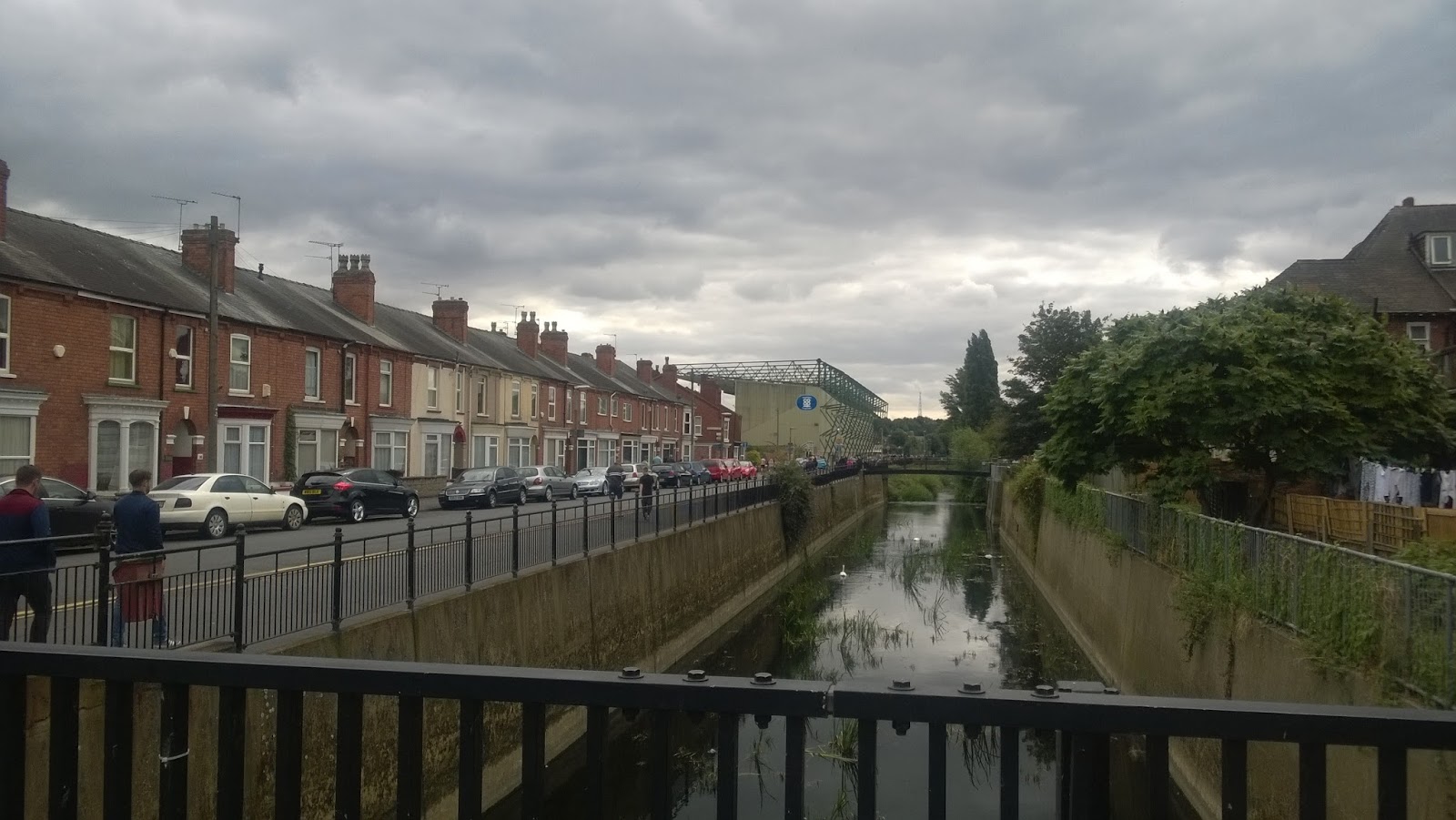 The mean streets of Lincoln…
This must've happened about four times during the course of the day, They would shout obscenities at us as from a moving car as they sped off. I think even once, someone shouted at Mr X that they wanted "some London Cock". Then again, it might've been that he was a London Cock, sadly again I couldn't quite understand what was being inferred.
Next on the list was The Wig & Mitre where we met some of the Executive travel gang and then The Jolly Brewer. Here we had a go on the Duke box and begun to think about making towards the ground. The first option was of course to get some sherbets, but that back fired when there were none available. This meant that with the help of some directions from a local (handily not shouted at us from a moving motor) we were going to have to suck it up, stretch those muscles again & walk it.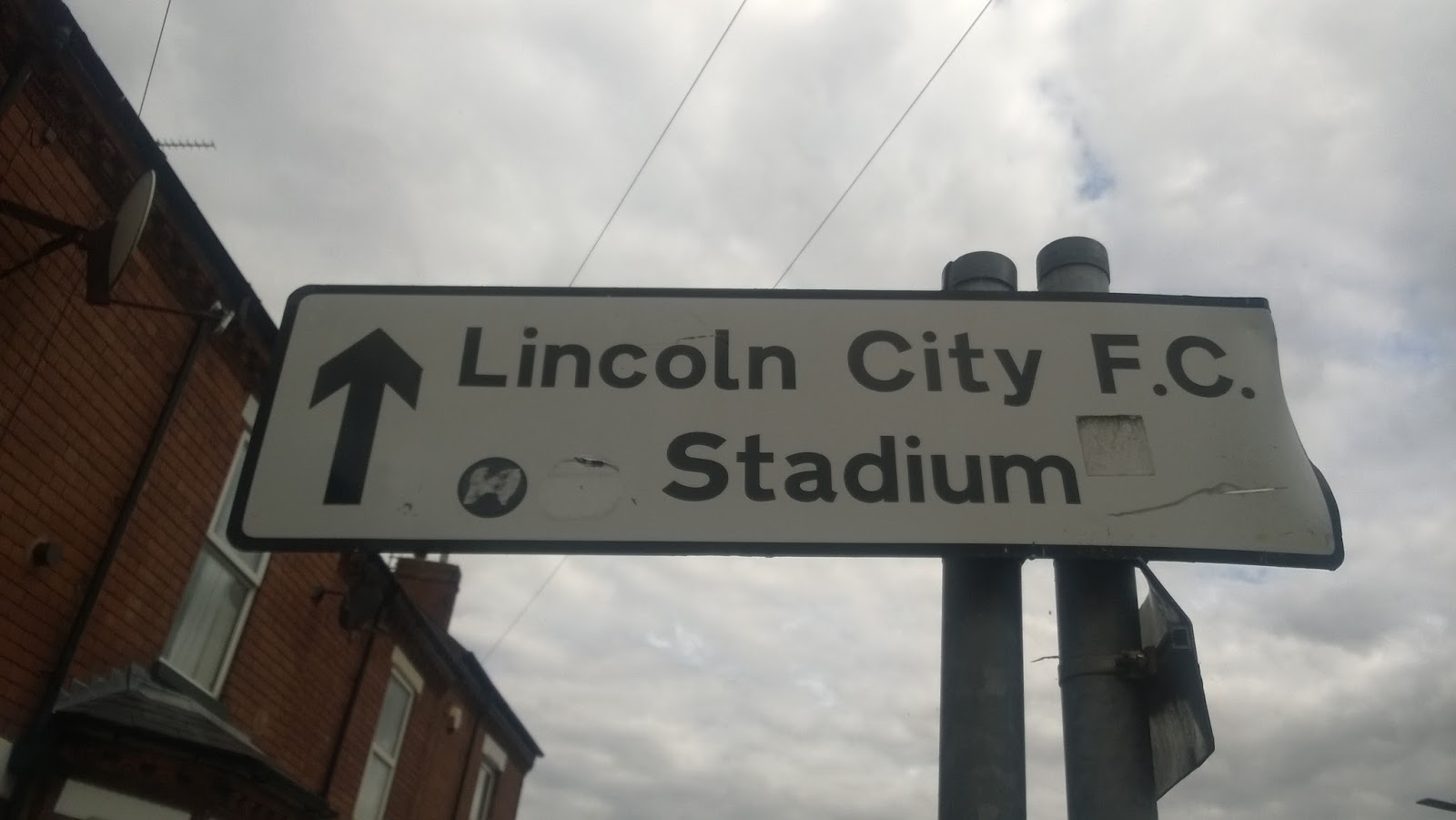 I think this is the way….
Sending Sean & Indy ahead, we had other drink and begun to make tracks. The route was simple enough, but what was weird was unlike the usual two bob teams we tend to face, Lincoln is and ex-league ground. So you walk down some Coronation Street-style back roads before you come across a large stand. Very much like when it happens in I.D.
£18 entrance fee in the Mae Stacey West Stand. I was then informed by the steward that they don't usually sell any programmes to away fans! Seriously WTF? We won't even mention the fact that it was another ground that we couldn't smoke and also we wasn't allowed to leave the ground for a snout at half time either.
Up to the right of us was the hardcore Lincoln supporters. 50 young looking lads that had a thing for toilet roll, drums and would sing the usual European style songs you can find on YouTube. For a big ground, it didn't look that full. So much for the 6,000+ predicted by some! Still with the Lincoln kids in full voice and the 81 souls in the Sutton end, we tried our best to create an atmosphere.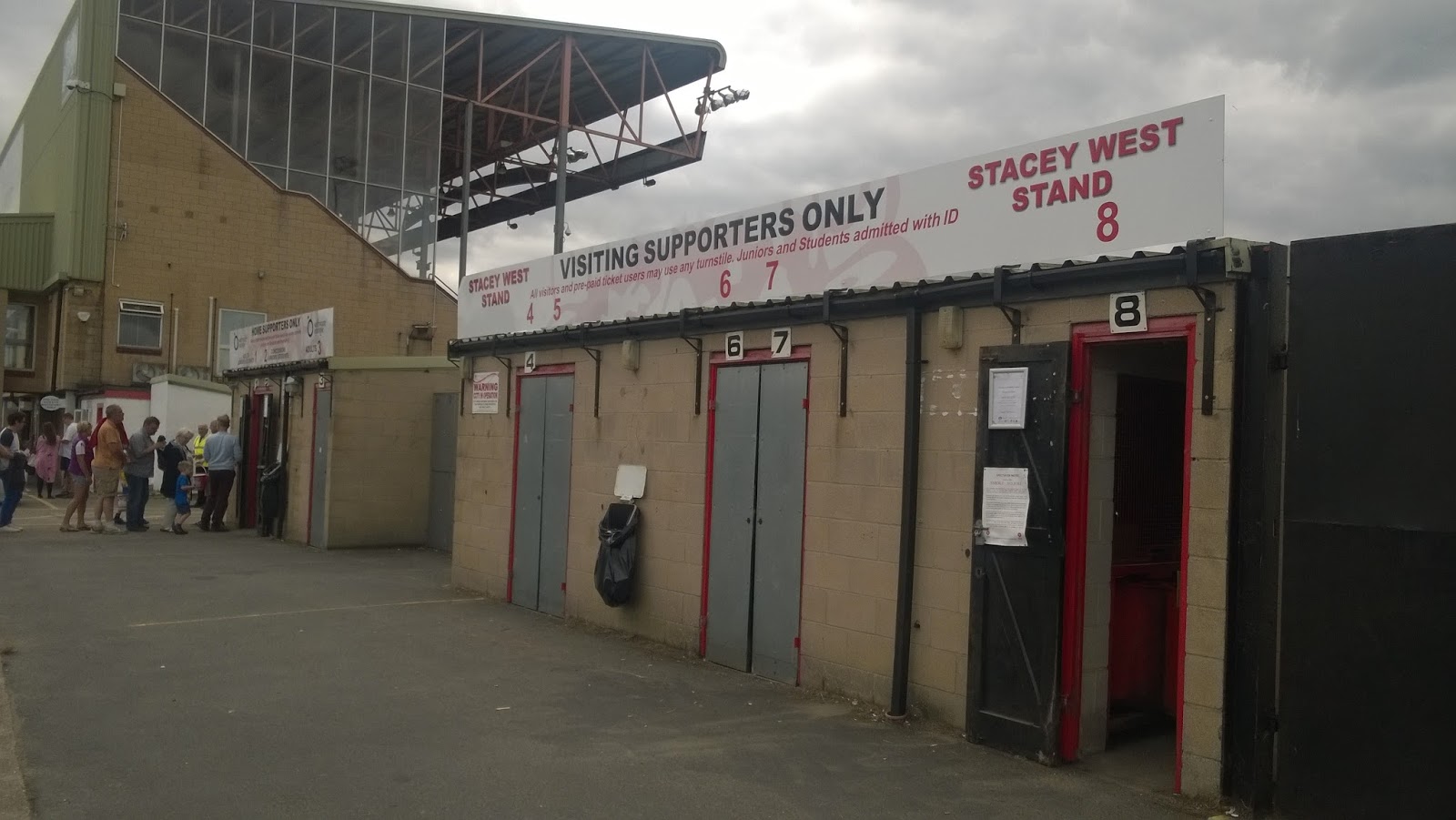 This is us I reckon…
Worner, Downer, Amankwaah, Beckwith, Wishart, Collins, Deacon, Gomis, Bailey, Biamou, Stearn. Bench Warmers: Fitchett, Dickson, Cooper, Burge, Morrell.
Of course having a manager like Danny Cowley, meant we knew that Lincoln were going to be big and ugly. This was seen straight from the off as they tried to slow the game as much as possible and disrupt the tempo. The only difference from Concord was the the absence of the synchronised bench moaning every 30 seconds that we were used to.
Lincoln's problems begun when they lost their top forward to injury. Everything changed when Biamou was needlessly brought down as he chased an aimless ball outside the area. Up stepped Wishart to smack a ball into the top left hand of the goal. 1-0! That was the cue for a wild celebration behind the goal. Sutton, 1-0 up, at fuckin' Lincoln, get in there! I did also, for some unknown reason, like a tourist film a little bit of the free kick as well. Still, it looked good.
The screw was definitely turned when Lincoln were reduced to ten men not long after. Me, like most of the Firm didn't see what exactly happened, as we were watching Sutton try to create a counter attack. Looking back towards the Sutton goal, we saw Deacon on the floor and some of the defenders surrounding the Lincoln player stood over him.
After discussing it with the linesman, the referee just walked over to the Lincoln player and showed him the red card. Deacon was also booked for whatever happened, so fuck knows what occurred. The rest of the half saw both teams try and create some openings but it appeared to be heading for a half time score of 1-0 as the boys mostly made Cowley's mod do some chasing as we kept the ball. Beckwith did have a last ditch chance but his header was blocked.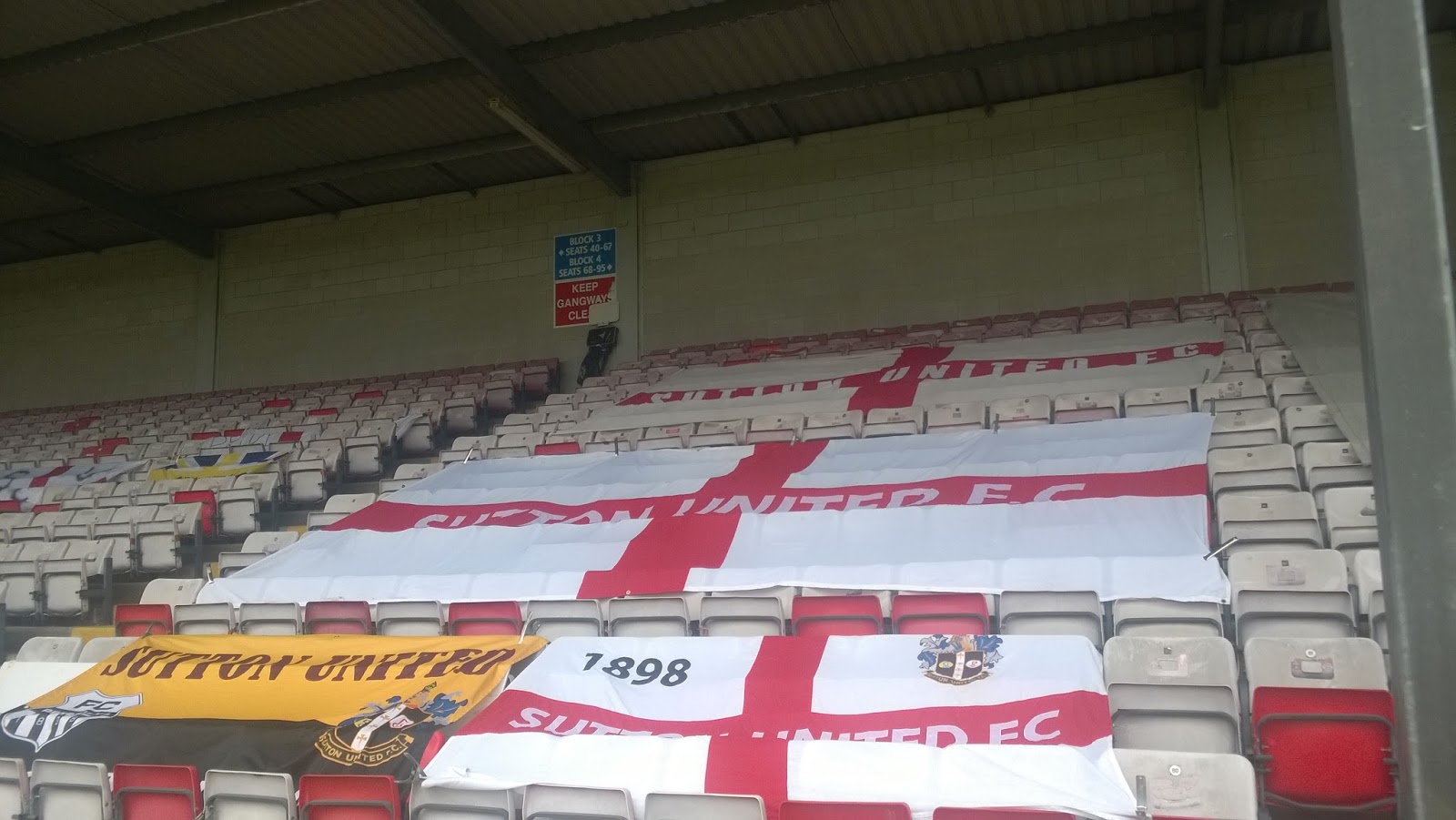 More flags than fans!
Unable to have a fag, I had to just sit and wait for the second half to start. At least the locals managed to rustle us up some programmes. And within five minutes of getting going, things were all square again. From what seemed like an over hit cross out on the left hand side, the ball started to head towards goal. From our vantage point we could see that the ball had the legs to make it into the back of the net. With Worner maybe a foot too forward, the ball looped into the top left hand of the goal. Another fuckin' shit goal against!
A change came not long after this when Downer was replaced with Burge. That goal had given Lincoln the boost that they needed. We've not always been best up against ten men and this showed again when Lincoln had a chance to take the lead, but the shot hit the outside of the post. Another change for us came when Morrell came on for Gomis.
With Dickson then on for Biamou, it appeared that the game was probably heading for a point. At the start of the day we would've taken that, but up against ten men, I felt this was a good opportunity to grab three points. For Sutton to make headway this season, its games like this that will define us,
Heading into the final ten minutes of the match, Lincoln started to look tired and an opportunity arose. Once again it was another set piece that gave us it. A corner from Stearn was met by the head of Collins. Even though he was in a head lock from the Lincoln defender at the time he still managed to get enough contact to head it in past the keeper. 2-1! Being at the other end of the ground, meant that there was some delay as we saw the goal ripple and went mental.
Instead of holding onto the lead, Sutton tried to keep on the pressure into injury time. With the Lincoln keeper even coming up for a series of corners, all we needed was the right clearance. That came when Burge and Dickson worked up the left hand side. Burge's shot was blocked, but it fell for Deacon who tapped the ball into the back of the net. 3-1!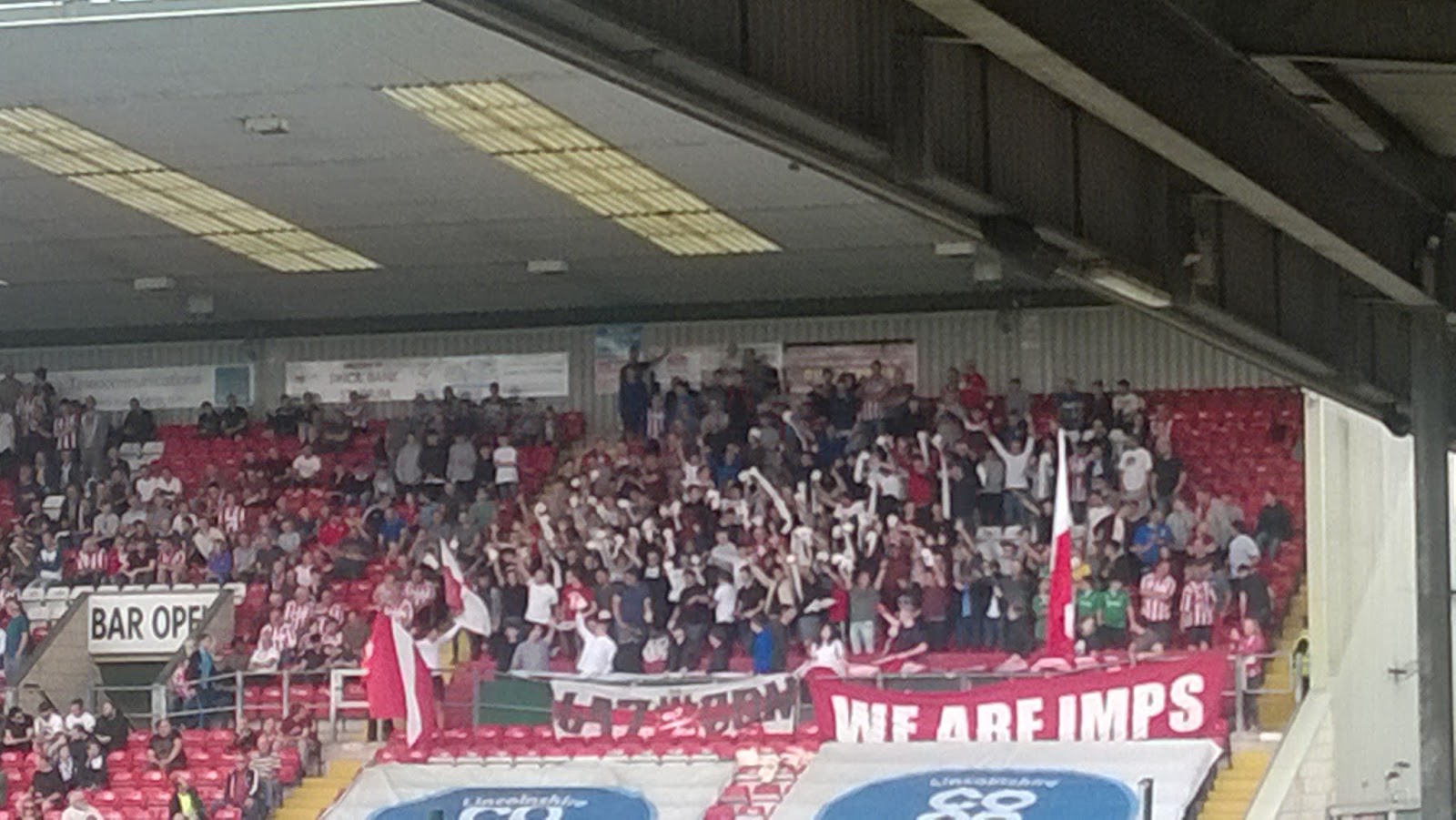 Standard YouTube Hits.
After the game with the points safe and the boys clapped off, as we were leaving we were warned by the stewards to "watch ourselves" as the natives appeared to be restless. Still, apart from the usual verbals from the Charlie Browns in moving cars, there was nothing too bad. One lad even wished us well, but his good wishes didn't go as far as giving Dr Bell a can of his 4 pack. We begun to walk back towards the station and on the way we stumbled across a 'Spoons and decided to head in for a couple of jars.
Having the match finish after five o'clock meant that we had heard most of the results but sitting down with a pint, we took the rest in. Our win had moved us up to 11th in league, not bad at all. Shame the Scum won but defeats for K's & Bromley was nice. Then with the time to leave fast approaching, we made it to a local Tesco's to load up on the usual nibbles & 24 Buds for the journey back to the Big Smoke.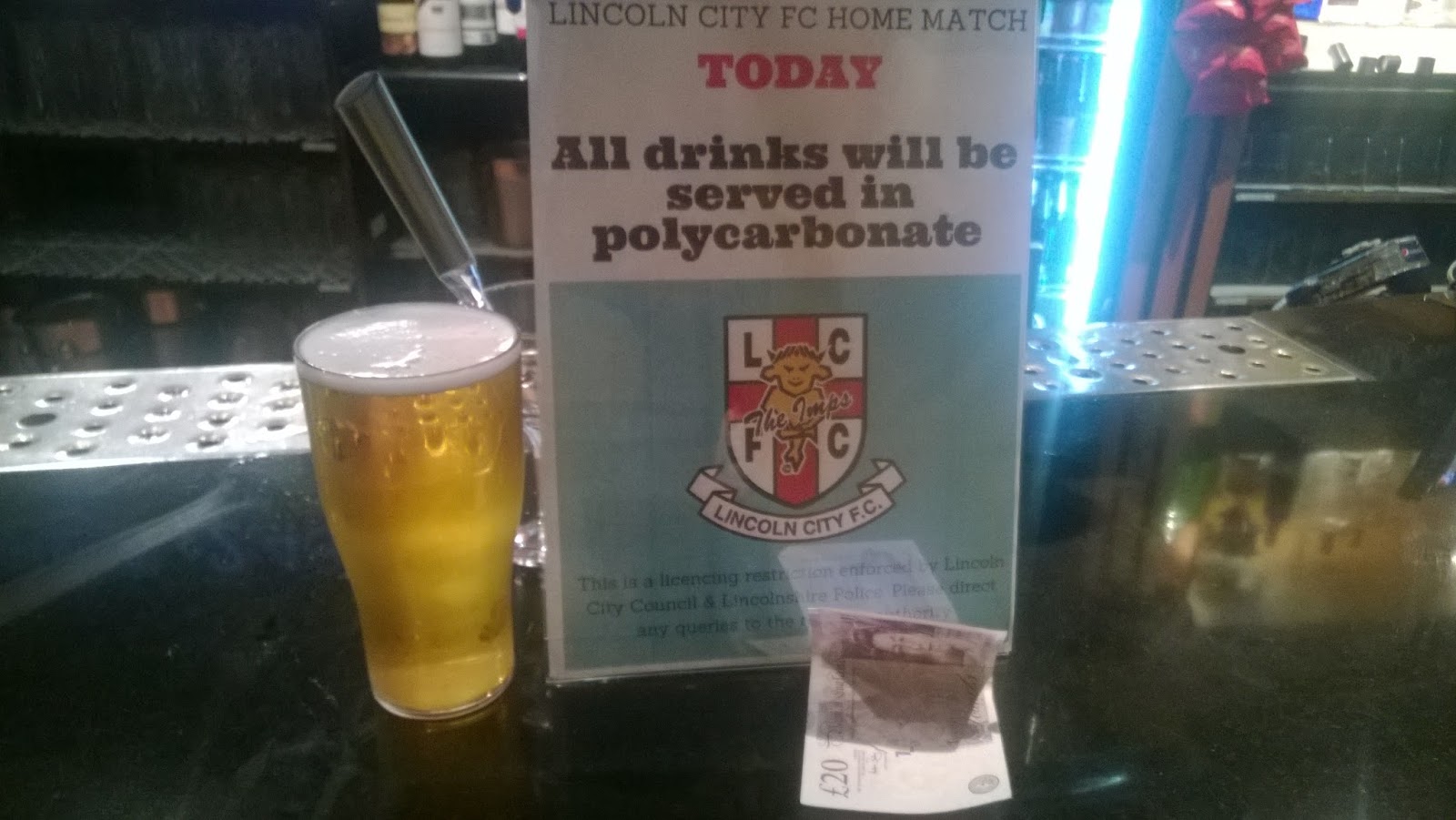 Bloody Plastics
Jumping on the half past seven train we were soon waiting for the connecting train at Newark. Like the idiot that I can be sometimes, I managed to drop one of my precious bottles of beer on the floor and then cut myself as I was cleaning it up. Still, we all got on the train with no more damage and had to do the usual as we again shuffled seats at Peterborough.
Moving to another carriage we met up with some Leeds supporters who were coming back from a game at Elland Road. Strangely, there was even one fan that had kept their parents in the dark over what team they supported. I mean, who would be embarrassed about supporting Leeds United? The Scum or K's obviously, but Leeds? From King's Cross we moved over to St Pancras and jumped on the Thameslink back to East Croydon.
Saying goodbye to a skint Taz here, we headed to the George in Croydon for a cheeky beer before deciding to head back to Sutton. Once back on home territory it was of course time to head over to O'Neill's for the usual encore. Here we were joined eventually by some of the others that hadn't made the trip. One was our Firm Leader who had completed his half marathon earlier. Another was Robbo who was more than a little excited over our victory. Almost as much as those who'd travelled in fact.
After much celebrating it was eventually time to head home. Joining Mr & Mrs Greek plus Robbo in a cab, I was soon back outside my manor many hours after I'd left. As I'm currently our away day correspondent, it'll be Robbo that takes over from me for the Torquay game, so be nice. Four points from the next two games will keep us on track I reckon.
Before I leave you here's a blink and you miss it shot of the the first goal…
Apologies for the lateness of this blog going up, but sometimes life has a habit of getting in the way. That and fact that I have the attention span of goldfish sometimes! A mention must also go out to SmiffyDownUnder from the forum, who went to find us out after the game to say that he enjoys reading the this blog. Well, we but aim to please, that and we'd like a record of some of things that we do when we've had a few!
Duke
Att. 3195