It seems that the most traditional starts of the season under Our Lord Dos is a defeat. In fact you have to go back nearly six years ago and to the Ryman League to see us avoid defeat against Concord Rangers with a boring 0-0 draw and even further back to a Mr Payne opening day hat-trick against Margate for a win. But like where we've played Havant twice in succession on the first away match of the season, you have to go no further that look at the fixtures from the 99/00 season to see who would be our first away opponents again. None other than Forest Green Rovers.
I was still at school the last time we played at Forest Green in a league game. But as it happens, the original Gandermonium were of course in attendance and you can read what happened HERE. Hopefully the events of that original trip won't be happening again this time, but you never quite know to what extremes people will go to get 3 points against the mighty Sutton.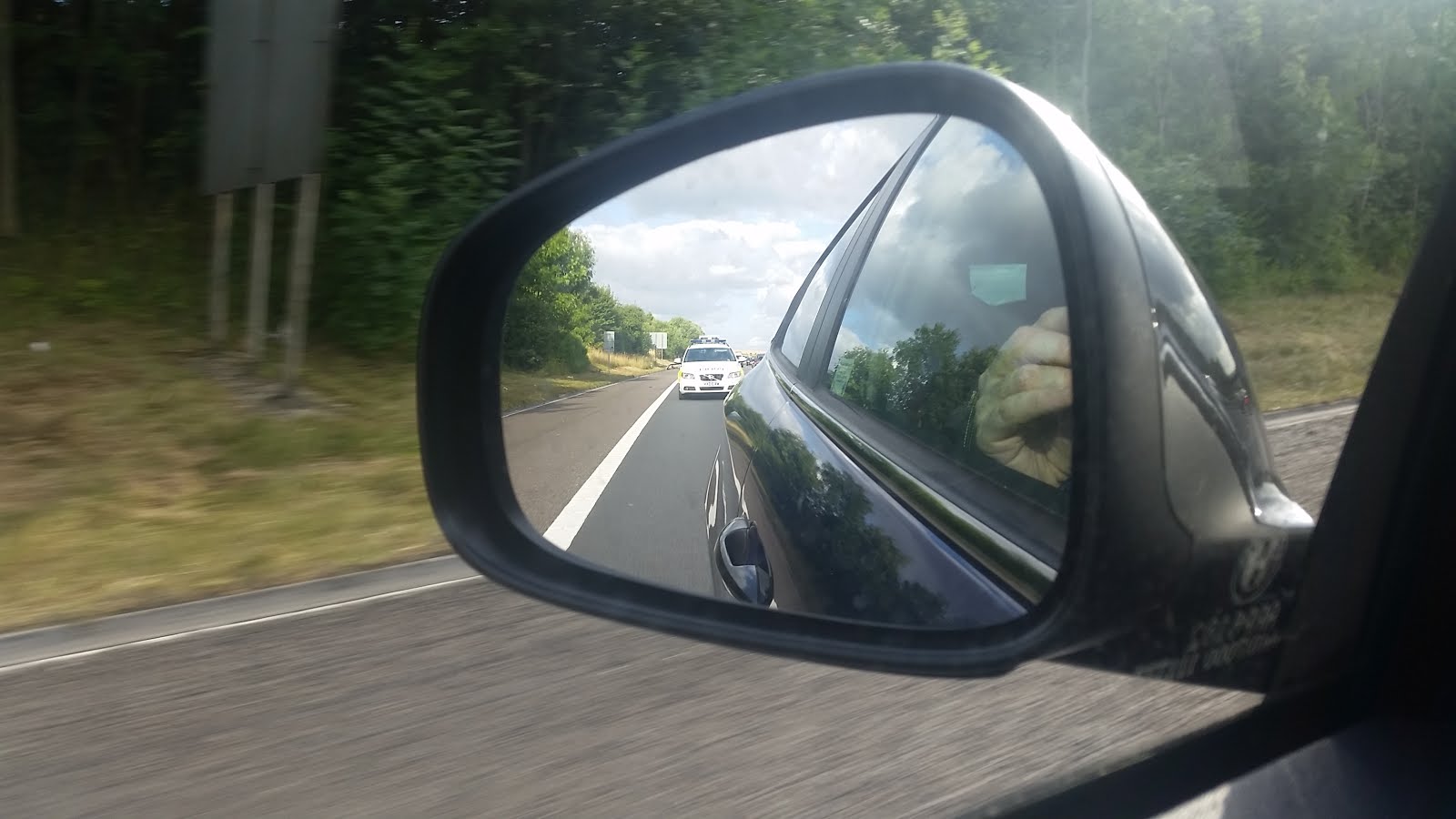 "I think they're onto us!"

With Mr X due to take a car load of us in the Donna Rachele, all that was required of us was to make it to GGL for a quarter to four departure. This meant that as I was one of the few that actually had to get in a full day's work before the off and to do this, I would need to impress on my fellow workers the need for speed and an early finish. This invariably lead to the following conversation with my driver. Obviously to protect his anonymity and place of birth, we shall have to create a pseudonym. So let's call him Lech Wałęsa and this is what was conversed:
Duke: "Right, we need to get this shit smashed out, so I can get on the road to Forest Green"
Lech: "So, where is this Forest Green?"
Duke: "Near the village of Nailsworth"
Lech: "Where is this?"
Duke: "Near a place called Stroud"
Lech: "Where is this?"
Duke: "West of Cirencester"
Lech: "Where is this?"
Duke: "Fuckin' 'ell, not far from Wales!"
Lech: "Wales? You are crazy, on a Tuesday night for a division six football match?"
Duke: "Division 5 actually, but not as crazy as spending a weekend in somewhere like Barrow"
Lech: "Barrow? Where is this?"
Duke: "Fuck me…."
Despite these delays, I did manage to get done in time and this gave me the opportunity to get home, quickly jump in the shower and splash on some Brut. Taz arrived to whisk me to the ground in the Duck Egg Blue Cube. A quick pick up of Dr Bell near the Benhill Estate and we were rapidly making time. Arriving at the ground we saw Mr X pull up just in front of us and we were soon on our way to the sticks.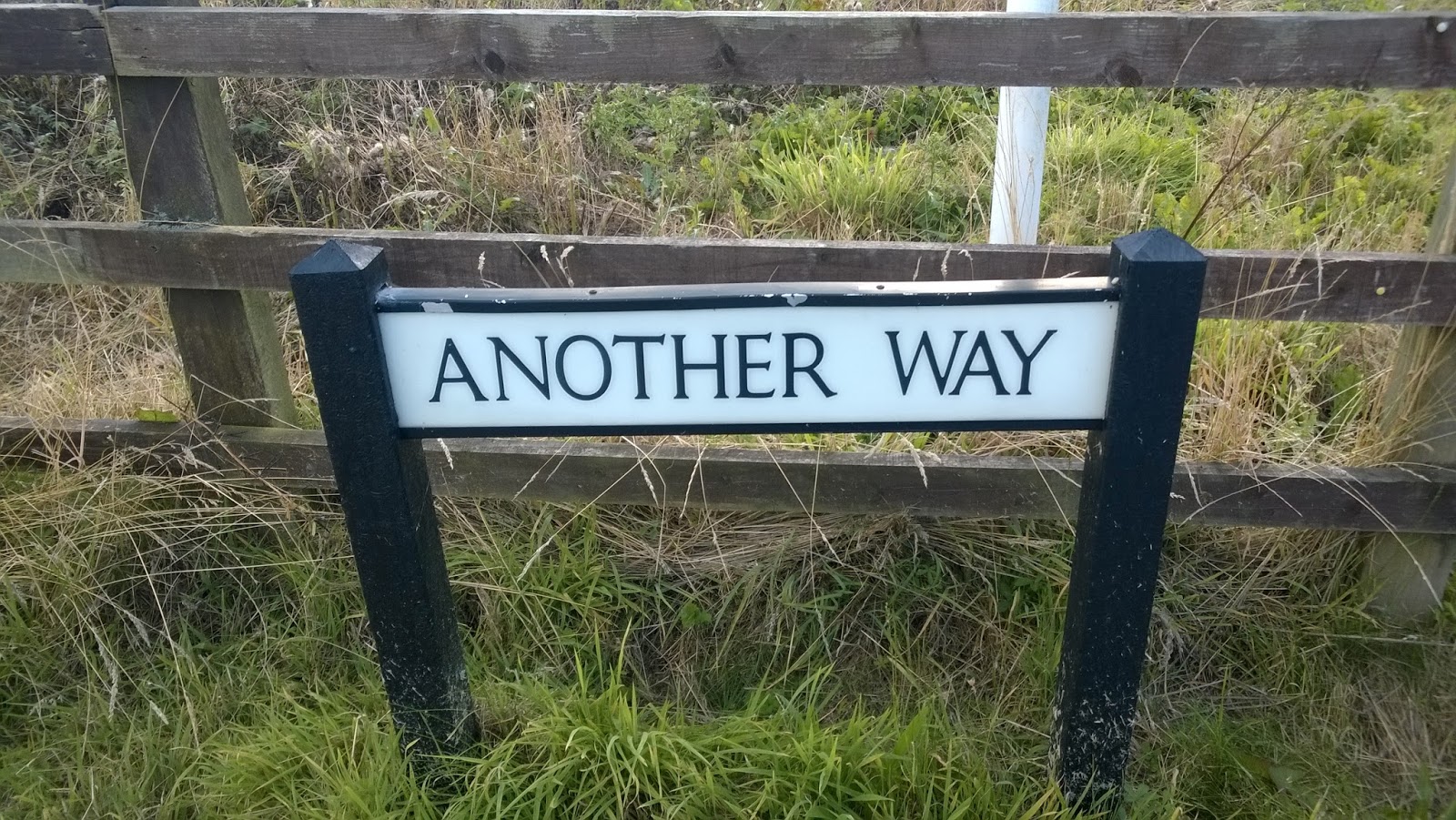 Just round the corner from 'Some Road'….
Another quick detour was needed as we also had to pick up Rax. Somehow, for a fella that doesn't do that many away trips with The Firm, he had managed to convince his eight month heavily pregnant missus that a little Tuesday night trip to Gloucestershire was an acceptable proposal. How the fuck he managed that, I don't know, but she was apparently more than happy to let him go. Knowing a man's luck, she'll remember this until the day she dies, hell hath no fury and all that.
Despite the tight fit in the back sear (Taz had claimed 'Shotgun' apparently), we were soon zoomin' around the M25 with the traffic going in our favour for once. Picking up the M3 we were soon taking the cut through around Bracknell. The only issue was the drop out of Donna's DAB radio around the area. I'm now convinced that DAB must stand for 'Dogshit Around Bracknell', because for every minute of music, it seemed to cut out for 2 minutes while we were around the place.
One of the songs that was interrupted was Dr Alban's 1992 hit "It's My Life". This meant that we had to engage in conversation about that very song to fill the silence. Someone claimed that they had the NOW CD with this track on it. This of course in turn sparked a debate over which one exactly.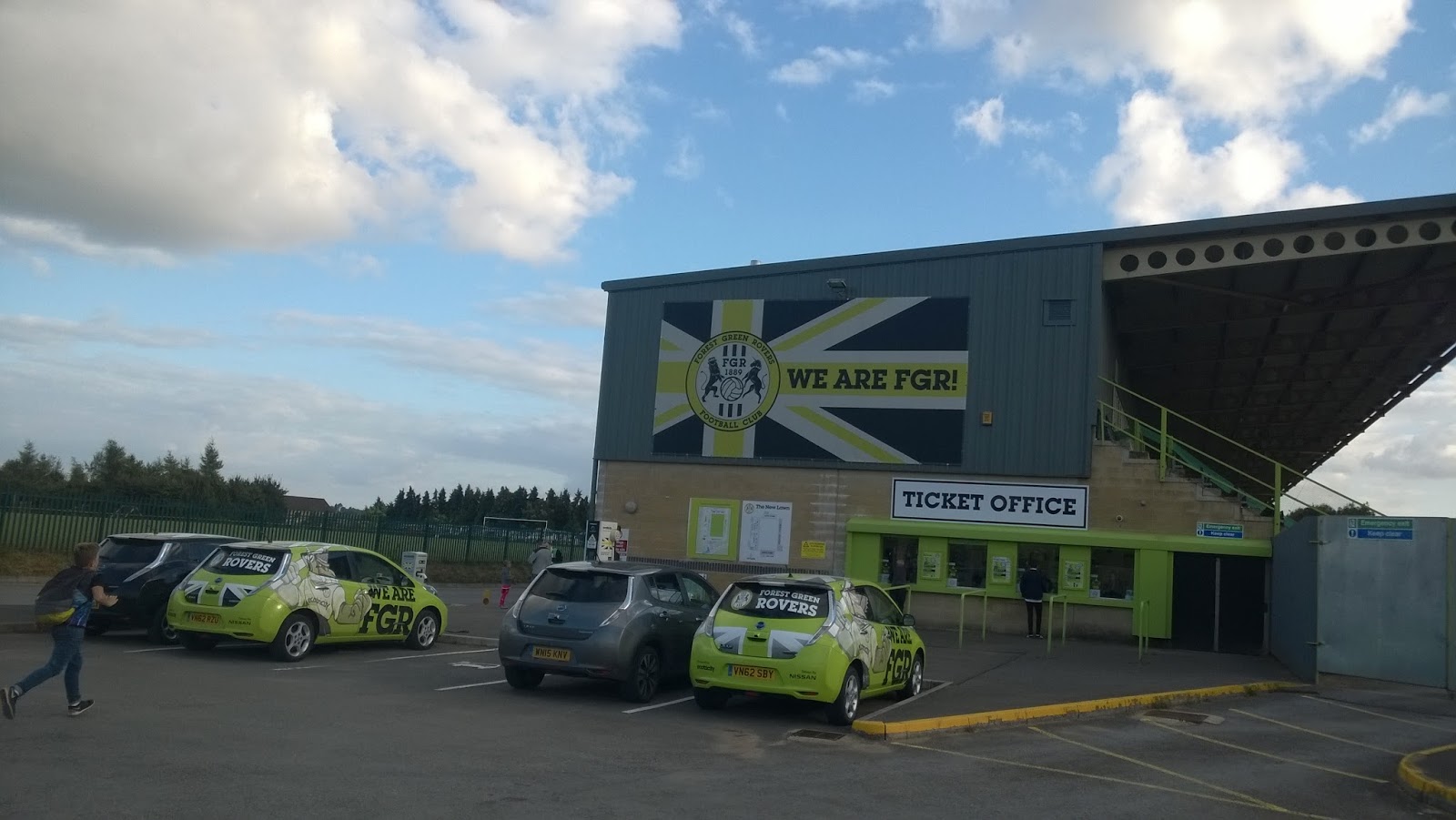 A handy reminder that. Cheers.
With the advent of modern living, the need for hours of debate and arguments that last weeks on end without ever truly finding the answer are now a touch of the button away & solved in minutes. Taz trumped up "Let me soundhound it" only to be aggravated by the very fact that he wasn't able to get it to work as the song kept cutting out! Eventually he had to resort to the trusty old Wikipedia and scroll through various editions. This took a while. But then again, what fuckin' else were we going to do driving to the middle of nowhere?
I'm not too sure if we ever found out what edition it was on ('None' was the answer! – Taz), but some of the useless shit that we found out in between was that not only are they still only up to 'Now 96′ but in 1992 alone there were three editions. What's taking 'em so long? Also, despite being such big hits that they wound up on a 'Now' album, some of the records don't even have links to the artist or the song in Wikipedia. Jesus, time really has forgotten them poor sods.
Still making good headway on the M4, according to the satnav we were due to hit the ground around 1830hrs. Confident in our journey I even unveiled a possibly new edition to the Gandermonium record album. I don't know why it wasn't universally accepted, either because it's firstly doubtful that the record will be found on any jukebox anywhere ever or because with lyrics like "With that cheeky little grin, as it dribbles off your chin, and you giggle because you're having fun". Go figure! 
Just like queuing at Red Star in Belgrade. Probably.
Of course our positive outlook was not to last, as all of a sudden we were sat in the fast lane with traffic all around us. A quick fervour of looking for information on our phones found that there was a "Shedload" up ahead. Some websites were expecting a several hours delay, while others only five minutes.
Panic. The mere thought of me missing a game began to sink in. Since 2nd March 2010 have I managed a stretch that has covered coming up to 400 consecutive matches. And for the statto's out there, I've only missed two games under Our Lord Dos, Boreham Wood away in 09/10 and Harlow Town away, which was Our Lord Dos's first match in charge. In fact I've done more games than Dos himself!
Back to Forest Green and after a quarter of an hour the traffic eventually started to move. Up ahead (as always) there was no sign of any delay at all, let alone one for me to take a ghoulish photo of and eventually we were coming off the M5 and heading into something called "the countryside".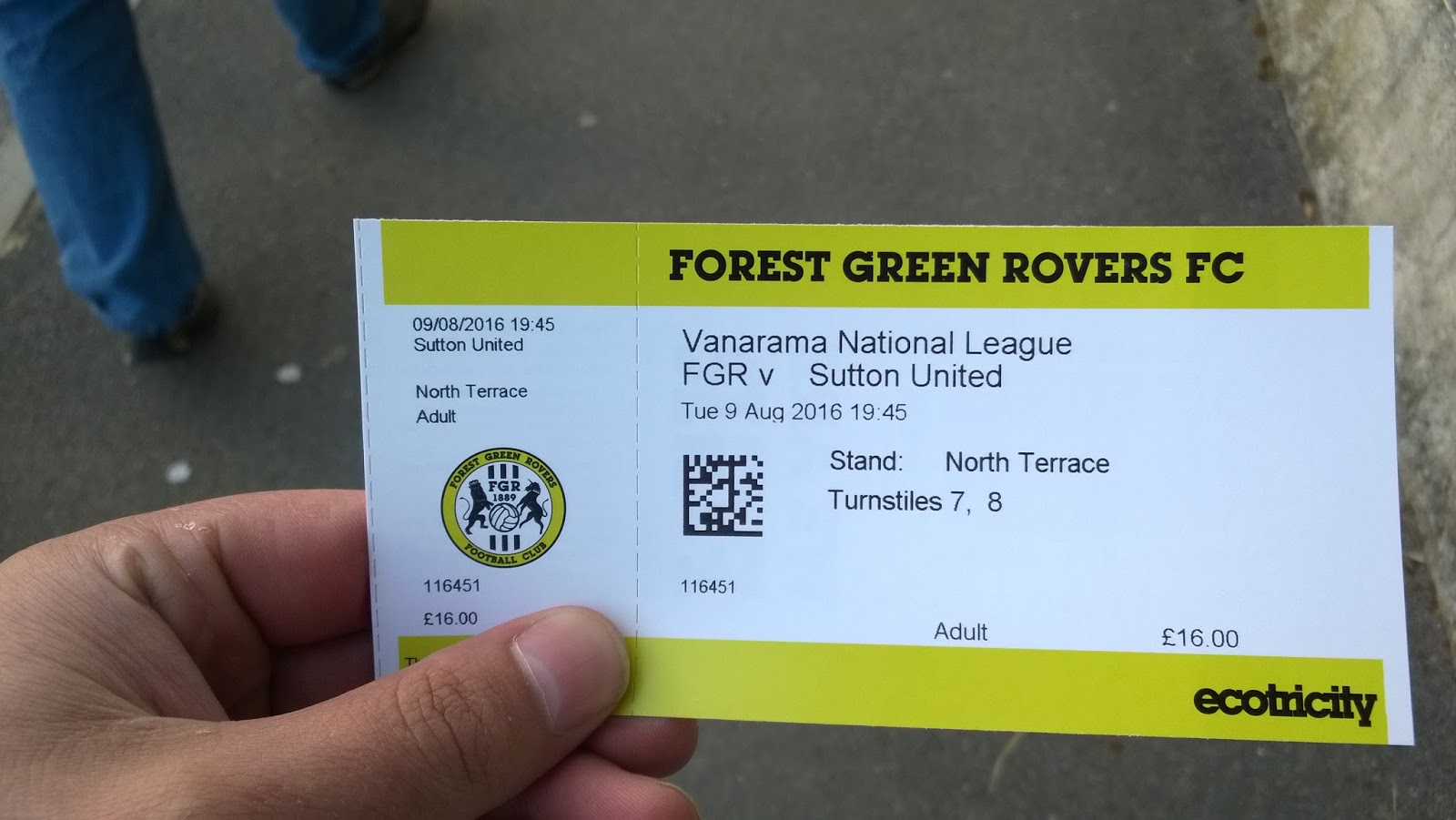 That's a bit posh. Got a barcode & everything!
I know this, because going through a place called Minchinhampton, which may or may not have been twinned with a village in whatever they call German Wast Africa these days, we were slightly confused by the fact that nearly every property had a fuckin' cattle grid at their respective entrances.
It didn't take long to realise why, when in the middle of the road round the next corner was a herd of heifers! And these weren't the usual heifers you'd associate with Gandermonium either. You know, the 3am in Chicagos kind. I don't know what you are supposed to do in a situation like this, but they soon moved before anyone could engage in the past time of cow tipping or chatting them up.
Up and down we went through some proper country lanes before we finally made it to Nailsworth. We didn't seem to pass any boozers but we did spot a curry house with a dry cleaners attached. Now that is some forward thinking!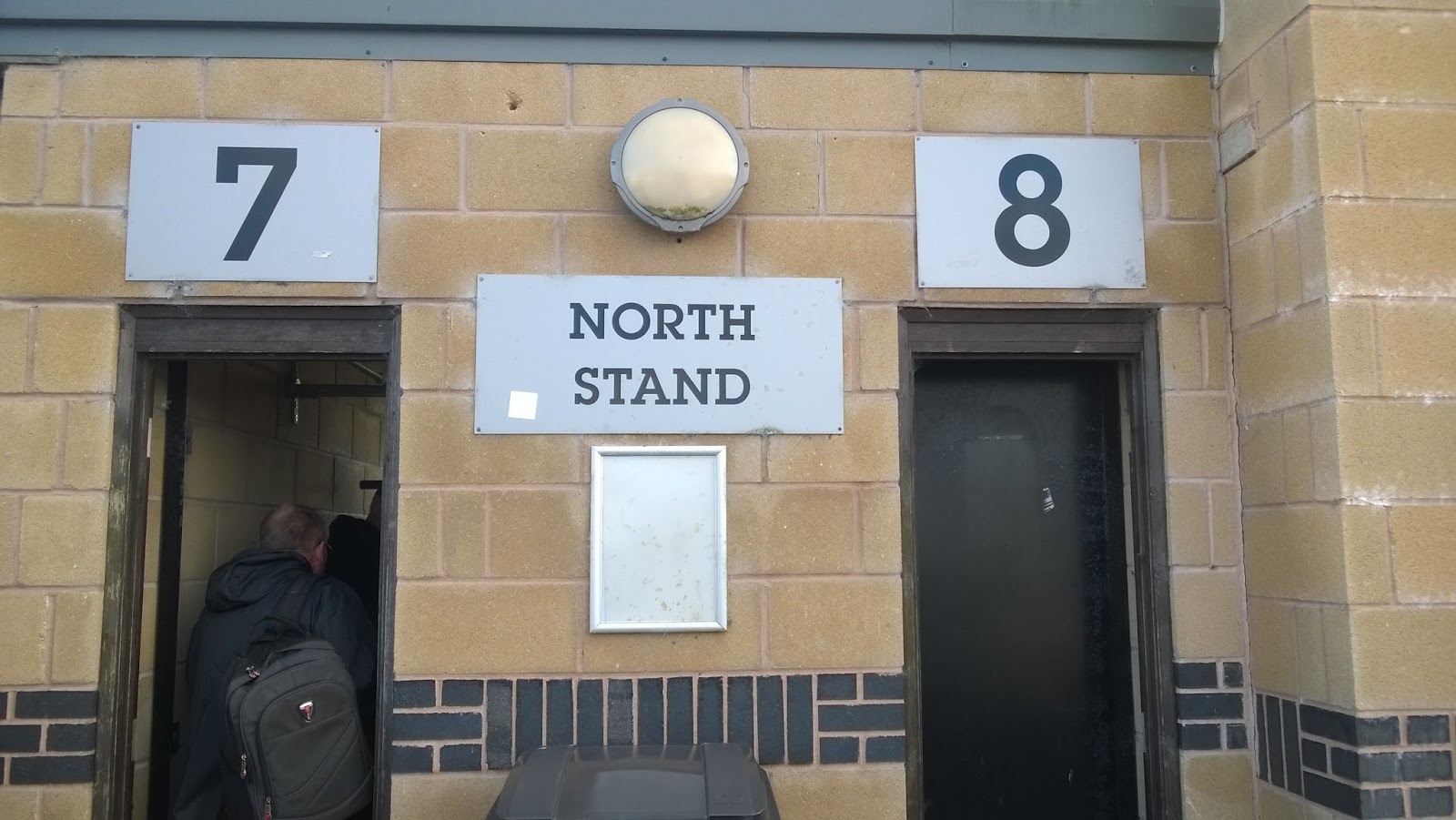 Luddites, clogging up the turnstiles.
Passing 4 Days & Aleman (who had stopped in Stroud for a drink or two) on the way up a large hill, we were soon at the ground. Refusing to pay £4 to park, we managed to find another spot in a side street to leave the Donna Rachele. This one was not only a new ground for me, but for everyone else as well, as Forest Green had moved just a couple of hundred yards up the hill from The Lawn to The New Lawn. Wonder where they got the name from?
Now what can we say about the place? Well a lot actually! Not only was it £4 to park, but you had to go to a ticket office to get your tickets. Plus £3 for a programme before finding the bar to a have pint of "Vegan Lager". I didn't even think someone would bother with such an invention, but they did and it was nearly £4 too.
Seeing some of the other boats that had made the long journey we started to divulge the issues with the food. Not only were the players not being fed after the game (bit fuckin' rude), but the fans had to deal with a  VeggieVegan menu. Mr X's Burger was a piss poor affair and don't even mention to him about Soya Milk in a cuppa! 4 Days was also distraught that whilst they could serve a chip butty it came without any butter. And did they do gravy? Like fuck did they! Still each to their own and all that, but I would definitely be trying to sneak in packs of Pepperami's or a Ginsters sausage roll every week if I was a home supporter.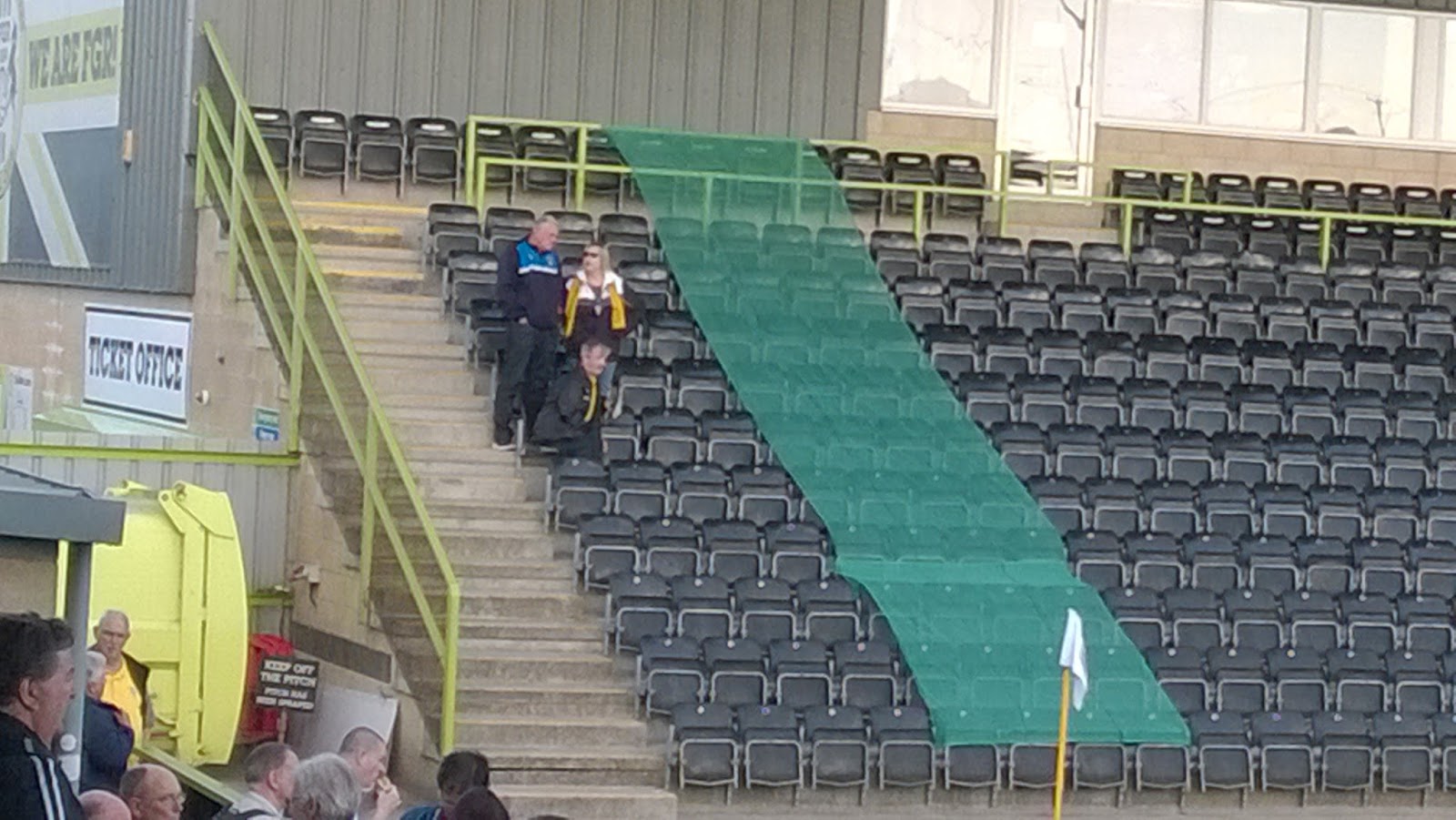 "Are you sure these are the right seats?"
 The early team news had Downer & Eastmond being replaced with Amankwaah & Burge. With kick off fast approaching we made it back around the front to the away end whilst trying to get in as many cigarettes in as we could as this was one of them smoking nazi type places. There was bit of a queue when we got there as only one turnstile was open and it was electronically operated, and when you're stuck behind Bob Budd you're stuck behind!
Worner, Amankwaah, Wishart, Beckwith, Burge, Collins, Deacon, Gomis, Bailey, Fitchett, Stearn. Bench Warmers: Hudson-Odoi, Downer, Dickson, Cooper, Biamou.
With a whole stand (and 40 seats) open for us, we bunked ourselves behind the goal. Being segregated meant that we only got to see us attack our end in the second half and had to witness one of the stronger teams in the division come at us like a wife who had caught their old man cheating on her. Or maybe the old man coming at the bird he was cheating on her with.
From the off it seemed that Forest Green were totally different from Solihull Moors on Saturday. With their main man Tubby in the middle that continuously cutting through us with some top notch football early on, it didn't take them long before they got the first goal.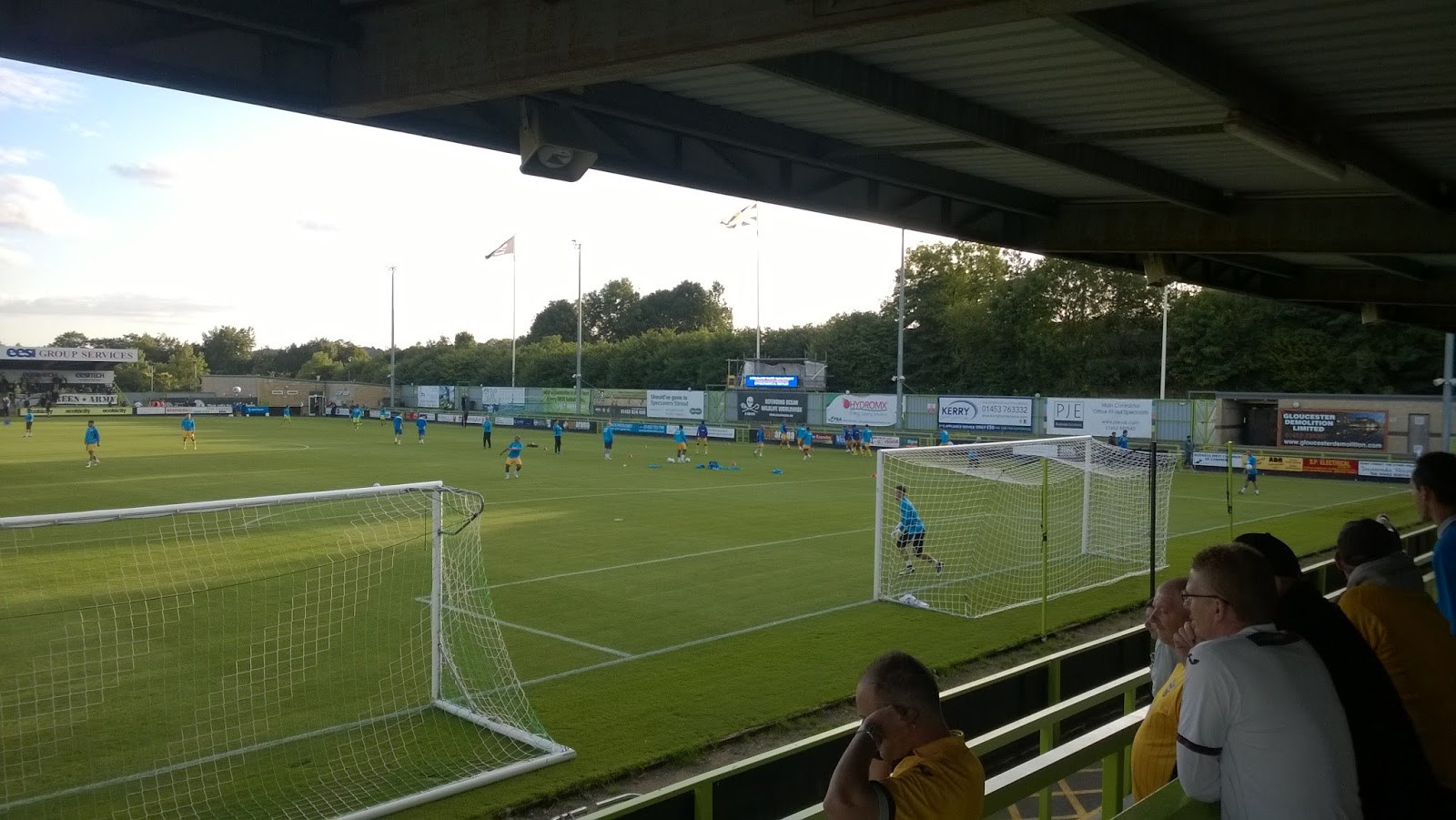 Ah, the old 'fake goal' trick eh? Very clever.
Stearn was guilty of conceding a free-kick. We then had to watch in silence as the ball sailed over everyone and landed on the head of an unmarked Tubby at the back post. As you will no doubt see from the highlights, leaving someone of Tubby's caliber all alone in the box is asking for trouble. The ball was knocked into the goal and after seven minutes we were already one down. We still hadn't seen Worner actually make a save this season.
Unfortunately, what you won't see on the highlights is the yellow card the Forest Green forward got as he lunged into Worner not long after. I wasn't 100% sure it was two footed, but he definitely had some studs showing and had come off the ground after Worner had smothered the ball. Now I know Forest Green fans will say it was 50/50 but the matter was that he din't get near the ball and got Worner instead.
After riding the storm in the first quarter of an hour, Sutton begun to find some sort of rhythm. The Sutton shot of the half fell to Burge as his shot/lob came off the top of the bar, leaving a stranded goalkeeper in its wake. We also had a couple of headers that we poorly executed and even failed to find the target.
As the half time whistle blew we headed for an exit to calm our nicotine habits. For some reason though, the stewards would not let us out and the thought of being like school children and smoking in the toilets was nearly considered before giving up and heading back into the stand. So like the Axis of Evil we now had no smoking, no drinking & no meat. Still, Mr X cracked and he disappeared off to hide in a cubicle for a fierce puff on his vape wotsit.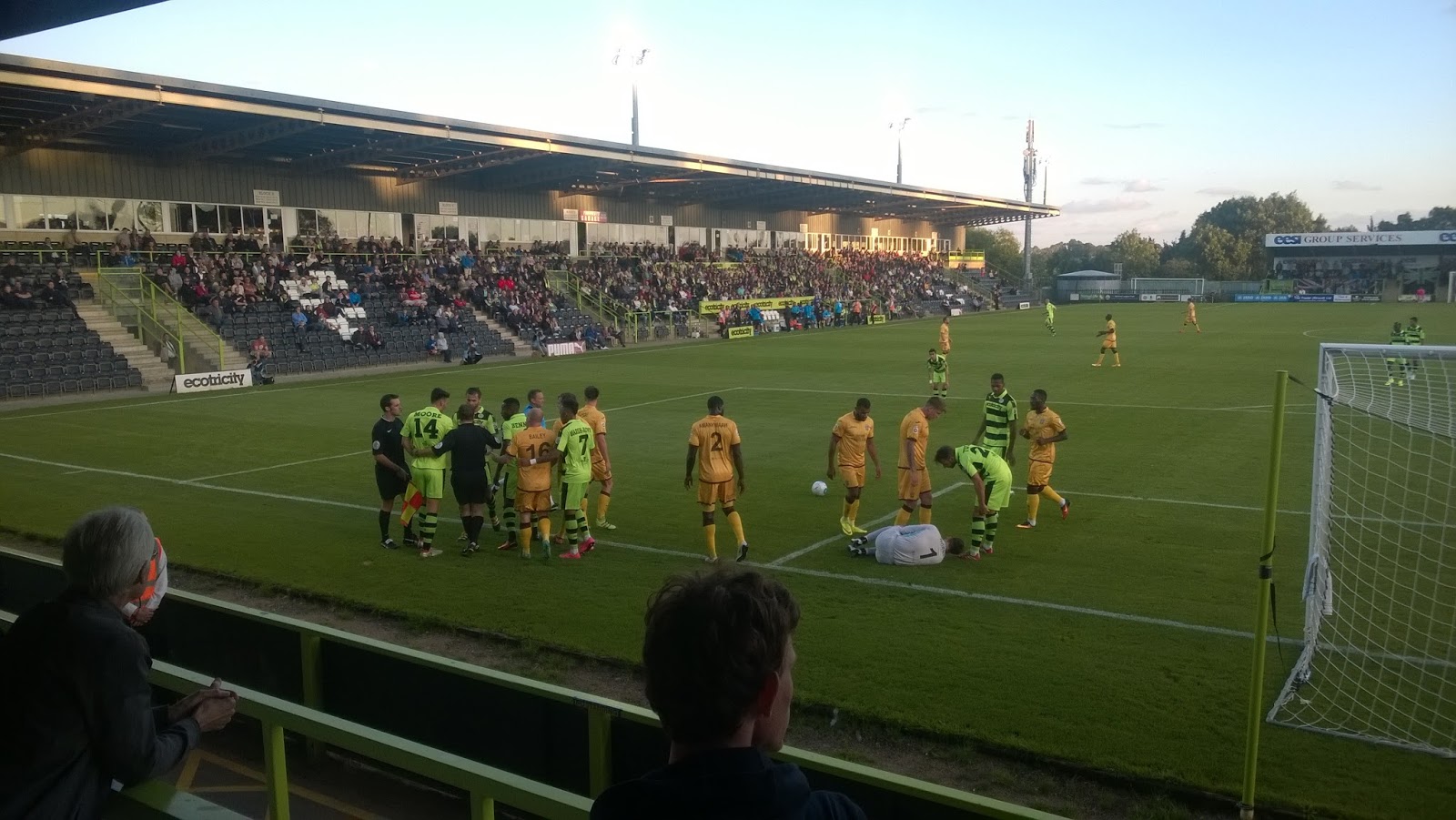 Commence Handbag swinging!
With the sun fast setting, Sutton started the quicker of the two in the second half. Deacon had a glorious chance to get us level but his shot from inside the box was hard hit but sadly not on target. With ten minutes nearly gone, Sutton were then handed a golden opportunity.
Chasing down a defender in the box, Burge managed to dispossess him with some ease. Evading his attempt to try and knock him of the ball with the old "headbutt to the back of the knee" trick, he laid to the ball back to Deacon. He tried to cut outside of the player only to be brought down and a penalty given.
Originally Gomis had the ball but was quickly relieved of his duties by Bailey. His shot was to the keepers left and he did get a good hand to it but failed to keep it out. 1-1! Bailey's first goal for the club since he re-signed.
Fitchett seemed to have a quiet game as he was easily out jumped by ex-U Clough several times. But Fitch never was a target man and likes to run onto the ball, but with one up top at times he had his work cut out as Clough was all over him. The big geezer did get his comeuppance though as Fitchett jumped straight into him as they both attacked a ball from Worner and eventually the big man had to leave the field of play injured. Who says that little guys never win eh?
Three subs in ten minutes saw Cooper, Dickson & Biamou replace Gomis, Fitchett & Stern. The rest of the game saw both teams have some half chances but never one that looked a match winner. Burge probably had the best chance as he once again rinsed the defence only to see his cross go agonisingly over Biamou's head with just moments to spare.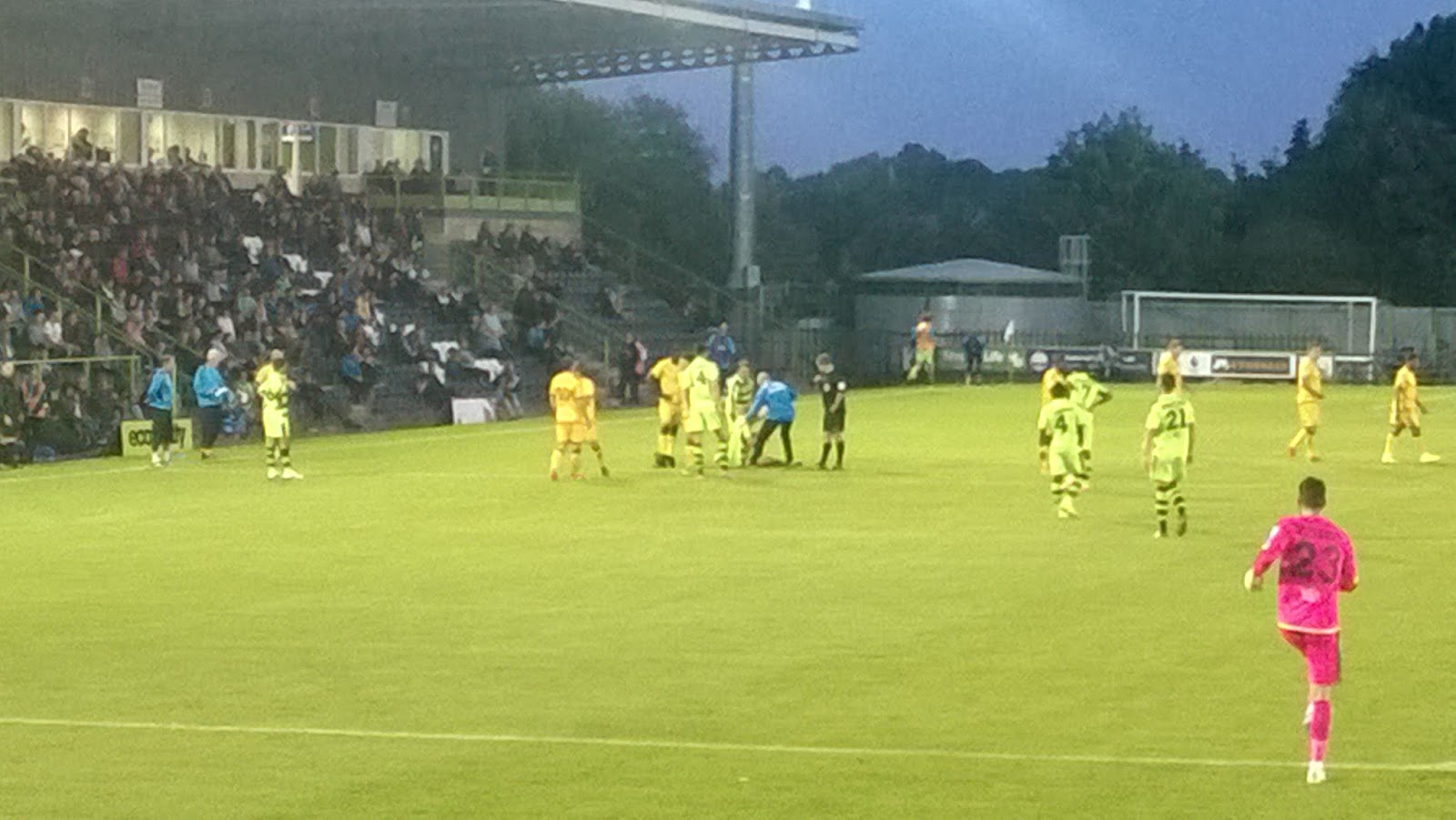 Bye Cloughy….
With the final whistle came a show of appreciation from the travelling support. According to the PA there were 72 people in the away end, but considering that there was seemingly some locals in the mix as well, that type of turn out for an away match in the middle of nowhere in midweek is still impressive for us.
Heading back to the car, we begun to look at the other results that were coming through. Sod's Law that Lincoln put six past North Ferriby considering that's who we got this coming Saturday. That now puts them top with 9 goals from their opening 2 games so far. But still, I'm more confident now then I was after Saturday's result. 
On the way home it was decided that, like normal people, we needed to have some meat. Arriving at the service station around 2245hrs, the only place still open was Burger King. Four Bacon XL Double Cheeseburgers please! Each! Destroying this, we made to leave just as some of the players were arriving for their own protein intake. Cue dirty looks as we sadly informed them that we'd murdered all the meat in joint. And tasty tasty murder it was too.
With the excitement of a point and the fact that I have to rise out of my pit at 0500hrs (not to mention a large portion of Beef), I quickly fell asleep. The next thing I knew was that we had arrived at Rax's non-humble abode in the leafy surroundings of Leatherhead. Saying our goodbyes, we carried on towards the club. By half twelve it was time to wave off Mr X and the Donna Rachele. With Taz now in the driving seat Dr Bell was next on the list and eventually Taz was dropping me off and heading home in the early hours of the morning. No doubt his motor will stop smelling of Brut sometime soon.
Now our thoughts can turn towards Saturday and an away match at early league leaders Lincoln. Of course this time its at a weekend so I imaging that there might be some partaking of a glass of Sherry or two! One notable absence will be the Firm Leader as he attempts to run a half marathon for charity. Can't remember what charity it is but knowing him its probably one of those turtle charities, St Leonardo, St Donatello or St Shredder. So to cap it all off here's the penalty…
Duke