Ah! At last, the opening day of the season! A day greeted with almost universal joy amongst football supporters everywhere. And we here at Gandermonium are no different. Well, at least until we then remember that Sutton United FC are usually absolute toilet in such fixtures. At which point we sigh, shrug our shoulders and simply get into the bar an hour earlier than we normally would to ensure the alcoholic padding is adequate enough for the occasion.
Indeed, the opening day is a pretty poor hunting ground for us. Despite some thought on the Whatsapp group, we can only recall the 4-1 humping we gave Maidenhead thanks to Luke Cornwall's 11 minute hat-trick at GGL being an example of a positive result. That was back in 2005/06. Some of the older heads meanwhile remember such atrocious results as the 1-0 home defeat to a Slough side in 98/99 that due to their financial worries at the time had been cobbled together Sunday League style at 48hrs notice. Of course, they managed not a shot on goal all day, so naturally we scored the fucker for them via Andy Riley.
Drunken henna tattoos are bad m'kay!
Still, this is a different Sutton United side. One that has just romped to the Southern title off the back of a 26 match unbeaten run. One with actually good players. We've looked decent in pre-season and we've largely kept together the same squad. Surely we can break that opening day hoodoo this year on the way to a fine first season back in the big time?
But I digress. On Thursday I found myself down the club with Dukey & Mr X, helping to put up some new pictures in the clubhouse to celebrate last year's success. Naturally, Tom and I spent most of the time there mocking the mystery man's DIY skills, constantly demanding cups of tea and threatening to down tools at the slightest provocation. Yet despite this slovenly, militant attitude, we still managed to get everything done. Remarkable. And very nice it all looks too!
Whilst on one of our many tea breaks due to industrial action, I also received some very welcome news. The news that I am to be no longer 'funemployed' (as Dukey calls it). Yes dear reader, some complete idiot has once more decided to give me something to do Monday to Friday between the hours of 9 am and 6 pm. And not only that, but pay me for it as well. A rather timely intervention given all these fucking quality away games we have coming up. Oh and that mortgage thing I have to pay. That too.
With the Maidstone – York game on the box at 12:15, the general concensus is to get down to the club for that and partake in a couple of early beers. So I plan to head out for about 12 when an offer comes in from Burgers of a lift to the club with his Father in Law. Suits me! So I stroll round in the sunshine to the Brugers palatial mansion paid for from their John Lewis bonuses, where I'm then shown down the red carpet to the awaiting limo by their monkey butler Mr Bibbles. Naturally, I don't tip him as the little simian bastard almost certainly earns more than I did before I was a jobless bum.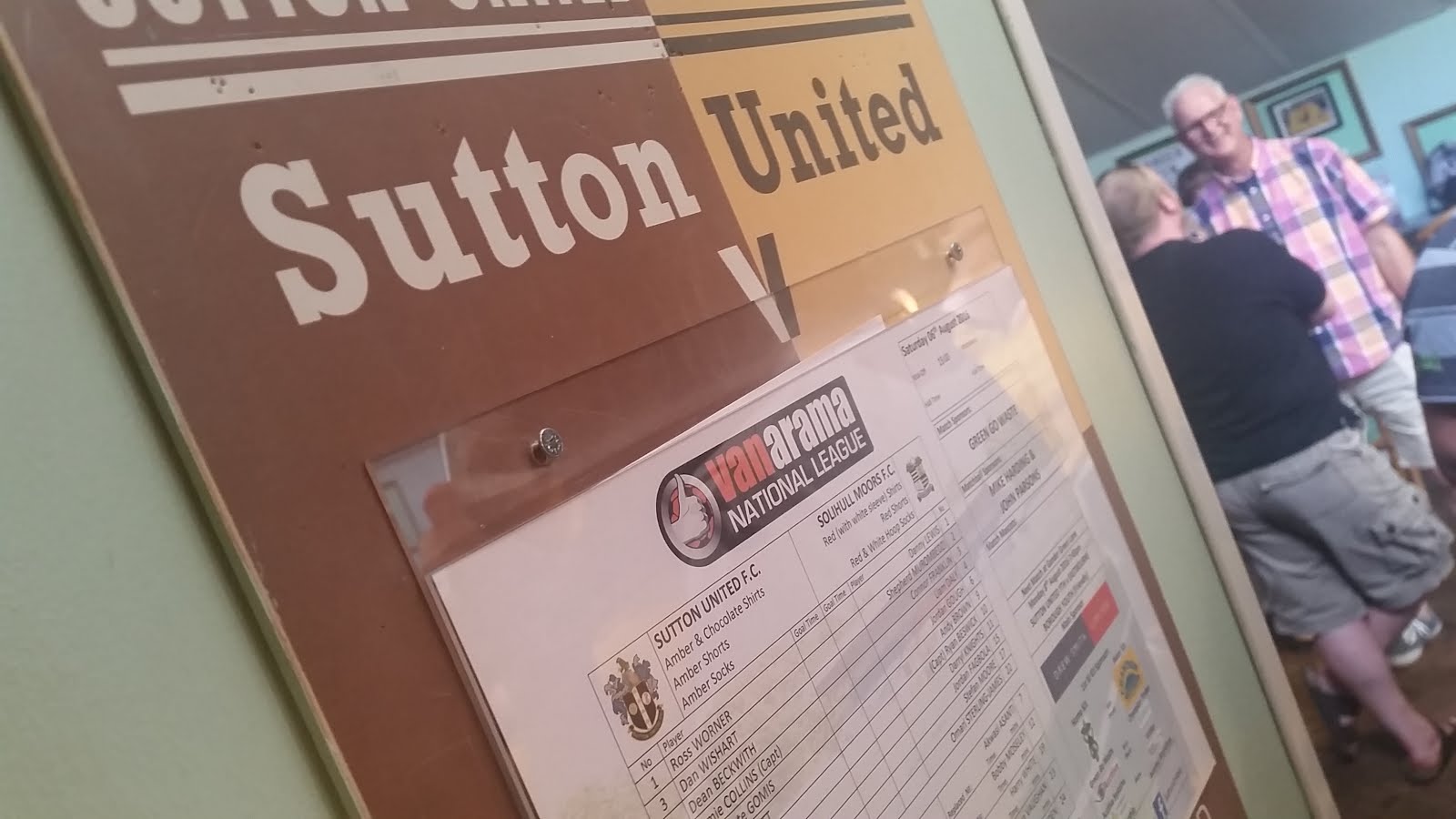 Teams!
Come to think of it, I should have tried to nick his job. I can do all that butlery stuff no problem and I'm way more charming than a monkey.
No, you fuck off.
We're soon parked up in St James road a short walk through to GGL. Well, when I say parked, I mean the car is abandoned a short stroll from the kerb, which is in turn a short stroll from GGL. Unsure that leaving the car blocking St James Road is the best idea in the world, I offer to have a bash at parking it for the aged Mr Burgers-in-law. With this obstruction removed, we then head to the ground via one of the Republic's finest scenic thoroughfares, fondly known by the good people round here as 'Dogshit Alley'.
We meet Mr X coming out of the corner shop and amble in to the clubhouse together. Sadly, via the Times Square lounge as the main entrance has been made players & officials only. Which means no bugger gets to see our handiwork from Thursday! In the bar, we find Marky N and he informs us Maidstone have just gone ahead against York. From here, the rest of the contest is pretty dour with little to hold the interest but York's persistance just about deserves the equaliser they get in the 2nd half. So instead we get a few beers down instead. Before too long most of the mob has ambled in and we're soon engaging in the usual pre-match shite interspersed with congratulations on my new employment. Dukeys' not totally happy though, as I think he was enjoying his elevation in status and not being the poorest member of the firm over the last few months.
Sorry fella. Still, I remind him that he doesn't drop down the ladder for a little while as whilst before I was jobless and poor, I'm going to remain simply poor for a few weeks yet.
The main topic of conversation seems to the the fact that we'll be taking the field in last season's strip as it seems our supplier Joma haven't managed to do what you'd sort of expect from a kit supplier. Eg. Supply some fucking kit. This is a bit shit really, especially as not taking the field in the shirts we've stipulated to the league will no doubt earn us a fine. We also get to see the mess a rather ill advised Henna tattoo made of the arm of one U's fan (who shall remain nameless to save his blushes). Mainly as the temporary bit of text in question ('Feed the Yak and he will Score') was done after too many beers in the Cyprus sun and having been assured one hundred percent that we'd signed Yakubu. And if you read this stuff regularly, you'll know full well that we absolutely one hundred percent didn't sign the former Nigerian International. Or ever intended to.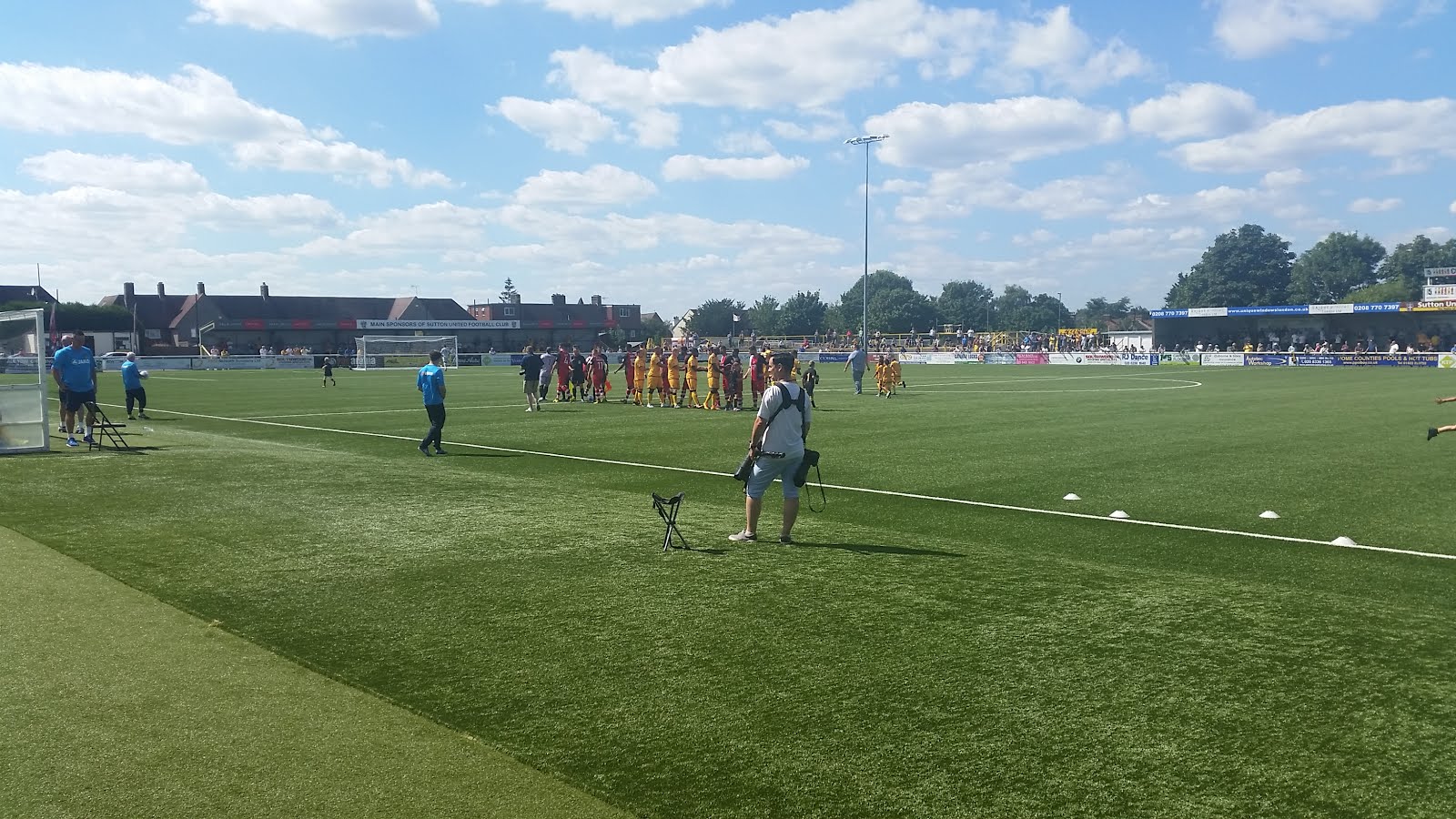 Teams are out. Nice kit we're wearing! Oh….
Still, on the plus side at least from his point of view, it was a temporary job and not a proper one!
Juan finally joins us around 2, showing off his guns resplendent in a cheap wife beater vest. Shouldn't that be tucked into your belt mate for the full on chav scratter look? He then ruins his muscle beach look by ordering a diet-coke. Ponce.
Worner, Downer, Wishart, Beckwith, Eastmond, Collins, Deacon(Hudson-Odoi), Gomis, Bailey, Fitchett, Stearn. SUBS: Dickson, Hudson-Odoi, Biamou, Dundas, Cooper
Outside, it's warm and the sprinklers are still on as the teams come out. It seems Spence has missed out with his groin knack, so Downs comes in. Also apparently Burgey has called in sick, so we're a couple light today. Still, this side should hopefully be more than enough in this Conference Charity Shield clash. North v South. Champions v Champions. The kit, as expected, is last years design. Although with the new sponsor on the front in simple bold font instead of their actual logo. How very 1980's retro!
As expected, we start quickly. Pressing high up and trying to get in behind 'em early. Bedse has our first real chance, the ball spinning loose behind the defence. He darts in, but only a desperate last ditch block prevents a goal and we have a corner instead. Stearny has the next opportunity not long after when a corner in isn't cleared and drops to him a few yards out but his wild lash is well over the target.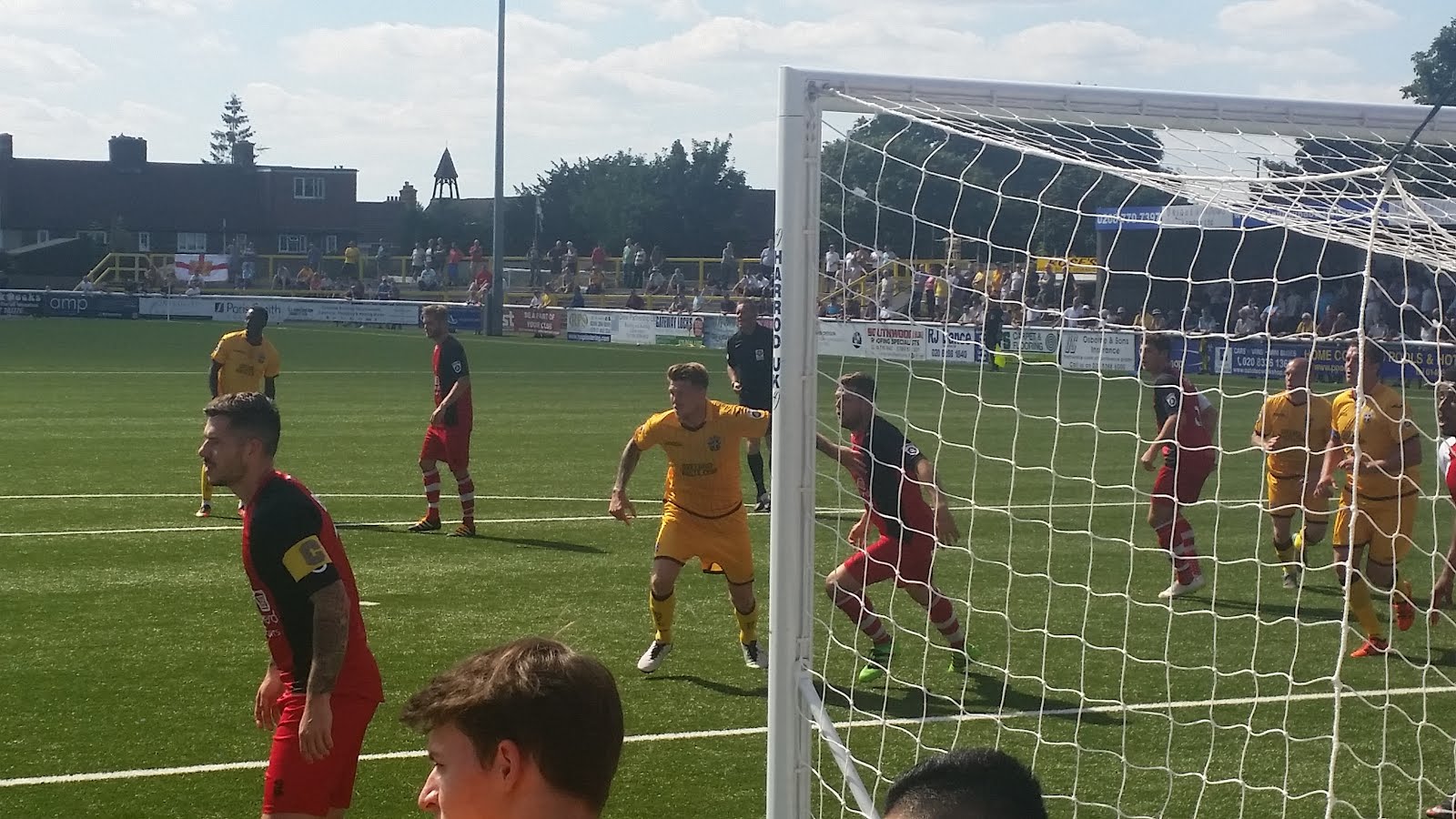 Action innit.
Solihull are struggling to get out and are mainly camped in their own half. Fitch nods a free-kick just an inch the wrong side of the far post post and Eastmond has a goal bound shot just blocked after a long throw from Downer causes problems in the penalty area. Next the keeper has to scramble to punch a looping ball from under his crossbar after Wish gets down the left and hits a low ball in that gets deflected into the air.
But having run the show with no reward, we go all 2014 and go behind to literally the first attack the oppo can muster.
Stearny bursts between 2 out on the left on the edge of the box and is fouled. But the ref ignores this and waves play on. The injustice seems to cause us to switch off completely as a couple of passes later a ball is allowed to trundle across the 18 yard line from the same flank past a couple of Yellow shirts and a Solihull man in acres of space almost apologetically rolls the ball back across Worns into the far corner. 0-1.
It's such a poor goal, that it's happened in almost slow motion. Absolutely terrible. It certainly gives me major flashbacks to the sort of stuff we were letting in the last time we were up here. No doubt Bob got the same shiver of bad memory recall as well.
We pick up where we left off and push on now trying to get back to parity rather than in front. Deacon gets down the right and his low ball to the near post is stabbed just wide of the upright by Fitch. Redemption isn't far off however and within 5 minutes we're back to square one.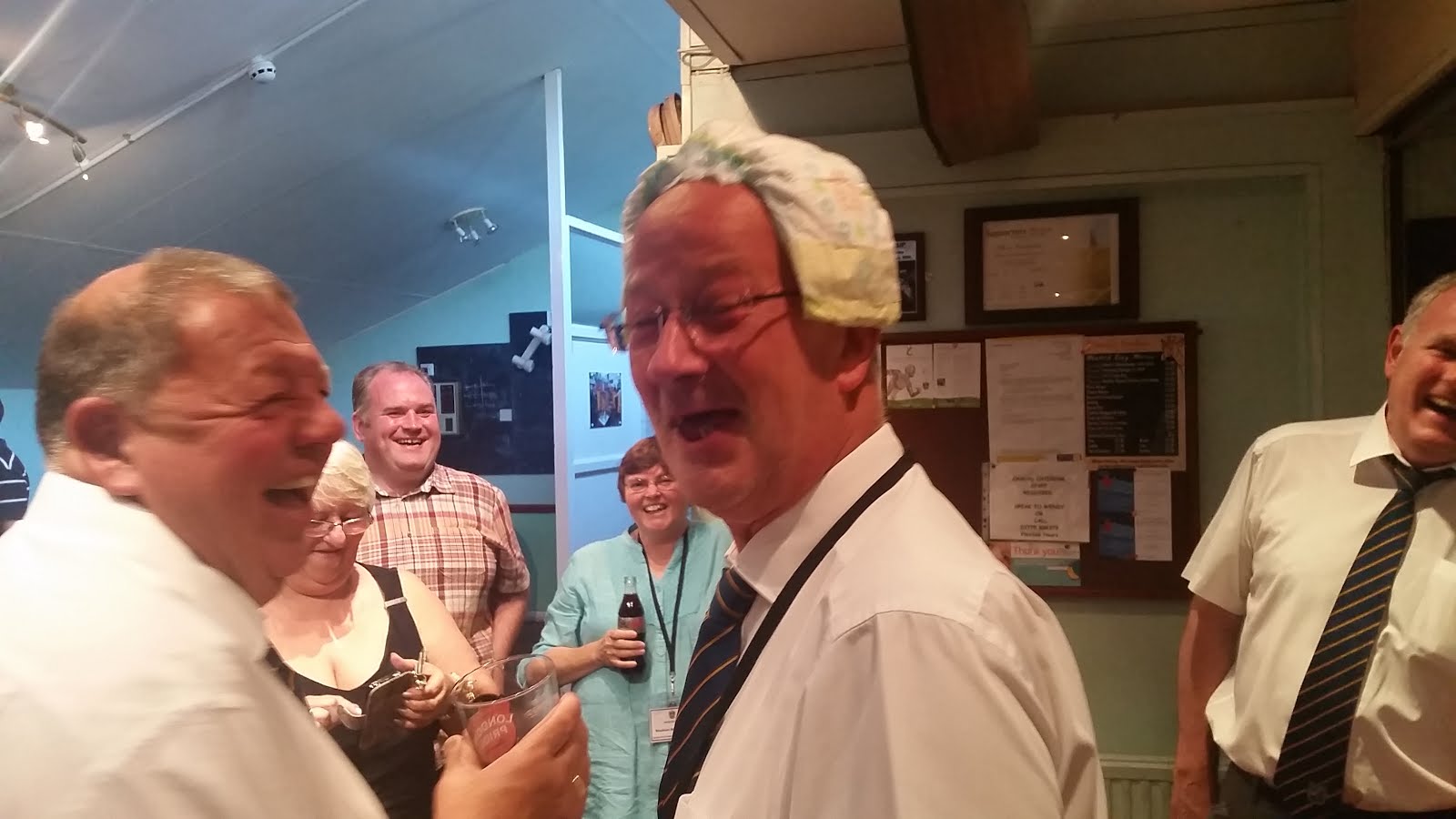 Never seen a man with a disposable nappy on his head before?
A corner from the right isn't dealt with particularly well and no one gets a clean header on it. The ball drops loose to the edge of the 6 yard box and Becks fires goal wards at the far post. There's a desperate attempt to block it on the line by a defender but he can only shank it on it's way into the net just inside the opposite post. 1-1! Get in!!
With the break looming, we go for the killer blow. Deacon does well out wide and centres low into the box. It's a peach of a tee up, but Eastmond arriving in the middle lashes wildly trying to break the net rather than hit the target and the ball goes miles over. Then right at the death, a corner from the left is again defended poorly and just like the goal, the ball drops around the 6 yard line. Bailey is on it and spins to strike on goal. But a defender puts his body on the line and blocks a certain goal. The ref blows almost immediately after.
So level at the break, but with the 1st half performance bar that garbage goal, we should be home and hosed already. Surely they can't withstand that sort of pressure again 2nd half? Well, sadly as it turns out, they don't really have to.
During the break, we hear that AB and his season ticket hit squad have managed to push the sales up to 997, meaning they're just 3 off the 1000 target they set themselves. Almost as soon as we hear this, the PA announces that it's now 999 sold. Christ, can someone just go and buy a kids one to finish this off? Then the reign of Ticket sales hard sell tyranny can finally end! Fortunately, someone else crack before the restart and the 1000th ticket is flogged. Which quite frankly is up there with us having squad numbers and having a league game on live TV this season. Sutton United? With a 1000 season ticket holders? Bloody madness! Still, it's a fine effort from AB and the gang. A fine effort indeed.
Sadly, instead of again flying out of the blocks, the lads look a little weary after the restart. We lack that snap we had before the break and with us not pressing the Moors as much as before, they start to find life a lot easier and can get a foot on the ball and play a bit more. This isn't good.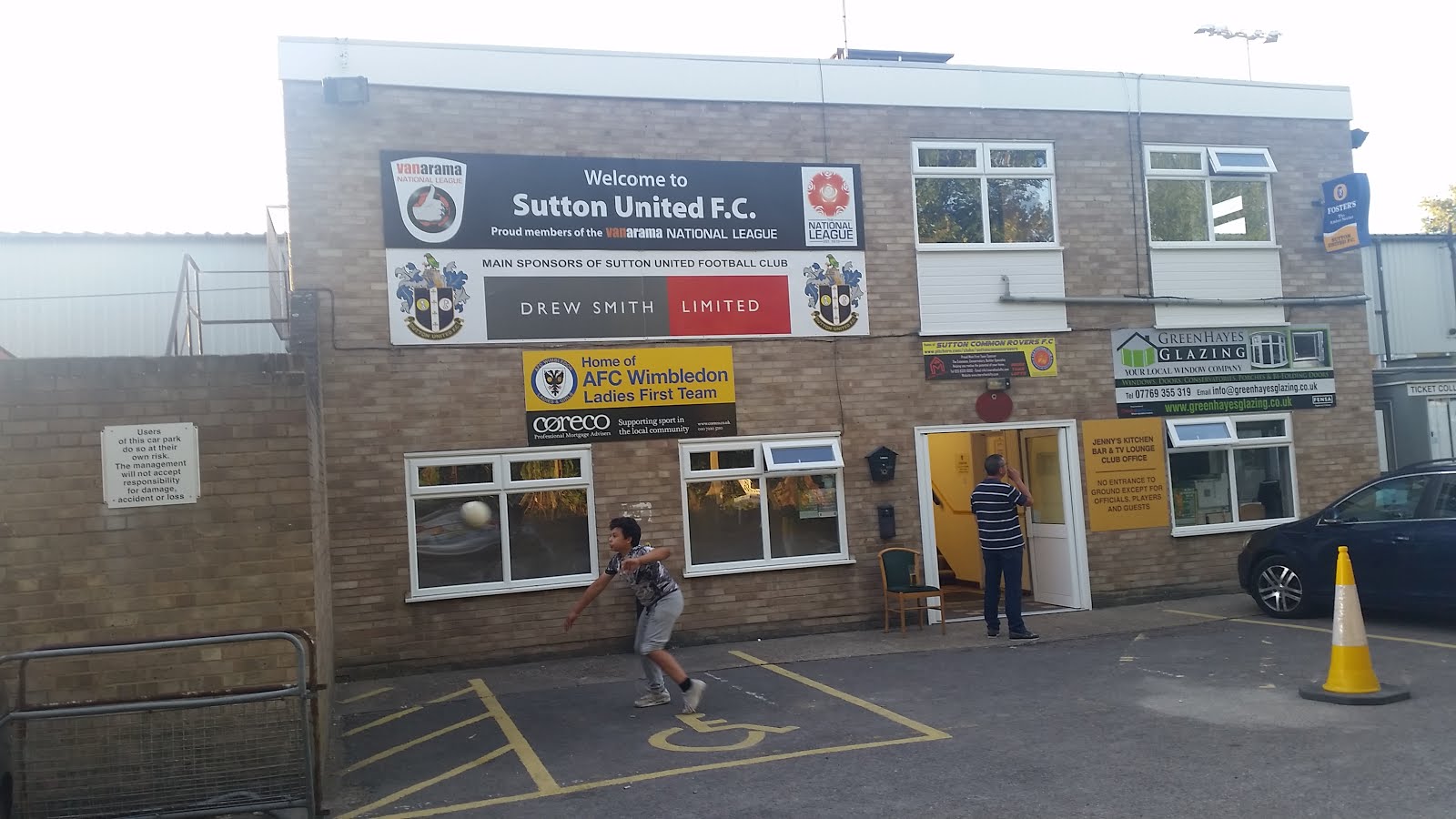 Bye club. I've got a date with some spag bol…
I head for a bacon roll to take on some sustenance, mainly as the half time queue has died right down. I beat 4 Days to the punch and get my order in first. Unluckily for him, this means that he has to wait for new bacon to be cooked whilst to add to his misery, I get given an unprecedented 4 slices in my roll. Looks like that Welsh Euro's luck has run out finally!
Sadly, I'm back on the Shoebox in time to see us toss away the game once more 10 minutes in. A corner comes in from the Rec side, we don't clear convincingly and then simply don't press the second ball allowing a Solihull man all the time he needs to clip a nice cross to the far post where a colleague is stood in acres of space to crack a smart low volley past Worner to once more take me back to the turn of the century. Fair play to the lad, it's a nice finish, but fuck me we don't half make life hard for ourselves sometimes.
Our response to this is to remove Downer and bring on Dickson up top. However, for some reason we don't go 3 at the back as expected but stick Bailey in at full back to replace Downs. This is odd as the ginger wizard has been by far our most effective & consistent player in the centre today and shifting him out has the effect we feared it might. We all but surrender the game to the oppo.
With Bailey no longer snapping away in the middle and screening the defence, we lose what little impetus we had and the game simply drifts away from us. Only Stearny's fierce shot from range just over and a header well over the top from Fitch trouble the visitors whilst they're happy to play in the gaps and keep things ticking over. Fitch's header is his final chance and we throw on Biamou to try & make things stick a bit more up top. Sadly this fails as well and with about 15 to go, we're dead and buried.
We look all at sea in the middle and a ball over the top catches us out appealing for offside. No flag comes and matey tucks a low angled shot past Worns to make it 3-1.
Cock it.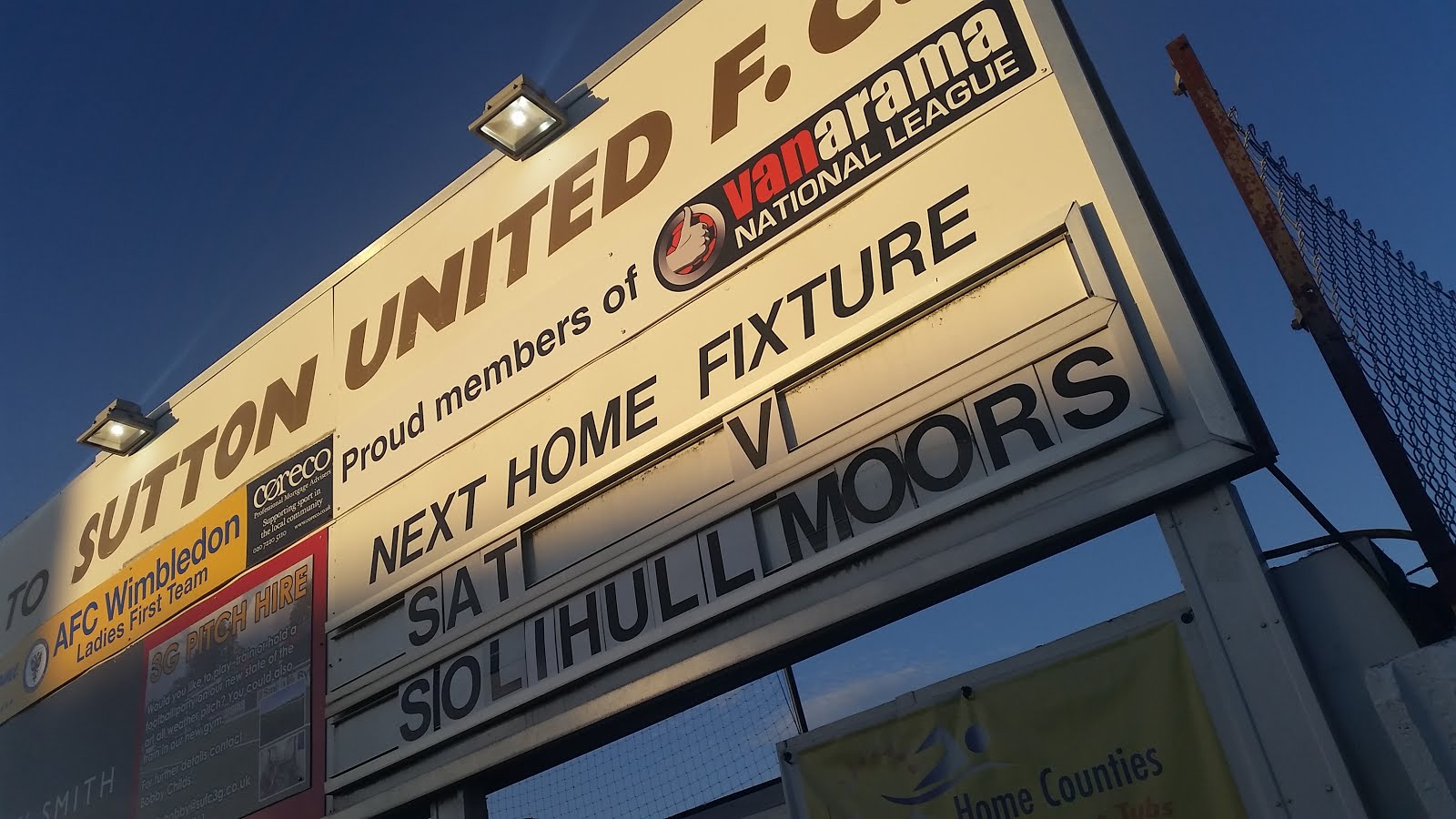 Moody…
The last dozen or so minutes sees Dicko toiling away up top to try & make things happen, but with a couple of sights of goal, players pass the responsibility onto others with a pass rather than shoot and a couple of reasonable openings are passed up. Still, it probably wouldn't have made any difference in the end. There was no way we were getting 2 back today. The only entertainment comes from coating off the lino on our side for a couple of shit decisions and Dukey noticing that the new stewards we've got in all look very young and a bit too 'Boy Band' for his liking.
"There's no way I'm letting fuckin' Hanson throw me out this season" he grumbles.
So, at FT we trudge disappointingly back to the bar. The crowd of 1300 being the only real plus point we can think of. Although we do wonder if those 1000 ticket holders have been told their purchases are non-refundable!
Back in the bar, we get the beers on the go and try to blot out the poor 2nd half performance. Here I first take pleasure in reminding the Welsh contingent still drunk on Euro's semi final success that football is actually shit and not some wonderful magical pasttime that makes people happy as their summer holidays had lead them to believe, then I'm persuaded to jump in Mr X's Italian made Mysterymobile for the journey down to FGR on Tuesday as I'll only have to then pay to get in, which suits my still-a-bit-poor status. Amusingly, this is a re-run of the last time we were up here when we started our away trips with a mid-weeker down in Nailsworth in 1999.
Less amusing on that occasion was the fucking floodlights going pop at half time with us 2-1 up and the game being abandoned meaning we had to traipse back down there in December. The tales of which can be found HERE!
Dukey also refuses to believe us when we tell him the country folk have a no meat policy in the ground thanks to owner Dale Vince's Polar Bear friendly tree hugging tendencies, so his chances of a half time meat pie are exactly zero. "Is there a KFC nearby?" he asks "And do they deliver?".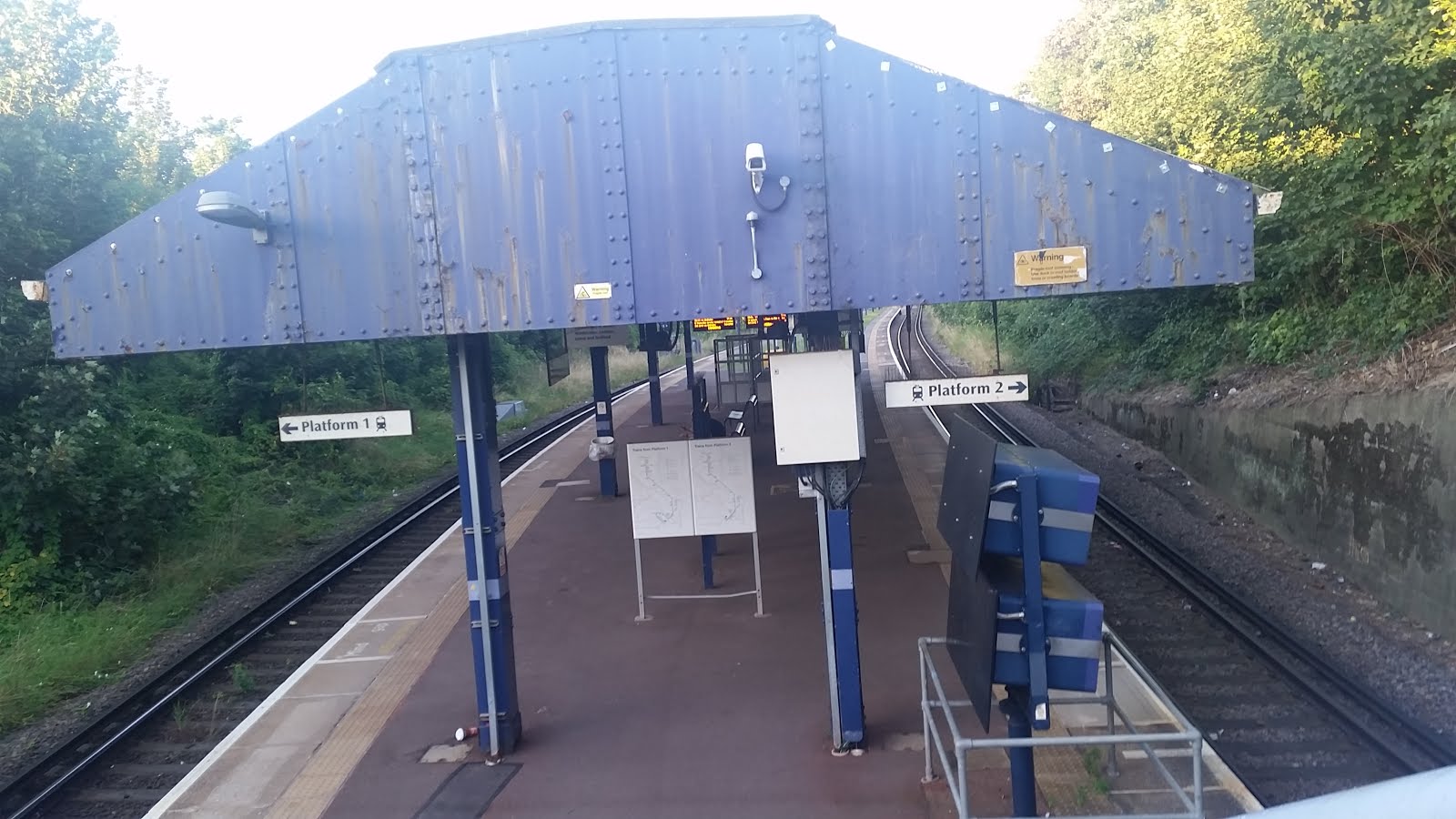 They ran a train! Two weeks running! It's a miracle!
A good few beers later and far more than I'd planned to imbibe thanks to loads of people buying me drinks to celebrate my unjoblessness, I decide it's best that I hit the road and get back to the good lady back at HQ. Mostly as I'm starving and it's my turn to play chef again tonight. So the later I get in, the less likely I am to get a nice bolognese and more likely to get spaghetti on toast.
With the mob trying to play on the quiz machine with it's slightly wonky display, I bid my farewells and toddle off towards town sticking my head in at the Republic's transportation hub (West Sutton station to you) on the way past. Amazingly, Thameslink reckon they can actually not only run a train, but one heading back my way in the next 10 minutes, so I decide to put their outrageous boasts to the test and hop on this to speed up my return. Before long I'm dumped in enemy territory and expertly E&E my way back over the border to HQ where the ingredients of a fine spag bol await my half cut culinary skills.
What do you mean we've got no bloody garlic bread?
Christ, can today get any worse?
Taz