So here we are at the end of another Pre-Season campaign of sorts. And before your eyes are firmly fixed upon Saturday's match against the team that comprises the former Solihull Borough & Moor Green, we have one final game to play. Of course, with four days to go till the opening match, you would be forgiven for thinking that it might be a drab affair. Oh ye of little faith!
Our final contest was going to be played against Ryman League opponents, Tonbridge Angels. It's been a few years since we've been in the same division, and who can forget the trips to deepest darkest Kent. The unique queuing system in the 'Spoons, A jealous security guard at Sainsbury's & several late goals from the likes of Vassell and Cobbs to name but a few memories.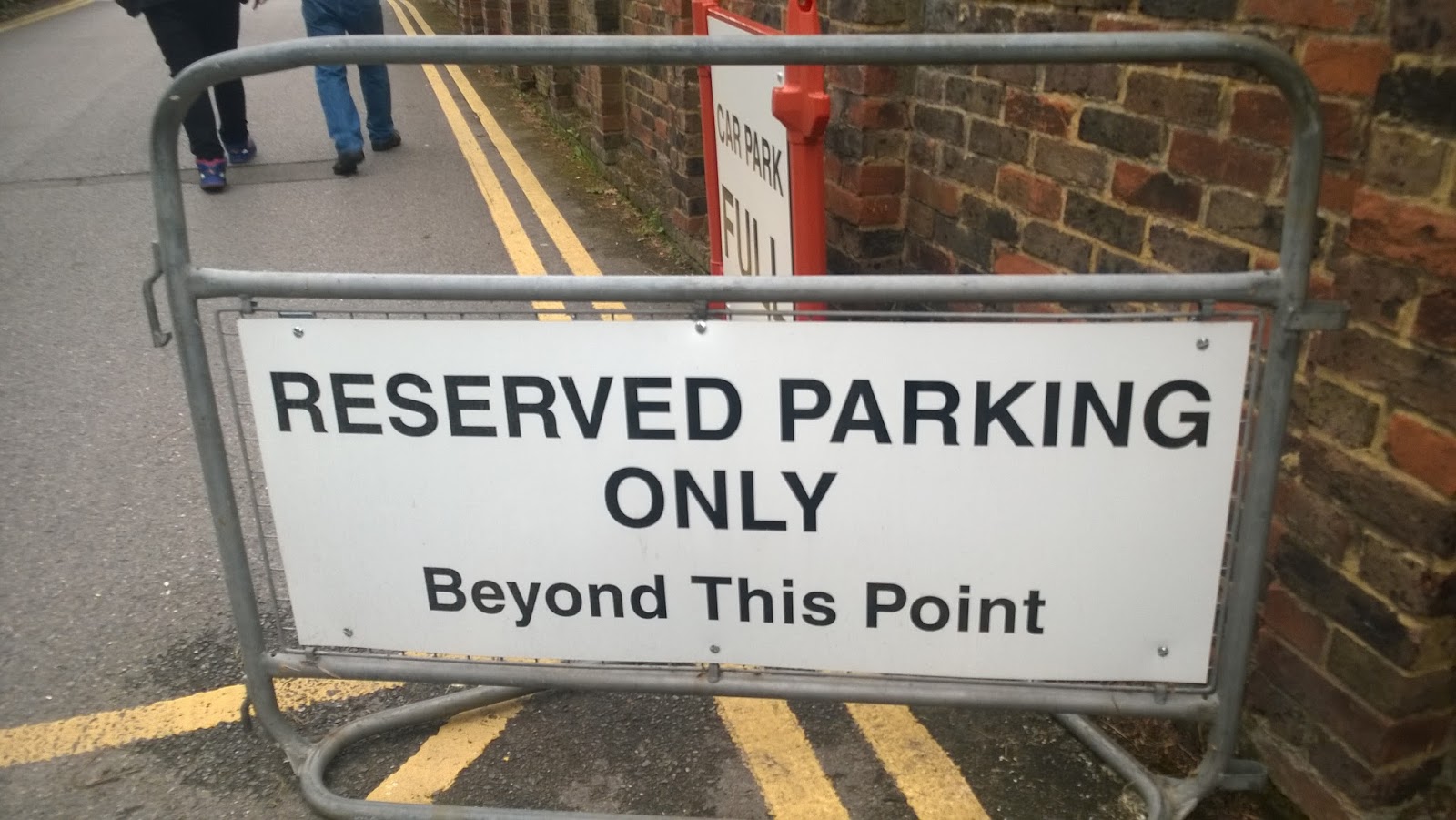 At least it's not asking us for 2 quid!
There was also some important news to appear on the internet this week. No, nothing that involved naked women, but the draw for the almighty Surrey Senior Cup! On our quest for a record equalling six-fuckin'-teen trophies, we have been given ball number 27. So if you suspect you've witnessed me at Surrey County FA headquarters on Friday warming certain spherical objects, to coin a famous 90's catchphrase: "You ain't see me, right!"
Back to Tonbridge. And after some discussions between the Firm, it was Taz that offered to give us a lift down. A late addition was in the form of the Firm Leader. He was late as usual, but before long we were parking up in Frederick Road in the Gandermonium reserved parking area. Walking over the road we soon realised that there wasn't going to be a throng of support for tonight. Probably all saving themselves for the big one Saturday. Arriving in the bar to some of the usual boats, we studied the team line-ups.
There was going to be a few new faces in the starting eleven. in goal was going to be Will Britt. I do wonder whatever has happened to the five goal keepers listed for us on the BBC Sport website. We also had a trialist called Mushroom Morrell, who played in the midfield. Another name was on the bench, Christopher Columbus none the less. So after failing to discover a sea route to India, he has ended his self imposed exile of over 500 years and decided to have a go at the noble sport. Could it be the same guy?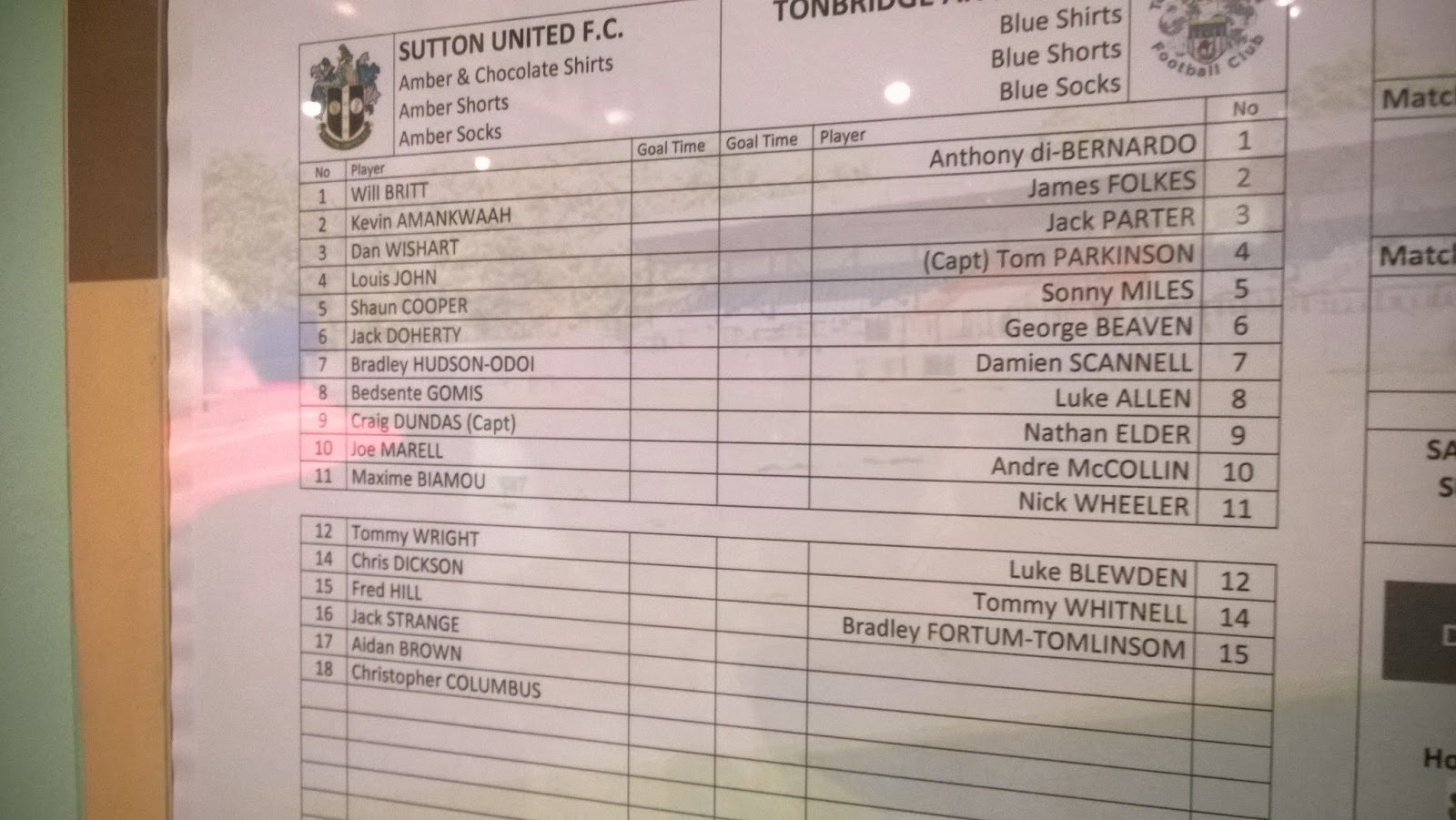 We're signing Sir Francis Drake next week…
Well no. It seems that the team sheets come already filled in with daft names that you then have to replace with your own ones or remove. And it seems tonight we'd forgot to tell our number 18 he could have a quiet night in at his tomb themed gaff in Seville Cathedral.
Britt, Amankwaah, Wishart, John, Cooper, Doherty, Hudson-Odoi, Gomis, Dundas, Morrell, Biamou. Bench Warmers: Wright, Dickson, Hill, Strange, Brown, Columbus.


Taking a spot underneath the constant buzzing sound of the PA system at the Rec End, we awaited the near B team to get us started. As usual, Sutton started the more brightly, with only the final ball being the let down. If this was suppose to be a Tonbridge first XI, then either the Ryman is weaker than I remember or Sutton are attracting a better class of second stringer these days. Some of the Tonbridge shooting in the first half reminded me of, well Sutton!
Several half chances came our way before we finally got the break. It was Wishart who once again created the chance. Not for the first time in a Sutton shirt, he got the better of the right back. This of course being ex-u James Folkes on this occasion. Cutting down to the by-line he played the ball across the penalty area. Originally I thought he'd cut it too far back but as I followed the ball across it arrived at the feet of Gomis. He calmly then spanked the little bugger into the bottom left hand corner. 1-0!
There was to be several chances after this to kill the game off. The best two were probably from Wishart & Hudson-Odoi. Wishart's came from a free-kick near center of the goal a good few feet outside the area. His shot was near perfect as it ricocheted off the top bar with the keeper left watching. Hudson-Odoi was guilty of missing a clear one on one as his hit the ball straight at the keeper when he had time to select his angle.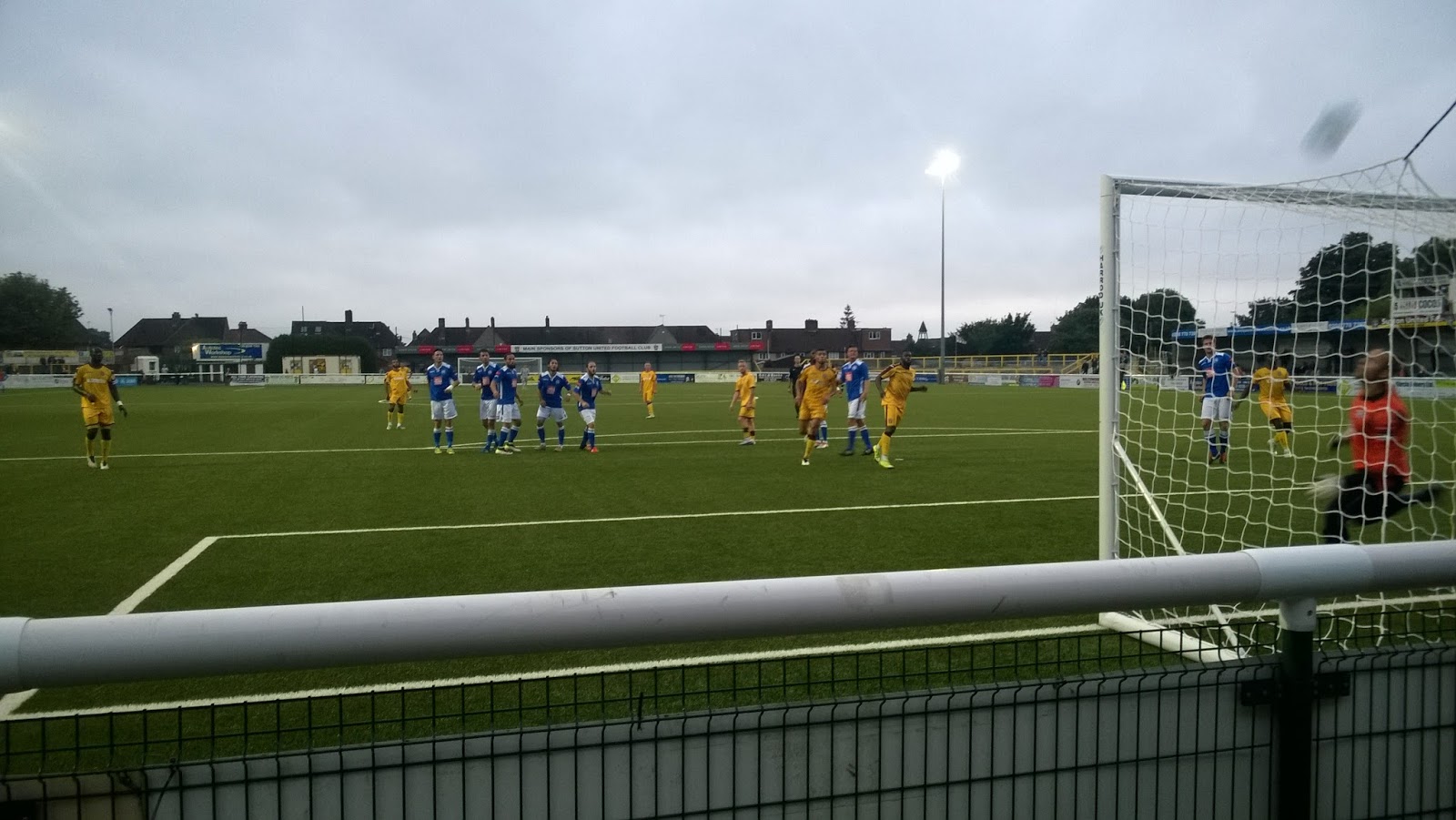 Yeractualactioninnit
Second half on the Shoebox, and a couple of changes were made. Dickson, Hill & Wright replaced Biamou, Doherty & Wishart. With a bit of the tempo lost from the first half, the game settled into a midfield battle between the two teams. Tonbridge grew into themselves a bit without troubling Britt in goal. On the hour mark though, McKimm's lot were gifted a penalty as the ref thought there was some pushing when a Tonbridge cross came flying into the box. The resulting spot kick had Britt beaten down to his left.
But before we on the Shoebox could begin to moan, we were back in front with our next attack. Dickson ('Deco' or 'Dicko' according to Taz) was to grab his first goal for Sutton when he dealt with an almighty forward ball from Gomis. Some might say that it was a classic first time poke at the ball, others will say he shinned it, but it don't fuckin' matter because it went in. 2-1
Now Sutton were on top and would've could've should've grabbed a third. This time it fell to Gomis who saw his low shot spilled by the keeper onto his right hand post. As he was looking for the ball, Dickson reacted the quickest and got there first only to be brought down by the Tonbridge keeper. Gomis stood up to take the penalty and like those before him, he made a right mess of it! Seemingly taking some tips from what he saw at the latest Euros, mainly THAT penalty from Italy's Simone Zaza. His stuttering disjointed run was completed by blazin' it high and wide. As Del Boy would say "What a plonker!".
Sutton did manage to get a third from none other than the Legend that is Dundas. After spending nearly half a minute arguing politely with the linesman over him being fouled (it was funny hearing his line of "Don't lie to me!"), he got mad & simply took the ball around a couple of players from the resulting throw in and toe punted slotted the ball into the far right hand corner. 3-1!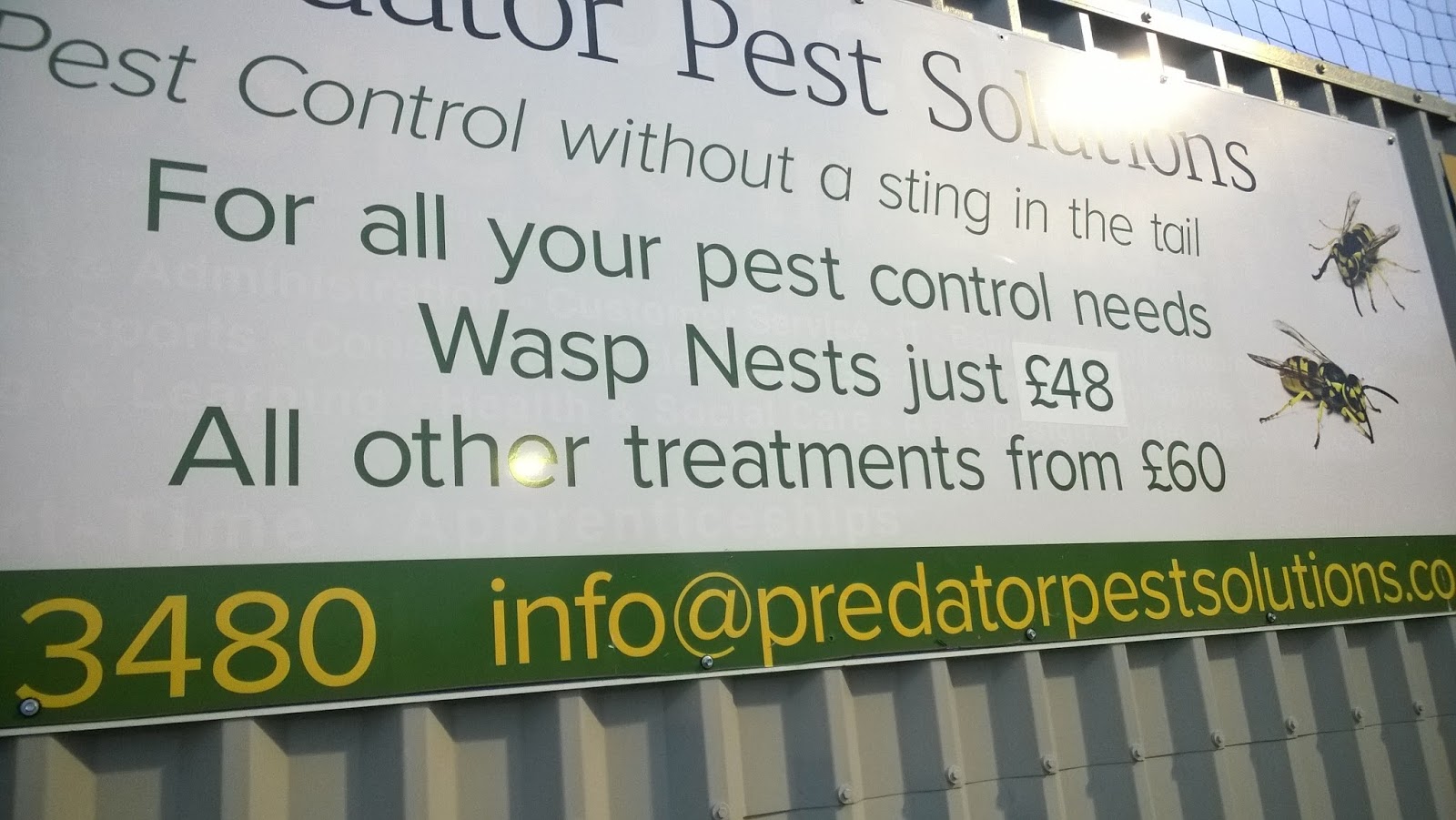 You'll do well to get a Wasps nest for less than £50 these days!
After the game we unsurprisingly trundled into the bar and discussed the usual unusual European qualifying matches taking place tonight. Disappointment for Red Star once again, but we saw that the plucky little Irish outfit Dundalk are still hanging on. With talk already that train tickets for Southport in late October were on advance sale, it showed how far we have come in the recent years and how fuckin' expensive it's going to be.
Grabbing a lift from Taz (as the Firm Leader wanted a go in the Mustang Sally with Steve) we drove off into the night discussing the same old problems. Now someone has to tell me, why is it we always have problems with Joma and the kit? This must be the third year in a row where there is a genuine worry about the kit arriving in time for the first game. Three days till the start of the season and we are still waiting!
So, because of this, I can't show you a photo of what the new the kit looks like, so here's a photo of the new & improved Rec End bogs instead. Until next time, enjoy…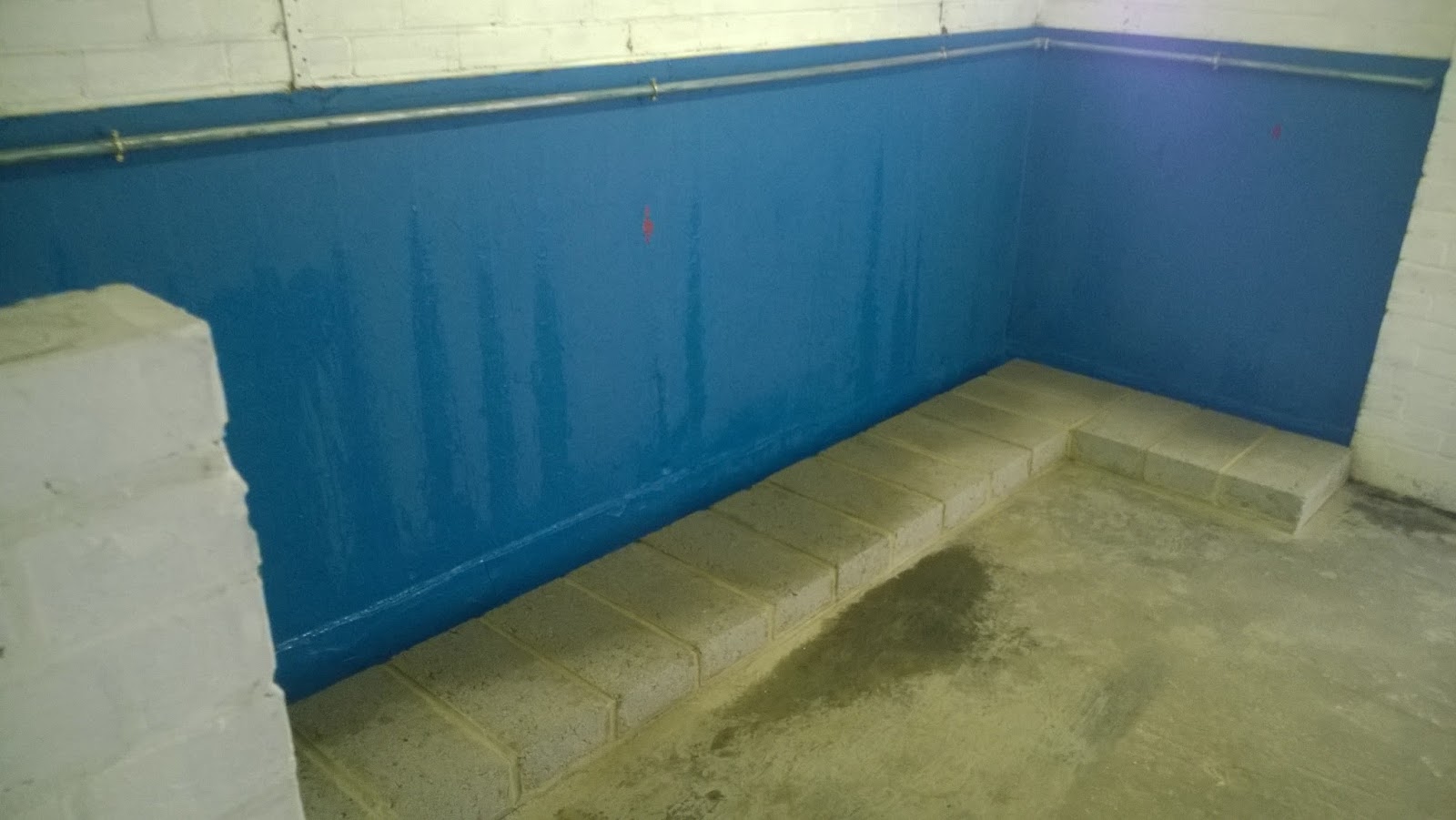 Bog standard pic. Geddit? Bog stan….oh never mind.
Duke (Hons.)
Att: 251