With the season done & dusted and celebratory hangovers to be dealt with, here's the first part of our Annual end of season filler material Season Review. Like most seasons, we don't start particularly quickly. But unlike last season, we do at least improve a bit over the course of the 9 months. Quite a lot in fact. So much so, it all ends happily every after. And then some.
But that's all to come way down the line in Parts 2 & 3. You've got to plough through all the boring stuff before we get to the exciting bit. Think of it like having nothing but Broccoli for starter and main course, with a lovely bit of treacle sponge & custard for dessert.
PRE-SEASON
After the frankly forgettable last campaign, it's no surprise to see a few arses getting turfed out of GGL over the summer and as usual, Dos is on the hunt for new blood. This time he brings in names with good experience at this level, like Ross Stearn from Bath, Stuart Fleetwood & Craig McCallister. Jason Brown also returns between the sticks. This is good news. We can't fail, surely?! Annoyingly, Brown then ups and buggers off to Gillingham as their GK coach, meaning Dos has to go and get a new keeper, bringing in Ross Worner just in time for the start of the friendlies.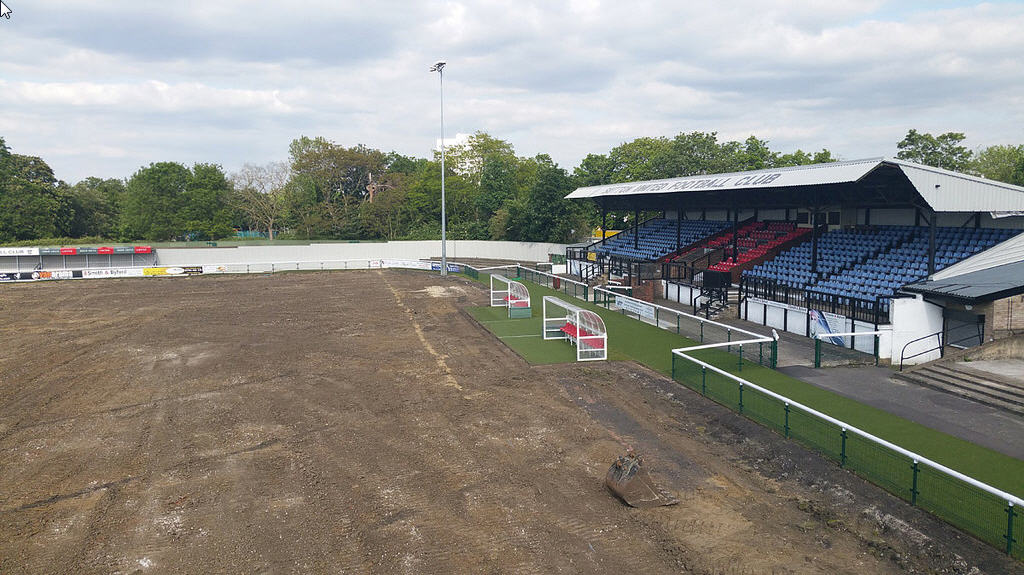 The view from Mount Gander
The really big news though is the new pitch at GGL, with 500k's worth of FIFA 2 Star rated 3G surface being fitted over the summer, with some local outfit called Crystal Palace invited to help officially open it. Never heard of 'em. Elsewhere, old favourite Dom Feltham returns to the club and takes a seat on the board. Oh and some idiot thinks it's a great idea for us to go to Jersey for a friendly. Really? Come on chaps, you know us by now. How is that going to end any other way but badly?
We start things off with our by now customary piss up in Winchester where we cruise to a 4-0 win. One notable face is young Tommy Wright, who performs very well and grabs a tidy goal. The following day (yes, really!) we then take on a Bristol Rovers side on that brand new 3G surface carpet thing of ours. We give a decent showing in a 2-1 defeat, with Jamie Collins notching a pen. Our hectic PSF schedule continues when a Crystal Palace XI rock up with Alan Pardew in tow just a couple of days later to officially declare the Fred Gee open for business. We go down 2-0 to a youthful side, but one that we absolutely batter in the 1st 45. So whilst the results so far aren't anything special, at least we're looking like we'll be pretty decent to watch, unlike last year!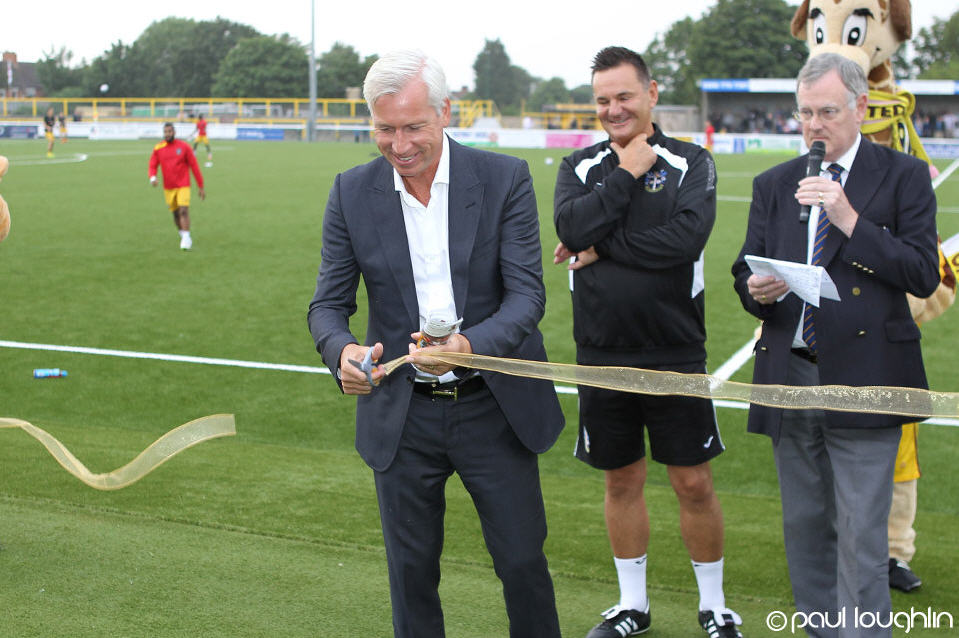 Open for Business!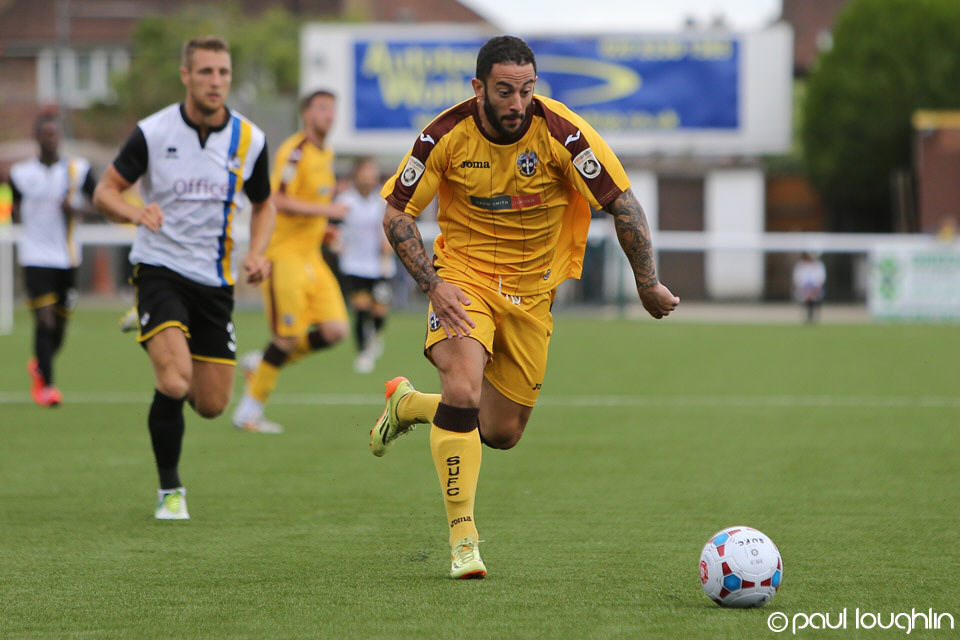 Stuart Fleetwood on the run v. Bristol Rovers
Next we're off to Jersey! Thankfully, no one dies and the lads notch a slightly routine, but comfortable 3-0 win over the Island's 'National Team'. Totts back home no doubt has already written to UEFA requesting international status for the fledgling Peoples Republic of West Sutton, if only so we can do this sort of trip more often. Still, the trip serves as a good bonding oppo for the lads and when we see them out in St Helier (the Jersey one, not the Sutton one) later that night, they seem to be bonding brilliantly. Mr X & Greek help matters by supplying a couple of Jaegerbombs & Dan Fitchett promises 4 Days that he'll get 20 goals this season. We'll be holding you to that sunshine, don't you worry!
An rather tiresome 0-0 with Welling at GGL follows, then a trip to another 3G based ground and a chance to cross swords with the old enemy, Carshalton, at their factory of sadness down on Colston Avenue. Sadly, no well deserved thumping is dished out and we get a rather lacklustre 1-1 draw instead, satisfying no one. Pre-Season then finally comes to a close with the visit of Bromley, another low key affair is lost 2-0, so perfect stuff for when the season starts next week. Oh….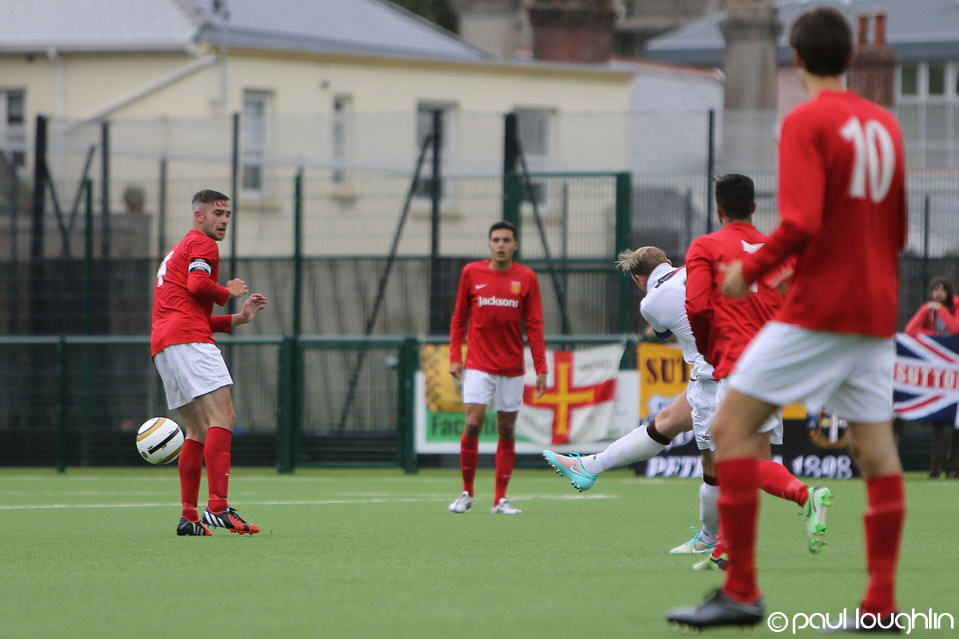 Suvs belts in a 30 yarder against Jersey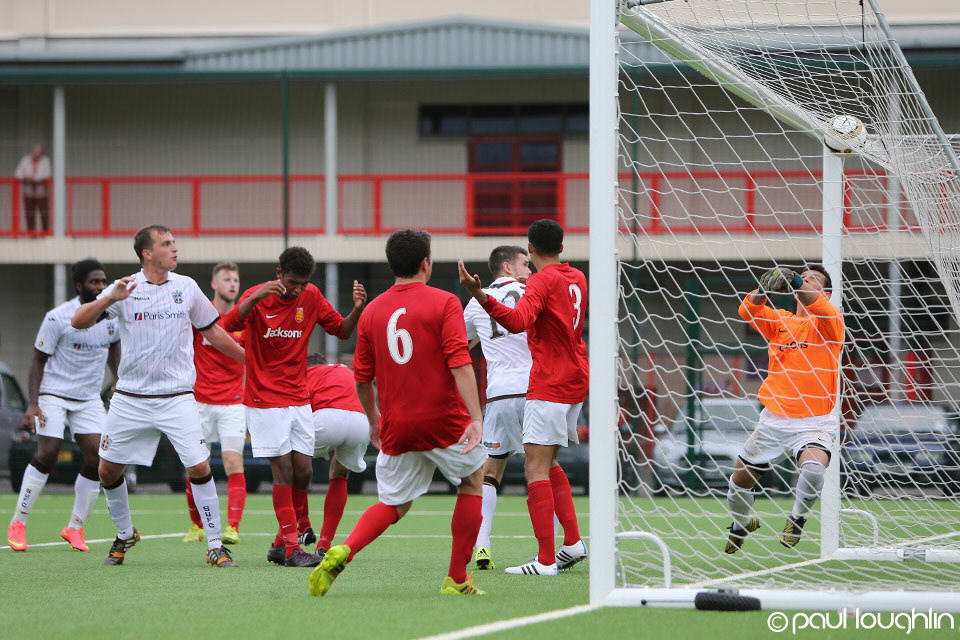 Jamie Collins nods in number 3 in Jersey


AUGUST
We open the campaign against fellow Fred Gee Axminster carpet enthusiasts, Maidstone on our own brand new rug. In the run up to the game, some marketing genius comes up with a snappy tag line to help advertise the game. 'The 3G Derby'. Christ on a bike. Thankfully someone far wittier suggests 'El Plastico', which thankfully gets used instead to make it sound more like a football match rather than a budget gallop across Epsom Downs. The game is a mirror of a lot of last season to be honest though, as we batter the oppo, hit the post and then go 1 down to a worldy after an hour. A second is added at the death and the large crowd witnesses a 2-0 defeat. Arse.
Thankfully, we can bounce back quickly as we're away at Havant on the Tuesday. Again, we run the oppo ragged in this one and this time make it count, Fitchett opens the scoring and Jamie Collins nods a second to put our first 3pts on the board (2-0). Another awayday follows at Dartford on the Saturday and it's a pretty even contest. They lead, we level, they regain the lead (the ball being smashed into a forwards head, knocking him out in the process!) before JC pops up with 5 to go to nick a deserved point (2-2). Lovely.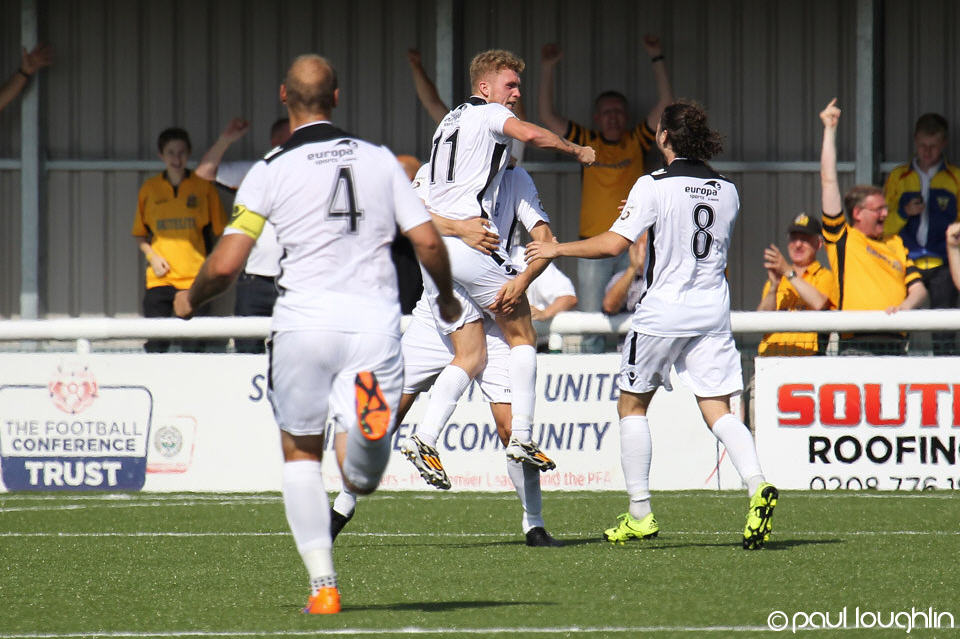 That didn't go well. Maidstone lead on the opening day.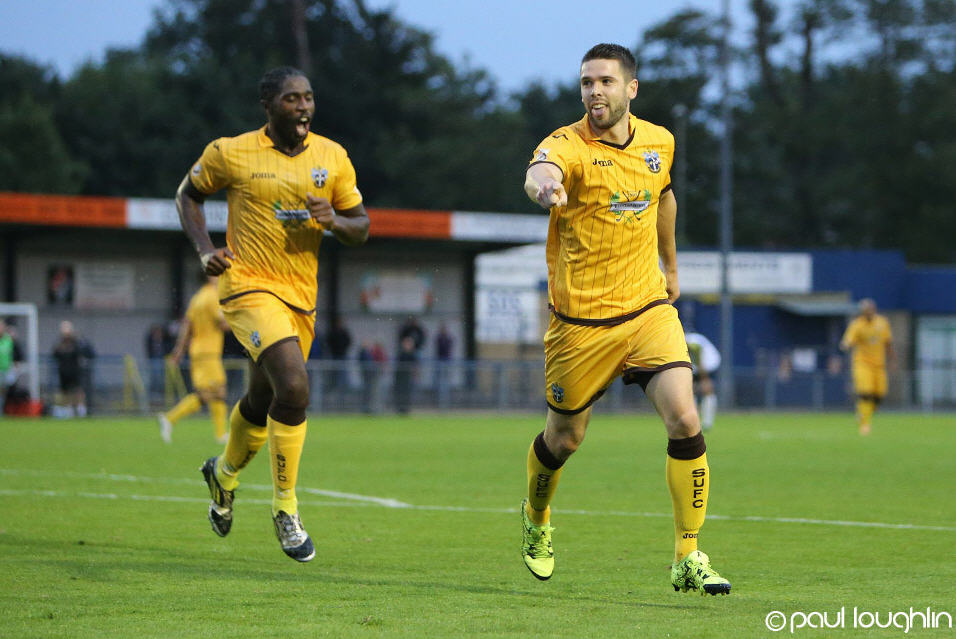 Fitch opens our account at Havant.
The 'Desmond' theme continues with Truro (2-2) at GGL on the Tuesday. Another battering, a 1st min goal from Fitch is then followed by the worst refereeing display in years from one Mr Elliott Kaye who gives a penalty to the visitors for Worner simply catching the ball in his own box and then gives shitloads of yellows to both sides for basically fuck all. Fitch nudges us ahead again before 2pts are lost as Worns misjudges a header deep in injury time to gift a draw to the oppo that they really haven't done a great deal to earn. Both sides finish with 10 to boot as Mr Kaye's evening is complete. A third straight draw comes at Maidenhead (1-1) with Dundo cancelling out the customary Dave fucking Tarpey goal for the hosts. The DDD sequence is broken however with a comprehensive 5-2 mauling of an iffy looking Wealdstone side at GGL, Fitch notching again and Dundo grabbing a brace have us 4-1 up at the break. We even score their first goal for them! Aren't we nice?
Our new found hope is dashed somewhat at Whitehawk 48hrs later as we turn in a frankly crap performance & have Jamie Collins sent off (our third red already to go with about a million yellows so far) in a comfortable 2-0 defeat to the beardy Brighton hipsters. The only upside is that the hosts fail to hammer home their early advantage and that we only lose by the two. So, it's another less than lightning start to a season from the U's with 9 points from 7 games and down in 13th place, whilst elsewhere Bath are the early pacesetters with 6 wins from 7 and moneybags Ebbsfleet right behind them.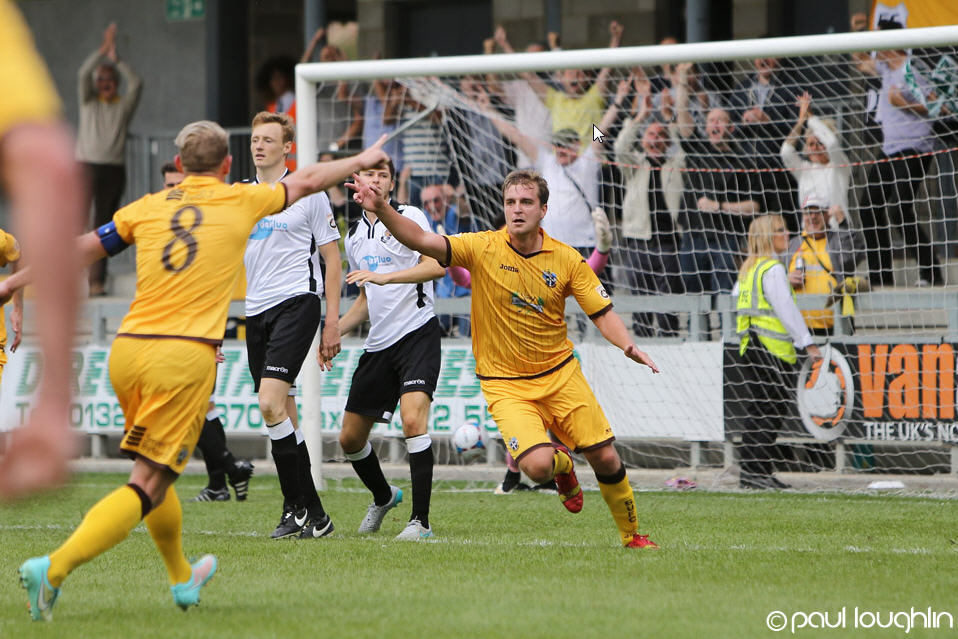 JC levels late at Dartford!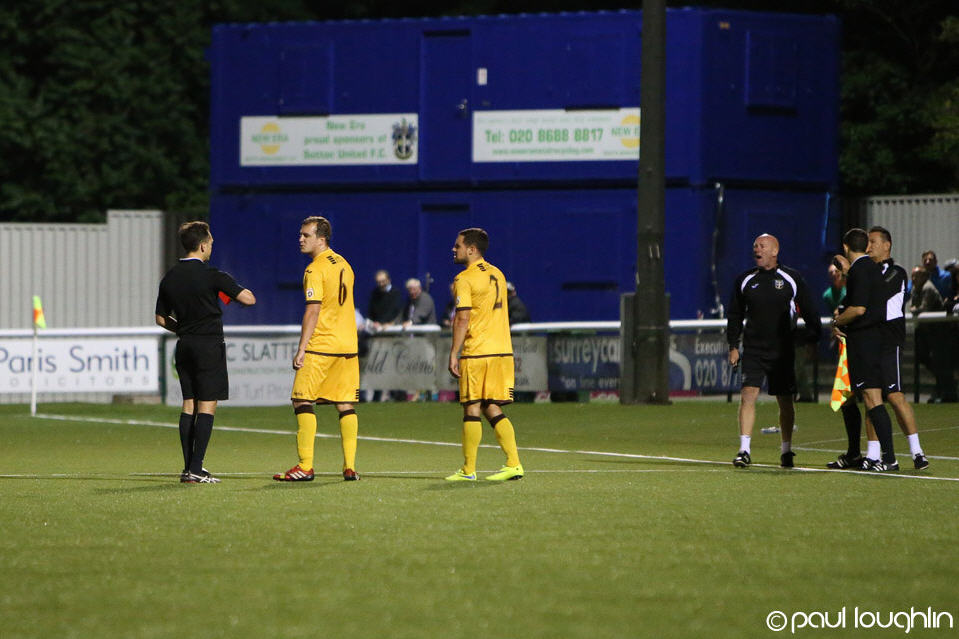 Elliott Kaye being a complete cock end & sending off JC v. Truro.
SEPTEMBER
The Whitehawk defeat seems to be a bit of a catalyst, as skipper Glen Southam abruptly departs the club with rumours of a 'frank exchange of views' in the dressing room after the South Coast clash. So this means Dos is now out shopping for another midfielder whilst Collins takes over armband duties. Our patchy home form continues with yet another 2-2 draw to kick off September, this time against Concord Rangers. Annoyingly, it's another of those 'batter them, but concede to their only 2 half chances' type games. Still, last season we'd have probably lost that one, so let's stay positive eh? We're certainly playing a shitload better than last season, so that's something.
Our midfield gap is plugged by the return to GGL of Bedsente Gomis, along with the signing of former Arsenal youngster Craig Eastmond. A bloke with Champions League experience, now plying his trade down here. The poor bastard! Gaps plugged, Gosport (1-0) are next up on the luxury Fred Gee and finally a win. Macca scores the only goal and Eastmond gives a cracking showing in the middle. However we're rather more indebted to Ross Worner for saving not one, but two penalties to secure the victory!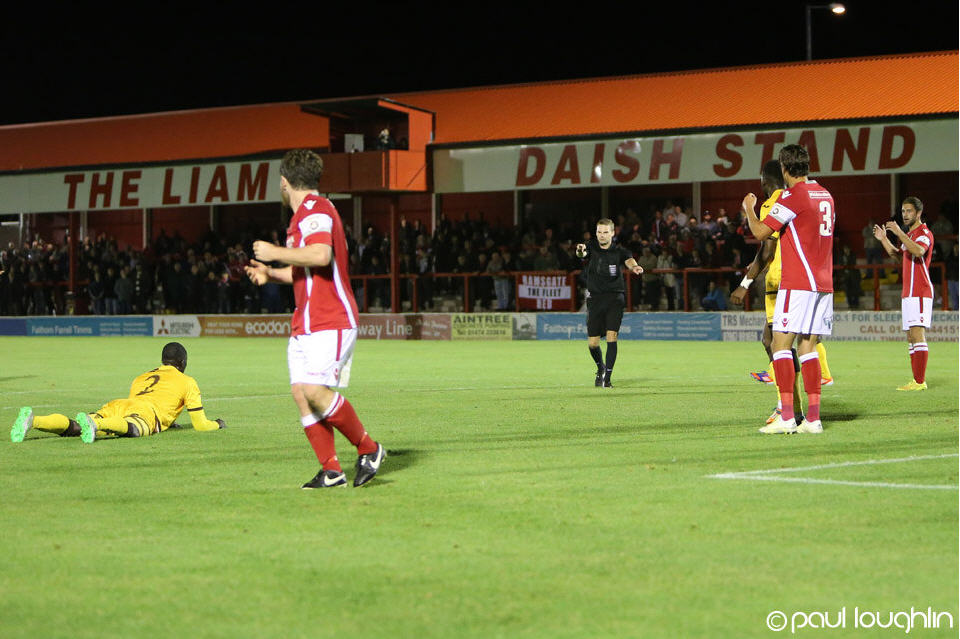 Penalty at Ebbsfleet! Missed.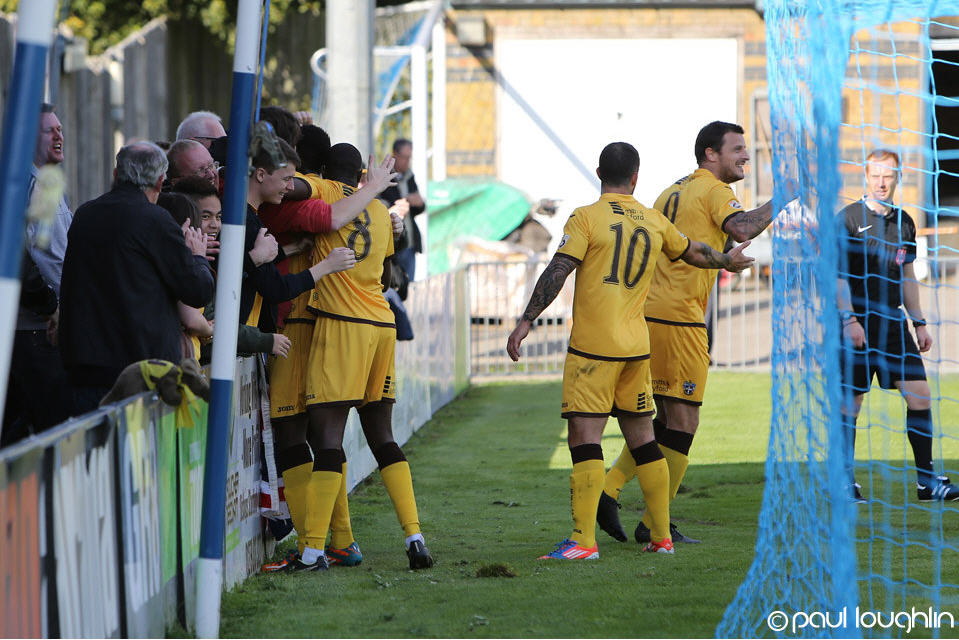 Macca puts us ahead at Stortford in the cup.
Another big test follows on the Tuesday away to Ebbsfleet. They've now deposed Bath at the top and are starting to pull out a gap already as everyone else behind them struggles for consistency. We play well, but Ebbs are the better side with Worns making a couple of good stops. Eastmond hits the bar before Jordan 'scored all of fucking Hemel's goals against us' Parkes pops up to give his new employers a 2nd half lead. We battle on and get a last minute pen, which Dundo scuffs and the keeper saves. In an ensuing barney after, their 2 goes down in stages and gets Gomis sent off to round up a 1-0 defeat. A shitty night all round really.
The defeat seems to give the lads a bit of a kick up the backside and we round off the month away to Weston (2-0) where Tom Bolawinra finally gets a chance to show us what he can do, along with a worldy from Bedsy, then we're away to Bishop's Stortford in the cup, where we completely boss a workmanlike side for pretty much the whole 90 mins and rack up another solid 2-0 win with Craig Eastmond starting to look very at home in the middle of the park. Which is probably why inbetween these 2 games, Micky Spillane is released by the club and joins Conf North Lowestoft. In the league, we're up to 11th but it's all about Ebbsfleet, who've had a blistering month and are already 11 clear at the top.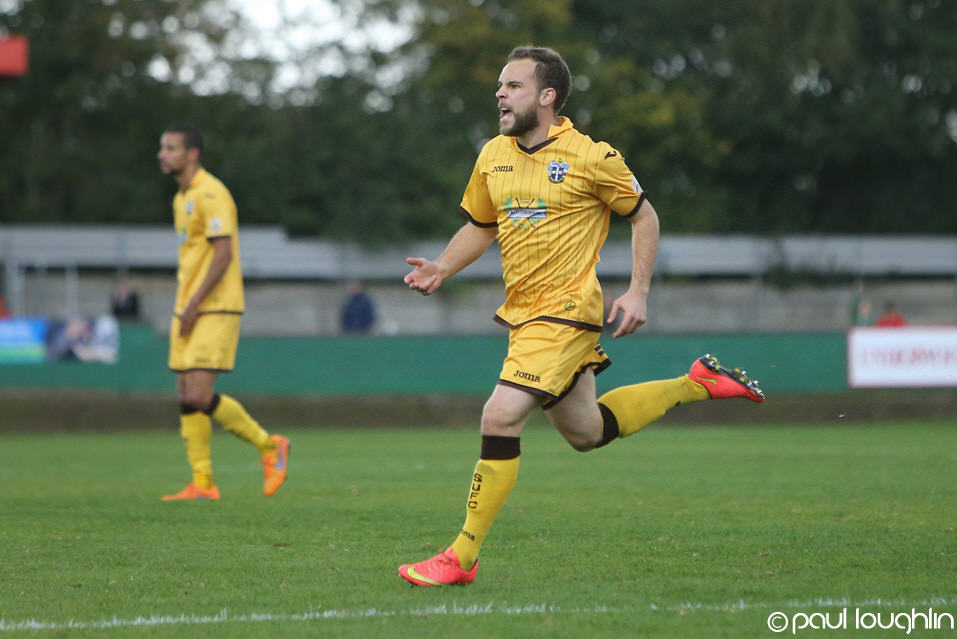 Stearny breaks his duck at Hemel!
Dan Wishart is under there somewhere.
OCTOBER
Bloody Hemel Hempstead. We start the month with back to back games against this lot, which if that wasn't bad enough, we then add a 3rd thanks to the FA Cup to make it 3 meetings in just 9 days. Cosmic. First another 2-2 draw at GGL in the league where we murder them, comfortably lead 2-0 and then bin it off in the last 10 minutes thanks to some shite refereeing and a moody pen. Then in the Trophy game up there, Ross Stearn finally opens his account in Sutton colours to earn us a deserved 1-1 draw and a replay. In which we finally see off the Watford suburb 2-1 at GGL thanks to another Stearn goal and Dan Wishart's first of the season.
Better still, we have a nice awayday to Bath to look forward to at the weekend and once more we enjoy a thoroughly good day out on the piss as well as a comfy 3-1 win over the now fast sliding Romans. Stearny predictably rifles in a worldy against his old club after just 5 minutes, Eastmond opens his account with a classy finish and Macca makes the points safe in the 2nd half after a quick break. Were we drunk after? You bet we were! It's then back to FA Cup action with an away trip to Conference National Aldershot. Hopes are high of an upset as they're a bit shit currently and we're starting to look half decent. What follows a nice afternoon on the beer in Farnham though the game is disappointing due to some crap stewarding & a fairly dull 90 mins where we have loads of the ball, don't score and they do via a crappy deflection. 1-0. So it's buh-bye FA Cup.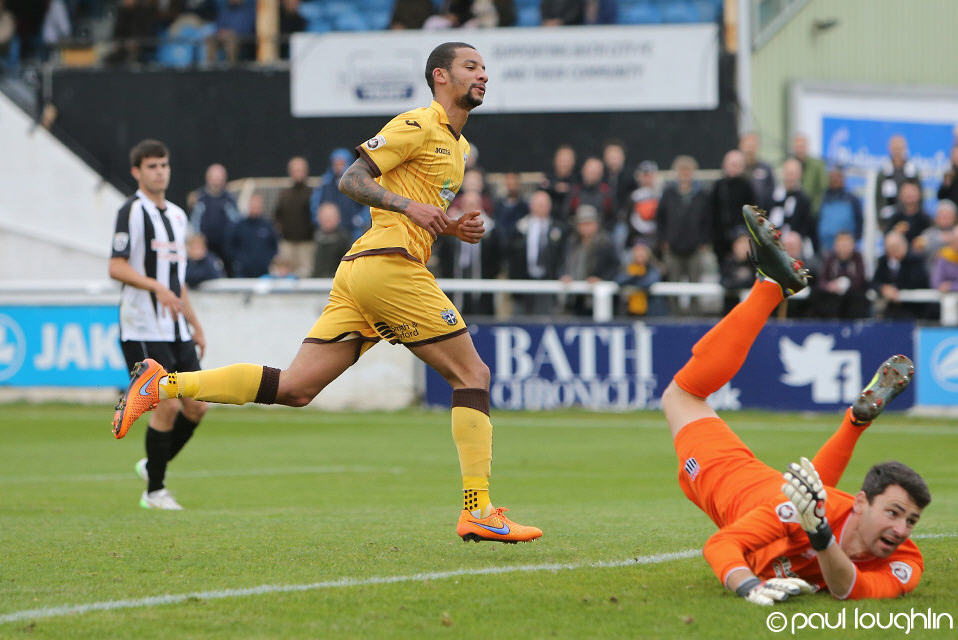 Eastmond's classy finish at Bath makes it 2-0.
The travelling hordes at Aldershot.
Another decent awayer follows however to round off the month and this time we're off to Eastbourne. Despite early control and Bolawinra's great form continuing, we only manage a point from a frustrating 1-1 draw. It's annoying, we're not losing many and we're playing some really really good stuff, but wins just aren't coming as often as we'd like right now. Still, on the plus side, we're up to 9th and now just the 5 points off a PO spot, meanwhile Ebbsfleet's lead at the top has been cut to 6 points thanks to some unconvincing home performances and Maidstone's refusal to do anything but win 1-0 most weeks.
Can we make the Play Off places? You'll have to wait for Part 2 to find out won't you! Or maybe even Part 3. Who knows? It's not like we can see into the future or anything….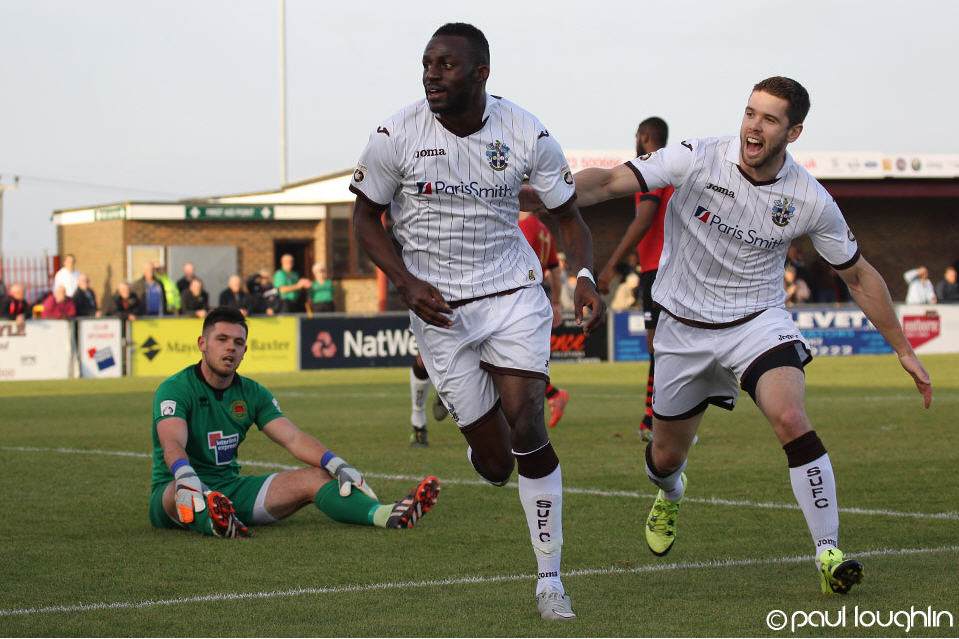 Tombo scores at Eastbourne!
We'd like to thank the jolly good sport that is Paul Loughlin for once more allowing us to rob his superb pictures from this season and make this round up look far more professional than we could ever hope to! Check out the full sets of his stuff on Flickr HERE. They're dead good.