In Part 1 after a slow-ish start and a mildly disappointing FA Cup exit, it's all eyes on the League now. Sadly, that's not gone quite as well as we'd hoped so far and the leading teams are already seemingly miles ahead of us. Plus we've already shed our captain. So it's time to pull up our socks and get on with winning some points! Well, once we've got the FA Trophy and dreams of Wembley out of the way that is…
Here's Part 2 with all the details.
NOVEMBER
To be honest, it's really our home form that's stopping us properly getting stuck in at the sharp end of the table, so anyone who thinks having a 3G pitch gives us an advantage should probably shut their stupid faces at this point. Another example of this is against Oxford City who are admittedly in great form coming into the game, sitting 2nd in the league table. The visitors sit back largely, but weather our early storm to predictably nick one on the break. We step up a notch in the 2nd half though and lay siege to their goal, but an OG is all we can muster for our efforts and once more it's points shared (1-1) at home.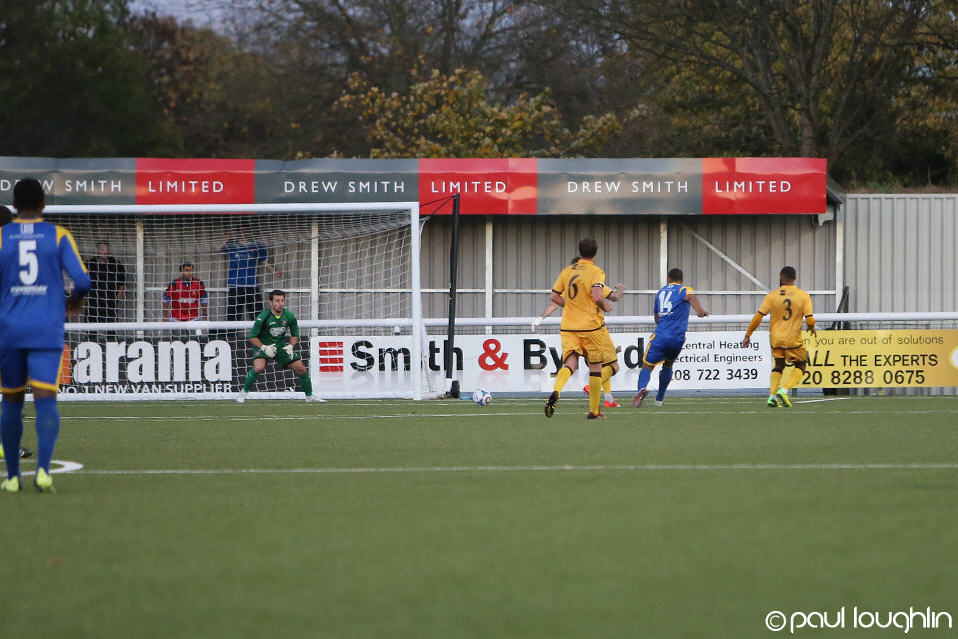 'The Run' starts here. HandY score at GGL.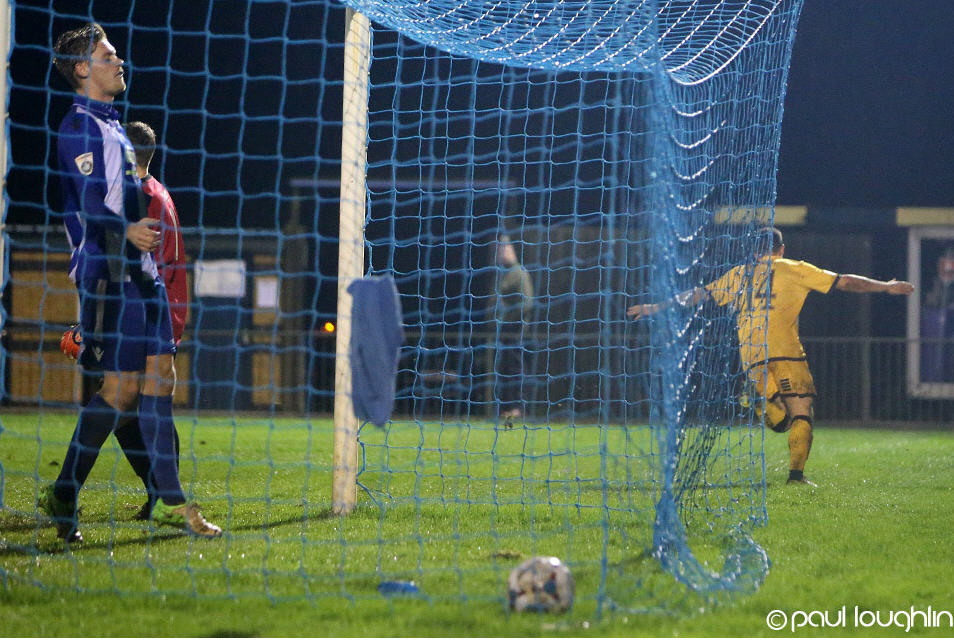 "Oi've played 'ere once an' oi've scored 'ere once!"

– Stearny v. Stortford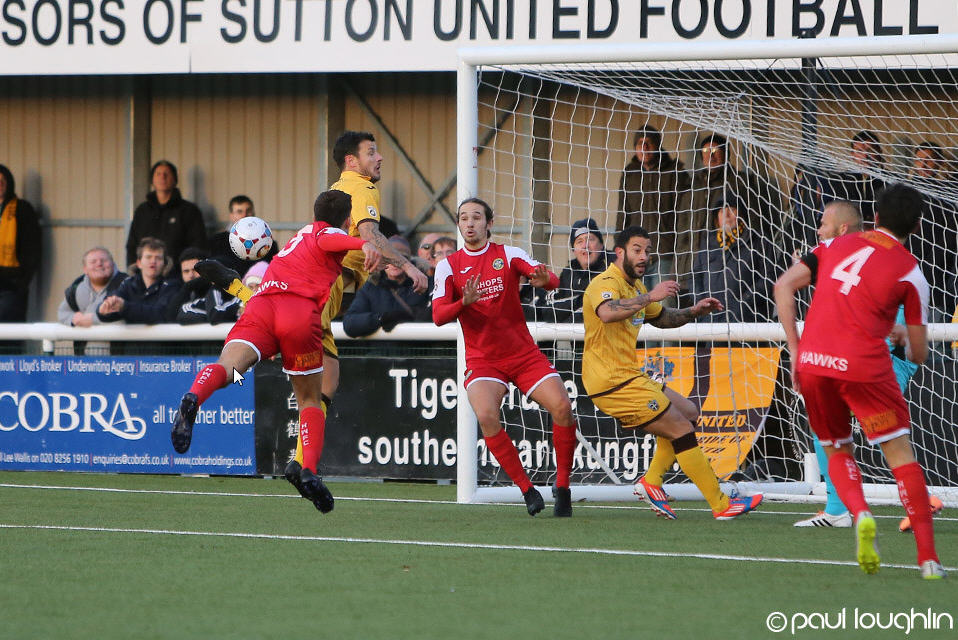 Macca's fucking outrageous overhead backheel thingy v. Havant
Even more annoying is the now seemingly customary shite 1-0 home defeat to a dreadful Hayes & Yeading side. And once more to their first decent effort on goal. Lovely. The less said about this one, the better really. Still, on the upside it's actually our first league defeat since the middle of September and we're still mainly playing some cracking football, so it's not a total disaster yet, we just need to start converting draws to wins! Thankfully, the lads take this as an opportunity to start another sequence and they kick off with another 2-0 bossing of Stortford on their own patch to get another 3 on the board, the home side hit the post in the first minute and that's it for them in the way of chances. Points bagged, who's next? Ah, a surprisingly struggling Havant side it seems. And why are they struggling? Well, because they're fucking terrible, turning in a miserable showing where their only bright spot is surely the defeat only being 3-0 as it really could have been at least double that. The highlight is a absurd 2nd goal from Craig MacAllister, where he does some sort of overhead backheel thing. Ridiculous. He should know better at his age!
So it's with high hopes we travel to Concord in the Trophy, if not to win, to at least see some fucking goals here for a change after 3 0-0 draws in previous years! Sadly, whilst we finally get goals, we never quite hit the heights and are disappointingly dumped out 3-1 with the hosts also missing a penalty along the way. Still, the league is our target this year after all, so at least that's all the FA distractions dealt with now for another season so we can crack on with some hardcore points earnage.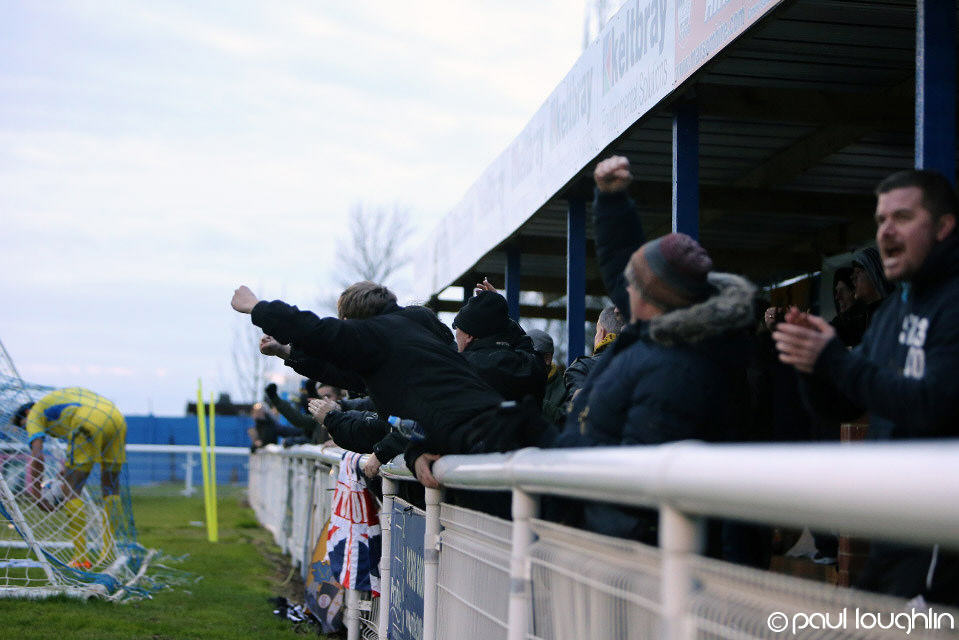 Level at Concord in the Trophy!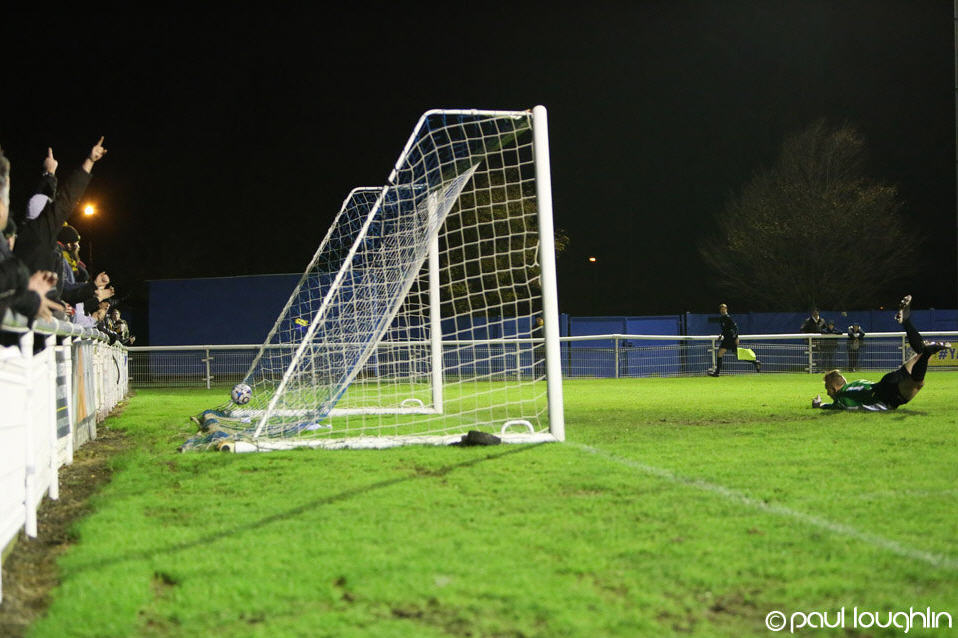 Concord again. This time Dundo makes it 1-0 in the League game.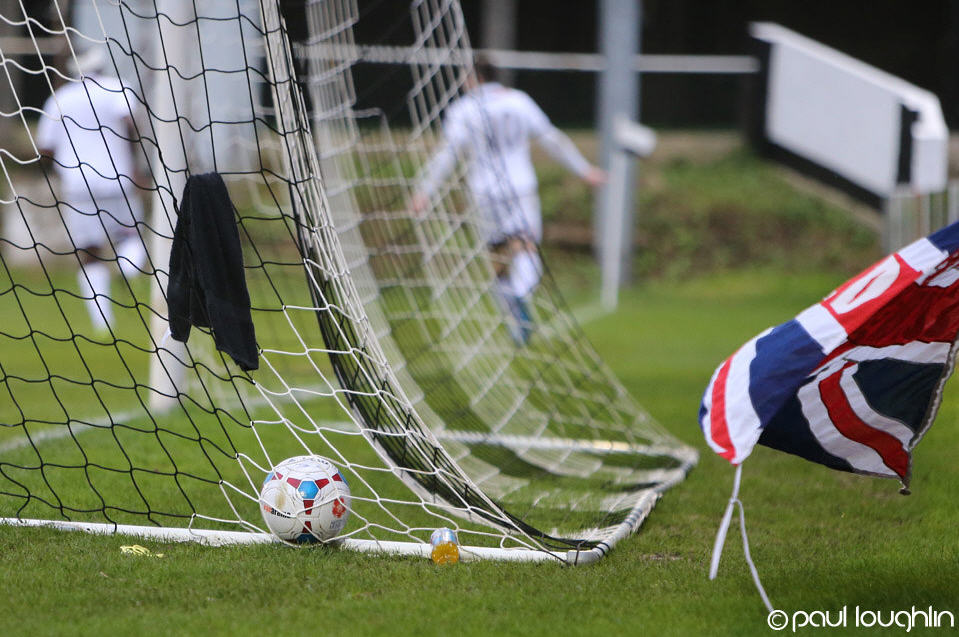 2-0 up at Maidenhead. Against HandY. Confusing eh?
November comes to a low key end with a simple 3-0 win over Ryman 1 South strugglers Walton & Hersham in the Surrey Cup (a game where we believe Craig Eastmond becomes the first man to appear in both the SSC and the Champions League), the win at least keeps Dukey happy for a while if nothing else. Our improving form has seen us creep up to 6th now, just 2 points off a play off place. At the top, Ebbsfleet still lead the way, 7 points clear.
DECEMBER
We start the festive month off by having to return to bloody Concord again, this time in the league. Amid rumours that the hosts may have played a ringer in the Trophy game against us, a super solo goal from Dundo breaks the deadlock late on & then a quickfire brace from sub Bolawinra registers a slightly surprising but very welcome 3-0 win. On the Monday, the FA announce that the Concord 'ringer' rumours are indeed true and not only that, the lad in question had scored against us! So that's us back in then surely? Sadly not. Having cancelled their next tie that Saturday, the FA then announce we'll have to replay the match at our place. Fucks sake! And it's not for another 2 weeks yet, meaning we'll have a stack up of ties awaiting the winner should we get through. Cheers FA. Still, at least it won't get postponed thanks to the Fred Gee.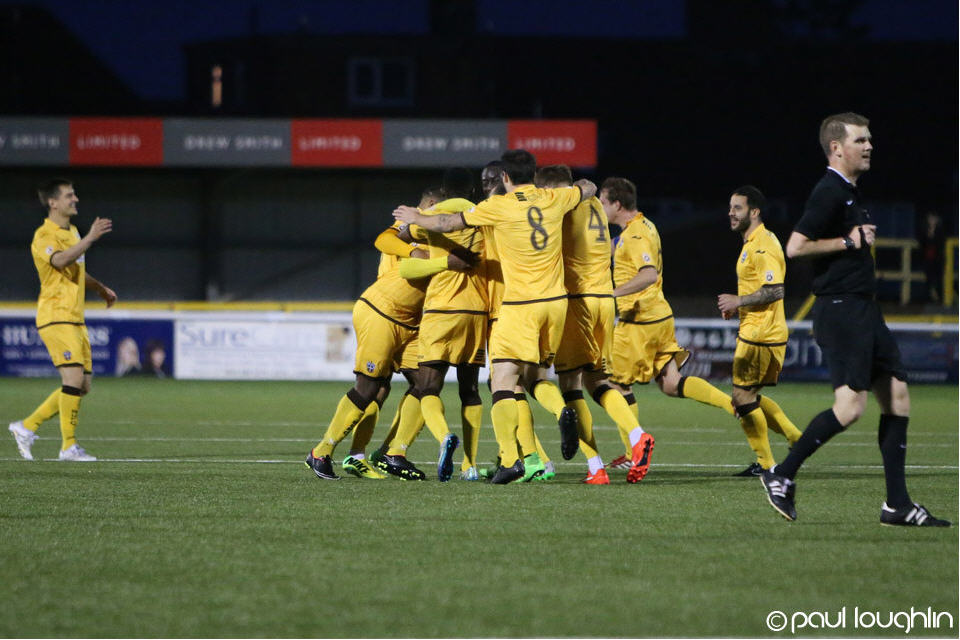 Dudno LASH! Basingstoke's resistance broken on Boxing Day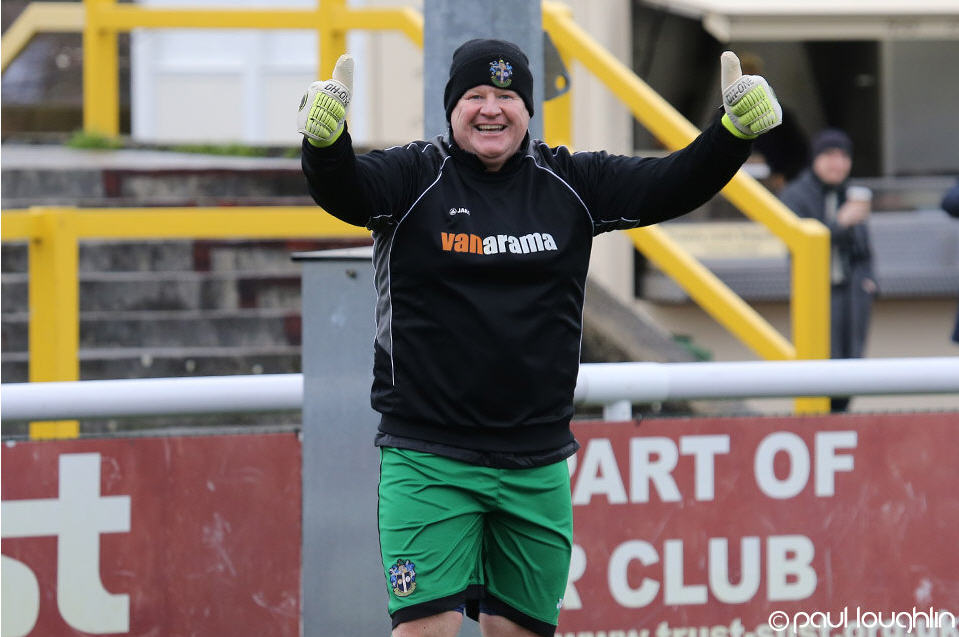 Pack it in Wayne, it's fucking freezing out here.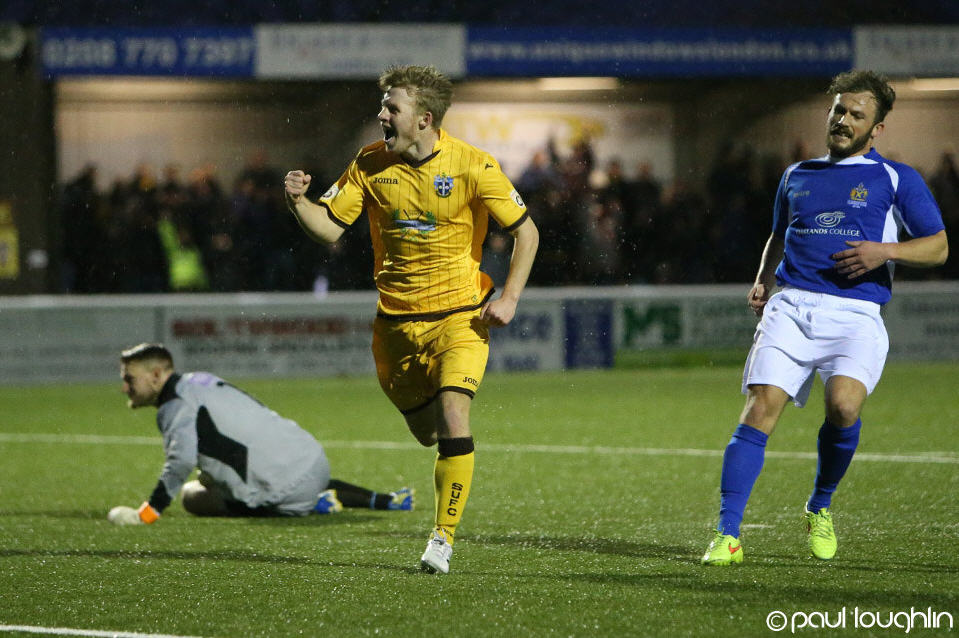 Tommy Wright rounds off a 5-0 pumping of St Albans at GGL
We take our frustration out on Hayes & Yeading and get revenge for that shite defeat last month with a good 3-1 win. Only their reply with us already 2 up makes it anything like a contest & JC nods a third to kill it late on. We then notch (what seems like) our 100th 2-2 draw at GGL against Hayes landlords Maidenhead. Of course, fucking Tarpey scores but the lads again show great character to take a point from another game that we'd definitely have lost last season. There's certainly a fair bit more backbone in the side this year, if only we could turn some of these home draws into wins, we'd be really cooking.
Then it's the Concord rematch. Which is a bit of an anti-climax really as Fitch & Stearn score in a routine 2-0 victory that sees the visitors largely seeming to accept they probably should have been hoofed out in the first place and that this rematch stuff is all a waste of time. Now it's time for some Turkey and rampant commercialism before the big Boxing Day clash with, er, Basingstoke. Last year's PO contenders are having a dreadful time of it this season and arrive at GGL rock bottom of the table and already looking a bit doomed to the drop. Despite their best efforts to keep us out, we remain patient and 2 crackers from Dundo and Bolawinra in the 2nd half are enough to earn another 2-0. Unfortunately, the seasonal weather intervenes here and the trip to Wealdstone on the 28th is called off, but it at least gives the lads a few more days break to recharge & get ready for 2016. Our form now sees us sitting nicely in the play off places and 3rd overall, just 3pts behind Maidstone in 2nd but a huge 14 behind Ebbsfleet at the top.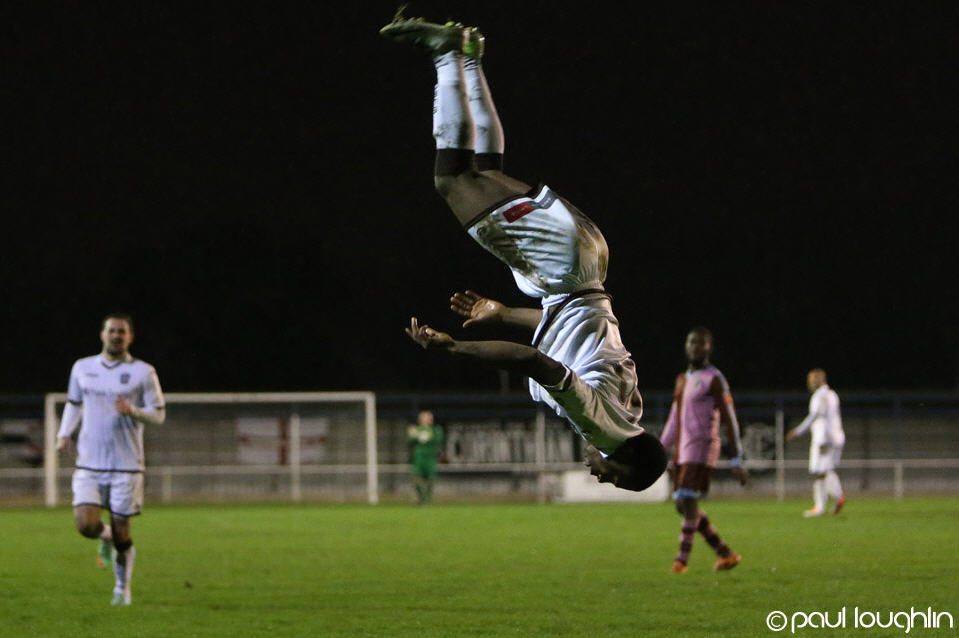 This makes us feel dizzy just looking at it.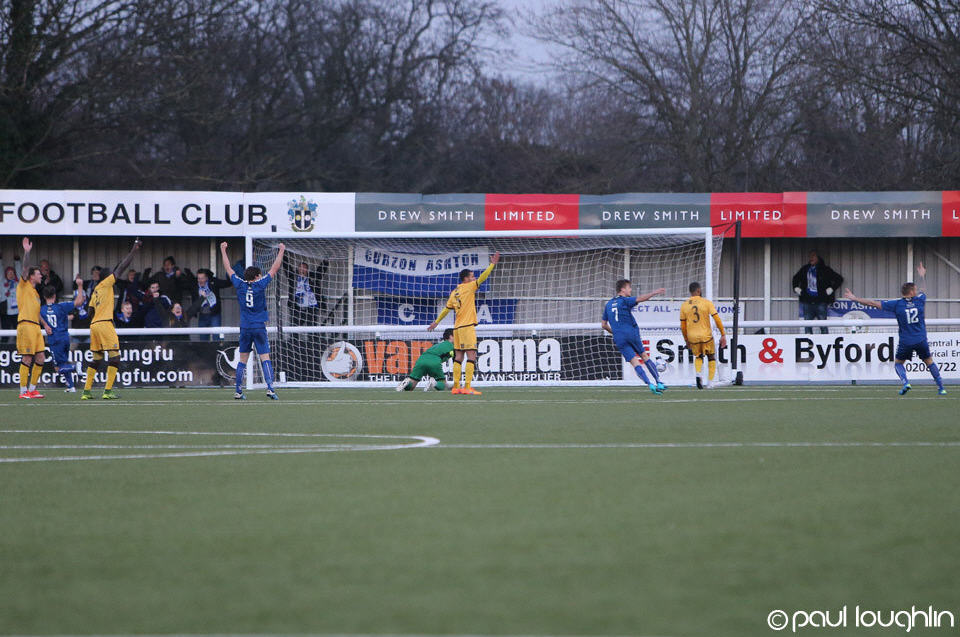 Curzon think they've scored. The Lino disagrees.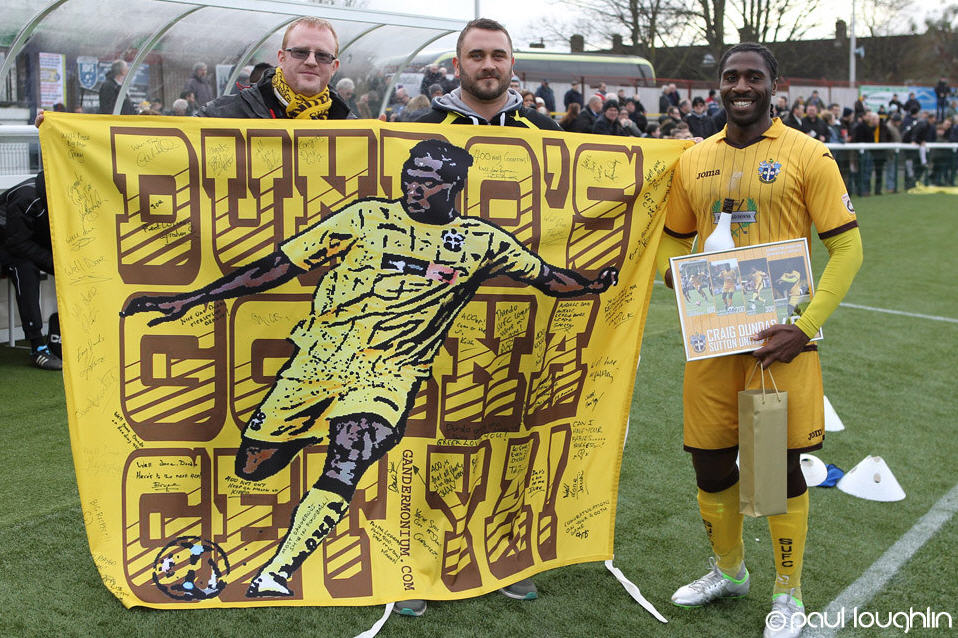 Celebrating Dundo's 400th v. Dartford at GGL
JANUARY
A new year, catchily named '2016', dawns. And it's still fucking raining, meaning the first game of the year at Basingstoke is also off. Which must be a right pisser for the lads having no doubt avoided getting properly munted on New Years Eve. Instead we finally get the new year under way 48hrs later at home to Lowestoft Town in the much delayed FA Trophy tie thanks to Concord's admin error. Brad Woods-Garness & Micky Spillane return to GGL but a Dundas hat-trick sees us comfortably home (3-1) despite Brad cancelling out the opener in the 1st half. Awaiting in the next round are Curzon Ashton. Whatever one of those is. It's also announced that our decent league form has earned Dos the manager of the Month award for December. Which of course has us a bit nervy for the next match. We needn't have worried. A St Albans side with a centre back pairing as quick on the turn as a couple of sinking ocean liners is torn apart at GGL as we romp to a 5-0 win, Dan Fitchett helping himself to a match ball with a hat-trick of his own. The lads then have a morning training game on the Tuesday against a Palace XI, with the U's fielding a certain Mr N. Bailey in midfield after his release from Barnet before Xmas. Hmmm. Anyone want to bet us 5p he signs for us?
An experimental side containing a mix of Youths and experienced heads goes to Corinthian Casuals during the week for the Surrey Cup and after Tommy Wright gives us the lead, two late goals from u18's lads earns a decent 3-1 win over an oppo with a good few former U's ressies in their number and Sutton Youth manager James Bracken in charge on the bench. The weekend then brings more cup action in the shape of the FA Trophy and the visit of some Northerners who all sound like Take That when they talk. Conference North Curzon Ashton aren't a bad side at all to be fair and push us hard for the 90 mins, Jamie Collins first half goal does the job though (1-0) and we squeak through. We then take pity on some of the visitors as they're staying overnight in Croydon, so we take them out and get them falling down drunk in the nicer surrounds of suburban Sutton to help dull the pain. Next up at GGL are Dartford, who are charging hard themselves and going for a PO spot off the back of several wins on the bounce. Beforehand, we're all honouring Craig Dundas on his 400th appearance in a U's shirt. The game? Nae bother. Fitch & McCallister score in the space of 10 mins just after the hour to see us safely home (2-0) and claim a big win with a pretty dominant performance. This side is really starting to come together nicely! Dos then strengthens further by shocking no-one at all and adding Nicky Bailey to the squad until the end of the season. This is getting serious now. Play offs, you're getting it! By the way, you probably owe us 5p. And no, we can't take a cheque.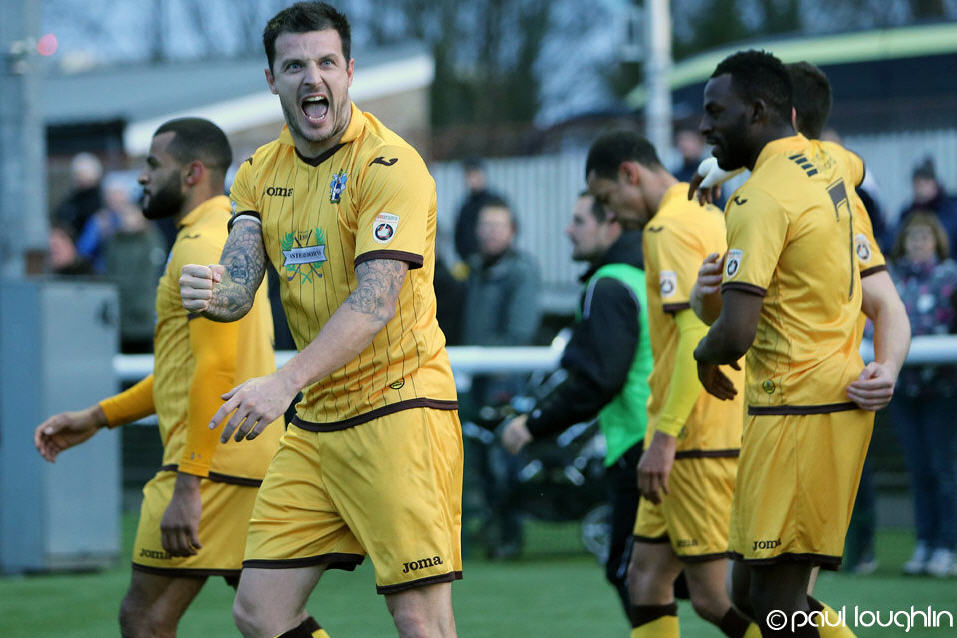 Macca celebrates Fitch's opener against Dartford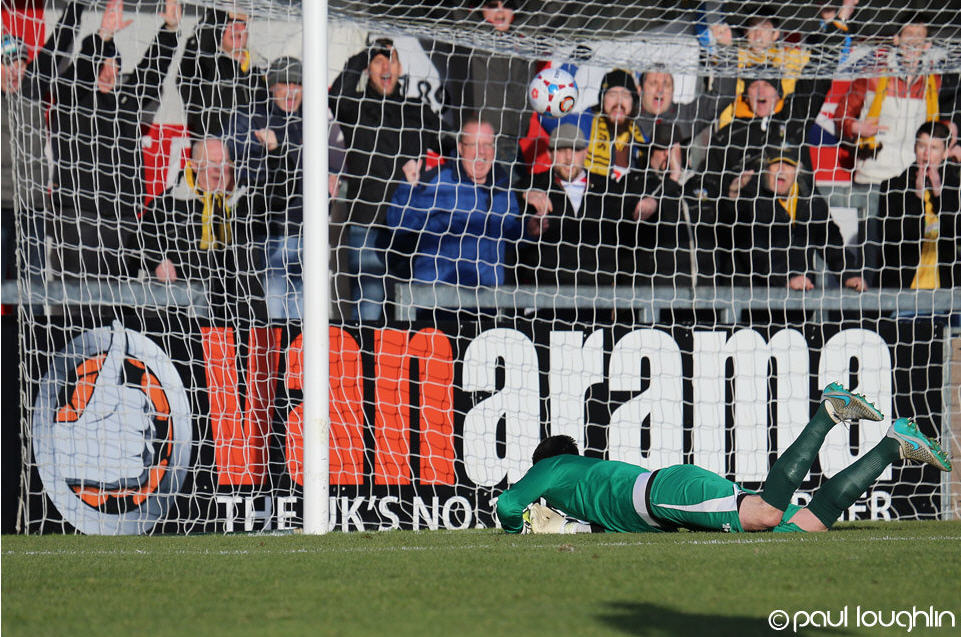 Fitch opens the scoring early doors at Chelmo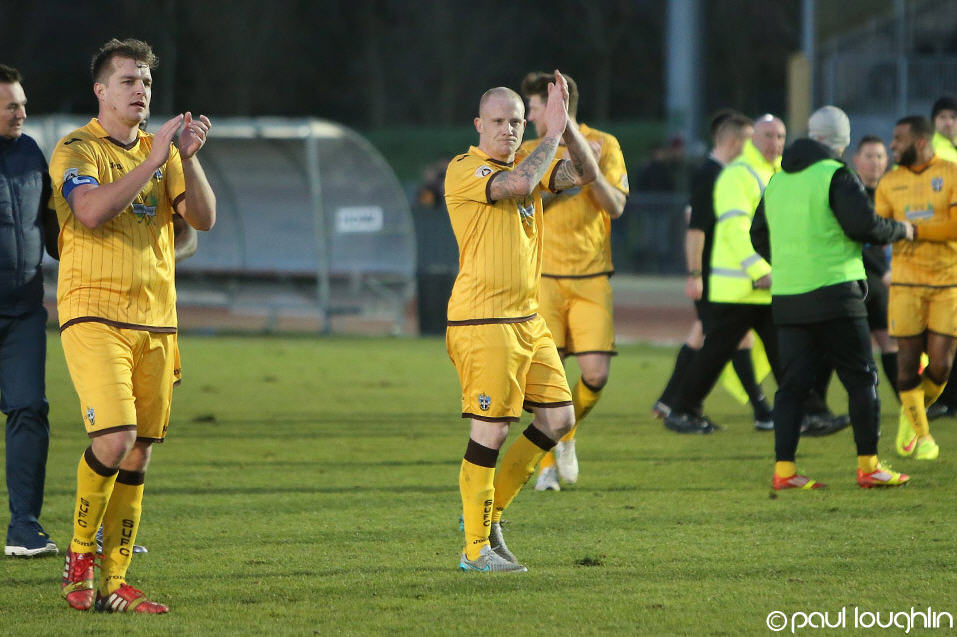 Guess who's back, back again! – Nicky Bailey comes home.
Bailey pairs up with Eastmond in the middle at Chelmsford to round off the good start to 2016 and after an early Fitchett goal, they run the show before a late 2nd from Fitch sews up another excellent away showing and another 3pts (2-0), which given Ebbsfleet seem to have taken to drawing games lately, is now making things vaguely interesting towards the top as us and Maidstone close in, now 9 points behind and with a game in hand. Nah, surely not? Although we do lose Craig McAllister to an early injury.
In other hilarious news, having not done anything dumb in seemingly ages, Carshalton loony Chairmanownerpresident for life Paul Dipre sacks yet another manager. But then again, with the Bobbins hovering nicely just outside the Ryman 1 South PO spots, you can see er, just why he HAD to act. Hatstand, completely and utterly hatstand that lot.
Getting exciting this innit? Can we do it? Wait and see in Part 3, coming up!
We'd like to thank the jolly good sport that is Paul Loughlin for once more allowing us to rob his superb pictures from this season and make this round up look far more professional than we could ever hope to! Check out the full sets of his stuff on Flickr HERE. They're dead good.