So, in Part 2 we were knocked out of the Trophy and then let back in, the boys really started picking up some points in the league and then front runners tantalisingly started dropping some. Which has made things rather exciting for the last part of our season review for a fucking change! Do we get to Wembley? Can we hunt down Ebbsfleet for the title or are we doomed to the misery of the Play Offs again?
Clicky clicky, findy outy!
FEBRUARY
It's February and it's FA Trophy day again. This time Ryman Prem Bognor Regis are the visitors to GGL. The U's batter the underdogs early, but can't break through for that vital goal and in the end, a slightly disappointing 0-0 means a replay down on the coast 3 days later. In that replay at Bognor Regis, any real hope of getting a result is largely abandoned by most travelling fans when we see the line up. With loads of little niggles and illness, we're well short of numbers with most of the subs bench being filled with youth lads. Still, we at least manage to take it to Extra time before eventually bowing out 2-1. A small bright spot is Stuart Fleetwood finally breaking his goalscoring duck from the spot, but we also have Bailey and Collins limp off to add to the injury list. Not good, especially the latter who has been immense at the back this season.
A slightly patched up side meets struggling Bath at home (1-1) and despite Ross Stearn again notching against his old club, the visitors reply with a penalty which is about their only effort on goal all day, but we lack fresh legs to go again and it's 2pts dropped it seems. Especially with Ebbfleet's iffy run continuing elsewhere and keeping the door ajar for us and Maidstone. We're back to winning ways at rock bottom Basingstoke midweek however, Stearn and Fitch giving us the win (2-1) despite the best efforts of a fucking dreadful ref who sends off Wishart for diving as the sound of him being kicked in the air echoes around the ground. Twat. Still, if we think that's annoying, it's nowt to what awaits at the weekend.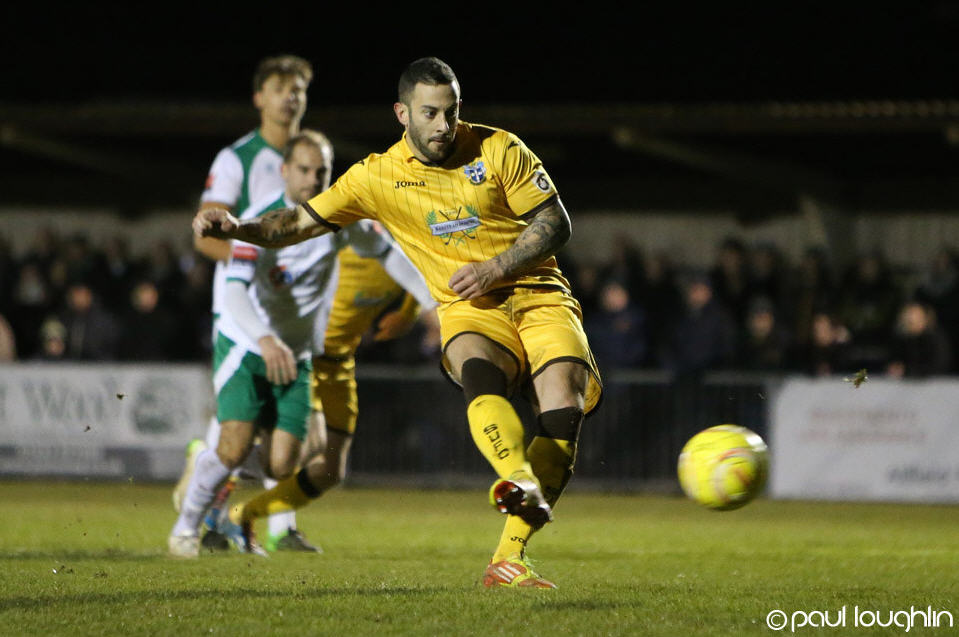 Fleets breaks his duck from the spot at Bognor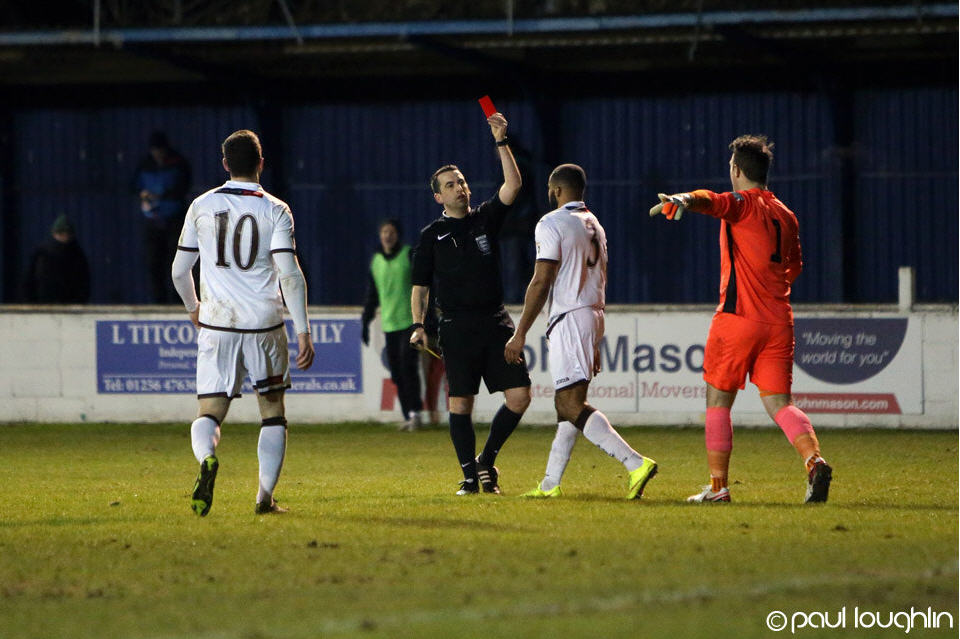 Another shit ref, another shit card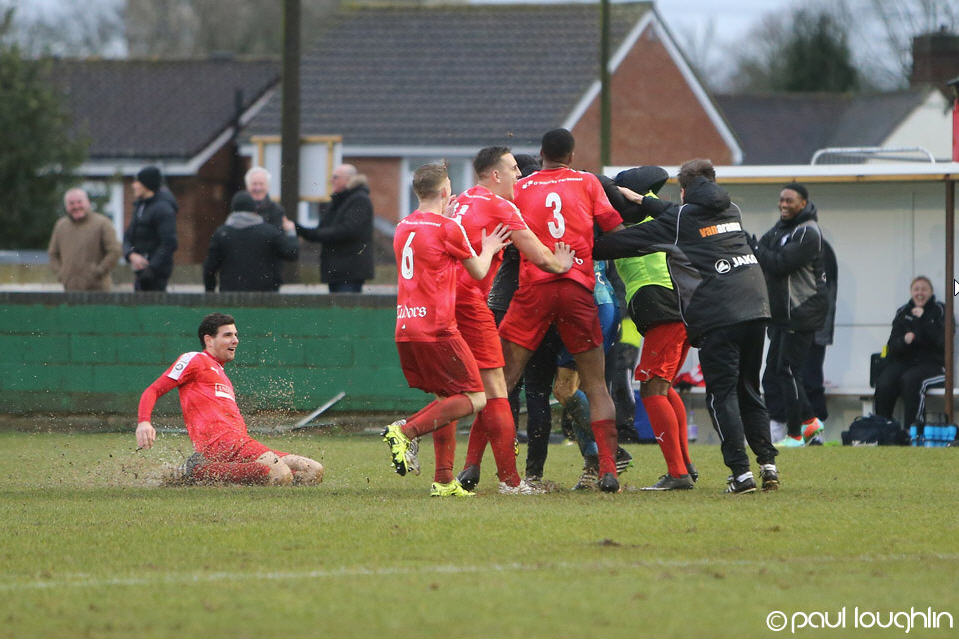 Yeah, that actually happened. Fuck off Hemel
Away at Hemel Hempstead again and on a pitch that could kindly be described as 'borderline' (if you were talking about rice paddies). We handle the conditions brilliantly though and lead 2-0 whilst the home bench spends the whole 2nd half crying & trying to get the game abandoned. We inevitably let one in dead on 90 and then in injury time the keeper launches it desperately forwards out of his hands trying to squeeze in one last attack. One bounce later it's looped over Worner and in. 2-2. It's an absolute fucking sickener and naturally soon to be a viral YouTube hit. About as undeserved a result as they come. We get smashed that night to try & forget, especially in the light of Ebbs having drawn again, so we lose out on making up valuable ground. At this point, a tilt at the title looks somewhat unlikely. Another mixed XI takes on Knaphill in the SSC (1-0), with the tie switched to GGL as their pitch is banjaxed thanks to the sort of weather we played through on Saturday. Meaning we miss out on a new ground. Taz is not amused! Sam Doswell nods the only goal of the match to put us in the semis.
To finish off February, Margate are in town and are currently on a great run towards the play off spots with several wins on the bounce to their name. New signing Ryan Burge goes into midfield and opens the scoring when the keeper makes a complete mess of his free-kick. The keeper then saves a Fitch pen but soon after, passes straight to Bolawinra who fires in from about 40 yards and it's game over. Two more in the 2nd half give a convincing 4-1 final scoreline, although it really should be more. Amusingly, a Margate lad is also red carded at the final whistle for getting properly in a lino's face over a marginal throw in call. Mental. The win moves us up to 2nd, but 11 points off leaders Ebbsfleet who are still hanging on up there despite having looked a bit unconvincing over the last few weeks.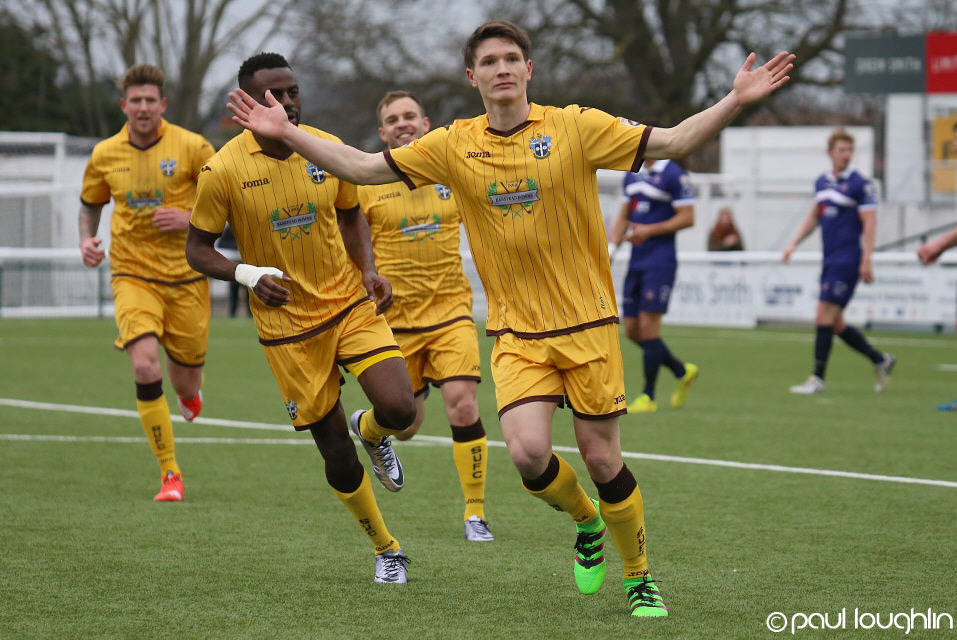 "Hi everyone, I'm Ryan. Did you like my free-kick?"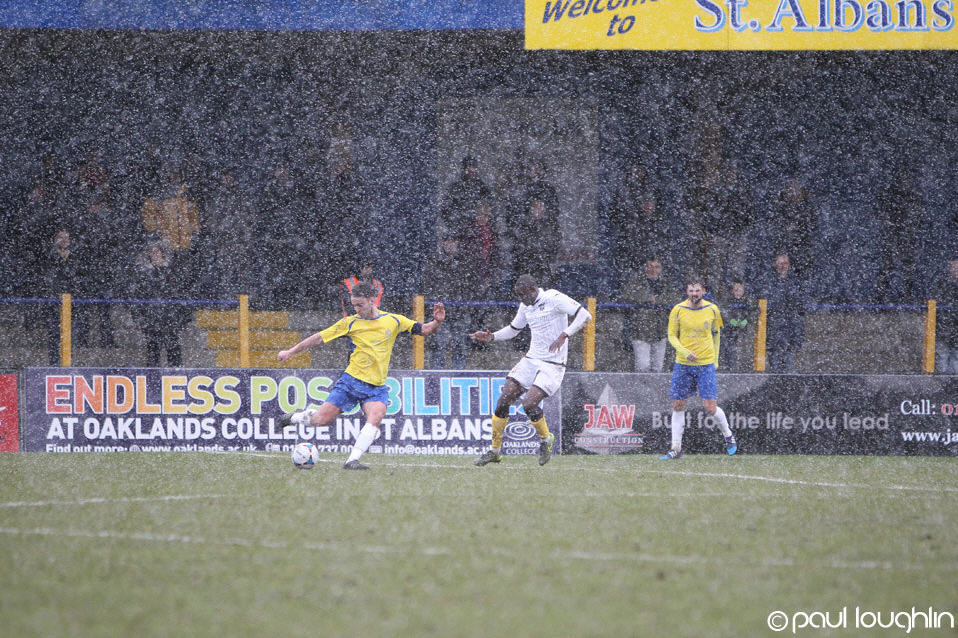 It's snowing!!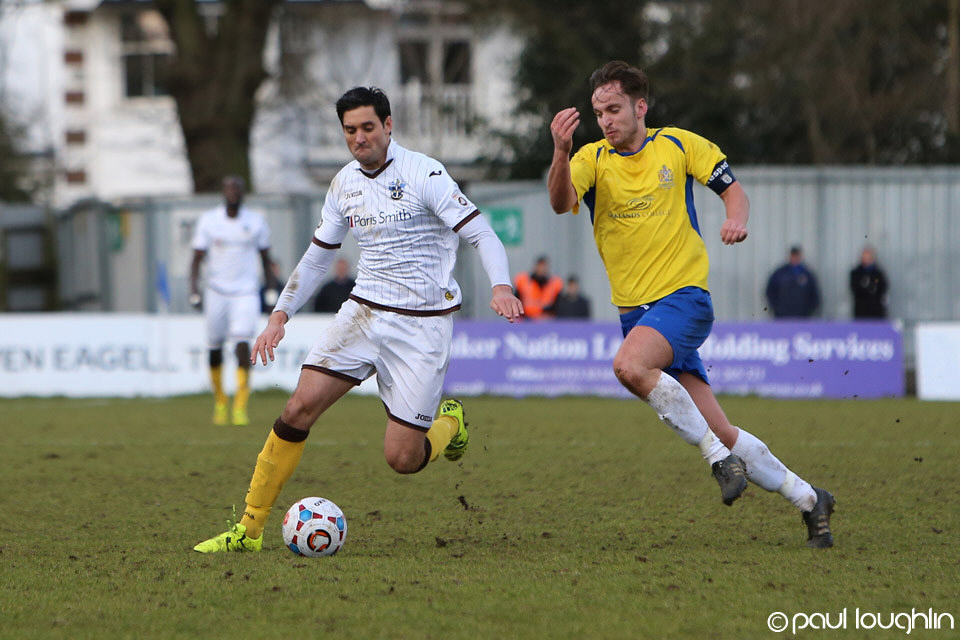 Slabber. Ineligible.
MARCH
Two months to go. And we find ourselves rolling along nicely now, not having lost in the league since back in November. Add to this some less than convincing performances by the everyone-thought-they-were-runaway-winners Ebbsfleet and with games in hand, both ourselves and possibly Maidstone can now possibly still pinch the league. How jolly exciting! Dos strengthens the side further by adding Jamie Slabber to the squad on loan until the end of the season from Hemel and we kick off Easter month with a trip to St Albans where, as per normal, we get pretty pissed up, although not as pissed up as last year. Oh and we win 3-0, thanks to a Ryan Burge brace. Lovely. Then our first stumble in a while, with Ebbs having drawn another 2 games we have a huge chance to close the gap some more at home to struggling Weston-Super-Mare, but they work hard, we miss chances and in the end have to settle for a 0-0. Not very helpful really.
Next is our first ever Saturday trip to Gosport (FERRY!!) where we again get properly boozed and win 2-0 away from home. Hemel once more show what a bunch of dicks they are by basically phoning it in at Ebbs and getting bummed 6-0. What makes it galling is those bastards can still make the PO's. Yeah, cheers lads. 0/10 for effort. We then turn our attentions back to the Surrey Cup, with a home semi against recent SSC nemesis Godalming. It's a terrible game to be fair and a mixed line up gifts the visitors a 3-1 win and a place in the Final against Merstham. It's safe to say, Dukey is not happy that we've missed out on another shot at number 16! Having never won at Gosport, we then follow up with another ground where we've never tasted victory. Wealdstone. It's a bit of a tense tussle, but Bedsy gives us the lead from the spot after former favourite Binnsy handles and then late on Louis John slides in the clincher (2-0) to help chip away at Ebbsfleet's lead that little bit more. The only bad news is we lose Ryan Burge for the rest of the season with an ankle injury. This week is also marked by Taz somehow managing to get this load of old shite (eg. Gandermonium) on BBC Radio London. Thankfully, given his potty mouth, it's not a live broadcast.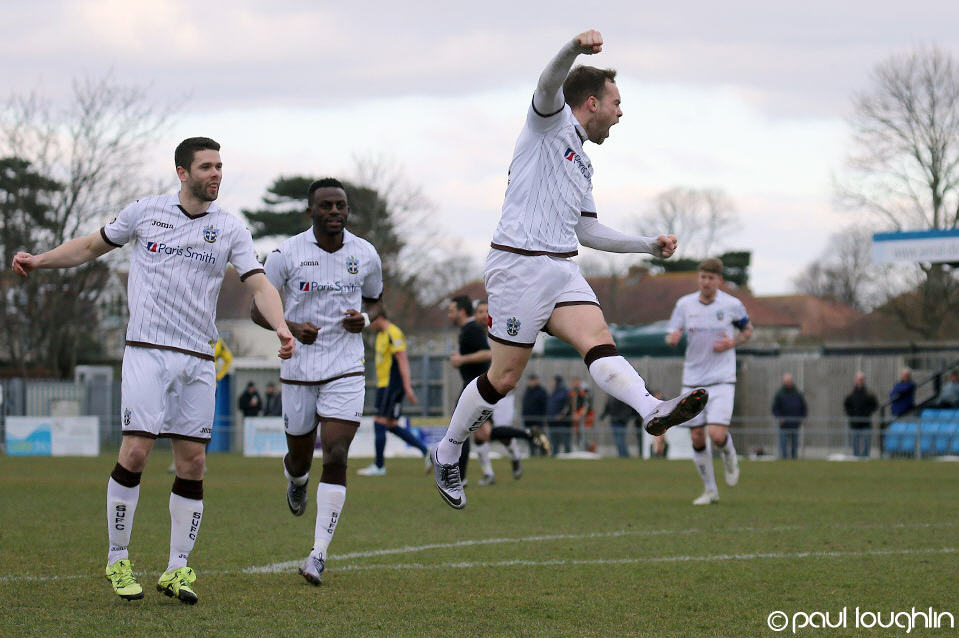 "We get to go on the ferry? YES!"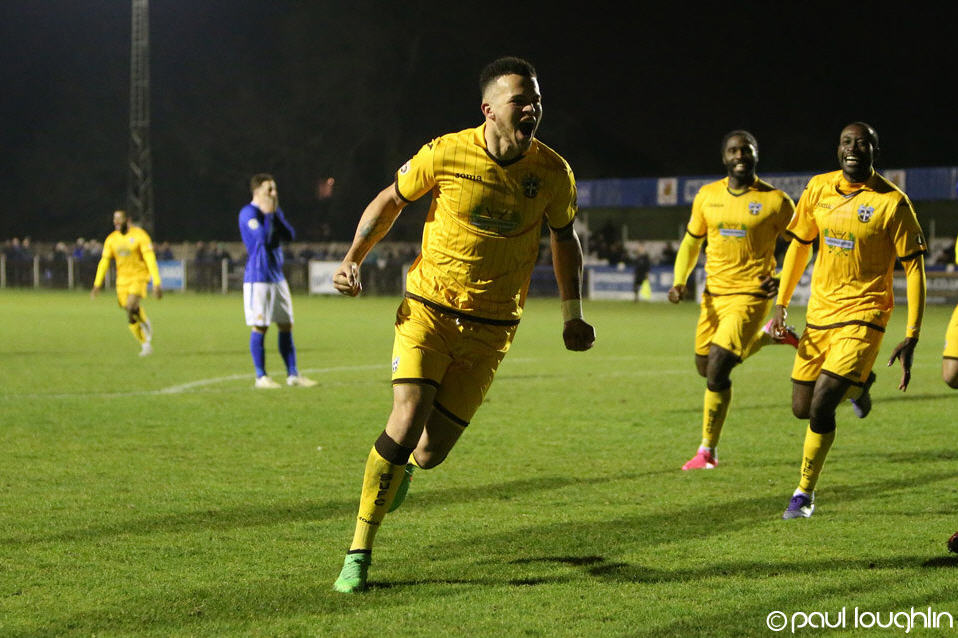 Louis finishes off Wealdstone!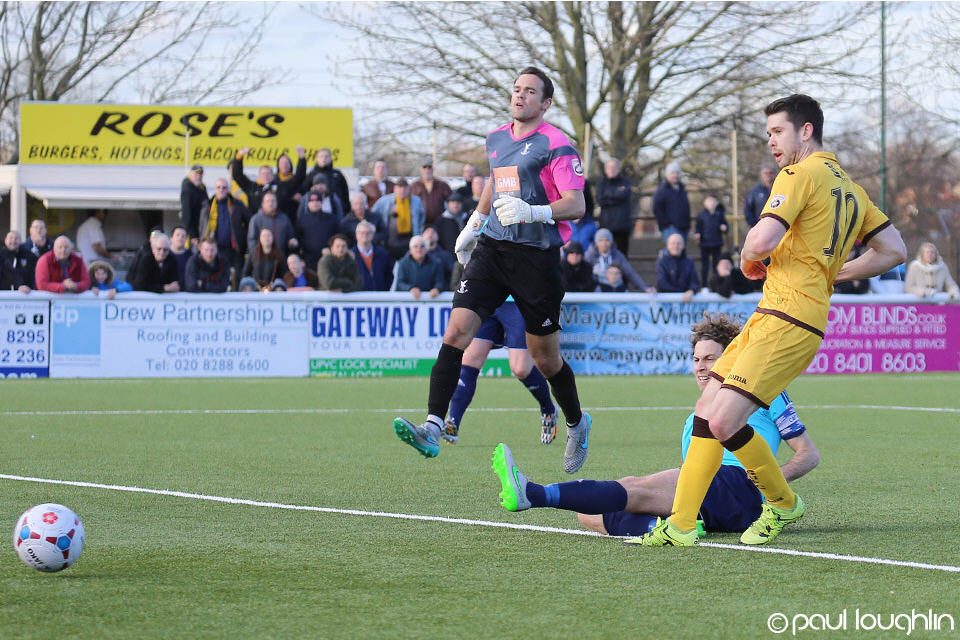 Fitch rescues the situation against Whitehawk
Easter weekend! Truro City away! More boozing! YAY! Ebbsfleet move their game against WSM to the Friday, so we all huddle round phones to keep track of the score at East Croydon station as they unbelievably manage to lose 2-1 to the Somerset strugglers. To make the weekend that bit better, goals from Stearn & Bolawinra give us a huge 2-0 win in Cornwall. The long journey hurts the lads though as we look very tired against Whitehawk on the Bank Holiday Monday (2-2), but thanks to a huge 2nd half effort we overcome a 2-0 defecit in the last 20 take a hard fought point, although frustratingly, Jamie Collins hits the post with a last gasp free-kick. The damage is minimal though as Ebbs draw again, this time against Dartford meaning we go into the last month of the season just 6pts behind them and with 3 games in hand. Also lurking are Maidstone, but their position is a little tougher as they're 5 back with 2 in hand.
APRIL
Here we go. The home straight. And one that at the end of it could possibly be a league title. Christ on a bike! We start off with Eastbourne at GGL, with the visitors fielding several ex-Sutton lads. We fall behind, but fight back to win 2-1 thanks to Gomis and Fitchett to get another 3 vital points, as both Ebbsfleet (5-0 v Hayes) and Maidstone (2-1 v Stalebuns) have also both won. Afterwards, it's quietly announced on Twitter than Stuart Fleetwood has left. Still, this latest win sets up the biggest game of the season so far beautifully, a midweek trip to Maidstone.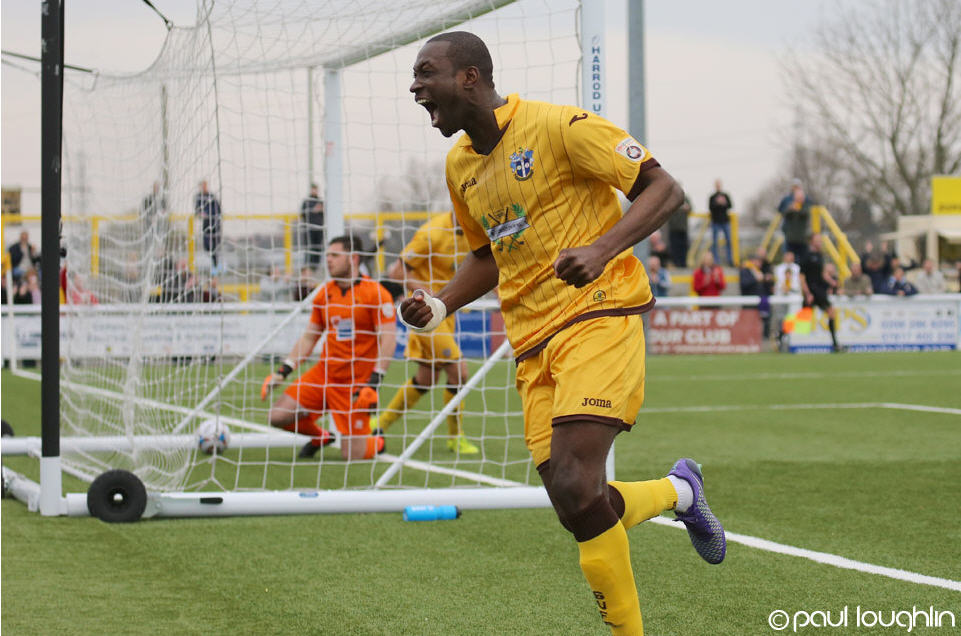 Bedsente Gomis, you fucking gorgeous man you!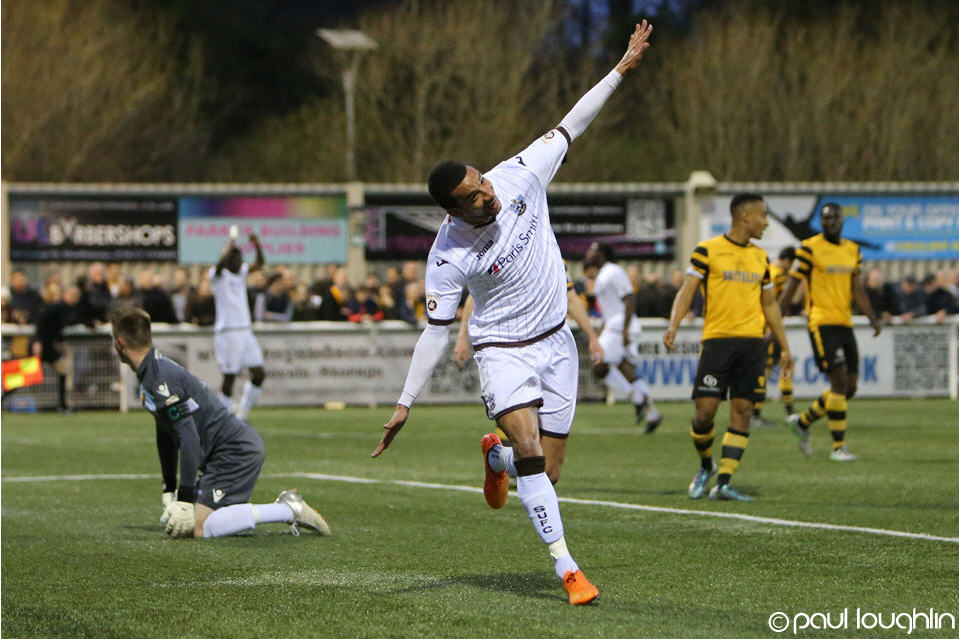 NEEEEEEEEEEEEEEOW!!!
"YES! I was an aeroplane!"
In front of a 3,030 full house, the U's frankly start like a fucking train and goals from Wishart and Eastmond inside the first 10 minutes put us well in control. Just as it looks we're going to run away with things a spanner is chucked in the works after 25 mins when Amankwaah is sent off for raising his hand to Lee Worgan. Although the stopper makes a disgraceful meal of the situation to ensure his oppo gets the red card. The lads dig in though and despite the man difference, are rarely troubled by hosts who seem to lack a plan B outside of lobbing a huge long throw into the box. A mis-hit cross floats in late on to make the score a far more flattering looking 2-1 but the boys see the game out and a couple of hundred travelling Sutton fans are left ecstatic at the final whistle. The huge win takes us into 2nd place, now incredibly just 3pts behind Ebbsfleet and still with 2 games in hand and a better Goal Diff. Oh god! This could actually happen!
The joy of that win is short lived for U's fans however. The following morning, the club announces that we face a charge from the League of fielding an ineligible player. Apparently Jamie Slabber, against St Albans in March. If we are found guilty, we could lose the points for that 3-0 win, which while not entirely fatal to our title hopes, it would certainly let Maidstone and Ebsfleet right back in. Fuck you Football gods, fuck you.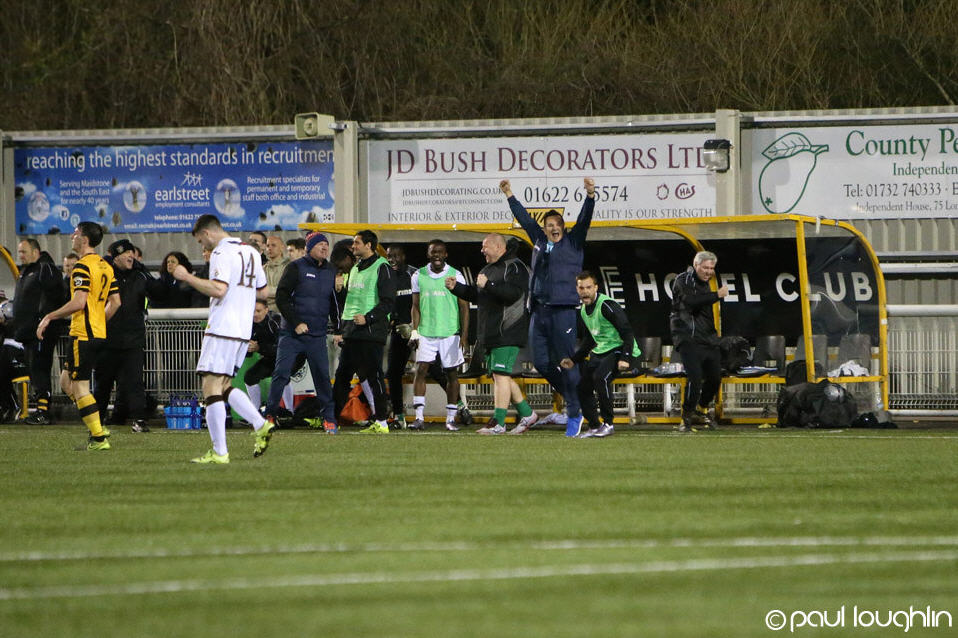 Delight! The final Whistle goes at Maidstone.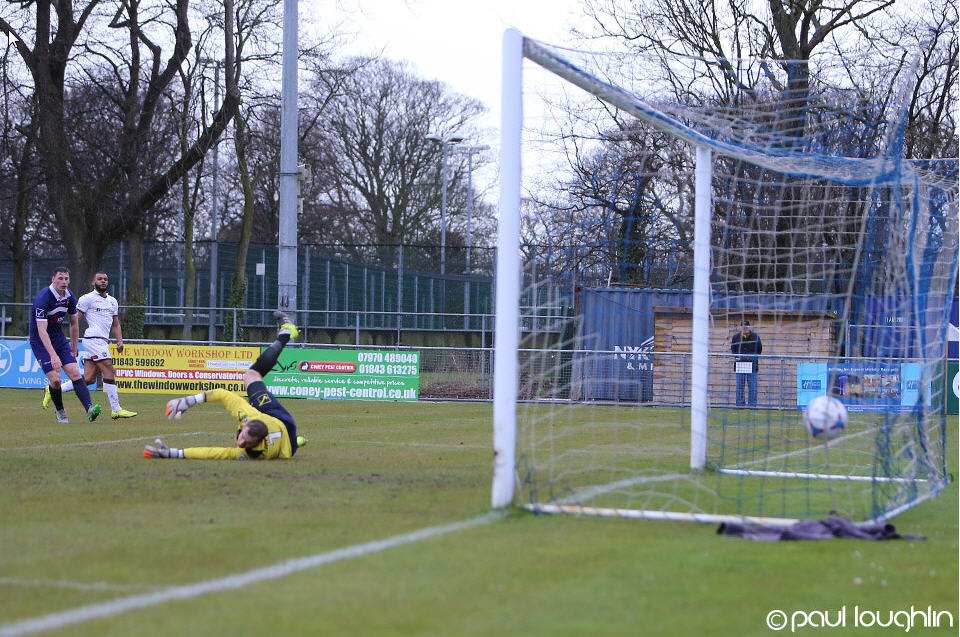 Wish rattles in number 4 at Margate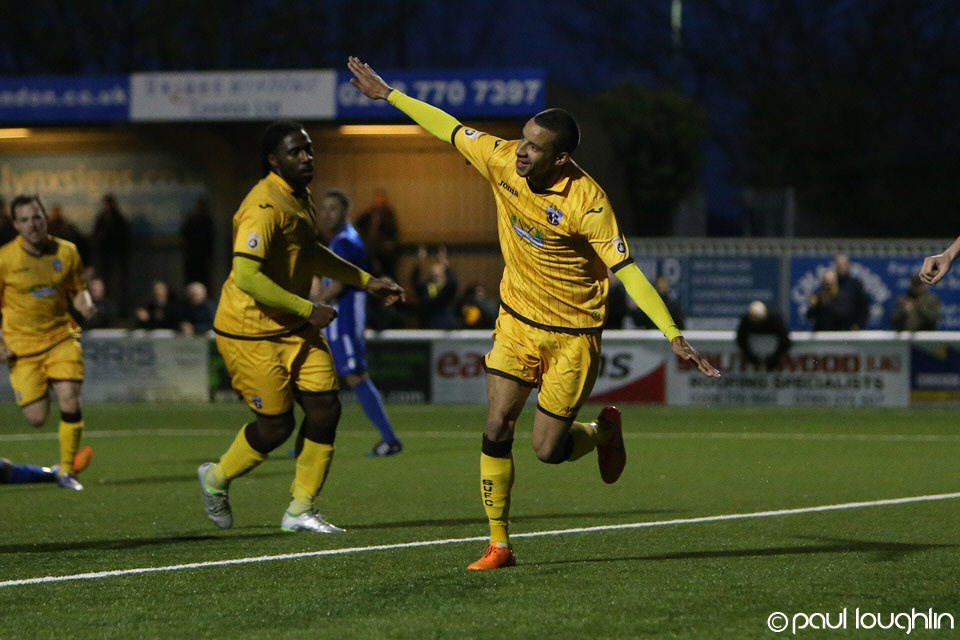 "That Eastmond fella is at it again…"
Still, even if they do deduct us those points, the maths are simple. If we win every game, we'll still win the league. So it's heads down, forget about off field issues & get on with it. Off to Margate we go! Now back in February this lot had won 6 on the bounce and looked to be play-off bound. Since then, they'd lost 8 on the spin and their money man has departed. We make it 9 as we barely get out of 2nd gear to thump a doomed looking side 4-0. We even go top of the league for a short spell as Ebbs trail in their game, but they come back to win keeping the status quo at the top. It does become a 2 horse race however as Maidstone drop another 2-1 at home. Our victory also sets a new Conference South record of 22 games without defeat. Boo ya.
We also pass 100 cautions for the season whilst down in Kent. Which is some going! The 99th has us humming that song about balloons by that German lass.
Bishop's Stortford are next up at GGL as we use another of those games in hand over Ebbsfleet. The visitors are missing a few, but still make us work hard for our third 2-0 win over them this season. Eastmond fires us ahead before HT and Collins tucks in a late penalty to secure a result that should have been decided ages before as we miss a hatful of chances. That win officially takes us top of the table on goal difference. The first time Ebbsfleet haven't held the lead in 33 weeks. #timing.
Now, it's time for the big one. Ebbsfleet at home. Blimey.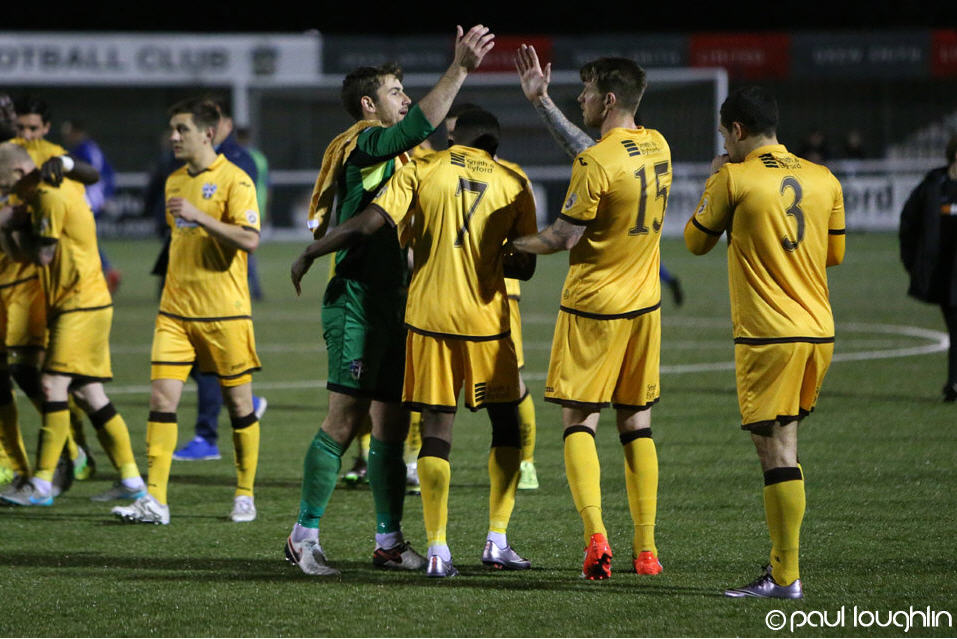 TOP OF THE LEAGUE!! Celebrations after Stortford at home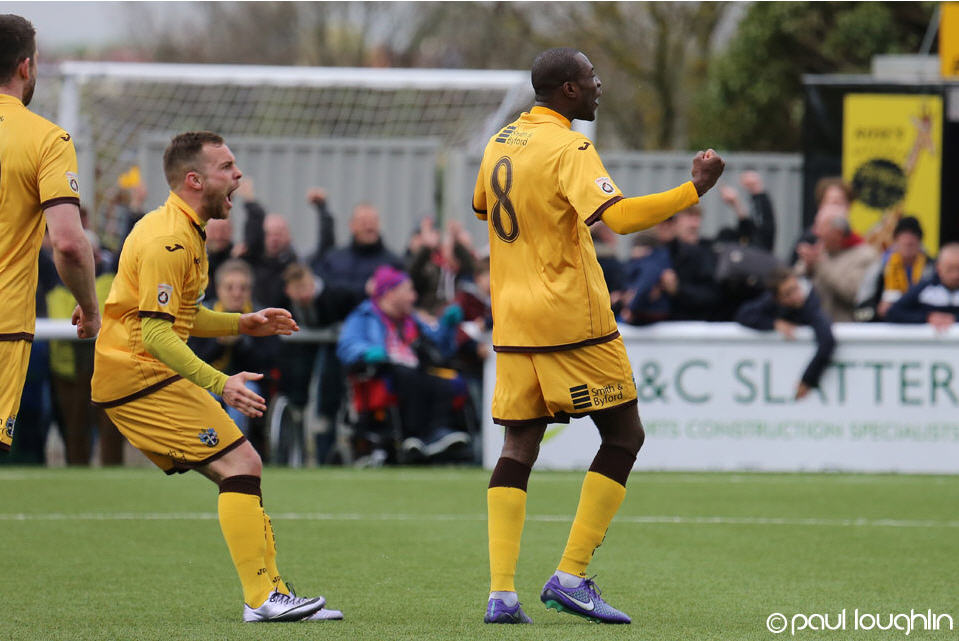 GET IN THERE! Bedsy makes it 2-0 from the spot v. Ebbsfleet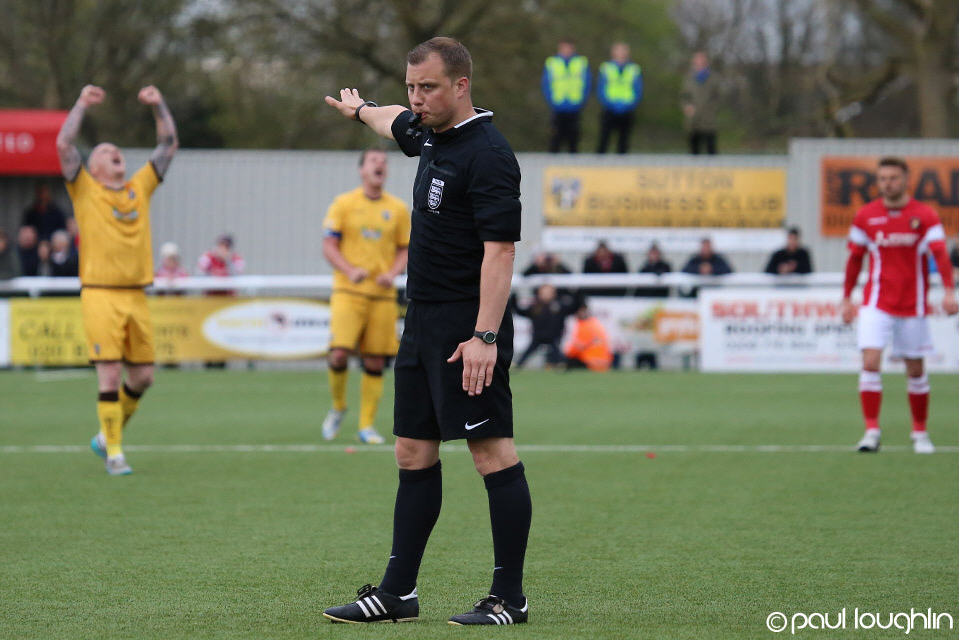 The sweet taste of victory. Final whistle v. Ebbsfleet
Given the top of the table, winner takes all sort of vibe with this match, a huge 3,142 pack into GGL including several hundred from Gravesend to see who comes out on top. And after a nervy first 15 where the visitors pressure, it's thankfully us. Fitchett prods home a Tombo cross and then Gomis cracks in a penalty right on half time after Stearn is fouled. Ebbsfleet never recover and the second half is largely stress free as the U's record their 24th game without defeat (2-0) and go 3 points clear at the top. PARTY TIME!
With the Ebbsfleet win, this means we really need to win one of our 2 remaining games what with the threat of that points deduction hanging over us. However, on the Friday before the Chelmsford game, we get the news we'd all dreamed of. No deduction and we've copped only a £500 fine. Meaning we now instead only need a point for the title instead of all 3. COME ON! In the end, the boys once more get the job done and 1st half goals from Fitch (his 21st of the season) and Stearn give us yet another comfy 2-0 win.
Fuck a duck, we've only gone and won it. We're bloody CHAMPIONS!!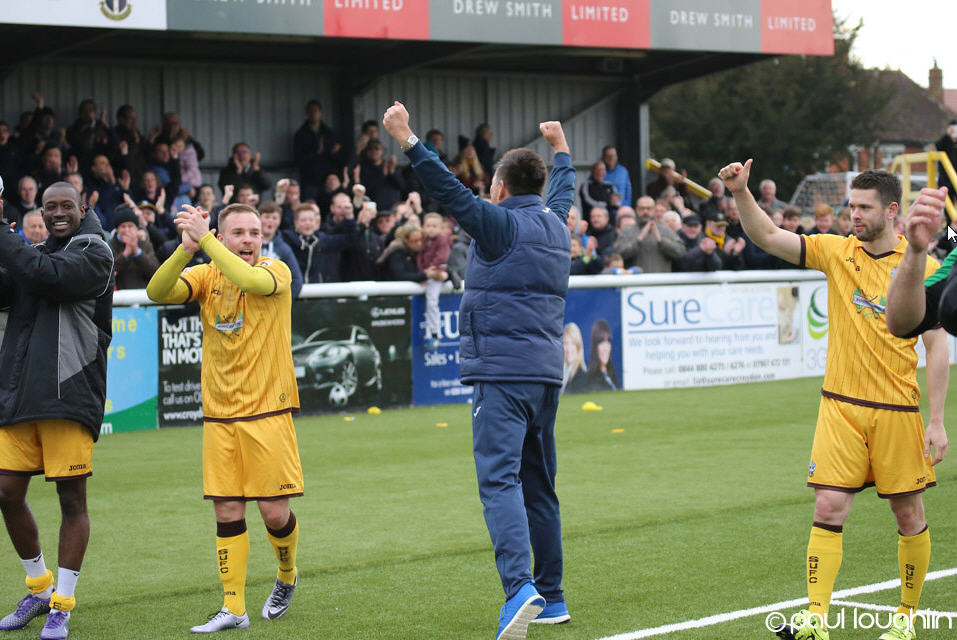 Dos greets the masses post-Ebbsfleet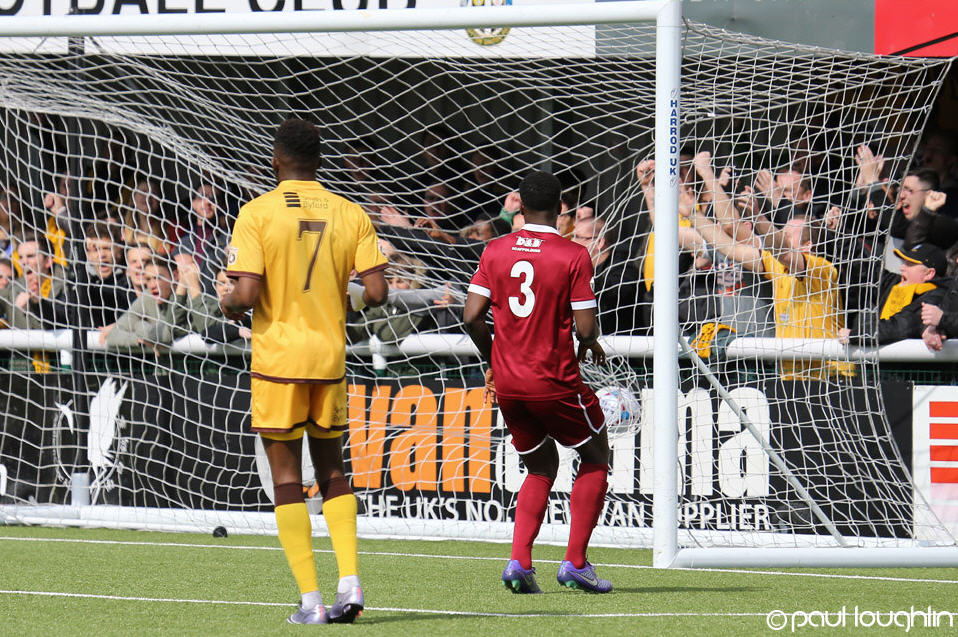 Fitch gets the party started at home to Chelmo!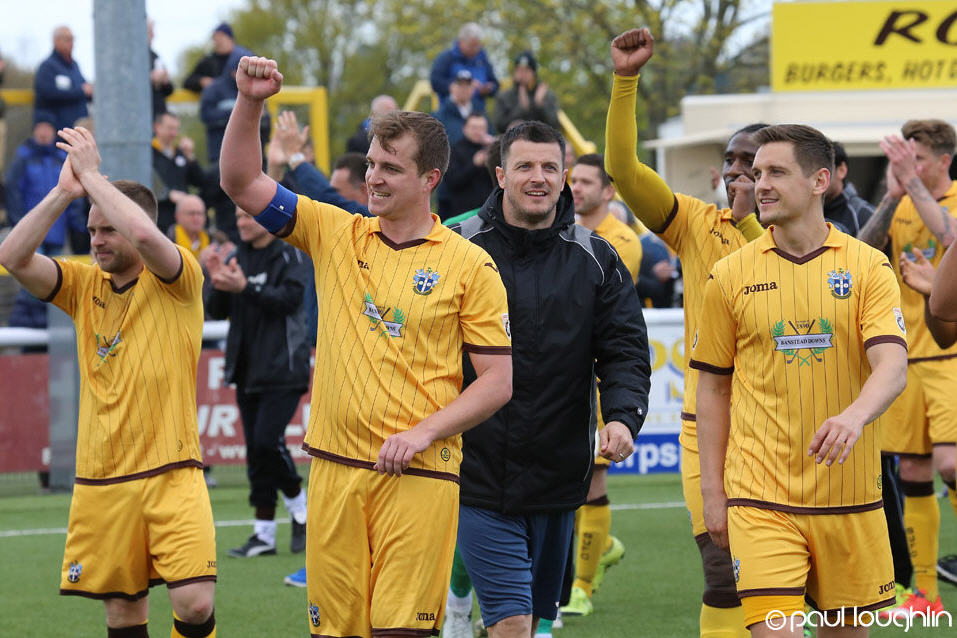 "Hi! Yeah. That was us. We did it. You're welcome"
The celebrations last long into the night at the end of season do where Ross Worner picks up the Supporters Club PotY, Craig Eastmond Club PotY and Dundo's goal at Concord takes the Goal of the Season vote. One of the Vanarama signs also may or may not have been stolen borrowed at the end of the night. Er, so a bloke in the pub told us. Ahem.
To complete what has been an incredible season, the U's head to Oxford City for the last match of the season, but not before the Factory of Sadness down at Carshalton parts company with yet another manager! Apparently it seems Dippy has been sticking his oar in once again and Chris McGinn decides to give it bollocks. Tut tut! Backed by the usual idiots (that's us) and two coachloads of fans, it's a typical end of season game. Played on a rock hard, shockingly bobbly surface the lads just get the job done and Tombo cracks in the only goal to take a 1-0 win and round off the campaign with an amazing 26 games unbeaten.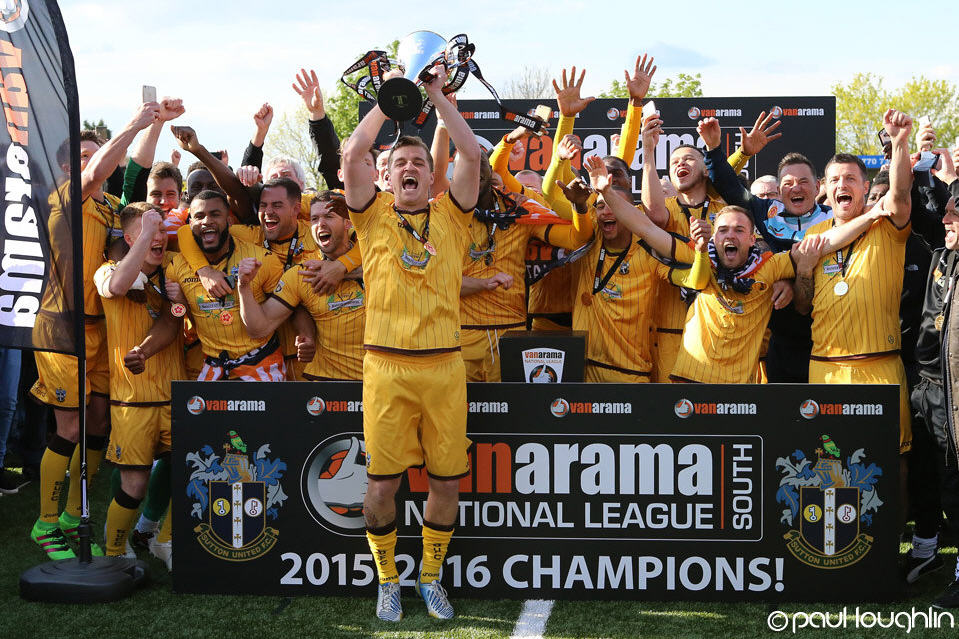 CHAMPIONES CHAMPIONES OLE OLE OLE!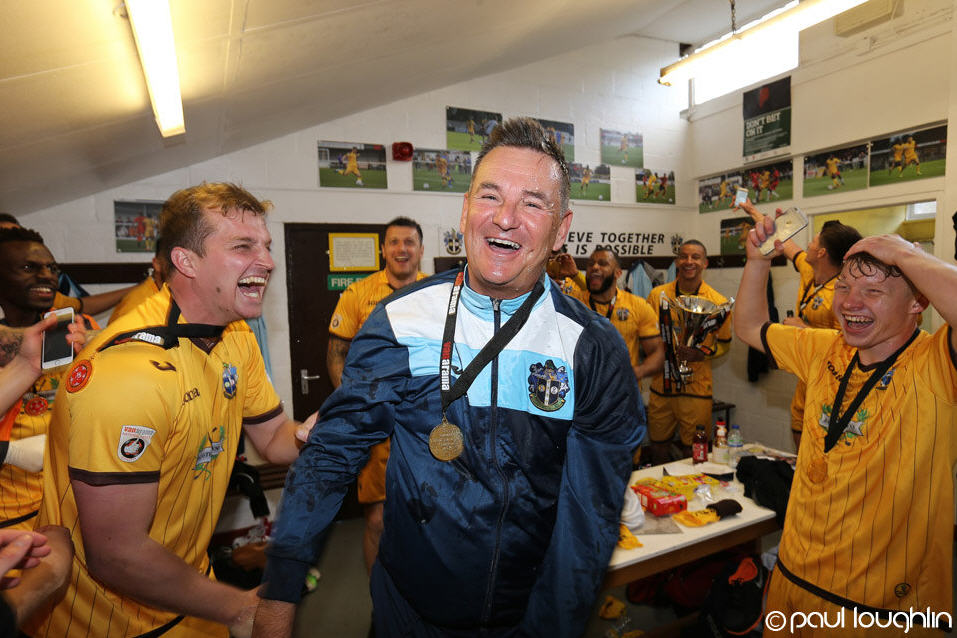 "And then they had to re-book the whole Vegas thing!"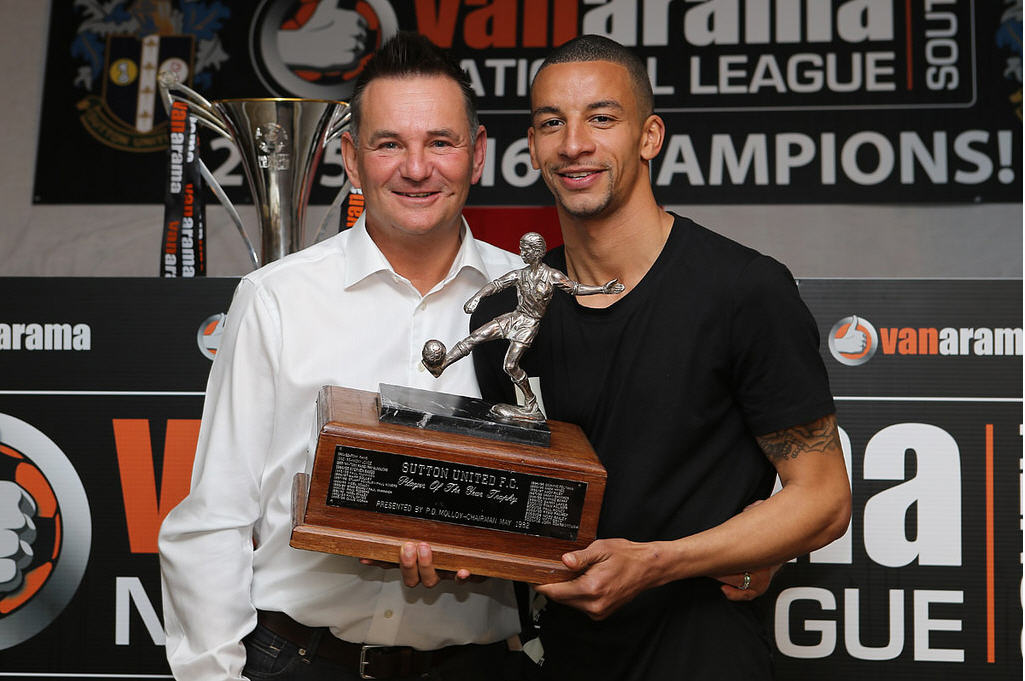 Craig Eastmond. Midfielder, aeroplane impersonator & PotY
This somewhat successful outcome to the campaign means we can also smugly put our feet up, crack a can and watch other people go through the misery of the play offs! In the National South, Ebbsfleet's implosion is completed as they lose on pens to Maidstone in the Final, the visitors levelling with an injury time goal at the end of Extra-Time! El Plastico will live on in the National! North Ferriby come out on top in the Northern equivalent against Fylde. In the Conference, we're passing old friends Welling, who've finished bottom after a terrible season. Borehamwood stay up on the final day however. Er, yay? Dropping into the Conference from the Football League are York and Dagenham, whilst Cheltenham (Champions) and much to Dukey's disappointment, Grimsby (beating FGR in the Play Offs at Wembley) replace them. But Dover & Braintree's participation in the big boys post season party is surely something for us to aspire to? If they can, why can't we? Elsewhere, Hampton win the Ryman title with ex-K's gaffer Dowson at the helm whilst East Thurrock join them in the National South via the PO's after beating Mumford & Sons Dulwich in the Final.
Funnily enough fact fans, the last time we won a 6th Tier title to be promoted to the old Conference, the Conference Champions that same season? Cheltenham Town. Weird eh?
And that's it, we're done. We're now off to work out how far in advance you can book train tickets to the likes of Gateshead, Barrow and Tranmere. And North Ferriby. Wherever the fuck that is. All the mob here at Gandermonium would like to raise a glass and thank you all for reading this crap once more. We'll only stop doing it when you stop reading it. And that's not a dare by the way.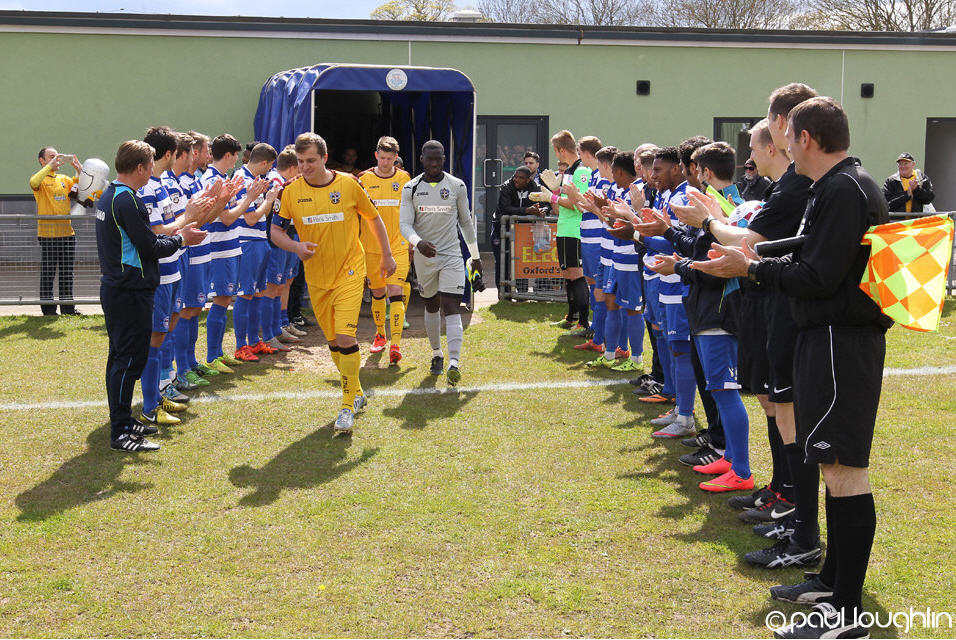 Guard of Honour at Oxford City.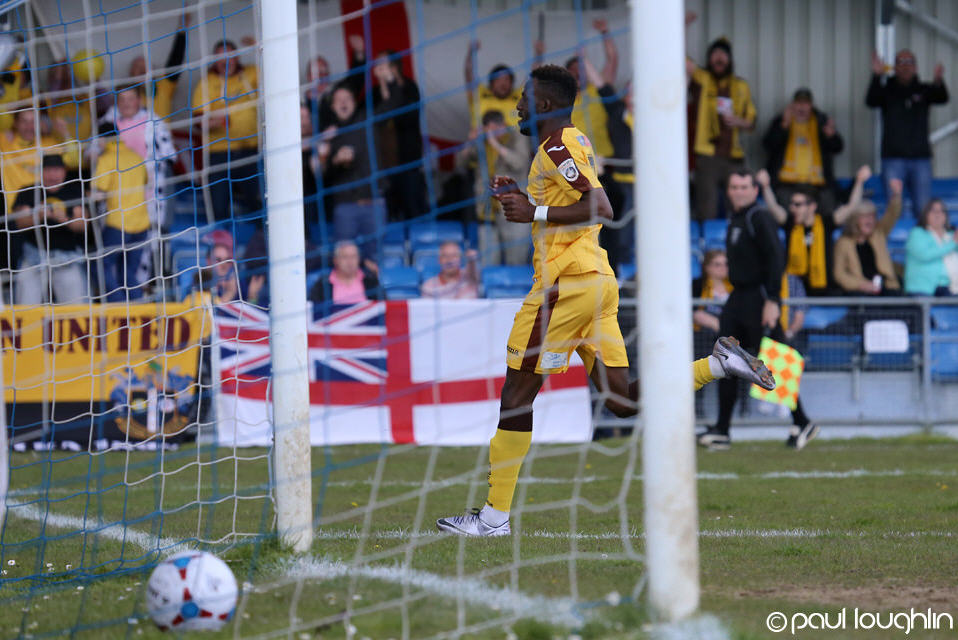 Tombo notches at Oxford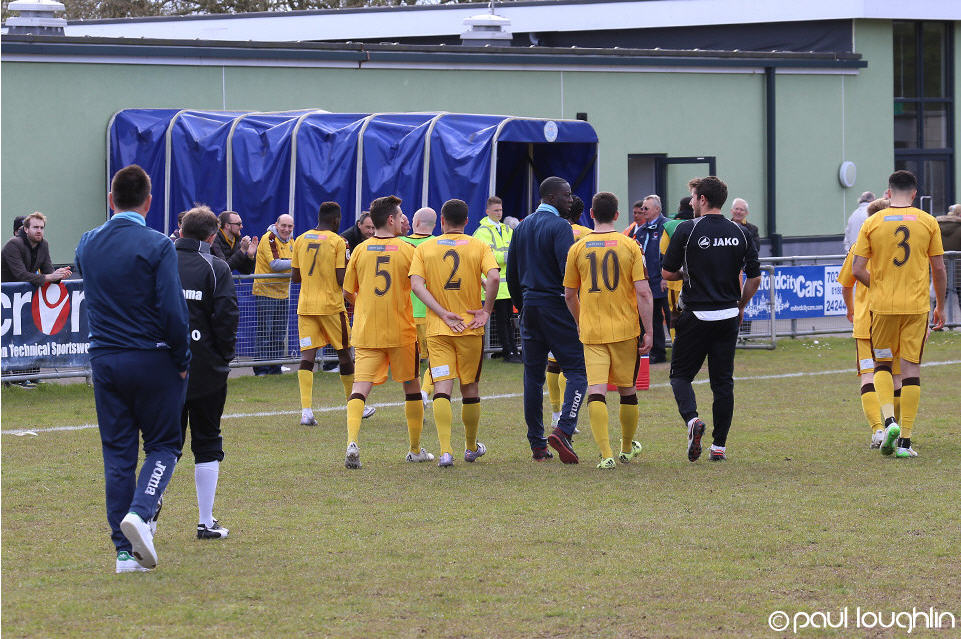 Pictorial metaphor for the end of the season
See you next season.
Championes, championes Ole Ole Ole!!
Taz, Dukey, Totts & Robbo
We'd like to thank the jolly good sport that is Paul Loughlin for once more allowing us to rob his superb pictures from this season and make this round up look far more professional than we could ever hope to! Check out the full sets of his stuff on Flickr HERE. They're dead good.