As we're Non-Leaguers, our FA Cup interest usually begins somewhere around SeptemberOctober time. And frequently ends around then too. But if we're really lucky we might get to stumble through a couple of rounds, pinch a few FA Pounds for the kitty and get our name in the paper. So when the Final rocks round come May, we've usually already got our feet up at home. And if we're feeling really active, we'll go to the pub and watch it.
And this year, the plan was much the same. My old man was heading down to a local to partake of the live televisual feast along with a couple of pints and I was planning to join him. That is, until a fellow Non-League loser got in touch. Simon, our old mate from down in Weston-Super-Mare, gave me shout with the news that he had 2 tickets for the final despite being neither a Palace or a Man United fan and the lad he'd got the other one for had let him down. So, did I fancy it?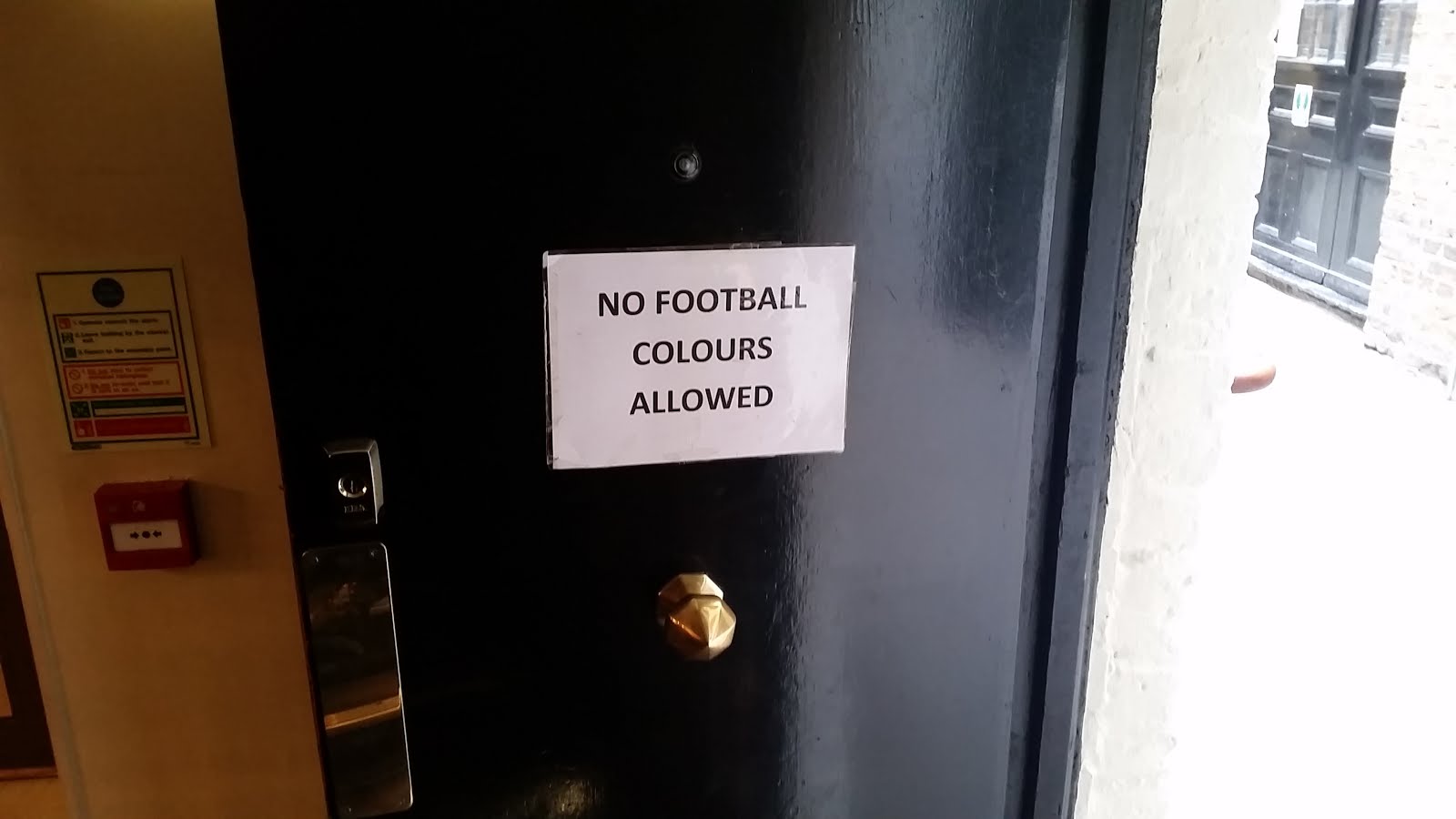 Well that's unfortunate…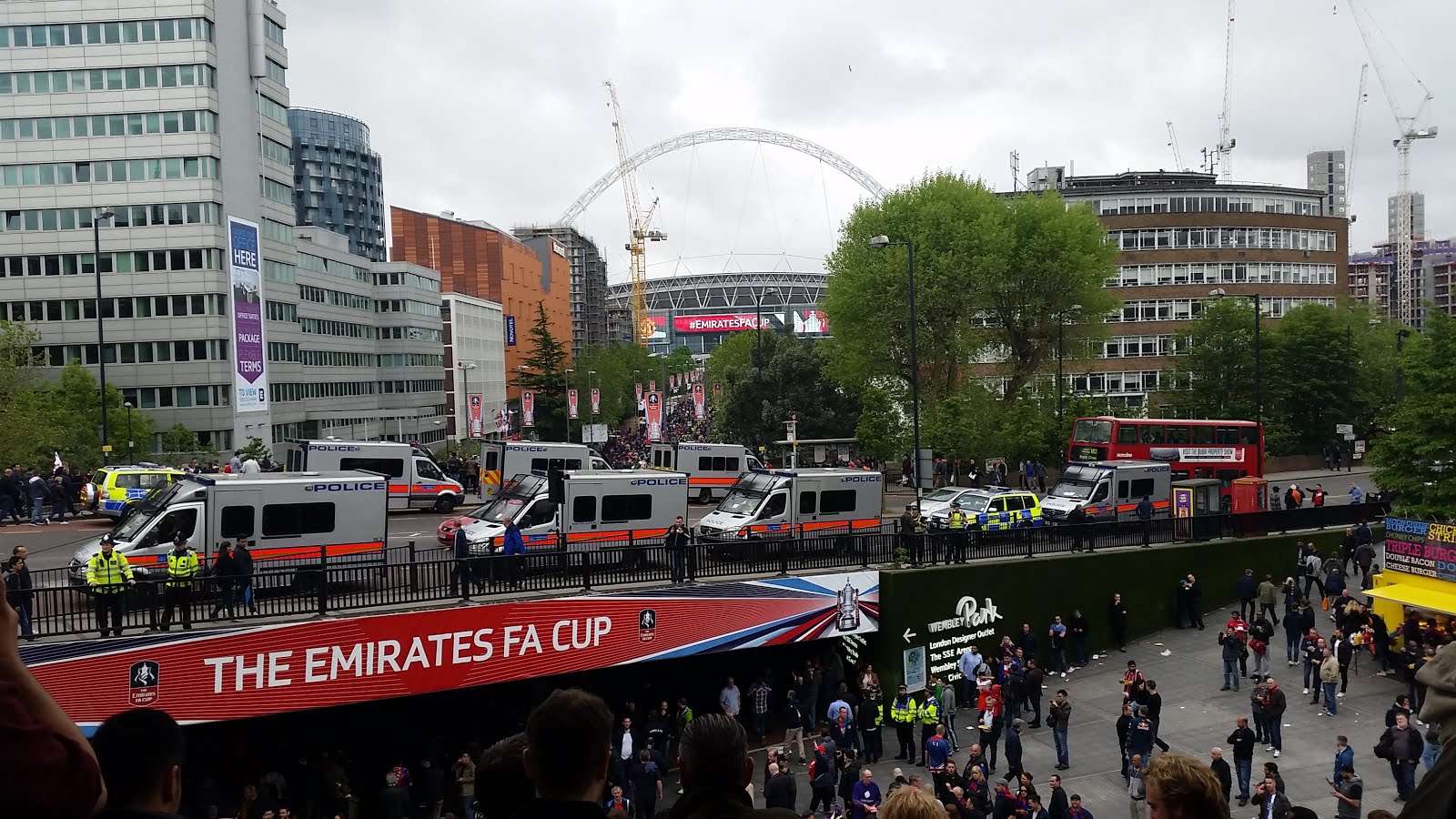 Scatter, it's the rozzers!
Sure, why not. Beats watching it on the telly I s'pose! And to be fair, it's a while since I'd attended the FA's showpiece event. The last one being Wimbledon's win over the Scousers back in 1988, so I was yet to see a serious game at the new stadium. And with such a recent visit under my belt, you can probably understand why I thought it was still a 3pm kick off. Seriously, what div thought 5.30pm is a suitable time for the season's curtain call eh? Ridiculous. Still, it means I can meet Simon on his 1pm arrival and get a few refreshments in beforehand. Certainly a lot more than we would have had it actually been a traditional start time.
For a change, Gandermonium's Weston chum has chosen to be a Bus wanker today and lets National Express take the strain instead of the choo choo as normal. Now, you wouldn't catch us fucking dead on the things, but his reasons for this are simple. It's £25 return instead of about 70, it actually goes back to Weston directly and thus means there's no getting stranded at Bristol Temple Meads having missed his connection Or worse, waking up in Exeter if he gets really lashed up. Also, the last bus out of Dodge is at 11.30 tonight, compared to about half 8 for the train. So we can get right on it after the match. Lovely.
Another bonus of the coach method is that it makes meeting properly easy and means I can leave HQ at dead on noon and via East Croydon be at Victoria coach station by 10 to 1. Well, the departures part that is. Having wandered in via the main entrance, I follow the 'Arrivals' signs right through the entire length of the fucking place before finding myself back out on the street 50 yards down the road from where I'd first entered. Erm, did I miss something?
My confusion is short lived though as across the road is a small entrance with a National Express sign above it and another labelled 'Arrivals'. So yeah, having signs for an area that are in a completely different building, not at all confusing that. Twats. Despite this transport related shithousery I'm soon hanging about casually in the right place just mere moments before Si disembarks from his hellish mode of transport, so I put on my best "About fucking time, I've been here ages you bastard" face and greet the weary traveller as warmly as possible. "I'm parched. Your round mate!".
I know, I'm all heart.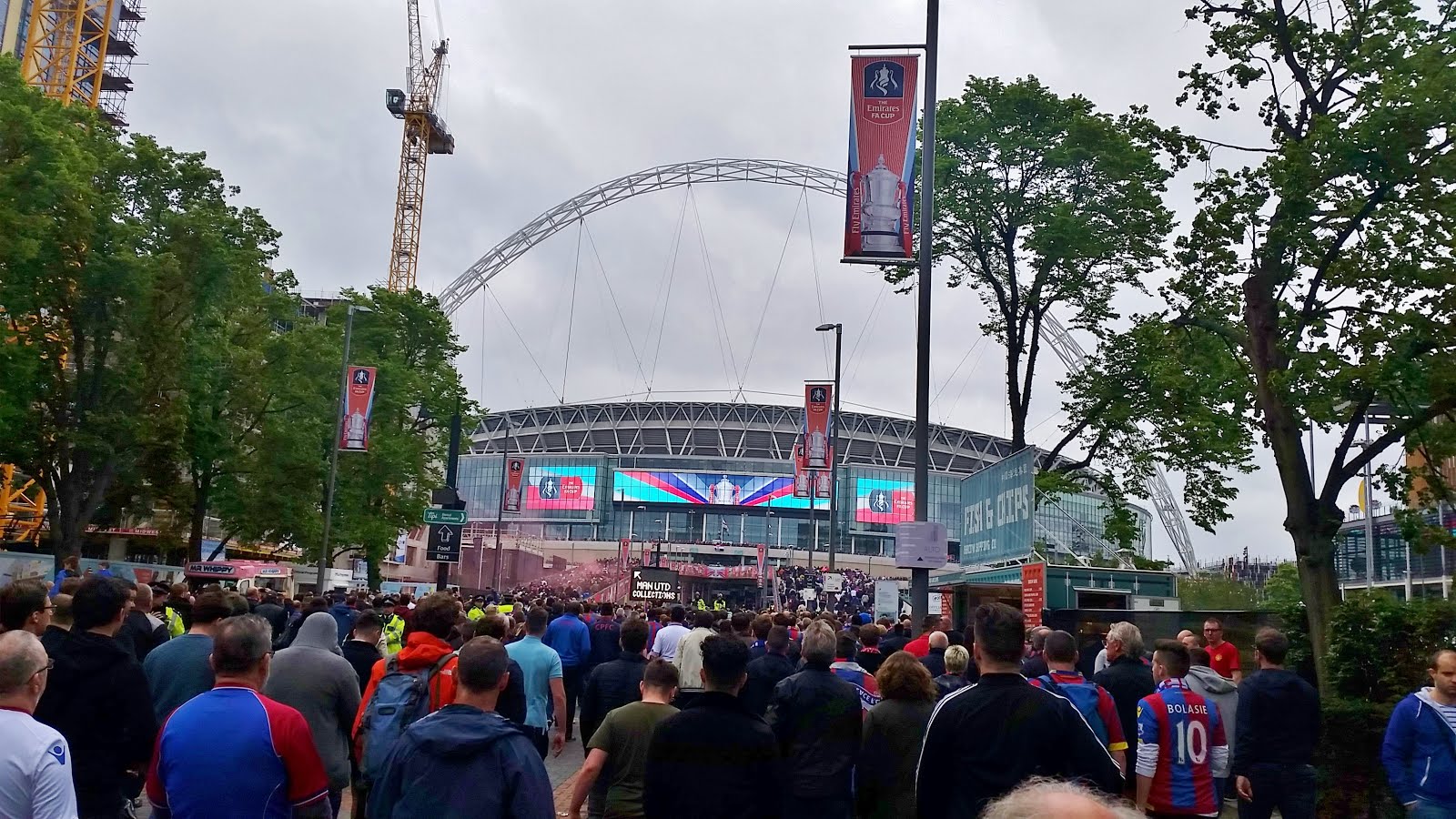 Still not as good as the towers,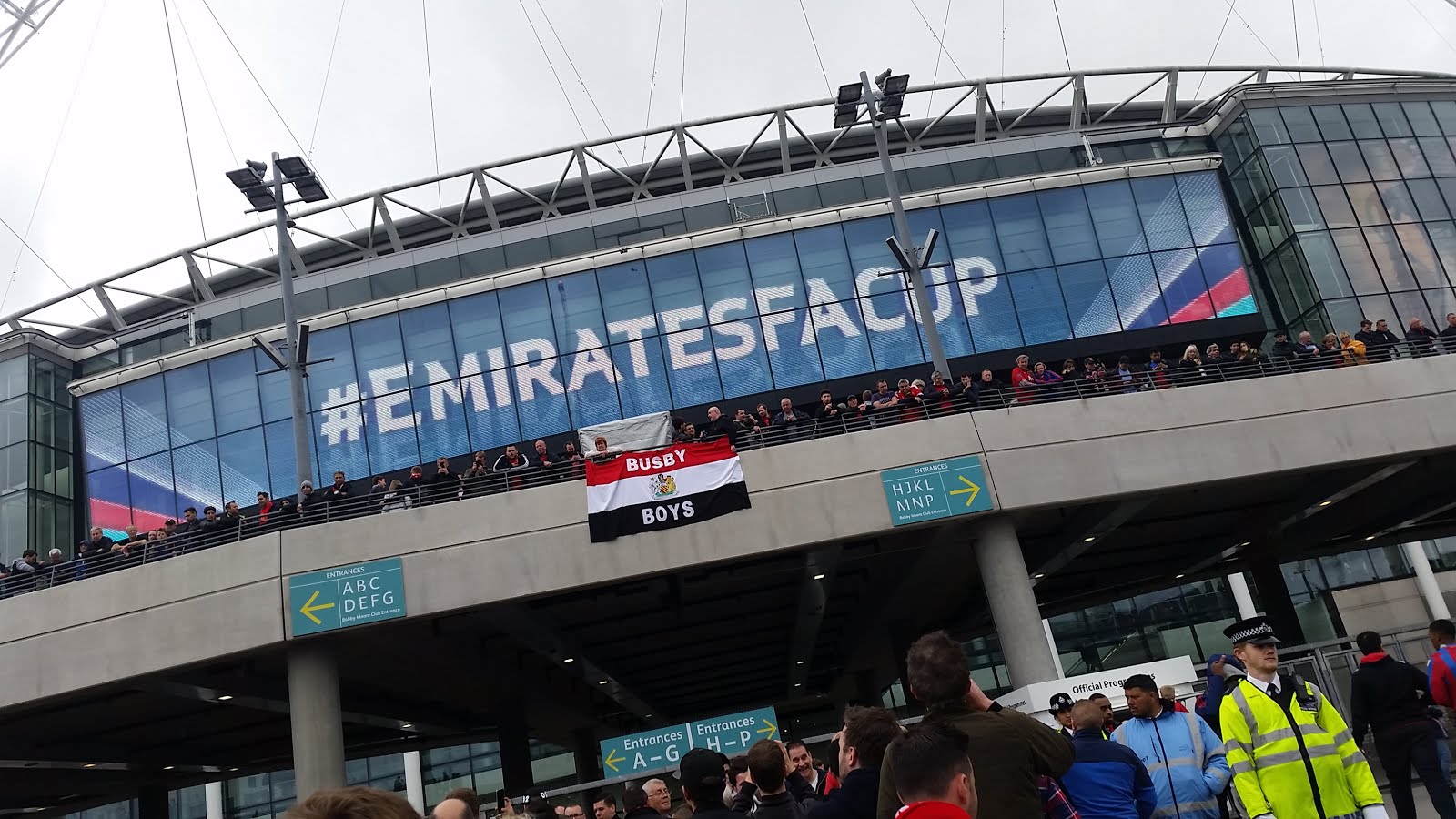 Busby Boys
A quick bit of Tubeage later and we're strolling up from Embankment looking for a suitable location for pints. We settle on the Chandos between Leicester and Trafalgar squares. Here we order some oddly named own brand beers that used to be far cheaper than they now are from a man with a South African accent so thick he makes Eugene Terreblanche sound like he went to Eton. Then we realise the bloke stood next to us at the bar is wearing a Morpeth Town shirt, no doubt in town for their big Vase final tomorrow against Hereford.
Next up is the charming Harp around the corner. Normally, this small little one room place is rammed, but there's plenty of room on this occasion so we get the beers in and continue discussing all sorts of shite from the season just gone, to weight loss and hipsters in football right through to the EU Referendum. We also have a chuckle at the 'No football colours' sign on one of the doors in the place, mainly as we're about the only people in the gaff not wearing any.
One more pub follows just up the road from here and then it's off to Wembley we go. Although this proves a right pain in the arse with the Tubes giving us some jip. Still, we're on Wembley Way by 4.30 although having decided to sack off a possible food stop. We wind our way around the ground looking for our entrance, Gate A serenaded as we go by some lads singing "Rashford's on fire" to the tune of that Wigan song that's doing the rounds on YouTube lately. Given how quickly it's been picked up, I can see that one getting really old really fast next season. What happened to originality eh?
We're soon through the turnstiles and whisked up to our level on escalators. Which puts our seats in the 3rd & final tier of the ground. Seats that have a face value of £65. Or to put it into another context, just over 75% of the cost of my Sutton season ticket for next season. For 90 mins. Up in the gods. Have a fucking word with yourselves FA. The 'matchday experience' is little improved here on the packed concourse. Deciding to have a beer before kick off, we queue at one of concessions and I order 2 pints of Budweiser along with a hot dog as I'm absolutely Hank Marvin. The cost? £25. That's right, twenty five pounds Stirling. Stunned, I hand over the readies, much to Simon's disgust. He's so outraged by the cost, he forces a tenner on me to make up for it. It takes a couple of minutes to work out what's occurred, but work it out we do.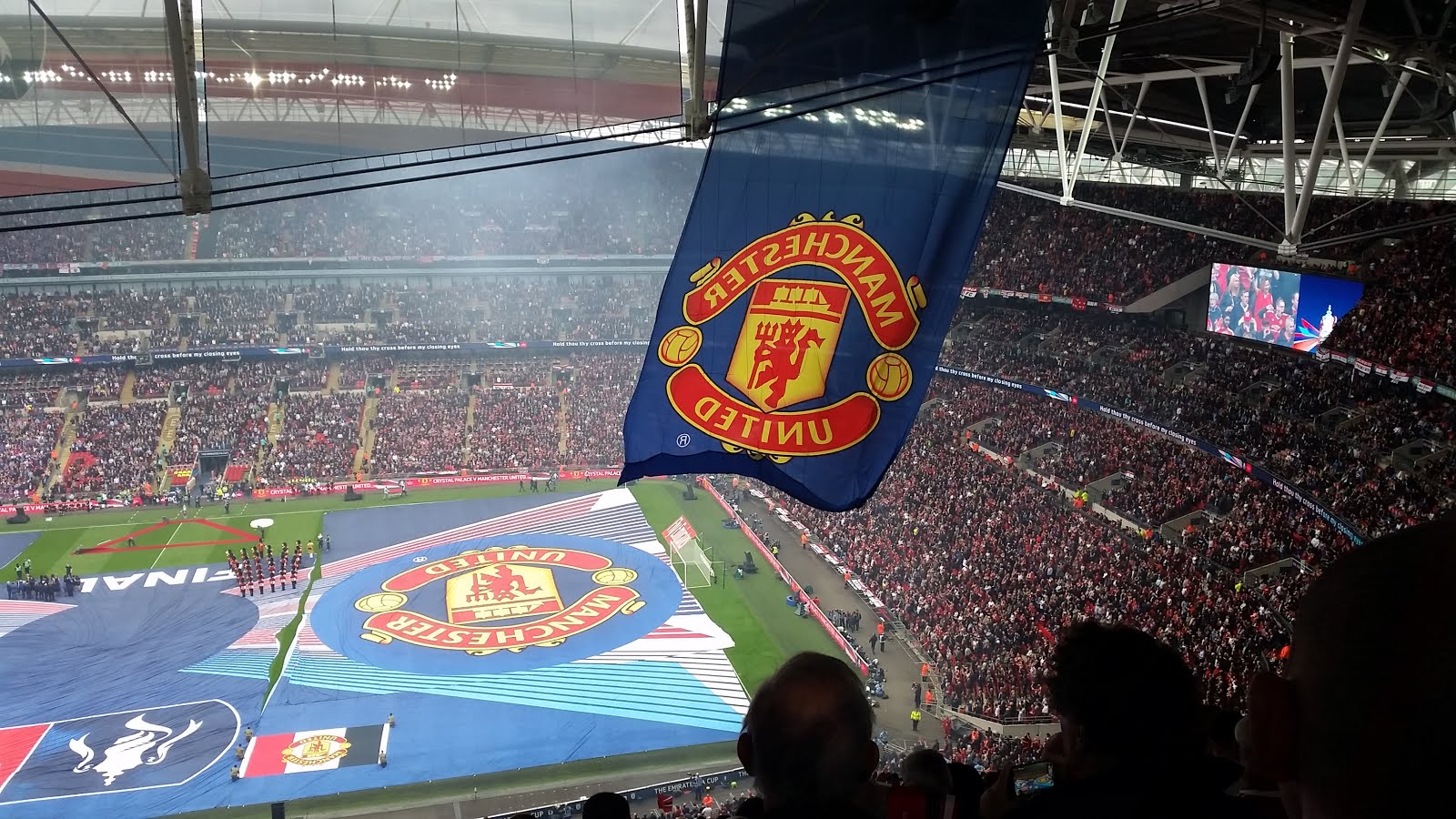 Waaaay up in the gods.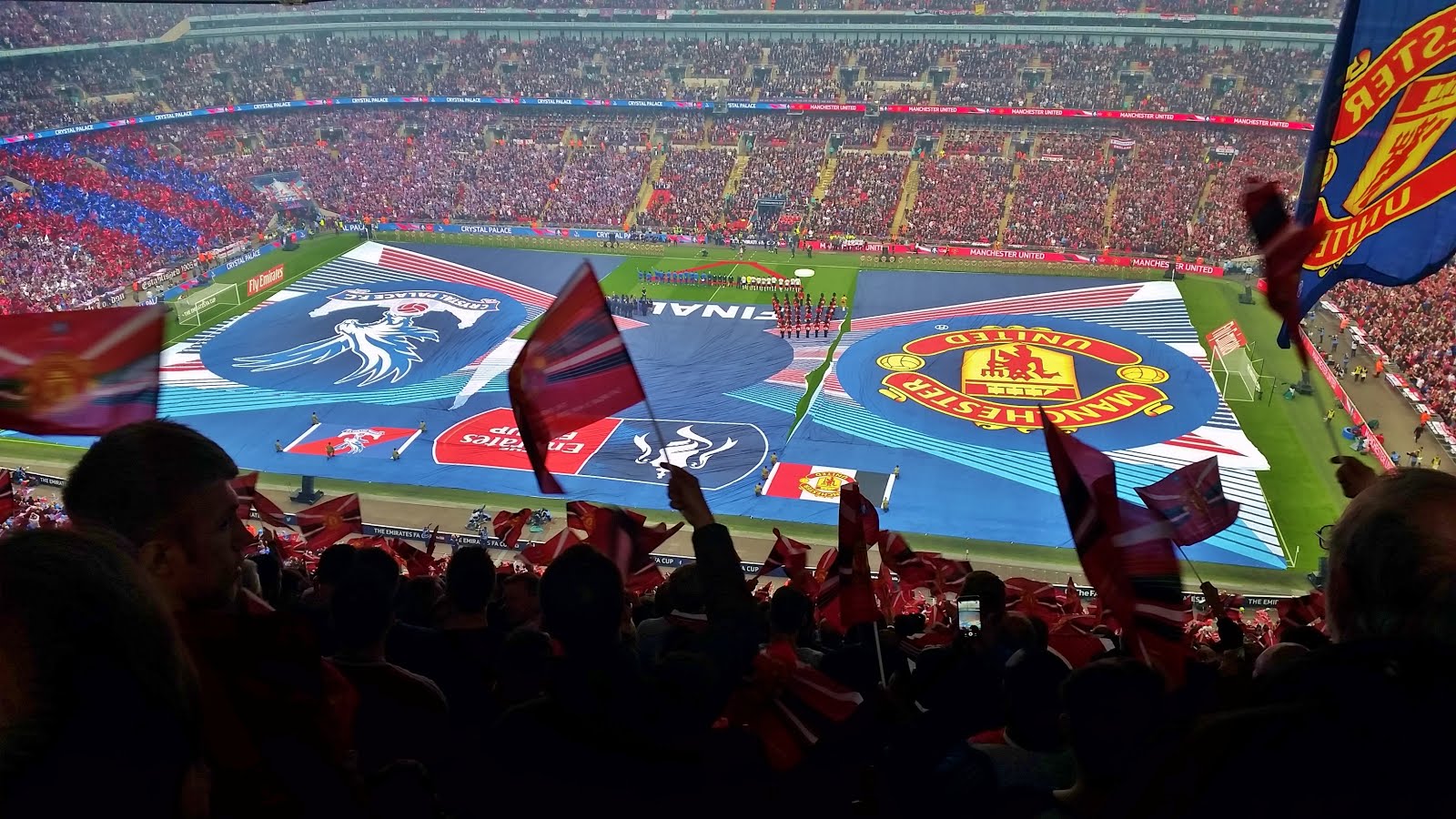 That's some lawnmower he's got….
It appears that the concessions are split into two categories. Food & Beer. Beer ones do, well, beer, whilst the Food ones do food, soft drinks AND beer. The difference is, the food outlets are charging a fiver for a bottle of Budweiser and it takes two to make up a pint, as opposed to just over a fiver a pint at the beer only counters. Hence how I've managed to get striped of a Score for 2 adult sized alcoholic beverages. So there you go boys & girls, some sound Gandermonium consumer advice. Don't buy shit in Wembley stadium.
Right, time to sup up our watered down Bud purchased at a price that would have an Oslo resident feeling queasy and go find our seats. Preferably before some Wembley employee has my fucking shirt off my back as well. It's a bit of a hike 'uphill' and we are indeed about half way up the top tier, albeit on the halfway line, so we do at least have a decent view. At this point, we then realise that the Somerset FA supplied tickets Simon has been supplied aren't actually a pair. Instead we're sat in 2 different rows and several seats apart! Fucks sake. With it getting busy, we both just park our arses and over a few text messages agree to keep an eye out for unused spots we could perhaps shift to at half time.
To my left are the Palace fans, with the blocks immediately behind the goal putting on some sort of display pre-kick off, no doubt arranged by their ultras mob. Despite this little bit of showing off, they themselves are easy to spot, having got themselves a nice central spot slap bang in the middle of their end and for some reason, they're all dressed in black. Fancy dress perhaps? All come as ninjas? Or perhaps Death, cocking a clever snook at Man United's decline since Ferguson left? Yeah, probably that. I doubt they'd want to stand out in the crowd or anything. Oh no. With 'Abide with Me' and the National Anthems done (the latter being far more entertaining for those of you watching at home I believe when the lass missed her cue) we're ready to go finally.
As for the game, well you probably watched it and it's been done to death in the press already anyway. So I don't need to tell you it was a pretty dour affair. United make most of the running, although by that you would assume it was far more up tempo than it actually was. You can see why the Old Trafford regulars have been moaning about van Gaal's style this year, as it's pretty dull. The passing is technically good, but when they hit the final third, there's far too many square balls and no one seems prepared to make a little dart or drive at an opponent. Palace meanwhile live up their underdog tag by sitting in and hitting on the break where they can. In the stands, the Palace support is producing some decent noise and at least proving all the 'Wembley is shit for atmosphere' types wrong. There is a small issue however, as whilst getting good volume, it's basically from about the same 4 chants, over and over again. And each rendition goes on for about 3 minutes. Plus it has absolutely no connection to the action on the pitch.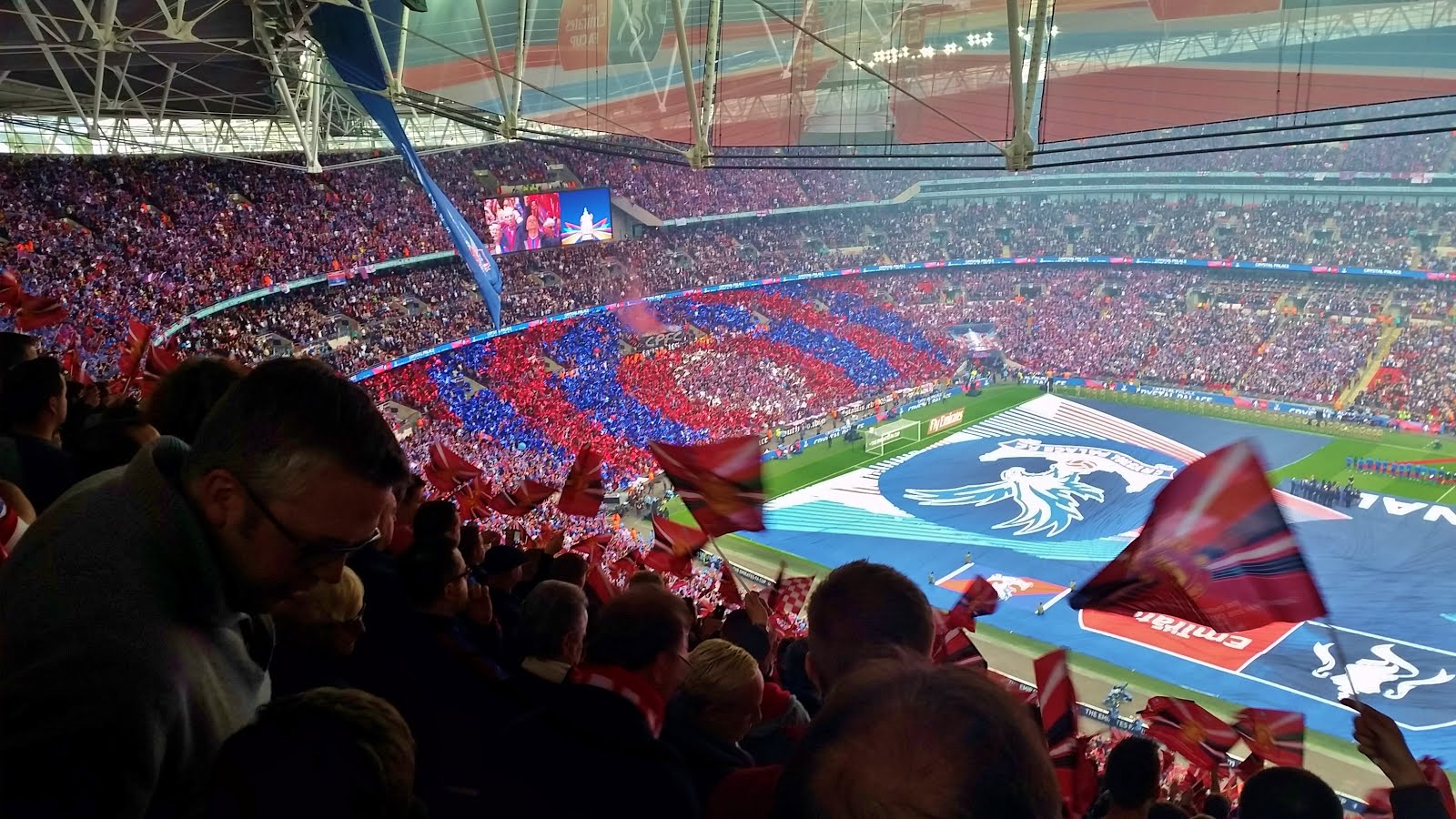 YouTube chants galore!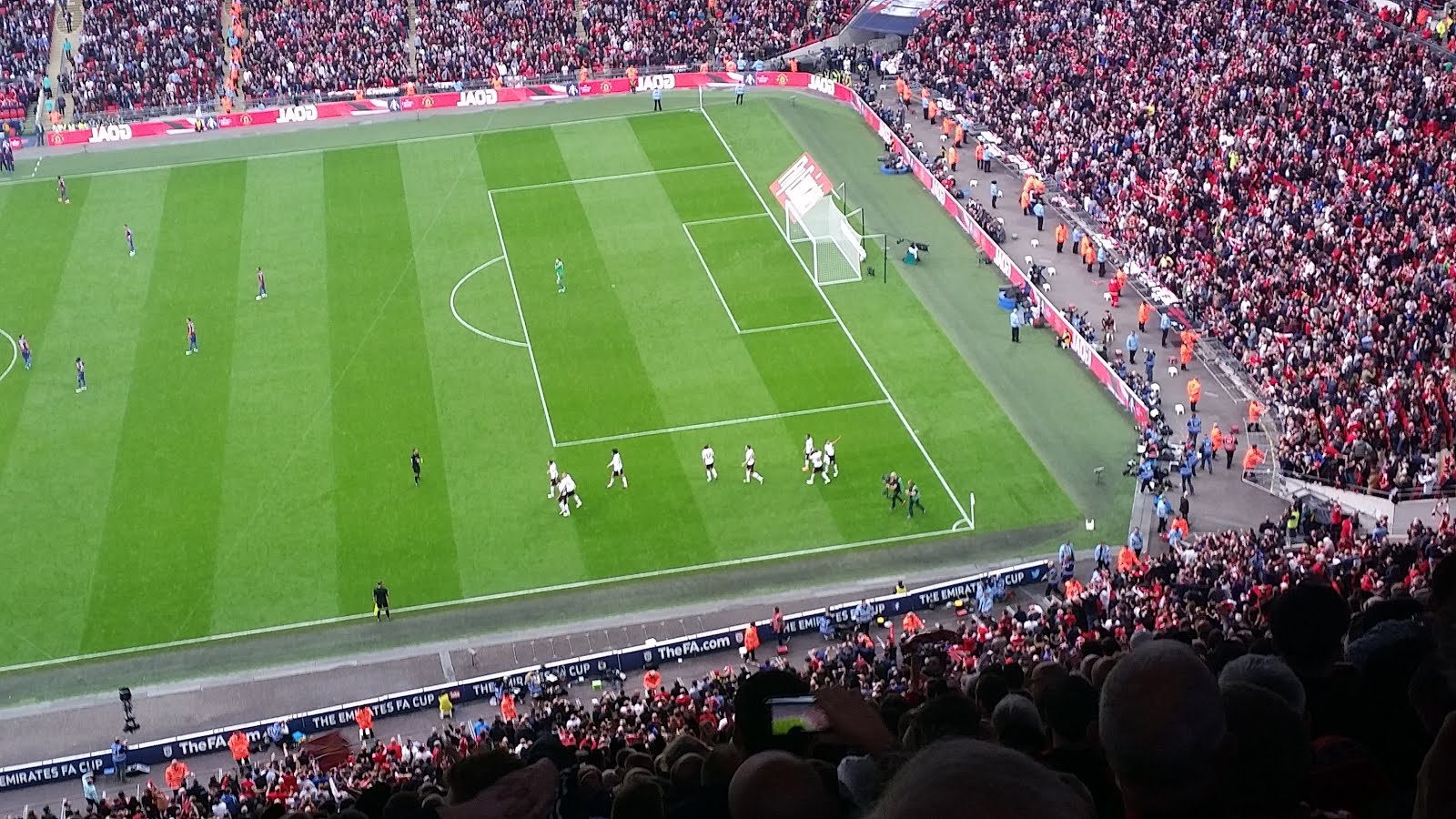 "We follow we follow….ah fuck"
The Wickham 'advantage' that most Palace fans seem to be pissed about in the aftermath and that is being used to show that the ref blatantly cheated the poor ickle underdog, actually never was. Despite being sat miles up, you could easily tell it was a foul. Plus we clearly heard the ref blow the moment both players went to ground, so there was no 'advantage' to be played. Wickham just got up and carried on, ignoring 2 further blasts of Clattenburg's whistle. It was as much a genuine goalscoring opportunity as I am French.
Half time is as much fun as pre-match, although this time the chances of getting a beer are about as likely as being able to have a piss. So torn between more watered down Budweiser or a slash, I decide I need the latter rather more than the former and spend 20 mins queueing to get into the khazis with what seems like half of Manchester. To take my mind off the wait, I ponder to myself if I've seen a more bafflingly overrated defender than Daley Blind. A bloke whose play is so iffy, I wouldn't trust him to make a cup of tea, let alone play in a major Cup Final. Fortunately, despite the lengthy sojourn to empty my bladder I get back into my seat just before the restart and as the one immediately in front of me remains as empty as it has all afternoon, I let Simon know and he moves along to join me so we can at least chat during what will no doubt be as dull a second half as the first. As he takes up his new spot, the bloke in the seat next to him comments on his seemingly very tardy timekeeping. "Bloody hell, you're late!". "Yeah, queue at the bar was terrible. Have I missed much?" deadpans Simon in reply.
The 2nd half is unfortunately much like the first. United have a lot of ball, then no penetration in the final third and Palace sit in. Although at least this half the Mancs make some actual chances hitting the woodwork twice. At this point I inform Simon Palace will probably nick this now, especially having done pretty much sod all so far. So I wasn't at all shocked by their goal. Unlike the images show on the big screens at each end of Alan Pardew gyrating in the technical area like a pervy knob end on the dance floor in Chicagos which was almost enough to make me throw up my £15 quids worth of Wembley catering. What was slightly surprising however was Man Utd's equaliser, conjured up by one of their players actually running at people rather than fannying about passing it endlessly in front of 2 banks of 4 hoping someone would die of boredom to produce a gap to exploit. Plus the Palace ultras are amusingly right in the middle of the day's loudest rendition of that fucking rubbish 'We Follow' chant when Mata tucks it in. Which makes me laugh. Sadly though this goal means our hopes of avoiding extra time and wasting VDT are dashed. Smalling then gets sent off for a saving tackle on Bolasie that Jonah Lomu would have been proud of, Palace try a bit harder and then then get cruelly suckered 10 mins before the end. Nice hit from Lingard though to be honest and thankfully it prevents us wasting any further drinking time by having to sit through a penalty shoot out, which given the game so far, would probably have ended 1-0 or something. Still, the best team won in the end, but in this case that would be like saying getting stabbed is better than getting shot.
We stick around long enough to watch the presentations, with Mr Van Gaal getting warmly booed by his own fans when shown holding the cup aloft on the big screen, to allow the Palace lot to filter out then head off ourselves before the main body of United fans make their move for the exits. Despite this, we still spend a good half hour on Wembley way in the crowds. Which is annoying as we don't leave the ground until half 8. Stupid bloody FA and their 5.30 kick offs! It's bad enough rushing back into town for gasping for a pint, sod having to try & get a train back to Manchester after.

Panoramamama!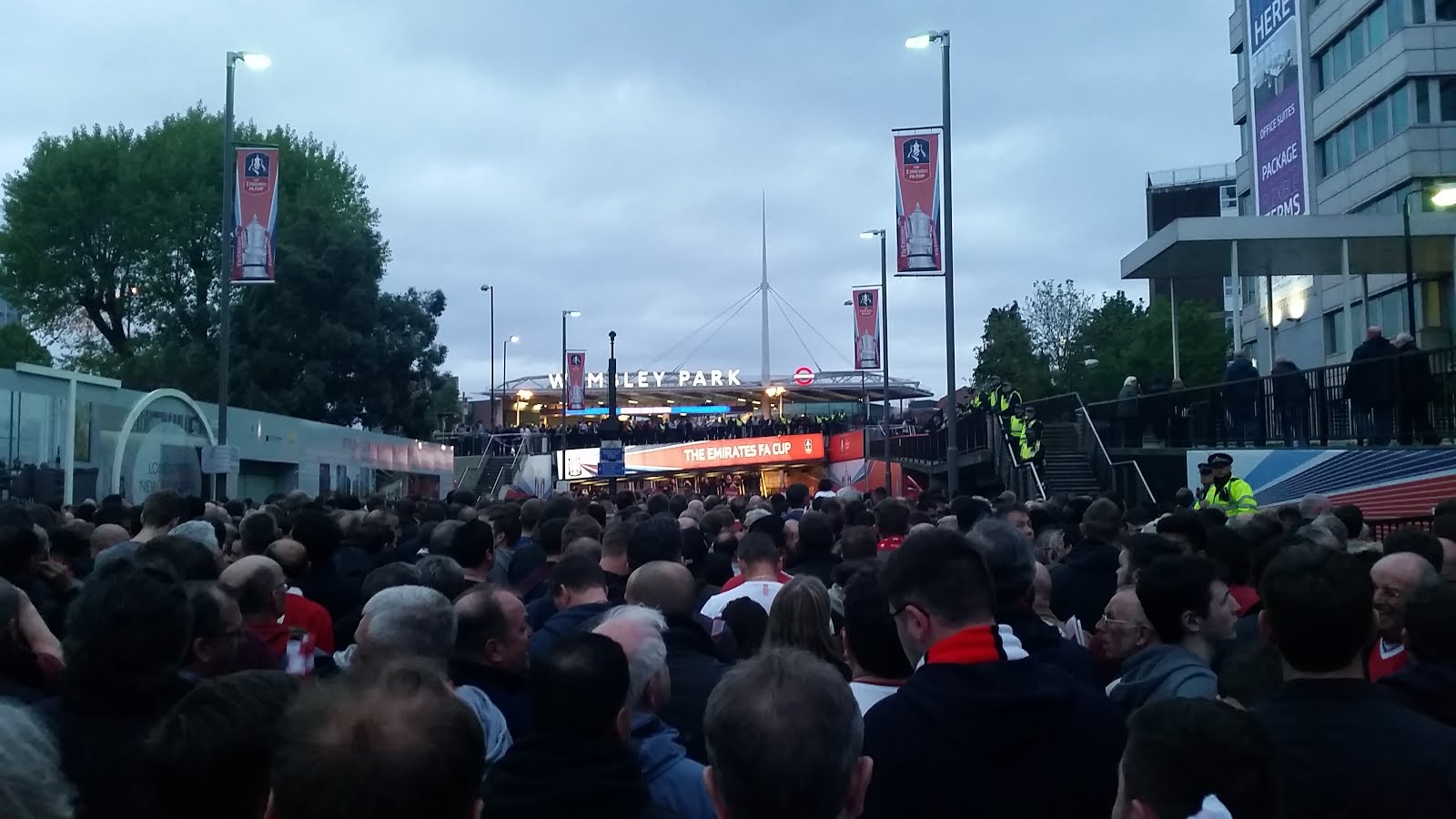 Wasting valuable drinking time
The tubes into town are an arse again and it means we don't hit the boozer in Leicester Square until about 9.40 so Simon gets a double round in that costs less than the 2 pints in Wembley earlier and we neck the beers in no time at all while we digest Sky Sports EXCLUSIVE news that the funny haired Dutch chap we'd not long since seen grasping a trophy is going to get binned by United, probably in favour of some Portugese fella. Classy from all parties concerned I think you'll agree. Sadly, those extra 30 mins of mostly dull football have pretty much killed our post match drinks time and we forego another bevvy to amble down towards Embankment so we can Tube back to Victoria and get the Bus Wanker on his way back to sleepy Somerset. With the passenger sorted, I head into the station to grab a lukewarm Burger King (do they actually make hot food?) and the train home where a couple of Palace fans in full face paint, which is somewhat streaked by what I assume to be post-match tears, provide a nice satisfying full stop to the day whilst I pondered my 21st century Cup final experience.
Conclusion? Yeah, it was a bit shit really.
Sorry.
Taz