Every year we always say the same thing, and every year we never actually go through with it. The old "I'm not going to watch any of the pre-season," line is always banded around at this time of year. But once again we all found our way down to Gander Green Lane for the first pre-season friendly of 2016/17. It seemed liked we'd not left the place and with the Euros on down the club, we in fact hadn't!
So did anyone catch England? Fuckin' 'ell, what a load of pony that was. Not only was it possibly the worst football tournament since US of fuckin' A '94, but England once again proved why it has allegedly the best league in the world (full of English players at the top level obviously). I'm still trying to figure out what exactly is the purpose of some of those that don the white shirt. I think I would've been happier if we'd been kicked out after those handbags against the Reds in Marseilles. Still, certain members of the Gandermonium crew were out in the Cheese-Eating Surrender Monkey territories and might one day produce a blog about it!
And what is this I see? Sutton back on the BBC Sport website with its very own page. As per usual, after a quick butchers, it seems that it is already out of date. There appears to be a few names on there that I didn't even realise played for us. And since when did we have five goalkeepers? I guess being in the top level of non-league football changes things.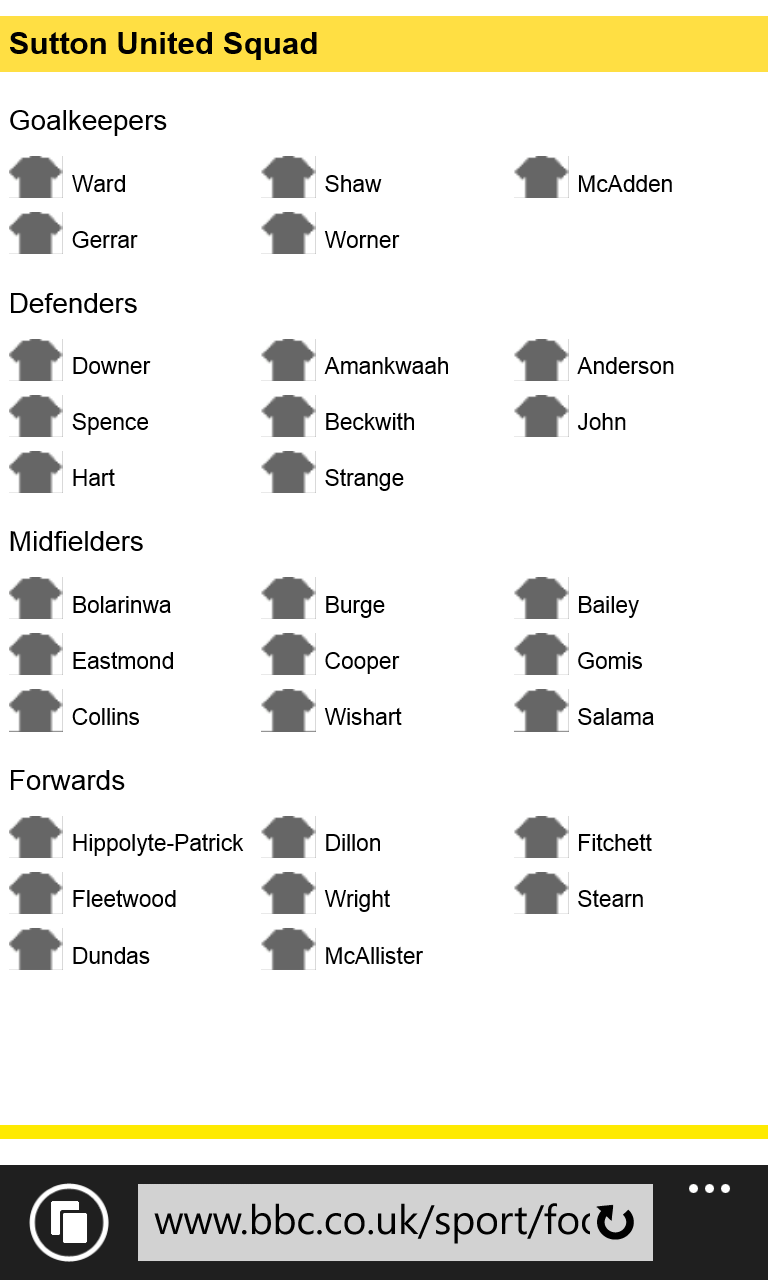 Where are half of these?
Eventually the fixtures did actually come out, and who did we get first game? None other than the Conference North Champions, Solihull Moors. But at least we have a nice easy introduction to away days. Not only do we get to visit the play-off finalists on the first Tuesday, but we get trips to Lincoln, Chester, Gateshead & Wrexham to boot. Thank you very much that YTS boy and your fixtures written down on a back of a fag packet. Still, away travel plans have been put in motion already and all we need now if for one of those games to be moved for TV and we are right royally up the Khyber.
The first pre-season match sees us play Fulham, not the first team obviously, but the infamously labeled 'XI'. This means that the team will be filled with a bunch of nobodies that even a Fulham fan would struggle to identify. The only name I could recognise was that world famous pre-season wonder that is 'A. Trailist'. One day he might make it, one day!
With the Firm Leader away with his better half, it was down to me to fly solo. The plan was to get the usual 1303hrs from Carshalton to West Sutton. Surprisingly for that sorry excuse of a rail firm that is Southern, the train was only a minute late. Getting to the ground at the usual time, I begun to meet the rest of the Firm who had immersed themselves in a bit of bat and ball action from SW19. I didn't realise that this was their cup of tea and by judging by some of the comments, it appeared why.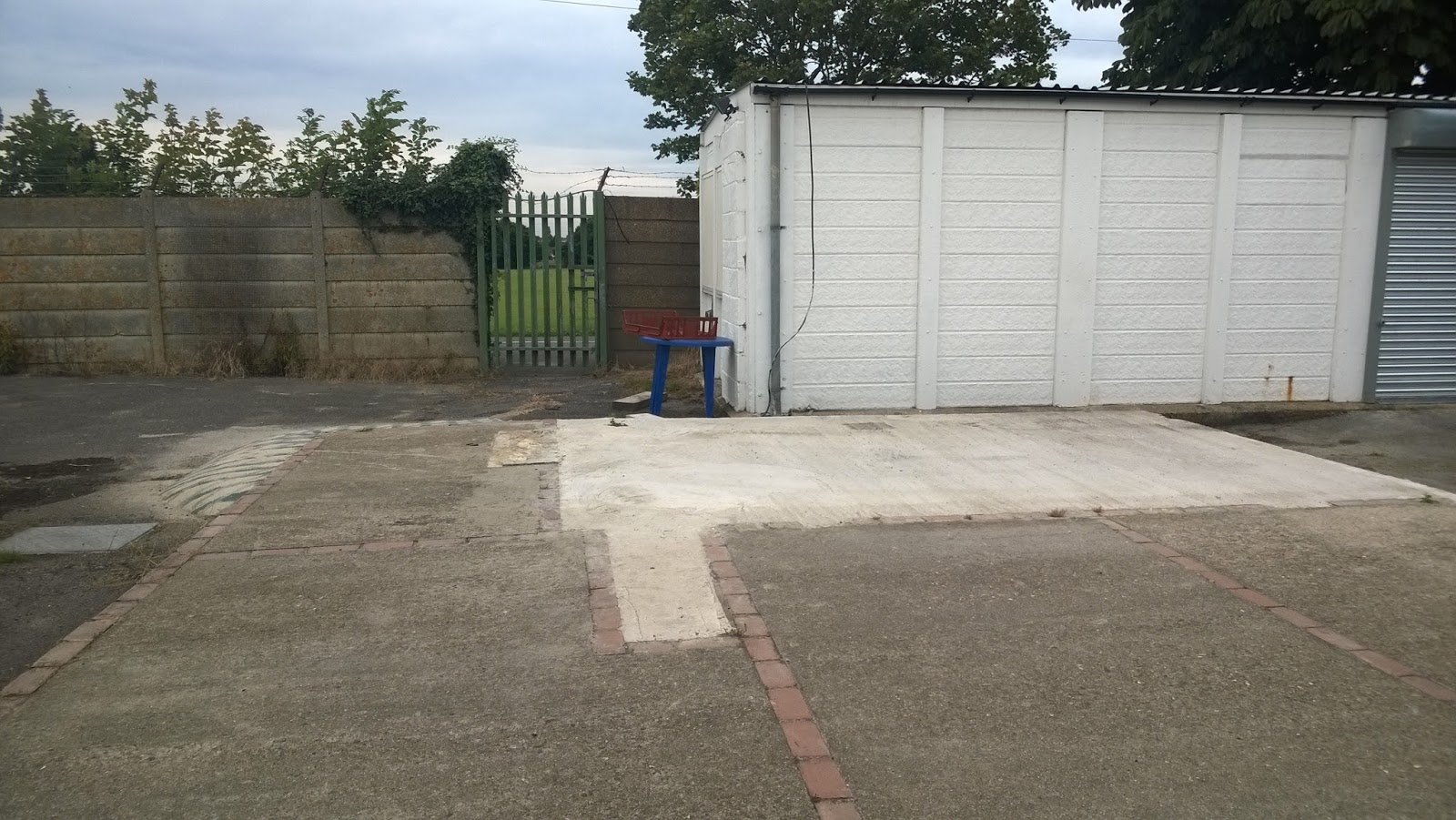 I only left Rose's unattended for a minute officer…
First Half: Gerrar, Spence, Wishart, Beckwith, Cooper, Collins, Hudson-Odoi, Gomis, Eastmond, Fitchett, Stearn.
Taking a spot at the Rec End, we faced the sun as Sutton began on the front foot. If this is going to be the team that keeps us at the highest level, then we may have a chance. We seemed to have this young Fulham side pinned inside their half for long periods. And if it wasn't for a combination of good goal keeping and weak shooting, it could've been very comfortable for Sutton.
Sutton did get the breakthrough they deserved mid-way through the first half. This time it was the Fulham keeper that we need to thank as, for some reason known only to himself, he dived and punched out a corner from the right-hand side. The ball fell to new boy Hudson-Odoi outside of the box. He then just simply gave the ball a crisp hit back and it sailed into the top right-hand corner. 1-0!


After taking the lead, things began to settle down. With this being a non-important friendly, certain conversations begun to arise. Within a mere few minutes we had covered Taz's current FUN-employment status, Southampton's kit makers (no guesses who that was with) and another case of the Celeriac's. Not before long it was time to move into the bar with Sutton deservedly in the lead at the break. The only question that remained was 'How many changes would Our Lord Dos make at half-time?'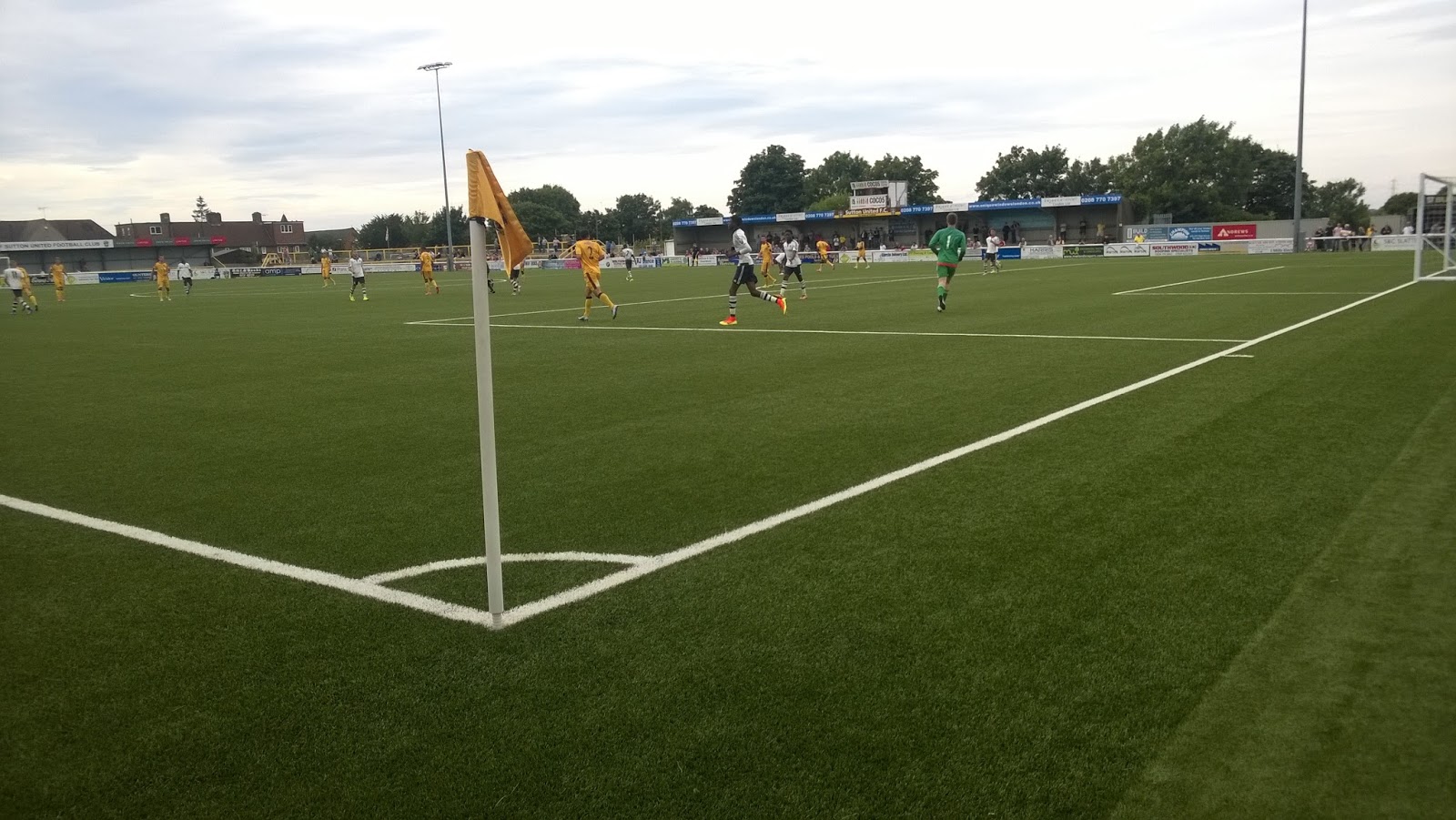 Let the games begin!
Second Half: Gerrar, Amankwaah, John, Dundas, McAllister, Patrick, Obeng, Wright, Blewordah, Downer, Stearn.
Second half on the Shoe Box and I have to admit that I missed our best chance of the half. According to some reports it was a humdinger of a shot from one of our trailists. Outside of the box, the fella managed to create an opportunity to lash the ball at goal. His resulting shot came off the underside of the bar and landed on the goal-line before spinning back into the area.
With ten minutes gone, Fulham were awarded a clear penalty. Chasing down a bouncing ball into the box, it was the Fulham striker vs Gerrar in goal. As he jumped to punch the ball away, he totally missed the ball and clattered the fella. Not the most manliest of punches, but a clear penalty none the less.
The penalty might've been saved by a keeper with more confidence, but it seemed to go straight under him as he dived to his left. With the scores level it was now the Fulham show as they now ruled the roost. There second came from quick slick football that left the fella to slot the ball home. Their third was a result of Gerrar failing to hold onto a low cross and setting the ball up nicely.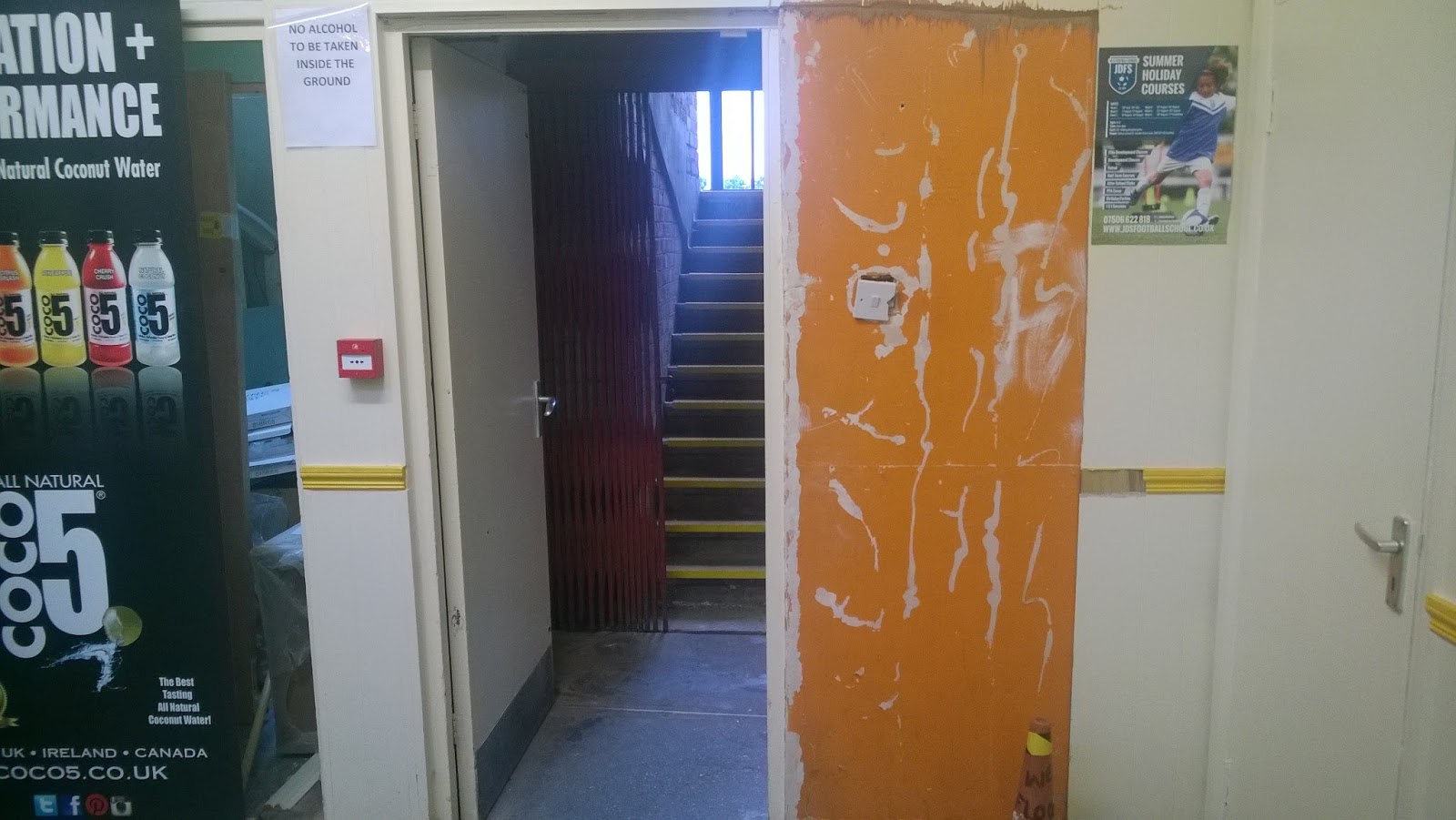 A bigger door for a bigger stretcher.
After the game, it was time to heal the pain of a defeat with copious amounts of alcohol (We have our own pre-season workouts you know!). We were also told the story of why the door leading from the bar to the pitch was seemingly being enlarged. Turns out that we might've purchased a new shiny stretcher for the St John's crew. Of course we may also not have measured it correctly and it may or may not fit through the original door. Personally I would've just returned the stretcher and brought another one that fits, but what do I know?
Next on our list was a trip to 'Spoons and some food for some of the remainers. SHOCK! HORROR! Mr X didn't go for his usually gammon or Burger but instead went for some kind of triple chicken dish. We also were randomly handed some wings from a rather drunk regular as well. I know some of the Firm may look like they haven't had a hot meal in months but this was the first time we've be given any form of charitable donation.
Of course we all ended up in O'Neill's for a nightcap. And the band playing were absolutely fuckin' awful! So much so that Southampton Steve brought the first round and then fucked straight off without one for himself. Turned out to be a shrewd move as eventually we all ended upstairs in the roof garden talking to a couple of random Chelsea supporters. Eventually people begun to leave and it was for me, a trip with 4 Days on something called a 'bus'. I managed to stay awake as we approached Carshalton and even got off at the right stop. Despite this, I realised that the night was at a close when I convinced myself that a magic door in the Water Tower would lead to something special. Ten minutes after knocking I waited before stumbling off into the night!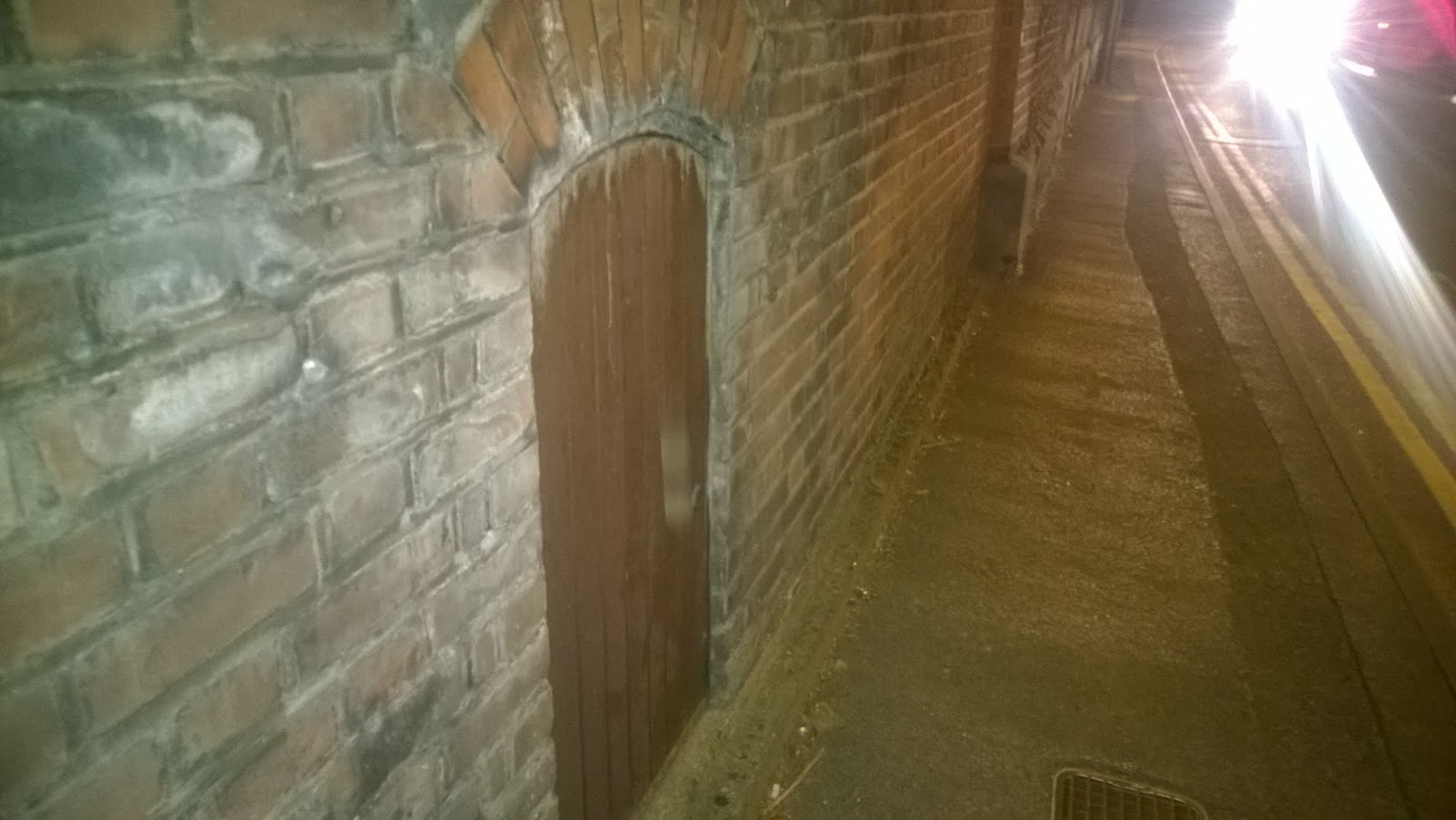 The Hobbits of Carshalton
So that is it for our first match under the 2016/17 banner. Nothing to write home about really, but I'm sure it'll be better by the time the real season starts. Saturday sees Sutton in probably the biggest match of pre-season when they take on a supposedly Portsmouth first team. If we play like the first half against Fulham, it shouldn't be a one sided affair.
Duke
Att. 575