Normally, the return of the football season wold be a reason to be cheerful. Sadly, if like me you're a self-made jobless twat and have had to sell that pot you were pissing in to cover the mortgage, then it really isn't that great. Especially when your 5 first aways are at new grounds and 4 of those being good piss-up potential. Then it's almost fucking depressing.
Thankfully, with todays jog about against former FA Cup Winners Portsmouth being at GGL, I can at least get in for nowt without having to bunk over the fence and spend the 90mins avoiding being ejected by the desert booted Marky N as I've already paid for my season ticket. Now I just have to find a few ha'pennys down the back of the sofa for a pint…
No chips…
It's a muggy old day out as I hop off the 407 and I wander down from the top end of town imagining todays game won't be that high tempo. As I walk past the Plough, there's a good few Pompey already around enjoying a pint in the Sahf Lahdan sunsine, with a flag up over the front of the now long defunct Stafish Bar chippy. Not surprising they've brought a few down really, given it's a massive cup tie today. Yes ladies & gents, we're competing for the 'Letts Cup', named for our former Chairman and President. And one we've never won outright. Which is something that no doubt bugs the shit out of Dukey, given he's out resident idiot who cares about such minor pottage.
As I'm walking up the drive, I realise that Pompey's shirt sponsors are 'Jobsite'. Yeah, fucking cheers for that lads. Reminded of my bum status, I amble into the bar and find the usual herbets in attendance. Then having paid for my pint of tribute in 2p coins, Dukey is soon regaling me of his latest YouTube finds. Now, normally Tom talking videos is likely to involve material of the adult nature, but thankfully the worlds biggest video hosting service doesn't tend to allow that sort of thing so I think I'm safe from breaking any laws on this occasion.
"Yeah, I found this 'Top 10 Weirdest Bands' clip, it's great!"
Greek interjects. "Weird bands? Have you seen some of Taz's collection? I bet he knows all of 'em!"
Unperturbed by Greek's interruption, Dukey proceeds to reel off the name of the 10 bands from this list. All of which I've heard of, all of which I own music from and two of which I've even seen live. And in the case of 'Insane Clown Posse' I'm even able to tell him the brand of the cheap fizzy 'soda' drink they tend to soak their crowds in at their gigs.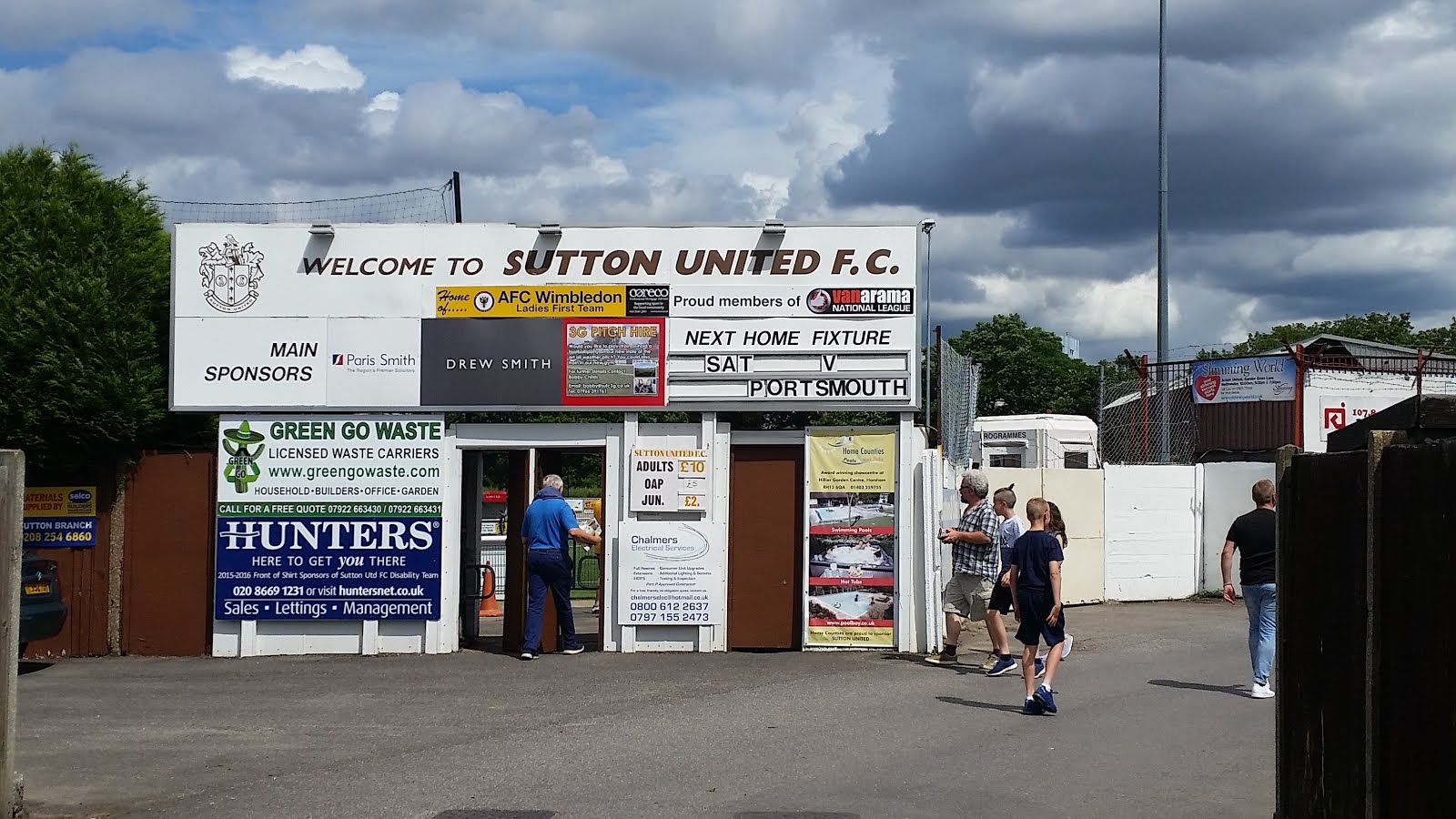 A typical lovely summers day at GGL.
It's 'Faygo' in case you're wondering.
Greek then adds the final nail in Dukey's weird bands coffin. "Fuck me, Even I've heard of Die Antwoort!" and proceeds to show him some tracks on his phone. I think we'll give that a C- for effort Dukey. Along with a 'must try harder!' in red pen underneath.
TEAM: Worner, Spence, Beckwith, Collins, Wishart, Eastmond, Deacon, Gomis, Burge, Stearn, Fitchett SUBS: Dundas, John, Amankwaah, Bailey, Downer, Hudson-Odoi
As per usual we're shooting towards the Rec end and the Pompey lot from the Plough have made this their home too. So the game gets underway with them running through a few songs in the sunshie, some more than once obviously trying to see how new players names fit in. Naturally one is a knock off of 'Will Grigg's on Fire' which we'll no doubt have to endure from pretty much everyone this season before the next catchy effort comes along for eveyrone to copy.
We're out of the blocks nice & quickly with Stearn, Bedse and Fitch all looking lively from the off. Wish also gets up well to support a couple of times. Then before 10 minutes is up, we're in front. Dan Spence gets down the right, plays inside to new man Roarie Deacon (who'd ironically trialled with Pompey earlier this summer) and he steps inside his man before rolling a shot inside the near post. So like Bradley last week, a new man gets us off the mark. 1-0.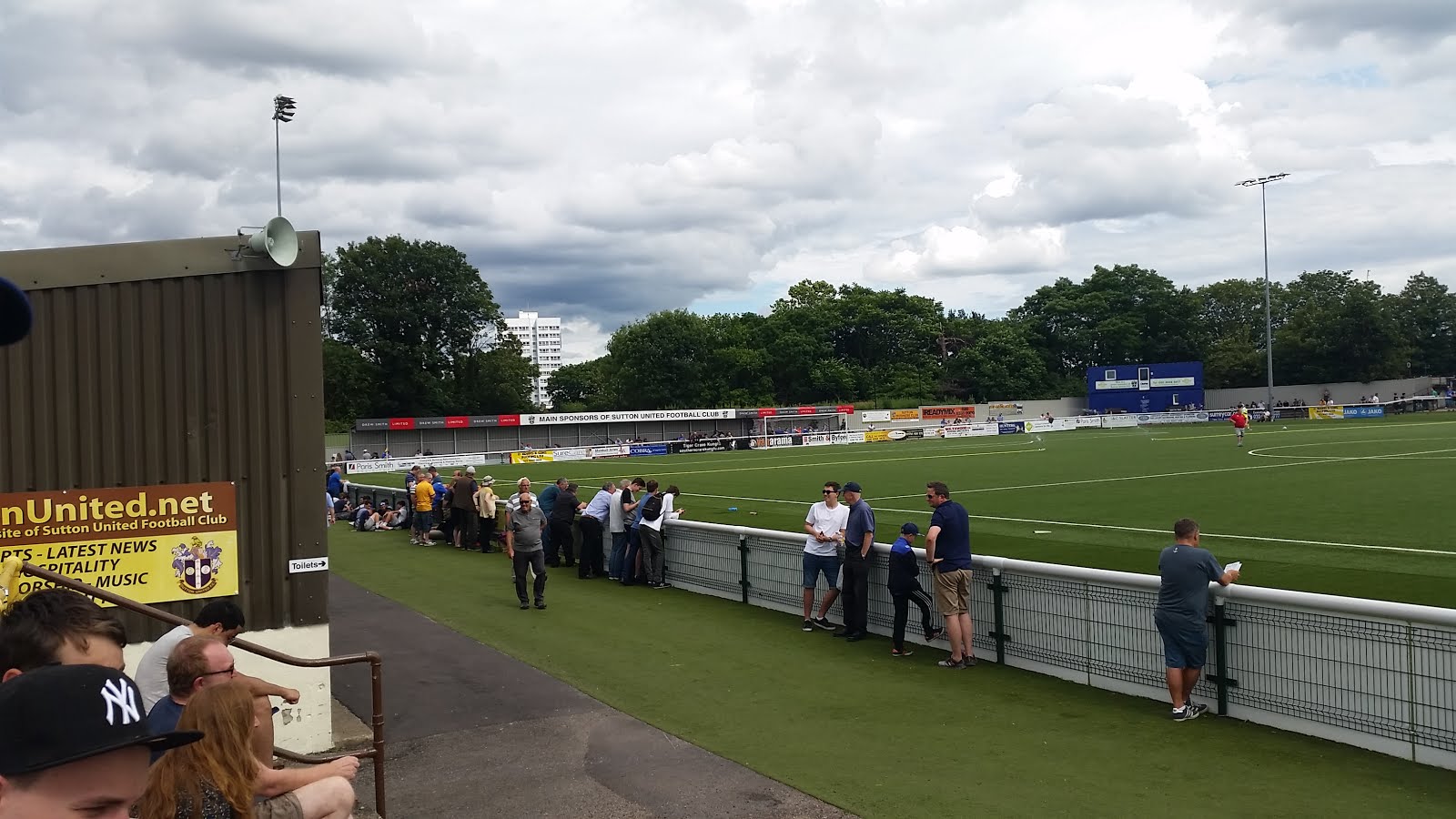 Same shot we've done 1000 times…
Pompey try to hit back and are moving the ball well. One move down the left ends in a snap shot in the box, but Worns adjusts in time and kills the effort with his fingers before gathering in the loose ball.
It's mostly Sutton though as we press high and get forward with loads of intent. Just what we need to see this early in Pre-Season! Ryan Burge tries his luck with a free-kick from out wide than flashes just over and Stearny tries a cheeky lob on the run from a good 35yards out that dips just over. Wish then shows his form of last season isn't going to be a memory as he robs ex-Sutton man Chriss Sessignon out wide and darts past 2 men out wide before hitting a fierce shot the keeper beats away. The rebound is then deflected over.
A second goal is coming though and Bedse hammers a near post header against the bar after some good work on the right allows Deacon to whip in a lovely cross. Then a couple of minutes later, a short corner between Burge and Stearn has the little winger looping the ball to the back post and this time the Frenchman makes no mistake, barrelling in to thump a header into the back of the net. This effort earns him a chant of "You're just a shit Akinfenwa" from us lot behind the goal, mostly to poke fun at the Pompey lot who'd used the same chant, strangely, when he'd been down with a knock in the area not long before.
Personally, I think "You're just half an Ankinfenwa" might have been more appropriate given Bedse isn't the most statuesque lad in the side.
There's a couple of other half chances before the break, with the keeper out quickly to clear his lines to deny Fitchett after balls through their back four have put the U's man in the clear, but apart from that it's a job well done as the ref blows up for the break. And not a bad first 45 from the lads given how warm it is today.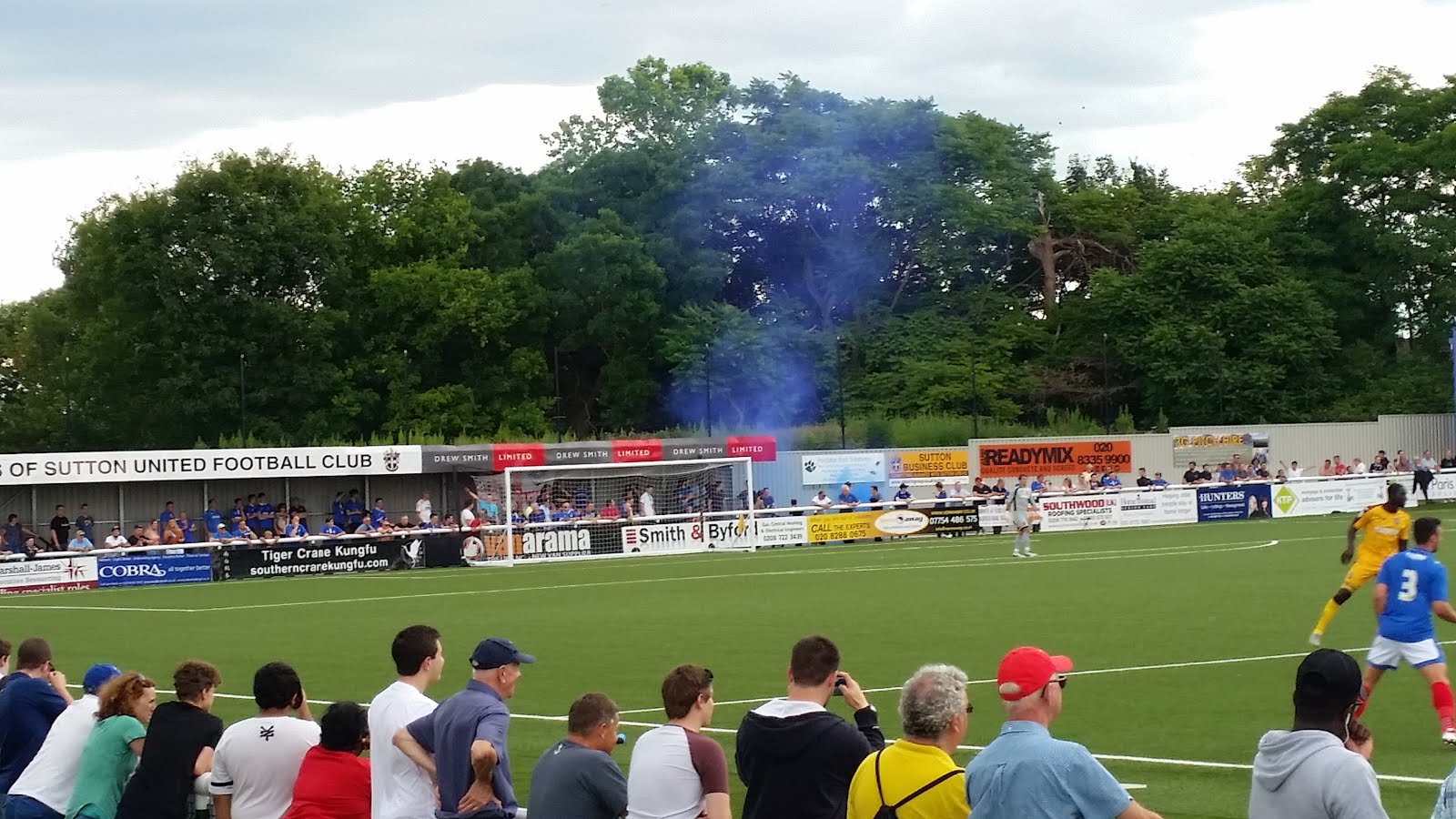 No Pyro, No Party
Everyone else heads for the bar, but I head for the Shoebox and a sit down. Sadly, Roses is once more absent, so I can't bag a cold one. No idea where they've got to, are they off doing a summer tour of the fesitval circuit or what?? Still, it's a chance to catch up with Bacon Roll along with Indy & Sean Connery.
The second half see's both sides emerge unchanged and get us underway again. And a couple of minutes in, we really should put the game to bed. Burge slides a pass down the right for Deacon, he skips inside his man and rolls the ball across to the penalty spot where Eastmond arrives late, but fails to hit the target with a somewhat shanked effort. Sitter that Craig, sitter!
After that, the rest of the half is pretty much the expected pre-season fare. Pompey have a couple of chances before the wholesale changes just after the hour mark, but the best of them is a nice little chip from inside the box that comes back off Wornrer's crossbar. After the subs, with the visitors seemingly having brought on more of their 1st choice lads, we have a good 25 minute or so workout at the back as they press looking for a way back into the game. Worns makes a couple of decent saves and one attack ends with a scramble in the box where a couple of shots are blocked, then with 10 to go, they finally break through. A soft free-kick is given out on the left and whilst we moan about it, Pompey take it quickly. The resulting low cross just evades Worns and Oxlade-Chaimberlain (no, not that one) tucks the ball into the roof of the net from about 6 yards. The goal sparks off a bit of colour at the Rec end as the Pompey mob get a smoke bomb on the go.
Meanwhile at the other end, some of the youngsters are doing that Iceland thunder clap thingy. My, aren't we just just swamped with shit chants of the moment today?
Despite a fair bit of pressure and urged on by that geezer in the funny hat with the bell, the visitors can't quite force an equaliser that would take this Letts Cup match to a shoot out (where was Juan anyway??) and in the end, Amankwaah almost makes it 3-1 when it looks like his cross has been palmed over the line by the keeper. But the lino says not and we're soon all done and dusted.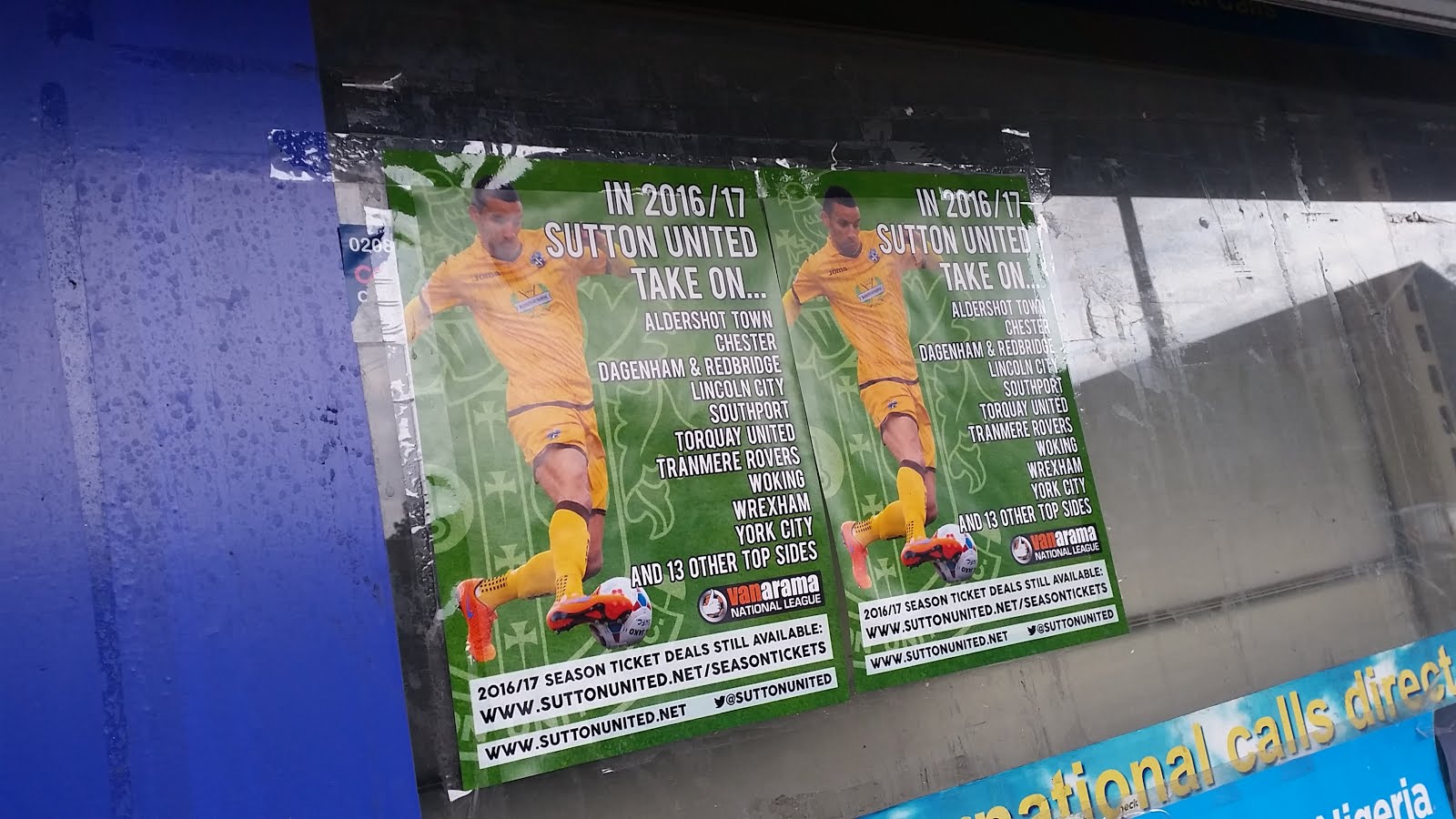 Getting the word out.
Not a bad work out all in all and a decent performance from the lads, especially first half.
With a low key presentation of the pot done in front of the stand and no real spends in my pocket, I make like a tree and leave. A boring evening in awaits.
Gis a job.
Taz