First of all you readers might think what on earth does the title mean? And I will answer by simply saying "I don't know", it's some comment Natalie came up with and thought it sounded humorous – so there you have it. You will have to ask her!!
This is my second time writing now for the Gandermonium blog and I wish to thank those who gave me positive feedback concerning my first effort. Now yesterday Natalie and I were meant to be having a day with the team, however due to unfortunate circumstances this was postponed to a later date. May I wish good health and recovery on what must be a worrying time – much love.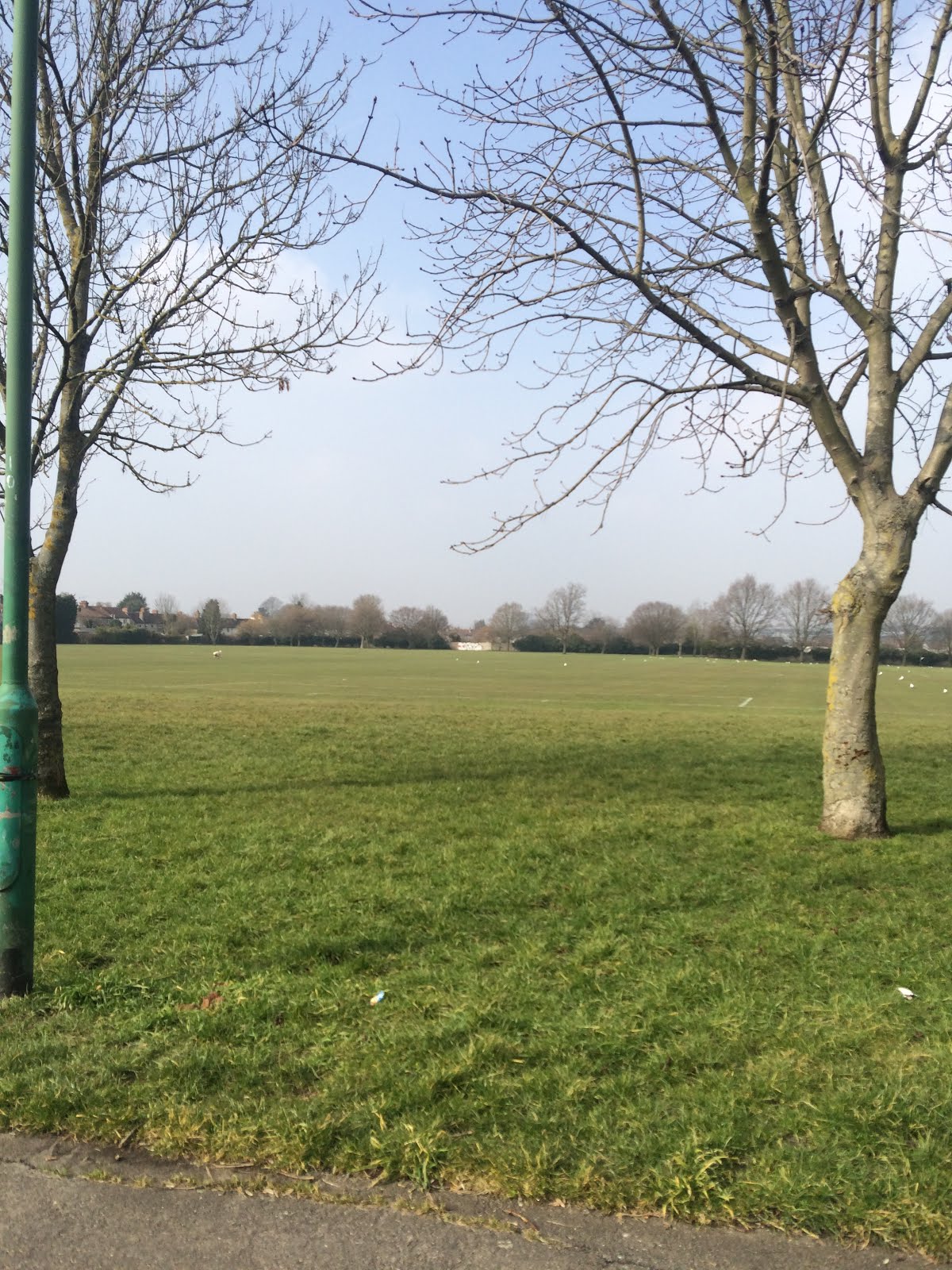 Nice day!
So let's recap on what sort of week it's been for Sutton; with no midweek game and on the back of a very decent performance at St Albans last weekend it was keeping an eye on other results in the league. I note that Ebbsfleet once again only gaining a point at Maidenhead, however it is Maidstone we need to keep an eye on too. Saying that I believe the league is firmly in sight and in our hands as we have four games in hand and of course the big showdown at home to Ebbsfleet and away to Maidstone are yet to come.
Moving on to the game in hand today against Weston Super Mare. A team currently lying in the relegation zone and from what I read in the programme a team we have not fared well against at home over the last few seasons. I stroll through The Rec on what was a pleasant spring afternoon to meet up with the usual suspects who are at the bar apart from Dukey who according to reports was stuck in Bexleyheath trying to make it to Sutton and having trouble with Thameslink – Twitter followers of mine will or may know that Southern Rail are my number one enemy. I decided to have a drink…..of water x 2 despite being criticised by Taz and his new friend – it's apparently some puppet from Cbeebies!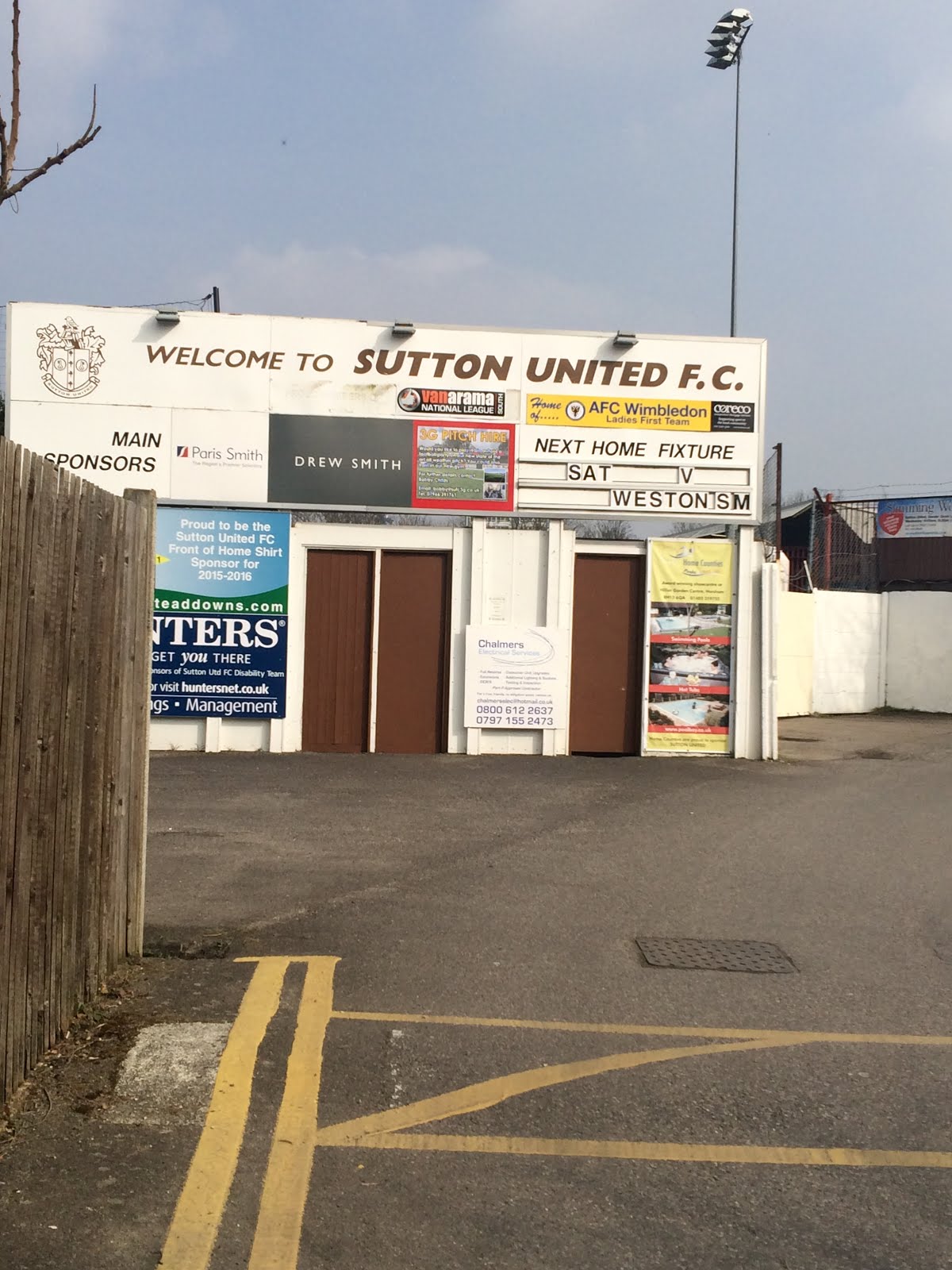 Way in.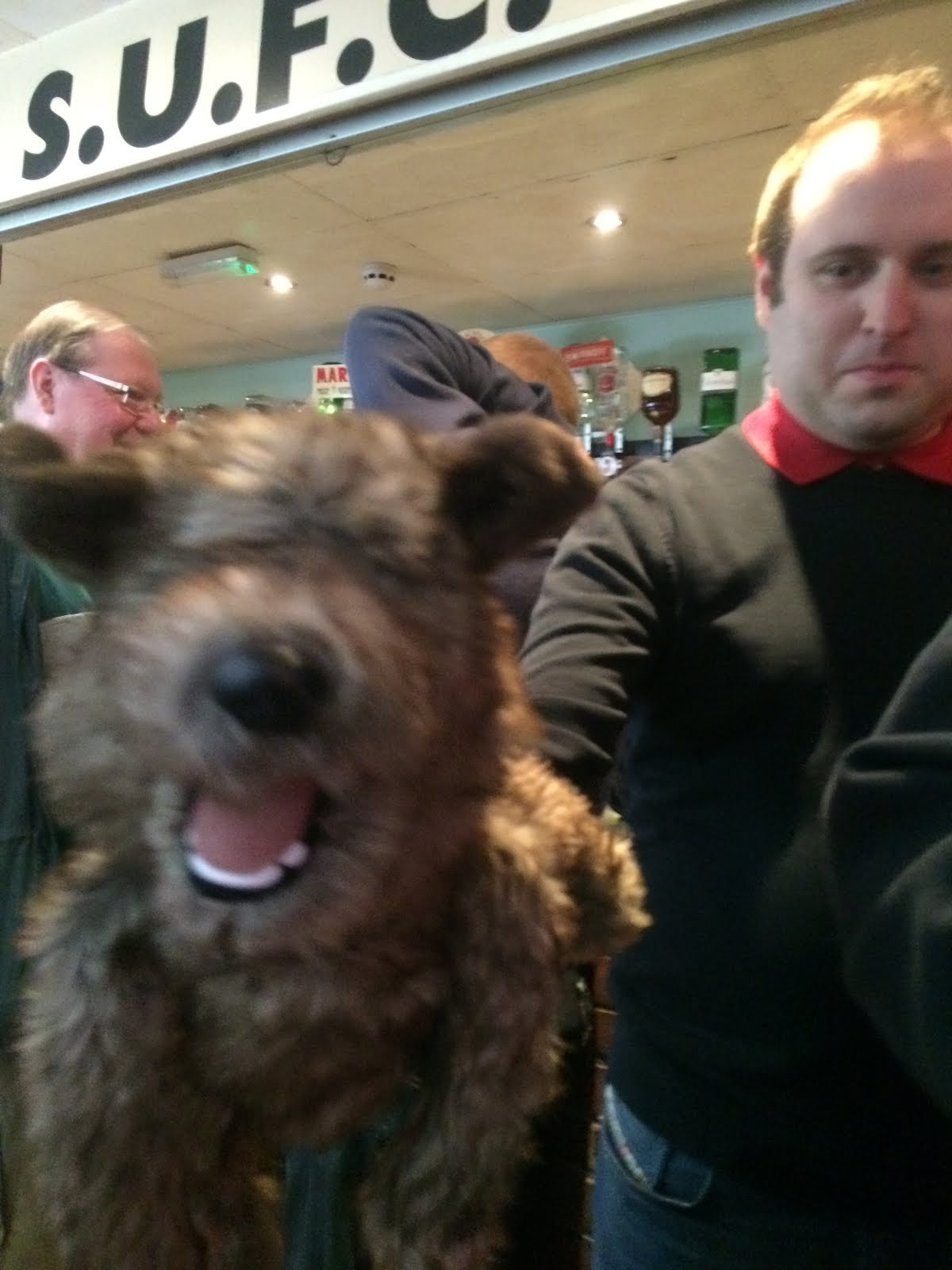 Taz's New friend.
What with this being FA Cup Quarter Final day there was no live football on in the bar – it's quite like modern day football for these ties to be played over the course of the weekend, instead it was rugby – not a sport I am a fan of. Therefore, I decided to take myself outside into the ground and witness the warm up. As I await the entrance of Natalie I check Twitter for the team line-up and thus this was not available. I think I had to wait until kick off for the actual team line-up to be announced over the tannoy which was as follows:-
Worner, Amankwaah, Spence, Beckwith, Eastmond, Downer, Bolarinwa, Dundas, Burge, Fitchett and my mate Rossi Stearn!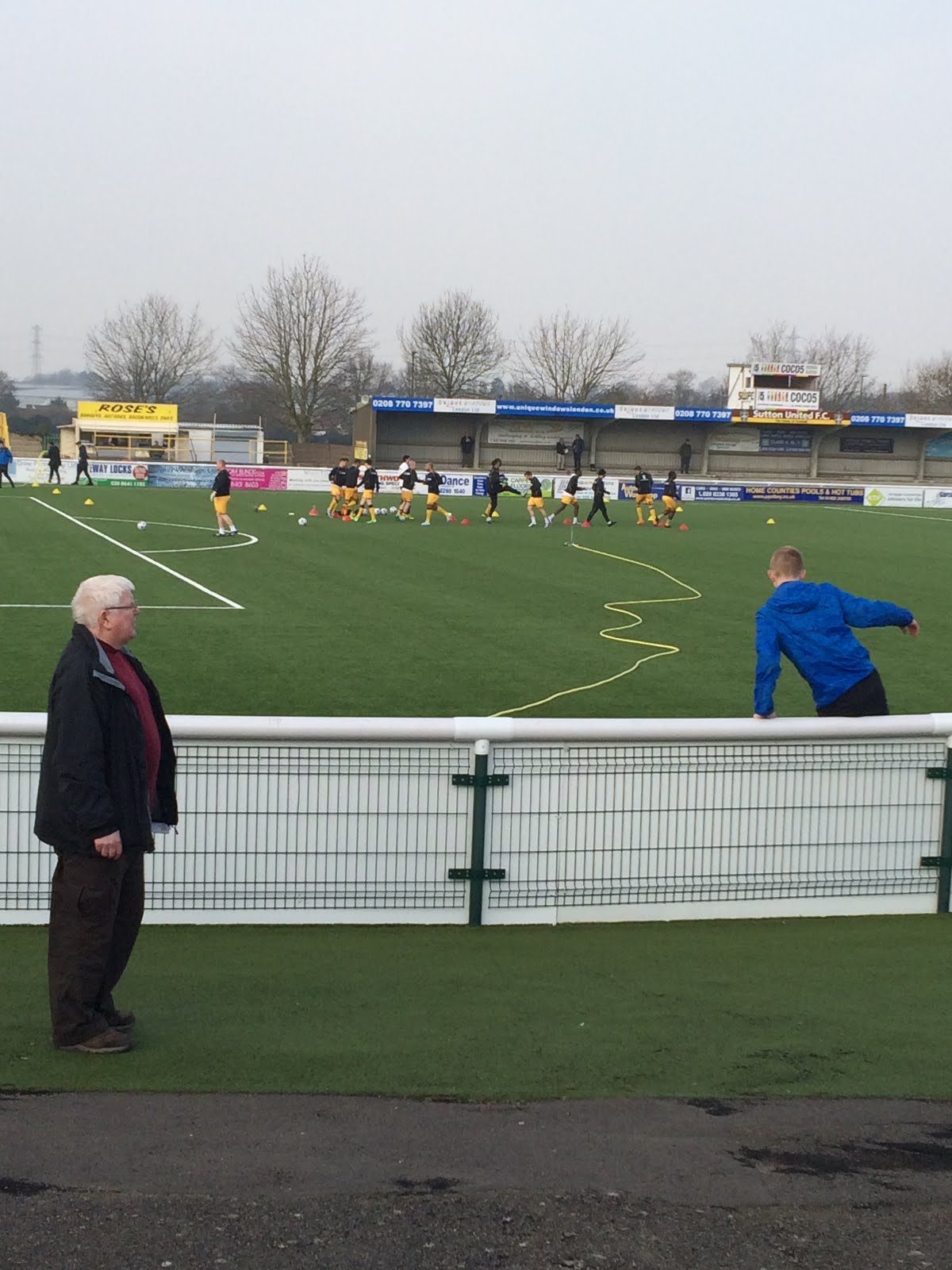 Warm up
Natalie arrives, and I commend her for turning up as she's not been too well, I do question why what with her Marsden March tomorrow – bless her. Unfortunately, she was fraternising with the enemy aka the other team – its someone she works with but they know the number 14 for Weston. As we were walking round to the usual spot Fitchett has a chance in the first three minutes but is unable to lift his shot over the keeper. A further foray of corners led to another glorious chance for the U's as Downer connects with a header saved by the keeper at point blank range. Of course all this possession and chances we further had could unfortunately lead to them taking the lead – which they nearly did from a free kick, saved by Worns.
It is normally just before half time that I make my way to the bar however Greek decided to volunteer to find us a table and order our drinks; however he failed…this time – you had one job mate, one job! Half time in the bar sees yet another egg chasing game begin with England versus Wales and to be honest I'm not bothered at all! It's good to see Traz return again and loved the fact he told his new job that he cannot work Saturdays due to watching Sutton United – nice one buddy!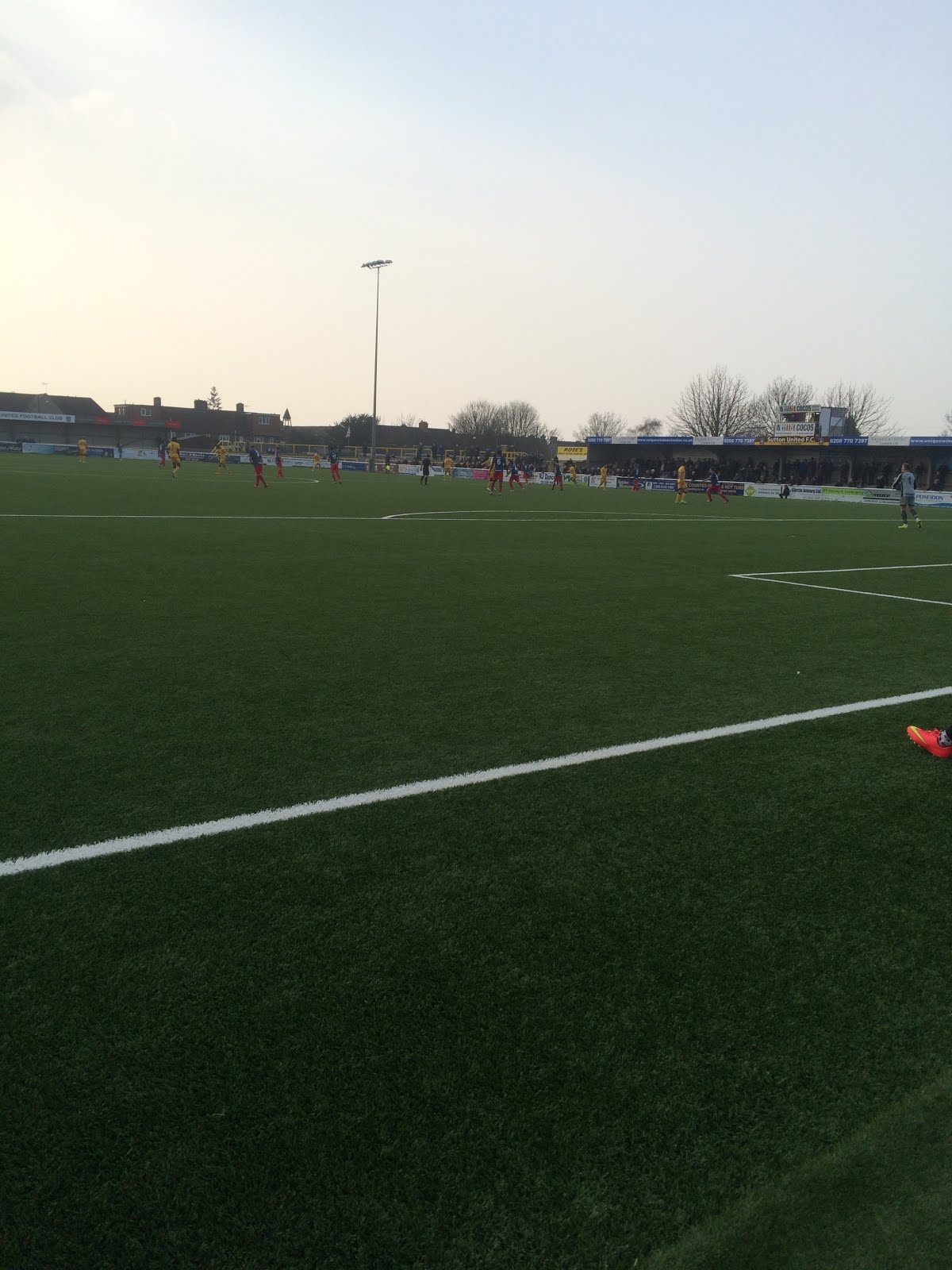 Action.
Out we walk for the second half, once again it's no 50/50 win for Natalie or I and it's off to the Shoebox we go. Spence is substituted off for Jamie Slabber (welcome back) to bring a more attacking threat to the Weston goal. Sadly though it was a case of samey from the first half where decent crosses where failed to be connected with decent headers. However once again they could have taken the points after failing to clear a corner and their number 10 hitting a shot at Worner. I have to say I enjoyed the chant "you look like a tramp" to their number 4 – come on it was very dodgy hair on the geezer! The ball just would not go in for the U's after more missed attempts at goal from Bolarinwa, Stearn and Burge. Their keeper earning a yellow card for time wasting in stoppage time – I mean seriously what is the fucking point??? Surely if you feel a player is deliberately wasting time you nip it in the bud early and then they will think twice about doing it again. Still an attendance of 850 will have been left disappointed in what should have been a good day for the U's. However, upon returning to the bar where Greek had got us a table (this time) we discovered that all the other teams around us had picked up draws too so it's as you where before the start of today's play. I have come to a notice that on the two blogs I have written for so far, we haven't won albeit not lost may I add – hope this isn't a coincidence or a 'bop' as Natalie would say. I've no idea what that means.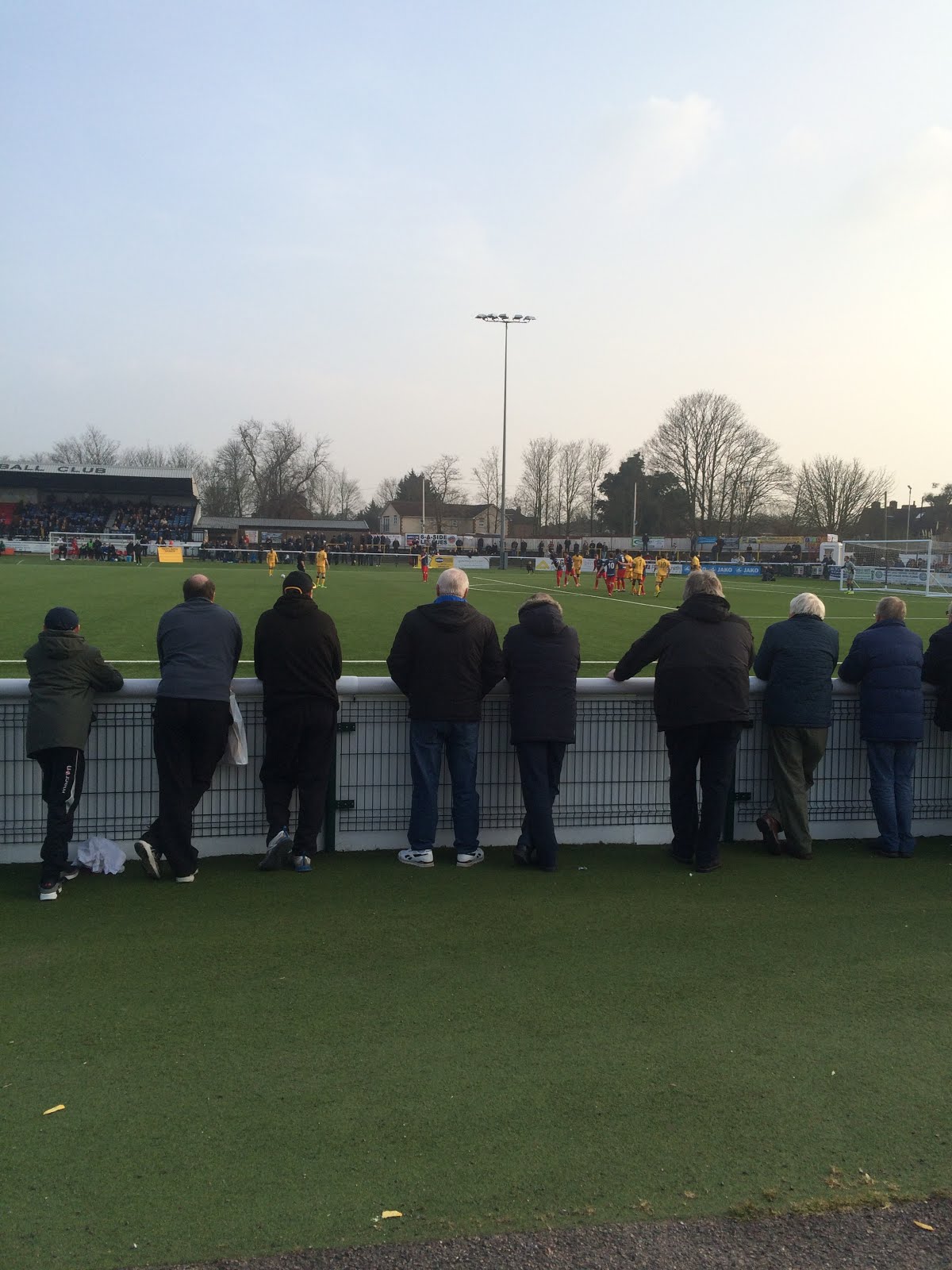 Missed Free-kick
Of course in the bar after the game is the famous Strikers Are Key draw which saw a record cash amount of £3,850 on offer. Yours truly did the draw at the last home game (Margate) and I did not do it this time but I was there to witness all the 50 balls go into the famous purple bag. Ball number 41 was pulled out and Millsy went on to pick out the right key and win himself a nice few quid – well done squire!
Before I sign off, I have to say a huge kudos to the club for their amazing season ticket offer for the 2016/17 season where it's a reduced price of £85 for current existing season ticket holders, going up to £99 in April which is still a bargain for what I believe is decent football at a decent club who care about their supporters and the local community unlike a certain Premier League which I now only follow results of. I read on the website today via our chairman that a huge number of season tickets were sold yesterday so brilliant news.
So, now I hand over the blogging reins to Dukey who will be writing on his favourite competition – the Surrey Senior Cup where we have reached the semi-final stage taking place on Tuesday night against Godalming Town.
Wise men say…..
Robbo