Ah St Albans. Usually one of the groovy Gandermonium gang's favourite awaydays. A nice town, an easy single train journey up, plenty of pubs in which to refresh ourselves and a decent record there on the football front. What could possibly go wrong? Well, if you've been following us for a while, you might remember our trip up there early last season ended somewhat inconveniently for 1 or 2 members of the mob. So the answer to the question no one asked was: Quite a lot.
Basically, certain persons took the celebrations of a decent 4-2 win a touch too far (jaegerbombs were allegedly involved, need we say more?), got cock-eyed, nay arseholed drunk and found themselves scattered over various parts of Sussex. After a game in Hertfordshire. Genius. Firstly 4 Days woke up at Gatwick, then Dukey had to spend the night at one of Network Rail's finest establishments in Hassocks (what you and I would otherwise call 'a station') and finally, Mr X somehow made it all the way down to bloody Brighton, not returning to the PRoWS borders until late the following morning. Which is some effort all round I think you'll agree. No applause please.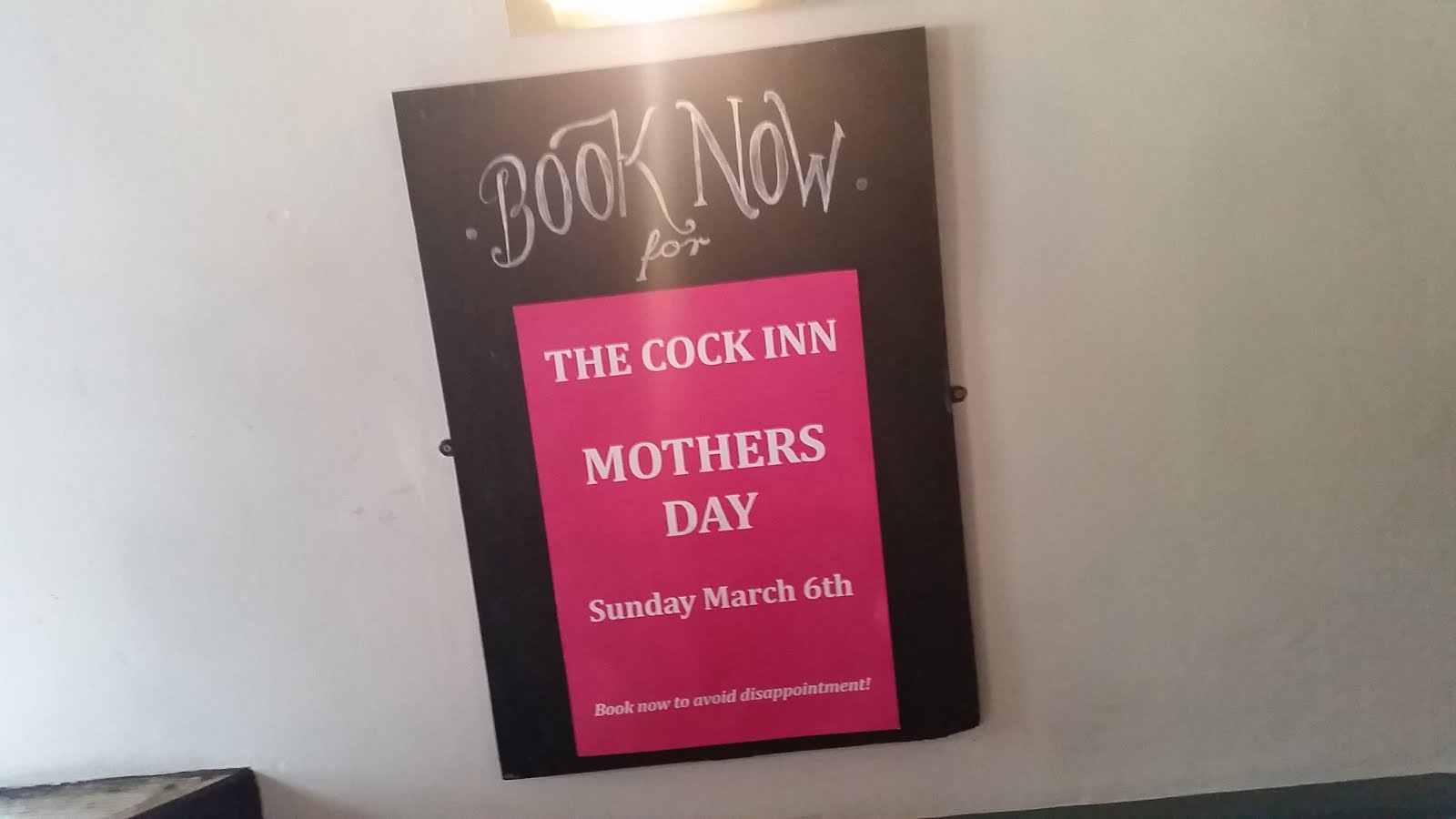 Look, it made us laugh ok….
Me? Well, I was the lucky one. With a family do to attend that night, I left their happy smiley little un-arseholed faces in the Mermaid near the ground at about 6 and got the train back with Comrade Totts amongst others. This it seems somehow made the stupendous idiocy which followed later that evening all my fault. As apparently due to being the whip master I'm there, as these fucking numpties put it, to 'regulate the fun'.
Twats.
Still, you our dear readers found this all absolutely hilarious. How do we know this? Well, the fact that particular report racked up over a 100 reads in less than an hour after being published sort of gave it away. Now, we've had some reasonably popular shit on here so far, but that one got out of the blocks quicker than Dukey after 15 bottles of Magners and a particularly dodgy kebab. Oh well, whatever floats your boat.
With St Albans being a piece of the pish to get to for us, it's a relatively late departure for the gang as we're aiming for the 09.38 off Sutton. I set off a little earlier than I usually would however as my Network Card has expired and I need to renew. The recent custom of popping into the cafe on Carshalton High street for bacon rolls is avoided as Dukey messages me asking if I want one with a cuppa from the cafe near his gaff. Result. So, head down, headphones on, it's off to the station I go.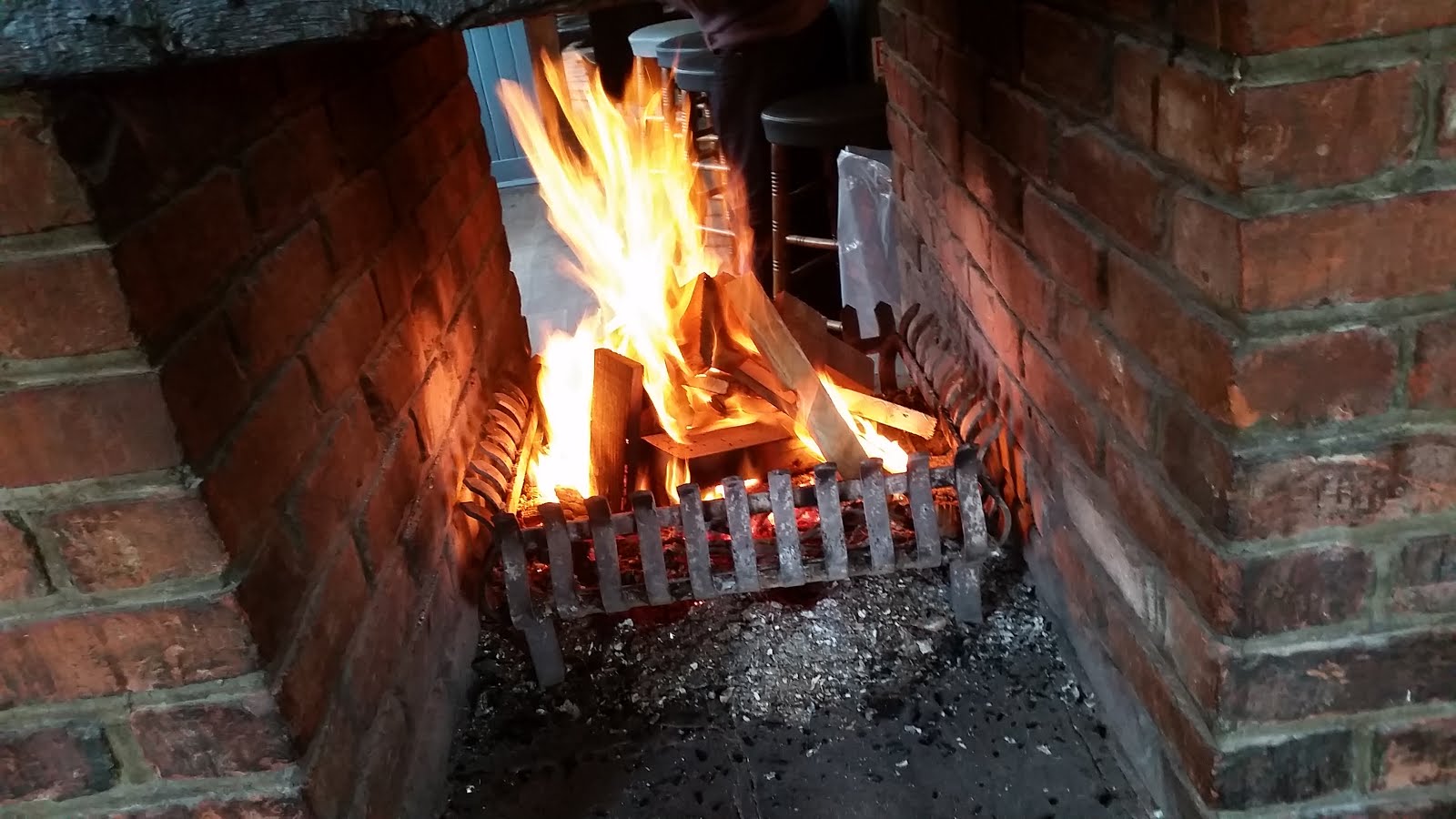 Toasty.
I arrive up the slope just as the Bacon & tea delivery boy arrives. But I postpone sustenance to get admin done and with the card replaced and tickets bought, I can finally feed. Dukey and I then spend a while gasbagging as we've got so long before the train shows up. Or have we? Suddenly we realise that it's due in 3 minutes and we're still not through the barriers. Of course, the fucking tickets I've bought don't work and we have to wait whilst the gate bloke emerges from the ticket office to sort us out. This of course leads to an unseemly trot to the other side whilst trying not to spill our teas so we can make the train. Think duck waddle combined with that of a 10K walker. Yeah, not a cool look. Fortunately, we make it with moments to spare and avoid universal ridicule for being at the station 20 mins before the off and still missing the sodding train.
It's the usual faces on the choo choo along with new convert Traz (who was the unidentified new convert Dukey mentioned in his last report!). Seems he's learning fast. The journey up is, as usual, full of the sort of chatter that would appall a Guardian reader. And we don't mean the Sutton edition. First up is the latest 'taxi porno' scandal to engulf the borough, where it's been revealed that mucky movies involving fake black cabs and local multi-storey car parks have been in production on our manor. Dukey, being our resident expert where adult entertainment is concerned, lets us know that this is a different one to that which was exposed (pardon the pun!) a few years back. That was apparently 'Fake Taxi', whereas this outfit are known as 'Female Fake Taxi'.
A veritable mine of information that boy. Very little of it useful.
Also, 4 Days reveals that the complex in which Gandermonium HQ resides has been revealed to be the home of some local nutter who the local press have outed. Apparently my 'spanky neighbour' is a Religious Minister who has been engaging in spanking activities as a means for expelling the spirit of the devil from female parishioners. Which is obvious really when you think about it. Although, with our lacking knowledge where the Bible is concerned, no one can recall whether that's Old or New Testament.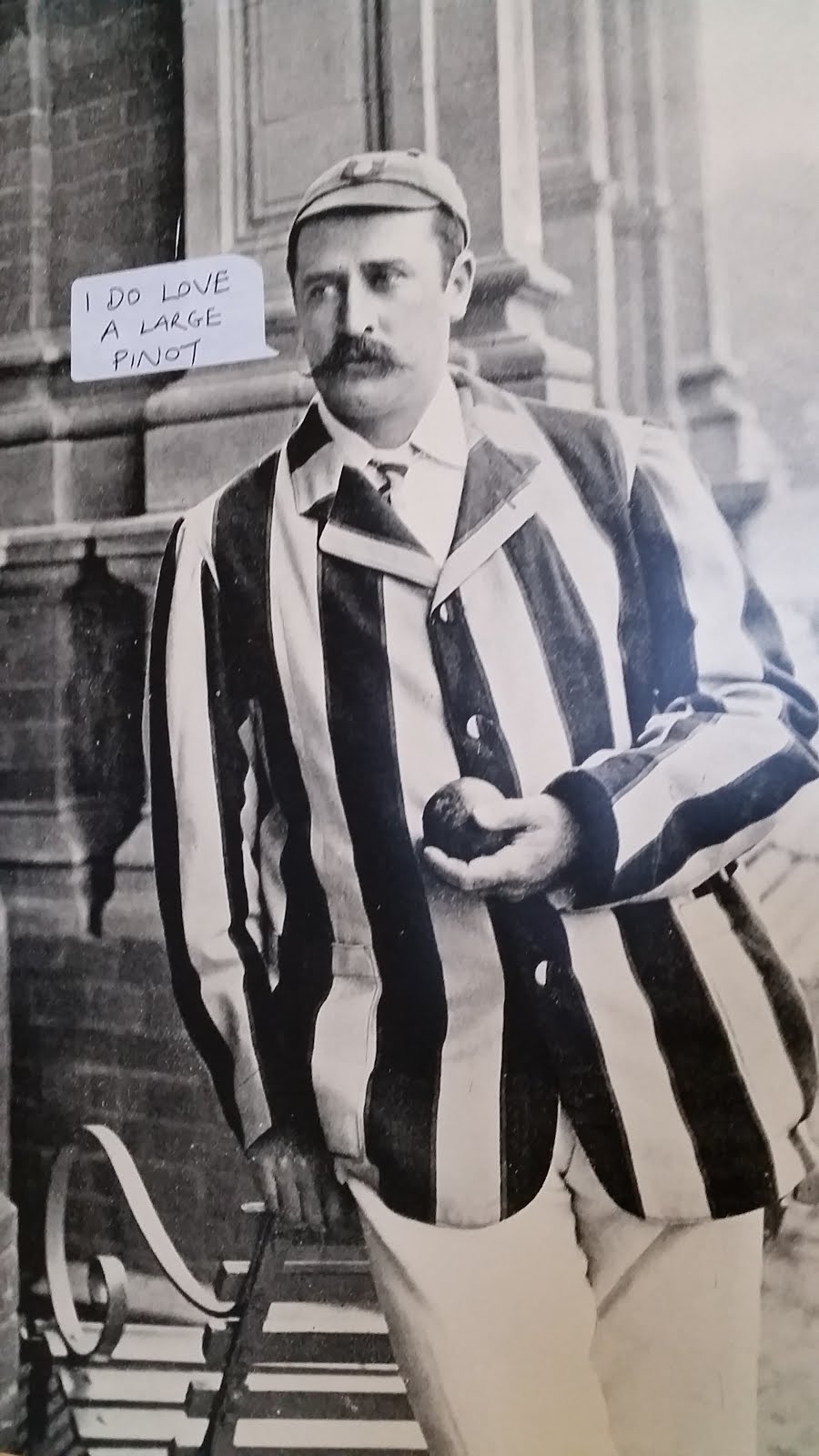 Leave it out fella.
After an aborted attempt to switch to a faster train at Farringdon, we eventually stumble off the train into the chilly late morning air in St Albans and set about hiking down into the town to a pub that's actually open at 11am. 4 Days has located the Cock, which has another boozer opposite (the Blacksmiths) that is able to accommodate any requirement for watching the North London derby at Midday. We're soon in the warm, with a proper log fire crackling away in the corner, pints in hand and discussing whatever other nonsensical bollocks comes to mind. We also take the opportunity to present Dukey with a birthday cake, well, more a Scotch Egg with a tea-light on a plate really, but it's the thought that counts. 2 pints down, it's time to move over the road for some football. The Blacksmiths is busy with lots of local PL types and we get to watch the Gooners squirm as Spurs dominate early and then the Spurs lot go through the same when Arsenal score against the run of play. We also have a good old chuckle at some of the bollocks spouted by those around us.
With 2 more beers down and half time upon us, we then take our leave to head a bit more up the road to the Mermaid. A far superior boozer and which should be less full of armchair bellends. This proves to be the case and we watch the two North London sides fall over each other to further try & gift Leicester the title. Amused? Us?
By now, it's time to hit the road and take the short walk down the hill to Clarence Park. Here, our hosts are still somehow managing to charge by far the most expensive entry price in the league at 15 quid. Which I'm sure has the locals flocking in to support them when they're struggling at the bottom of the league. As we're proper rowdy troublemakers, we take a stand against this absurd price and all pay in coins. Yeah, stickin' it to the man! Also, given the entry price, there'll be no bar visit either. The fact there's no time for a snifter before KO is completely irrelevant.
Worner, Amankwaah, Spence, Beckwith, Eastmond, Downer, Bolarinwa, Gomis, Burge, Fitchett, Stearn SUBS: Slabber, Dundas, Fleetwood, Bailey, John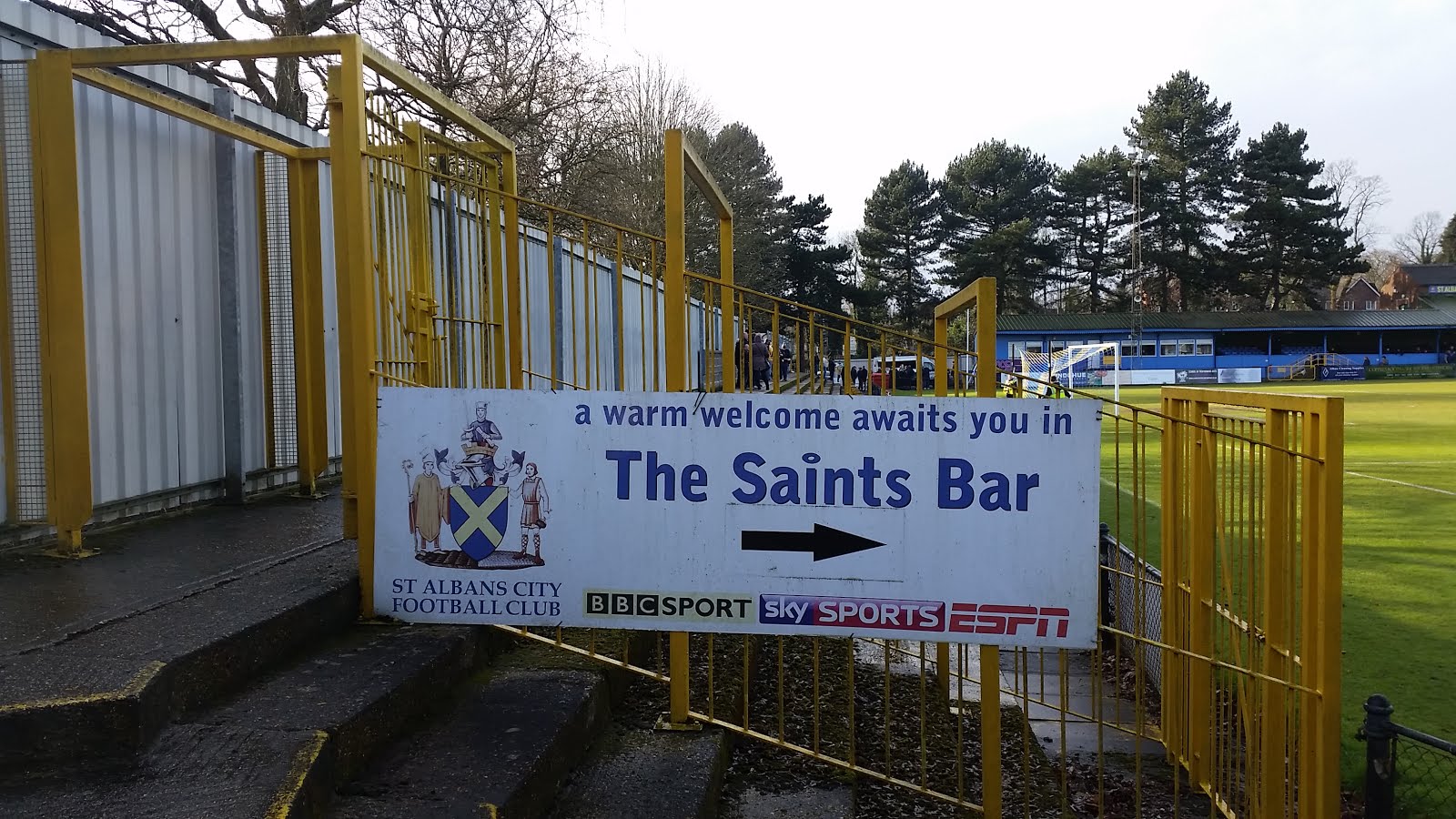 After paying 15 sheets to get in? Hardly.
Last year in that 4-2 win, Jamie Taylor gave us the lead shooting towards the far end before we'd even got time to get the flag up. This time round, Ryan Burge is the man interrupting erection duties with an early entry into the onion bag at that very same end. Sadly, I am unable to report on the full move that lead to the goal, but I saw enough to know that Gomis slipped the ball in for Burge and he turns to slot it across the keeper for his second goal in 2 games, this one just 3 minutes in. 1-0!
As with the match at GGL this season, St Albans early play belies their lowly league spot. They're competitive in the middle and look to get forwards when they can. We've certainly seen a lot worse than them this year. They look to reply quickly and their lad should do far far better with a diving header not long after the opening goal, guiding a decent cross in wide of the post. Another dangerous ball in soon after evades two in the middle and Amankwaah has to clean up. Despite the cold and the slightly heavy looking pitch, the game flows nicely back & forth, Tombo getting clear with a lovely pass from Eastmond, but the keeps saves with his legs and Stearn can't turn the loose ball in from about 6 yards, mainly as it looks like he's bundled over by a defender, but the ref is having none of it.
There then follows a good 10 minute spell up to half time where we're treated to a nice wintry, sleety flurry which cheers and warms us all up no end. Still, we have the better of that spell with Bedsy and Becks both heading narrowly over from set pieces. So 1 up at the break and with the bar boycott standing strong, it's off up to the other end to await the restart. Weirdly, having endured the reminder that we're watching football in England in March just before the break, the skies clear and we're treated to a nice bit of some glowy orangey thing in the sky. Wardy informs us this is 'the sun' and he's seen it a few times before, mostly in Spain. Being an elder statesman of the firm, we trust in these wise words. And it's certainly better than Mr X and his bloody Geography degree.
The second half starts with the hosts causing problems in our box from a free-kick. But eventually Amankwaah sorts things out and there's stern words from the Away dugout. These seem to do the trick and the lads step it up a gear, taking control of the game. Tombo sticks a filthy ball in from wide which causes Fitch, the keeper and a defender to end up in a heap chasing. Stearny pops up to slam the loose ball home, but the ref somehow gives a free-kick against Fitch for a foul on the keeper. Which was a tad harsh given the geezer's own defender had caused him as much hassle as our striker. Still, to be fair to the ref, it was the only odd decision all afternoon and he had a somewhat quiet game for a Conf South ref, which I'm sure Conference HQ will soon beat out of him.
Welcome to March everyone!
We're not to be denied however and with Ebbs 2-0 up against someone or other at home, we match the scoreline just before the hour. A free kick forward sees Stearn of all people out jumping his man to flick the ball on. His nod drops perfectly for Burge and our new man slides another low angled shot into the far corner. 2-0! Stalebuns from here look crestfallen and it's no surprise than about 5 mins later, Beckwith gets up above his man to nod the ball down and in for 3-0 after a clever little corner routine and a teasing cross from Stearn. Game over and a chant of "We're Sutton United, the Thameslink is ours!" comes from the away fans.
What is a surprise is that we don't add to the 3 goal tally. Stearny has probably the best chance, firing over from about 10 yards when well placed. His effort earns him a "What the fucking hell was that?" from the away fans and he raises his arm in acknowledgement of his miss. We make changes, getting Slabs, Bailey and Duns on for the last 15 or so, the former two are a little unlucky not to add to the goals but Bailey forces a save from the keeper and Slabs can't force in the rebound. Stearn then almost tops a superbly busy performance with a goal, but his shot having beaten the keeper is just kept out by a desperate lunge from a defender a couple of yards out.
So just the 3 in the end, but with Ebbs winning one for a change recently, the job had to be done. Especially with the hosts in reasonable form lately in their battle to stay up. Here's hoping they manage it, as we quite like coming here!
We pack up our chattles and head back out into the park towards the Mermaid, with the voices of the younger lads echoing around in celebration of three points. Chairman Totts takes the opportunity of a break from top level governmental affairs for the People's Republic to join us for a couple back in the pub and to assist myself & 4 Days in putting the recent worrying hipster trend in NL football to rest. It's all about pin badge & programme collections, not politics FFS! Traz introduces me to the boozer's fabulous crisp selection, including some very moreish Chorizo ones which whilst delicious, do little for my increasing hunger having had nowt to eat since that bacon sarnie several hours ago. Totts then takes his leave, taking with him refreshments suitable for a man of his high political status, 2 pints of stout in a milk carton.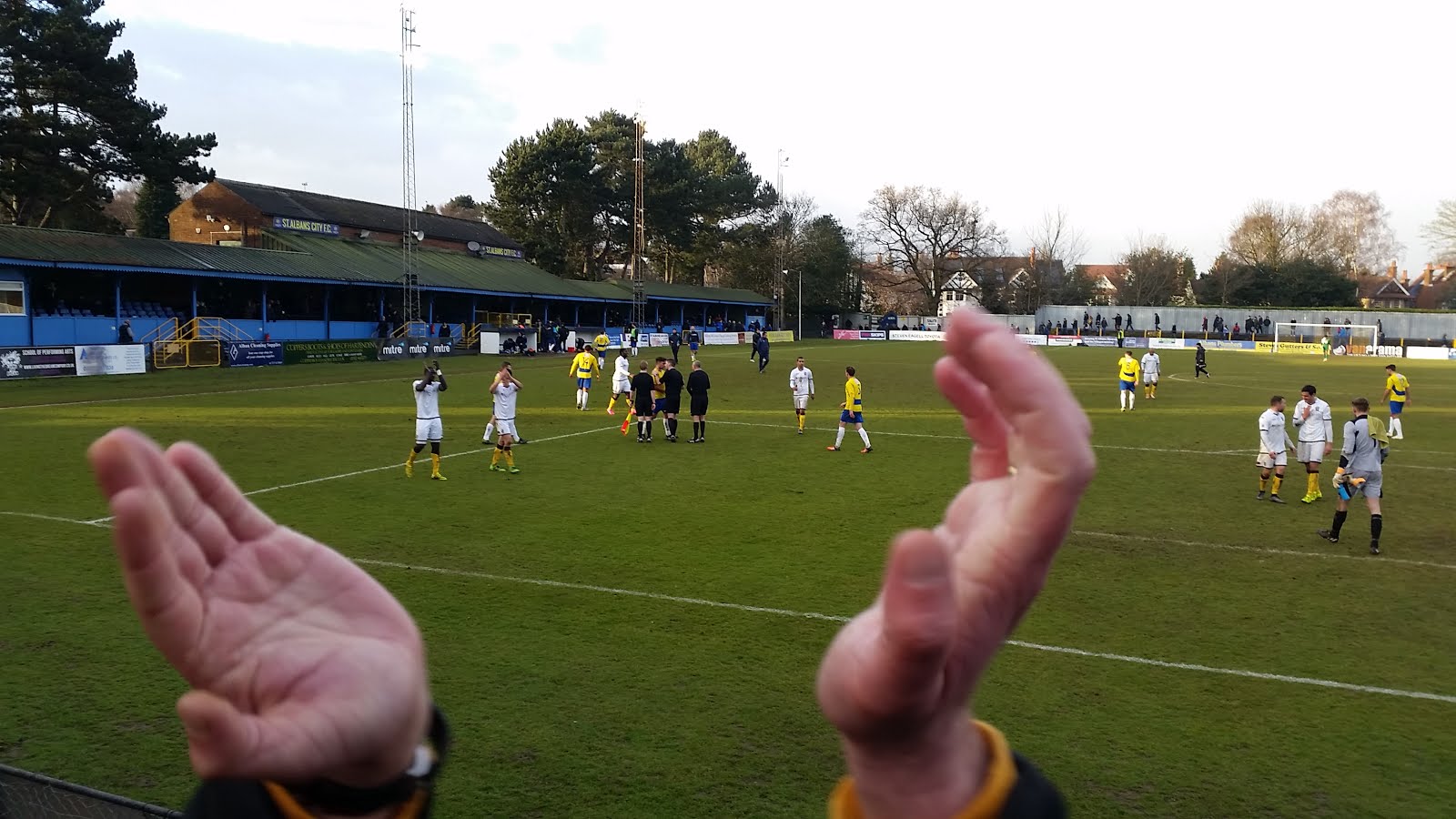 Clap clap clap.
The gang stick around for a few more before deciding that we've probably had enough and should plan the trip home. The aim is to get the 19:48 so we set off for the station looking to see if we can secure nibbles as well as refreshments on the way home. Mr X hits a handily placed offy and secures beers, but the place does nothing else at all, so food is reliant on the chicken place next door. Handily, they have several pieces ready, but despite Dukey placing his order for "the fucking lot fella", it takes the geezers behind the jump nearly 20 mins to chuck it all in a box, fucking about fussing on stuff that is being cooked fresh instead. Serve, take money, get rid! Divs. So, of course, we miss our train. Next one it is then, which annoyingly is going to take us the LONG way round the loop back to Sutton.
Eventually, we're on a service and heading south. Thankfully nowhere near pissed enough to end up with a view of Brighton fucking Pier. Mr X has once again bought far too much beer, unveiling well over a dozen cans, plus all the specialist stuff for people like me. Chicken devoured, plus a sarnie I'd grabbed in Smiths in the station to provide extra soakage, I'm feeling a bit more human. But as we chug towards London, I'm not up for going round the loop or spending a night out on the gas, especially as the missus has come down for the weekend. So I elect to wave goodbye to the gang at Elephant and having handed Dukey the 75 sheets left in the whip, I find myself stood on a rather cold platform. Still, it's only a 10 min wait.
To amuse myself, I spot one of the vending machines has a pack of M&M's clinging on for dear life. Figuring I could get a small life win here, I chuck in a quid and select that number. The reasoning being, I should get double M&M's. And if not, I'm not out of pocket. Sadly, the vending machine industry is one step ahead of beery ol' Taz and the stupid smug little LCD display simply reports my selection is 'sold out'. It's not, there's loads left, the fuckers just don't want to give me a freebie! I choose a couple of others and go back to awaiting my train.
Which, er, has just been cancelled.
Thameslink you wankers. You utter utter wankers.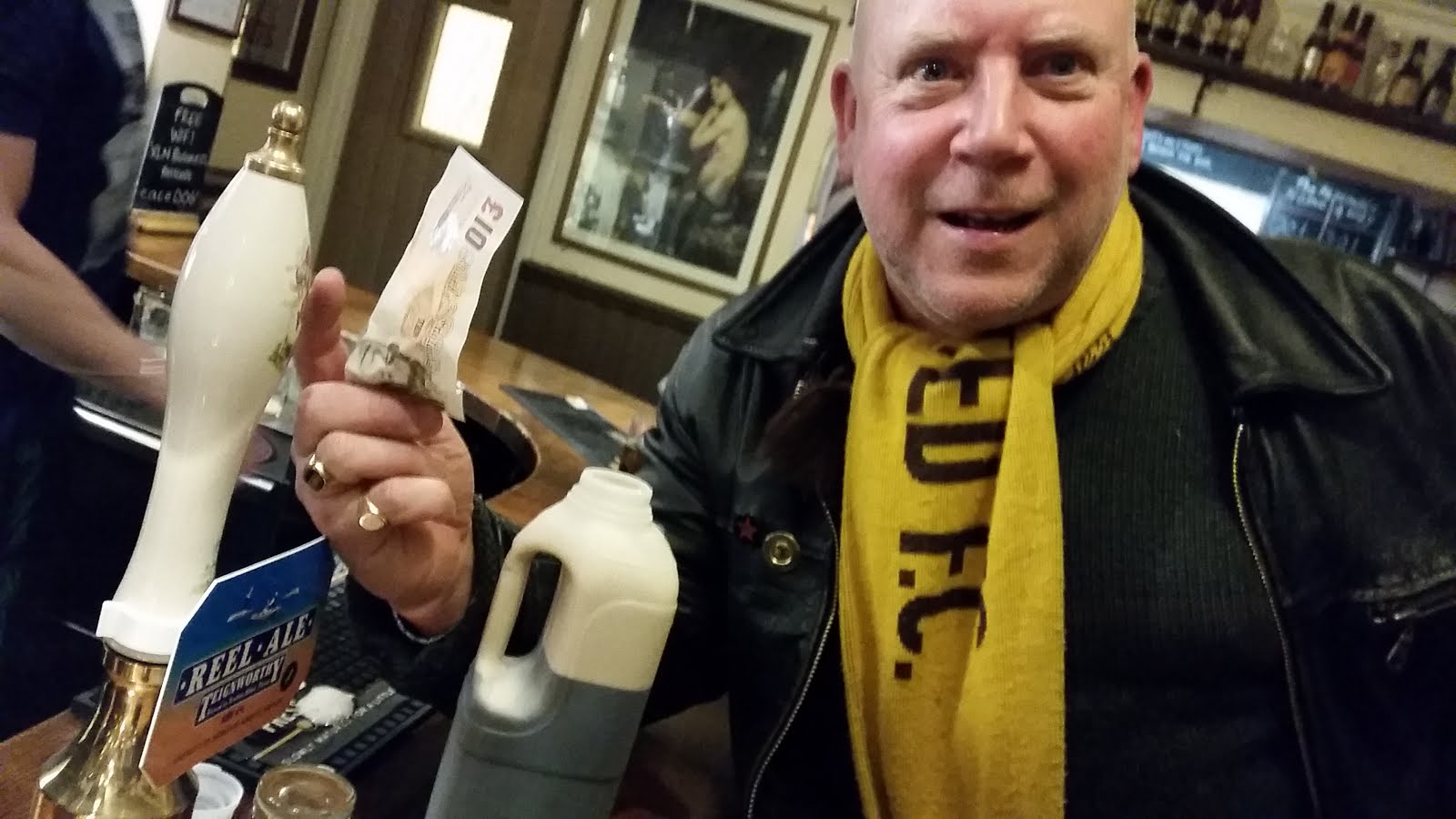 Totts. PRoWS Minister for ImportsExports. Stout mostly.
To top things off, there's seemingly nowt going to East Croydon either, so I'm stuck waiting for the next sodding train to Sutton. Going around the loop. Naturally, the news of my delay is well received by the Gandermonium whatsapp group. They're utter wankers too.
Eventually, a train I can use shows up and I settle in for the painful, longer than it should be trip home. A stop or so later, another guy gets on and sits across the aisle. He's clearly pissed and way more pissed than I am. After a few moments he starts trying to engage me in convo. Now, I'm not that interested. I'm tired, I'm sobering up and I've had a shitty time with the trains. But I'm a nice person really, so humour the guy for a couple of minutes. That is until he turns the subject to that of a racial nature. And I don't mean he starts taking the piss out of me for being a ginge. He goes more the 'darkiesimmigrants' path, which I'm DEFINITELY not interested in. Retaining my composure, I let the dude know I'm not that way inclined, that my missus is a 'darkie' and an immigrant, so he should find a new audience. To put a full stop on the matter, I cross my arms and close my eyes. Conversation over.
What seems like a few minutes later, I have a funny feeling. The sort of feeling you get when you're in bed asleep and feel like someone's stood over you. But in this case, that person is patting you down, no doubt looking for that mobile phone you tucked inside your jacket a while back. I crack an eye and it's Mr Casual Racism from earlier. So not only is he a cunt, he's a thieving cunt.
Sorry fella. No sale. So I make use of my right hand to persuade him his current course of action is not really acceptable. This gives me room to be on my feet in case of any further 'discussions' and I immediately spot we've just pulled into Wimbledon. And there's a tram on the opposite platform. So, seeing as Mr Racist thief is currently a bit pre-occupied with a sudden sharp pain in the side of his head, I decide discretion is the better part of valour, grab my bag and dart off just as the door alarm starts going. I hear the door thunk shut behind me, but take a quick look to see if I'm alone. Thankfully, I am, so I find myself a nice quiet spot on the Tram. 60 seconds later, we're gone. It couldn't have been timed any better. Thaaaank fuck.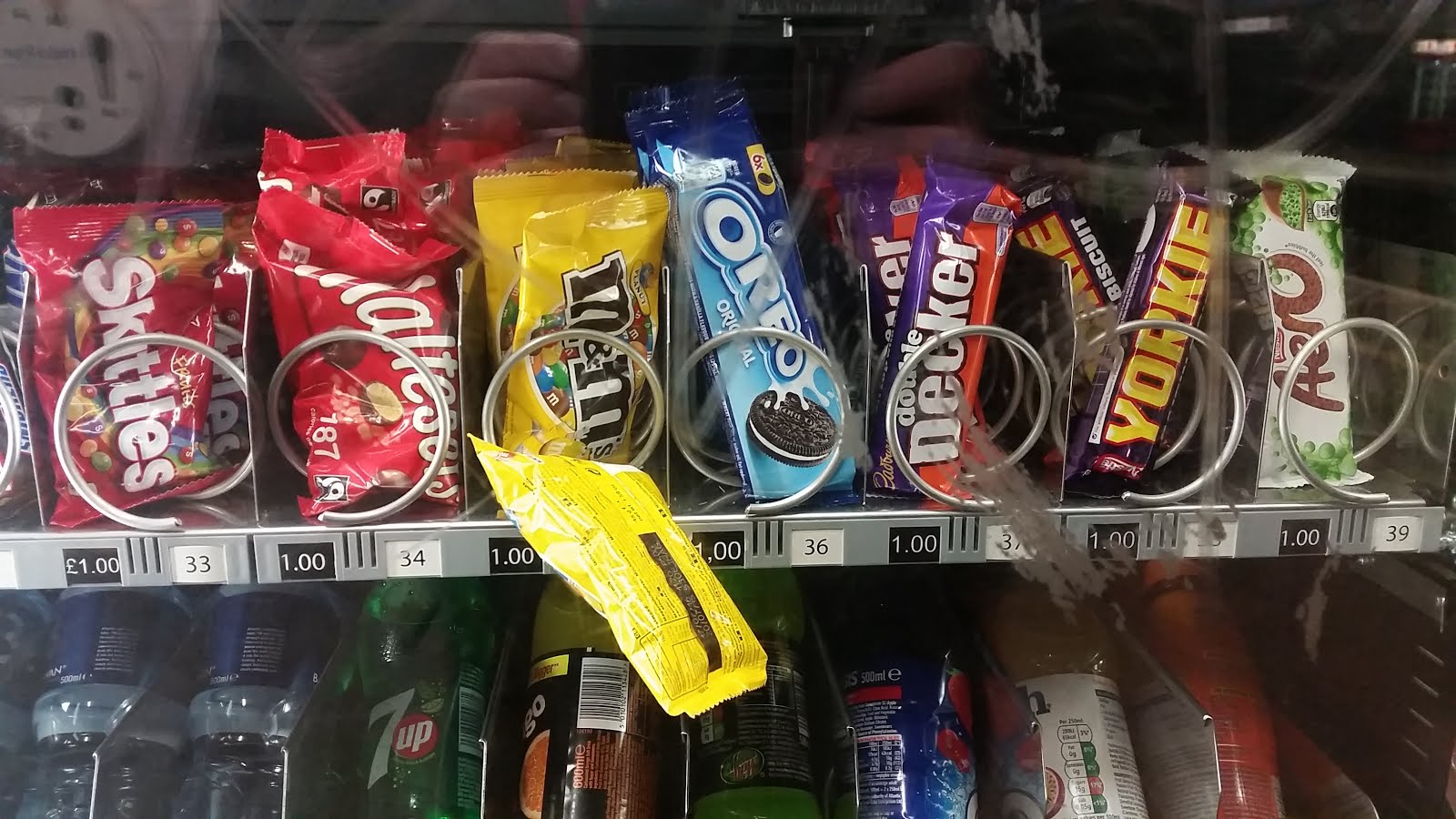 So near, yet so far. #VendingMachineFail
This isn't quite what I'd had in mind for the trip home. But it could have been worse I suppose. To top off my night, there's pics coming through from some tossers who are currently unloading the rest of the whip over the bar in O'Niells back in Sutton. Still, I embark from the tram and as I reach the end of the road, a 407 sails into view. For once, that shithouse bus has done me a favour and I'm wandering in my front door 10 minutes later.
Well, that was interesting. Not quite 'waking up pissed in Brighton' interesting, but interesting nonetheless.
Next week, we've got something a little different for you. Our new recruit, Robbo is back in the chair and he'll be taking you behind the scenes, into the inner sanctum if you will, as he's been kindly donated Mr X's recent 'day with the team' reward from one of the Strikers are Key draws. This is because X would rather be in the bar talking shite than in the dressing room talking tactics.
I mean, we like football, but c'mon. It has it's limits.
Taz