Why thank you for the hand over Keith "Brandy makes me violent to animals" Robinson. And welcome to another blog about the trophy no one they all want to win, the Surrey Senior Cup. So, who were to stand in our way for a record 29th showpiece? None other than that two time final bogey team, those bloody Southern League Division One Central lot, Godalming Town.
I can't lie to you readers, our record against this outfit it not one to be proud of. Out of the three games we've played. Two of them have been cruel final defeats that left me feeling less of a man than before. The other was a master class of how to play the tie with a 6-0 drubbing that saw Vassell bag four goals, including a three minute hat-trick.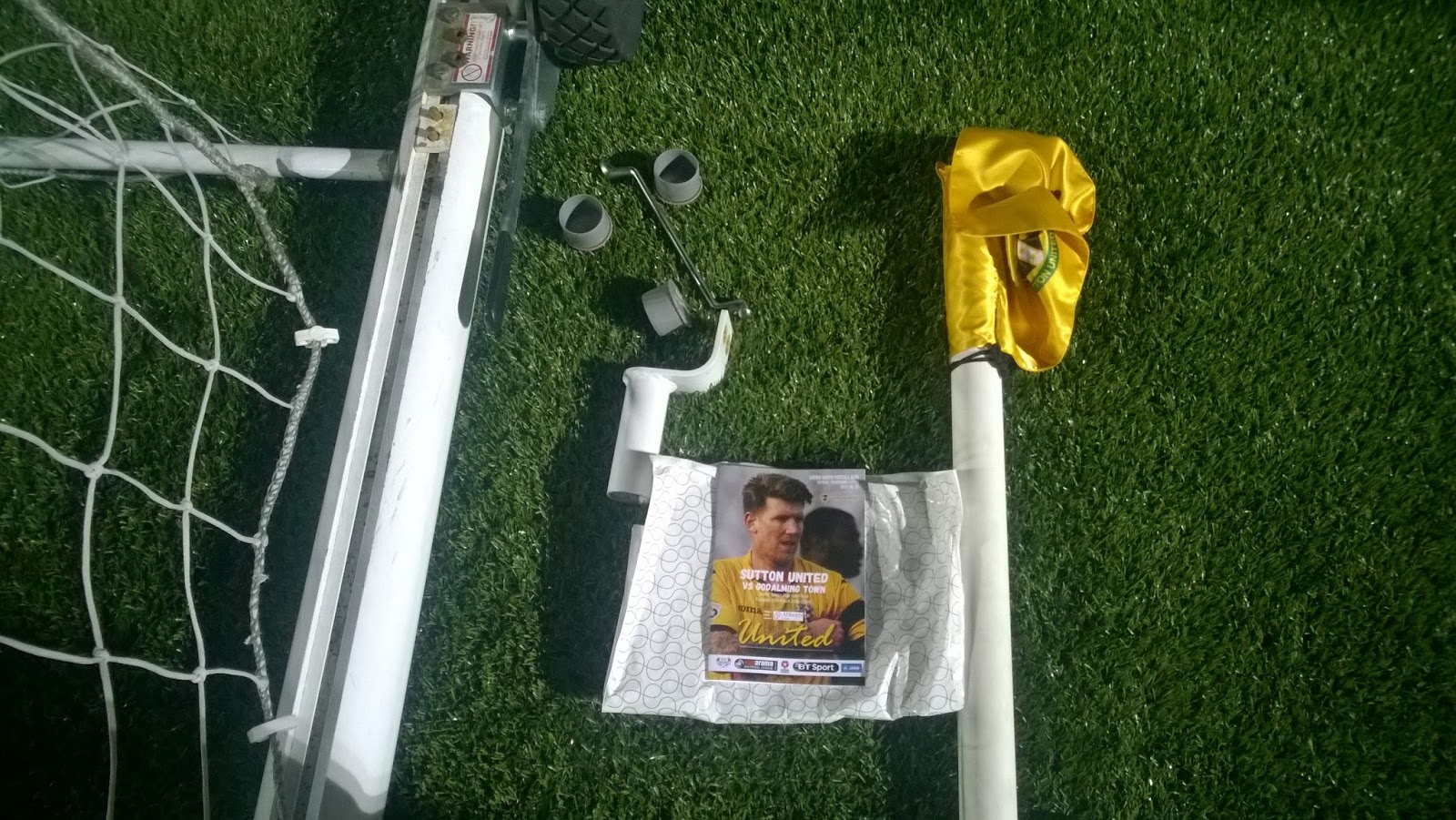 The tools of the net lifting trade
The problem with our Surrey Senior Cup record under Our Lord Dos is that its like one of Juan's relationships, disappointment after disappointment after disappointment with the occasional glimpse of success spoilt by a weak, failed final climax. Couple that with the 21st Century apathy of "some trophies are less equal than others" ethos, and you have a dangerous combination.
Moving on, it is with a heavy heart that I have to announce the sad news that my 'executive limo' has gone up to that great scrapyard in the sky. Failing its MOT on pretty much everything didn't do the old girl justice, but with repairs worth more than the value, it was time to say goodbye. It was last seen, gathering dust, in a doctor's car park in North Cheam.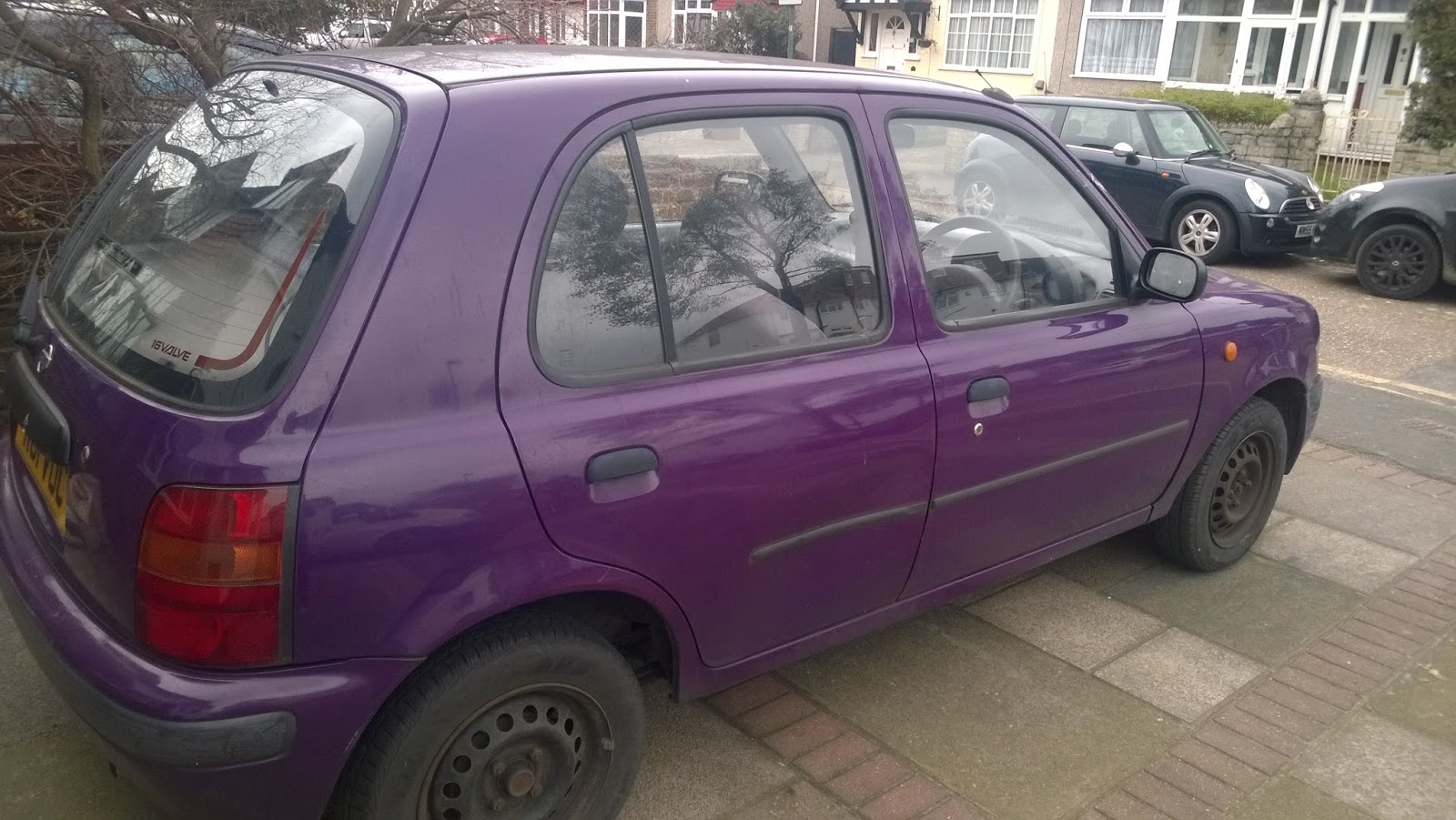 Purple Meanie
Lucky for me, my old mukka Clive works in the automobile trade as a sort of Arthur Daley type character (aka A second-hand car salesman). And what beauty did her set me up with? Well look at the picture above, none other than that fine piece of Japanese engineering that is know to the world at large as an R Reg Nissan Micra!
Of course, it doesn't bleedin' work at the moment. But that'll be rectified by someone clevered than me I assure you. Another problem is apparently because of the age of the little fella, it has an old style log book. And this log book can't be used to renew the tax on-line. Of course, my local post office doesn't do car tax either. So whoopee fuckin' do, I'll have to traipse over to Sutton to get it done! Oh well, at lest the Surrey Senior Cup will take my mind off it for one night.
With The Firm Leader offering me a lift to the ground, I had nothing to do but await my carriage. There was a stop required in Rose Hill to pick up Robbo and then we headed towards GGL. Strangely again there was no sign of Johnnie's parking racket to greet us. Heading into the bar to see the usual boats and the surprise news that we were going to play five members of the first team squad. With an eight o'clock kick off, there was time for a quick couple of drinks before making the trip outside to pay the £8.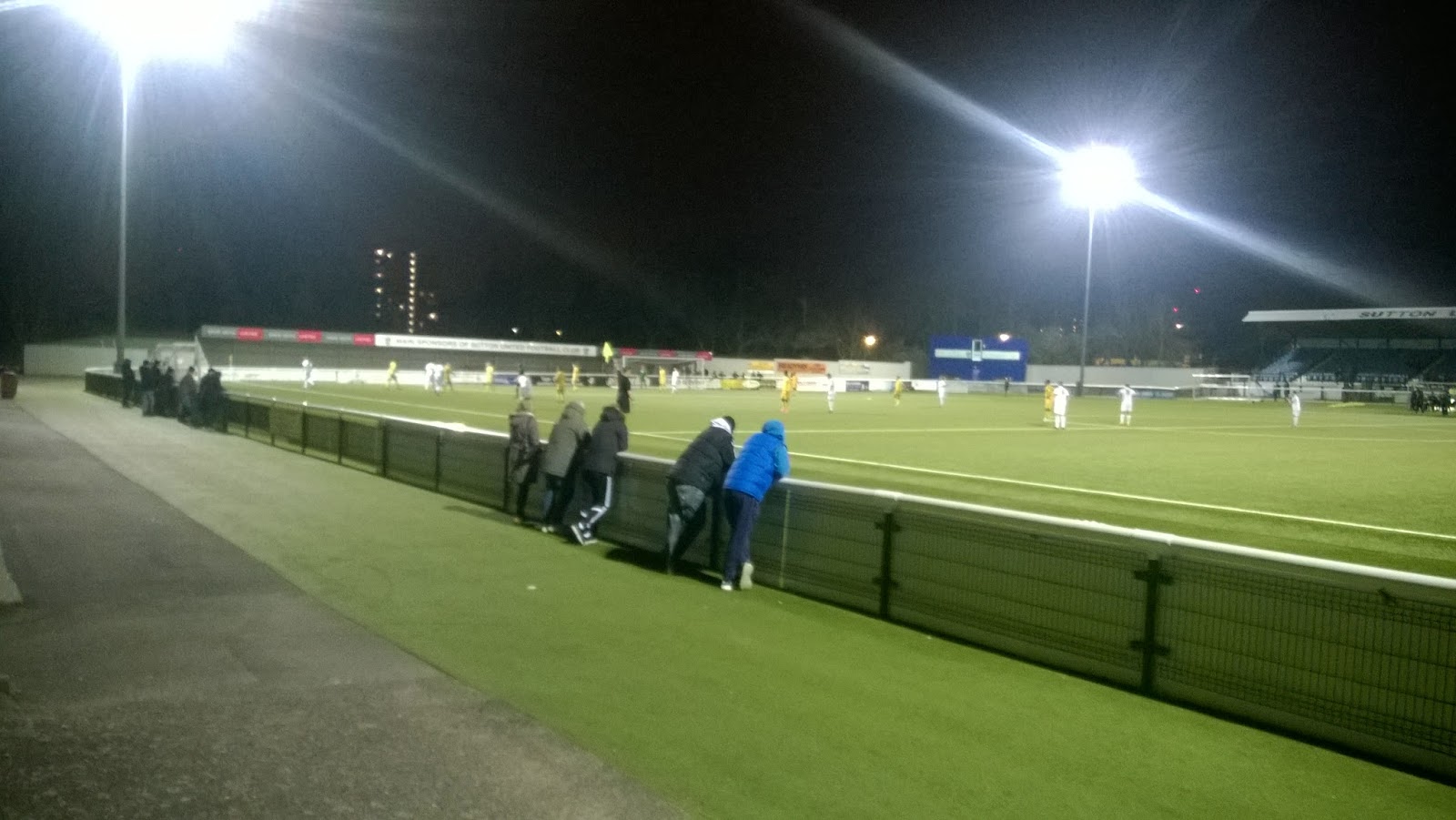 Loads in again
Shaw, Strange, Anderson, Wishart, John, Doswell, Bolarinwa, Bailey, Dundas, Dillon, Hammond. Bench Warmers: Brown, Kalognomas, Towner, Watson-Brown, Price.
For the first fifteen minutes it seemed that tonight could very well be our night with Sutton doing most of the work. With the first teamers that played, there was enough skill & experience to shine. This was shown when Sutton took the lead. After a through ball that was badly messed up between two visiting defenders, Bolarinwa calmly latched onto the ball and stroked it into the far bottom corner. 1-0!
Then it all suddenly went to hell in a hand cart, as Sutton totally sacked off the game. An aimless ball down the left-hand side to nobody should've been easily dealt with by youth boy Strange. For some reason he hit it first time back to Shaw. Except Shaw had come short for it to give the kid an easier option. With the goal now empty, the ball went past Shawy and it was just a simple tap-in for the Godalming fella on the line.
With the scores now level, mutterings from around me that it was 'all over' were heard. I wouldn't have believed them, but suddenly we were behind. Once again it was Strange (to be fair he isn't a right back) who was caught out with the ball over the top and the forward managed to chip the ball over Shaw and we all knew from then on it was all over.
Shortly afterwards we did have one chance when Dundo tried to cut the ball inside, just on the edge of the box. Unfortunately he was caught and just before Bailey picked the ball and slotted it home, the ref was a little to quick on giving the foul. Two up and it would've probably goodnight Vienna. The resulting free-kick was as usual a waste as it was hit low and possibly wide by Wishart.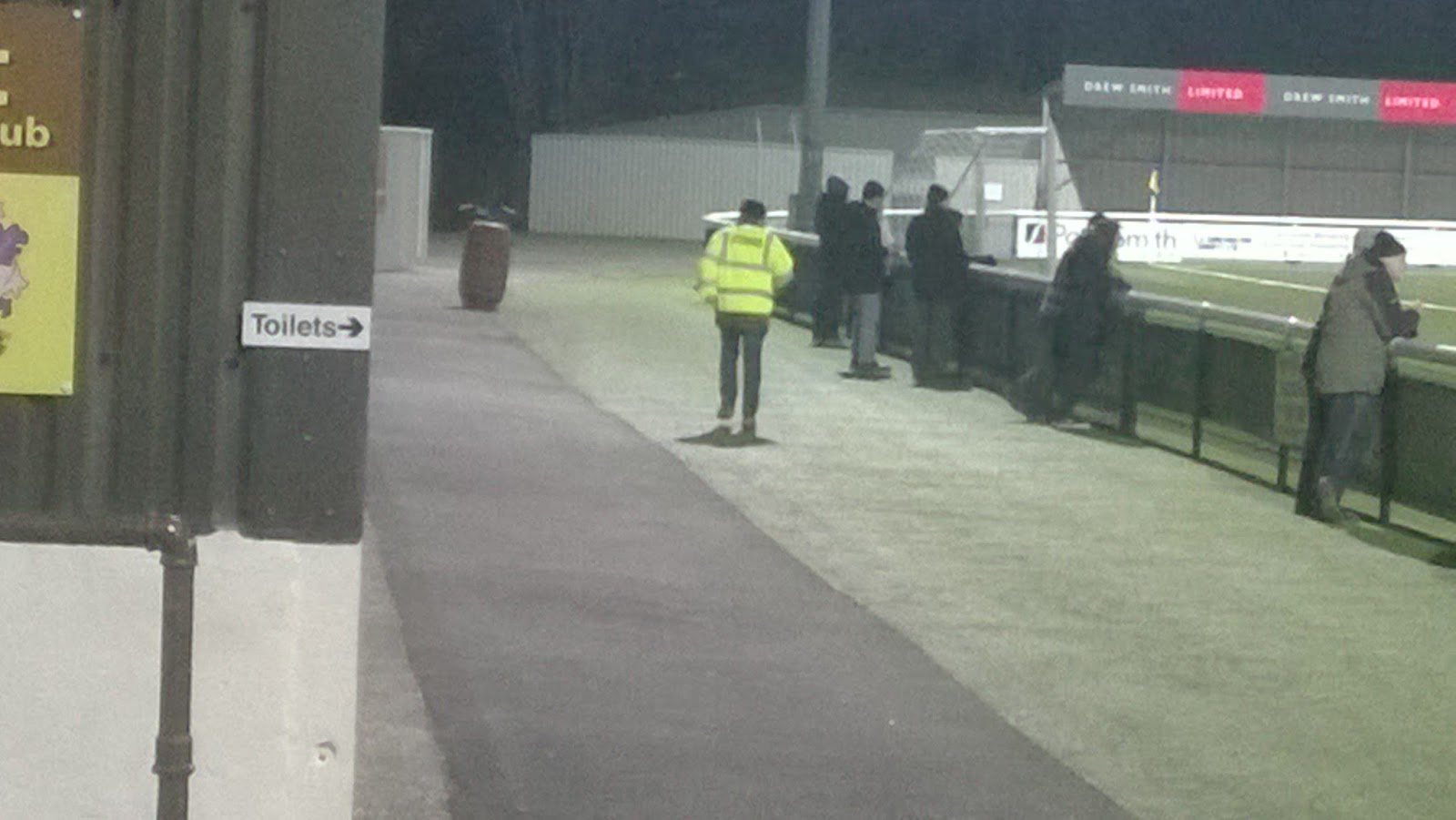 Fetch!
After my sulk and a rant at the tea bar (fuckin' over £6 for a bacon roll and two teas!) (Oi! I donated 4 quid to that! – Ed), I took a spot on the Shoebox and awaited what I thought would probably be 45mins of sheer hell. And I wasn't wrong, as nothing really of note happened from the Sutton team. It really is a shame when you can call the result at half time against a team two divisions below yourself in their favour.
To add insult in injury Godalming put the tie to bed when they got their third. Once again it was poor defending that handed to them on a plate when John failed to jump high enough with a Godalming forward. His looping header beat Shaw and landed on the foot of the inside post and crept in. Does anyone remember Hammond playing? Anyone? Please, anyone?
There were a couple of incidents that I would like to recorded mind you. One was when Bolarinwa took the ball down the corner in front of the shoebox. Cleary he was wrestled to the ground a mere half a foot from the linesman. As he fell on the floor he punched the ball away. The ref (who was nearer the middle of the park) blew his whistle and indicated a free-kick to Sutton. Now for some reason the linesman indicated it to Godalming as Bolarinwa had handled the ball. I know the referee had to had words with the linesman, but you can see why officials get flak with some of the decisions they make.
The other incident is something that really does tick with me. With minutes to go and the game nearly dead, we get a free-kick in a useful spot. Wishart once again failed in his delivery as it hit the wall. But instead of chancing the ball back and then down the pitch, he remained in the same spot with his hands over his face. He stayed there long enough for Godalming to attack and was nearly in a offside position when the ball came back up the pitch. I mean, fair enough, you're playing poorly but that's no excuse to just give up the game while it's still in play.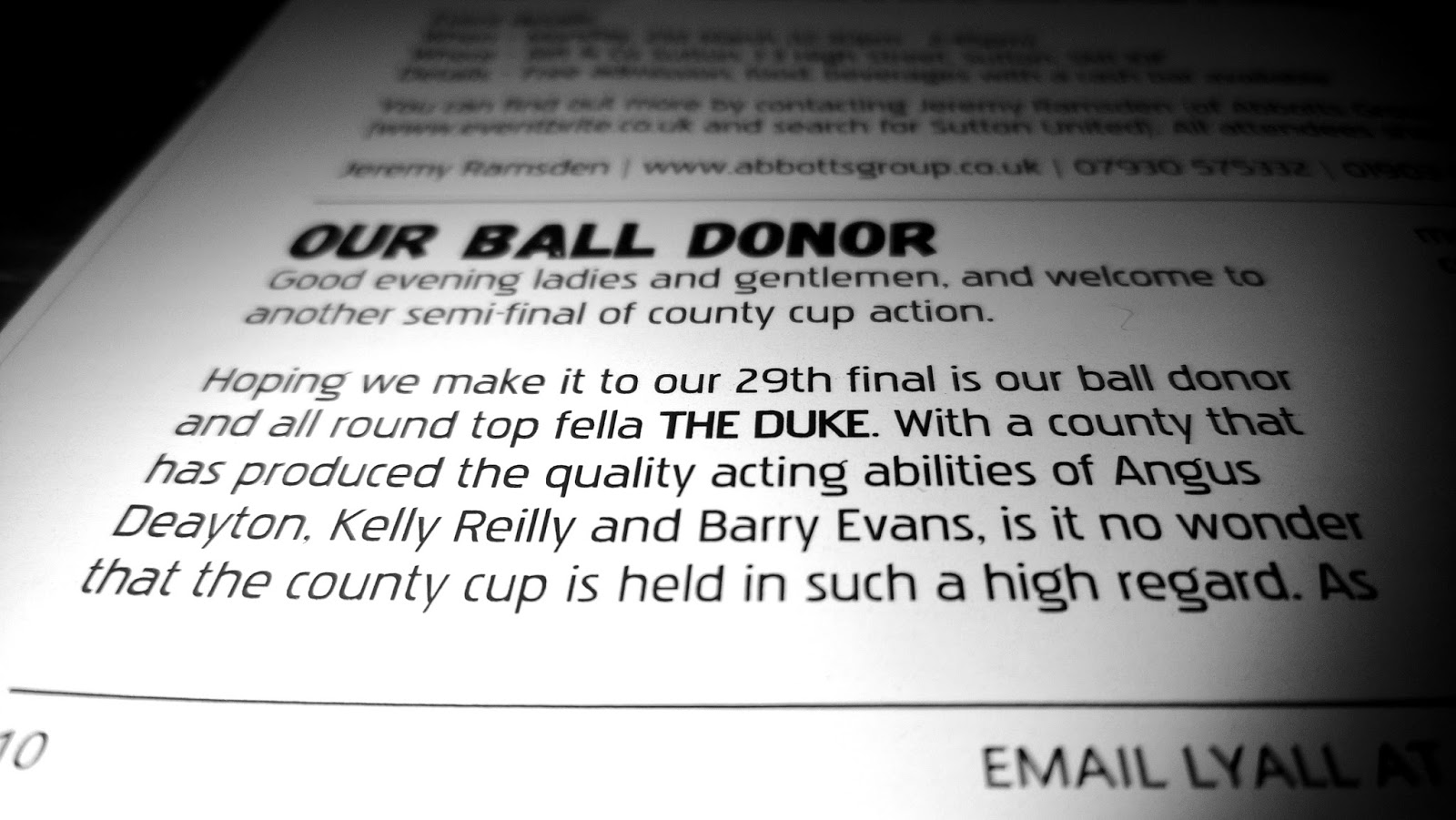 As per normal!
So that's the end of another year in our my quest to see Sutton lift the Surrey Senior Cup once again. Am I disappointed? Of course I fuckin' am. If we really don't want to bother with it, they why do we enter? Why don't we just take the fine? Or even sack it off in the first match? It not even the fact that the money I've spent by sponsoring the two home ties this year or the open disdain we have for it.
Like I've mentioned on many occasions, I'm very old school in my thought process. A successful team wins trophies. Success breeds success. When I play every match, I give 100% no matter what. Obviously, back in the day you only had one spot to get promoted and by the time the Surrey cup kicked in you knew if you had a shout or not so could go for the pot if you were out of it. But with these play offs & stuff, it's all different now. But hey ho, shit happens and all that bollocks. We'll always have those magical years when we won six on the bounce and everyone called it the Sutton Senior Cup.
Back to the league on Saturday and finally our first trip to Gosport on a Saturday. That means a ferry across the Solent harbour and all that entails. So who is covering the trip I hear you ask? Well yours truly of course and as the picture below says: "Warning contains immature content and lots of drinking".
Here's to three points and a chance to get our title shout back on track.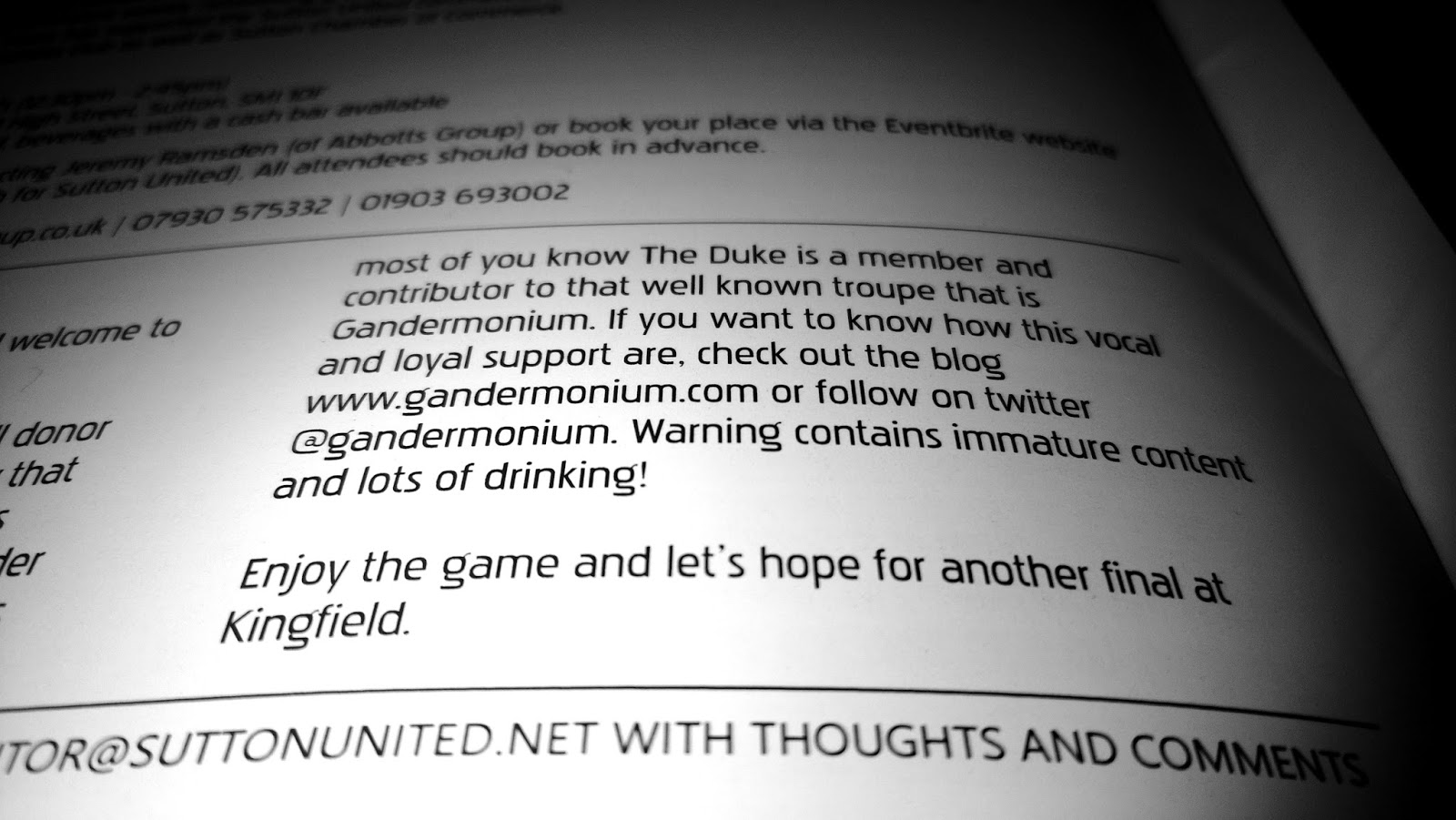 Immature? Drinking? Never…
Duke
Att. 152
Years of Hurt: 13 of the bastards.